Since the beginning of 2020 the small ski resort of Morgins in Wallis (Switzerland) has officially become our base. We already used to come there regularly in winter (and the rest of the year too) but from now on Morgins will be our base every time we come back to Switzerland. We have to admit that we are simply happier in the mountains than in the city. We are close to nature and all the activities we like to do are really "right in front of us".
By the way, speaking of activities we love, in this article we will share with you our favorite snowshoeing itineraries around Morgins in winter. You know, snowshoes… those kind of crampon paddles that you put under your shoes to walk in the snow. Well it turns out we've learned to appreciate this activity 😉
Snowshoe hiking, a great alternative to skiing!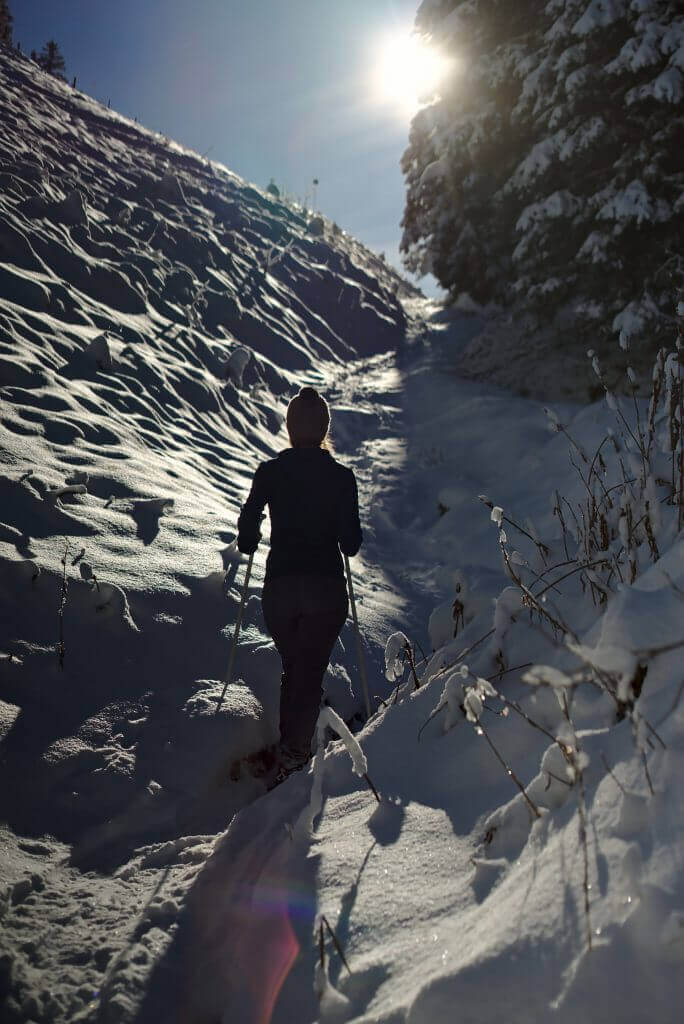 It's not been that long since we started snowshoe hiking (the first one who tells us that it's an activity of those who are in their thirties, we make him eat snow! ):)
More seriously, snowshoes are really something we started to love (certainly over thirty…). There are several reasons for this:
It's a hell of a lot cheaper than skiing.
We won't teach you anything by telling you that skiing is something we love, but with our current lifestyle, the budget associated with a day of skiing (the passes, the 5€ Coke on the slopes and so on) makes things more complicated. In other words, snowshoes as long as you have a pair (which cost much less than skis, by the way), well it's free!
It can be done as soon as the first snowflakes appear!
During this month of November we were in Morgins…. November in Morgins is a bit the off-season. Almost everything is closed and the lifts are still at a standstill. Thus, snowshoeing is a good way to enjoy the first snowfalls.
We pass through deserted areas
Maybe it's our thirties speaking, you may say, but it's true that we appreciate more and more having peace when we go for a walk. Snowshoes for that is the best! Well yes, there are paths but which, although they are "official", are only rarely very crowded… And if by chance there were to be a crowd (in November, in Morgins it's impossible let's be honest), then there's always a way to get away from the paths and make your own tracks in the fresh snow.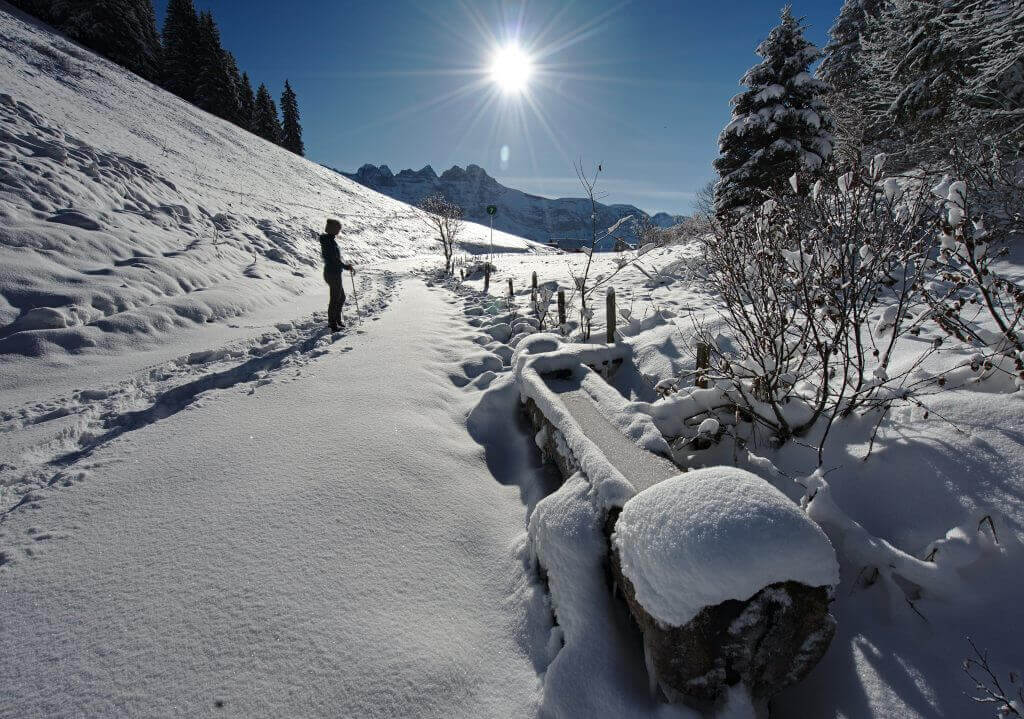 It's more accessible than ski touring
Mountain purists (like Benoit…) generally prefer ski touring for the obvious advantage that you can ski down the mountain (and often in powder 😉 ). But the trick is that few are the people who don't live in the mountains and who have all the ski touring equipment (which costs a lot, by the way…). The advantage of snowshoes is that you can rent them easily and cheaply and that there is no technical skill to have (if you know how to walk you are good to go 😉 ).
It helps you train you butt during the winter 😉
If you read us from time to time you will probably have noticed that we love hiking! In short, snowshoeing is a bit like the "snow" version of our outings and it allows us to stay a little active even in winter.
Snowshoeing itineraries in Morgins in Valais: our suggestions
Let's stop talking and get down to business…. Where are we going to do snowshoeing in Morgins? There are many itineraries, but here is a small selection among those we know and appreciate.
The Small Valley of They
Let's start with the easiest and most classic: the bridge path towards the Canteen of They. It is in fact a year-round hiking trail that connects the village of Morgins to a small canteen at the bottom of the valley of They.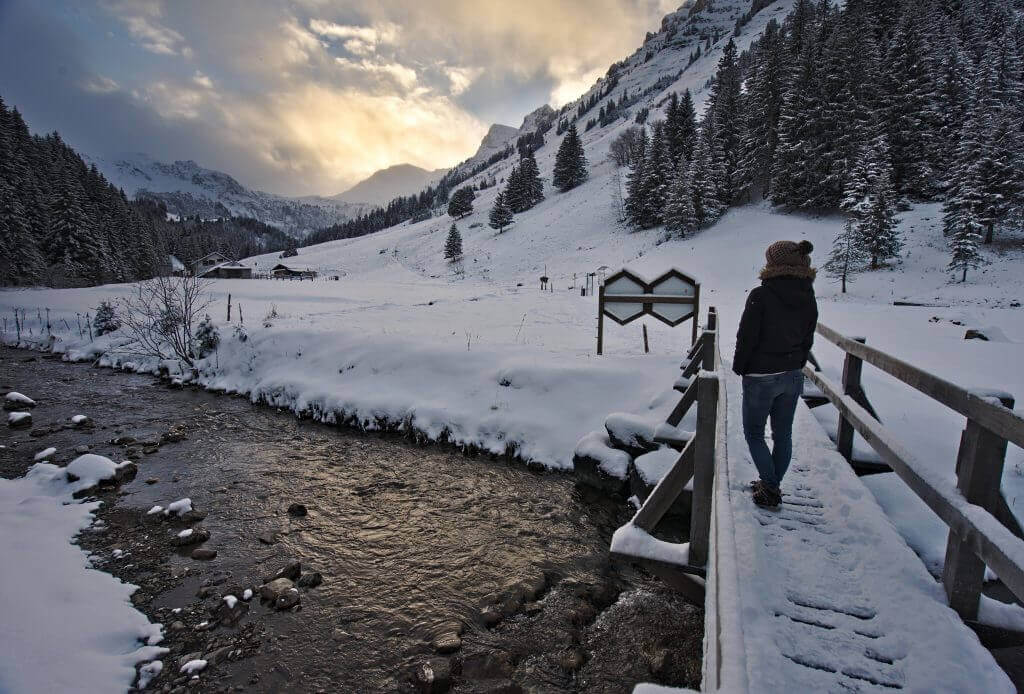 This itinerary can be done on foot (without snowshoes) if there have been no recent snowfalls, but it is also very suitable for snowshoes. For our part, we did it last week without snowshoes, but we had to be sure that we had really well adapted shoes.
At the level of the itinerary there are not too many suspense…. Once you have left the village, you follow the Vièze (the small river that flows into Morgins) while regularly using small wooden bridges. This route is very flat and really very easy. It takes between 30 and 45 minutes from the village to reach the canteen.
A word of advice: once at the canteen in They, we recommend that you continue a little further until you reach the pond of Sassex, which is about 10 minutes away.
Info
Start and finish: village of Morgins
Distance: a little less than 7km for the return trip
Elevation change: 150m (but it's very regular so the path seems really flat)
Duration: Allow 2 hours to complete the loop
On the way: They's bistro is open almost all year round (every day in high season (summer/winter) and often at weekends the rest of the year)
Hiking – Snowshoeing Map:

The Bellevue peak above Morgins
The pointe de Bellevue is a hike that we know well and that we particularly appreciate! We had already made you an article 100% dedicated to this hike to discover here. But this version was the "summer" version. In winter it is quite possible to do the same itinerary as for the "summer" route, but this version is clearly reserved for more sporty hikers… We're still making progress with snowshoes (at least for me), so for this complete itinerary we'd probably have to count something like 7-8 hours of walking.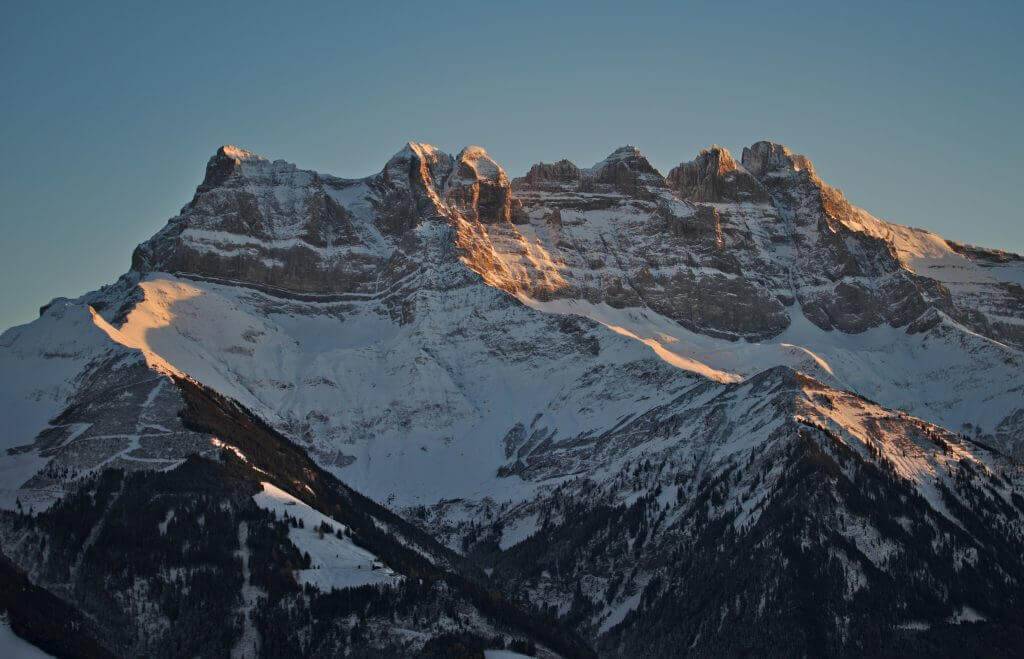 For this winter version we, thus, decided to opt for a shorter version. For this reason we left Morgins by car and parked in front of the mountain pasture restaurant "Le Ferrage" (the restaurant is closed during the winter). On the other hand, be careful, because the road is generally covered in salt but only partially clear. Winter tires are required (chains may be useful depending on conditions).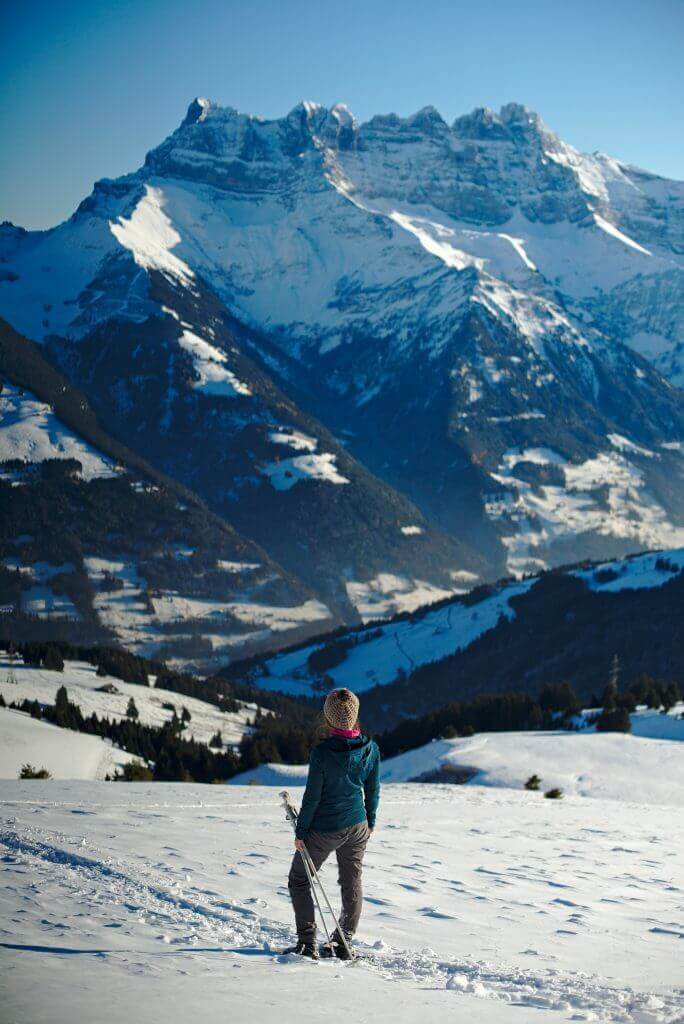 From the Ferrage we start by following a small part of the road before reaching Chalet Chanso. It is from this point that we put on the snowshoes and started climbing towards the Pointe de Bellevue. For the itinerary there is relatively little suspense, because during the whole climb there is the summit (and the cross at the top) in sight.
In summer there is a hiking trail that is quite a bit of a zig-zag and detour… But in winter and on snowshoes the best way is to go straight up. In addition to working your cardio this direct path is also the most logical with snowshoes on your feet.
I sweated a lot during this climb but as usual, once at the Pointe de Bellevue you can only be thrilled to have made it up there. The view is simply stunning! We have a 360° panorama where on one side we can see Lake Geneva and the Rhône plain while on the other side we can see our beautiful Alps (and the famous Dents du Midi). 😉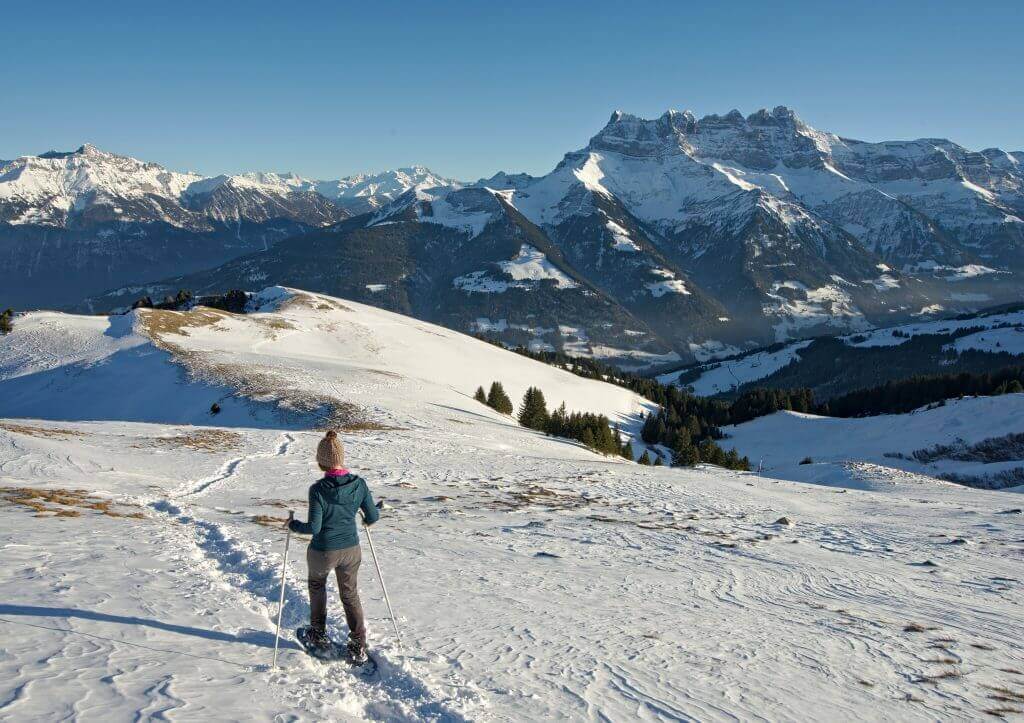 For the descent you can make some variants by creating new tracks, but basically the route is the same as for the ascent. The extra thing? We always want to lift our noses because we find ourselves all the way down in front of the beautiful dents du midi…. 😉
Note that it is better to favour this route when there is a lot of snow… with little snow the snowshoeing descent was relatively slippery and we finished with our butts in the snow more than once.
Infos
Start and Finish: Restaurant le Ferrage
Distance: about 6km
Elevation change: 548m (up and down)
Duration: Allow 3 hours (2 hours for the ascent and one hour for the descent)
Note: On the way, Chalet Chanso is open for most of the winter. If it is open, we recommend that you stop there for a hot drink. We love this place and the interior is really cosy.
Pointe de Bellevue hike map (in winter):

Summer hiking map (or for more sporty snowshoe hikers):

A loop towards the Savolaire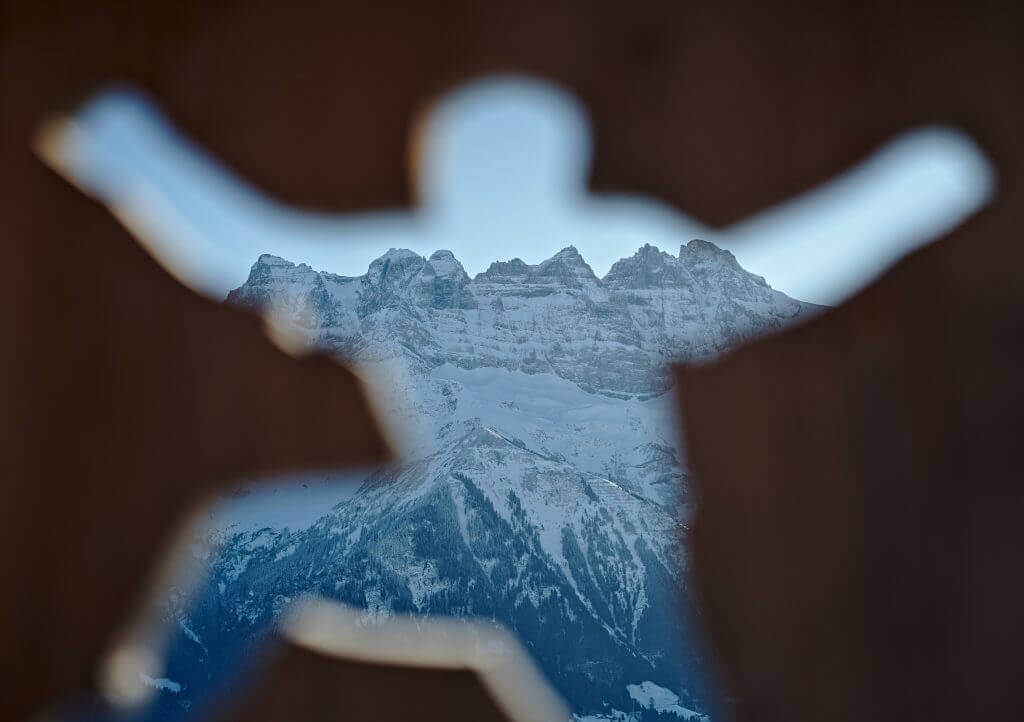 I have been coming to Morgins for more than 20 years and this year it was the first time I came to Le Savolaire (shame on me I grant you). In fact this walk (which follows a marked snowshoe trail) we wanted to do it when we were at Bellevue Point. Indeed, from the tip you have a magnificent view of the Dents du midi but you can also see the corner of the Savolaire which is really "right in front" of the dents du midi. In short, we clearly wanted to take a closer look at it!
The main advantage of this route is that it is a loop, so we don't come back the same way as on the way there and that's something we like.
The itinerary to the Savolaire
The start is at the foot of the Foilleuse chairlift in the center of the village of Morgins. We climb about twenty meters on the ski slope, then we take the road (not made for driving in winter) which goes to the left and passes under the chairlift.
After a few hundred meters you take directly on the right on a small path that goes into the forest. This rather steep trail climbs in a zig-zag pattern to a first clearing. From there we continue along to the right until we finally see the dents du midi.
Arrived at the level of a first group of chalets we go up on the left through a field to join the chalet of the Swiss alpine club "Le Savolayre". Once at the chalet we took the opportunity to take a short photo break on the terrace before heading back on the road.
For your information, this chalet can be rented from 250CHF per day and can accommodate up to 31 people (in dormitories). In terms of panorama, I think it's hard to find a nicer place for a group/company outing. more information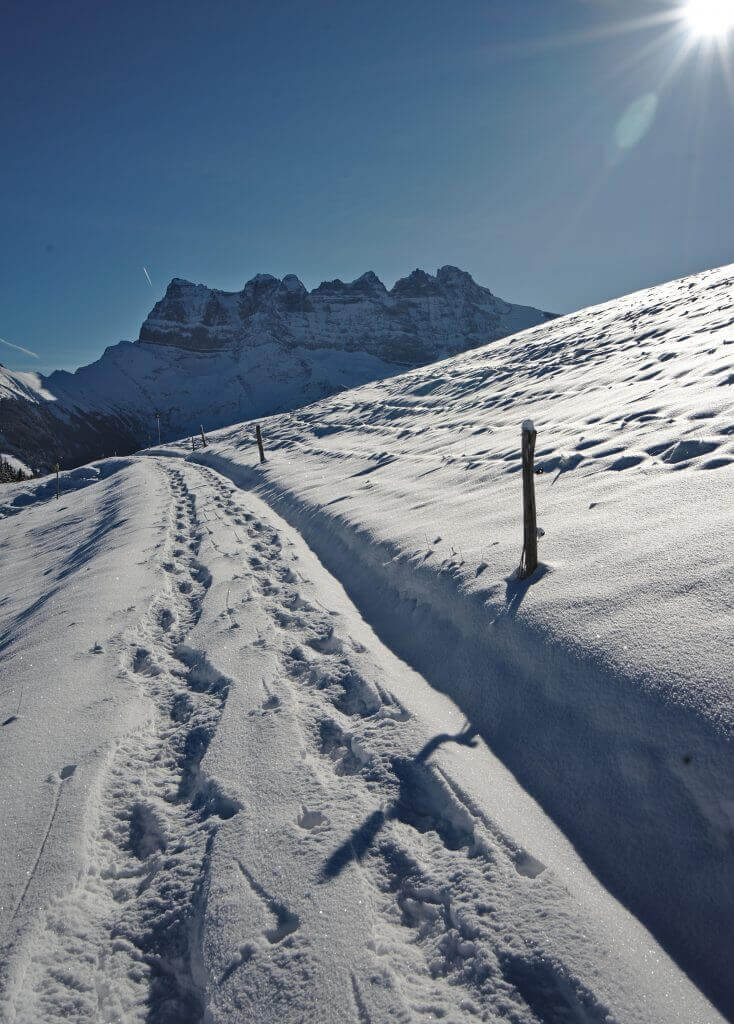 From the chalet you have the choice: either retrace your steps or go down the other side. In terms of distance the return on the other side is longer, but on the other hand the slope is softer (easier on snowshoes).
For the descent we start by passing behind the chalet then we go along the mountainside until we reach the "road". I put big quotes, because yes this second part of the snowshoe trail follows a road for a good part, but it is not used in winter and we can therefore walk in the fresh powder snow on the side.
This snowshoeing itinerary is really very, very nice and is highly recommended if you come to the area. A little less physical than the Pointe de Bellevue but an amazing panorama on almost the entire route.
Infos
Start and Finish: Morgins centre
Distance: about 7,5km
Elevation change: about 350m up and down
Duration: Count between 2,5h and 3h to complete the loop
Note: The loop can be done in both directions. If there is not a lot of snow, prefer to go up into the forest and down by the "road". The forest path is much steeper and therefore more delicate on the descent if there is a lack of powder.
Note bis: You will notice on the map that the route we have taken does not follow an official path…. We reassure you that the path does exist; it is marked by small round and red signs. In short, the layout on the map is a bit "freestyle" but we have tried to be as precise as possible; in reality it will be enough for you to follow the tracks.
Snowshoeing itinerary:

The snowshoe loop of Champoussin
The last snowshoe hike we did (winter 2020) is a nice loop that starts from the small village of Champoussin. So even if Champoussin is 3kms as the crow flies from Morgins, it will still take you 20-25 minutes by car to get there from Morgins (you have to go down the valley to get back up on the other side 😉 ). But nothing impossible to overcome!
The walk starts at the large car park at the entrance of Champoussin. We go down through the fields following the pink signs No1. We cross the river on the small bridge to continue on the right bank. We continue walking through the fields with a magnificent and unobstructed view of the Vaud Alps and in particular the Grand Muveran. Just splendid!
We then arrive at the place called "Le Tronchay" with a few cottages that have a magnificent view of the Dents du Midi ( #jealousy). From there we go up to the right hand side in the forest along a ridge. Each time we leave the forest, we have a breathtaking view of the Dents du Midi and the whole valley of Illiez. We thus go up to the canopy of Les Frachettes to continue on a track which always goes up along the ridge. We finally arrive at a crossroads. Either you still have some energy and you can continue to climb up to a viewpoint (round trip cf map). Either you take a right to go down towards Champoussin by crossing the river. After the river you can either go down to the right towards the car park or go up to the restaurant "chez Gaby" for a good cheese crust (which are very good… but a bit expensive for our taste).
Useful Infos
Start and finish: Champoussin car park
Distance: 6-9kms (it depends if you go to the viewpoint)
Denivelation: 3-400m d+ and d-
Duration: between 2h30 and 4h
The map of the hike:

Other snowshoeing routes in the region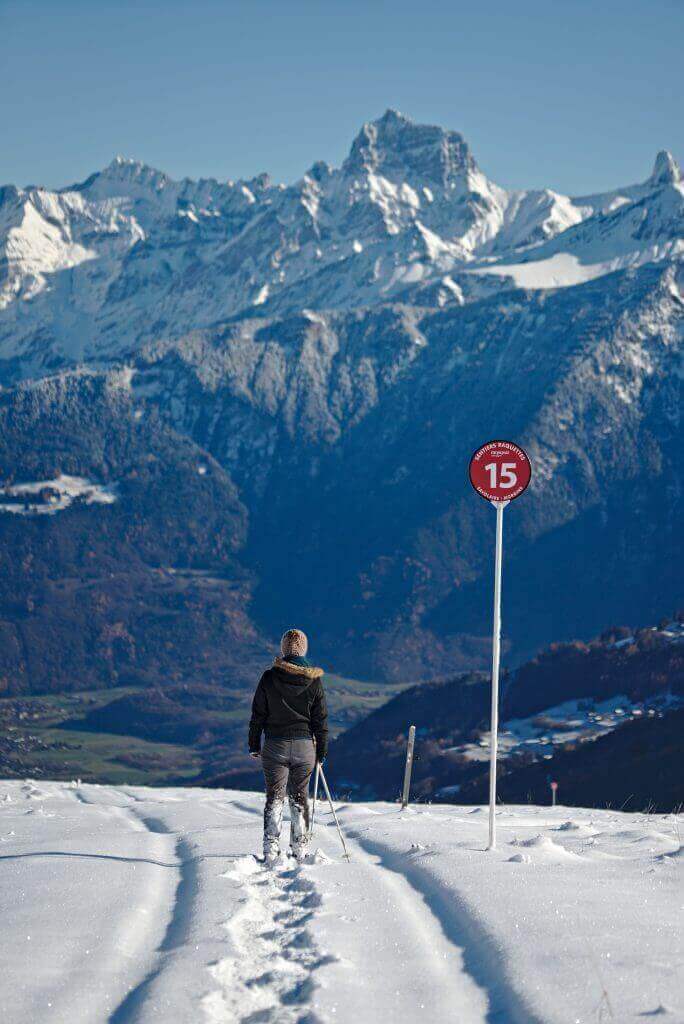 Morgins is located in the Portes du Soleil ski area and is therefore directly connected by the slopes to the resorts of Champéry, Les Crosets, Champoussin or Châtel.
For this article we are not going to go to the French side (a little chauvinism doesn't hurt), but know that there are several other routes in these resorts. We haven't had a chance to test them yet but you will find all the information with maps here.
Afterwards, I don't hide from you that for a large part of the routes presented on the official website I prefer the routes that we have proposed above… Not because I am an undisputed fan of Morgins but for the simple reason that the Morgins routes are far from the ski slopes! For me snowshoeing is a bit of an opportunity to go "elsewhere" than the spots where all skiers go…. But that only remains my opinion. 😉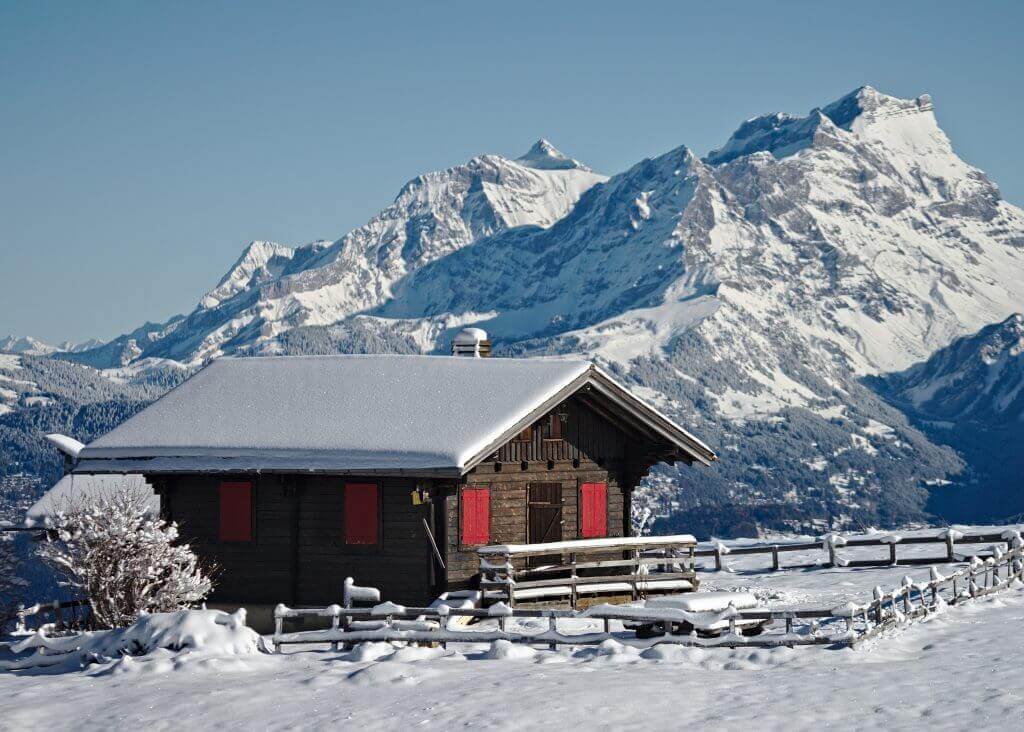 Snowshoeing gear: how to get equipped?
One of the great advantages of snowshoes compared to skiing is certainly the "price of the day", but not only! The equipment is also a part that is a lot cheaper…. a little overview.
Snowshoes and poles
In Morgins there are several sports shops in the center of the village that offer to rent "sets" including snowshoes and poles. The standard price for a daily rental is about 15 CHF.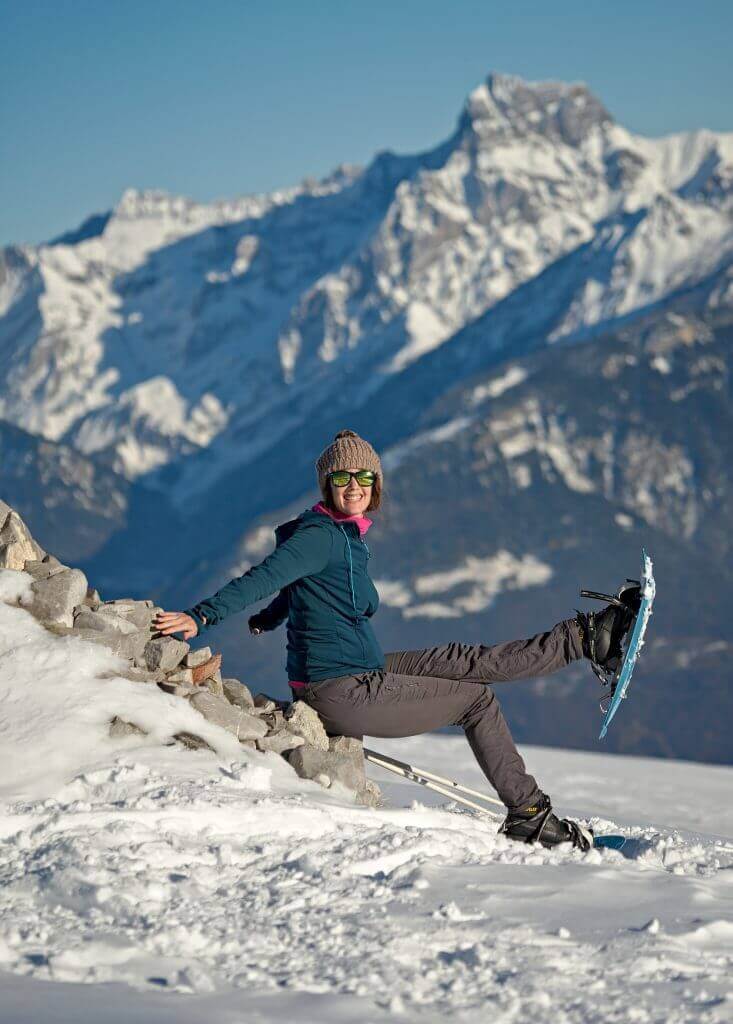 For our part, we didn't have to rent any because we were able to borrow them from Benoit's parents who live next door. But very sincerely, if you like snowshoes or if you plan to do a few times in your life then it is already worth buying a pair if you want our opinion. It doesn't take up much space, you can keep the, for a long time and the investment is not huge and we can lend them to the family without any worries since the size is adjustable in 2 clicks!
As far as snowshoes are concerned, you can find everything, but quite frankly, unless you call yourself Mike Horn and go on an expedition I don't know where, it's not mandatory to have a pair for 400€. An excellent (and well known) brand is TSL. You can find them from about 100€.
Decathlon also makes models from 50€. We haven't tested them, but at our level I think snowshoes are snowshoes. 😉
Update 2020:
After moving to our beautiful mountains we finally bought a pair each. Ben has these ones while Fabienne opted for this version
For the sticks there is definitely no need to sell a kidney! On snowshoes the poles are useful to help a little on the way up and stabilize on the way down, but for that, the old poles that hang around in the cellar or entry-level models are tip top! Personally, we opted for the old ski poles from the 80s that used to hang out in my father's cellar. Apart from the little "Bronzés font du ski" style, it makes no difference. If you don't have any, check out online, these for example are perfect both for hiking and snowshoeing.
Clothes and shoes for snowshoeing
The most important thing when snowshoeing is to have dry feet! It is of course possible to have special winter "boots" for snowshoes, but actually you can make snowshoes with almost any pair as long as they are waterproof. Benoit generally uses hiking boots; the same pair as the one we had to do the Via Alpina this summer. 😉 To see our equipment via alpina it's this way.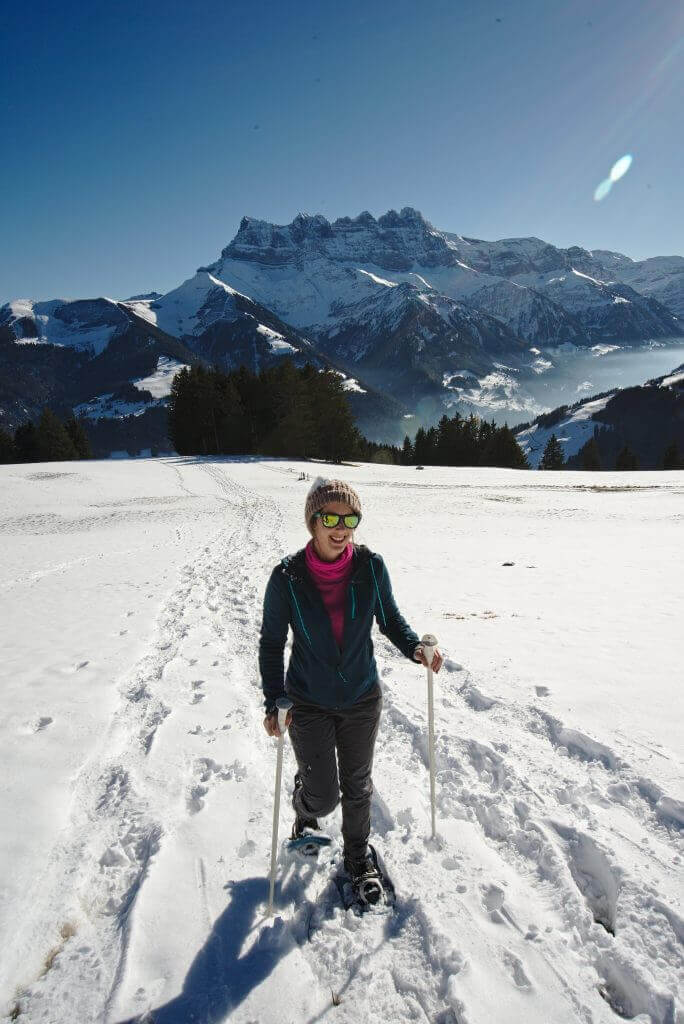 In terms of clothing, there is nothing special to take, unlike skiing. For our part, we usually leave with hiking pants. On the other hand, where you have to be careful is at the top! Our advice: plan several thin layers and not a big sweater and a big jacket.
When snowshoeing, you quickly get very hot on the way up and cooler on the way down or when it's flat. The ideal is therefore to have a thin layer with long sleeves close to the body, a sweater and a small light jacket to add.
If we had to add an accessory then I would say that gaiters would not be bad. We don't have any, but on our last trip I came home with my pants soaked because he had "pumped" the snow when we walked in the high snow areas. In short, for a 100% not glamorous look but in dry conditions it would be a good purchase! 🙂
We wish you a beautiful winter with lots of powder!
That's it, that's all for today. I hope you liked this article and above all we keep our fingers crossed so that this 2017-2018 season will be beautiful! For the moment it's going well, there are kilos of fresh snow, let's hope it lasts!
See you soon!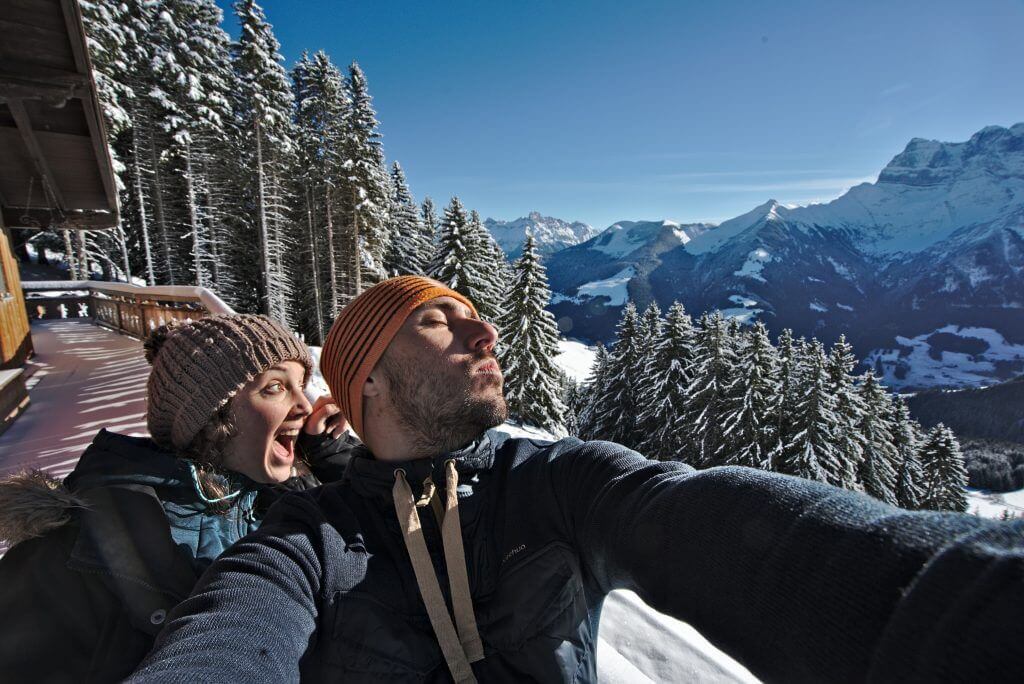 NB: In this article you will find some links that are "affiliate" links. This means that if you use these links to buy a product you obviously do not pay more, but we do receive a small commission. Of course we are only talking about products that we use and that we would also recommend to our mom (well for the moment the snowshoes were lent to us by mom so it is rather her who recommends them) 😉