You may have noticed that we're huge fans of the Coliving concept and that we like to spend some time in those places specially designed for "digital nomads" (meaning people like us who can work from anywhere with their laptop). We find it is a perfect mix between good infrastructures to work (quality workspace, super wifi), meeting people who have a similar lifestyle to ours and discovering a new destination (usually these colivings are in really cool places 😉 )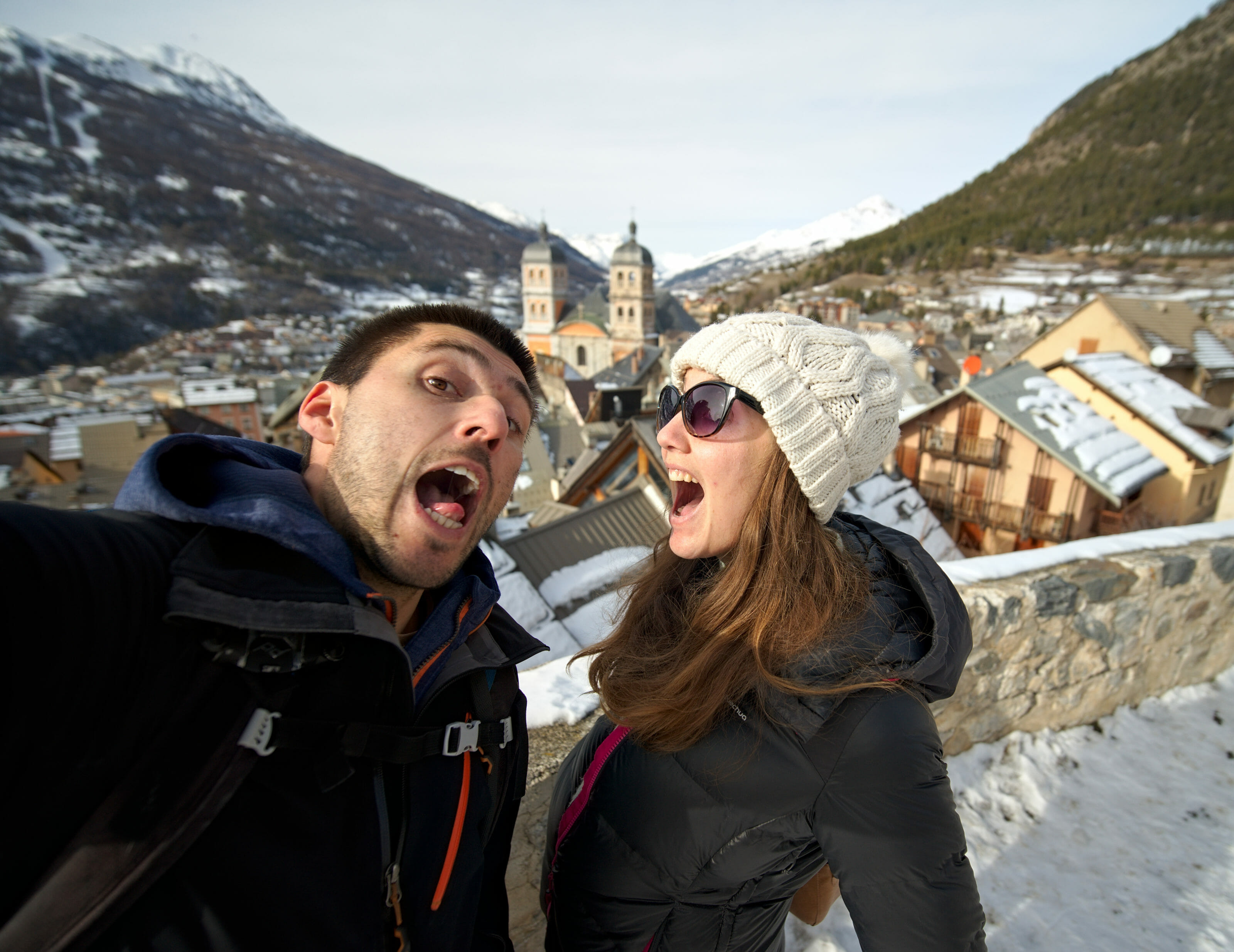 In November 2019 we returned for the second time to Nine Coliving in Tenerife. If you remember, this is where we tested the concept of coliving for the first time in 2018 (since then we also went to Anceu coliving for 4 months in Galicia). We fell in love with this place where we met wonderful people and which allowed us to discover the incredible island of Tenerife inside out.
This time too, we had some great encounters in Nine, including Hannah, an English girl with whom we immediately got along really well. And it was while chatting together that she told us about Jelena and Joey, a couple she had met a few weeks earlier and who were planning to open a coliving in Briançon, in the heart of the Hautes-Alpes in France. Intrigued, we thought it might be fun to try out this new coliving, especially since we had never visited the Hautes-Alpes region before. And so we decided to meet up with Hannah in France in January to test the cloudcitadel coliving, which is, to our knowledge, one of the first places of this type in France.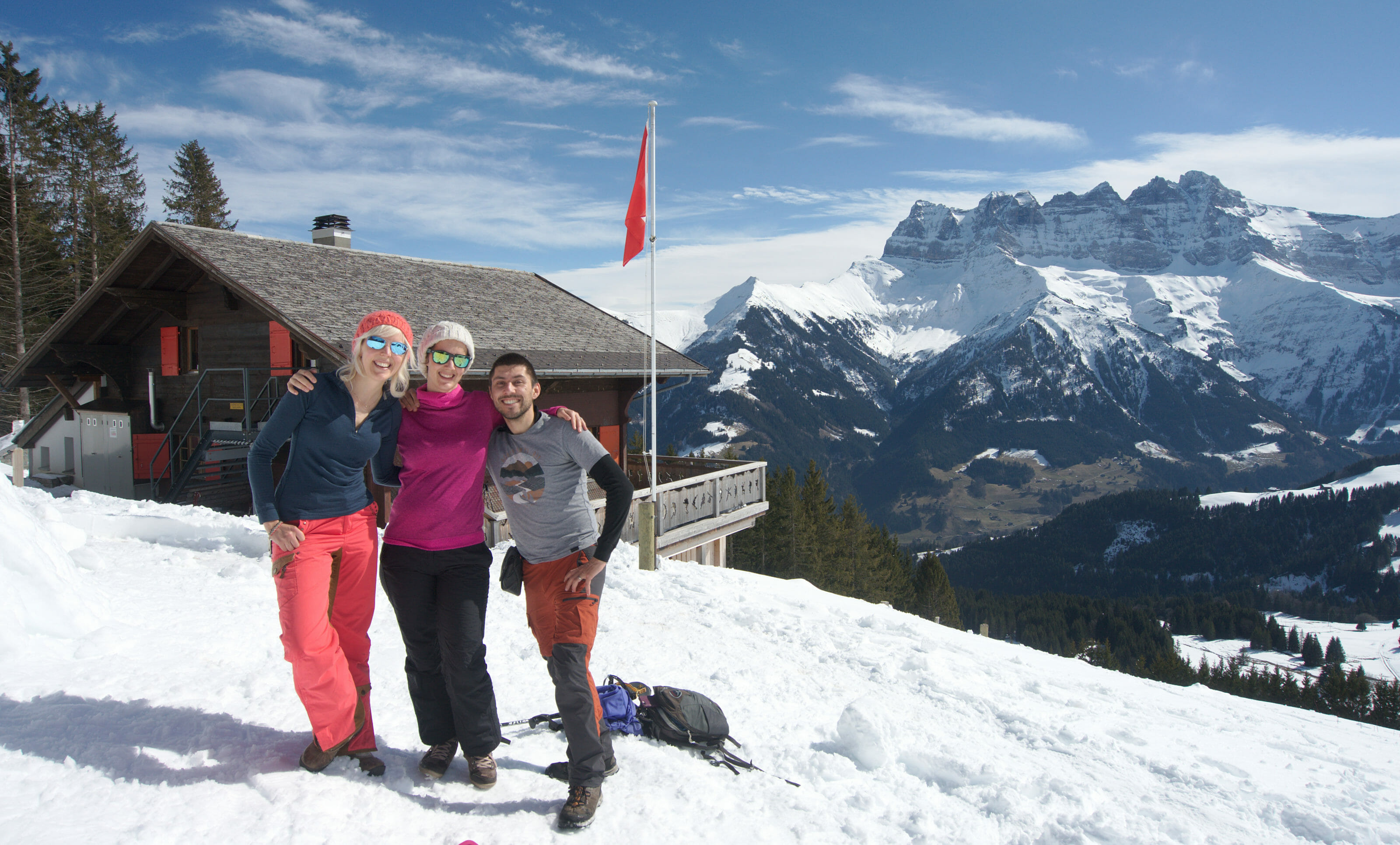 Opening a coliving in Briançon, in the heart of the French Alps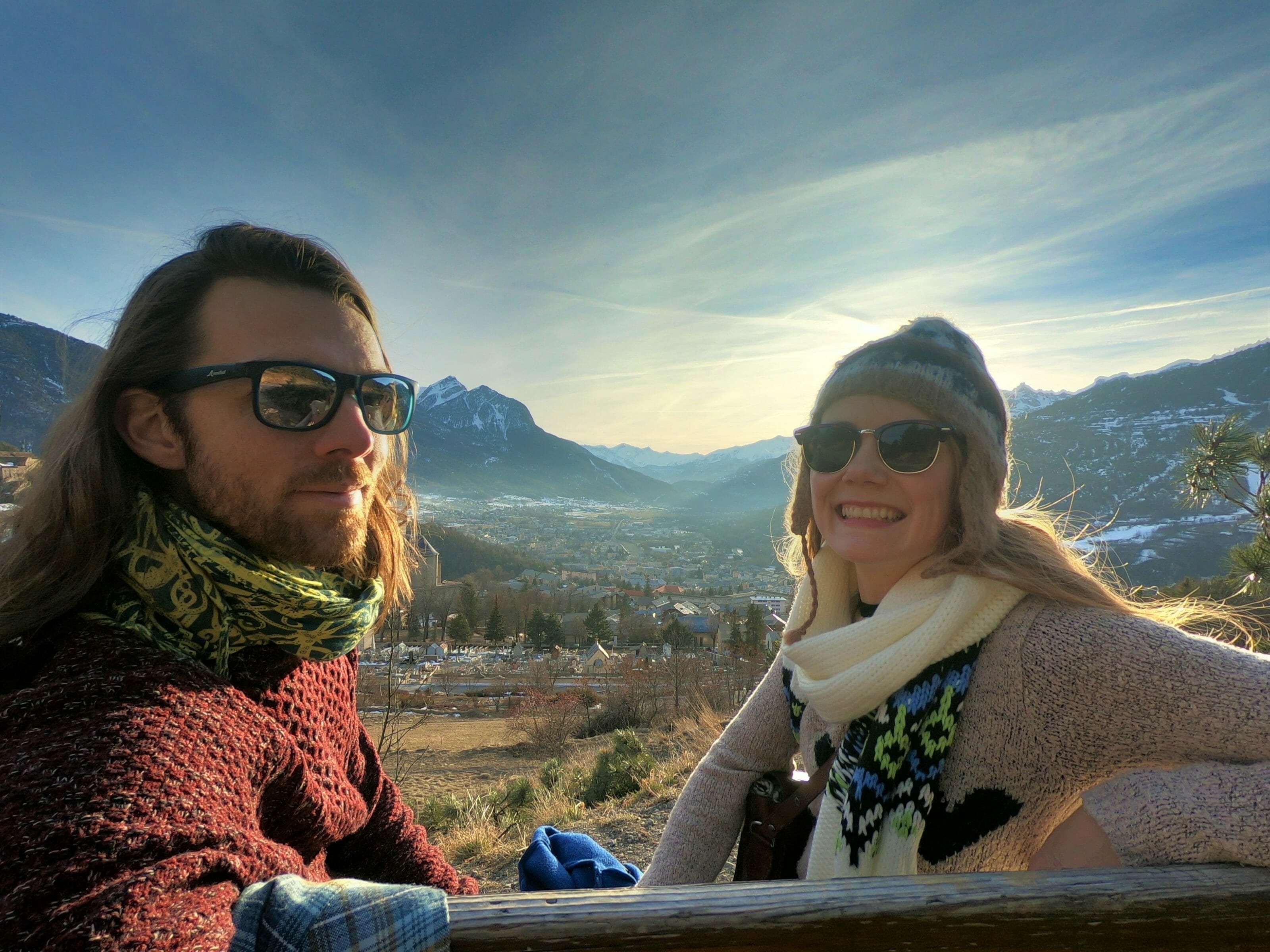 After having traveled around the world quite a bit, Jelena and Joey wanted to spend more time somewhere to set up a project together. They had already discovered the small world of Digital Nomads (they also stayed at the coworking Bansko and another coliving in Spain), and thought they could set up a coliving and live surrounded by nomads from all over the world. So they started looking for their dream place to live and open their own coliving.
After considering Spain in particular, they immediately fell under the spell of the small town of Briançon in the heart of the Hautes-Alpes region in France. And we understand them! Nested between the Ecrins National Park and the Queyras Park, Briançon (which is also the highest town in Europe at over 1300m) is a little paradise for nature lovers like Jelena and Joey. Plus there are actually already quite a few colivings in Asia or Central/South America in the sun and close to the sea. On the other hand, colivings in the mountains that could welcome nomads who love hiking and/or skiing, that's quite rare!
Coliving and coworking in a former 19th century military house
Because of its location close to Italy (or the Duchy of Savoy at the time), the town of Briançon was fortified in the 17th century by Vauban and is now a UNESCO World Heritage Site. And it is right in the heart of the Vauban citadel that Jelena and Joey found the gem to create their coliving. They bought the former residence of the military governors, which is situated on the edge of the citadel… so they have a magnificent house with a breathtaking view of the whole valley and the surrounding mountains.
Although neither of them had any experience in building construction or renovation, they were not intimidated by the extent of the task. They work super hard to create a place that could accommodate about 15 people to live and work in this beautiful mountain setting.
At the time of our stay in January 2020, the renovations had not yet been completed but we must say that we were already impressed by all their work (all the more when you know what it means to do renovations in a building listed as a UNESCO World Heritage Site 😉 #frenchBureaucracy. The house has an incredible cachet and we could only imagine what it will look like when it's finished. Everything you need to run a coliving is there and we will take you with us for a little tour of this magnificent building that promises to welcome many people like us in the future.
Do you want to lear more about "What a coliving is" and why we love these places so much? Then, take a look at our blog post about colivings in Europe
The coworking space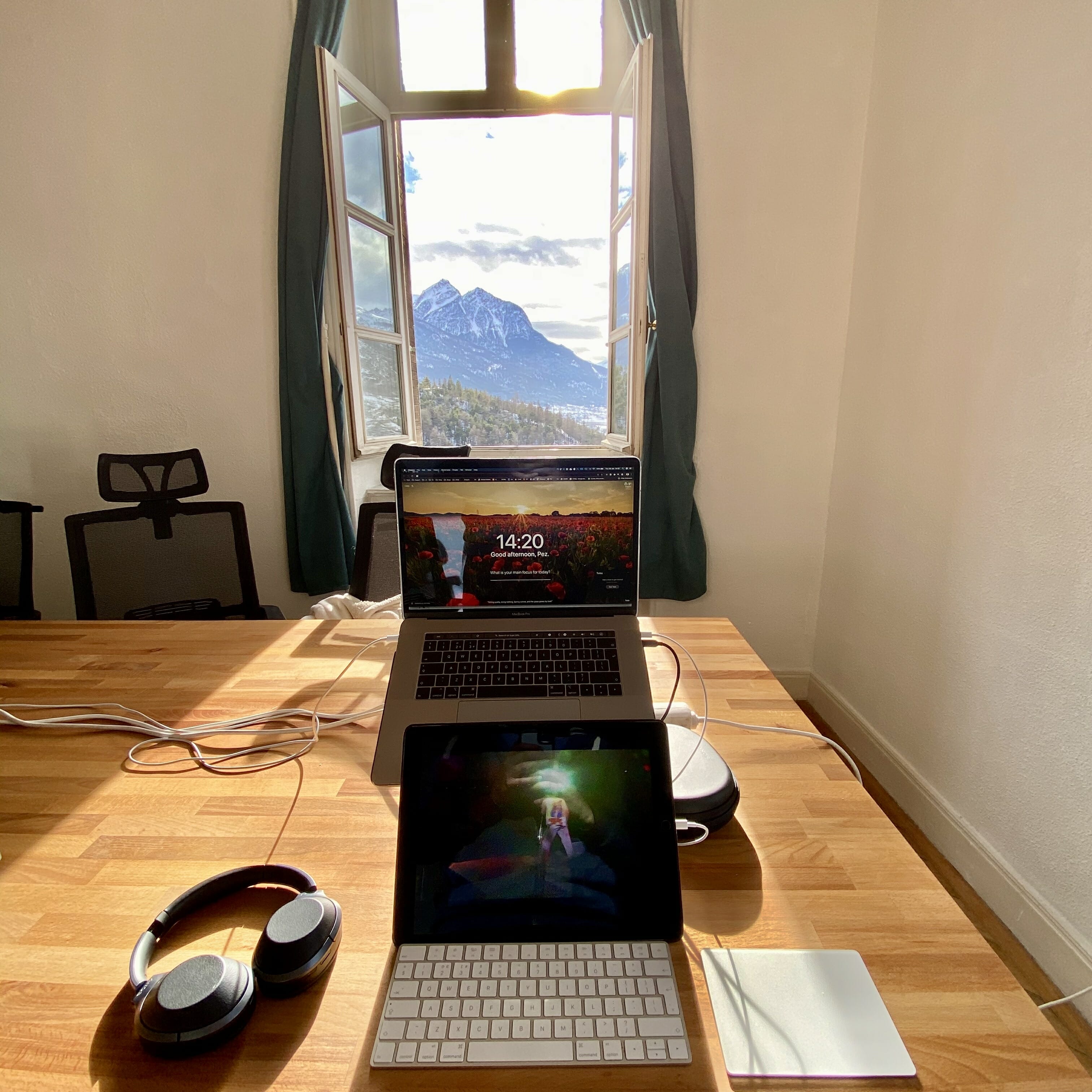 We'll start directly from one of the most important places in a coliving, the workspace. Jelena and Joey made no mistake and chose one of the most beautiful rooms in the house to set up their Coworking space. The room is on the 2nd floor at the corner of the house with 3 large windows overlooking the mountains and the valley. Imagine, you are sitting comfortably on your desk chair (very important the desk chairs 😉 ), there is a crackling fire in the chimney behind, and you have the view on the mountains of the Ecrins National Park. There are worse working conditions, aren't there?
Otherwise, the work space is equipped with a beautiful wooden table, comfortable chairs and above all a fast Wifi which was working great during all our stay! They have also planned to create a second workspace in the coming months to allow the colivers to have more space available. In short, it is a definite success for the Coworking area.
The rooms
There's nothing wrong with that either. We spent our stay in a double room with shared bathroom (there are also rooms with private bathroom). The bed was super comfortable and above all we had a magnificent view of the mountains from our window. Just awesome!
Note that there should be dormitories soon available on the 3rd floor of the house.
Other infrastructures
There is still a lot of infrastructure available in the house:
The kitchen: It's one of the biggest plusses of cloudcitadel! The kitchen is gigantic and equipped with everything you could dream of to cook a lot of good dishes. Until now, the coliving we've been to didn't have such a big and well equipped kitchen (especially the dishwasher) and it's really great when you share the house with 10-15 people.
A dining room and a living room: The two common areas most used by the colivers after the work space… This is where all the social evenings take place ( raclette nights, games), sometimes presentations if some people want to share their experience on a subject… or simply to share a good meal.
We also used a large room on the third floor for workouts and yoga…
There is a washing machine available
… and much more to come (e.g. the gigantic attic under the roof has not yet been renovated and one wonders what Jelena and Joey are going to do with it 😉 ). There is so much space and potential in this house that we are already looking forward to our next visit and the surprises it holds for us.
Our day to day life at cloudcitadel coliving
Now that you've had a tour of the house, you're probably wondering what our days in the cloudcitadel were like. So since the area is mostly a little paradise for outdoor activities, it really depended on the weather. But when the weather was nice, we tended to go snowshoeing in the morning (or go skiing for a while). We usually came back in the early afternoon to cook something. Then we'd get to work until around 8pm to finally share the evening with some of our roommates at the time.
We usually had a little "coliving meeting" at the beginning of the week with everyone (which is a great idea in our opinion). There, everyone shares a little bit his desires and his ideas of activities to make a kind of planning of the week. That way everyone was aware of what was going on and could join one of the activities if they wanted to (afterwards we used the app slack to organize ourselves during the week). So we often went skiing or hiking together, we went to the thermal baths, we had game nights, "skill sharing" evenings (where some people make small presentations on subjects that they are passionate about… we did one on SEO), family dinners and so on.
I must say that we like this lifestyle that facilitates meetings and interactions between people who live together in one place. It has allowed us these last 2 years to make a lot of new friends (for example Hannah who just visited us in Switzerland), to meet people who work in the same field as us, to share our skills… It's really very rich and inspiring!
Cloudcitadel coliving: the paradise for nature lovers
The advantage of being in Briançon in the heart of the French Hautes-Alpes is that there is no shortage of activities… especially outdoors! Since we were there in January, we had a lot of fun with the winter activities:
Skiing: Briançon is directly linked to the ski area of Serre-Chevalier which is one of the largest in France with its 350kms of slopes. From the coliving, in only 10 minutes of walk we were in front of the gondola… which is rather classy right 😉 . And if you want to try something else than Serre-Chevalier, there are plenty of other ski areas less than an hour's drive from Briançon. And as we're thinking about you, we've put together a complete guide to everything you need to know about skiing in the area (the most profitable ski pass offers depending on the number of days skiing, where to hire cheap equipment, all the ski areas etc…).
Read our complete ski guide for the Serre-Chevalier area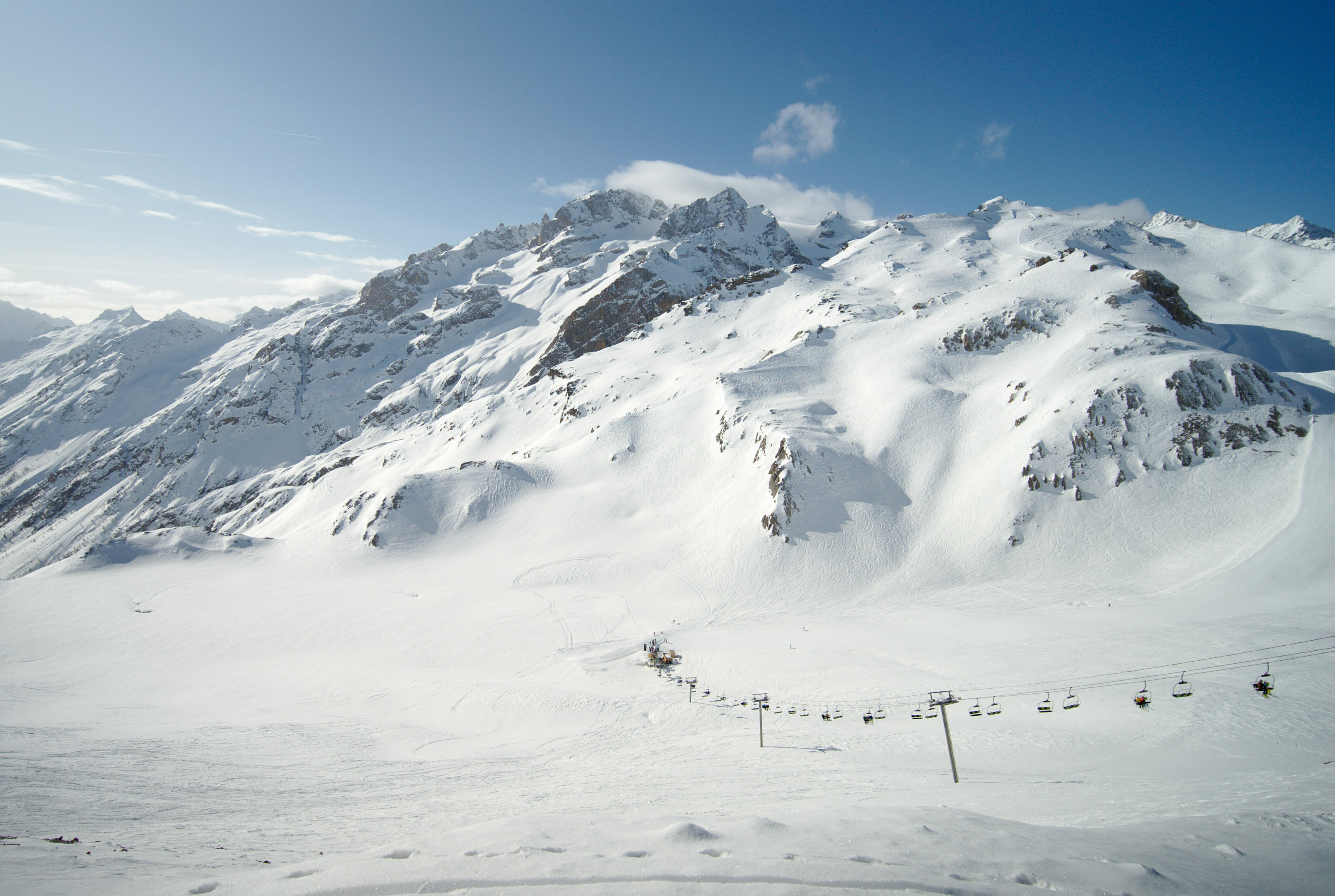 Snowshoe hiking: Here too if you like hiking in the snow, you will be happy in Briançon! You can discover the magnificent Clarée valley on snowshoes or the valley at the foot of the Col de l'Izoard towards the village of Cervières. Of course these are only a few examples because the possibilities are endless in the region.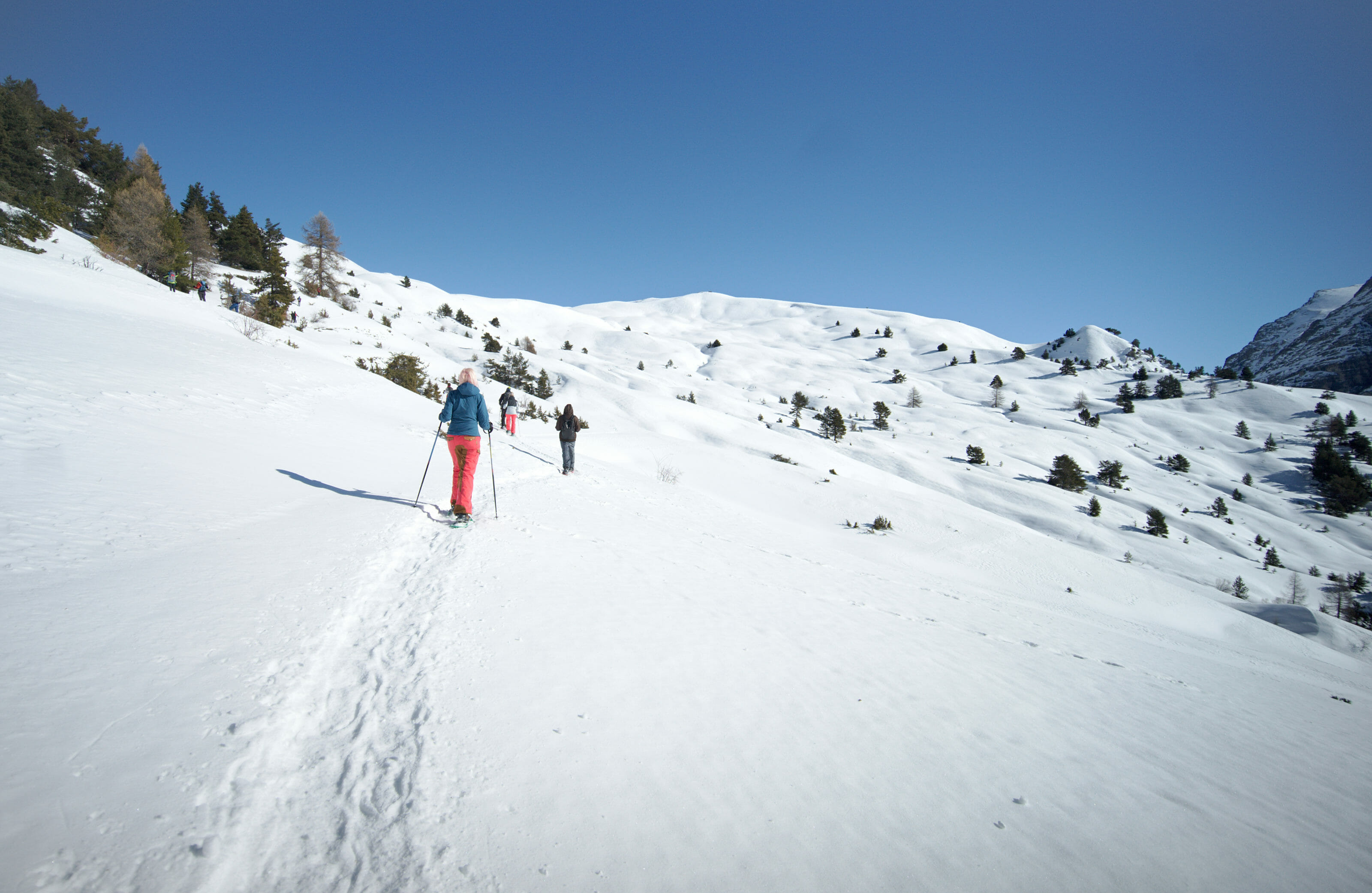 But to give you other examples, you could also do ski touring, ice climbing, snowkiting (like kitesurfing but on snow 😉 ), paragliding, fat bike etc…
And if you prefer to come in summer, you should know that the Briançon region is one of the most famous in the world for climbing. Moreover, it would probably take you more than a summer to cover even half of the hiking trails in the area! In any case, we are already thinking of coming back in autumn to hike and discover all these beautiful valleys covered with orange larch trees.
Note: And even if Briançon is above all a paradise of outdoor activities at 1300m, you should not forget that it is still a small town of 12'000 inhabitants with cinemas, bars and restaurants. So there are still things to do even if the weather is bad for a few days.
The nomad community at cloudcitadel
For us the community is as important as the location and the coliving itself. We have had various experiences with great communities in Tenerife or Gran Canaria but a little less to our liking in Bansko for example.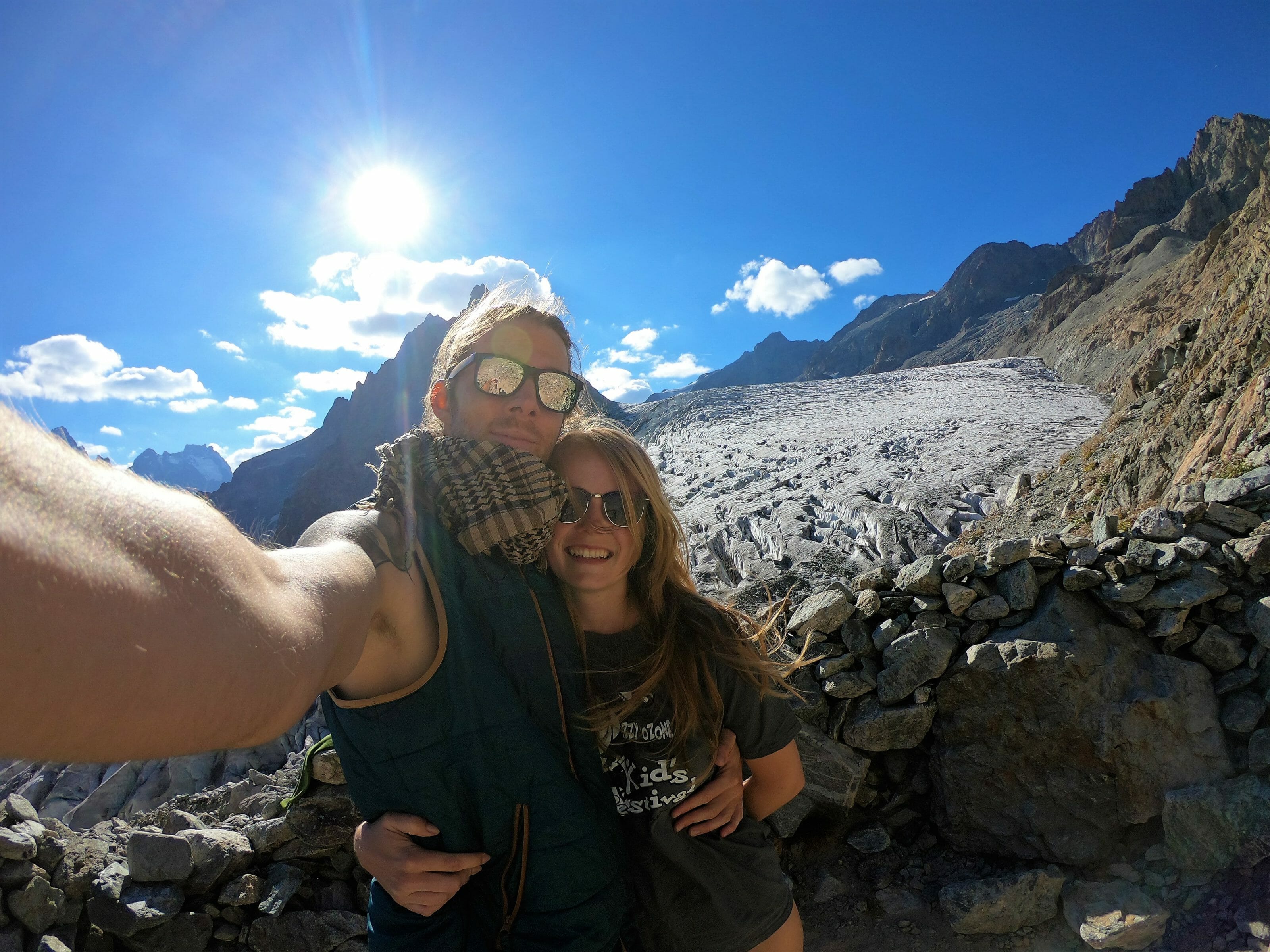 And we weren't disappointed in Briançon either! The first reason it works so well is because Jelena and Joey are so involved in the coliving life. They organize activities and events to make it easier for people to get to know each other. We really liked Jelena's energy and frankness as well as Joey's "quiet strength". These two are very complementary and they give 200% of themselves to make their coliving a welcoming place… and you can feel it!
Otherwise it always depends a little bit on the group of people you'll meet. But during our stay we met people from all over the world and we rediscovered the family atmosphere that we liked so much at Nine Coliving. As there are never more than 10-15 people in the coliving, we really had time to talk and get to know everyone. Looking back I think we can say that this is our ideal coliving size and that we will mainly go to places like this in the future 😉
Note also that the language of coliving is clearly English… which is a good thing in our opinion since it opens the doors of coliving to many more people than if they were aimed rather at french speaking people. I'm just saying this because some of our nomadic friends have already asked us this question because they were a bit afraid that the atmosphere is too "french" 😉
Useful infos for the cloudcitadel coliving?
How to get there
By car: As we came from Switzerland with all our ski equipment, we chose to drive to Briançon. But don't do as we did and don't necessarily follow what google maps says! Coming from Switzerland, google maps took us through Italy and the Fréjus tunnel which cost us 46€ one way (by far the most expensive tunnel of our lives!!!). So if you can, go through Grenoble and the beautiful pass road that goes all the way to Briançon (which we took on our way back and the landscapes were just incredible).
By train: Briançon is one of the last destinations in France to be served by night trains from Paris and it is certainly the best way to come if you don't have a car. If you are not too much into night trains, there is a direct line from Marseille. Or the fastest way is to take a fast train to Oulx on the Italian side (from Paris or Turin) and then take a bus to Briançon.
With the bus: There buses for Briançon that leaves directly from Grenoble in France and from Oulx in Italy.
What about prices?
Honestly the prices are really reasonable. They are decreasing according to the length of your stay (the cheapest price is 20€ per day in a 4-bed room for a stay of one month or more)… and I think we can say without hesitation that cloudcitadel is the cheapest accommodation in the region! And if you also consider the infrastructure with the work space, the super kitchen, the community… there is no need to hesitate a second.
Bonus: Joé and Jelena have agreed that we offer you a 10% discount on the price of your stay during the summer season! 🙂 If you want to come to the area to work and hike between June and October, use the code NOVOCLOUD to receive 10% discount. Transparency: By booking with our code you get a discount and we also get a small commission 🙂
Infrastructures in Briançon
The fact that the coliving is installed in Briançon, which is a small town, is a real plus. There is a local farmer's market twice a week in one of the main alleyways, there are plenty of different supermarkets including a large organic shopping centre, bakeries, wine cellars, craft breweries, cinemas etc… In short everything you need!
And if you need to rent ski equipment (or snowshoes), it's actually much cheaper than you'd expect (we found 13€ per day or 100€ for 14 days) if you know where to look. We dedicated a whole paragraph to it in our blog post about skiing around Briançon.
Final thoughts
What more can we say except that Jelena and Joey's coliving has already found his spot in our hearts. We have found everything we love with a coliving on a human scale, a beautiful family atmosphere and above all an incredible place for the nature lovers that we are. Their house in the heart of the citadel of Briançon already has so much charm and we really feel all the energy and passion that these two put into renovating, decorating or simply every day to make their cloudcitadel a welcoming place!
As with Tenerife's Nine Coliving, we already know that we will return at some point to explore this beautiful part of France while having a productive and inspiring working and living environment. In any case, we wish them lots of success because they truly deserve it!
THANK YOU Jelena and Joey for creating this beautiful space for nomads like us!!!
Pin it on Pinterest