Tallinn the beautiful! After having talked a lot about Tallinn in our last articles, it is now time to take a look back at our travel budget. And as usual we will also open our accounts for you. 😉
If you missed them, here are our latest articles on Estonia:
Digital Nomad budget in Tallinn
We're going to get right to the point. Here are the details of our expenses during our 14 days in Tallinn (January 2018 figures).
In total we spent 901€ in 13 days, an average of 34.7€ per day and per person. The figures in detail:
Note: the figure below is in french (sorry about this) but here are some useful info to help you understand it better
Logement = Accomodation cost (368,7€)
Restos = Cost of eating out (163€)
Transports = Transport (easy one) 😉 = 12,2€
Courses = Grocery shopping (140,75€)
Extras: 216€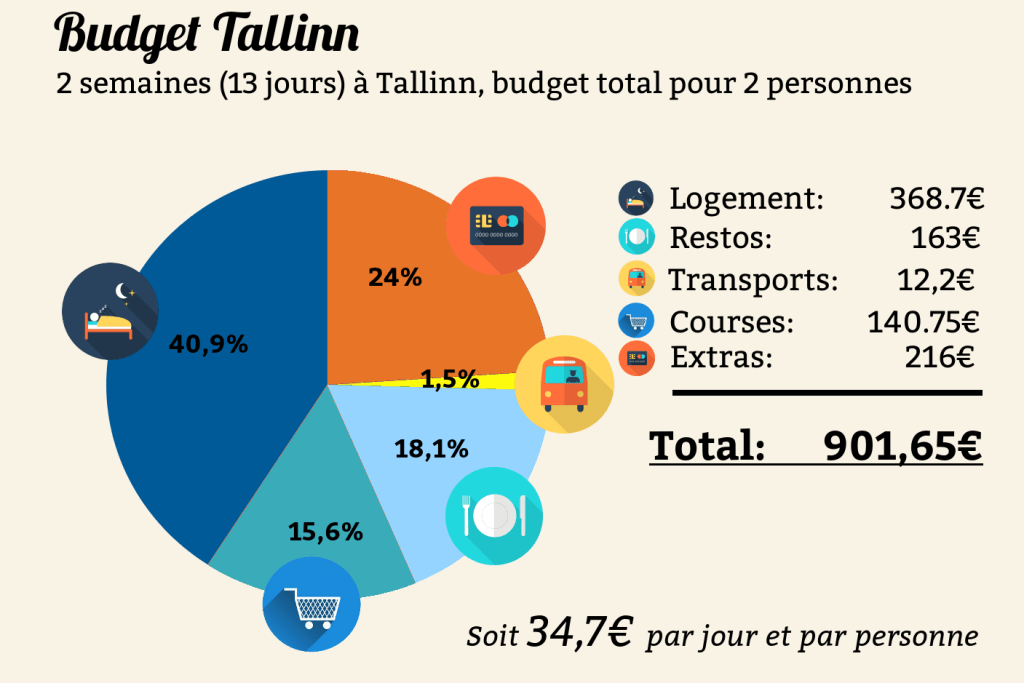 A few comments:
For the accommodation we first spent 2 nights in a dormitory in the Old Town Alur Hostel, before spending 11 nights in an apartment rental
Grocery shopping includes all purchases made in the supermarkets (whether for picnics or to cook at the apartment)
The "Extra" section is a jumble of everything else. For Tallinn it is mainly the purchase of 2 Tallinn Cards (74€) and our excursion to Lahemaa National Park (110€) or the KGB Museum (22€). Our average has been quite impacted by the latter. Without the tour to the national park (clearly the most expensive activity), our daily average is 30€. But we have no regrets about this excursion!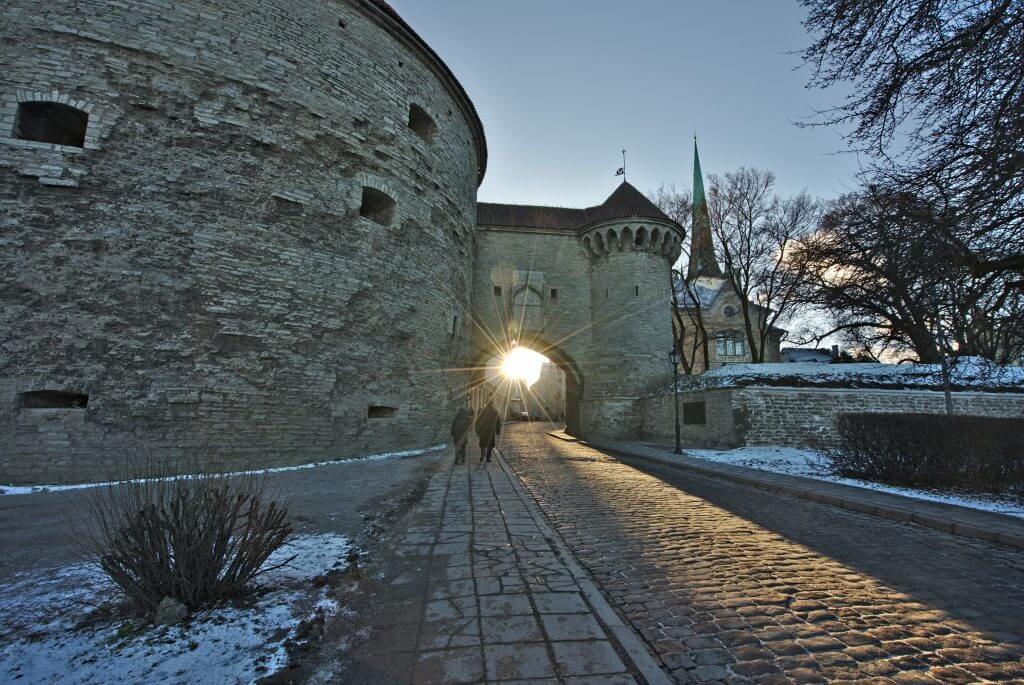 Travel budget for Tallinn
When planning a short trip, we tend not to have quite the same budget as when we are in "nomad" mode. Why? For the simple reason that when we rent an apartment we usually cook the vast majority of our meals and this makes it possible to make nice savings compared to restaurants.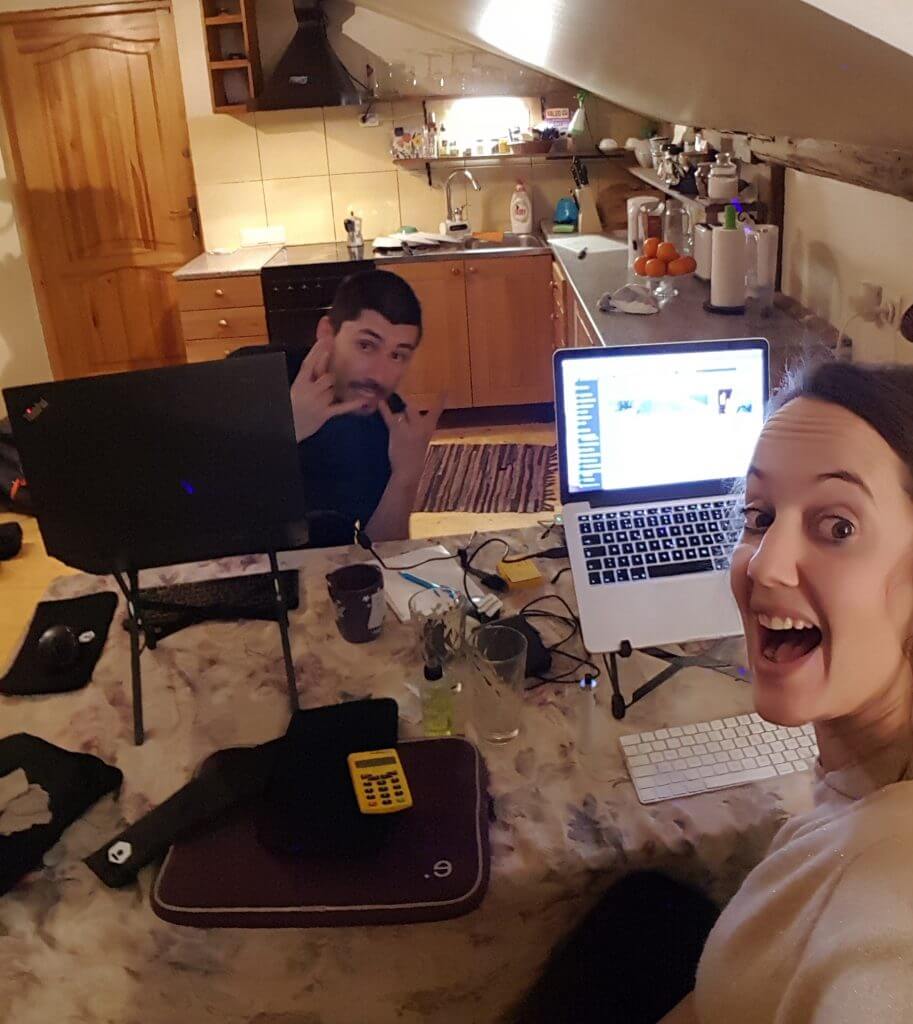 The other main difference between travel and nomadic life is that we are actually working a lot too. Thus, we spend less on activities! 🙂
Buuuutt… In terms of accomosation, we tend to spend a little more to be comfortable "at home" and work in good conditions. Backpackers are good for replying to an email and posting on Facebook, but to work on a project for a client it becomes more complicated. 😉
If you plan to come "on holiday" to Tallinn your budget will depend on how you travel of course but if we had to make some generalities, then a Tallinn travel budget would probably look like something like this:
Backpacker budget: 16-25€ per day and per person
Visiting Tallinn on a very tight budget can be done! To sleep you have to count 10€ per night in a dormitory (see the Alur Hostel where we spent 2 nights). To eat the best to save money is to cook your meals at the hostel or stop at a supermarket (the Rimi chain is everywhere in the city centre). By being careful and cooking you can get by for 6-10€ per day and per person. Then you have to add the visits, but there are also lots of free and fun stuff. See our article on Tallinn.
Streetart is everywhere (and free of charge);)
Moderate budget for travellers: 30-60€ per day and per person
As we get older we are moving more and more from the backpacker category to that one. 😉 What I mean here is a budget that corresponds to a couple (or 2 friends) who want to share a double room with bathroom in a clean and central place but not necessarily an ultra chic place either. On Hotelscombined you can find perfectly correct rooms for 40€ – 60€ per night. To this we add a small picnic or quick snack at lunchtime and a small nice restaurant in the evening, all topped with 2-3 paid visits.
Tip: For accommodation, at equal price, we found that apartments were a much better deal than hotel rooms! (See below for more information).

Comfort traveller budget: 60 – 100€ per day and per person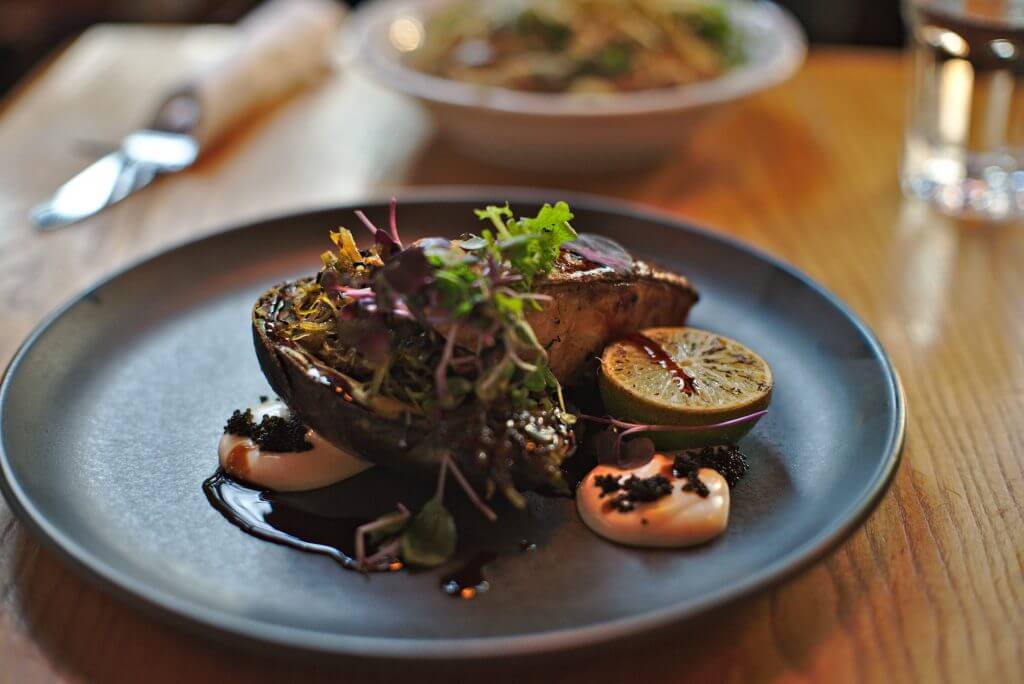 For this budget we are really starting to be able to enjoy it even more. From 60€ per night hotels are no longer just ok and clean, but mostly have a certain charm. 🙂 With the remaining budget you will clearly be able to enjoy the local cuisine by going to the restaurant for lunch and dinner and by enjoying the visits (staying in the normal way… we are not talking about flying over the city by helicopter either!);)
Luxury budget: 100€ per day and more
There's no real limit there, I want to tell you. 😉 In Tallinn there are beautiful hotels between 100€ and 200€ per night. In terms of gastronomy, Tallinn is a city that is on the rise. Until recently Estonia did not really have its own cuisine, but for the last ten years there have been some excellent chefs who have opened addresses in Tallinn. We won't be able to tell you any more, because we haven't tested it. 🙂
Okay… this one's not for rent since it's a museum… but you see the idea? 😉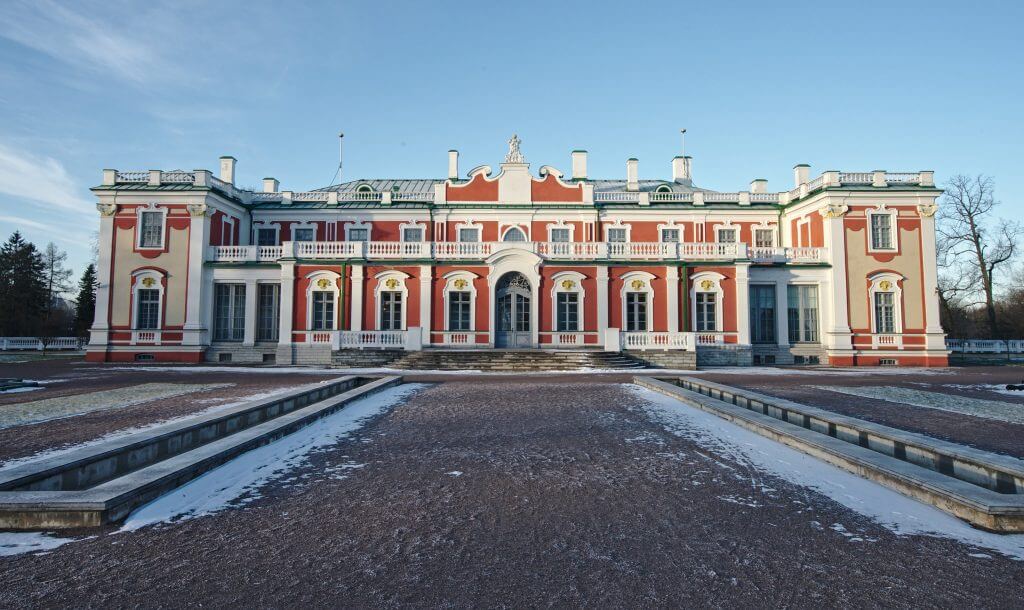 Accommodation in Tallinn: what are the options?
We already told you about it in more detail in our post about Tallinn, but in the Estonian capital, housing is not what is missing!
If you come as a visitor for a few days you can always turn to the classic hotel or youth hostel options. For your hotel searches we recommend you to take a look at Hotelscombined. It is not a booking site but a comparator. Basically you enter your dates and you get a very complete list of accommodations with the prices of the different most famous sites like Booking, Agoda, etc.. It makes it easier to find the best online offer.
If you come in "nomad" mode and you are looking for an apartment, then the great classic is and remains apartment rentals. Rental prices have tended to rise a little recently (have you noticed too?), but in Tallinn you can still find good offers. Our studio for example is available from 23€ per night. We paid an average of 27€ per night (including the extra costs and the fact that part of the stay was still during the Russian holidays and that some nights were more expensive).
To compare hotels and apartments easily you can also use the map below. Simply enter your dates and adjust the filters to refine your search:
Getting around Tallinn
Tallinn is a rather tiny city (at least its centre) and as a result we have most often used the most economical means of transport available: our feet! 🙂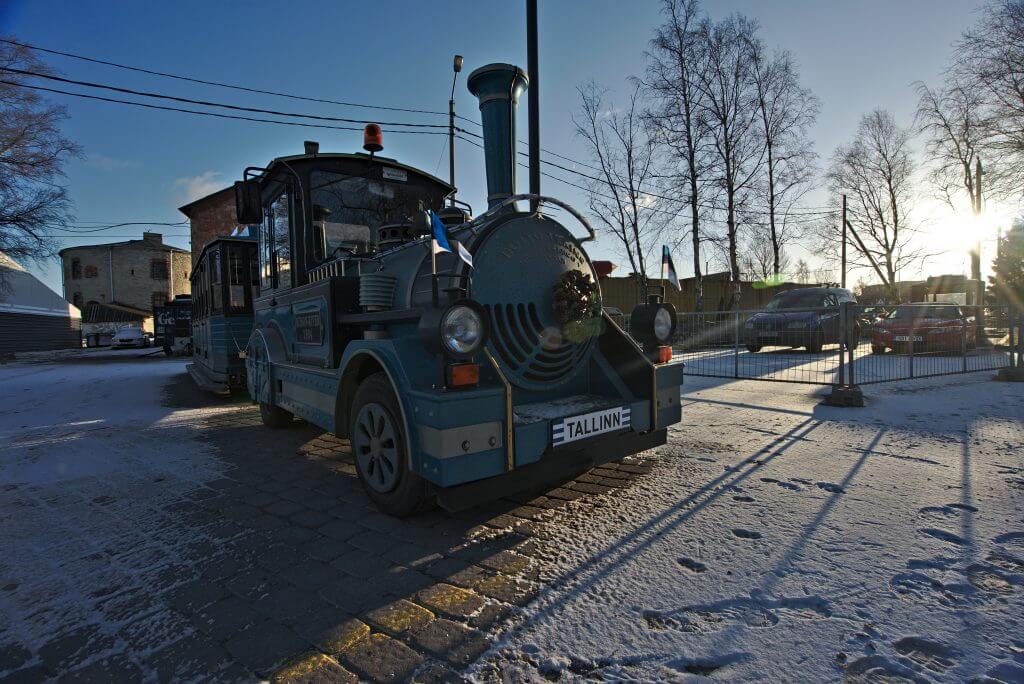 To tell you the truth, we only took the bus three times:
1) When we arrived from the airport
2) When we went to the TV tower.
3) To get to Keila Joa (See our article)
Tip
At bus stops there is usually no ticket machine (not even at the airport). It is always possible to pick up a ticket from the driver by going up from the front, but in this case the ticket will cost you €2 for the trip (only valid in the vehicle in which you have just boarded).
To save money it is possible to either take a magnetic card (sold in the kiosks) and load credit on it. In this case the trip is charged €1.10 and the ticket is valid for 1 hour (changes can be made). On these cards you can also directly load a day pass for 3€, a subscription for 2 days (5€) or for 3 days (6€).
The cheapest for a simple ride is the QR-Ticket. This ticket can be purchased online and costs €1. We then receive a QR code by email that we will have to scan at the bus entrance. (QR code readers are only located at the front doors). More Info
What language do they speak in Tallinn?
A question that has come up often… who knows! So in Tallinn, as in most of the rest of the country, we speak Estonian. I mean when I say we, it's obviously the Estonians, eh, we don't understand a word! 😉
Estonian is a language of Uralic origin spoken by only 1.1 million people in the world (in Estonia, therefore). It is sometimes said that Estonian is to some extent linked to Finnish and very far away to Hungarian. But having discussed it with some Estonians (and Finns) it would seem that this language does not really have a relationship, at least no one else can understand it.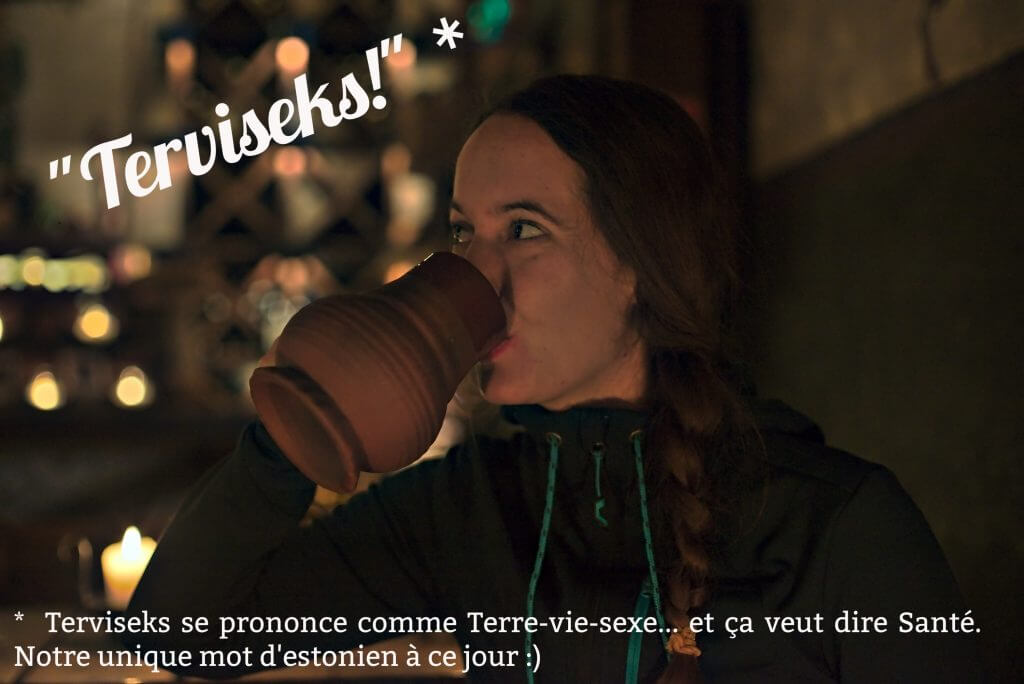 But strangely enough, only 82% of Estonians speak and understand Estonian! Yes, in Estonia there is a significant Russian presence. Almost 30% of the population has Russian as its mother tongue and it is expected that about 70% of the total population understands it.
Beyond that we found that English is extremely well mastered by Estonians. The vast majority of the people we spoke with that were under 40 years old had simply perfect English and no accent.
The Weather in Tallinn: when to visit?
It will be difficult to make a comparison between summer and winter since we only came here in winter. Nevertheless, it is still believed that a city like Tallinn is generally easy to visit at any time of the year.
Tallinn has a climate called "cold temperate". (for coming in winter we confirm the cold). But what does that mean?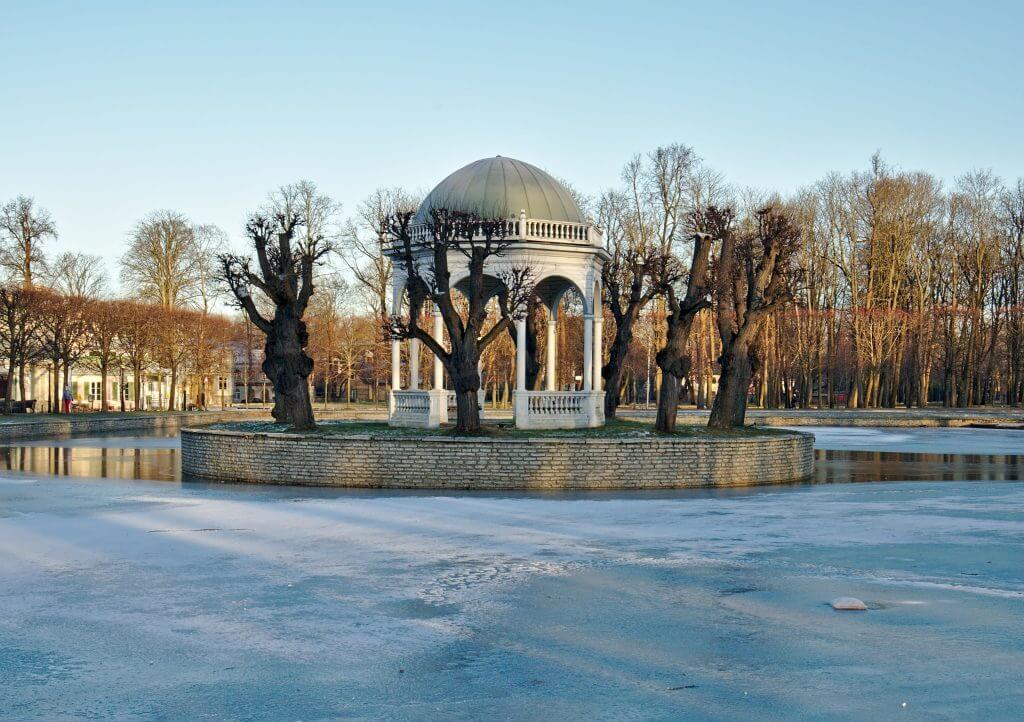 Summer in Tallinn (June to September)
These are the "hottest" months. On average, at this period, it is between 10°C and 20°C..
During the summer months it is NEVER really night in Tallinn. The sky darkens a little around 11pm or midnight, but the sun comes back very quickly.
Some years (especially when spring has been mild) there may be quite a few mosquitoes.
During the summer there are about 14 rainy days (not necessarily all day) per month.
Tallinn in spring or autumn (April, May, October and November)
In terms of climate, it's a bit like the in between-season. Temperatures are generally positive (or close to zero in November).
March and April tend to be less rainy than October and November.
This is the time of year when the days are about as long as the nights.
Visit Tallinn in winter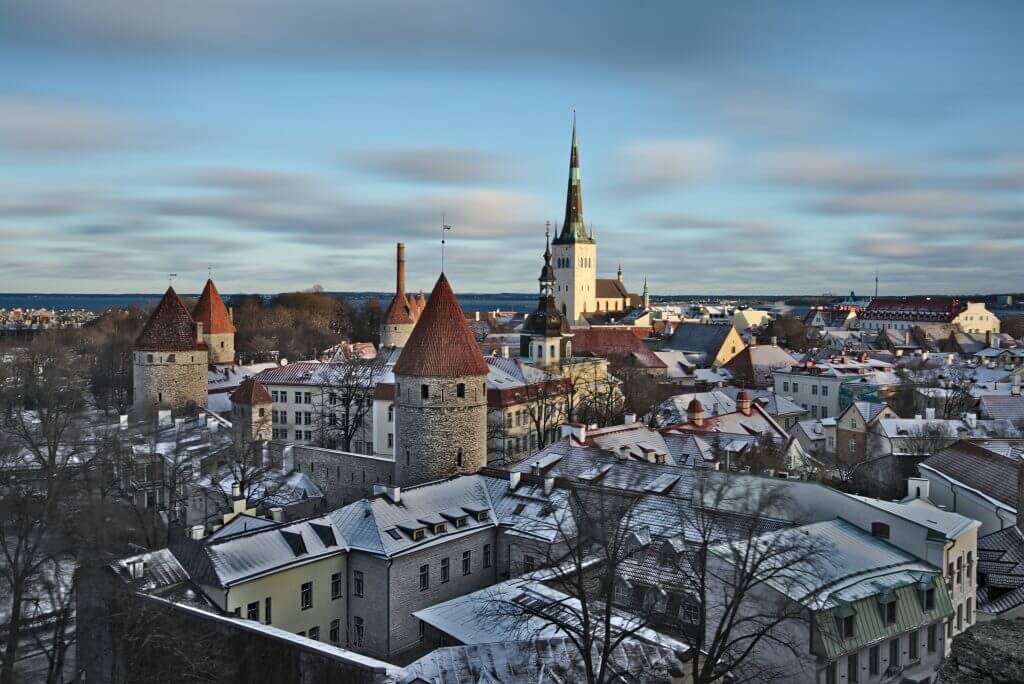 January and February are undoubtedly the coldest months. The average temperature is -6°C (but it can easily drop to -15° C or -20°C on some days).
In December and March the weather is a little "milder" with an average temperature of -2° C to -3°C .
The winter months are the months with the least rainfall (or at least less rain… because very often well… it snows!) 😉
These are also the months with the least daylight. At the winter solstice it is really only daylight for 6 hours! 🙂
It is during this period that there are clearly the fewest tourists (except during the celebration of Orthodox Christmas, i.e. the week before January 7. There are a lot of Russian tourists there)
The winter atmosphere in the city seduced us a lot! The Christmas market held every year on the town hall square is one of the most beautiful in Europe!
Coming to Tallinn in winter: our advice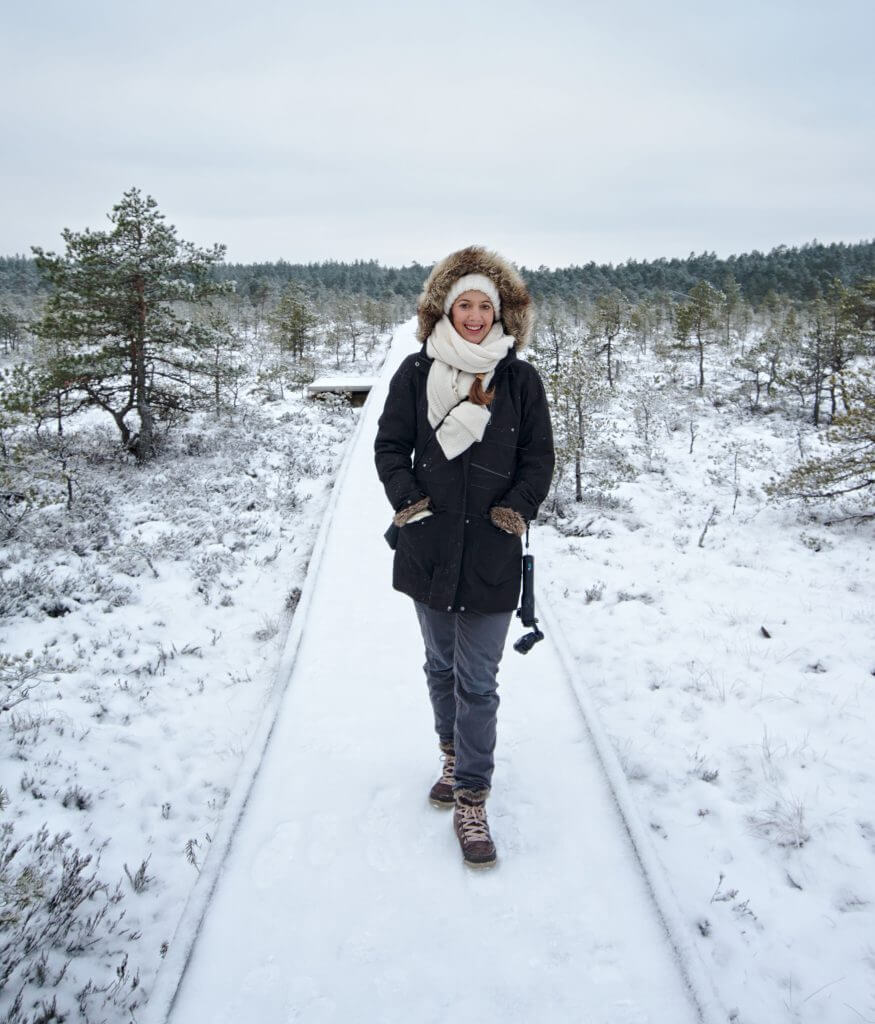 Get dressed!!!!! Yes yes it seems trivial, bu with good clothes and especially good shoes the negative temperatures are much more bearable.
In terms of shoes forget about the pretty and cute little boots or sneakers. No no, take warm and waterproof winter boots (and big socks).
As for the clothes themselves, don't forget your tights (this is also valid for men!) and plan several thin layers to be superimposed for the upper body parts. And of course don't forget to bring gloves, a hat and a scarf!
Tallinn for nomads: an interesting option!
Tallinn is a tourist destination that is growing, but not only! Many nomads are interested in this destination because it is a cheap destination in Europe and especially it has the particularity to offer an E-Residency system.
E-Residency in Estonia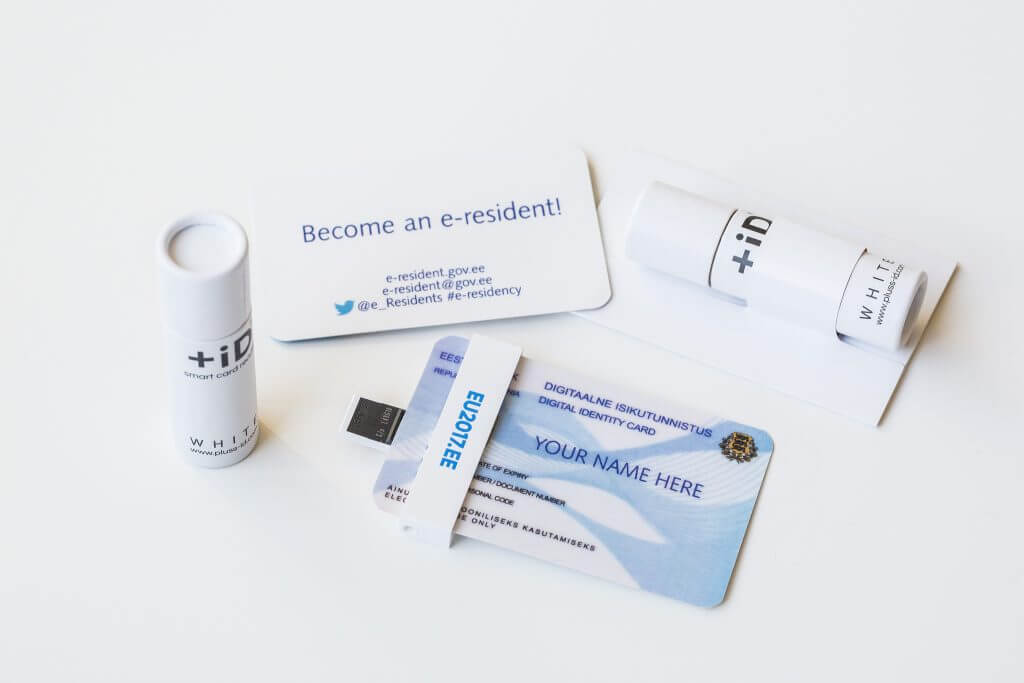 The E-what???? The E-residency, or if you prefer: digital domiciliation.
Estonia is a country that has developed very rapidly over the past 25 years (since their liberation from the Soviet Union). By 2018, Estonia is THE reference country for digital technology and even more so for entrepreneurs. Imagine that in Estonia the administration was remodelled and digititalised in 2000 already! In 2005 Estonia was the first country to offer online voting to its residents, since 2002 residents have had an electronic identity card that includes virtually all the cards we have at home (driving licence, health insurance).
What does this mean for foreign entrepreneurs? You can create your company in 18 minutes, all procedures and tax returns can be done online and from anywhere in the world, the income tax is capped at 20% and you are only taxed on profits redistributed as a dividend. Any profit remaining in the company is taxed at…. 0%!
Are we going to become Estonian e-residents?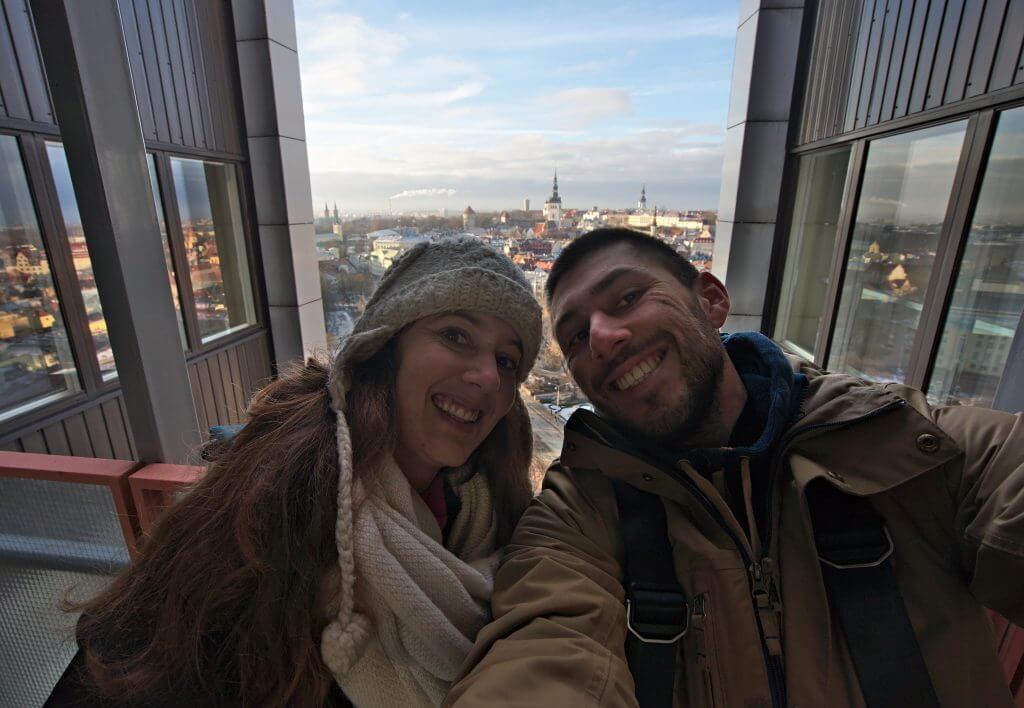 The dream, right? For our part, we are increasingly looking at this option…. After our big crush for the city we do not exclude to base ourselves in the surroundings in the medium term (to tell you the truth, we keep our eyes a little open on the real estate market here. The apartments are really nice and very affordable). To meditate on! 😉
In short, it is not out of the question that we may one day become e-residents. (Especially if Switzerland does not advance on the digital level and continues to put obstacles in the way of entrepreneurs like us "who live nowhere").
See you in Finland!
This article will probably be the last one about our stay in Estonia (before our next trip);). We hope that with the 4 articles we have written for you you will find everything you need to prepare your stay in Tallinn. And if you have any questions, don't hesitate to leave us a comment.
We look forward to seeing you soon to talk about Finland and Lapland! 🙂
A quick glimpse of what awaits you in the next article: Ruuudoooolf!!!!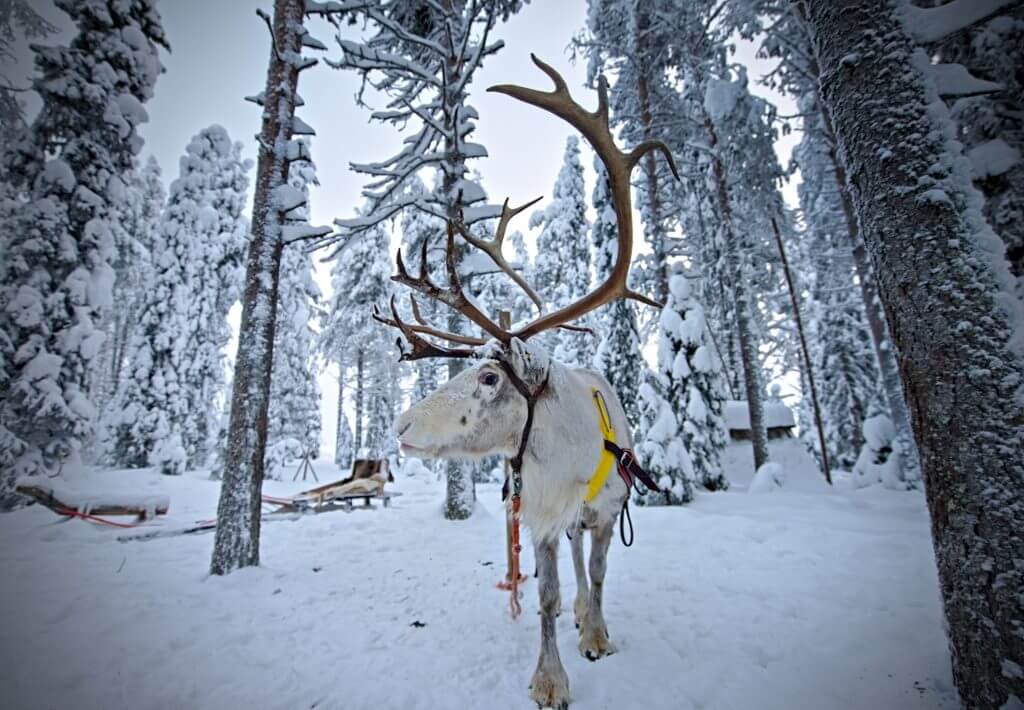 NB: This article contains affiliate links for housing. Hotelscombined and Hostelworld are the 2 platforms that we systematically use for our reservations. By using our links you don't pay more, but we get a commission;) Thank you!