The year 2018 has started off strong for us in terms of travel! We just took the time to digest our holiday meals a little bit, and we were already on our way to a new destination: Tallinn in Estonia. After a bit over 2 weeks in this beautiful city we decided to create this ultimate travel guide to give you some ideas of things to do in Tallinn.
The unmissable, our favorites, small nice addresses and as usual quite a lot of practical information. To make it easier for you to find your way around in this long article, here is a small table of contents to help you find your way around. And if you have good addresses to share, don't hesitate to put a comment at the bottom of this article, it will surely help future travellers!
Tallinn, little gem in the Baltic States
Tallinn is a destination that is on the rise! Over the years we started to hear more and more about it and our curiosity pushed us to come and see it more closely.
We had an appointment in mid-January in Finland for a conference and as Tallinn is only 2 hours by ferry from Helsinki it was the perfect opportunity. Anyway, instead of coming for a few days we decided to take our work with us and came to settle here for 2 weeks. Working and visiting: a combination that we like very much and Tallinn is definitely a city that lends itself very well to it. (Learn more about our nomadic lifestyle)
We are preparing a short review of our experience here but before that we let you discover a mini video of the city filmed in Hyperlapse that we made during our short stay here (what do you think about it?):

Now it's time for the visit! 🙂
Visit of the old town of Tallinn – the "lower" part
Town Hall Square
Town Hall is THE main square of the Estonian capital. It is here that the weekend markets are held during the summer as well as the famous Tallinn Christmas market in December and January. The square is very beautiful and clearly worth a visit. At the same time, if you come to Tallinn, you will have relatively little chance of missing out.
Beyond the square, it is also possible to visit the town hall and climb into the tower to have a magnificent view of the square. Unfortunately, this option is only possible in the summer months. So we didn't have the chance to climb up there (even if we would have liked to).
Infos
Opening: From 25.08 to 31.08 only, from 10.00 to 16.00
Price: 5€ per adult (included in the TallinnCard)
Enter A Pharmacy from 1422
This is not really a visit as such, since this is a pharmacy that is still in operation…. It is located just in the corner of the town hall square and believe us, it is well worth a look! The "official" opening date of the pharmacy is not known, but the first written records of the latter date back to 1422!!!! In short, it is the oldest pharmacy in Europe that is still in operation.
Inside we arrive on the one hand in a "classic" pharmacy with a counter where today's medicines are sold, but there is also a small "exhibition" part where we find documents and preparations going from the 17th to the 20th century. Dried hedgehogs, deer penises, and lots of potions made from Estonian herbs.
Infos
Price: free
Opening times: From Monday to Saturday between 10am and 6pm
A short tour on the city walls
The old town of Tallinn is surrounded by medieval fortifications that were erected during the development of Tallinn at the end of the 13th century. A large part of the ramparts are not open to the public, but there is a small section that is.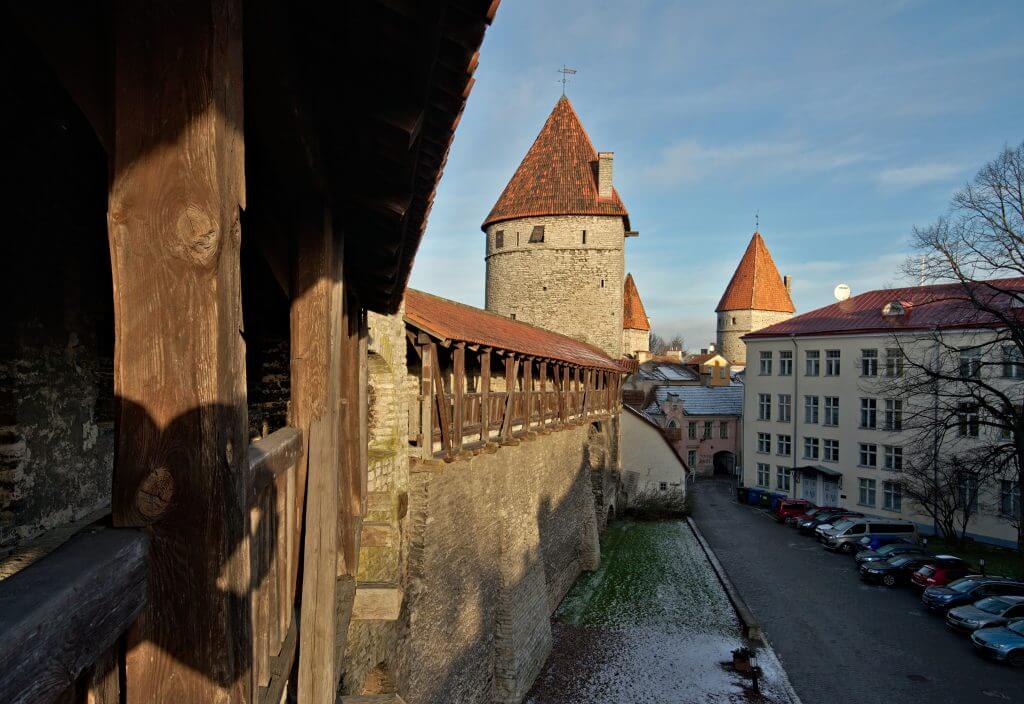 We found the visit nice even if we regret a little that they didn't use the space available to expose a little more of the history of these ramparts. Basically, the entrance ticket allows you to climb the spiral stairs and admire the view from another point of view.
Infos
Opening:
2-6.01 Mon-Sun 11am-5pm;
1.04-31.05 Fri-Wed 11am-5pm;
1.06-31.08 Mon-Sun 11am-7pm;
1.09-31.10 Fri-Wed11am-5pm;
1.11-31.03 Fri-Tue 11am-4pm
Price: 2€ (Included in the TallinnCard)
Visit Kiek in de Kök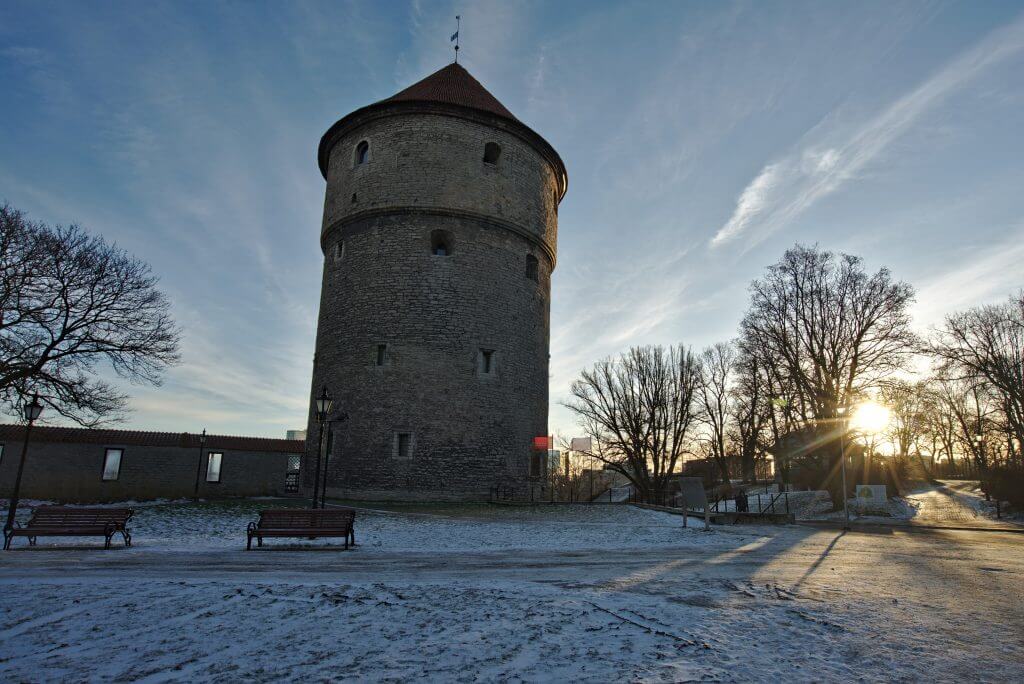 As much as we had regretted a little the lack of explanations in the ramparts as much at the Kiek in de Kök Museum we were more than served. In our opinion, this museum is a real must when you visit Tallinn (provided you speak English, Estonian or Russian, however… because nothing is available in other languages).
If we liked this museum it is mainly for 2 reasons:
It is beautifully made with a nice design on the upper floors and above all with good explanations about the history of the city of Tallinn. Knowing a little bit about the historical context of a city is never a bad thing, but for Tallinn in particular it is really interesting
A visit to the museum allows you to climb into the tower from which you have a magnificent view of the rest of the city. (There's even a coffee shop at the top!)
Kiek in de Kök is also the starting point for visiting the city's underground passages. This visit is apparently very nice, but it is only a guided tour. Having totally missed our timing that day we didn't make this visit even if we would have liked to! Something To see in our opinion!
Infos

Kiek in de Kök
Opening:
1.11-28.02 Tue-Sun 10am-5.30pm
1.03-31.10 Tue-Sun 10-30am-6pm
Price: 6€ per person (Included in the TallinnCard)
The Tallinn Undergrounds
Opening: Opening hours vary according to the language of the visit and the season. The best thing is to look on the spot.
Price: 9€ per personne (Included in th TallinnCard)
The "Master's Courtyard"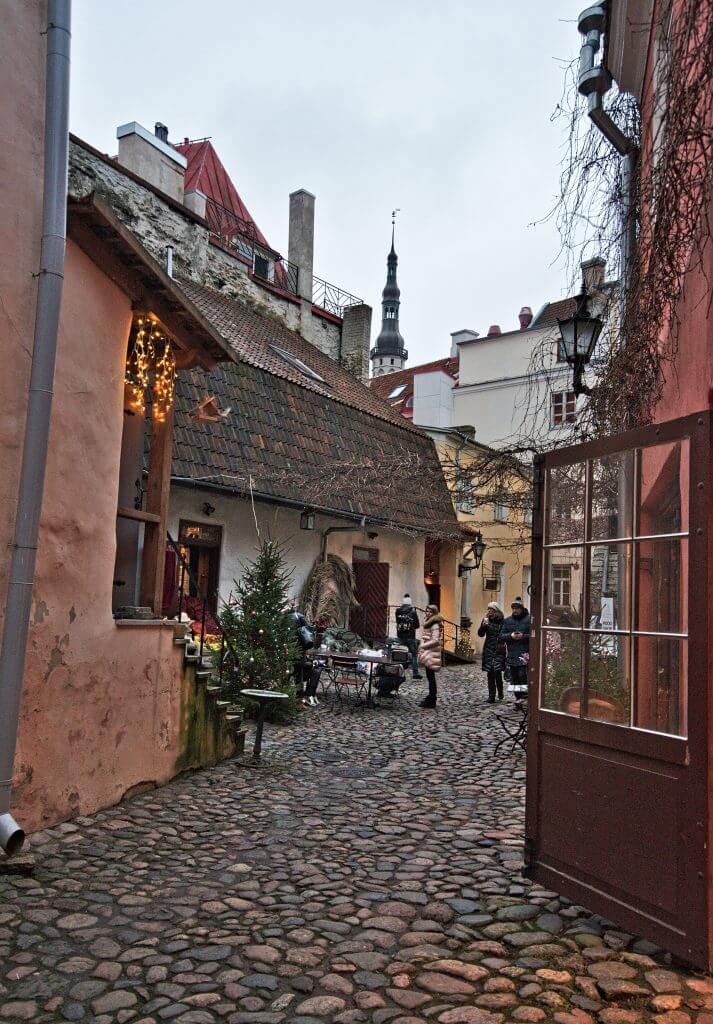 A small courtyard at the bend of one of the main streets of Tallinn (Vene), the Master's Courtyard is simply a small haven of peace in the heart of the city where you find yourself immersed in the atmosphere of yesteryear.
This courtyard houses various small craftsmen and a small café.
At the time we passed this small courtyard was being used by a team of photographers for a fashion shoot. 😉 So we didn't hang around too long….
We have no recommendation in particular for this place except that you have to come and take a look at it (and probably leave with a crush).
The passage of St Catherine
This is not a museum or even a tourist attraction in itself, but simply an "alleyway". If I tell you about it, it's just that it's an alleyway that could easily be passed without noticing it, but it's really worth a look.
The passage of St Catherine connects the streets of Müüürivahe and Vene and along the alleyway there are small and very cute craft shops.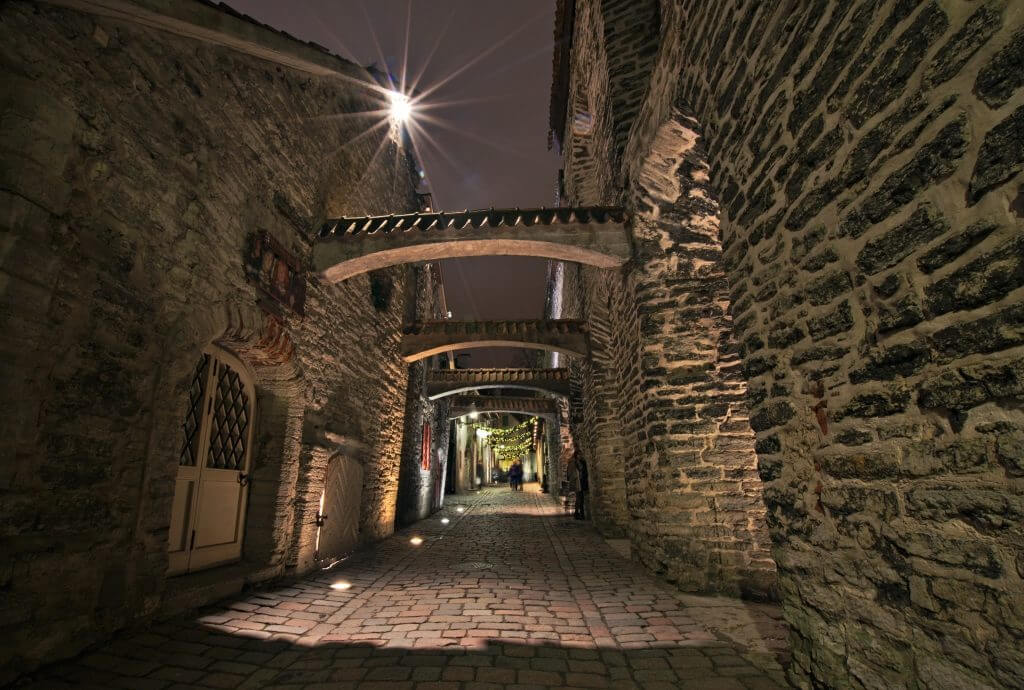 The little streets and old doors
Here I am not talking about a particular place, but it is more of a general advice for your walks in Tallinn: Look at the doors!
At the tourist office they had a nice poster with a whole series of doors on it… Who knows, I thought it was nice and from that moment on I started to observe them (and take pictures of them as well). In short, Tallinn is a city with many beautiful doors. 🙂 (I never thought I'd write this sentence one day… haha)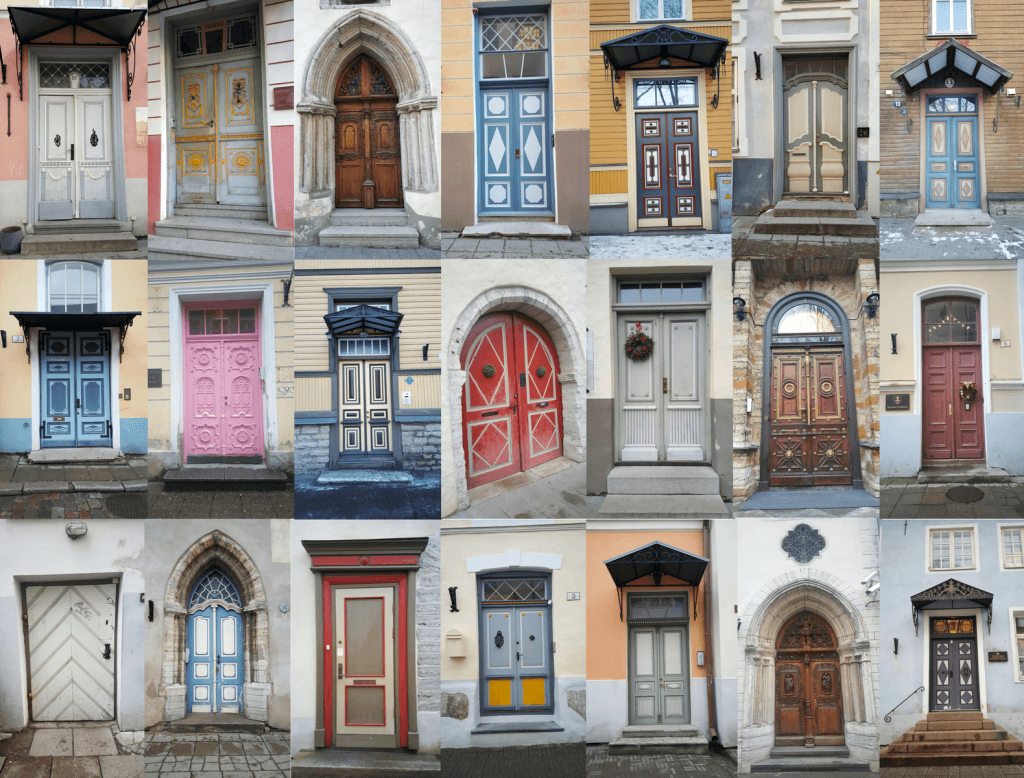 The church of St Olav
This church we decided to put it in the list because it seems to be a really good place to see the old town from above. As you can imagine, if we use the word apparently it's because on our side it unfortunately didn't do it… In fact it's a bit silly because in winter the vast majority of bell towers are closed (moreover if someone has an explanation we are takers…).
Anyway, if unlike us you're not here in the winter, well, it may be worth the effort.
Infos

Opening: 01.04-30.06 and 01.09-31.10 Mon-Sun 10am to 6pm
01.07-31.08 Mon-Sun 10am to 8pm
Price: 3€ for the tower, the church visit is free (Included in the TallinnCard)
Visit to the old city of Tallinn – the "upper" part
St. Alexander Nevsky Cathedral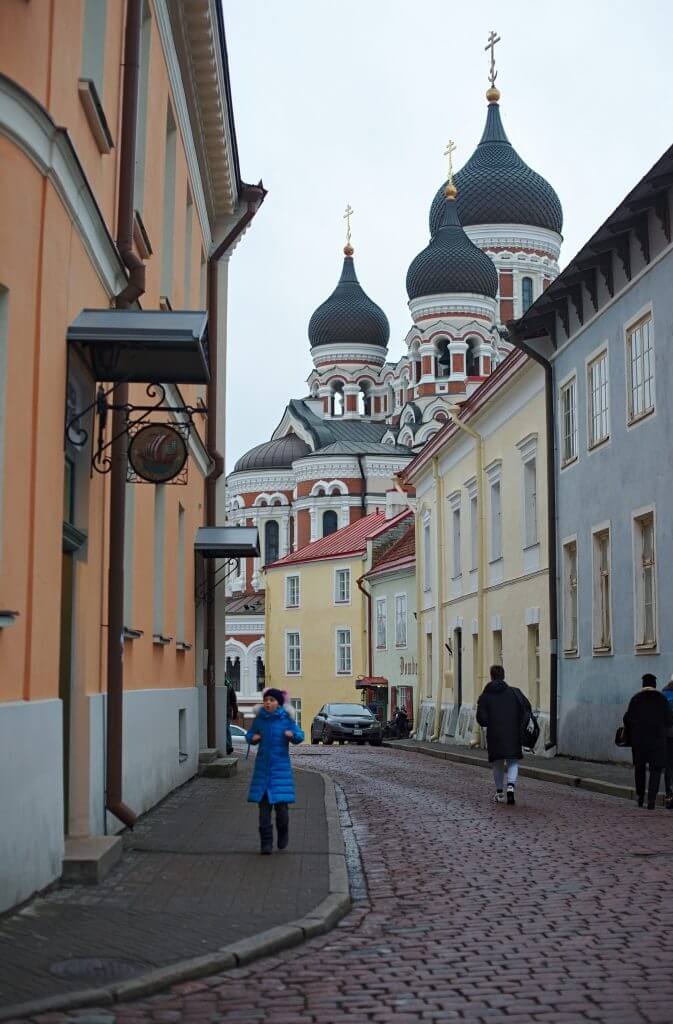 This is probably the highlight of the upper city! You have absolutely no chance of missing it at the same time due to its size and color. This cathedral belongs to the Orthodox church and was built between 1895 and 1900 when Estonia was still part of the Russian empire.
On several occasions during the 20th century there was talk of destroying this cathedral. Indeed, it was seen as a symbol of the period of occupation and oppression. But since, despite Estonia's independence in 1918, there was still a large Russian community left, the building could always be saved in-extremis.
We passed in front of it a good ten times I think (it's a minimum!) and each time we stopped for a few minutes to watch it.
A word of advice: if you have the opportunity to spend the night in Tallinn as well, we strongly recommend the small detour, it is really sublime with the night lights.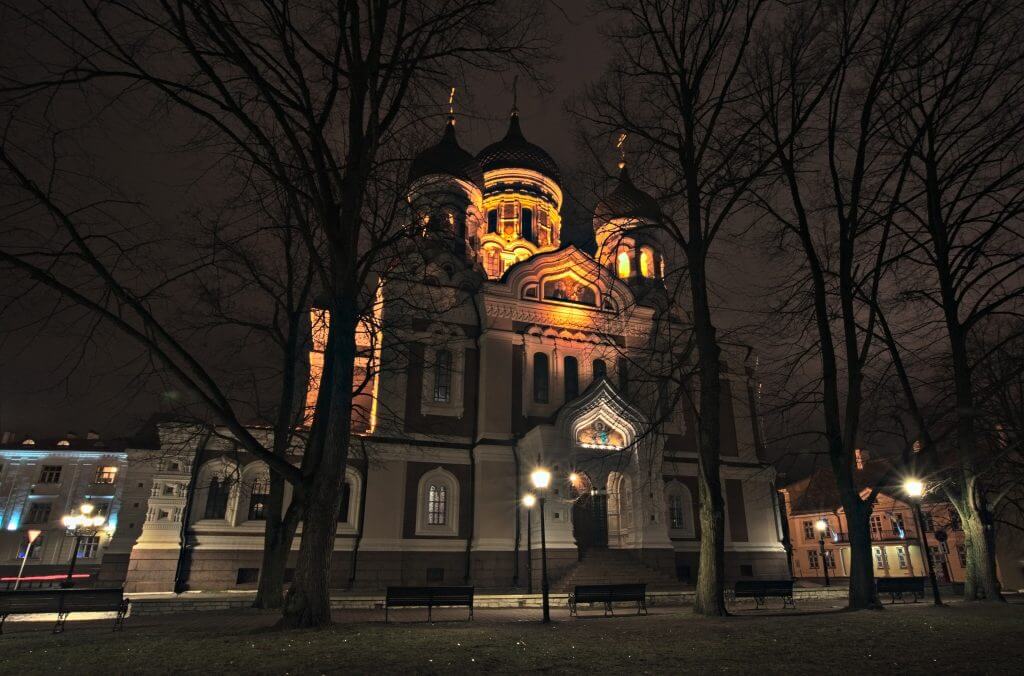 The museum of the culture of alcoholic beverages
If you read us from time to time you will have probably already noticed that we rarely say no to a good little aperitif. 😉 while walking around the upper city we came face to face with a museum dedicated to drinking. Hahahaha, you might as well say that we knew immediately that we were going to go there.
This museum traces the history of Luscher and Matiesen; a Swiss and an Estonian who opened a distillery in Russia before losing everything during the Soviet era. The museum is not very big but it is very cute. But if we particularly liked this place it was not so much for the tasting which was included in the price (we won't lie, Estonian wines are not that good), but for the welcome.
When we arrived we were the only visitors…. In winter this place does not attract crowds, at least it seems so. At the reception there was a man with a hat that was very talkative. After a few minutes of discussion it turned out that he was the one who opened this museum and he started to tell us about the birth of the museum, how he had met Matiesen's nephew and that it was this meeting that made him want to expose a little bit of history around the distillery. In short, a passionate guy.
Infos

Opening: To be honest we don't know… Schedules seem to vary according to the presence of the owner. But in the afternoon it was usually open when we passed by.
Price: The entry with the tasting of 3 "wines" is 10€ per person (Included in the TallinnCard)
The 3 viewpoints overlooking the city of Tallinn
The upper city, as its name suggests, is "above" the lower city (no shit!). A difference in altitude therefore also means a potential viewpoint. Well… actually the old upper town offers 3 of them (we invite you to take a look at the map at the end of the article to see the exact locations of these 3 viewpoints).
One of the viewpoints overlooks the sea and the port, while the other two are more oriented towards the lower old town. We let you discover this in pictures, but know that it is probably the places where you will have one of the prettiest views of Tallinn without having to pay an entrance fee.
The Cathedral of the Blessed Virgin Mary
Another church bell tower that can be climbed to see the view…. And another one that was closed during our visit! 🙂 Seems like We were cursed by bell towers… I say this because this one is normally open in winter, but for for an unidentified (or not confessable) reason it was closed this day. But the gentleman at the reception kindly offered us a magnet as an appology! hahahaha
nce again, we won't be able to tell you any more about it either, but given the situation of the bell tower, the view must indeed be not too bad!
Infos
Opening: Schedules vary according to the season, but for sure (normally) it is from Tuesday to Sunday from 10:30 to 16:30.
Price: 5€ (Included in the TallinnCard)
Outside the old town of Tallinn
Tallinn TV tower
We love beautiful viewpoints! Estonia being a particularly flat country (the highest point of the country is 318m above sea level), we thought that the TV tower would be a good way to get a little height. Knowing that the TV tower culminates at 314m, we are almost at the top of the country! 🙂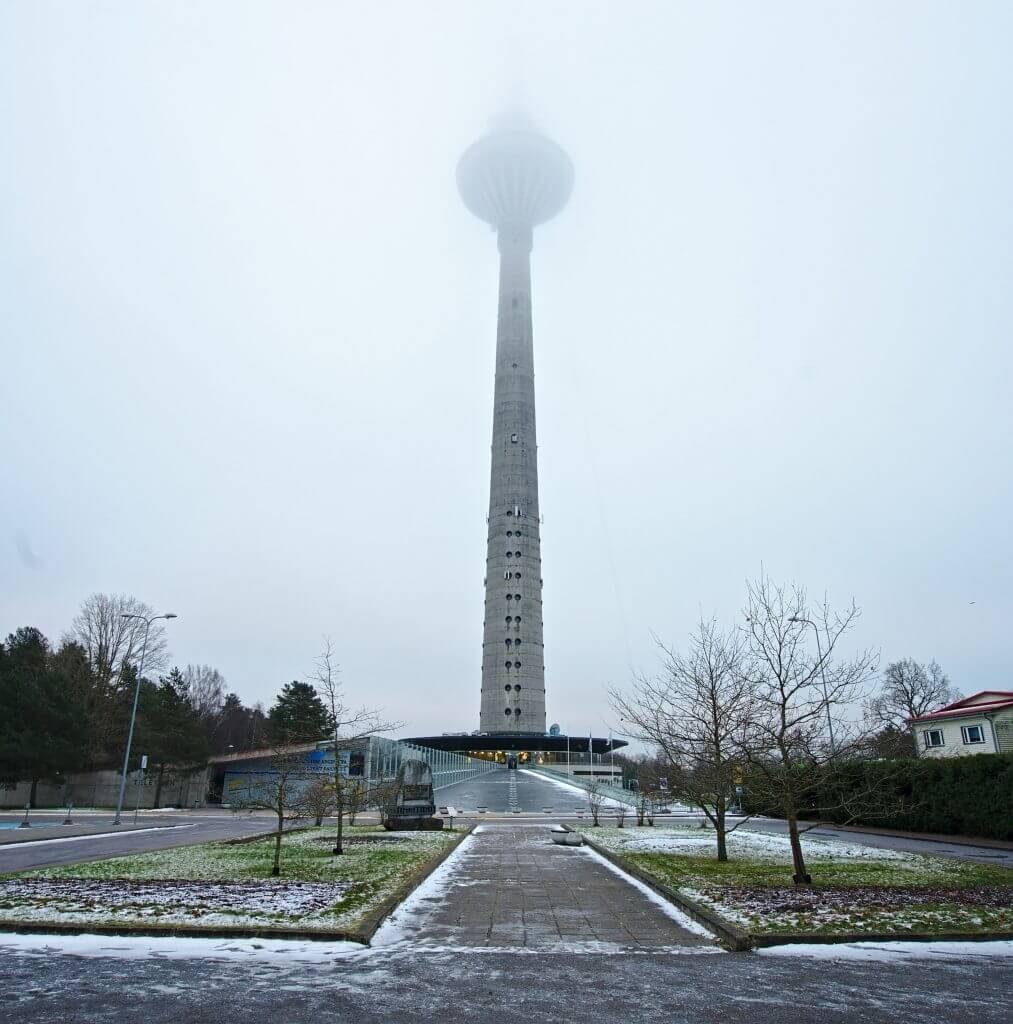 Anyway… we wanted to go up there and as the entrance to the TV tower is included in the TallinnCard we thought we would go there at that moment… Hmm how can I explain that the weather that day didn't really play by the rules? The view? Well… we wouldn't know what to tell you about it because we haven't really seen it. 🙂 But from the pictures that were hanging in the tower it looks pretty good HAHAHAHA. The advantage? We were the only visitors in the tower and had the whole exhibition to ourselves.
So do better than us and go on a day when the weather is clear.
Infos

Opening: Every day from 10am to 6pm
Price: 13€ per adult (Included in the TallinnCard)
What to see: The entrance includes a 3D cinema (nothing crazy), the elevator ride and a really well done exhibition at the top.
Tallinn Botanical Garden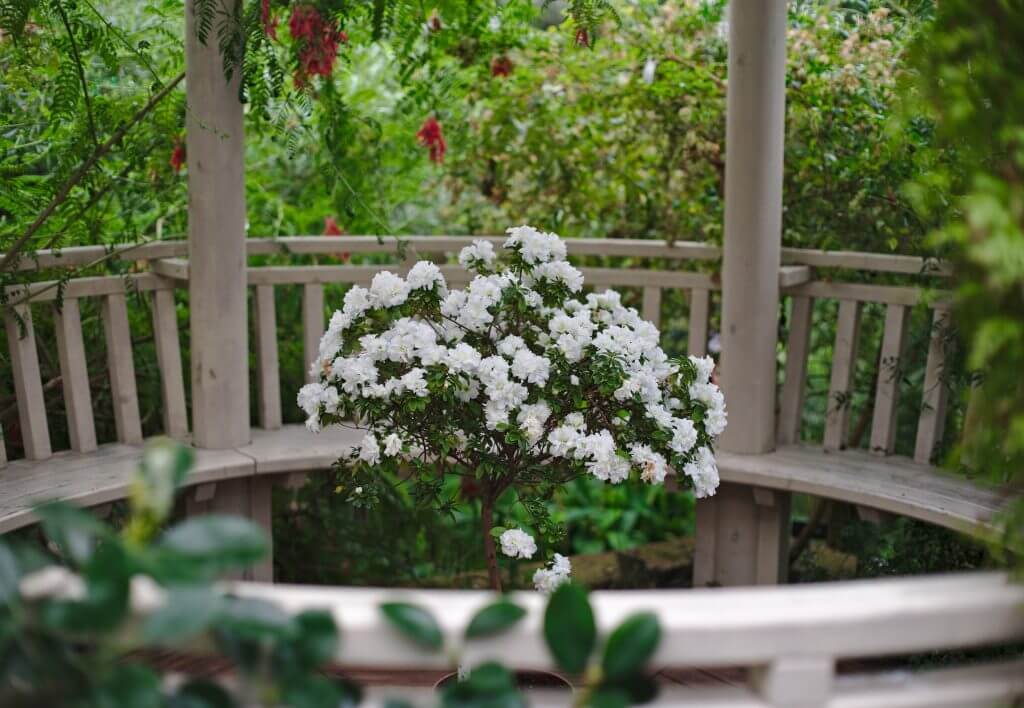 Funny idea we had to go through a botanical garden in the middle of winter, you will tell me… But since it's at the foot of the TV tower and we had the TallinnCard, we stopped by. So without much surprise, in the middle of January the outdoor spaces are a little "frozen" and "empty". But we still had access to 2 greenhouses with tropical plants on the one hand and more "European" plants on the other.
We didn't really leave the place being amazed, but we thought that the outdoor garden looked really nice and that it must be beautiful to explore in the summer. In short, knowing that we had the TallinnCard, we have no regrets, but we wouldn't have wanted to pay the 5€ admission just for the 2 greenhouses.
Infos

Opening: Every day from 11am to 4pm during the winter months (5.10 to 25.04) and from 10am to 7pm in summer (26.04 to 04.10)
Price: Outdoor spaces are free in winter and access to greenhouses is €5, in summer it's €5 (included in the TallinnCard)
The "KUMU" Art Museum
We're not what one could call "art-Amateurs".. But on the recommendation of several readers we decided to go for a visit to the KUMU, the art museum of the city of Tallinn. Well, I can tell you that we don't regret it at all!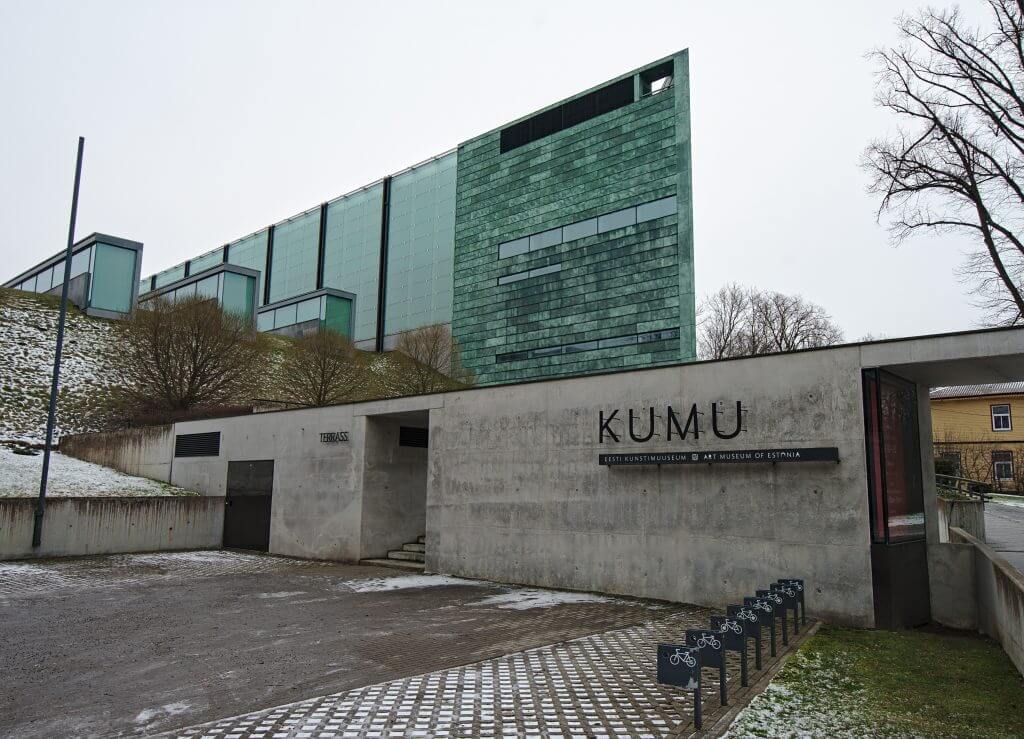 We probably didn't understand everything about all the artworks, but we really enjoyed it. The museum is absolutely magnificent and already the building alone is worth a look. The museum is composed of 4 floors where permanent and temporary exhibitions are displayed side by side.
On the permanent side there are in particular 2 exhibitions dedicated to Estonian art between the 18th and 1945 and a second dedicated to the period between the post-war period of 1945 and Estonia's exit from the Soviet Union in 1991. We really appreciated these 2 rooms because they allowed us to have a lot of contexts and also strong illustrations of life in Estonia over the years during the occupation.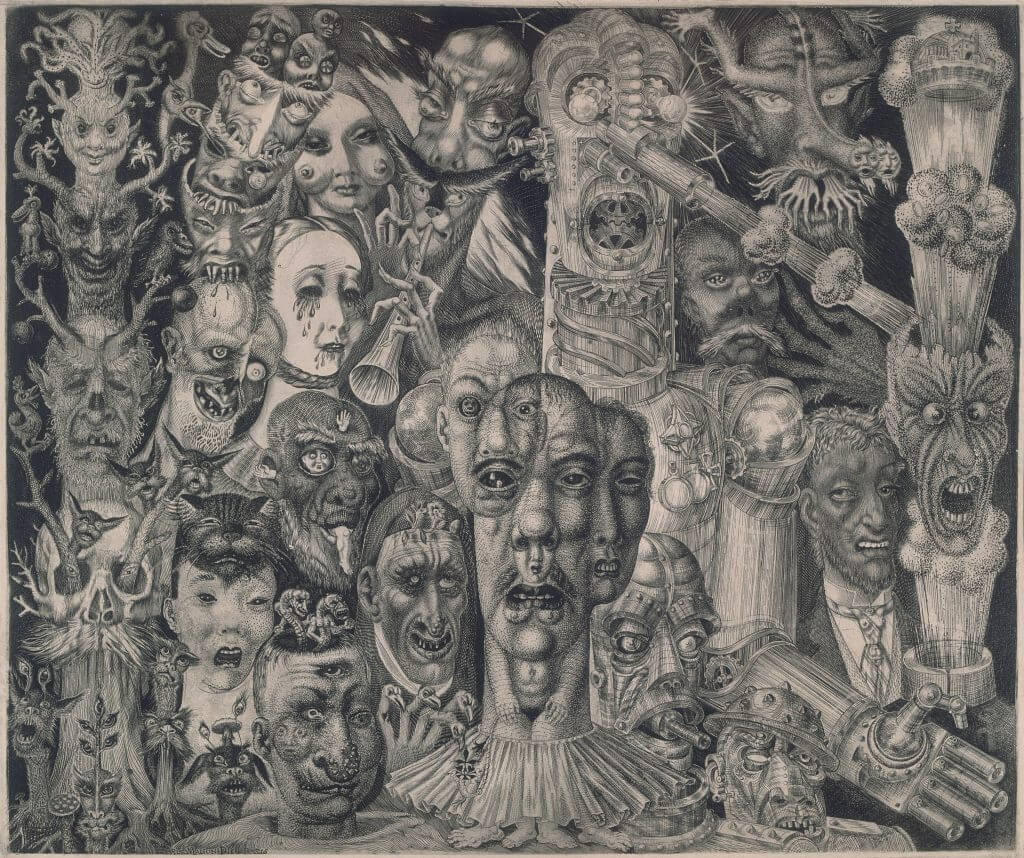 One artist who particularly impressed us would probably be Eduard Wiiralt. Wiiralt is an Estonian artist who was born in 1889 and spent his life between Estonia, Germany, Sweden and Paris. His works are totally offbeat and above all filled with hundreds of details. The more you look at his paintings, the more you discover new elements in a universe that is always quite morbid and sometimes grotesque. Opposite is his most famous engraving, called "L'Enfer", which was made in the early 1930s.
Infos
Opening: The museum is closed every Monday. The other days the museum is open from 10am to 6pm (on Thursdays the opening is extended until 8pm)
Price: 8€ (Included in the TallinnCard)
The Kadriorg Palace
Kadriorg Castle is located just outside the KUMU and it is clearly a place that is well worth a visit! For our part, we will have simply admired the magnificent building from the outside, but you should know that it is also possible to visit it.
Originally this castle dates from 1718 and was built by Peter the Great (a Russian emperor and founder of St. Petersburg, just like that!). We won't be able to tell you much about the interior, which apparently houses a beautiful collection of foreign art from the Estonian Museum of Fine Arts and the apartments of Peter the Great, but the exterior is already worth a look!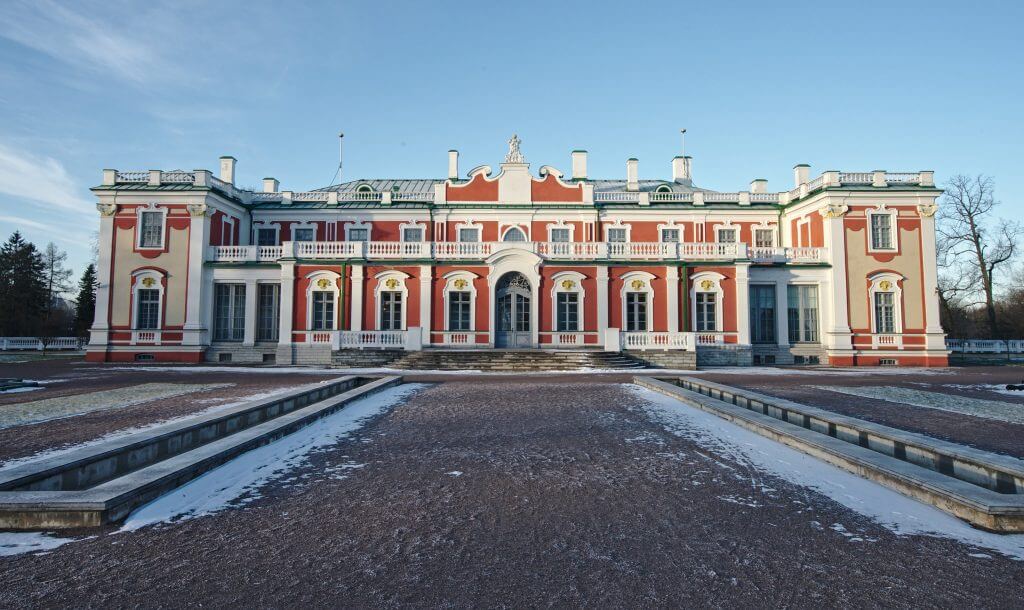 Infos
Opening:
01.01-30.04 Thu-Sun from 10am to 5pm, Wed 10am to 8pm
01.05-31.12 Tue, Thu-Sun from 10am to 6pm, Wed 10am to 8pm
Price: 6,5€ (Included in the TallinnCard)
The Linnahall
This is not really a place to visit strictly speaking but rather an atypical place to see. In fact, the Linnahall was built in 1980 to host the sailing regattas during the Moscow Olympic Games. Subsequently, an ice rink and a concert hall were set up in these premises, but they closed in 2009 and 2010. Since then, the building has been abandoned and it has apparently become a spot where young people come to have a drink at sunset.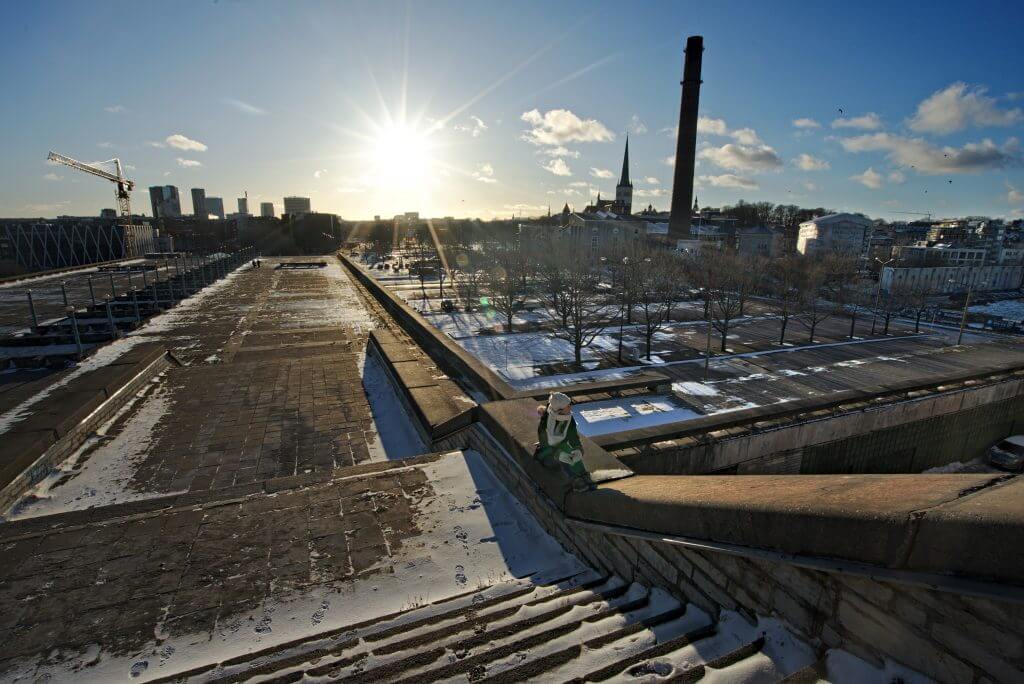 No sunset for us, but still a nice walk on the old roof of this structure located 2 steps from the old town.
NB: There is apparently a renovation project for this site and work is expected to start this year (2018). It is therefore not sure that the place will remain accessible as it stands for a long time to come (but after that it is possible that the work will be delayed)
The KGB Museum in hotel Viru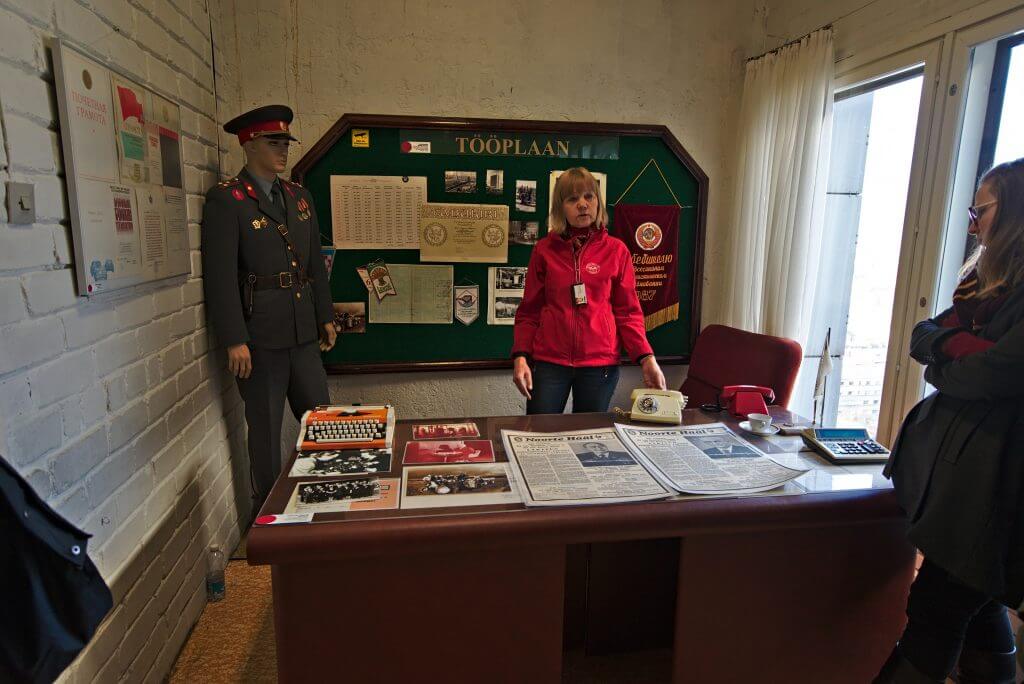 Benoit had spotted this visit on the net and he absolutely wanted to go to this museum. A KGB enthusiast? Not necessarily no…. In fact, if Benoit absolutely wanted to see this museum it is because it is located on the 23rd floor of the Viru Hotel and at the exit of the museum you have access to a terrace that overlooks the old town to take beautiful pictures (Everyone has their priorities!) 🙂
motivated by the prospect of seeing the view, we were very careful to choose a day when the weather was clear! (We learned from our mistakes in the TV tower);)
The museum itself has nothing special and it cannot be visited "freely". Access is only possible in a group and with a guide. But in the end it was not bad because even if the "exposed pieces" are not crazy, the stories and anecdotes of the guide made this visit really nice (and Benoit could take his pictures from the terrace).
Infos

Opening: By reservation only. You have to go to their website and choose a date and a tour. Attention: only 2 visits per day are in English, the others are in Finnish! We didn't find it very visible how they indicated it so be careful when booking. See below… the language is indicated where our green arrow points…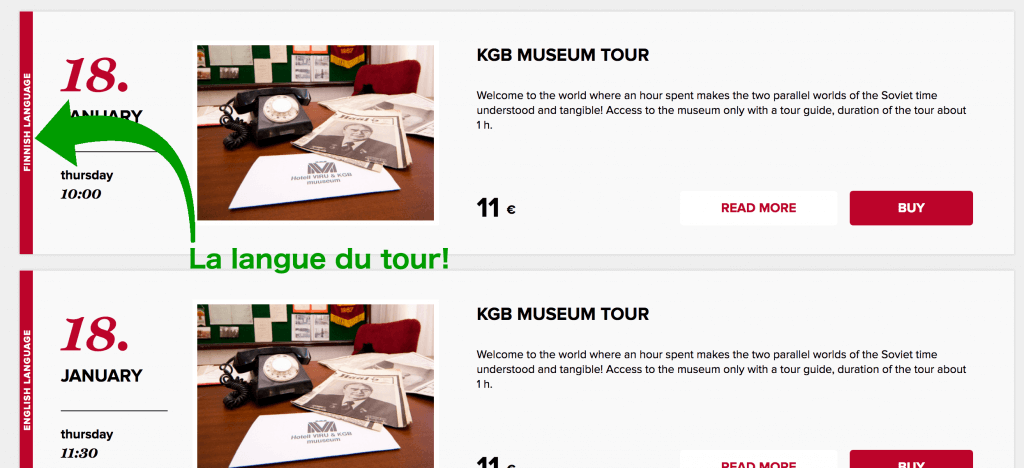 Prix: 11€ per person for a one hour visit (This Museum is NOT included in th TallinnCard)
Seaplane harbour Museum
The Seaplane harbour maritime museum had been strongly recommended to us by readers of the blog and so we obviously went there for a visit. For the little history this museum is located in a huge hangar that was originally used to park seaplanes, hence its name. The premises were deserted during the Soviet era and were then renovated in 2010 to transform this old building into a museum.
The Seaplane harbour opened its doors in 2012 and it is undoubtedly a top-class museum at in terms of technology. Personally, I am not what you would call a maritime world passionate and even less so for the "technical" side, but in the end we left really won over.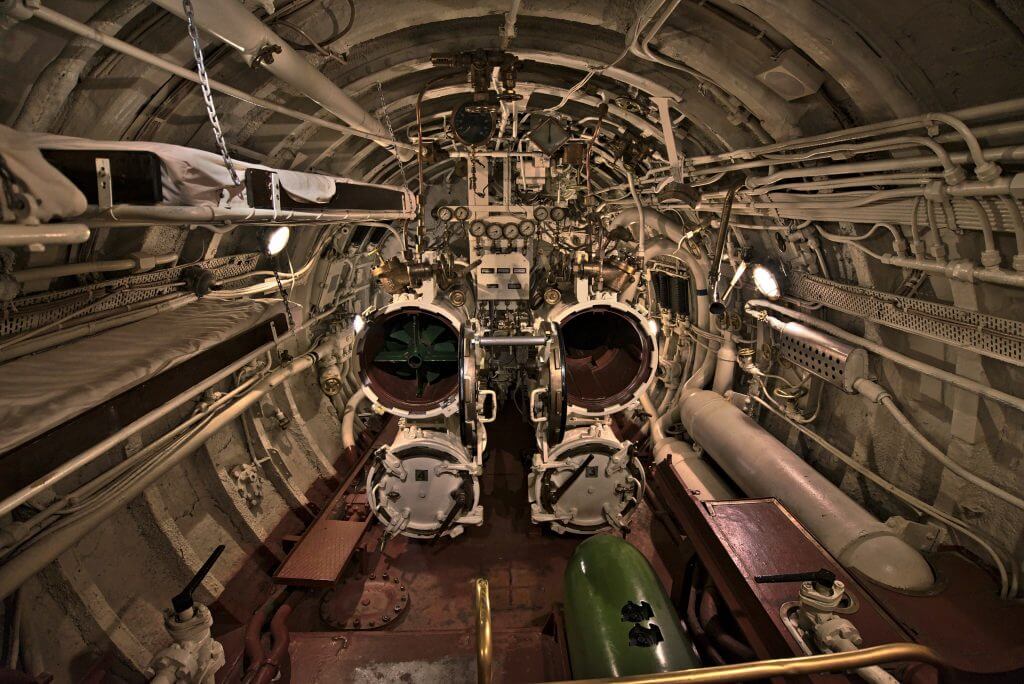 The museum is a modern and well-made. The exhibition is on 2 levels and there are many explanations on the means of maritime transport, water sports but also marine currents with several stations where you can touch, test, play, wear augmented reality glasses, etc. The highlight of the visit will probably have been the old 1936 submarine used by Estonia, which has been restored "in the state of the 1930s" and into which one can enter and walk.
Infos
Opening: from 01.05 to 30.09: Mon-Sun 10am-7pm and from 01.10 to 30.04: Tue-Sun 10am-6pm
Price: 14€ per adult (Included in the TallinnCard)
Walk along Pirita
When we went to the TV tower we decided to walk back to Kadrigor Palace. So we walked along the Pirita promenade and we really enjoyed this walk by the sea. In fact, at the base Pirita is best known for its beach because it is the largest beach in Tallinn. But since we were there in January, we were satisfied with a walk. However, if you come to the area and want to get some sea air, it's really a nice place near Tallinn.
Afterwards, if you really want to see the beach in nature mode, we clearly advise you to go to Keila Joa, which we mentioned in our article about our trip between Keila Joa and Vääna-Jõesnuu.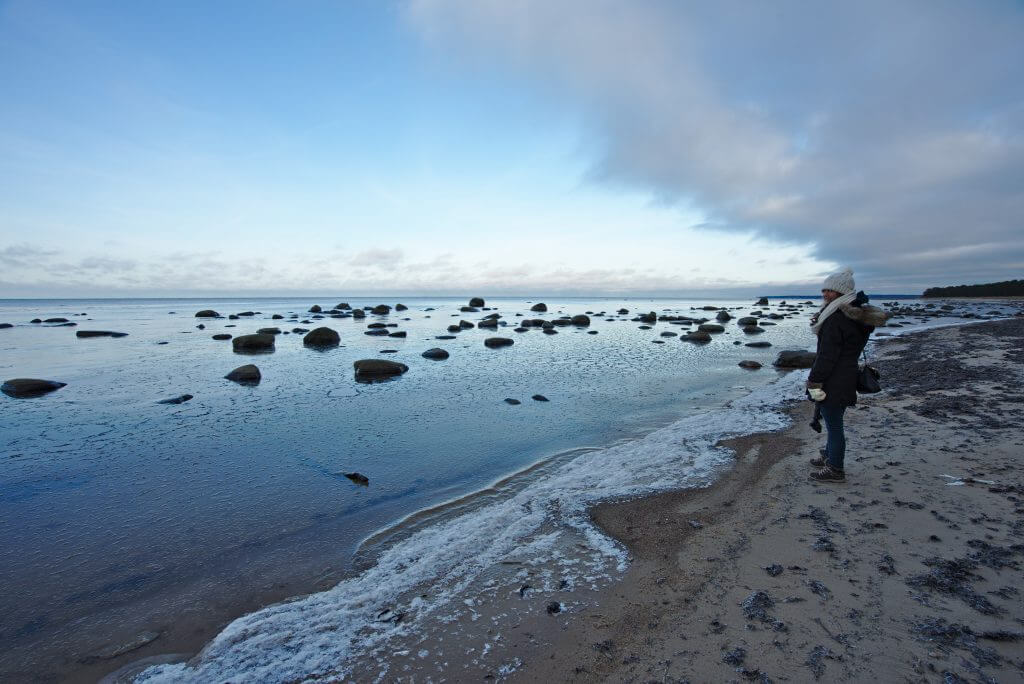 The ruins of the convent of St-Bridget's
It is an old convent that was destroyed in 1577 and whose ruins can be visited.
Hmmm…. We would like to say a few words about it, but unfortunately when we arrived in front of the doors there was a big padlock on it. Officially the convent is open almost all year round but when we passed by there was a small sign that said "Indefinite closure due to mud". Uh… how to say… Mud didn't really seem to be there. In our opinion they would have wanted to put "Closure for lack of traffic during the winter months" but they didn't dare. :). In short, the pictures below are "stolen" picture we took by putting the goPro through the gate and the other one our heads when we arrived! hahaha
Infos
Opening: from 1.11 to 31.03: every day from 12pm to 4pm (theoretically), and from 01.04 to 08.08 and from 19.08 to 31.10 from 10am to 6pm
Price: 2€ per person (Included in the TallinCard)
Admire the colourful and stylish houses of Kalamaja and Telliskivi
Another visit that is not really a visit but that we still recommend is simply to take a walk in the Kalamaja and Telliskivi district. These two neighbourhoods are what we would call "rising" neighbourhoods (or hipster if you prefer). 😉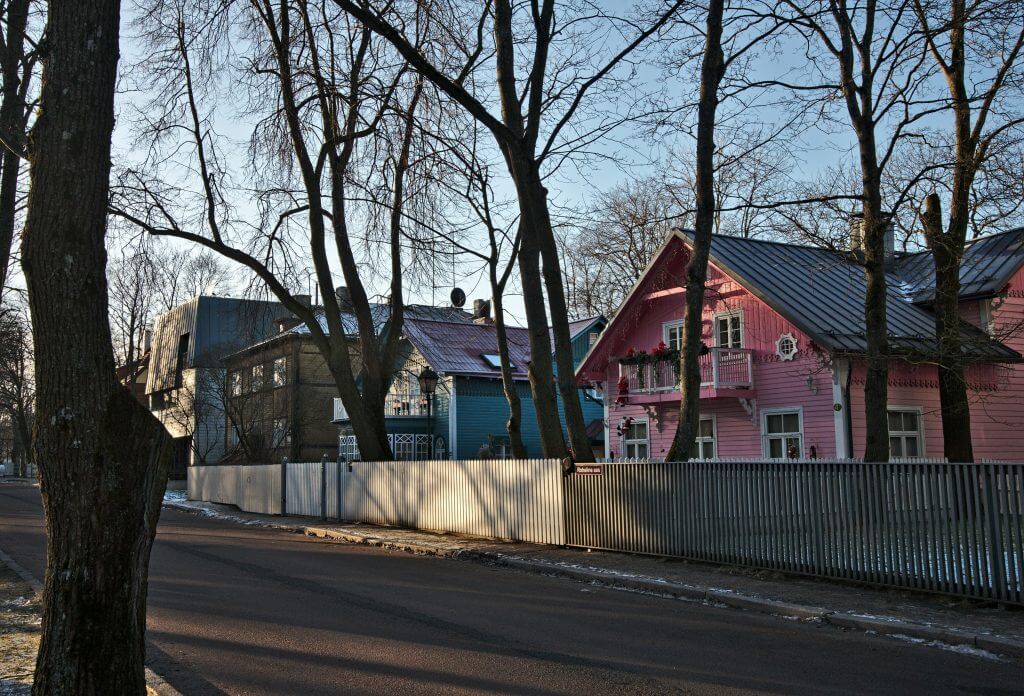 In fact, to see the colourful houses we had heard a lot about Kalamaja, but in the end we found that the houses were almost more stylish and authentic in the Telliskivi district where we had our apartment. Anyway, it may seem strange to walk around in a residential area, but we thought it was nice.
In addition, the area near the Tallinn station in the direction of Telliskivi is really a very nice area. Design restaurants, thrift stores, flea markets, organic shops, etc…. In short, a small paradise for bearded people who drink homemade beers (and others too, eh?): P
TallinCard: yes or no?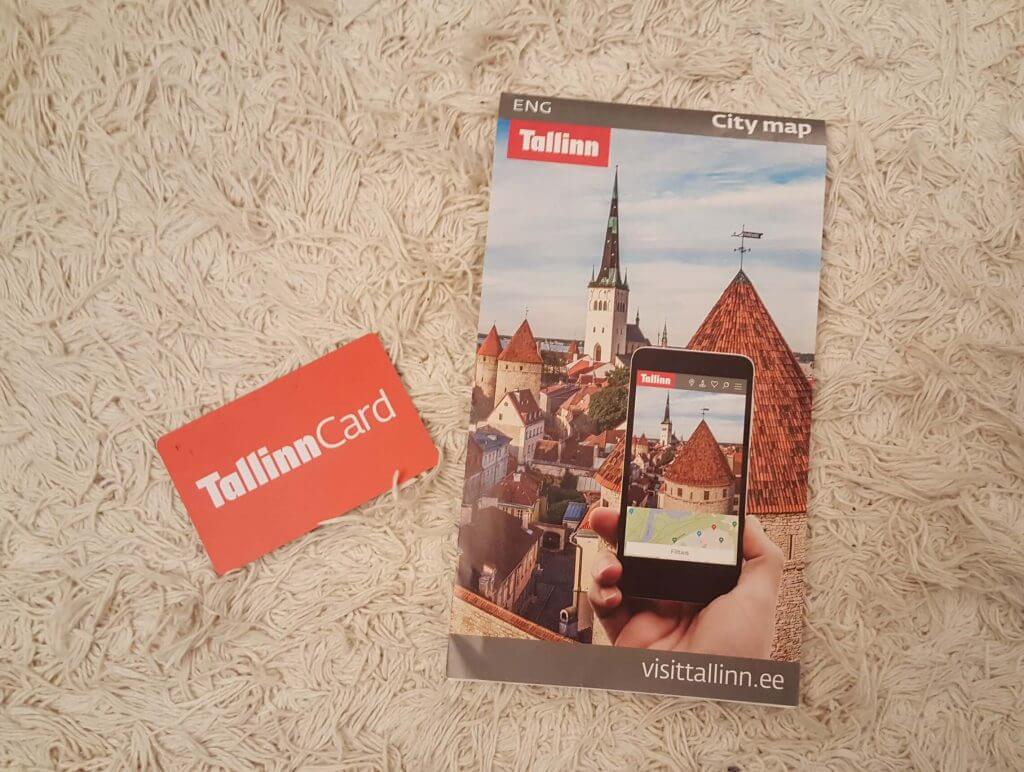 What is the TallinnCard? It is a card that gives access to many museums, activities and transportation for a limited time (24H, 48H or 72H depending on the formula chosen).
At first we decided not to take it, but in the end we changed our mind and bought the 48-hour card.
Why did we take it? In fact, we had made a pseudo list of the museums we wanted to see and we realized that a large majority were included in the TallinnCard. When we did the calculations, we realized that it was cheaper for us to take this card than to pay for the individual tickets.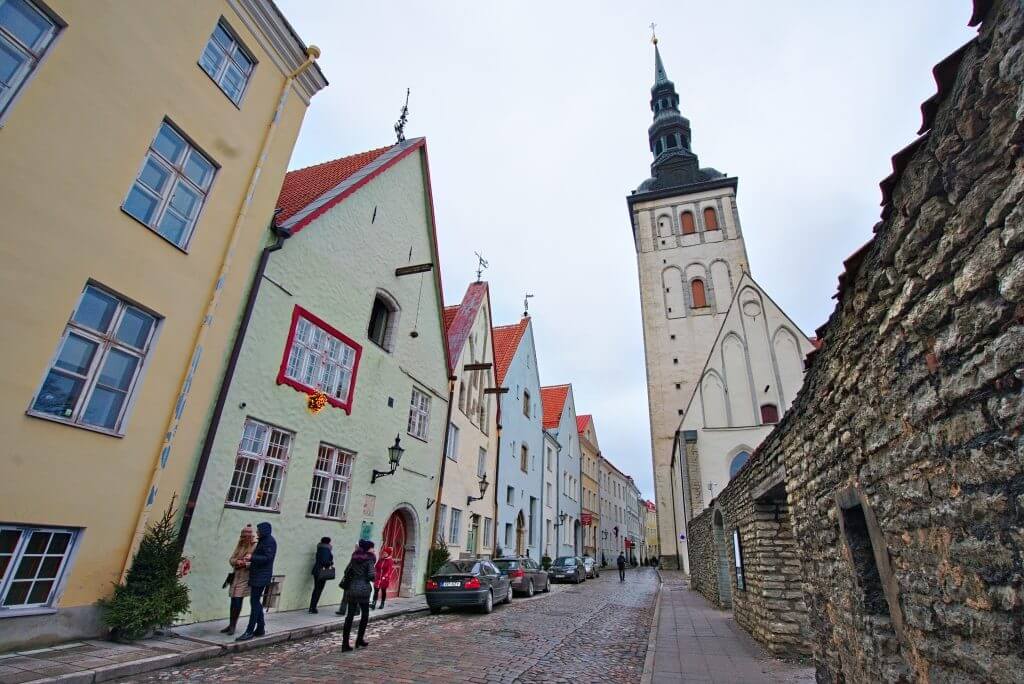 All in all, all the museums (included in the TallinnCard) we made as well as the bus to the TV tower would have cost us 129€ for both. Instead we opted for a 48-hour TallinnCard (a saving of 57€).
Beautiful, you will tell me? So certainly…. On the other hand, we admit that the fact that the card is only valid for 48 consecutive hours and that we cannot choose to space the days implies that we have spent 2 really intensive days visiting the paid activities. The second point that we regret a little is that sometimes we just want to be more flexible… Example: we had checked the weather and it was supposed to be sunny for two days in a row. BINGO we took the card. First day was fine, but on the second day we couldn't see at 2meters. It's not very bad for museums, you may say, but for the TV tower we could have dreamt of a better view:)
Our advice: Make a list of the activities you want to do and visit their website. Check the activities you want to do by clicking on the small "TC" at the top left and this will be added to the calculator on the right. This will show you the "savings" that the card can bring you.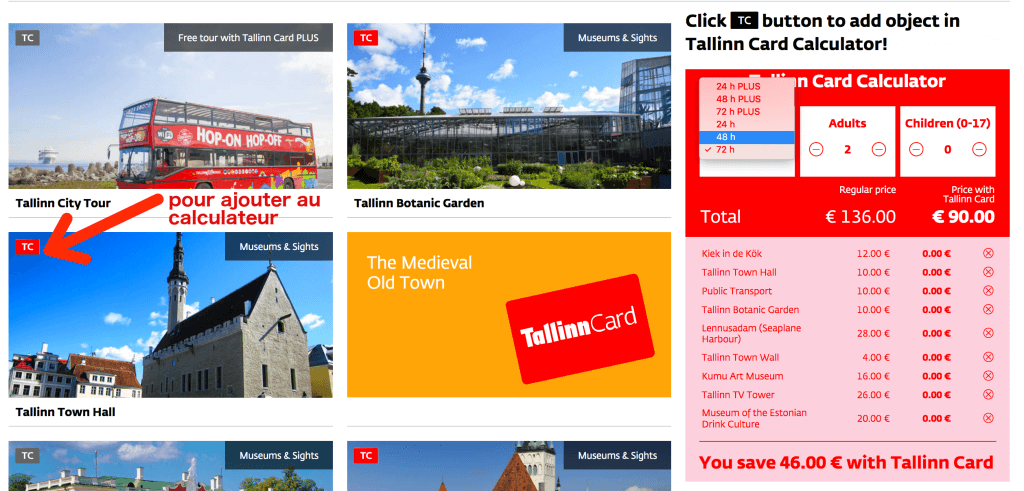 NB: We advise you to select the classic card and not the PLUS option. This PLUS option gives you the right to a guided tour of the city in Russian and a double-decker bus (which only runs 3 times a day in winter…)
To buy the card you can do it online, but you can also simply buy it on the spot by going to the tourist office which is located in the heart of the old town (many hotels also offer it, however we do not know if it is the same price…)
You can buy the card on the spot or on their website, but if you wish to support us you can also do it on Civitatis. On this site, the prices are the same, but the only difference is that we'll earn a small commission. 😉 Thanks for your support
PS: Even if you don't take the TallinCard, stop by the tourist office to get a map of the city that goes with the card. It is free and self-service in the tourist office and we believe it is one of the most complete paper maps in the city.
Discover Tallinn and its surroundings with a guide?
Here are some ideas for guided tours in Tallinn and its surroundings that might perhaps inspire you:
Tallinn free walking tour: It has almost become a reflex for us, when we arrive in a new city we do a "free walking tour" or "tour for tips" to get a first look at the city and give us some ideas. The concept is always the same: just come to the meeting point and if you liked the tour, you leave the tip that seems right at the end.
Lahemaa National Park Day Tour: we did this tour and it was really AWESOME. So if you want to take a day outside of Tallinn in the nature, look no further.
You can also check out the home page of GetyourGuide, they have lots of other tours in Tallinn (foodies tour, bike tour…) that might interest you.
Tallinn, where to stay
Hotel or Youth hostels in Tallin
In Tallinn there is no shortage of hotels and youth hostels, as you can imagine. For our stay we preferred to opt for an apartment (we'll talk about it below), but even if we stayed at an apartment we still had a look at the hotels and hostels. Why? Because at the beginning of our stay we had booked 2 nights in an inn. 😉 We actually arrived in Tallinn on January the 4th, and if that date doesn't remind you of anything in particular (to us either at the base), it is in fact still the most popular tourist week in Russia: Orthodox Christmas.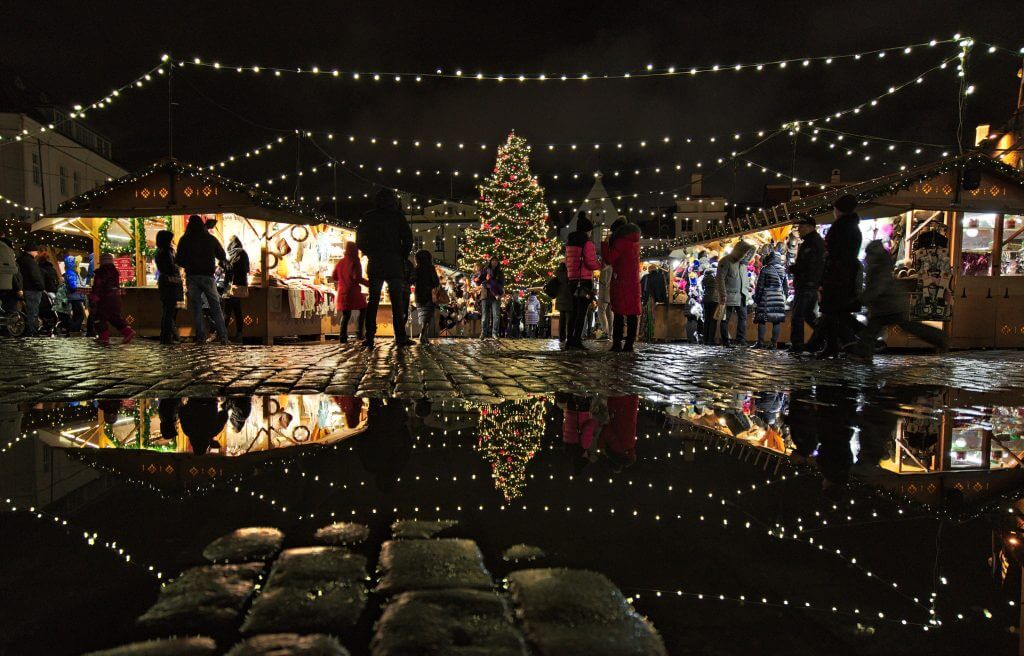 As a result, the apartment rental prices were totally crazy, hotels and inns also increased their prices, but weirdly for backpakers prices remained reasonable.
In the end we decided to stay at the Old Town Alur Hostel. A simple and ok Backpacker in the heart of the city. To be honest in terms of "look", charm and friendliness, you must clearly look elsewhere. But for 16€ per person we had a dormitory bed, a hostel and clean sanitary facilities, a kitchen at our disposal and above all a top location to visit the old town. The price "outside of Russian Christmas holiday" is 10€ per person per night which is simply unbeatable!
Apart from Russian Christmas holidays there are also good offers for hotels on Hotelscombined. Roughly speaking, you can find a "basic" double room in a well placed hotel for about thirty euros per night (at the time when we were looking for it was quite different):(
In short, our advice would simply be to aim relatively close to the city centre or Tellinviski and to keep an eye on the opinions of other travellers before booking.
Apartment rentals in Tallinn
Since we were staying for 2 weeks and we had also planned to work during our stay, we opted for an apartment. In Tallinn there is no lack of choice and there are perfectly located apartments or studios that are much cheaper than hotels.
To tell you the truth, our little studio in the Telliskivi district even cost us 5€ less per night than our 2 beds in dormitories from the first nights…;)
The apartment is available from 23€ per night. However, for the holidays or in high season this price may vary. During our stay we had some nights at 23€ and others at 40€, in short an average of 27€ per night.
The apartment is really cute and cosy. It is located close enough to the old town to walk there and also close enough to the hipster centre of Tallinn. We were really delighted with our choice! The apartment has a kitchen and a washing machine. Otherwise for the rest it was 100% in line with the photos in the ad, an excellent experience
To find accommodation in Tallinn, you can compare offers on Booking. They have both hotels and apartments. (The one we rented doesn't seem to exist anymore but don't worry there are plenty of others) 😉
If you wish to compare prices between hotels and apartments you can take a look at the map below. Simply zoom in your favorite area and adjust the price & date filters to see the best available options:

Get toTallinn
Tallinn is a destination that lends itself extremely well to the little escapades of a long weekend. An ideal city-trip destination!
To come by plane we recommend you to go to Skyscanner and to compare!
Indeed, Tallinn is not far from Helsinki and the crossing can be done very easily and quickly by ferry! In short, if you want to find the cheapest flight you are advised to search on the one hand for Tallinn, but also for Helsinki (just add the ferry price).
Daytrip to Helsinki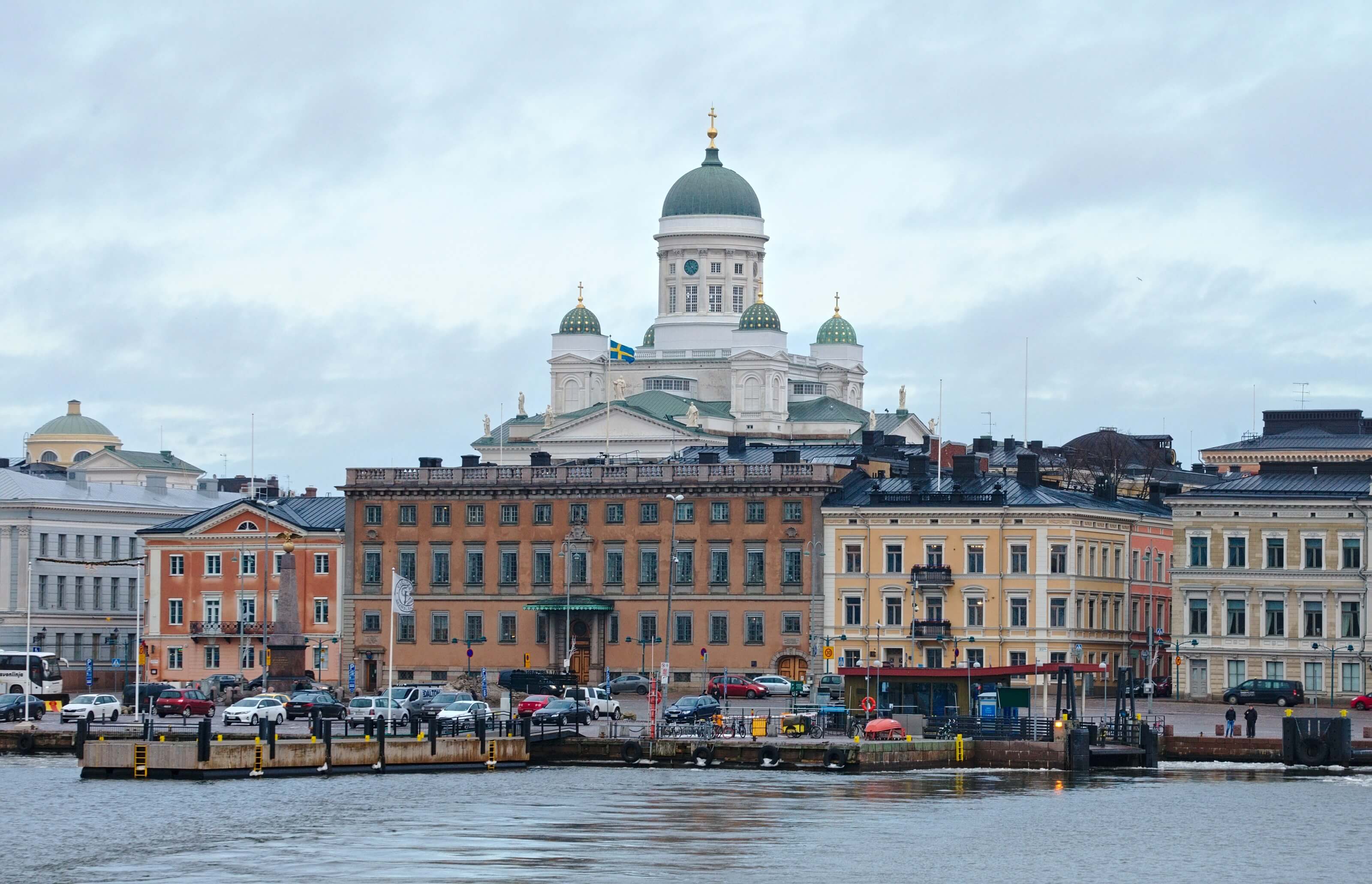 If you are in Tallinn it might be worth checking out Helsinki for a day! The finnish capital is only 2 hours by ferry away and thus makes a perfect daytrip destination. Ferries run several times a day and tickets can be bought from 32€ (return trip). The tickets are made in a way to make sure you have at least 6,5 or 8,5 hours to visit the city before coming back to Tallin in the evening which will allow you to see plenty of things.
If you decide to go to Helsinki, don't forget to take a look at our blog post about what to do in Helsinki
Our good addresses of restaurants and bars in Tallinn
We are not gourmets and it is true that in general we prefer to have picnics on the go. However, Tallinn was a bit of an exception to the rule…. Not that we don't like picnics anymore, but it is clearly less fun when the thermometer reads -10°…
we propose you a short tour of the addresses we visited and that we particularly appreciated…
Bars and restaurants in the old town of Tallinn
Olde Hansa
We start this list with tourism and classic: Olde Hansa! More than a restaurant, it is in fact more of a medieval experience. The waiters are almost like actors, the decor is 100% medieval with candlelight and the menu is how to say…. surprising! Bear, warthog, and reindeer are the stars of the menu.
While Benoit opted for a trio of bear/boar/reindeer sausage, I went on for boar. The dishes were good but it is above all the atmosphere and the decor that are worth a visit.
After that, we still found it relatively expensive…. To do it again, we would rather come and eat a soup for the atmosphere without necessarily taking the whole menu.
Must Puddle
A 100% design address, atypical and offbeat! We had read a blog article that talked about this little café-restaurant without really giving any more attention and it was a bit by chance that we ended up here for a coffee. Frankly, the place is just superb! The decoration is well offbeat, the style is both refined and degraded, in short it's really a great place to come for a coffee or a bite to eat.
We were there in the late morning and out of our breakfast. So we didn't eat anything but the brunch that arrived at the nearby tables clearly looked appetizing. In terms of prices it is not cheap but it remains quite okay for the centre of Tallinn.
Kompressor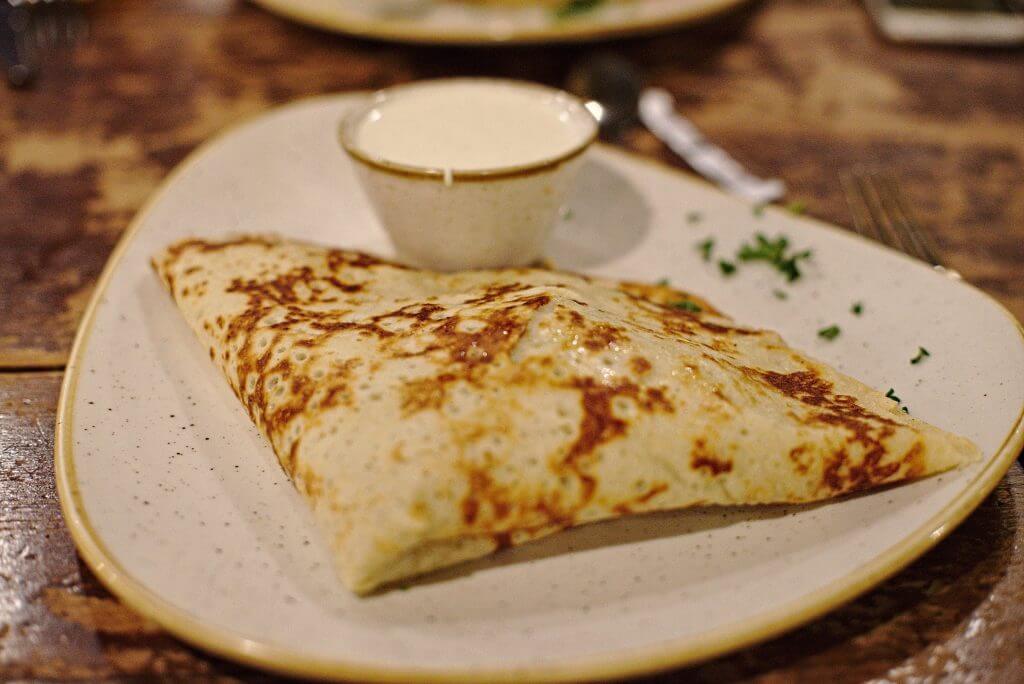 This is probably THE address for people who want to warm up, fill their stomachs and not spend too much! The Kompressor is almost an institution in the old city of Tallinn. The place "only" serves pancakes, but they are HUGE, delicious, well stocked and above all all all at a maximum of 5€. Believe us, one pancake is more than enough to fill your stomach!
The place is often crowded, but all you have to do is get in and get in line (before you even take a seat) and if a table becomes available while you are queuing, you send someone to put the jackets on a chair. If no table becomes available, you can also simply ask to join a table; large wooden tables are made to accommodate many people and it is totally fine to ask to join others.
Paar Veini (Sauna Street)
This is not a restaurant but a bar that we found really very nice! They are best known for serving their homemade wine in jars for an unbeatable price, but for our part we have opted for a better nectar (also served by the glass). We liked the relaxed and especially the 100% Estonian atmosphere that prevailed here. But if not more generally, Sauna Street is clearly the place where you will find something to drink and celebrate after dark.
Bar and Restaurant outside the old town of Tallinn
F-Hoone
By far the best value for money in terms of restaurant that we have tried in Tallinn! We just LOVE this address and recommend it to you without moderation. To begin with, the restaurant itself is already really stylish, but the dishes are even more so. Our only regret? Well, it's for coming here the day before we left… If we had discovered it before that one we would probably have gone back more often:)
Noodle Box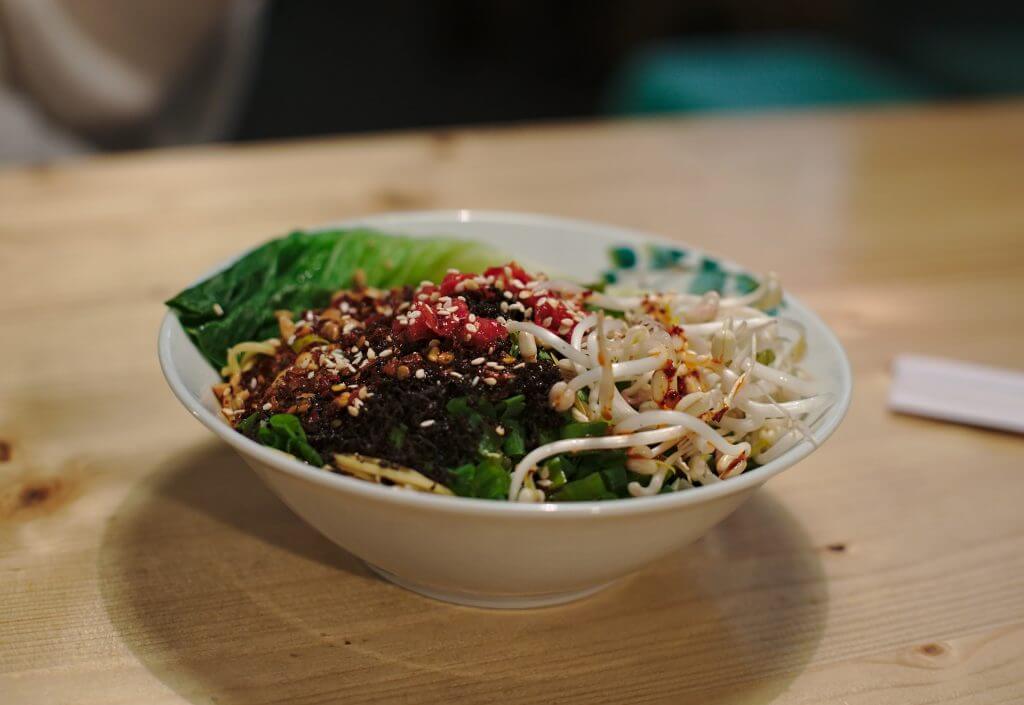 We end this list with a much less known and glamorous address too…. The Noodle Box is a very small take-away (with a few tables to eat on the spot too) that has the particularity of serving only Asian and vegan dishes.
Our little apartment was nearby and so we went there several times on the evenings of acute culinary flemmingite. 😉 The dishes range from €3 to €5 and are really delicious! In short, an address for a quick, good and cheap meal in the Telliskivi district.
Map of Tallinn: All our addresses and visits
You've heard a lot about it in this article, haven't you? 🙂 If you have read so far already, we congratulate you. And to reward you for supporting all this we have prepared an interactive map with absolutely everything we mention in this article!
NB: You should know that we only told you about the activities/museums we saw during our visit here…. Tallinn is a really exciting city and there are of course many other things to see or do. Moreover, if you have good addresses or favourites, don't hesitate to leave us a comment at the end of the article!
That's it, this time I think you know everything (or almost everything) about this beautiful city. In our next article we will review the situation and open our accounts to you as usual to talk about the budget… How much does it cost to live in Tallinn for two weeks? How much for a stay of a few days? We'll tell you everything! 🙂 Edit: The Tallinn budget is published.
NB: This article contains so-called affiliate links, which means that if you use our links to book a hotel we will receive a small commission. Of course, as usual, we only talk to you about services that we also use!