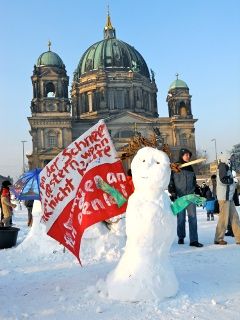 In the last few days we have had polar temperatures in Vienna! Between -15°C and -6°C for the maximums… These temperatures remind us strongly of our feelings during our visit to Berlin in January 2010…
We have only visited Berlin once. But these days spent there at an average temperature of -12°C (with peaks at -20°C at night) left us with wonderful memories. I think we can say that by visiting a city in the middle of winter you discover a very different side.
Besides Vienna is the same, in winter the city and the atmosphere are totally different… When the temperatures are below 0° we also get to know the city's bars and cafés a lot better. And we develop crazy clothing techniques when we know we're going to spend the day outdoors walking around!
Here is a small glimpse of what we discovered in the German capital and how we overcame the cold… A great destination for a last minute weekend or to learn German 😉
Le Brandenburg Gate
Probably Berlin's greatest classic. The Brandenburg Gate is known to be the symbol of the city, but also because it was an integral part of the wall. It is there that the wall was reopened on that famous December 22, 1989….
The day of our visit there it was really cold as hell! We didn't feel our hands or even our feet anymore… Besides, you can follow Benoit's look on the picture: behind our photographer of the day is a Starbucks, and it was very clearly our next destination after taking a brief pose…
The TV tower in Berlin
In order to warm up a little, but also to enjoy a little 360° view of Berlin, we decided to climb into the Berlin TV tower. This tower was built in 1969 and has since become one of Berlin's most visited tourist attractions (nearly 1 million visitors per year)..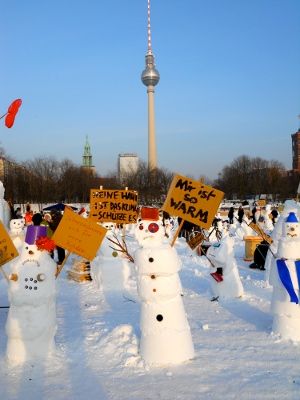 Moreover, it is strongly recommended to book your entry in advance if you visit the city in high season… To book your fast lane ticket it is over here. We were very lucky, because that day the attendance was limited and so we "only" had to wait 45 minutes. But by -15°C ,45 minutes is already long enough. 🙂
You will need to count 12€ for the ride to the top of the tower, it is not cheap but honestly the view is worth it! In all, the tower measures 368m, but as a visitor you have "only" access to the ball which is still 203m from the ground…
Climate demonstration in Berlin
Before going up into the tower we took a short tour of the area and came across a demonstration against global warming made with snowmen. I found the idea really original, and the picture it created with the Berlin dome in the background was really beautiful.
On the other hand, I don't hide from you that at the time global warming was a little bit the least of my worries! Of course it's a major problem. We are right to try to find solutions, but personally when it is -15°C outside and I see snowmen holding a sign that says "I am too hot" I find this quite funny…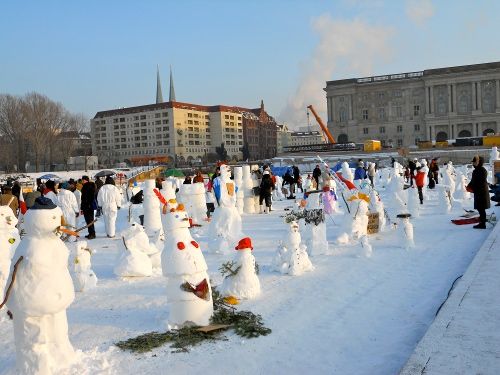 Alexanderplatz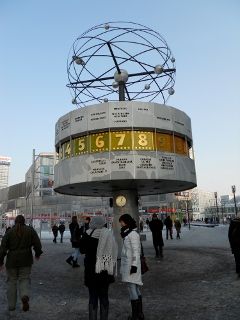 This square is only a few meters from the TV tower. So we took advantage of the short wait before we could go up into the tower to take a look. In addition to being a meeting place and an important hub for Berlin's commuters, Alexanderplatz also hosts a strange metal structure that has fascinated me quite a bit, I must admit. This is the Urania world clock. In itself a world clock is nothing more than a giant watch that indicates time over the 24 time zones of the planet. But from my point of view, this one has a quite unique and very nice architecture.
Check point Charlie
Our visit to Berlin also led us to the famous Charlie checkpoint, which is one of the most famous border crossings. It takes its name from military language, in fact each crossing point was named according to a code name; there was therefore the Alpha checkpoint, Bravo as well as the famous Charlie we visited. Checkpoint Charlie was the mandatory crossing point for all foreigners, diplomats and Western vehicles crossing the Wall during the Cold War and remained in operation from 1961 until the fall of the Wall in 1989, or more precisely until the reunification of Germany in 1990.
I won't hide from you that I didn't find this place particularly interesting… It is certainly loaded with a very great history, but the extremely touristic aspect that was given to it by the actors in military uniforms who lend themselves to the photo game and the many derivative products intended for sale to tourists have, from my point of view, ruined it a bit. However, I strongly recommend that you visit the wall museum near the Checkpoint. This museum is really well done!
East Side Gallery
Probably one of the must-see places for any Berlin visit. The East Side Gallery is an open-air exhibition of 105 paintings on the eastern part of the Berlin Wall after its fall in 1990. For us, this escapade along the wall has turned into a coffee hunt! I think I can say that we had a good hot coffee in all the bars we saw on our way!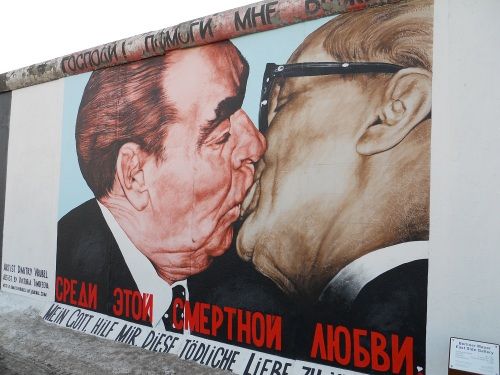 After the wall we took the opportunity to walk a little further along the Spree. Thanks to the cold, there were many portions of frozen water. It really made the landscape even more beautiful!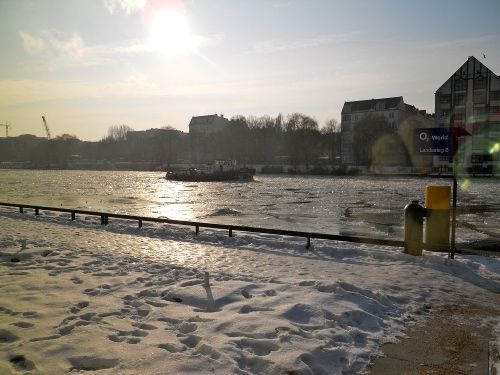 The Holocaust Memorial of Berlin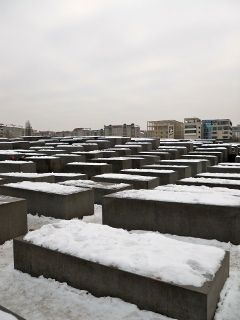 This memorial, intended to perpetuate the memory of Jewish victims during the Shoah, was opened to the public in 2005. It is located between Potsdamer Platz and the Brandenburg Gate. The architecture of the place is really very particular. In fact, it is a large square on which are placed large blocks of concrete, all of which are exactly 2.45m long and 90cm wide.
The height of the steles varies from 0 to 4.7m. I really found this place very strange. This is precisely what the architect has tried to arouse as a feeling: discomfort and unease.
However, we do warn you! The passage between these concrete blocks, which are placed on unevenly sloped ground, is a sporting feat in the middle of winter! During our visit the whole square was completely frozen, so it was more like a huge ice rink with blocks to hold on to in case of a fall…
Visit the Reichstag in winter
A classic Berlin visit! On the other hand, I warn you right away, if as us, you decide to go there on a very cold day, you will need a lot of motivation. And tights too. 😉
For us, the adventure began with a 45-minute wait in front of the entrance! Fortunately, Benoit has a fitness teacher training from his early years. He did a wonderful warm-up choreography for us in front of the Reichstag! We all followed the move to warm up…
Where it started to get funny was when the people around us, who at first thought we were a bunch of crazy people, also started moving in rhythm to try to gain 2-3°C body temperature! When we were allowed to enter the dome we said to ourselves: "Ahhh finally it will get nice and warm! "Yes well that did not happen…
You will know that the Reichstag dome is in the "open air" and that on very cold days the icy wind swirls in the heart of the dome… But the visit was still worth it, and you will enjoy your well-deserved coffee all the more when you leave!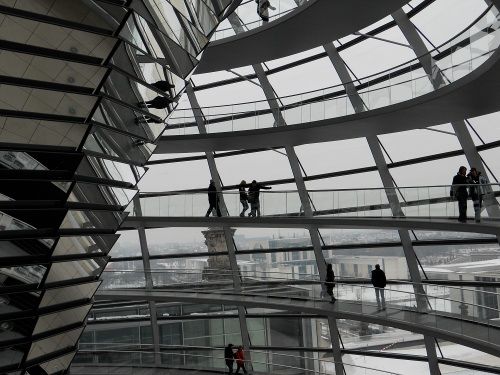 KaDeWe in Berlin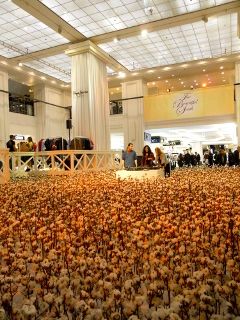 After a number of days braving the cold as best we could, we thought that a warm day when we could remove all our layers wouldn't be a luxury…
So for my greatest happiness we spent an afternoon in the warmth of KaDeWe. It is the second largest mall in Europe (just behind the Harrods in London). Frankly, it's worth a visit! It's not every day you see a "cotton field" in a mall! ! 😉
But since Benoit is not as much of a shopping fan as I am, we played the compromise card. We spent a good part of the afternoon between the 6th and 7th floors. These floors are entirely dedicated to…. Food!
Finally we offer you our 10 commandments to visit a city when it is cold:
The bus you'll forget and the subway you'll take.
Beer you will sacrifice and coffee you will worship.
Shopping in a heated shopping mall you will bless.
Even if you don't like it, hot sake you'll drink.
The glamorous and sexy side you'll give up, the layers you'll pile up.
Tights under your jeans, you'll put on. (works for men too)
The nightclub bouncer who won't let you in you will curse.
Photos requiring you to take your hands out of the gloves will be forgotten.
The parks you will avoid and in the museum you will be cultivated.
In the cold, the reduced number of tourists you'll enjoy.
NB: Please note that this article contains affiliate links to partner sites. If you buy a product on one of their sites you will not pay more but we will receive a small commission; this will help us to keep this site alive.