This is the second time we have come to Finland in winter and passed through Helsinki. We have to admit, that after having traveled to Lapland, Helsinki did not completely seduce us at first. Don't misunderstand us, eh, but it's true that it's a city that didn't "take us away".
That being said, if we're a little rational, it's also a little bit our fault if we systematically come in winter, right? The days are short, the sun is rare (we haven't seen it once this year!) and the greyish streets covered with salt and ice are regularly swept by a freezing wind that gets all the way through you to the bones. 😉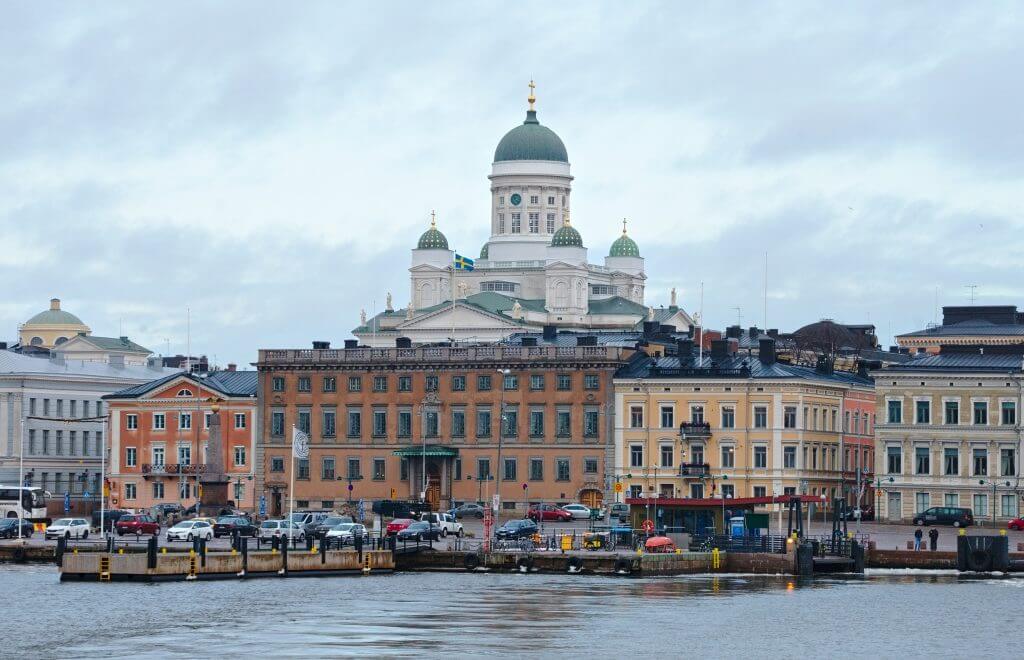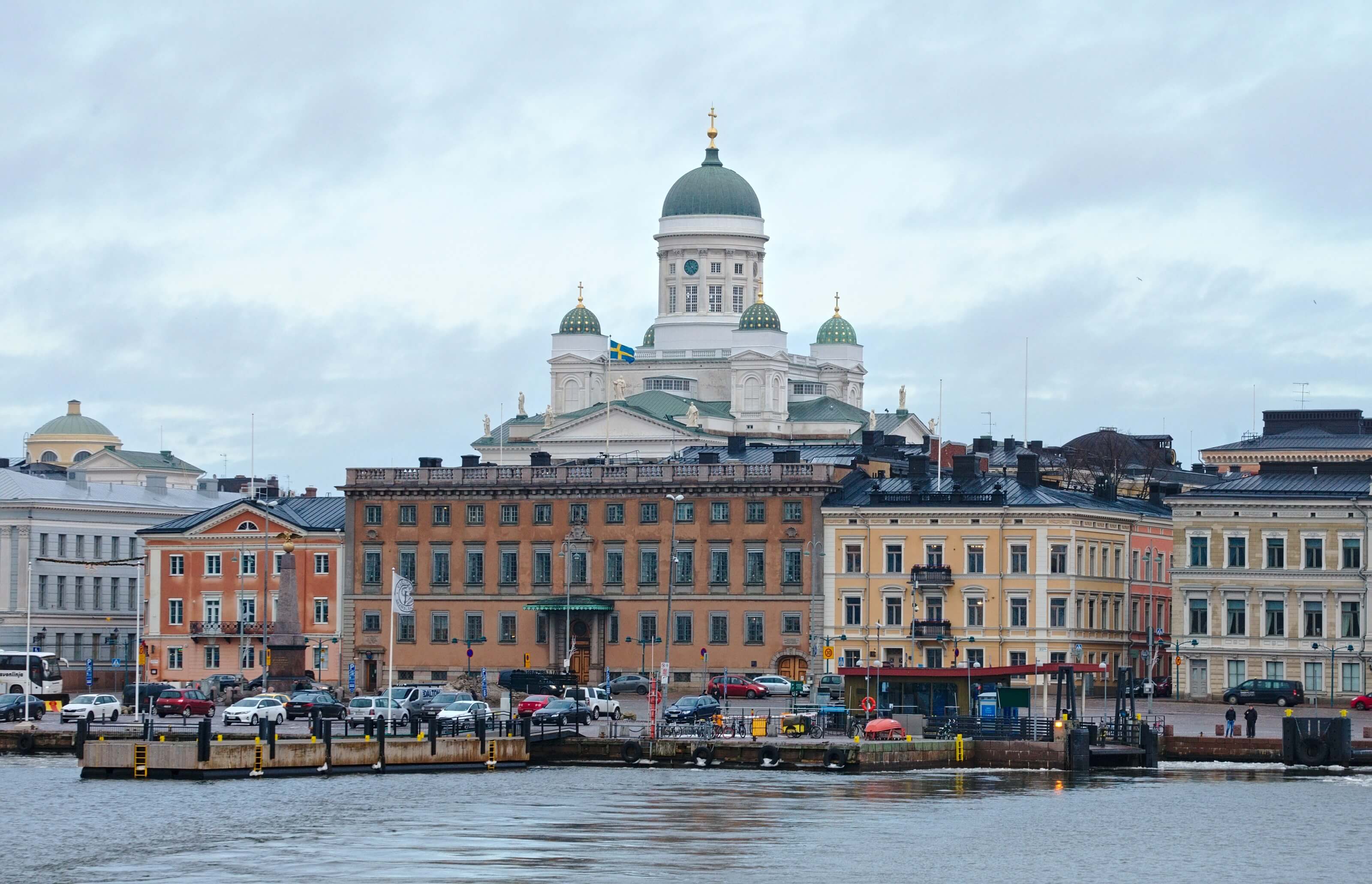 But let's be reassured, even if we didn't have a "crush" on the city, we still enjoyed it and, above all, we will keep a great memory of some really great museums, good saunas and possibilities to explore a little the Finnish nature not far from the city.
Helsinki Free Tour

As in many cities, the famous Free Tour can be found in Helsinki. It's a nice way to start a city tour. The tours are given in English and typically last between 1h30 and 2 hours. Registration is free and the idea is to leave a tip to the guide at the end of the tour .
Book the Helsinki Free Tour
Museums and monuments to visit in Helsinki
The National Museum of Finland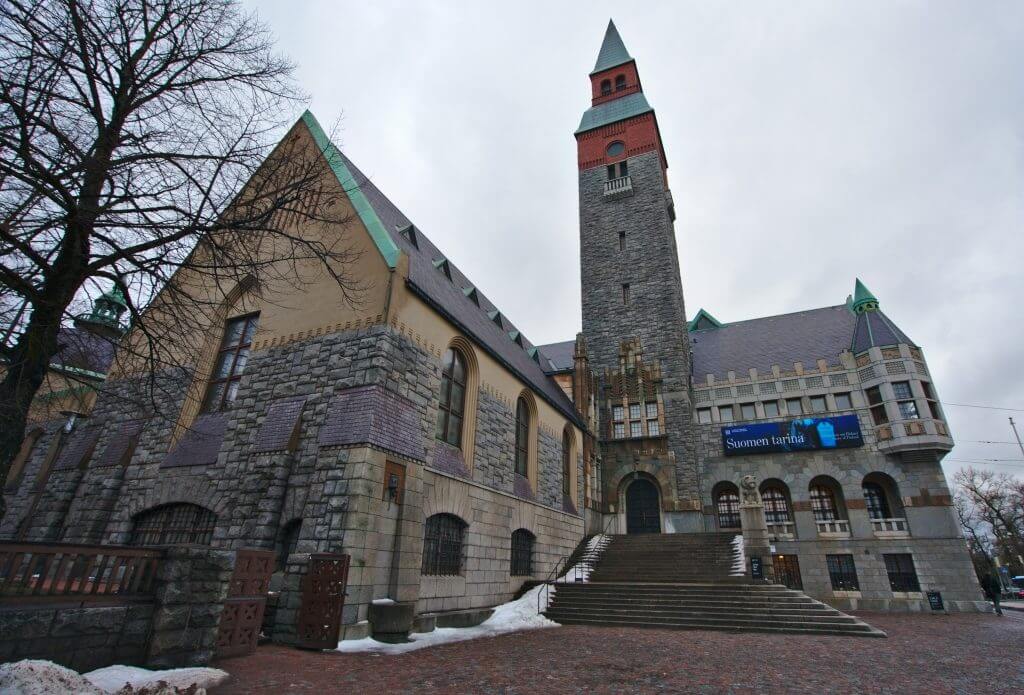 Benoit is a big fan of history museums while I… well, I'm in love with my man! 🙂 Benoit being part of this part of the population who feels compelled to read absolutely ALL the signs of a museum… well, I'm often the girl sitting on a bench waiting.
But here, I think we can say that we both left this museum being totally impressed.
I sincerely do not have the memory of having already visited such a well-made, interesting and above all varied history museum.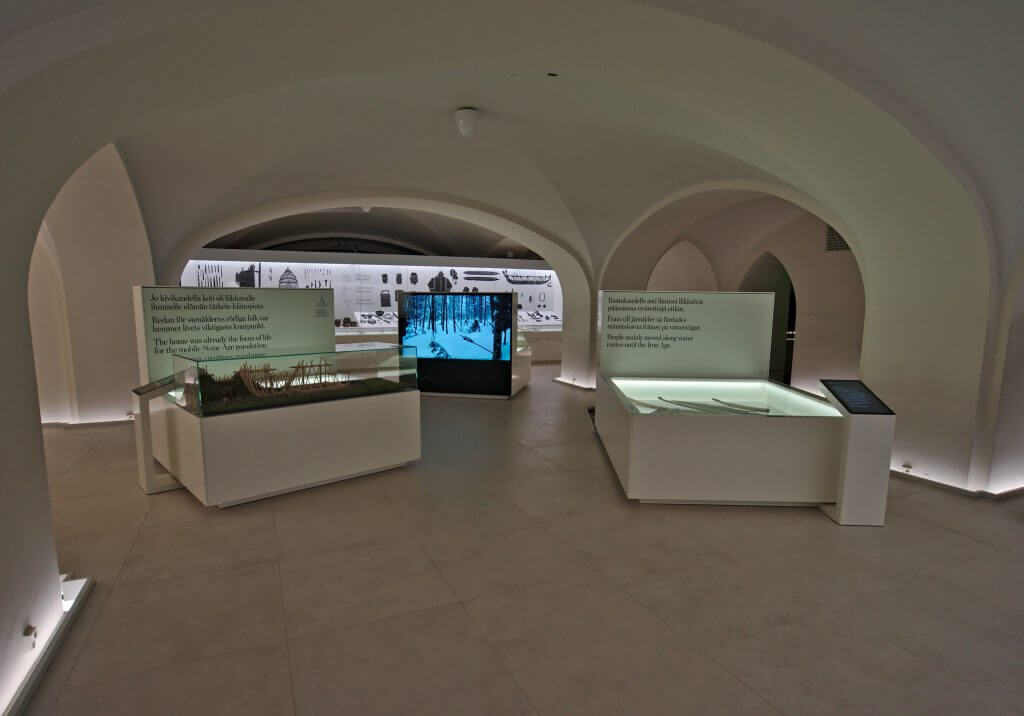 The visit begins in the basement where we start with prehistory. While I was wondering if it wasn't going to be a little long to see the history of Finland from prehistory to modern times, I quickly got carried away by this exhibition. Pre-history was presented and explained in an ultra-modern way with lots of interactive content.
We then move from floor to floor through the different eras, all to finish with modern times where we even find a part of the museum dedicated to heavy metal! Not that metal is my passion, but listening to metal in a history museum is acutally pretty awesome. 🙂
In short, the National Museum is definitely a must if you come to Helsinki!
Infos
Address: Mannerheimintie 34
Opening: From Tuesday to Sunday from 11am to 6pm, on Wednesday the schedule is extended until 8pm (during the summer it is open every day)
Price: 12€
More Infos: The official website
The Design Museum of Helsinki
We saw a lot of museums during our visit to Helsinki (Did we tell you yet that the weather was really bad?), but I can reassure you that I will not give you a list of all the ones we saw. For me, there were only two that really stood out, the national museum mentioned above as well as the design museum!
Scandinavians are known for their sense of design (and not only Ikea!). This museum is simply magnificent. We particularly liked the temporary exhibition on the floor dedicated to… California! Yes yes I know, it's not Finnish, but this exhibition was just too good.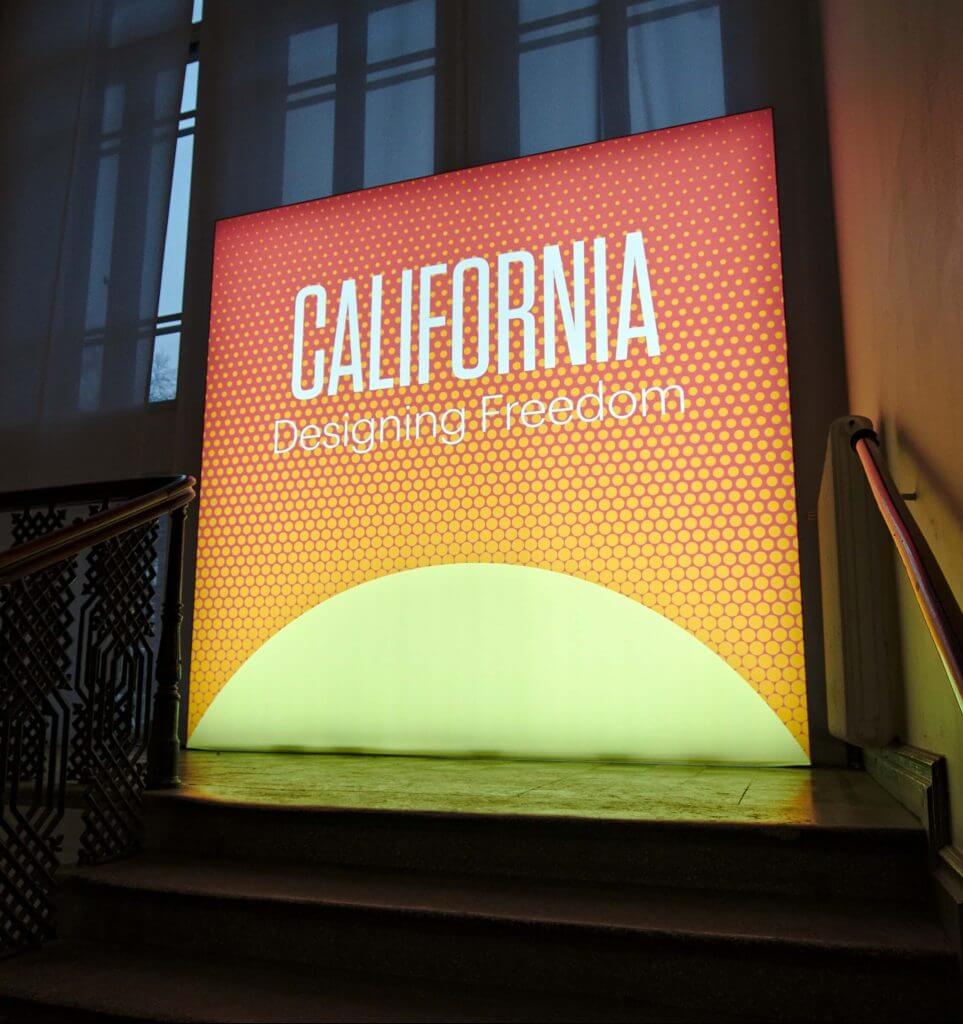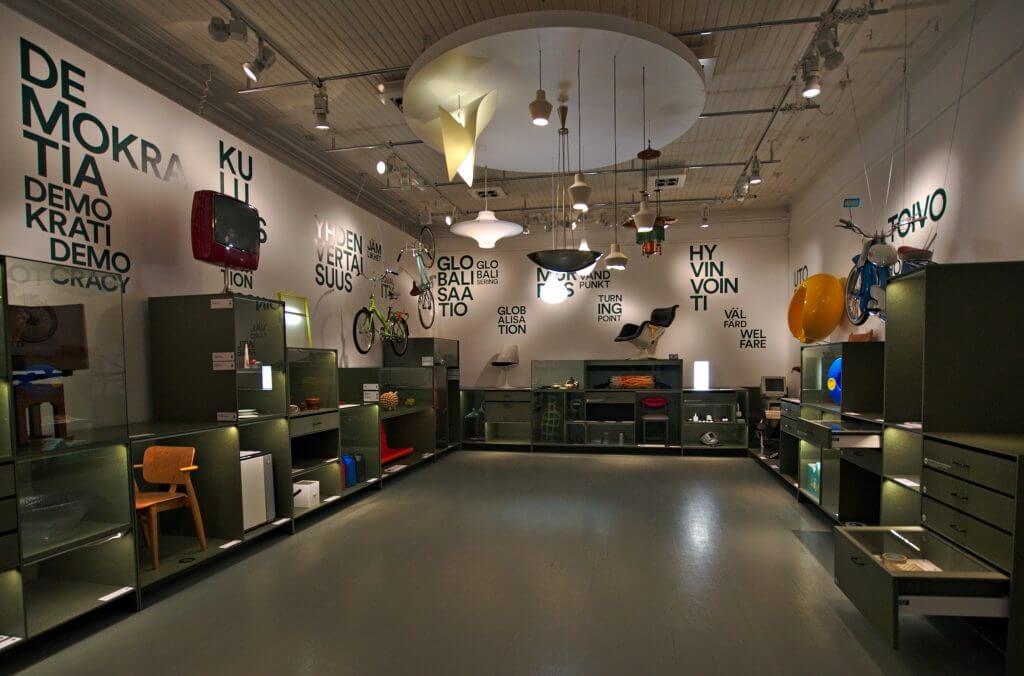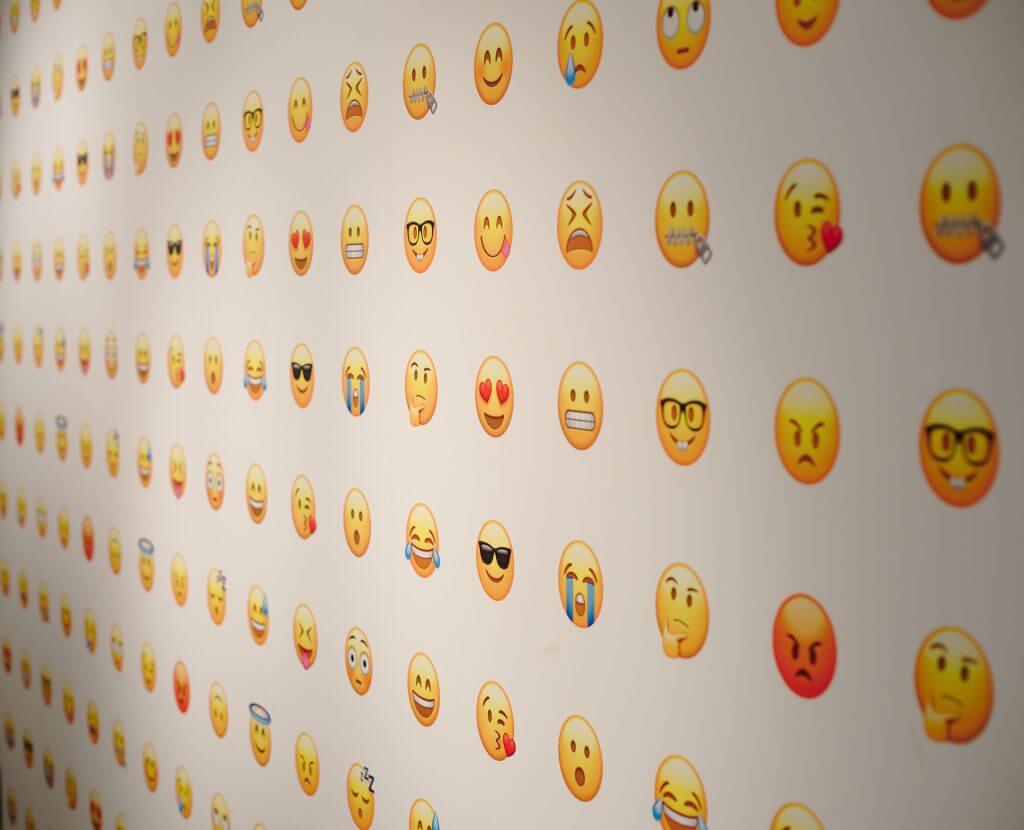 On the ground floor there is a permanent exhibition 100% dedicated to Finnish design. And even though we're not cracks in design and we don't know almost any designer names, we really thought it was a great experience. And I'm not saying that because the big kid that I am was able to play the most famous Finnish game that is none other than… Angry Birds! 🙂
Infos
Address: Korkeavuorenkatu 23
Opening: Tuesday to Sunday from 11am to 6pm (from June 1st to August 31st it is open every day)
Price: 12€ per adult
More infos: The official website
The Orthodox Cathedral of Uspensky (or Uspenski)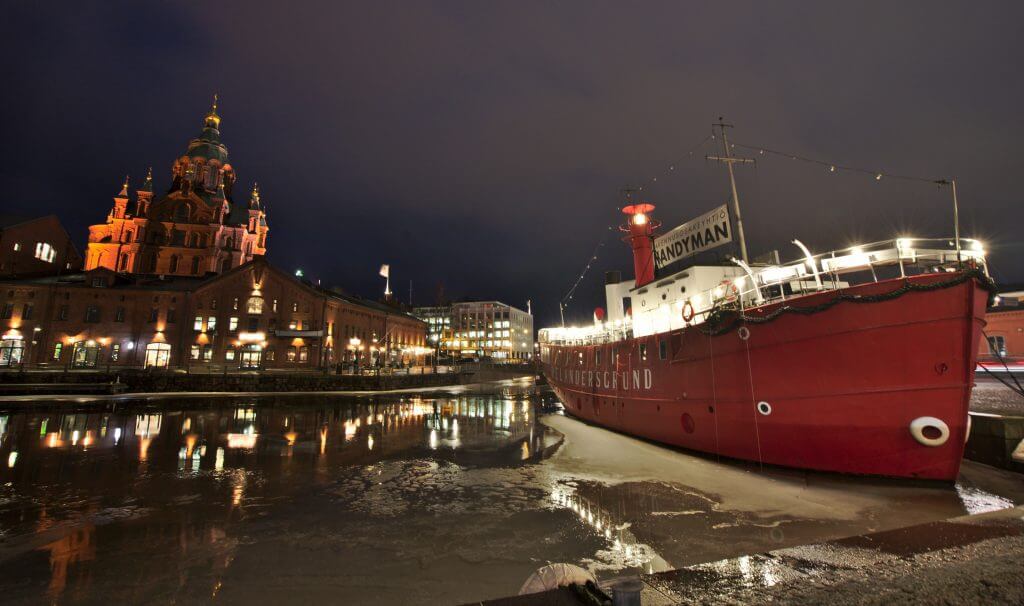 In Asia we tended to visit quite a few temples and it is therefore quite naturally that in Europe we start visiting… churches! Go figure, religious buildings are often among the most beautiful buildings in a city so it would be a shame not to see them.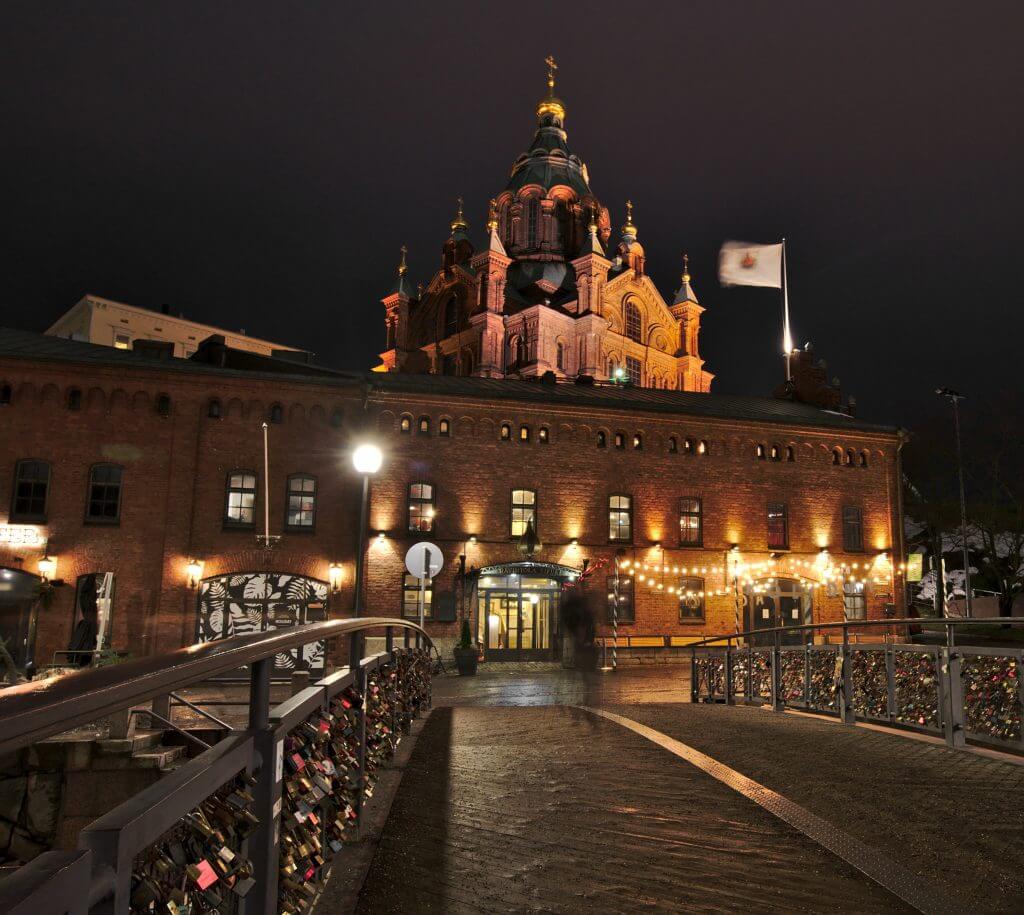 The cathedral of Uspensky is a perfect illustration of this! It is located in the heart of the city centre and dominates the port from its small hill.
Built between 1862 and 1868, it is today Finland's main Orthodox church (it is even said to be the largest Orthodox church in Central Europe… difficult for us to tell you if this is true). 🙂
We didn't visit it from the inside, but it is clearly very photogenic and if you go up the hill you have a nice little view of the port.
Tuomiokirkko Lutheran Cathedral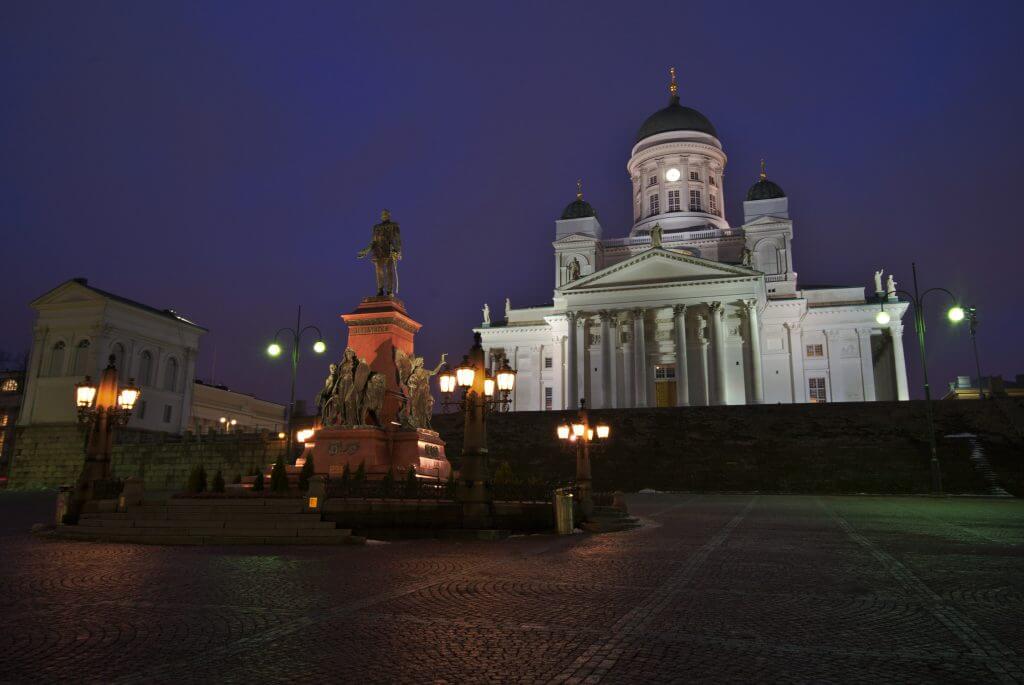 It is necessary to overlook the fact that its name is simply unpronounceable but believe us the visit of this church is worth the detour. Since it is located in the heart of the city centre, you will have relatively little chance of missing it, but if it is mentioned in this article it is because you are also advised to take a look inside!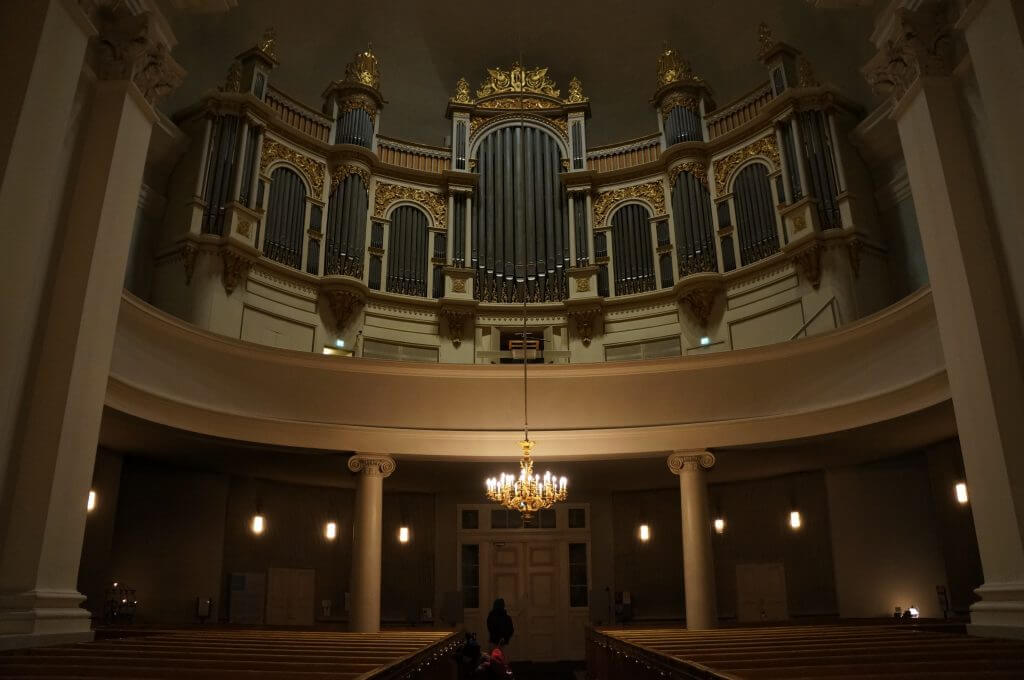 NB: you'll excuse our not-so-good picture from the inside…. It dates back to our visit in 2015 and I cannot explain to you what we were trying to frame. But at the same time it's a good teaser, isn't it? At least you know that the most beautiful thing is still to be discovered! 😉
The church is open every day from 9am to 6pm (admission is free)
Temppeliaukio: the church in a rock (Rock Church)
We end this short series on cathedrals and churches with a place that is really atypical: a monolithic church (understand by that a church built in the rock)!
The church of Temppeliaukio dates back to the 1960s and is mainly composed of granite blocks. The particularity of the place is on the one hand that the light enters it only through the ceiling but also its very particular acoustics which makes it a regular place for concerts. And "Rock Church" also means rock music… Apparently there are even masses celebrated to the sound of heavy metal in these walls (they are crazy these Finns). 😉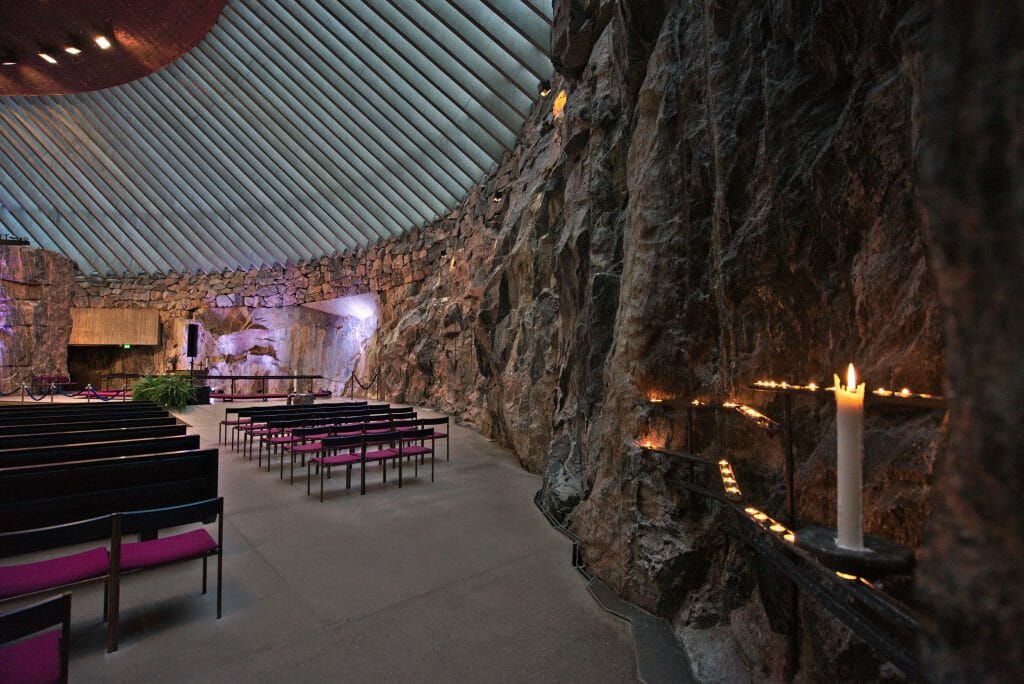 On the other hand we are sorry, but we couldn't find more information about the dates. But it's called Metal Mass, so if it's your thing, think about looking on the net if you find any for the time you're there.
Infos
Address: Lutherinkatu 3
Opening: Schedules vary from week to week and the church is closed during masses. Every week the church publishes its schedules on it's facebook page.
Price: 3€
Visit of the Suomenlinna fortress
2 visits to Helsinki and 2 excursions to Suomenlinna for us! 🙂 To tell you the truth, we were furiously unlucky with the weather on our first visit and we thought this place was well worth seeing in "good weather". In other words, we went back on a day when the weather was somehow nicer. Or at least it looked nicer when we left in the morning.
Needless to say, as soon as we arrived on the ferry the weather deteriorated and it is, as in 2015, that we visited the island (or rather the archipelago) in the clouds. But that doesn't matter! Even in bad weather Suomenlinna is really worth a visit!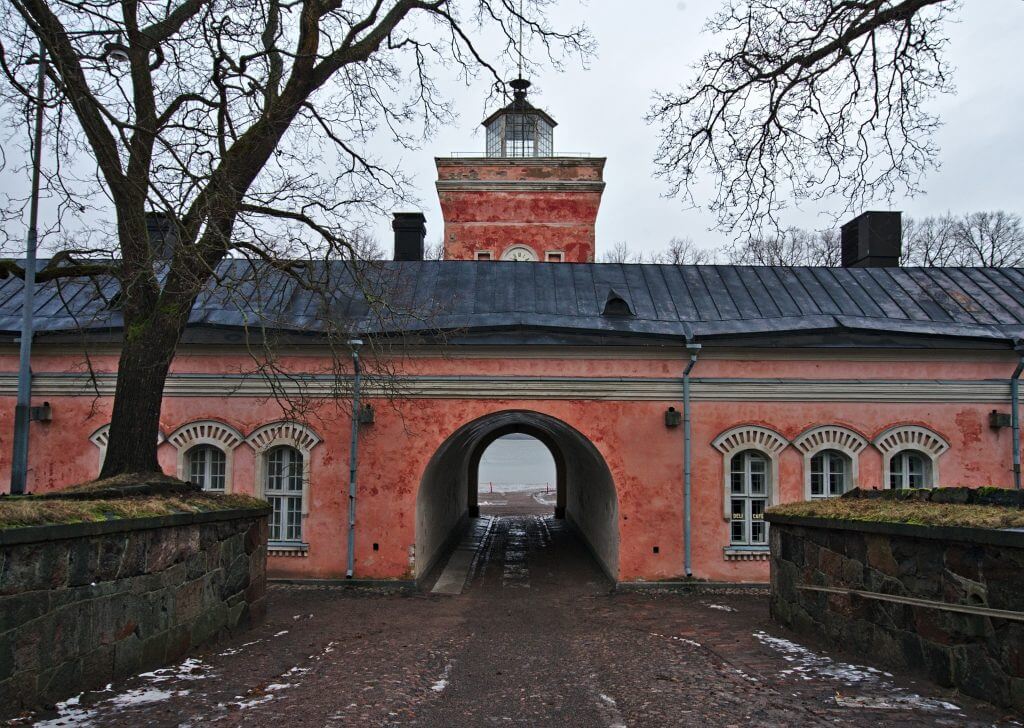 Suomenlinna is an inhabited fortress off the coast of Helsinki. Since 1991 this fortress has even been classified as a UNESCO World Heritage Site. In fact, the fortress was built in 1748 by the Swedes (to whom a large part of Finland belonged at that time) in order to protect themselves against the Russian empire. In the end, Russia still managed to seize the fortress in 1808.
In all, 8 small islands make up Suomenlinna (5 of which are connected by bridges) and you can walk freely around the fortifications and still see many remains of the time. Currently, Suomenlinna is mainly a tourist destination, but you should know that there are also a little more than 700 permanent inhabitants on these small islets!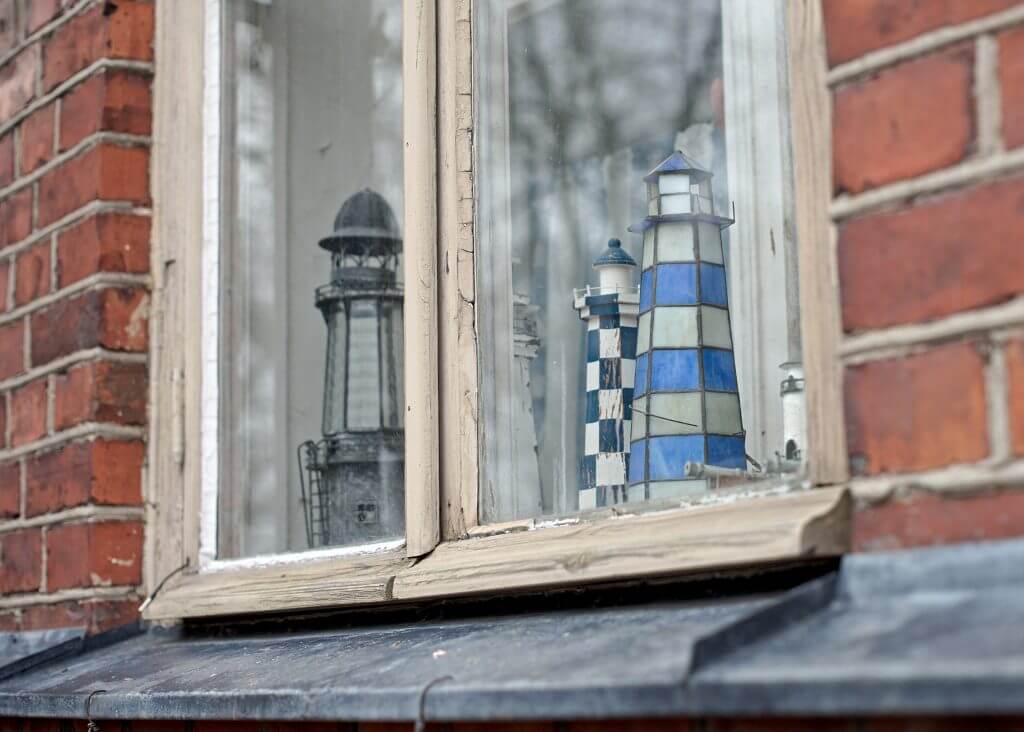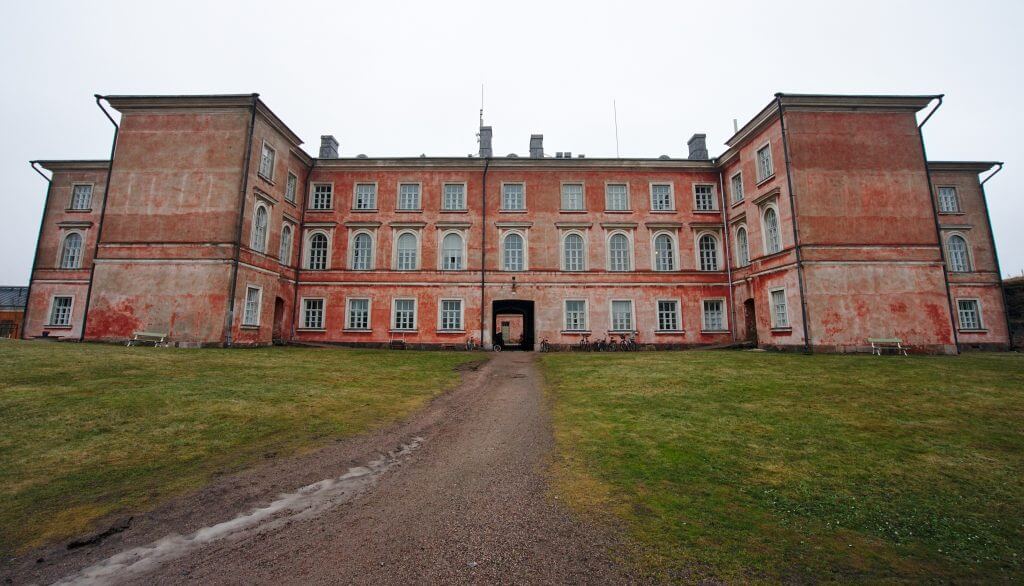 There are several museums, restaurants, a supermarket and even a microbrewery on the island. Unfortunately in winter many things are closed or have more restricted opening hours. Nevertheless, the main museum of the island, which presents the history of the islands, is open all year round. In itself the museum is nothing crazy, but at the end of the museum there is a small film of about twenty minutes which passes in loop (with headphones in 9 languages available) which is very well made and explains perfectly the history of the place. In short, just for the film, we highly recommend this museum!
Infos
Ferry: The ferry to Suonmelinna leaves from the east of Kauppatori Square
Ride duration: about 15 to 20 minutes
Ferry fare: 5€ for a ticket valid for 12 hours which will allow you to make the round trip. Tickets can be purchased directly from the machine on the platform.
Frequency: In winter there is only one ferry per hour, but in summer there are more of them. See current schedules here
Suomenlinna Museum: open all year round (there are other museums on the island but they are closed in winter)
Museum Price: 8€ per adult
Opening: in winter (October to the end of April) from 10h30 to 16h30 and otherwise from 10h to 18h.
The Sibelius Monument
This huge statue composed of nearly 600 steel tubes is probably the most visited statue in Helsinki. It was created by Eila Hiltunen in honour of the famous Finnish composer Jean Sibelius. In absolute terms, these tubes are supposed to represent birches, trees that are very widespread in Finland… I'm not sure I really see the "nature" side of this work, but anyway: it's impressive and worth a detour.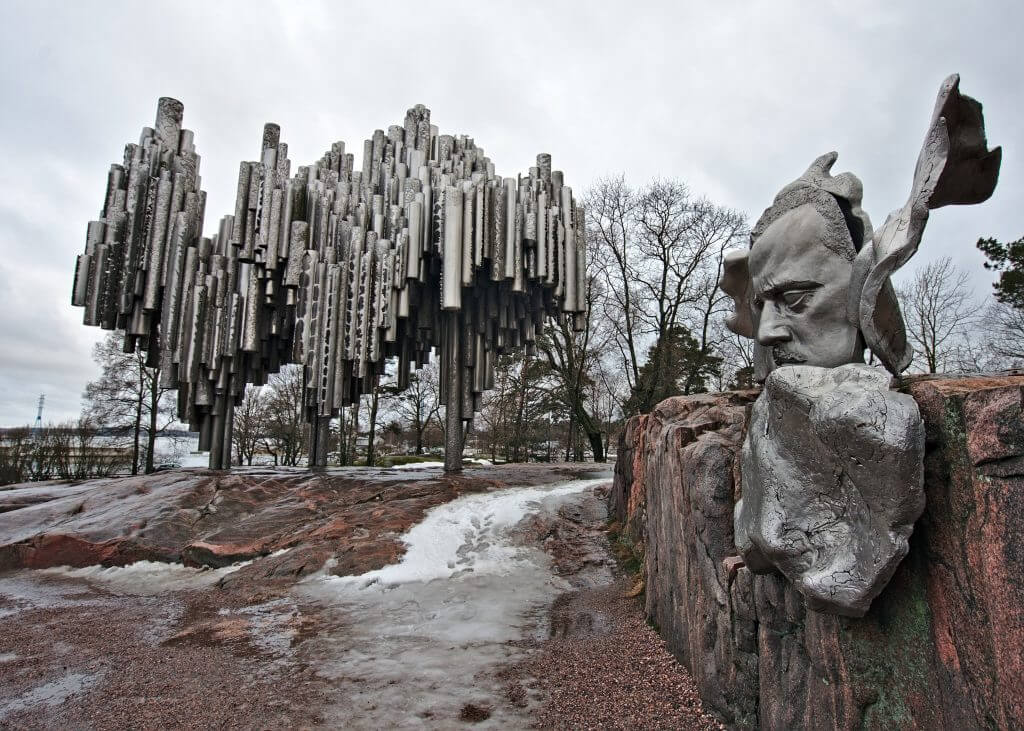 Incidentally, by coming to see the statue you will then be right next to the little Regata café that is mentioned below in this article.
Infos
Address: Parc Sibelius, in the Tööölö district northwest of the city centre
Opening and price: Accessible at any time as the statue is located in a park, access is free of charge.
The Helsinki Card
As in many cities, there are City Cards in Helsinki. These cards include the majority of museums as well as public transport. Sold either for 24H, 48H or 72H, they are really great for people who want to visit a lot of museums.
In Helsinki the prices are respectively 49€, 61€ and 71€ depending on the duration. This is relatively expensive if you only do a few museums, but if you plan to do more than one it can quickly pay for itself.
The list of museums that are included includes the art museum (17€), the design museum (12€), the history museum (12€), the hotel and restaurant museum (10€), Suonmelina (8€), the guided tour of Suonmelina (11€), the rock church (3€), the photo museum (10€), a cruise on the city's canals (25€, in summer only), the tourist buses (30€), the Sea Life (16,5€), etc…
In short, if you're planning a lot of museums and you want to use public transport it can be interesting.
Sauna culture in Helsinki
You couldn't possibly do an article on Finland without mentioning the sauna at least once! Yes, sauna in Finland is almost a religion! Did you know that the word "sauna" is the only Finnish word that has been exported? It's no coincidence if you want my opinion! 🙂
In a country of only 5 million inhabitants there are no less than 3 million saunas!!!! You were already told about saunas in Finland in an article written 3 years ago (we will update it soon!), but you should know that in Helsinki you will not be left out. There are saunas absolutely everywhere and for all budgets!
This year we tested 2 of them which are radically different and really interesting!
Löylö: the chic and stylish sauna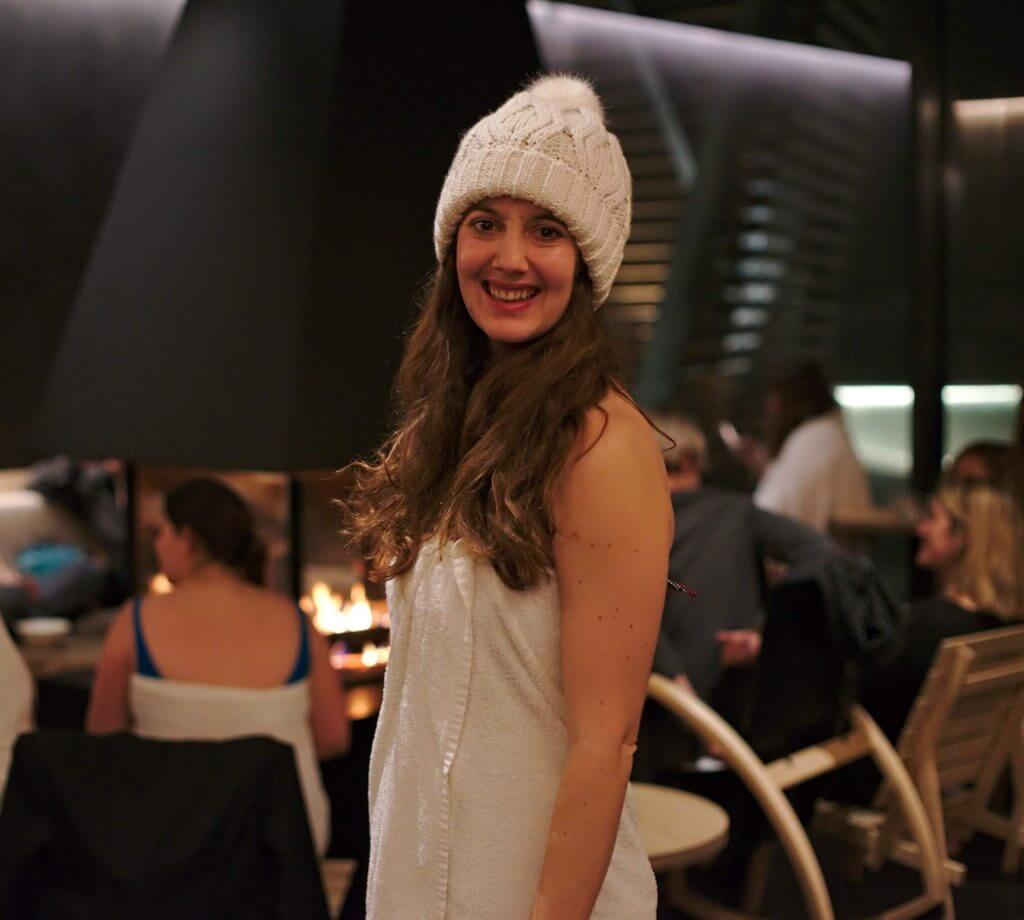 During our conference one of the evenings took place in this really unique space (yes yes, we were definitely spoiled!). The Löylö is a brand new sauna that opened in 2016 and in terms of design and architecture the least we can say is that they have done very well! This place is simply sublime! The materials used are mainly raw concrete, light wood, wool and steel. A design that is both sober and elegant, in short a 100% cocooning and "Scandinavian" atmosphere.
NB: Wearing a sauna hat is a method 100% validated by the Finns! This makes it possible to feel less "hot" in the sauna and especially not to catch cold once in the water or snow.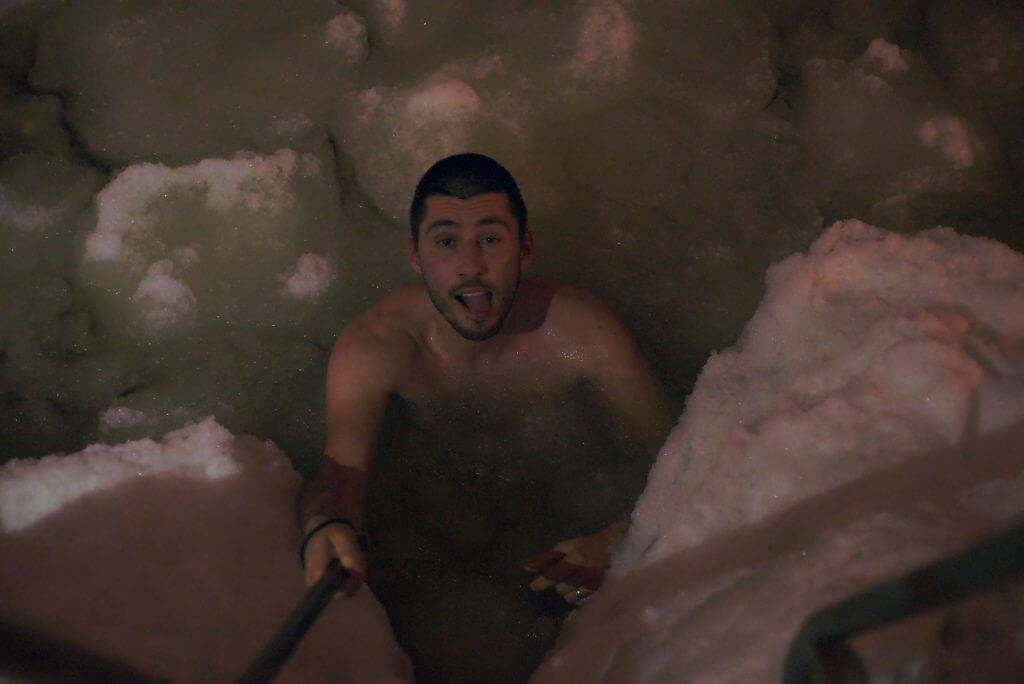 In all there are 3 different saunas: 2 wood-fired saunas and a smoke sauna. As Löylö is located by the sea, there is also direct water access via a small footbridge to soak in the Baltic Sea. While in summer it consists of a slight "refreshment" in winter it is a completely different story since the sea is generally frozen and so you dive directly into one of the holes they have dug in the ice…. Brrrrrr……
Infos
the Löylö sauna is located in the south of the city (see map at the end of the article)
Price: 19€ for 2 hours of access (this includes a towel, shower gel and shampoo).
Opening: Monday to Wednesday: 4pm to 10pm, Thursday from 1pm to 10pm, Friday and Saturday from 1pm to 11pm and Sunday from 1pm to 9pm
Important: to come to the sauna you have to book your session online
Information and booking: on The Löylö Website
The Allas Sea Pool: sauna and swimming pool in the Baltic Sea
More "popular" and less luxurious, the Allas Sea Pool is nevertheless a truly atypical place! In fact here there are 3 saunas (all electric): one for men, one for women and one that is mixed. What makes this place so special and fun is above all its location! Located in the heart of the city, the 3 outdoor poolsfloating on the Baltic Sea offer a breathtaking view of the port of Helsinki.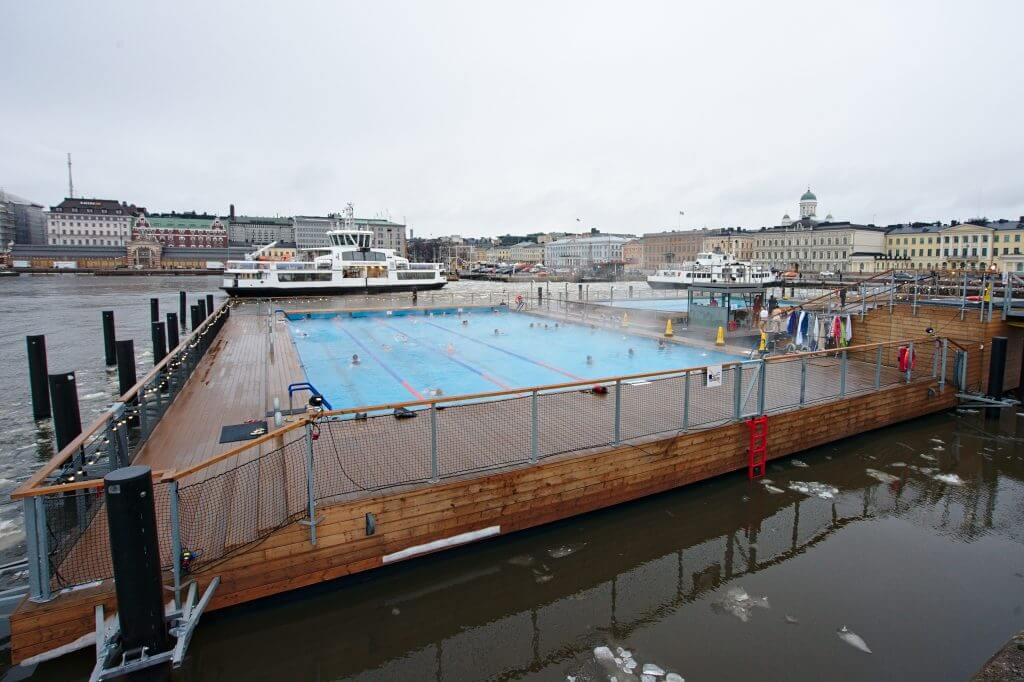 Speaking of swimming pools, there are 2 outdoor pools that are heated (28° all year round) and a third one that contains water from the Baltic Sea (which is filtered but not heated). Basically there is the option for the cozy (including me, let's say) and the option for the brave (implied Benoit). 😉
Infos
The Allas Sea Pool is located in the port of Helsinki
Price: 12€ per adult (you will receive a bracelet valid for 24 hours, so you can enjoy it several times if you feel like it)
Opening: All year round, from 7am to 9pm Monday to Friday, from 9am to 9pm on Saturday and from 10am to 8pm on Sunday.
Advice: Try to come during the week instead… on weekends there are a lot of people! And remember to take your towel if you don't want to pay for the rental in addition (8,5€ the rental!)
More Infos: The Allas Sea Pool Website
Heavy Metal in Finland: we tested the heavy Metal walking tour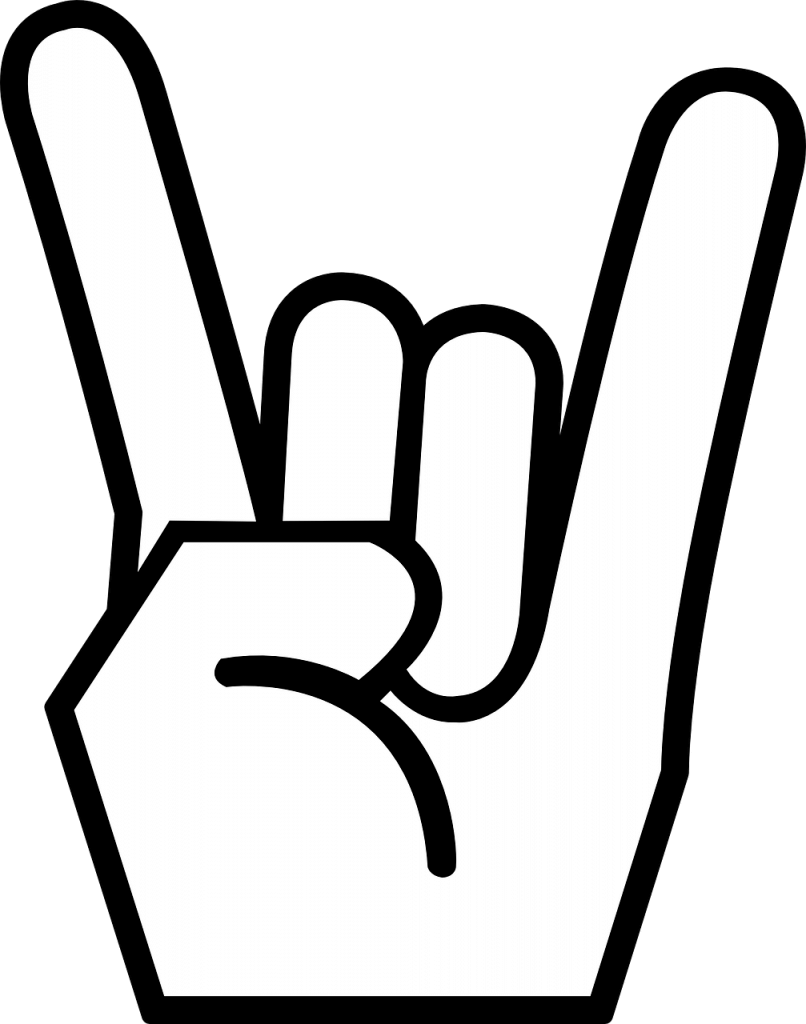 So here I'm going to tell you a secret… participate in a heavy metal walking tour it was clearly not my idea! 🙂 Benoit had spotted this rather original tour online and in the days that followed he never stopped making his little pandas eyes at me.
Not being a monster, I finally gave up and accepted to join one of these tours! In the end it was a rather… interesting experience. In fact, Finland is a country that is VERY well known for its "metal" scene (there is even a part of the national museum dedicated to it, that is to say!). I left with a few a priori thinking that I would probably be the only one in the group that didn't know any metal bands except Metallica and Nightwish.
So in the end I will have been the least aware of it. But it was easy, because in that month of January, we found ourselves the only participants in the tour. 🙂
So it was a 2-hour walk with a private guide who was very familiar with metal culture (he worked in the industry for a long time) and with many anecdotes about famous Finnish bands and international stars spent in Helsinki.
To be honest I think you still have to be a big metal music fan to enjoy this tour. Even Benoit will have admitted that he is not "knowledgeable" enough to have enough questions to ask him. Because yes, a lot of the tour is stuff like: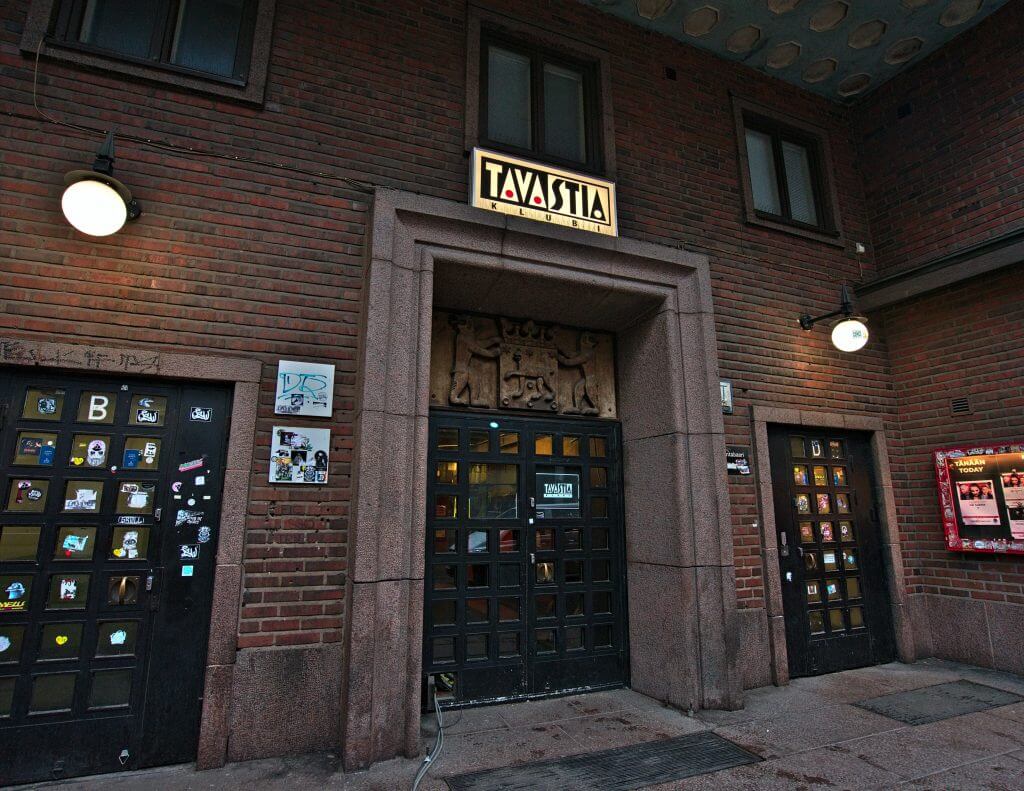 "This is the bar where X and his band often came after their concert"
"This is the hotel where Y stays every time he is in town"
"This window is the one of the Z's manager office"
X, Y and Z being great stars of the metal scene but for me who doesn't know anything about, it it was a bit like the guy telling me "this is Robert's cafe, Paul's hotel and Jacque's office". 😉
Nevertheless for heavy metal lovers it's still a good tour to know where the best bars in the city are to listen to concerts / have a drink with a "metal sound" (does my vocabulry show that I really don't know anything about it???? hahaha). But I'll explain right away that Benoit didn't even suggest that we go to a bar…. He knows I love him, but he had the good sense not to push it too far.
Infos
The tour takes place every Saturday at 2:30 pm
Starting point: In front of the Tavastia Club
Tour duration: about 2 hours
Price: 20€ per person
More information and booking: here
Where to eat or get a drink in Helsinki?
The Cafe Regata
Let's start with non-alcoholic and cute if you don't mind. 😉 Café Regata is at the top of many guides' list and is therefore by no means a secret address. But, there is a, this tiny little coffee in his little red house by the water is just too cute not to tell you about it.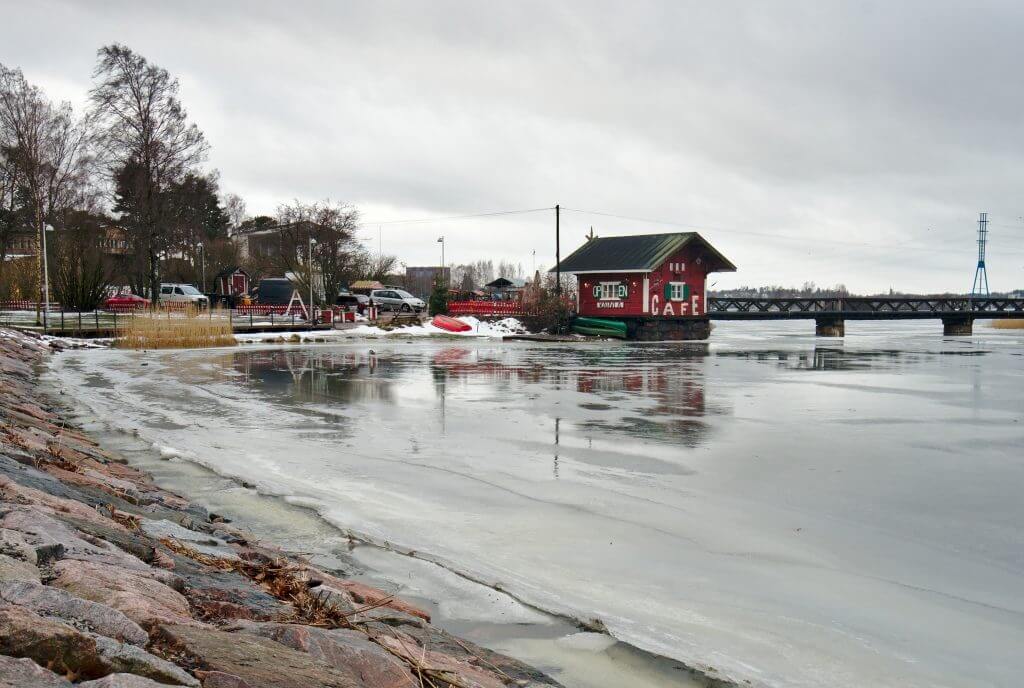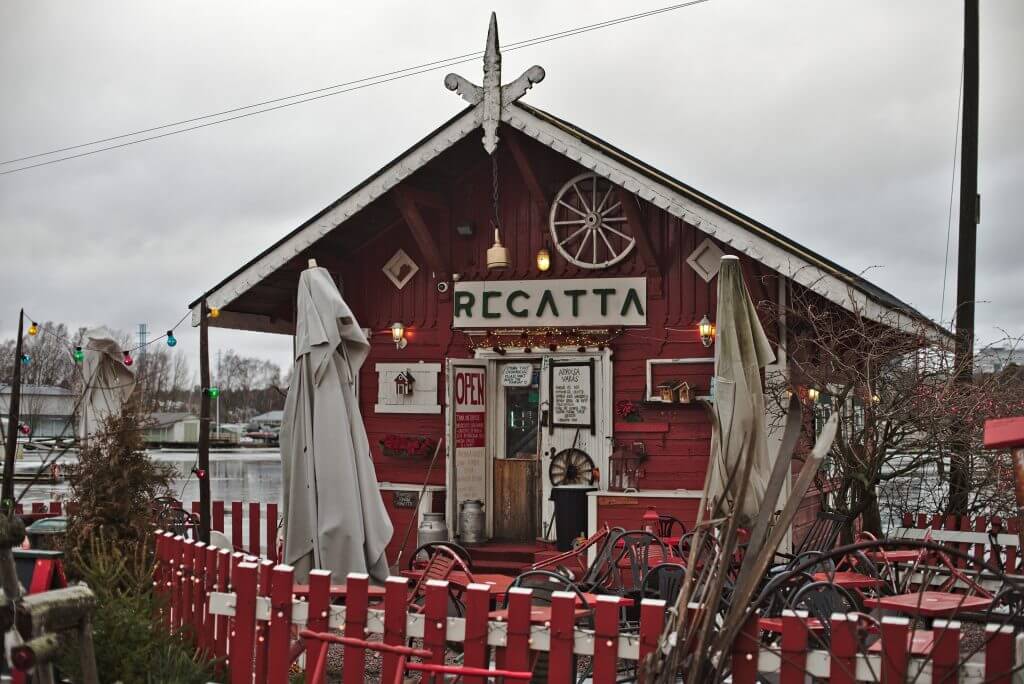 We came to warm up here just after seeing the Sibelius Monument, and despite a little excessive prices for not good coffee… we still recommend it! This place is really unique and worth a visit!
Eating Blinis at Lasipalatsi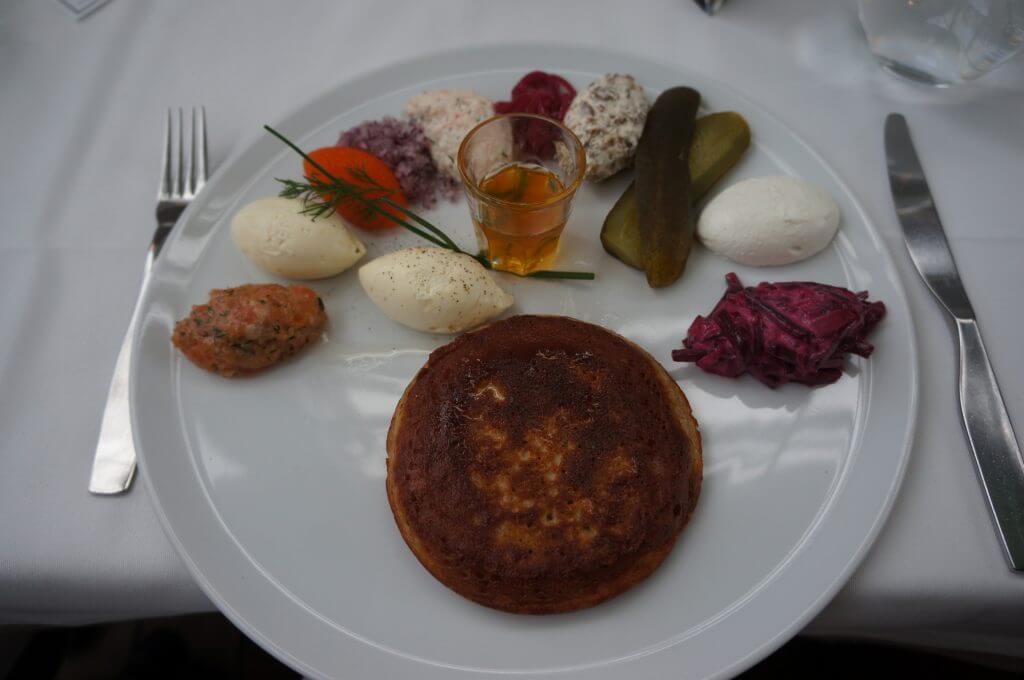 We won't recommend many restaurants in Helsinki because we had an apartment (and because restaurants are quite expensive in Helsinki) we cooked a lot and ate a lot of picnics. But if there is one restaurant that cannot be omitted, it is this one!
If you like Blinis, this is the address for you! And if you don't like blinis… uh, no, actually I think everyone likes blinis, right? No, to be fair, there is a whole menu and blinis are only served from January to March… but personally I would only go for blinis!
More infos and menus: The Lasipalatsi website
The Sherlock Holmes Bar – Trillby and Chadwick
To be secret this address is really secret! Inspired by the prohibition period, a group of enthusiasts decided to keep the tradition of having a "secret" bar. The Trillby and Chadwick has a website, but no address… To find it you have to know it!
Once on the right street you won't see a bar name either. Just a wooden door that leads into a small room. In this room you have to knock on the door to your right and wait for the small hatch to open. If there's any room left in the bar, we'll let you in.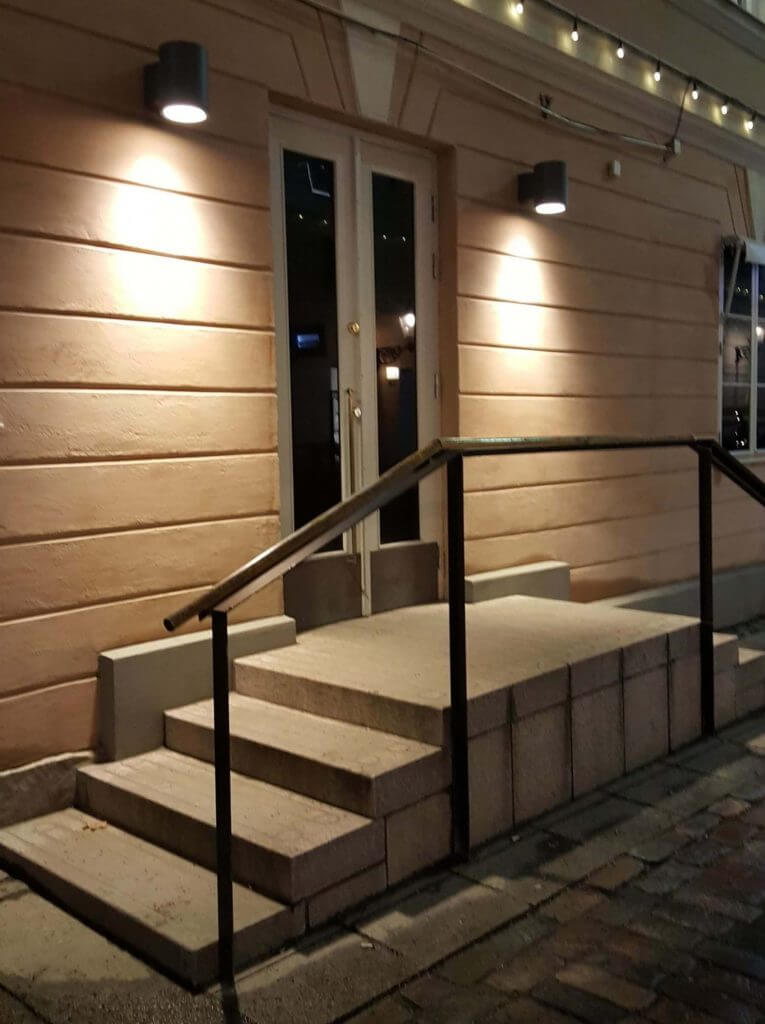 Inside the setting is mysterious and mystical; it's like a remake of Sherlock Holmes. The particularity of the place? Cocktails!!!!! They are all more incredible than each other with the most bizarre ingredients. No price is indicated on the menu, but all cocktails are at 14€ unless otherwise stated. It's not cheap, but for Helsinki it's still ok… And this bar is a unique experience in itself! The exit from the bar is not through the front door, but through a small back door that opens onto an inner courtyard and joins another street.
Because we're really nice, we put a picture of the door on you. It is located on Katariinankatu Street, near the port. It's the only picture we have of the place, because pictures are strictly forbidden inside. 😉
Find the exact location on our map myhelsinki (number 15 on the list)
Where to drink a good beer in Helsinki?
As everywhere in Europe, Helsinki is a city that is experiencing a strong boom in terms of artisanal beer. Then we won't lie to each other, our beer consumption has been relatively limited in Finland… Yes, in Scandinavian countries alcohol is VERY heavily taxed and as a result it is easy to pay something like 8€ or 9€ for a beer in a bar. At this price, I promise you that we will drink in moderation.
But let's be reassured, we still tested a few beers! 😉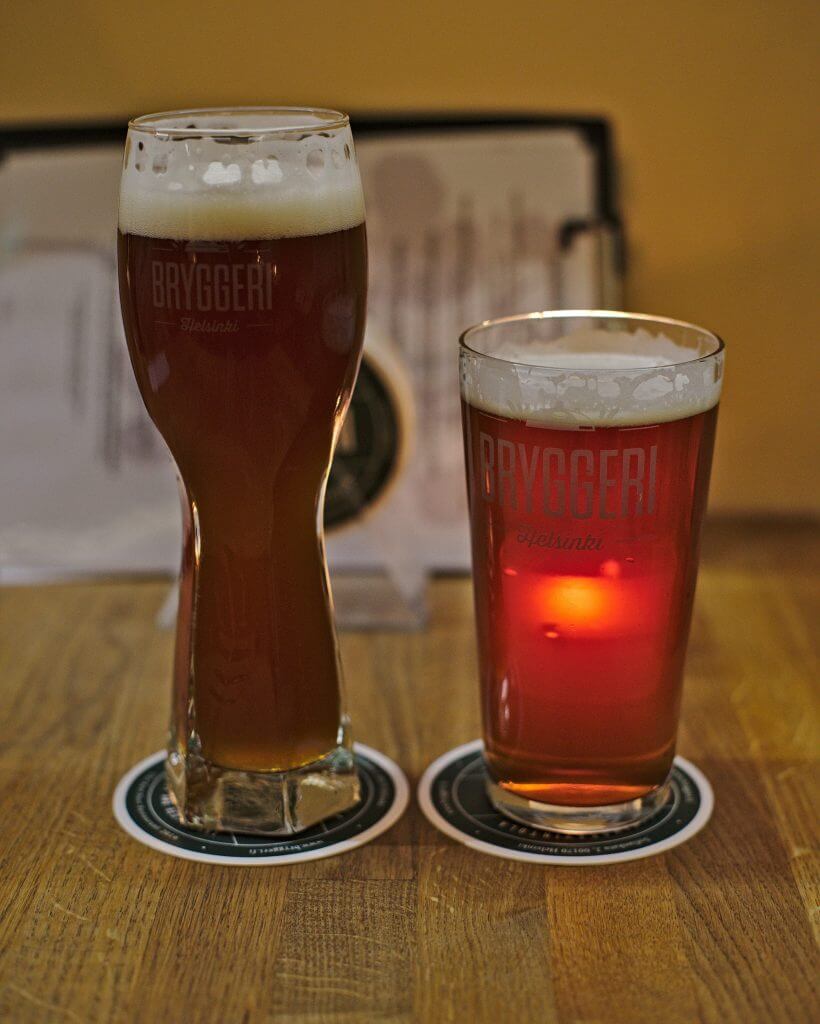 First of all, the great classic: Karhu. It is the most widely sold beer in Finland…. It can be found in almost all bars and supermarkets. For our part, we really didn't find much special about it.
At the brewery level we made a short stop at Bryggeri. It is most likely one of the oldest breweries in the city and is located in the heart of the city. It consists of a small bar on the ground floor and a restaurant in the basement. The beer tanks are located in the middle of the restaurant, which gives it a certain charm.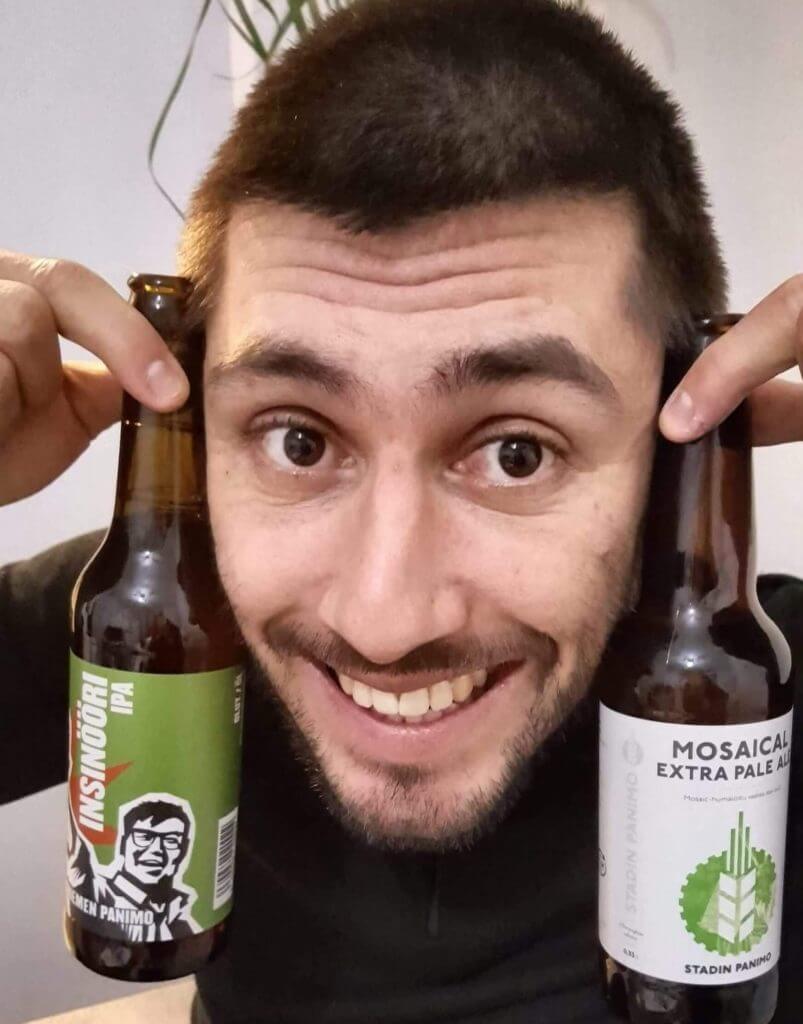 During our visit to Suomenlinna we quickly noticed that the island had its own brewery!
In short, throughout our visit to the island we were looking forward to enjoying a small beer after visiting the brewery. The thing we didn't calculate was that the brewery is only open from Wednesday to Saturday and only opens at 4pm… Needless to say, we were there at the wrong time! 🙂
In the end, we bought 2 beers from the brewery at the small supermarket on the island and drank them once we got back to our apartment. For us it was by far the best Helsinki beer we have ever tasted.
Visit of a distillery and discovery of Teurastamo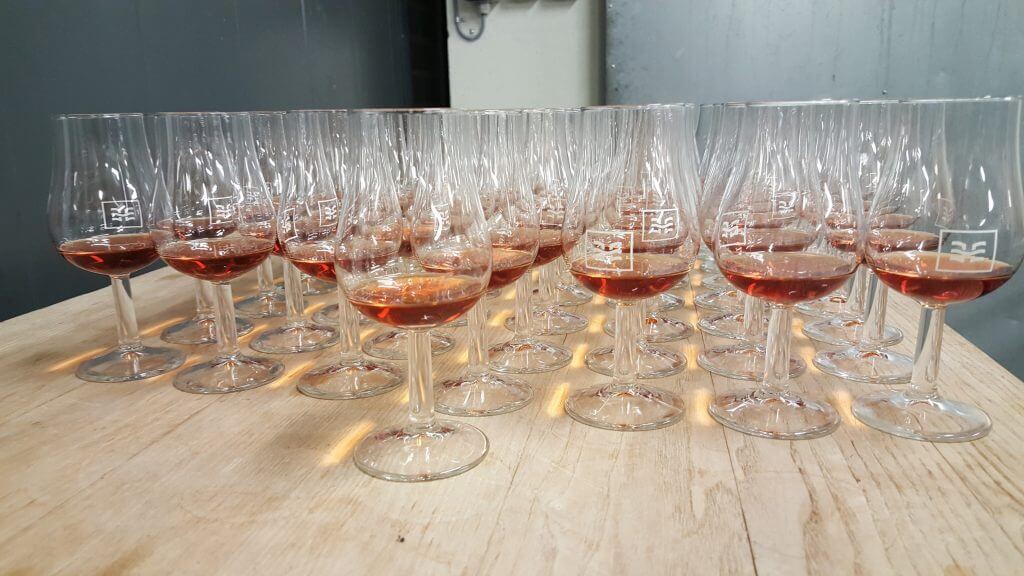 During our conference one of the evenings was held on the Teurastamo site and for us it will clearly remain one of Helsinki's favourites! Teurastamo are in fact former slaughterhouses that have been completely redeveloped into a huge complex that combines gastronomy and urban culture.
Bars, restaurants, a glacier, a distillery, a butcher's shop and many events that are organized over the months in the main courtyard and between the buildings (obviously there are more events in summer than in winter) ;).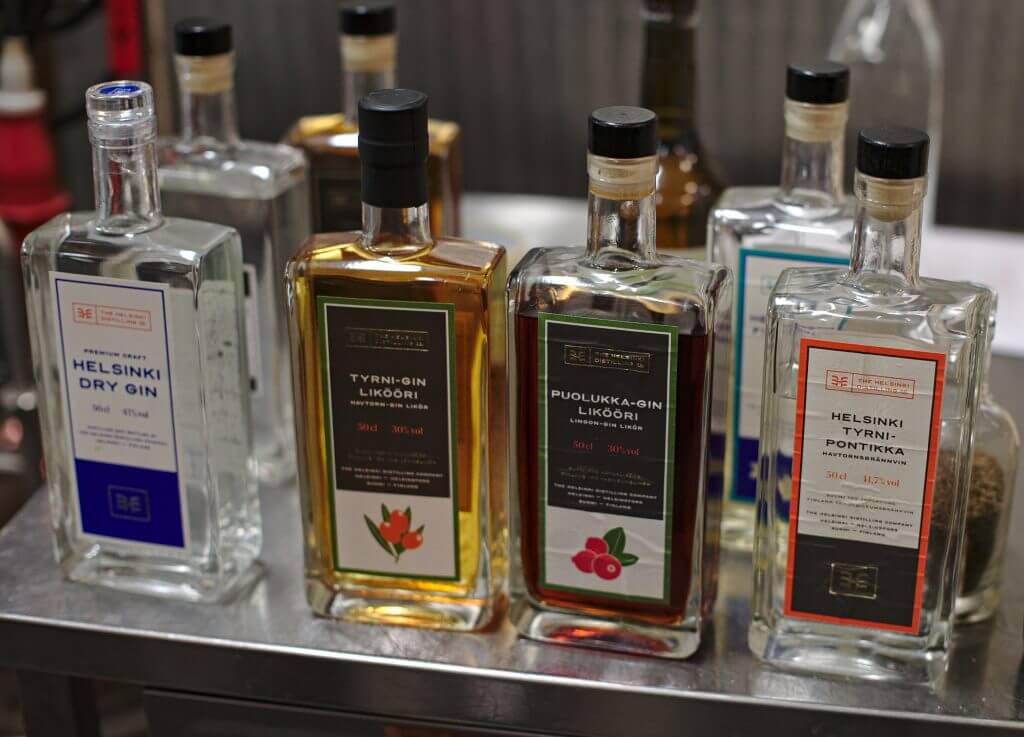 We had the pleasure of visiting the HDCO (Helsinki distillery company) distillery and we simply loved the experience. During this visit we also learned that he had quite a bit of trouble making themselves known. The reason for this? In Finland, a law prohibits all advertising for alcoholic beverages that have more than 5.5% alcohol content. No TV or radio advertising is normal, but no posters or event sponsorship. Well, we tried their gin we thought it was pretty damn good, we'll tell you! We haven't tasted their Whisky, but it's clearly on our list for another time… 🙂
More information on upcoming events and the different bars and restaurants: Teurastamo website
Getting out of Helsinki
A nature getaway in Espoo
During our conference there was a day of visit that was organized. We had the choice of registering for different programs. Some were gastronomic tours of the city, design tours, training on drones… But one in particular caught our attention: "Going to Espoo to discover nature".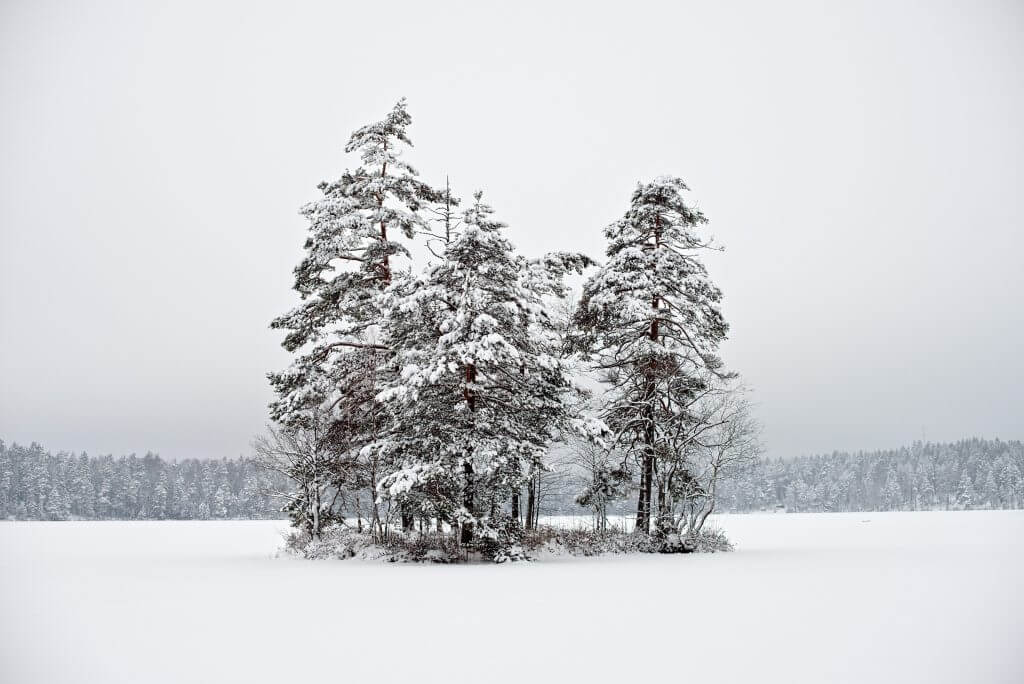 We had half a day ahead of us and we were really curious to see how much we could see nature when we left the capital at noon and came back at 5pm…. We admit it, we were leaving a little skeptical, haha.
In the end we came back totally enchanted and amazed by this region! Espoo is actually another city that is almost stuck to Helsinki, but it is also and above all the starting point for Nuuksio National Park.
This afternoon we went for a snowshoe hike, ate salmon soup in a traditional "kota" and tried ice fishing.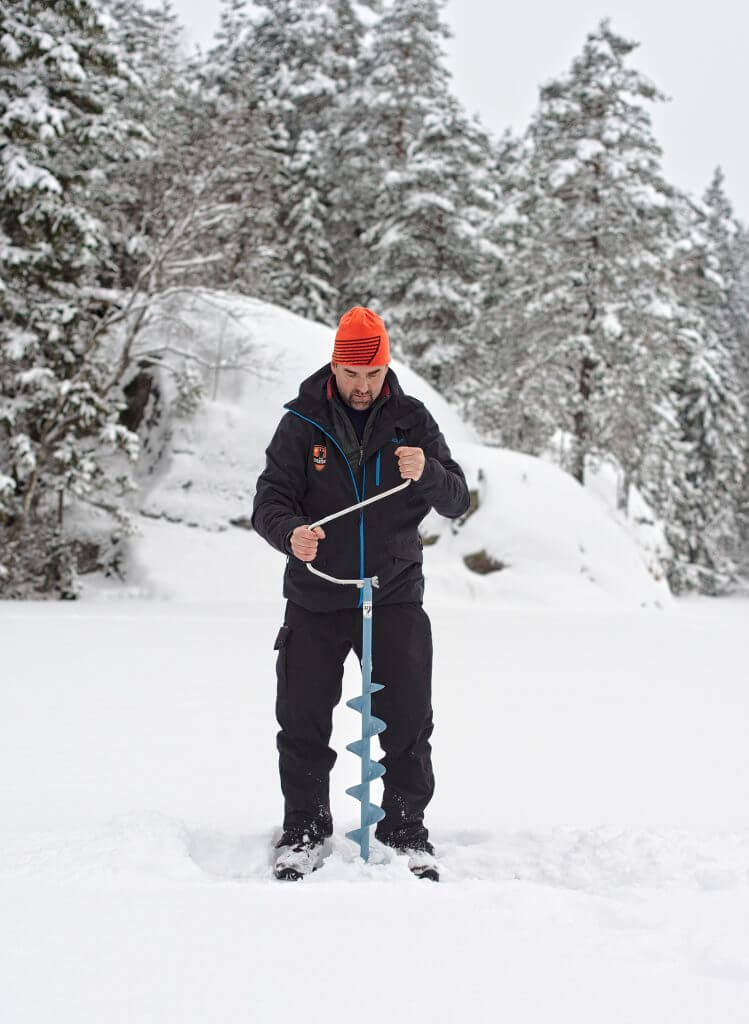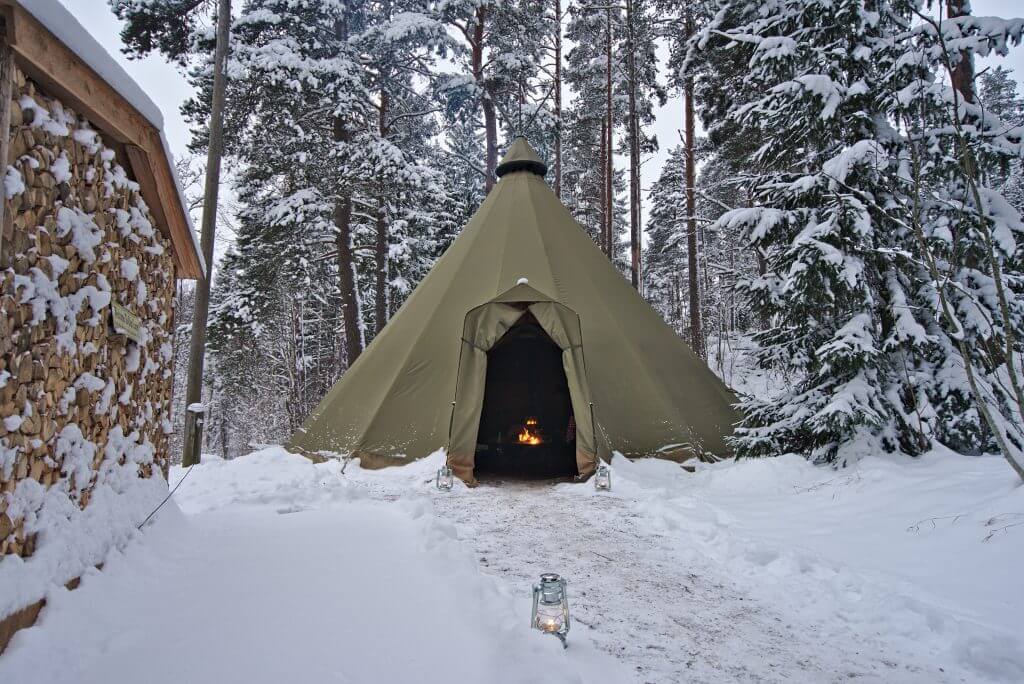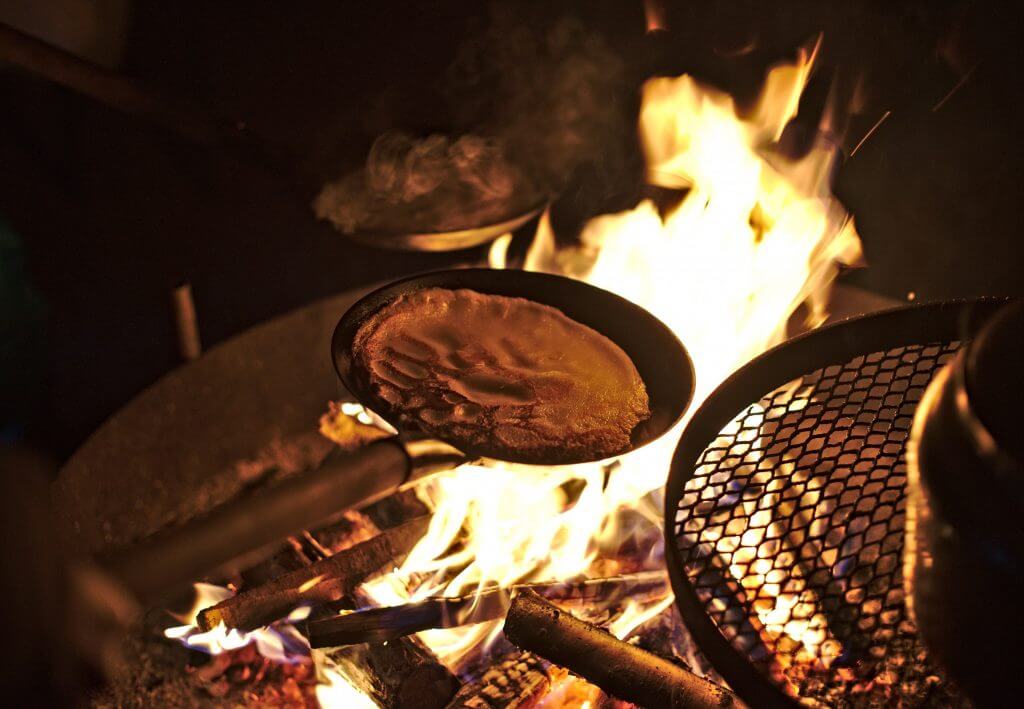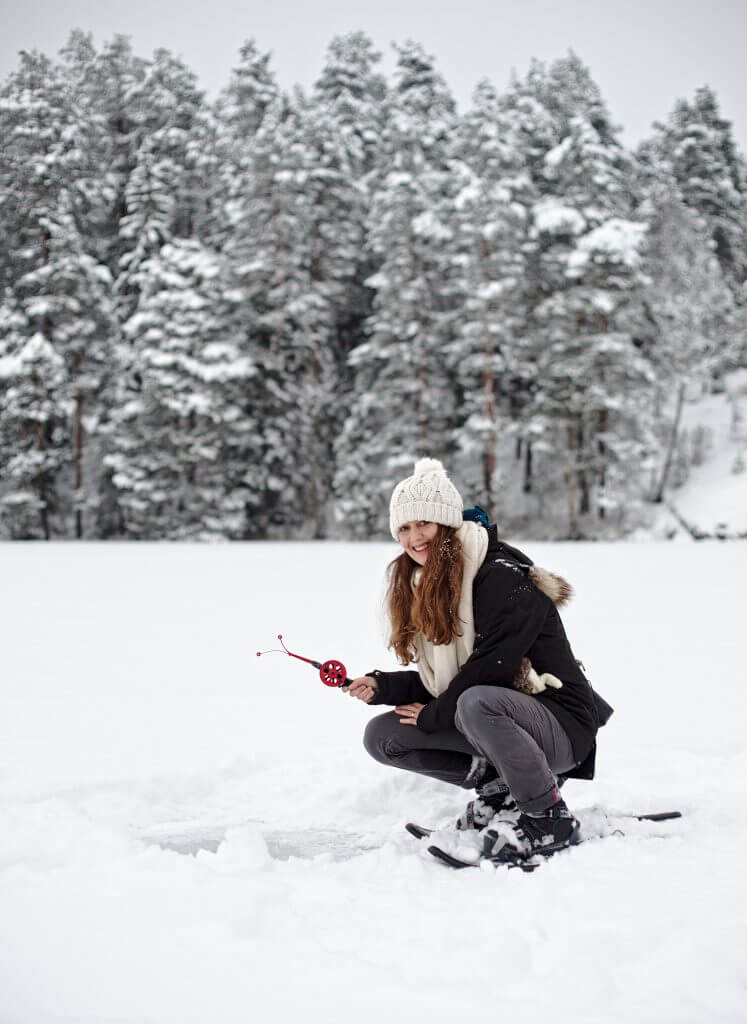 Our visit to Nuuksio Park was far too short for us to give you a real overview, but please note that less than 45 minutes drive from the centre of Helsinki you can find yourself immersed in nature… In short, it is clearly worthwhile to find out more about this area if you are in Helsinki and want to escape a little.
More information about this region can be found on the website of Visit Espoo and on the national park's website.
If you want to make a day trip, you will find route ideas and tour suggestions on Getyourguide. See the different excursions in Nuuksio
Take the opportunity to explore Tallinn for a day from Helsinki!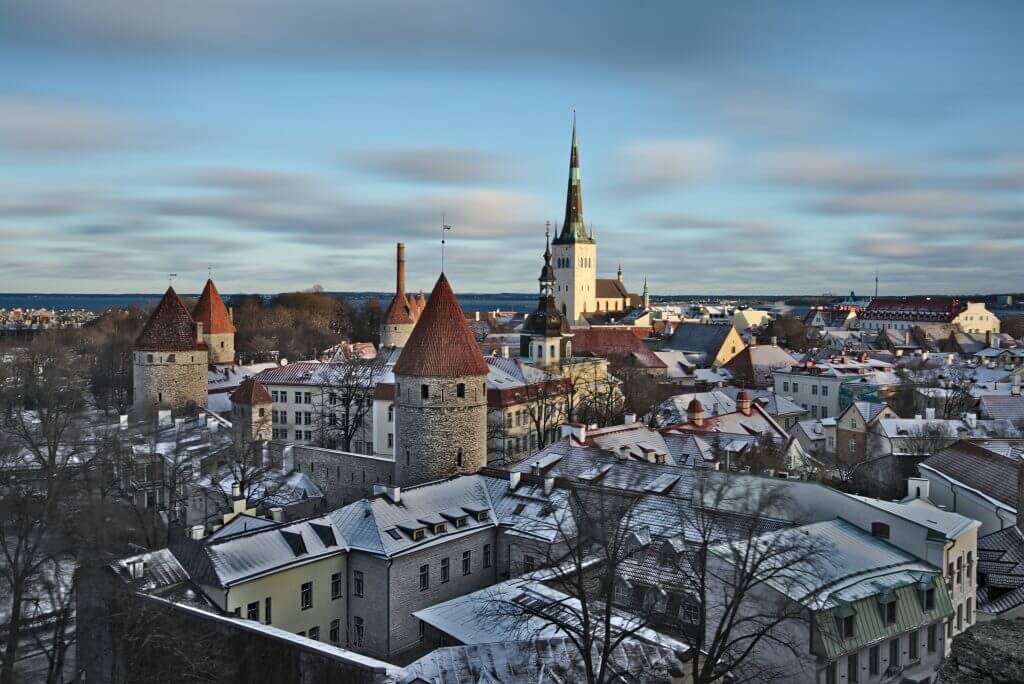 Yes yes I know it's a little weird to talk to you about Helsinki and recommend you to change countries…. But to tell you the truth, we had such a crush on Tallinn that we can only push you to go there! And the thing that's really good is that since there's only 2 hours by ferry to reach the Estonian capital, the visit to Tallinn can be planned for a day (although of course we would advise you to stay there for at least 2-3 days!)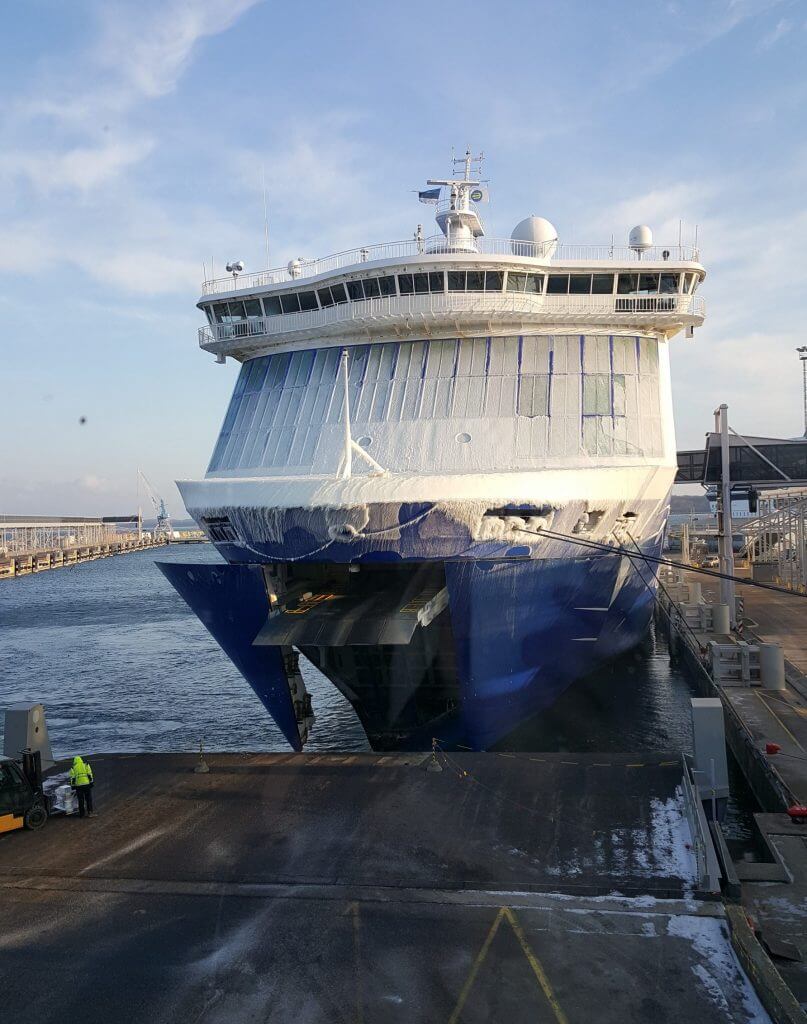 Infos
Our ultra-complete article on the essentials in Tallinn
There are 3 ferry companies making the crossing: Tallink, Viking Line and Eckeröline. We made the crossing twice and each time it was Eckeröline who offered the best prices (but it must vary according to the offers).
There are rate comparison sites, but they usually take themselves a good commission, so you are advised to go directly to the companies' sites and compare.
The GetyourGuide site offers day trips for 32€ with connections that guarantee you will have plenty of time to enjoy Tallinn. See the availabilities
Where to stay in Helsinki?
We will not lie to each other, accommodation in Helsinki is not cheap! Having come for the conference we were first accommodated for 3 nights at the Scandic Gran Marina. A magnificent 4* hotel that is ultra well placed and really nice. After that, if you read us from time to time you can imagine that it would not have been our choice if we had not been invited to the conference. 😉
In short, once the conference was over, we decided to extend our stay a little bit. For the moment we decided to opt for an apartment because we had a lot of work and wanted to be "quiet" in the evening. Let's face it, even for apartment rental Helsinki is an expensive city. We had chosen a studio and paid 47,7€ per night (including all expenses and a discount for stay > 4 nights). It's not cheap at all, especially since the apartment was certainly cute, but downright tiny!
If you are more interested in youth hostels (or if you travel alone on a small budget) you can find dormitory beds from 22€ per person per night on Hostelworld.
If you want to compare the hotels and apartments available you can take a look at the map below:
Plan your stay with MyHelsinki – Map
If you come to Helsinki and want to get a quick overview of what to see, we recommend that you take a look at the myhelsinki website. The sites of the tourist offices are often quite rotten and for once Helsinki has really innovated (let's note it). 😉
MyHelsinki is in fact a platform that lists everything there is to do in Helsinki (museums, attractions, restaurants, bars, etc.) and allows everyone to create their own to-do list. You can choose to make a "private" list or make it public. Since we had made our list before coming, we thought we would make it public. In short, if you want to see "our Helsinki" go to this page or simply click on the map below.
On our MyHelsinki page you will find all the addresses mentioned in the article as well as some additional stuff we didn't have time to talk to you about (even though this article is long, we weren't going to knock you out any more). 😉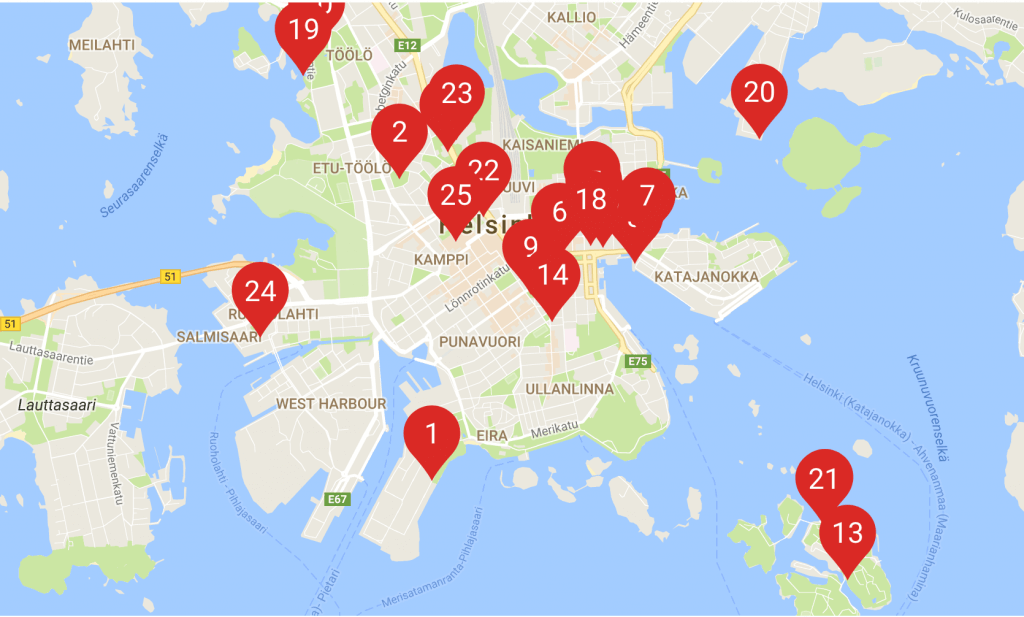 Now, this time I think you know everything (or almost everything) about Helsinki and our favourites! If you have other things to do in Helsinki, good addresses or just want to say hello then feel free to leave us a little comment!
And if you feel like it, a little sharing of our article on your social networks or to relatives who are preparing their trip obviously always makes us very happy (and it seems it's good for karma) 😉
Pin it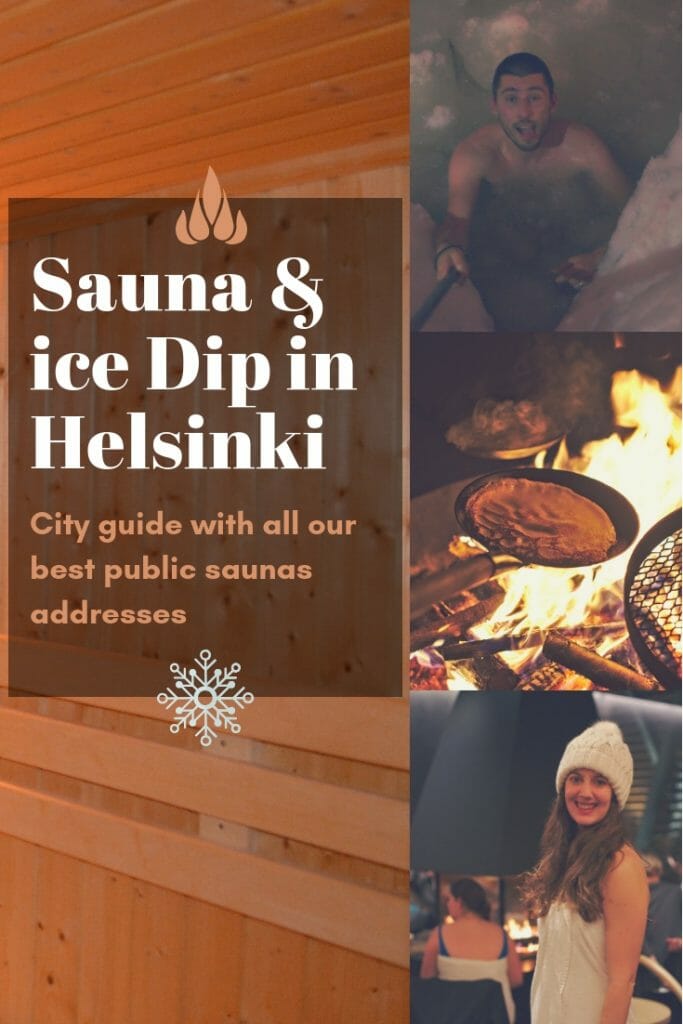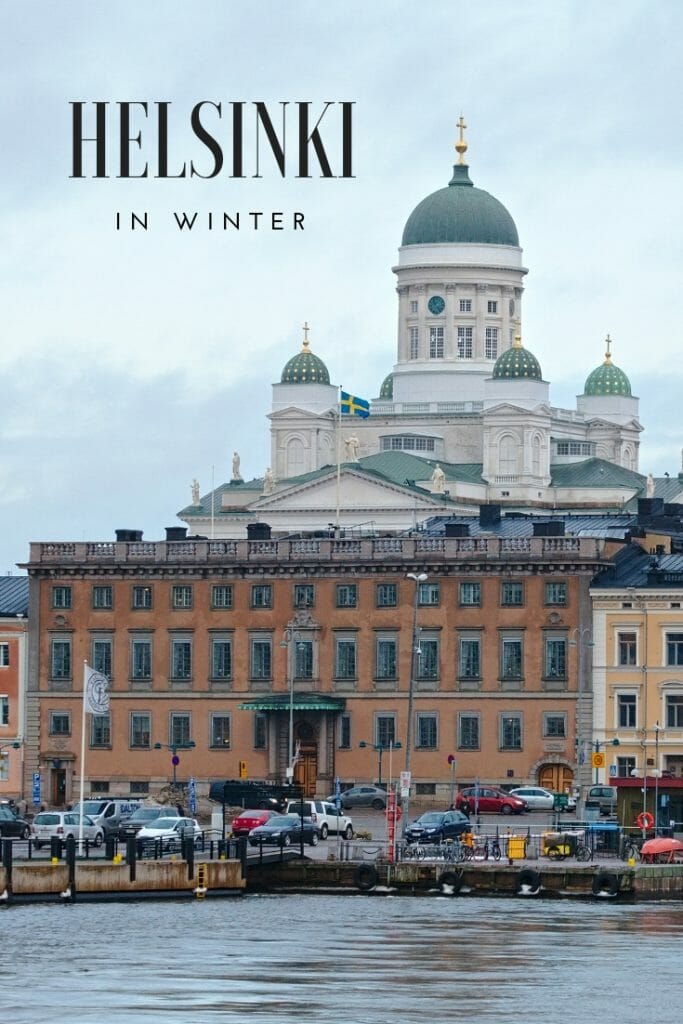 NB: This article contains affiliare links. This means that if you use our links you obviously don't pay more, but we will get a small commission. And as usual, we only talk to you about service that we use ourselves as well.