After having woken up just in time for the sunrise on the Batur in Bali and then on the Ijen volcano and Bromo (almost in a row), we must admit that we arrived in Jogja (aka Jogyakarta) a little (much) tired. Besides, we hadn't had any great hygienic conditions for four days.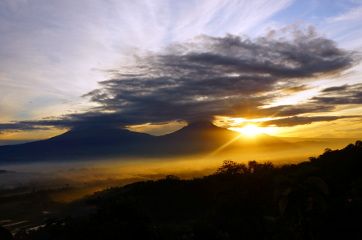 Résult? This combo kind of knocked Fabienne over! She was literally stuck in bed with an ugly infection during the entire time we stayed in "Jogja". And since we had a plane to Sydney 4 days later departing from Jakarta, we could not be flexible (for once) and postpone our visit.Thus, I found myself deprived of my half to visit the temples of Borobudur and Prambanan!
Sunrise on the Yogyakarta Plain
After a full day of well-deserved rest, I decided to get up again early in the morning. I woke up at 3:30 am to see the sun rise on the plain of Yogyakarta… setting the alarm that early hurts a bit but it's worth it! 🙂
What did I do after the sunrise? I Visited the temples of Borobudur and Prambanang. Quite a program, isn't it?
I actually preferred to condense all the visits I wanted to make around Yogyakarta into one day to stay with Fabienne the rest of the time. For once, I decided to take a driver and a minibus with a French couple so as not to waste too much time on transport. But if you are more relaxed about your timing, you can easily rent scooters and visit the temples at your own pace.
Visiting Borodbudur and Prambanang
At 3:50 I'm in front of the hotel! The driver is already waiting for me! He speaks very good English and is very chatty… which tends to make me a little suspicious ;). We go to look for the French couple and then go to a place that "only he knows about" and which that was, according to him, the most amazing spot to watch sunrise! To my surprise, our driver didn't lie and we are indeed alone with an incredible view of the Merapi volcano and the Yogyakarta plain. I took one of my favorite pictures of the trip so far… what do you think?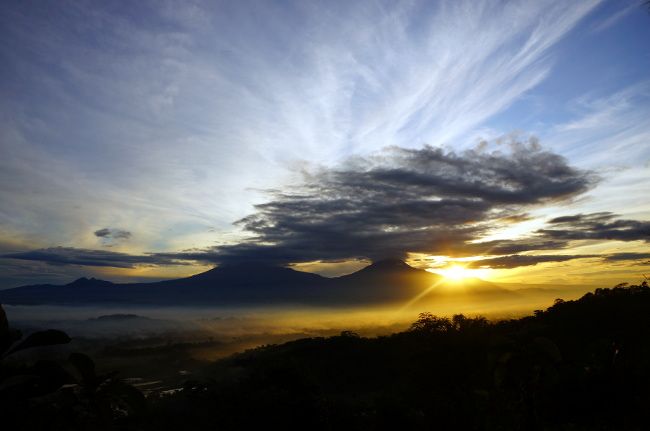 Infos
The place where we were was not the "Setumbu Hill" which is rather to be avoided because there are a lot of people (as I was told) and you have to pay an entrance fee (15'000 rupees) to watch the sun rise. Where we were (I don't know the name anymore… Sorry!), we could quietly have a coffee and eat our breakfast with this view.. perfect!
After having enjoyed it well, we set off again, towards the temples of Borobudur and Prambanang!
The temples of Borobudur and Prambanang
So in general, these two temple complexes are the main cause of the tourist influx that Yogyakarta is experiencing. I would even say that most people use "Jogja" as a simple base to visit these temples. Well, I'm not going to bother you with the details (Wikipediais here for this) but know that Borobudur is one of the largest Buddhist temples in the world while Prambanan is the largest Hindu temple complex in Indonesia.
To be honest, the Borobudur temple impressed me much more than its neighbour Prambanan. In fact, I had never seen a temple with such an architecture before. It is even difficult to describe.
It is a kind of Pyramid or "stupa" with a square base (in fact the first 6 floors are square) but with three circular top floors. The top floors are particularly interesting because there are several hundred "niches" or "bells" containing statues of Buddhas with crossed legs, in the lotus position.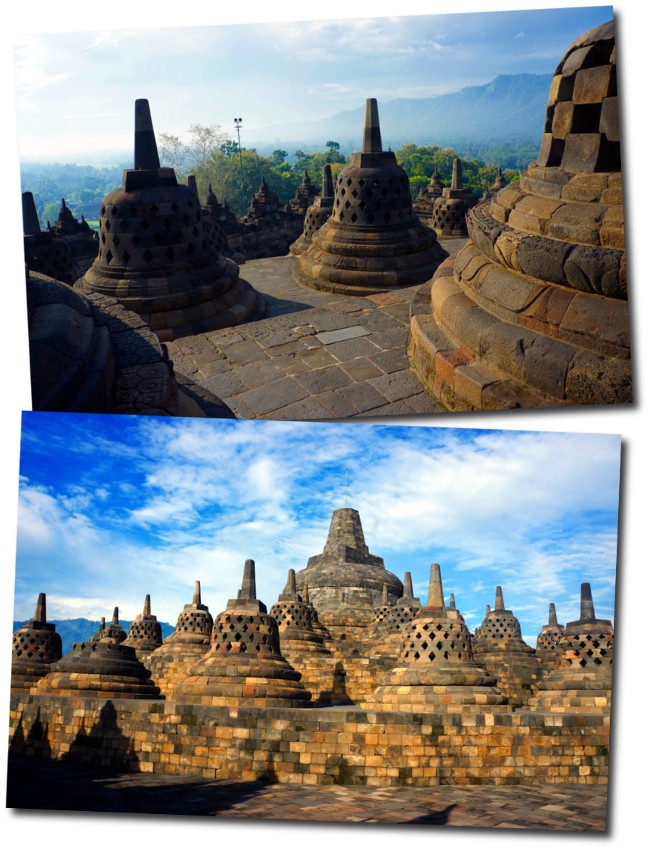 A very special atmosphere emerges from this temple. We arrived there early in the morning and there were just a few people who were there to meditate. I must say that the setting is quite suitable for meditation. 😉 Early in the morning, the place is extremely Zen and I enjoyed discovering this temple almost by myself. However, the place lost some of its charm when the first groups of Chinese arrived with their loudspeakers. They even scared away people who were meditating.
The Prambanan temples
The Prambananan temples certainly impressed me less because their architecture reminded me a little of that of the Angkor temples (although I know very well that it is not the same thing). In addition, due to the huge earthquake in 2006, the complex was badly damaged and renovations are still underway! So there are scaffolding everywhere. Despite all my efforts to ignore it, it kind of spoilt my visit.
However, if you are not yet a jaded by temples like me (I'm laughing… I'm not jaded yet 😉 ), then you should enjoy this second visit as well!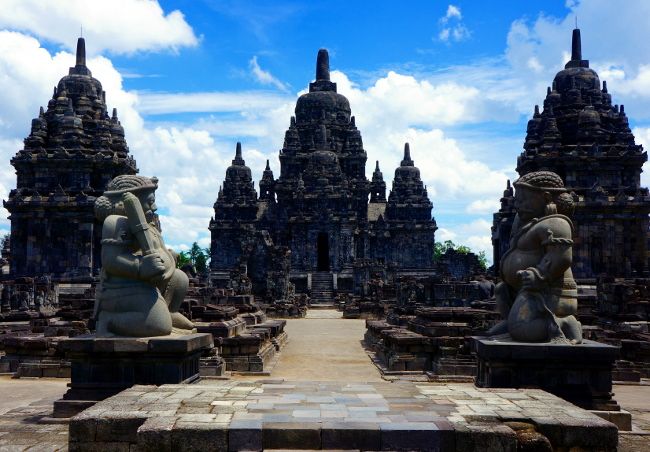 Infos
Know that there is a combined ticket to see Borobudur and Prambanan on the same day for 330'000 rupees ($30). Remember when I told you our driver seemed too nice to me? He lied to me when he told me that there was no combined ticket and that he could provide me with tickets at the same price (tickets sold separately cost $38) to avoid me waiting in line. I only realized the scam after visiting Borobudur. We didn't split up best friends that night, but well… I was tired of getting ripped off all the time!
The worst bus ride of our lives!
As I was telling you, we didn't see much more Yogyakarta because Fabienne was bedridden and we had a plane to catch in Jakarta. As you can imagine, there are a few kms (almost 600 in fact) between Yogyakarta and Jakarta. To save one night in a hotel, we wanted to travel at night and so two options were available to us. The safe but expensive solution, I named the train (the trains are of great quality on Java but night trains are a bit expensive) and the cheap solution… the bus! You can guess which one we chose…
this bus trip should have been quite quiet… the roads on Java are in excellent condition and we were told the journey would last about 15 hours. Nothing very bad! Besides, from the outside, our bus looked really nice. And yet, we were not far from imagining what awaited us!
Bed bugs: traveller's nightmare
When I sat down in the bus, I noticed that there were some cockroaches and ants. But well, with Fabienne, we've seen worse. However, in the middle of the night, after 5-6 hours on the bus, Fabienne woke me up, telling me that she had been stung all over her body. I took out our headlamp and started inspecting our seats… and what do I see??? BED BUGS everywhere in the seats!!!!
The haunting! Unfortunately, we've already had to deal with these bugs twice during the trip and each time it ended with us covered with bites and all our stuff washed at 60 degrees celcius! But there, it was even worse because in the end it did not take us 15 hours but 23 hours by bus to get to Jakarta!
You can imagine that we didn't sleep a minute in this bus while we were eaten by those damn bugs….
Come on, to help you imagine, I put a little picture of my back from when we got to Jakarta airport! The horror! (and we had them all over our legs and arms…) I can promise you that with our bodies covered with bites and Fabienne's infection, we were happy to find civilization in Sydney 😉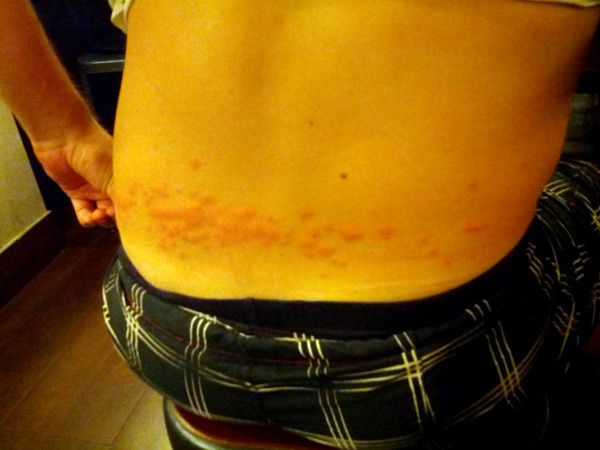 So here we are, as you can see, we finished our trip to Indonesia in style ;-). But it would have taken a lot more to tarnish our impression of this incredible country! I think we can say that after China, Indonesia is our second big favorite of the trip and we are already looking forward to coming back to discover Flores, Sumbawa, Komodo… But we already give you an appointment soon for a super report on this country as Fabienne has the secret 😉