During the summer of 2012 we had (initially) planned to discover a little bit of Austria by car with our tent. But at H-12, a last look on the weather forecast completely discouraged us, showers, storms, and showers…. In short, we opted for a total change of itinerary and set off to discover Slovenia.
We started our trip with the Slovenian capital: Ljubljana.
Road Trip in Slovenia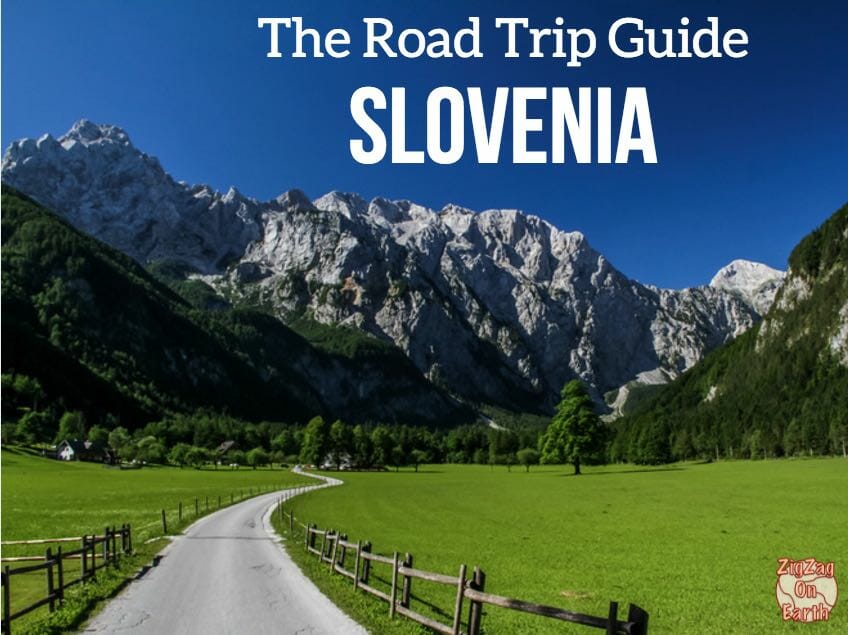 Are you planning a road trip in Slovenia? We've written this post back in 2012. Even if we have tried to maintain in up to date over the last years, all information might not be the "freshest". If you are planning to do a road trip, we recommend you take a look at the
ZigZag Guide Slovenia
written by Claire. In this ebook of over 180 pages you'll find everything you might want to know about places to visit and how to get there.
The city centre of Ljubljana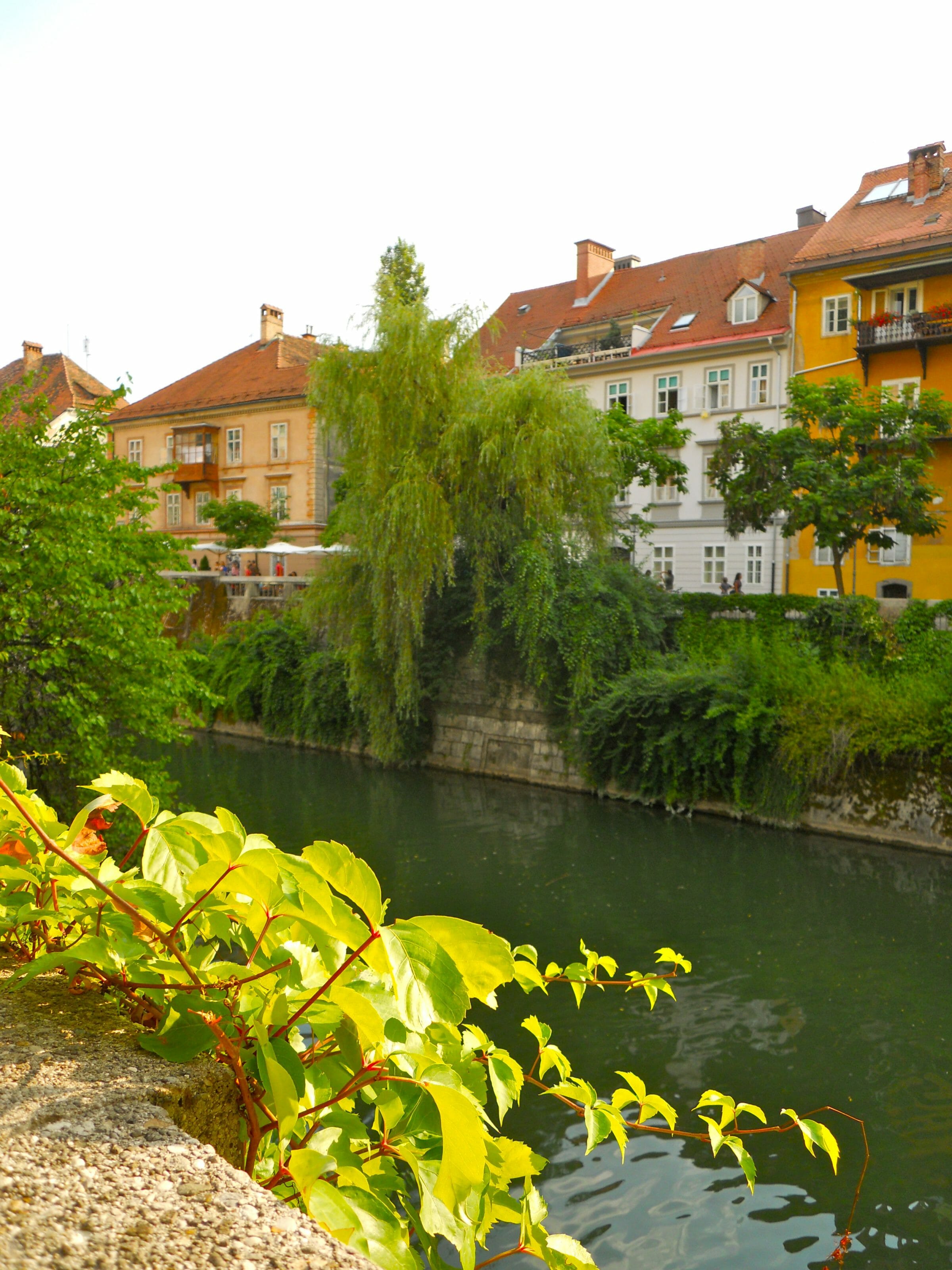 Ljubljana is a beautiful small town in the heart of Slovenia. I say small town, because for a European capital it is really not big (280'000 inhabitants). But I think that's what seduced us too. The city is not yet what we might call "ravaged by tourism", which was clearly an advantage for us. What I mean by that is that certainly there are tourists, the shopkeepers in the centre probably take advantage of this fact, but it is not yet one of those cities where we have the impression that the whole city centre is full of tourists and where every restaurant, store and shop of all kinds are designed to make as much money as possible out of tourists….
Road trip in Slovenia If you want to come to Slovenia and the idea of driving all these long hours from central Europe does sound very appealing… know that it may be a good option to come by plane or train and then rent a car in Ljubljana.
In Slovenia car rental is not expensive and on Rentalcars you can find cars from 10€ per day! Rentalcars, for those who do not know it, is a rental agency comparator… so you do not rent directly from them, but it allows to compare in a few clicks the best offers on the internet.
Things to do in Ljubljana
Anyway… But what can we do in Ljubljana? So there are some monuments and attractions worth a visit and we will briefly introduce them to you afterwards, but for us the most pleasant thing was to walk quietly through the streets of the centre, to have a coffee on the banks of the Ljubljanica (the river that crosses Ljubljana which is actually a tributary of the Save River that flows into the Danube), and simply to walk through the streets admiring the city's rather special architectural style.
Indeed, the city was built in several stages (mainly because of earthquakes that forced the reconstruction of the centre). Along the streets, you will discover buildings in a baroque style and others that are more inspired by art nouveau.
Infos If you are interested in a guided tour of the city, know that GetyourGuide offers a food tour (even if in the end you taste more wine and liquor than food) 🙂 An activity that can be fun to discover the city's main attractions while tasting local flavours. Price of the visit: 53€
The three bridges of Ljubljana
This is the architectural feature of Ljubljana; Tromostovje (the 3 Slovenian bridges) consists of a stone bridge dating from 1842 and two other bridges that were added in 1931. The bridges are the work of the architect Jože Plečnik.
The Dragon Bridge
The dragon bridge takes its name from the 4 dragons that adorn the bridge at its four corners. It is located a stone's throw from the city centre, north-east of Vodnik Square and dates back to 1900…
The bridge itself is certainly very beautiful, but it is above all the nickname given to it by the locals that made us smile: The "mother-in-law" bridge... Why? Because of the scary dragons! Nice, isn't it?
Visit Ljubljana Castle
The castle overlooks the city from its hill. The view from above is magnificent; unfortunately the day of our visit the weather was not very nice… But in theory we must be able to observe the Alps in the distance, so we might as well say that we didn't see them, but just knowing that they are there has filled our little lack of mountainous landscape (haha well yes the little Swiss are a little lacking in mountain scenery since the expatriation to Vienna).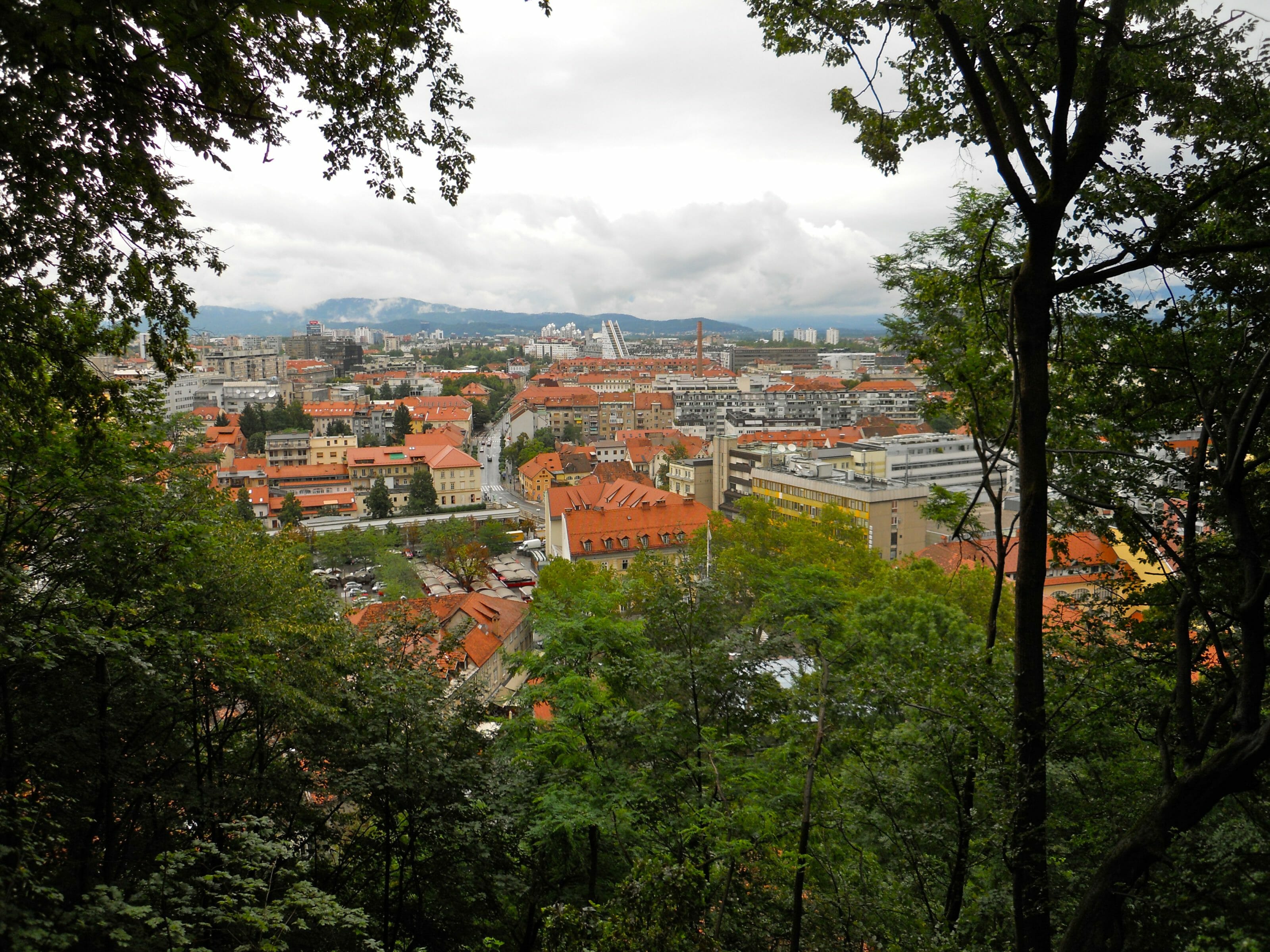 How to get to Ljubljana Castle
To get to the castle there are two options. The first is the funicular that leaves from the city centre and connects the castle. We didn't opt for this solution, not only because we didn't want to cut our budget for a 4-minute funicular ride, but also because there's nothing like a good steep walk to strengthen your buttocks and calves.
This is where we come to the second option: climb up the small streets of the old town. The road is not very long, but it climbs to a steep angle! Besides, on the way there are a lot of houses, we couldn't help but imagine the pain it must be like to go home in the middle of winter… Imagine the discussion of the couple who live at the top..:
"Honey, I forgot to buy bread."
"Ah… well, no bread for tonight then! I'm not going down! »
"What? Wait, you're the one who wanted to move in here so that your mother-in-law doesn't want to come visit us every day, so now assume! »
"rho… okay, that's fine… I'm going."
Anyway… All this to say that the castle itself has nothing special, but the view is clearly worth a visit!
Lovers' Bridge – Slovenia
Located a stone's throw from the market square is the padlock bridge of the city of Ljubljana.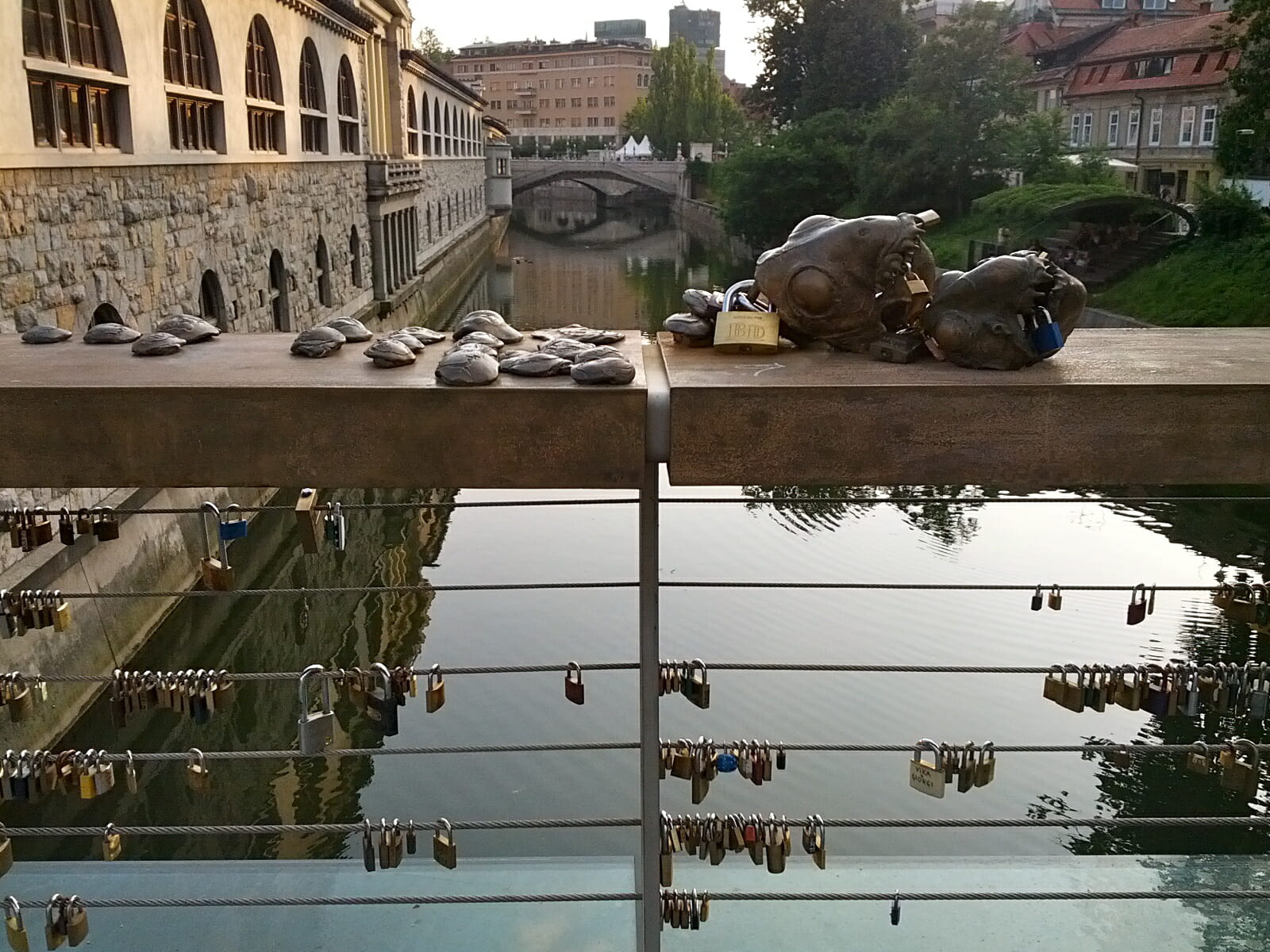 There are many padlock bridges in the world, and this tradition of lovers fixing a padlock on a bridge and then throwing the keys in the water has also arrived in the Slovenian capital.
We are certainly in love, and we even had a padlock on us but we did not respect the tradition… Indeed, our padlock was still to be used for the rest of our holidays to close our house (the tent), so for the moment the practical side overcame the romanticism…
Curiosities of the city of Ljubljana

In general, Ljubljana is a beautiful and very clean city (at least in terms of the city centre). We were able to see some elements that intrigued us or made us smile… It's up to you to tell us what you think!
The hanging shoes


We didn't find any explanations on the spot, but from what we could see online this "tradition" comes from the USA. As for the meaning, there are several… One of them is that it is the students who lace their sneakers together and throw them over power or telephone lines to celebrate the end of the exams. The second explanation is less reassuring; it would be a way to find dealers and gangs to report their presence in a given neighbourhood.
But given the location, we will consider that in the case of Ljubljana it will rather be the first option that would seem to best explain this manifestation of "shoe tossing" (name of the phenomenon).

The MLEKOmat, a milk dispenser!
So that made us laugh in the first place, but in fact it's an absolutely brilliant concept that I personally had never seen before in town… What is it? A fresh milk dispenser! A machine distributes sterilized glass bottles just next door and then it works like one of those coffee machines… You put down your bottle, pay for it, and leave with milk.
The little something extra? Milk comes directly from farmers in the region, and it is a clever way for them to distribute their product without having to go through countless intermediaries. Have you ever seen something like this in a capital city?

We haven't… And in Ljubljana there are many of them, even at the entrance to supermarkets! Immediate competition….
The street with all the little heads


So there again no idea about the meaning of these heads and it remains a complete mystery for us… Anyway, this little street is very special and is always worth a visit. Moreover, these same heads will be found in various parts of the city: on the lovers' bridges, at the entrance of some churches in the old city. If anyone can enlighten us, we'd be more than happy to hear it in the comments!)
Getting out of Ljubljana The city is really adorable, but we're not going to lie to each other, you get around relatively quickly. If you are not by car then a good option might be to go for a tour. Getyourguide offers many tours in the city, but also excursions to caves or Lake Bled for example
Note: If you have your own car or a rental car there are many things that can be done independently.
Price levels in Slovenia – cost of living
Slovenia is a very affordable country. Actually, we expected slightly lower prices, but in the end it was quite OK. Compared to Vienna, I would say it's a little cheaper, but not much. For example, a coffee in the city centre will cost you about €2, a litre of milk in the supermarket €0.6, while for a small restaurant for two with a dish each, a small glass of wine per person, and two coffees will cost between €15 and €25 for both.
Accommodation / Hotels in Ljubljana
As in all cities there are many accommodation options. In the city centre there are many hotels in more or less all price categories. And since the city is not (yet) completely overrun with tourists, it is largely possible to find a nice little hotel in the city centre for a reasonable budget.
How to find accommodation easily To find a hotel in Ljubljana we recommend you take a look at Hotelscombined. It is a search engine that allows you to compare several major booking sites such as Booking, Agoda, Expedia and many others. In short, the guarantee of the best price!
But since we are in full saving mode for the round the world trip, we decided to opt for the cheapest solution: camping!
Camping is often very nice and convenient in rural areas, but as soon as you get closer to the cities it is difficult to find where to pitch your tent. Ljubljana is once again an exception. There is a great campsite which is less than 10 minutes by bus from the city centre, so for us the optimal solution. Well then, we didn't get that lucky with the weather, but at least it allowed us to test the waterproofness of our tent… And oh joy: we discovered that it was waterproof!
Coming to Ljubljana and getting around
The Slovenian capital is located in the heart of the country, with many access roads. We arrived by car and this was very easy since Ljubljana is in the heart of the country and thus also the centre of the motorway network. One can reach Ljubljana from Italy, Austria or Hungary. Of course you can also travel to Ljubljana by train or plane.
In the city there is no metro or tram, only buses connect the different parts of the city. We only used the bus to get from our campsite to the city centre. Once there, we recommend that you explore the city on foot! It's not a huge city, and it's definitely by giving yourself a chance to get lost a little that you come across the most beautiful little areas!
Visiting Slovenia: what to see outside Ljubljana?
So that's it, in our opinion, Ljubljana and Slovenia in general are definitively worth a visit. You will soon find here a second article on the Slovenian hinterland which offers magnificent landscapes, superb walking opportunities and many caves, each more impressive than the next… To be continued…
NB: Please note that this article contains affiliate links to partner sites. If you buy a product on one of their sites you will not pay more but we will receive a small commission; which will help us to keep this site alive.🙂