Today we will talk to you about a way of travelling that we have done a lot in recent years: Camping!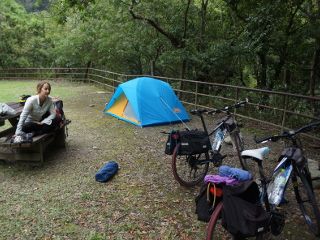 First of all, why are we going camping?
For some people camping is an institution, an art of travel. For us I would not say that it is a concept of life. But more a trick to be able to enjoy going on holiday while being careful with our budget.
We have tested cheap camping in the United States, Switzerland, Croatia, Slovenia, Greece, Turkey, Taiwan, on Tenerife, in Norway and Lapland but also during our trek to Machu Picchu or in Torres del Paine. Sometimes it was in good weather, while other times it was in the rain or even in the cold. But each time a super fun experience!
Do you want to read more about our hikes? take a look here.
What camping equipment should I bring?
This is a big question, to which there are probably as many answers as there are campers! But we will try to offer you our optimal solution according to your travel style.
Camping gear For trekking
This article is actually more about "camping" and not really trekking equipement. But if you are looking for trekking equipments then you can take a look at the following articles:
When travelling with a backpack:
When you leave with all your belongings on your back, one of the most important things is to limit the weight you carry for more flexibility. But what are the essential ones for a "light" campsite?
The essentials
A tent:Logical you will tell me? Not so much, in Greece we met Belgians who were travelling with a hammock, which they attached to trees in the campsites. We haven't tested it yet but I must say that I really liked the concept! Well, the weather was fine in Greece, but I was happy to be in a tent during the flood when we were in Slovenia. A light and spacious model is a great choice! We would recommend you take a look at the here
Important: If you plan to camp with your backpacks, make sure to pick a tent which is for one person more than you are (a 2-person tent for a solo traveller, 3-person tent for a couple, etc…). Why? Because a big backpack takes up quite a lot of space 🙂
A little advice: If you plan to camp (wild camping) try to favour a "discreet" colour;)
Camping mattresses / Sleeping Pads: Here too, you can see everything at campsites! Those who have electrically inflatable mattresses (and who are ultimately as big as the mattress you have at home), those who are satisfied with a small floor mat (yoga mat type). But for a reasonable budget, you can get a small self-inflating and light mattresses. For all the brands we have tested so far, we would now clearly recommend Therm-a-Rest. Shop online
A sleeping bag: If you plan to camp mainly in summer or in mild weather then simply take a light and cheap model like this one. If you go out in the cold, however, you'll have to break the piggy bank a little more…. A model that provides good comfort at altitude or at negative temperatures would be this one.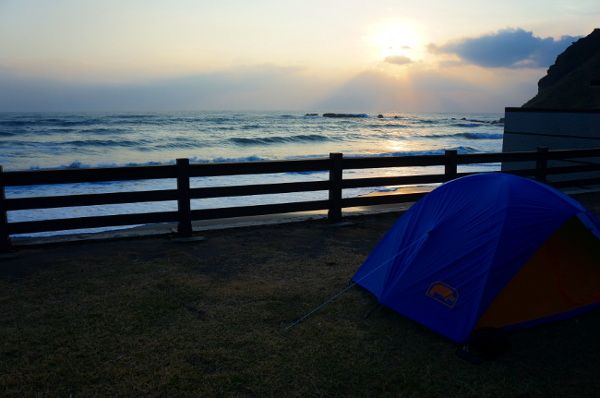 Additional things to have in your backpack
A camping stove: Forget about gaz stoves… If you are travelling abroad you might often find yourself confronted with non compatible bottles… From our experience, the best thing to have a is multi-fuel stove like this one (we have this exact same model and have been using it since 2013!)
A camping pot set: There are some that take up almost no space. In the style of Russian dolls, the little ones fit into the big ones. The lids can be used as a stove and the removable handle can be stored inside… For example, this set will do just fine.
A (thin) rope: It looks silly but it can still be used, for example to hang laundry on the way home from the beach. Or dry your things when you've been "rinsed" (that's also something we've experienced).
A padlock: well yes, it's essential « to close you home » when you leave for the day
A swiss army knife: One because we are Swiss and we love advertising what comes from home, but simply because it is a "must have" at the campsite. See it online
A headlamp: For toilet trips in the middle of the night ;). Shop online
A small plastic tarp: to set up in front of the tent so that you can settle down in the dry to enjoy your coffee. And also because it's really classy to say that you have a "living room" in front of your bedroom!
And if we leave by car, what are the little "luxuries" we can afford to take?
Then there is everything in the campsites too! Some of them are better equipped for camping than we are in our student apartment! But let's forget about these extremes! One category of campers that we always make fun of (but kindly eh!) is the Dutch!
Personally, I love the Dutch at the campsite! There is nothing like sitting in front of your tent with a glass of wine and watching a Dutch family arrive and start to settle… Already the car is full to bursting point, the gallery on the roof and for some there is still the trailer. Behind the car there are the bicycles, and in the car everything is packed in hermetically sealed boxes if possible in colours (probably to keep a certain structure).
And then it starts… Out of nowhere, there stands an absolutely GIGANT tent! A crazy thing, we've seen some in which we could almost fit our apartment! Then the whole family gets busy emptying the boxes: mattresses, duvets, pillows, stereo, and hop a microwave (for real!) and even the TV! No, but seriously?!?!? In other words, we immediately looked like little players next door with the little plastic tarp in front of the tent that looks like a "living room"…
In short, faced with such professionalism, we too offered ourselves some "luxuries" during our last camping trip by car. What does this include?
Our little extras in camping
The bottle of wine and cups.
A pillow (because you sleep much better, I admit!)Camping stools, just to furnish our "living room" a little
A cooler, because beer is much better when it's fresh.
During our last trip we even went further! This is the time we had the super ultra-equipped Dutch people next door…. We felt too ridiculous, and we bought ourselves a little table! The mega class, I tell you!
Small music boxes that are battery-powered
A mosquito lamp! This is the must, it works by candle and it's really super effective.
Camping around the world
During our world tour the campsite is not to be outdone, as it was during our visit to the famous Easter Island.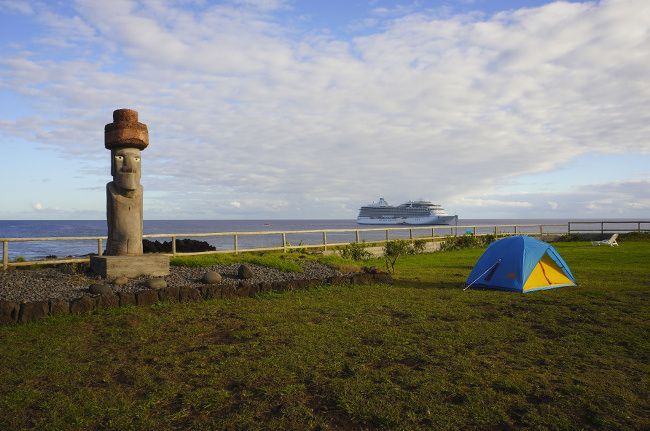 What kind of tent should you buy?
This short paragraph to share our experience with you. During our first camping holiday in Greece we were going backpacking, so we thought: "Let's optimize! Let's take a super-compact and super-light 2-seater tent. So the thought was not stupid since there are two of us… But once the tent was set up we were forced to realize that it was still damn small this tent… 140cm x 180cm it's not big! We had by far the smallest tent on the campsite!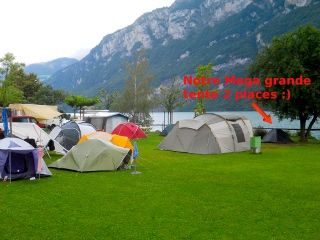 Because yes, there are only two of us, but our backpacks also took up a little space. And two backpacks put end to end makes almost one more person to "fit" in the tent.
So we learned from our mistakes, and now we travel with a 3-person tent. It's a lot more comfortable, and once folded it doesn't change much in terms of volume. For the weight it is 400 grams more. So as much to say that for the comfort that it brings, we willingly sacrifice a pair of jeans to sleep better.
And you, do you also camp while travelling? What are your essentials?
P.S. This article contains affiliate links. By using our links you obviously do nto pay anything extra, but we'll earn a small commission. Thanks for your support.

Enregistrer