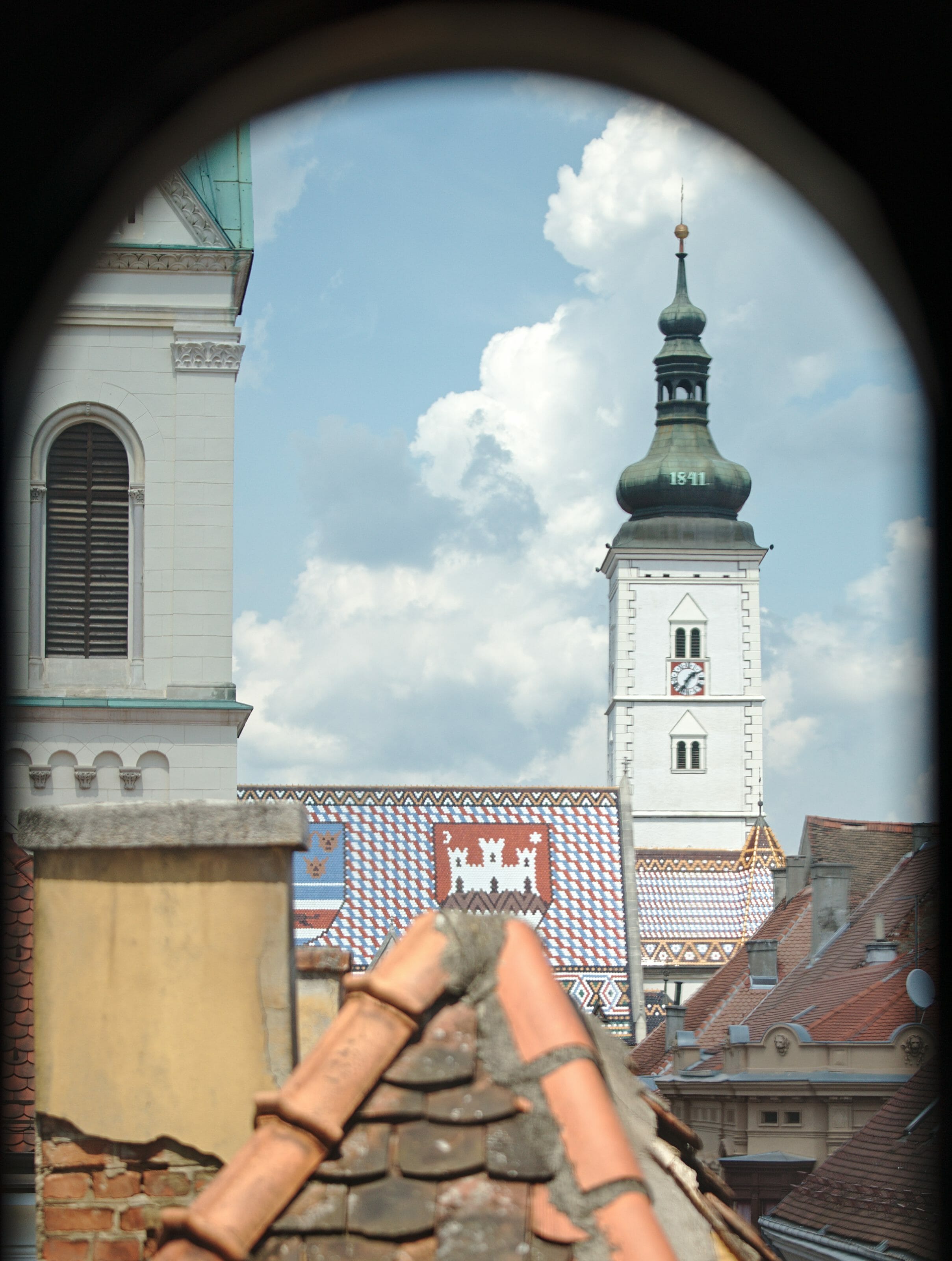 Here we are again on the roads of Europe after an unexpected return to Switzerland to take care of Fabienne's Granny (but she is doing rather well for a 90 year old woman… don't worry 😉 ). As explained here, the original plan was to take a one-way ticket to Turkey and return by land in 6-7 months. We had also spotted a Coworking / Coliving in a Bulgarian village that interested us a lot to settle down after Turkey… But well, once again, we changed our plans 😉
Despite this little setback, we decided to head back to Bulgaria to settle down and work in this Coworking (by the way, that's where I'm writing this article). But as we try to avoid flying when it is not absolutely necessary, we decided to take the bus with a few nice stops on the way (we also looked at the train but it was quite complicated and much more expensive). So that's how we decided to make a first stop for a few days in Zagreb and then in Budapest before arriving in Bansko, Bulgaria. And after a night ride in a comfortable bus (#Irony), here we are at the Zagreb bus station.
Useful Infos
For this kind of improvised trip in Europe, Flixbus offers a rather unbeatable offer called Interflix. Basically, for only 99€ you can take 5 direct trips over a period of 3 months (from the 1st trip). The only constraint is that it is not possible to make a direct return on the same route as the outward journey. So you are simply obliged to make a loop (you can also offset your carbon emissions directly by buying your ticket on the flixbus website)
Otherwise, for bus trips within Croatia (to Plivice lakes, Split or other places) or with neighboring countries, we recommend you to take a look at the bus booking website Bookaway. They offer a lot of trips between the main Croatian destinations or neighboring countries at very attractive prices.
Zagreb and Croatia: a small historical context
As with the Baltic countries or Poland, it is difficult to visit Zagreb without taking a little interest in Croatia's recent history, as the 20th century has been "complicated" in this part of Europe. After the First World War and the fall of the Austro-Hungarian Empire, Croats, Serbs and Slovenians agreed to form a new state that would later become Yugoslavia. But the occupation of Yugoslavia during the Second World War by Nazis allowed the Croatian fascists (the Ustashis) to take power in Croatia. This was followed by similar atrocities as elsewhere in Europe with the massacre of minority populations such as Serbs and Roma (several hundred thousand deaths).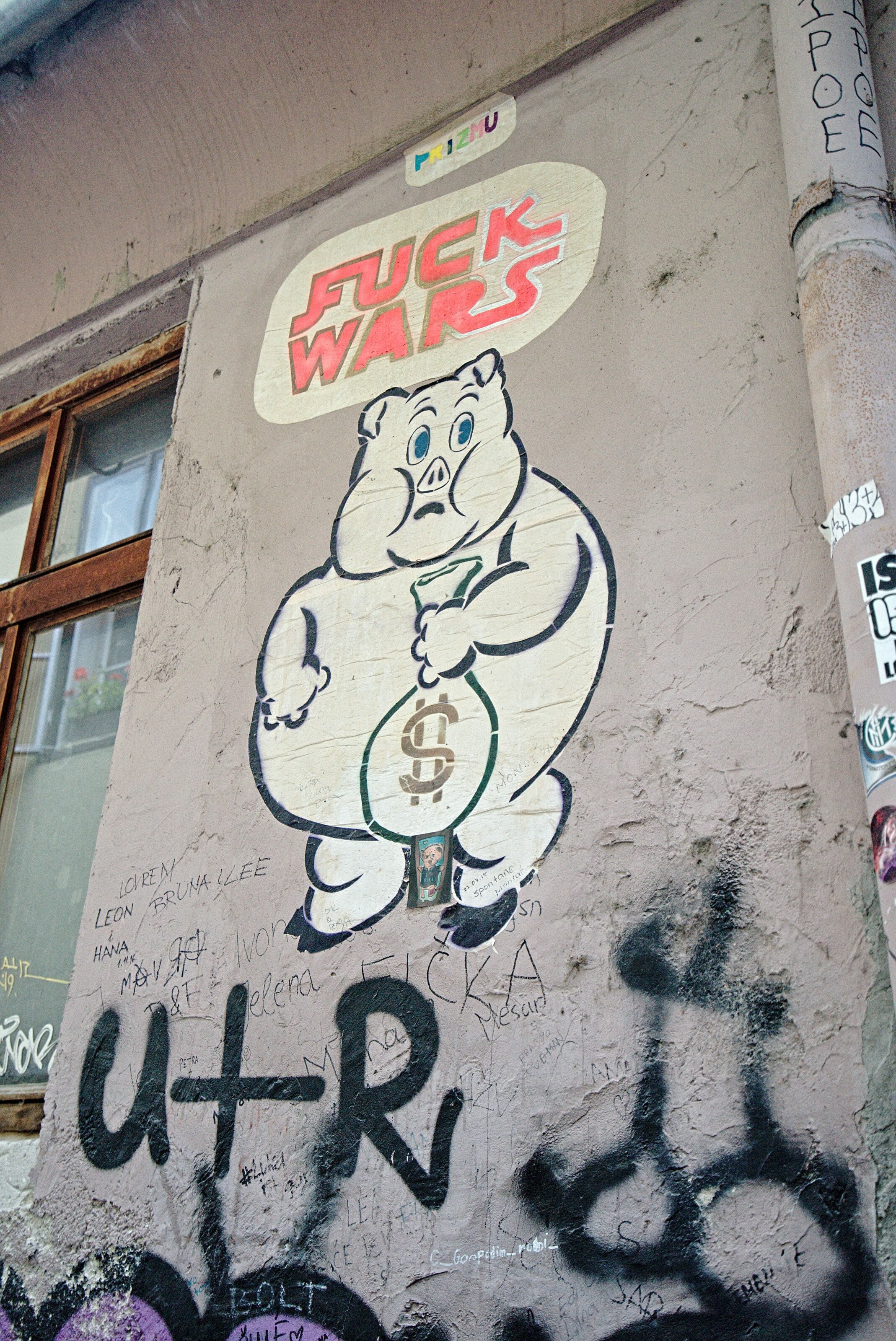 After the Second World War, Marshal Tito "violently" regains power and creates the Socialist Federal Republic of Yugoslavia (a communist state), which will have the merit of not being under Russian rule. Despite an authoritarian regime, Tito's regime is less repressive and Yugoslavs enjoy more freedoms (including the freedom to travel freely in Western Europe). But after Tito's death in 1980 and the widespread fall of communism in 1989, a wave of nationalism emerged in Yugoslavia. And that is how in 1991 Croatia and Slovenia left Yugoslavia to become independent states.
But unfortunately the tragedies do not stop there in Croatia, because tensions are rising with the rest of Yugoslavia (or Serbia and especially in the Croatian border areas with many ethnic Serbs). This was followed by 4 more years of war, which ended in a "victory" for Croatia in 1995, which took its present form. But you can imagine that these conflicts are still "fresh" in the minds of the inhabitants and that is why I think we should be aware of all this when we travel to Croatia.
What to see, what to do in Zagreb: all our best picks
So after this little historical reminder, it's time to move on to something a little more cheerful. I imagine that if you are reading this article, it is because you may be planning a visit to the Croatian capital and are looking for some information / ideas for your stay. Without further delay, here is what we enjoyed doing in Zagreb
Things to do in the upper town of Zagreb
The upper city of Zagreb (or also the old city) is actually located on 2 hills Kaptol and Gradec which were originally 2 different cities separated by a river (if I listened to our guide during the free walking tour 😉 ). The rest of the city developed later around these 2 hills and that's why most of the historical monuments are "at the top" (even if it's just going up a few steps or take the shortest funicular in the world 😉 )
the world's shortest funicular railway
So let's start with this famous funicular that carried the Zagreb people between the lower and upper part of the city and that only makes… 66m long. It's true that it's quite nice with its vintage look but let's face it, we didn't really need to take the funicular (even if it only costs 4 HRK per ride) to get on Gradec hill. 5 minutes by taking the stairs and that's done. 😉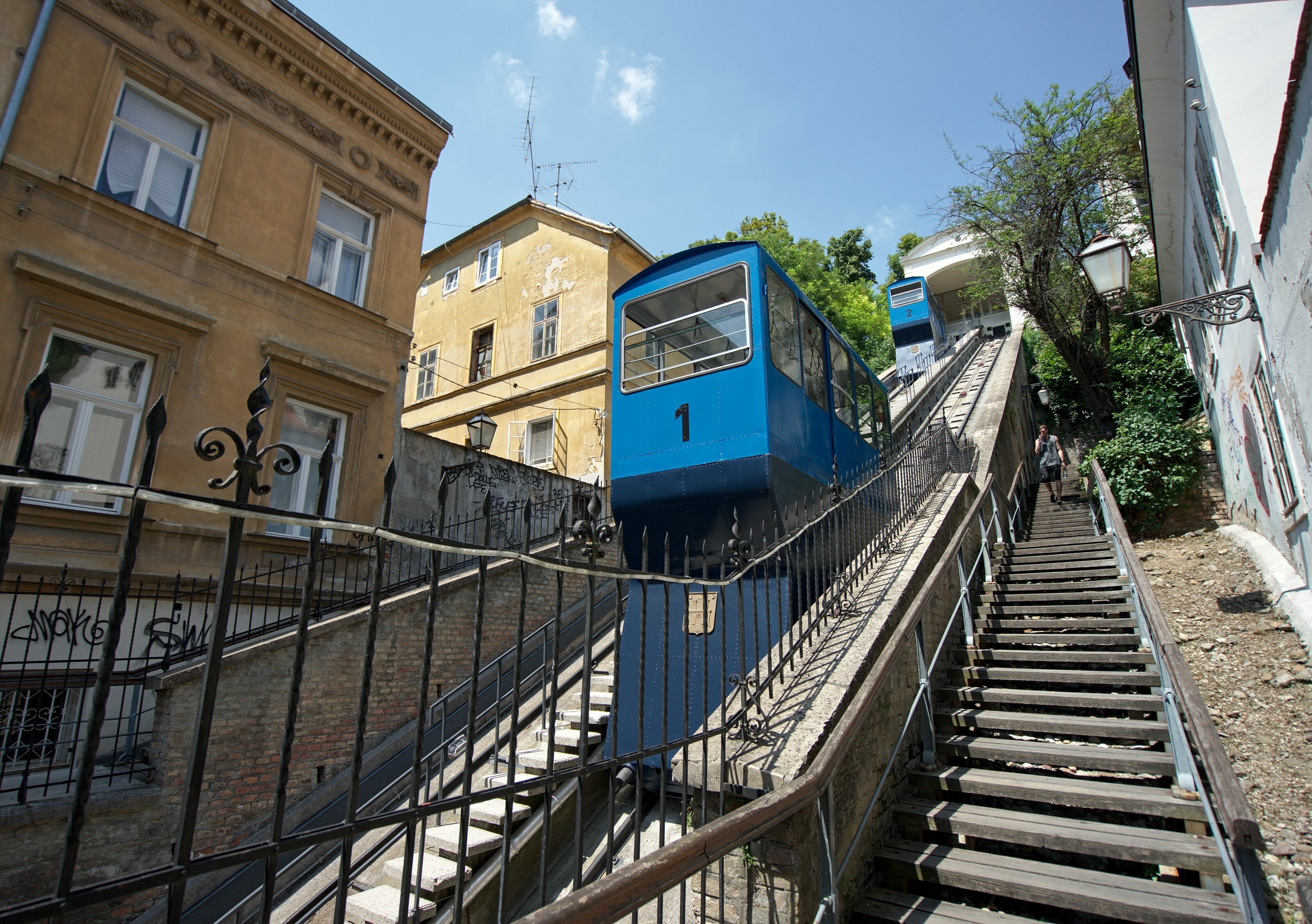 The Lotrščak tower
It is located just at the arrival of the funicular and it is from the top of this tower that we have one of the most beautiful views of the city. Originally it was one of the main fortifications of the city and remains today one of the symbols of Zagreb. Moreover, every day at noon for more than 100 years, a cannon has been fired to indicate the time to the Zagreb people.
For 20HRK per person, you can go up into the tower, read the various information about its history on each floor and admire the view from the top. If you come a little before noon, you can also watch the cannon fire.
St Mark's church
St Mark's Church is the city's most famous monument with its colourful tiled roof that illustrates the emblems of the city of Zagreb and Croatia. The roof is beautiful and clearly worth a visit. On the other hand, we were not able to visit the interior… on the site of the city of Zagreb, there are indicated opening hours but we are not really sure that it is possible to visit the church. Otherwise around the church in the square there are also the buildings of the Croatian government.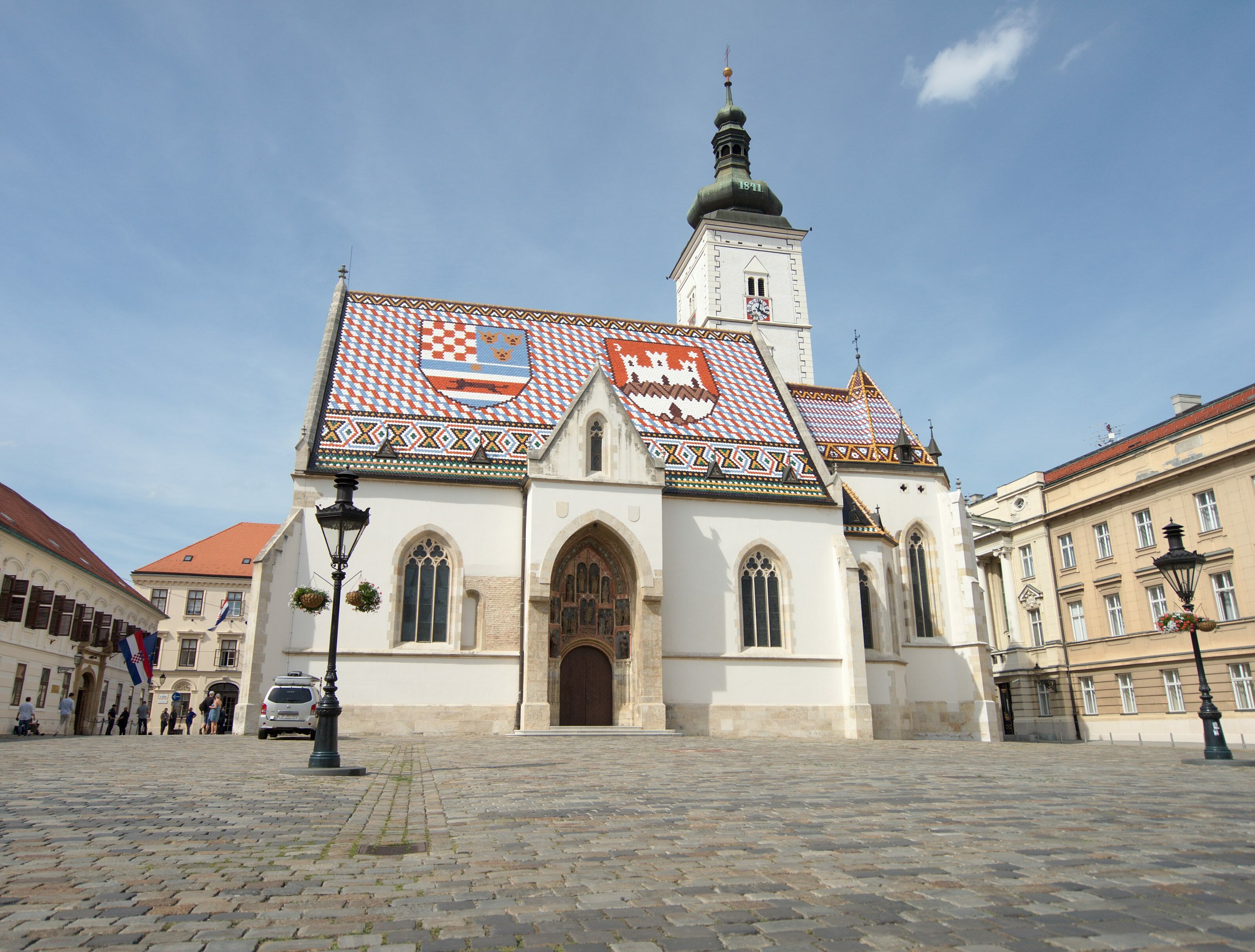 The Gric tunnel
In fact this tunnel is located under the hill of Gradec and was built during the 2nd World War to serve as a refuge in case of attacks. After being more or less forgotten, it unfortunately served as a refuge again during the Croatian War of Independence between 1991 and 1995. Since 2016, the tunnel has been open to the public and regularly hosts cultural events. It is also a nice little shortcut between Mesnička and Stjepan Radić to avoid climbing the hill.
the museum of broken relationships
This is a very unique museum that is located just behind the Lotrščak tower. The museum actually exhibits a lot of objects donated by people from all over the world that are a symbol of a broken relationship. Each time, next to the object you can read the story that goes with it. There are touching, funny stories… some very sad. Frankly, we thought the idea of this museum was great and we had a a lot of fun. Admission costs 40HRK / person and we advise you either to come to the opening (9am) or in the evening (the museum closes at 10.30pm) because during the day it is quite crowded.
St Catherine's church
A baroque church that does not look good from the outside but is worth a visit inside. It is located right next to the Museum of broken Relationships.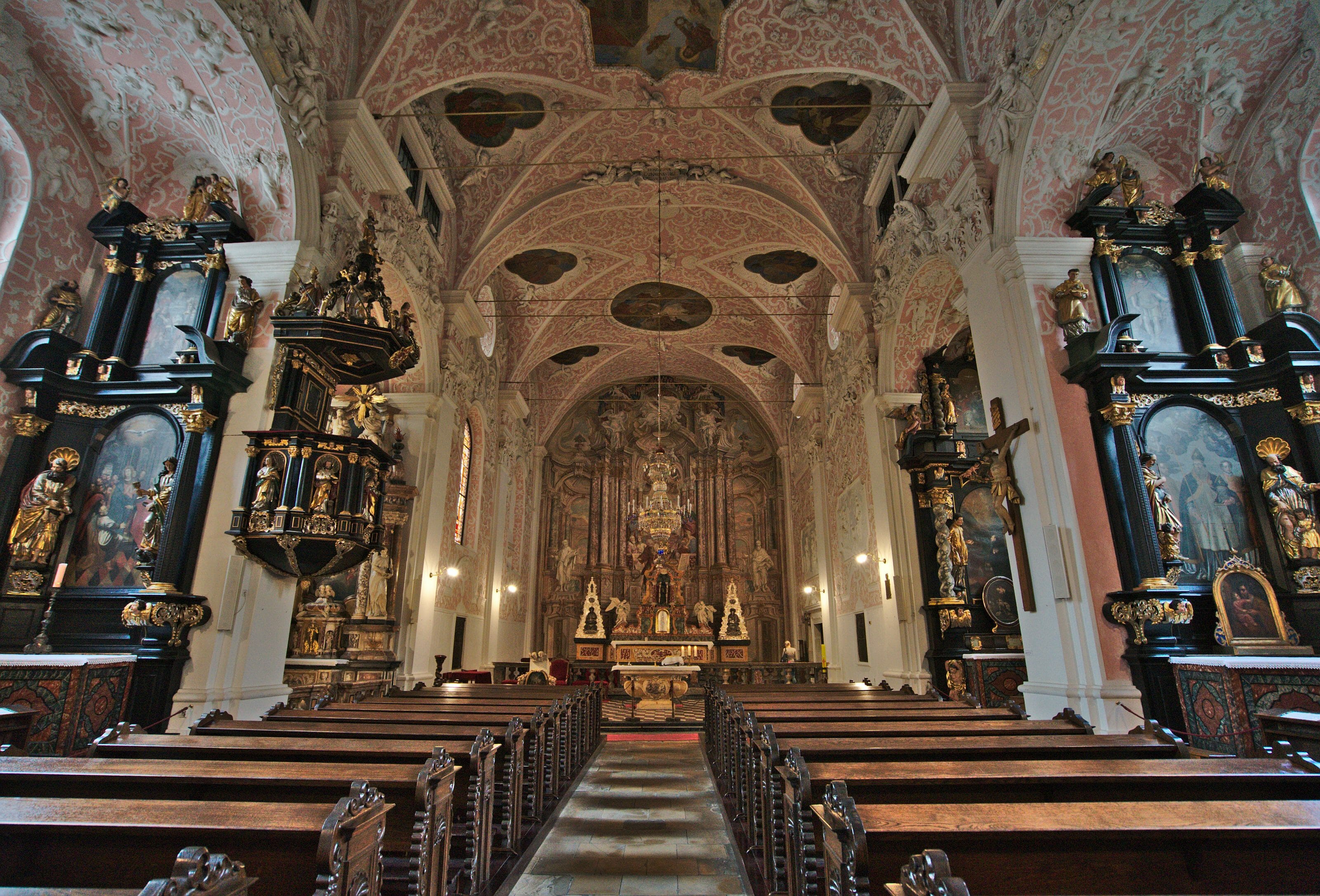 the Strossmartre promenade
Strossmartre promenade is actually the pedestrian alleyway that goes along the edge of Gradec Hill (at the top of the funicular). When we were there, there were lots of little huts selling snacks and drinks. There were also small installations to take pictures (understand by that selfie spot for instagram)… But the view of the city is nice from up there and the terraces are pretty cool too. Frankly, we recommend it!
The stone gate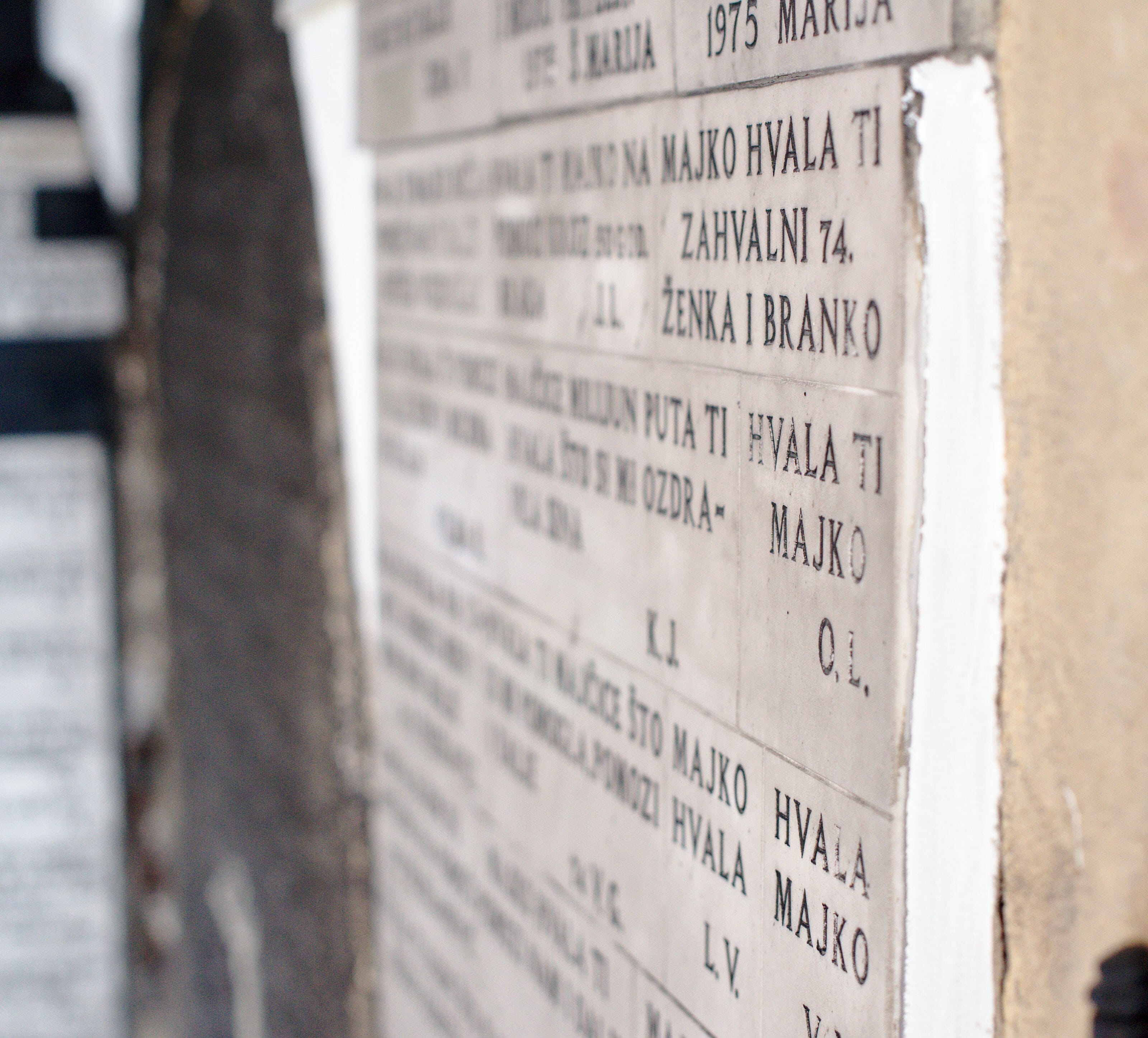 It is the last remaining gate of the original town of Gradec (since it was made of stone) and became a place of meditation for the following reason: When a large fire destroyed part of the city and burned all the wooden parts of the gate, only one painting of the Virgin Mary remained intact (the inhabitants of the time obviously saw this as a sign). The painting is now displayed in the passage of the door and the Zagreb people still come today to pray and leave their messages here.
the Zagreb cathedral
One of the things I remember from the free walking tour is that Zagreb Cathedral is still the highest monument in Croatia today. It is on the other hill (Kaptol) even though I don't think you can really call it a hill 😉 . It was badly damaged during an earthquake in 1880 before being restored to its present form. Moreover the old clock outside next to the church still indicates 7:03 which is the time at which the earthquake (6.9 magnitude) shook Zagreb in 1880.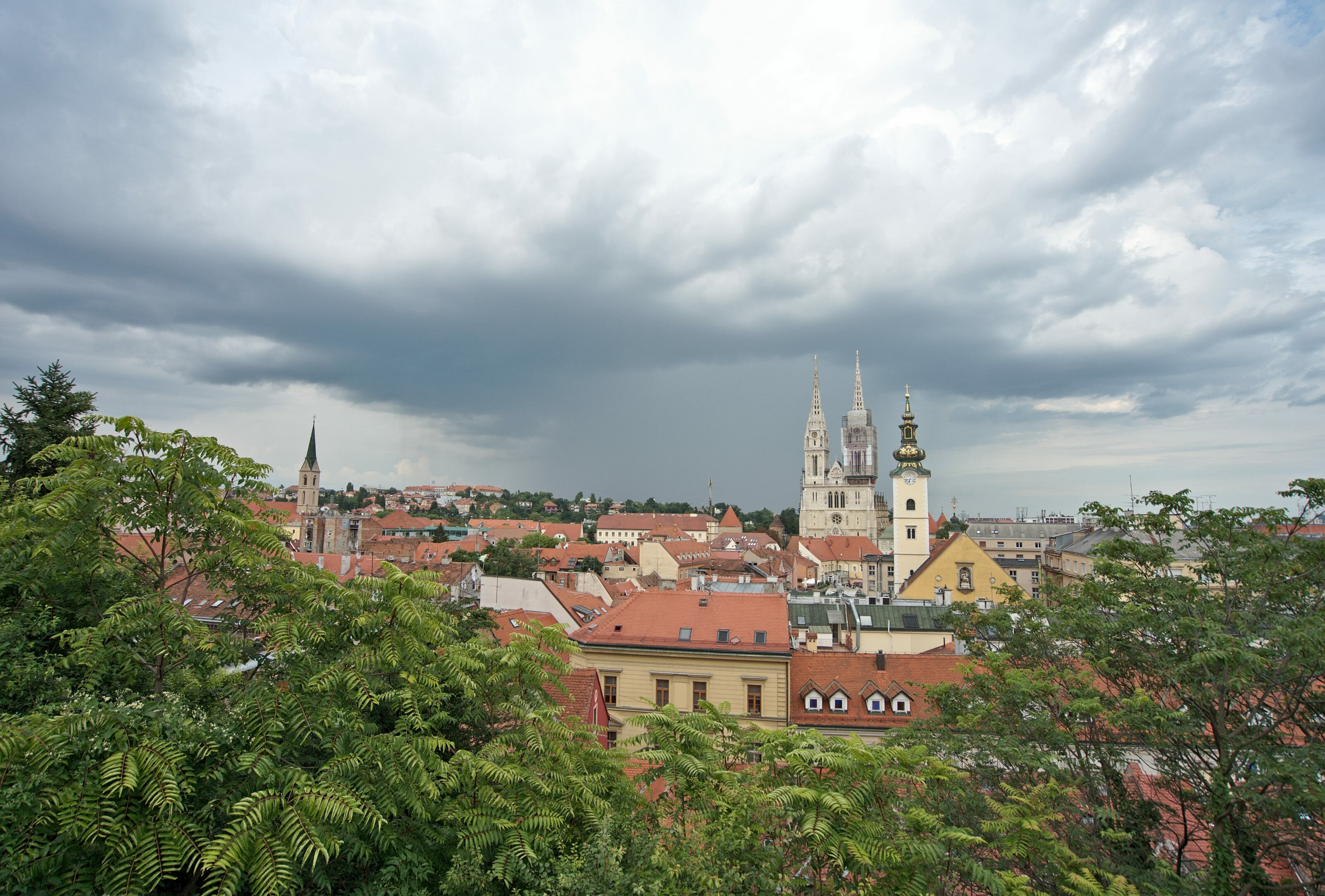 Things to do in the lower city of Zagreb
The lower part of Zagreb is the most recent section of the city. Built mainly in the 19th century, it is the most lively part of Zagreb. There are offices, shops, cafés, markets, homes and also very pretty parks.
A walk in the parks (Zrinjevac) and the botanical garden
If you look at a map of Zagreb, you will see a kind of big green U (which should be around 2-3kms end to end). It is a bit like the green lung of Zagreb and we advise you to go for a walk from one end to the other on a beautiful sunny day. Zrinjevac Park is close to the main square and continues to the railway station. It seems that there is always something going on around here… a festival, ephemeral bars, students having drinks… In short, a lively place.
To the right of the station we continued towards the botanical garden with its turtles and carnivorous plants to go up through some university buildings until the Croatian national theater.
the Croatian National Theatre
A very beautiful building that is worth a visit at the end of the tour mentioned above. We haven't visited the interior (we're not big opera or ballet fans and there's no guided tour) but if you're amateurs, the price/quality ratio must probably be very good.
the museum of war photography
One of our favorites of these few days in Zagreb! This exhibition of photos taken during the Croatian War of Independence between 1991 and 1995 gives a real and unbiased overview of what happened during these difficult years. There are poignant photos of soldiers and civilians during the war with some explanations. Frankly, after that visit I looked at people on the street a little differently… I was just thinking that all the people 30 years of age and older we met on the street had experienced these atrocities.
The museum is located next to Zrinjevac Park and the entrance costs 50HRK / person (part of which is donated directly to war victims)
Dolac market
The market is located a few meters from Zagreb's central square and is open every morning until 2pm. Wherever we travel, we always find it nice to go to the market, have a coffee, look at what people are buying, taste some local products etc… If you stop by, don't forget to go inside the building too, where you will find everything that is not fruit and vegetables.
Street Art
Zagreb is not Valparaiso but we still found some pretty nice graffitis during our visit. So take a walk, keep your eyes open and don't hesitate to tell us if you know any other nice ones in Zagreb.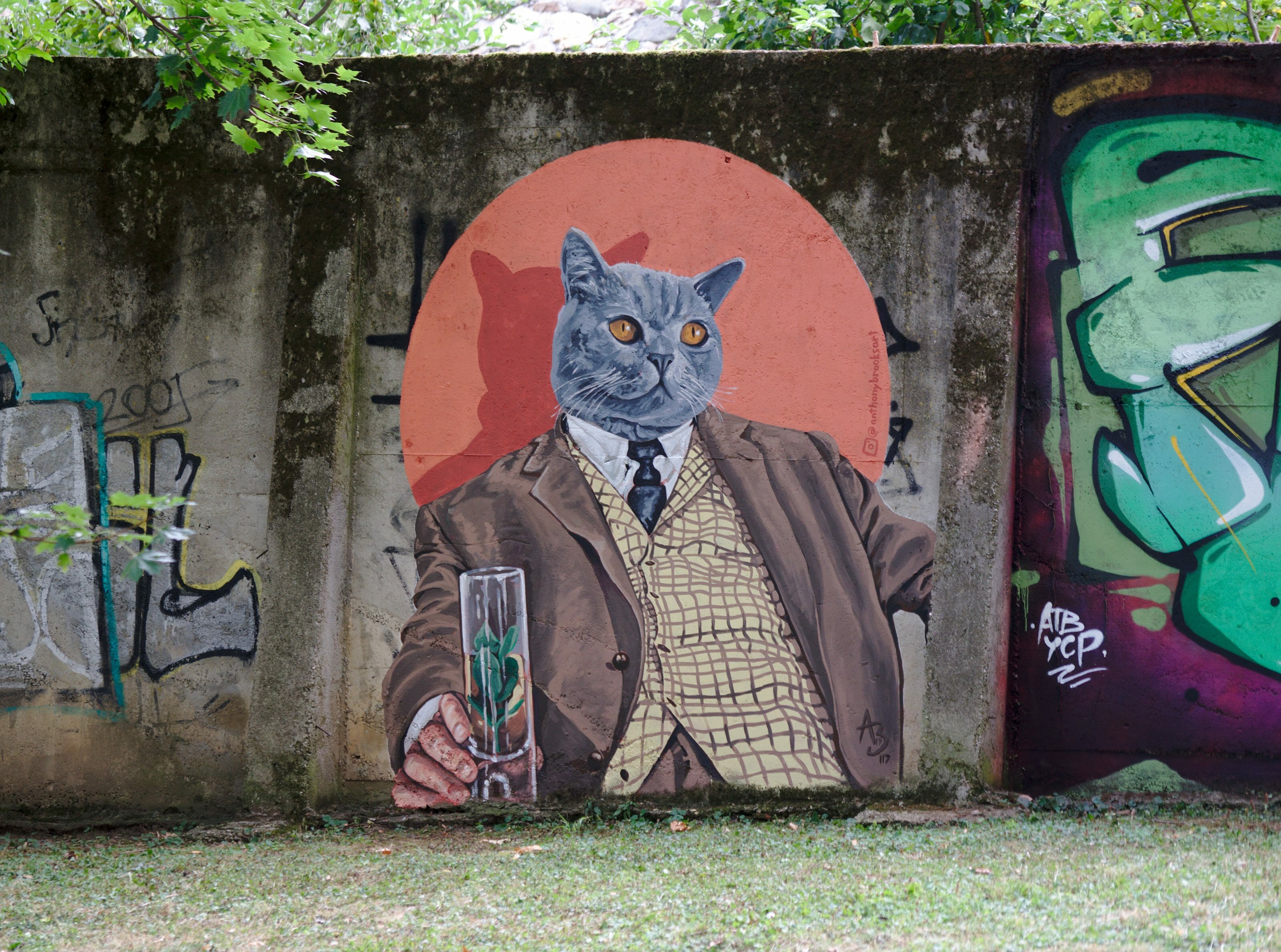 Looking for more things to do in Zagreb?
You can go check on
GetyourGuide
. They have a very wide seletion of tours and activities (including the famous tours to go see the Plivitie lakes)
Some good addresses
So the street that separates the two hills (Tkalciceva street) is also called thirsty street… So certainly there are lots of bars and restaurants on this street but on our side we didn't find what we were looking for. It's certainly cool and trendy but we were looking for some Croatian specialities instead of eating another burger in the city center of a European capital. In short, here are some other addresses that we liked better!
Medvedgrad brewery and pub Llica
We stumbled upon the beautiful inner courtyard of this pub a little by chance and it turned out that it was actually the pub of the 1st artisanal brewery in Zagreb (what a good coincidence 😉 ). As far as we can tell, they have very good beers (and I'm not the only one who thinks so) and above all they also have typical Croatian dishes on the menu.
P.S. They also have a pub on the thirsty street but the menu is much less varied and interesting, as is the choice of beers. So come to this address instead:
address: Ilica 49, 10000, Zagreb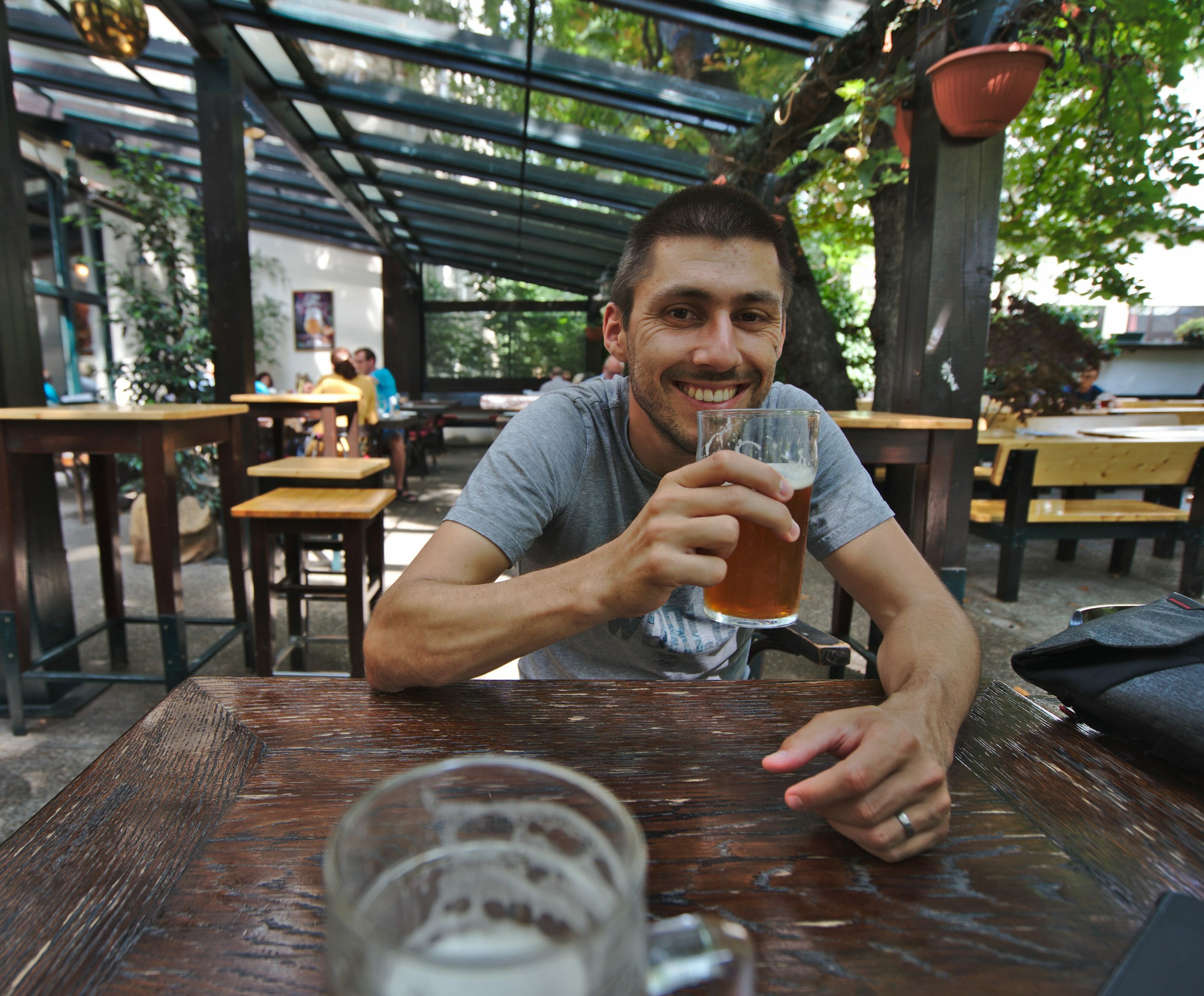 la Struck and it's štrukli
Ahhhhhhh if you are in Zagreb on a rainy day, we have found the ideal remedy for you: the "štrukli". It is a typical Zagreb gratinated dish made with pasta and a mixture of cheese, egg, sour cream… It's a bit like a lasagna but with cheese instead of tomato sauce 😉 . Surprisingly there are many kinds of štrukli…. You can eat different sweet versions (apples, blueberries, cinnamon) or salty. But I must say that on our side we didn't hesitate for long! We chose the truffle If you come to Zagreb during your holidays in Croatia, here are all our best tips about the things to do and see in the Croatian capitalštrukli with a glass of red wine. Believe us, it's worth a visit!
The restaurant La Struck is located in a small street perpendicular to the thirsty street and is very popular. We stopped by twice in the evening and we never found a place… we had to come back one day at noon to be able to taste these wonders. And the restaurant has a beautiful courtyard much quieter than the tables overlooking the street.
address: Skalinska ul. 5, 10000, Zagreb
Note: Our friends of the blog Yummy Planet have written an entire article about Strukli and its history if you are interested.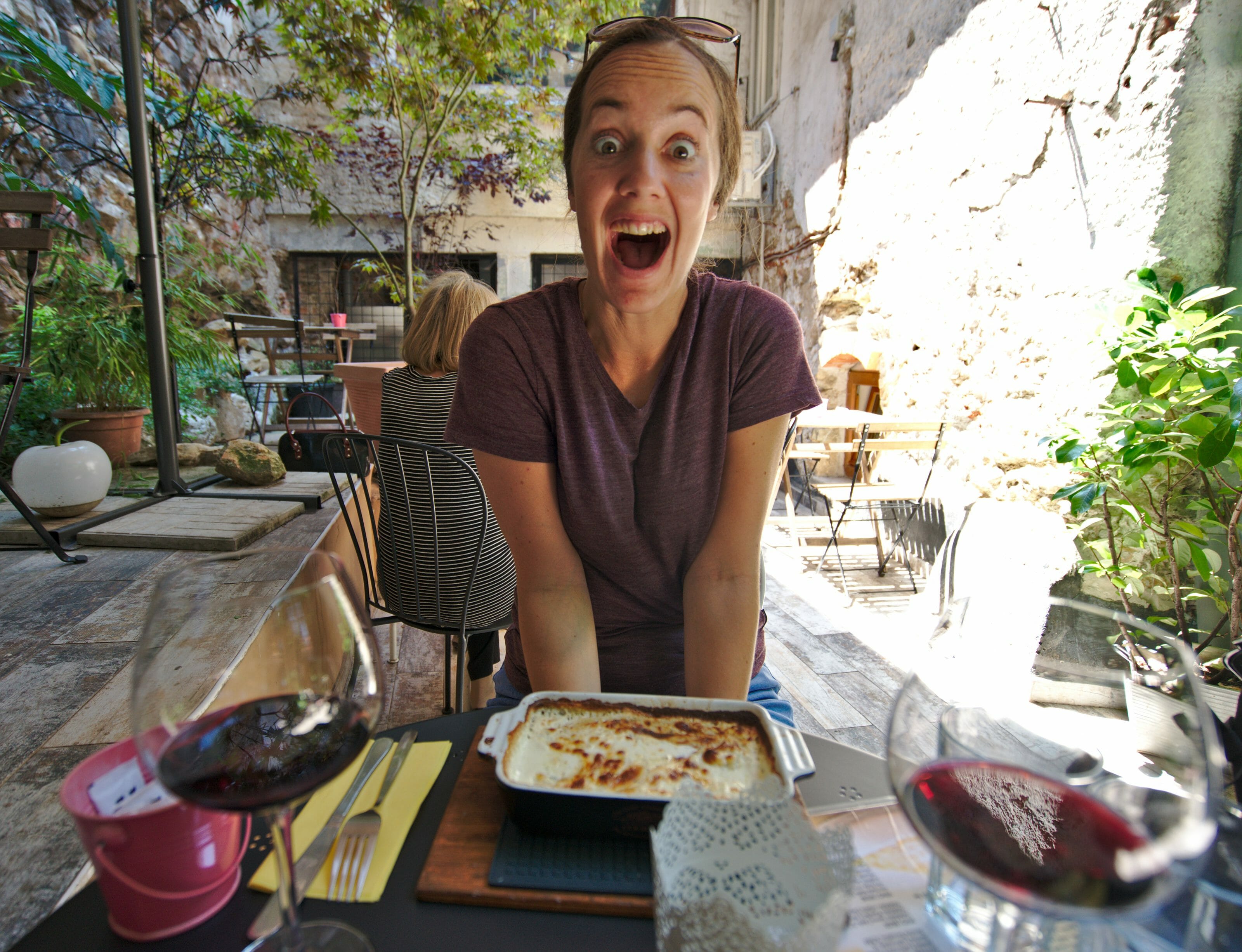 Heritage: croation street food
We would have liked to tell you that we could have tested this tiny Croatian street food restaurant (we had been told a lot of good things about it). But unfortunately we never managed to get a place and it was packed the 2 times we passed… However, we still wanted to put it on the list because the idea of this street food restaurant is to introduce small bites from different regions of Croatia (crobites 😉 ). An original concept that we haven't seen elsewhere in Zagreb.
address: Petrinjska ul. 14, 10000, Zagreb
Useful information for moving around Zagreb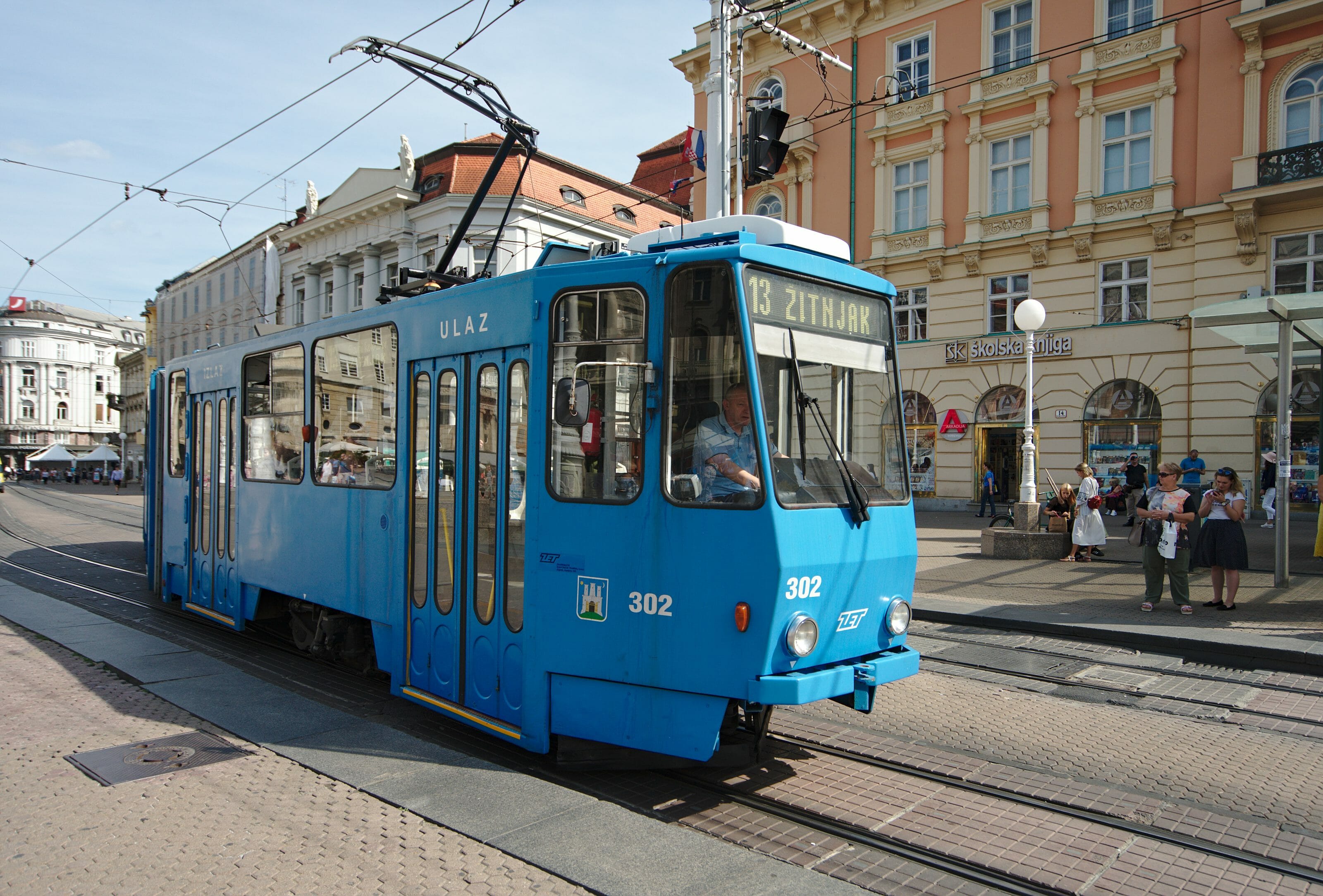 The tram and bus network is well developed in Zagreb and it is very easy to travel everywhere in the city with public transport. To buy tickets (4HRK / 30 minutes), simply visit the Tisak and iNovine kiosks, which are generally located at all stops. Moreover, to our great surprise, we have never had any problem making ourselves understood when buying tickets and most people know how to speak a minimum of English. To validate the tickets, you will always have to get in at the front because that is where the only machine that can obliterate the tickets is located.
Accomodation in Zagreb
As we had to work a little bit, we rented an apartment but we found that it was still quite expensive and that the choice was not incredible (so we found ourselves quite far from the center to have a decent appartment). But if you are looking for a Hostel, we have heard a lot of good things from the Swanky Mint Hostel not far from the central square and which also has a pretty cool bar. But otherwise you can compare the offers in Zagreb on the map below (use the filters on the map to help you refine your search) or check directly on Booking:
Our travel budget in Zagreb
Usually we dedicate an entire article to our travel budget, but since it was only a small 3-day city trip here, we will rather share our numbers directly with you in this article.
Croatia is part of the European Union, but they are not in the euro zone. The currency in Croatia is Croatian Kuna (abbreviated as HRK). To give you an idea 1€ = 7,4 HRK at the time of our visit (needless to say that it gave us a headache to do the conversions all the time 😉 )
Overall, Zagreb is a relatively cheap city in Europe. On average, our cost were 35.2€ per day and per person. We stayed 3 days and 3 nights in Zagreb.
More details here: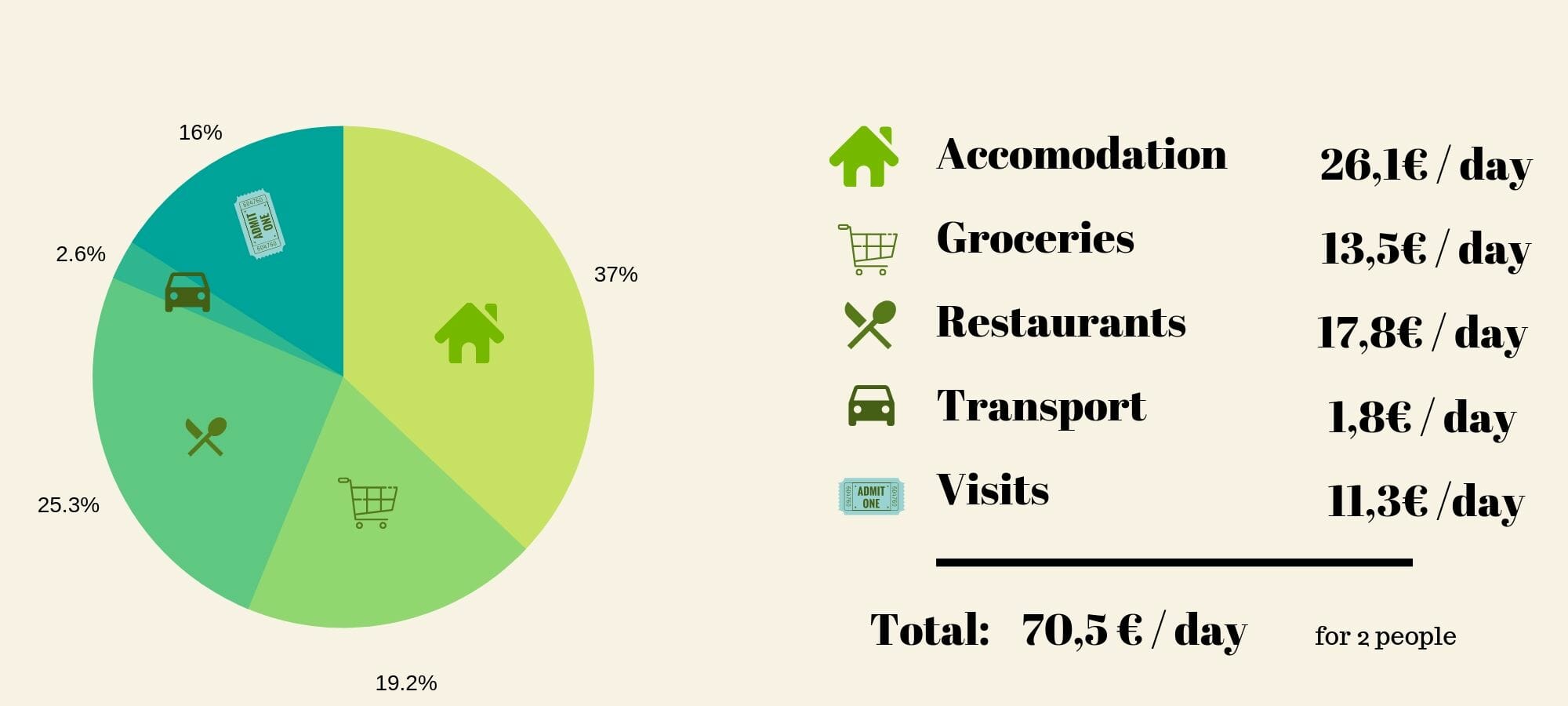 A few things about this budget:
During this trip we didn't really try to limit ourselves…
We went to the restaurant once a day
When we were going to the supermarket we always took a good bottle of Croatian wine (hence the relatively large shopping budget)
Having only 3 days, we made many paid visits every day.
I think you know everything about our little stay in the Croatian capital. We hope you enjoyed this article and if you have other places / good addresses you know in Zagreb, feel free to share them in the comments!
Note: This article contains an affiliate link to the Hotelscombined site which is the one we use and recommend for your hotel searches. This site compares the offers of the largest booking sites such as booking and agoda and will help you find the best offer for your stay. And if you use one of our links for your booking, we will receive a small commission (you will obviously pay the same price) that will help us to continue our work on novo-monde.