Another step in our little summer road trip to Bulgaria! After our few days in Zagreb, we decided to come and spend a few days in another well-known European capital: Budapest!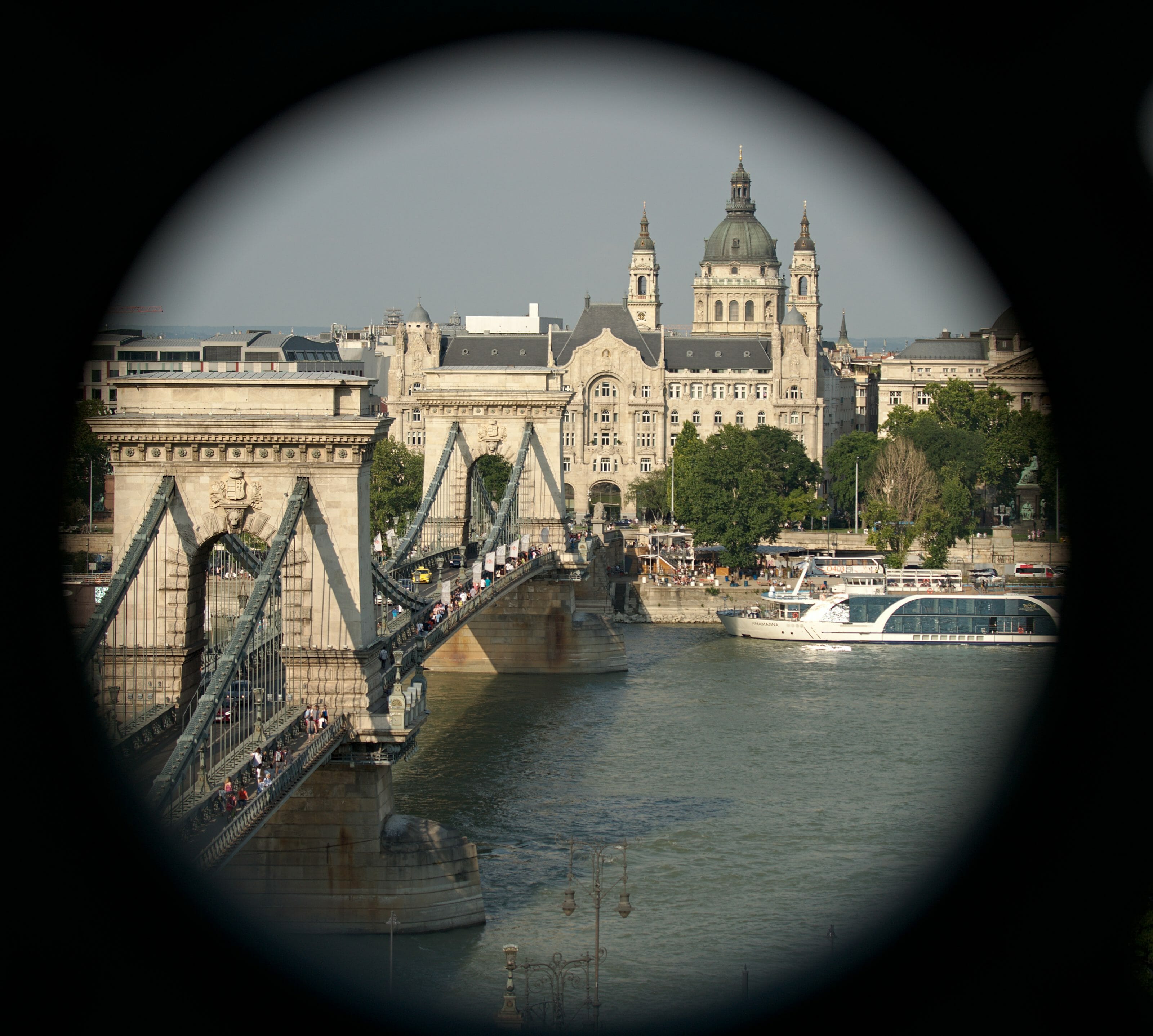 Benoit had never been to this city before, while I had already come on a school trip there a few years ago… hmmm… 16 years ago to be precise! 🙂 In other words, I didn't have many memories of it…
In all, we will have spent 6 days and 5 nights in Budapest. And as usual, we have prepared a (big) article with all our tips for visiting Budapest independently and on a reasonable budget.
Budapest: The Pearl of the Danube
Budapest is very regularly cited as one of the most beautiful cities in Europe and frankly I have no problem to understand why this is the case. The city has the particularity of being in reality the merger of 2 Hungarian cities: Buda and Pest. The merger of these two cities took place in 1873.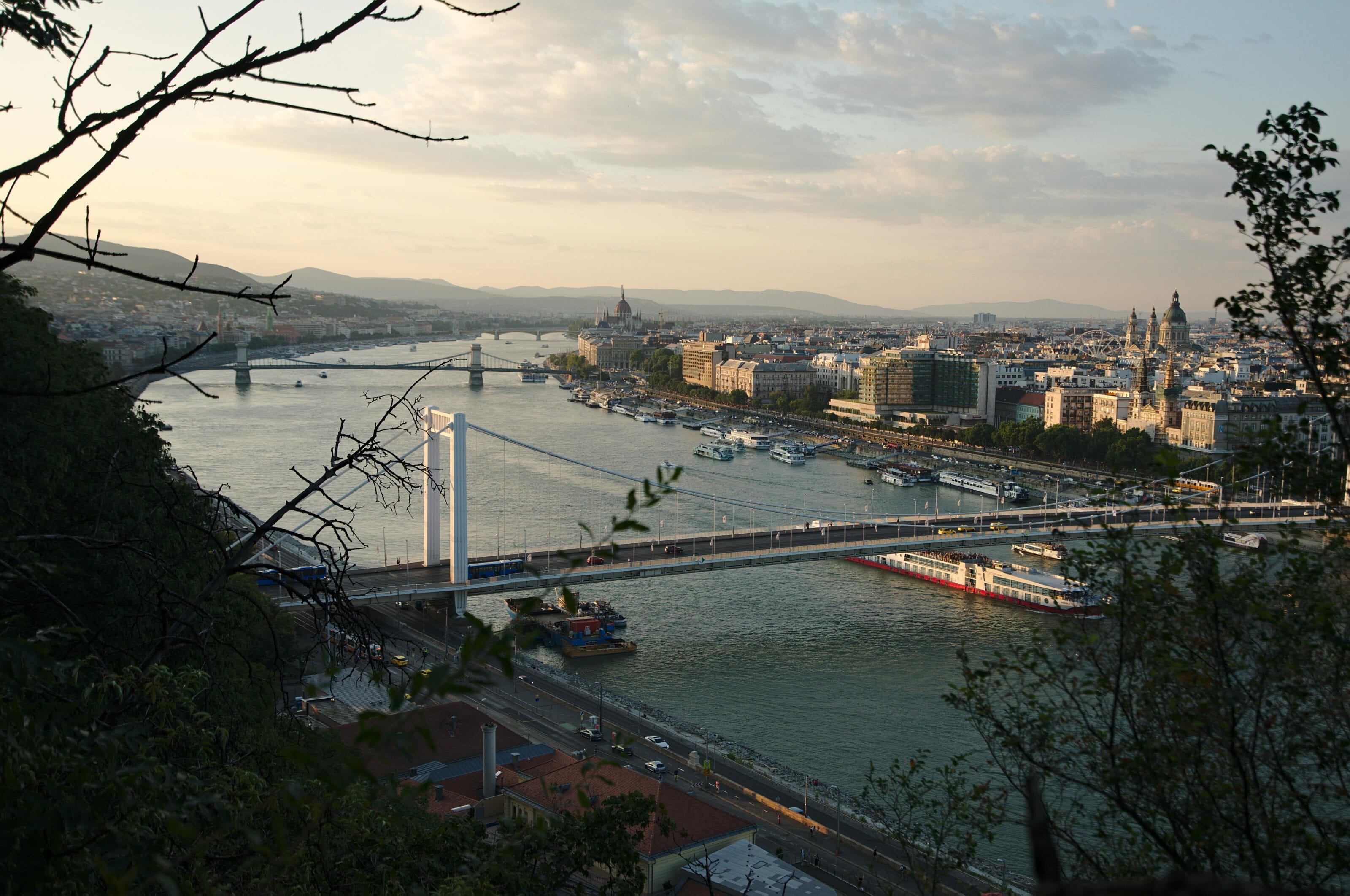 And that's funny, because even today, even when combined, these two parts of the city are still quite distinct.
Buda is the most "chic" part of the city. Dominated by the royal palace where the various kings of Hungary lived, this district is still more "elitist" today. Apartments and houses are more expensive and as the part of Buda is built on many hills, many of these apartments also offer a very beautiful view of Pest.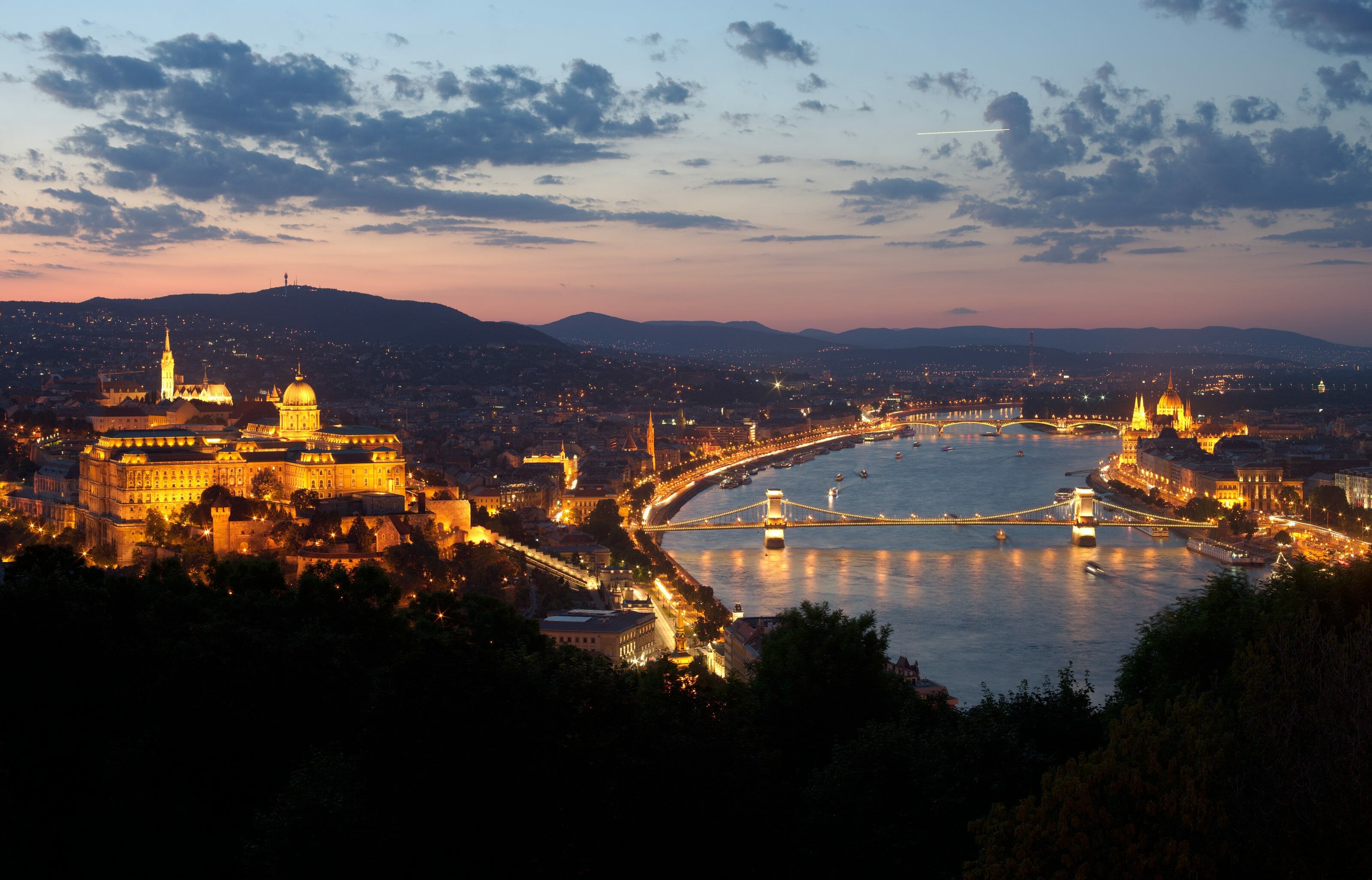 Pest, it's the total flat land! Not a hill on the horizon on that side of the Danube. In Pest there are many monuments with eclectic styles: Baroque, Neoclassical, or Art Nouveau. This part of the city is also the part that wakes up the most after dark: Opera, auditorium, trendy cafés and restaurants, clubs… The majority of night owl activities are located on this shore.
Free walking tour in Budapest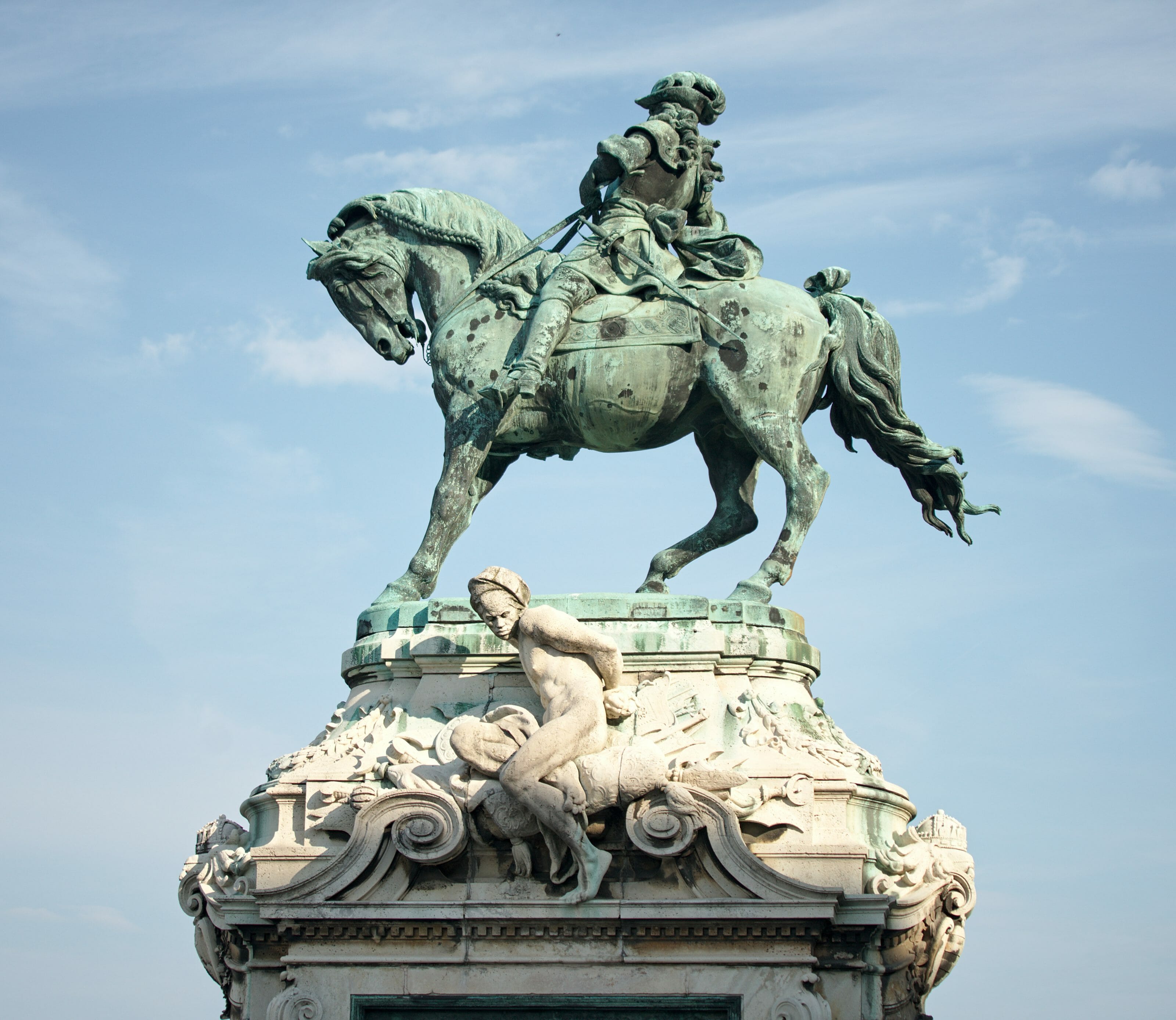 We start this article on the visits to Budapest with the first thing we tend to do in the cities: a free walking tour! I imagine that many of you are already familiar with the principle, but for those of you who wouldn't know what I'm talking about, they're actually guided tours. They are present in the vast majority of the world's cities and it is often more or less local companies that manage them.
The idea is that the tour is "free" and above all that you don't need to book it in advance. An appointment time is set, and all you have to do is show up. Once the tour is over, a tip is left according to what is considered to be a "good price".
Budapest is a VERY touristic city and so the free walking tours are not missing! We don't have the whole list, but here are the two main ones:
Generations Tours: Every day at 10:30 am and 2:30 pm in English and at 10:30 am also in Spanish. Meeting point in front of the St-Stephen church.
Free Budapest Walking Tour: Every day at 10:30 am and 2:30 pm. RDV in front of the Budapest Eye (big wheel)
We did the Generations Tour. Free tours are an excellent way to get a first glimpse of a city and especially to get to know the historical context. Then, I don't hide from you that for us Budapest will not have been the best of the free walking tours. We went around on a Sunday and it was crazy… We had to be more than 300 people at the meeting point. They had of course planned this and had several guides, but we still found ourselves in a group of 50-60 people. Which is, from our point of view, too much! In short, try to come during the week if you can (or out of the main season like us) 😉
For your information: we left the equivalent of a 5€ tip per person. The amount is free to choose based on your experience.
Visit Parliament
If there is one building in Budapest that you can't miss, it's the imposing parliament! Located on the banks of the Danube, it has been the seat of the Hungarian National Assembly since 1902. Its construction dates back to 1885 and the initial idea was to have completed this building by the nation's millennium (1896). In the end, as is often the case with construction works, things fell behind schedule and it was only officially put into service in 1902.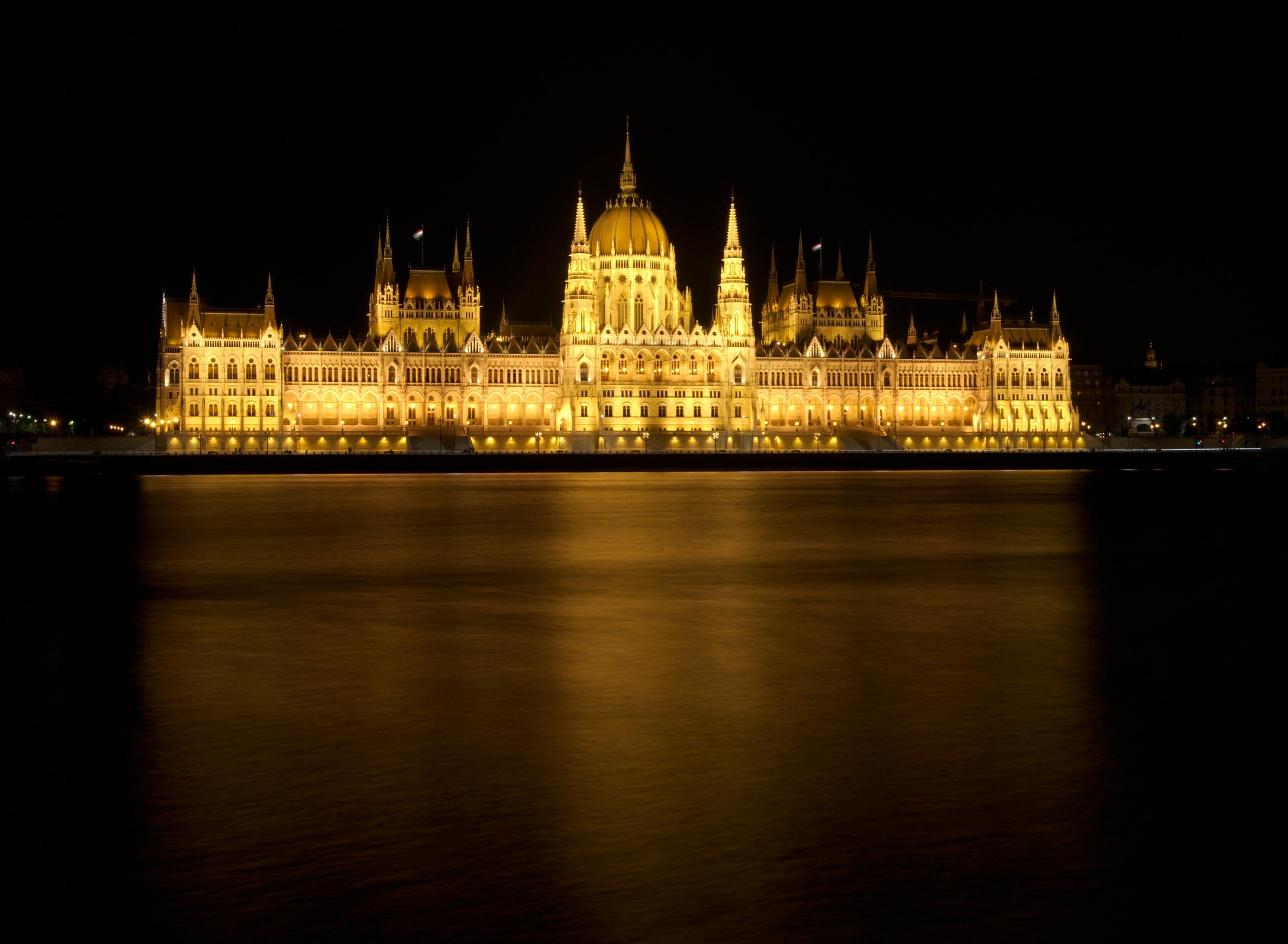 The parliament is the largest building in Hungary and, together with the Basilica of St Stephen, they are also the two tallest buildings in the country with their 96 metres. Why 96? This is a reference to the year in which the first Hungarian tribes occupied the Danube basin (896).
Since the end of the Second World War, the Hungarian Parliament has been reduced to a single chamber. As a result, only half of the building is still used for official purposes. The rest can be visited by the public on guided tours.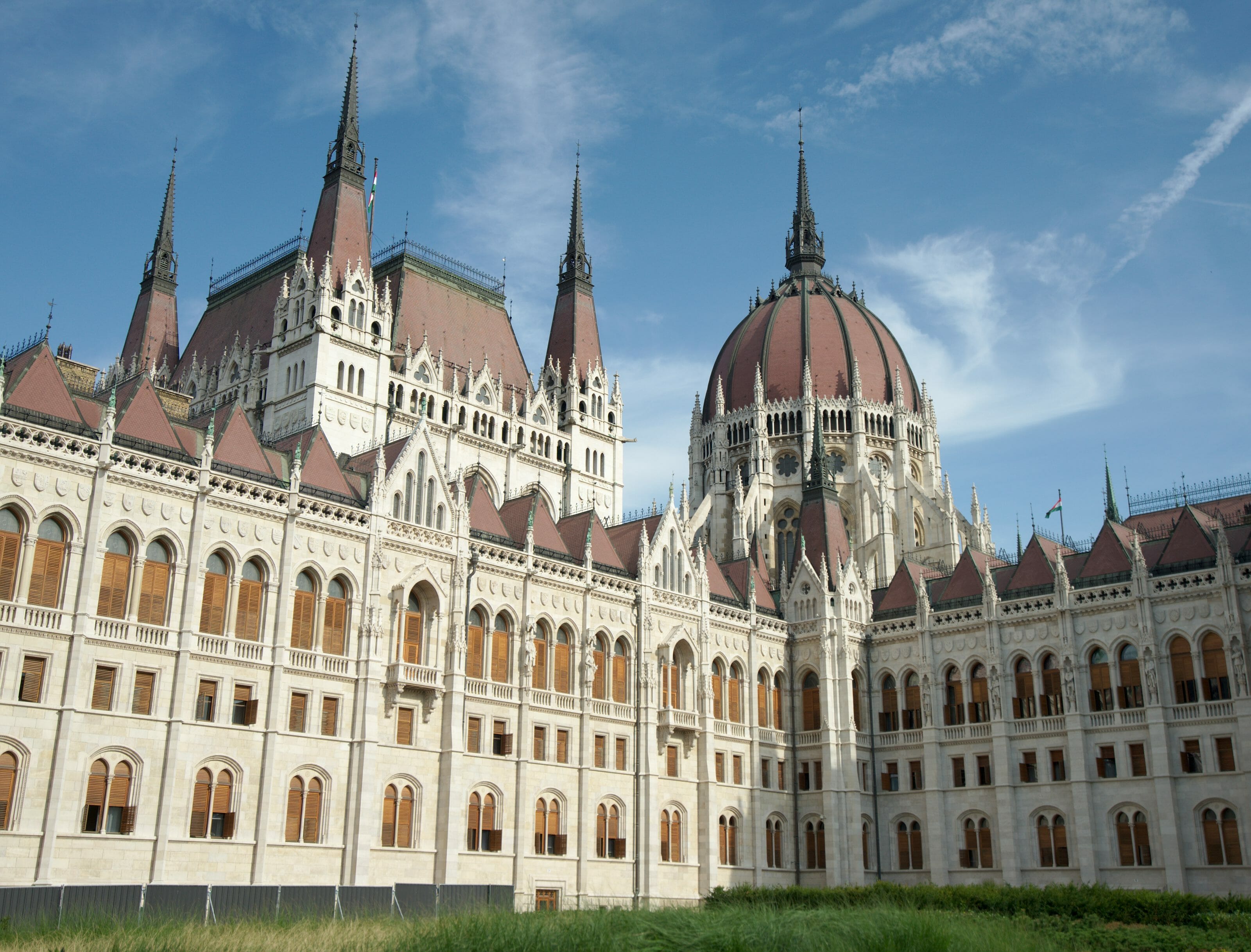 We briefly hesitated to make the visit because it is relatively expensive (and especially very short). But then we thought that we probably wouldn't have the opportunity to visit a monument like this again any time soon… And frankly? We do not regret the visit at all! The guide we had was great and we really enjoyed this tour! The interior of the parliament is simply incredible, starting with the main staircase, which is a real work of art on its own!
Under the dome you can also admire the crown that was worn by the great majority of the kings of the country. It is forbidden to take pictures of the latter, but promised; the small cross that surmounts the crown is indeed crooked! 😉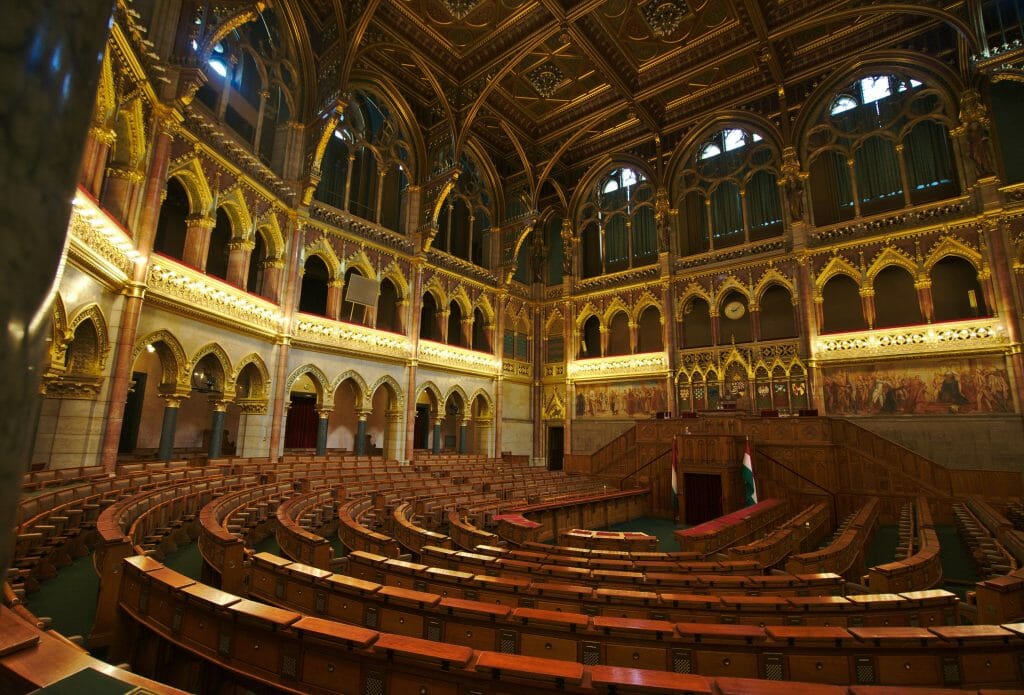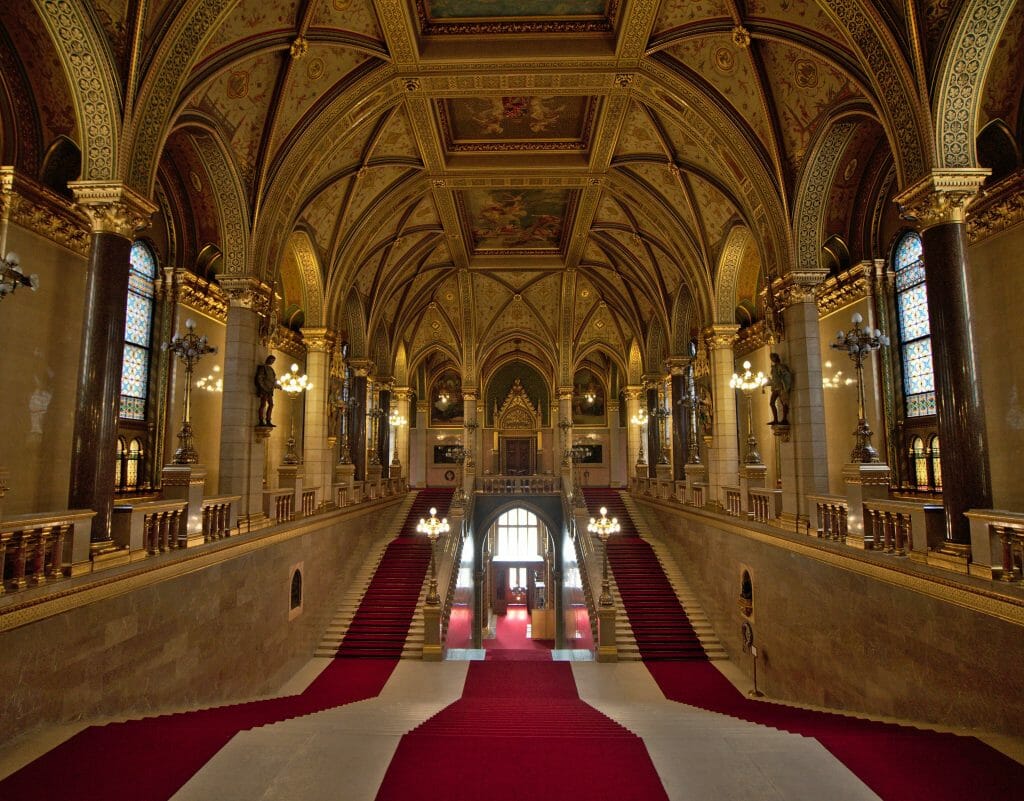 Infos
The parliament can only be visited as part of a guided tour. The tours are organized in French, English, Hungarian, Russian, German, German, Spanish and Hebrew (other languages available with audio guides).
Visit duration: about 45 minutes
Price of the Parliament's visit:
3200 HUF for European Union citizens
6400 HUF for other nationalities (including swiss 🙁 )
In both cases, young people aged 6 to 24 years old have a 50% discount compared to the adult price.
Opening time: First visit of the day at 8am and last at 6pm (departure of visits every 15 minutes)
For visits it is recommended to book your tour in the desired language in advance. In high season it is often full! To buy the ticket we recommend you to use the official website. (All other online ticket sites take significant commissions)
Advice: When leaving parliament it is recommended that you continue a little along the Danube to see the shoes on the banks of the Danube. A few steps from the parliament is indeed this beautiful memorial dedicated to the Jewish victims of the Shoah. More than 50 metal shoes are visible here. Why did they put shoes here? In fact, the victims who were shot here, had to take off their shoes first before they were executed…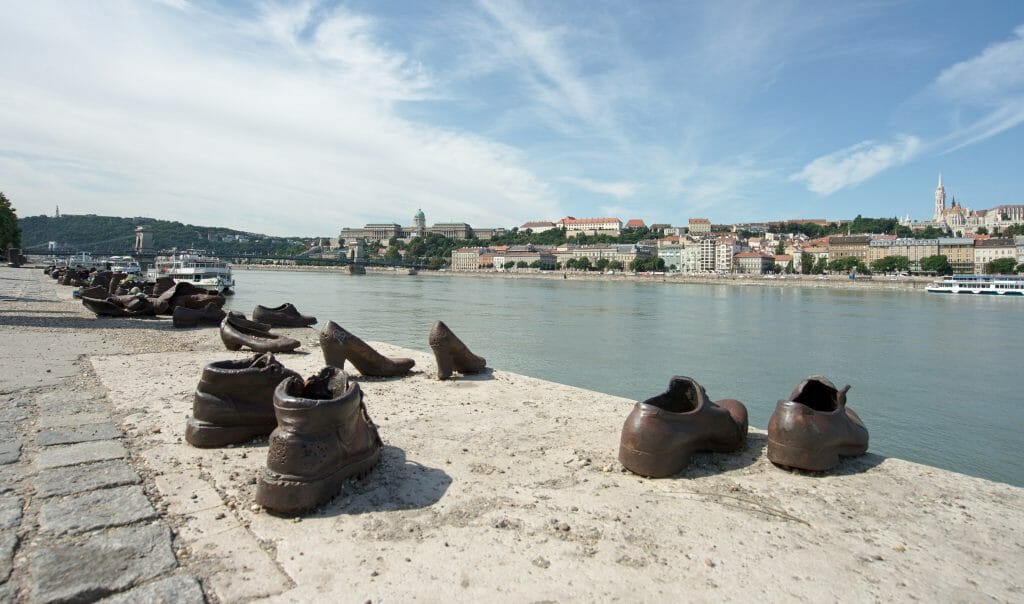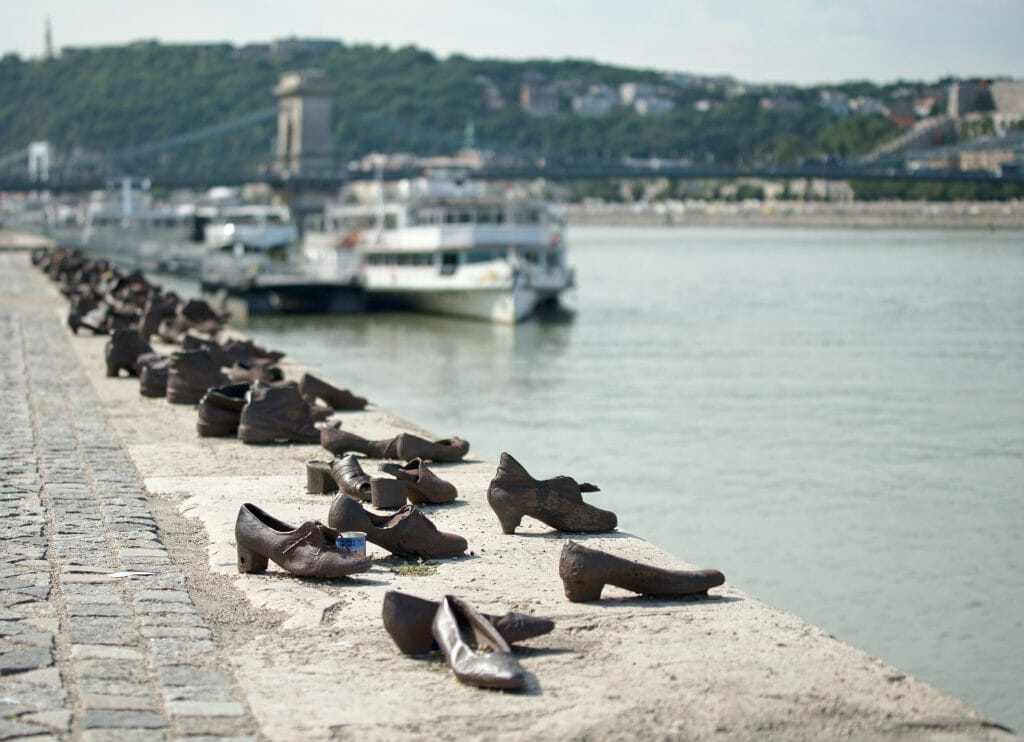 The Vajdahunyad castle
This castle is best known in winter for being the setting for the natural ice rink on the Varosliget pond. Having come here in the middle of July, it is useless to say that we didn't put on the skates! 😉 But despite that, we found it to be a wonderful place to come for a walk. The castle is located in the same park as the Széchenyi baths and it would be a real shame not to come and visit it if you are around.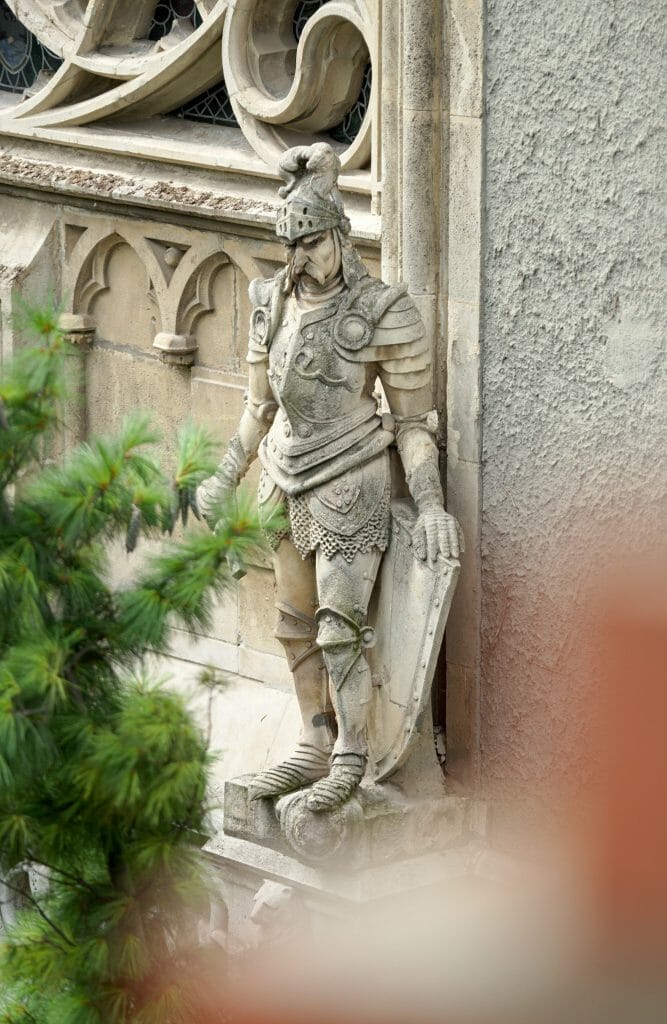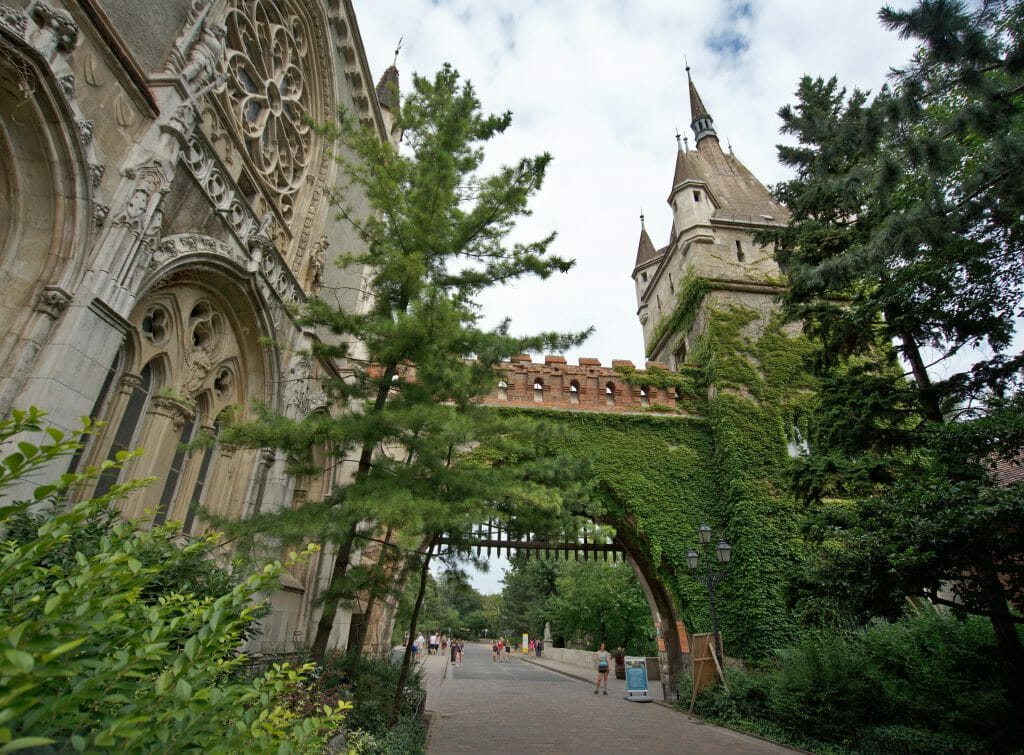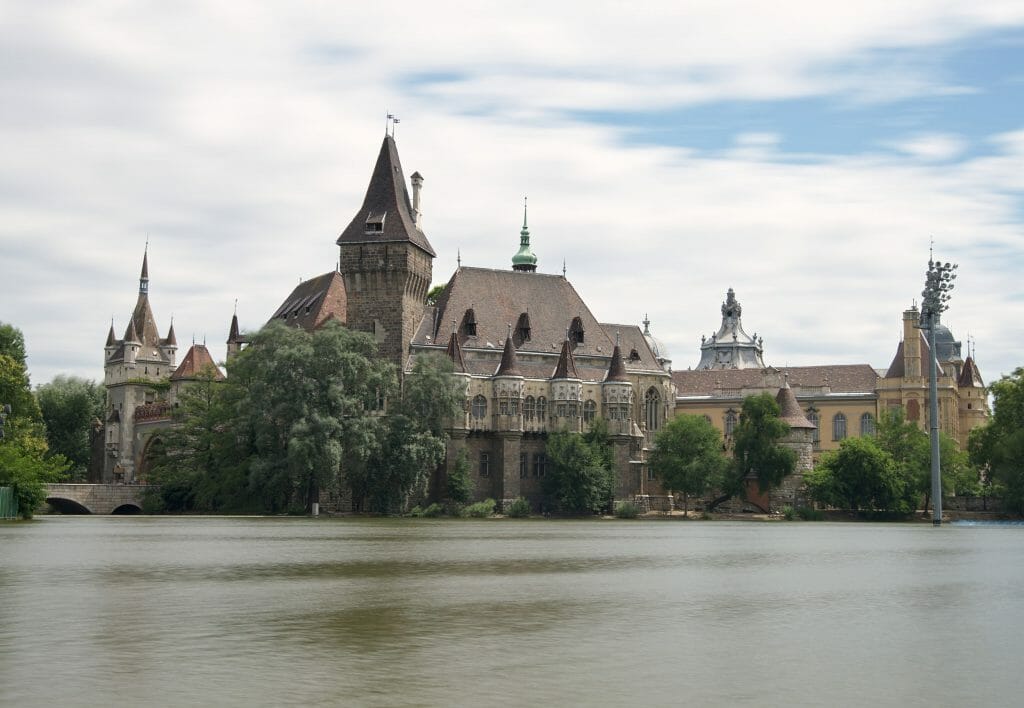 Good, on the other hand we warn you, the climb on the ramparts for 300 HUF is not a must. Intrigued by the prospect of having a nice view, we went upstairs. But frankly, the view from below and especially the one you get when you walk around the pond are just as nice! In short, keep the 300 HUF to go enjoy an ice cream by the pond. 😉
A small stop at the Hero's Square
As you leave the castle, don't miss a short walk through the heroes' square located a few meters away! The square was named this way because there are statues of most national heroes exposed here… Afterwards, I do not hide from you that, if, like us, you are not unbeatable on Hungarian history, it will certainly be difficult to understand and interpret at their true value the different statues…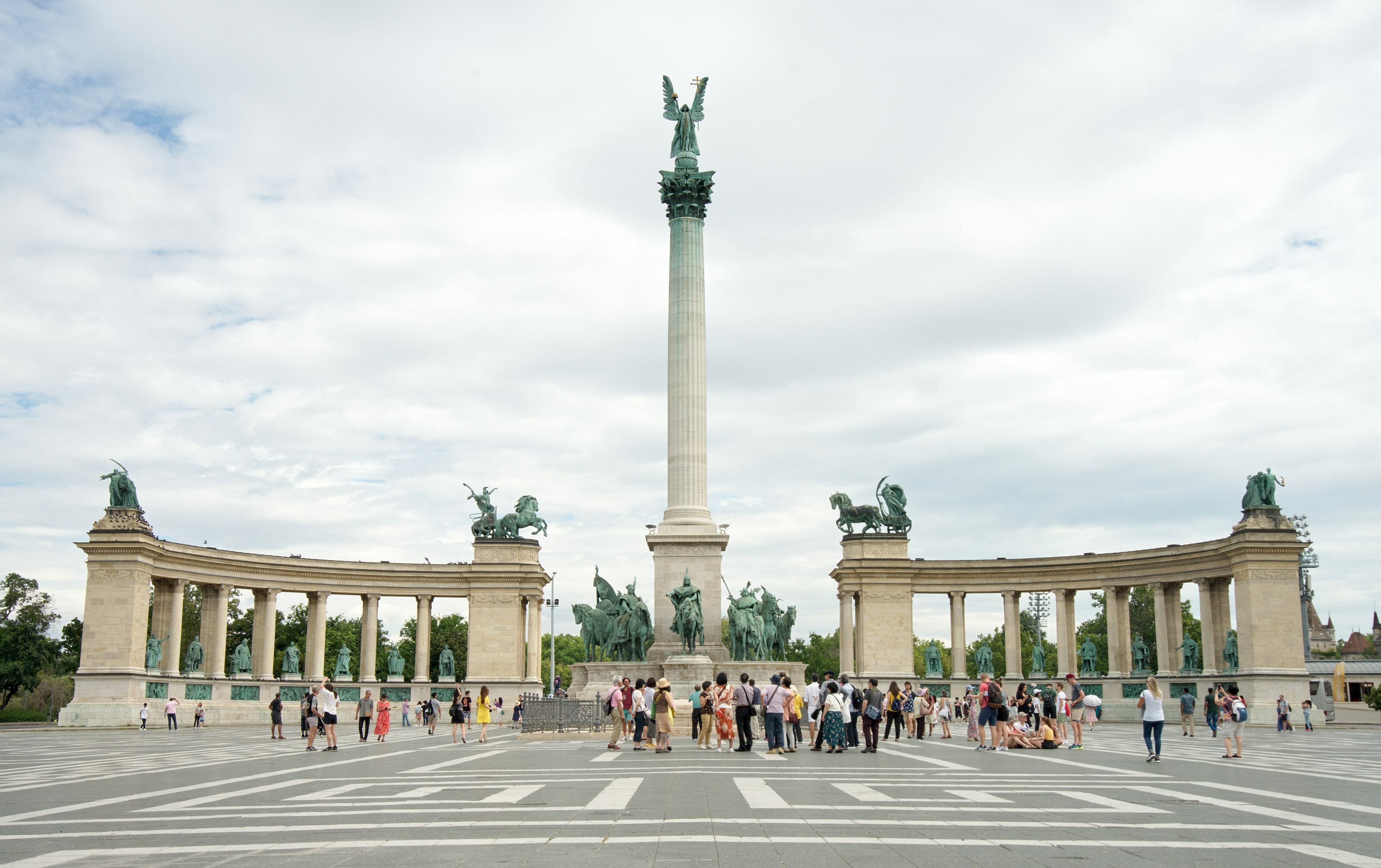 But know that on the main column is the angel Gabriel, and below it are the 7 representatives of the 7 tribes who initially arrived in the country in the year 896.
Despite this, the square remains very impressive and is really a short jump from Vajdahunyad Castle.
Saint Stephen's Basilica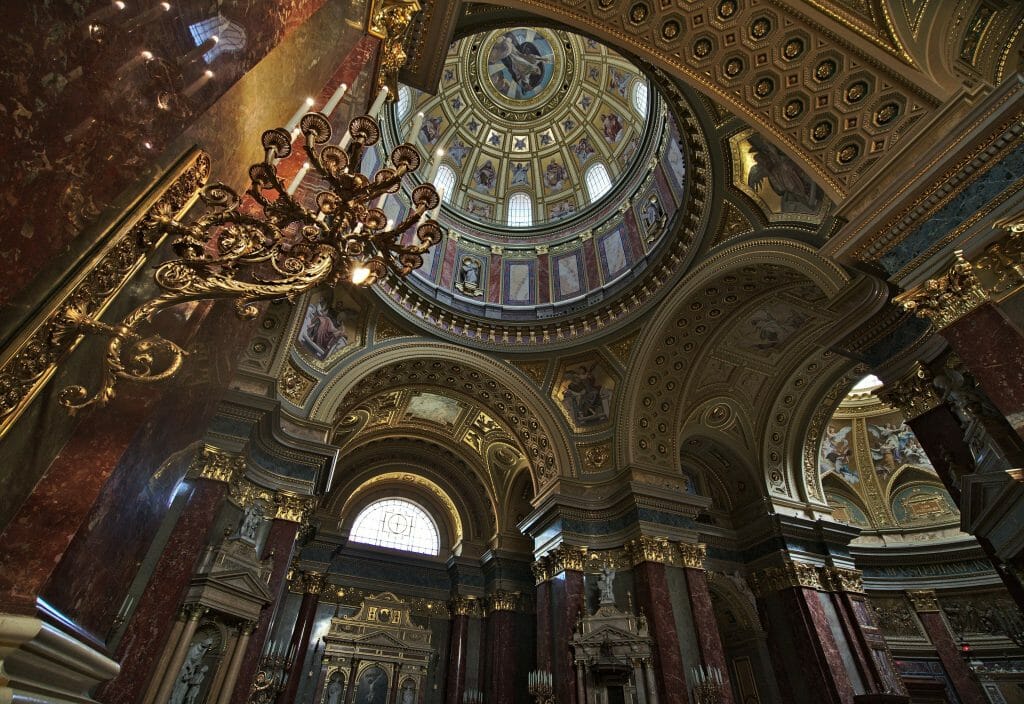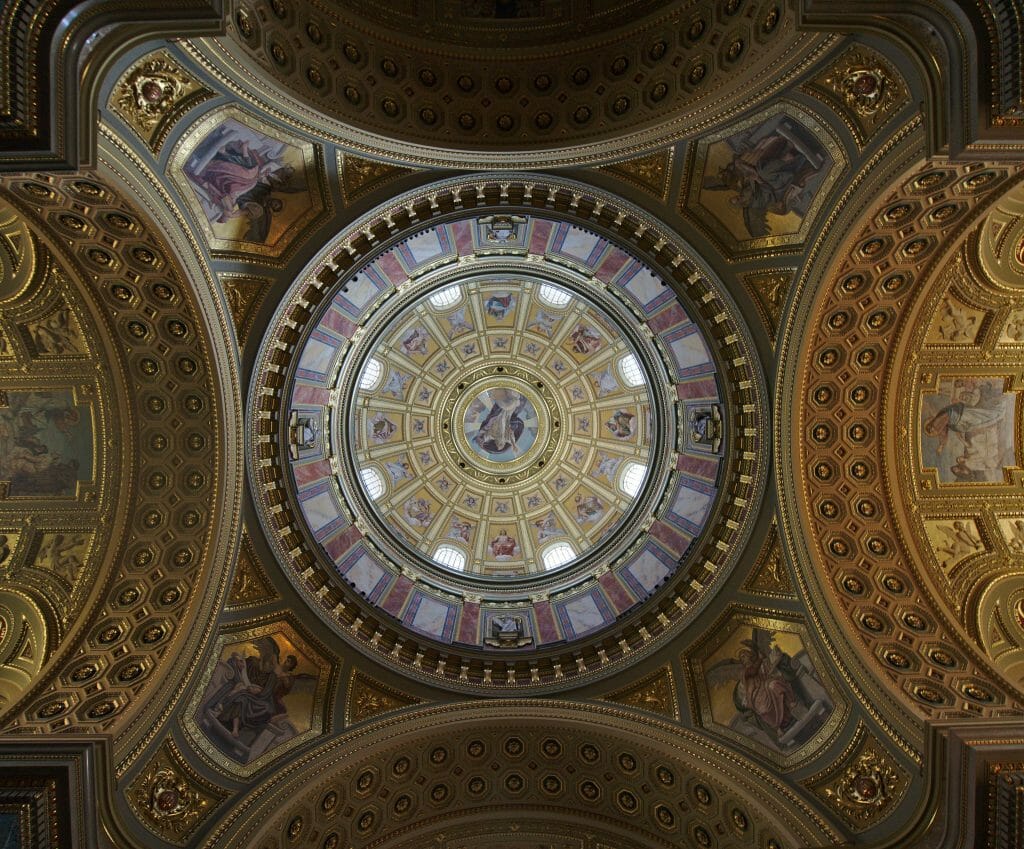 In the heart of Pest is the Basilica of St. Stephen. Impressive in its size from the outside, it is above all its interior that is truly remarkable! Admission is not 100% free (well… it's officially free, but a donation of 200 HUF is strongly encouraged) but believe us, it's really worth taking a look at the decorations and the impressive cupola!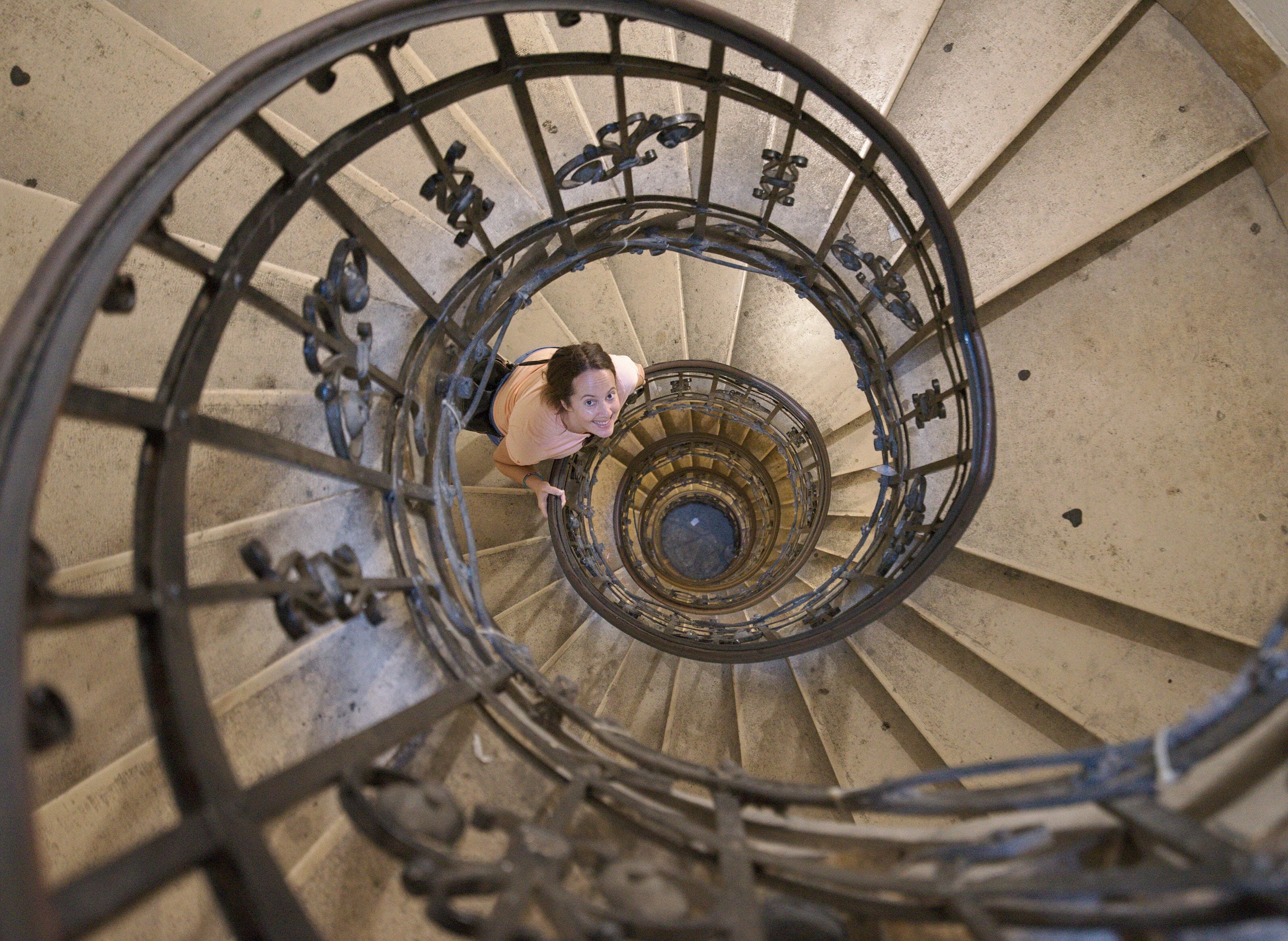 Then, if you want our opinion, its main interest is the fact that we can go up there! Access to the dome costs 1000 HUF but it is well worth it! From there you probably have the most beautiful view of Budapest's city centre. Try to climb on a day when the weather is clear. 🙂
To climb up you can choose between the 354 stairs or take the elevator. If you are in good physical condition, we really encourage you to take the spiral stairs which are very nice (and which seem a little endless at times). 😉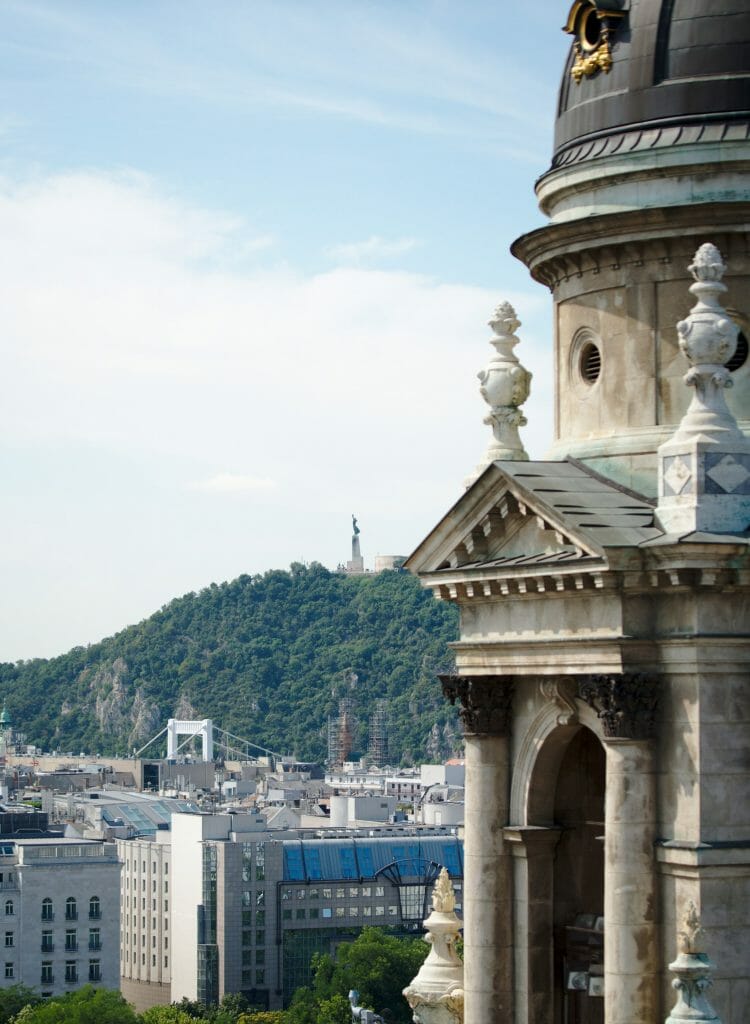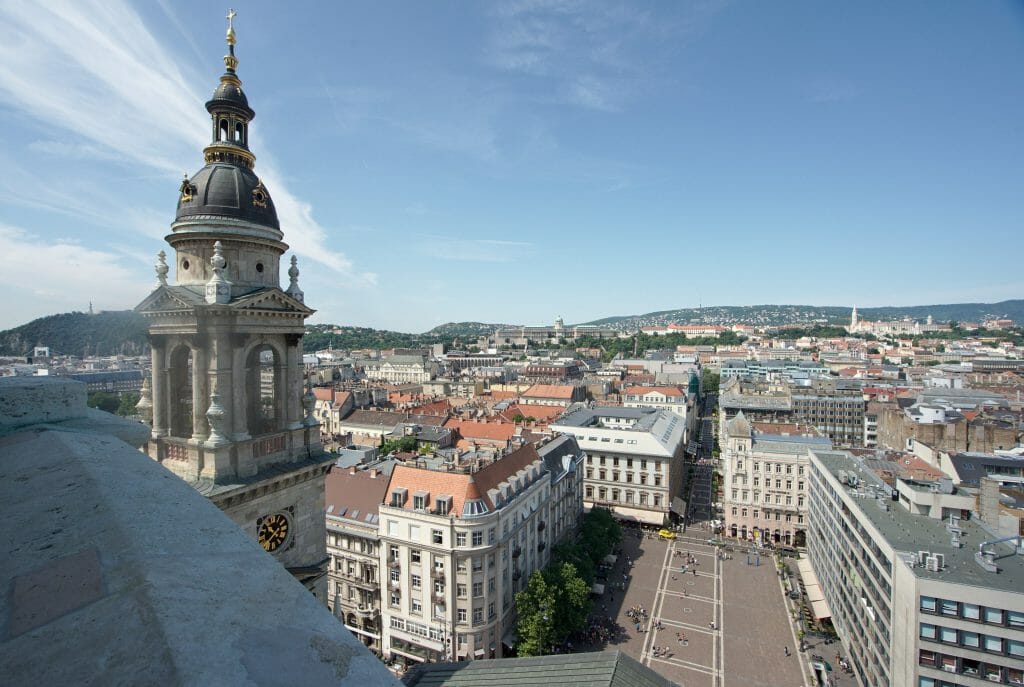 Note: It is also possible to take the tour with a guide to learn more about the site. The tour costs 15€ and is available every day. The duration is approximately 60 minutes.
The Chain Bridge
This bridge, completed in 1849, was the very first bridge to link Buda and Pest and the first bridge in general to cross the Danube in Hungary.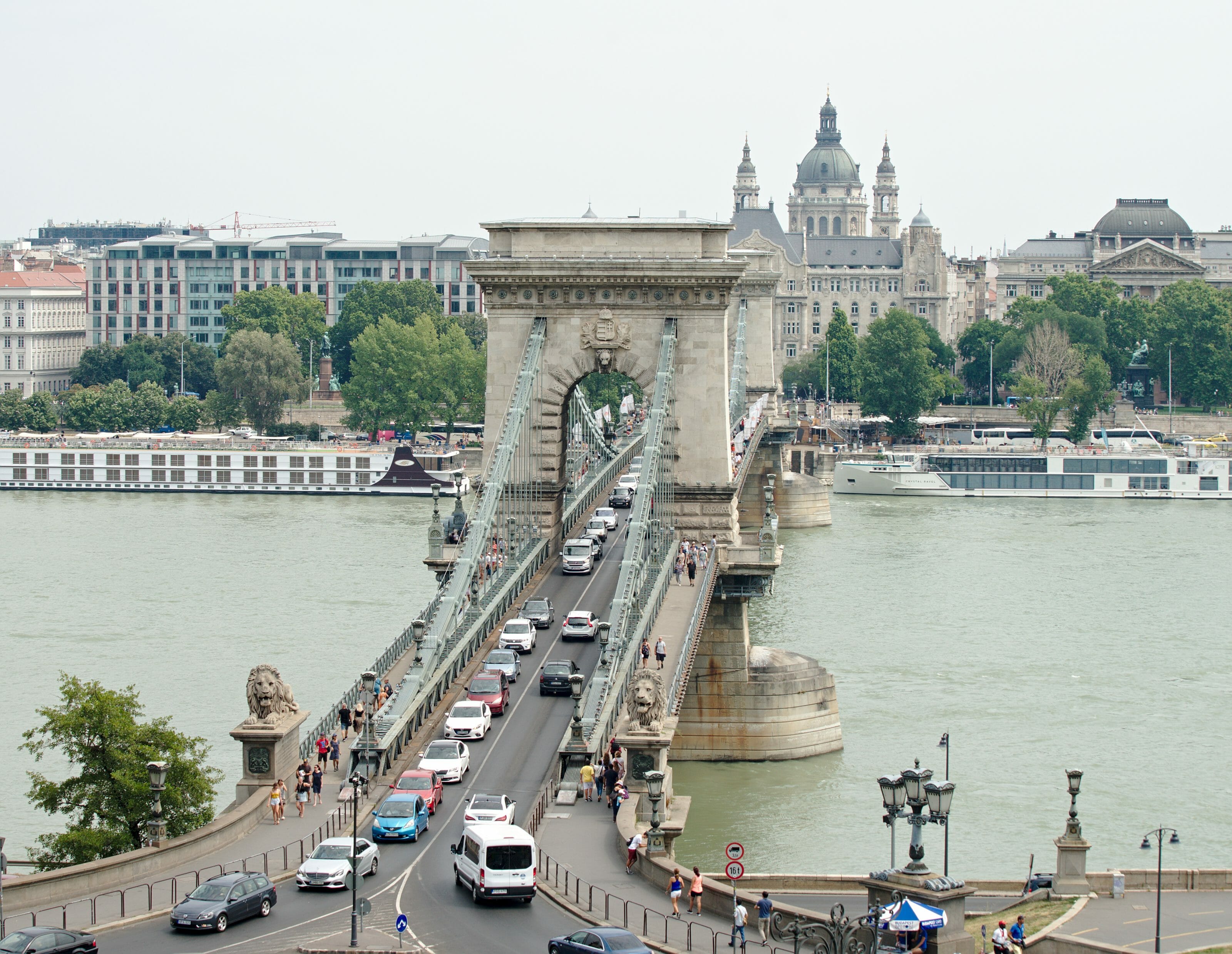 This bridge is accompanied by a very eccentric legend…. On either side of the bridge are 2 sculptures of lions guarding the "entrance". The sculptor of these lions, János Marschalkó, was extremely proud of his work and announced that his lions were perfect reproductions of the real animal (let us not forget that at the time the lion king had not yet been made and that most people had never seen a lion anywhere but in drawing). One day, a little girl walking across the bridge told her mother that lions had no tongues. Soon, the rumour of his tongueless lions spread.
Outraged by the fact that one could believe that his work was imperfect, legend has it that the sculptor killed himself by jumping into the Danube from the bridge.
But this is only a legend, János Marschalkó did not commit suicide… What about the tongues? They are there, but the little girl was just too small to see them.
Budavar Palace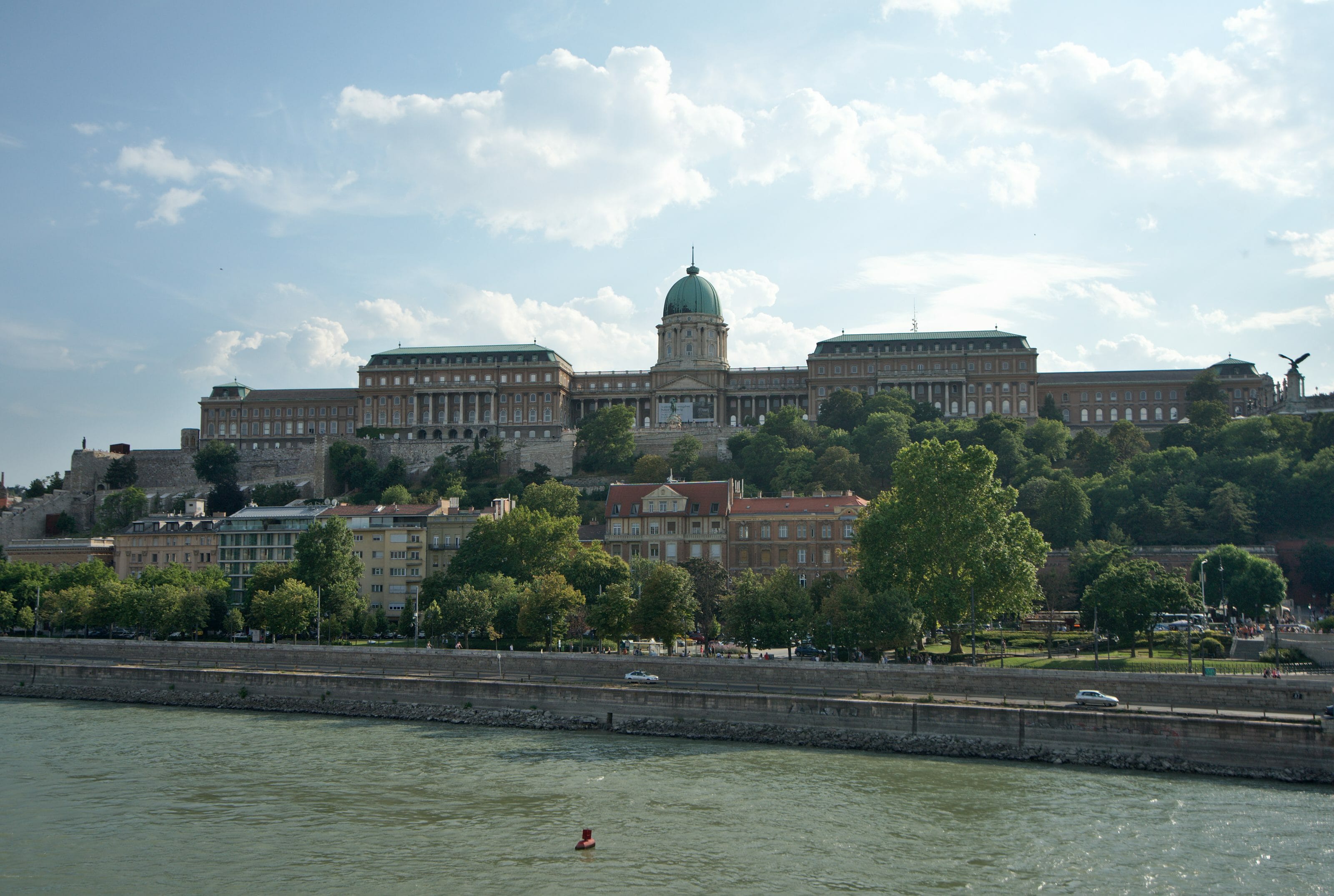 A must in Budapest! Proudly enthroned on its hill, it overlooks the Danube and can be seen from almost anywhere from Pest. The beginnings of this palace were originally built in 1265, although most of it was added during the 18th century. Heavily bombarded during the Second World War, the palace has since been almost completely rebuilt in accordance with the architecture of the time.
The palace cannot be visited strictly speaking, but it is still possible to visit its grounds because 2 museums are located there:
The Hungarian National Gallery: a museum dedicated to the works of Hungarian artists (mainly paintings). Open from Tuesday to Sunday from 10am to 6pm, the entrance fee is 1800 HUF.
Budapest Historical Museum: A museum to learn more about the city's past. Open from Tuesday to Sunday from 10am to 6pm (4pm from November to February). The entrance fee is 2000 HUF.
We personally chose not to visit these museums, but instead we simply took a walk around the palace and enjoyed the pretty view from the esplanade in front of it.
The Fishermen's Bastion
Would this be the most instagrammed place in Budapest???? Perhaps… in any case, judging by the number of selfie sticks I think so… 🙂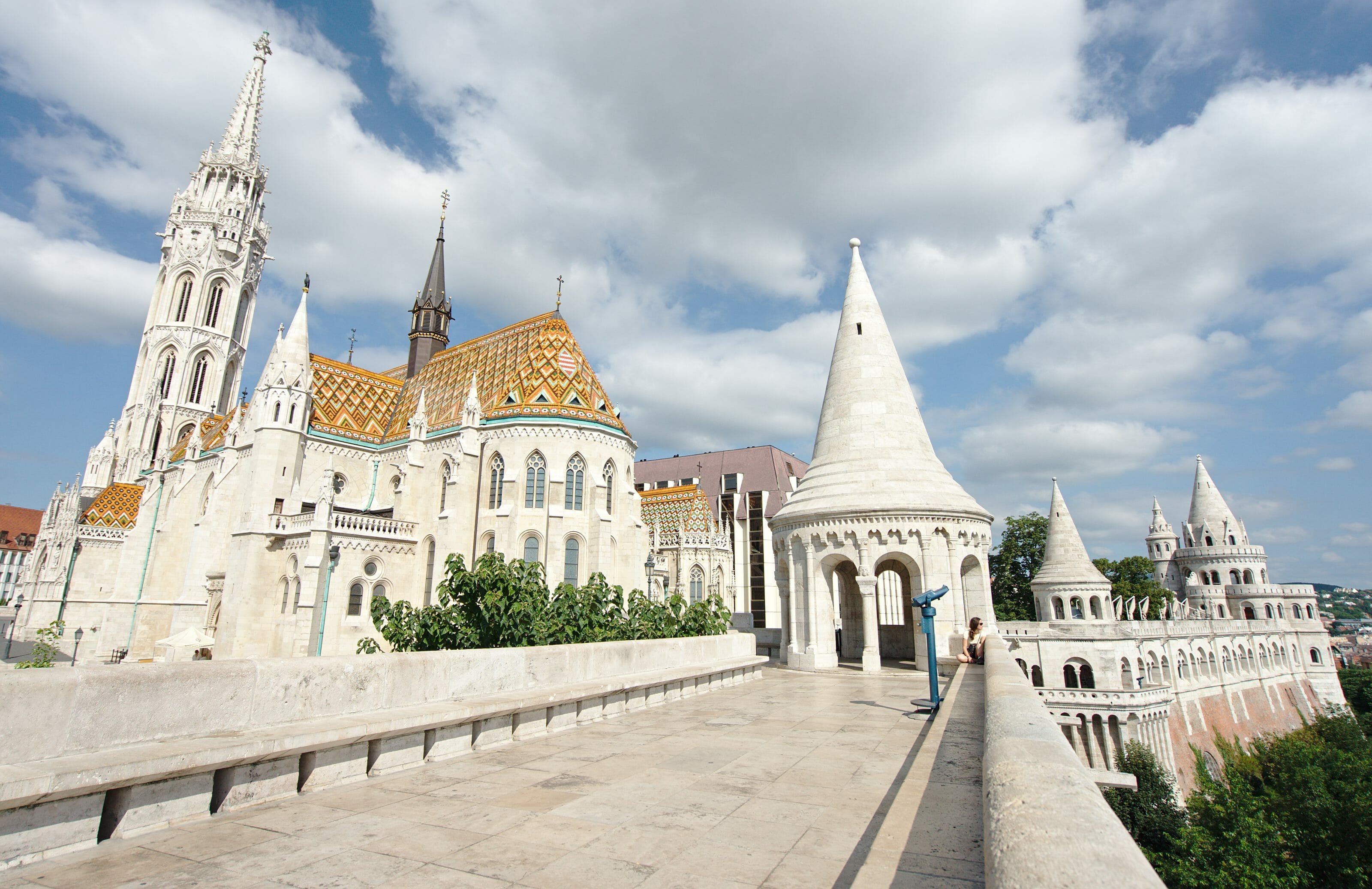 Afterwards, we will gladly admit that this large terrace in a neo-Gothic and neo-Romanesque style has something special! Built in the early 1900s, the fishermen's bastion offers a magnificent view of the Danube, Margaret Island and of course Pest.
In all, there are 7 towers in this area. These refer to the first 7 Magyar tribes (the other name for Hungarians) that settled in the Carpathian basin in the year 895.
However, I warn you, the spot is no secret! It's really crowded in the middle of the tourist season. We came to it at the opening (around 9 am) and were really quiet until around 10am…. From that time on, it's a rush!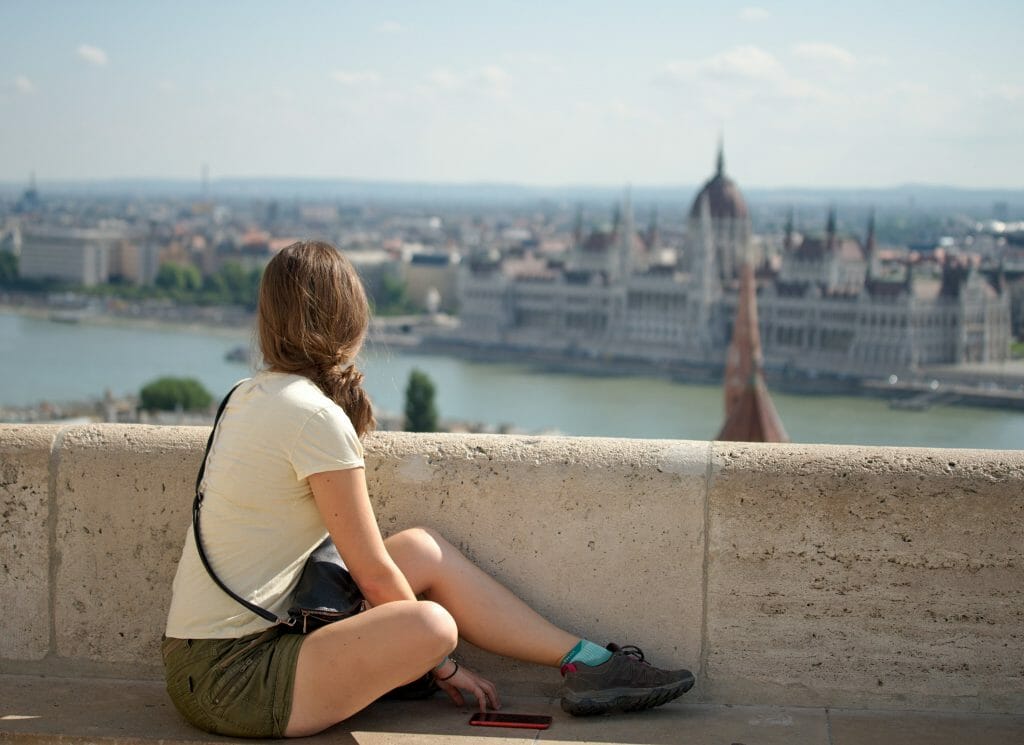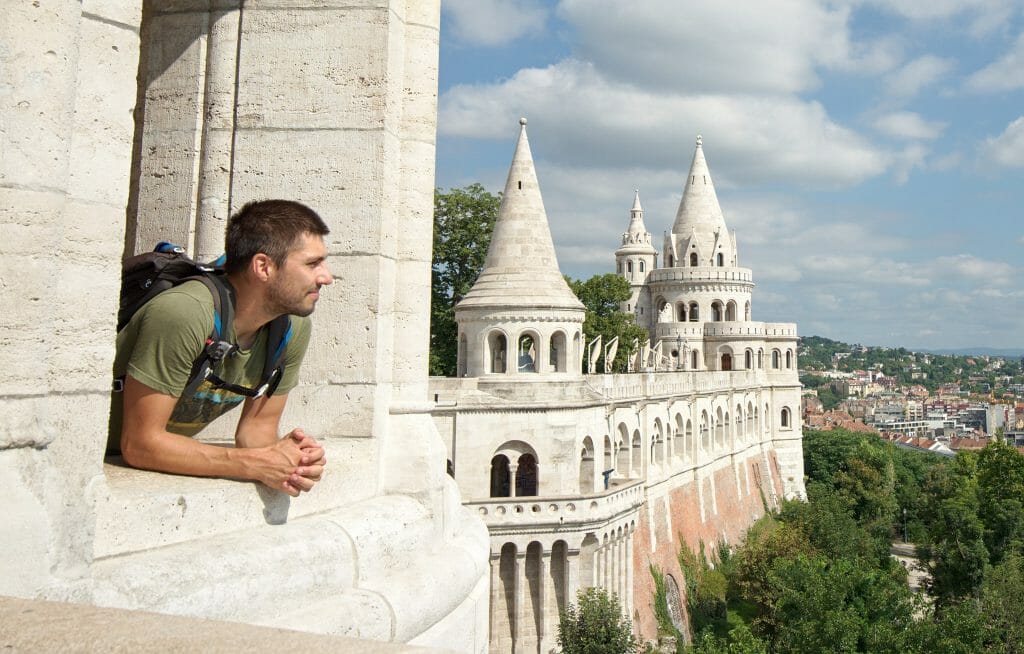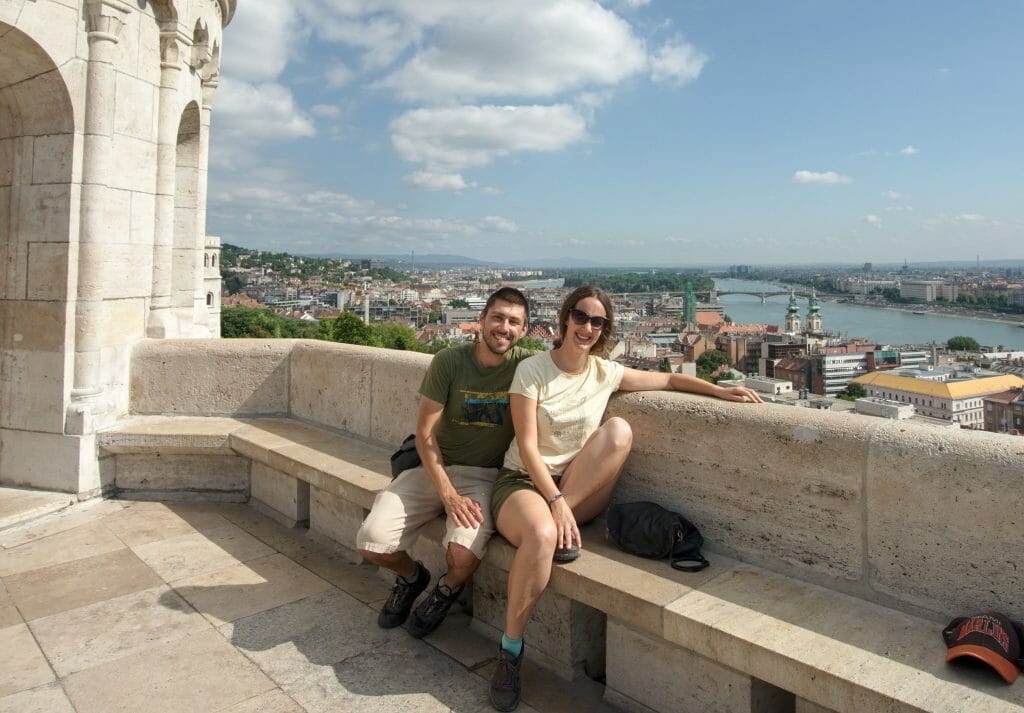 Infos
The fishermen's bastion is on the hill just a little further away than the palace. Access to the bastion is free in itself, but it is possible to pay to climb onto the panoramic terrace.
Opening times: from 9am to 11pm every day
Price: 900 HUF per person
Access: it can be easily reached by foot from the Danube but it is also possible to get here by buse (16, 16A and 116).
Matthias Church (Church of Our Lady of the Assumption of Budavár)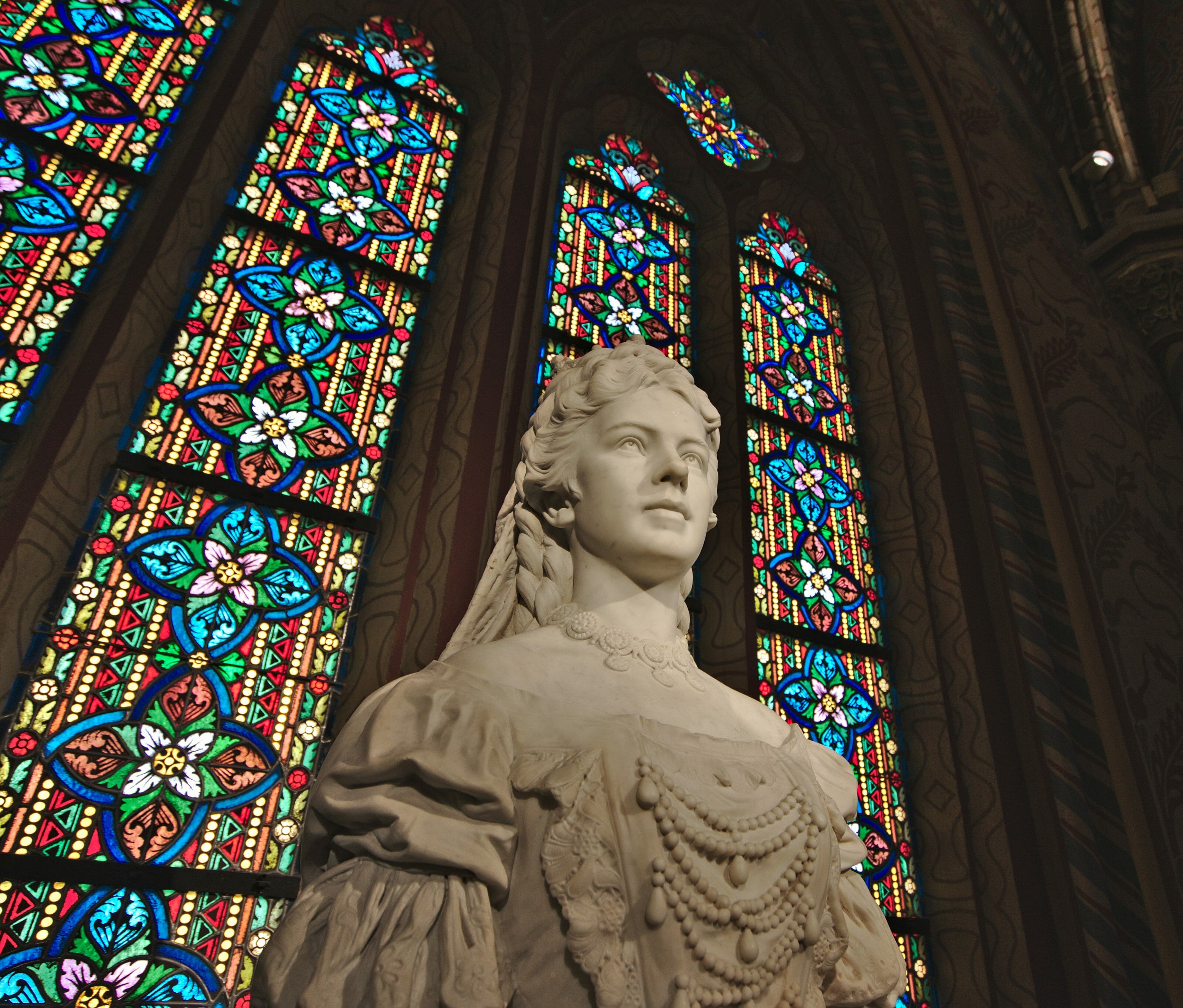 Just next to the Fishermen's Bastion is the Gothic Matthias Church. Built in the 13th century, this church is really remarkable and well worth a look! The interior is ultra impressive and full of small details. A museum is also integrated into the church and it is possible to go up the floors (which we strongly recommend you do).
During our visit it was possible to join a free guided tour (unless I am mistaken, these guided tours are done according to the presence of volunteer guides but I admit I am not 100% sure). Anyway, we found it very interesting!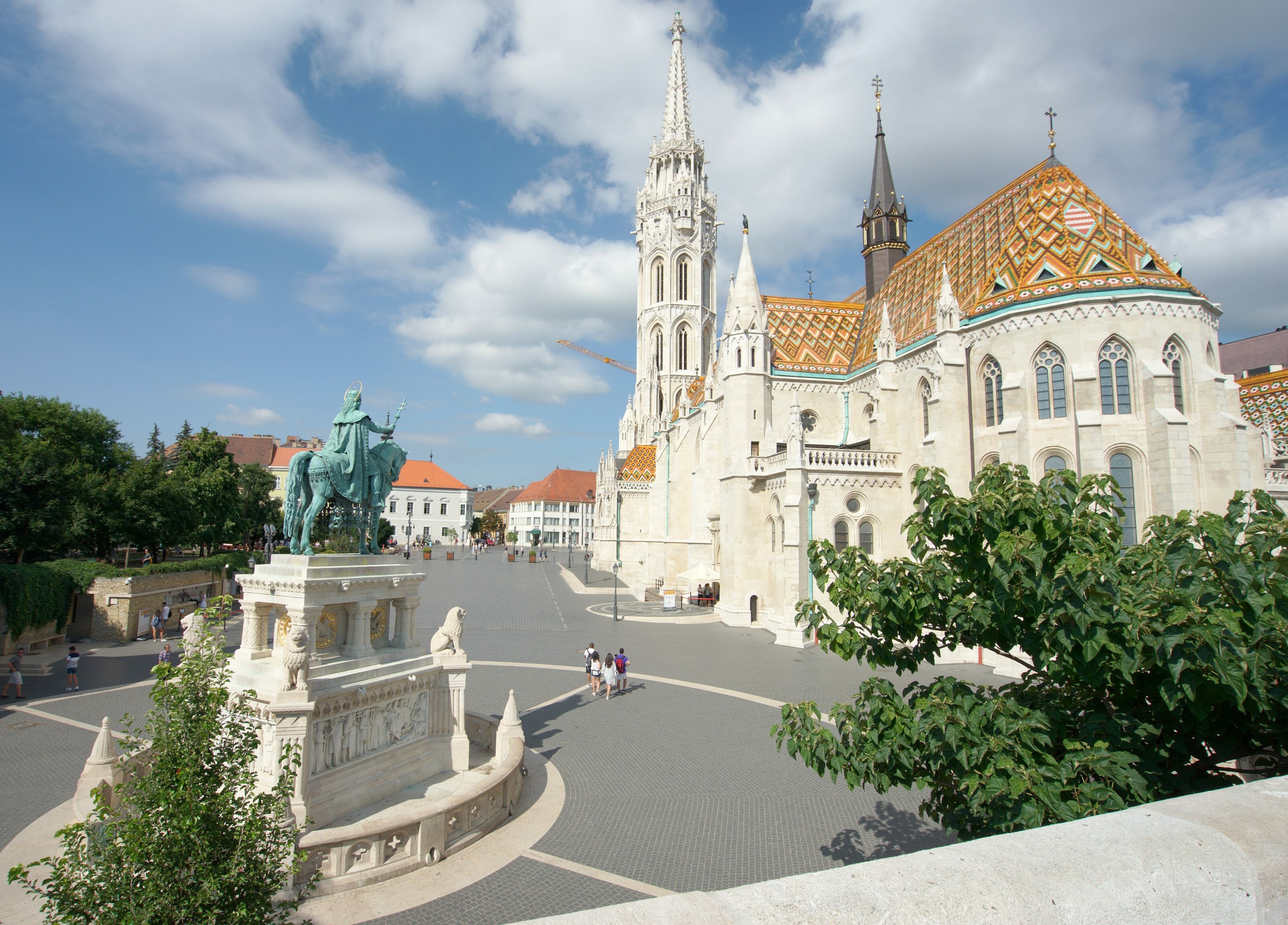 Infos
Admission fee for Matthias church: 1000 HUF per adult.
Opening times:
Monday to Friday: from 9am to 5pm
Saturday: from 9am to 1pm
Sunday: from 1pm to 5pm
But if you want to be sure to have a guided tour, here it is also possible to do it for less than 15€ per person (90 minutes visit). See this guided tour
Tip: Just like the Fishermen's Bastion, this place is really nice and relatively quiet until around 10am (when the buses and tours arrive). We really advise you to come in the morning if you want to enjoy the church "in peace". To illustrate my point, here is a picture taken around 9:20 am (when we arrived in the church) and a second one at around 10:15 am (just before leaving)…;) (Ok one of the pictures is also taken with the right camera and the second one is taken with our rotten smartphone… but you see the idea, don't you?);)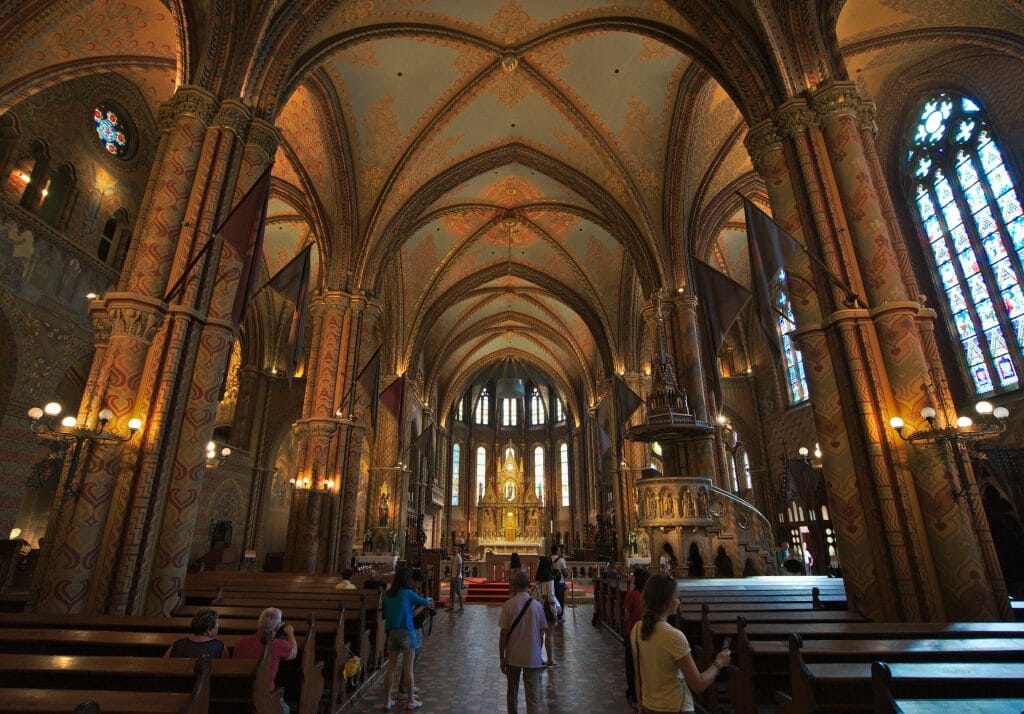 Gellert Hill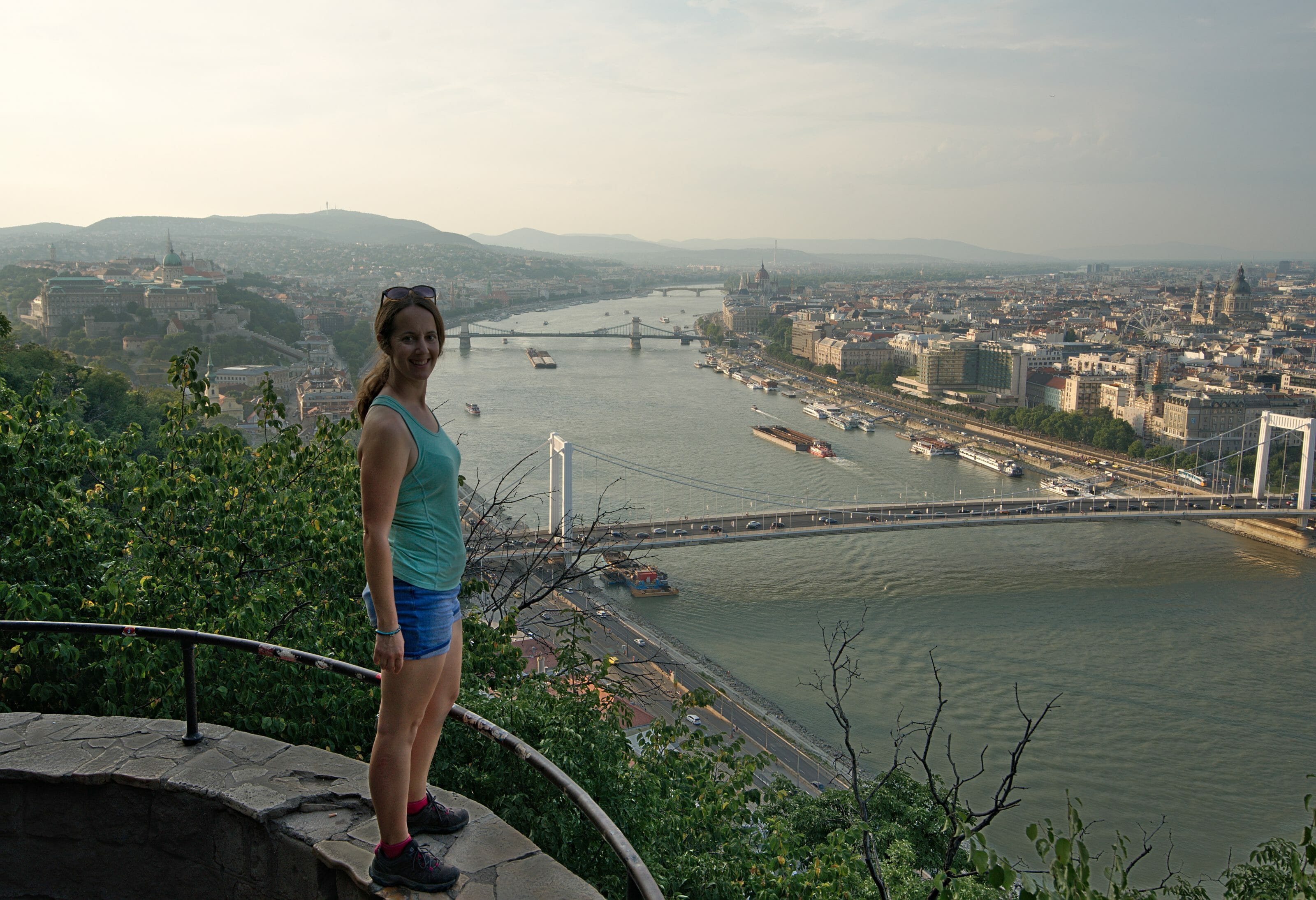 Mount Gellert is probably THE best place in Budapest to enjoy the view! This place which is considered by the locals as being a "mountain" is in reality rather a small hill of barely 230m height… 🙂
It is absolutely possible to get there by car but we strongly recommend that you walk! A trail starts just after the Elizabeth Bridge. The ascent takes about 20 minutes (although it is difficult to estimate because we quickly tend to take many photo breaks at different viewpoints). 😉
At the top of the hill is the Budapest Citadel. From there you have a panoramic view of the Danube, Buda and Pest.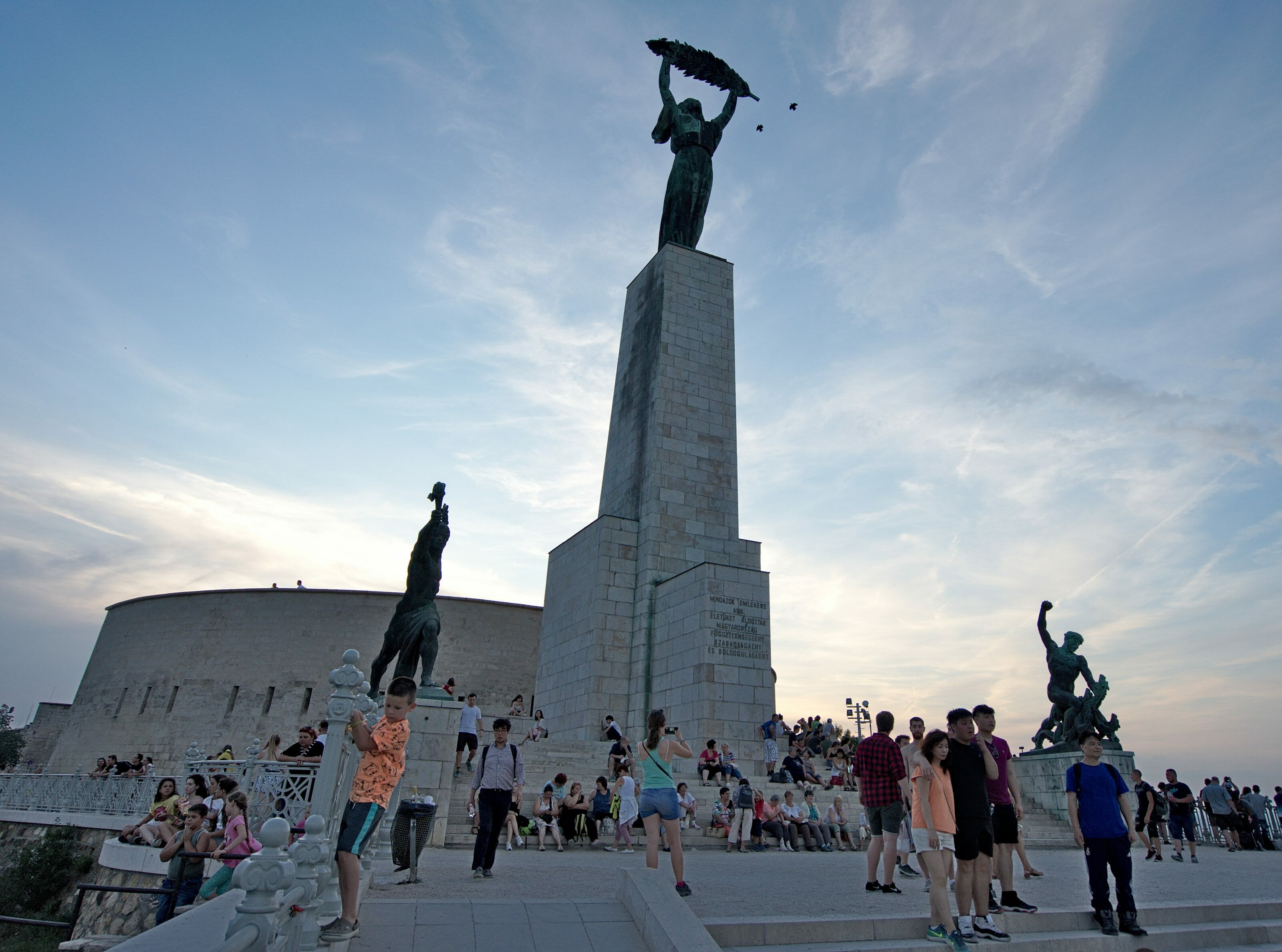 Our advice: Come at the end of the day to admire the sunset! Our best advice? Take a picnic and settle in at one of the many vantage points on the climb. We personally found that the summit was far too crowded and we largely preferred to settle a little below. The view is almost as beautiful, and especially the peace is royal. 😉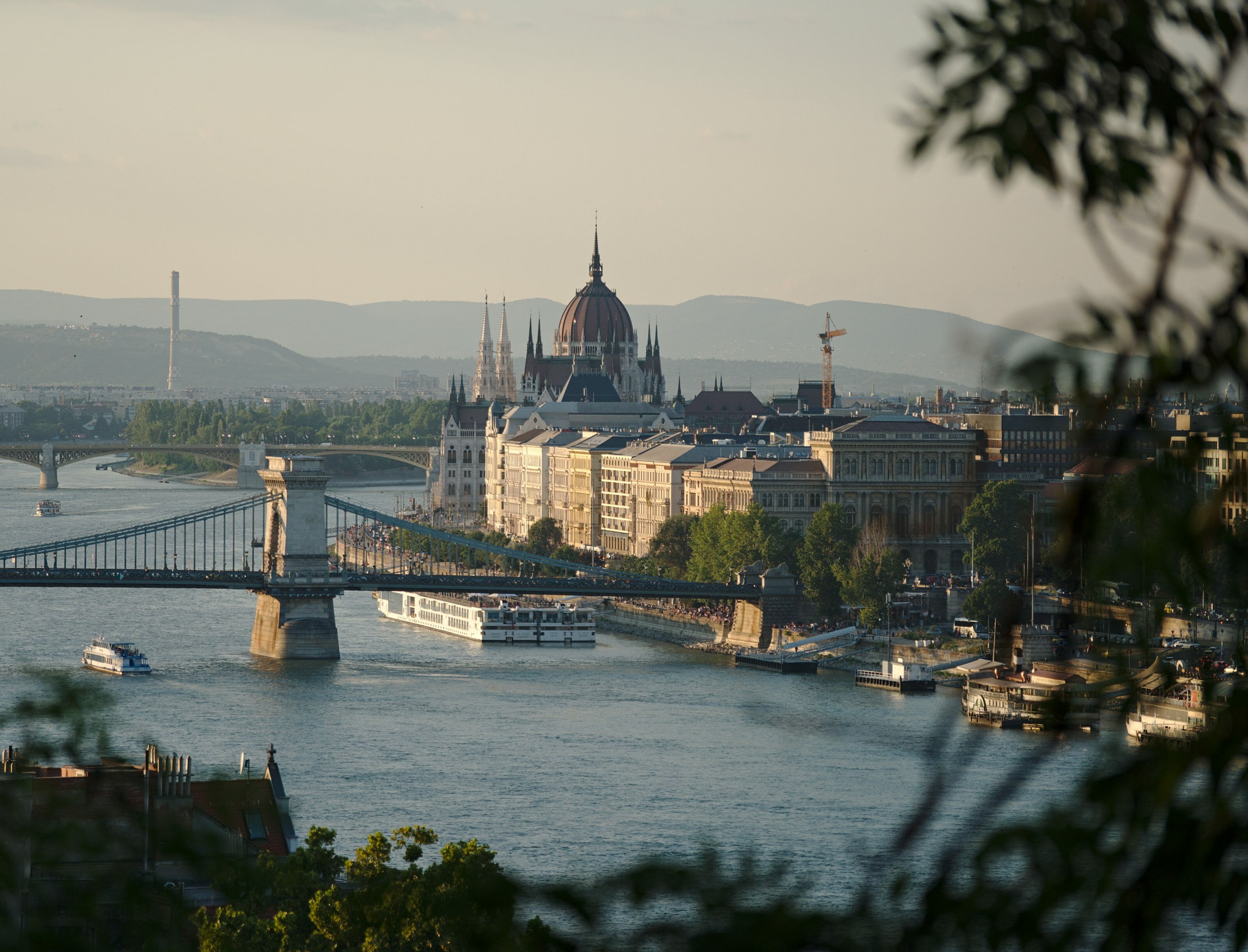 Stroll on Marguerite Island (Margit-sziget)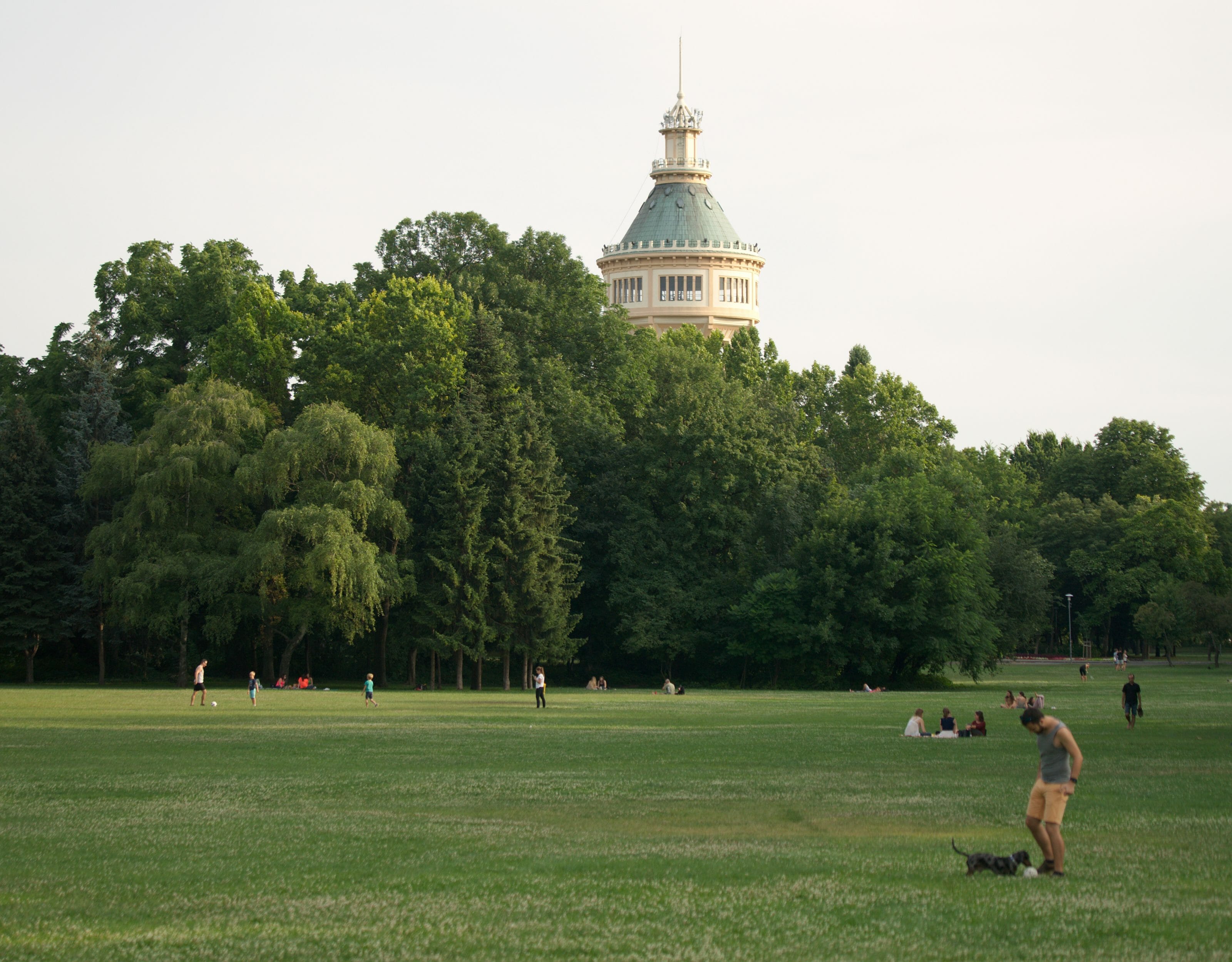 After 4 days of walking around the city centre of Budapest we wanted to come and take a little walk "in the green". Marguerite Island is the perfect place for that! Located on the Danube, just after the parliament, it is a little bit like the city's green lung.
We came here at the end of the day and went around the whole area along the tracks created for jogging. In all, the tour represents a 5.5km walk and it's really very pleasant. During the walk, we also passed through the ruins of an old Dominican convent dating from the 12th century as well as the very pretty Japanese garden.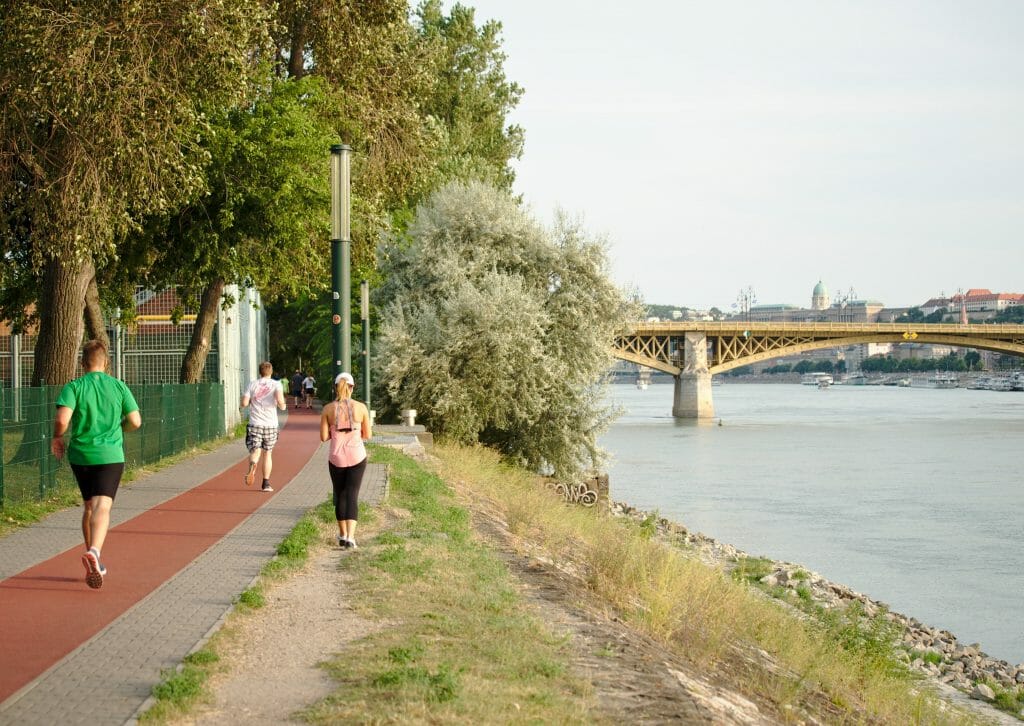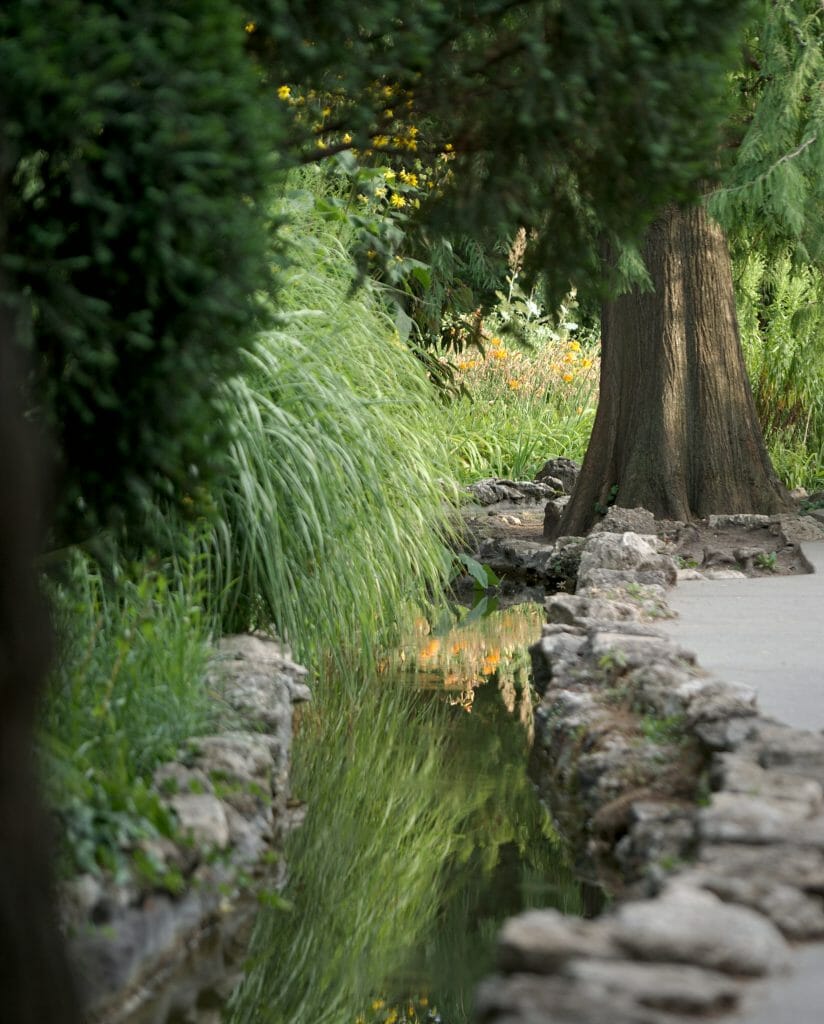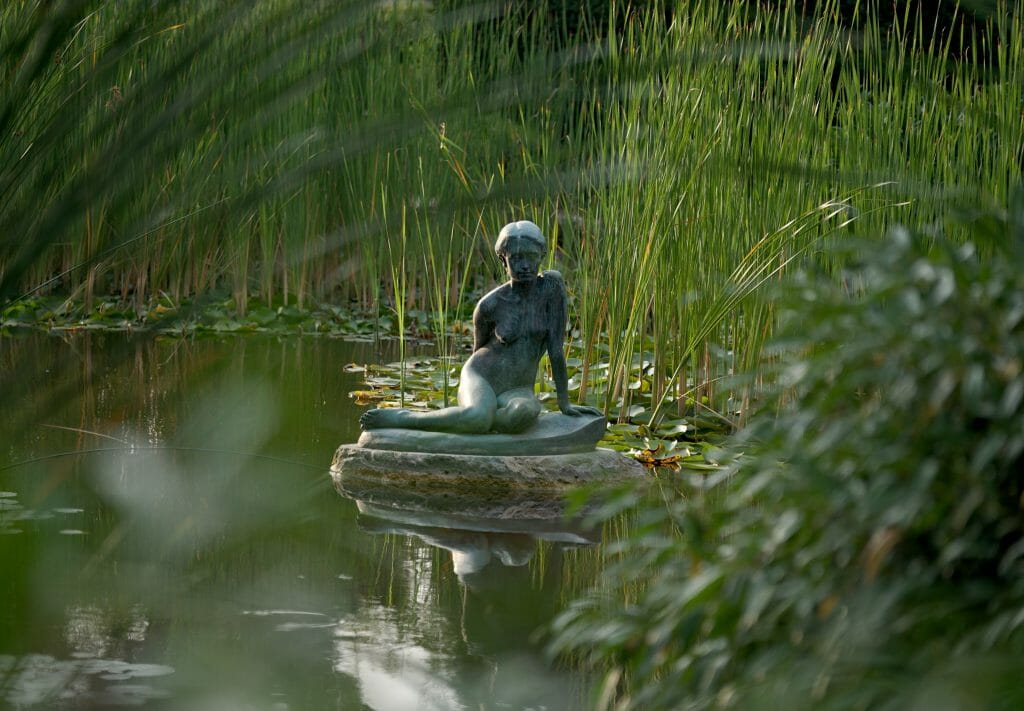 If you come around here, we strongly recommend that you come for a walk at the end of the day when the lights start to fade. For our part we had perfect timing! 😉 The sun wasn't quite down yet and we took advantage of one of the many terraces to have a drink with the last rays before going up on the bridge to admire the sky catch fire.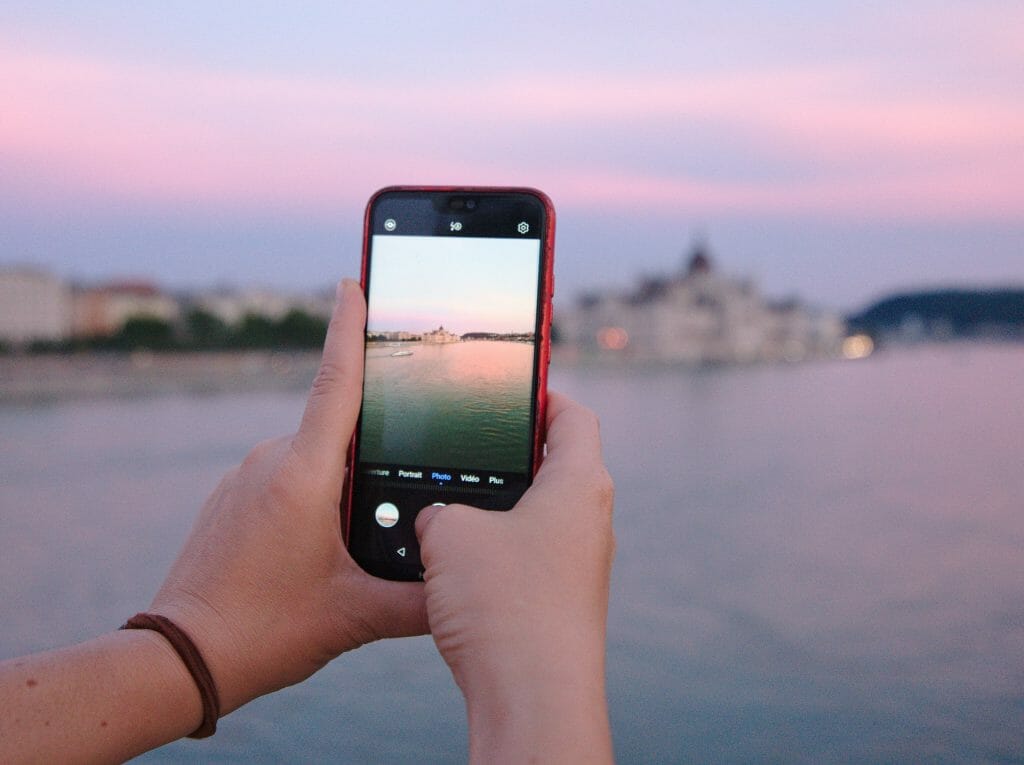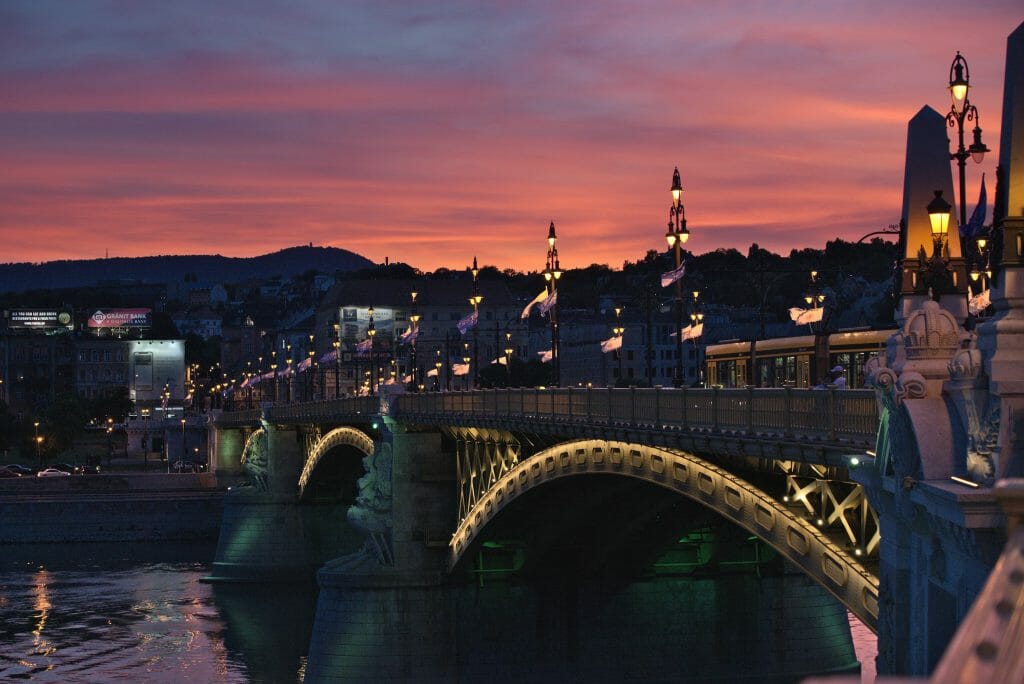 Budapest by night: It's worth it!
After having told you about all these visits, I still wanted to add a short paragraph about the night life in Budapest. So at the risk of disappointing you, I'm not going to talk about clubs (but I'm talking about the nice bars a little further in the article). 😉
Instead? Well, I'd just like to encourage you to take a tour of the city after dark too! Budapest is a sumptuous city that has quite remarkable public lighting on its bridges and buildings!
On the map at the end of the article you will find some of our favorite photo spots. But in the meantime, here are some images that should help you to want to explore the city at nightfall: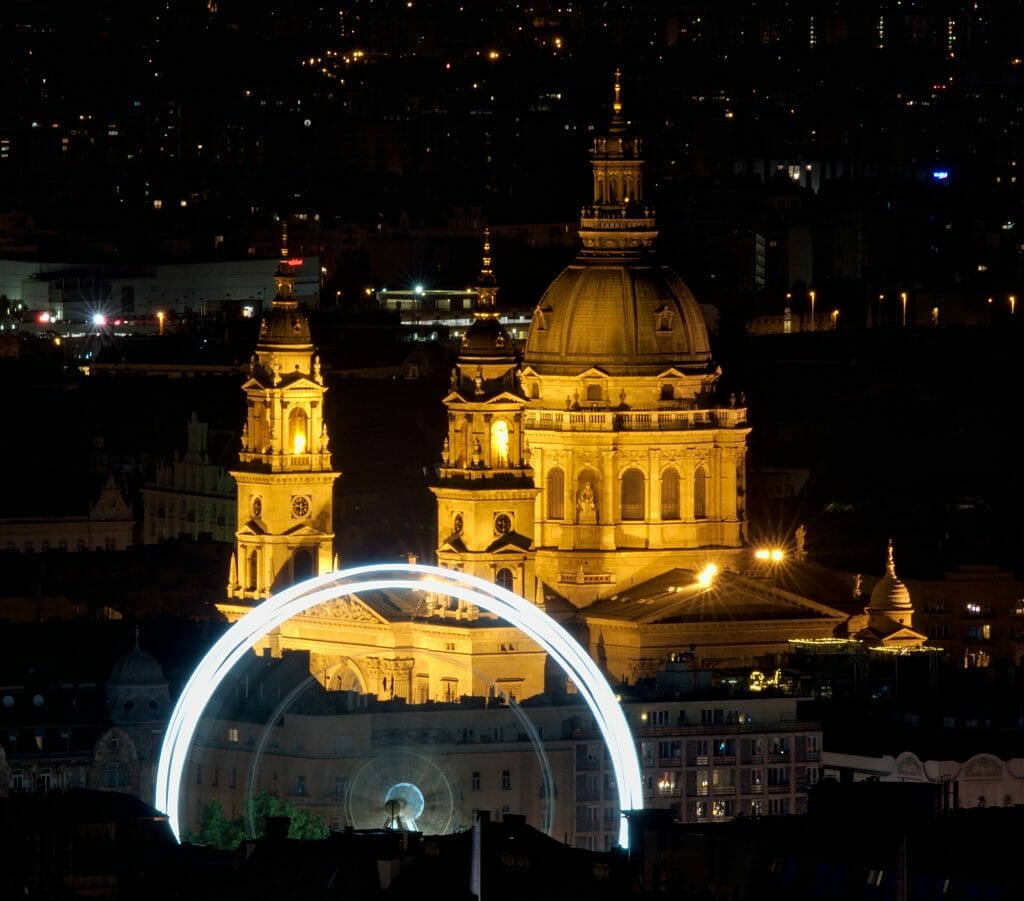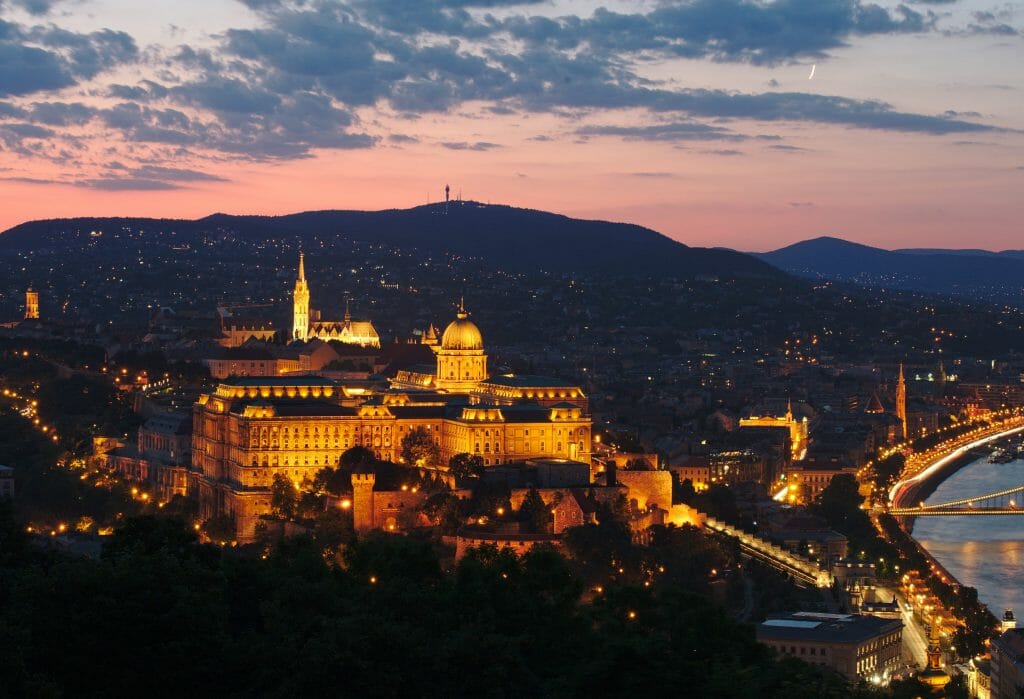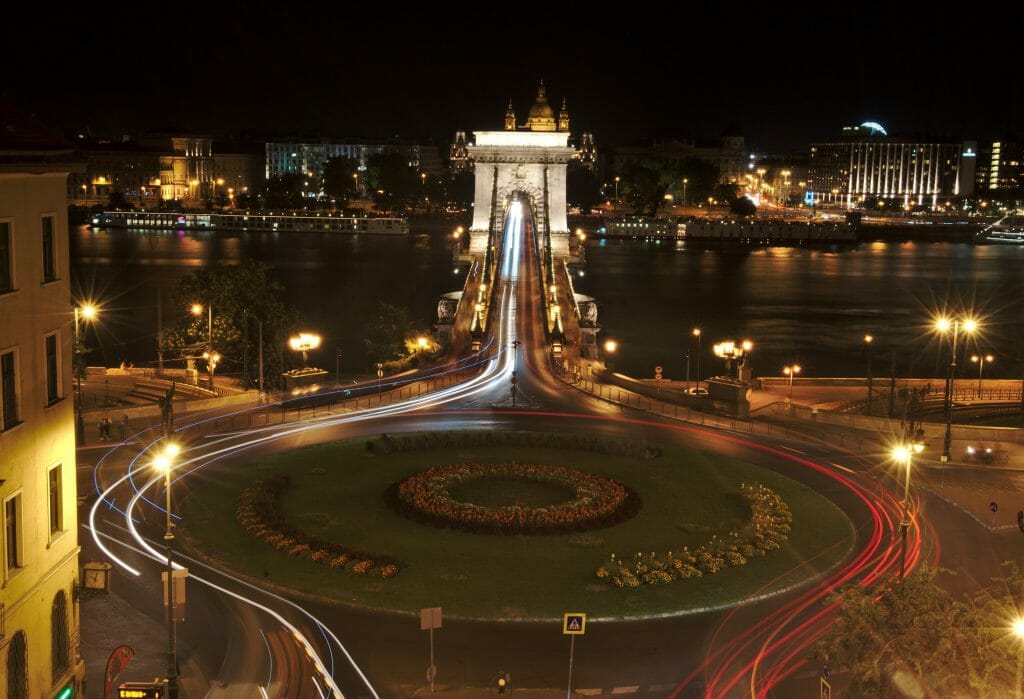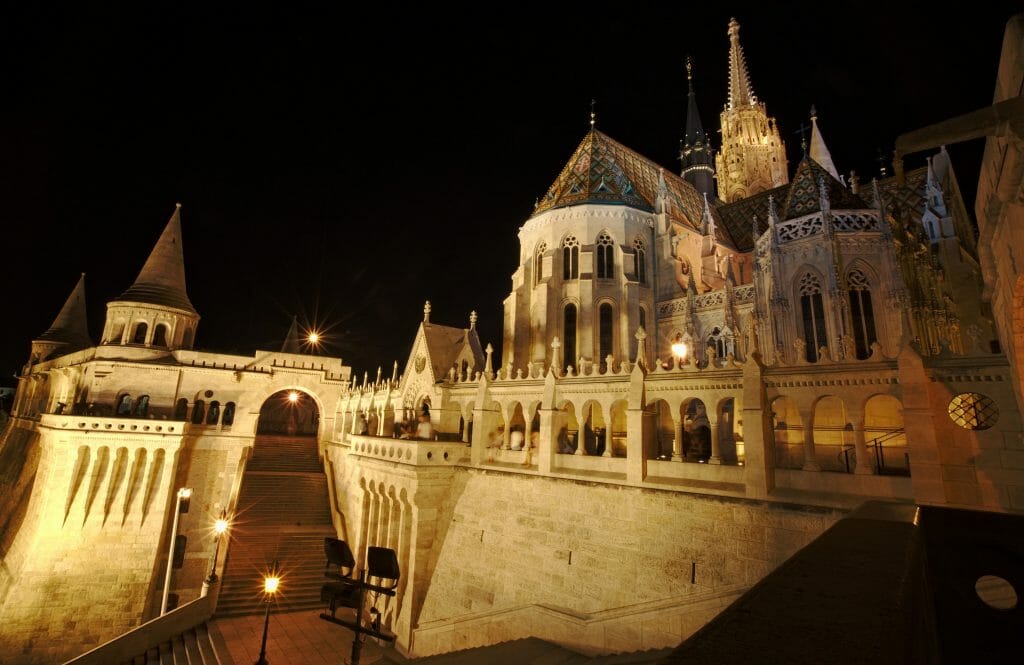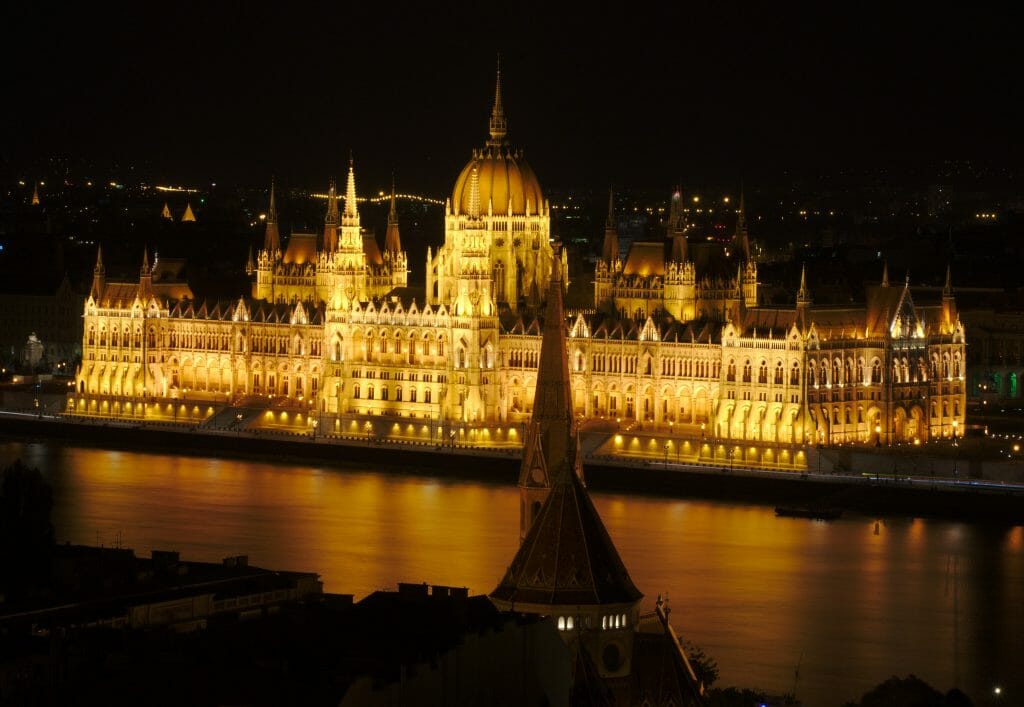 Thermal baths budapest
Budapest is a city that is well known for its thermal baths! There are more than 125 thermal springs under the city, so it is as much to say that the baths are not missing. I must admit that it will be difficult to tell you how many there are in total…. But clearly more than 12 different ones. Some baths, such as Széchenyi and Gelert are visited mainly by tourists, while others, such as Rudas, are more popular with the locals (although it is obviously possible to go there as a tourist too). However, you should know that Rudas is not 100% mixed. The steam baths are only accessible to men on Mondays, Wednesdays, Thursdays and Fridays. Women have access on Tuesdays and weekends (weekends are mixed and bathing suits are mandatory).
During our visit to Budapest we stopped by to "see" the baths, but we decided not to go swimming there. We were there in the middle of a heat wave and high tourist season. Personally, I wasn't particularly inclined to go soak in hot water at more than 30°C ambient temperature. 😉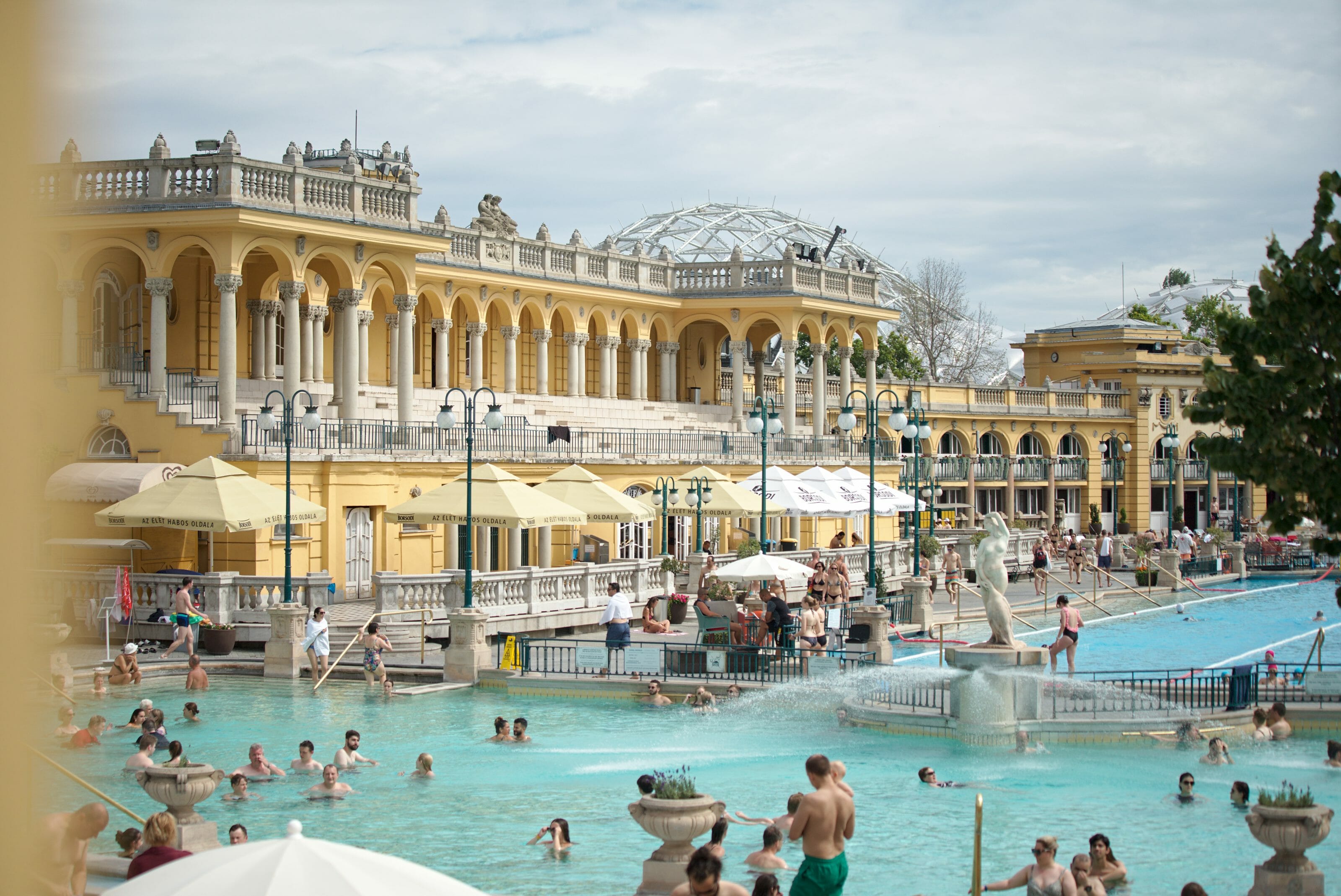 The Széchenyi Baths
These are probably the most famous baths and they are really beautiful! They are located near Vajdahunyad Castle and Heroes Square. If you go to the west entrance (where you can buy tickets) you can see the inside through the window. That's where we took the picture above.
The entrance fee for the baths is 5500 HUF during the week (17€) and 5700 HUF on weekends (17,5€). Buy online here
Otherwise, these baths are also very well known for the evenings that take place every Saturday evening… Club atmosphere in the thermal baths. We haven't tested it, but if you want to know more, it's over here.

The Gellert Baths
We came to these baths on my school trip and it's funny because I still remember it! At that time the baths had gender separed spaces and thus women were separated from men. This has not been the case since 2013 and the entire complex is now mixed. The Gellert baths are best known for their unique Art Nouveau architecture.
The entrance to the Gellert baths costs 6800 HUF (21€). Buy online here
The Nagycsarnok covered market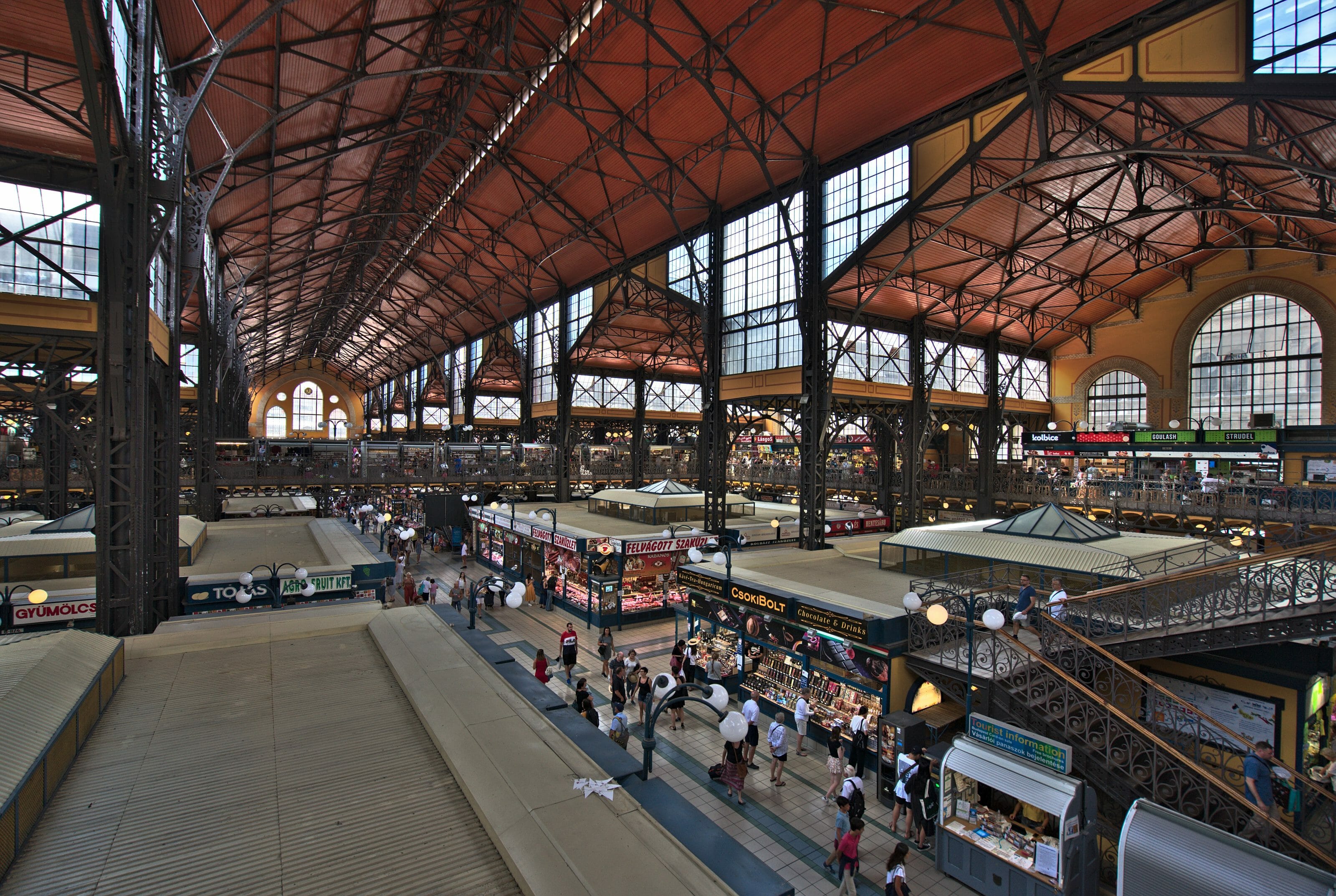 The Nagycsarnok covered market is a very nice place to visit too! It was inaugurated in 1897 and has a very characteristic architecture with a wrought iron structure with rivets. This structure is very similar to that of the Eiffel Tower and we can read on several blogs that the market hall was created by Mr. Gustave Eiffel… I'm sorry to disappoint you, but that's not the case! The architect who designed this impressive 10,000m2 building is actually Smu Pecz, a Hungarian architect.
Gustave Eiffel did indeed pass through Budapest in his career and he built the Budapest-Nyugati station (the western station), but not the central market. 😉
The Market Hall consists of 3 floors. It is on the ground floor that we think the most interesting part is located: dozens and dozens of fruit and vegetable stands and endless paprika!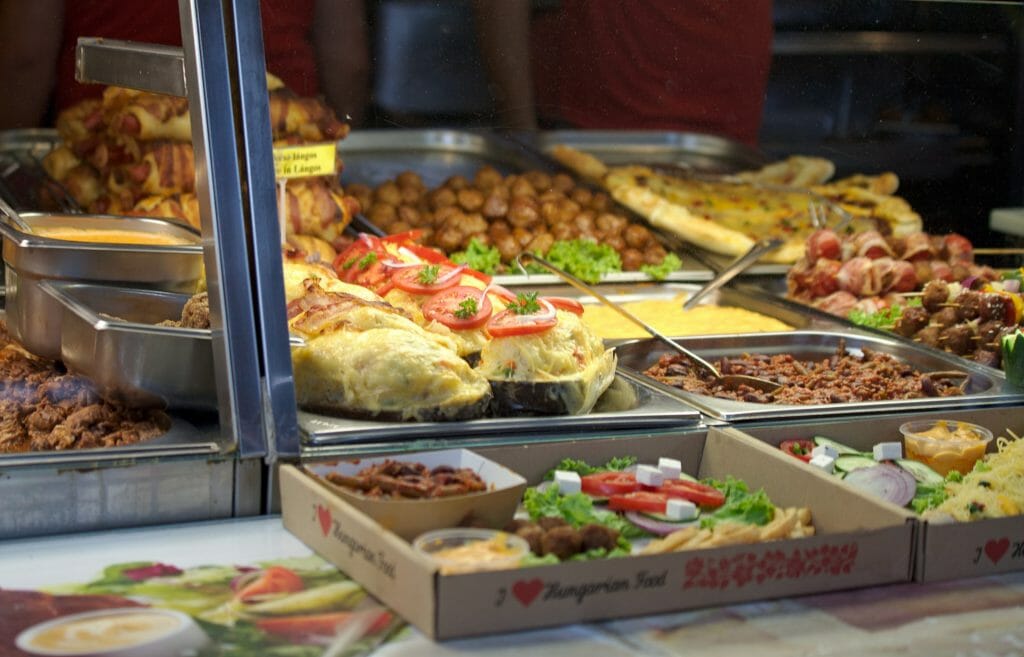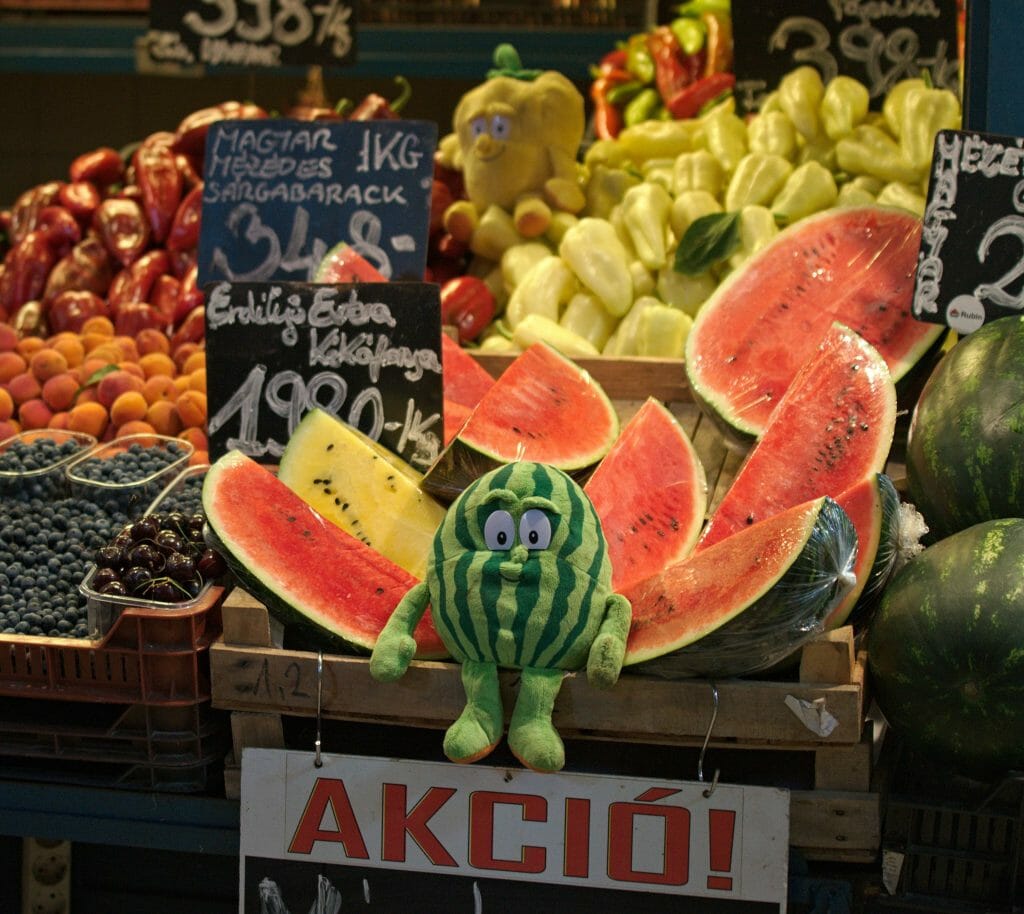 On the upper floor there are some restaurants serving Hungarian food as well as souvenir shops of little interest.
The Opening times of the covered market in Budapest:
Monday: 6am to 5pm
Tuesday to Friday: 6am to 6pm
Saturday: 6am to 3pm
Sunday: closed!
See more activities to do in Budapest on GetyourGuide
Going out and eating in Budapest
Where to eat in Budapest?
We will admit that our list of restaurants will be quite short. To tell you the truth, we are really not gourmets and Budapest has not really been an exception to the rule. We often tend not to do research upfront and simply stop "at random" to eat a little something when we are hungry.
In Budapest we still tasted the famous Langos – fried dough covered with cheese… Honestly? We didn't particularly like it… The taste is not bad in itself, but you still have the impression of swallowing frying oil covered with cheese. 😉
In the 7th district there are two street food areas that are nice! Karavan Street Food where you can find food from all over the world. A little further on is another food court with only vegan food trucks. We found this second one nicer and less "crowded".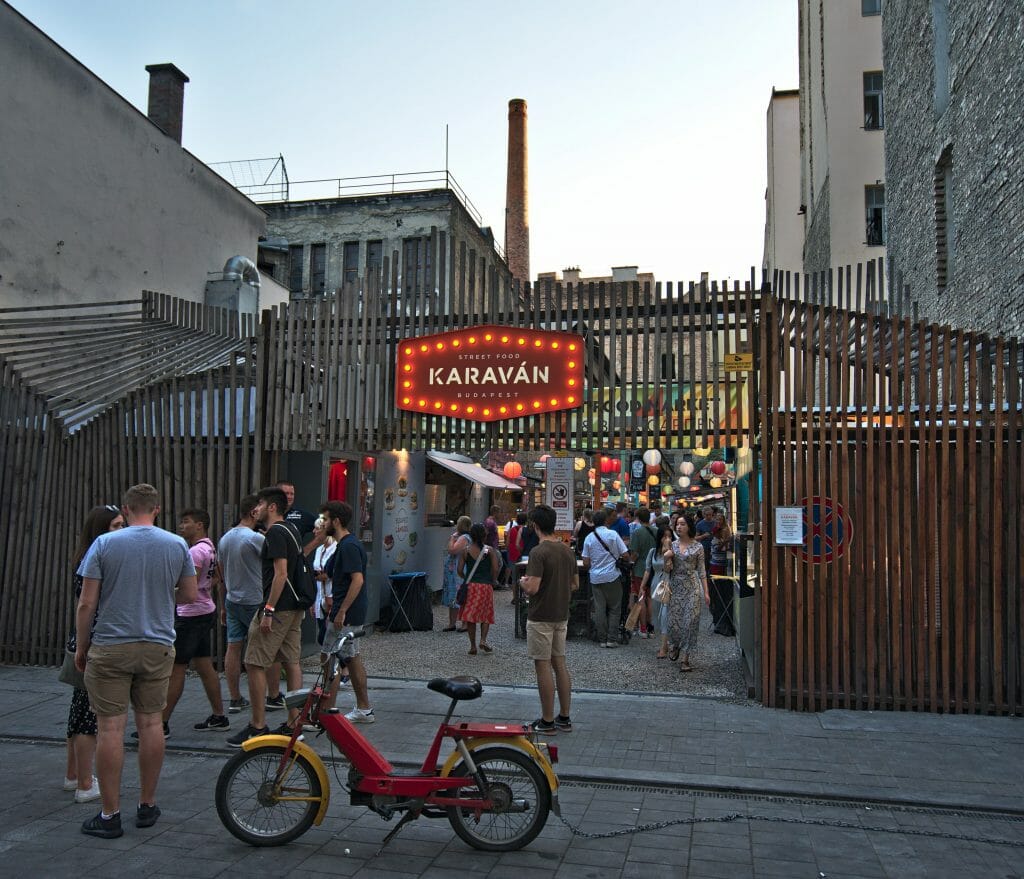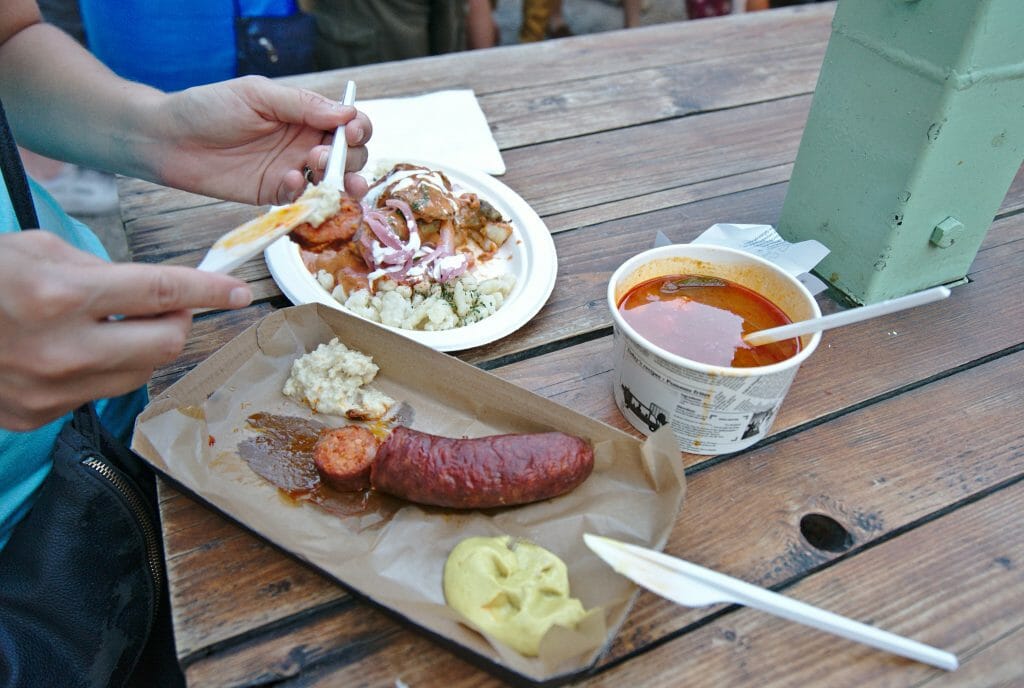 Otherwise another great place to taste some specialities is the covered market we were talking about above!
Where to have a drink in Budapest?
So as much as we are not the finest gourmets, so much for the aperitif you can always count on us! 🙂 Seriously, we didn't go out to Budapest to "party", so at this level we're not going to be able to help you… But, we were still in some nice bars that are worth a look!
The For Sale Pub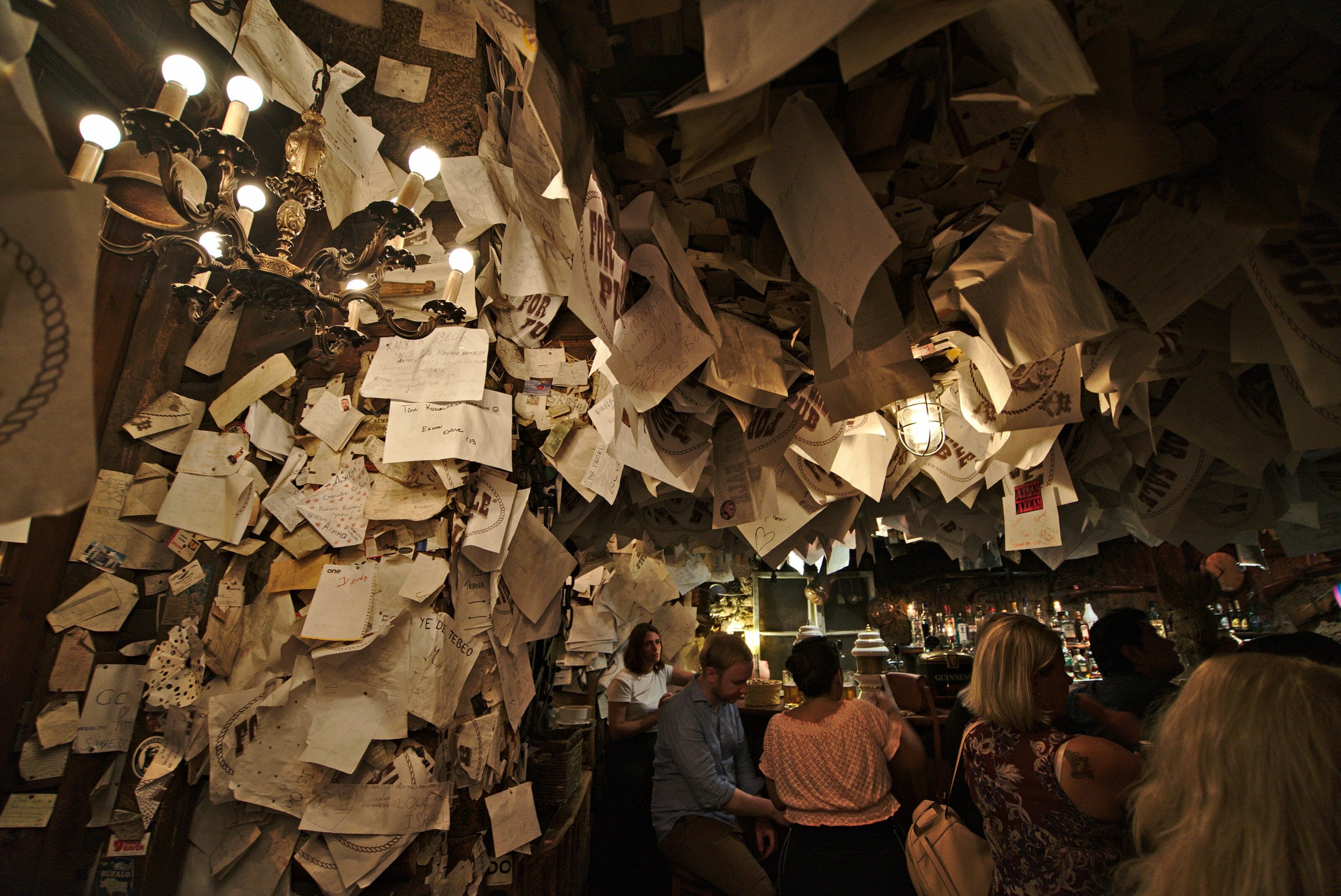 A really atypical place! The decoration? Tens of thousands of pieces of paper with words from many travellers on all walls! The floor is covered with straw and on each table there are peanuts (to peel) and the idea is to throw the shells on the ground. Does that sound weird? It's a good thing it is! 🙂 This pub is really original! You can come here just for a drink (which we did) but it is also possible to eat there. We didn't try the food, but the dishes we saw pass by made us want to!
Go to a Ruin Bar in Budapest
We were strongly recommended to go through a Ruin Bar. The most famous, and the one we went to, was the Szimpla Kert. We went there on a Saturday evening and the least we can do is to say that the atmosphere was festive. But more than the atmosphere, it is really the place that is unique! Frankly, go have a look, if only to see the place… It's offbeat, weird as hell, but totally remarkable as a place too. A word of advice: don't limit yourself to the main courtyard, but go around and to the upper floor too!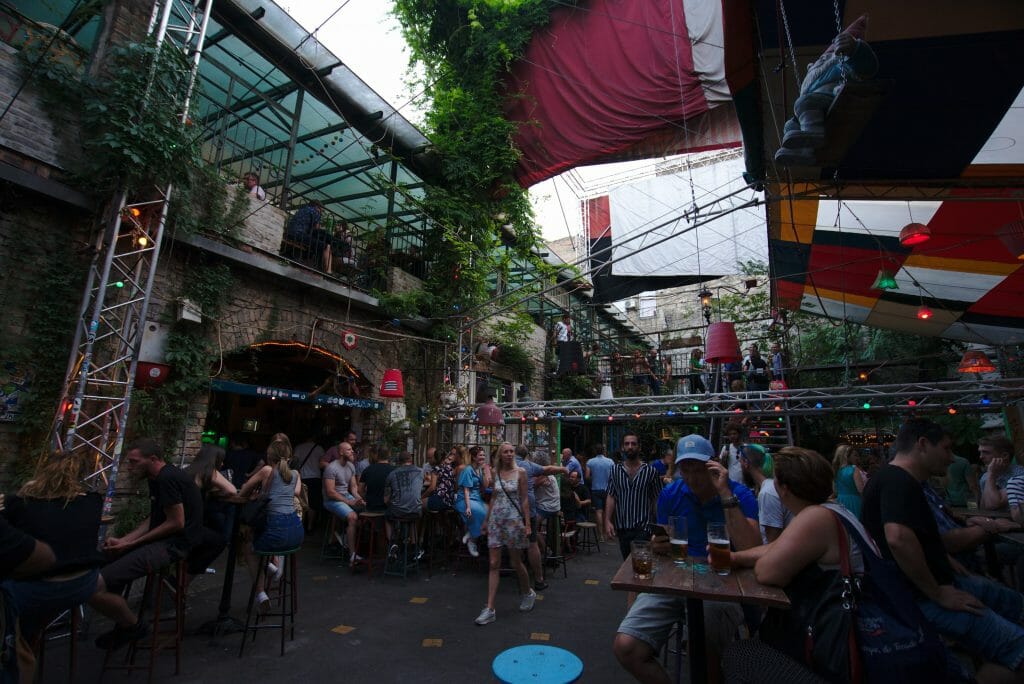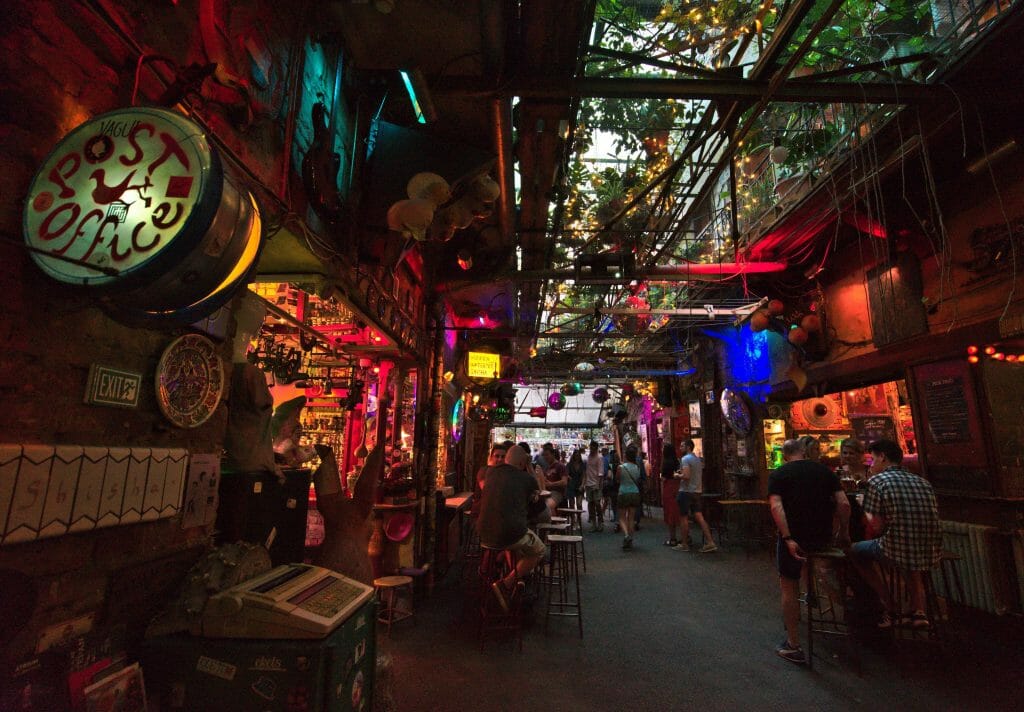 A cocktail bar in the 7th arrondissement – Le Jardin
The bar is located in a passage between the buildings and the atmosphere is very pleasant. It's less "noisy" than in the ruin Bar and the atmosphere is more cosy (are we already talking like old people????)
Cocktails are relatively expensive (count 12€ per cocktail), but they are really excellent!
A Cafe to work in Budapest
On our last day in Budapest we had our bus early in the evening and had to leave our accommodation for 10am. Having already visited a lot, we decided to opt for a day's work and we headed for a lovely coffee that was perfect for a quiet day's work.
We chose Kelet Café. A very good atmosphere and an ideal place to settle in with your computer. Wifi works well, the coffee is excellent and at lunch time they have salads or homemade soups that are very good! Their Facebook page
Address: Bartók Béla út 29
Getting there: get off at the Móricz Zsigmond körtér stop on Metro line N°4 or at the Gárdonyi tér tram stop (lines 19,41,47,48,49,56 or buses 907 or 973).
Our map of Budapest
To help you find your way around, we have placed all the points of interest mentioned in this article on the map below.
Note: it is possible to sort the pins by categories (things to see, where to eat, where to have a drink, etc…). To filter, open the menu at the top left of the map.
Useful information to visit Budapest
Getting to Budapest
To get to Budapest there are many options! 🙂 Located in the heart of Europe, it is easy to reach by plane, train or bus (and even by boat if you arrive on the Danube). 😉
Flights to Budapest are often relatively cheap. Direct flights start at around 40€-50€. To find a flight you are advised as usual to take a look at Skyscanner and compare departure dates and airports.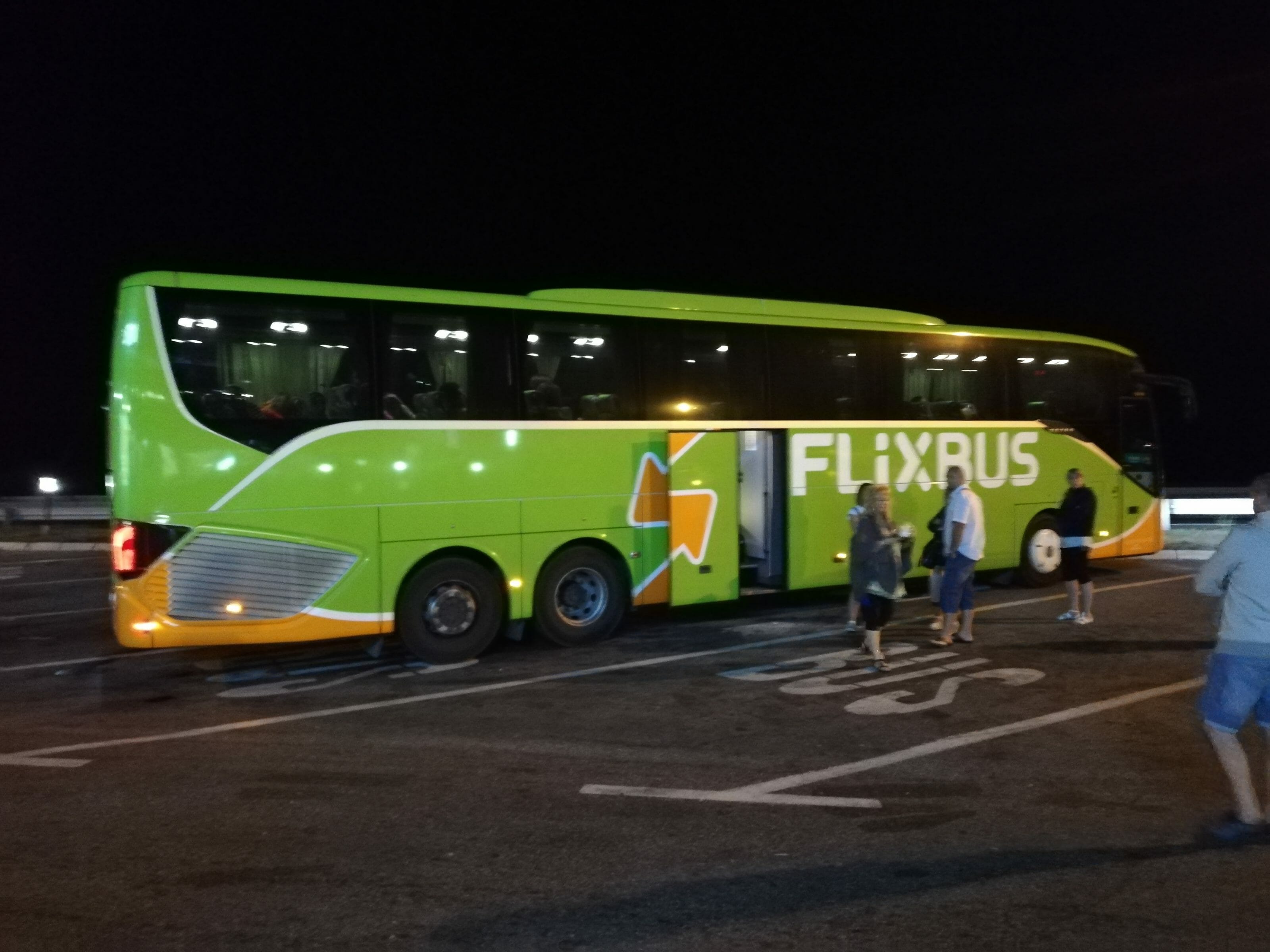 For our part, we have chosen to come by bus. For some time now we have been really trying to limit our flights to distant destinations and islands. If a destination can be reached by land within a "reasonable" time, then the bus or train is preferred.
To come to Budapest we therefore took a Flixbus. We bought the pass Interflix before our departure and this allows us to make 5 trips in Europe for 99€.
Our journeys during this trip:
Lausanne – Zagreb: 15h30
Zagreb – Budapest: 4h30
Budapest – Sofia: 13h
Sofia – Vienna : 15h
Vienna – ??? (Probably Zurich but we haven't decided yet)
By the way, are you interested in an article on this pass? This is the first time we've taken a pass and our experience is mixed. There is some very good but also some problems. 😉
Where to stay Budapest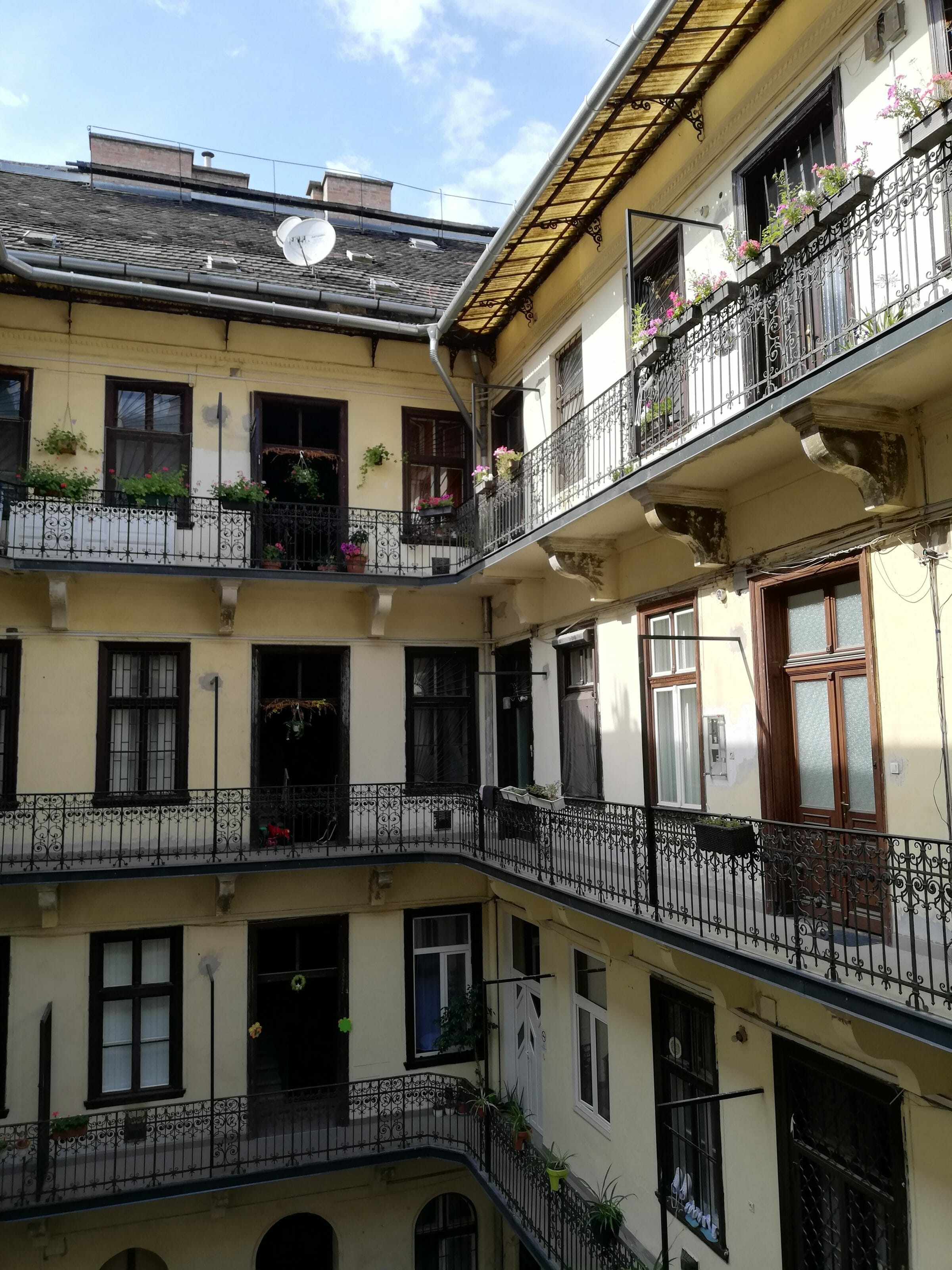 In cities, we generally like to rent apartments. This was also what we had done in Tallinn, Riga or Zagreb. The problem? We arrived in Budapest in the middle of the high tourist season and the prices of the airbnb were crazy (and incidentally we were, as usual, not especially in advance to make our reservation). Less than a week before our trip, we finally decided to opt for a slightly "hybrid" solution. On Booking we found an apartment; some kind of shared flat run like a hotel. Everyone has their own private room with a table and chairs and a fridge. The bathrooms, kitchen, washing machine and a common area are to be shared with the other guests.
In the end, we were delighted with this choice. The night came back to us at 26€ and the apartment was really nice! Ultra clean, a very well equipped kitchen and very respectful "roommates". The location was great too. We were 2 minutes walk from the Keleti Pályaudvar metro station where lines 2 and 4 pass.
Unfortunately, it seems this property is no longer listed… But there are plenty of other options on Booking!
Otherwise, more generally: if you are looking for accommodation in Budapest, it is recommended that you stay either in the Jewish Quarter (7th district) or near a metro station. The network is really good in Budapest and you can move very easily and quickly if you are not far from a station.
Compare between hotels and apartment prices on the map below (Use the filters and dates to refine your search):
Getting around Budapest
Moreover, let us talk about transport. In Budapest there are mainly 3 modes of transport:
The métro: 4 lines more or less grid the center. Metros circulate VERY regularly (we have never waited more than 2-3 minutes)
The trams: slower but still very convenient! Tram number 2 is very scenic because it runs along the Danube.
The buses: there are really some everywhere and in every direction! 🙂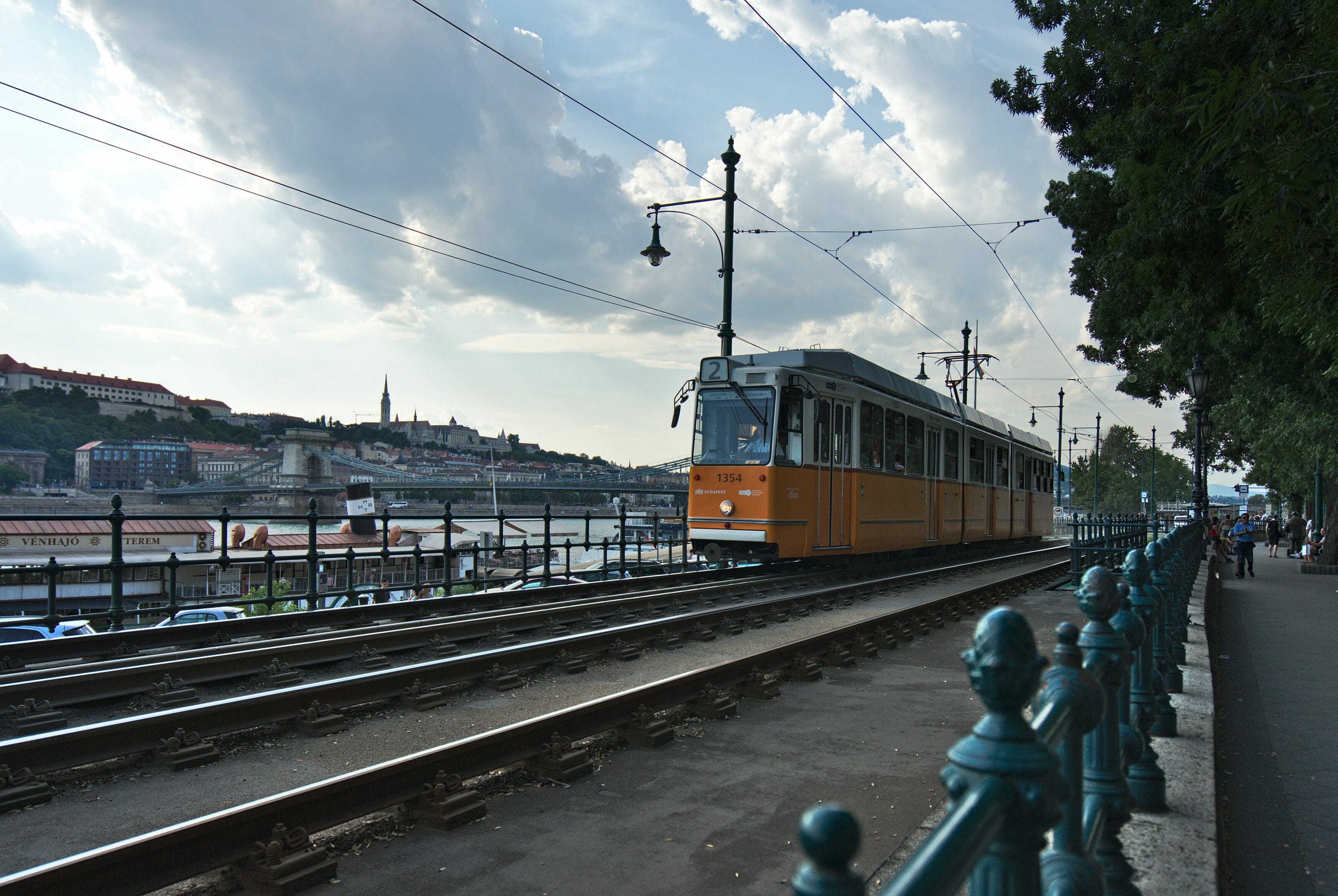 To know which transport to take we generally used Google Maps. In Budapest, the Google Maps route option works very well and is very precise (both for bus numbers and schedules). In Zagreb, for example, it was totally impossible to rely on it because Google didn't know half the lines, but in Budapest it's fine!
Ticket: A ticket costs 350 HUF (a little more than one euro) if purchased in advance. If you buy the ticket from the bus driver, then it costs 450 HUF.
For our part, we chose to go worry-free and took the pass for 7 days. The latter costs 4950 HUF (15€) and allows you to move freely throughout the network.
Passes are available for either 24H (1650 HUF), 72H (4150 HUF) or 7 days (4950 HUF).
Passes can be purchased directly at the terminals located in metro stations (purple terminals).
Attention! In Budapest it is REALLY important to travel with a valid ticket. (not that elsewhere this is not the case of course…). We've never seen a city where there were so many controls! We got our tickets checked at least 2 or 3 times a day…
The Budapest Pass – yes or no?
If you walk around Budapest you will not miss the many stands that offer the Budapest Pass (or rather I should say that it is them who will not miss you). We have already taken passes to visit cities (for example Helsinki or Tallinn), but in Budapest we decided against it.
The card is relatively expensive and, in our opinion, does not necessarily include the most interesting museums. Or rather, I should say, that it excludes those who are most interesting: Parliament, the House of Terror, the Fishermen's Bastion, the Dome of Saint-Stephen and the Mathias Church are not included.
In short, before you fall in love with this card, think carefully about which museums you really want to visit. Their marketing is well established and one could quickly be tempted. It is really worth thinking twice about whether you really plan to make enough museums included in the pass to amortize it. In case you want more information about this pass and see what is included (or not) and buy it online, you can do so here.
Our travel budget in Budapest
To finish this (very) long article, we thought we would also give you our figures on what we spent during our stay. Budapest is a relatively cheap European city, but it remains a capital city, so prices are inevitably a bit higher.
Moreover, as we were there only for 5 days we clearly did not try to make this trip "as cheap as possible", and above all, we decided not to deprive ourselves on the visits.
The currency in Hungary is the Forint, which is shortened with HUF. The exchange rate is about 1€ for 325 HUF.
Let's stop talking, here are our figures for our 6 days and 5 nights in Budapest.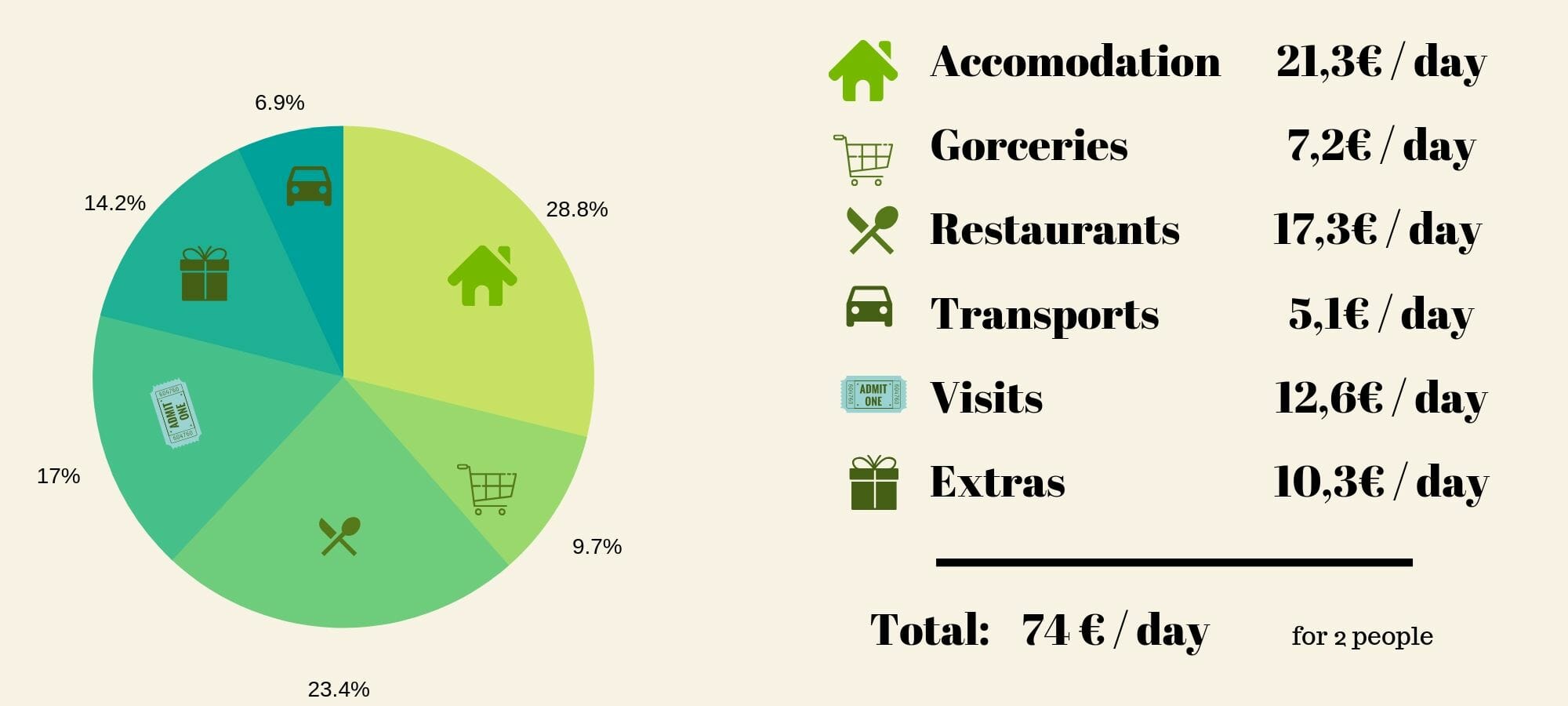 A few comments on our budget:
We spent 6 days and 5 nights in Budapest
The night actually came back to us at 26.8€ for both but as we stayed 6 days I divided everything by 6 to have a "daily" budget
The visit of the parliament and the "non-EU"price weighed heavily on the visit budget…. We spent almost 40€ for the parliament (it is almost half as much for people coming from a European Union country).
Under Extras you have to understand the purchase of tupperware, small things from Decathlon as well as… our drinks 🙂
The transport budget was spent in one go at the beginning of the stay. We each bought a transport card valid for 7 days for 4950 HUF.
The Groceries: it is basically our breakfasts taken at the apartment as well as 2 dinners at "home".
That's it, this time I think you've been told everything (or almost everything) about Budapest. We wish you a wonderful visit and if you have good addresses to complete the article, do not hesitate to add a comment.
Note: This article contains affiliate links to partner sites. As usual, by using our links, you don't pay anything more, but we will receive a small commission. This allows us to keep this site alive and above all it allows us to continue to produce content that is accessible free of charge. This trip, like the vast majority of our trips, was organized and paid for 100% by us. The sites we recommend are the ones we also use.