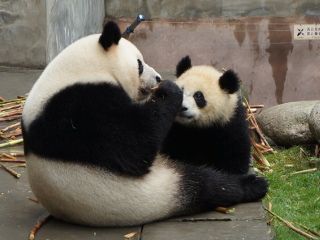 It has been almost a month since we arrived in China. We started our journey around the world 6 weeks ago and one thing is certain: the more days go by, the more we enjoy it! A few weeks ago we left the city of Xi'an to go to Chengdu. After a meeting on the train that left a deep impression on us, we were even more motivated when we arrived in Sichuan…
More about this encounter soon on the blog…
Chengdu, capital of Sichuan
A region of China that is often overlooked and yet has so much to offer!
We don't hide it from you, we fell in love with it. So we've been there for almost 3 weeks and you'll see in the next articles, Sichuan is also an excellent way to get a good overview of Tibet without having to bother with administrative formalities… But it will get back to it soon!
At the beginning we thought we would stay only 2 or 3 days in Chengdu, but in the end an absolutely brilliant couchsurfing host but also a desire to rest a little bit pushed us to extend the stay…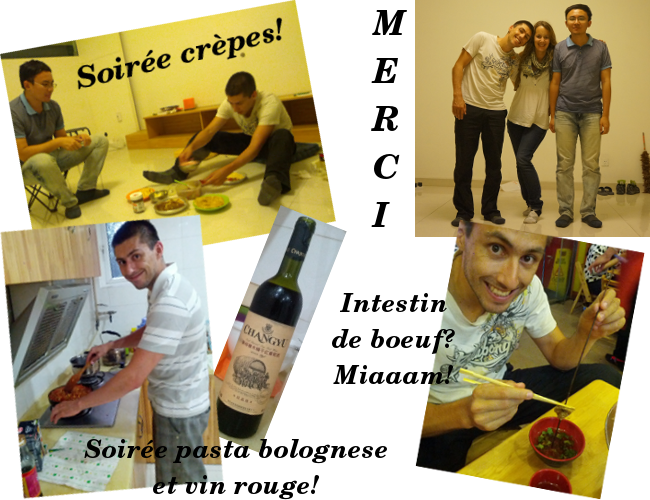 So it was at a very slow pace that we decided to go and discover the capital of Sichuan. And again a big thank you to our host Yiou, dixit Frank for the Europeans, for his welcome! And also for taking us to a whole bunch of great restaurants in which we probably would never have set foot without him! 🙂
Do you want to do a food tour in Chengdu? It probably won't be the same as the one we did with our couchsurfing host, but it can be an original way to see the city. 😉
See the food Tour
How to get to Sichuan

We arrived in Sichuan by train from Xi'an. To reach Chengdu since Xi'an there are two options:
The bullet train: this train takes less than 4 hours and costs between 40€ and 50€ in second class
The night train: this one takes between 12pm and 4pm! That's a big difference, but it costs between 20€ and 30€ in hard sleepers and saves you one night in a hotel;)
The pandas sanctuary in Chengdu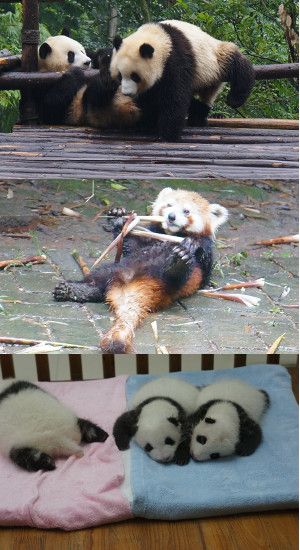 I'm a little bit of a kid when it comes to animals, and I quickly get nuts when it comes to small, cute hairballs… In short, Benoit had no choice but to accompany me for a day that will have been punctuated by
"Ohhh!!! Loooooookkk! Sooooooo cuuuute!!!!"
In short, I fully accept the ridiculousness of the situation, especially since the Chengdu pandas park has reassured me a little bit about the conditions of animal detention in China.
In the park, animals are not behind bars, but in large green spaces.
Frankly, I found that the space at their disposal was much more adequate than what could be seen in many zoos in Europe. After that, there are still animals in captivity, but if I don't eradicate that, I think a lot of zoos could come here to get inspiration…
Plus, you should also know that this place is not actually a zoo… it's a research centre that focuses on protecting and reproducing pandas. Of course, the fact that it opened it's door to the public makes it kind of a zoo, but the idea behind the project is a good one.
Infos Pandas
The pandas breeding centre is located 10km from the city centre of Chengdu. The easiest way to get there is by public transport:
The metro N°3 until Dong Wu Yuan and then bus 198 or 198a until the breeding centre
The entrance fee to the sanctuary costs 58 CNY (about 7-8€)
Animals in Captivity
Visiting animals in captivity is generally not a good idea. We strongly believe that animals are better off in the wild than in zoos. Nevertheless, in Chengdu the situation is slightly different. This centre is in fact a non-profit organisation (admission fees are used for the centre and its operation). The objective of the centre is to contribute to the reproduction of pandas. Indeed, pandas are an endangered species and their reproduction is VERY delicate. There are two reasons for this: pandas females ovulate only once a year (yep…). The problem? Gentlemen pandas are not especially "sexually active"… to choose between eating and mating they often prefer the first option. In short, this centre is in charge of supervising the small eggs and inseminating these ladies while these gentlemen enjoy bamboo.
People's Park
The city of Chengdu is a large city like there are many in China. Even if we have to say that we have found the city centre a little more organized and clean than in the other Chinese cities we have seen so far. But since our backpacks are already heavy enough as it is, we decided to give up the temptation to go shopping. It was rough for me, I'll give you that… Instead we went to relax a little in one of the biggest parks in the city: People's Park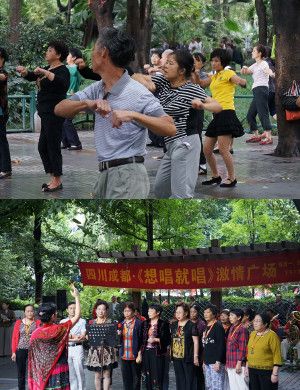 This park has really been our favorite part of the city: several "tea houses", a large pond but especially hundreds of people who dance, sing, do Tai Chi or gym to music. Each small corner and nook of the park is occupied by small groups. It's a real treat for the eyes and ears (most of the times at least) 😉
Tinder for beginners
Another special feature of the park is the small alleyway reserved for the parents of the city's young single people! The concept is very simple, if you have a single son or daughter you want to marry then go to one of the park's lanes and put up a small poster to present your offspring!
On the other hand, don't bother with details such as "nice, sociable, beautiful eyes, etc… In China they go to the essentials!
The main criteria? Size often comes first, then work (it is not uncommon to enter the salary directly), if he/she owns his/her home, his/her origins and finally some leisure activities… It was Yiou (our couchsurfing host) who explained in more detail how it works… Fortunately for him his parents don't live in Chengdu, because otherwise it's very likely that his mother would have tried to settle down her 34-year-old single boy!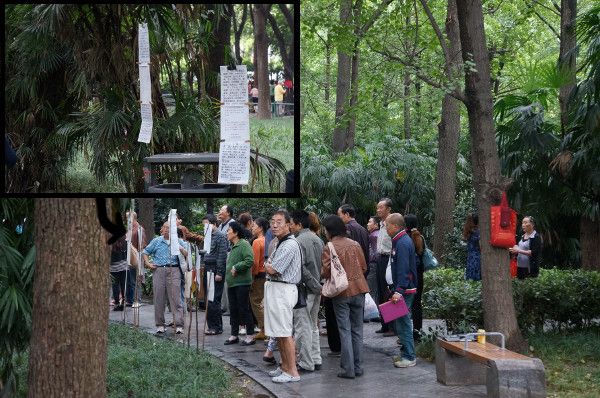 We crossed this alley on a Friday, and according to Yiou it's the most lively day, because it's kind of the last moment to get a little date for the weekend. So when we passed by we were able to admire dozens and dozens of people in their fifties with a paper and pen in hand taking notes and exchanging numbers with other parents… Ahlala such a funny business! 😉
Hotel in Chengdu

As we told you at the beginning of this article, we did couchsurfing in Chengdu. In all we spent 5 days at our host's house. If you are looking for accommodation in Chengdu you have many options:
Hostels. The price of the dormitories starts at 4€. A hostel that has been recommended several times (but that we have not tested) is the Xishu Garden. Find all the hostel options on Hostelwolrd
The Giant Buddha of Leshan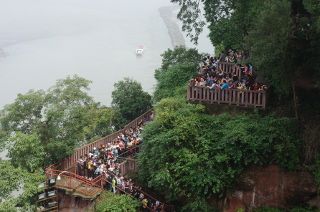 If you come from Beijing and you miss the crowd then don't miss the opportunity to see the great Buddha of Leshan!
No… more seriously, this great Buddha may have been totally invaded by the crowd, but he is still a must! Try to imagine a Buddha of more than 70 meters carved out of the rock!! I mean… it's amazing!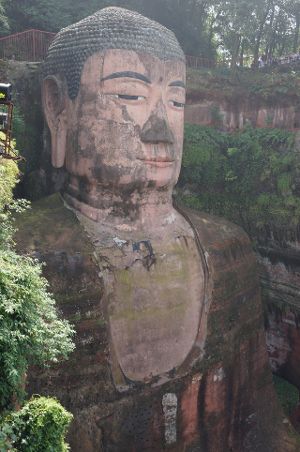 To give you a more concrete idea of the dimension, imagine that only one ear alone already measures 7 meters!!!! The visit of the Great Buddha can easily be done from Chengdu, but for our part we preferred to come and visit him from Mount Emei.
After spending two days climbing and descending stairs on a sacred mountain, what better way to reach the Buddha's feet than to take a few more steps? 🙂 At least it had the merit of finishing my buttocks once and for all!
Infos Leshan Boudha
To come to Grand Buddha from Chengdu you can either take the train or the bus.
By train: there are more than 20 trains a day. The journey takes about 1 hour and costs between 50 CNY and 60 CNY. From the station you must then take a shuttle bus to the entrance of the site.
By bus: It takes longer… a shuttle leaves every 30 minutes from the Xinnanmen station and goes directly to the big boudha. The trip costs about 35 CNY and takes 2 hours.
The entrance to the site of the big boudha of Leshan costs 80 CNY
Review of our stay in Chengdu
So that's it for this little tour of Chengdu and its surroundings, we really loved this region and we can only encourage you to come and discover it in your turn!
And we'll see you soon to talk to you about the western part of Sichuan…. trekking in the Hymalaya plateau, discovering the yak and all its assets, spending a night with Tibetan nomads, and how the yaks have almost killed Ben… you will soon know more! 🙂
Take care
Note: this article contains affiliate links. By using our link to make a purchase you obviously do not pay anything more, but on the other hand we will receive a small commission. Naturally, we only recommend products and services that we also use and whose quality we are certain of.