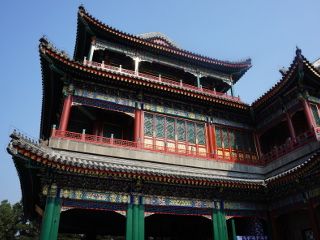 We told ourselves that we were not going to start our trip around the world with a country like India so that we could start off quietly. But I don't know what we were thinking when we checked the China box as our first destination. We may have thought: "They still had the Olympic Games in Beijing so it must be fine" or "Out of a billion inhabitants, there will be a few English speakers". Well, in terms of a change of scenery, we could not have dreamt of a better start. So here are our first impressions….
Backpackers, the feeling of being an alien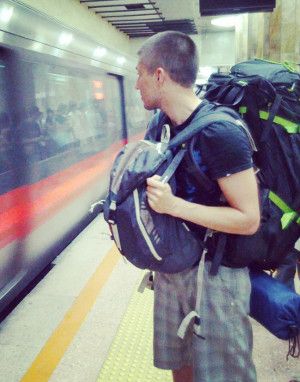 As soon as we got out of the shuttle bus that took us from Beijing airport to the city centre, we quickly realized that the locals didn't see white travellers and backpacks every day. We literally felt like two aliens.
Everyone turned around on us like we were coming out of a video game. Well, most of the time we actually made them smile, so nothing too bad. But once we got out of the city centre and arrived at our couchsurfer's house (she doesn't live very close to the centre), it obviously got different.) An English-speaking Chinese man (rare enough to talk about it) even gently accosted us to ask us if we needed help and if we had gotten lost because he had never seen any travellers in the area. Anyway, we were still happy to have arrived at our host's house….
They don't know English!
If you come to China, don't expect to be able to speak English even at the most touristic place you can find. It doesn't matter, whether it's at the metro station, the station or even at the tourist attractions, no one speaks English. As a result, even the simplest task becomes complicated to perform. Try to buy a SIM card for the phone by talking with your hands ;-)….. not necessarily obvious.
We also tried to buy train tickets by ourselves to a not very touristic place… passers-by directed us to an English-speaking counter but we might as well tell you that we didn't have the same notion of the word "English-speaking". Needless to say that we came back without a train ticket that night and we had to ask our cochsurfing host for help… Fortunately, the Chinese are happy to help in most cases (but this is discussed below).
Update 2019

Since 2013, things have changed a little. There are now several sites that make the task easier, such as
12go.asia
This site lists a large part of land transport in Asia and in particular trains and buses in China. It's very convenient to be able to manage your bookings in English or even French!
See 12go.asia

The Chinese alphabet
Another difficulty: the Chinese alphabet! We who are used to consulting the net for transport for example, we were quickly confronted with a small problem ;-). All the good sites to book train tickets or a cheap flight to China (or to check timetables) have no English version and the browser translation are let's say… hazardous… As a result, we are once again dependent on our couch-surfer to give us a hand. But needless to say that we will not always have someone bilingual to help us all the time. And there is a risk that we will pay a high price for our tickets through English-speaking sites.
Anyway, China is really not easy when you don't speak the language and you're just starting to discover it (we'll stay 2-3 months I think -)).
Chinese children are kings!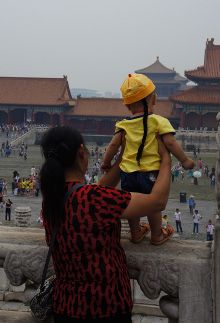 We found that the Chinese loved their children. I don't know if it's a legacy of the one-child policy (which no longer exists today) or something else, but it's clear that parents play by kid's rule here and not the opposite. Besides, in tourist areas, marketing is all about children because if you can convince the child, you have generally won.
Another rather surprising point about children is that they pee and poop in the streets. It is not uncommon to see very young kids with trousers including holes between their legs…. It's still much more practical (and more environmentally friendly)!
Facebook does not work in China
We were warned! The myth of the great wall of the Internet is totally justified. And indeed without the use of a VPN, it is impossible to access Facebook from China, for example.
A VPN that works very well in China, for example, is ExpressVPN. We have written a special article that reviews ExpressVPN a little better and how we use it on a daily basis (even when we are not in China).
They take pictures all the time!
Don't ask me why, but our Chinese friends love to take pictures. They take them everywhere! I have the impression that this is a way for them to prove that they were in a specific place. It should be noted that in China, 99% of tourists are Chinese.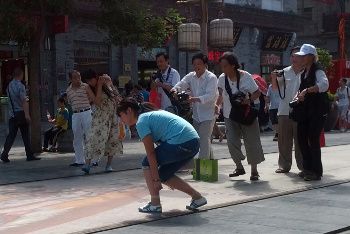 As a result, as it is an important moment for them to travel to their capital (or elsewhere), they immortalize the moment! (une centaine de fois par jour 😉 ).
I interpret the fact that we are called upon about ten times a day to be photographed with Chinese tourists in much the same way. Depending on which region they come from, they may not have seen any European tourists in backpacks yet. But it's still very funny because some people have a lot of imagination in order to be able to be in a picture with us. (They think we don't notice them).
They have an improbable look!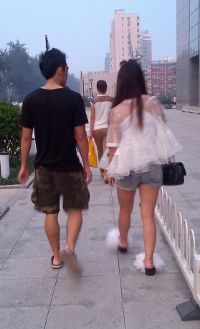 I would say that in China the look doesn't matter. Only the practical side counts. We no longer count the number of people we have met with a multicolored umbrella hat, caps that also serve as helmet to drive a scooter etc…. Men also tend to lift their t-shirts halfway up and walk around with their stomachs in the air in the streets. As for the ladies, they fight to wear the most compensated or conspicuous flip-flops. In short, it is a permanent spectacle in the streets ;-).
They have special, uhhhh… special ways!
By "special" we mean that spitting and burping are two national sports. Here, the more noise you make, the better. You have to go get your spit and burp right down your throat! And the fun part is that you can have that little treat anywhere. We've been through this before in the subway, at the restaurant, on the bus. Anything is possible.
They are helpful and smiling!
That is probably the most important thing and that is what we are focusing on at the moment. Whenever we had problems (mainly because of the language), someone spontaneously offered to help us.
That it was the newspaper seller who kindly installed our Chinese SIM card. You can imagine that the SMS confirmations in Chinese are difficult to understand… or the two young people who helped us choose a book about California for our host couchsurfing's birthday. We've always had help. It didn't necessarily help the situation (at the station to buy train tickets for example) but it always came spontaneously and with a smile. And that feels great…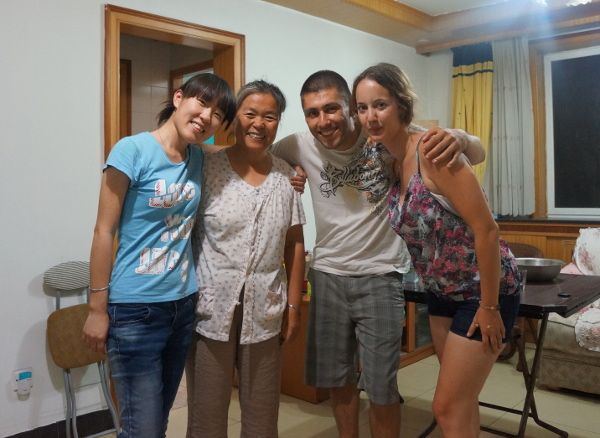 So that's it for our very first impressions of China. It's not always easy for us, but we learn a lot. If you are interested, we will soon tell you about our visit of Beijing (summer palace, forbidden city). And how we walked absolutely alone on an incredible portion of the Chinese wall.
And have you ever been to China on your travels?
P.S. If you subscribe to a VPN via our link, you will pay the same but we will receive a small commission. This has in no way influenced the choice of the VPN presented above (we present it because we think it is the best in China) but will help us to continue our work on this site. Thank you:)