Here we are, our round the world trip has just started! And it was with a very different country that we started: China.
We Arrived completely exhausted a couple days ago!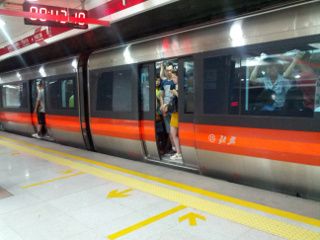 There are certainly many people here, but today we won't be talking about the crowds at the main touristic sites (we'll keep this for a next post)! for this first 100% Chinese article, we thought we would like to share something that really amazed us here: the subway!
First contacts with the Subway in Beijing
So Olympic Games effect or simple wish to open up to tourism, our first surprise was to note that all the stop names are indicated in English below their sweet little name in Chinese. It was a surprise because we were expecting to be confronted with the same problem as in Moscow and to have to play the game of sign comparisons to find out where we were. But that's not the case… almost too easy 😉
Well let's not exaggerate, we added a small dose of additional challenge by taking our first subway at rush hours with our backpacks on our back. Another story worth mentioning: white people are not very common in China. But add some big backpacks, and everyone on the subway will be completely amazed hahaha.
Ok! Are you ready? We'll take you for a little overview of this state-of-the-art means of transport which transports more than 670,000 passengers every day….
Securtiy checks are everywhere in the Beijing Subway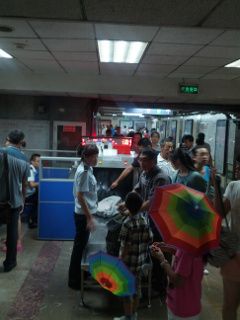 The first step when you enter the city's underground network is to get all your bags checked, a bit like at the airport! All bags are scanned. But on the other hand it's amazing because this step works like clockwork. Barely five seconds lost! There are people everywhere and the bags are moving on the conveyor belt at a crazy speed, but somehow this goes pretty smoothly!
Well, let's face it, I don't really have the impression that the control is ultra strict. It is not uncommon for the person behind the control screens to be taking a nap… At least they're trying, don't you think?

Subway Tickets in Beijing
As far as tickets are concerned, it's incredibly simple: either you buy a ticket for a simple trip or a prepaid card to top up. Choosing the ticket is extremely simple. You don't need to wonder about the number of zones, or the length of your journey: it's 2 Yuan every time!
Update:
Since 2014 a new fare system has been in place in the Beijing metro. The base price is now 3 yuan. This price applies to a "single" trip along a line and for a distance of less than 6km. Then, prices increase according to distance, with a "maximum" price of 9 yuan for a 72km ride (1.15€).
Logistically it's simple, if you take a single ticket you will receive a small plastic card that you will have to present for the small gates to open. At the end of your journey you will have to return the card by putting it in the machine, which triggers the opening of the exit gate.
If you stay several days in Beijing, then a good option is to take a prepaid card. It costs 20 Yuan (on deposit) with a minimum initial recharge of 20 Yuan, or about 2,5€, this option is not cheaper for metros but on the other hand it will save you the trouble of buying a ticket every time. Especially since it is not uncommon for vending machines to have no more change and they do not take 1 Yuan notes. (Neither folded or in poor condition banknotes).
For buses the card allows a 50% discount and the same card can also be used to pay for self-service bicycles.
The subway lines in Beijing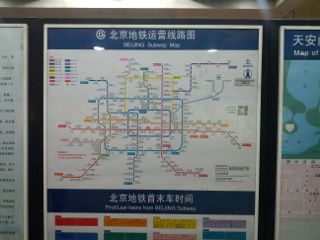 The Beijing network is ultra well developed and very easy to use. Moreover, we strongly recommend that you only use the metros, because buses are an unnamed chaos! There are more than 800 lines, and frankly it is impossible to have a complete network map and the stop names and schedules are only in Chinese.
While for metros it is simple, there are 22 lines. By 2020, the plan is to have 30 lines covering 1200km of network and 400 stations. To find your way around there is a colour system as in most major European cities.. In short, Easy Peasy! Much more than in the streets! 😉
People on the subway
The Beijing metro wouldn't be what it is without the Beijing people! One thing is certain: you will rarely be alone on your ride . And that's the least we can say!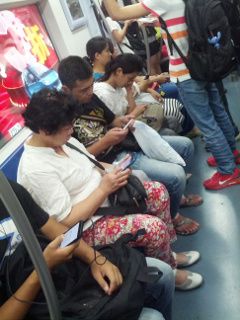 However, do not expect to have big discussions with the locals in the subways. It's easy to see, here, everyone's eyes are riveted on their smartphone or tablet! It's amazing, we thought we were addicts to our smartphones, but we clearly found our masters in this field!
Beyond that, you will need to be prepared to play elbows a little! Because the Chinese are certainly very courteous people in everyday life, but in the metro it is clearly the law of the strongest that prevails. Whether it's to access the ticket machine, put your bag on the conveyor belt or on the platforms, you may well have to wait a long time if you wait for someone to give you priority. So try to know where you're going, and once you know: go for it!
PS : If you have a sudden urge to burp or spit, don't be shy! The Pekingese are quite a few specialists in the field…. It is not uncommon to be burped in the face by a sweet little granny who is very elegant…. You've been warned, haven't you? We personally were quite surprised at first…. But we get used to it quickly!
The strongest wins on the platforms
As we told you above, on the platforms, you should not hesitate to impose yourself. But beware there are still some rather strict theoretical rules!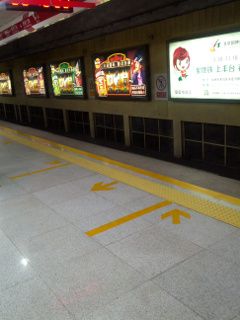 You will find ground markings that indicate the location of the cars as well as the areas in which to wait. Before the arrival of the metro it is impressive how everyone respects these markings and puts themselves in a single line.
On the other hand, once the metro is in the station, it is clearly the law of the strongest that takes over. We push, we pull, and we hope to get into the subway without losing a shoe or an arm on the way 😉 If you were raised in Switzerland like us and your mother always told you that you had to wait until people got out to get on a bus or the subway, then it's officially ruined; you'll stay forever on the platforms!
Once the doors are open, there is no pity, we sneak inside! Those who have to go out will somehow find their way out! We let you imagine that you have to be ready and prepared to push once it's your turn to get out!
Rush hours on the chinese subway
If you come to Beijing and plan to take the metro, you are strongly advised to avoid the metro as much as possible during peak hours. (between 7h30 and 8h30 and between 17h30 and 18h30) although…. the show is clearly worth a visit at least once! In fact, it's easy to see, the subways arrive at the station completely full, people are literally glued to the windows.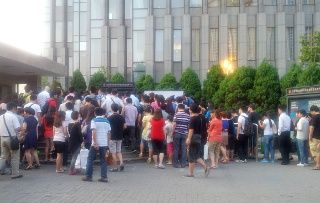 When the doors open, the fighters of the peak hours struggle to get out of the train, while the new travellers triy their best to make their way inside.
But how do you think they get in? Well, it's simple, at peak hours there are employees at every door who make the law. They are the ones who determine whether or not one more person has space. If the supervisor feels that we can still get people inside, he will then push the passengers into the subway to make room. (you might as well say that he doesn't fuss when he pushes)… Then he pushes the unfortunate ones who are near the doors so that they can close again. If he feels that the doors will not close, then he will not hesitate to pull a passenger out of the subway (by force if necessary)! The scene is really surreal, and no need to tell you that the journey itself is not the most comfortable…
To get out of it, there's no choice!
Fortunately, compared to the average Chinese, we are relatively tall. (First time I say that I think!) So we have a little air… It's probably not a good time to be five feet tall during rush hour! Where it gets funny is that at some stations it's not just on the platforms that it's getting messy; you even have to queue to get into the station! Okay, we did bailed on that day and we just filmed the outside! On the other hand, every morning we leave our apartment at the same time as our host. And so it is at rush hour that we reach the center….. Phew……… Well at least the contact with the locals is as close as I can get… 😉
Well then? Still want to complain about rush hour in your subway?)