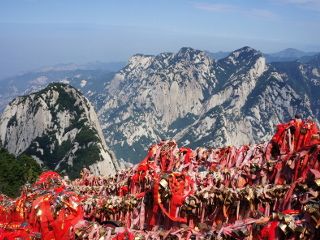 After a few days spent in the big cities of northern China like Beijing and Xian, we wanted to get out of all this urban madness and get some fresh air. I had heard about Mount Hua before we left. It is located a little more than 120 km from Xian and is considered dangerous (on the Internet). Despite Fabienne's apprehension, we decided to get up early in the morning for a day that wasn't going to be easy.
Are you ready for Hua Shan?
Mount Hua or Huashan
Considered one of China's 5 sacred mountains, especially the great western mountain, Huashan has been an important place of religious pilgrimage throughout Chinese history. This mountain consists of 4 peaks. The North, South, East and West peaks. The highest of the 4, the South Peak, rises to 2150m. Its very steep landscapes, its trees growing amidst cliffs and its thousands of steps have made it very popular in China. The mountain is protected within a national park (even if I don't know if we can really say that with Chinese tourists but we talk about it below).
Huashan also has a reputation for being dangerous because of its steep plank walk. Moreover, if you google the subject, you will come across videos or articles that are not really trusted…
But from experience I know that you can always find videos of what is most impressive on the web and I suspected that if the mountain was accessible to everyone within a national park, it is because the danger was minimal…
The ascent of the North Peak
After having paid the 200 yuan entrance fee per person (This has more than doubled in 3 years…), we took a minibus that brought us to the foot of the mountain. Be aware that there are 3 ways to reach the northern peak (the lowest of the peaks at 1650m) from the foot of the mountain.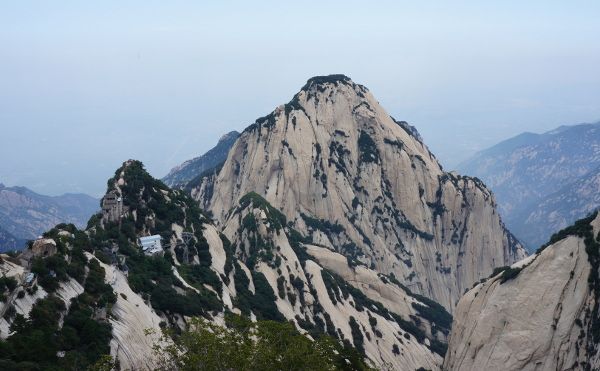 The standard path. It is about 6 km long and climbs slowly the first 4 km to finish with 2 km of stairs. Allow between 3 and 4 hours to go up that side.
The soldiers' path. It climbs in a rather "brutal" way and consists simply of stairs carved into the rock. Allow between 1 and 2 hours to climb this trail.
The cable car. this one is crazy expensive (150 yuan for the round trip, in addition to the entrance fees it is a lot…)
We had planned to go up the soldiers' path and down the standard path. We thought we'd see what we'd have time to do once at the North Peak because access to the other higher peaks is automatically through there.
The Soldiers' Path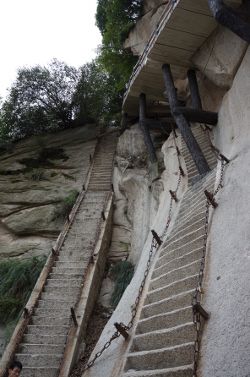 So the soldiers' paths are no easy task! The trail is not actually a trail but rather huge and steep stairs (I don't know how many steps but I'm guessing 2000-3000 at least) with spots that have up to 80 degrees of slope. But don't worry too much, every time it's getting too difficult an alternative path has been built. This path is there for people who would be afraid of heights or just not want to take unnecessary risks.
As far as we are concerned, we tested the steep sections once or twice to get the adrenaline pumping a little higher. But if you follow the alternative routes, the route is almost risk-free all along. I would say that you just need to be in good physical condition to support the many steps ;-). On the other hand, the landscapes that appear as we rise compensate for the heavy effort.
Access to other peaks on Mount Hua
Once at the North Peak, you can start climbing to the other peaks. Since most people start the walk at this point (that's where the cable car stops), I would say that the paths and stair treads are wider from this point.
We first walk along the ridge of the blue dragon while admiring the spectacular panorama that awaits us. You can then choose which peak to go to. Note that you can easily do the 3 peaks in succession without passing twice in the same place.
I would say that it takes 4 hours to complete the tour. But by speeding a little, it is possible to do it in 3 hours. I particularly enjoyed the view from the south peak which is the highest, although along the trails you will find equally spectacular views, and as far as the famous danger is concerned, I would say that it is mainly present on busy days. It becomes difficult to cross in some places (if there are a lot of people) and as the Chinese do not hesitate to push, I would believe that an accident is possible.
Moreover, as the average Chinese tourist comes here in moccasins, I imagine that a slide can easily happen… (but we'll talk about it below) You may also wonder if the video you saw above is still relevant today. Well, yes! This passage is called Hillside Path. Except that this passage is not at all mandatory and that almost all people who venture there rent a safety harness to cross it.
To get down from Huashan
You can of course take the cable car. The price is 80 yuan for a one-way ticket. I would advise against going down the soldiers' path again. As the stairs can be relatively steep in some places, I would say that this passage is easier when climbing than when facing the void when going down.
On the other hand, you can descend by the standard path which is feasible in 2 hours 30 minutes in this direction. In addition, on this route, you will cross a beautiful valley and well-preserved temples… This is the option we have chosen.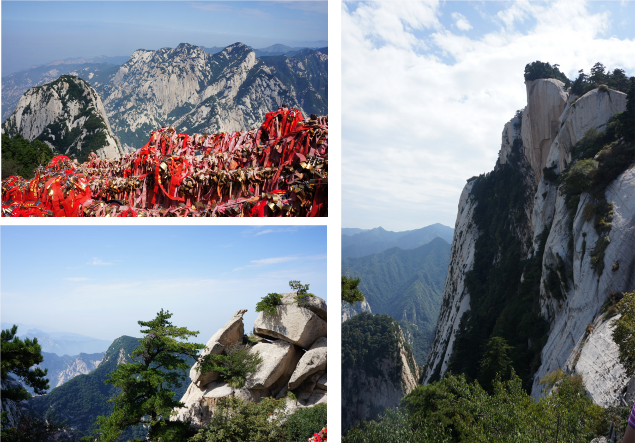 When some chinese tourists shocked us
During that day, I was shocked by the behaviour of some Chinese tourists. And this time it was far beyond the pushing i the Beijing metro or the spitting in the streets. We were in a nature park and the first thing that shocked me was that they just threw their garbage on the ground, as if that was totally normal.
I had obviously seen it before in our country, but not to such an extent. Here, it was plastic bottles, cookie wrappers and much more that was simple littered everywhere… while garbage bins were all along the way. I've even seen people throwing bottles down the cliff from the South Peak for some reason. I guess they wanted to calculate the height of the cliff.
I don't know what kept me from pushing one down to do the same calculation!
What is certain is that they have not yet had any ecological awareness and that there is still a long way to go before they care about these kinds of "details". It seems they think it's part of the service, given that there's an entrance fee… They must get what they pay for! (it's typical of the Chinese mentality I think)
Not necessarily used to the mountains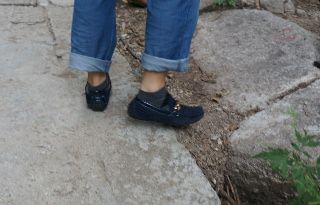 The second thing that drove me crazy was that even though we were in the mountains, people behave like in the city. People jostle, scream and it becomes very unpleasant. I mean, we go to the mountains to be a little quiet in general. The behaviour is stupid and sometimes even dangerous in some places.
In addition, I saw many people walking around in ridiculous shoes and even in heels (yes yes!!!!!). Even if no mountain equipment is required on these trails, it is a simple matter of common sense to wear at least sneakers that do not slip too much. No surprise to me that they report accidents with such behaviour.
Infos
How to get there: By bus from Xian station. Allow 2 hours of travel for a price of 22 yuan. A word of advice: if you want to go around in one day, leave early in the morning.
Update 2019: It seems that the tourist bus activity from the station has stopped. Now to reach Hua Shan you have to take a high-speed train (travel time about 30 minutes). Trains leave from Xi'an North Station and the cost is 50 to 140 Yuans per trip. From Hua Shan station, free shuttle buses run to the mountain.
Price: Count 200 yuan for the entrance to the park, 150 yuan if you want to take the cable car. We advise you to have enough food and drink because the prices are really exaggerated along the trails.

Accomodation: We were in a guesthouse in Xian and did the trip in one day waking up early and going to bed late (and we had some sore muscles the next day… 😉 ). But it is possible to go to the foot of the mountain in the evening because it is quite easy to find a room in the village of Hua shan (we have been offered several). It is also possible to sleep at the top of one of the peaks but there is little space and prices explode as one of the attractions of the park is to see the sunrise from the top.

Season: avoid July, August and the first week of October if you want to have peace.)
To summarize, we found that it was a beautiful walk with very beautiful landscapes. This tour can be done in one or two days. And despite the behaviour of Chinese tourists, this did not spoil our pleasure ;-).
Have you ever been to the nature parks in China? How did you find the behaviour of Chinese tourists?
Info
If you are travelling to China and want to access your social network accounts such as Facebook, Instagram or Pinterest, be aware that these sites are blocked. You will therefore need to use a VPN. For those who don't know what this is about, here is a short article on VPNs.
On our side we have had a subscription for several years with ExpressVPN and we are delighted about it. If you want to know more about ExpressVPN and how we use it, it's this way.

NB: If you subscribe to an ExpressVPN subscription we will receive a small commission. ExpressVPN is a service that we have been using for a long time (and for which we pay our subscription) and that we recommend to you.