It has now been a good week since we arrived in the Estonian capital of Tallinn. After having walked through the old town and the new districts in length, width and crosswise we finally decided to get out of the city and get a little bit of fresh air in Keila Joa. No need to say that in January the air was reeeeaally fresh in Estonia 😉
Promise, once our stay in Tallinn is over, we will prepare a very complete article with all our best addresses and essential visits to this splendid little capital of the Baltic States….
Edit: The Tallinn Guide and the Tallinn Budget are online:)
But before that, a little glimpse of our Friday getaway to Keila Joa.
Waterfalls to see around Tallinn
Before getting to the heart of the matter, I thought that I was going to share a great classic of our travel organization, I name it: the lack of organization! 🙂 In the end it turned out to be a great surprise, but how can I explain that this little getaway wasn't actually planned at all. Let me explain…. We read on the internet that there was a nice waterfall near Tallinn. Benoit being an unconditional fan of waterfalls we didn't hesitate for long to add this nameless waterfall to our schedule.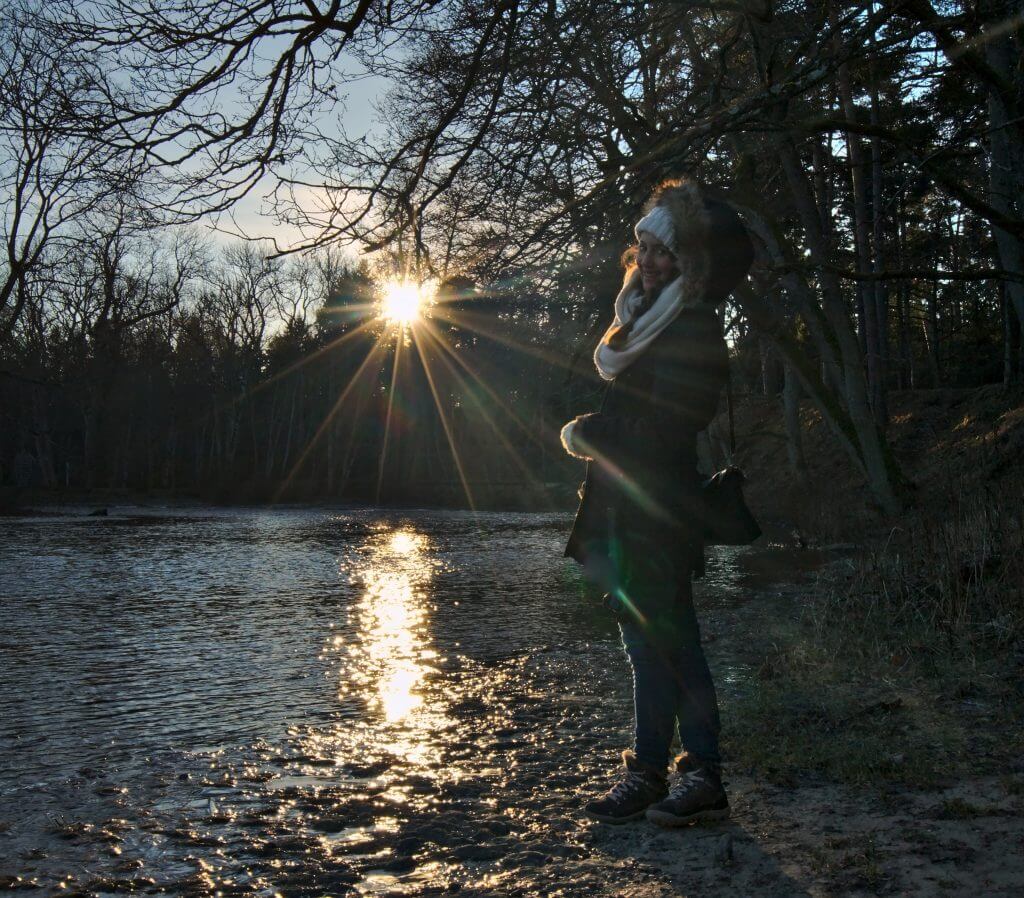 The days go by and one evening I decide to plan our waterfall outing. I open Google, I look for "Waterfall Tallinn", I look at the pictures. It's pretty. Banco! I look at which bus to take and I proudly announce to Benoit: "Ok perfect, for the waterfall we take the bus 127 at 9h18 tomorrow morning, we will be there at 10h15". Sold: so we go to Keila Joa!
Hmmm… how should I explain… "THE" Tallinn waterfall is not actually that one…. 🙂 It's little name is "Jägala" and it is located in the east of the city. Keila? Well, to the west, of course. 🙂
(Edit: we will have finally gone to Jägala anyway… to see it go to our article on Lahemaa)
By the time we realized this "little mistake" it was already more than 1:00 in the morning, the alarm clock was ringing 6:30 am later, we had planned a little walk. Anyway, we were to lazy to change plans and decided to go to this "not so famous" waterfall.
Anyway, let's go to Keila Joa's waterfall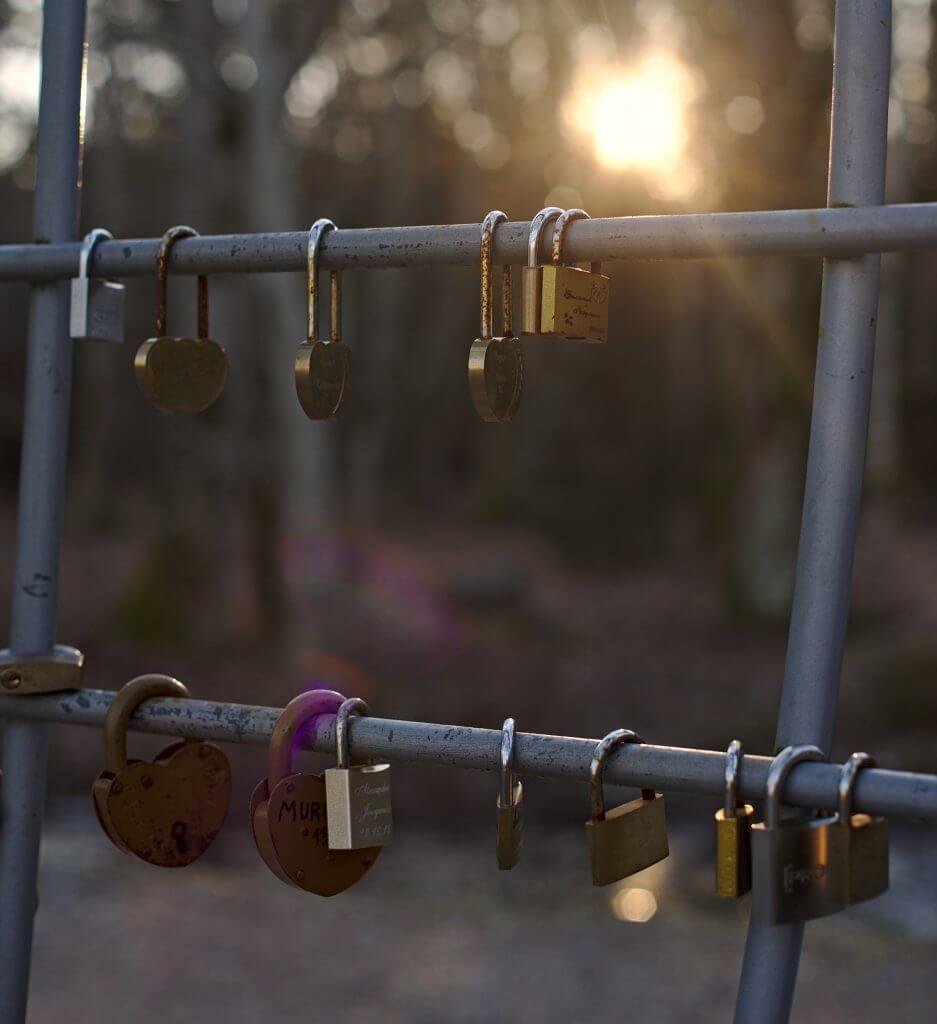 The next morning, when the alarm clock rings, the thermometer displays -7°C and the "felt" temperature announced is closer to -14°C. We might as well tell you right away, we put on all the warmest things we had and headed for the bus station.
NB: All the practical information on how to join the waterfall is at the end of the article
After a short bus ride we arrived at Keila Joa station. We were kind of expecting to run into a village. In the end the bus station was more like a bus shelter, a mini-market in front and a sign indicating the waterfall 300m away. 😉
So we were able to settle the question of the "village visit" and set off directly for the waterfall.
The waterfall is not very high but on the other hand it is very wide and its colours are magnificent. The setting is also very pretty with the forest and the manor house as a backdrop. And on days of extreme cold (like it was that day) the landscape seems to be frozen in the ice….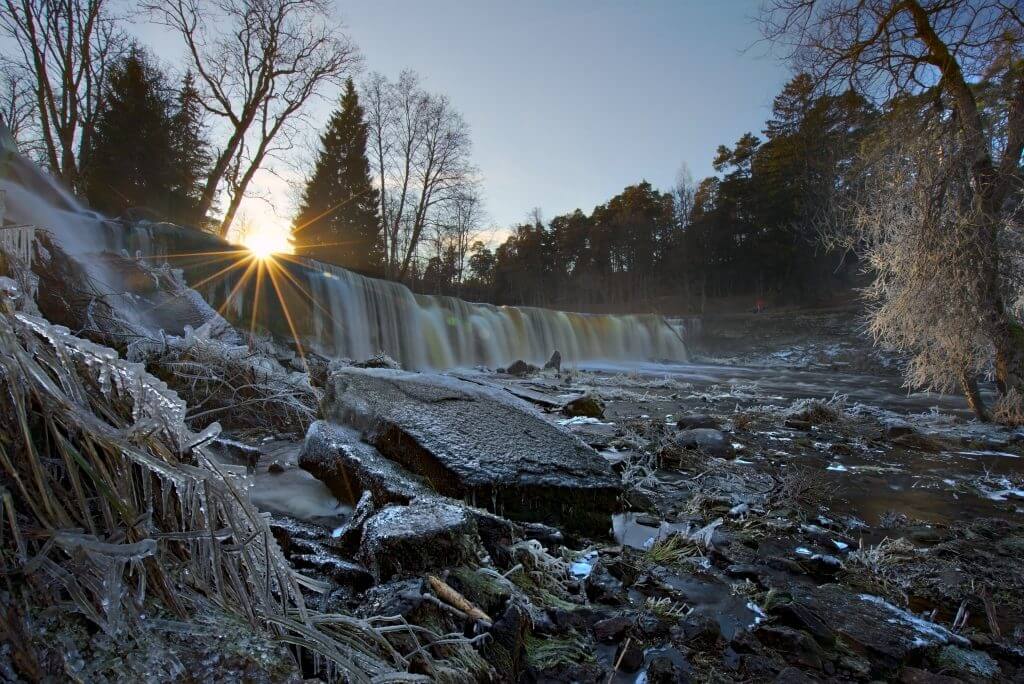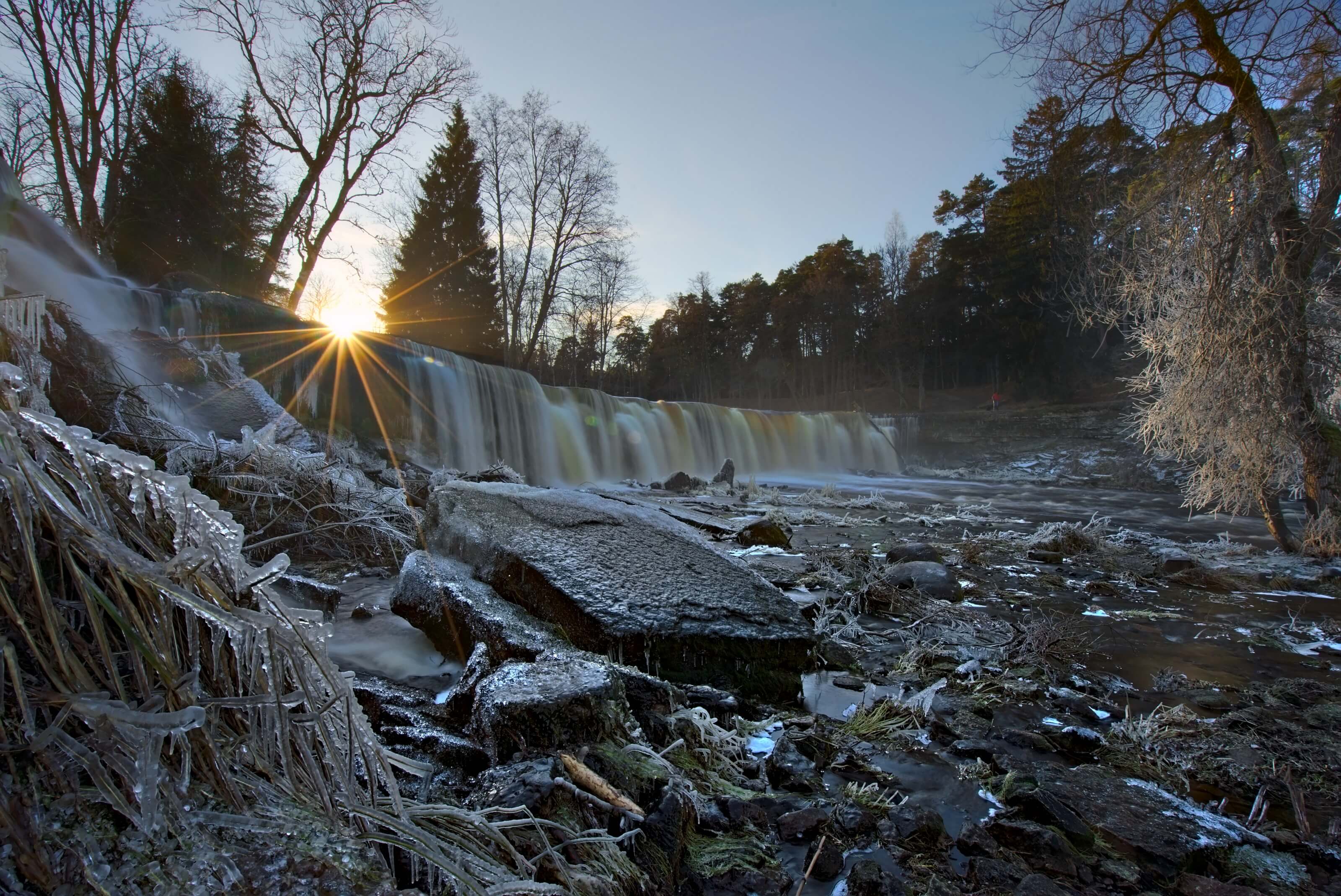 To observe it, you can either go on a small platform at the foot of the latter or cross the small suspension bridge and reach the top of the waterfall from the other side.
We really liked this area and we walked quite a bit between the different points of view to take pictures (and also to stay as much as possible in motion… because let's remember: it was -14°C that day) 😉
Keila Joa's castle
Just next to the waterfall is Keila Joa's beautiful little castle. In fact, it is not really a castle, but rather a magnificent manor house that was built in 1833. Don't worry about finding it, it's really right next to the waterfall…. 😉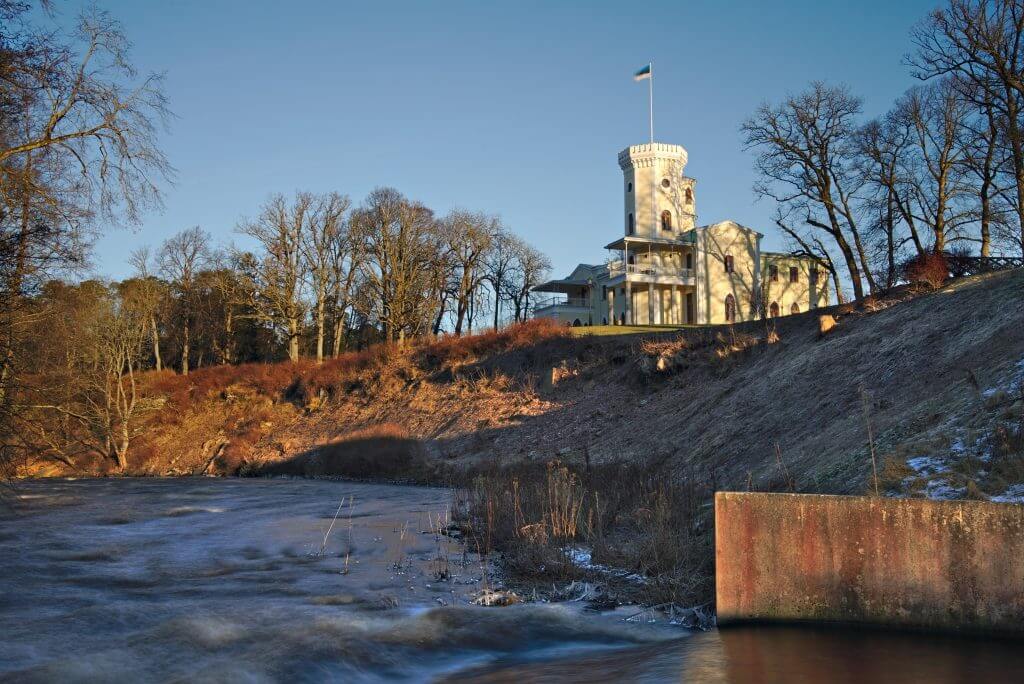 In this manor house there is actually a small hotel with 4 rooms (needless to say that it is very luxurious), a gourmet restaurant and a small museum.
We didn't sleep or eat there (we thought about going home for a few seconds to warm up and have coffee, but when we saw the restaurant we quickly realized it was not just "a small cafe" where to frozen hikers could go to warm up, but rather a high end restaurant). We also did not visit the museum…. But if you are interested in the history of this building then it can be a great way to get warm.)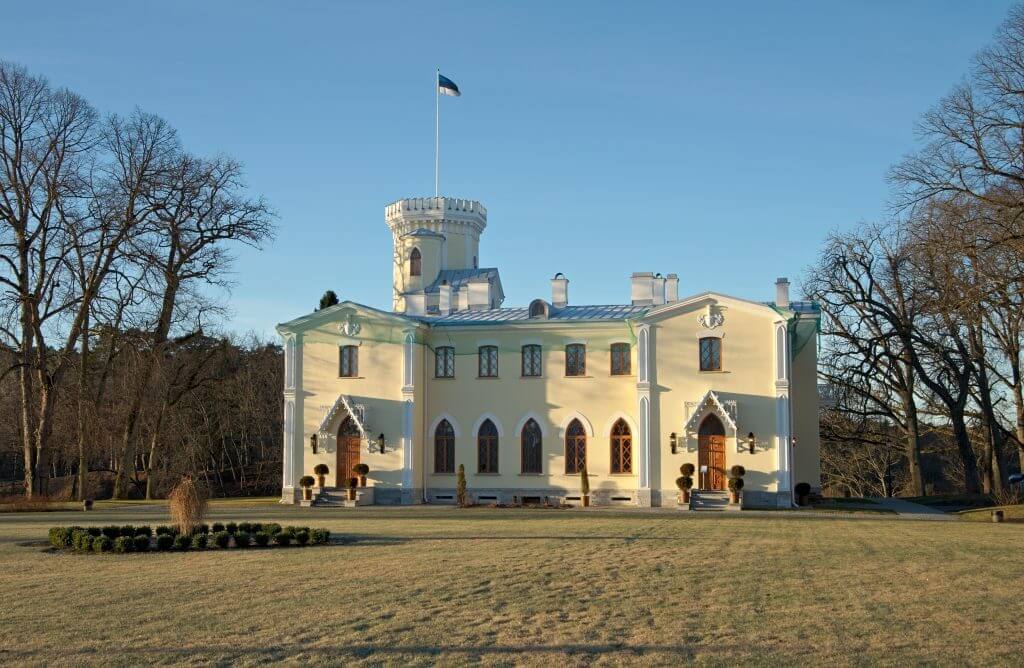 Infos

The museum is open from Monday to Saturday from 10am to 6pm and on Sundays from 10am to 3pm
Entrance fee: 8€ per adult
The ticket includes access to an exhibition dedicated to the history of the building and a temporary exhibition that changes over the months.
The restaurant "Cher Ami" is open from Wednesday to Sunday: 12pm to 10pm
More info: their website
Nature walk from Keila Joa to Vääna-Jõesuuu
The castle and the waterfall being literally 50m from each other, we still wanted to stretch our legs a little. We had spotted a "viewpoint" on Maps.Me that was 2-3 km away and after a quick check on Google Maps we realized that we could also continue the walk a few more kilometers and take our bus to Tallinn in the the small place called Vääna Jõesuu.
To the Baltic Sea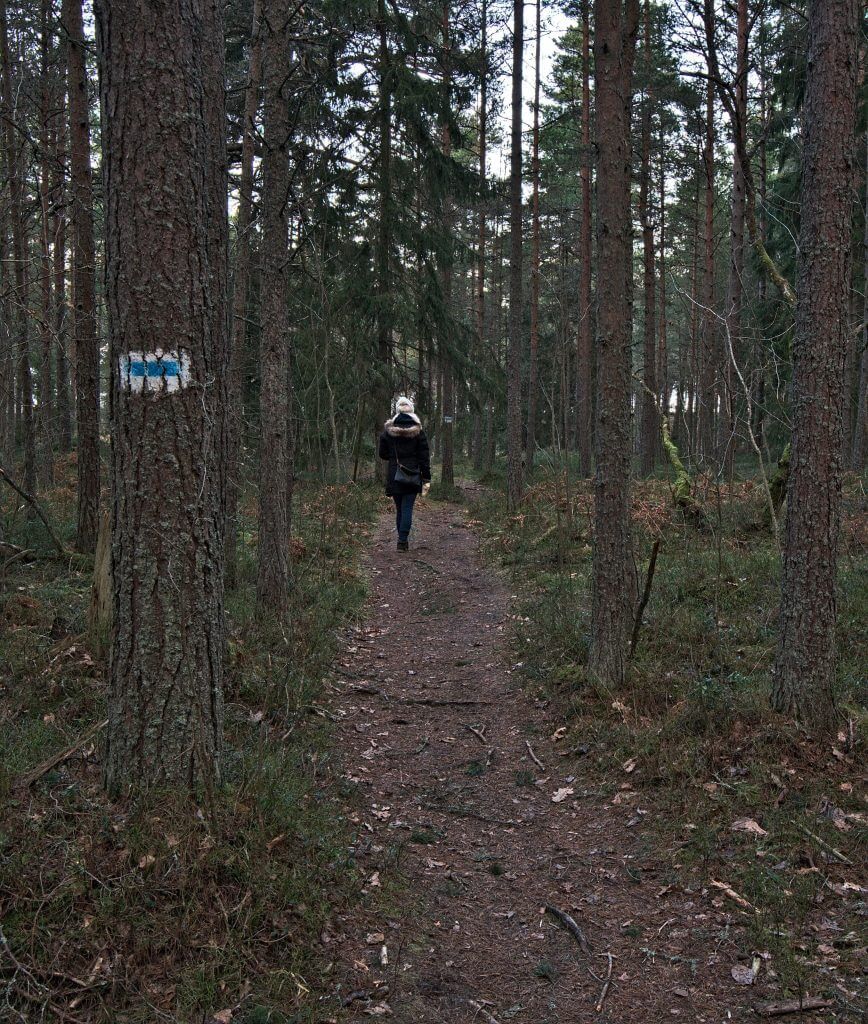 From the waterfall we then took the small path that starts behind the manor house and runs along the Keila River on its right bank. The trail is really very pretty; sometimes at the water's edge and sometimes in the forest. We're walking as fast as it gets to warm up a little.
Quite quickly we see the sea that is beginning to appear between the fir trees. I don't know, we thought it was really strange…. We are not used to seeing the sea and the forest being so close. On the Estonian coast the forest literally stops with its roots in the sand.
Instead of following the path we then decide to go along the beach. Normally walking in the sand is relatively tiring because you tend to sink. But that day, probably under the effect of the cold, the sand was like frozen and our feet were not sinking a single centimetre.
In some places, rocks polished by the waves are placed at the water's edge. Between the stones there is obviously less current and we notice that the water starts to freeze in places.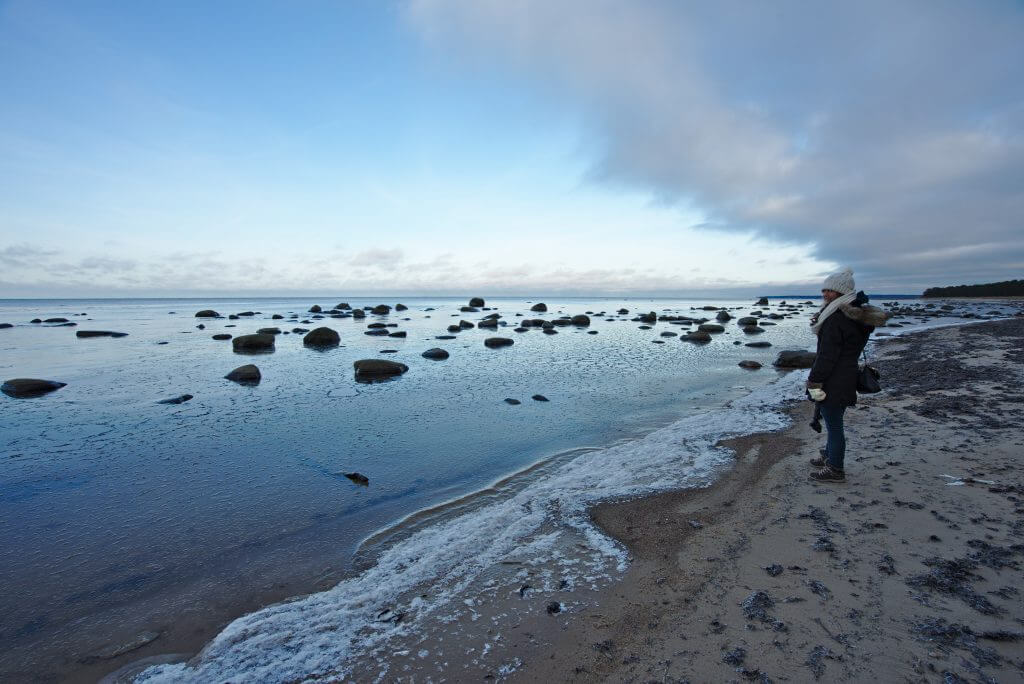 It's funny because the shape of the ice patches reminded us of the ones we saw in the Uyuni salar in Bolivia. Probably a salt story… but then we're not geologists! By the way, if someone has an explanation, we are interested in the comments;)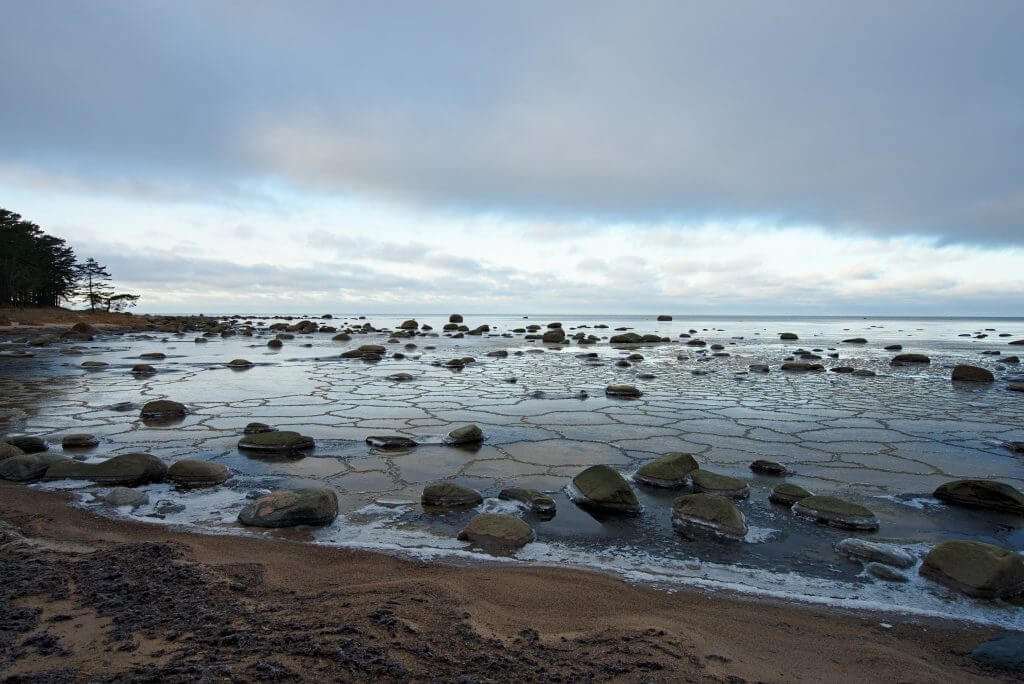 The Türisalu Juga Viewpoint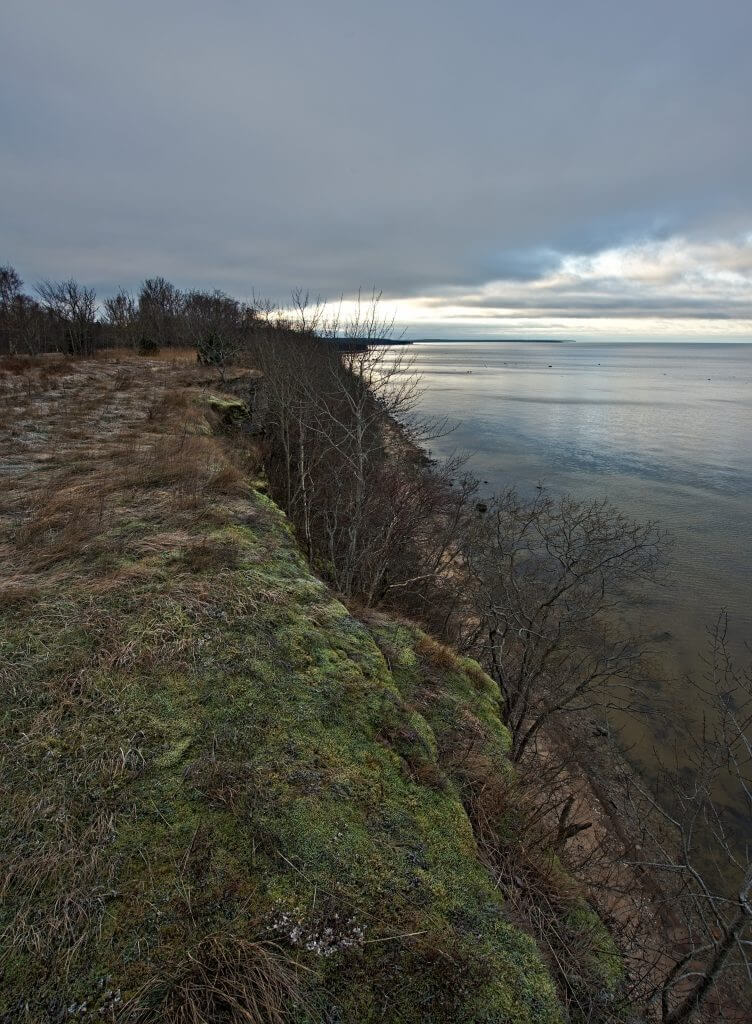 After a short hour of strolling we reached the path again and it started to climb a little and gradually move away from the sea until we reached the viewpoint of Türisalu Juga.
Described on the signs as an incredible view from a cliff, this viewpoint has, to tell you the truth, disappointed us a little. The view was certainly beautiful…. But the viewpoint being right next to the main road doesn't give it a crazy charm either. The cliffs are nice, but they are not crazy impressive neither…
All this to say that in retrospect we might have found it nicer to continue along the beach and admire the "cliff" from below.
End of the walk towards Vääna-Jõesuuu
From the viewpoint we then took the path down to the beach and continued along it. Actually we did this section a little on the run…. After a quick check on Google Maps we realized that we had less than an hour to cover 5km if we wanted to catch our bus. Knowing that the next bus passed 2 hours later we didn't hesitate to speed up the pace a little bit (and especially to limit the photo breaks since that's usually what slows us down the most). 🙂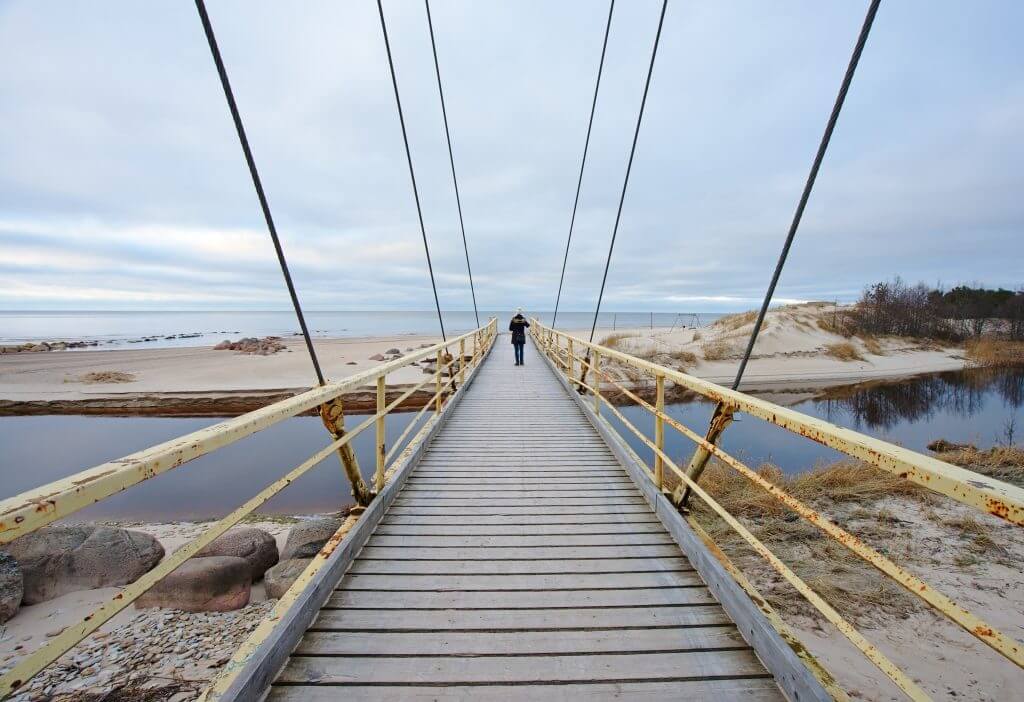 When we arrived in the small village of Vääna-Jõseuu we were really happy with our day! We had walked well, but above all we were amazed (and we got our bus)!
Infos

Distance: about 10km (6,2 miles)
Hiking time: About 2 to 2,5 Hours
Difficulty: Really Easy
Getting back to Tallinn: In Vääna Jõesuu there is a small café and a mini-market where buses 108 and 237 stop and return to Tallinn.
Hiking Map
Practical information for this short excursion from Tallinn
Keila Joa is a tiny little village located about 30 kilometres west of Tallinn.
To get to Keila Joa you have several options:
There are several travel agencies in Tallinn that offer an excursion to this region. Daily tours are charged something like 45€ to 55€ per person.
It is also possible to rent a car in Tallinn. A rental costs roughly 40-50€ per day. To find a car you can look on Rentalcars.
The last option, which is the one we have chosen, is public transport. There are several bus lines that go to Keila Joa.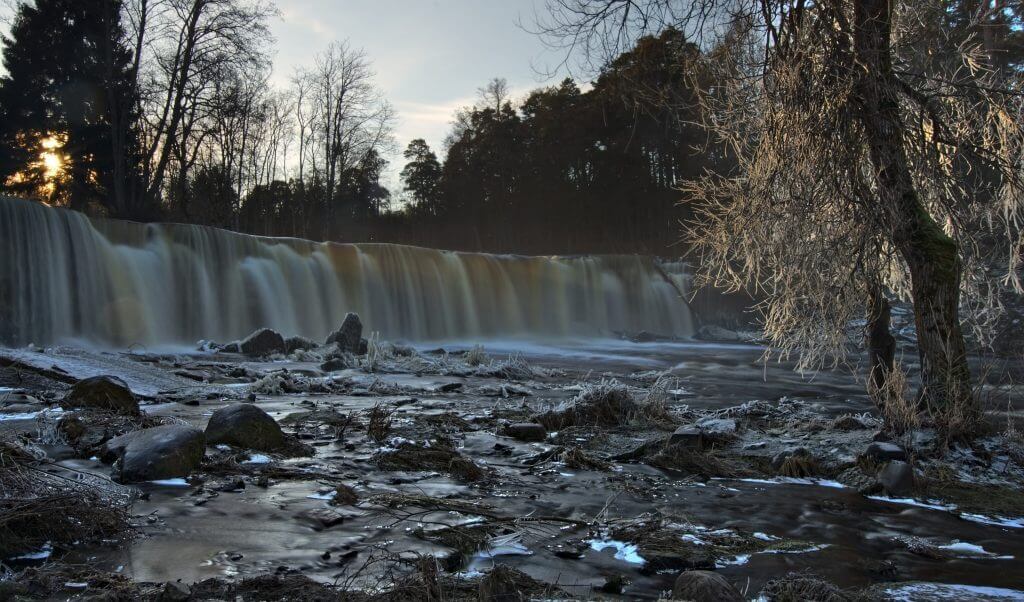 The buses that go to Keila Joa
There are several lines, each with its own timetable. Some lines require a change, others do not. In short, if you don't speak Estonian and especially if you want to make it as simple as possible, we recommend you to take the bus that goes directly… 🙂
Lines 108 and 127 leave the Balti Jaam bus terminal (behind Tallinn station) and reach Keila Joa in about 1 hour. Line 237 runs from Estonia 2 station (the underground bus station of the Solaris, very close to Viru).
For the schedules you can check on the official website: Line 108, Line 127 ou Line 237. Otherwise plan B is to ask Google Maps, the schedules are right and it helps to find the stops. (Beware there are not buses very often).
Price of the trip: 2.3€ per person per trip, or 4.6€ per round trip. The ticket can be bought directly from the bus driver (cash payment only).
What to take with you?
We left with a picnic. In the end, there was a small mini-market at Keila Joa's bus stop. After the choice is not huge, so taking a picnic and a bottle of water is not a bad idea in itself.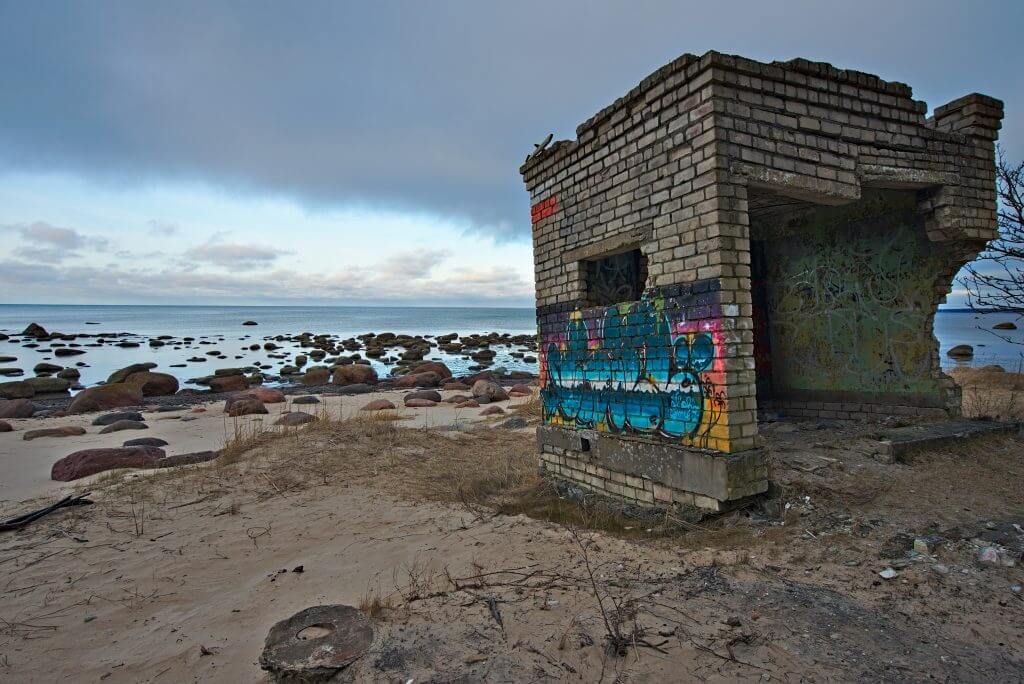 Beyond that, everything depends on the season. If you come in winter like us, really think about dressing warmly! During this day there is very little (or no) opportunity to get warm.
If you are there during the summer, don't forget your swimsuit for a jump into the sea!
Here, this time you have all the information for this pretty day trip from Tallinn. It wasn't our initial plan to see this waterfall, but we don't regret it at all! A wonderful day that we highly recommend!
Please note that this article contains an affiliate link to Rentalcars. This site is the one we systematically use when we book a car during our travels. By booking through our link you do not pay anything extra, but we'll earn a (small) commission. Thanks for your support.