After having explored the city of Tallinn and made a short excursion by ourselves to the pretty Keila Joa waterfall, we still wanted to leave the city for a last breath of fresh air before changing country and leaving Estonia. By looking a little bit for things to see around Tallinn, I saw a picture of Jägala, a pretty waterfall that I knew I wanted to see from closer (I have to admit I must have some kind of waterfall addiction…).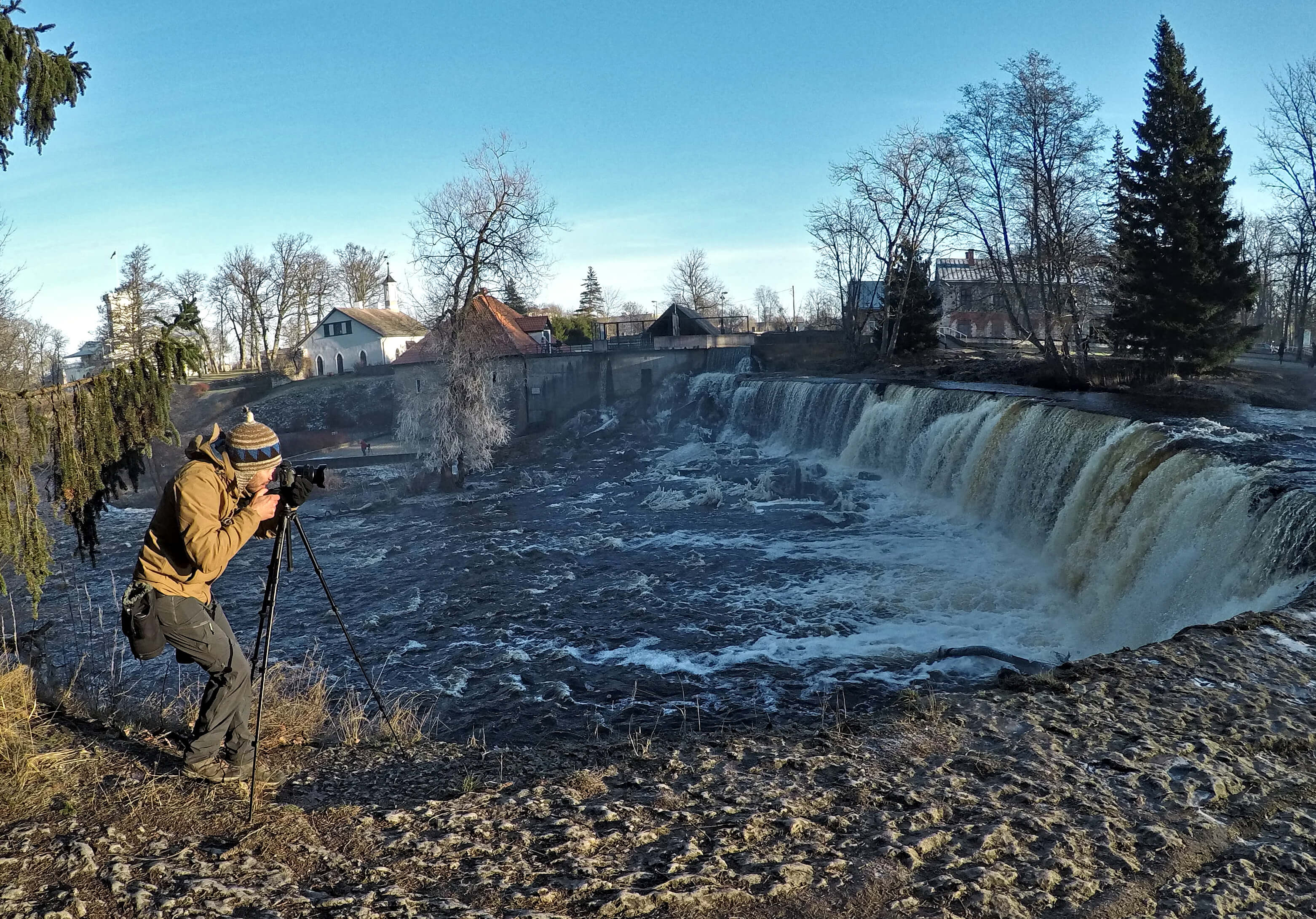 Then, during our readings, we realize that very close to this waterfall is also a national park (Lahemaa) which looks quite interesting and which could quite possibly make a nice day trip from Tallinn.
As usual, we are looking to see if there is a local bus that could drop us off not too far from the places we are interested in. But this time, luck is not on our side! There is absolutely no way to discover Lahemaa National Park by public transport (at least not for a day… 2-3 days is another story). We also look at car rentals, but since we only have one day, it's not really worth it.
But during our research, we came across a tour to discover the Lahemaa National Park and the Jägala waterfall on a day for a rather reasonable price (55€). And since we had only travelled the 2 of us since the beginning of our stay, we thought that socializing a little would not hurt us:) . So, 5 minutes later, the tour was booked for the next day!
The Jägala waterfall and its colours
D-Day we have an appointment at 10am in front of the tourist office in the centre of Tallinn. We are welcomed by Andres, a young guide who makes us feel at ease right away by asking us a few questions and laughing with us. Andres studied culture and theology at university and comes from a small village not far from Lahemaa National Park. You might as well say that he knows a lot about the region! Today the group will be composed of a German couple, 4 Australians and your 2 favorite Swiss (the maximum size of the group is 8 people).
The first stop on the day's programme is the Jägala waterfall because it is located halfway between Tallinn and Lahemaa National Park. With its 40m wide and 8m high, it is also the largest waterfall in Estonia 🙂 . But be warned… when you visit this waterfall, you shouldn't expect to see Niagara Falls either ;)… but we must admit that we were rather surprised in a good way.
The thing is that with the winter cold, the waterfall partially freezes and forms huge stalactites. Andres even told us that when it is really cold in February, an ice tunnel formed behind the waterfall and that we could climb there. But the thing that impressed us the most was probably the colour of the water, which is dark brown. So with the white of the snow, the contrast is quite striking! After asking Andres the question, it turns out that the water takes on this dark colour as it passes through the many peat bogs in Estonia. I mean… look at this!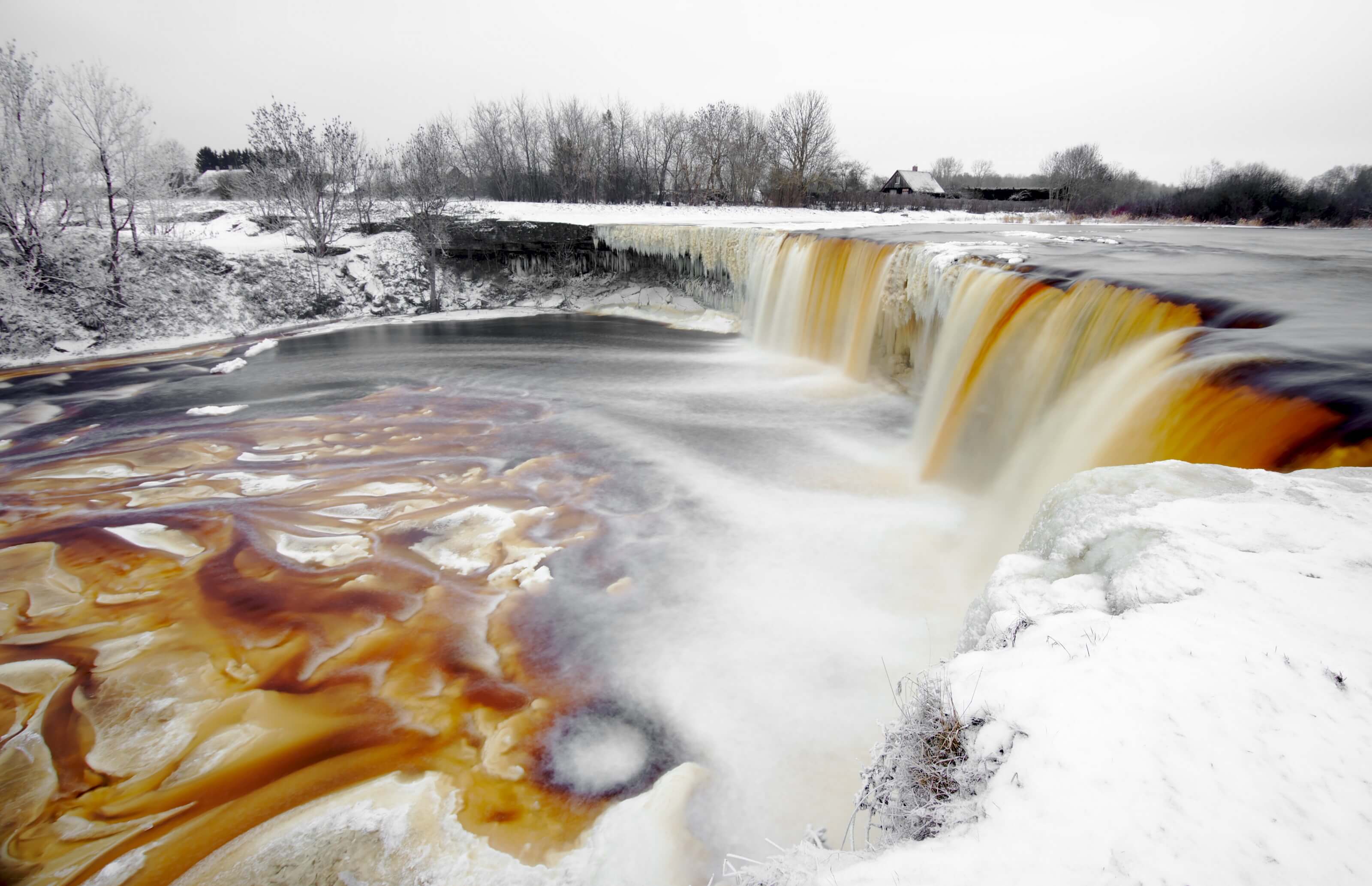 The Viru bog (Viru's peat bogs)
After our short visit of the waterfall, (the stop was too short if you ask me… but this is the disadvantage when you like photography and travel in a group), we take the minibus back to one of the famous peat bogs (the Viru bog) that gave the river water its dark colour. After parking the bus, we take a small path that goes into the forest. The trail quickly turns into wooden footbridges… it's the moment Andres chooses to explain to us that in summer the whole area around us is full of water and that it's impossible to walk outside these footbridges (Obviously in winter everything is frozen so no problem)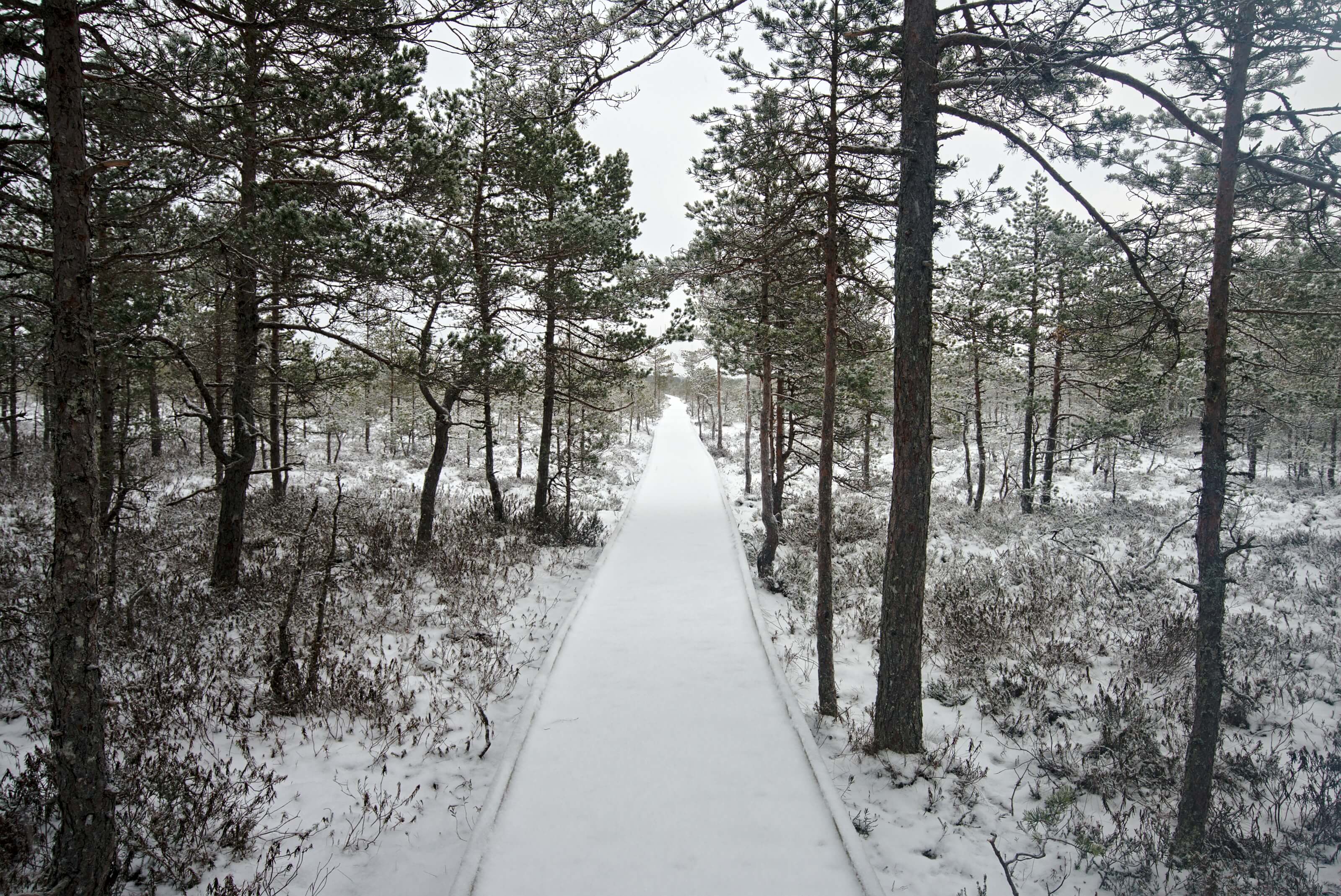 Andres also explains that the peat bog water, despite its brown colour, has practically no bacteria. And so you can throw almost anything into it, nothing decomposes… practical to hide a family treasure but not to hide bodies (why did we just say that??? haha). Moreover, archaeologists frequently find intact objects (or even bodies) in the waters of small peat bog lakes.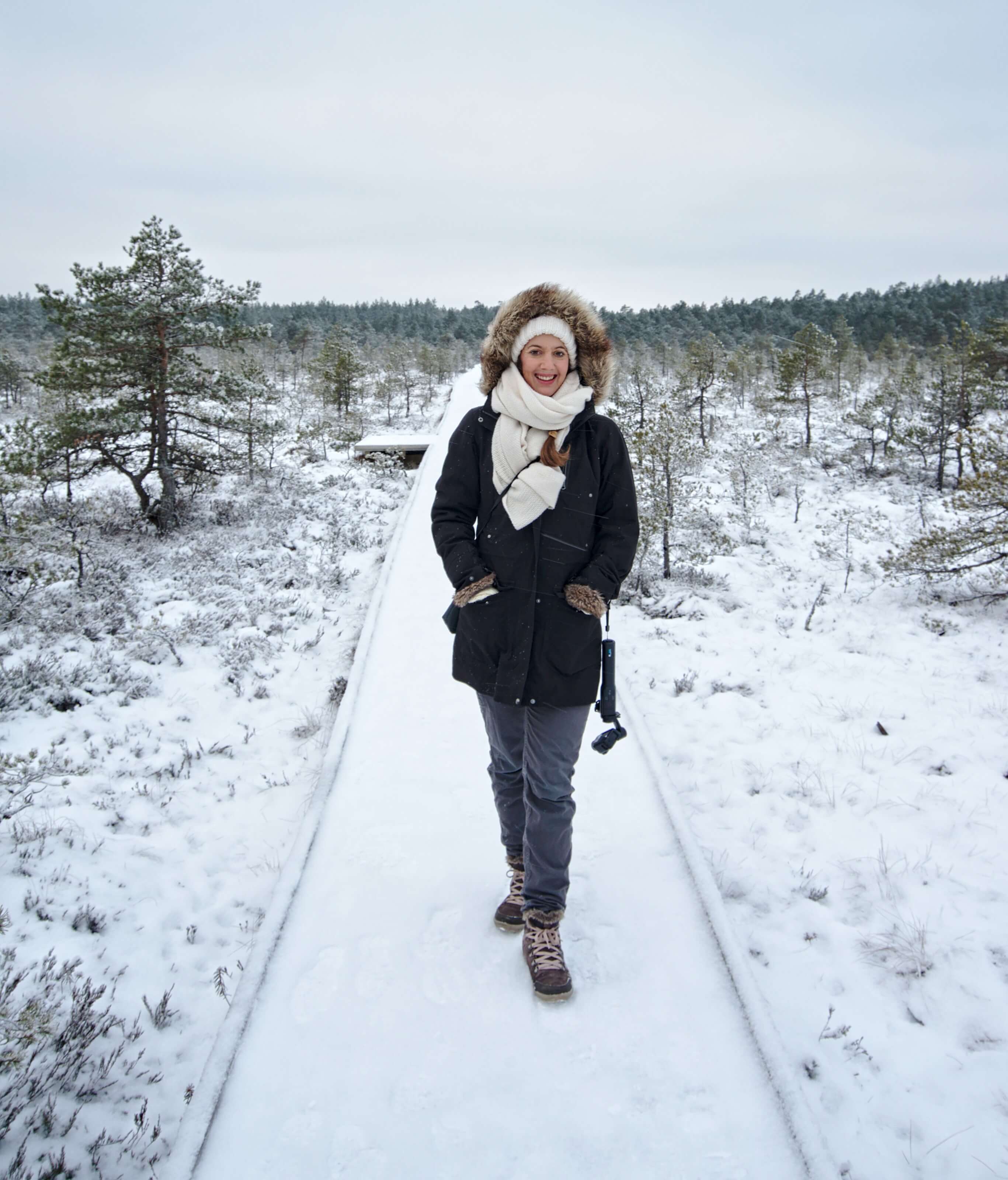 After this short break, we continue the walk on the footbridges (about 2-3 kms). Despite the cold, this little walk is quite nice and we appreciate the landscapes that we discover little by little. But we are still very happy to find the heated minibus at the end of the path on the other side of the bog.
Speaking of cold, we slowly realize that backpacking in winter in the northern countries is a little less easy than in summer. The thing is that the days are really short and you often need to warm up a little… so you can't easily leave and just "see how things go" (as we are usually doing it :)). It is better to check in advance if there are buses, places on the way to warm up etc…. All this to say that in our eyes organized tours make more sense in winter by -10 than in summer when you can more easily manage on your own (like cycling, going home at 11pm when it is still daylight, hitchhiking for 2 hours without freezing by the roadside…).
Hara Submarine Base
After about fifteen minutes by bus, we arrive at the seaside in front of a kind of old abandoned building. Andres does not keep the suspense going and reframes for us the historical context of the site. As you may know, Estonia was occupied by the Soviet Union until 1991 (and when you see how Estonia has evolved in 27 years, you can only be impressed). The Russians had built this base here to demagnetize the submarines to make them invisible to sonar or magnetic mines. But when the Soviet Union was dissolved, this base was abandoned and became the playground for graffiti artists or other street art enthousiasts.
As you will have understood, it is a place steeped in history and really nice to visit with its dilapidated and abandoned look. We really enjoyed this little visit, which was all the more interesting because we had someone who could answer our questions.
Käsmu: the village of captains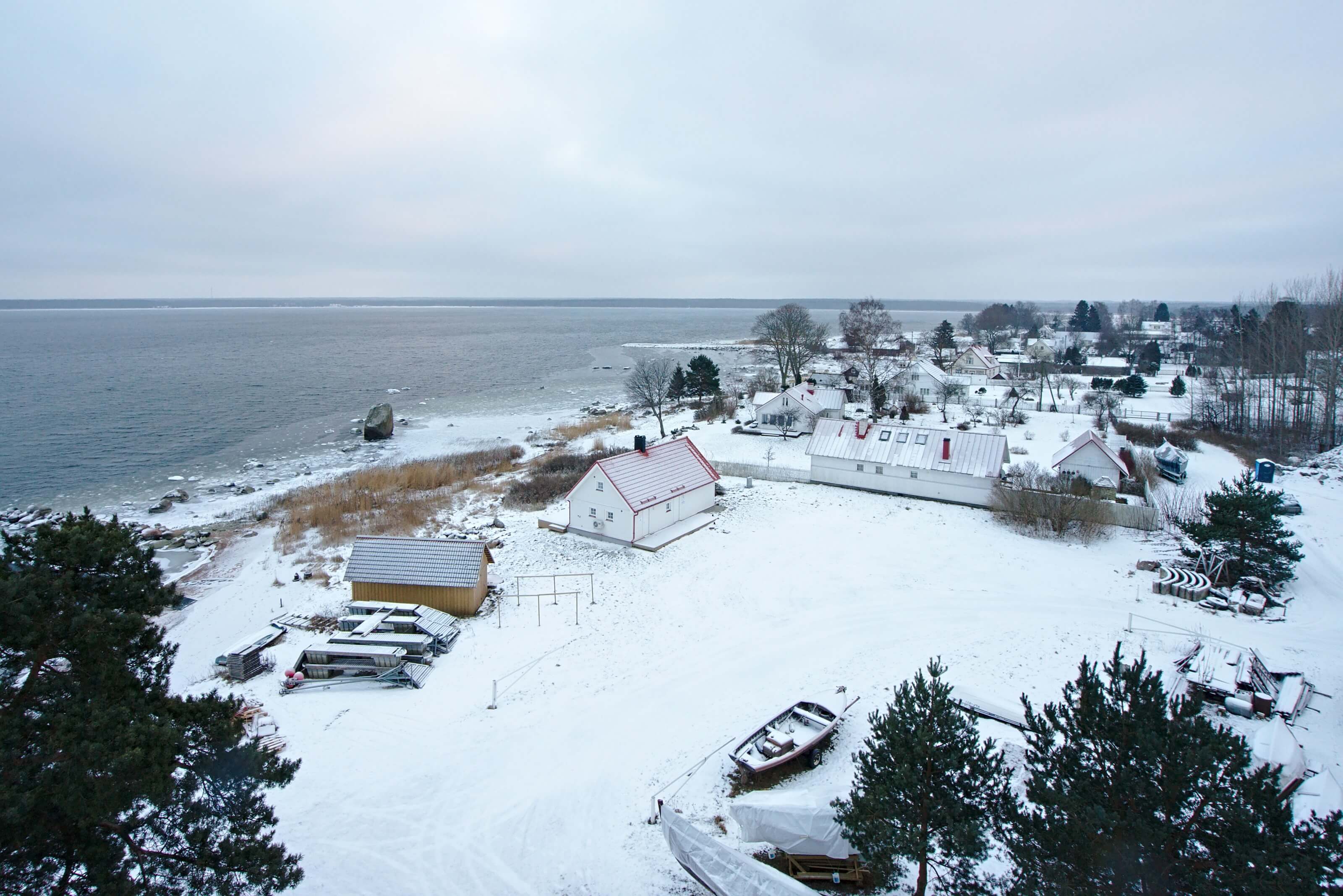 It is already 2pm when we arrive at the village of Käsmu in the heart of Lahemaa National Park. Andres had warned us that for an extra 13€ per person, we could eat the best smoked salmon in Estonia for lunch (and we obviously all said yes;)). We are welcomed in a large traditional house that also serves as a maritime museum. The couple who lives here is passionate about the sea and collects everything related to the maritim world. Their house is definitely worth a visit, believe me.
But first, let's get down to business: smoked salmon;). The man is an expert in salmon smoking and claims that there are only a few people in Scotland who know how to smoke salmon properly like him. So after tasting, indeed, the salmon was simply the best we've ever tried! And to make things even better, we ate in a superb dining room that says a lot about the owners' passion for the maritime world.
After this delicious meal, we take the time to visit the museum (which is in fact almost the entire house 😉 ) and Andres explains that this village has a long maritime tradition. He tells us that if the houses in this village are larger and more luxurious than elsewhere, it is because there were practically only boat captains in the village (there was a maritime school in the village). It is easier to understand how the owners of the museum found all these objects related to the world of the sea.
Back to Tallinn with some stops on the way
It's winter so it's already getting dark:) and it's time to head back to Tallinn. On the way back, we'll make two more nice stops:
the first one in another small village which name I forgot. The village had nothing special except a large swing on which you can easily fit 6-8 people. Andres explained to us that these swings were typical in Estonia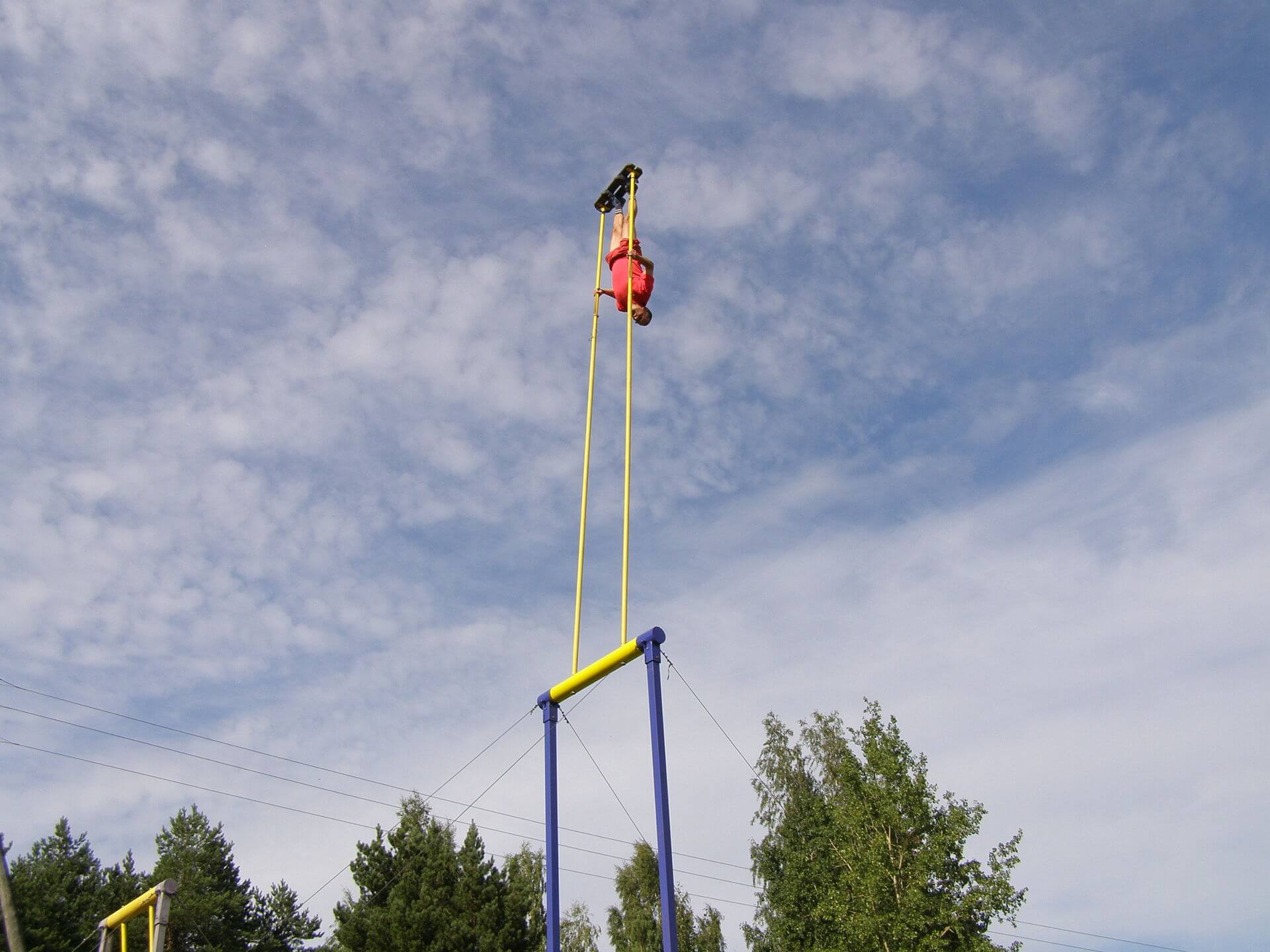 . In summer, it seems that Estonians like to take an aperitif and swing ( literally ;)). The idea is to swing as high as possible until one group gives up and asks to stop :). There would even be swings competitions (serious too) and the one who manages to do a complete turn alone on the longest swing wins. This discipline is called Kiiking and is practiced on a gigantic individual telescopic swing. Estonia's current record is 7.03m!!!!! These Estonians are crazy…
The second and last stop we made before Tallinn was at the Sagadi mansion. It should be noted that Estonia has many manor houses, all of which date back to the Middle Ages. It is also possible to buy a mansion in Estonia. However, once you have bought it, you have an obligation to restore it (which must not be cheap if you want my opinion).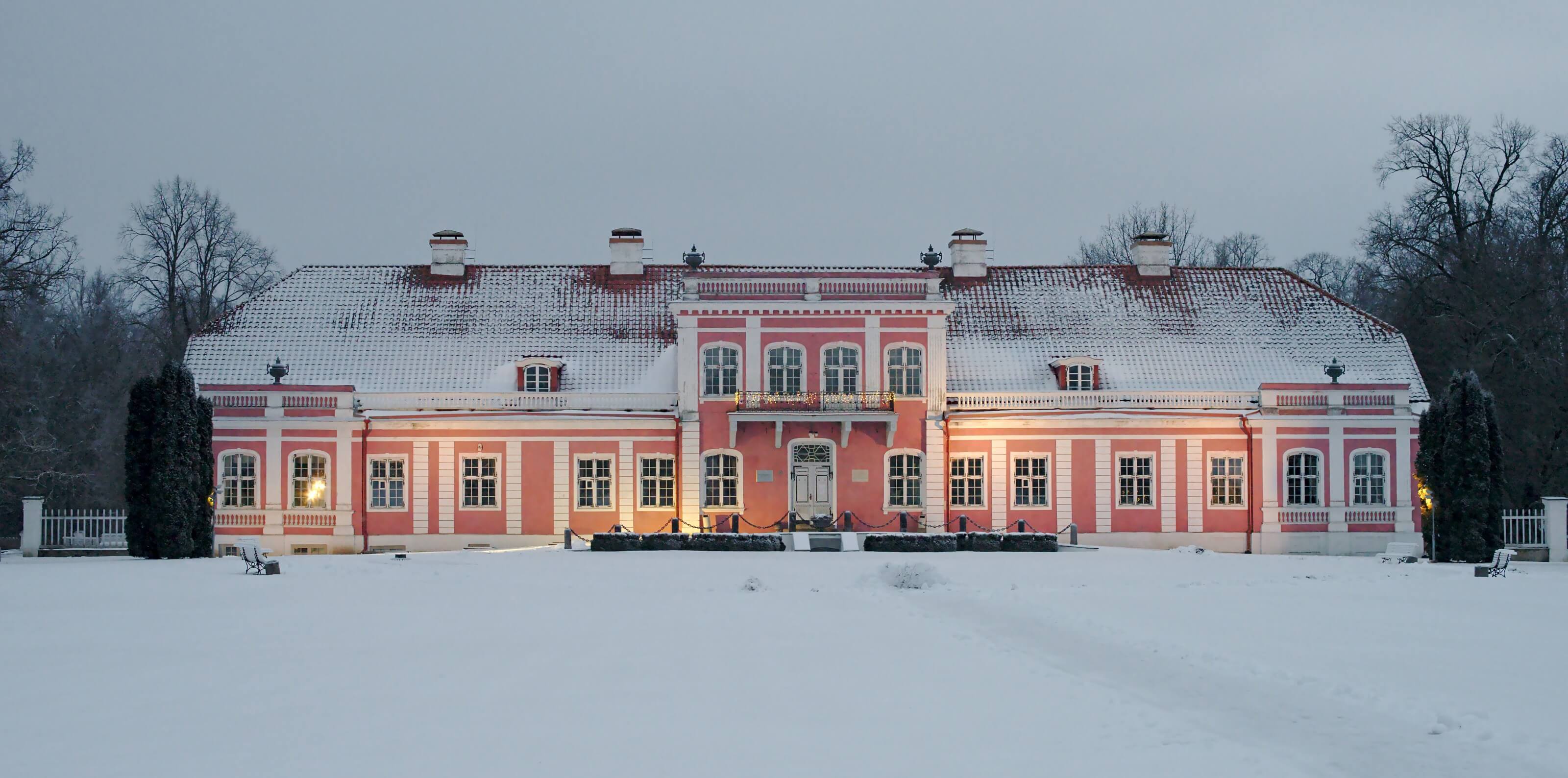 Infos

If you want to do this tour, just register here.
Otherwise you could also rent a car and explore all these things by yourself. The roads are in excellent condition and this may be the option we would have chosen if we had had 2 days to explore the park. You can view car rentals in Estonia here.
To do it by public transport, it's a little more complicated though… Most options force you to go through Haljala Tee to change buses and go to Lahemaa National Park. It takes at least 2 hours and there are very few buses during the day, especially in winter.
We hope you enjoyed this new excursion from Tallinn as much as we did. We will especially remember this day the magnificent waterfall of Jägala, Andres which animated this tour with a lot of humour and anecdotes as well as the delicious smoked salmon of our host in the village of Käsmu. We look forward to seeing you soon for a new budget article that Fabienne has the secret of 😉
Update: Our Tallinn travel budget is live
Take care!
NB: This article contains affiliate links to partner website. We did this tour privately and thus were not comissioned to write it. We paid for our tour and liked it a lot.