Gran Canaria, it's already time for a review! We spent the whole month of October 2019 on this beautiful island. A month to work from a coworking space and visit the surroundings while enjoying the very mild climate of the Canaries. In this article reveal our detailed nomad budget and give you our impressions on the beautiful city of Las Palmas from a Digital Nomads' point of view.
Note: This article is clearly more for people who want to come to Las Palmas in "nomadic" mode. A lot of talk about co-working, coliving, budgeting for a nomadic lifestyle, etc. This may interest travellers and adventurers out of curiosity, but if you are looking for more "tourist" information about Gran Canaria and Las Palmas then we invite you to visit this article where we talk about 100% travel and not so much about geeky stuff and administration. 😉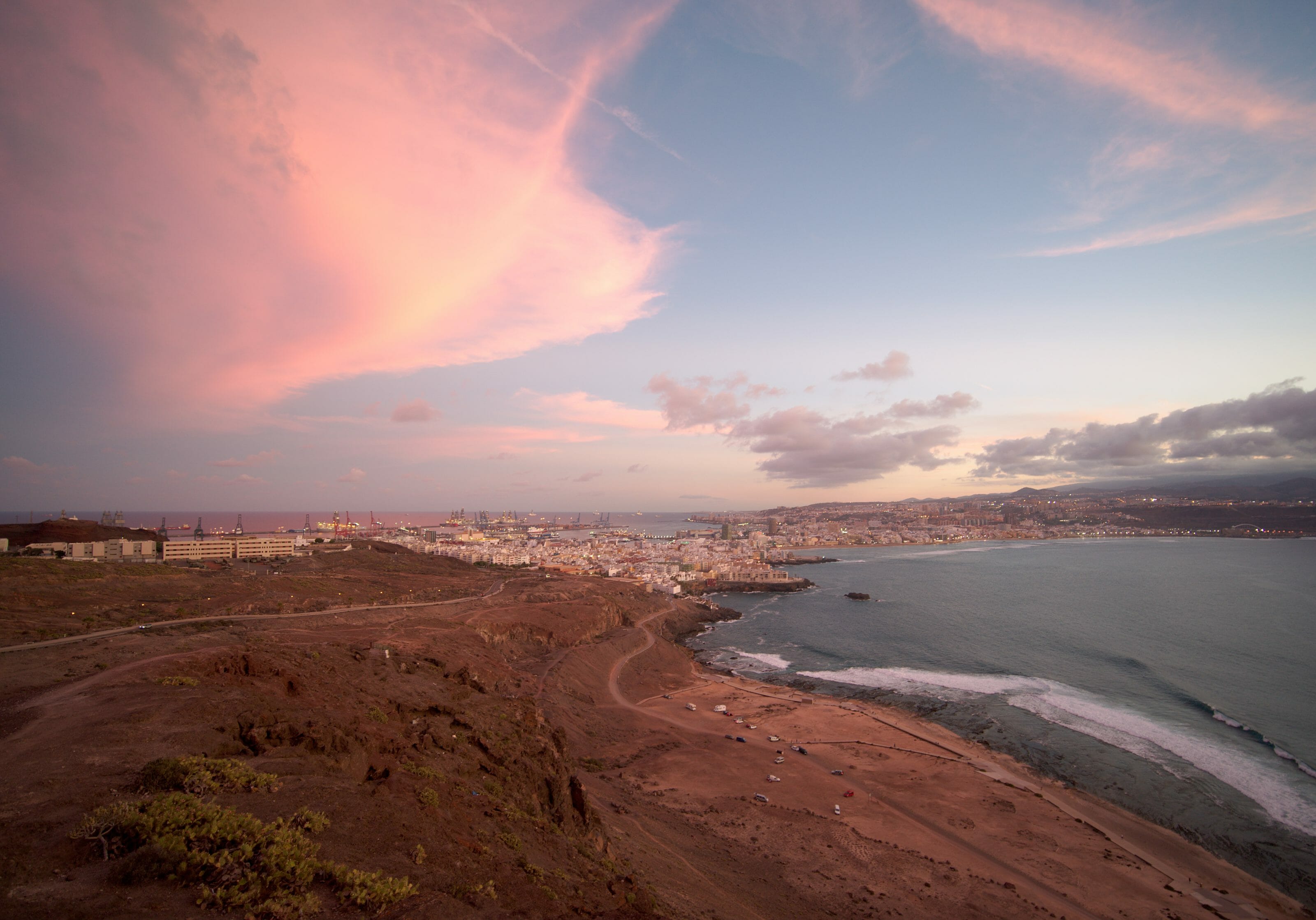 Why did you choose to come to Gran Canaria?
We started our nomadic adventure 3 and a half years ago. In September 2016 we flew to Chiang Mai, which is probably THE most famous city for nomads. Already at that time, we had met many people who told us about the Canary Islands as THE European hub for nomads. A perfect climate, beautiful landscapes, good food, reasonable costs of living and a great and dynamic community…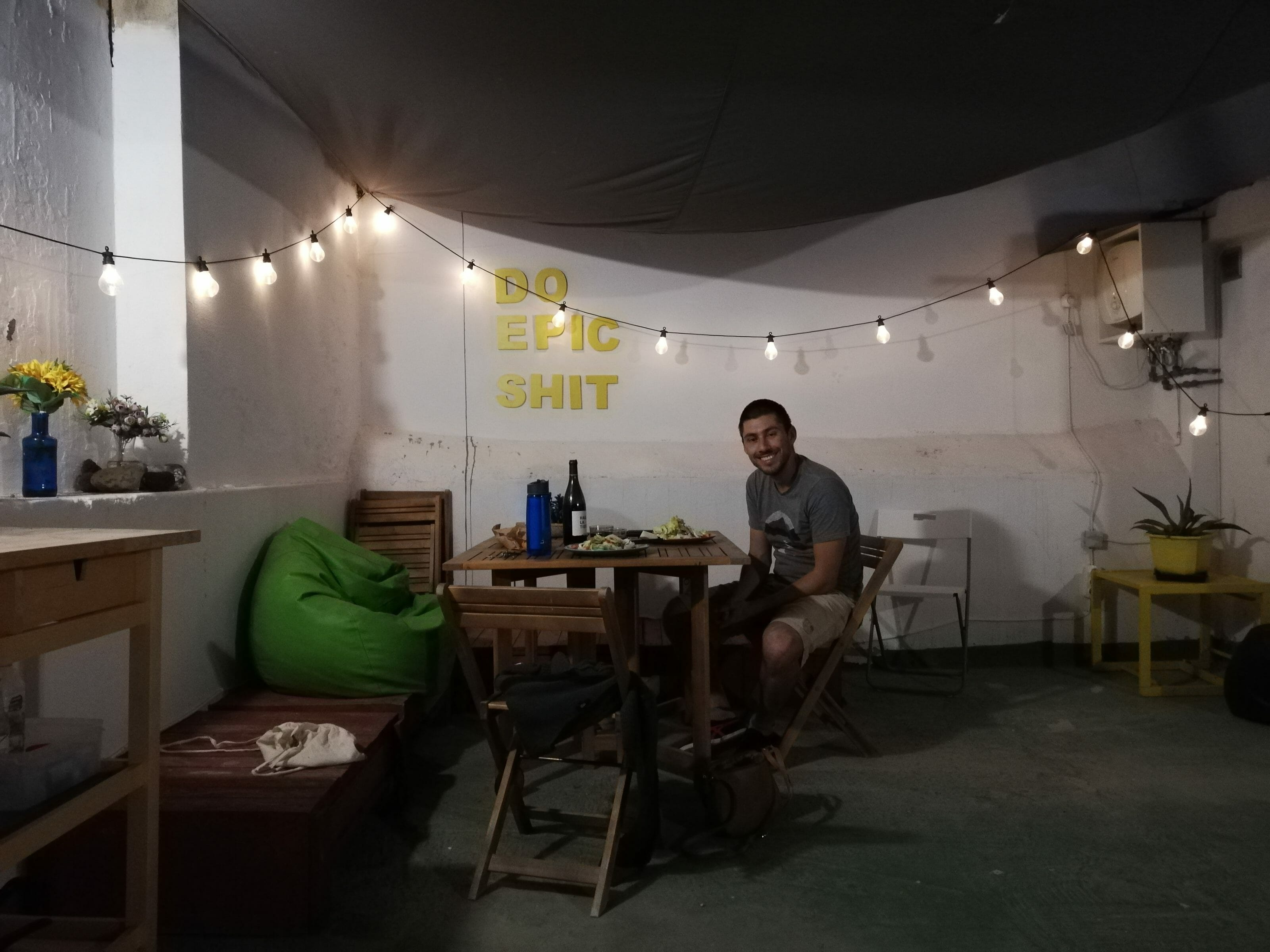 In recent years, the Canary Islands and especially Gran Canaria have indeed established themselves as a preferred winter destination for many nomadic workers. Communities are growing and many who come "just to have a look" end up coming back again and again. 🙂 #WeWereWarned
It is difficult to say how many nomads come to spend the winter in the Canary Islands, but what is certain is that there is no risk of getting bored! The Facebook group Digital Nomads Gran Canaria has more than 4000 members alone and there are several events per week that allow you to meet people and exchange with other people who have a similar lifestyle.
Usually we prefer small towns or very "nature centered" regions, but after hearing about Las Palmas (400,000 inhabitants), we decided to spend a month there to see how nomad life "in a city" could be like. And well, let's admit that we really wanted to come back to Tenerife too… so going to Gran Canaria was the perfect excuse to take a ferry and then come back to our beloved little island. 😉
Update 2021
Since Tenerife we stayed in several other coliving spaces accross Europe. While Nine coliving remains one of our favorites, we also discovered some other really nice spots. If you want to find out more about colivings and why we love them so much, take a look at the blog post below.
ReStation – Our experience of coliving and coworking in Gran Canaria
During this month in Gran Canaria we didn't want to go through the trouble of finding a place to stay. Rather than looking for accommodation on site and going around the co-workings, we had booked a room at ReStation in advance. See their website
ReStation is a coworking and coliving space based in the Las Canteras district of Las Palmas. This coworking, that was founded in 2016, is often the first one to show when searching on Google. Unlike our coliving experience in Tenerife where everything is grouped in the same house, Restation is more of a "neighbourhood" coliving. "The Coliving" is actually two apartments in which you can rent rooms, have access to a kitchen and a washing machine and the room price includes access to the coworking space which is 2 blocks away.
We admit it, Restation we left with a mixed opinion. The community? Great! Coliving and coworking? Meeeeeehhhh… okay.
The Restation Apartments – Miller House
So let's face it, there was nothing catastrophic about it, but let's just say that we were surprised to see the place "in real" compared to the pictures. The photos on their website are not fake in the sense that they were all taken in the apartment, but there was clearly some editing work done on the brightness of the rooms. The architecture of Las Palmas' houses means that there is in reality only one single window towards the outside (the one in the living room). All the rooms face tiny patios or air ducts, so it's VERY dark.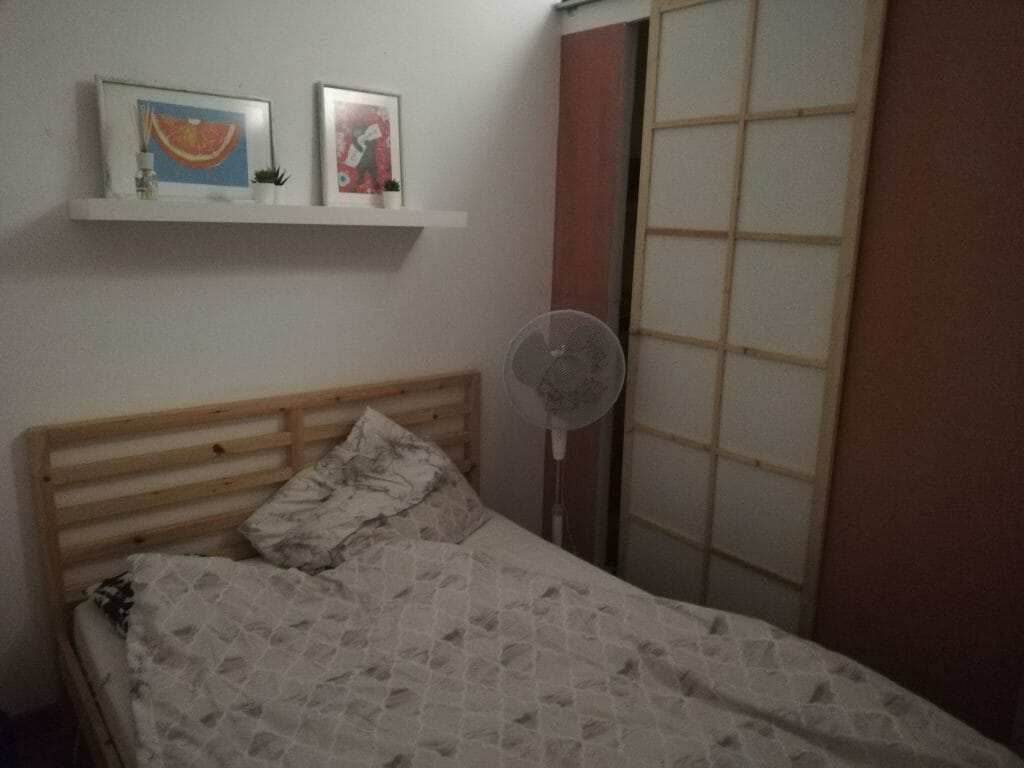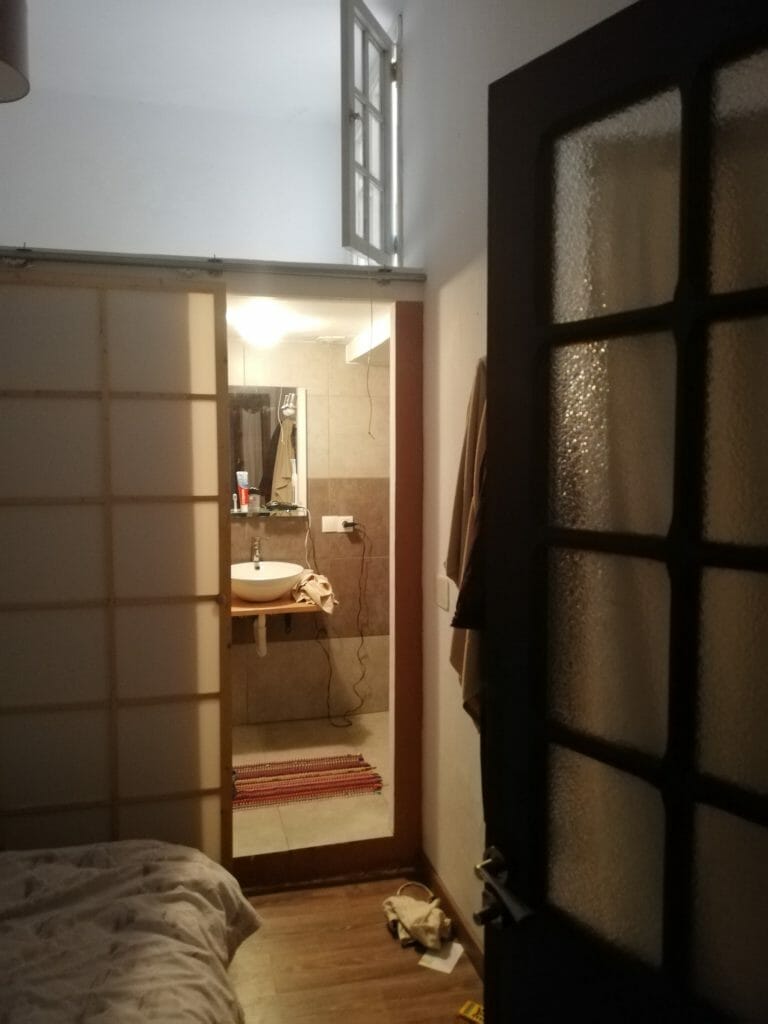 The first room we had when we arrived was more like a large closet with a small window perched more than 2m from the ground, for which we had to get the ladder to open and close it. We admit it, we were quite surprised (this room is obviously not showed on their website);).
Afterwards, it is important to mention that Maria and Sarah, the two managers of the place, are well aware of this "problem" and did not hesitate to propose us a change of room as soon as another one had become available.
Beyond the brightness issue and this small fail with the first bedroom, the apartment was fine. It was clean, functional, super well located and the wifi worked very well.
The ReStation co-working space
Co-work spaces have become an important part of our daily lives on the roads. They allow us to be sure that we can work in good conditions and also to have a little "office" feeling even when we are in a sunny destination (and incidentally being surrounded by people who work and who are not on holiday generally helps with productivity as well).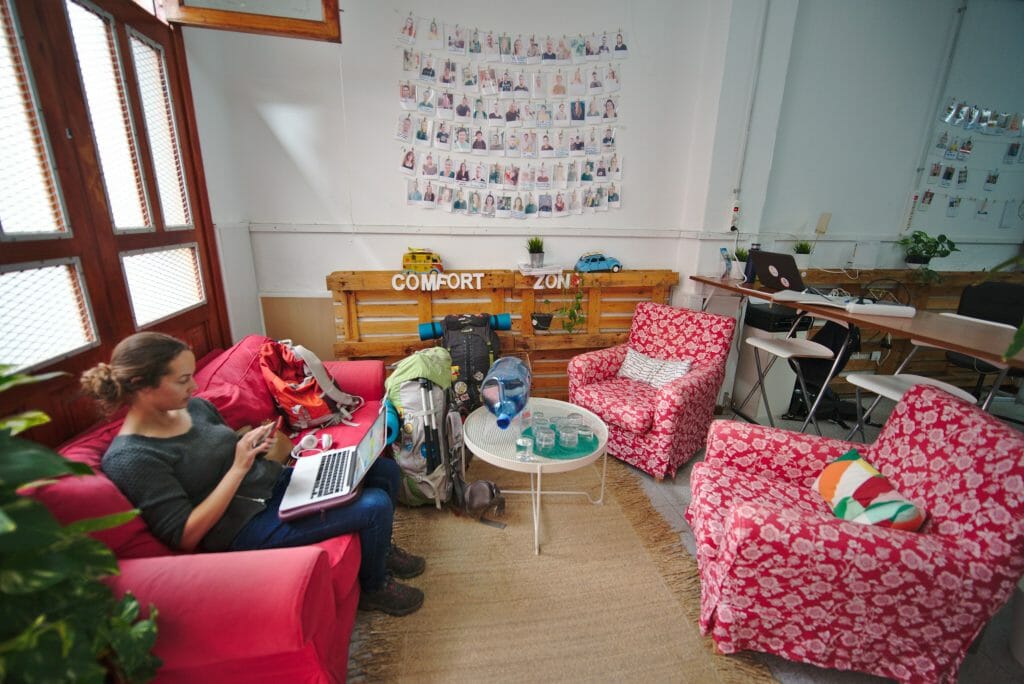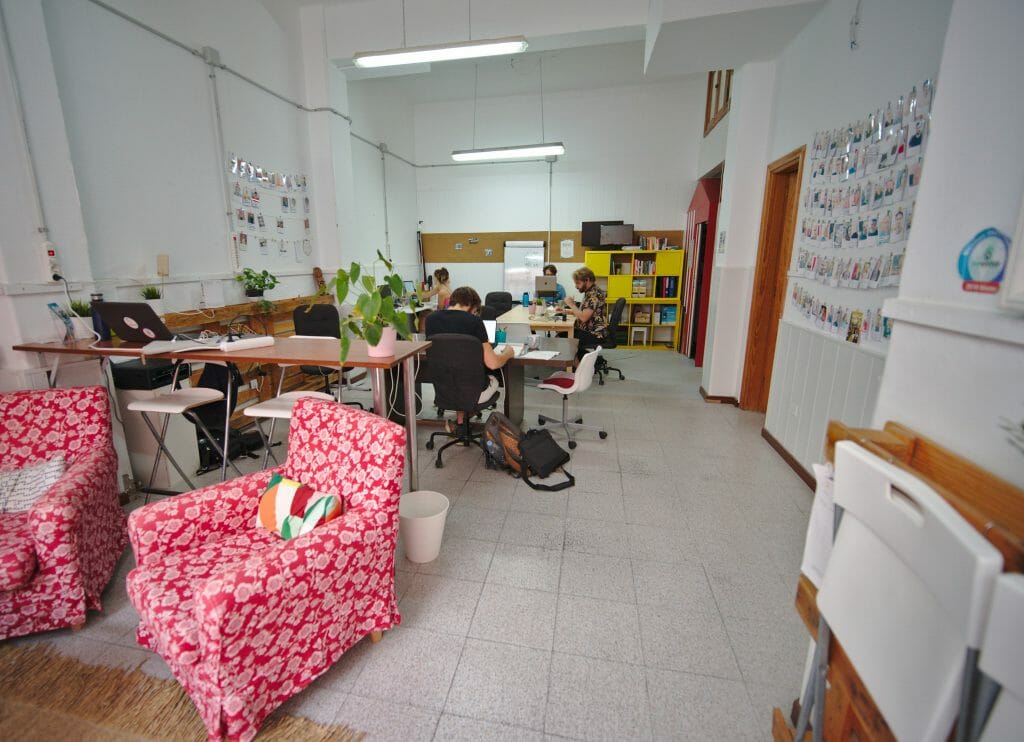 In the end, during our month in Gran Canaria we will not have worked that much from the co-working space, or at least not for the last 2 weeks. Instead, we were quite regularly in the living room of our apartment. The reason? The Restation coworking is small… very small and also quite dark! In all, there are about ten seats, but as soon as there are more than 8 people it is quickly "too much". The chairs are okay, but that's not exactly what I would call ultra comfortable chairs to be seated on 10 hours a day… But the big problem we had was wifi. From the second week on, we had a lot of connection problems. The network was not stable and we were regularly disconnected. This is not dramatic when you write an article or edit photos, but when Benoit started working on our clients' servers it became a little stressful.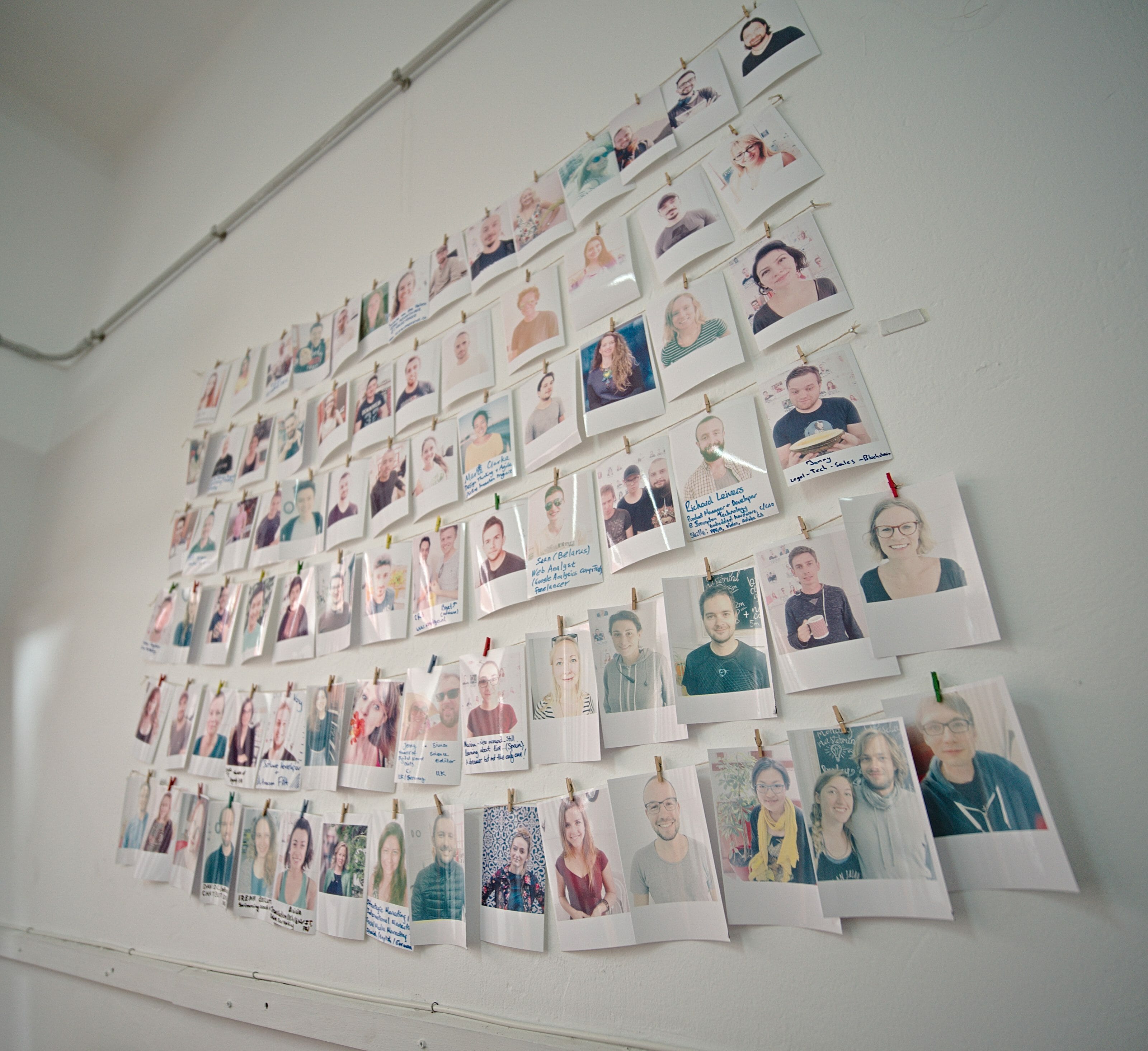 Sarah, the coworking manager did everything she could to solve the problem by bringing in technicians, but unfortunately it didn't really get any better. It may have been a network provider problem because apparently there had never been any problems before (we spoke with several people who had stayed here). But the fact is, over our month there, there were 2 good weeks of connection problems that made us migrate to the apartment a good part of the time.
It is not our way to identify the negative points, but I believe that in a coworking/coliving context this is important. Afterwards, these little "glitches" do not take anything away from the fact that ReStation is ideally located, that it is managed by really nice people and above all that it is a perfect meeting place for nomads and entrepreneurs.
The nomadic community – a real little family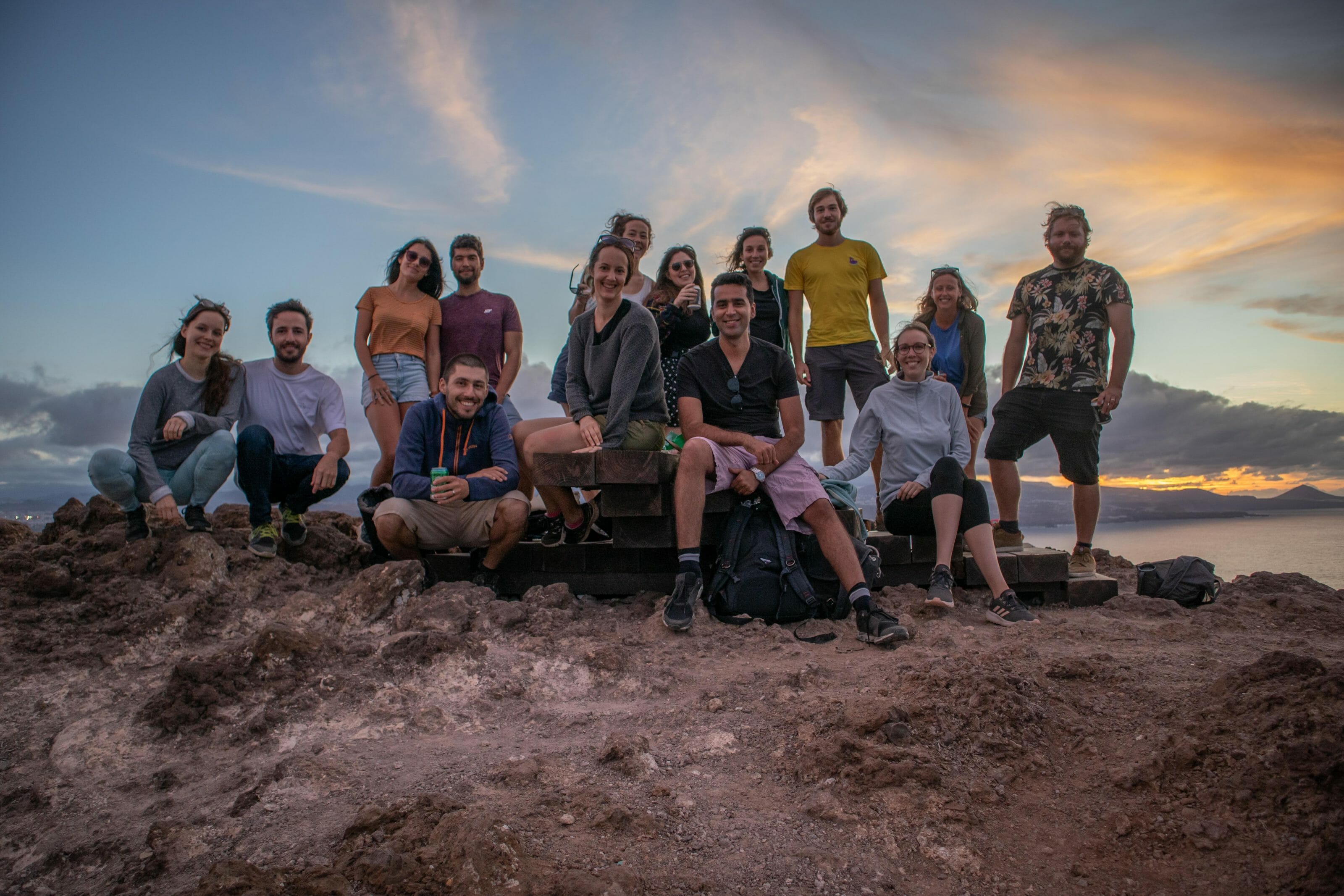 Photo credit: @travelosophy.co
As you can see above, not everything has been perfect from an infrastructure point of view with this month in Las Palmas. But you know what? We still left the island with a huge smile on our face and 99% delighted with our stay! Why?
Do you remember that we told you that we were a little "disappointed" by the nomadic community of Bansko? There, the coworking facilities and apartments were great, but despite that we left the place being a bit disapointed… In Las Palmas, the coworking could clearly be improved, the apartment would need a makeover and yet we were thrilled. 🙂 Are we full of contradictions? Maybe a little… but it's not only that…
It's actually funny, but by comparing these two experiences we really realized how much our overall impression depends on people and encounters rather than infrastructure. In Gran Canaria we found a community like in Tenerife; passionate and exciting people with whom we immediately got along really well. The conversations quickly go beyond the small talk and we get to know each other, we exchange, we learn from each other, we go hiking, we share drinks and we have a lot of fun too. 😉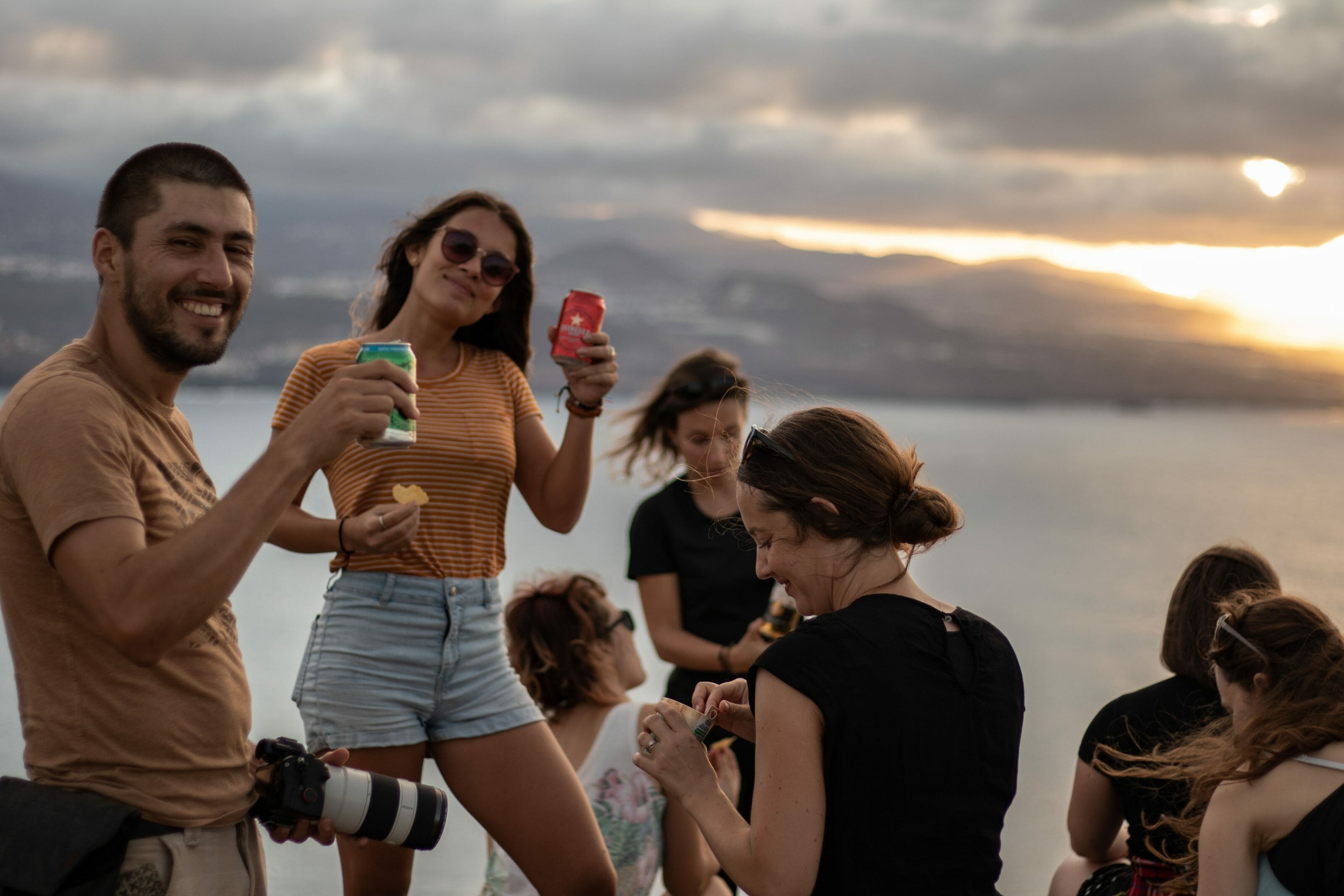 Photo credit: @travelosophy.co
Is it the sea air of the Canaries or the Spanish wine that makes us love the vibe here so much? We don't know, but the fact is that we have met and seen amazing people with whom we have forged beautiful friendships. In the end,this is much more important to us than a good office chair or a nice room with a view (ok… a perfectly working wifi would clearly not have bothered us… but even THIS did not alter our good mood)…;)
Budget for our month in the Canary Islands
It's time to move on to the numbers. 🙂 It has now become a little ritual for us to publish our travel budgets, so we thought that our budgets in "nomadic" mode might also be of interest to you. To find all our budget items, have a look here.
In total, we stayed in Gran Canaria for 30 days and spent 1831€ (for 2 people).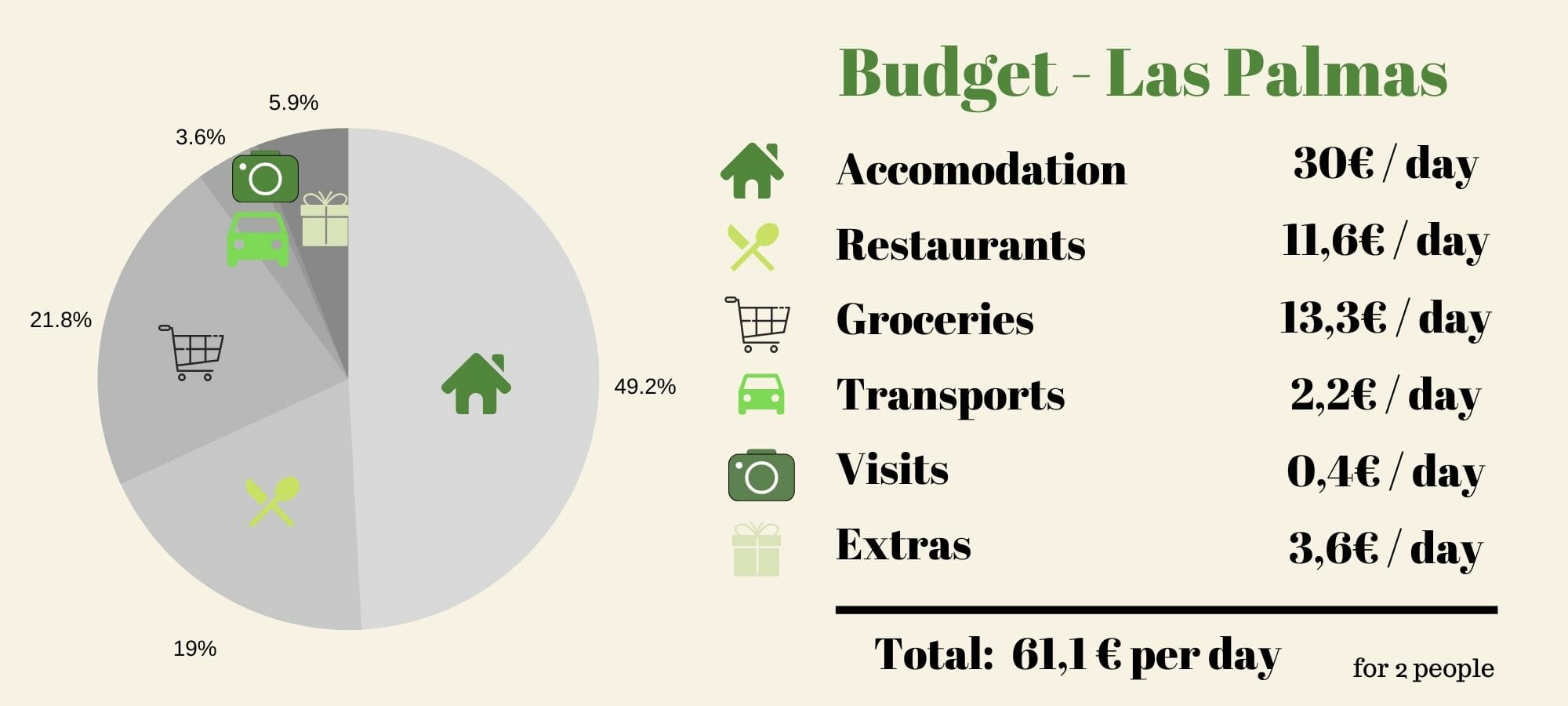 Notes:
These expenses are the ones we had while staying in Las Palmas. However, this does not include our taxes, recurring costs and travel insurance.
The above budget does not include flights. We took a one-way ticket to Gran Canaria which cost us 120€ per person (including luggage). To see the price of flights, go to Skyscanner
We have worked quite a bit during this month and have therefore done relatively few visits and paid activities. All our trips were made by public transport.
Cost of living in Gran Canaria: details by item of expenditure
In order to give you a better idea of the prices, here are some more details on the different items of expenses we have had as well as some examples of prices.
The Coworking and the coliving:
For the coworking we paid 900€ for one month. This price includes accommodation in the shared apartment with a private room and a private bathroom, access to the kitchen, washing machine, living room and rooftop. This also includes unlimited access to the coworking area two blocks away. At the coworking there is tea, coffee and biscuit/cereal in self-service.
Be careful: The price for a double room varies according to the season. The uglier and colder it gets in Central Europe, the more expensive it is! 😉 In short, the cheapest months are usually July and August and the most expensive are December and January. For the record, we were there in October.
If you live elsewhere, you can also become a coworking member. The day costs 10€, it is 50€ for the week or 150€ for a month of subscription. This price is quite standard for a coworking. In Las Palmas the vast majority of coworkings vary between 120€ and 170€ for a monthly subscription.
Restaurants in Gran Canaria: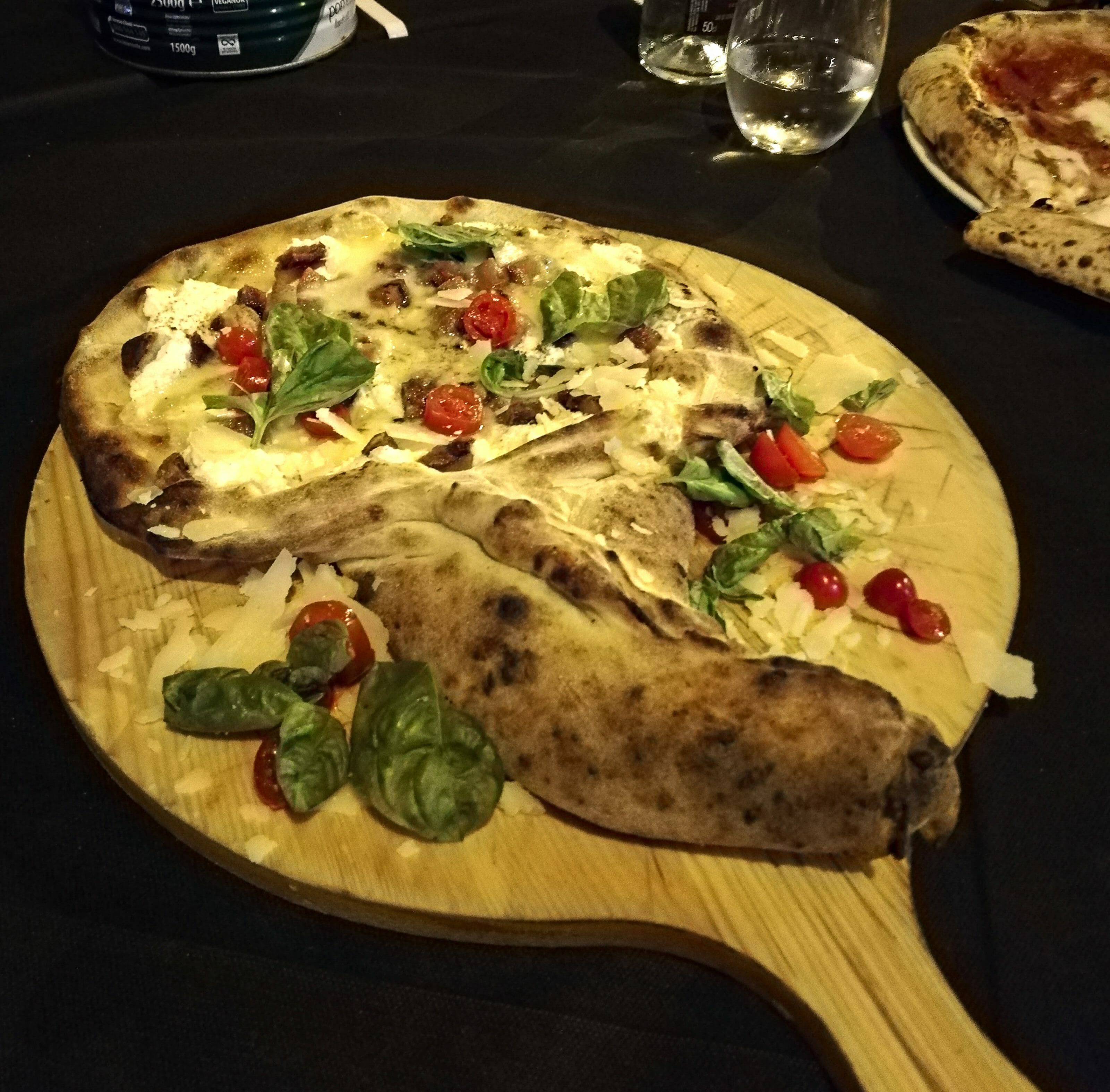 Okay, on this point I admit that we cheat a little by calling it "restaurant"… to be fair, the name should be Bars & Restaurants. 🙂 Having come to Las Palmas to also enjoy a little bit of the community, we went out quite a bit and that can clearly be seen in the budget. On average we ate out 1-2 times a week and 2 evenings a week we went out for a drink. For a "simple" restaurant it is necessary to count approximately 20€-35€ for 2 people for a meal with a glass each. For bars everything depends, but a beer usually costs 1.5€ for a small one and 2.5€ for a large one. A glass of wine costs between €2 and €4. Cocktails are a little more expensive (about 6€-10€) but we don't really drink them.
Groceries: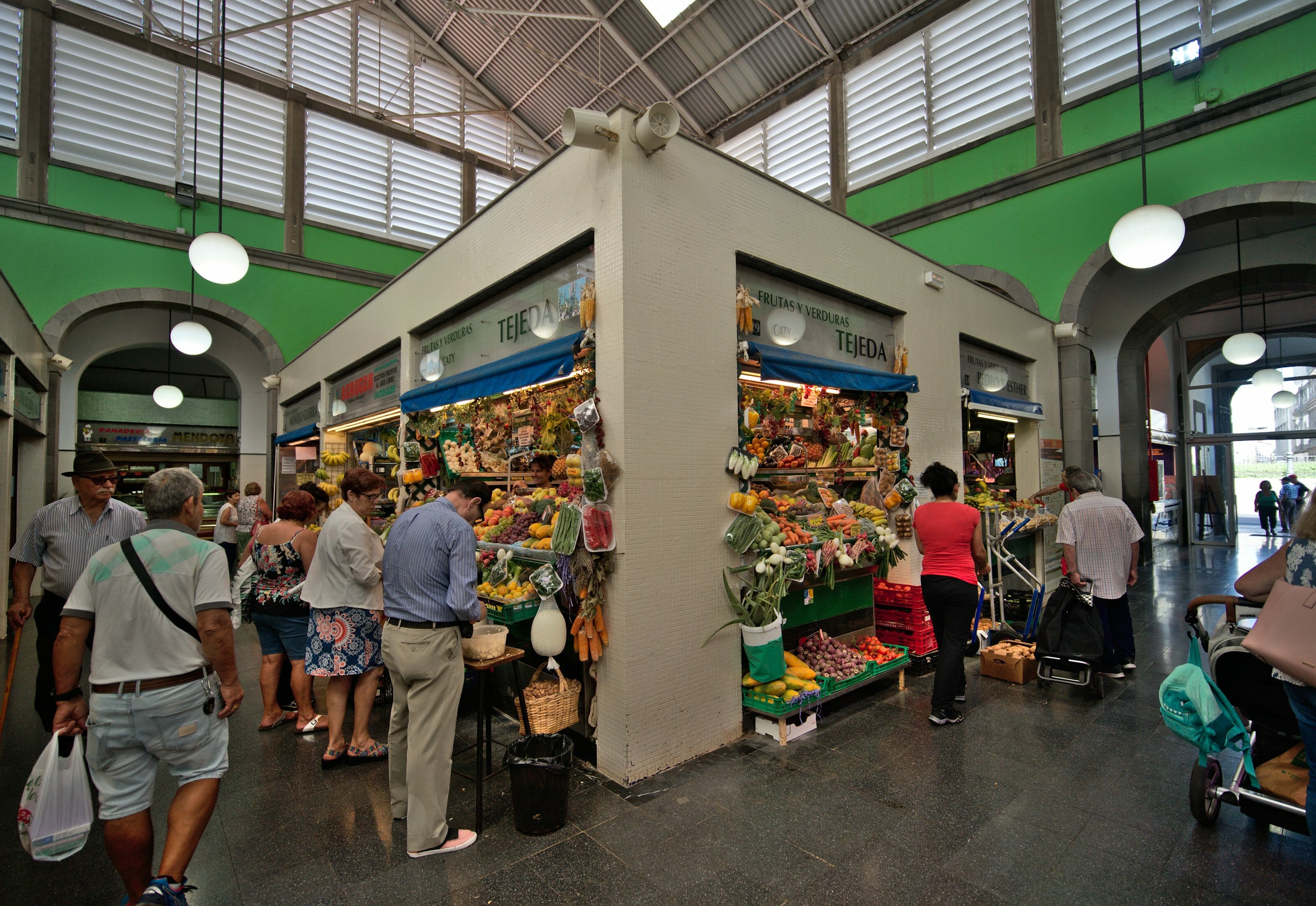 Under shopping you have to understand everything we bought during the week in the supermarket, at the market and in the small grocery stores. The "daily" budget is probably not the fairest way to present this, but let's say we made about 100€ of grocery shopping per week for 2 people. This covers all our meals, hygiene products, and some bottles of wine for the roof top as well as some meals where we invited friends to come over. 🙂
Overall, I would say that the price of the groceries is quite similar to those that could be found in France. Fruits and vegetables are much cheaper in small local "fruterias" or at the market than in supermarkets.
Food is clearly not an area where we are particularly looking to save money and we are well aware that we spend a lot for this area compared to "the average" even if we eat very little meat.
Transport in Gran Canaria:
Transport is really not very expensive in Gran Canaria. In the city there is a single fare for bus trips (per trip). This amounts to €1.4 per trip if you pay the driver directly.
Good deal: There is a reloadable card that costs 1.5€. If you pay with this card, the trip costs only 0.85€. If you plan to take the bus regularly, it is worth buying it (minimum recharge of €8.5, or 10 trips). This card works for all buses in the city and you can beep several times and have only one card for several people.
In the city it is also very easy to take a taxi. A ride between the old centre (Vegueta) and the beach (Las Canteras) costs about 5€-6€. If there are 4 peoplesharing it, it is hardly more expensive than the bus and it is much faster!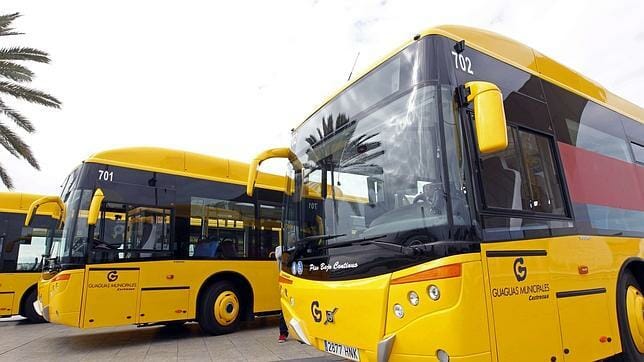 For trips outside the city the price depends on the distance. Tickets are systematically to be paid directly to the driver. To give you an idea, here is what we paid for some of our trips:
Las Palmas – Maspalomas: 6,25€ for 1h15
Las Palmas – Agaete: 4,3€ for a 1h trip
Las Palmas – Arucas: 2€-2,3€ depending on the line chosen
Arucas – Teror: 1,4€ for a 35 minutes trip
The bus network works well and is relatively developed between cities. That's all we used, by the way. However, if you want to see the centre of the island, it is better to rent a car. For our part, we had a good overview of the centre during our hike accross the island and decided not to rent a car this time.
To get an idea: cars are rented for about 30€ per day from the centre of Las Palmas. However, it is often much cheaper if you rent from the airport, so when you do your research, remember to compare the different options. The bus ticket to the airport costs only €2.95, so if you take the car for several days it is worth it.
Visits:
So to speak, nothing! 🙂 In fact, our entire visit budget was spent in one afternoon. 11€ in total, including 8€ for the Casa Colon (4€ per person) and 3€ to climb to the top of the cathedral (1,5€ per person).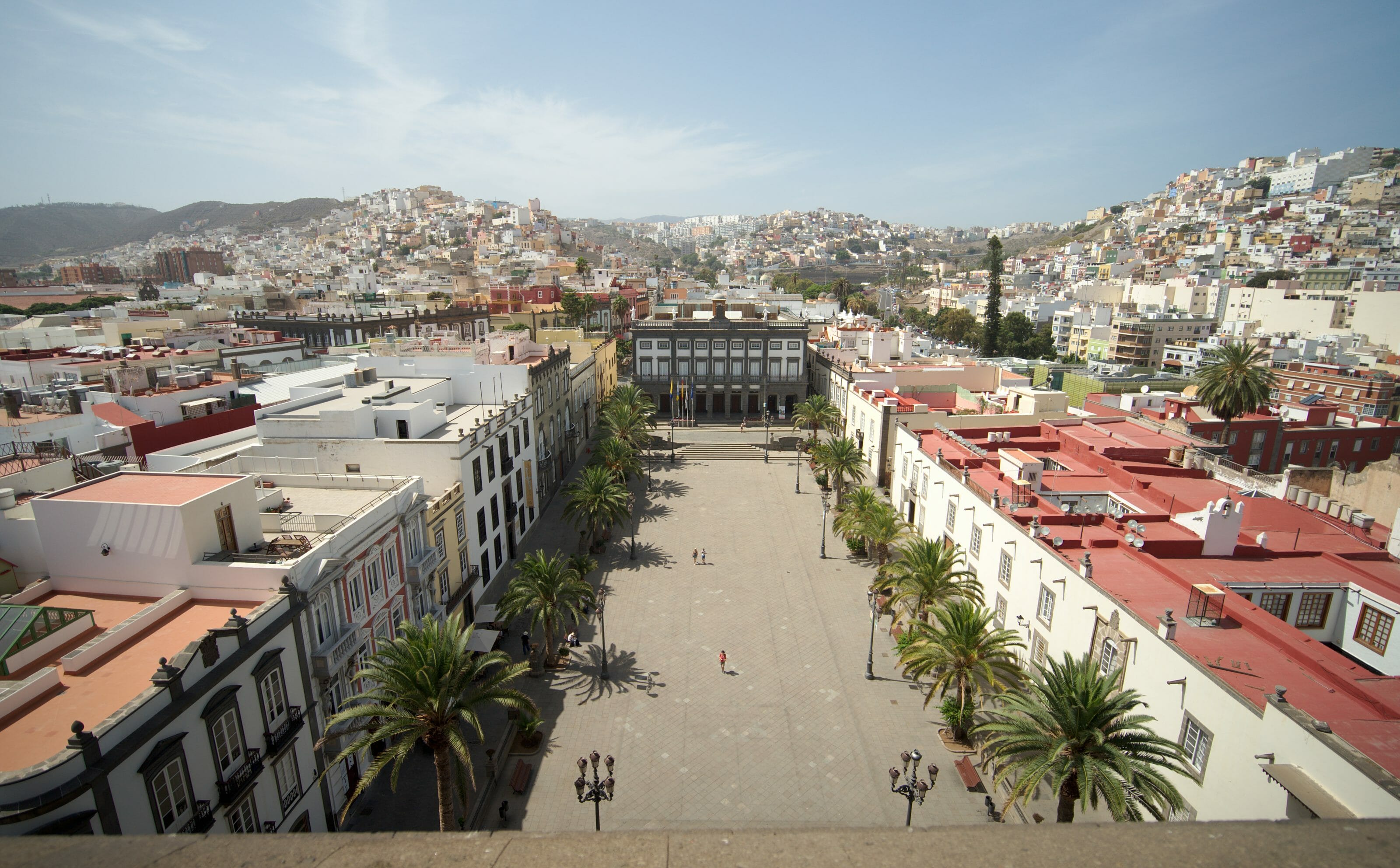 Extras:
In the extras we find my SIM card (22€), a recharge for the card (10€), a movie night as well as a little trip to Decathlon for some last minute purchases before our hike to cross the island on foot. In short, here too the figure per day does not mean much, but let's say that in total we have spent about a hundred euros in extras.
Las Palmas: an ideal base for nomads? Our opinion after one month!
Honestly? It is easy to understand why so many people had told us about Las Palmas as a great place to come and spend a few months! We have not been totally charmed by the infrastructures, but in terms of quality of life, encounters, community, possibility of going out, events, etc. there is absolutely nothing to complain about!
As Dan, a guy we met there, would say: "We keep coming back because it's simply so F*#ing livable".
The beach is a 2 blocks away, you can go diving, surfing, swimming or sunbathing during your lunch break… The choice of restaurants and bars is just super impressive and varied and it's not very expensive. It's touristy enough for there to be plenty of activities, but it's still a big city with a real local vibe.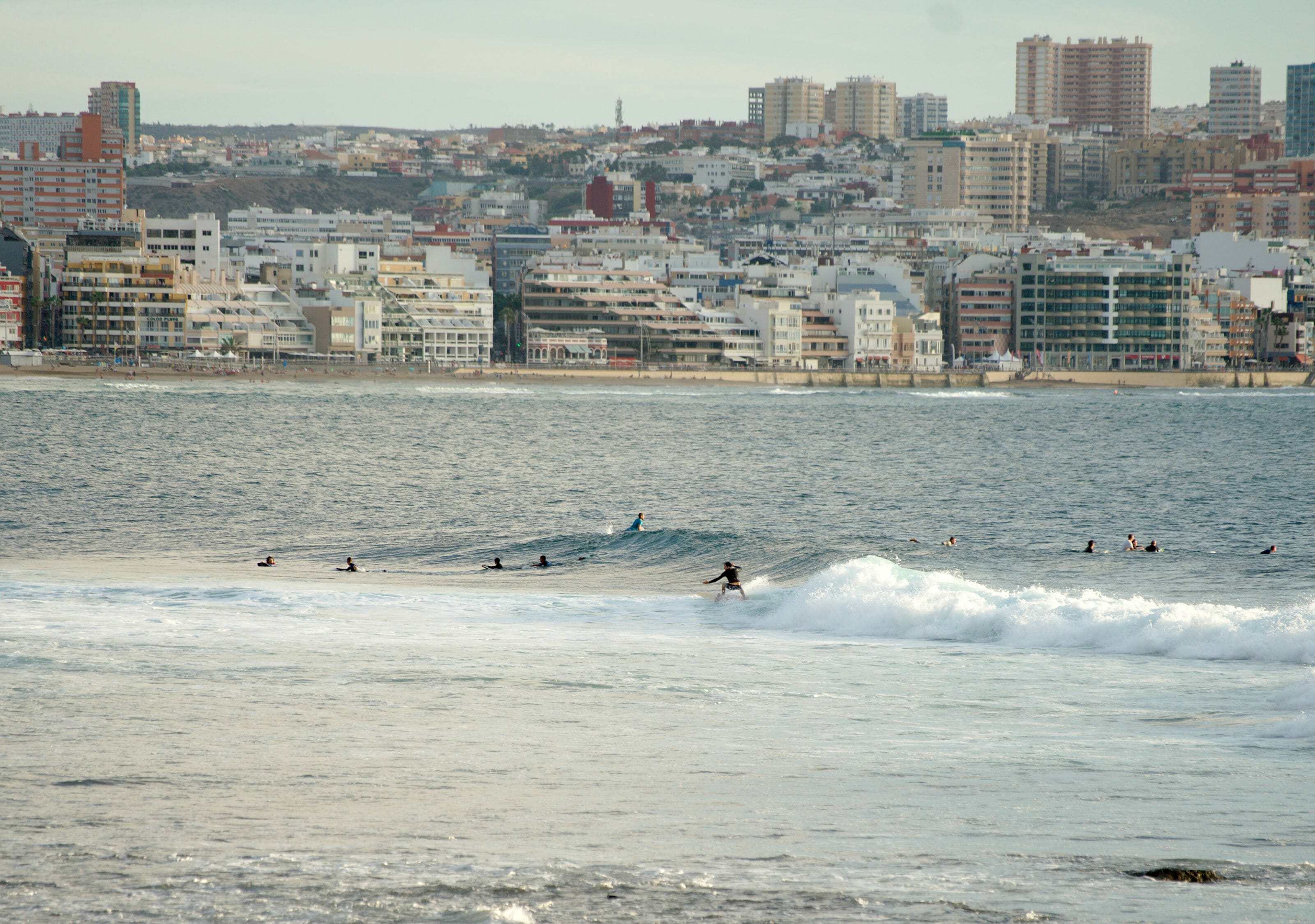 And I know I'm repeating myself a little bit, but the community is really great. It may sound really strange to describe a place for the people you meet there, but I guarantee you that when you move and work a lot, it's just great to be surrounded by people with whom you share the same questions, the same passions too and quite simply people with whom you get along well.
To the question of whether we will return to Las Palmas, honestly I don't know…. This is not planned for the moment, but it is not excluded either. 😉 We don't really have souls of city dwellers (the older we get, the more we realize it), but we can see and understand why people come back. In short, the future will tell us more!)
Mobile Internet in Spain – which SIM card to choose?
This passage may not be very important for you if you are European with a French SIM card, but for the little Swiss or people who come from outside the European Union it can be a help. 🙂
In Switzerland we are not in the European "no roaming" zone, so we often end up buying a local card. In Spain there is no lack of choice! There are many "small" operators and MVNOs on the island, but the most efficient networks are clearly those of Vodafone, Movistar and Orange.
For my part, I opted for Vodafone. The SIM card is sold for 22€ and comes with 20€ credit. From there, you can choose your prepaid package according to your needs. The prepaid packages are called "Yu" and you can choose between "Yuser" which gives you 5GB for 10€, or "Mega Yuser" with its 15GB for 20€ (each top up is valid for 1 month). To buy the sim card, the simplest is to go directly to one of the many shops in the city centre.
Low – Cost Alternative :
The providers called Lebara and LycaMobile are also present in the Canary Islands and have very attractive pre-paid rates. (Lycamobile has for example a package with 30GB for 20€). But the problem with these low-cost providers is that they do not allow data sharing (Tethering). As we sometimes take the computers out in unlikely places (especially on hikes) and need to connect, we never take prociderss blocking connection sharing. If your use is limited to the smartphone only, then this may be a good solution.
In terms of coverage, Gran Canaria is not too bad. There is a good network coverage in all the towns and villages as well as on the ridges. In the centre of the island and in the more remote valleys it's more complicaef, but it's relatively normal I want to tell you. When hiking, it is usually enough to reach a pass or a ridge to be connected again. 😉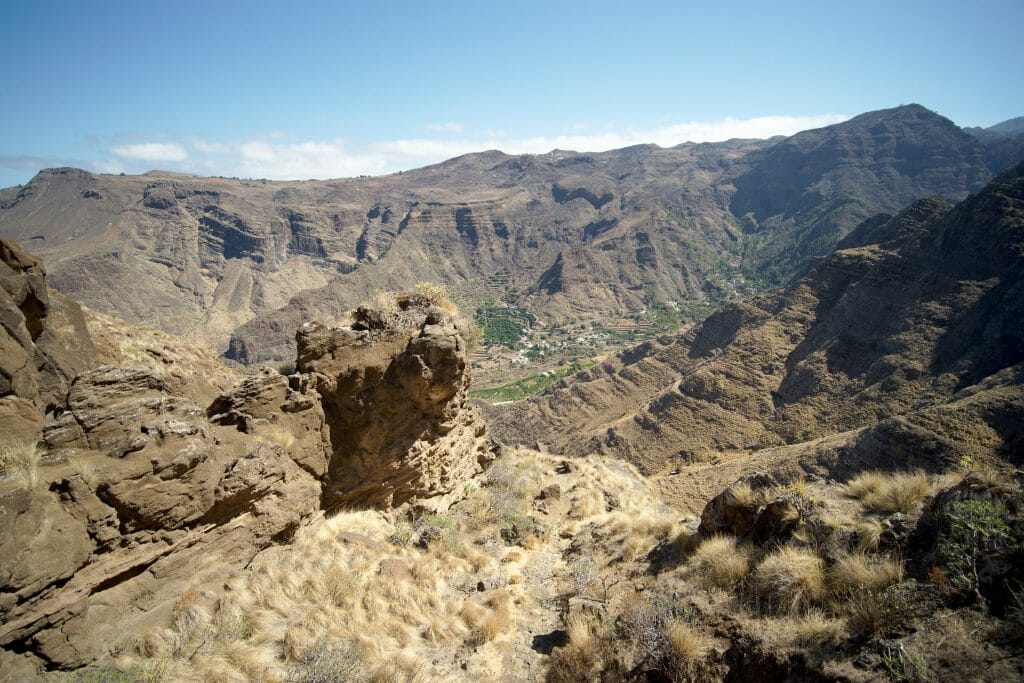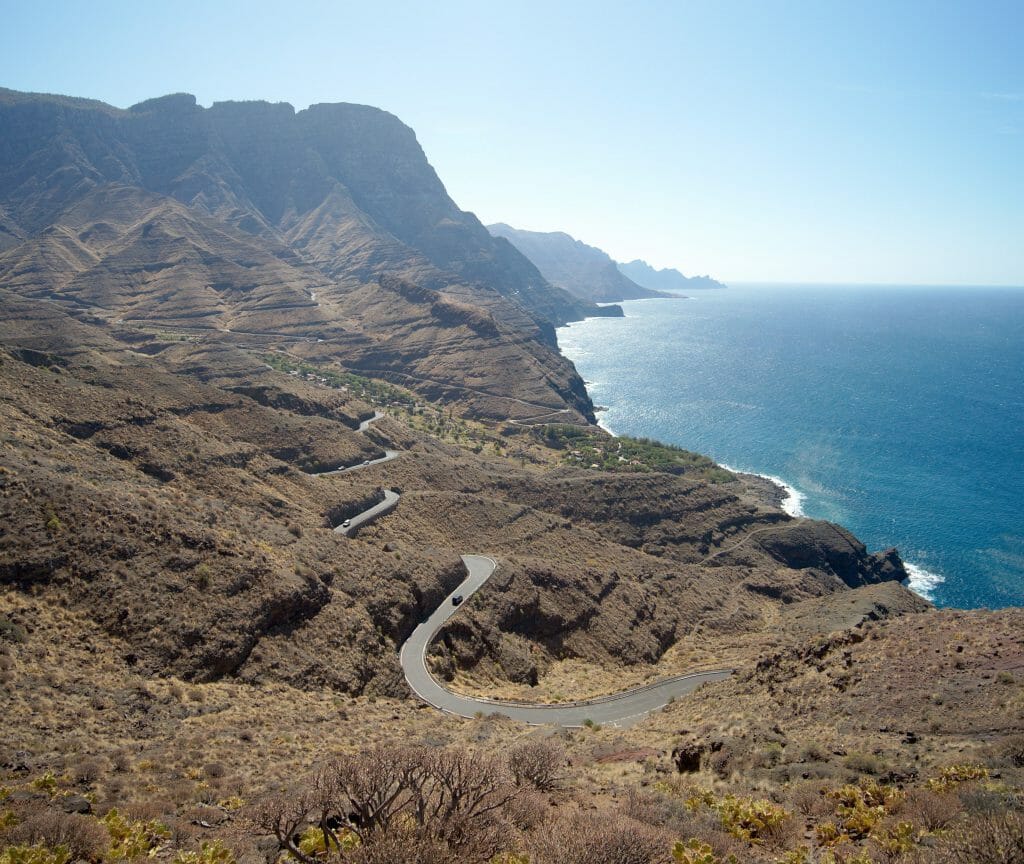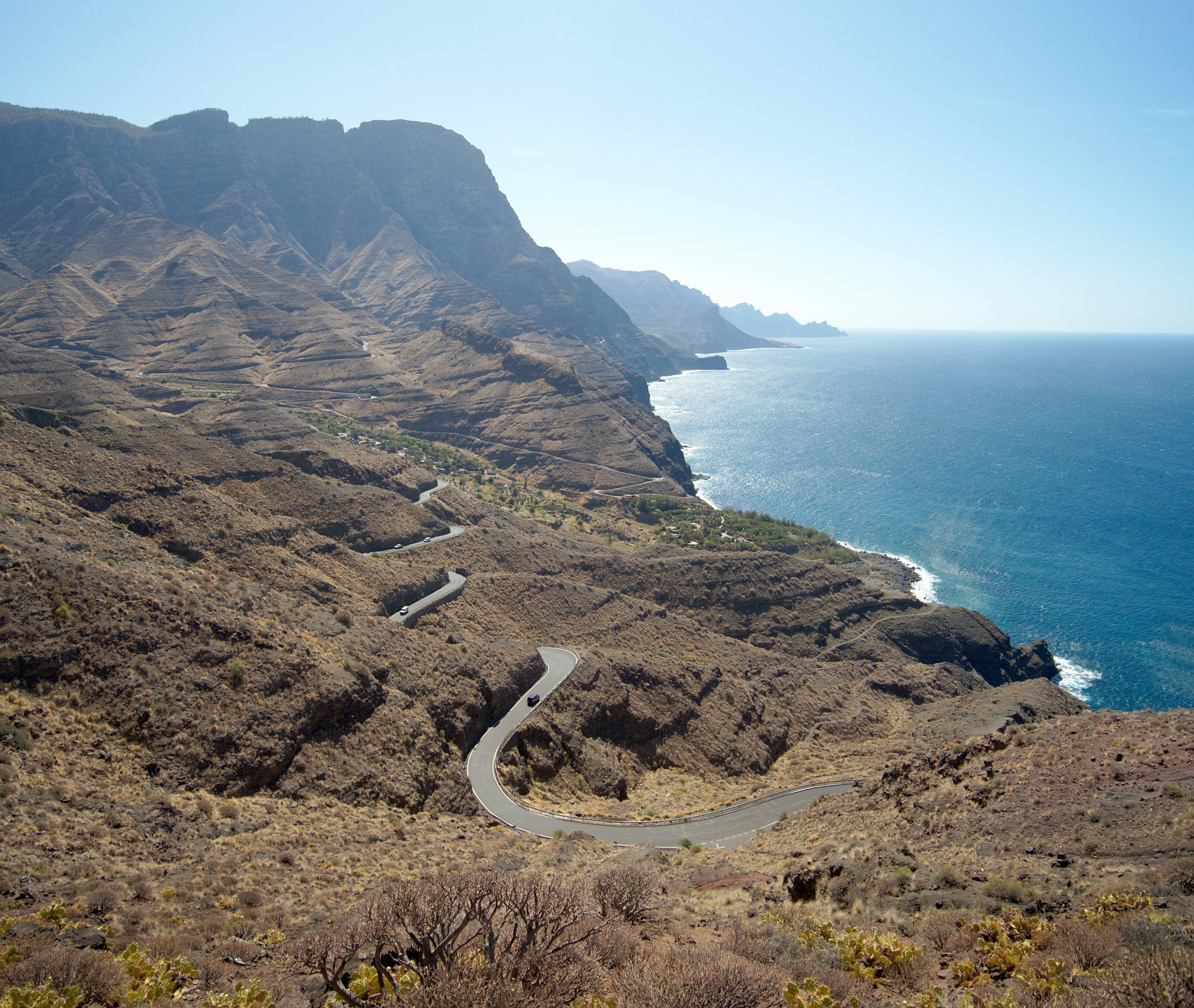 Getting back to Tenerife, our island of heart in the Canary Islands
At the time of writing, we have already left Gran Canaria, but we are not far away! 😉 At the end of October, we migrated to the "opposite island", Tenerife. We had already spent 4 months here last winter, but the desire to come back was simply too strong. We are back at Nine Coliving and the least we can say is that we feel at home here. This is the first time since we have been nomads that we have returned to the same place, but a little bird tells me that we are not done coming back to it. 🙂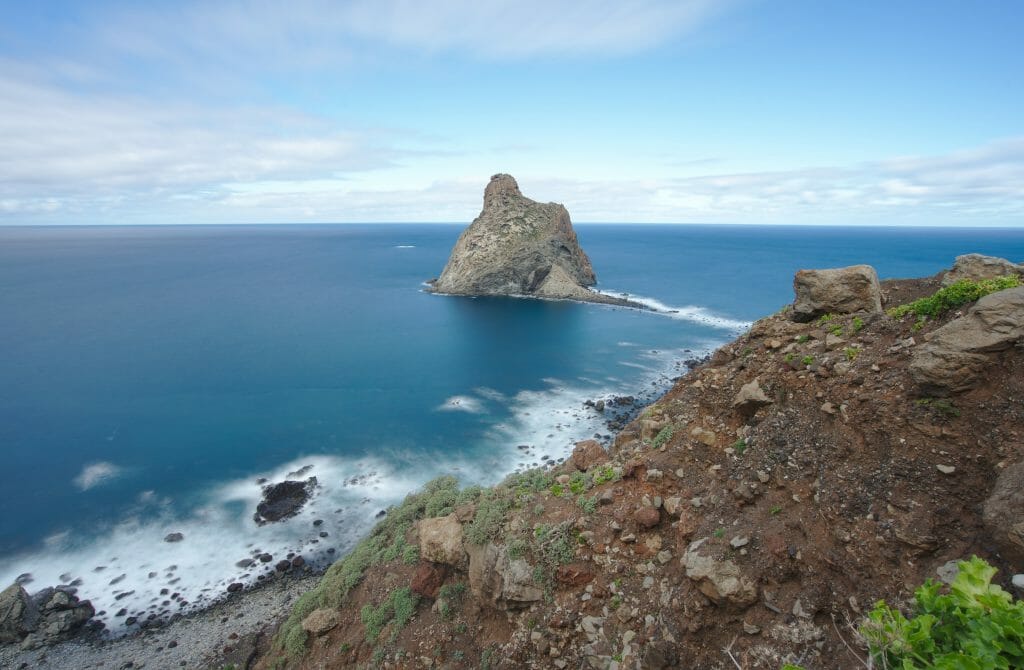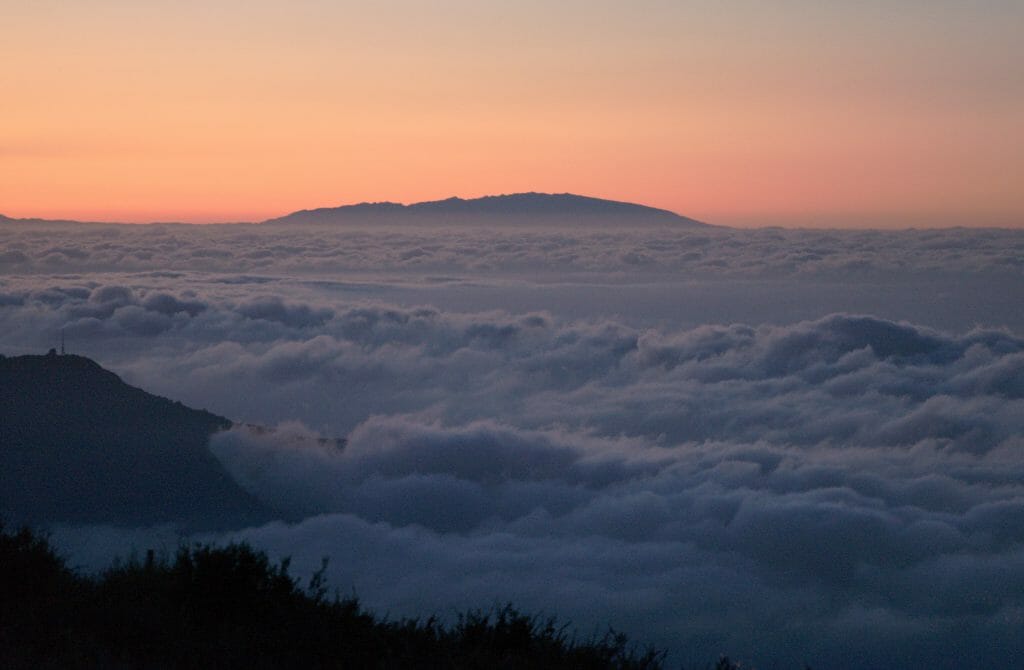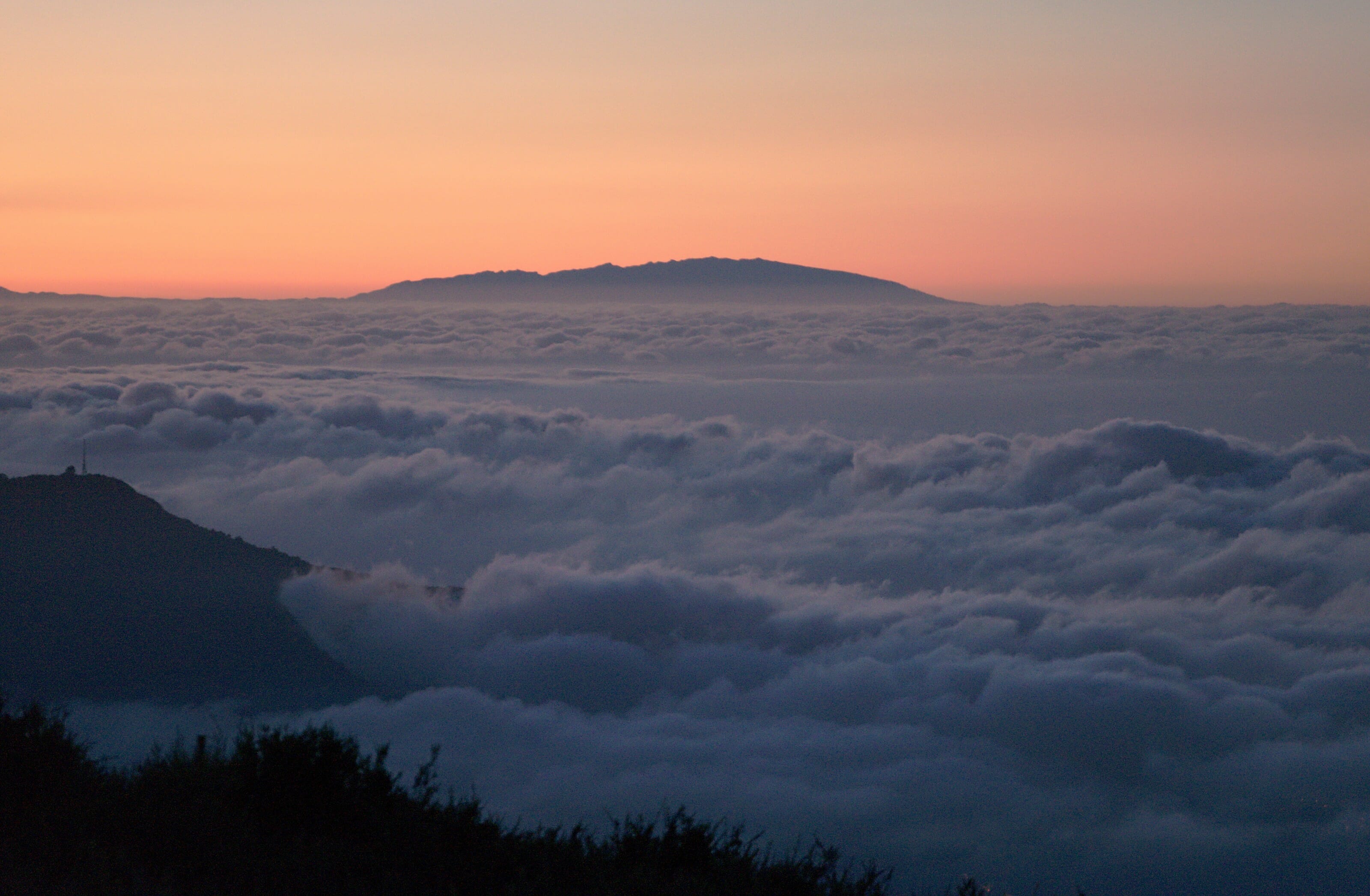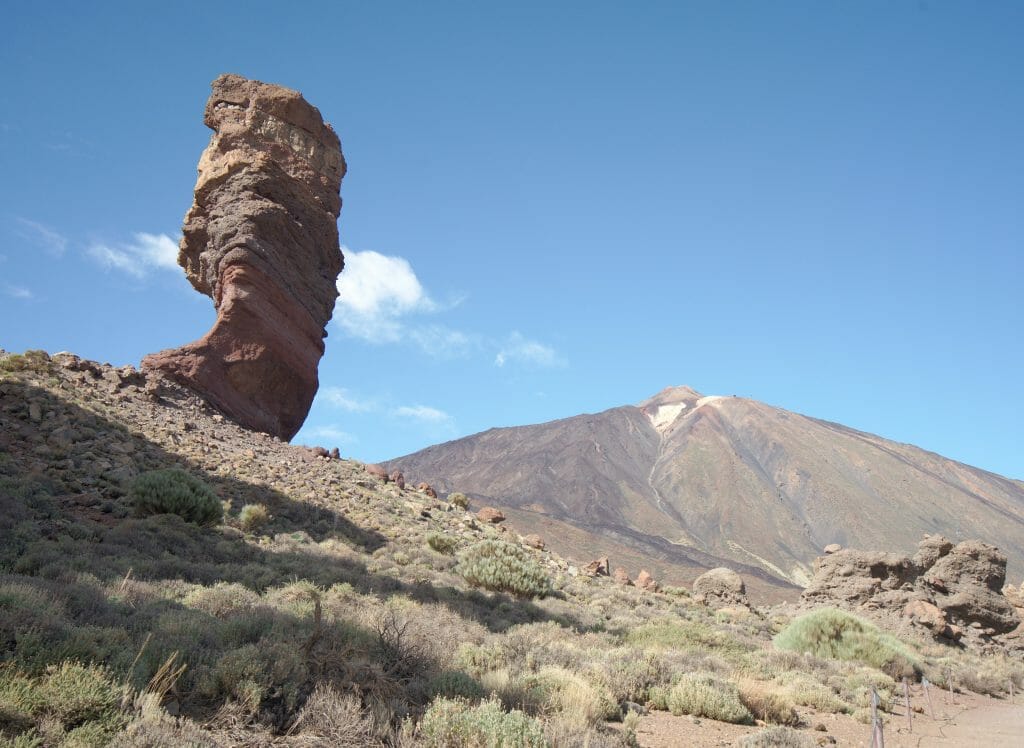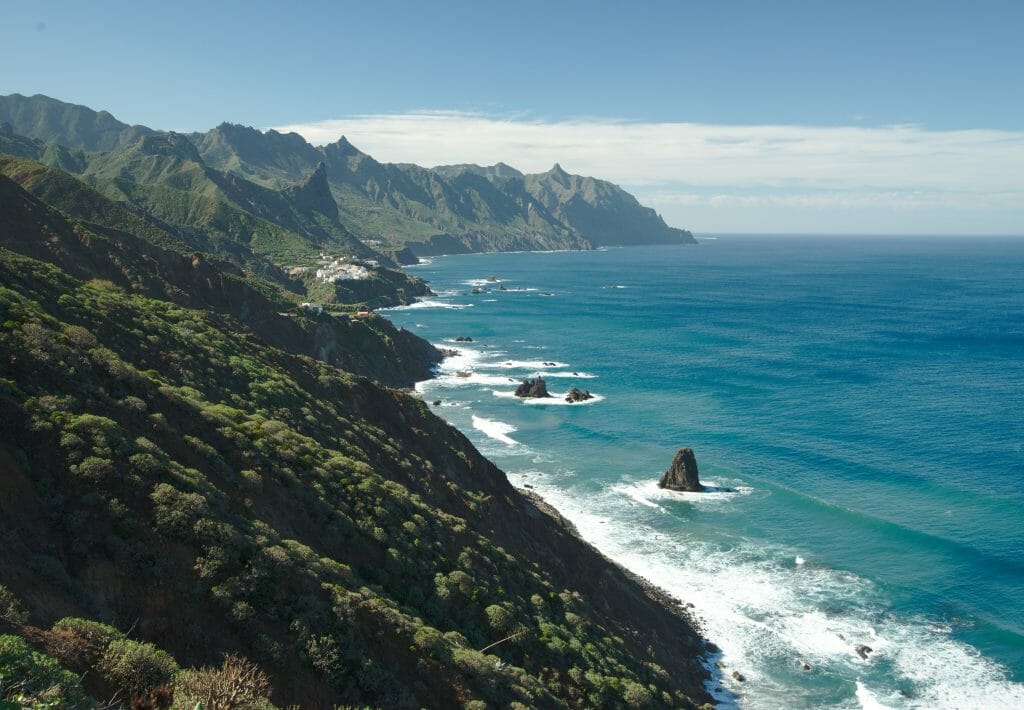 In short, we will probably talk to you again about Tenerife in the upcoming weeks. 🙂
We hope you enjoyed this article and if you have any questions about Gran Canaria, coworking, our nomadic lifestyle or anything else, feel free to leave us a comment.
Note:This article contains affiliate links to partner sites. As usual, by using our link you don't pay anything more but we will receive a small commission.
Pin it