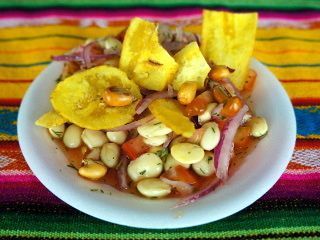 Ahhh we won't hide it from you, we loved the unique flavours of Asian cuisine. Coconut milk dishes in Thailand, sticky rice from Laos, a good Vietnamese Pho, Amok in Cambodia, Chinese Dim Sum… A feast for every moment! So it was with some fear that we changed continents and at the same time, our eating habits. And the least we can say is that the shock was great! Here are some facts we have retained about Ecuadorian food.
Ecuadorian Asian VS: not the same size
So the first thing that surprised me when we got from from Asia to Ecuador (or just about anywhere in South America I guess) is that although people are about the same height, they don't really have the same stature ;-). If we had maybe some complexes in Asia, they flew away the moment we landed in Quito ;-).
So like almost everywhere in the world, the combination of "cheap fast food" and physical inactivity is causing quite some damages. But it is apparently not the only factor in Ecuador… Let us say that Ecuadorians have certain eating habits that are a little special for us Europeans.
Ecuadorians… real carnivores!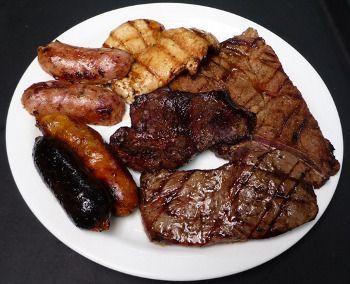 So I don't know about you, but with Fabienne, we like to eat meat about 2-3 times a week. So we thought we were already considered "good" meat eaters! Well, that was until we got to Ecuador!
Here, I would say that people eat meat on average once or twice a day! And not just a small 100gr slice! No! Sometimes they order a Parillada and find themselves with almost 1kg of meat of all kinds on the table.
If we order a parillada with Fabienne, we have meat for about 2 weeks I would say ;-). So then, we were told that it depends a lot on the region. It seems that on the coast, they would rather eat seafood. But in the Andes, Ecuadorians are definitely true carnivores!
Ceviche… in all shapes and colors
One dish you can't miss in Ecuador is Ceviche. (also very popular in Peru). Traditionally, ceviche is made of fresh raw fish served with lemon juice, onions, chilli and as an accompaniment to potatoes or large beans.
So if you are on the Ecuadorian coast, that's probably what you'll get if you order a ceviche. On the other hand, if you are in the Andes (in Quito for example), you are likely to receive a vegetarian version. (Yeah… vegetarian in Ecuador… rare enough to be noted!) The extremely popular version is the ceviche de chochos. (Even if they obviously also have a chicken version ;-))!
The chochos
The chochos…. what's this? It looks like big beans but they are actually the seeds of a plant called Lupinus that we have observed throughout our trek around the Quilotoa lagoon. It is a beautiful purple plant when in bloom and as a result, the crops in Ecuador's mountainous regions are absolutely superb.
To be honest, we're not too big on chochos…. But well, for a dollar on the street it's still worth a try once. As it is an easy recipe to prepare, we even gave it a try to prepare our own ceviche of chochos in the apartment…
The typical almuerzo (or lunch) in Ecuador
Almuerzos are the lunch or "menus of the day" that are served in most restaurants for an unbeatable price of $1-3. As it is extremely cheap, most Ecuadorians eat an almuerzo at lunchtime. But as you will see, a traditional almuerzo in Ecuador is not light. 😉
La sopa or the soup as a starter :
Any good almuerzo in Ecuador starts with soup! So you will tell me that it's a pretty good eating habit and I agree with you quite a bit, but the problem is that in most soups, there is chicken (or fish), potatoes and… watch out… popcorn! So don't ask me where they got the idea to put popcorn in the soup, but the fact is that you will receive a small bowl of popcorn with each plate of soup. Pretty funny, isn't it?
As a result, we were already almost full after the soup. Potatoes, meats and popcorn that's quite a starter. 😉
Fruit juices in Ecuador :
Here too, you will tell me that a fruit juice is rather healthy. Nothing better than a fresh fruit juice to get you started in your day! But add a banana-mango juice to the meat-potato soup and you'll get a complete meal for an average European! But in Ecuador, it's just the starter! And wait until you see the main course 😉
The typical main dish in Ecuador :
So expect some heavy stuff, folks! Ecuadorians particularly appreciate mixing… Carbs!
In Ecuador, it is quite normal to receive a plate with rice, chips and beans (not greens!) (the sacrilege for our little European stomachs…). To be honest, the main dish we have seen most often served in Ecuadorian restaurants for almuerzo is: rice (the main food in the mountains), potatoes (fried or not), a fried egg served on top of the rice, a piece of chicken (fried or not) and a very small amount of salad (but that's more for decoration purppose) ;-)).
There's enough to feed a horse, isn't there? So in general one complete almuerzo is enough to be shared for both Fabienne and me… We might as well tell you that we don't spend too much money in Ecuador to eat 😉
El Postre or dessert:
Ahhhh yes, if you're still hungry after all this, you'll sometimes get a little candy for dessert. (usually a piece of cake or a fruit salad…). What more could you ask for for $2, frankly!
As a result, we quickly understood why Ecuadorians do not have the same size as Asians. In Asia, we tended to order 3 dishes for 2 and so far in South America, it is 1 dish for 2. ;-).

But well, since we weren't going to eat chicken, rice and potatoes every day either, what did we do to eat as we wanted in Ecuador?
The equipped kitchens in the Hostals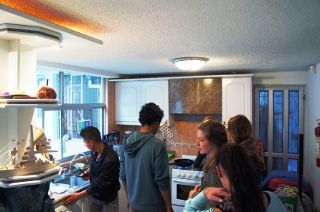 Something that immediately made us very happy in Ecuador (and apparently that's the way it is in all of South America) is that backpacker hotels are almost always equipped with kitchens. So, after 10 months in Asia where we had almost never cooked (except for our couchsurfing hosts), it was a great pleasure for us to get back to the joys of cooking together.
And in Ecuador anyway, it is much healthier (and cheaper) to cook yourself. It is was healthier than to go to restaurants all the time, especially since it is quite expensive to eat healthy in restaurants. And as you will see, there is for example an incredible variety of fruits in Ecuador and their market price is just ridiculous.
Ecuador's markets and fruits
So that was THE good surprise for us in Ecuador! Their fruits are almost as tasty as in Asia (i.e. ;-))! In addition, there were many that we had never even seen or tasted before.
For example, if I tell you about arbol tomatoes, taxo, naranjilla, tuna, pitajailla or granadilla, does that sound familiar?
For my part, apart from the granadilla, I didn't know any of them! So, during our 2 months in Quito, we prepared breakfast every morning with Ecuadorian fruits ;-)… It was just perfect!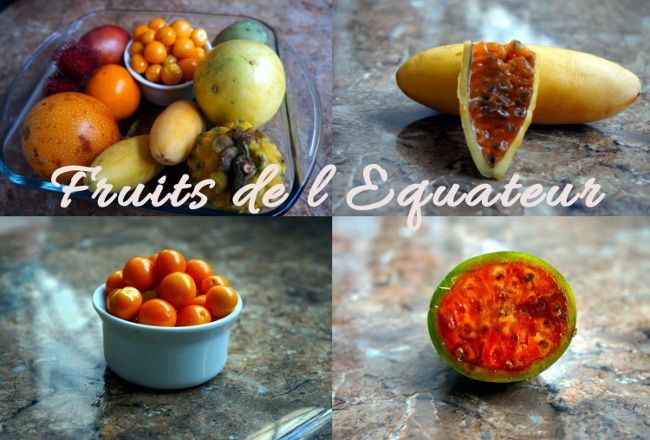 Buying fruit at the market in Ecuador
So to find fruits, it is obviously to the market that you will have to go! We found that the markets in Ecuador were really great! In general, it is cleaner and better organized than in Asia. In addition, sellers don't try to rip you off every 30 seconds (that's what we really appreciate in South America at the moment). In general there is also a part of the market dedicated to catering where you will find a variety of cheap and generally quite good dishes. It is an excellent alternative to the overly copious almuerzos of restaurants 😉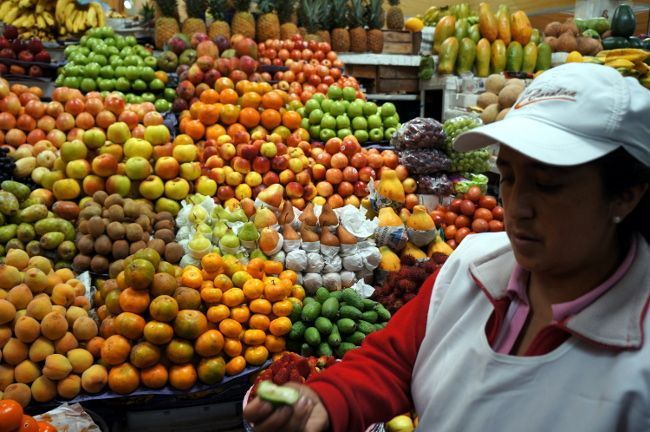 Well, you will have understood it, our culinary trip to South America is heavy for the moment! And since we are in Peru right now, we don't have the impression that it will change any time soon! But we don't let ourselves go and cook more than we eat in restaurants. And the markets always have good surprises in stock! Next culinary step: Lima! It seems to be a very good city to eat well… we will need it after a few days of trekking in the Cordillera Blanca. 😉