When we say Brittany we often think of seascapes with cliffs, turquoise water and lighthouses… So certainly, we had already told you about it in our last articles such as the one dedicated to the pink granite coast, southern Finistère or the Crozon peninsula but believe us, Brittany is not just that! Far from it!
During our month in Brittany we spent a total of ten days in the centre of Brittany, far from the sea (but the crepes were still here so we can rest assured)!
A brief overview of our favourites in the centre part of Brittany.
The Monts d'Arree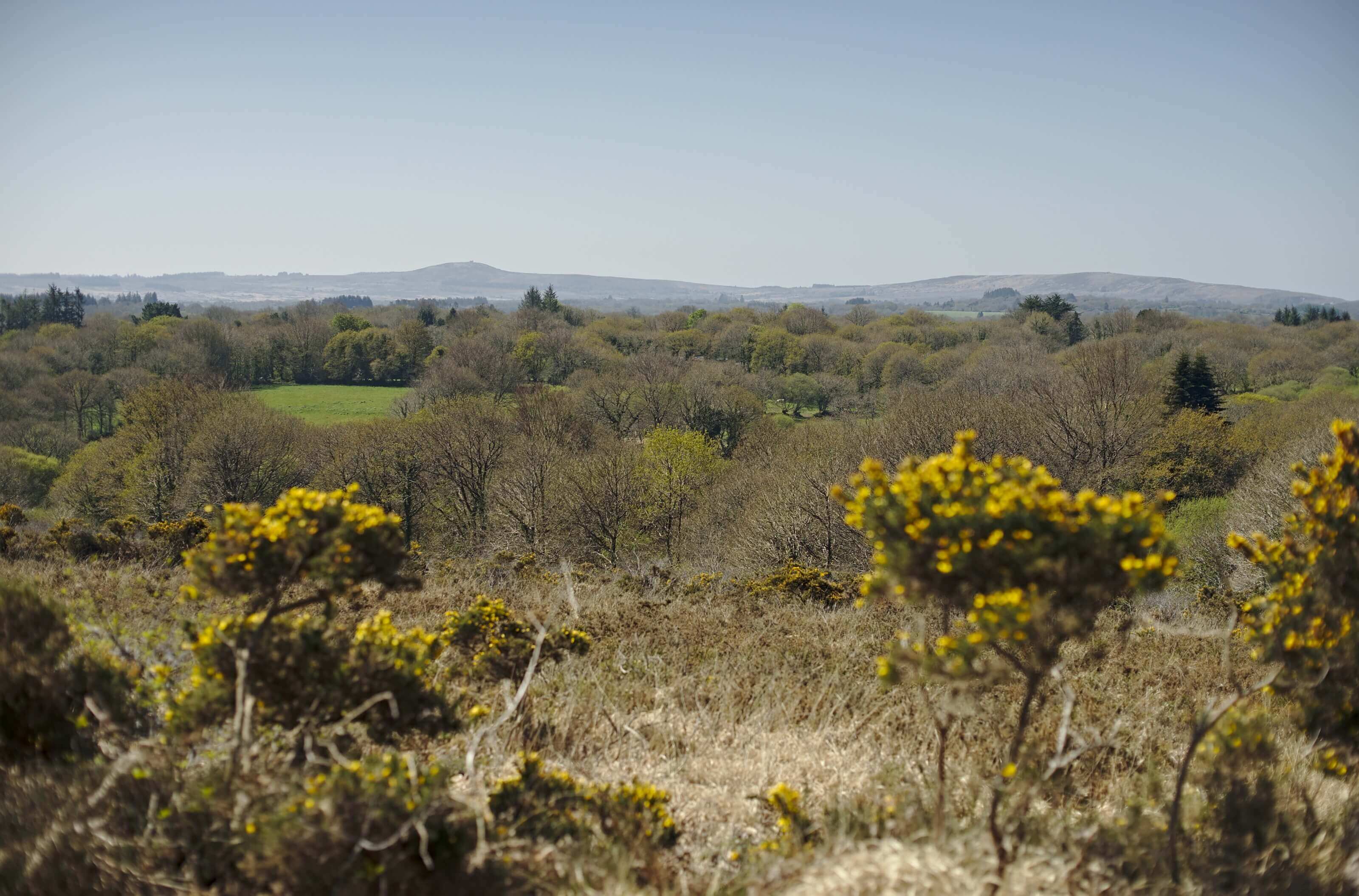 We came twice to Les Monts d'Arrée during our little stay in Brittany! A first time to do a hike and the second time because we received a kind invitation from Christophe to come and spend a few days at his home and his little family.
We will soon get back to these few days at Christophe's where we had the opportunity to make our first crepes on a real 100% Breton billig and how we attended a festival of Breton stories and legends. But before that, we'll tell you a little bit about the few walks we've been able to do around here!
The Monts d'Arrée: the Breton mountain range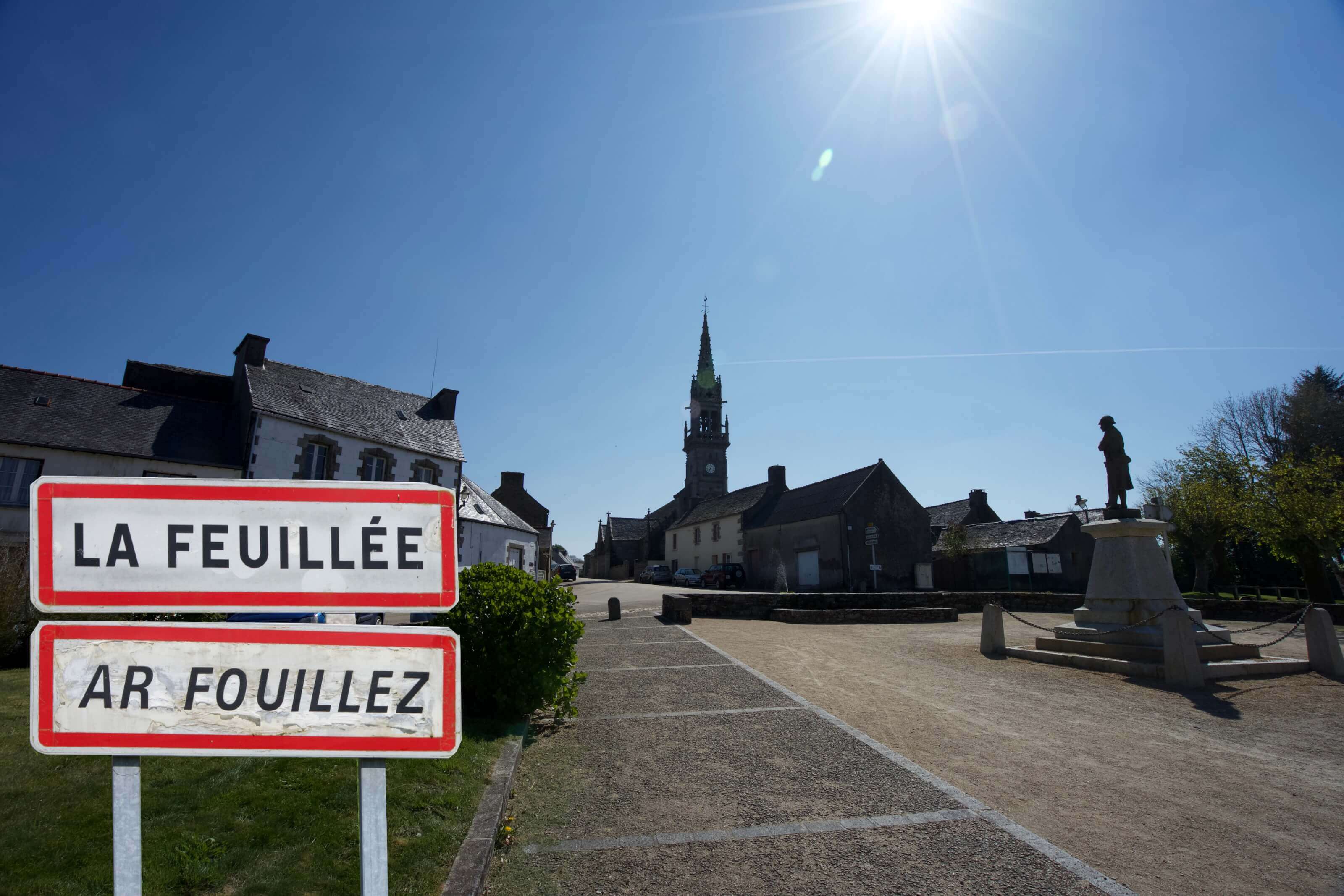 We had heard about this area from several Bretons…. Yes, it's the mountains of the area! And as we like to climb on the viewpoints to admire the landscapes we didn't hesitate for a single second and came to see what was going on. Our first escapade in the region took us to the small village of La Feuillée where we left our car for the day to explore this region.
The Monts d'Arrée region is a drastic change of landscape in comparison with the coast! At times it is almost like being in Ireland with the rocks coming out of the Landes. Okay, we admit we've never been to Ireland, but that's exactly how we imagine it! 😉
Hiking in the Monts d'Arrée – Roc'h an Teuz
Our first hike led us to the small village of La Feuillée. This is where we left our car to start on the Roc'h an Teuz trail. It is a loop of about 15km that makes a nice tour through these heatlands and "mountains".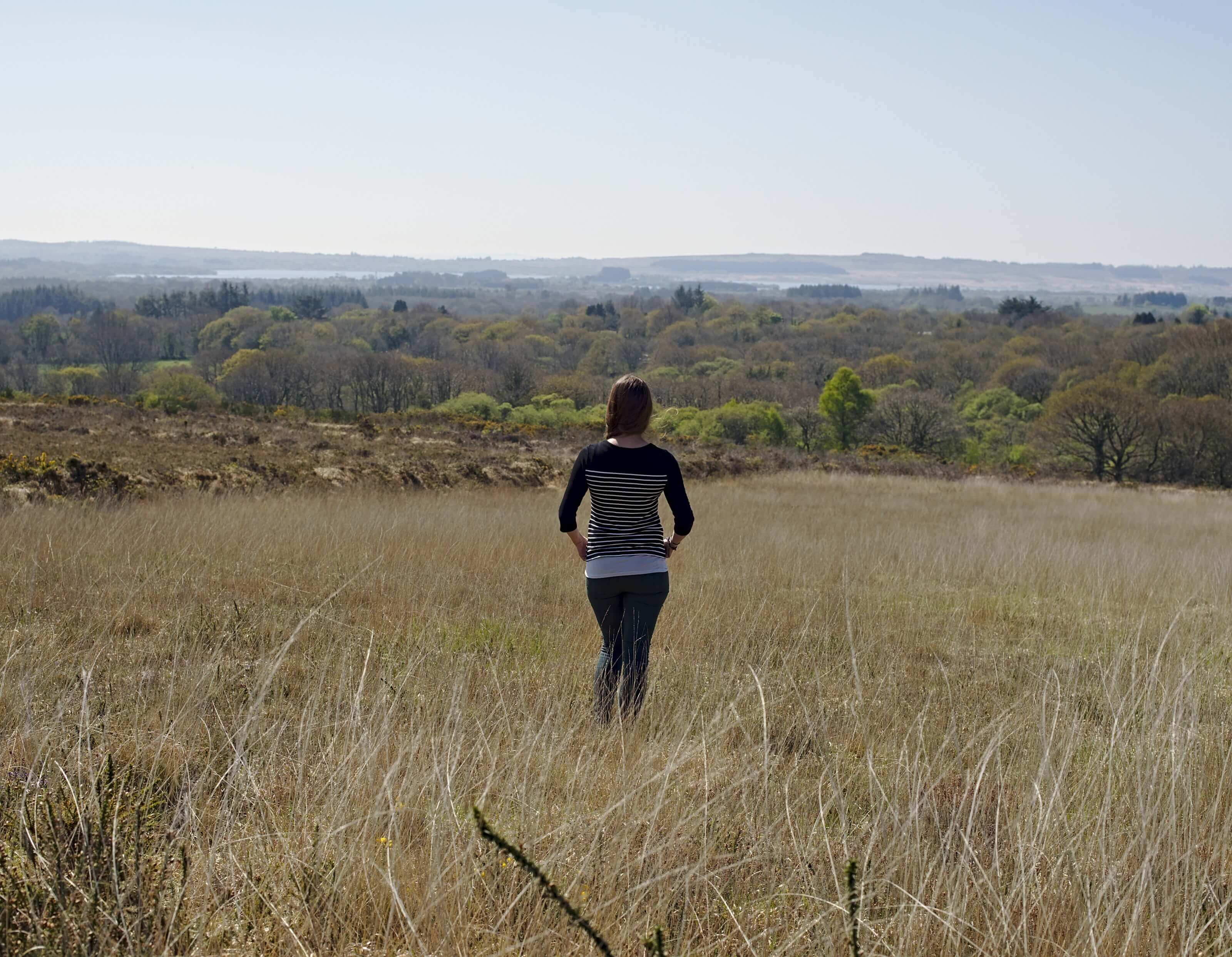 Apart from the fact that we got miserably lost on the last quarter of the hike and found ourselves walking in the forest without really following a trail, we really enjoyed this hike! That being said, the path is really well indicated, eh, it's just us who are really dumm at following it (actually we are quickly distracted by "photo spots" and tend to leave the trail… and well sometimes one viewpoint leading to another we get lost).
What we liked most was probably this magnificent contrast between the dry heathland and the many colourful spring flowers that were coming out along the trail.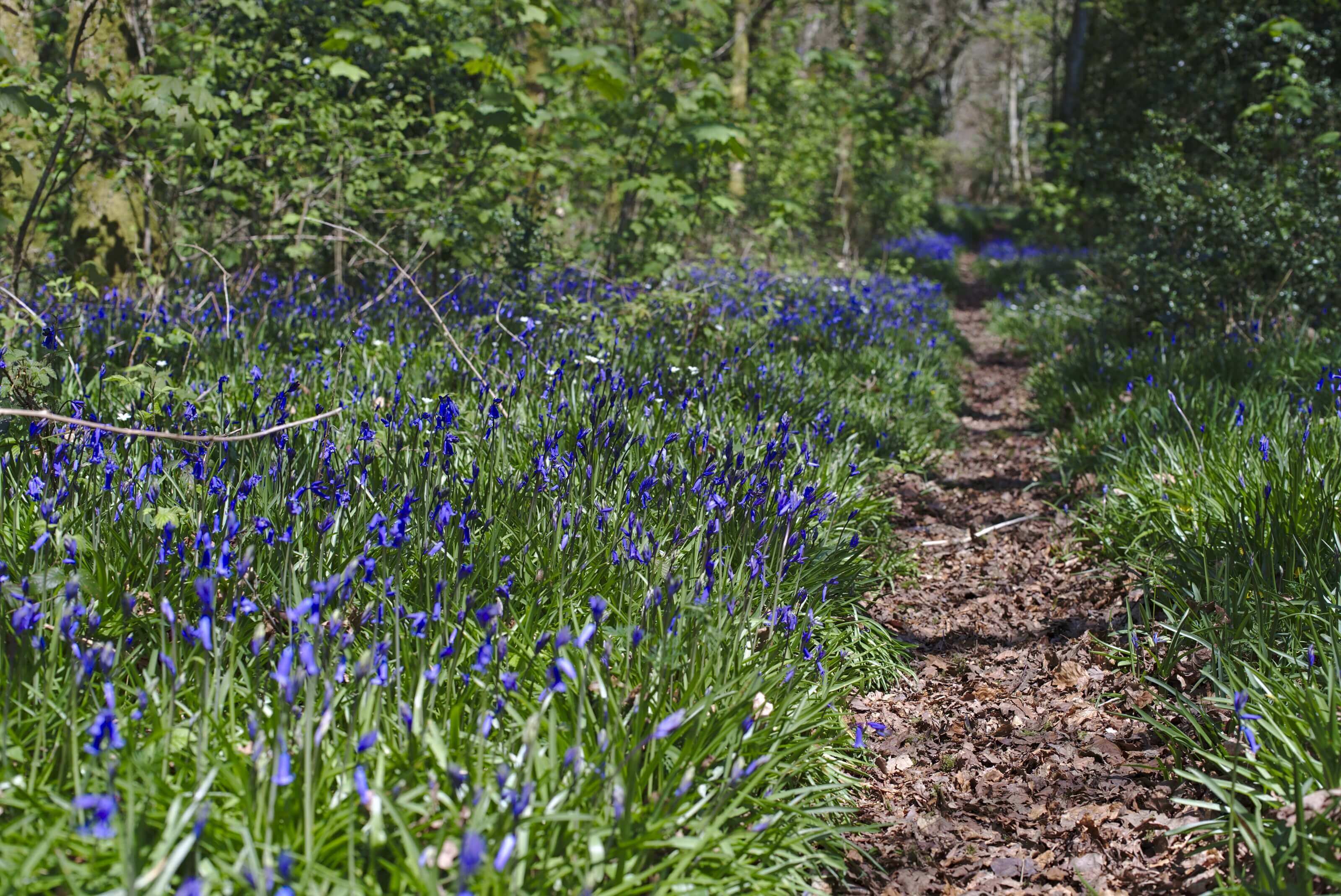 Infos: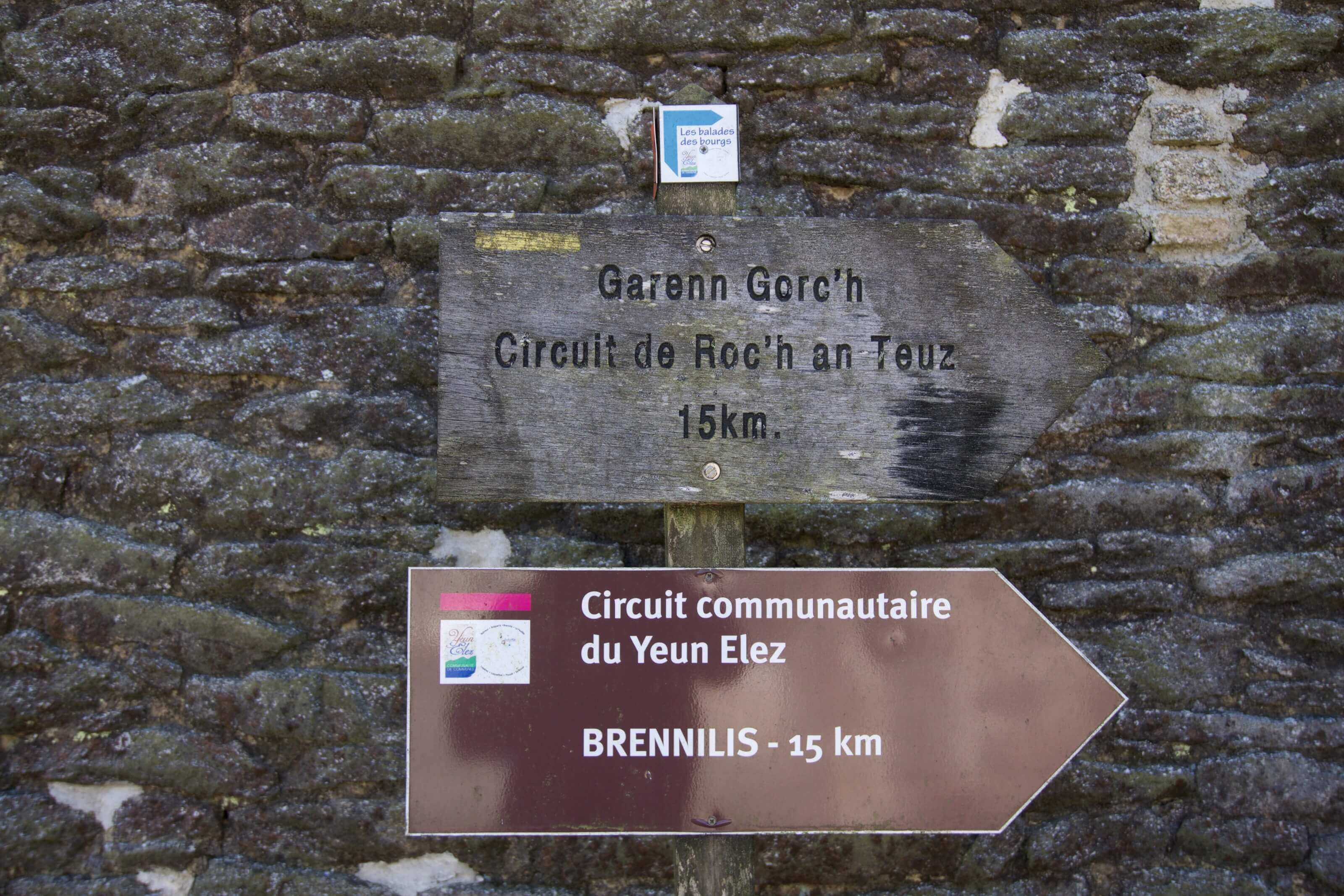 Starting point (and finish): La Feuillée (several free parking spaces in the village)
Distance: About 15km
Duration: Count 3 hours to complete the loop
Difficulty: Easy
Map for this hike:
Trail in the peat bogs and Ascent to Mont Saint Michel
2 weeks later we were back in the region and Benoit left with Christophe, our super host for a few days, for a short walk from the village of Botmeur. The objective of this short hike was to reach Mont Saint Michel! But let's be clear right away, I am not talking here about the Mont Saint Michel which is between Normandy and Brittany but the one of the Monts d'Arrée.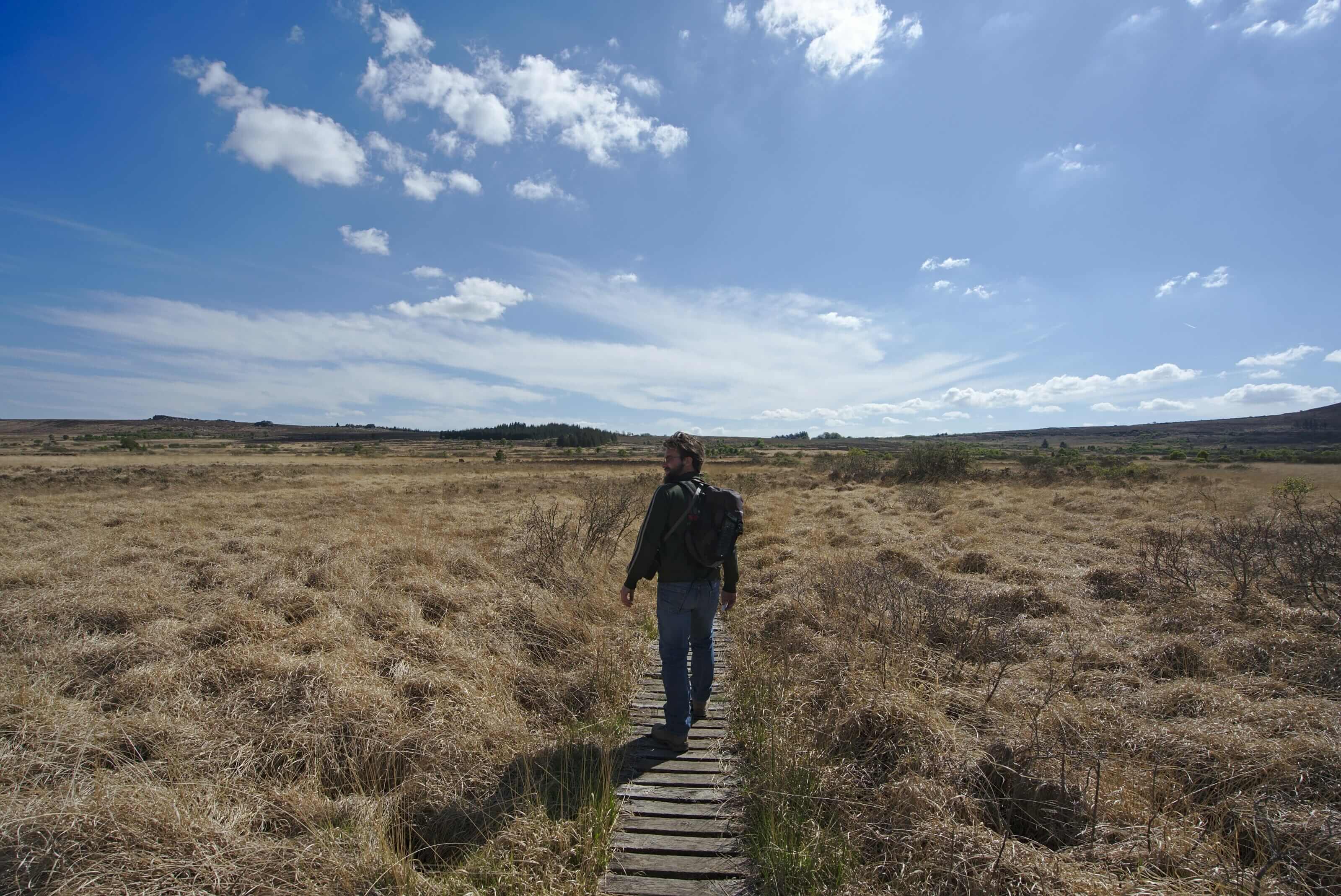 In the topographical standards of the region this peak tends to be seen as "the local mountain", but being Swiss we will only call it the "cute little hill that dominates the Monts d'Arrée". 😉
The particularity of this walk is that it crosses the swamp of Saint Michel also called "Yeun Elez" (which literally translates as the marsh of hell!). Don't worry, there's only the name here; this 1500 hectare peat bog crossed by small wooden pontoons would be more like a small paradise, actually.
Once you have climbed the small hundred meters of difference in altitude that separates the marsh from the summit of Mont Saint Michel, you have a bird's eye view of Lake Brennillis and the landscapes of the Monts d'Arrée.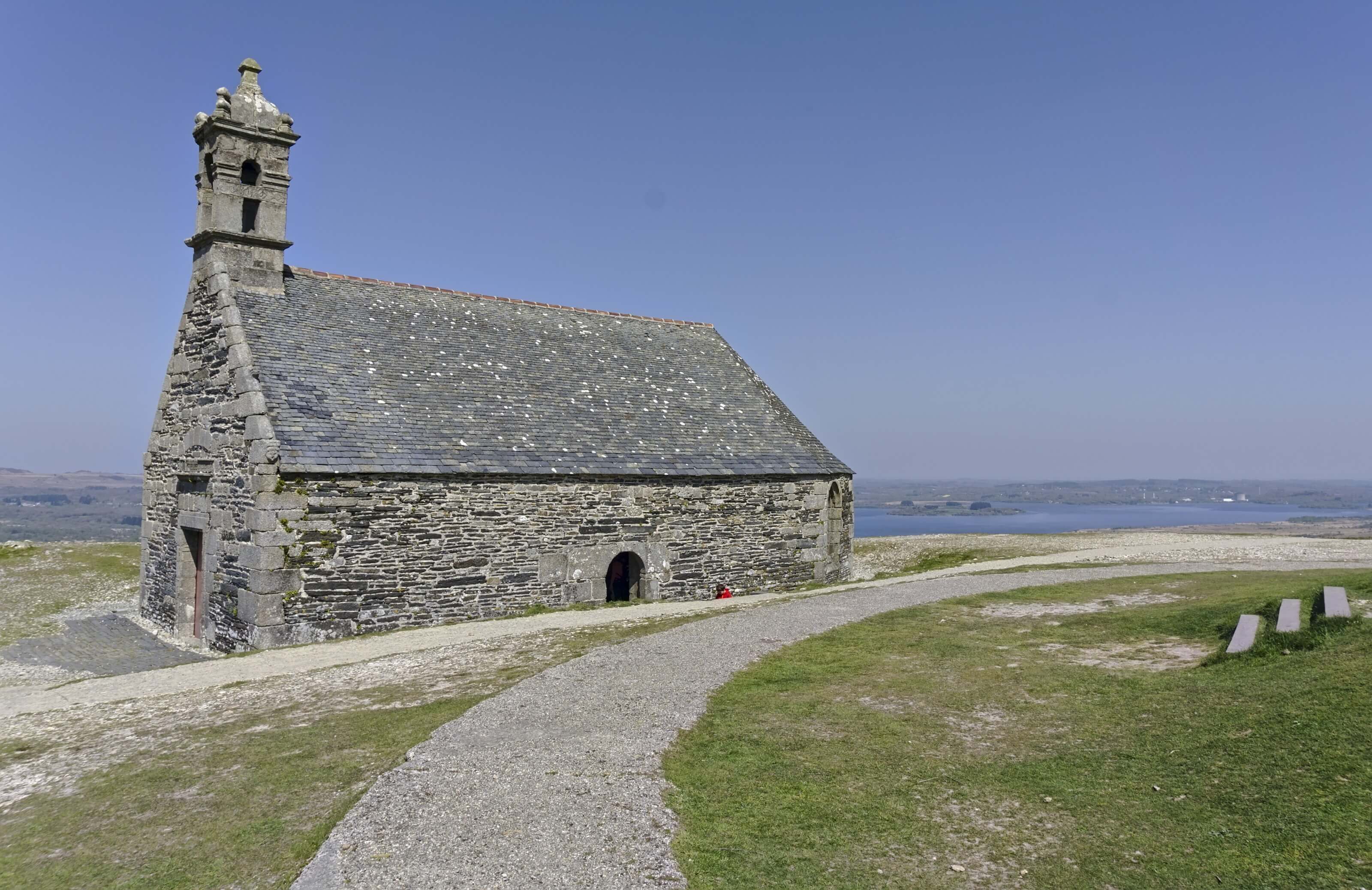 Fun fact: When we first came here we met a lot of paragliders who were starting from the top of thie "hill". So we didn't really understand if it was the wind's fault that day, the paragliders we saw, or if it's just like that in the area but the paragliders that were taking off were seriously struggling to stay in the air for more than a few seconds… Takeoff at the top, 3 turns and bang, landing at the foot of the hill. Personally, it seemed like not such a fun game when I saw them walk up all their equipment for 30 minutes, all for 15 seconds of flight, and this several times… But who knows, maybe we just don't understand it! 😉
Infos
Starting point: The village of Botmeur
Finish: The Menez Mikael (or the village of Botmeur if we decide to make a loop)
Distance: About 7km for the one-way hike (count double for the loop)
Difficulty: Easy
Map for this hike:
The Guerlédan lake
Lake Guerlédan is an artificial lake that was created with the construction of the Guerlédan dam between 1923 and 1930.
But if this lake is very well known, it is not only because it is a beautiful place to come for a walk. This lake was highly publicized in 2015 when it was completely drained!
Since 1951 (date of the first drought) there have been 4 others (roughly every 10 years until 1985). The idea of draining artificial lakes is linked to the need to check the condition of the dam and to undertake any work. In 1995 and 2005 the drying did not take place because the technology had improved, so analyses and measurements could be carried out using robots.
In short, when in 2005 they noticed that there was a need for reparation work and that the date for the drying of Lac Guerlédan was set at 2015, it aroused a lot of curiosity.
From March 2015 onwards, the water level was gradually lowered and finally gave way to a large dry valley from May to November 2015. During this period visitors were able to observe the many remains and lock houses that are normally submerged under the lake.
Here is a small picture of what the lake looks like when it dries up: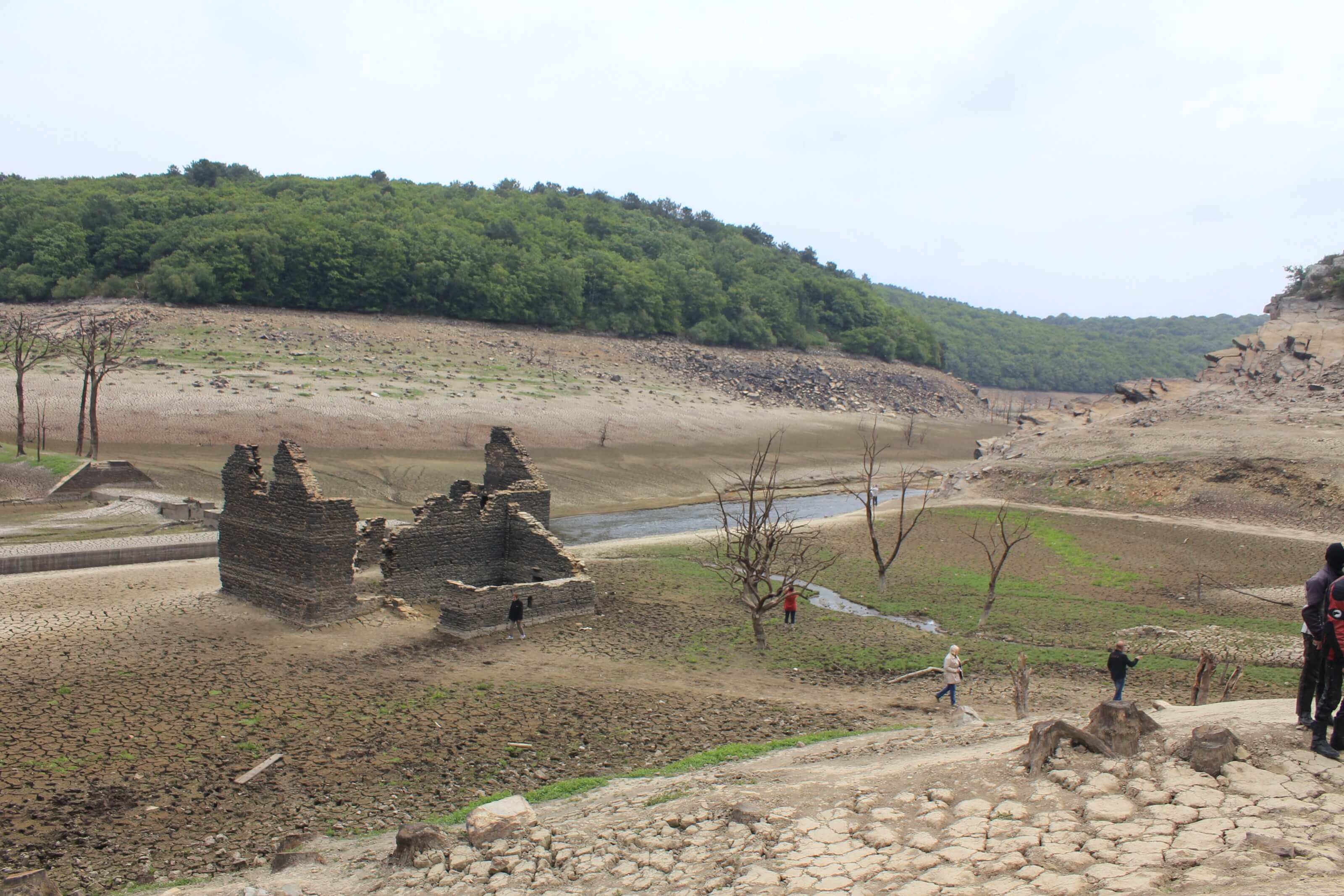 Gouarech and the Abbey of Bon-Repos
On the way to Lake Guerlédan we made a few short stops on the advice of our super host Géraldine. The first was the small village of Gouarech.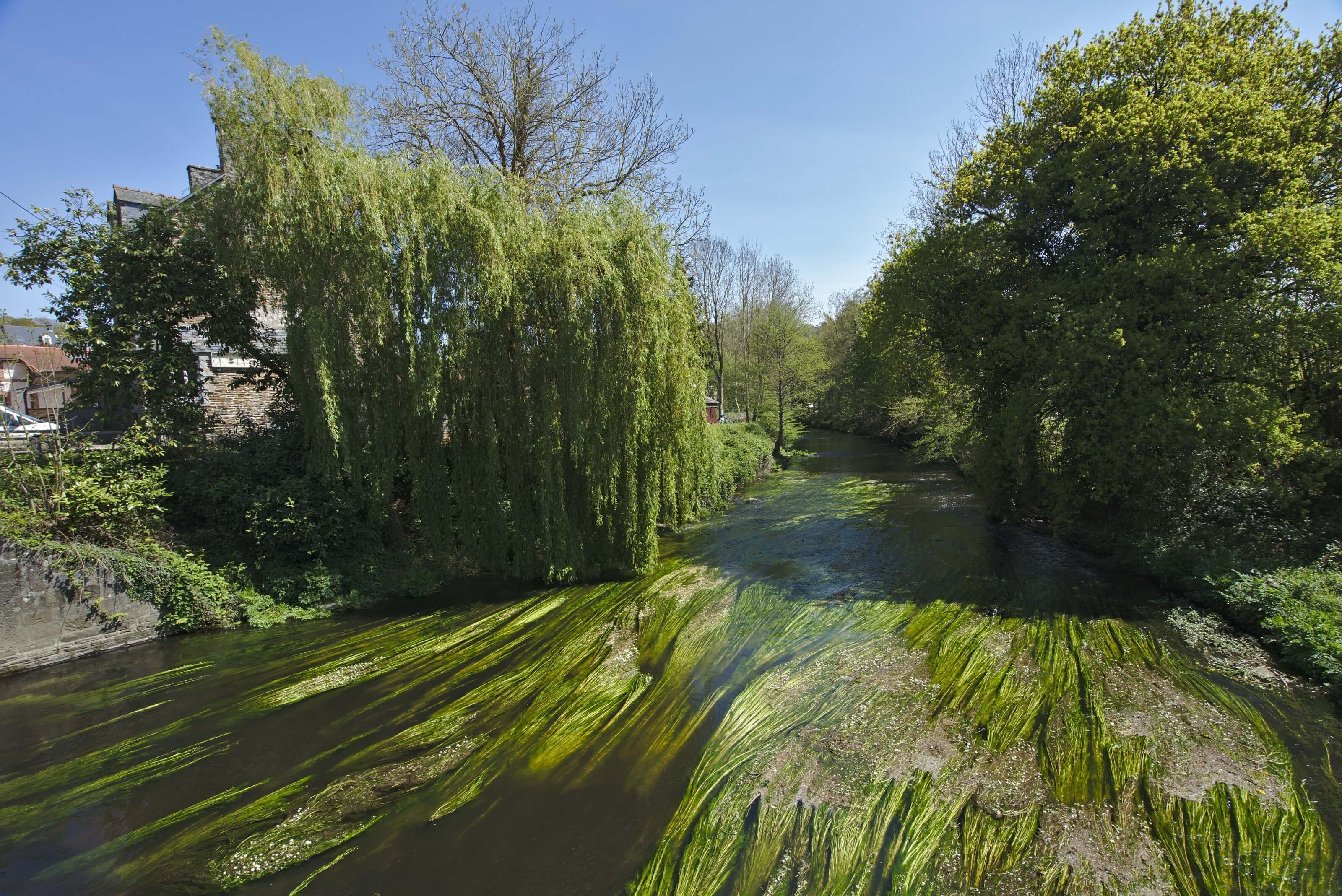 Not necessarily very well known as a tourist spot (we searched in vain for an open café there) but it is really a good 100% local and authentic place to see. Gouarech is a pretty little village where it is nice to walk along the river and in the small cobbled streets.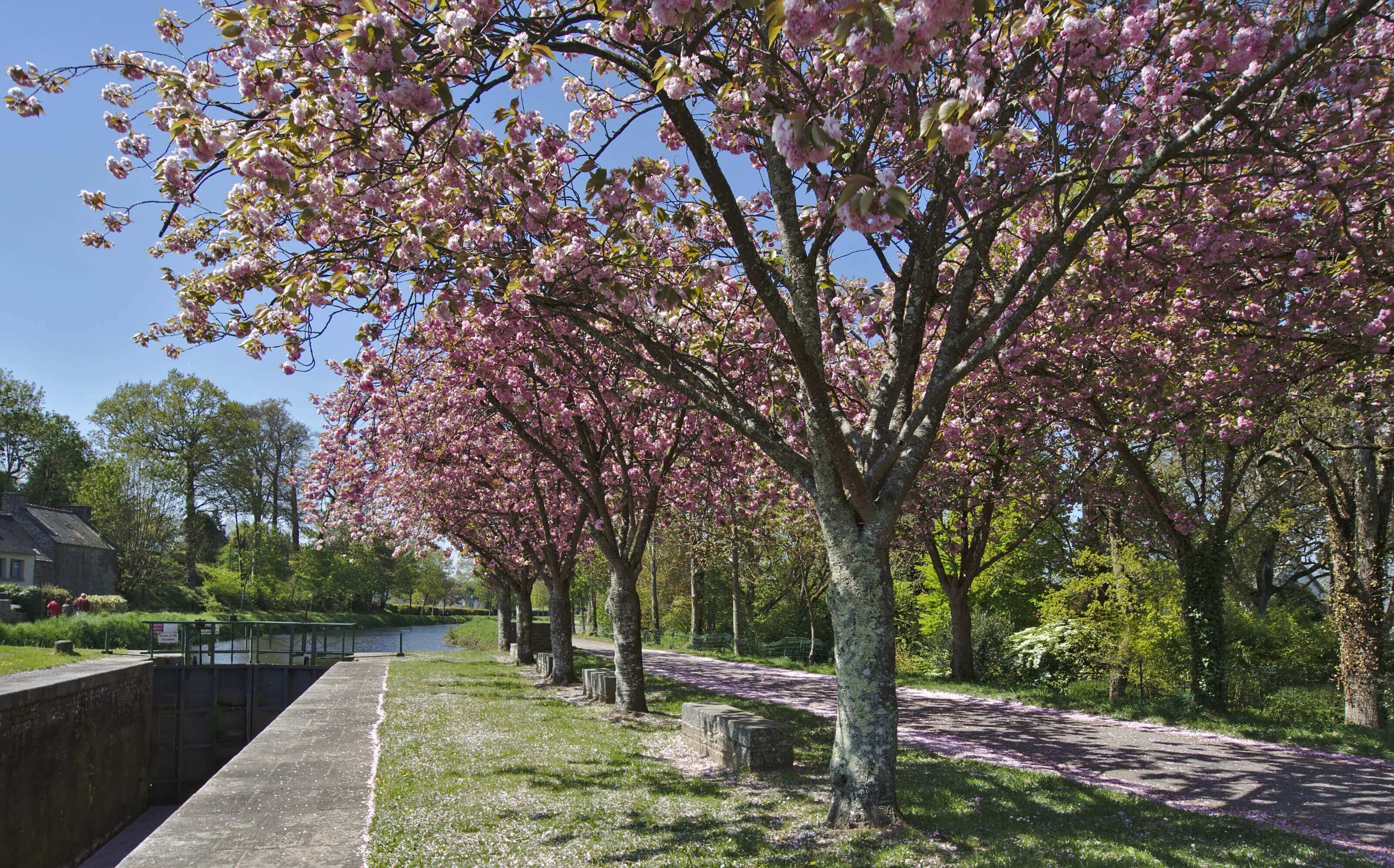 Visit of the Abbey of Bon-Repos
After our short stop in Gouarech we headed towards the Abbey of Bon-Repos. We won't hide it from you, but at the beginning we only thought we'd come and take a look at the building and not necessarily visit it….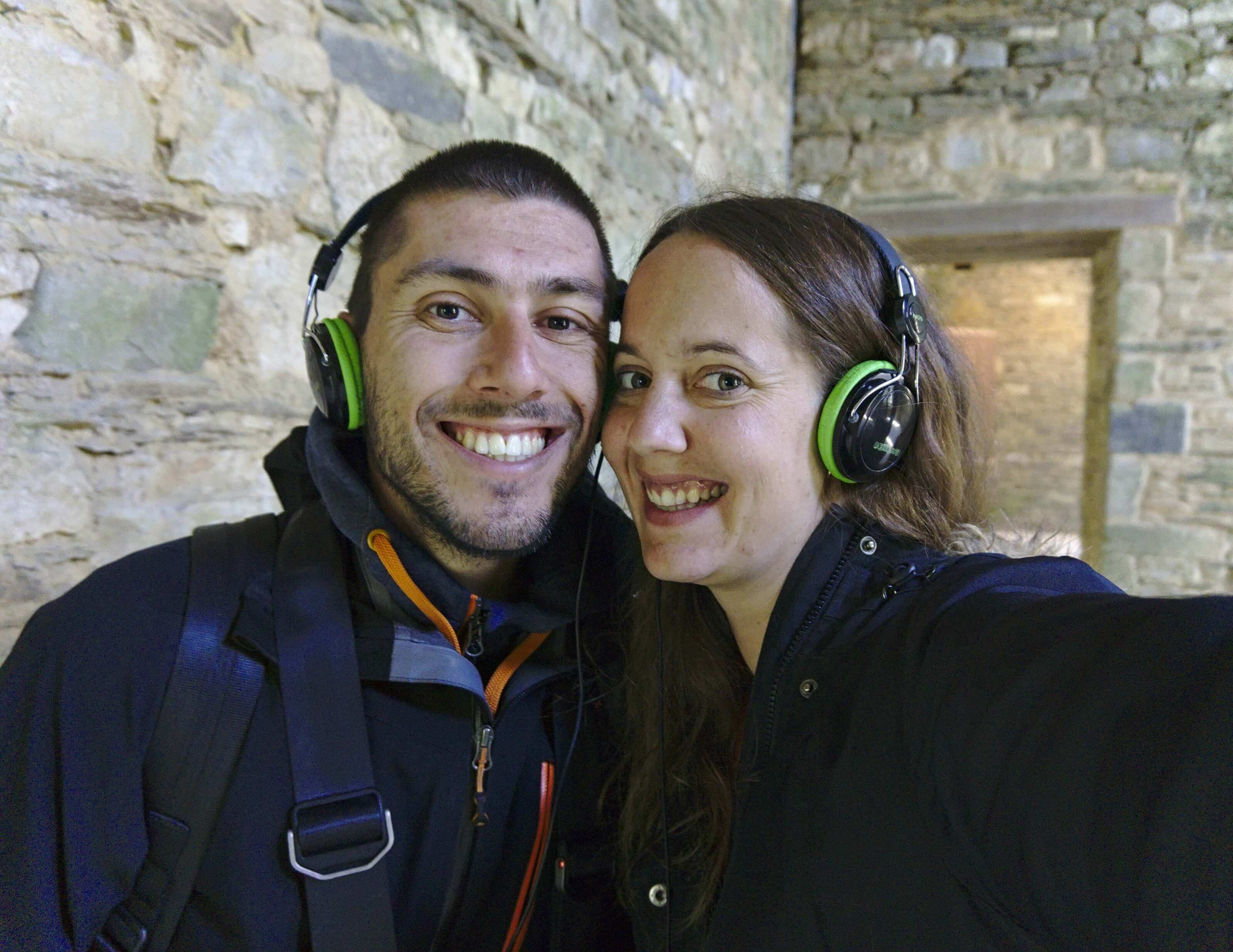 But when we arrived we met a young man who was working there. We felt that he was really passionate about his profession and about this abbey… He also explained that with his colleague they had put together a personalized audio guide (understand by that, that the audio guide is made with their voices). Their idea was that audio-guides are often a bit boring (we're not going to contradict him on that) and that as a result they set up this tour in the form of a visit where the young lady presents herself as a guide, and he interrupts her to ask "typical" questions from visitors.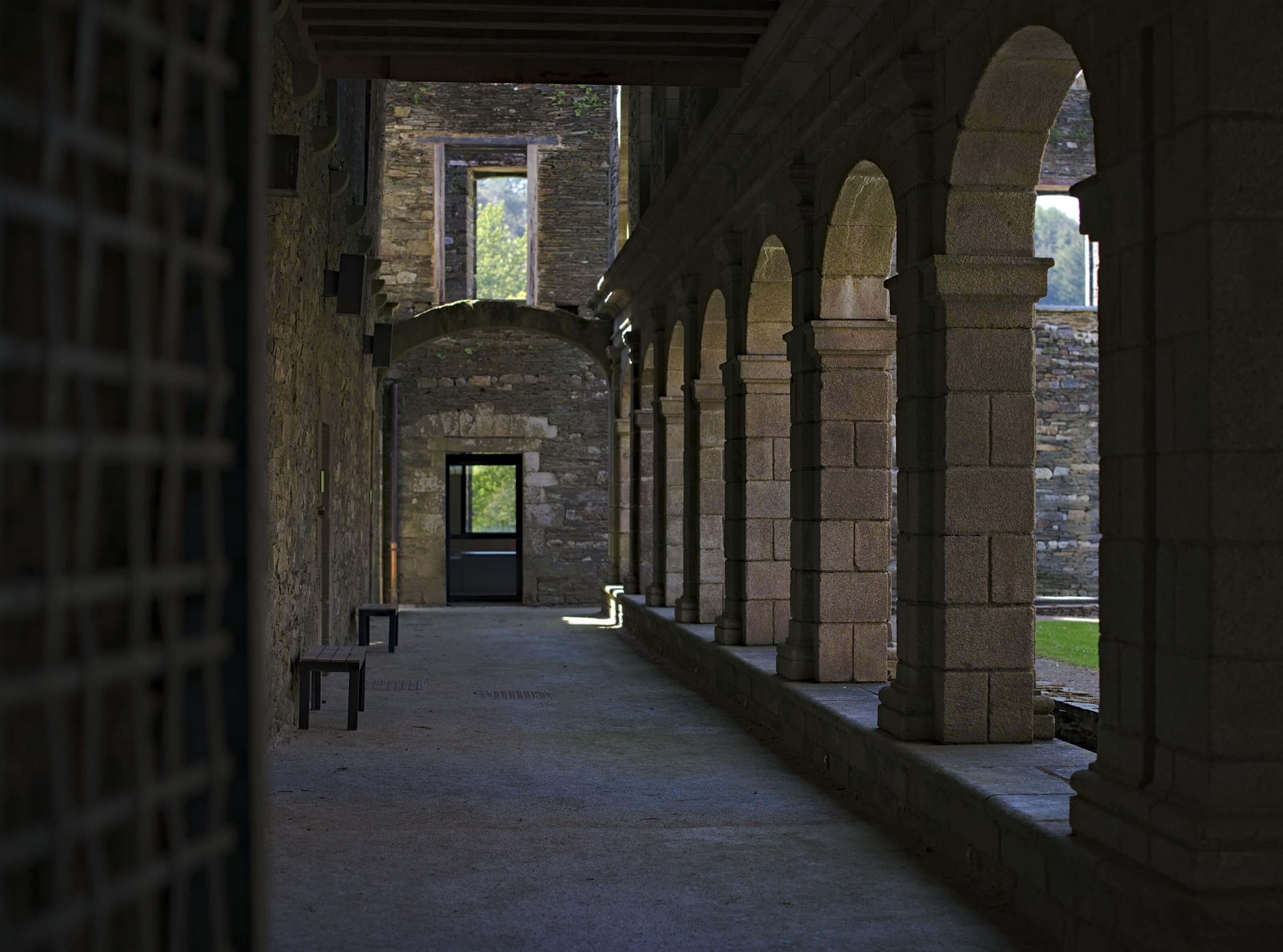 We might as well explain that after all these stories we couldn't leave without making this audio guided tour. 🙂 So frankly, museums are not our big favourite, so it is useless to specify that neither are abbeys! But we really enjoyed this 45-minute walk in this old abbey dating back to 1184
Infos
Where:More or less halfway between the village of Gouarech and Lake Guerlédan
Opening times:
from 10am to 7pm in July and August
10am-12pm and 2pm-6pm from March to October
Price: 5€ for the free visit for adults (2€ for children between 10 and 16 years old).
The free visit can be done without any charge, with a paper guide, a touch pad or an audio guide (included in the price).
Stroll on the Lan Bern trail
While we were with our friends Géraldine and Nico in a small village just next to Rostrenen we went for a short walk in the small village of Glomel.
We really enjoyed this very varied walk which offers an excellent overview of the typical landscapes of central Brittany: Moors, Ponds, Bocages, meadows but also the famous small canal from Nantes to Brest (Yes yes this canal does connect Nantes to Brest, the name is not a lure) 😉
The walk begins by following the canal for a short bit before turning towards the Landes de Lan Bern. The path is very well maintained with many small footbridges that cross the many ponds in the area. Apparently it's a great spot to come and observe animals, but having come in the middle of the day, we weren't very lucky (Appointment at the end of the article to see the only species we managed to capture in pictures…) 🙂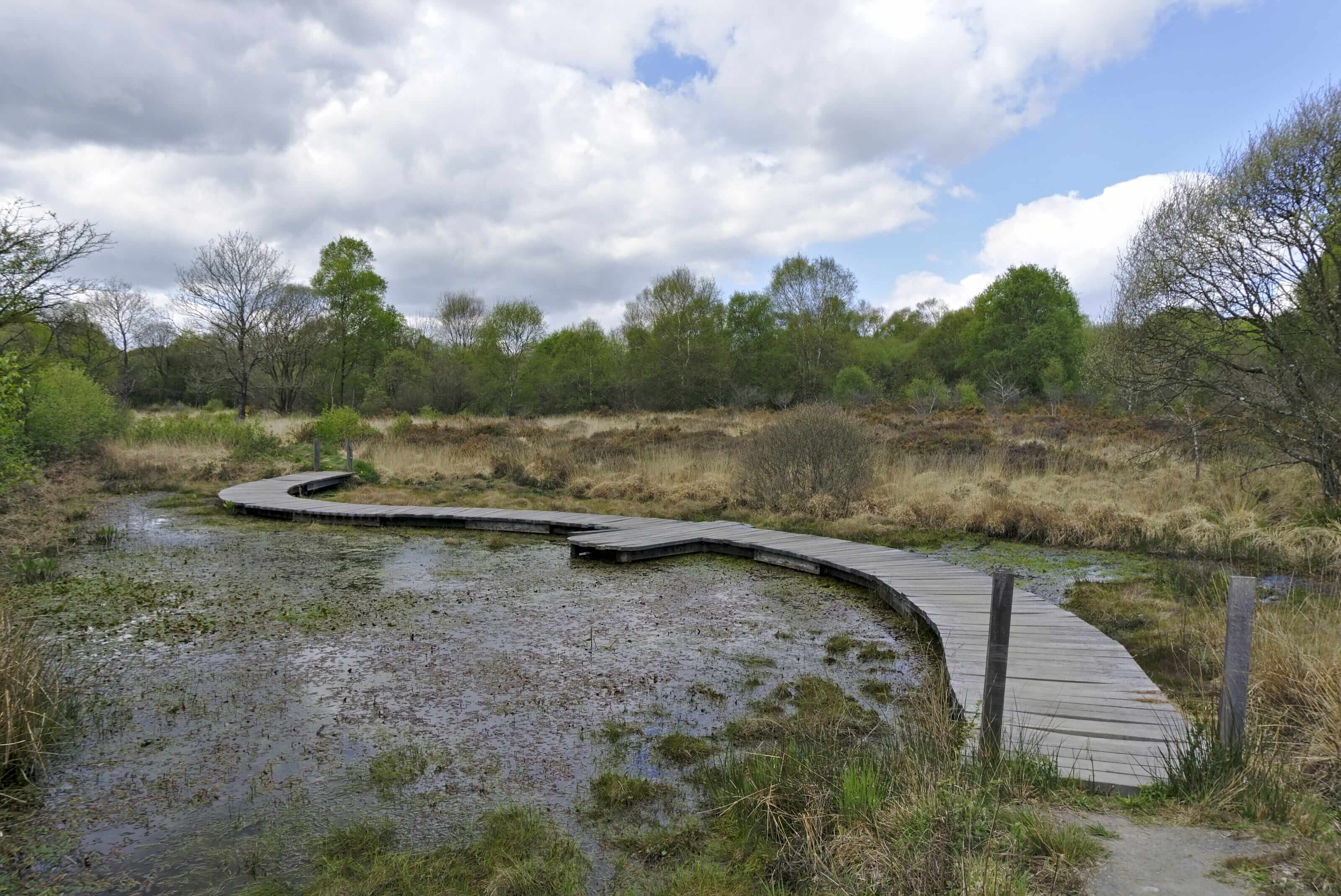 Once out of the Landes you arrive on a section in the heart of the countryside. Horses, cows, rapeseed fields, you'd almost think you are in Switzerland! Good, on the other hand, not a single hill to be seen on the horizon, everything here is perfectly flat, which I confess was not to displease me!
The second part of the walk takes place mainly along the canal. We follow the latter to the pond of Créharer before crossing the canal a few hundred meters further.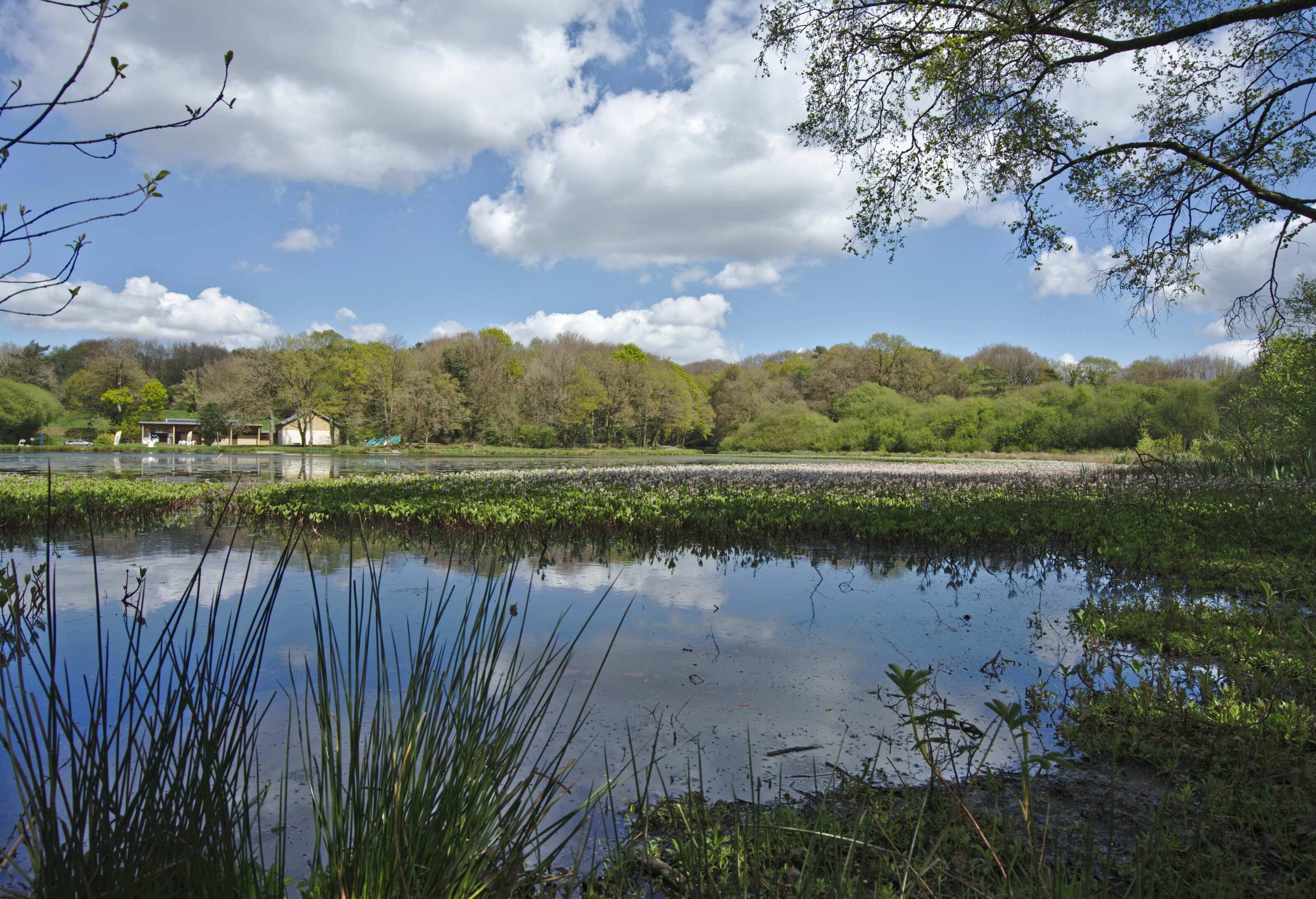 The return to the car park then follows the canal, sometimes along the waterfront, sometimes in the forest.
Infos
Distance: About 13km
Difficulty: Very Easy
Duration: Allow 3 good hours to do the loop by walking quietly and stopping for a few photos.
Here is a small map to help you find your way around. But basically you don't have to worry, the trail is really well marked. We recommend that you leave the car at the level of the bridge indicated on the map, there is a small free parking space.

A little bonus for those who have kept reading so far….
When we left on Lan Bern's trail, Géraldine told us to be very quiet because apparently it is a well-known spot to come and observe the animals. So we gave everything to be quiet, but we didn't see anything. Taken in despair and with a desire to bring back some pictures of "fauna" here is a small selection of "bugs" crossed on the way.
Be careful, these freaks are not local animals…. It seems that it is a Swiss species that has escaped from its Alps to central Brittany. We have heard that it is relatively easy to lure them with butter crepes and an aperitif… They stayed in Brittany much longer than expected.
We hope you enjoyed our little article about Central Brittany. For us it was really a great stop in our Breton adventure. We look forward to seeing you soon with our next articles made from 100% pure Breton butter, this time with the tour of Crozon Peninsula!
Enregistrer