No, we didn't just work for 5 months in Thailand! During this first experience of digital nomads in Chiang Mai, we were able to explore the whole city, as well as the surroundings. So we prepared an article with all our good addresses, practical information, activities to do… In short, everything you need to know before visiting Chiang Mai!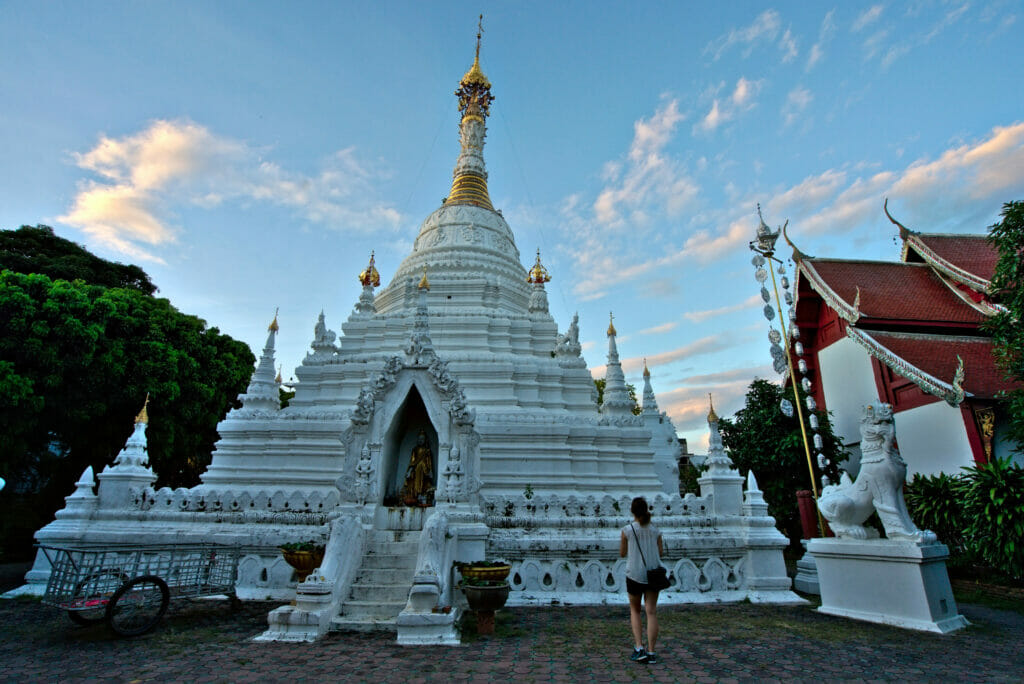 Update 2022
We took this trip in 2017, but the article was completely revised and updated in August 2022. If you see any price changes or have additional information that might be relevant, please feel free to leave us a comment!
Coming to Chiang Mai
To come to Chiang Mai, you have 3 options, no matter where you are in Thailand.
You can take the bus, the cheapest way to get around Thailand. As Chiang Mai is a popular destination for Thais and tourists, several bus companies share the market. From Bangkok, the bus ride takes about 10 hours, and prices start at 580 bahts per person. If you are in Chiang Rai, the ticket costs around 300 baht for a 4-hour trip.
The train is one of our favorite means of transportation! It is a great experience to enjoy the beautiful landscapes of the Thai countryside. You can find tickets for around 800 bahts per person for about a 12-hour ride from Bangkok to Chiang Mai. Now that's slow travel 😉.
If you are short on time, there is still the plane for an express trip of 1 hour and 15 minutes from Bangkok, with tickets around 1600 bahts.
This article contains affiliate links to partner sites. When you use our links to book accommodation, a car, or an activity, you don't pay anything extra, but we get a small commission. This helps us to offer you free, independent, and ad-free content. Thank you for your support!
Hotels in Chiang Mai
For digital nomads or travelers who would like to stay for several months in Chiang Mai, the most economical way is to rent an apartment. Find all our tips to find the perfect apartment in this article.
If you are visiting Chiang Mai for a few days, there is no lack of hotels and hostels in Chiang Mai! Here is a small map with the hotels at the best price:
Things to do in Chiang Mai
A Thai cooking class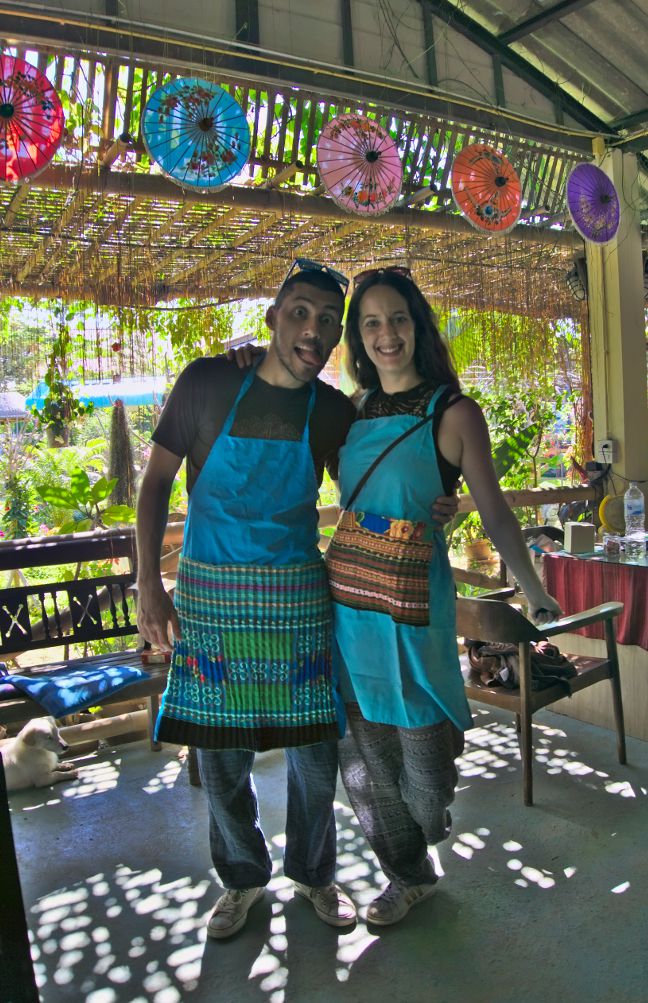 We had been saying for a while that we wanted to test a cooking class in Thailand. During our round-the-world trip, we had already done one of these courses in Cambodia. We loved the experience so we wanted to try it again.
My dad visited us and so it was a good excuse to finally go there! It is not necessarily easy to choose among the many cooking schools in Chiang Mai.
To pick our school we decided to follow the recommendations of Mathilde and Guillaume whom we had met over a drink in Chiang Mai a few weeks earlier!
So we did our course at Mama Noi Cooking School. Frankly, we left with a full and conquered stomach!
We decided to opt for the full day, which means that we prepared 5 different dishes each!
The highlights of this day
The sumptuous setting of the school: We cook in an open space in the middle of a magnificent garden filled with flowers, vegetables, and aromatic herbs.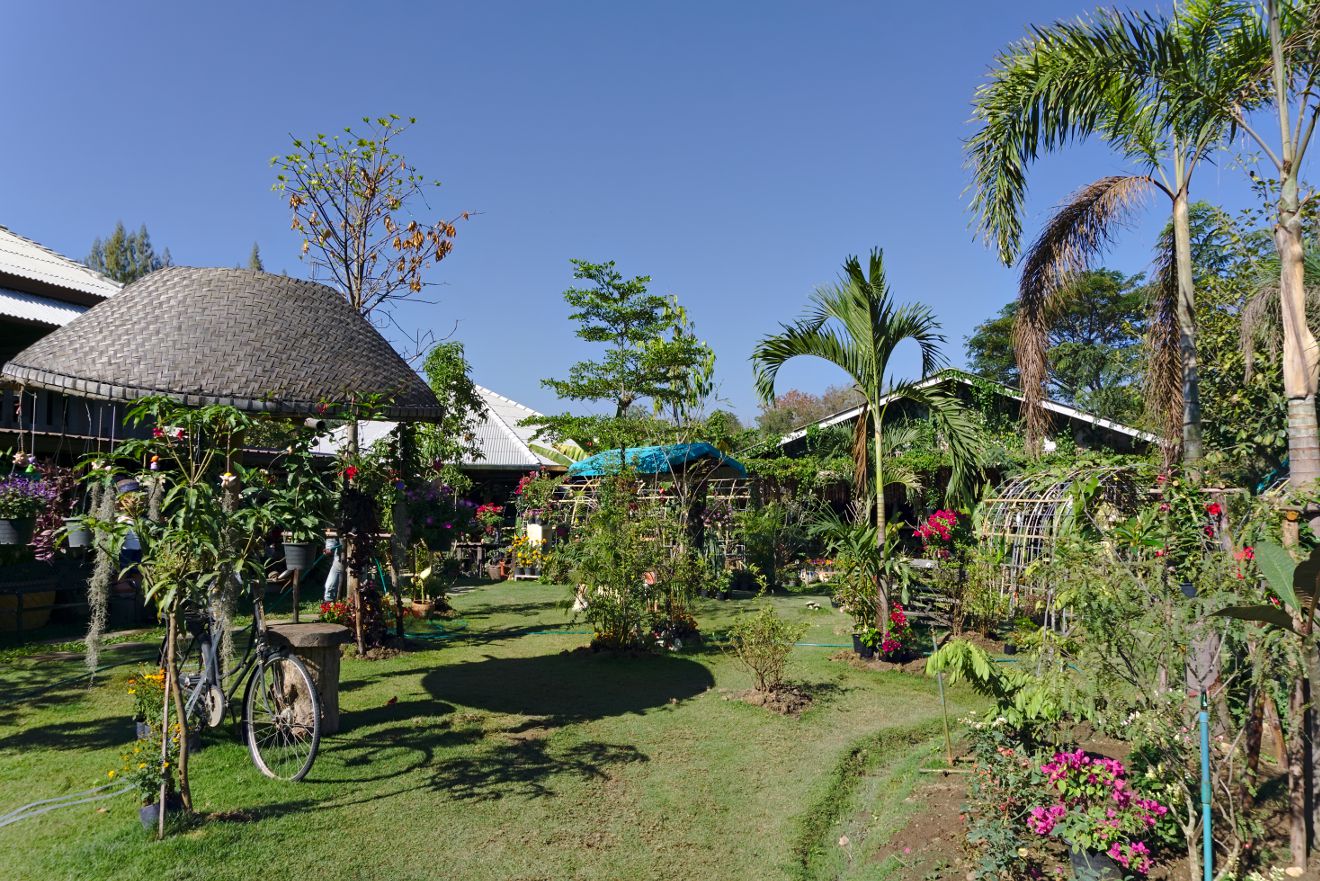 Our teacher was really sweet! What do we remember? "The more spicy the more sexy" while shaking her booty… Yes yes, the teacher was a slightly exuberant ladyboy!
The wide choice of dishes: For each type of dish, there are at least 4 or 5 options to choose from. So with Benoit, my dad, and his girlfriend, we tasted 4 appetizers, 4 aperitifs, 4 curries, 4 soups, and 4 desserts!
They're offering to pack the leftovers! Because considering the quantities, it is humanly not possible to eat everything! Since we have a kitchen in our apartment we took the leftovers to warm them up the following days. We had enough food for the 3 following days!
The prepared dishes were delicious!
The less
Frankly, not much to complain about! Except perhaps the market tour, which we found a little brief with little explanation. When we had done the course in Cambodia we went around the stands with our teacher who explained everything to us. Here it's a little more like "Go for a walk and take pictures".
Cooking class
You can book via their website. The price is 1000 bahts for one day or 800 baht for half a day. If you come with 2 people and only one person likes to cook, you can also pay 400 baht to be an accompanying person. You can attend the class, taste the dishes of your partner or even help him, but you don't cook yourself.
Otherwise, many agencies offer to take care of the booking. Find cooking classes or other food tours in Chiang Mai on Getyourguide.
A massage by prisoners
We're going to tell you the truth: we didn't do it. To be honest, we hate massages! We know we're weird. But I hate being touched by strangers' hands, especially if it's to hurt me (my back still remembers the Thai massage in Koh Chang).
Then, why do we recommend doing a massage at Women Correctional Institution Vocational Training Center in Chiang Mai? Well, simply because we know that not everyone is as weird as we are! And because we also know a lot of people who got massages there. Each time they came out with the same smile! Tempted? It's 200 bahts for 1 hour of massage, and you have to go there to make an appointment.
On the other hand, because I don't know the massages, I know the cha lee la cafe in front of the massage place pretty well, since I accompanied a lot of friends who were going to get a massage 😉. Their ice coffee is really good and not too expensive, ideal to pass the time while friends are being tortured get massaged.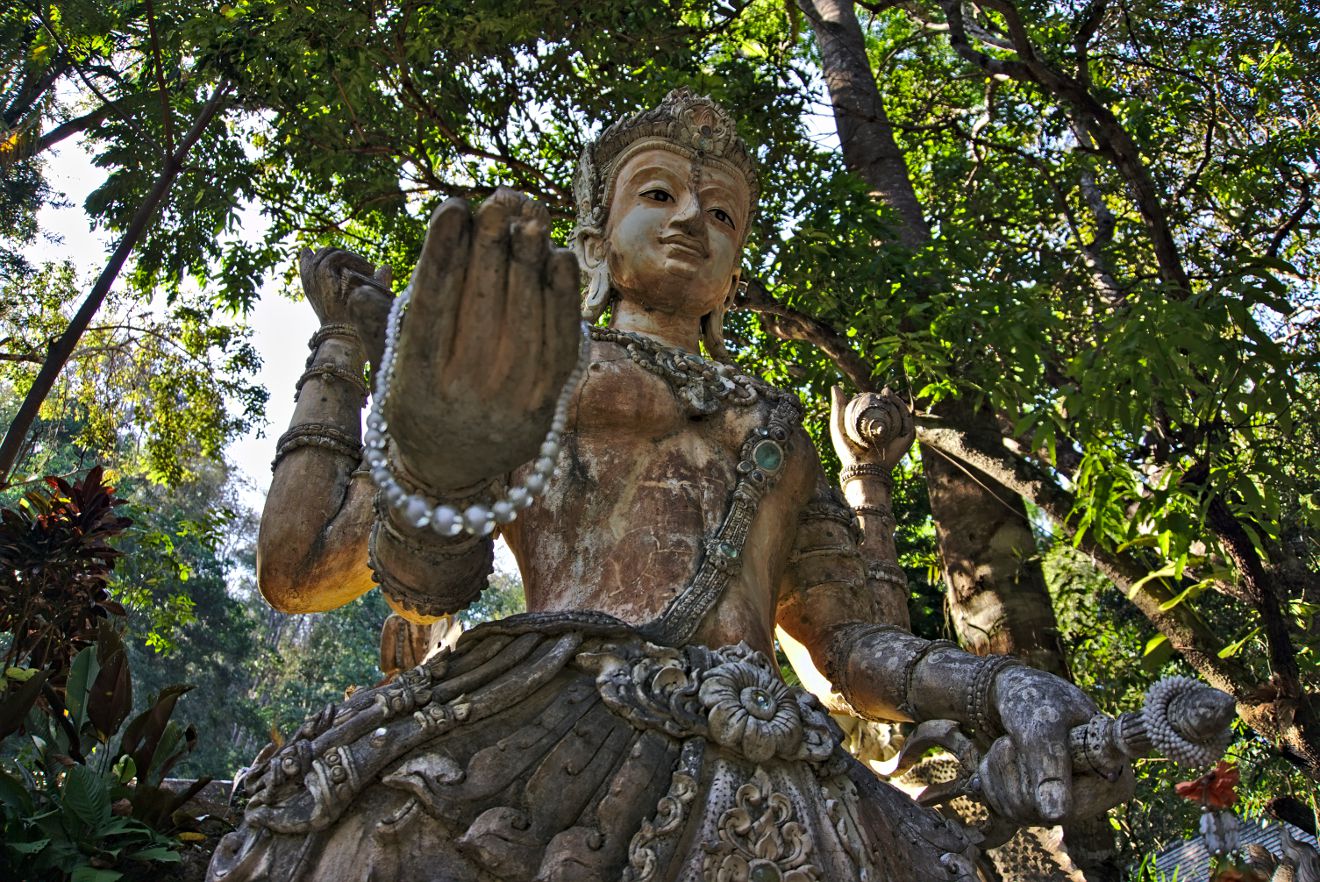 A night market
The Sunday Night Market
Every Sunday, a large part of Chiang Mai's old town becomes pedestrianized, and you can attend the Sunday Night Market. The Night Market is held roughly on the entire right-hand side of the center on and around Rachadamnoen Rd, the street that arrives at Tha Phae Gate.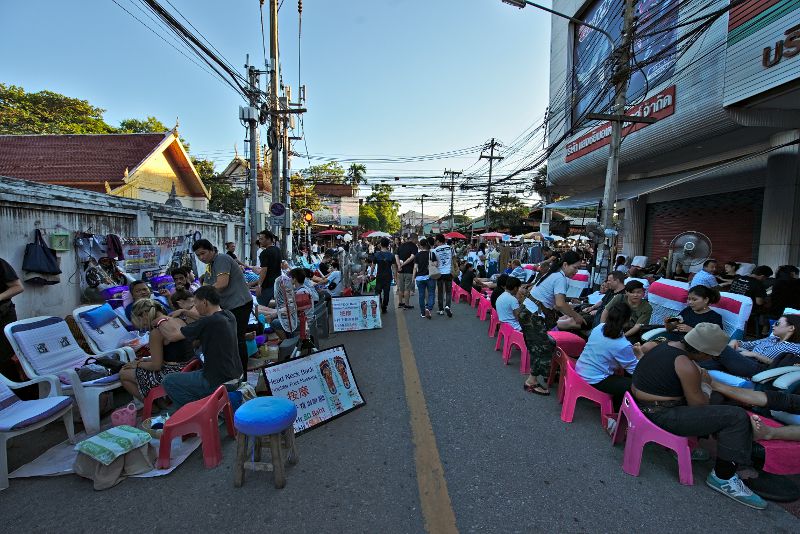 We like this market because we find lots of good things to eat, and in addition to the traditional touristic objects sold everywhere in Asia, there are also a few streets in which we find lots of local crafts. Yes, I said local, not made in China 😉.
And for amateurs, there is even the massage option! Tell yourself that if I already don't like massages in institutes, you won't see me lying in the middle of the street!
On the other hand, we warn you, in the late afternoon it's relatively quiet to walk around this market, but from 7 pm it becomes pure madness!
The Night Market of Chiang Mai University (CMU)
It was right next door to us! As we explained in our budget article, this is where we often ate our meals during these 5 months. It is open every day.
The Saturday Night Market
This market takes place every Saturday, just south of the square, in the street Wua Lai which is becoming pedestrian.
A visit to the temples in Chiang Mai
Chiang Mai is a fortified city with a canal and a wall (of which there is not much left) that delimits the old city. This is often referred to as "the square". At the same time, the fortifications were built to make it a perfect square!
In short, walking around the square and discovering the many Buddhist temples is super fun. But be warned, Chiang Mai has more than 300 temples, so you will have to get up early if you want to see them all. Here are our favorite temples in the old city.
Wat Chedi Luang
Built during the 15th century, Wat Chedi Luang is the biggest and most imposing temple of Chiang Mai! It is a place of daily use for the Thai people, also during Buddhist celebrations. The entrance fee is 50 bahts. Its enclosure is also worth a look, notably the pillar of the city (Sao Inthakin) benevolent protector of Chiang Mai.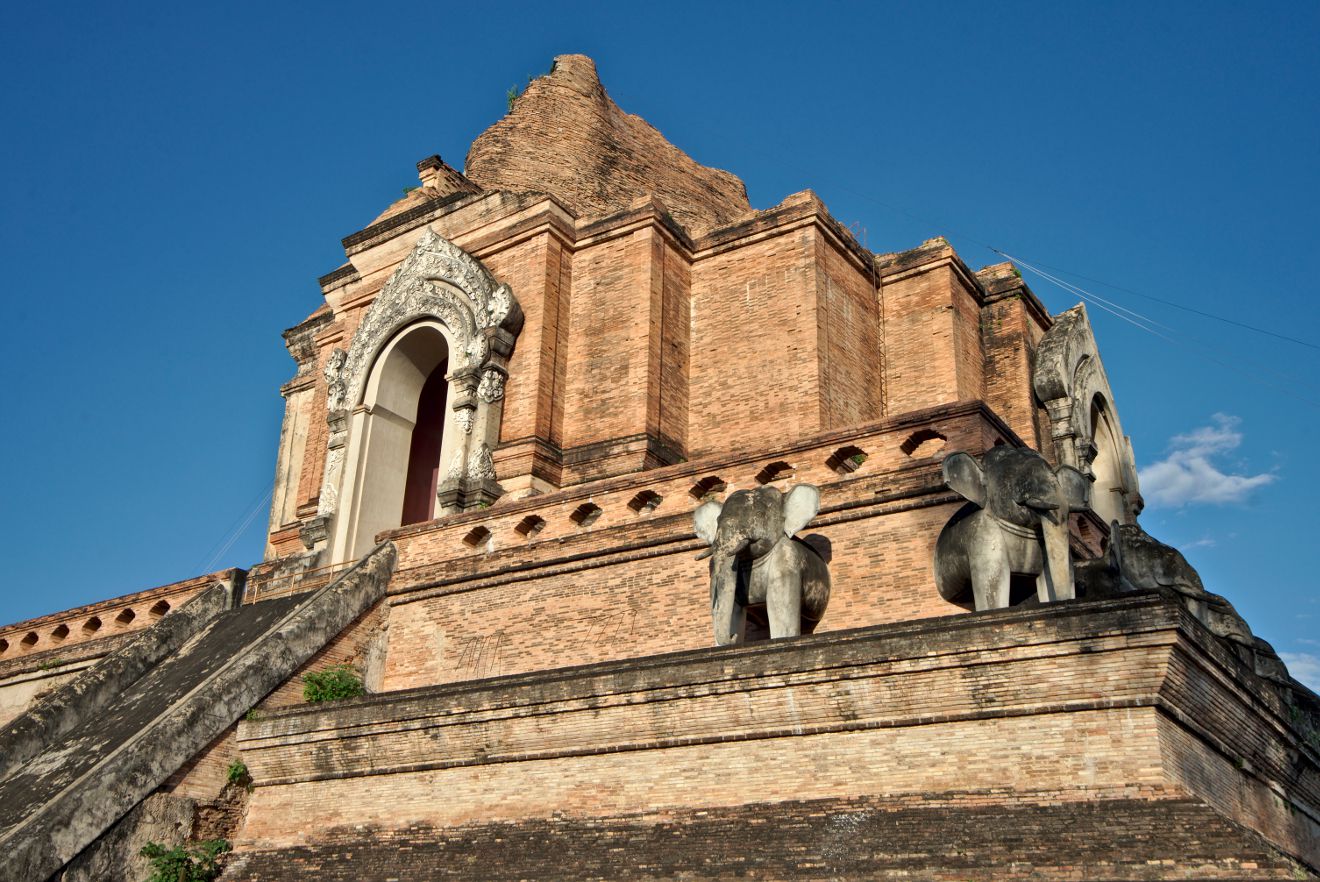 Wat Phan Tao
Located right next to Wat Chedi Luang, this temple houses within its walls a residence for monks. Originally it was a throne room. Today, this 19th century teak structure is considered the oldest in the city. Although it is much smaller than its neighbor, it has a je-ne-sais-quoi that makes me really like it! The entrance is free.
Wat Phan On
This one is beautiful with its golden stupa! I also like it because it is always very quiet in its enclosure. Moreover, it's free. So it is a place to discover if you want to get away from the hustle and bustle of the city center.
Other temples
As I said above, it's impossible to visit all the temples in the city (unless you come only to do that for several weeks). Here are some other temples that we did not see but that are worth a look:
Wat Chiang Man (free);
Wat Phra Singh (free);
Wat Muen San (free);
Wat Suan Dok (20 bahts per person);
Wat Lok Moli (free);
Wat Jed Yot (free);
Wat Buppharam (free).
We also have some temples that we find nice outside the center:
Wat Sri Suphan: Also called "the Silver Temple", this temple is well worth a look. As its name suggests, this temple is made only of silver! If you go there, pay particular attention to the engravings on the temple, you might be surprised by what you will find there 😉. The entrance fee is 50 bahts, and women are not allowed to enter the temple.
Wat Umong Suan Phutthatham: This nice temple is not far from the airport. Its particularity? The main stupa is accessible through a system of underground tunnels in which there are many mini prayer areas. The entrance fee is 20 bahts.
Wat Pha Lat: We already told you all about it in our article about the ascent to Doi Suthep, but this temple remains our favorite temple in Thailand!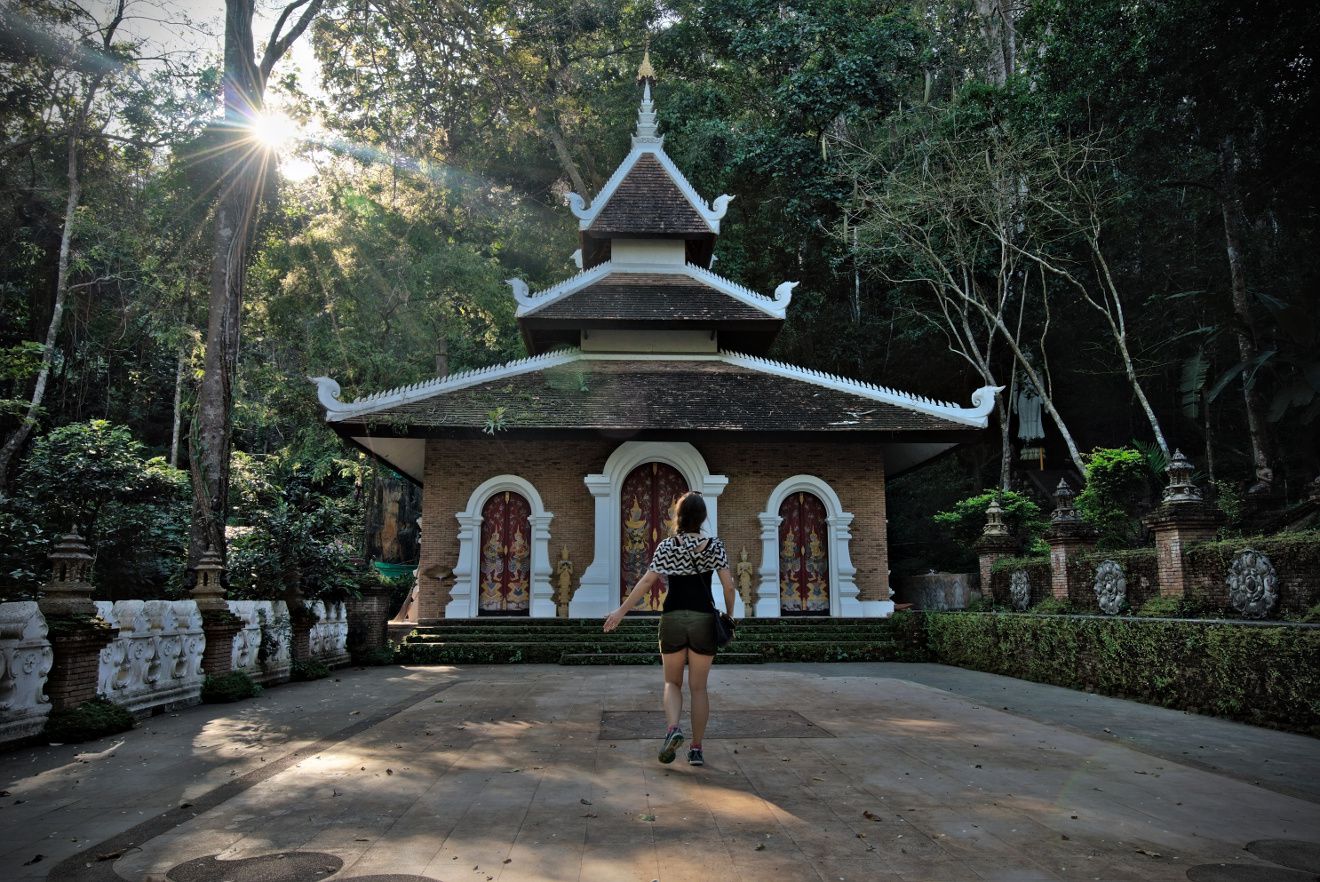 Events in Chiang Mai
The flower festival
We could not attend it, but it is a major event in Chiang Mai. In the first weekend of February, the whole city is in ebullition! Floats covered with flowers, the election of the queen of flowers, stands of flowers and plants… In short, flowers are in the spotlight!
Loy Krathong
Like our trip to Bangkok, we could attend the festival of lights or Loy Krathong during November. Moreover, Chiang Mai is famous for its own lantern festival, Yee Peng, which takes place at the same time as Loy Krathong.
Find all the major festivals in Thailand.
Map of Chiang Mai
To help you find your way around, we have prepared a detailed map of Chiang Mai with all our good addresses: restaurants, temples, and even dentists (ouch)!
Things to do in the Chiang Mai area
The Mae Hong Son Loop
So if there is one thing we recommend you do if you come to Chiang Mai and you have a few days ahead of you, it would be this beautiful loop! It will take you on winding mountain roads to discover Pai, Mae Hong Son, and Mae Chaem while passing through sublime landscapes! Moreover, it can be done by motorcycle, scooter, or bus
To know more about it, we wrote 2 articles, especially about this loop: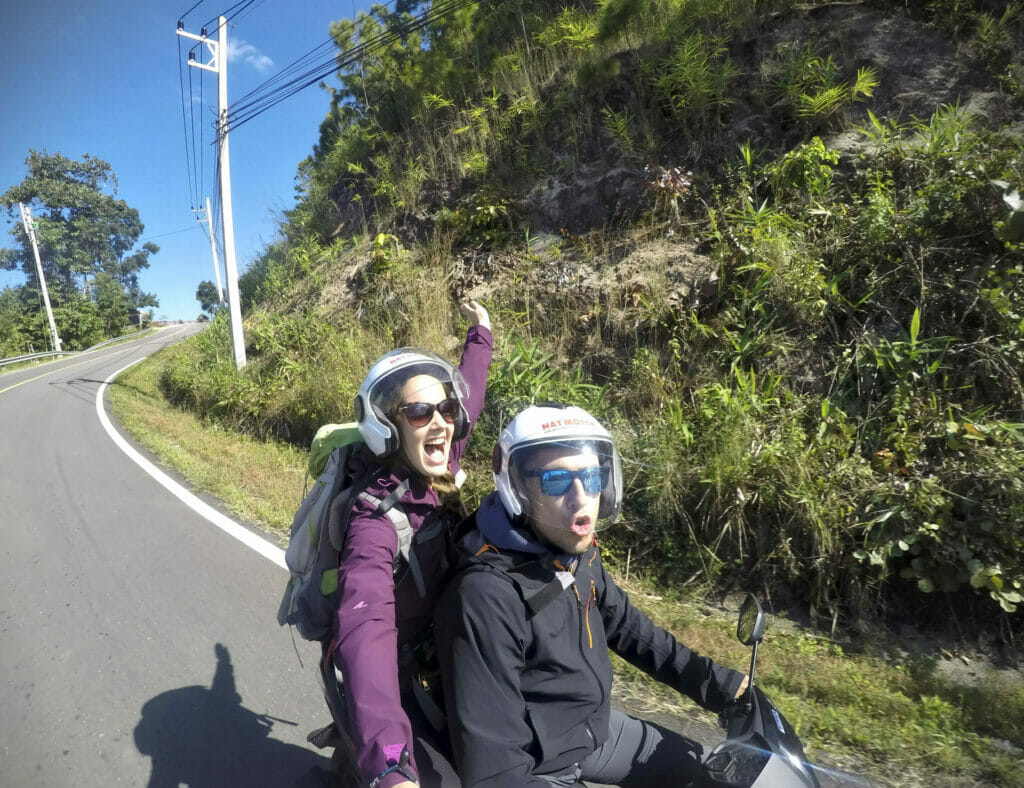 And if you're still not convinced, you can also check out our video about this trip:
Doi Inthanon National Park
When my dad visited us a few weeks ago, we took the opportunity to discover Doi Inthanon National Park. We had already passed through the park during our Mae Hong Son loop, but we didn't dare to climb to the top after nearly 600km of scooter riding!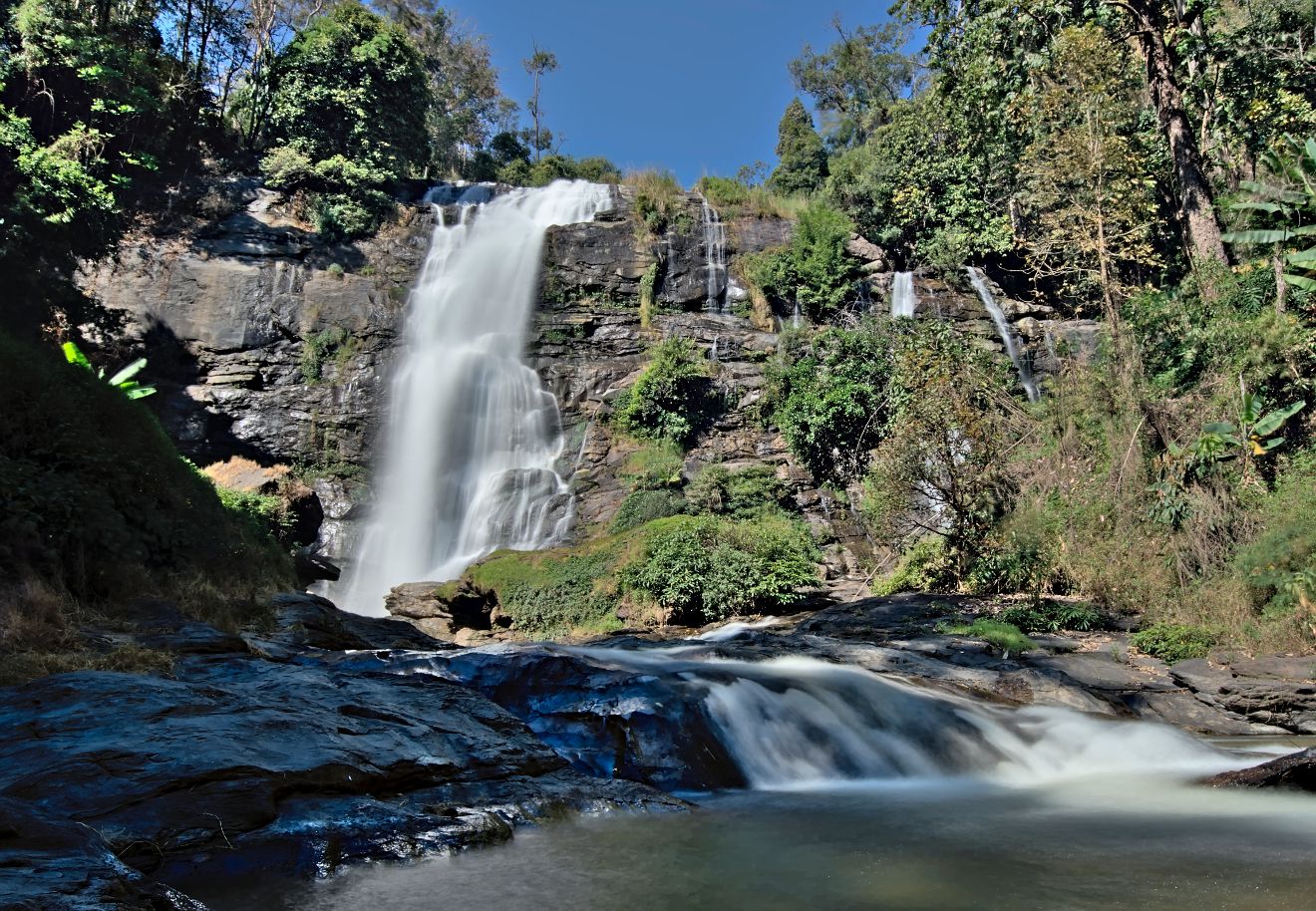 Yes, I say at the top! Because in addition to being a national park with lots of waterfalls it is also the highest peak in Thailand! Well, we're relativizing it, it's not Everest we're talking about here! The highest peak in Thailand peaks at… 2565m!
The excursion to Doi Inthanon Park is a great day to get back to nature but also to escape the sometimes suffocating heat of Chiang Mai. Because yes, when the thermometer goes crazy in the city and it displays more than 30 °C, it will only rarely exceed 15 °C at the top of the mountain!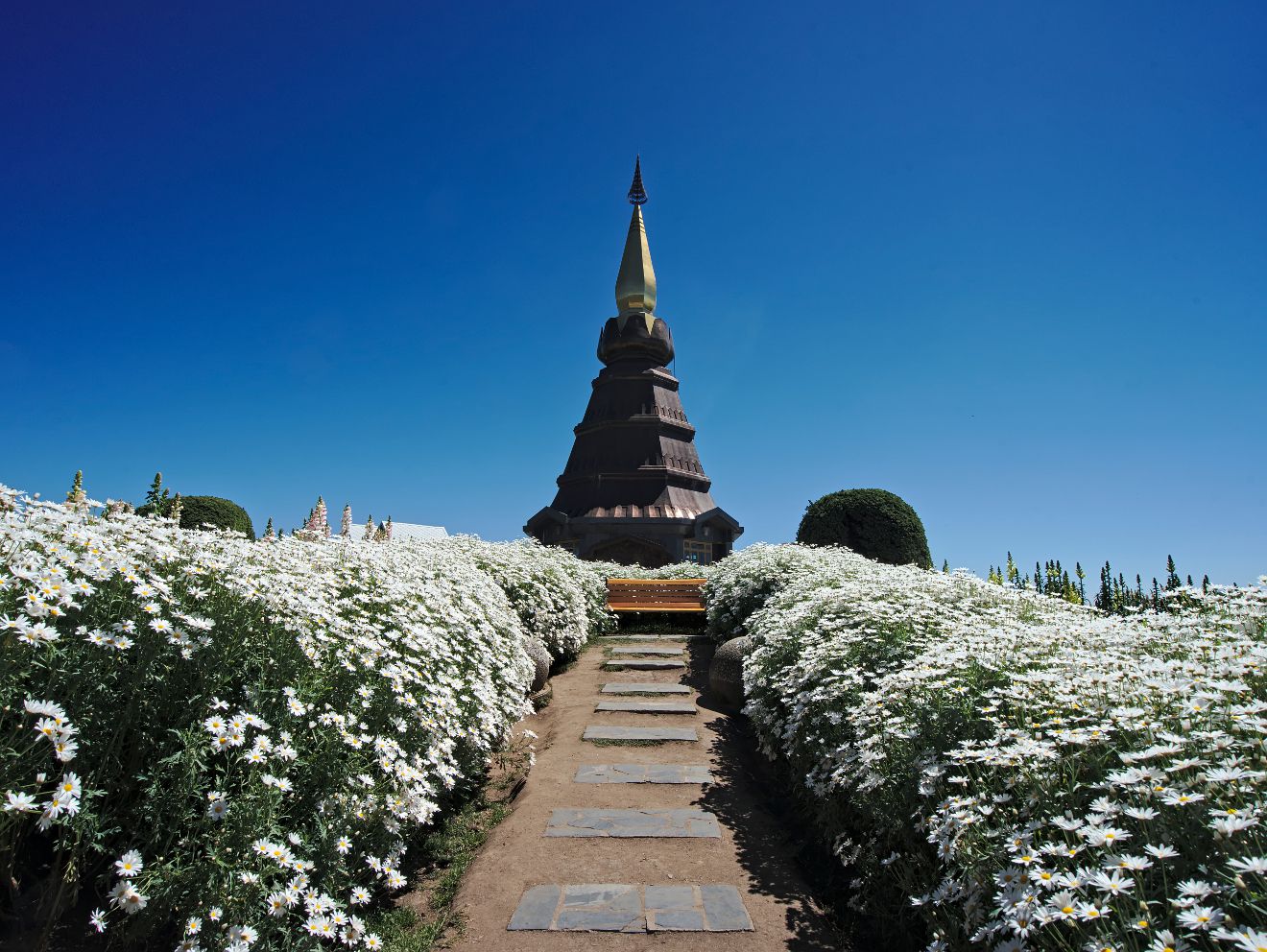 The entrance to the national park will cost you 300 bahts per person, plus 30 bahts per car (or 20 bahts per bike). Access to the pagoda at the top is paid (30 bahts).
You can also do some hiking in the park, find more information on the park website.
Getting to Doi Inthanon National Park
It is about 2 hours drive from Chiang Mai to Doi Inthanon Park. You have several possibilities to get there:
Rent a scooter in Chiang Mai: it's the most economical and independent way of transportation. However, be careful because it climbs steeply to get to the top! So think of taking a rather powerful scooter (125 cm3). The rental of a scooter costs between 200 and 250 bahts.
Rent a car: It is a more comfortable alternative to the scooter, but more expensive. Count between 1000 and 1500 bahts for a day rental.
Take an organized tour: Many tours leave from Chiang Mai, around 1000 baht per person. These tours include transportation by air-conditioned minibus, entrance to the park, stop at different waterfalls and temples, entrance to the pagoda, and lunch. Find organized tours and many other activities around Chiang Mai on GetyourGuide.
Other activities
There is a lot to do around Chiang Mai and we couldn't discover everything! Here is a list of activities you can do in the area:
Wat Phrathat Haripunchai Woramahawihan temple, in Lamphun, 35 min from Chiang Mai (50 bahts per person);
Grand Canyon Chiang Mai Water Park, 25 min from the city center, offers many activities (600 bahts per adult);
San Kamphaeng Hot Springs, it's a 1-hour drive, east of Chiang Mai (150 bahts for the entrance and access to the springs).
What about elephant sanctuaries in Chiang Mai?
One of Chiang Mai's most famous activities is probably visiting an elephant sanctuary. So we admit it, we hesitated to go. Well, especially me: Ben is not really a big fan of elephants. In the end, I decided not to go.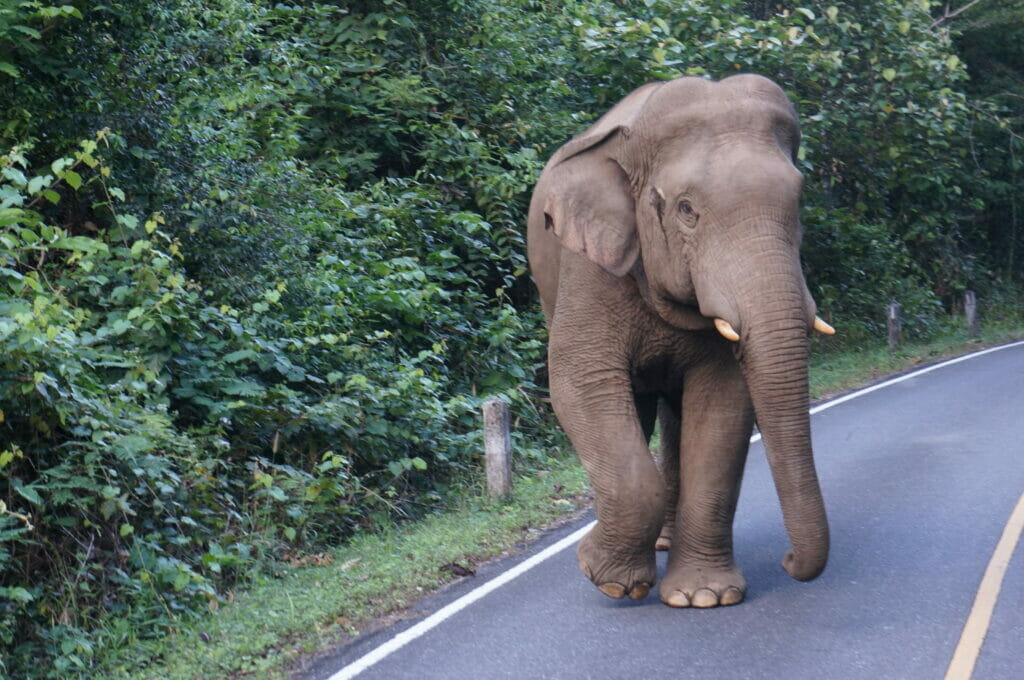 Why not see the elephants in a sanctuary in Thailand anyway? Here are our reasons:
When you say trendy activity, you mean good business. Elephants are a big business in northern Thailand! Some centers are good and treat elephants properly. Unfortunately, there are others… Not seeing elephants at all was kind of my way of not contributing to the excitement around this activity.
We're not going to lie to each other, elephant excursions are expensive, very expensive even! There are some cheaper ones, but often these are exactly the places where elephants are mistreated. In short, to go there, I recommend putting the price (between 1500 and 2500 bahts per day) to encourage the centers which protect them.
Popular means crowded! The Elephant Nature Park, one of the places that respect elephants, is sold out several weeks in advance and one thing is certain: you will not be in a small group to admire the big pachyderms.
Another option to see them is to go with a guide to meet wild elephants in Khao Yai National Park in eastern Thailand. After such an encounter, you can't look at a domesticated elephant like before…
Info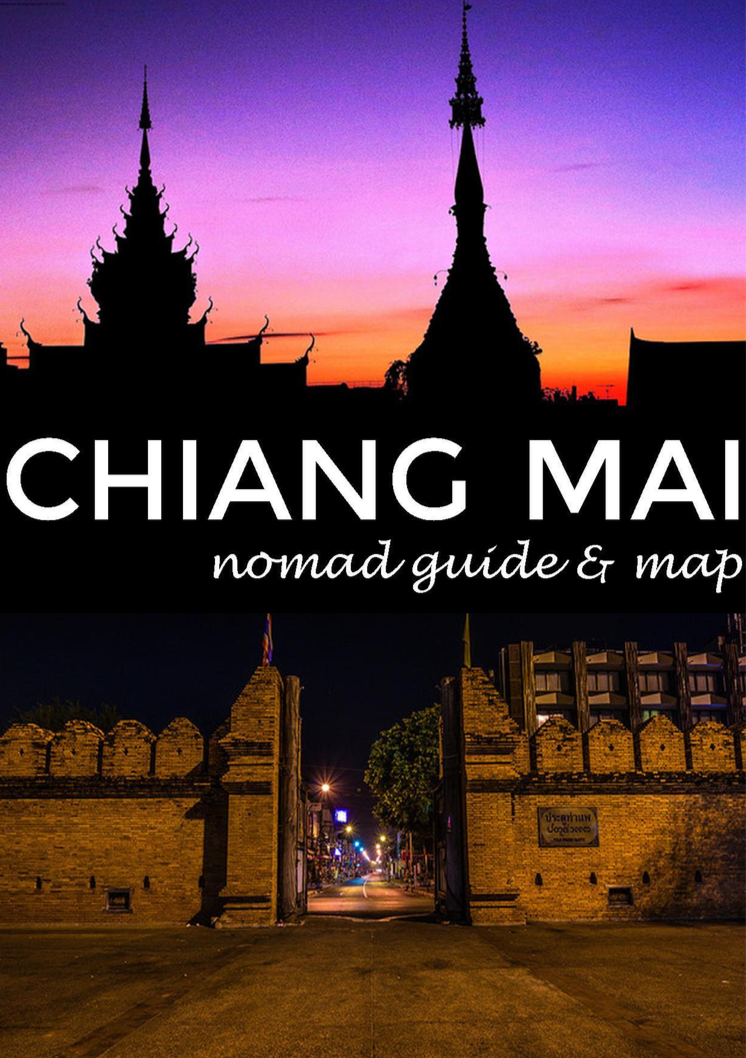 If you want to find all the addresses of absolutely all the accommodations in Chiang Mai, we invite you to discover Mike Hughes' excellent guidebook sold for $15. In this guide (400 pages long), you will find all the information about Chiang Mai that a person who is moving in could need.
We bought his book before the departure, and it has helped us a lot! You can find everything you need to settle down here: how to move around, find an apartment, where to eat, which SIM card to buy, how to install internet at home, how to withdraw money, visa issues, health in Chiang Mai, dangers, Thai culture, legal issues, etc. Above all, you have access to an online map that contains all the addresses mentioned in the guide!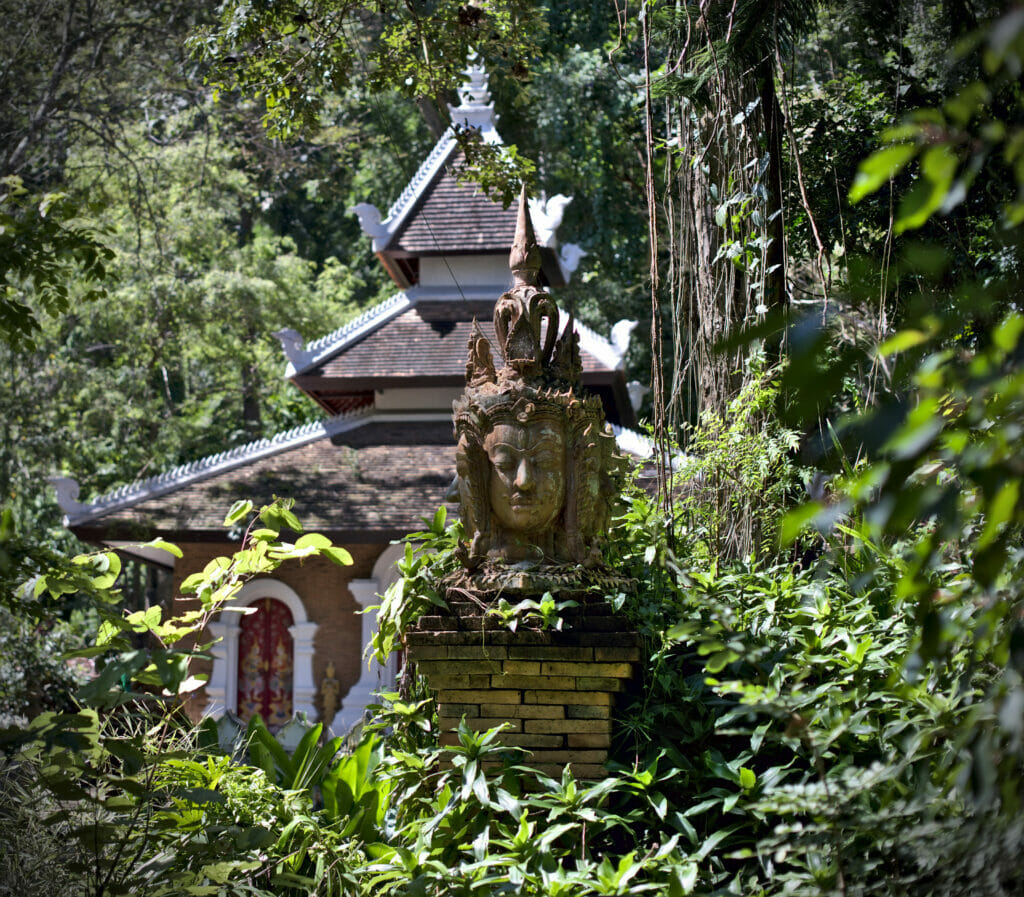 That's it for this special Chiang Mai article! In the next episode of digital nomads' life in Thailand, we'll give you all the details about our budget to live in Chiang Mai if you plan to live there for a few months 😉.
We loved spending these 5 months in this city, which has so much to offer! If you have other suggestions for things to do, don't hesitate to comment!