It has been a little over 5 months since we settled in northern Thailand. In Chiang Mai, to be precise. We still have 2 short weeks left here before we continue our adventures in Europe this time.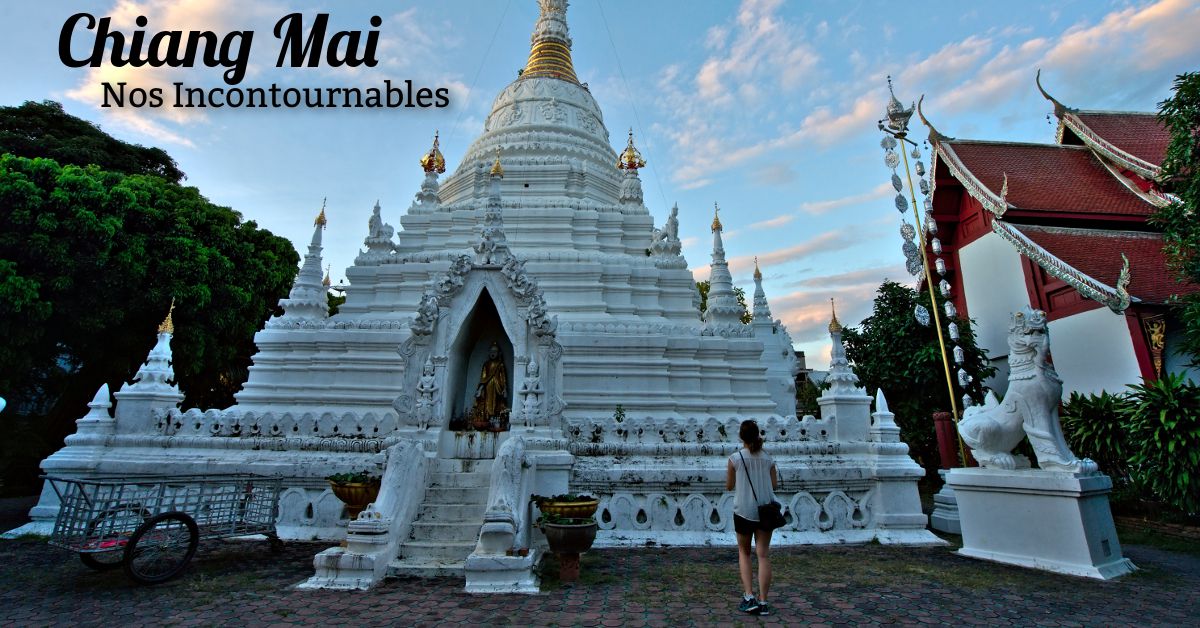 We have prepared 2 very detailed blog posts about Chiang Mai with all our good addresses and activities. This is therefore the first part. In this article we will talk about all the activities that we recommend you do in and around Chiang Mai. The second part will be dedicated to good addresses and the budget.
Update: Budget is live here
Things To do in Chiang Mai
We will start this article with a brief overview of all the activities that are great to do in Chiang Mai city.
To help you find your way around, we have prepared a very detailed map of Chiang Mai with all our good addresses. We'll come back to the restaurants in the next article, but we'll already give you the Map so you have everything.
Info: By clicking on a pin you will see our remarks and recommendations. The menu on the side is there to help you sort by what you are looking for.)
Do a Thai cooking class in Chiang Mai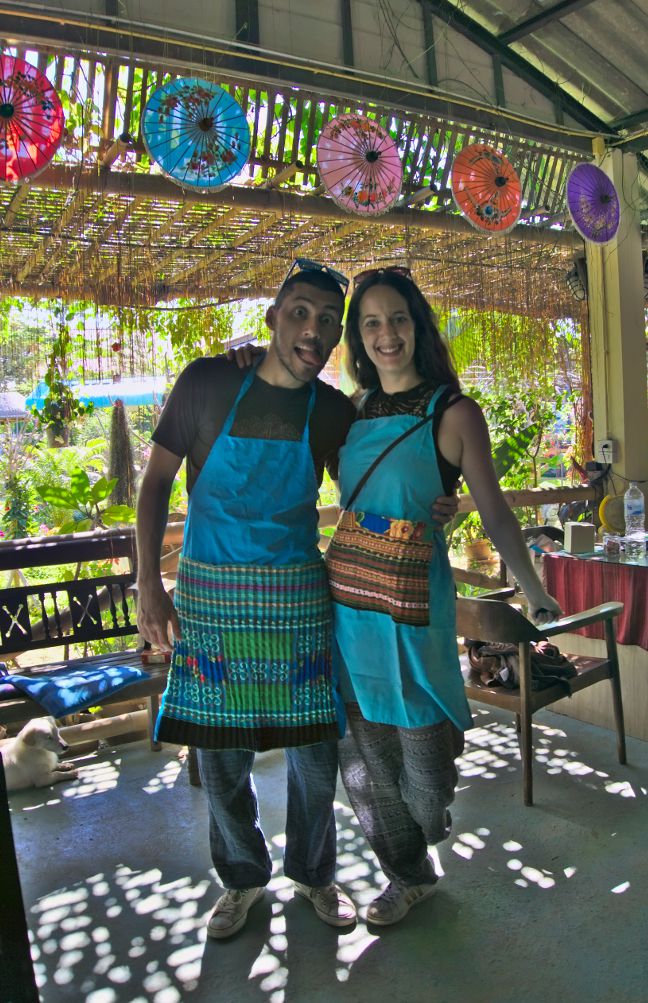 We had been saying for a while that we wanted to test a cooking class in Thailand. During our round the world trip we had already done one of these courses in Cambodia. We really loved the experience so we wanted to try again.
My dad visited us a few weeks ago and so it was a good excuse to finally go there! In Chiang Mai there are many cooking schools and it is not necessarily easy to make a choice. To pick our school we decided to follow the recommendations of Mathilde and Guillaume whom we had met over a drink in Chiang Mai a few weeks earlier!
So we did our course at Mama Noi Cooking School. Frankly, we left with a totally full and conquered stomach!
We decided to opt for the full day, which means that we prepared 5 different dishes each!
The highlights of this day:
The absolutely sumptuous setting of the school! We cook in an open space that is in the middle of a magnificent garden filled with flowers, vegetables and aromatic herbs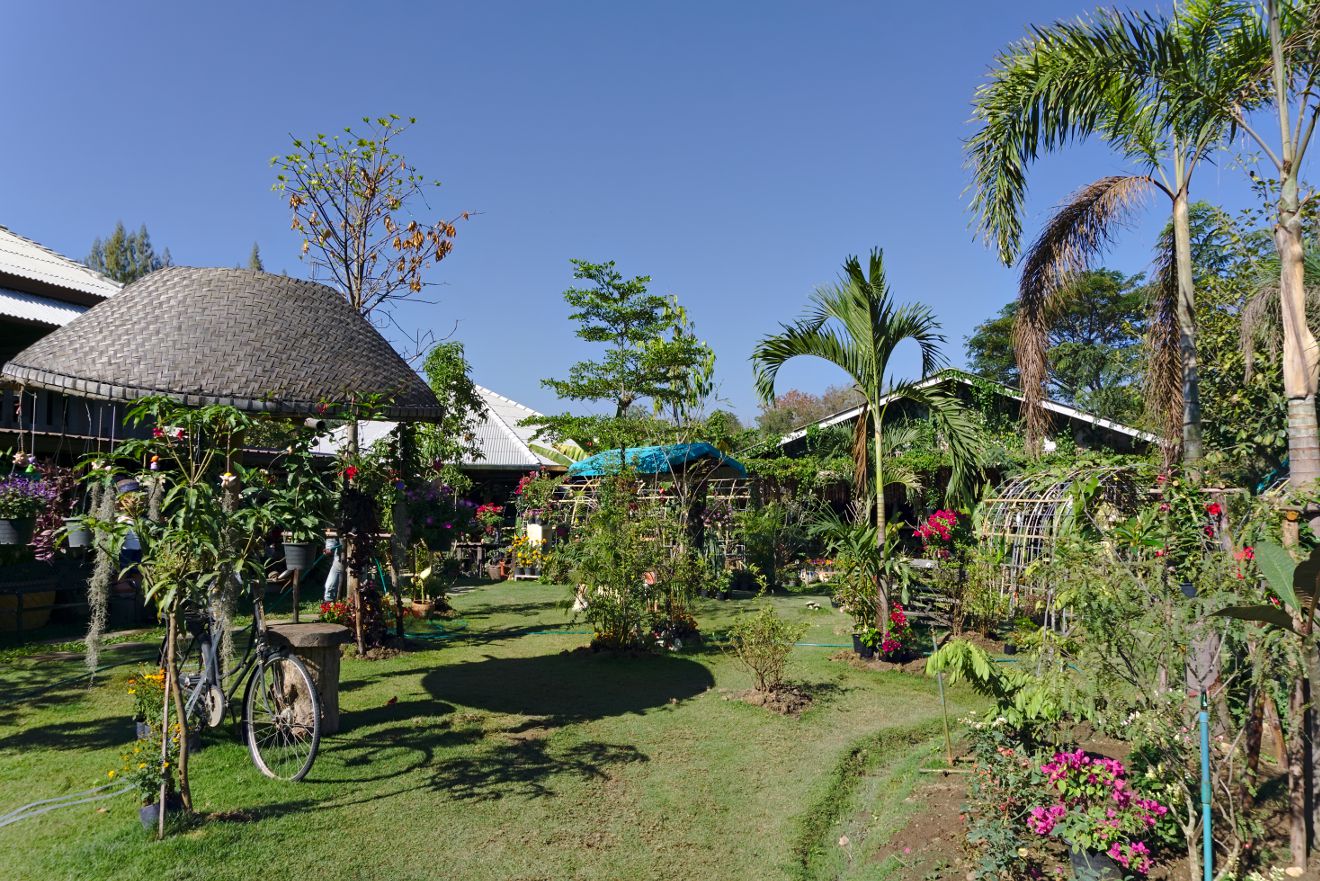 Our teacher was really sweet! What do we remember? "The more spicy the more sexy" while shaking her bootty…. Yes yes , the teacher was a slightly exuberant ladyboy. 🙂
The wide choice of dishes! For each type of dish (starter, curry, soup, dessert, etc.) there are at least 4 or 5 options to choose from. So with Benoit, my dad and his girlfriend we made sure to never take same option. Result? We tasted 4 appetizers, 4 aperitifs, 4 curries, 4 soups and 4 desserts!
They're offering to pack the leftovers! Because considering the quantities it is humanly not possible to eat everything! Since we have a kitchen in our apartment we took the leftovers to warm them up the following days (we had enough food for the 3 following days!)
The prepared dishes were delicious!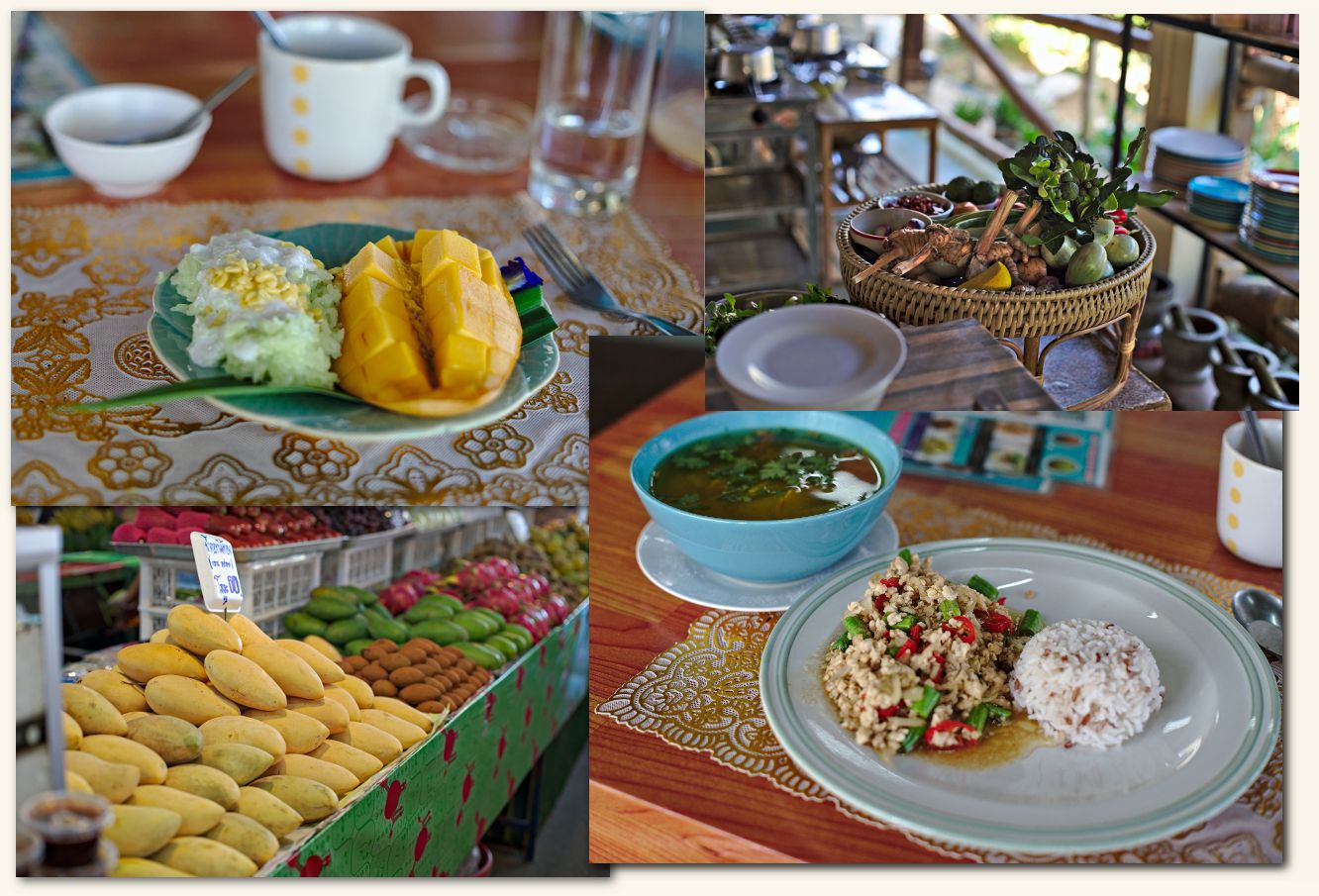 The less?
Frankly, not much to complain about! Except perhaps the market tour, which we found a little brief with little explanation. When we had done the course in Cambodia we really went around the stands with our teacher who explained everything to us. Here it's a little more like "Go for a walk and take pictures".
Infos
Cooking school: Mama Noi Cooking Class
Where to book : Many agencies offer to take care of the booking, otherwise you can also book via their website
Price: 1000 Baths for the full day, 800 Baths for the half day version
Additional Info: If you come in pairs and only one person likes to cook, you can also pay 300 Baths to be an attendant. This you can attend the class, taste your partner's dishes or even help him, but you don't cook yourself.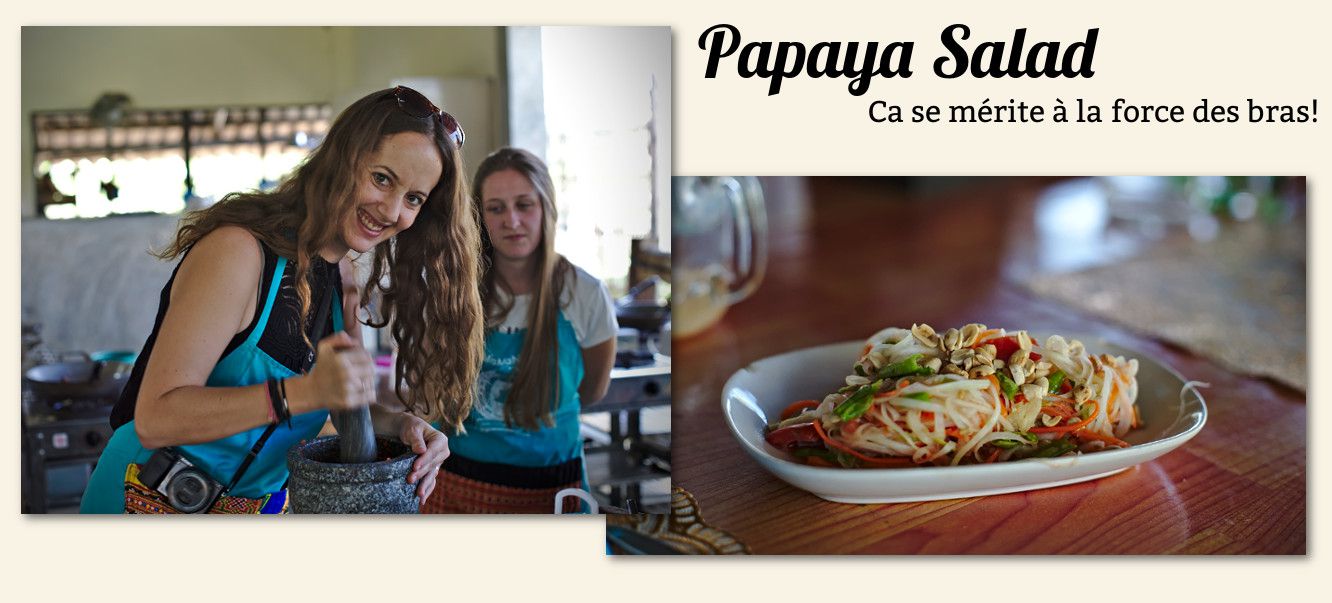 Going to get massages from prisoners
This we're going to tell you the truth… we didn't do it. To be totally honest, both Ben and I hate massages! (we know we're weird…) But personally I hate being touched by strangers' hands. Especially if it's to hurt me like a Thai massage 🙂
Why do we recommend this address then? Well, simply because we know that not everyone is as weird as we are! And bacause we also know a lot of people who got massages there. Each time they came out with the same smile! Tempted? It's 200 Baths for 1 hour of massage and you have to go there to make an appointment.
On the other hand, because I don't know the massages, I know the little café in front the massage place pretty well, since I accompanied a lot of friends who were going to get a massage. Hahahaha
Their ice coffee is really good and not too expensive, ideal to pass the time while friends are being tortured, oops sorry, get massaged.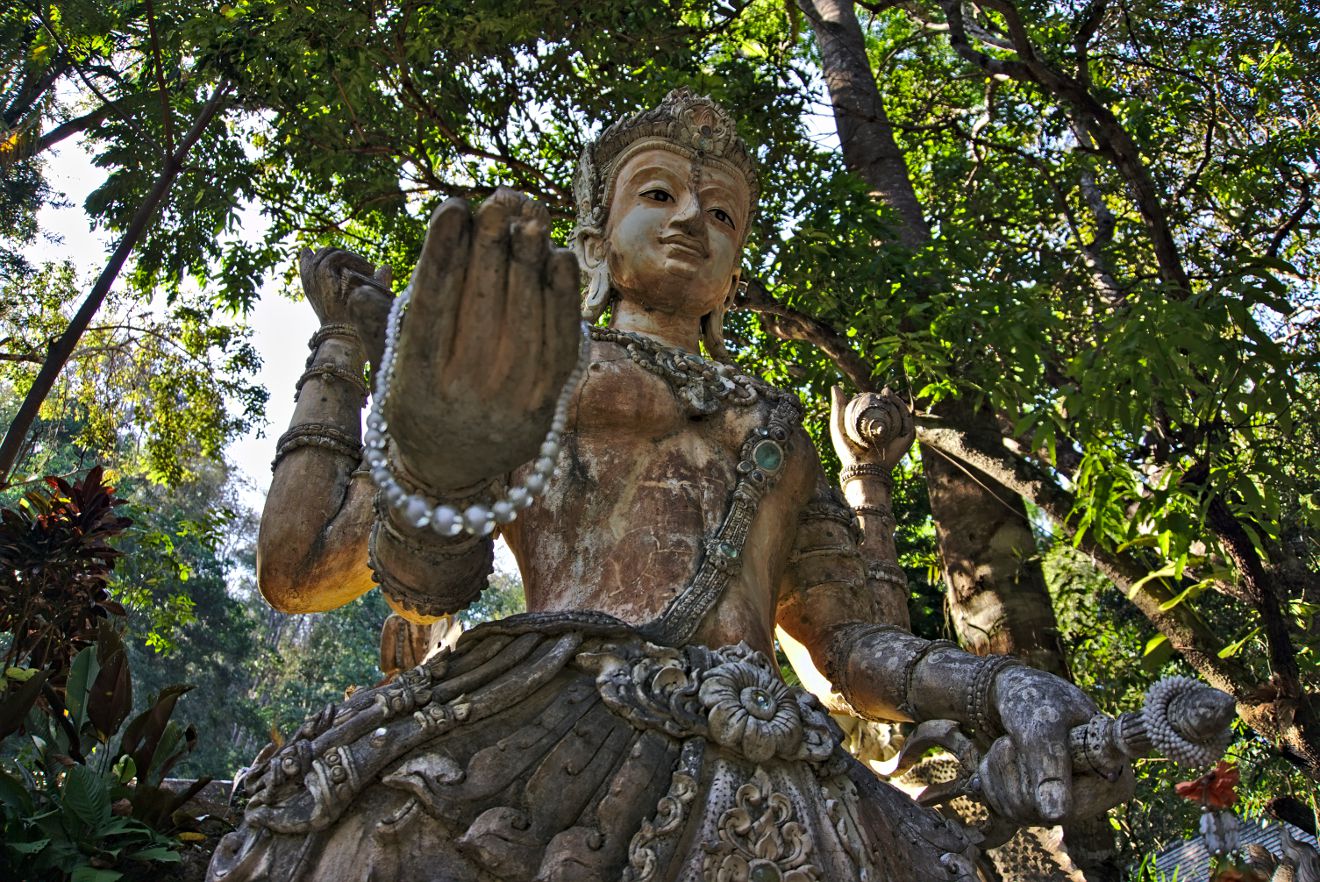 The Sunday Night Market
Every Sunday a large part of Chiang Mai's old town becomes pedestrianised and you can attend the Sunday Night Market.
The Night Market is held roughly in the entire right-hand side of the centre on and around the street that arrives at Tha Phae Gate.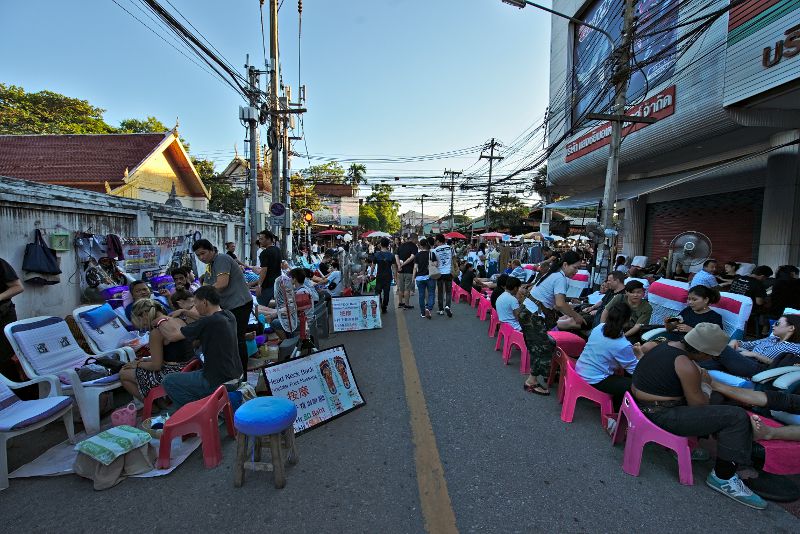 We like this market because we find lots of good things to eat, and in addition to the traditional touristic objects sold everywhere in Asia there are also a few streets in which we find lots of local crafts. Yes, I said local, not made in China.
And for amateurs there is even the massage option! Tell yourself that if I already don't like massages in institutes, you won't see me lying in the middle of the street! But people doing it seemed to like it 🙂
On the other hand, we warn you, in the late afternoon it's relatively quiet to walk around this market, but from 7pm it really becomes pure madness!
Notice to amateurs: There is also a second weekly market held every Saturday in the southern part of the city.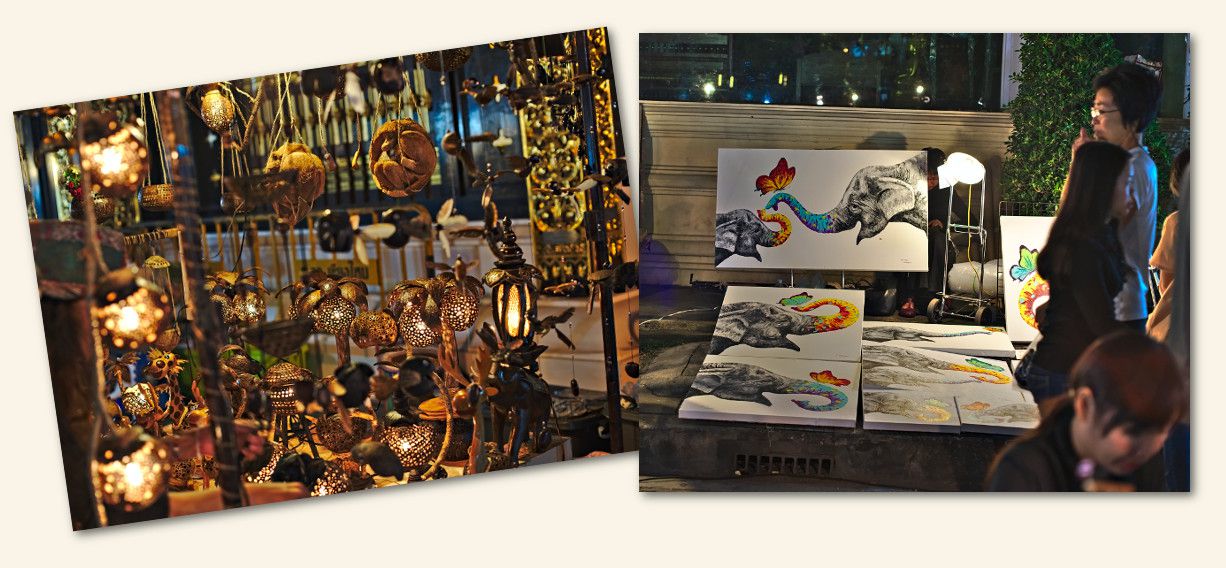 Visit of the old city and its temples
Chiang Mai is a fortified city with a canal and a wall (of which there is not much left) that delimits the old city. The old city is often referred to as "the square". At the same time the fortifications are built to make it a perfect square, thus this name is not too surprising 😉 !
In short, walking around the square and discovering the many Buddhist temples is super fun. But be warned, Chiang Mai has more than 300 temples, so you will have to get up early if you want to see them all 🙂
Our favorite temples in the old city of Chiang Mai are:
Wat Chedi Luang:
the biggest and most imposing. It is one of the few with a paying entrance (30 Baths) but frankly it is worth seeing!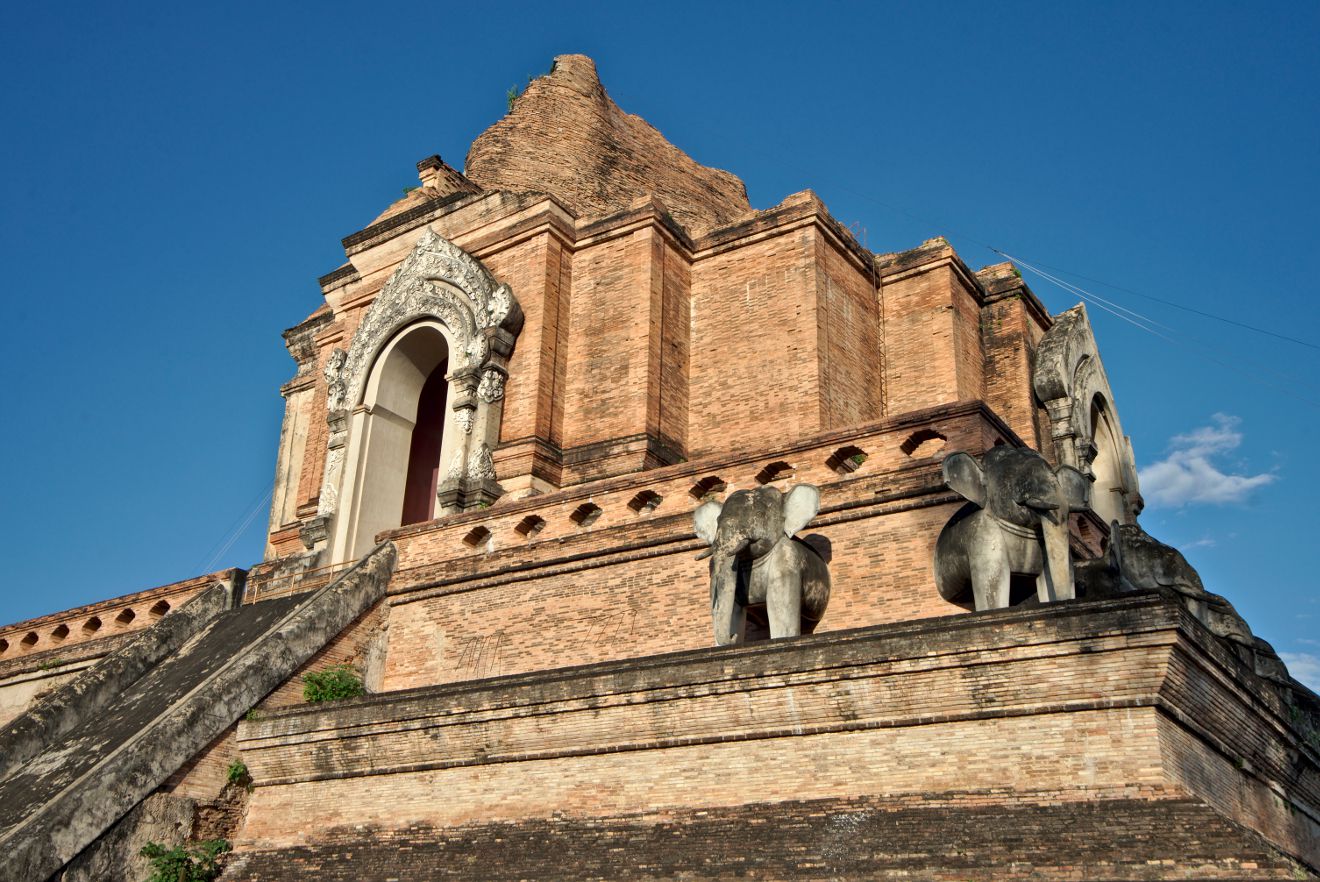 Wat Phan tao:
He is right next to the Chedi Luang and this one is much smaller but he has a, I don't know what, that makes me really like it a lot.
Wat Phan On:
This one is beautiful with its golden stupa! Personally I also like it because it is always very quiet in its enclosure, so it is a place to discover if you want to get away from the hustle and bustle of the city centre.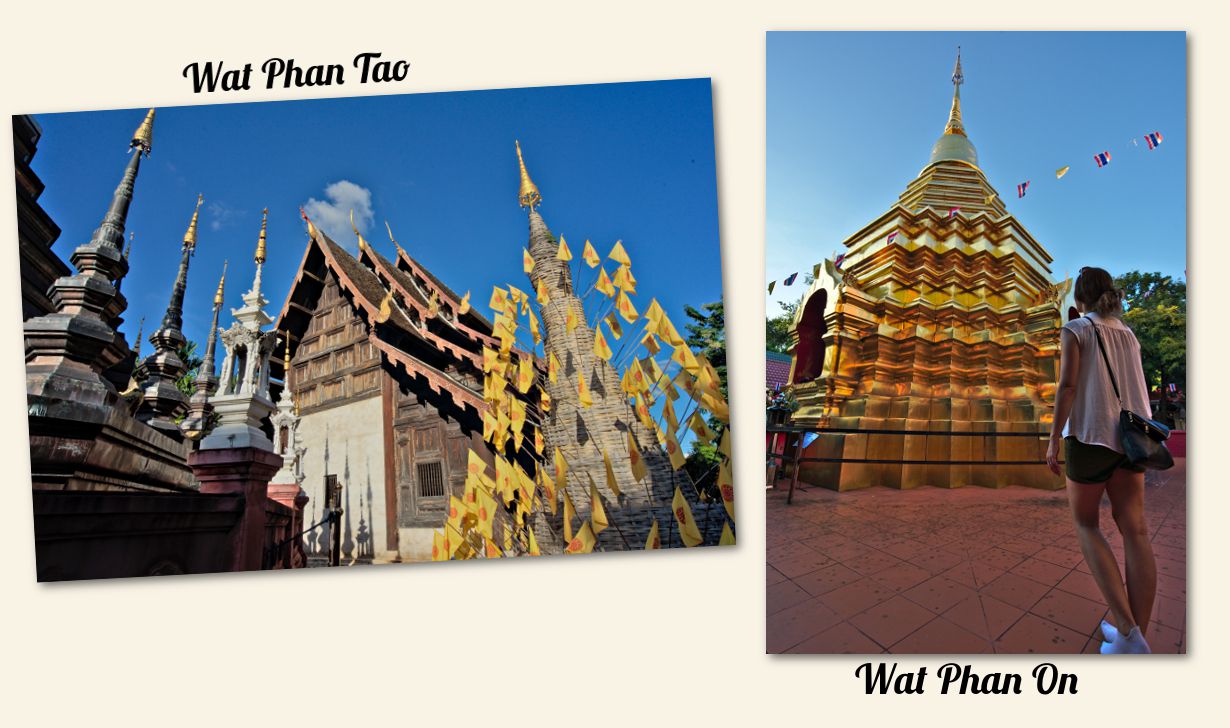 Temples to see outside the city centre of Chiang Mai
We told you above about the temples to discover in the old town, but we also have some temples that we find nice outside the center!
Wat Umong:
A nice temple that is not far from the airport. Its particularity? The main stupa is accessed through a system of underground tunnels in which there are many mini prayer areas.
Wat Sri Suphan:
Also called the Silver temple this temple is well worth a look. As its name suggests, this temple is made only of silver! If you go there, pay particular attention to the engravings on the temple, you might be surprised by what you will find there #IWontTellYouMore
Wat Pha Lad :
We already told you all about it in our article about the ascent to Doi Suthep, but this temple remains to this day our favorite temple in Thailand!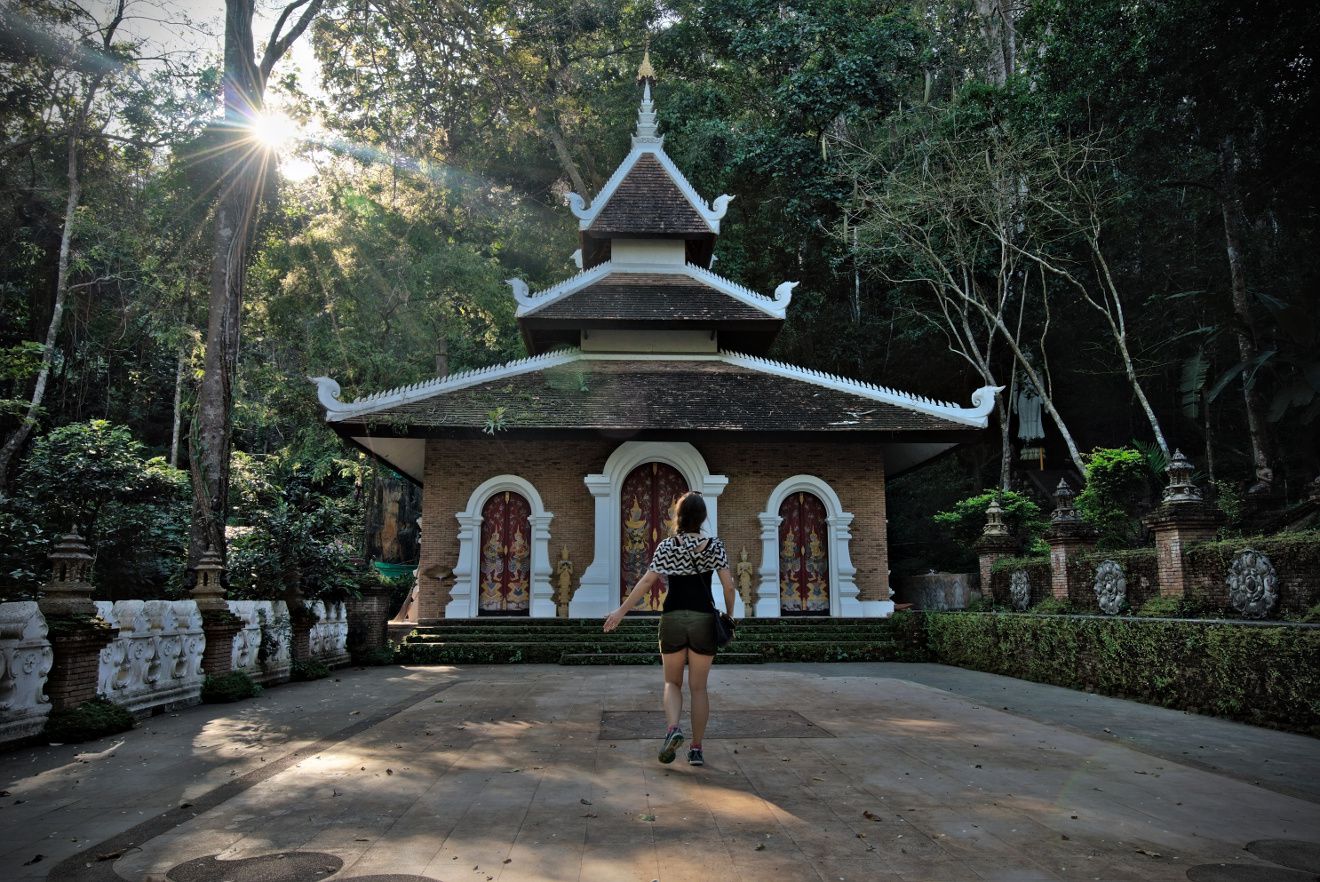 Things to do in the Chiang Mai area
The Mae Hong Son Loop
So if there is one thing we recommend you do if you come to Chiang Mai and you have a few days ahead of you, it would be this beautiful loop! It can be done by motorcycle, scooter or bus and will take you on winding mountain roads to discover Pai, Mae Hong Son and Mae Chaem while passing through sublime landscapes!
To know more about it, we wrote 2 articles especially about this loop:
Here is a short video of our trip in cas you are still hesitating:
An excursion to Doi Inthanon
When my dad visited us a few weeks ago, we took the opportunity to discover Doi Inthanon National Park. Located about 2 hours drive from Chiang Mai we had already passed through the park during our Mae Hong Son loop, but honestly after nearly 600km of scooter riding we didn't have the courage to climb to the top. 🙂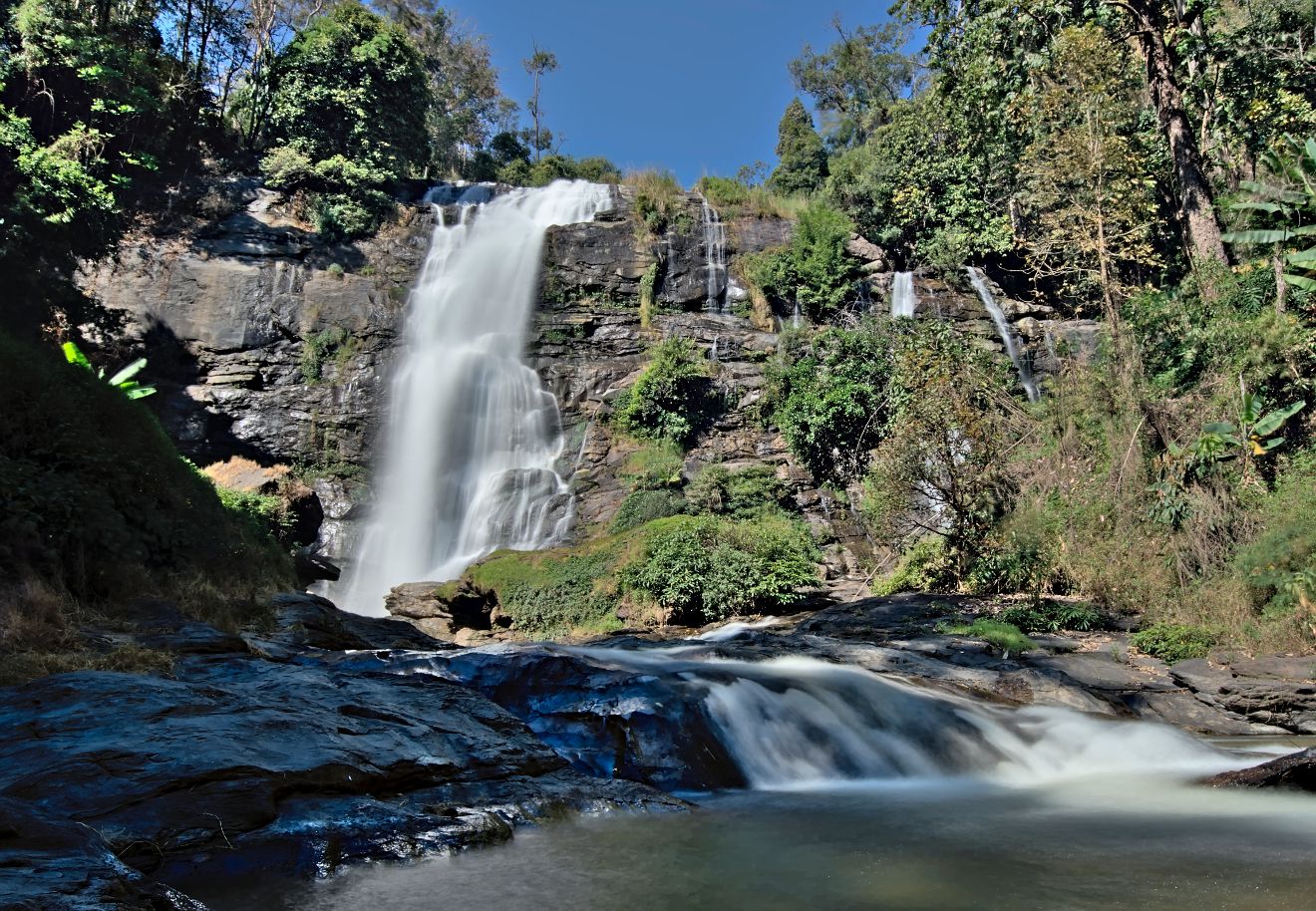 Yes, I say at the top! Because in addition to being a national park with lots of waterfalls it is also the highest peak in Thailand! Well, we're relativizing it, it's not Everest we're talking about here… the highest peak in Thailand peaks at… be careful…. 2565m ! 🙂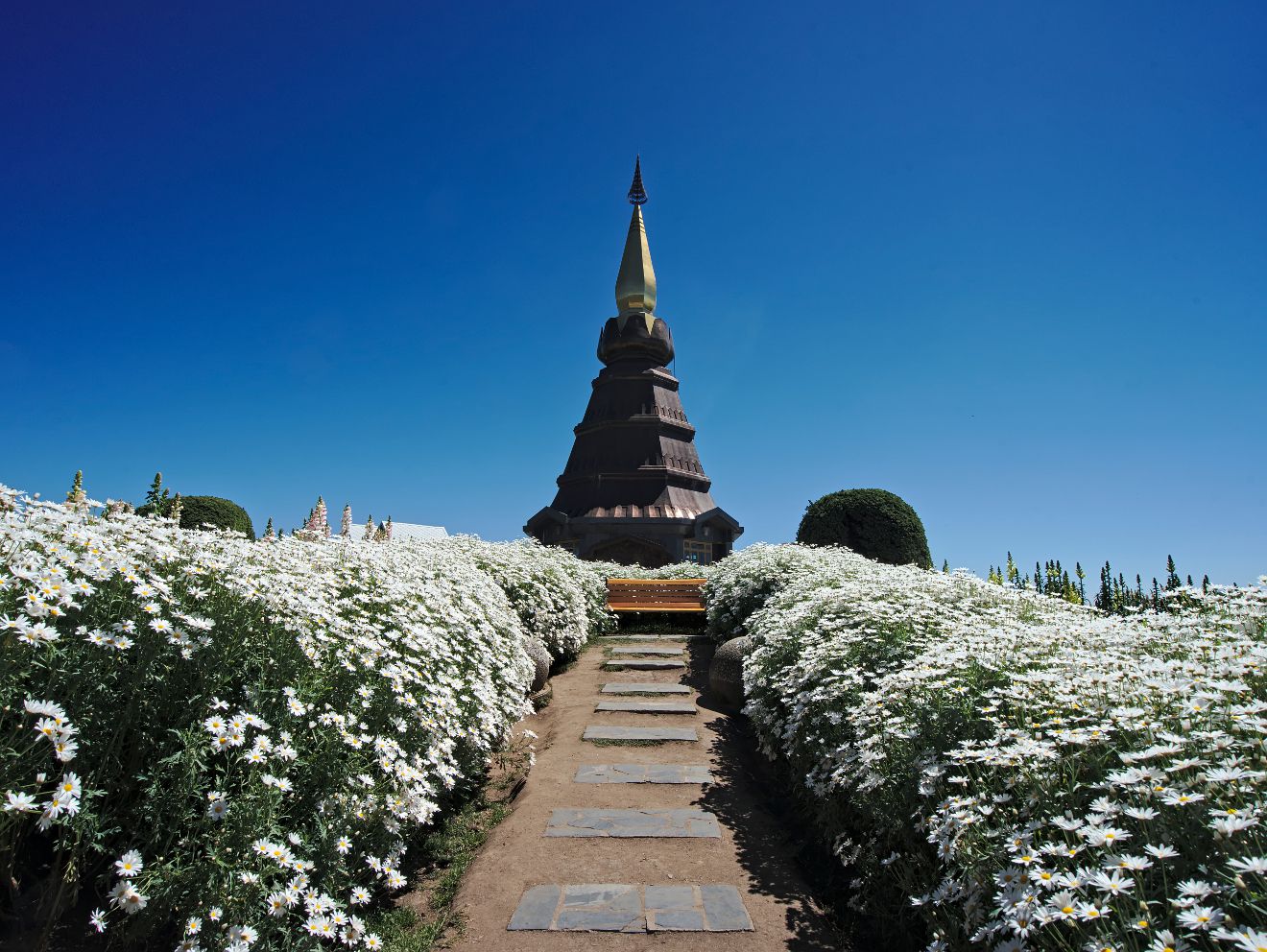 The excursion to Doi Inthanon is a great day to get back to nature but also to escape the sometimes suffocating heat of Chiang Mai. Because yes, when the thermometer goes crazy in the city and it displays more than 30°C, it will only rarely exceed 15°C at the top of the mountain!
Infos
Doi Inthanon: located about 100 kilometres southwest of the city. Count 2 hours to go.
Price : The entrance to the national park will cost you 300 Baths per person
Pagode: The entrance to the pagoda at the top will cost you an additional 30 Baths.
Get there:

By renting a scooter in Chiang Mai: the most economical and the mode of transport that will allow you to be the most independent. However, be careful, it climbs steep to get to the top, so remember to take a fairly powerful scooter (125cc). Rental price: between 200 and 250 Baths.
Rent a car: A more comfortable alternative to the scooter but obviously more expensive too…. Count between 1000 and 1500 Baths for a day's rental. Get a quote here
Organized tour: There are many tours that leave from Chiang Mai. Generally sold at 1000 Baths per person, these tours include transportation in air-conditioned minibuses, entrance to the park, stops at various waterfalls and temples, entrance to the pagoda as well as lunch. See the tour on GetyourGuide
And what about the elephants???
One of Chiang Mai's most famous activities is probably visiting an elephant sanctuary. So we admit it, we hesitated to go (well… especially me, Ben is not really a big fan of elephants). In the end I decided no to go.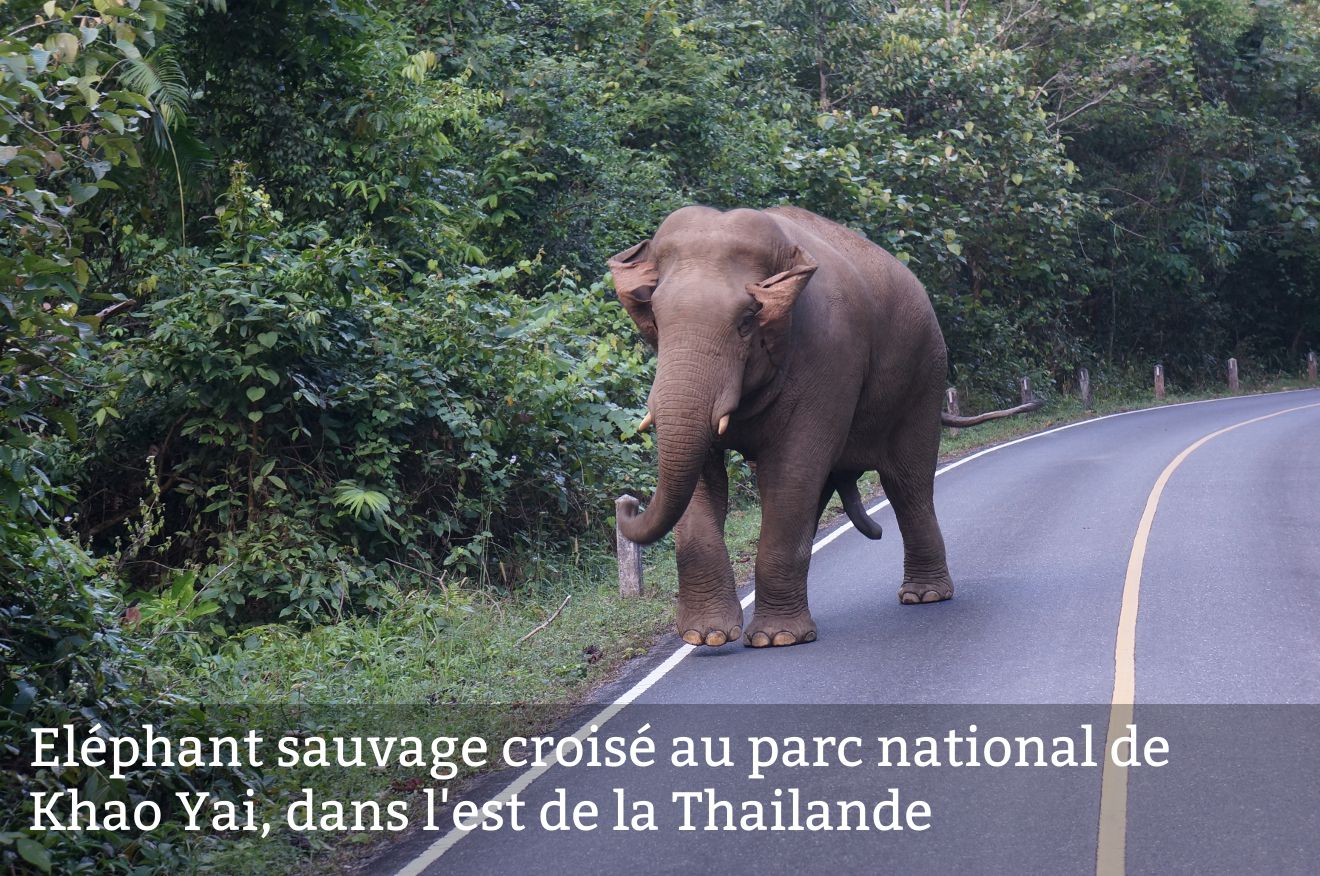 Why not go see the elephants in Thailand? Our Reasons
When you say trendy activity, you mean good business…. Elephants are a big business in northern Thailand! There are some centres that are apparently really good and that treat elephants properly, but unfortunately there are many others… Not going to see elephants at all was kind of my way of not contributing to the excitement around this activity.
We're not going to lie to each other, elephant excursions are expensive… very expensive even! There are some cheaper ones, but often these are exactly the places where elephants are mistreated. In short, to go there, I recommend to put the price (between 1500 and 2500 Baths per day).
Popular means crowded! The Elephant Nature Park (one of the places that apparently really respect elephants) is on sale several weeks in advance and one thing is certain: you will clearly not be in a small group to admire the big pachyderms.
Coming to live in Chiang Mai for a few months
Info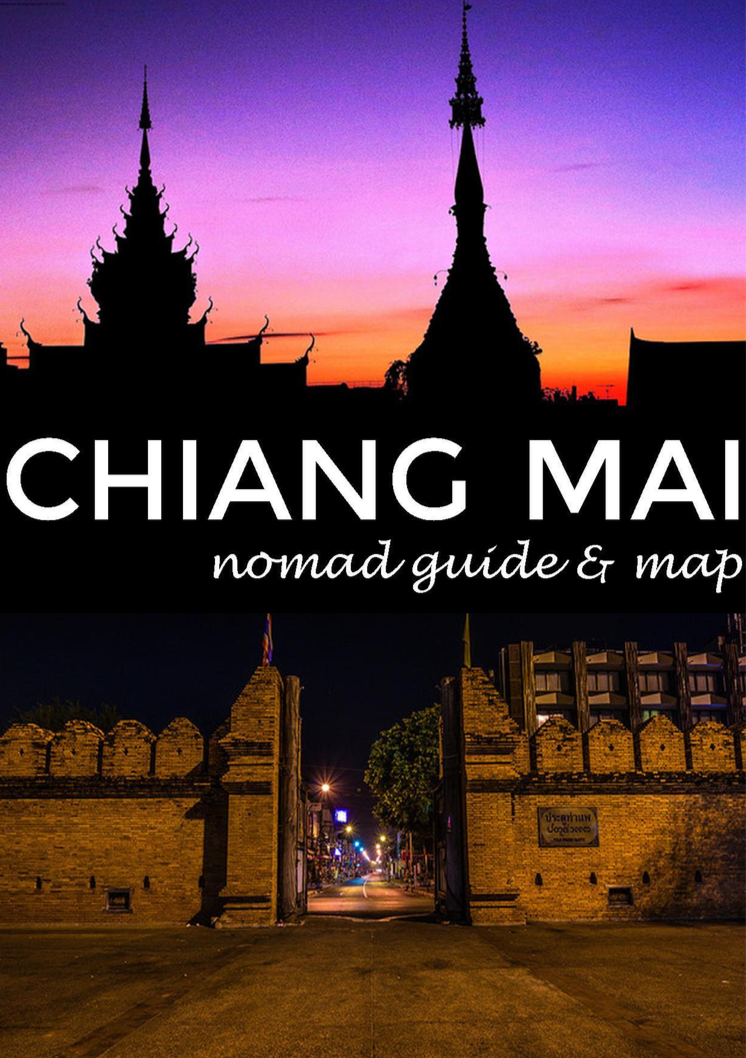 If you want to find all the addresses of absolutely all the accommodations in Chiang Mai we invite you to discover the excellent guide of Mike Hughes (in English) sold 15$ here
In this guide (400 pages) you will find all the information about Chiang Mai that a person settling in may need.
We bought his book before we got here and frankly we used it a log!
You will find everything you need to settle here: how to get around, find an apartment, where to eat, which SIM card to buy, install internet at home, withdraw money, visa issues, health in Chiang Mai, dangers, Thai culture, legal issues, etc….
But above all we have access to an online map that contains all the addresses mentioned in the guide!!!!!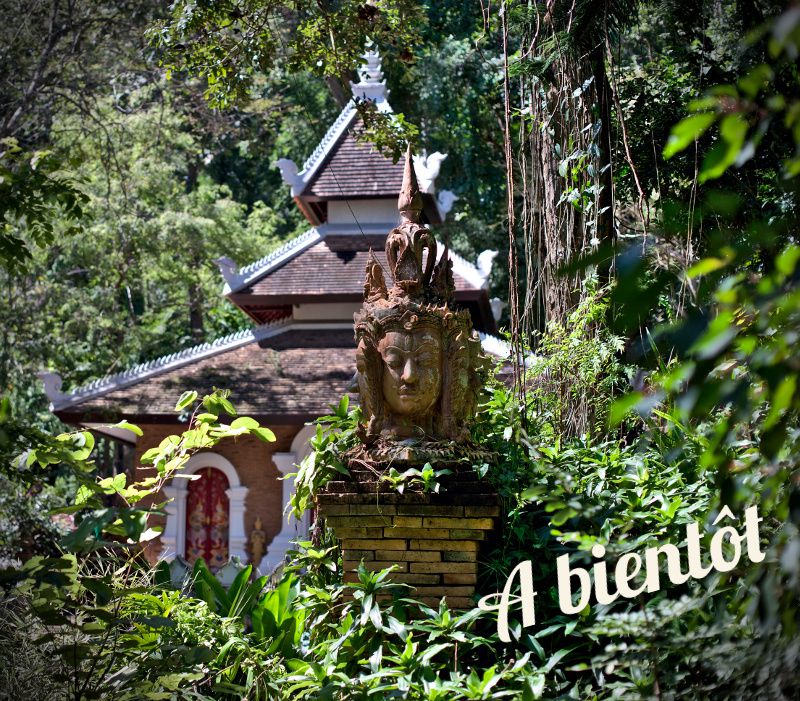 That's it for this special Chiang Mai article! If you have any other suggestions for activities to do, don't hesitate to comment!
In the next article we will give you all the details about our budget to live in Chiang Mai, move around every day as well as a very complete list of all our best addresses to eat, go out, and even go to the dentist (yes it's not funny every day). 🙂
See you soon
Note: This article contains affiliate links to partner website. By using our links you do not pay anything more, but we'll earn a (smaa) commission. Thanks for your support.
Enregistrer
Enregistrer
Enregistrer