While Benoit was climbind on the Rinjiani, I reassure you that I didn't just sit there waiting for my love to come back…. Oh, no, no, no, no!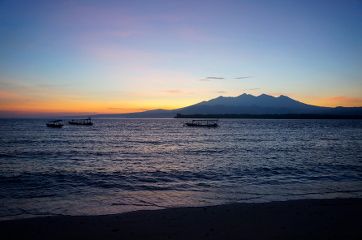 As I knew I had to wait for a couple days, thus I decided to opt for a little getaway on the Gili Islands. While Ben was sweating while climbing I was refining my tan and testing all the best fruit juices and tan spots on the island! That's what one would call a perfect couple balance! 😉
But I warn you, it's the last article of this kind for a while; the rest of our Indonesian adventures will be much more "active". For for now, let's sit back and relax…
The Gili Islands: Which one to choose?
Gili Trawangan – The party island

The largest, and also the most developed in terms of tourism, Gili Trawangan is the meeting point for partygoers from all over the world. It is the ideal option for young people who travel with friends or alone and want to meet people. From what we have heard, it is also on this island that one would find the cheapest accommodation!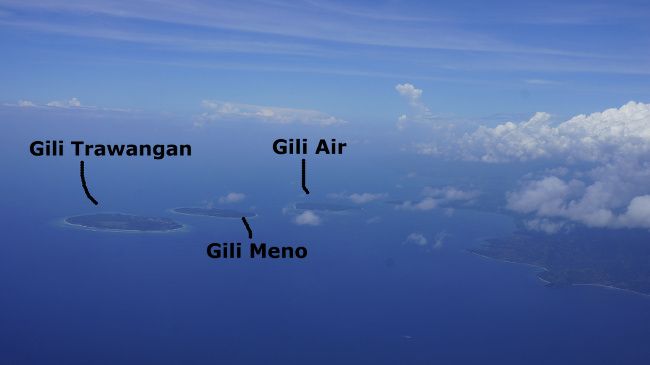 Gili Meno – the romantic one

The calmest and least developed of the islands; the Indonesians we met, often affectionately called it the "Honeymoon island", understand by that this is the dream island for honeymoons! A few hotels, a few restaurants, but not too many! On Gili Meno there is not much to do, except to take advantage of the sunny days to go snorkeling or lying on the beach.
Gili Air – the compromise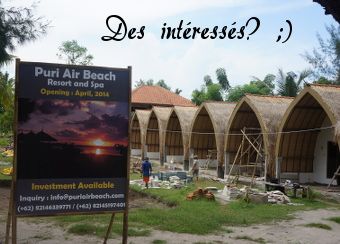 Hotels, restaurants, bars but still a relaxed and friendly atmosphere. This is how Gili Air could be defined in one sentence. It is the smallest of the islands, and its tourist development is mainly concentrated around the port, facing Lombok and Rinjiani. Even if we're not going to lie to each other, the island is growing fast, and hotels are starting to pop all around the island! As you walk around, you will see many resorts under construction or land for sale to foreign investors.
And oh novelty, Gili Air got its first ATM a few weeks before we got there! 🙂
You may have guessed it, but it is on this last island that we have set our sights. A choice we do not regret, and frankly we recommend it to you!
But whatever your choice, you will have the opportunity to discover them all anyway, as shuttles travel between the islands at least twice a day. Count 10'000 rupees to pass from one island to another with local boats.
Gili Air, what do we do there?
Small walks on Gili Air

Let's be clear from the beginning, the Gilis are not something for hyperactive people who lack strong sensations and crazy escapades!
I had been waiting for it for a long time, but during 5 days I was definitely able to leave my trekking shoes in the closet, well… in the backpack! At the Gili, we enjoy life and relax!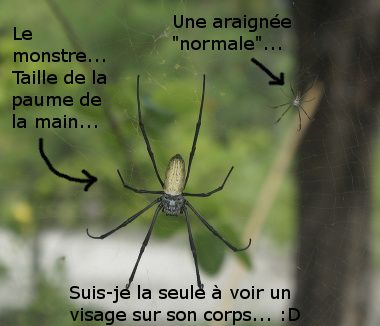 When you start to have tasted all the fruit shakes and the different hammocks, then a nice option is to go for a walk! But beware, I mean walk and not trek! Gili Air for example, is only 6km2, so I might as well tell you, that even if you walk around at the speed of a turtle, it won't take you more than an hour and a half! (If you don't get eaten by one of the gigantic spiders… Just kidding… or maybe not…)
We strongly recommend that you take this walk at the end of the day as it will be cooler but also because sunsets are simply amazing on the Gili islands! The sunset taking place on "the other side of the island" compared to where most hotels are, make sur to take a headlamp for the way back.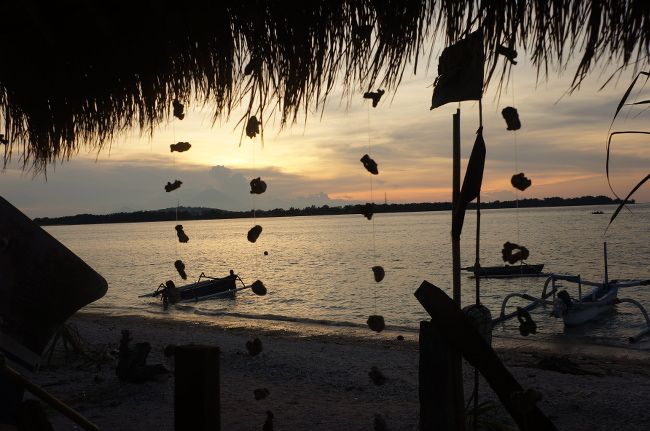 Going to the beach on Gili Air?

Ugh… come on, if we had to mention a little disappointment of these Gilis it might be the beaches… The sand strips are very narrow, so there is very little space… Especially since many beaches on the "main" side are privatised by cafés or hotels. Thus, unless you pay for your deckchair, you'll end up having a hard time finding a spot….
On the other side of the island, it is less crowded, there are fewer hotels, but it is still not the ideal place for the beach…. The sand usually leaves room for dead corals, so it's not a good place to settle comfortably. In short Gili Air is not the perfect beach destination. To find the most beautiful beaches we would rather recommend the south of Lombok!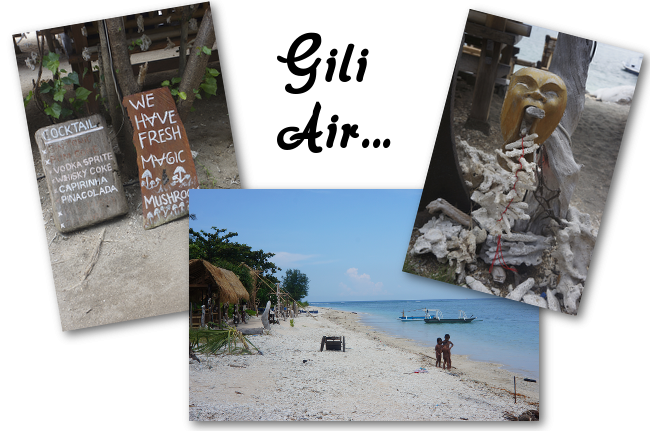 Diving in the Gilis

I can already hear you in the comments…… iiiie……. Yes, I plead guilty, to have been almost a week in one of the most beautiful diving spots in the world, and not to have let myself be tempted…
For those who own the famous PADI, dive prices are fixed on Gili Air, which greatly simplifies the process of choosing a school and negotiating. It is 370'000 rupees per dive (including gear) with discounts if you make more than 5.
Otherwise count 3'700'000 rupees to pass the PADI, 2'950'000 rupees for the advanced,punkt schluss as we would say in Germany!
On the other hand, in my very subtle observations of a girl left alone for a few days, I was forced to realize that the diving outfit (and divers in general) is still much less sexy than the surfers of Kuta Lombok… But well, Benoit having returned safe and sound from his ascent of Rinjiani I had to leave aside this very thorough "sexyness" study of water sports…
Snorkeling
After having disappointed you by announcing that I did not try diving, I still want to reassure you about my desire to do things during this round the world trip that I would not have done before…
Despite my fear, certainly completely irrational and stupid, of fish and the seabed, I gathered all my courage (as well as holding Benoit's hand), to go on my first real snorkeling trip!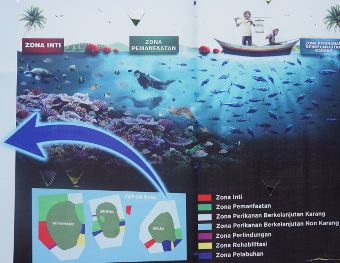 And there's not much to say: the Gili Islands are the perfect spot for scaredy people like me! Less than 50m from the beach you can already find yourself face to face with a sea turtle!
So certainly I almost choked on my snorkel "when I saw the beast", but after a few seconds I quickly relaxed and simply enjoyed the moment and observed her while she took her snack! (still holding Ben's hand of course) 🙂
How to get to the Gilis from Lombok?
If, like us, you come from Lombok, then it's easy to get to the Gilis, the offers are everywhere! For our part, we had found a combined bus + boat offer for 150'000 rupees per person from Kuta Lombok.
Probably not the most economical way, but by far the most comfortable.
If you arrive by your own means at the port of Bengsal, then the crossing by local boat will cost you only 10,000 rupees for about 30 minutes of crossing.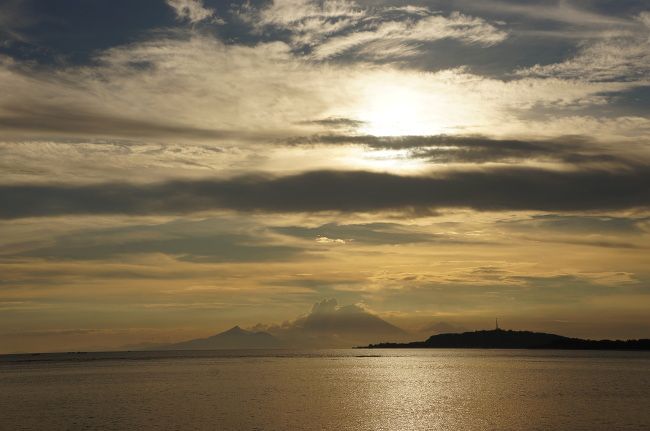 But for many travellers the Gilis Islands are a nice excursion to make from Bali…. And of course, when there is demand, prices are adjusted accordingly! In Ubud, we saw offers to go to the Gilis at 660'000 rupees per person for the combo bus + Speed Boat (one-way ticket)! The agencies on site will generally try to sell you a super cheap "combo" for 1'000'000'000 (return trip).
Before booking such a combo, know that to make the trip in the other direction we had paid only 250'000 rupees: Speed Boat + minibus to Ubud….
Getting around Gili Air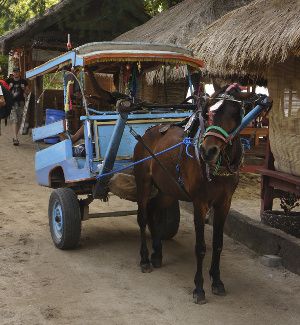 We told you above, the Gilis are not very big and everything is done very well on foot!
Anyway, on the Gili Islands motorized vehicles are not allowed…. So there is no motorcycle, tuktuk, car or bus!!!!! And I guarantee you that it feels great not to hear on every street corner: "Sir, motorbike? Tuk tuk Sir?"
No no no… At the very least, you will be asked if you want to take a ride in a horse-drawn carriage, horses being the only "taxi" type of transport available on the island… But let's be reassured, the "coachmen" are much less aggressive and insistent than their tuk-tuk cousins.
Travel budget on the Gilis
It's nice to set foot in paradise, but is it within everyone's reach?
So first good news, the answer is very clearly yes! But… If you're on a budget, there will be some sacrifices to be made.
Do you dream of a small bungallow with a seaview and a small swimming pool to cool down at the end of the day? So in Thailand this type of small luxury can already be found for less than 20€ per night…. On the Gili it is rather necessary to count in the 40€ minimum for this type of accommodation!
As you can imagine, this doesn't quite fit our backpacker budget, so it was quite naturalla that we moved away from the beach and ventured further into the centre of the island.
Our hotel on the Gigi Islands
To give you an idea, we found a nice little bungallow all in bamboo for 150'000 rupees per night (breakfast included).
To be honest, it's the cheapest we've found (except for a 120'000 rupee proposal for something really crappy), so the Gili are a little more expensive than the rest of Indonesia, but it's still possible to find some good deals! Especially, since given the size of the island, you will never be more than 5 minutes away from the beach…;)
However, it is important to take into account the season! We were in Gili in April, which corresponds to the end of the rainy season, but also to the "low season" for tourism. We spoke with several guesthouse owners during our stay, and all told us that during the high tourist season (July-August), the hotels were all full, and that it was therefore not a problem for them to be able to rent their rooms at more than twice the "low season" price…
Food is like everywhere, the tourist restaurants on the beach are all quite expensive compared to the cost of living in Indonesia (count about 80'000 rupees per person for a meal with a soft drink).
But on Gili Air it is also possible to find small Warungs in the centre of the island, understand by that small local restaurants, which serve delicious dishes for less than 20'000 rupees!
Do you dream of a nice little beer at sunset?
So here again it will have to pay a little more than in Thailand….
Indeed, Indonesia being a Muslim country, and alcohol "officially" prohibited, the government has decided to tolerate the sale of alcohol in certain tourist places, but by taxing alcoholic beverages very heavily.
As a result, a beer easily costs 35'000 rupees in a beach bar… It remains less than 3€ I grant you, but when you know that you can eat a dish with meat for 20'000 it makes you think twice before ordering it… 🙂
Well on that note, we'll leave this little paradise, and we'll see you soon for our articles on Bali!
Note: This article contains affiliate links to Hotelscombined. If you book your hotel through our link, you do not pay anything extra but we'll earn a small commission. Thanks for your support