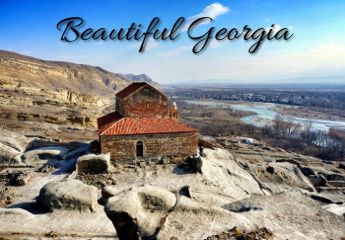 In all we spent 5 days in Georgia. As we told you in our article on Tbilisi, the capital is certainly beautiful but it can easily be visited in 2 or 3 days! So we looked for ideas for short day trips around Tbilisi and found 2 UNESCO World Heritage sites that are less than 2 hours drive from the capital: BINGO! It was off to Gori and Mtskheta
The small village of Mtskheta
Listed as a UNESCO World Heritage Site, Mtskheta is a must if you spend a few days in Tbilisi and want to get out of the capital.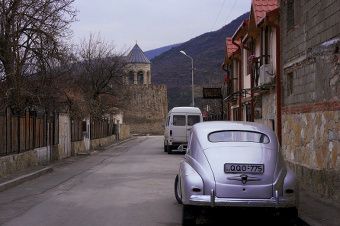 Mtskheta is only 20km from Tbilisi. Very well known in Georgia, although for us its name is absolutely unpronounceable!
One, it is the former capital of the Kingdom of Georgia. (between the 3rd century BC and the 5th century) But it is also the city known as the cradle of the Christian religion in Georgia, and it is still today the seat of the Georgian Orthodox religion.
The main attraction of this small village is the Svetitskhoveli Cathedral. Built in 1010 on the site of the first church in Georgia, there is no need to say: it is imposing! It is also where the former kings of Georgia are buried. In particular Sidonia, which according to some legends was even buried here wearing the robe of Christ! (just that!)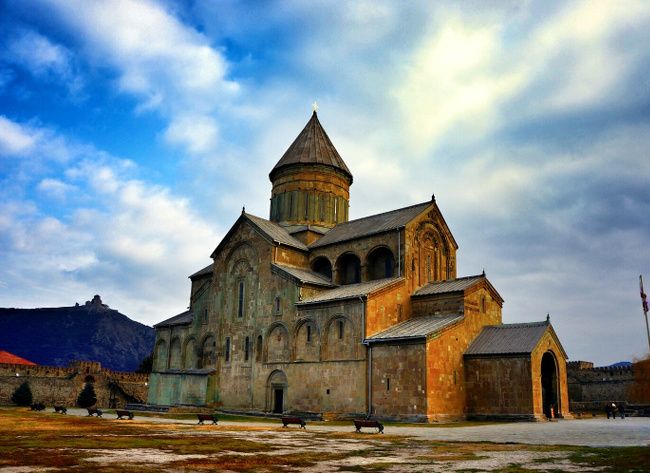 The cathedral is absolutely sublime, from the outside and inside! So certainly we are not very good Christians in everyday life, but we enjoyed the visit very much!
And while you're in the area, a short walk to Samtavro, another Orthodox church that's only a few hundred meters from Svetitskhoveli, is worth it!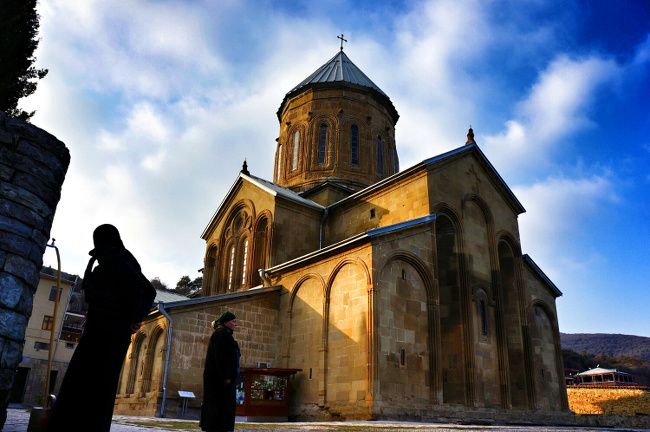 Infos
Getting there by public transport : The easiest and most economical way is to take a Marshrutkas at the Didube metro station in Tbilisi. The connections are frequent and cost 1 lari per person.
By taxi : Count about 30 lari for a taxi for the day (round trip, waiting on site, and if you negotiate well paired with the monastery of Jvari);)
The Jvari monastery
Come on, let's keep up the momentum of religious places! The monastery overlooking the city of Mtskheta is really worth it if the weather is clear! From the monastery there is a superb panoramic view of the surroundings. And according to our driver of the day we could even see the Caucasus mountains from the ridge! Needless to say, with the sad weather we had, we won't be able to confirm that!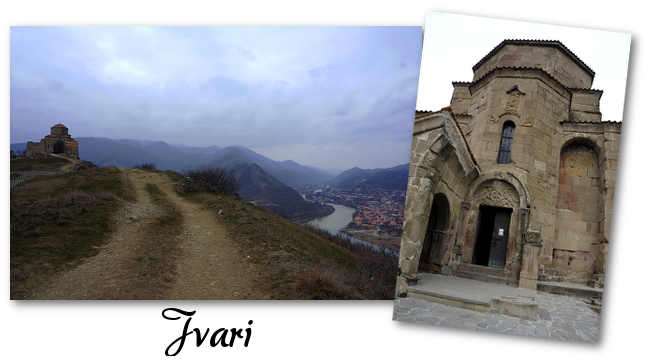 Infos
To get there : you can of course walk up, but it's quite far. And there is no path as such. The easiest way is to take a taxi from Mtskheta. It will cost you about 20-30 laris. (But if you take a taxi from Tbilisi, negotiate to include the detour)
Visit : The visit is free of charge. The site is not huge but the panorama is really beautiful, so it's worth it!
Gori, the city of Stalin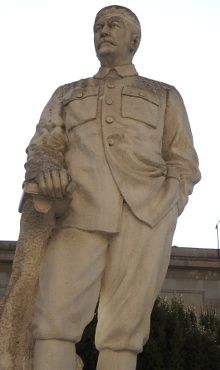 Well, let's tell each other right away, the city of Gori is where we went by in a hurry. And to be honest, we didn't find any particular charm in it!
But it is still an interesting place to visit if you want to know a little more about Mr. Joseph Staline.
Because Gori is the city where Stalin was born. It is therefore quite naturally that the city dedicated a museum to him and to his life! For our part, we did not go to the museum. The entrance fee is 15 laris and this seemed a little expensive to us, especially since nothing is translated in the museum.
well ok, let's say it, we were also a bit lazy 🙂
But we were still able to get a closer look at Stalin's green armoured wagon in the park garden!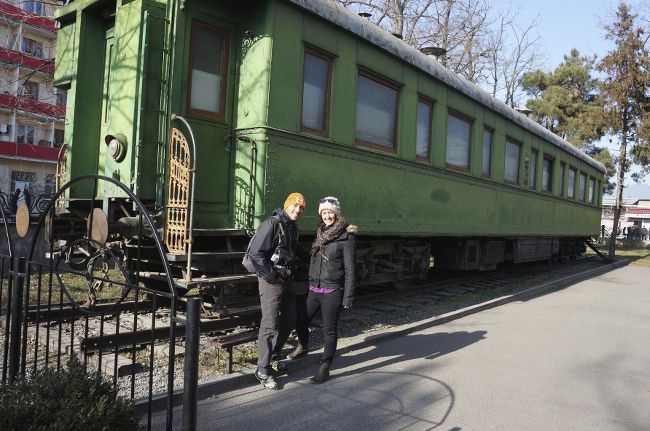 In Gori we simply walked around a little, and went for a walk to Goris Tsikhe, a fortress overlooking the city…. In other words, not an unmissable stop.
But if we had come to the area it was actually to see the city of Ouplistsikhé!!!! We tell you more about it a little bit further down….
Infos
To get to Gori the most economical way is to take a Marshrutkas at the Didube metro station in Tbilisi. The trip costs 4 lari and lasts about 1h30.
Otherwise most of the trains going to Batumi stop in Gori as well.
The cave city of Ouplistsikhé
Don't get me wrong, Ouplistsikhé is not the kind of town where you come for a drink on the terrace, is it? No, no, no…. The city of Ouplistsikhé is in fact a cave city that is not far from Gori!
Listed as a UNESCO World Heritage Site, this site formerly included more than 700 caves! Well, there are currently "only" 150 left, but the site can be explored from top to bottom on foot and a museum explaining the different stages of the city has just been set up! A great discovery that changes from churches a little bit! 😉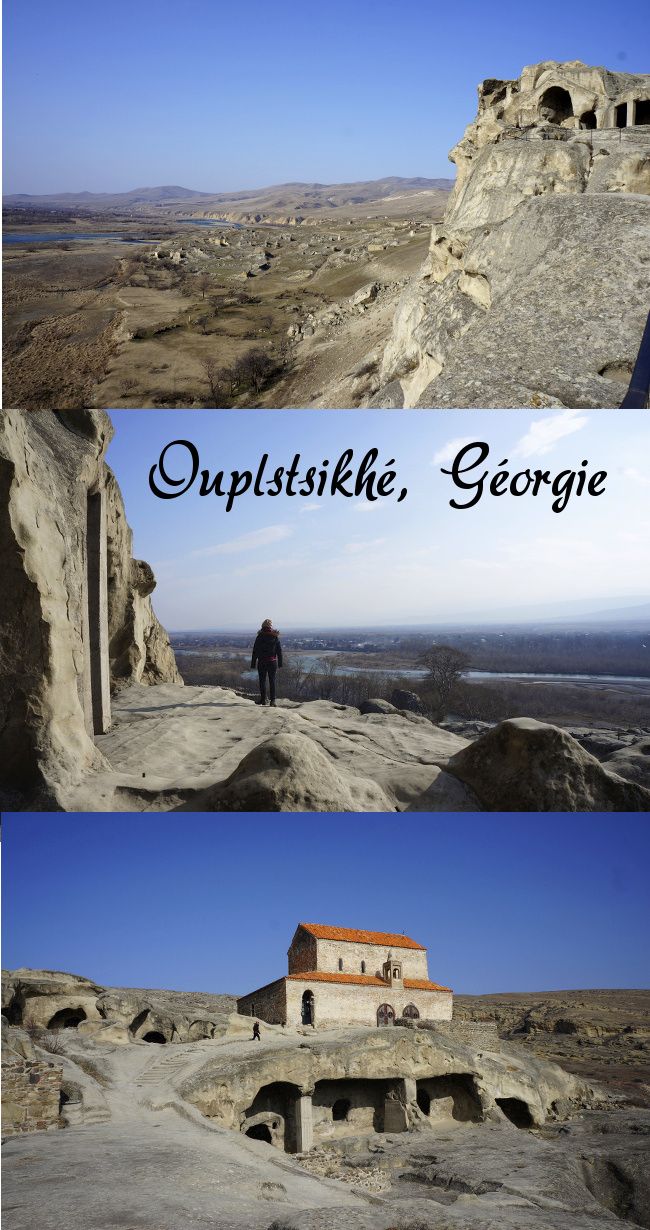 In fact, the Uplistsikhe complex is a bit like a large open-air history book; there are buildings that were dated to the beginning of the Iron Age (2650 BC after all!) but also buildings dating from the Middle Ages!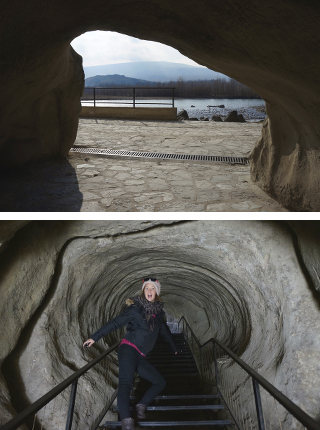 The pagan and Christian architecture coexist in the rock and fortunately for us the small museum on the site explains well the functioning and logic of the place!
It's no secret, we're not really stars in history, so the few explanations helped us a lot!
For example, the tunnel, that from our point of view we had simply seen as a nice photo spot, turns out to have actually served the inhabitants to have a hidden "emergency" exit in case of an attack, but also a quick access point to running water that passes just below!
Infos
Visit : Ouplistsikhé can be visited every day between 10am and 5pm. The entrance costs 3 laris
To get there : No other option than to take a tour or a taxi…. Or walk the 10km from Gori! 😉
Transport from Tbiblisi
For our part, we had planned to take Marshrutkas (public minibuses) to Mtskheta and Gori, then to take taxis to reach Ouplistiskhé and the Jvari moastery… But here we are at the Didube bus station where we met a gentleman in his early fifties, or should we rather say that he was the one who came down on us…
After a few minutes of discussion this cheerful guy gave us a good impression and suggested that we drive all day for 120 laris, which is hardly more expensive than if we had done everything by ourselves.
Frankly, we don't regret anything! Our driver is a golden guy who told us all a lot of anecdotes about Georgia and his life along the way!
Tour
On Getyourguide they offer a day trip around Tbilisi that includes the same sites as those we saw. The excursion is sold
for 26€
, which is definitely a good deal. The day of visit lasts 9 hours and you will also pass through Jvari, Gori, Mtskheta and Uplistsikhe.
Our amazing driver in Georgia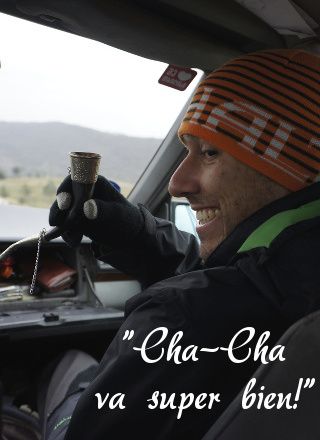 A mechanical engineer, he told us about the time when he had his small factory near Tbilisi, how he lost everything in the post-Soviet period, his 9-year exile in the USA, where he got his few words of English from and his new job as a "driver for tourists".
And promised we don't say good things about him only because he rinsed us off during the trip with Cha-Cha (the local Georgian alcohol that is best drunk from a horn)…
If you want to contact him his number is +995 557 57 73 35, but if you want my opinion, if you go early in the morning to Didube he will find you well before you look for him! 😉
Detailed budget for Georgia
5 days in Georgia, it's time for us to reveal a little more about our budget! Well yes, we have concocted articles on country budgets for you during our whole round the world trip, we're not going to stop there!
So first observation: Georgia is really a cheap country to travel to! Whether for accommodation, travel or food, Georgia is an ideal destination for backpackers or travellers who do not have an unlimited budget.
All in all we spent 6 days and 6 nights in Tbilisi and its surroundings, and excluding plane tickets it came back to 265€ for 2 people!
Details of our travel budget to Georgia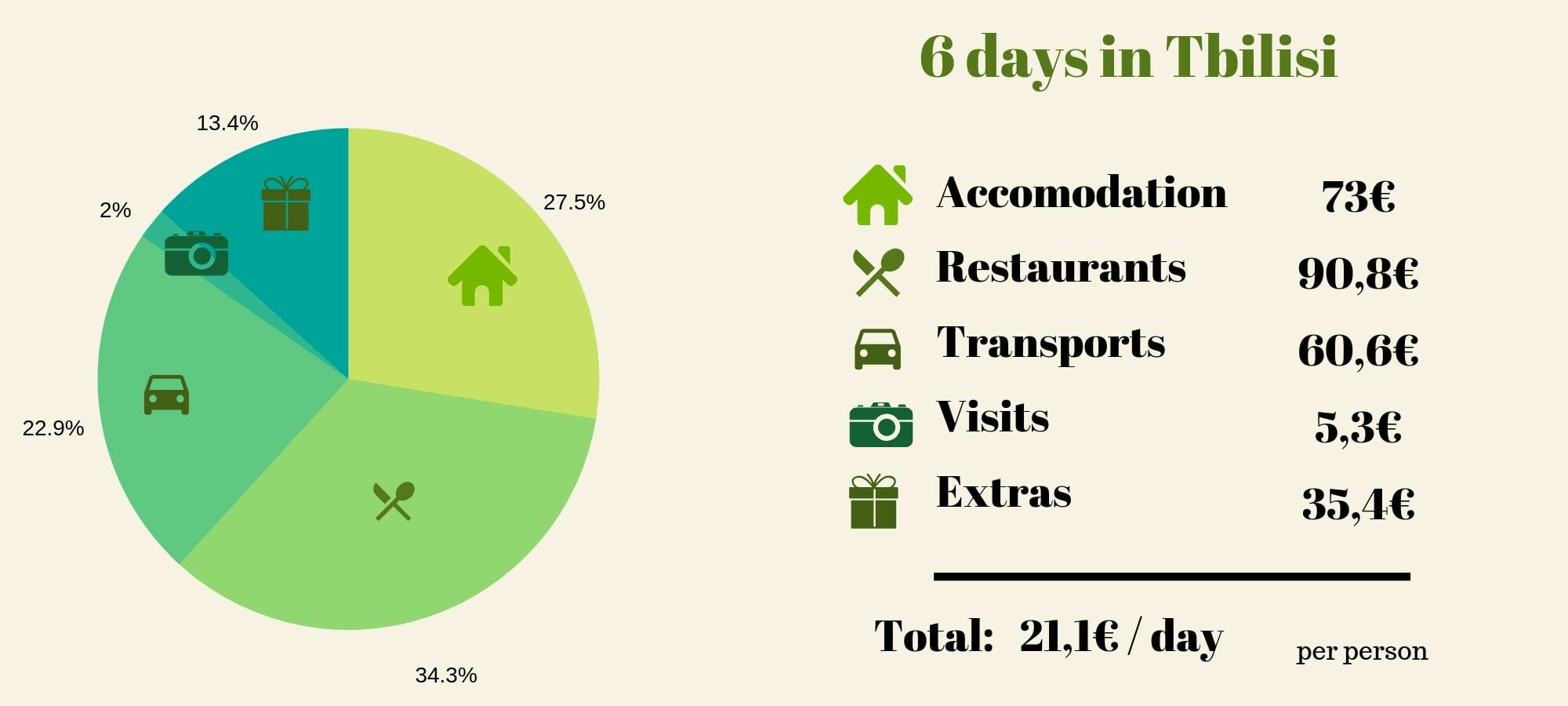 Official Currency in Georigy: The Lari
Exchange rate for Georgia: 1€ = 2,24 Lari (back in 2015). Now it's closer to 1€ = 3,3 laris

Additional information:
Accomodation in Georgia

We counted 5 nights because we spent 1 night at Tbilisi airport. We took off at 3:50… so no small savings! It saved us a night, and on top of that we were able to go to the airport by public transport instead of a taxi!
In Tbilisi we stayed at the Green Stairs and at the Tbilisi Friends Hostel. See our article on Tbilisi for more information about accomodation
It can be even cheaper (and nicer) to stay in an apartment. You can get small studios from 10€ a night and for 40€+ you get really nice appartments!
To look for a place to stay you can use the map below. Simply use the filters to refine your search.
Getting arounf in Georgia

The trips to the airport cost 0.5 lari
A subway ride: 0.5 Lari
A full day with a private taxi to Gori and Mtskheta: 120 laris
Food in Georgie

A Georgian bread costs about 0.8 Lari in the Bakery.
A meal at the local restaurant: on average 18 Lari for 2 (with one beer per person)
A meal in the tourist street: 55 lari for 2. It wasn't good, and very expensive compared to the other restaurants… anyway we came once, but not twice!
For breakfast and lunch we did our shopping at the local supermarket (Carrefour).
Extras
Not much to report except the 40 laris well invested for the thermal baths of the city in "private room" version, and some postcards.
To get to Georgia the fastest way from France or Switzerland is by plane. And if you take a look at the comparators you will see that it is very easy to find flights for less than 200€!
In short, if we do the math, a small stay of 6 days/5 nights costs less than 350€ per person. Not bad, is it?
On that note, we'll leave you, and we'll see you soon for our next article on the destinations YOU've chosen for us! The next date is with Vilnius in Lithuania 😉
NB: Please note that this article contains affiliate links to partner sites. If you buy a product on one of their sites you will not pay more but we will receive a small commission. This will help us to keep this site alive. Thank you! 🙂