Our first destination chosen by you, the readers, as part of our last month of travel: Georgia! Well, the least we can say is that you have chosen well!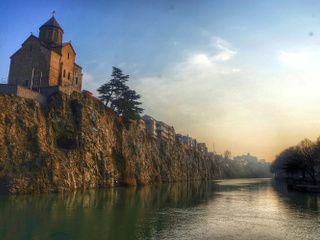 On our facebook page, many of you have suggested ideas for destinations. All more original than the others. And even more of you came to vote for your favorite on. A huge thank you, because thanks to you we have discovered an original destination. And let's face it, probably not the first one we would have thought of! Let's go to Tbilisi in Georgia!
But where is Tbilisi actually?
Once we booked our flight tickets, we looked at each other with Benoit in a slightly stupid way.
"Where is actually Georgia? »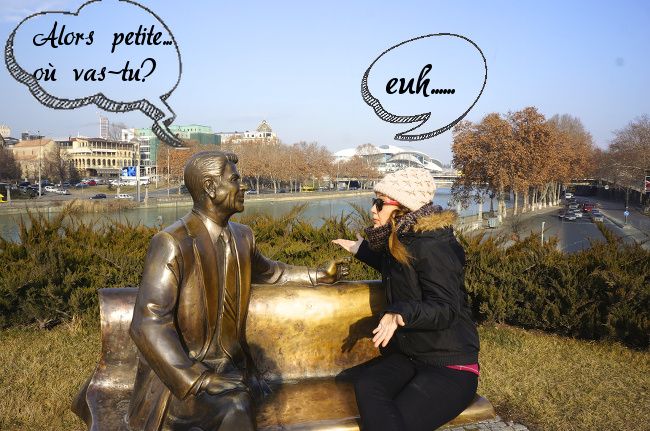 Well, what? We knew it was in the east, but we totally ignored that the neighbouring countries were Turkey, Armenia, Russia and Azerbaijan! Did you know that? Thank you google maps!
After booking our hostel for Tbilisi we left for Helsinki airport to spend the night! We took off at 6pm but the rather prohibitive prices of the guesthouses in Helsinki did not make us hesitate for long.
52€ for dormitory, or sleep for free on a bench in an ultra-modern airport with incredible wifi? The choice is quick!
For the geeks among you, Helsinki Airport offers free wifi with a speed of more than 90MBps! 🙂
Tbilisi, a city full of contrasts
If you come to the Georgian capital it is most likely the first thing that will jump out at you: the city's architecture is completely undefinable!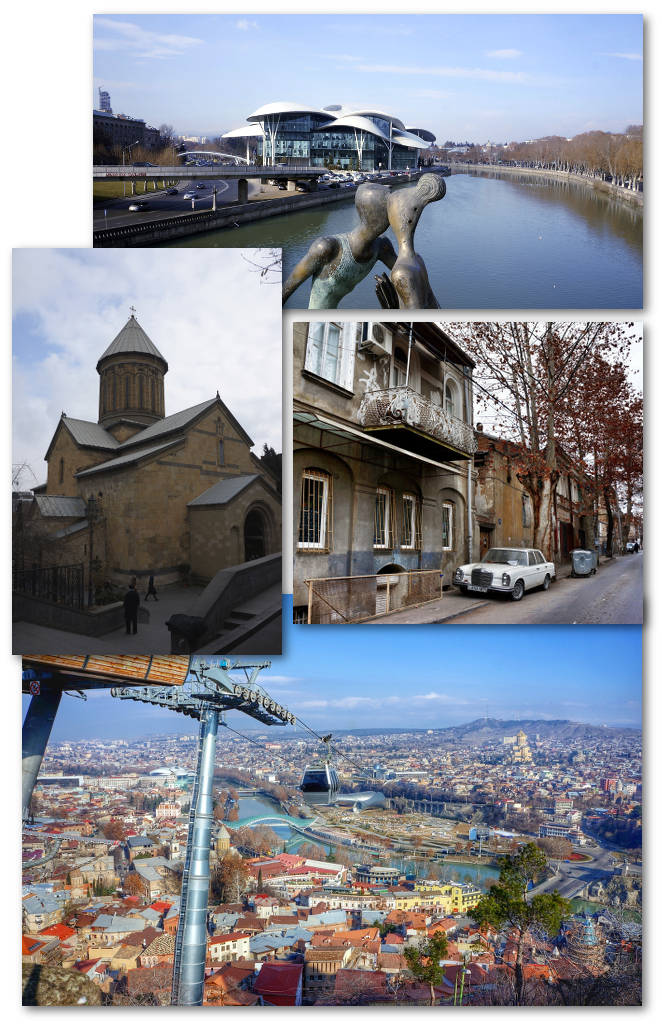 Typical buildings of the Soviet Union mix with beautiful medieval buildings. On the Haussmannised avenue of Roustaveli, all interspersed with neoclassical buildings and some UFOs all straight out of the 21st century such as the new theatre or the peace bridge!
In short, the mouldings, marble statues have learned to share the land with the glass constructions and LEDs that illuminate the centre once night falls! A hell of a mix, but one that I think gives a very special tone to the city; we love it!
Visit of Tbilisi: things to see!
Let's tell each other right away, the centre is not very big. But it's convenient because it's easy to do everything on foot! Here is our short list of monuments, churches and other architectural quirks not to be missed in the Georgian capital!
The Orthodox Church of Sameba (or called the Holy Trinity Church)
The largest and perhaps also the most beautiful church in the city! It is to be discovered during the day, but also at night when the lights come on!
Good little disappointment though; it is much more impressive from the outside than from the inside.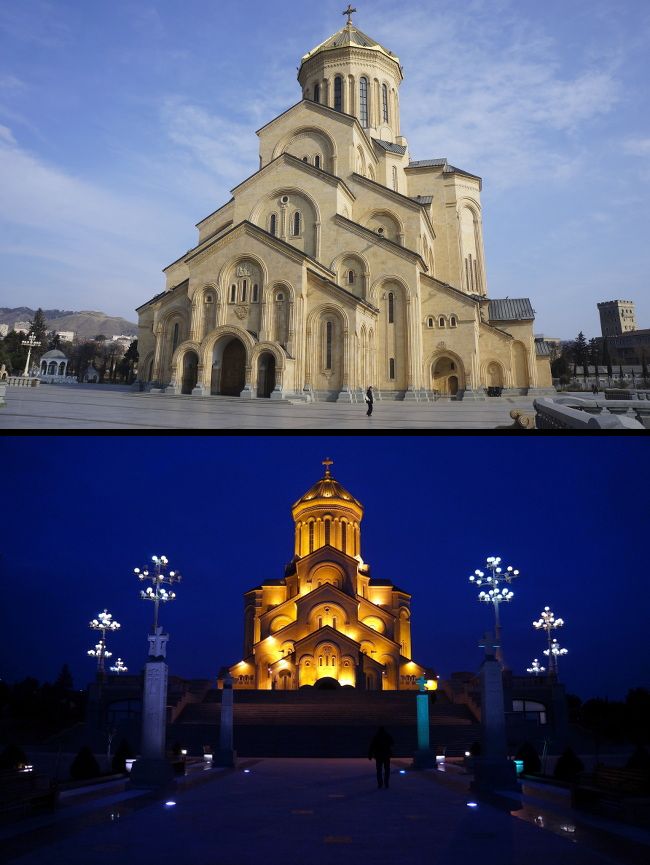 The Kartlis Deda statue above the city
The city protector, Kartlis Deda, watches over the inhabitants of Tbilisi. It can be reached either on foot via the city's botanical garden or by cable car! We opted for the first option, but frankly not a must. After that, it was probably not the smartest move to pass by the botanical garden in January in a country where vegetation only grows in spring! In short, a little fail for the botanical garden, but the view from under Miss's petticoats is not bad at all!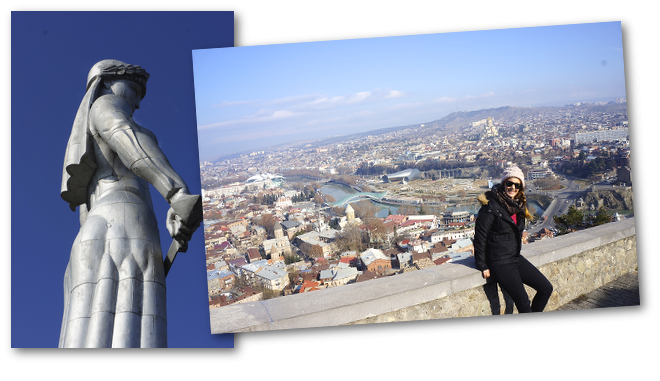 The bridge of peace in Tbilisi

That bridge there you'll probably have a hard time missing it! It detonates in the landscape, and all the more so once night falls when it is lit by thousands of LEDs! Kitsch as far as it gets, a weird architecture… This strange moment, when in Tbilisi, it feels like you're almost in a big Asian metropolis like Hong Kong or Singapore….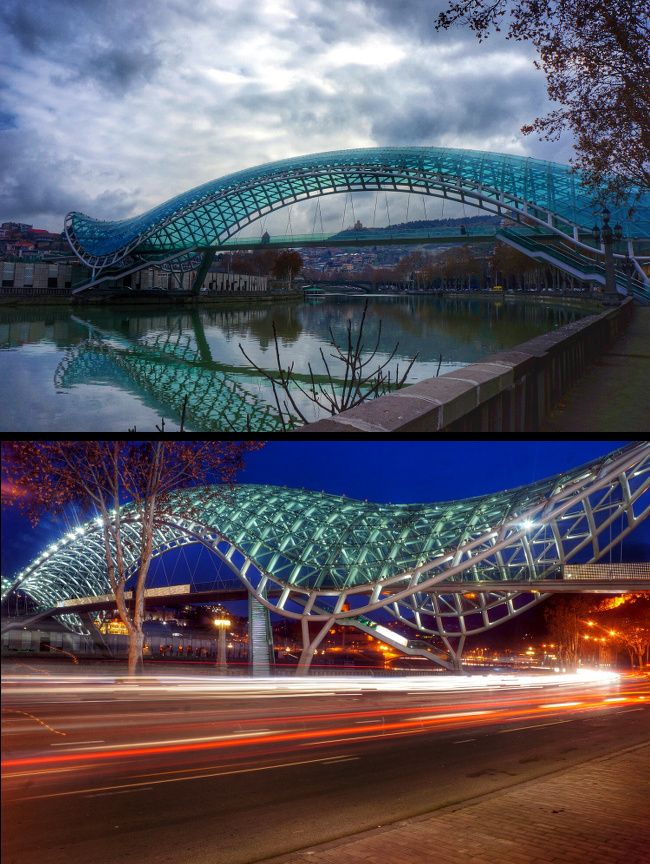 The new theater in Tbilisi

So there, in terms of futuristic architecture, the Georgians were very strong! A kind of pipe made entirely of glass and metal that twirls at the foot of the parliament which architecture couldn't be more classic. Striking contrast!
At the time of our visit, they were finishing the work and setting up the park in front of the theatre. We are sure that once totally finished and with a bit of grass and some trees it will be a nice part of the city!
The Metekhi church on its rock
Only 100m from the theatre is the small Metekhi Orthodox church. So if a short visit of the place never hurts, we admit that it is especially the view on the latter from the bridge located below that really charmed us!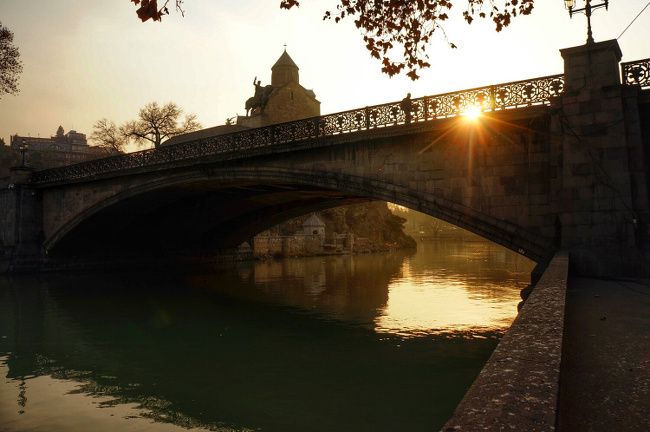 The ghost amusement park overlooking the city
From the city centre you can only see her; the TV tower! As such, the TV tower alone would probably not deserve a visit to the top of the small hill. But on the other hand, the amusement park just behind it is clearly worth it!
For its crazy attractions, you may ask me? Hmmm… not really! But rather for its very old and offbeat side! A big wheel, a roller coaster from another time, St. Bernard's posing for tourists and some ice cream sellers! It's very pretty, but in the middle of January the place is totally deserted! So it makes the visit even more offbeat! Moreover, it reminded us furiously of the Prater Park in Vienna when we went there outside the tourist season!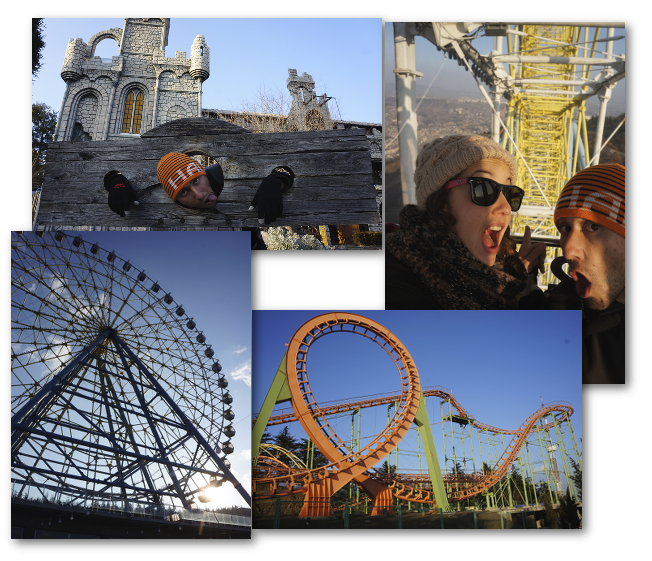 To go there we recommend the funicular; panoramic view on the way guaranteed! Price of the trip: 2 lari
The small streets of the historic centre of Tbilisi

No particular addresses to advise you! Moreover, our best advice would probably be to put away your city map and let yourself be guided by the streets, not forgetting to look around you!
Each block has a new church, a pretty facade, a ruined house or a brand new ultra modern building! The houses and churches follow each other but do not look alike; a very nice walk!
In our opinion, 2-3 days are more than enough time to discover the capital. So if you have more days, don't hesitate to leave the city to discover the surroundings! We'll tell you more soon!
Thermal baths in Tbilisi
If you are passing through the Georgian capital then an activity not to be missed under any circumstances is probably a visit to one of the many thermal centres in the city!
Tbilisi is indeed supplied by hot springs that arrive directly in the heart of the capital! And what better way to relax than taking a good warm bath after a long day of visiting the city in the cold? And from the outside the baths are very nice! In fact, we only see the roofs, which form an alignment of small domes in the heart of central Tbilisi!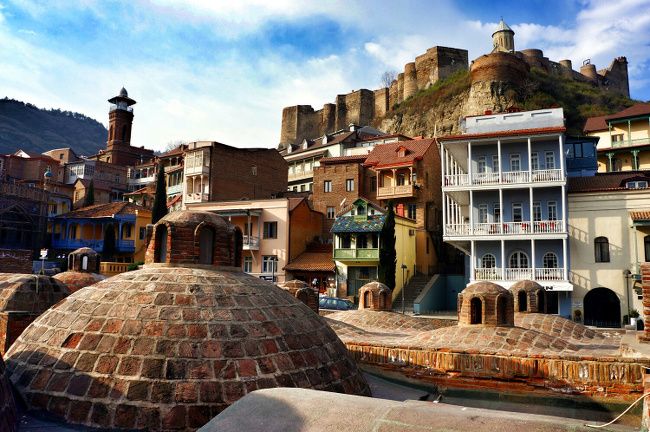 Small specificity of the place? It is possible to rent a private room! For 40 lari (less than 18€), you have your own small area with toilet and a hot water pool just for you for 1 hour! A nice option for couples (or if we judge by some other customers for an aperitif (sprinkled with vodka) with friends) 😉
Getting to Tbilisi
It is of course possible to come to Tbilisi by road, but the fastest and easiest way is of course by plane. Tbilisi is a really cheap destination in Europe and there are very regularly very good offers on Skyscanner.
Where to stay cheaply in Tbilisi?
Let's face it, Georgia is really a cheap country to travel to!
You can easily find a place to stay for less than 10€ per night and per person. And I want to tell you that it's quite convenient! Because our round-the-world budget is coming to an end. 😉 During our visit, we tested 2 hostels. (The first one was full after the 2nd night, and we had to look for something else…).
Find your perfect place to stay on the map below:
Cheap hostels in Tbilisi
Green Stairs : A little off-centre (10 minutes walk from the centre). Very simple room, fairly minimalist shared bathroom (just like the water flow), free coffee and tea and good welcome.
Price: 30 laris per double room (25 laris if booked on site… but there are only 4 rooms…)
More information and reservations.
Friends Hostel : In the heart of the city, large well-equipped dormitory, tiny private rooms without windows, super reception, kitchen at your disposal, 2 clean and well equipped bathrooms. Use of the washing machine free of charge.
Price: 15 lari per person in dormitory or 40 lari per double room (we had a double room, but honestly the dormitory is a better deal…)
More information and reservations
Hotels in Tbilisi
If you'd rather go to a hotel then we recommend you take a look on Hotelscombined. In Tbilisi you can get a nice 4* hotel for about 50$-70$ (40€-60€). 3* hotels in the city centre start at about 25$ for a double room.
Alternative:
Over the past few years Apartment rentals has grown enormously and Tbilisi is no exception! There are small cosy studios for less than 12€ per night as well as classy apartments in ultra modern penthouse mode for 40€-60€ per night! In short, it's really worth comparing a little!
Review of our stay in Tbilisi
There, you know a little more about Tbilisi now! We'll see you soon for a second article on Georgia. In this article we will tell you about our little excursion in the surroundings of Tbilisi, to discover 2 sites classified as UNESCO World Heritage Sites. And we will also tell you a little more about the budget needed to come and visit Georgia with a small budget!
NB: Please note that this article contains affiliate links to partner sites. If you buy a product on one of their sites you will not pay more, but we will receive a small commission. This will help us to keep this site alive. Thank you! 🙂