Today we propose you a last article to close our small series of articles on Turkey and we come back with our impressions, our practical advice, our travel budget but also our favorites in this country straddling the East and the West.
This was not the first time we had been to Turkey. Indeed, we had already stayed here at the end of our round-the-world trip. But at the time we had only spent a few days in Istanbul… A trip in the middle of winter that had made us want to come back one day to see more!
Itinerary of our trip to Turkey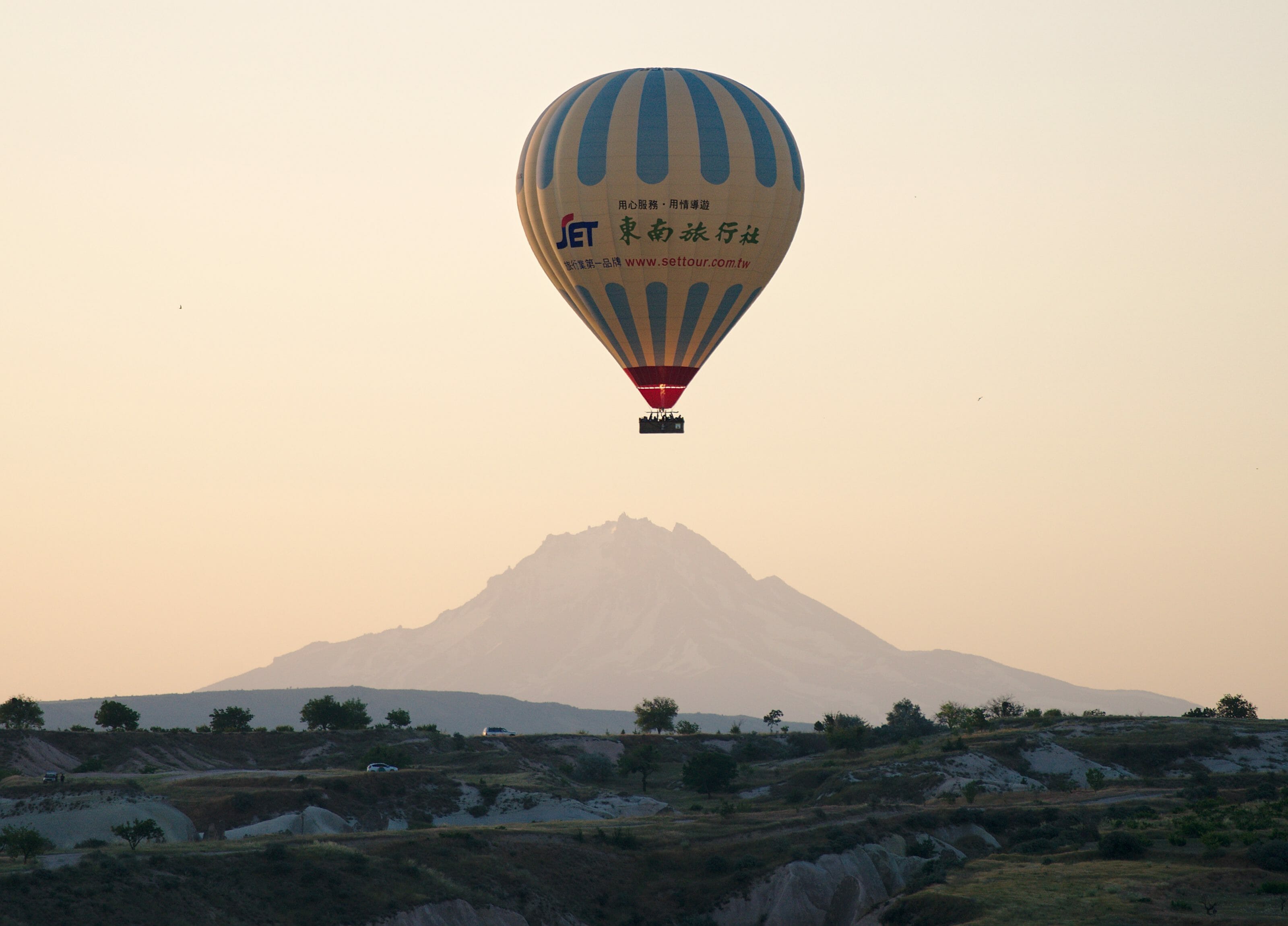 In total we spent 40 days in Turkey. We arrived by plane in Izmir and then left from Ankara. This departure was not planned in our program…. If you follow us on the social networks you may have seen that we had to interrupt this trip for a family emergency… our initial idea was to come back to Switzerland in 7-8 months using only ground transportation, but everything did not go exactly as planned. 🙁
Although we were not able to "finish" the itinerary we had "planned", we were still able to travel a pretty long way in the western part of the country.
Here is a map of our itinerary (and in light color what we had initially planned for the rest of the trip).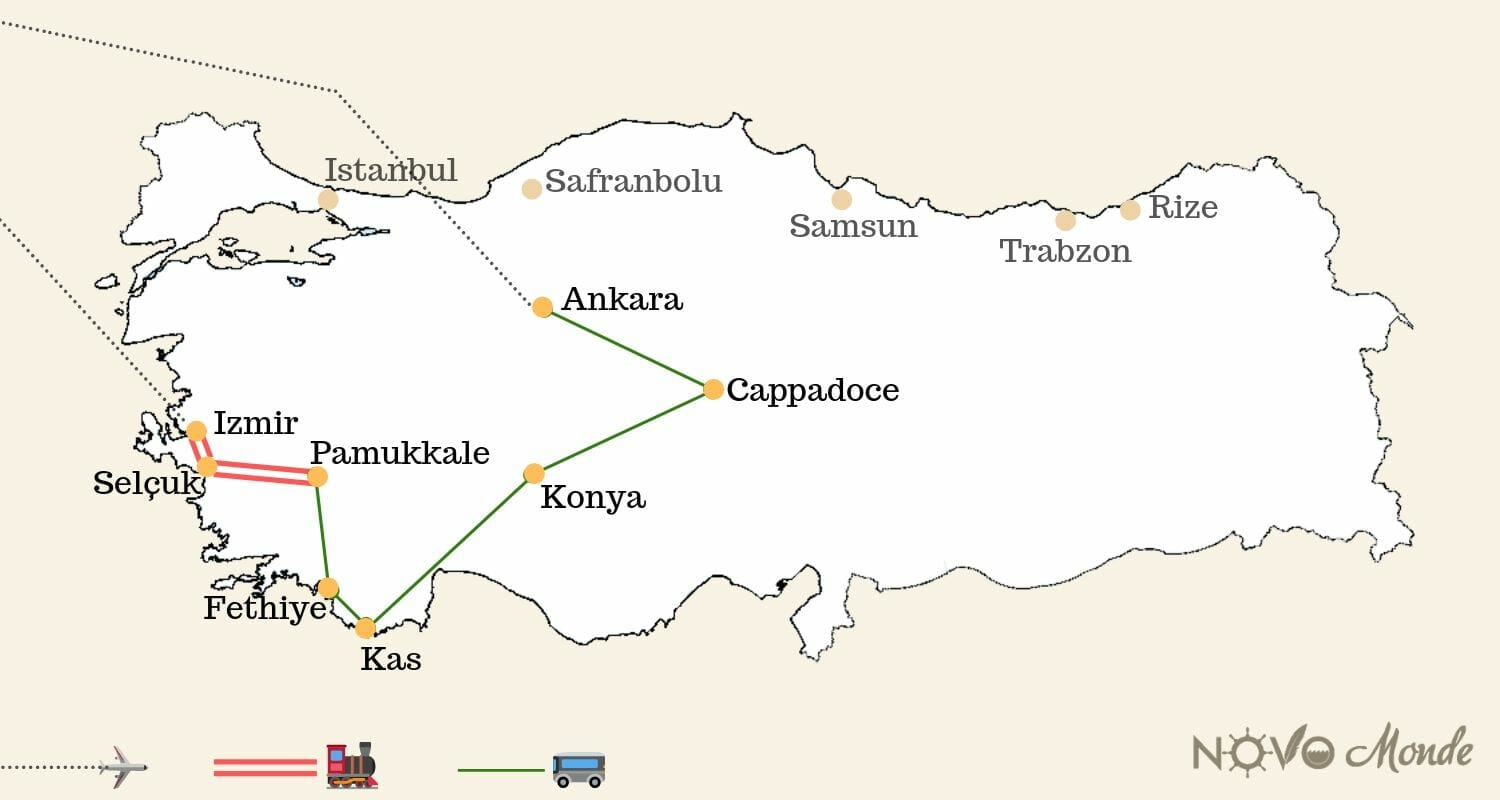 Travel budget in Turkey: how much did we spend?
It's time to move on to the numbers! 🙂 As usual we share with you what we have spent so that you can get an idea of the travel budget. As always, this is obviously only informative….
Travel Period: May – June 2019
Trip duration: 40 days

The budget below is the total budget for our 40 days in Turkey. The figures are for 2 people.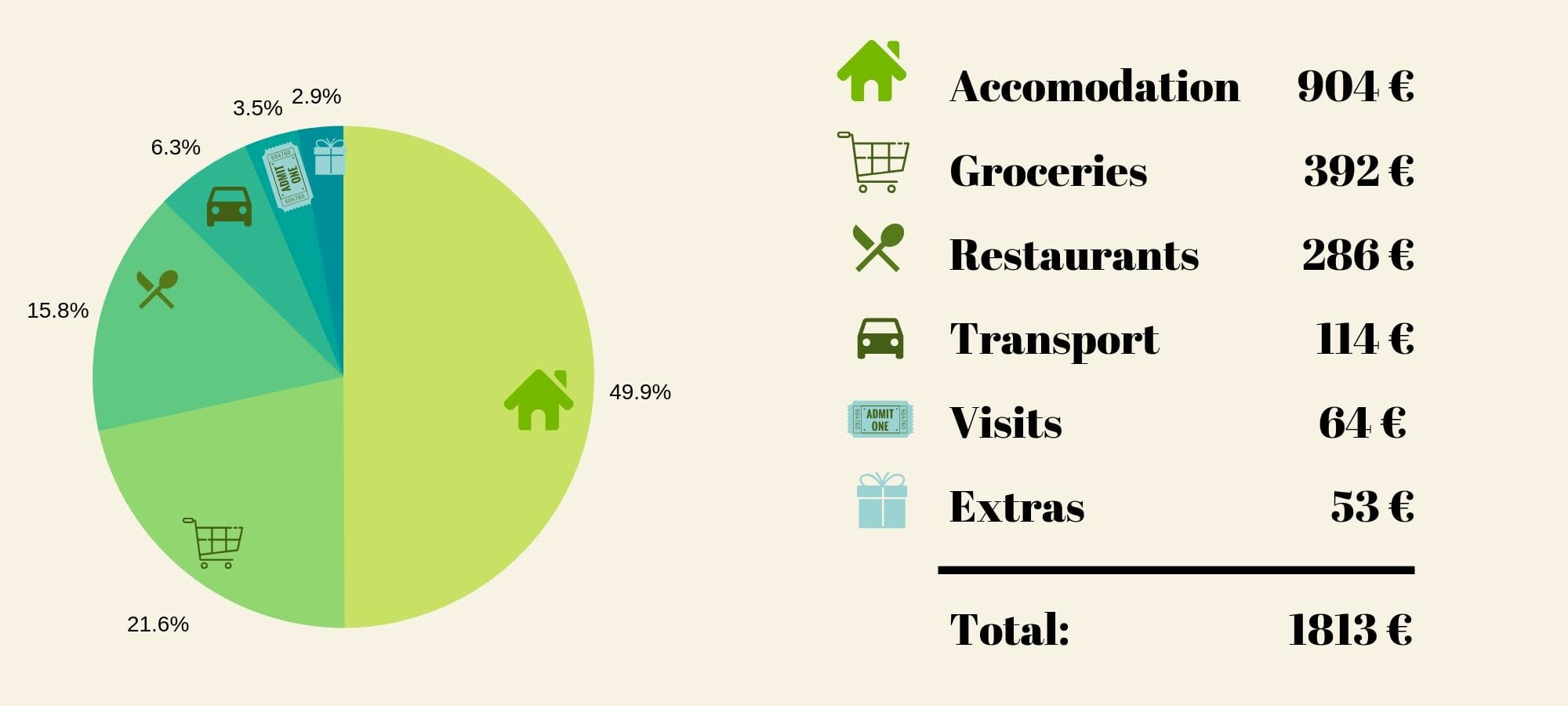 In total we spent 1813 € in 40 days (for 2 people), which corresponds to a daily budget per person of about 22.7 €.
This budget includes all our local expenses, but excludes the costs of arriving in the country as well as our regular expenses such as travel insurance or taxes. 😉
Some important remarks on this budget:
the view from our "home" in Izmir

Our accommodation budget is relatively large compared to the rest. This is because, as we work at the same time as we travel, we now increasingly choose apartments rather than guesthouses / hotels. This choice is more expensive in terms of accommodation, but it allows us to reduce the restaurant budget by cooking more ourselves (hence the shopping budget vs. the restaurant budget). You will find our housing budget in detail later in the article.

The travel budget in Turkey varies greatly depending on the region. The more touristic a region is, the more expensive it is (you might say this is normal, but it's really marked!). Istanbul and Cappadocia being the 2 most "expensive" areas.
Moreover, if you want regional budgets, you can for example look at our articles on Izmir or Cappadocia in which we have devoted a section to the regional budget.
The 114€ of transport are our different bus and train journeys to get around the country. You will find more details on this budget item a little further in this article.
Extras are all those things that have no place elsewhere…. 🙂 Tips, sunscreen, a shell for my phone and some souvenirs.
Prices in Turkey tend to vary quite a bit with the tourist season! We travelled in May-June and we noticed that by the end of May, prices were rising quite a bit! Then, it must also be said that we were there during Ramadan, for some places it raises prices, but for others (like Konya) it makes them fall…
Inflation in Turkey: watch out for price fluctuations!
One last point that is important to know if you plan to go to Turkey is the exchange rate of the moment (versus the one of our trip). We came to Turkey in 2015 and 2019.
In 2015, 1€ was exchanged for 2.8 Turkish lira… In April 2019, 1€ was worth almost 6.8 Turkish liras. In 2022? 1€ is almost 18 TL !!!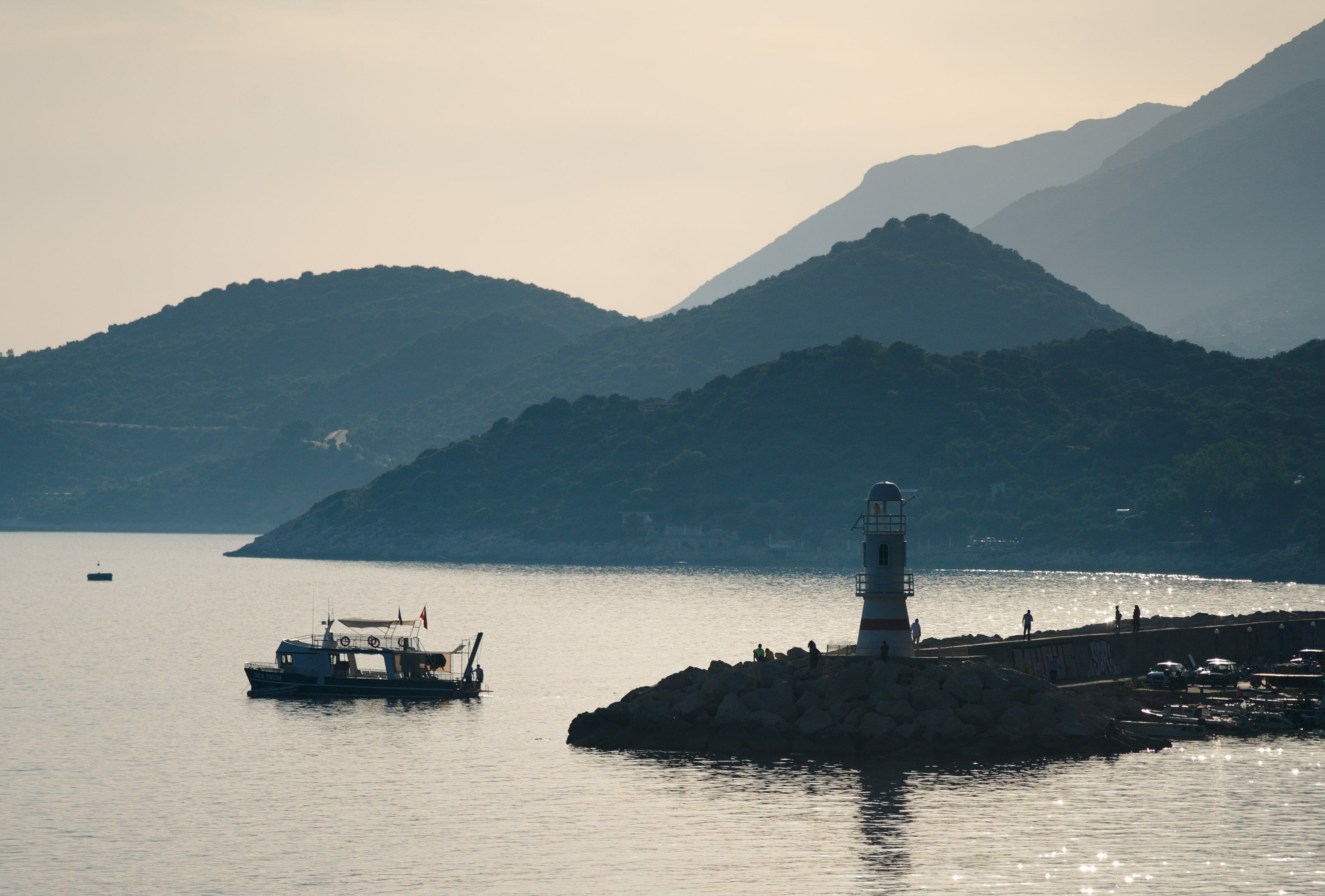 Has Turkey become X times cheaper? The answer is no! Prices have clearly adjusted… For example, the entrance fee for Hagia Sofia in Istanbul was 30 TL in 2015, or about €10. In 2019 the entrance fee is… 60 TL, or about 9€.
The prices, once converted into € or $, remained essentially the same. From what we have seen, the more touristic a region is, the faster prices adjust… In less touristic areas like Konya, for example, there are still Kebabs sold at 4TL, while in Izmir the standard price is clearly 10 to 12 TL. In short, be sure to take the prices below with caution and rely more on its "value in € or $".
Getting around in Turkey
The public transport network in Turkey is really excellent! I admit, we had vaguely read about it, but we still had some apprehensions… especially since we were going to travel during Ramadan (a busy time travelling in the country) and also at the beginning of the high tourist season.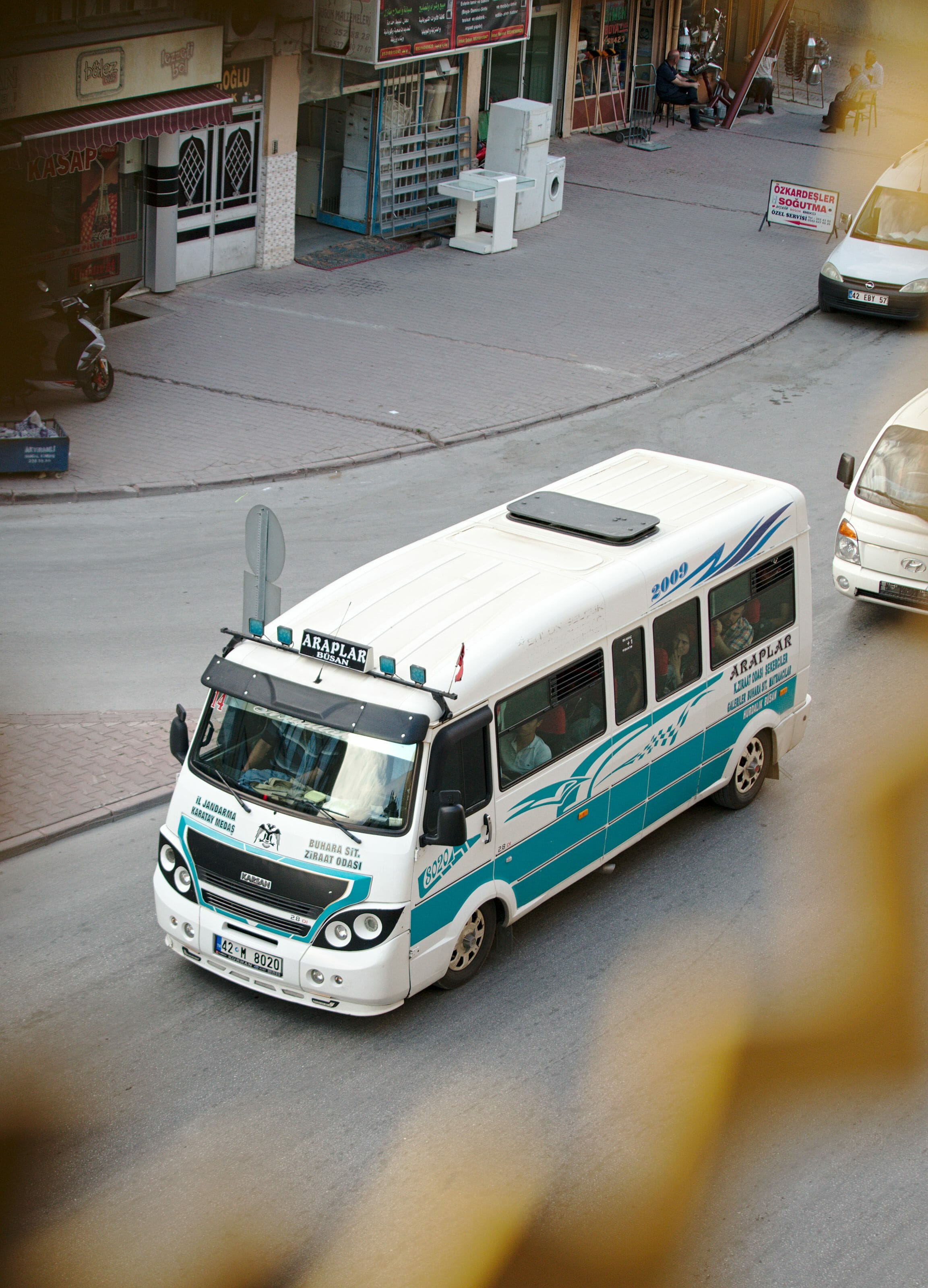 After travelling nearly 40 days in Turkey and using a lot of transport modes, I can now confirm that, YES, it's really easy!
There are roughly 4 main modes of transport between cities/destinations:
The plane: I put it because we know that for many people it is the preferred means of transport to travel in Turkey and quickly cover long distances. Domestic flights are not very expensive…. Then I won't hide from you that for our part, taking internal flights has become something totally excluded from an environmental point of view (especially if alternatives of night buses or trains exist…). In short, before rushing to a flight, try to compare the other options! You may be surprised at the budget and travel times! Remember that low-cost flights never include luggage, and airports are often far from the city centre (which means time and money to get there). As for the stations and bus stations, they are often in the very centre of the city.. 😉 #JustSayin
Rail: Turkey has a relatively well-developed rail network, especially in the western part of the country. For example, Istanbul is connected to Ankara and Konya by a high-speed train. If you speak English, we recommend that you take a look at the excellent seat61 site, which lists all trains and timetables around the world. For our part, we travelled the distance between Izmir and Pamukkale by train (with a 2-day stop in Hierapolis). It is by far the cheapest (and very scenic) means of transport.
Buses: Several bus companies exist in Turkey and the network is VERY well developed! There are many connections and also a large number of night buses (especially between Istanbul and Cappadocia). You will see it below, but we took a lot of buses and everything went very well. Quality level there is nothing to say: the roads are perfect, the buses are modern with air conditioning, personal screens (over the longest distances) and even meal trays (like in the plane) included in the price.
Minibuses: For shorter distances and regional transport there is also a very developed network of minibuses (Turkish dolmus). Their price is generally derisory and takes you to every nook and cranny of the country. They are usually found at the main bus station (or just next door).
Our trips in Turkey:
From Izmir to Sirince: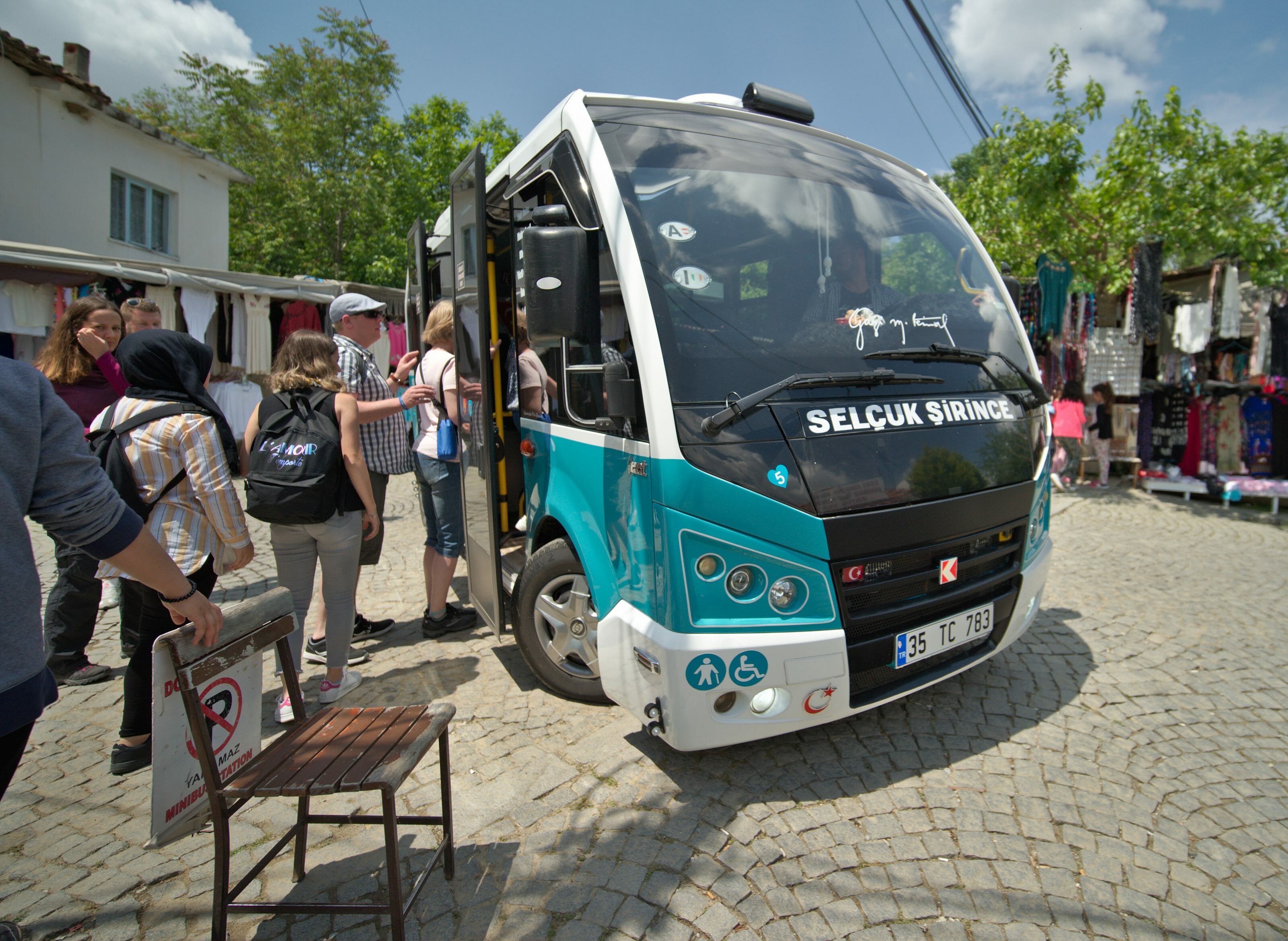 We took the train between Izmir Basmane and Selçuk. Price of the trip: 7.5 TL per person (just over one euro for about 1h15 of travel).
From Selçuk we then took the Dolmus (local bus) to Sirince (about twenty minutes). Price: 4TL per person (we then took back this same dolmus to visit the ruins of Ephesus)
From Sirince / Selçuk to Pamukkale
We took from Dolmus (4TL) between Sirince and Selçuk, then took the train to Denizli. Train price: 17.5 TL per person for about 3 hours by train.
From Denizli we took a Dolmus (station in front of the station) to reach Pamukkale. Dolmus price: 4.5 TL
From Pamukkale to Fethiye
After taking the Dolmus (4.5 TL) to Denizli we took a bus (Goltur company) to Fethiye. Price of the trip: 35 TL per person.
Note: many companies operate the route, we had not booked anything and took the first one to leave. From what we have seen, the rates are quite similar between companies.
From Fethiye to Kas
In the surroundings of Fethiye we took some small dolmus (especially to bring us back from our trek along the Lycian way). When we left Fethiye we took a bus to Kas. Price of the trip: 25 TL per person.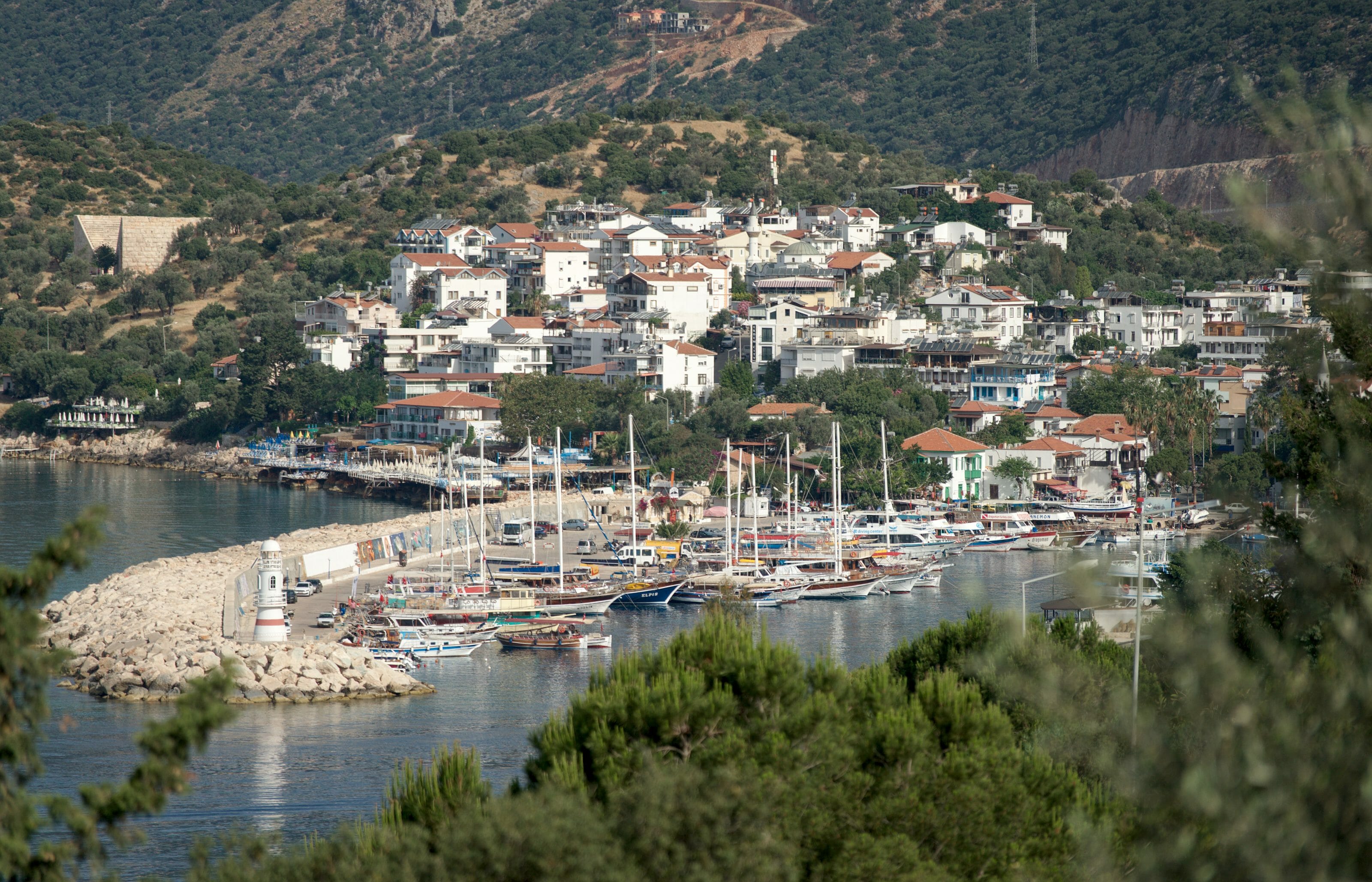 From Kas to Konya
From Kas we took a small bus to Antalya (30 TL per person). In Antalya we went straight on with a big bus to Konya (70 TL per person).
From Konya to Cappadocia
We took a big bus from Konya to Nevsehir (60 TL per person) then a small dolmus from the bus station to the centre of Nevsehir (2.5 TL) then finally a last dolmus between the centre and Göreme (3.5 TL).
From Cappadocia to Ankara
We returned to Nevsehir in dolmus (6TL per person to combine the 2 dolmus) then took a big bus from Nevsehir to Ankara (70 TL per person).
Accommodation in Turkey
We were very pleasantly surprised by the excellent value for money of the accommodation during this trip! As you can see above, we never spent more than 30€ per night on accommodation and each time had nice private rooms or even great fully equipped apartments!
Here is the complete list of accommodation we have chosen in Turkey and what we thought about it:
Izmir: In Izmir we had booked an apartment before our arrival. The night was 188 TL (about 28€). It was a great studio! It was not very big, but on the other hand the terrace and its view of the city gave it a crazy charm!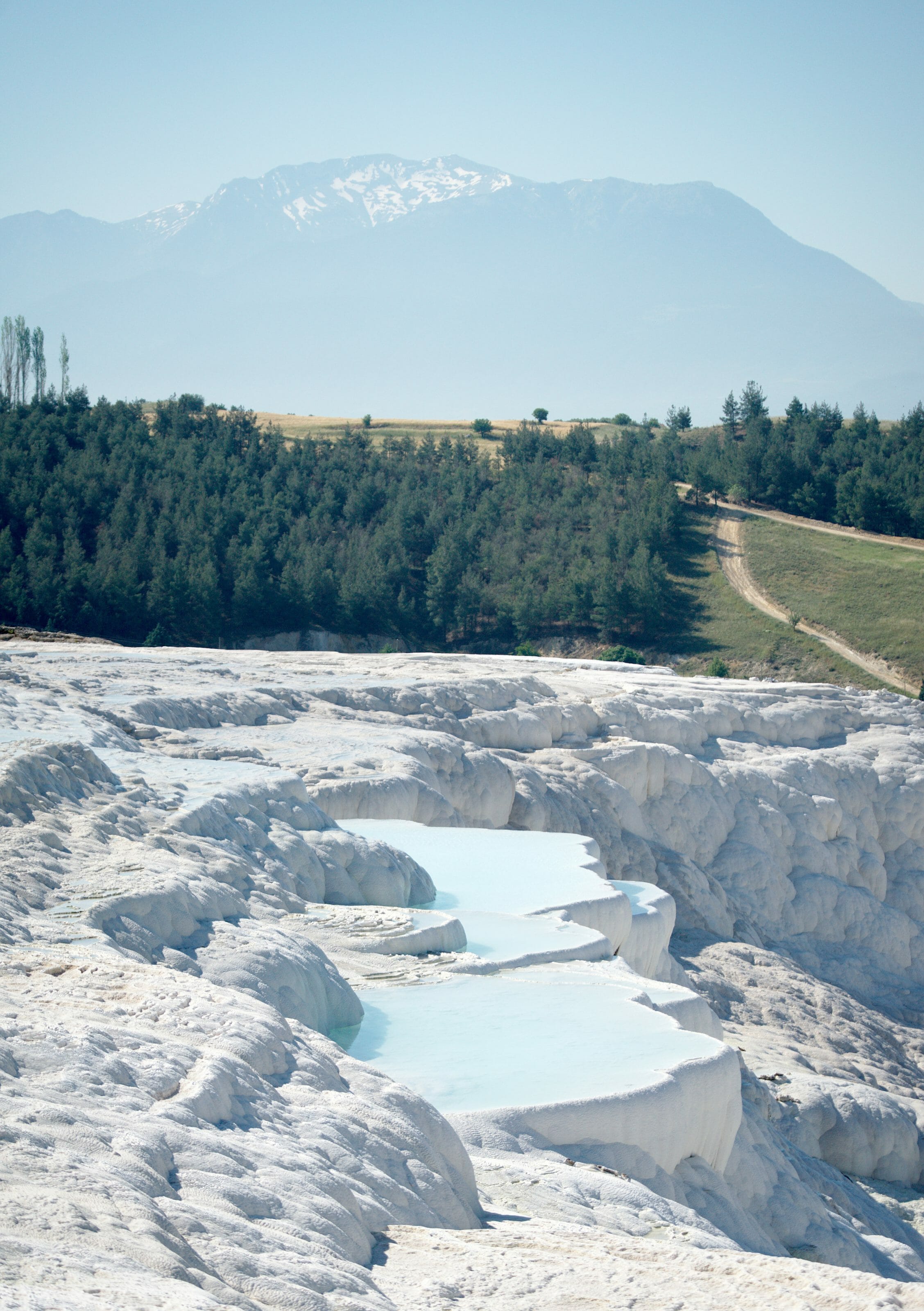 Sirince: After Izmir we went to the small village of Sirince where we stayed at the Sirince Pension. We arrived without booking and were able to get a room for 200 TL per night (30€). This will have been our most "expensive" night because it did not include breakfast. Sirince is quite touristy and therefore a little more expensive. The pension itself was very good!
Pamukkale: Here too we arrived without a reservation and ended up at the Beyaz Kale Pension. A clean double room with a swimming pool and a nice breakfast included. Here we paid 150 TL per night for 2 (about 22€).
Fethiye: We stayed in a very nice apartment,the Artim. In total, the apartment cost us 150 TL per night (22€) and we loved it! Clean, spacious and a good wifi;) We spent 4 nights there before our hike and then came back after the hike for 4 more nights to rest and work a little.
The Lycian Way: During the Lycian way we mainly camped (in camping or bivouac) and therefore spent very little on accommodation. Our only paid accommodation was a small guesthouse in Alinca where we paid 250 TL per night (about 37€) and this included the night but also dinner and breakfast for 2 people (On the other hand we are sorry but we don't remember the name… but in Alinca there are only 2 pensions… in short, it was the one on the right);)
Kas: We stayed at the mina Appart hotel. This one we had booked in advance because it was at a good price online. 138 TL at night for a large spacious room with decent wifi. 🙂 (no breakfast)
Konya: The prices were crazy in this city! We were there during Ramadan and everything was at its lowest! Even the Hilton was at less than 30€…. in the end we booked 3 nights at the Nun Hotel. It came back to 109 TL per night (about 16€) with a breakfast buffet included. After, the room was tiny and smelled like a cold cigarette….. 🙁 but for 16€ and especially the location which was top we were not going to complain.
Göreme: Here, we arrived without reservation. We first spent 3 nights at Ali's Guesthouse and then, as it was full, we moved to Kose Pension. Two very good addresses in which we paid 200 TL per night (about 30€) with breakfast included.
Ankara: We had booked an apartment for a week at the Rain House. It's a little old-fashioned but huge and well placed. We had paid 185 TL per night. On the other hand, as we had to leave the city in a hurry after only 3 days to return to Switzerland in emergency, we unfortunately "lost" 4 nights paid for nothing…. 🙁
Turkey: our top things to see
The Crazy Landscapes
Turkey has totally amazed us with its landscapes! I don't know about you, but personally I only had a few pictures of Cappadocia or southern beaches in mind… I was totally surprised and charmed by the very mountainous landscapes of the south, the geological formations of Cappadocia, the sublime wine-growing hills towards Sirince… And again, we didn't see everything! The northern part of the country towards the Black Sea and the far east of the country look just as beautiful!
The absolutely brilliant welcome of the Turks
This has already been mentioned in some of our articles, particularly the one on Konya, but what has particularly impressed us in Turkey is the absolutely remarkable welcome of the Turks. Wherever we went, we felt welcome and were always greeted with kindness and a smile.
Turkey's historical and archaeological heritage
Turkey has a history that goes back more than 5,000 years and many peoples have followed one another on its lands, each leaving their mark on the country's heritage. There are traces of Hittite, Roman, Greek, Persian, Byzantine, Ottoman, Arab and other civilizations.
We keep a very strong memory of the sublime city of Ephesus near Izmir or the Lycian ruins in the vicinity of Fethiye. We are far from being history experts (even if Benoit LOVES history museums), and I wouldn't hide from you that the history of this region straddling the East and the West is far too complex to be understood by reading a few signs in the museums… But it is still a very interesting part of a trip to Turkey!
The contrasts between the different regions
This is probably the thing we loved most! The diversity of this country is absolutely crazy!
From a landscape point of view, of course, but also from a cultural point of view. Imagine for a moment that one of the most traditional cities like Konya is only 3-4 hours drive from the most touristy and "liberated" parts of the country like Antalya or Cappadocia.
Security and ease of travel in Turkey
This point is a little similar to the one on welcoming people, but I still wanted to set it apart in this article. Before our departure, several of our relatives told us of their concerns about us going to Turkey. We admit it, we were very naively starting out and it has been a long time since we stopped relying on the prejudices conveyed by certain media.
So we will not lie, it is true that some regions of Turkey are currently sensitive (I am thinking in particular of the border region with Syria), but let us remember all the same that Turkey has an area that is more than twice the size of Germany!!!! What is valid in one region is by far not valid in another. Turkey is a country that did not, at one single time, give us the impression of being dangerous, quite the contrary! Obviously, large cities like Istanbul remain sensitive, but unfortunately I believe that this applies just as much to Paris, Berlin or London…
Things we liked a little less in Turkey
We will reassure you right away, there is basically very little we liked less in Turkey… But since we are still human and especially since, as in any trip, not everything is just a rainbow and glitter, we thought we would tell you the few points that we liked a little less.
The turkish cuisine
I admit, I hesitated to include this point…. In fact, in Turkey we eat very well and it's cheap. On the other hand, we will admit that we quickly got bored. The problem with Turkish cuisine is that they LOVE meat, but like really! The vast majority of Turkish specialities contain either lamb or beef (the two most common meats). With Benoit we are not vegetarians (fortunately for the time being), but it is true that we are used to eating much less meat. In normal times we probably consume it once or twice a week (maybe not even that often). In Turkey, I think we probably ate some almost once a day…
While always on the move, we also found it relatively difficult to have healthier alternatives to eat "on the go". Most "quick" things are relatively fat, fried or in the form of pide (Turkish pizzas).
Internet in Turkey
You can be reassured right away, Internet is very much present in Turkey and if you come there for the holidays you will have absolutely no trouble reading your emails or surfing the net to find information. However, since we were also in work mode, we admit that we had a hard time during this trip having "fast" connections in our appartments/guesthouses. We were often on wifis at 3 or 4 MB/s.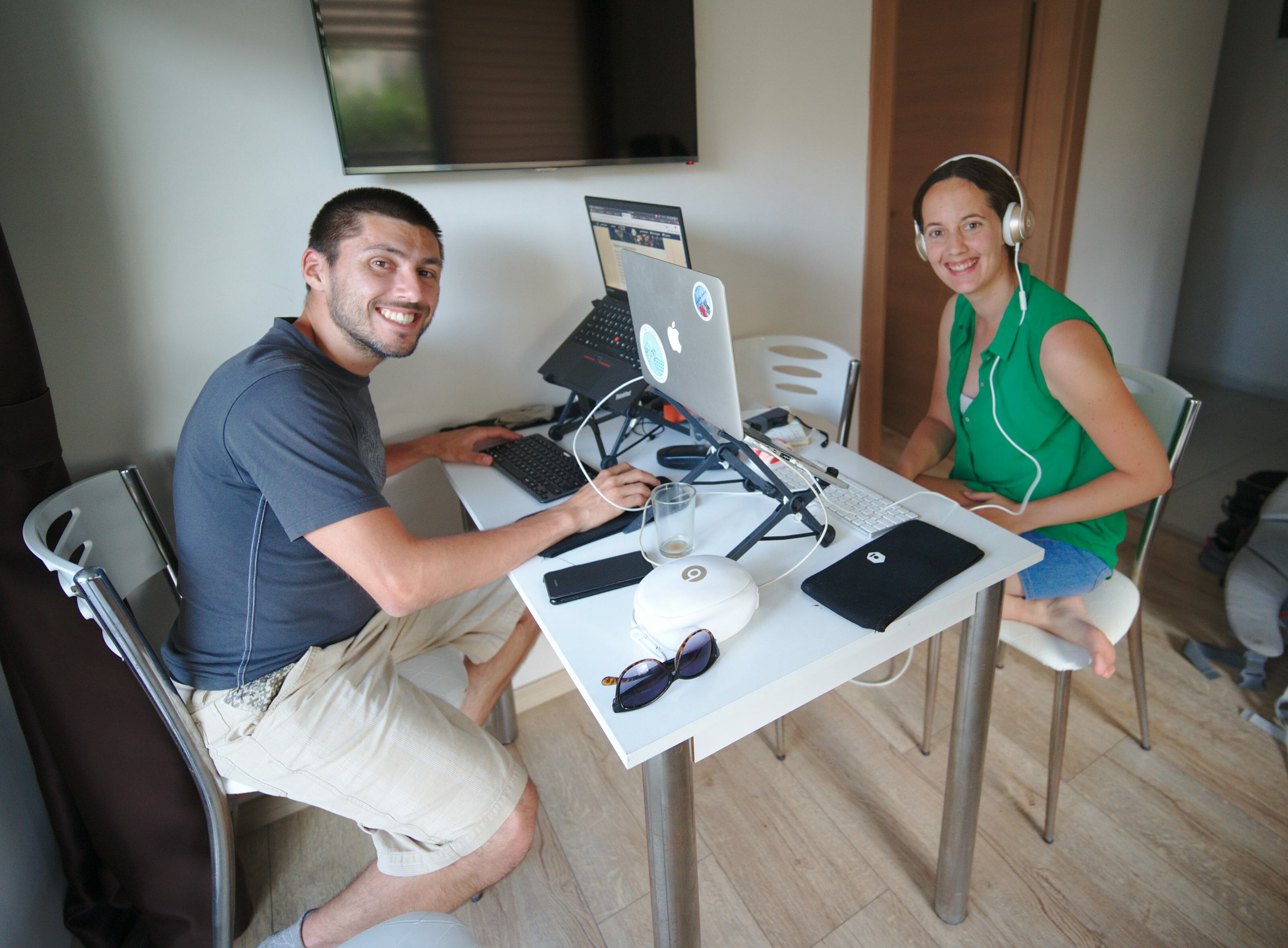 This is more than enough to write whatsapps or do a search on the net, but on the other hand to upload images or to make a skype with a client it was a bit more complicated at times.
A second point to know about the Internet in Turkey is that there is censorship. This did not particularly affect us or disturb us, but let's just say that you shouldn't be surprised if you can't access certain sites like Wikipedia for example.
If you want to be sure you can access any site during your trip, then it may be useful to consider installing a VPN. We told you about its usefulness for travel in this article.
For our part, we still have our subscription with ExpressVPN and we have used it a few times in Turkey to get around certain obstacles.
The language barrier….
In Turkey, we found that the problem of the language barrier was quite significant. Turkish is a "relatively" easy to learn language, but needless to say, it is absolutely impossible for travellers passing through to acquire sufficient knowledge to really exchange with locals.
Overall, English is not widely spoken. It has sometimes been found easier to communicate in German because it seems to be more widely used (there are a lot of Turks who have chosen to settle in Germany or who have family there).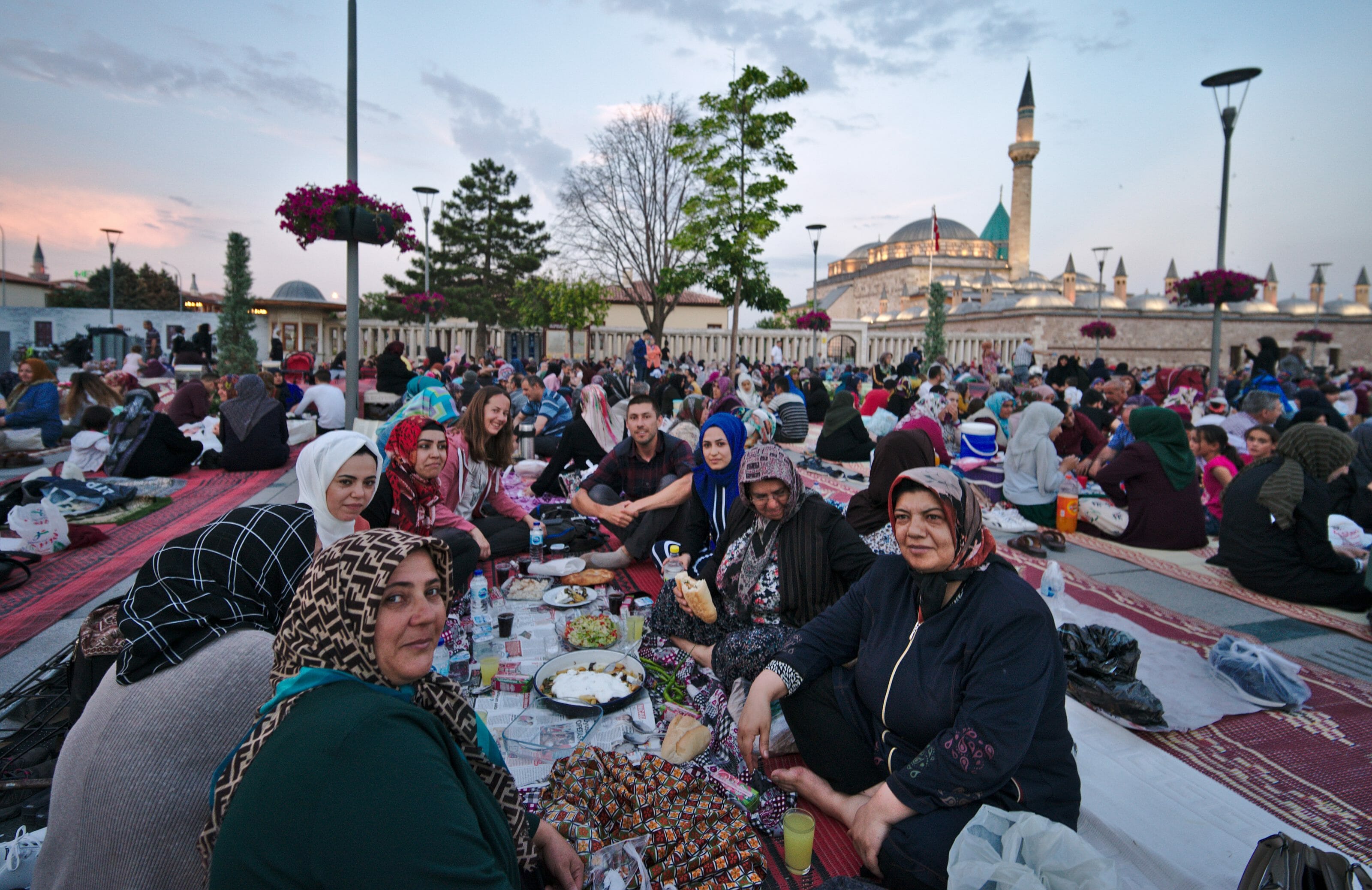 Actually, the language barrier frustrated us a little bit because the Turks are SUPER welcoming and we found ourselves many times starting conversations "in mime" or with Google Translate on the phone. This gives rise to comical situations, but it is clear that we would have preferred to master Turkish. 🙂
The difficulty in finding information to travel independently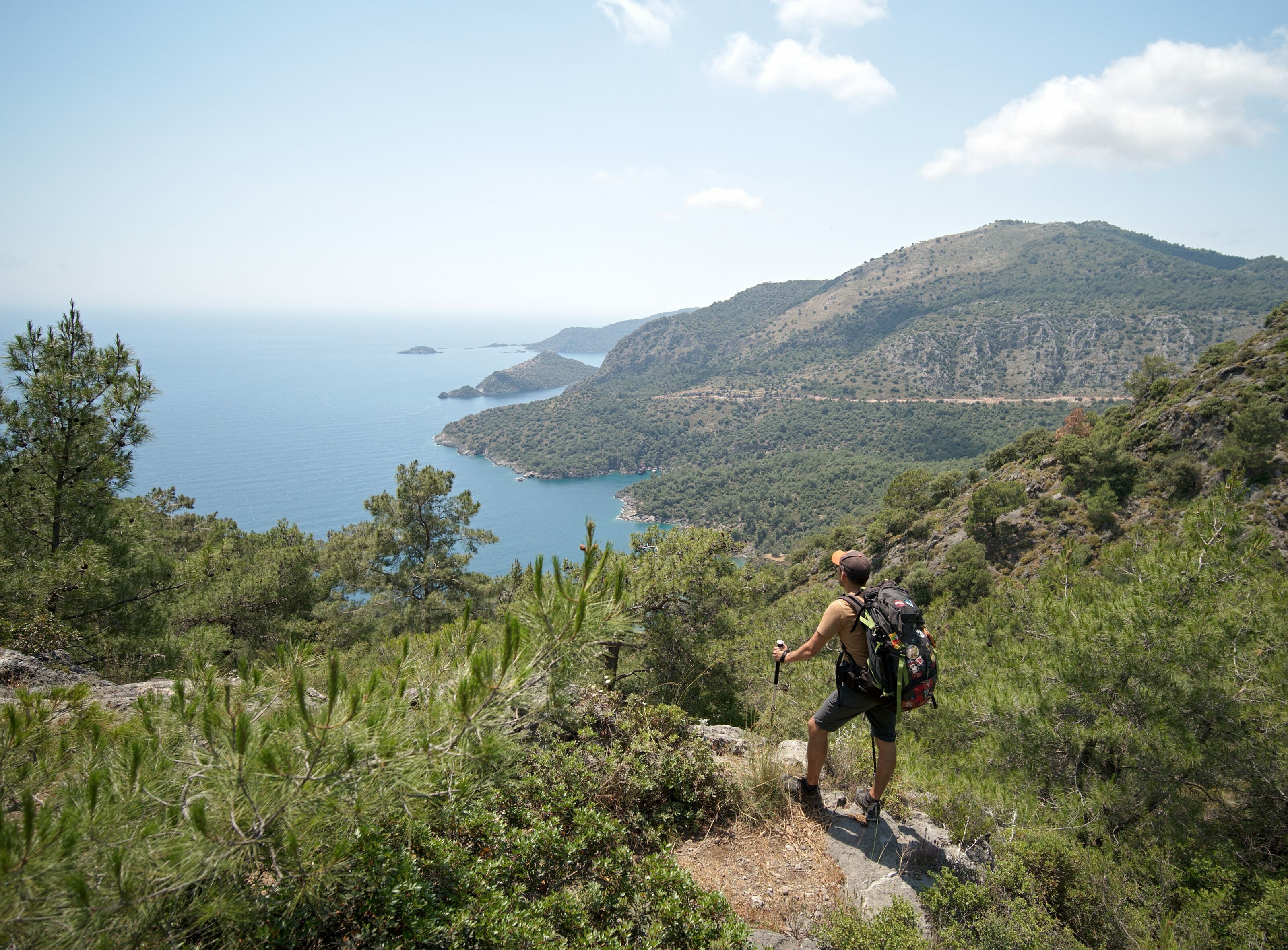 Turkey is a touristic country that has a lot to offer to backpackers. Yet, strangely enough, Turkey has been one of the countries in which we have had the most difficulty finding practical information online. There are a lot of blog articles about Istanbul, a little bit about Cappadocia, but otherwise??? Well, we've been disappointed…
In fact, we had this strange impression that Turkey "is a little scary" and that many travellers limit themselves to Istanbul or else go on organized tours. We understand the idea, but we were really surprised. In other words, during this trip we made it a point of honour to detail a little bit more our steps in the hope of helping future travellers to organize themselves independently. And promised, Turkey is a country that REALLY lends itself well to independent travel!
In total you will find 12 articles dedicated to Turkey on our blog. Find them here.
Beer in Turkey 🙂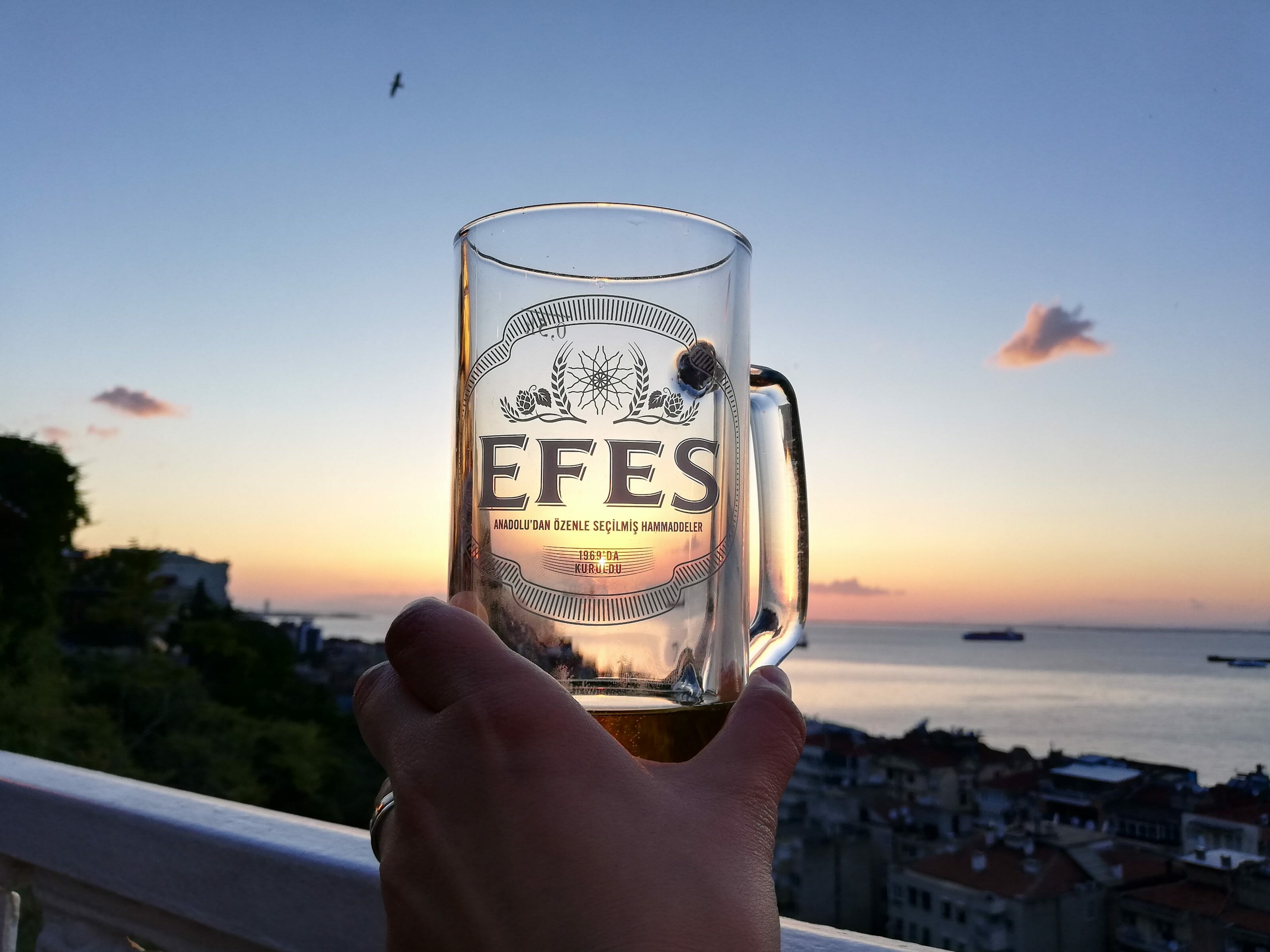 This last point is to be taken with humour, we agree, don't we? 🙂 Turkey is an officially secular country, which means that alcohol is not prohibited. But, in practice, alcohol is a highly taxed and relatively uncommon beverage. If in tourist areas you can find beer on every street corner and on every terrace, there are also places like Konya, for example, where we haven't even noticed a drop of alcohol during our whole stay.
As good beer lovers we are, we have tested a few beers and well… the observation is relatively unquestionable… Beer in Turkey is definitely not quite what you would call "a thing". The most famous beer in the country is Efes; a pils that quenches your thirst well but does not leave an unforgettable memory by its aromas. You have been warned!)
Backpacking in Turkey: our impressions
If you have read our different articles you may have already guessed it, but for us the outcome of this trip to Turkey is 200% positive! We loved travelling in this country and we admit it, we are looking forward to coming back one day…
Our trip ended a little abruptly because of our emergency return to Switzerland for family reasons. Turkey has definitely left us this little taste of unfinished business…. Which is not that bad after all, because in the end, it will only reinforce our desire to come back one day to see more!
In other words, if you are still hesitating to go to Turkey for your next holiday, believe us, you can stop asking yourself questions right now! This country is SUBLIME and it is really easy to travel independently there. So it is without any reservation that you are encouraged to take your backpack and go there. I promise you won't be disappointed!
Take care…
Note: This article contains affiliate links to partner sites. By using our links you don't pay anything more, but we do receive a small commission. All our trip to Turkey was made 100% independently and 100% financed by our own money. 😉
Pin It