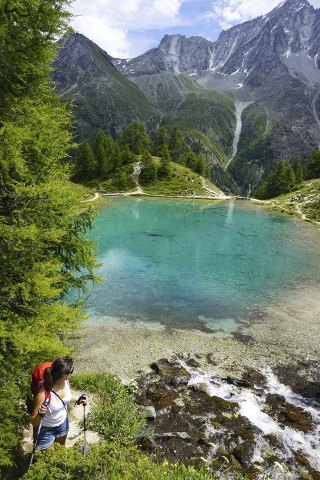 Two weeks ago I tried a new adventure: hiking with my best friend!
Benoit having left for the army, I went to explore a little bit a region that I particularly like: the Val d'Hérens, in the company of Marine, my best friend since the earliest childhood.
For some people this may sound like a normal activity, but for those who know us, they know that for us a typical weekend would be more like shopping, terrace gossip and mojitos than hiking shoes and mountain passes!
Let's go to Val d'Herens
In short, for this first adventure 100% girls, we didn't do things halfway! A superb itinerary in the Val d'Hérens with a night in a hut and quite a few meters of altitude difference!
Let's go to Valais! Handbags were replaced by backpacks, mojitos by Johanis, but let's be reassured that the chatty mode was well and truly on for the 3 days!
Hike to the lac bleu, Arolla
For this first day we had planned a gentle warm-up. Departure at 8:30 am from Lausanne to reach the city of Sion by train and then by post bus to Val d'Hérens!
45 minutes of winding roads later, we reached the so-called Gouille stop. From there, a small path that climbs steeply up the 260m difference in altitude allows hikers to reach Lac Bleu in about 40 minutes.
You may remember, but we came here last year with Benoit on our walking tour of the Val d'Hérens.
So good news: the blue lake hasn't changed! I had already fallen in love with this place last year and frankly I think that for me it is probably one of the most beautiful mountain lakes in Switzerland…
Take a look :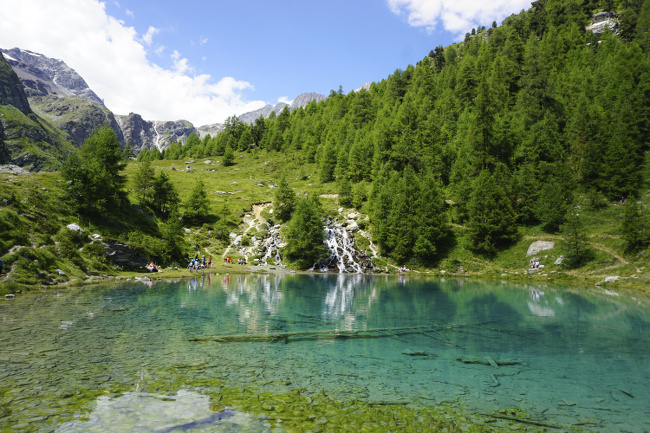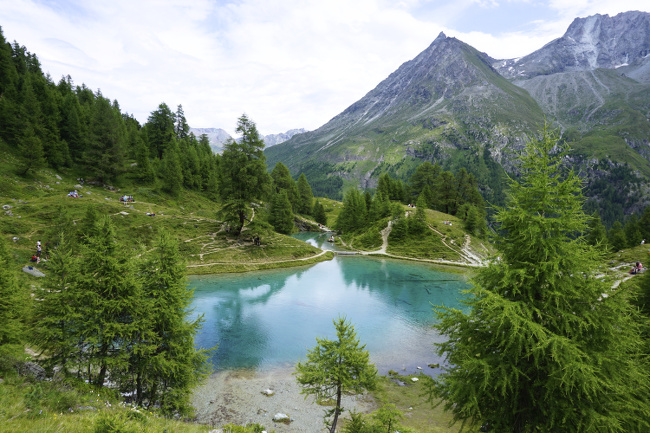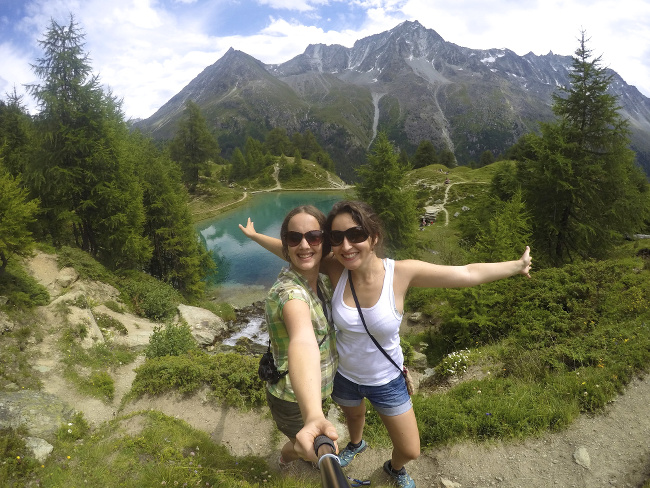 Update 2020: Since the publication of this article we have returned to the Val d'Hérens many times, especially in the fall. We have also published a detailed article with 4 day-hike itineraries that we particularly like in the area.
From the Lac Bleu to les Haudères
After a good picnic break and a short tour of the lake we started the way back to Les Haudères. Last year we reached the Haudères from the blue lake via the alpine pasture "L'étoile". This year I wanted to take the other path, more direct, which runs along the valley and which makes it possible to reach Les Haudères in a little less than 2 hours (counting quite a few photo breaks). 😉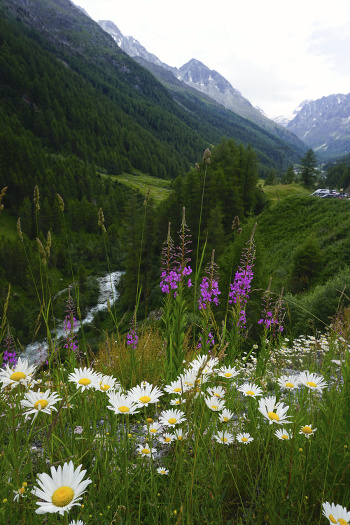 So to be quite frank, the path that passes through the alpge de l'étoile is certainly longer, but also more scenic. Not that the path we took this time was ugly, but the view is more impressive from the top!
Small but intense day 😉
But to be honest, with Marine we were very happy that this first day wasn't too long! After all, it was just a little appetizer (and a test of Marine's new hiking boots) in order to be ready for what was waiting for us the next day!
Once in Les Haudères we dropped our things at the hotel and went for a small aperitif…. We left with a vow not to drink to much because the next day was going to be a sporting day…. Yeah…. So let's just say that we're girls who like the challenge and we decided to put aside a little bit the voices of the reasons for this first girl-night in the mountains! 🙂
Infos
Transports : The hike begins at the place called La Gouille just before the village of Arolla. It is possible to park the car on the road, but it is also possible to come by post bus from Sion.
Hike : The itinerary was as follows : La Gouille (1834m) – Le lac bleu (2092m) – La Gouille (1834m)– Les Haudères (1454m).
Total distance : about 7km
Accomodation in les Haudères : We slept at the Hotel des Dents de Veisivi. A good address for the night. Count approximately 150€ per night with breakfast.
Short note: the hotel's restaurant is really excellent!
From Evolènes to the Becs de Bosson hut
The next day it was early in the morning (and let's admit it, with a little headache) that we left to take the bus to Evolènes. In itself, Evolènes is only a few kilometres from the Haudères and is easily reachable on foot, but to be honest we preferred to spare our legs as much as possible…
Once out of the bus, it was in the rain but in a good mood that we started climbing to the hamlet of Volovron. The climb starts without much difficulty on a perfect path (and for the moment not too steep!).
The weather plays along
Once in Volovron we were finally able to take off our rain jackets and attack the serious things! The next stage was announced at 2 hours' walk to the A Vieille mountain pasture… We knew that for this section alone, there was 690m of positive altitude difference – Ouch!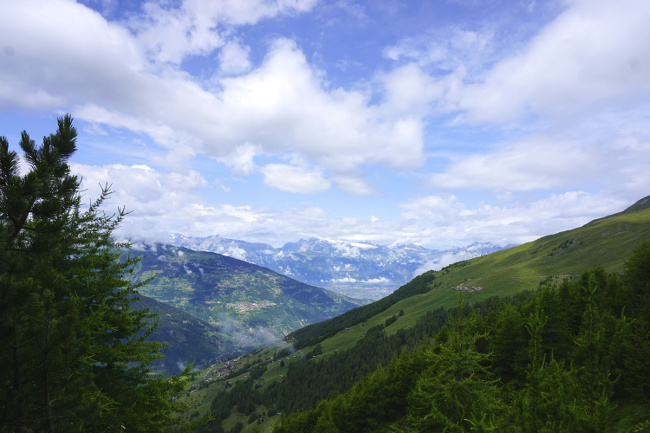 So actually, the least we can say is that it was going up steeply! But nothing to lose motivation for! the secret? A regular pace and a good friend to chat with non-stop!
As expected, it is therefore 2 hours after leaving Volovron that we arrive at the A Vieille mountain pasture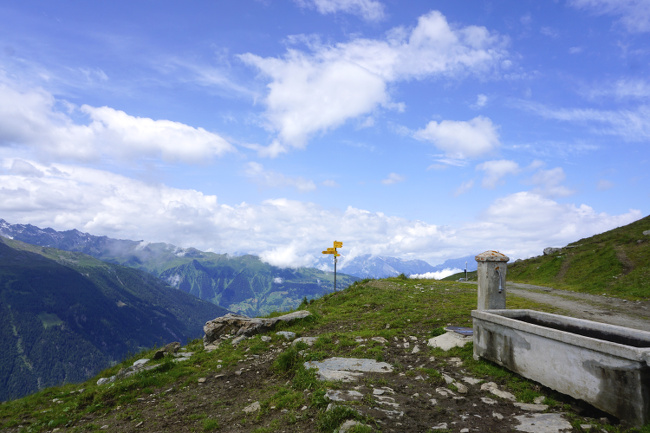 a little delay on the course….
At the base we had planned to stop at the restaurant to drink a small coffee and eat our picnic… But that was without counting in Roger!
As we arrive at the mountain pasture, a gentleman with a wide smile approaches us:
"Well, ladies, where did you come from? »
When we told him we were coming from Evolènes, he seemed surprised that two girls were hiking that much. Within a minute, we were invited to have coffee on his terrace!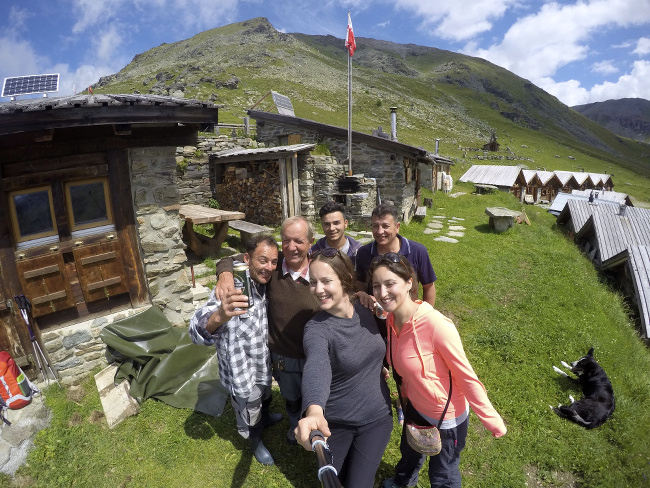 We met the 3 Romanian employees who take care of the cows and prepare the alpine cheese during the summer, visited the small cottage that Roger had just opened, we took advantage of the sun that had appeared on the super small terrace, but on the other hand we declined the very generous offer of this happy team to add a small "schluck" of Grappa in our café (In sight of the continuation of the climb I can promise you that we did well to decline this part!)
In the end, at the A Vieille we had planned "a little picnic break", but in the end, we almost stopped for 2 hours! What do you want, the sense of welcoming is flawless in Valais! (yes yes, I really mean it, I'm not saying that because I married one 3 weeks ago… I promise!) 😀
Getting to the Becs de Bosson hut
In other words, it's very invigorated that we got back on the road to attack the last part! Once you leave the farms, you start by climbing quietly up into the mountain pastures. In fact, if you pass by this area, keep your ears and eyes open! The area is full of groundhogs and it is quite easy to spot them by listening to their cute little whistles.
What? A little cute is exactly what you need to attack the final part! 610M of altitude difference! All this in a rocky outcrop that at times will almost give you the impression of walking on the moon.
The advantage? Throughout the climb you can admire the hut that proudly stands at the top: with the final objective in sight everything goes more easily!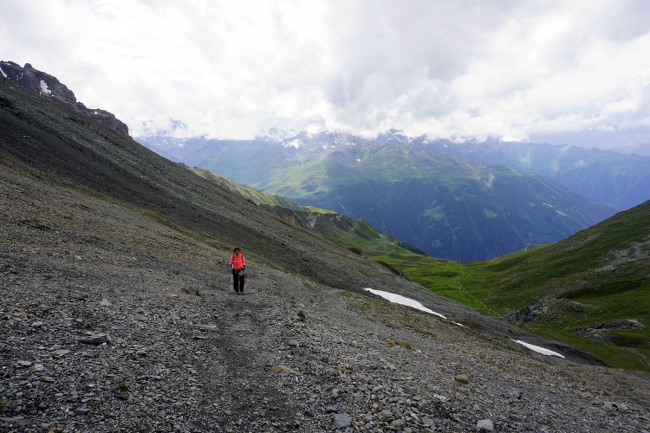 The storm threatens… and rinses out
Well… I say that, but we hung out at lunch break so much that when we arrived at Lona's pass we had a front row seat to see the storm approaching with that damn hut still taunting us from above.
So it's in the rain, with the wind and in the cold that we'll have finished this second day! Tired, but totally under the spell of the Val d'Hérens, once again!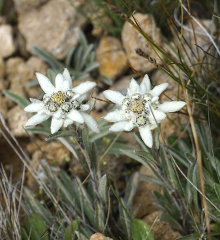 In fact, if you pass through the area, remember to keep your eyes open along the trail just before you arrive at the hut!
We came across dozens and dozens of Edelweiss! It was along the ridge between Lona's pass and the hut for the curious.
However, we remind you that it is strictly forbidden to pick them, so we touch them with our eyes as our mothers would say!
Infos
Start : Les Haudères or Evolènes
Finish : becs de Bosson hut
Route : Evolènes (1360m) – Volovron (1685m) – L'A Vieille (2370m) – Pas de Lona (2787m) – Cabane des Becs de Bosson (2985m)
Elevation gain: 1700m
Negative elevation change : None…. Sorry to disappoint you.
Duration : Allow between 6h and 6h30 of walking time
Difficulty : Average
Sleeping in the mountain pastures
I was talking to you a little earlier about our meeting with Roger at the A Vieille mountain pasture. Then, know that this joyful character has just finished the layout of his cottage in the mountain pastures. The small cottages, that served as the hay storage base, have been completely refurbished and now accommodate overnight visitors.
Honestly, this place is just paradise for a timeless evening out with friends!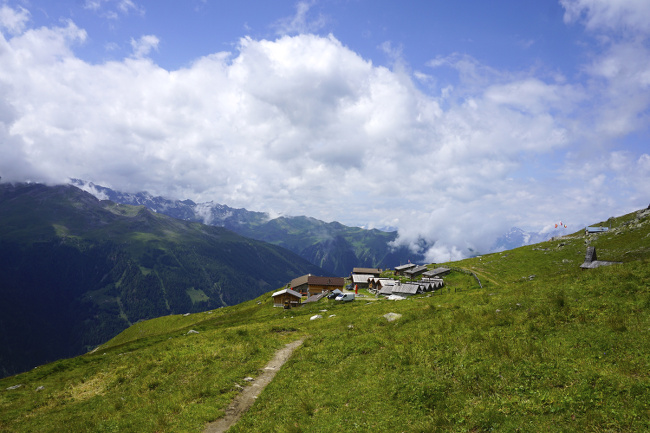 Count 40 CHF per person to sleep in this cottage (breakfast included).
Otherwise it is also possible to rent a small cabin in its entirety: 140.00 / night. The cabin has 6 beds, a kitchen and a bathroom.
To learn more, here is the facebook page of the cottage that has just been created : here
The Becs de Bosson hut
For our part, we did not sleep in the mountain pasture, but at the Becs de Bosson hut. Located at an altitude of 2983m, it is one of the highest huts in Valais and theoretically offers a breathtaking view of the surroundings.
I mean in theory, because we won't have seen much… We Arrived in the rain and left the next day in a thick fog! Anyway, one more reason to come back what do you want!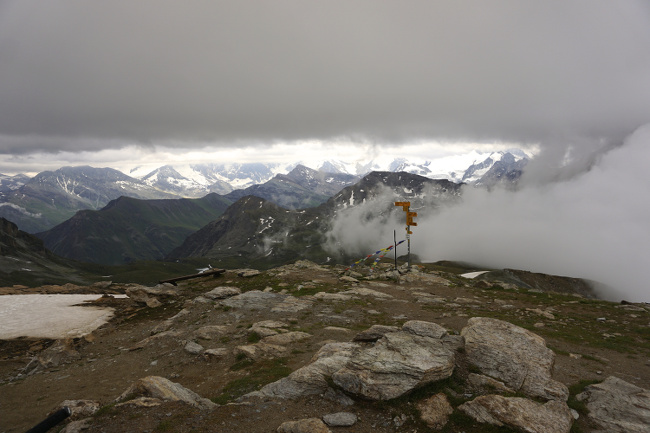 The cabin itself is very nice! Hosted by its guardian Marcel and his team, it offers a warm welcome and delicious cuisine. For the record, in this hut the refueling is not done by helicopter as it often is, but it is on Marcel's back that the fresh vegetables and milk reach the top!!!! He leaves a car at the A Vieille mountain pasture and carries everything he needs several times a week! Hats off!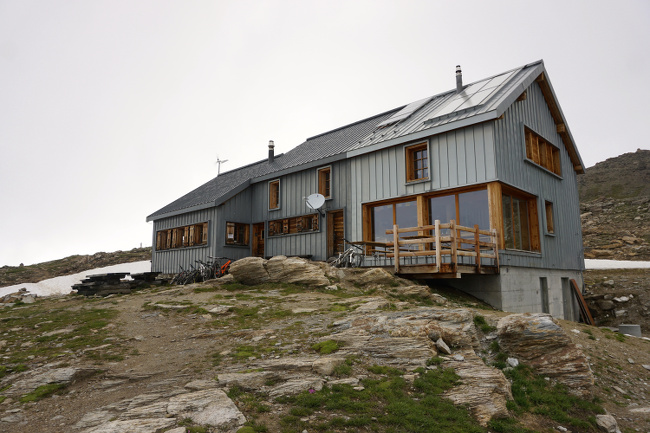 The hut was completely renovated in 2012, so the rooms and common areas are absolutely perfect! Good little downside, though, for the toilets…. The hut not being connected to running water this poses some problems… No showers, and dry toilets. In the huts it makes sense to have a dry toilet, and they usually work with sawdust. Here, I don't know what it was (sorry I'm not an expert in the field), but frankly the smell was awful. A mixture of ammonia and you know what.
No running water also means no drinking water in the direct vicinity (20 minutes walk to collect meltwater for the motivated ones). In short, if you have the courage, I advise you to bring half a litre more water so that you have enough to leave the next day. Sold for CHF 10, the bottle of water is simply not profitable compared to the wine at CHF 16. 🙂
Infos
Opening : from mid-June to October for the summer season. And from mid-December for the winter season
Price per night : 75 CHF per person including night in dormitory, evening meal and breakfast.
Picnic : Possibility to book a picnic for the next day at 10 CHF / person.
More Information : The hut's website
From the Becs de Bosson hut to Nax
The next morning the awakening is difficult… The night was "complicated", because of 2-3 Lyon hikers who had rewarded themselves for their day's walk with Calvados and who fell asleep within seconds, but making the sound of 3 chainsaws.
We were hoping to see the sun when waking up…. Well, mother nature decided otherwise! Around 9am we set off for the village of Nax. The descent begins in a rocky outcrop, in a just sublime landscape! As we descended, the sky began to clear!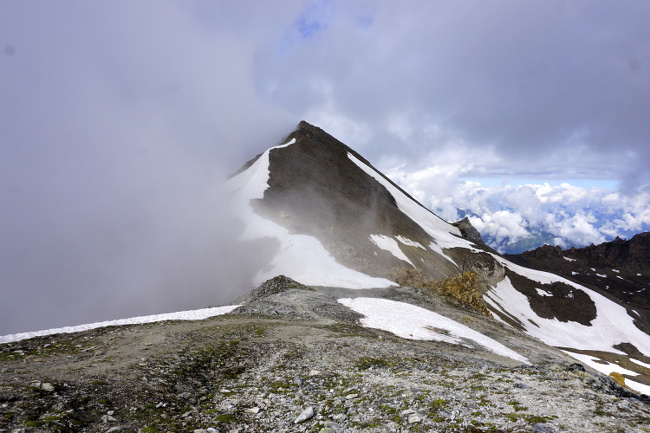 This first part of the descent was very quiet, too quiet I want to tell you even! I knew that in terms of altitude difference we had a lot to go down, and for the moment the gentle slope in the mountain pastures seemed almost too easy to me…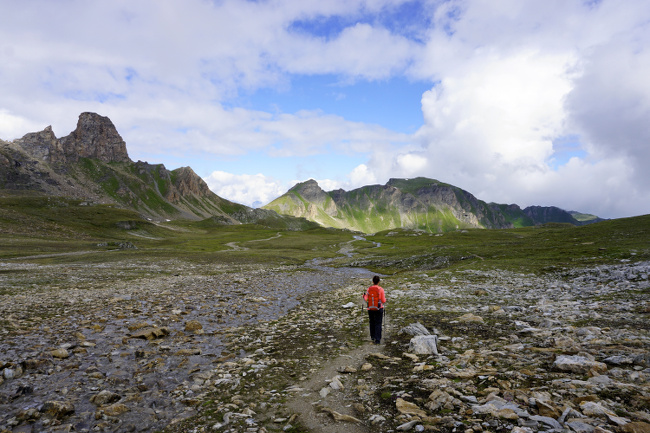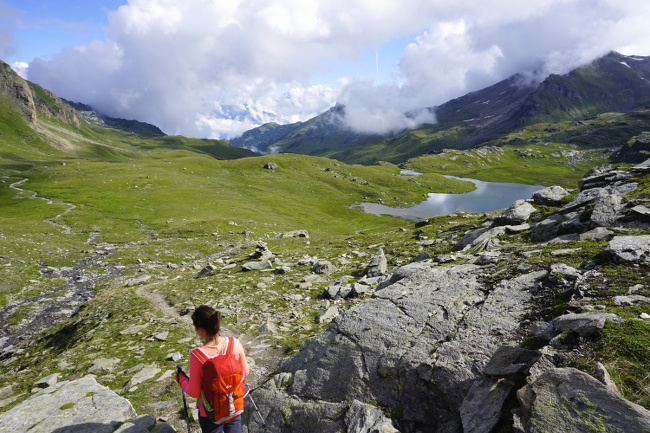 Besides, our naivety has had us fooled! We stopped at a sublime place to have our little picnic. Below we saw a path that continued to descend quietly into the valley. In short, it was convinced that we were going to go down there that we had our little feast.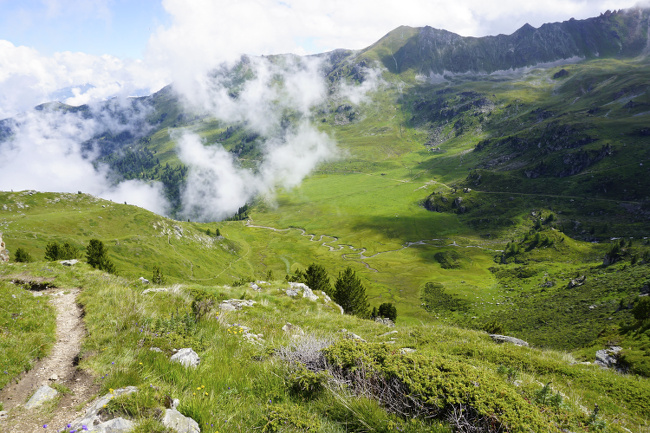 After-meal disappointment
Yes well…. 150m after our picnic spot a sign indicated that our final destination was on the left. To the left? But it's climbing!
Yes, so when you don't read the topographic maps correctly, well, you can quickly skip a small 200m climb.
So certainly 200m is not much…. But when we were psychologically prepared to do nothing but downhill, I swear it hurts!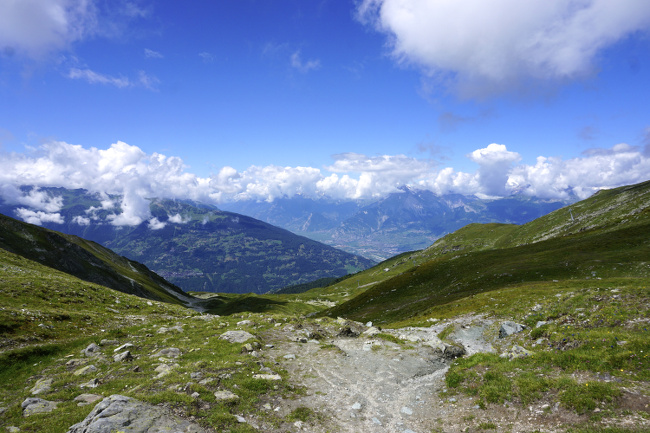 Once past the pass, however, the suspense is over. The path goes down non-stop in the valley and makes us dive an additional 1300m. The descent seems endless, the knees weaken, but once again, put 2 chatterboxes together and they won't see time pass!
In the end, it took us about 5h30 of walking to reach the village of Nax and take our bus back to the city of Sion.
A simply perfect weekend as we would like to do every week!
Informations
Start : Cabane des Becs de Bosson
Finish : Nax
Route : Cabane des Becs de Bosson- Lac le Louché – la Fâche – Col de Cou – Nax
Elevation gain : about 200m
Negative elevation change : about 1900m
Duration : Allow between 5h and 5h30 of walking time
Difficulty : Easy to Intermidiate
That's it, this time the circle is complete. Last year we did days 1 to 3 of the Val d'Hérens tour, and this time days 3, 4 and 5!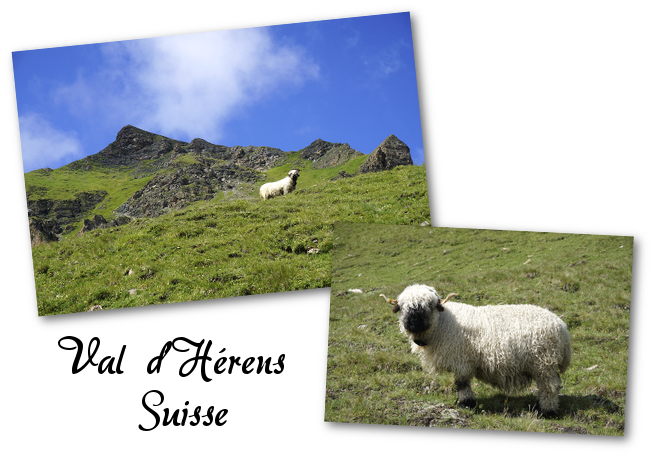 To rediscover the first part of this hike it is this way.
To see what the Val d'Hérens looks like in winter, check out this article where we took 4 girls from Singapore for a snowshoe ride to Mayen de Bréona.
Pin It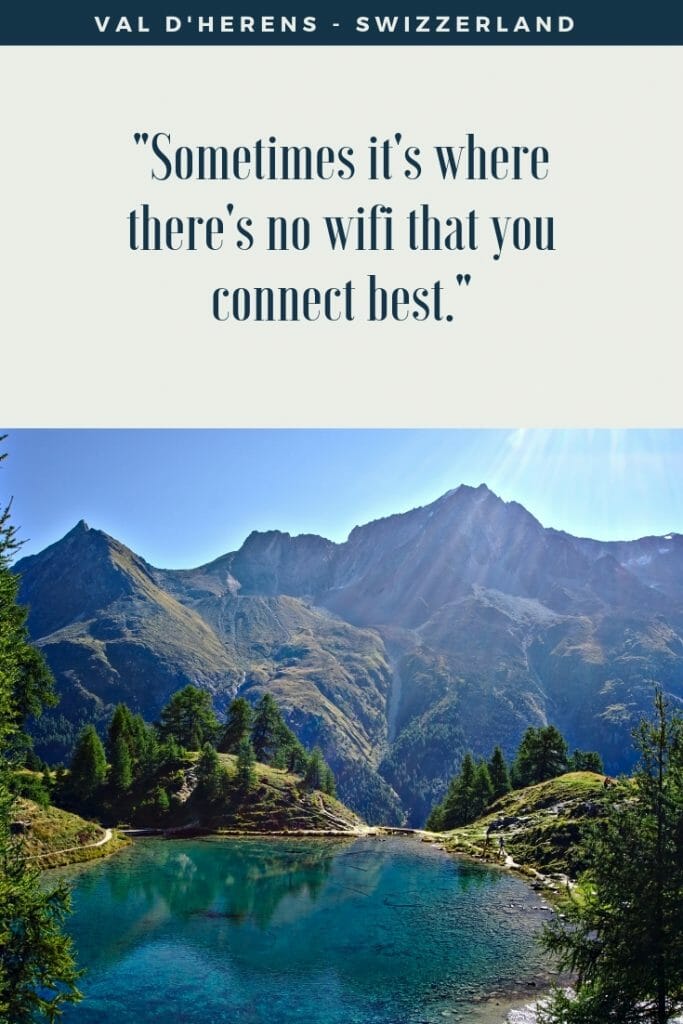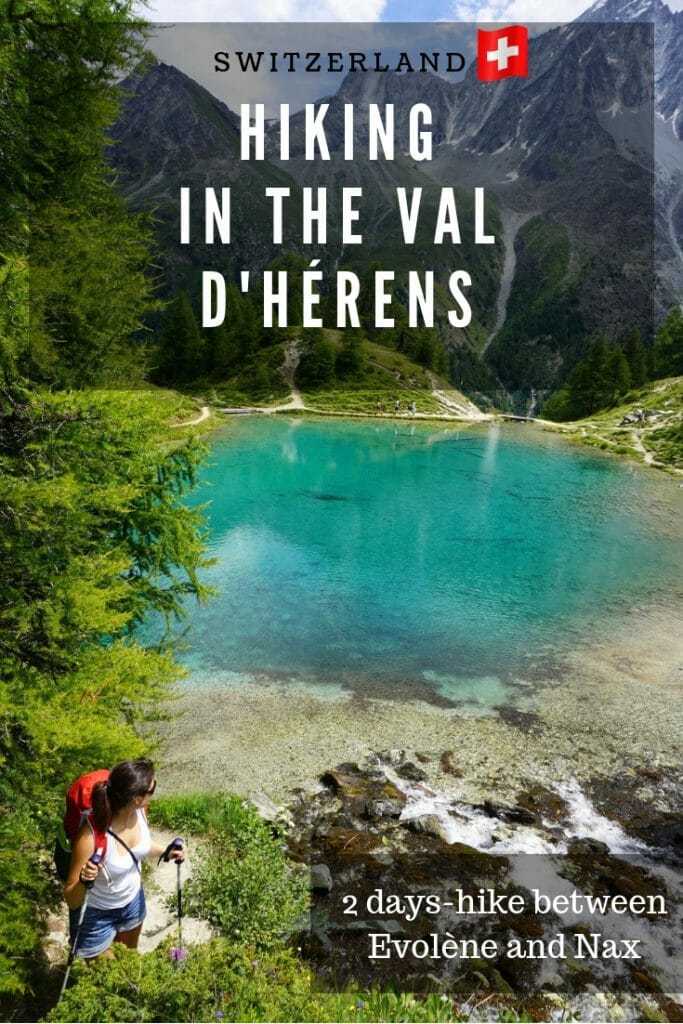 Please note that this article contains affiliate links. By using these links, you obviously do not pay anything extra, but we'll earn a small comission. Thanks for your support.