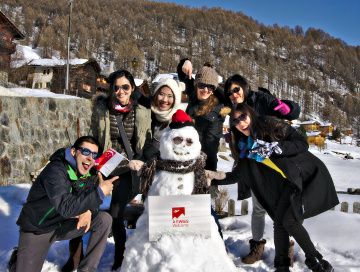 You probably remember! You gave us a big boost in February by voting for our video in the "a swiss welcome" contest. And thanks to you (Thank you again!), we were chosen to welcome the energetic Wei Ting and her friends from Singapore to Switzerland. The least we can say is that after seeing his presentation video, we knew we weren't going to bother during this weekend…
The principle of the adventure was very simple: To make our guests discover the Switzerland of our hearts. A Switzerland of traditions, of mountains. Show them our favourite spots that they would probably never have discovered on their own. Thus, we prepared a fantastic program for them so that their stay in Switzerland will remain forever engraved in their memory!
Come on, we'll take you with us and our friends from Singapore to discover some of our favorite spots in Switzerland!
Gift idea

Gift to offer to someone (or to yourself);) we recommend you the great books available from The Helvetiq publishing house:

Journées parfaites en Suisse: A guide to 25 urban adventures by locals. An original and authentic way to discover our beautiful Swiss cities through the eyes of those who live there
26 choses à voir absolument en Suisse: A wonderful book written by our friend Tatiana who runs the blog yapaslefeuaulac.ch. A book that will give you plenty of ideas to explore the most beautiful corners of Switzerland.
Novomonde discount: On the Helvetiq website, use the discount code "novomonde10" (without quotation marks) to get a 10% discount on the price of your order.
Welcoming our friends in Zürich
On the very day of their arrival in Switzerland, Swiss airline had given all guests from all over the world and their Swiss hosts a special welcome in Zurich. We had an appointment at the top of the Uetliberg (a small mountain overlooking the city of Zurich) to get to know each other to the sound of the Alps horns and around a good fondue.
Although the evening was really nice, our poor friends from Singapore were falling asleep on their fondue because they were so tired of jet lag. So we preferred to shorten the evening in order to better enjoy the rest of the weekend which looked quite busy.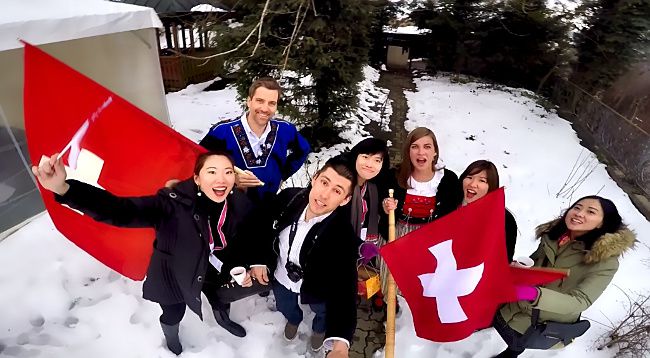 Towards Lausanne and Lavaux
The next day, we meet at 8:00 am sharp at the Zürich station to take the train to the city of Lausanne. Our friends already look a little better than the night before and are all excited to visit Switzerland. As soon as they got on the train, the selfie routine started. With Fabienne we play the game! It must be said that we were expecting it a little bit. 🙂
Why bring our guests to Lausanne? Fabienne grew up in this city and knows it like the back of her hand, but also because just next to the city is the Lavaux. Lavaux is a magnificent terraced vineyard classified as a UNESCO World Heritage Site. (This is really one of our favorite spots in Switzerland).
Visit of Lausanne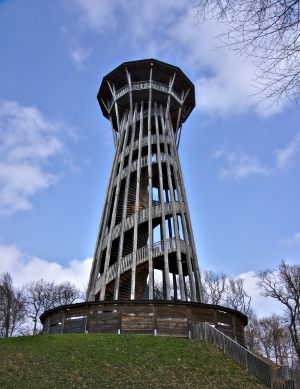 As soon as we get off the train, we leave our things at the station lockers. Then take the metro to the top of Lausanne (Sallaz stop) to get on the Sauvabelin tower.
From the top of this tower, in good weather, you have an absolutely spectacular view of the city of Lausanne and Lake Geneva. Unfortunately for us, this beginning of the day is a little misty but we don't lose hope!
As we climb to the top of the tower, we also notice that our Asian friends are not really used to walking. With Fabienne, we're starting to worry a little bit about our program for the next day (you'll see why 😉 )
Lausanne City Centre
From the tower, we descend to the centre of Lausanne via the old town and the cathedral. Our friend Wei Ting is an energy ball! Any occasion is good for a picture. Street art, macaroons and so on. For the lunch break, we stop for a panckae at the java café, an excellent place to eat in the old town!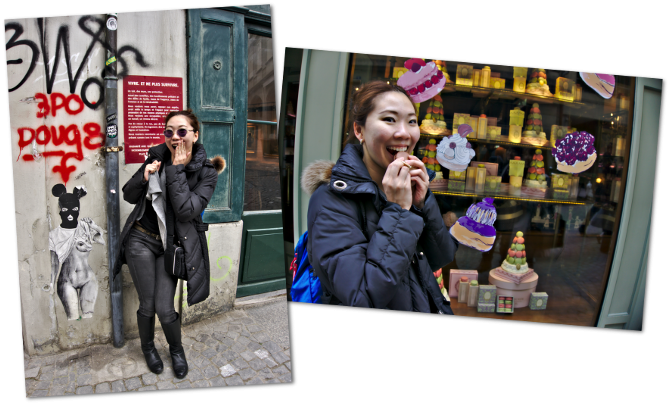 Stroll in the vineyards of Lavaux
Once our stomachs are full, we take the train a few minutes to the village of Grandvaux. It is located in the heart of the vineyards of Lavaux. We will spend the afternoon walking through the vines, taking stupid pictures, laughing and drinking an aperitif of course.
Despite the slightly covered weather, we were delighted to see how amazed our friends were by the terraced vineyards perched above Lake Geneva. By the way, if you are interested, we wrote a full article on this walk through Lavaux with all the useful information to help you.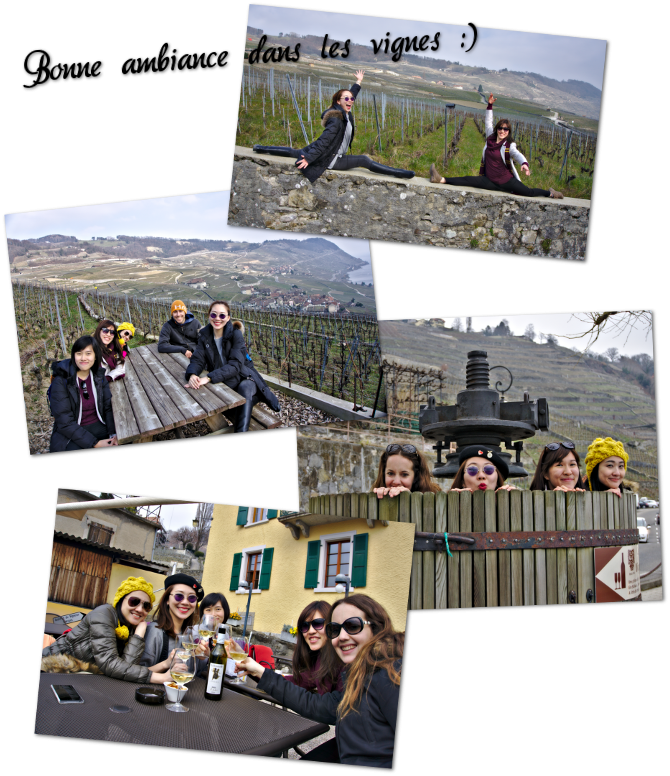 At the end of the afternoon, we take the train from the village of Epesses, this time to the Valais region and its mountains. We have a big surprise in store for our friends because we are taking them to the heart of the Val d'Hérens, to the small village of La Sage, at the foot of the most imposing mountains in Switzerland!
La Sage: Swiss mountains and traditions in the heart of the Val d'Hérens
When we asked our guests what they were thinking about when we talked about Switzerland, they answered us: The Matterhorn, Zermatt, St. Moritz, the toblerone (Swiss chocolate in the shape of Matterhorn 😉 )…
"By taking them to the small village of La Sage, we knew we would surprise them! "
The Val d'Hérens is not only breathtaking scenery at the foot of some of Switzerland's highest mountains such as the Dent Blanche and the Cervin. But it is also a timeless valley with Swiss traditions that are still very much alive. There are still some typical villages, a lot of calm and we are very far from what we can feel in places like Zermatt!….
Hotel in Les Haudères
We arrived at our hotel at night, so we were still saving all the surprise for the next day. And as if by magic, when we woke up in the morning, the weather was great! And then, I let you imagine the reactions of our 4 Singaporean city-dwellers to this show!
For the choice of our hotel we decided on l'hôtel de la Sage in les Haudères. This place is so close to my definition of heaven! This is not a luxury hotel, no! Here the watchword is charm and authenticity. In short, a perfect choice to introduce our guests to our beautiful Swiss traditions!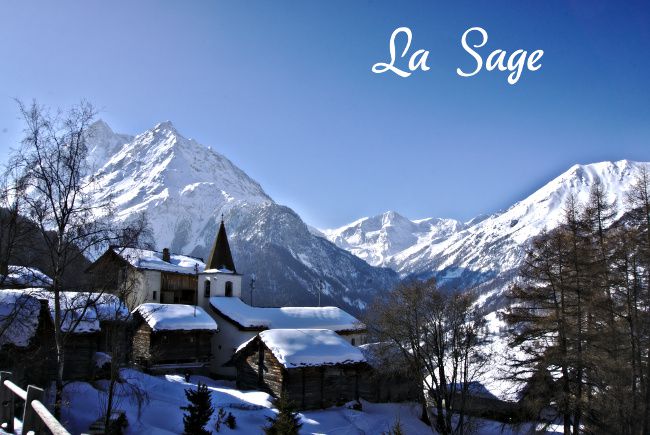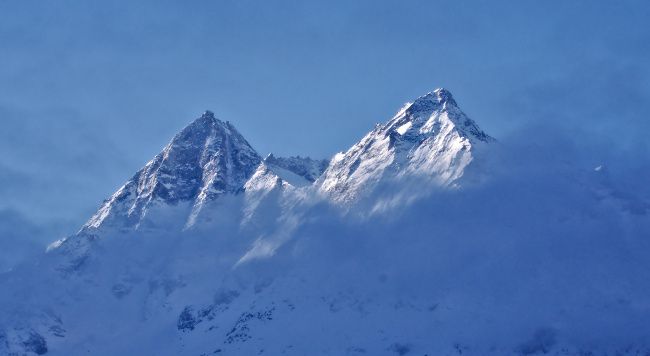 After a good breakfast, we explain to our friends that we take them on a snowshoe hike. As you were told above, we noticed that not all of them were very good hikers. We were a little worried about the snowshoe trip (even if we had only planned 4-5 kms)… But despite a little apprehension on their part, they all played the game! Excited to be able to walk for the first time in the snow and get so close to our beautiful mountains.
Heading for the Mayen de Bréona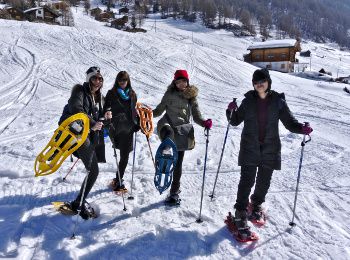 By following the wise advice of our friend Patricia from the chalet le Rucher, we opted for a walk to the mayens de Breona. We will come back in more details on this magnificent snowshoe hike in a future article! We put on snowshoes in the village of La Forclaz. We start with a good dose of laughs when our 4 girlfriends start walking awkwardly in their new shoes. 🙂
Then we start the ascent to the Mayens of Breona through a small forest. As expected, it's not easy for our friends and we take frequent breaks to let them breathe.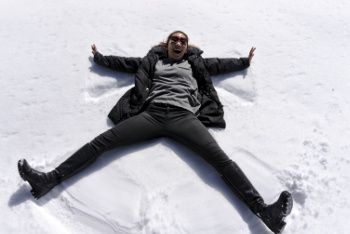 But despite the effort, they can't believe they have the chance to hike in such a place! Wei Ting even gave us a magnificent "Snow Angel" because she was so happy to walk in the powder snow. 😉
A splendid view of the glacier!
At the end of the climb, we suddenly leave the forest to reach the mayens of Bréona. Here you are rewarded with an absolutely spectacular view of the Dent Blanche and the Dent de Veisivi. Our friends can't believe they're here!
They were like children:). I think for half an hour they kept thanking us for taking them to that place! For us, it really remains the most beautiful moment of this weekend. We were so happy to see our friends with theire eyes full of stars in front of these landscapes.
"We know they'll probably never forget this day and we're just really happy to have contributed to it! "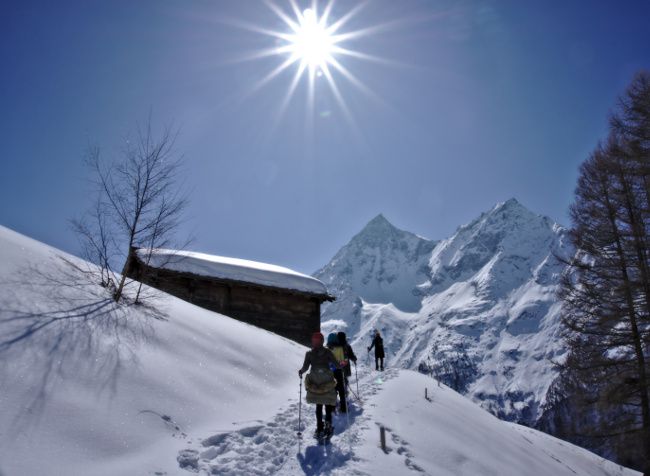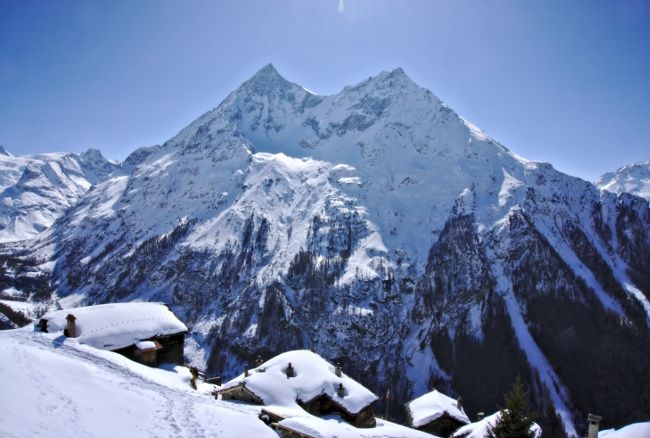 After a good picnic in this exceptional setting, we go down to the village of La Forclaz to enjoy this beautiful late afternoon on a terrace.
Raclette with wood fire
For the evening, we had another nice surprise in store for them! (again following Patricia's good advice). We took them to the village of Evolène to eat a raclette with a wood fire at the restaurant de la Paix. Another excellent address in case you are in the area!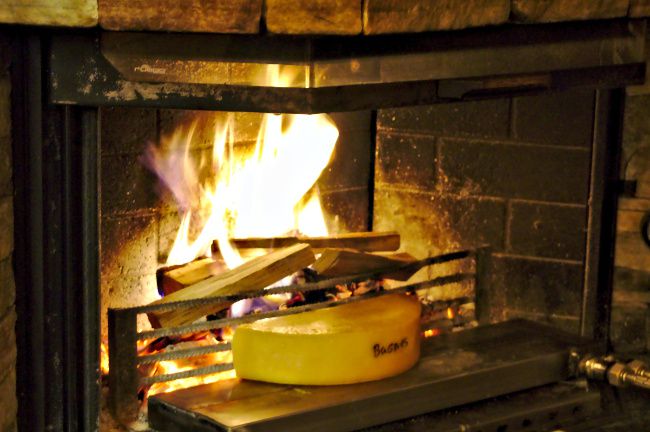 Direction Lucerne via Spiez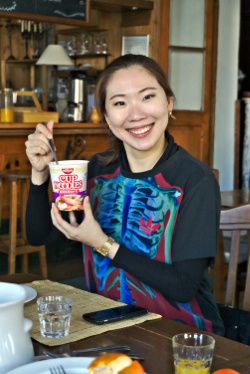 After eating a fondue, a raclette and a lot of cheese in less than 3 days, our 4 Singaporean girls decided to get a "Noodle soup" for breakfast. You should have seen people's faces at breakfast when they saw them eating their noodles ahah.
We then had an appointment at the end of the afternoon in Lucerne with a film crew for the Swiss International airline company. We took the opportunity to stop on the way in the small town of Spiez, located on the shores of Lake Thun.
This place has a lot of charm with its castle on the waterfront and the Bernese Alps in the background! For some reason, it is also not very popular with tourists. Don't ask us why!
After our short walk in Spiez, we go to Lucerne and separate from Wei Ting's 3 friends for our last day of travel. We then met the entire film crew who had prepared a crazy program for us for the evening and the following day!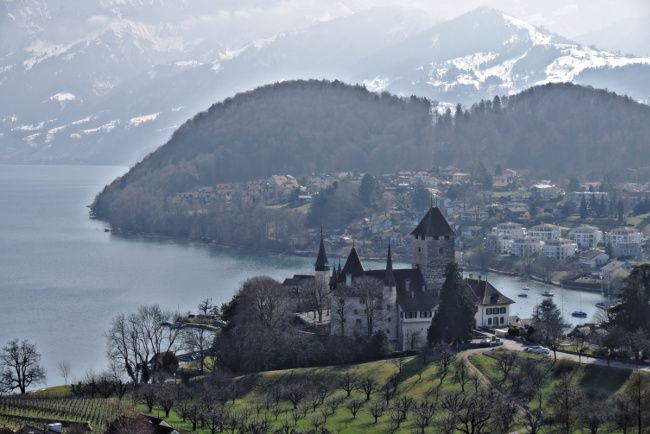 Sunset on Pilatus and marathon across Switzerland
The program that the film crew had concocted for us was crazy! One night on Mount Pilatus, visit Lucerne and Grindelwald. (the village to see the Jungfrau and the Eiger). All then passing through Bern for a few shots and then, finally Zürich. We didn't think it was possible to see so many places in one day and we finally understood how the Chinese must feel when they come to Switzerland. 😉
Ascent to Mount Pilatus
By the end of the afternoon, the weather had darkened considerably over Lucerne. So we take the cabin to climb the Pilatus without much hope of seeing anything at the top. And yet, once again we got lucky, a hundred meters from the summit: We're passing over the sea of clouds! Again, an absolutely magical moment. We have a 360 degree view with all the highest mountains in Switzerland rising above the clouds. It's almost like being on another planet.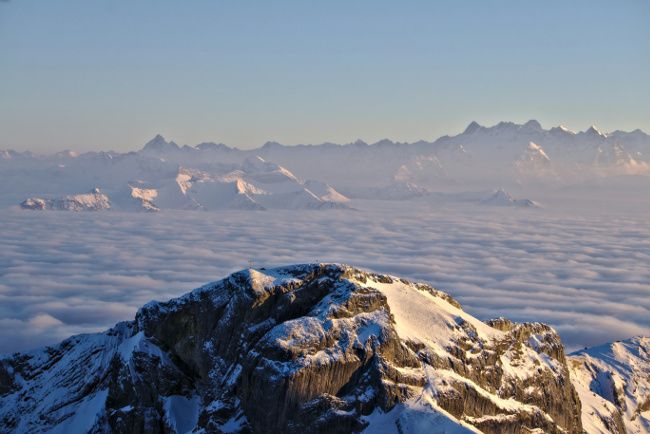 We hasten to put our things in our rooms to admire the sunset from the top. An absolutely awesome moment! The sun setting in the distance on this sea of clouds. We even bought ourselves a little whiskey to make it really crazy! (because yes, as there is a hotel at the top of the Pilatus, there is also a bar)… Whisky with a view 🙂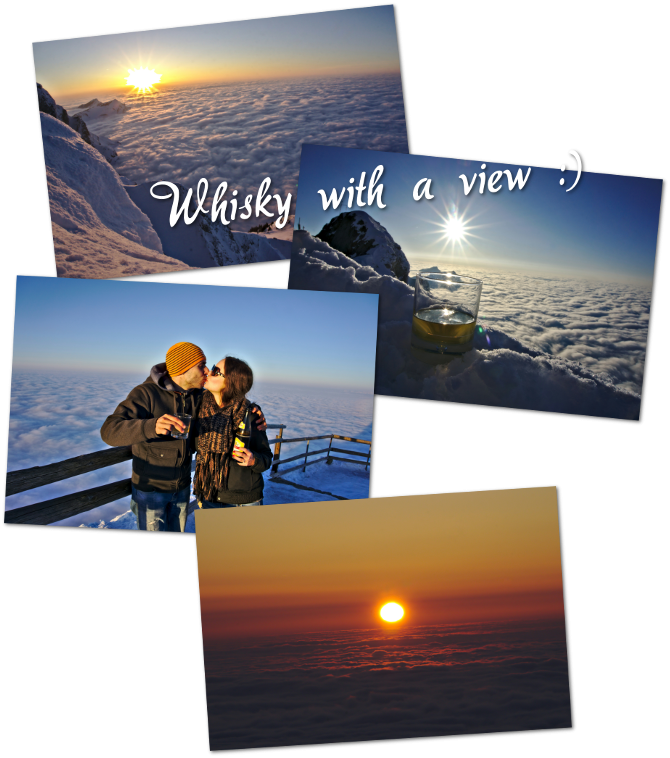 Shooting of advertising spots: a real marathon!
The next day, we start the filming marathon! We start at sunrise at the top of the Pilatus. It's kind of weird to have a dozen people constantly working around you. Even if it's not very pleasant and it cuts us off a little bit the flow, we play the game and repeat the scenes when the directors ask us to do it again.
After the Pilatus we go to Lucerne, then to Grindelwald where we will do a sick zip line (see video) with a view of the Jungfrau and the Eiger!
After Grindelwald, we go again to Bern and then to Zurich to finish this loonnngg day! In the end, we didn't really enjoy it because we spent most of the time in the car or remaking scenes that weren't working. But what is certain is that we will return to Grindelwald to explore the region more quietly. (It really looks beautiful)…
Upadate: we did pass by Grindelwald during our Via Alpina, and again: we loved it!
Video of our express trip to Switzerland
And the result of the video is pretty nice, don't you think?
After the last scene, we meet Wei Ting's 3 friends in a bar in Zurich to have a last drink and remember this great weekend before leaving.
In the end, what is certain is that we emerge from this experience with 4 new friends from Singapore. We really enjoyed introducing them to our Switzerland and we are already looking forward to discovering their favourite places in Singapore when we visit them. It must be said that they have told us so much about all their culinary specialities that we won't be able to wait very long before tasting this :).
Update 2017:
We didn't lie! Thanks to this Swiss contest we have made real friends! Since the publication of this article we have visited them as promised in Singapore. Find our adventurers here and here. 🙂
P.S. For Wei Ting, XF, Valerie and Yi Ping : It was such a pleasure to meet you ! We really had a great time and we can't wait to see you in Singapore. Take care !
Fabienne and Benoit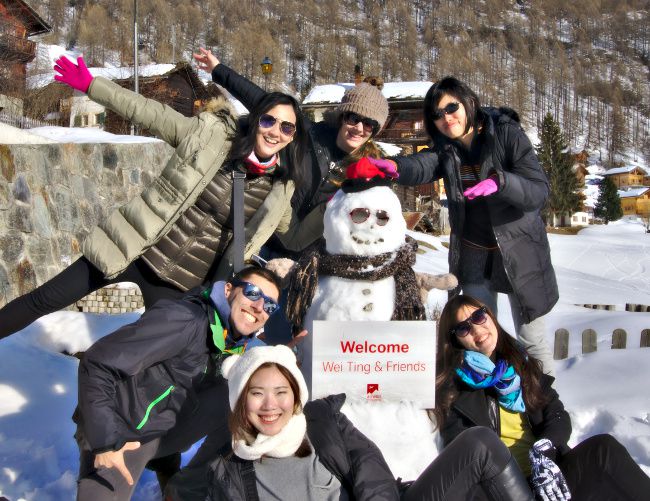 Swiss gift idea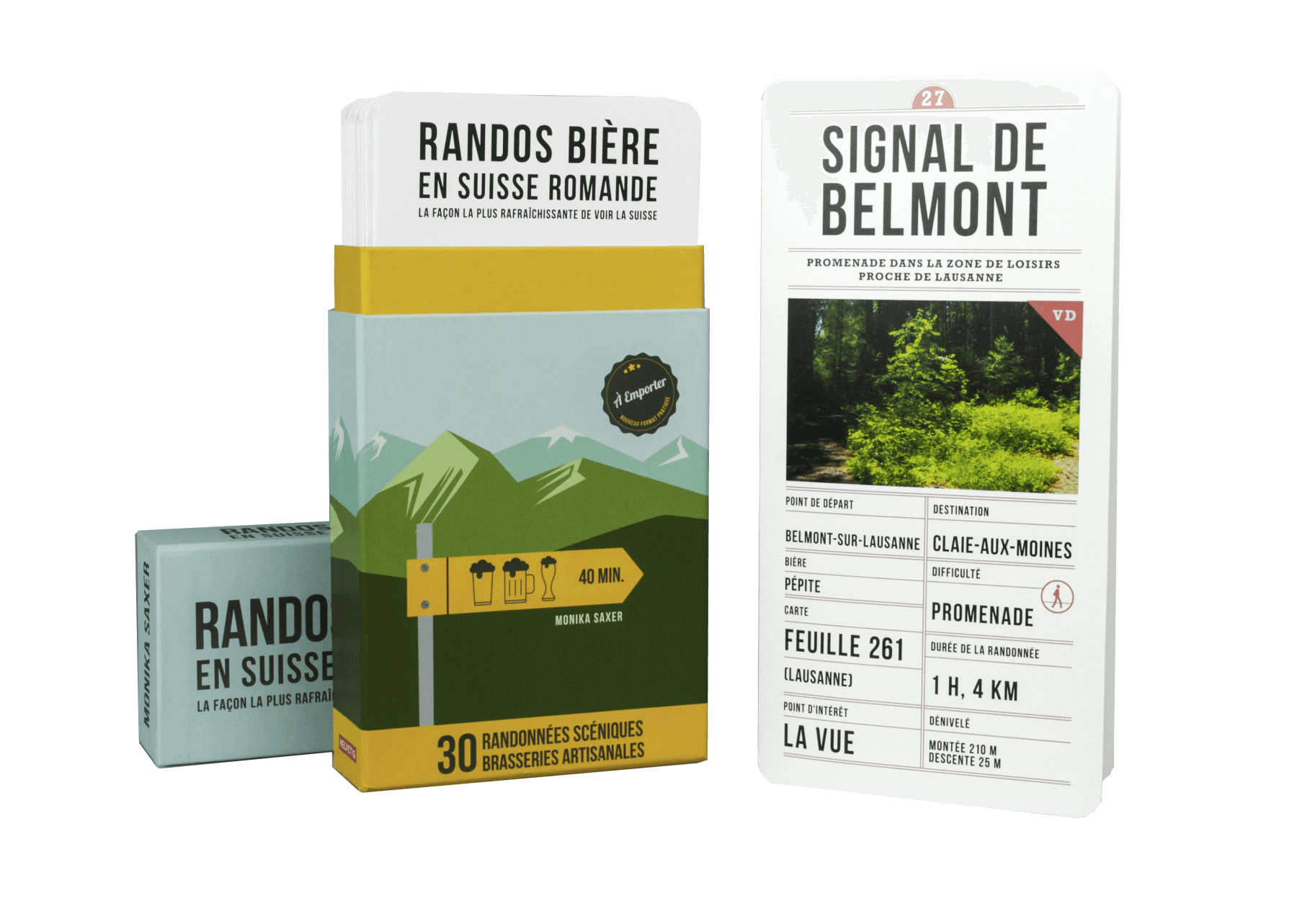 Do you like hiking? Do you like beer? 😉 Find at Helvetiq Editions a hiking guide unlike any other: les randos-bières en Romandie. 30 hiking ideas in Switzerland with the common point of ending in a local craft brewery.
NB: This article contains links to books that we love on partner sites. By buying a product via one of these links you will not pay more but we will receive a small commission. Thank you for your support. 🙂
Enregistrer
Enregistrer
Enregistrer