First destination of our trip around the world, Beijing has hit us a little bit like a bomb. As we told you in our first impressions of China, the beginning in this city were a bit overwhelming. Beijing's population continues to grow steadily but its population has almost doubled in 10 years!
The population of Beijing has now reached almost 22 millions people… how crazy is this??? I mean… we come from Switzerland… Our entire country has 8 million inhabitants! 🙂

But despite all this, we could really feel the rich historical and cultural past. Europe is often referred as "the old continent" but we must not forget that Europe remains quite "young" compared to China (except for Greece of course) and I'm not even talking about the United States. Beijing is by no means the oldest Chinese city. It only became capital during the Ming dynasty around year 1400. However, you will find incredible sites such as the Forbidden City, the Summer Palace or the Temple of Heaven, all dating back to this period… So here's what we liked (and didn't like) in the Chinese capital.
Pollution in Beijing
I start with this subject because it is really something you have to be aware of when you visit Beijing. Here, it is quite possible that the weather is fine but you do not see the sun, hidden by the "Smog". I really became aware of this when we first climbed the heights.
On bad days, you find yourself in a kind of mist and it is impossible to see more than 1 or 2 km away. This ambient pollution obviously has repercussions on health. As far as we were concerned, at the end of the day, we always had the impression that we had smoked a pack of cigarettes and felt dirty. So imagine the people who live there all year round.
It should be noted that this pollution is produced by the many coal-fired power plants and the enormous amount of traffic. This year (2013), pollution levels have reached levels well above WHO standards (up to 40 times higher), mainly in winter, when people have to use their heating systems. Just for the picture, on June 4th, it was definitely dark at noon! I don't know about you, but even for that reason alone, we could never live in Beijing. As a bonus, some more pictures in the pollution on Planet Beijing
Storm meets smog as Beijing goes dark at noon: http://t.co/m6NNTgz12H pic.twitter.com/mqxjMV6Crt

— Shanghaiist.com (@shanghaiist) June 4, 2013
The summer palace in Beijing
Let's move on to the more positive things. The summer palace, as its name suggests, was the summer residence of several emperors. It is in fact a huge park magnificently maintained with a large lake, several palaces of classical Chinese style; all on an area of about 3km². The gardens are really superb, we loved walking around there!
Info
How to get there: Line 4 of the metro to Beigongmen stop.
What we liked: As the park is huge, it is very easy to get away from the main mass of tourists and find quiet spots. If you have time, take a full day to visit the different temples and gardens, observe the people who do Tai Chi or dance. As far as we are concerned, we really enjoyed this day of walking and we strongly recommend this visit.
Price: We advise you to take the ticket at 60 Yuans (7 euros) which includes entrance fees to all the main sites of the park. You can enter the park for only 30 Yuans if you just want to relax.
Alternative: You can buy a fast lane ticket online (a bit more expensive of course, but much faster) 😉
The Forbidden City and Tian'anmen Square
These two monuments represent the geographical centre of the city of Beijing. The square is located south of the main entrance of the city and houses in its center the mausoleum dedicated to Mao, communist leader of China until 1978 (you will see pictures of him absolutely everywhere in China). It is 40 ha, which is quite impressive for the little Swiss we are. The Forbidden City and its 72 ha (more than 8000 rooms) is not too bad neither. It was the main residence of the Chinese emperors from the 15th to the beginning of the 20th century and is full of countless treasures.
How to get there: Take the metro to the Tian'anmen or Quianmen stops.
What we loved about the Forbidden City:
Tian'anmen Square is very impressive for its size and what it represents. It would be a shame not to take a look before entering the forbidden city. The latter is beautifully maintained and it will take you 4-5 hours if you want to visit most of the public areas. You will also have the opportunity to visit different exhibitions… We particularly recommend the one on Chinese clocks which is very impressive (we are Swiss after all;-)). Otherwise, when you leave, climb up the coal hill (if you still have the courage) to get a magnificent view over the whole forbidden city.
What we didn't like so much:
These two monuments are visited by a horde of Chinese tourists (especially in summer and during the first week of October). And well… chinese have special ways of doing things. So we got literally dragged in the crowd and were pushed around all day without really being able to find quieter places. So if you visit Beijing during the tourist season, don't expect to have a relaxing day. However, the visit is always worth it.
Price: The entrance to the city is 60 Yuans and you will be asked for an additional 10 Yuans to visit important exhibitions such as clocks or treasure (but it's worth it!).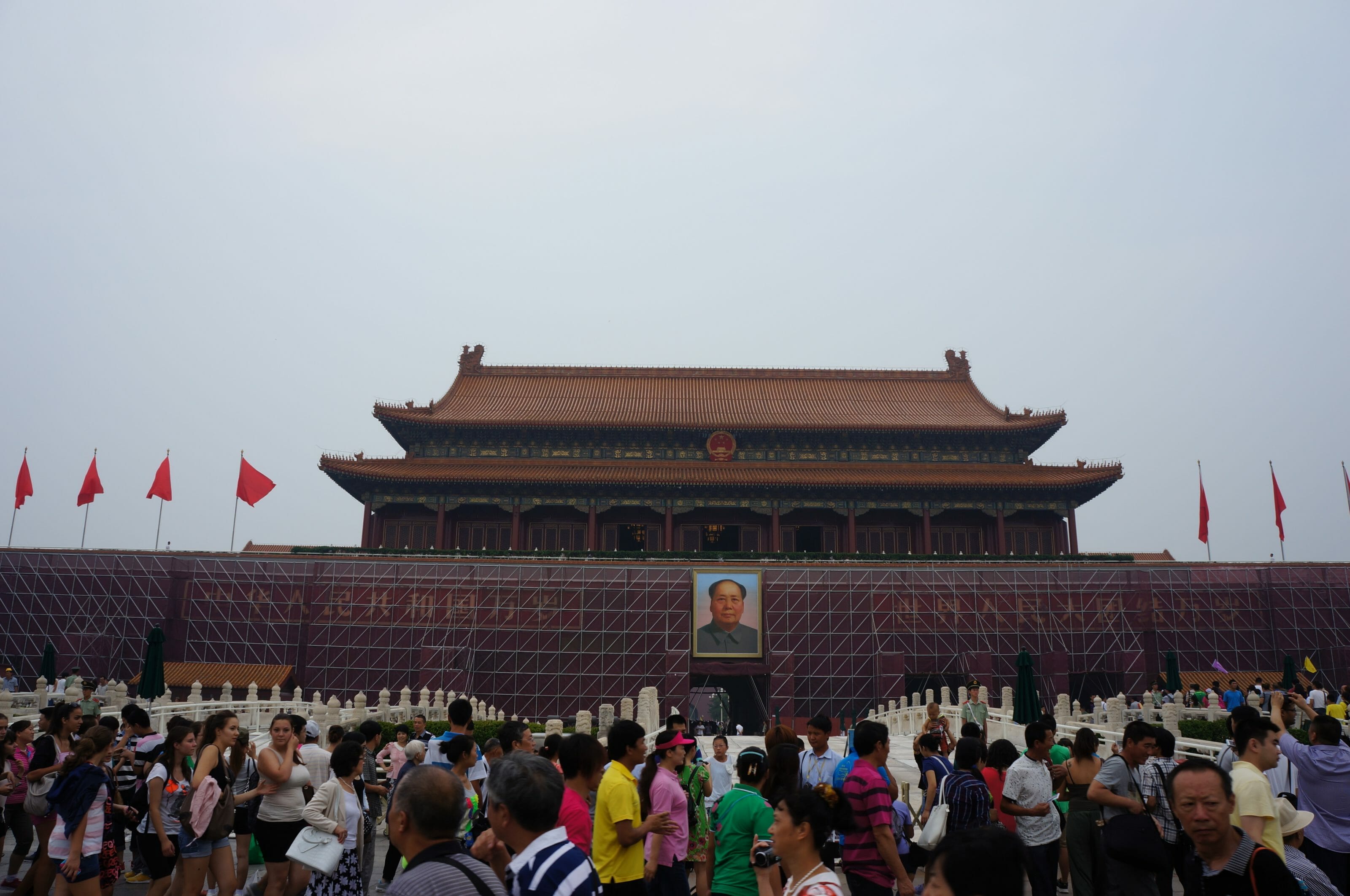 The Hutongs
A Hutong is a district with traditional Chinese architecture (low-rise houses with an inner courtyard). You will still find many of these neighbourhoods in the capital even if they tend to be replaced by buildings… and that's a shame if you ask me. These are often very lively neighbourhoods where it is nice to stroll around in the evening.
How to get there: You can simply slip the word Hutong to a Rickshaw driver who will probably take you to Quianmen or Qianhai (but there are others…). Otherwise the subway as always 😉
What we liked: These districts are very lively in the evening and abound with small street restaurants…. Trust your instincts to choose a place to eat. We've had both good and bad experiences. But generally, if the restaurant is full, it is because the quality is there ;-)…. We also liked the lighting with hundreds of red lanterns… it gives a crazy charm to these alleys.
What we did not like so much: Quianmen's Hutong has been partially renovated (in a somewhat too modern way for my taste) and has become a bit kitschy in my opinion. Get lost in the small parallel streets to find your happiness. Otherwise these districts remain touristic so beware of scams ;-)…. But well, nothing excessive on that side.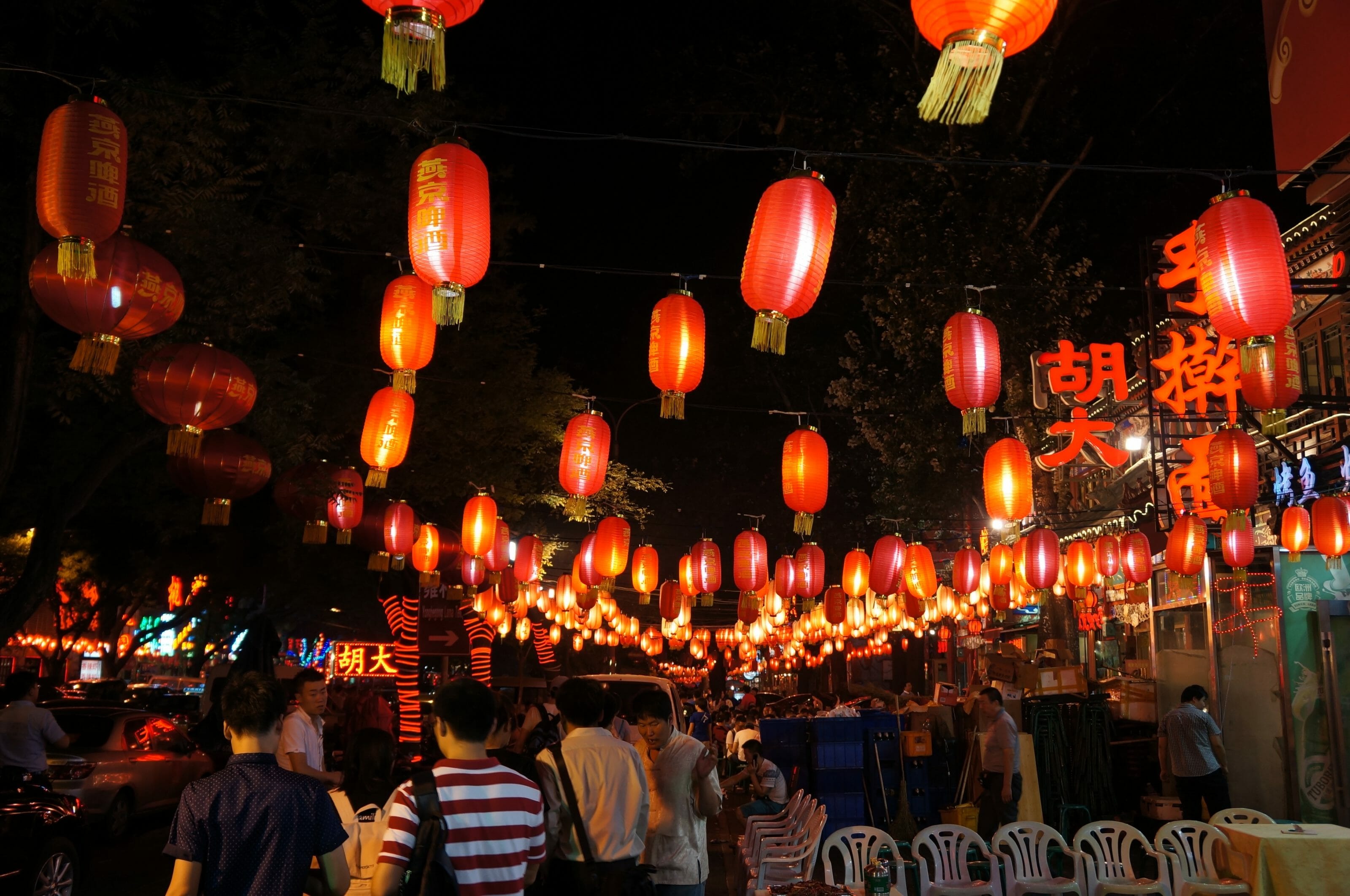 Other things to see in Beijing
The temple of heaven where emperors prayed for good harvests. We also visited this temple and we liked it (even if it is not a must). Buy tickets online
The great Wall is very close to Beijing and is often flooded with tourists. If you want to see it from another angle, we explain here how to walk on the Chinese wall without the tourists in this post.
The Olympic Park with its famous bird's nest stadium (or also the Olympic swimming pool in the "ice cube") is worth a look. Unfortunately, it has become a tourist attraction and you will have to pay to visit most of the interesting sites. But the architecture from the outside remains splendid.
Do you only have little time?

For our part, we have decided to make all the visits to Beijing independently by walking and subway. Let's face it, it's being done very well! However, it takes longer… in total we spent 4 days visiting Beijing, if you are short in time or simply prefer to have a guide and driver for the day, you can also take a tour.
This one
for example includes the Forbidden City, the Summer Palace and the Temple of Heaven. For just under 40€, this includes all the tickets, the guide, transport and a lunch.
See on GetyourGuide
Where to stay in Beijing?
We tested several low-cost backpacker style hotels and found everything (in terms of dirty toilets, we've already done a lot). The one that remains for us the best value for money is the hotel "Leo Courtyard". The toilets are ok, the free internet works well, the rooms are well designed for backpackers (safe, sockets, air conditioning…), the staff speaks more or less English and it is well located. All this for 55 Yuans (6-7 euros) per person in a 4-person dormitory. Even better but a little more expensive, the 365Inn offers dormitories for 4-8 people for 70 Yuans per night and double rooms for 280 Yuans.. Voir on Hostelworld
Infos

To search for a hotel in Beijing, we recommend that you visit the website of Hotelscombined. It is a search engine that allows you to compare several major booking sites such as Booking, Agoda, Expedia and many others. In short, the guarantee of the best price!
So that's it, that's all for our best tips for visiting Beijing… hopefully it will be useful for other travellers 😉
Otherwise you have other good tips to share about the Chinese capital?
Do you have a travel insurance yet?China, like many other countries in the world, requires a visa to enter the country. In order to obtain the precious sesame you need to be able to prove a certain number of things (accommodation reservations, exit ticket from the country).
One of the essential points for obtaining a visa is also the fact of having travel insurance. If you don't have insurance yet, we'll let you come and have a look at our selection.
NB: Please note that this article contains affiliate links to partner sites. If you buy a product on one of their sites you will not pay more but we will receive a small commission. This will help us to keep this site alive. Thank you! 🙂