If you read us from time to time you will have probably noticed that the figures are a little bit our hobby, especially mine (it's Fabienne who writes to you). When travelling I have this little tendency to always want to write everything down…. Whether it's our expenses (you can find all our articles on budgets here), the number of beers consumed, but also all kinds of useless but funny stuff.
Thus, just so that all these figures are not for nothing, here is a small article almost 100% about numbers from our adventure on the trails of the Via Alpina in Switzerland.
If you want to find all our articles on our crossing of Switzerland on foot we give you can go to this page.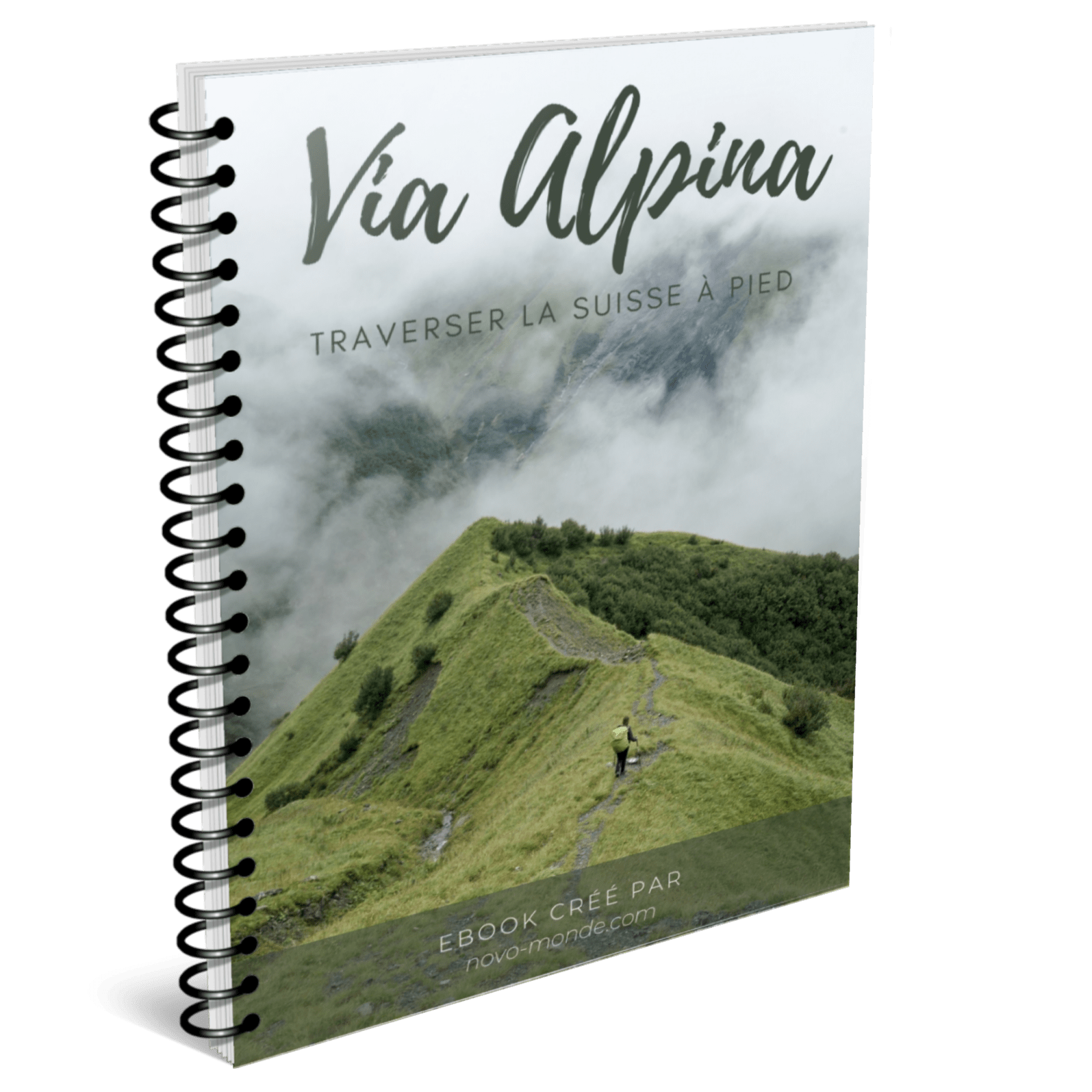 Our ebook!Are you preparing the Via Alpina for this summer? In the spring of 2020 we published an ebook that should please you. 🙂 More than 100 pages dedicated to this magnificent hike through the Alps. From the different stages of preparation, safety tips, the list of campsites to our detailed daily itinerary (with maps and GPX files to download): everything is there!
Find more information on the ebook here
If you prefer to have our ebook in epub format (for your e-readers), you can also buy it directly on Fnac/Kobo or Apple books (Then, if you want to get the GPX files of the Via Alpina, contact us by email at contact[at]novo-monde.com with your order confirmation).
The Swiss Via Alpina: Key hiking figures
It's funny because we can't remember which one of us had the crazy idea of walking across Switzerland first (but it must have been Benoit if you ask me). 😉
Anyway, as I told you in my article where I was giving my first impressions right after completing the hike, I never thought I would have reached the end of such an adventure (or at least not by respecting the official schedule). But in the end everything went extremely well.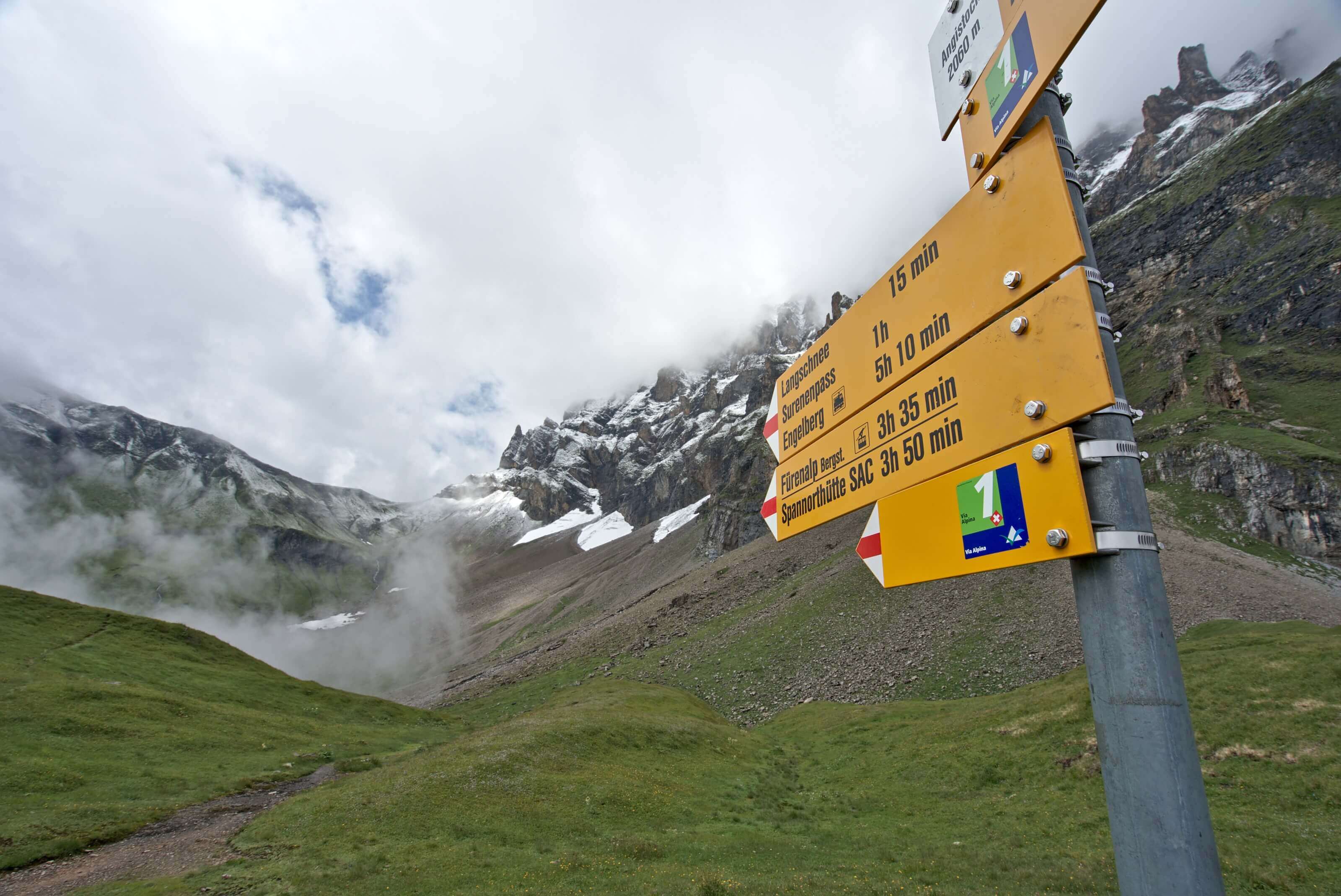 But what exactly is the Via Alpina? So the long version is a hike from Trieste to Monaco via Slovenia, Austria, Liechtenstein, Switzerland and France. In Switzerland it is indicated by the small signs with the number 1.
Small players, we decided to follow only the Swiss route, more commonly referred to as the Green Route (with an extension to Montreux).
Basically looks like this: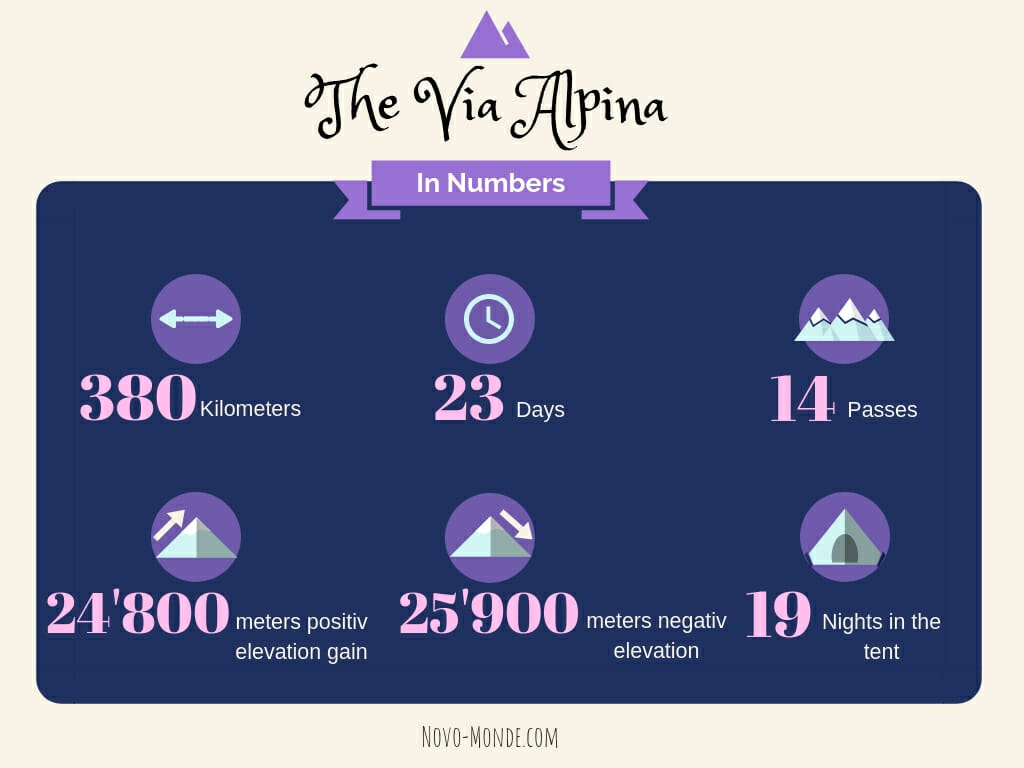 In the end we will have quite respected the official stages since we did 19 days of walking (even if we walked a little more some days and a little less others).
We are preparing a nice surprise for you for the exact itinerary, but if in the meantime you already want to get an idea, you will find all the official stages as well as the altitude profiles on the official Swiss Rando website.
Our Video from the Via Alpina
Before moving on to the figures, here is a small preview in pictures….
Note: english subtitles are available

Via Alpina budget: How much did we spend?
It's time to count! We kept our accounts all over the world, so there was no reason why we shouldn't do the same during the Via Alpina.
In total, over the 23 days of our Via Alpina we spent a total of 2223 CHF, which corresponds to 1929€ for 2 people, or a daily budget per person of 43€.
Let's face it, this budget is not the right one for a trip to Switzerland, but for an autonomous hike in Switzerland alternating hotel, campsites and wild camping.
The following image is in french… This is more a visual representation of where we spent our money.
FYI: Courses = groceries / Resto = Restaurant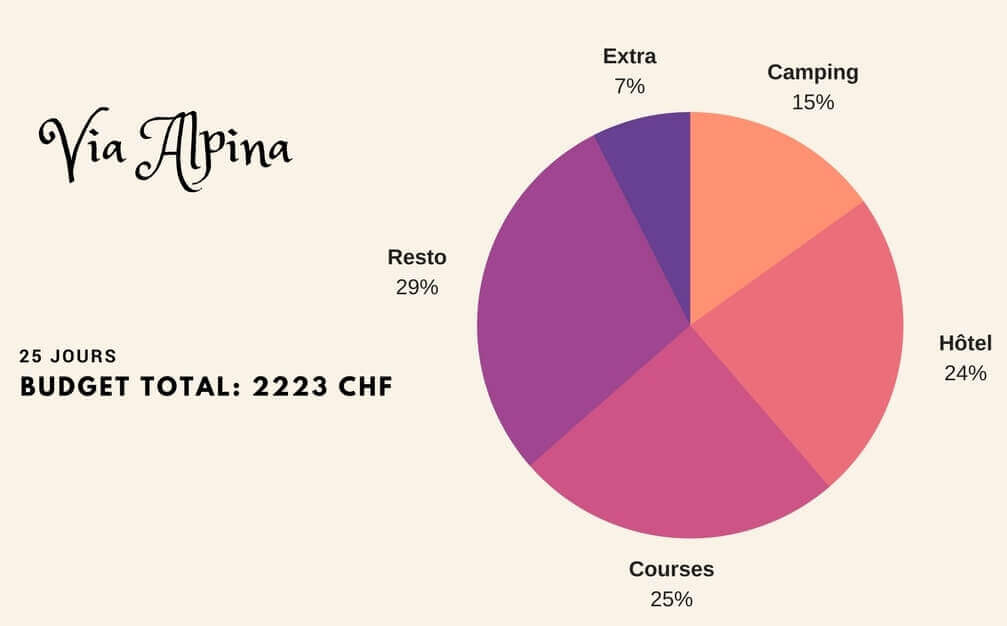 However, there are a few comments:
This budget includes absolutely all our expenses and is for 2 people. Under Groceries you have to understand all the purchases made in supermarkets and mountain pastures for our picnics and meals that we have cookedThe extras include things like buying hats, laundry at campsites, beers, etc.
During this Via Alpina we certainly paid attention to our expenses but we didn't try at all to keep the costs as low as possible. More than 500 CHF were spent in restaurants (restaurants are expensive in Switzerland and we like wine… :))
The VERY capricious weather of the first week pushed us to spend more nights in hotels than expected. Of 7 nights spent in bed, 5 were during the first week….
Accomodation on the Via Alpina
On this Via Alpina we tested different types of accommodation: inns in villages, mountain pastures, campsites but also a few nights in Bivouac. If you want to do the Via Alpina here is a list of all the places where we slept (you will notice that we took breaks at some places, this is the reason why we spend sometimes 2 nights at the same spot):
D.0 : Camping in Bad Ragaz / 43,2 CHF for 2 people and 1 tent / website
D1: Bivouac Weisstannen pasture / 0 CHF
D2: Hôtel Sonne in Elm / 48 CHF per person (dormitory, breakfast included) / See on Hotelscombined
D3: Manser B&B in Linthal / 50 CHF per person in a double room, breakfast included / See on Hotelscombined
D4: Klausenpasshöhe / 39 CHF per person (dormitory, breakfast included) / website
D5: Hotel Krone Attinghausen / 30 CHF per person (dormitory, breakfast included) / See on Hotelscombined
D6: Blackenalp Pasture / 40 CHF per person in dormitory with dinner and breakfast (amazing deal!) / No website, to book call +41 41 637 04 26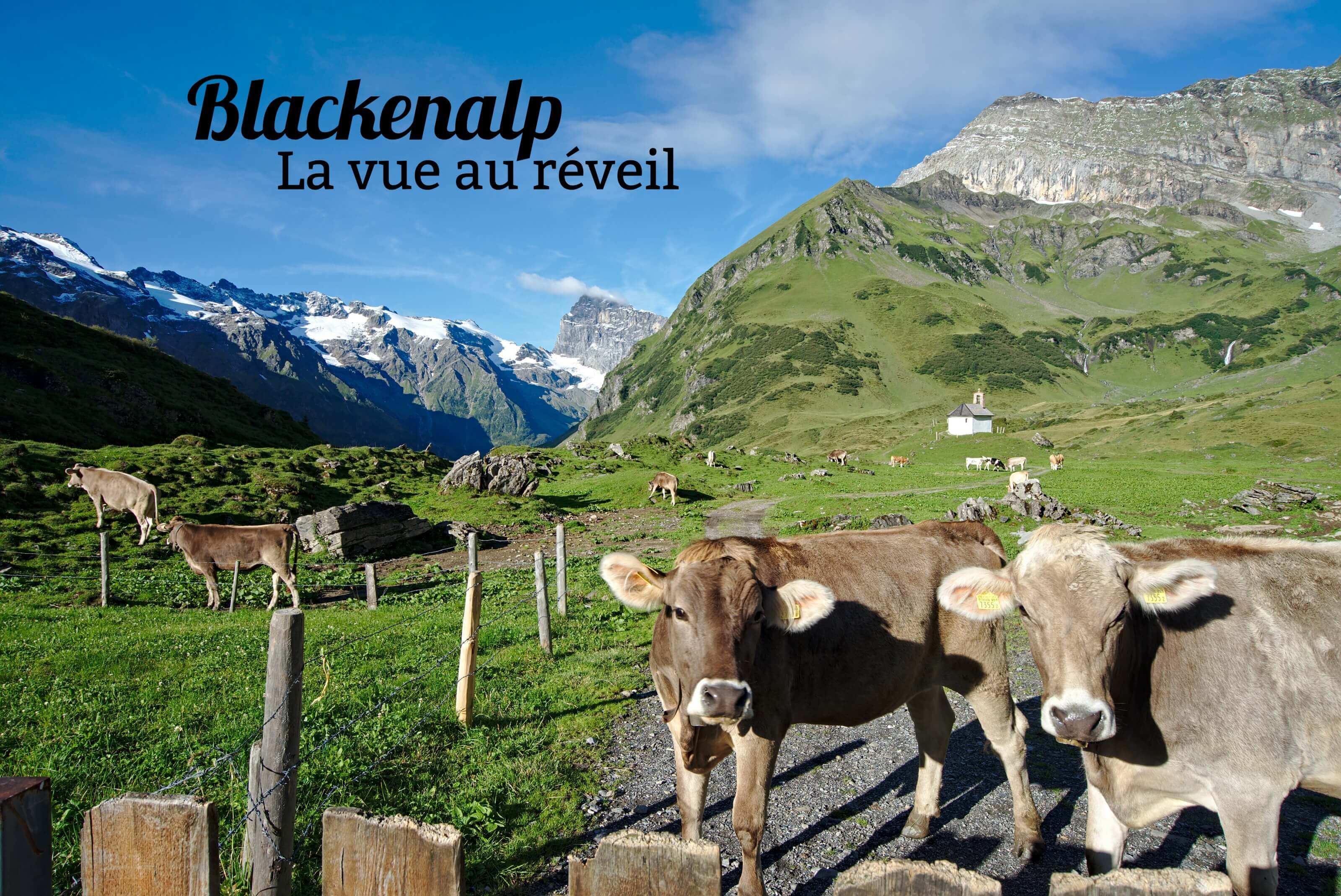 D7 & D8: Camping Engelberg Eienwäldli /41.5 CHF per night for 2 people with 1 tent (showers cost extra – 1CHF / minute) / Website
D9: Bivouac Tannensee / 0 CHF
D10: Camping Balmweid Meiringen / 30 CHF per night for 2 people with 1 tent
D11: Camping Gletscherdorf Grindelwald / 39 CHF per night for 2 people with 1 tent
D12 & D13: Camping Jungfrau Lauterbrunnen / 35 CHF per person (dormitory)/ See on Hotelscombined
D14: Bivouac Grisalp / 0 CHF
D15: Bivouac Oeschinen lake / 0 CHF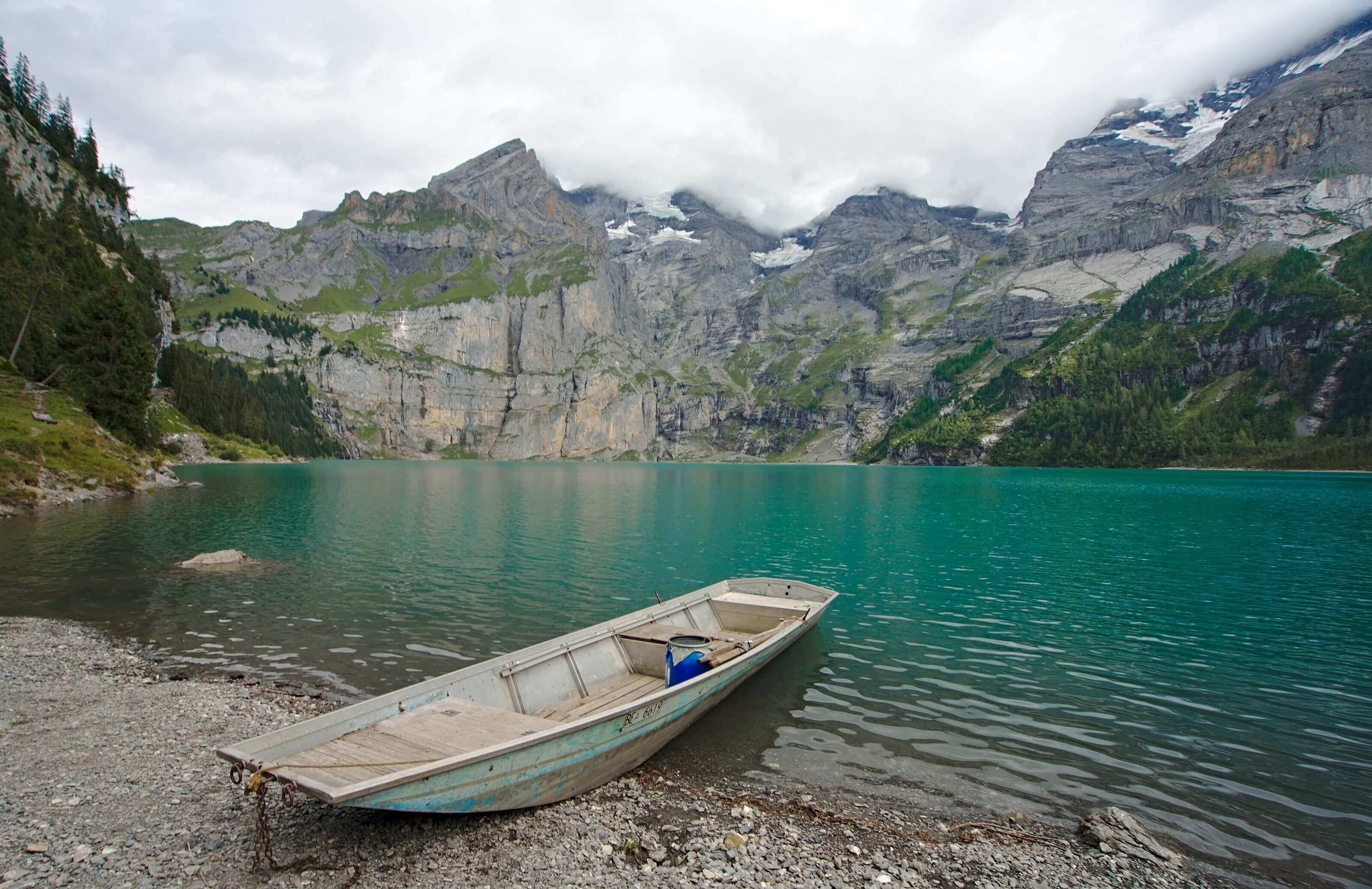 D16: Camping Rendez-Vous Kandersteg / 38 CHF per night for 2 persons and 1 tent/ Website
D17: Camping Bergblick Adelboden / 29 CHF per night for 2 persons and 1 tent / Website
D18 & D19: Camping Seegarten Lenk / 23,5 CHF / per night for 2 persons and 1 tent / Website
D20: Camping Bellervie close to Gstaad / 24 CHF per night for 2 persons and 1 tent / Website
D21: Bivouac l'Etivaz / 0 CHF
D22: Bivouac Hongrin lake (great spot just next to the dam) / 0 CHF
D23: Night under the stars at Rocher de Naye / 0 CHF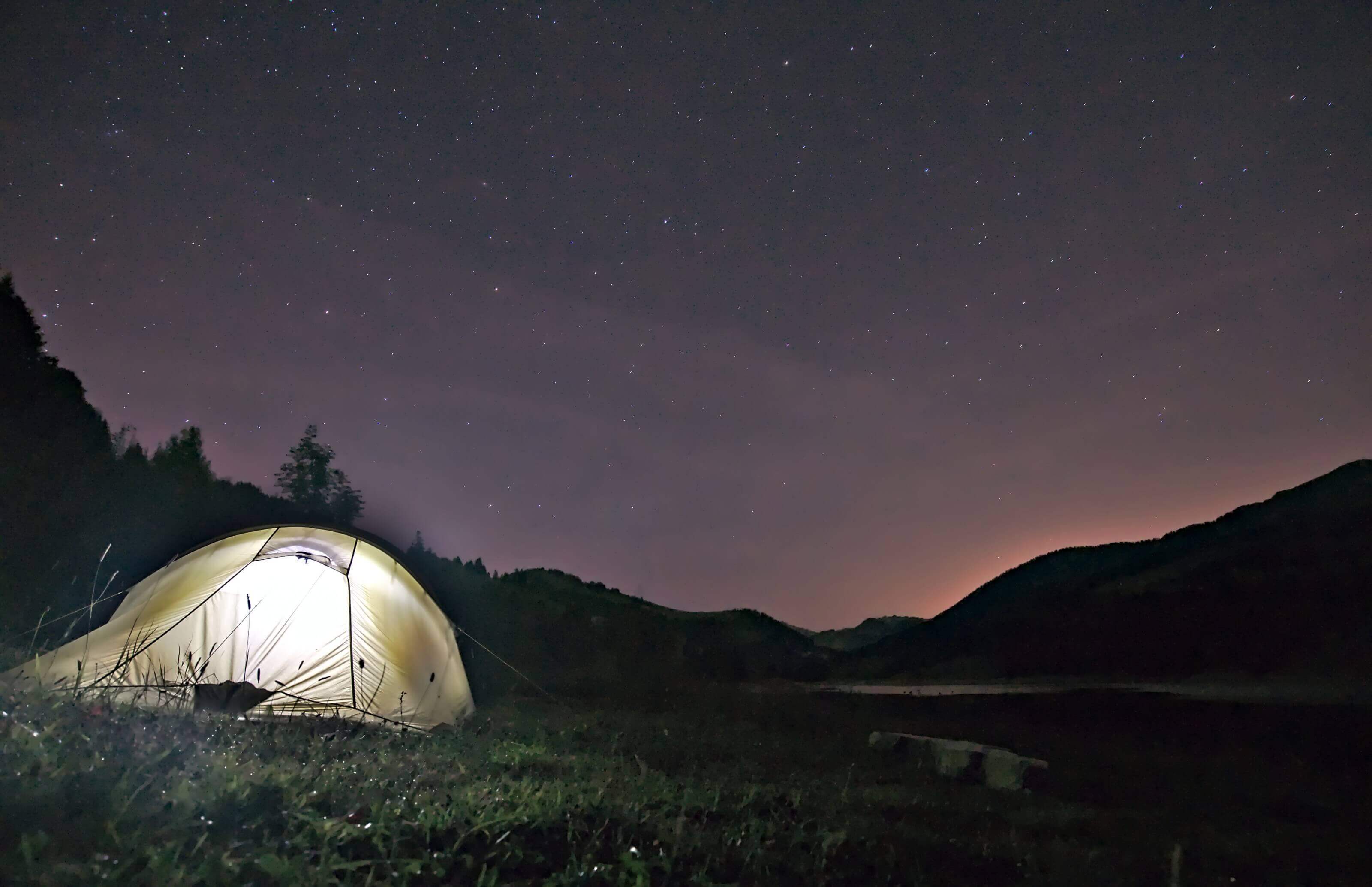 Via Alpina: Map
To help you plan a little bit, we have prepared a map with our itinerary. It does not always strictly follow the via alpina route (sometimes we have made mistakes and sometimes we have chosen to make a small detour to admire the view).
We have placed all our accommodations so that you can better locate yourself (it can be useful to zoom in to read better)
Note: to download the track on AllTrails (over 30 formats available), simply create an account (free). To have access to the offline maps in the application, switch to AllTrails+ (29,99€ / year)
Bonus: By going through this link, take advantage of a 30% discount on the first year.
Bivouac in Switzerland: The rules to respect
During this via Alpina we spent 7 nights in a bivouac. What we mean by bivouac is actually more what one would call a wild camping experience. Because normally, the notion of bivouac implies that there is no tent, but only a temporary shelter like a tarp.
In Switzerland the rule is relatively vague to be honest. Basically, bivouac/wild camping is nevertheless very well tolerated in our beautiful mountains.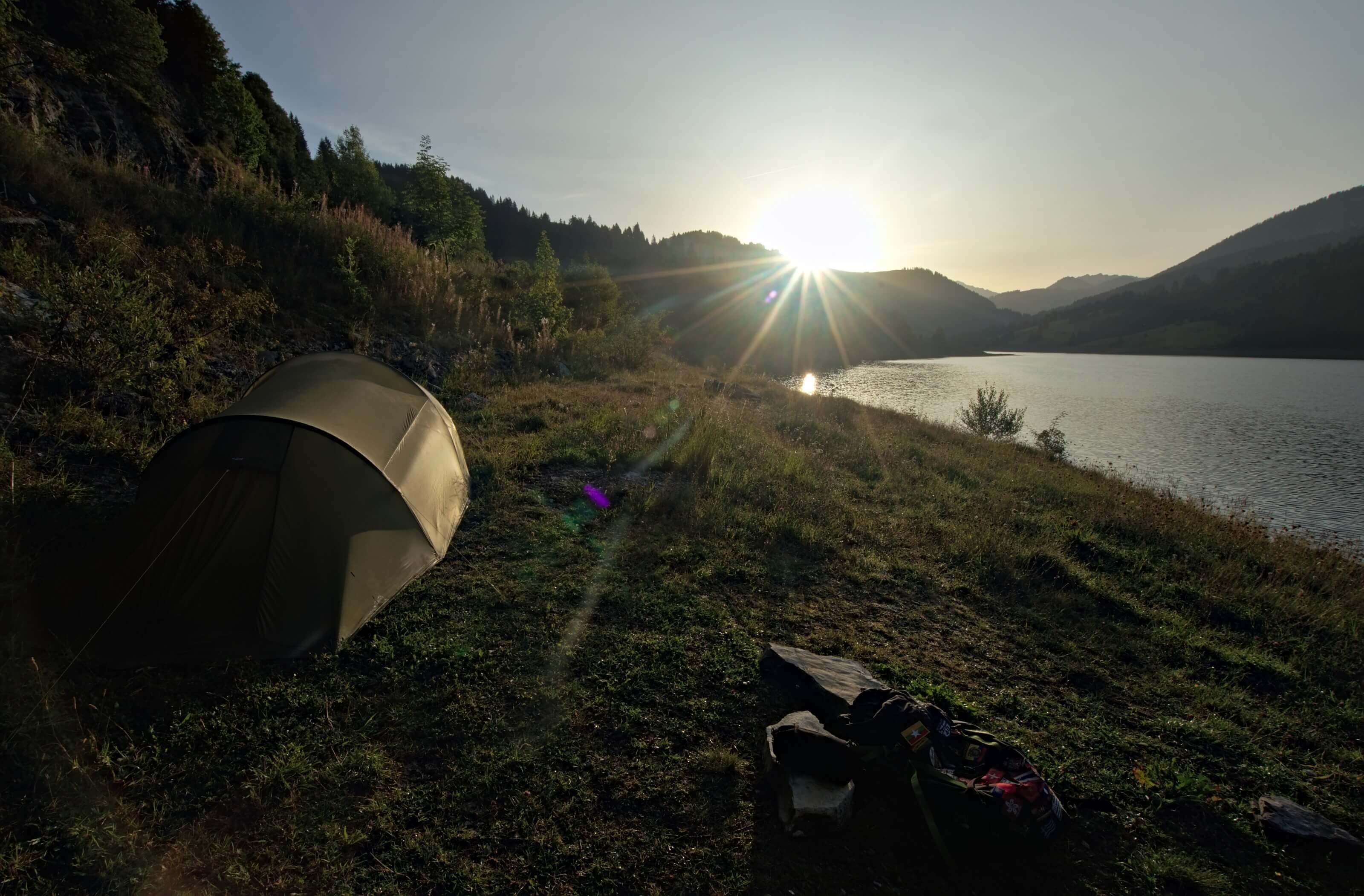 There are, however, some exceptions…. In Switzerland it is forbidden to stay overnight:
in the swiss national park
In federal franc districts
some natural reserves
In wildlife protection areas (especially during the breeding season)

In general, it is always better to be located above the treeline of the alpine meadows. It is also important to remember that bivouac/ wild camping is not camping as such, eh! It is advisable to set up your cozy little nest just before nightfall and to pack up after sunrise (so forget about sleeping in!). Besides that, it is of course necessary to respect the location and to leave the place as you found it by leaving absolutely no trace.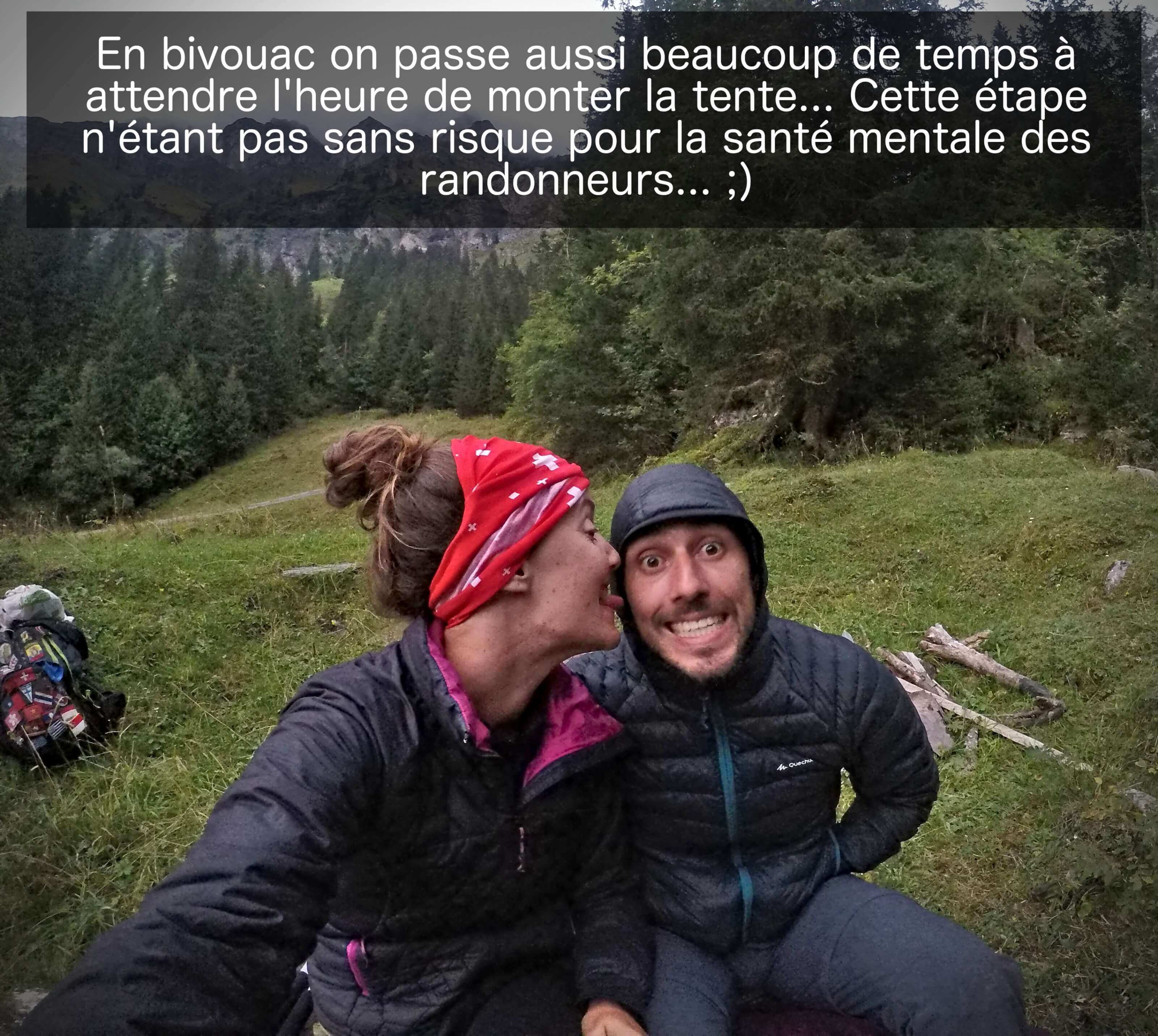 It should also be noted that in Switzerland there are many mountain pastures. If you plan to spend the night near a mountain pasture or hut, it is recommended to always ask the farmer or the hut's guardian for permission (it will also avoid waking you up at dawn because you have put your tent on the road used by cows to go to the pasture) 🙂
At each place where we pitched the tent we had previously asked the permission of the people in the vicinity. We have never been refused to settle down, on the contrary! Some farmers even offered us cheese and presented their farm a little bit.
If you want to know the list of our equipment we invite you to visit our special abotu hiking gear for the via alpina.
Food / Beverage for hiking
wraps…
During our via Alpina we shared our adventures live through stories on our Instagram account (by the way, if you don't follow us yet it's bad… very bad even… but you can catch up by clicking here);)
Anyway, on Instagram we had a lot of feedback on our stories. One thing that surprised us was that we received many messages in "Wow, too beautiful! The landscapes make us dream too much… On the other hand, your meals are a bit of a mess, aren't they?" 🙂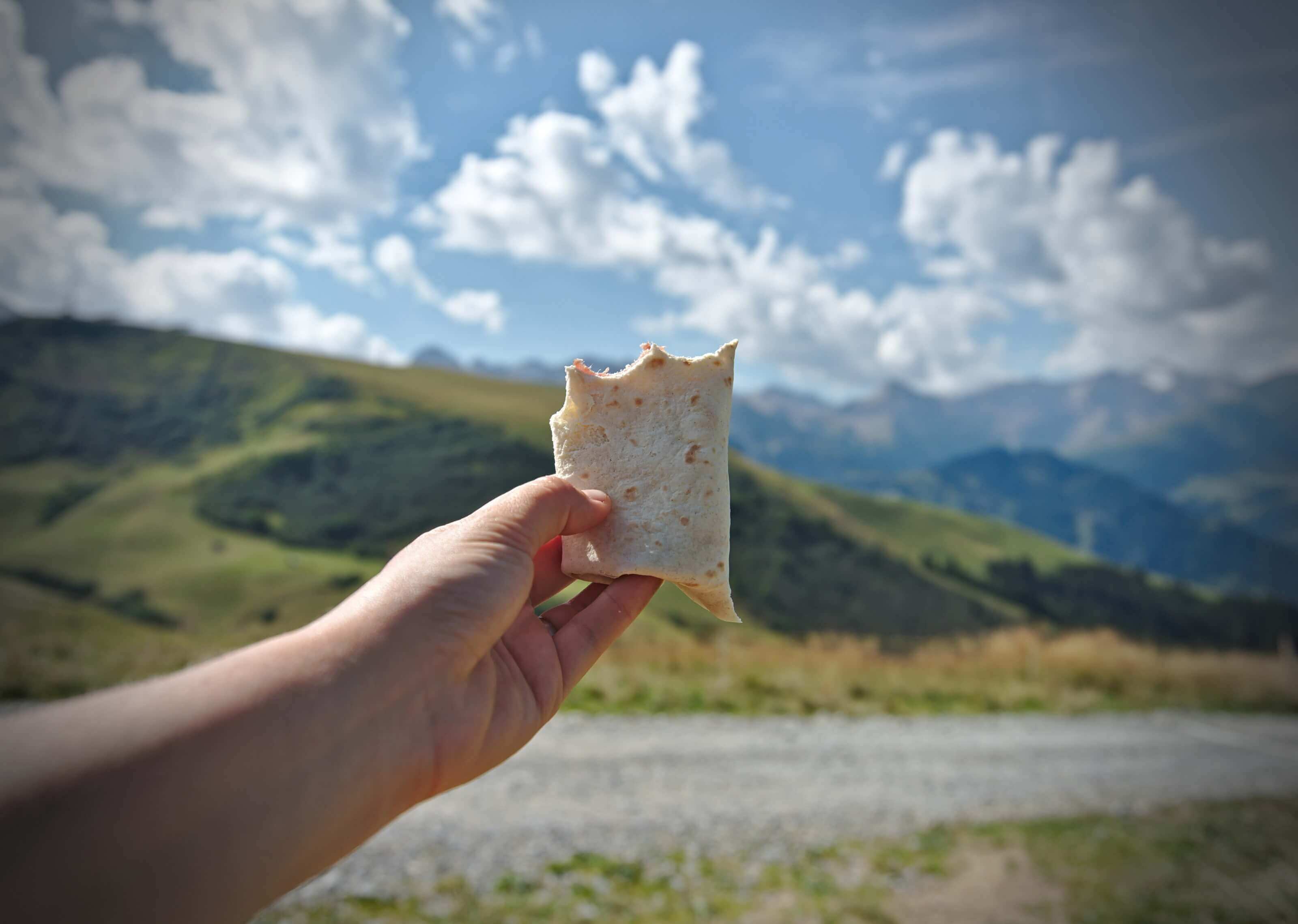 Haha then certainly we are not gourmet chefs, but we didn't think that our wraps would provoke so many reactions. Because yes, when hiking we tend to eat only wraps at lunchtime.
But why? Well simply because wraps have an excellent calorie/weight ratio and they can be kept well without drying out (and it's a good alternative to rye bread). And let's face it, wraps are not that bad and it has the great advantage of going with a lot of things (at least according to us) 😉
Water: Long live Lifestraw!
We already told you about it in our article where we presented you our equipment for the Via Alpina, on this trip we left with 2 Lifestraw bottles that we bought at the beginning of the hiking season. Quite frankly, we sincerely wonder why we didn't buy these bottles sooner! For the hike it's just PERFECT!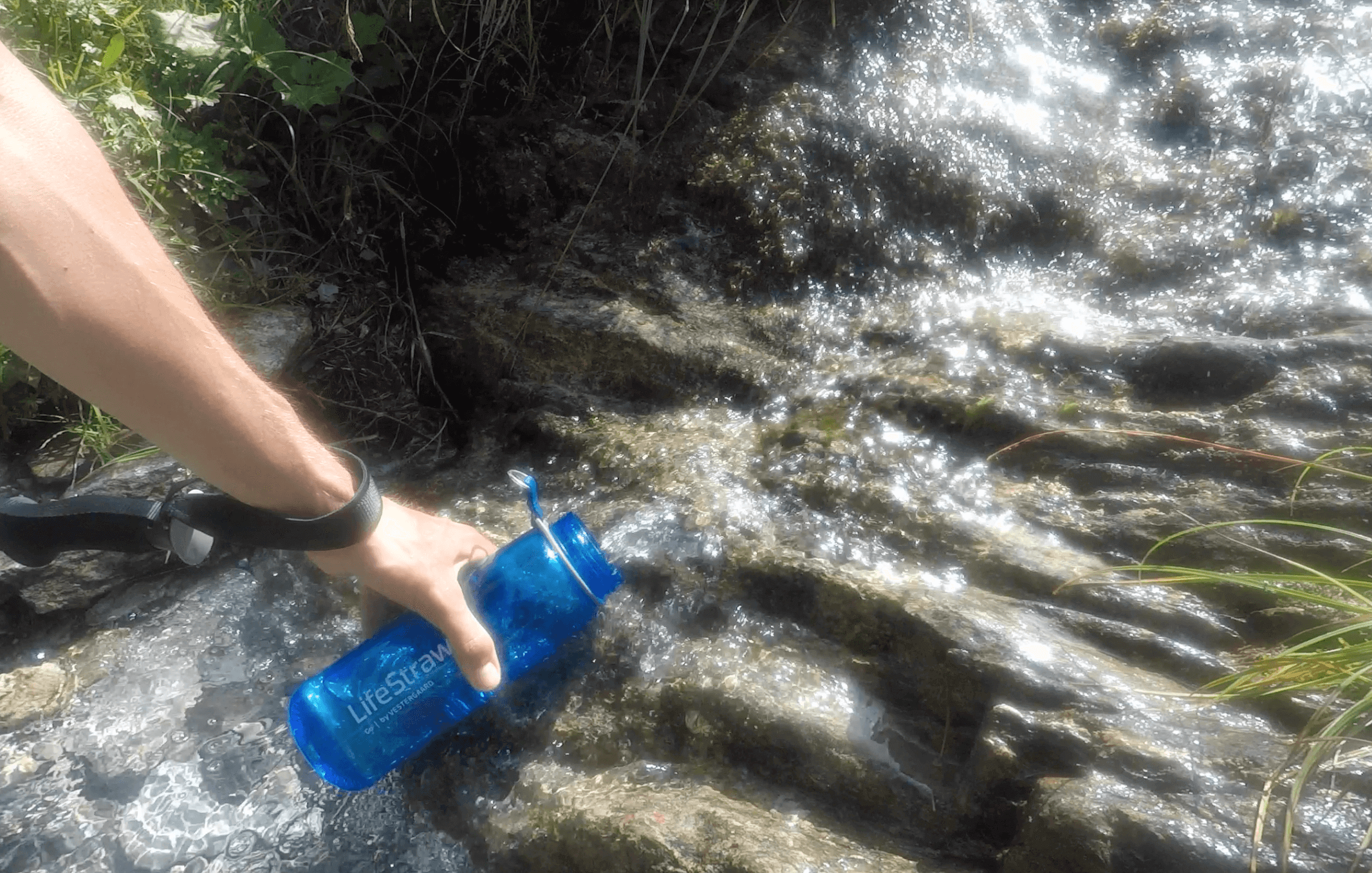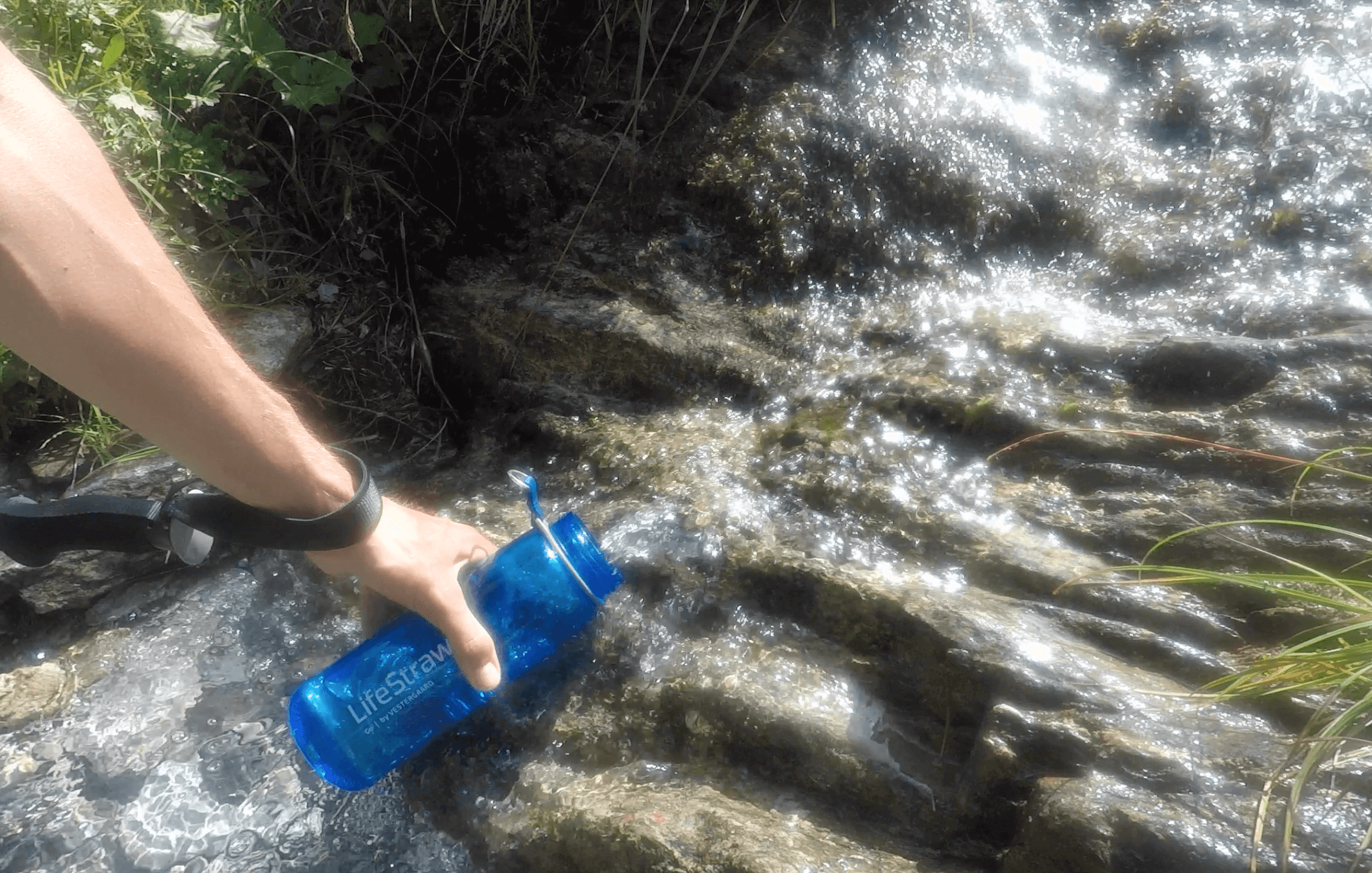 Our bottles have a capacity of 650ml and every morning we only left with that (it changes from those hikes like in Peru where we used to carry almost 3L per person). Then we simply filled them at each small fountain, water source, river, small lake without asking us the slightest question about water quality. Then we agree that for this to work, we obviously have to make sure that we cross water regularly, but at this level there is nothing to worry about in the alps! 😉
Bivouac: Which warm foods to choose?
To save as much fuel as possible (gasoline or gas), the best thing to do is to favour foods that do not require cooking in boiling water for too long (the concern for savings comes from the idea of saving weight in the bag and not money). So we immediately forget about Pastas with a cooking time > 5 minutes. 🙂
Instead, food like soups, polenta or couscous are the best. The water is brought to a boil, the fire is cut off, the mixture is mixed and TADAAA the meal is served.

On our side it was clearly not Top Chef, couscous and polenta got eaten until saturation…. Nevertheless, to "pimp" the menus a little bit, there are a few easy things to think about and worth taking with you:
Spices like salt and pepper change everything for you!
Dehydrated Soups or sauces are great, either to eat before or to put in the preparation to give a little taste
When hiking, we often pass in front of mountain pastures, so it would be silly to deprive yourself of a small piece of very fresh cheese to add to your preparation:)
Another alternative that is often used is to use pre-cooked freeze-dried dishes sold in bags. For the moment somehow never felt like trying…. I don't know, I think it's a little weird, this dried-up meal idea. Says the couple who eat wraps…. 🙂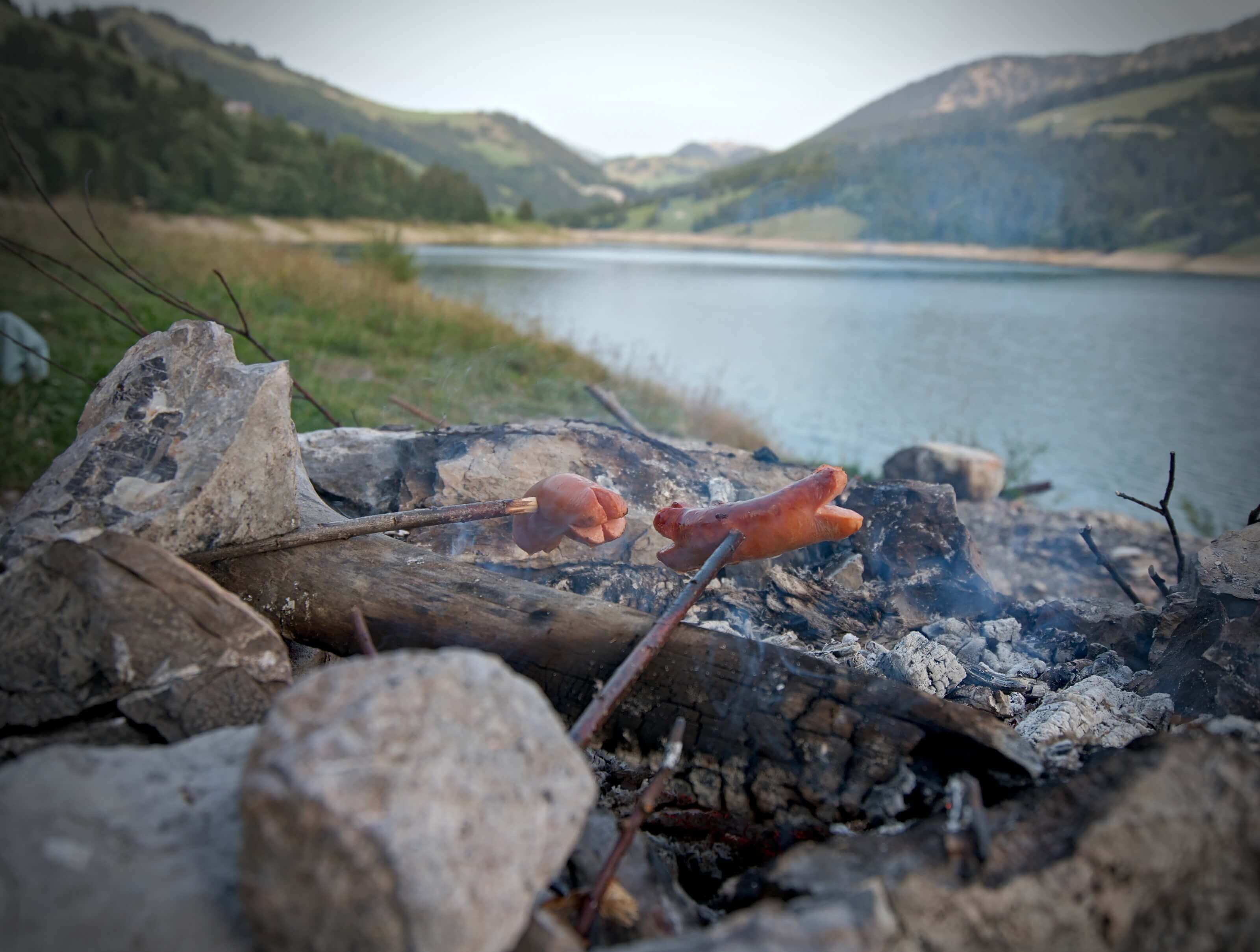 But during this via Alpina we met hikers who swore by it. The advantages according to them? It's light to carry and apparently not that bad. In addition, you can know exactly how many calories you will have and plan your meals more optimally. Hmm….
Some figures in bulk
1: the number of times I have sat on a red ants' nest (yes yes I am a bit stupid)… Needless talking about all the "not so pretty" bites everywhere
80: The approximate number of wraps swallowed between the two of us
14: The number of different alpine cheeses that we have tasted by buying them directly from the farmers in the alpine pastures. The big winners are undoubtedly Etivaz, Eiger cheese and the 3-year-old cheese bought in Griesalp.
145: The approximate number of cow pictures taken…. Even if in the end we will remember especially this cow with the horns upside down 🙂 or the little calf that came to ask for cuddles while rubbing against the hikers…
30: the number of celcius degrees allowed to wash our sleeping bags. Honestly in terms of smell of the latter at the end of the trek they will need several wash cycles if you ask me.
3: The number of times Benoit electrocuted himself on cow gates (including one time he got stuck with his bag and took about fifteen shocks in a row… I'm a bit mean but I'm still laughing about it!)
4: The maximum number of consecutive days without taking a shower (fortunately there are lakes).
400: Our caloric reference for food in the supermarket…. We wandered around the alleys with the mission of finding a maximum of food with a minimum of 400 calories per 100 grams to optimize the weight of our bags.
18: The number of GB of data we used on our phone to share the adventure live (fortunately we have unlimited packages): P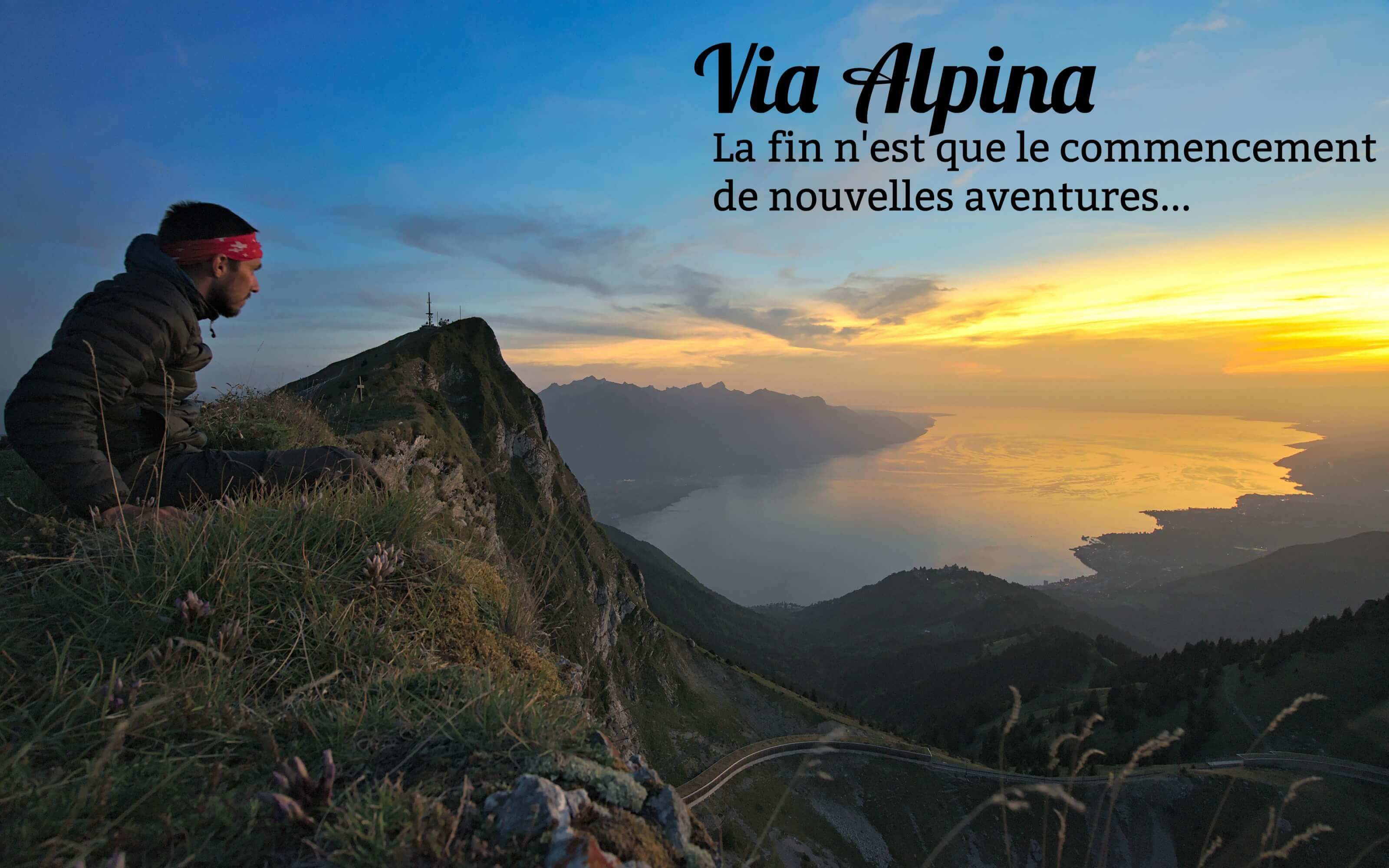 NB: This article contains affiliate links to Hotelscombined and Amazon. These 2 sites are the ones we also use and by using our links you obviously don't pay more, but we will get a small commission. Thank you for your support!