That's it! We have just returned from our Swiss Via Alpina. The muscles are still a little sore, the memories are still dancing wildly in our little head, we enjoy the comfort of a good cozy bed and a warm shower, but above all we are just HAPPY to have managed to cross Switzerland on foot through the Alps!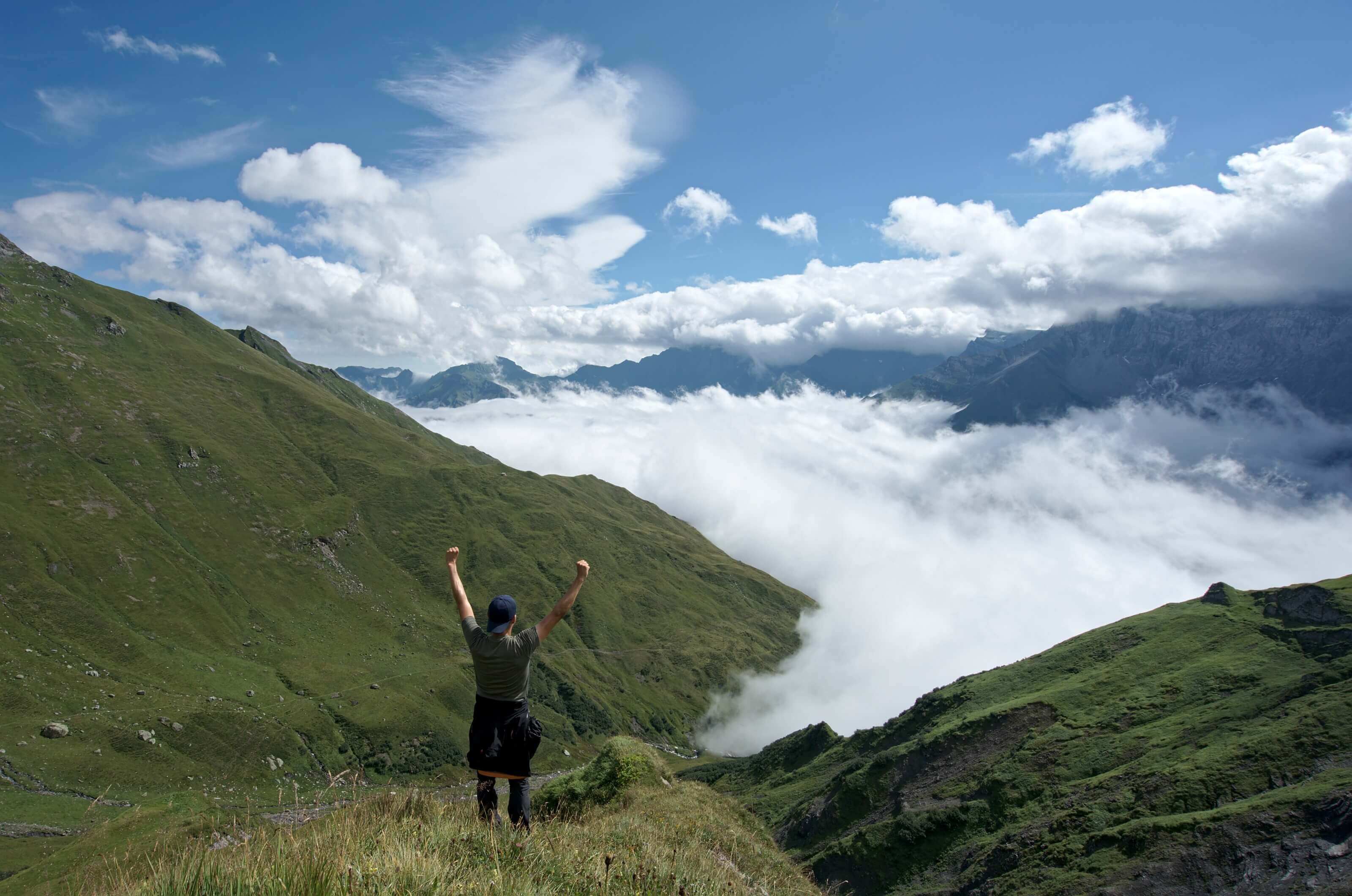 I don't know if we already fully realize what we just have done, or at least I speak for myself. Because yes, I, Fabienne, the wannabe hiker who has always preferred sipping a cocktails on a terrace to sports sessions, I have just walked 380km across the Swiss Alps. With Benoit we hiked more than 25'000m of positive altitude difference and just as much negative altitude difference (this is approx 82'000 feet)…. I thought that a small first impression post could be useful to other aspiring hikers! Here is a short summary of how I felt about this via Alpina over the days.
The Via Alpina in images
Before I talk to you in more detail about how I felt, I suggest you discover all this in video. A video to watch in HD and with sound 😉 (English subtitles available)

Before leaving for Via Alpina: the big questions….
I still remember exactly the few days before the departure. Benoit was worried about whether our tent would be waterproof, whether the passes were clear of snow and how to optimize the storage of his backpack. On my side I was in a kind of bubble, a form of total denial.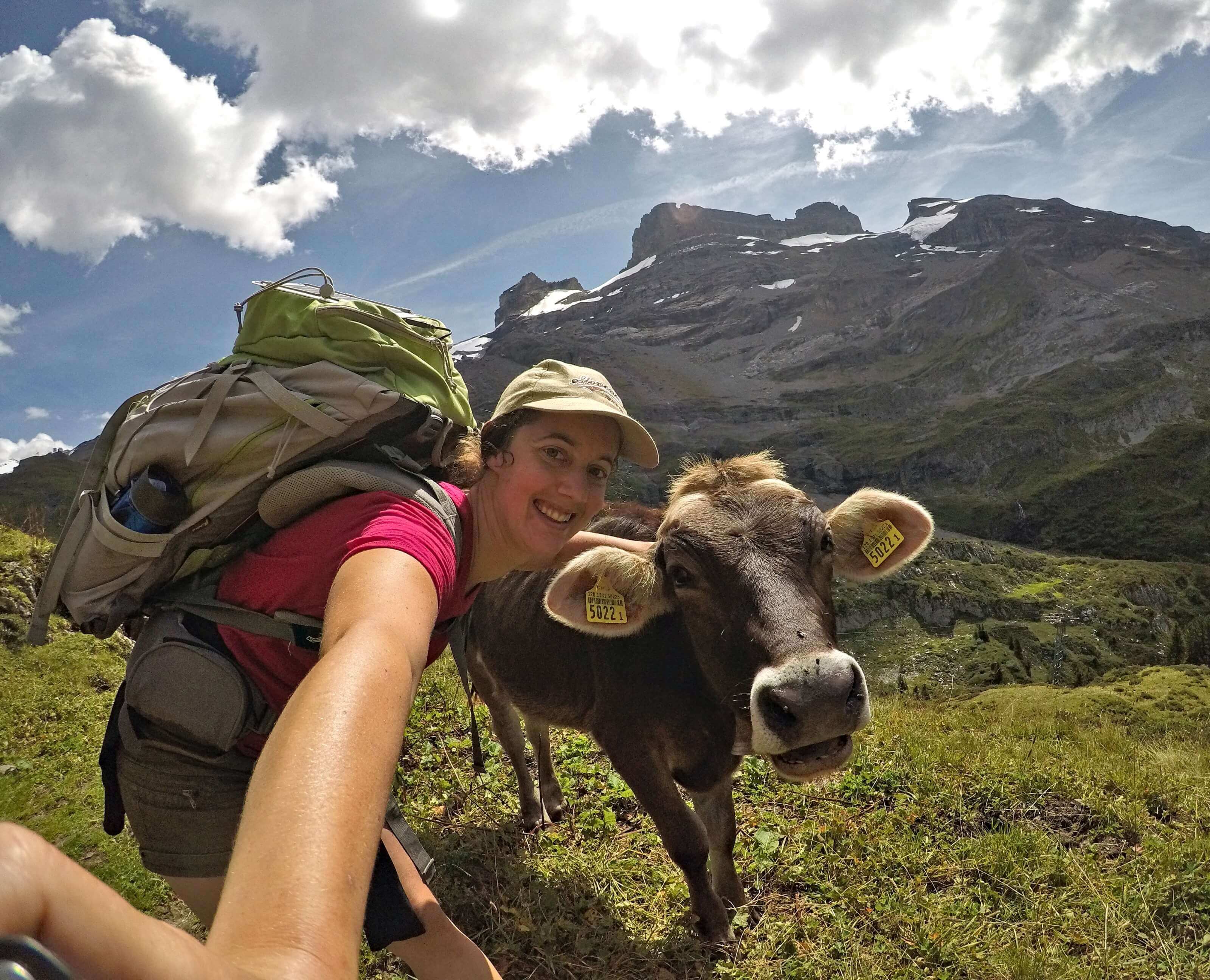 As a training I would have aperitifs with my friends and eat lots of BBQ. To be honest, I simply refused to ask myself the question if I was physically able to cross Switzerland on foot. In fact, I knew very well that I didn't have the training, but my Swiss-German side gave me a very stubborn mind so I was clearly counting on the latter to lead me to the end.
The first few days are the hardest
Benoit warned me: "You will see that the first few days will be the hardest, until your body gets used to it". Yeah…. I still had in mind my state of fatigue after a week on the paths of Choquequirao in Peru and I had a doubt about the fact that my body could "get used to it".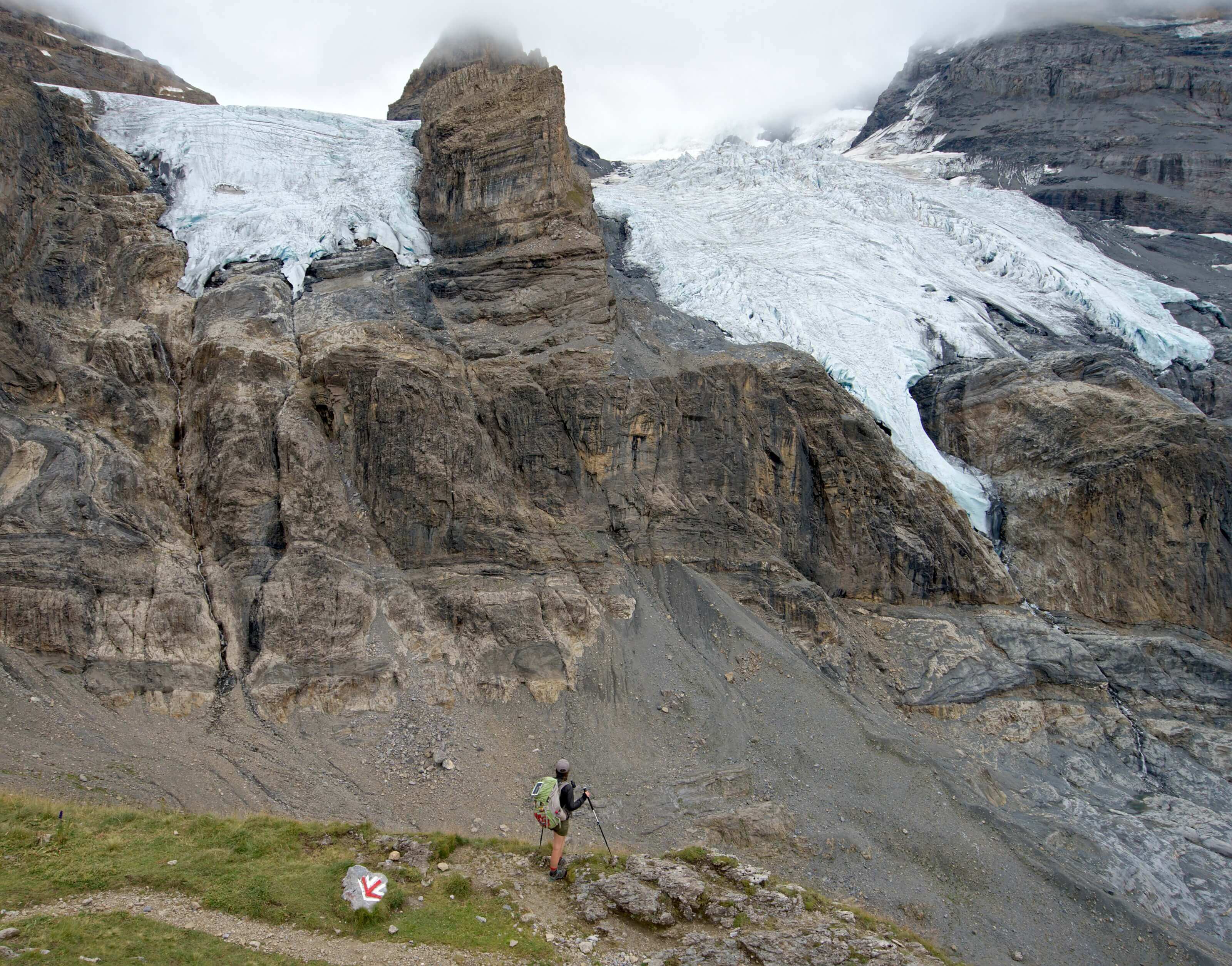 But no matter, the first day we were all smiling at Sargans station with our big bags on our backs. The first few kilometers we were looking for our rhythm, but all the treks we had already done, whether during the round the world trip or after the return, helped us to get into the move quickly.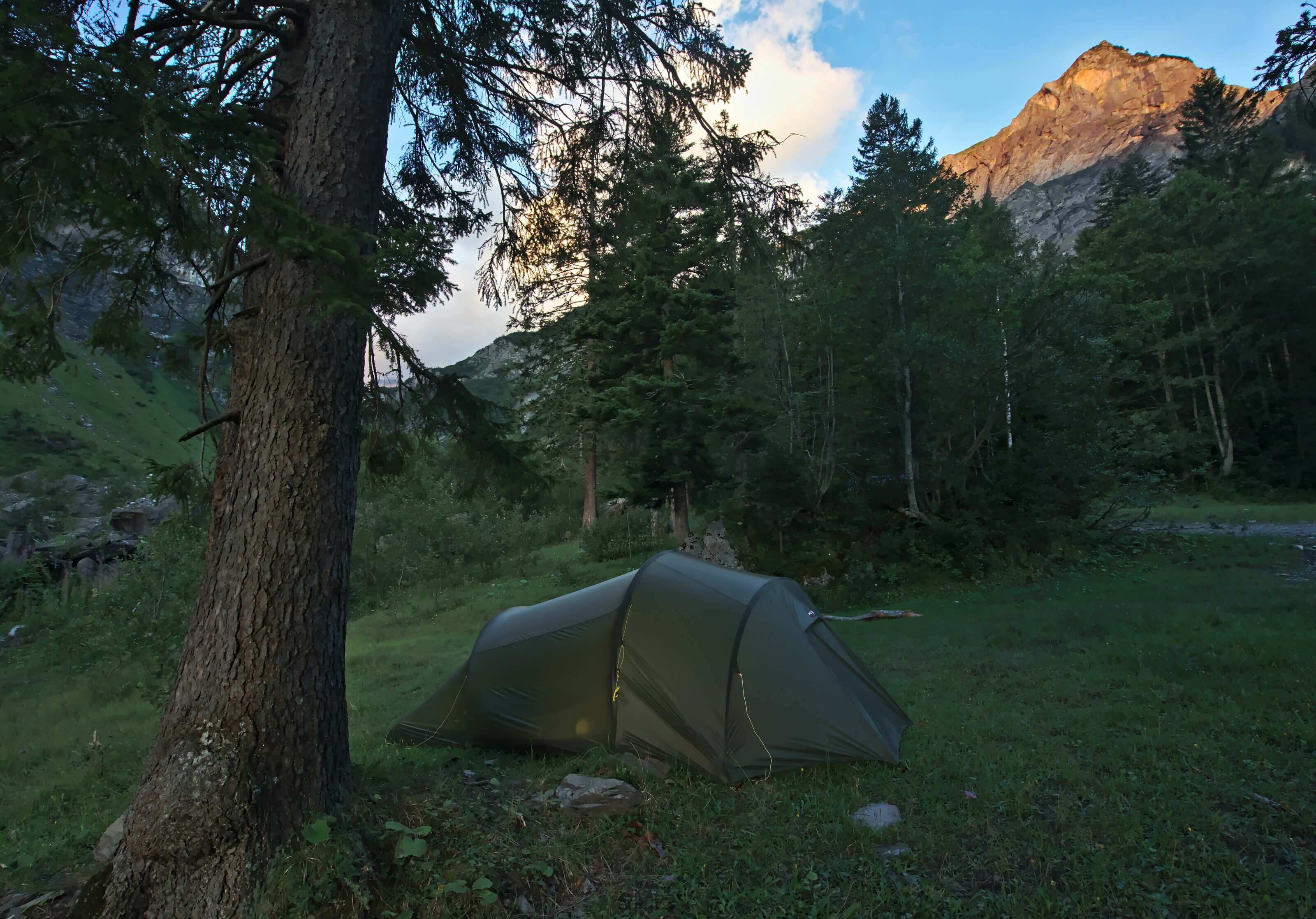 We were feeling so great, that from the first day we walked more than we had planned and in the evening it was already time for our first little bivouac. This first day I really experienced it as "easy" and I admit that I secretly told myself that I would have no troubles the next morning.
It was only the second morning, when I woke up in our tent, that I understood what Benoit meant by "hard". As I got up, my knees creaked and my thighs made it clear to me that they didn't quite agree with the program I was imposing on them. At the same time after almost 2 months of BBQ and cocktails, my legs were clearly no longer used to such a treatment… 😉
Our ebook!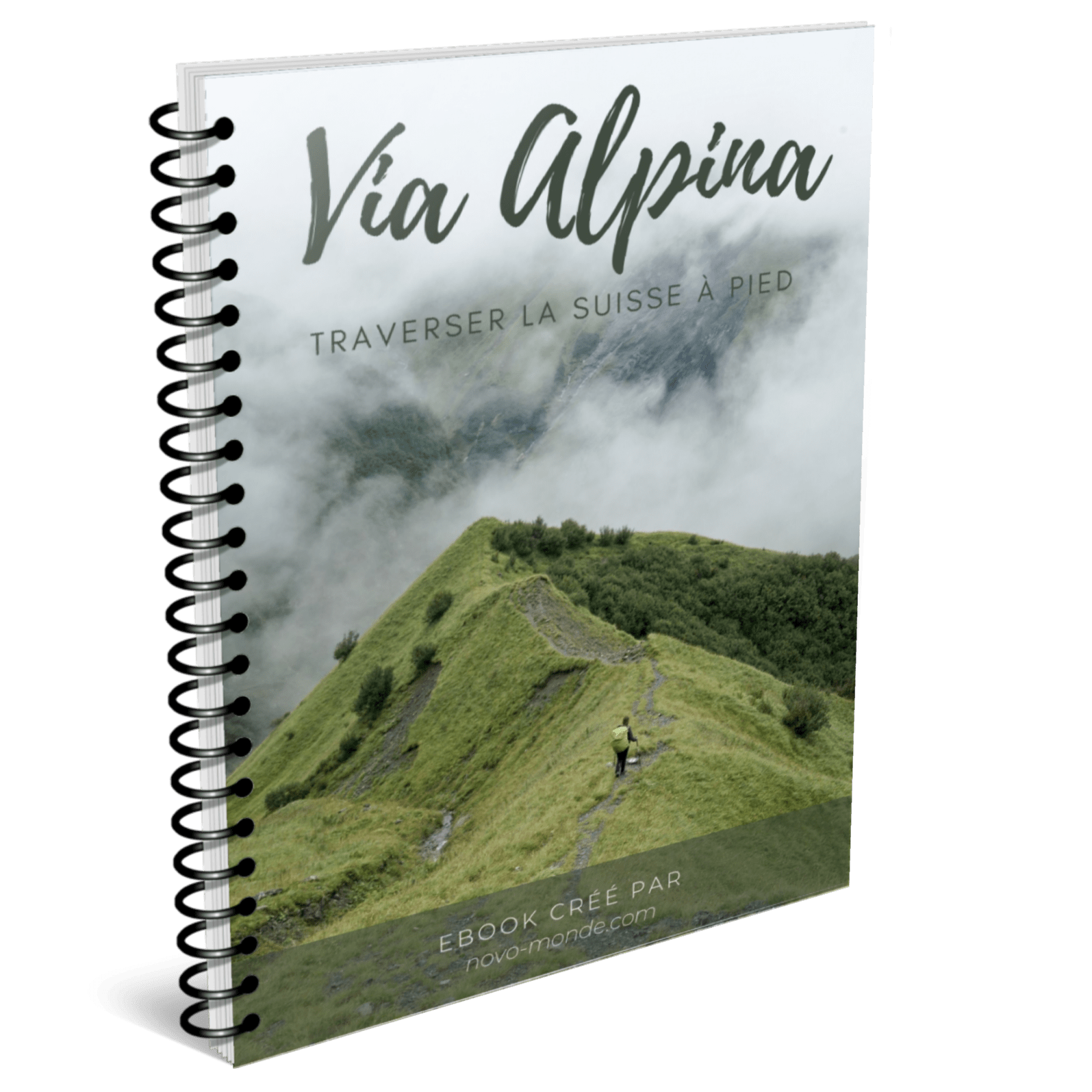 Are you preparing the Via Alpina for this summer? In the spring of 2020 we published an ebook that should please you. 🙂 More than 100 pages dedicated to this magnificent hike through the Alps. From the different stages of preparation, safety tips, the list of campsites to our detailed daily itinerary (with maps and GPX files to download): everything is there!
Find more information on the ebook here
If you prefer to have our ebook in epub format (for your e-readers), you can also buy it directly on Fnac/Kobo or Apple books (Then, if you want to get the GPX files of the Via Alpina, contact us by email at contact[at]novo-monde.com with your order confirmation).
Weather disasters on hikes: we keep our spirits up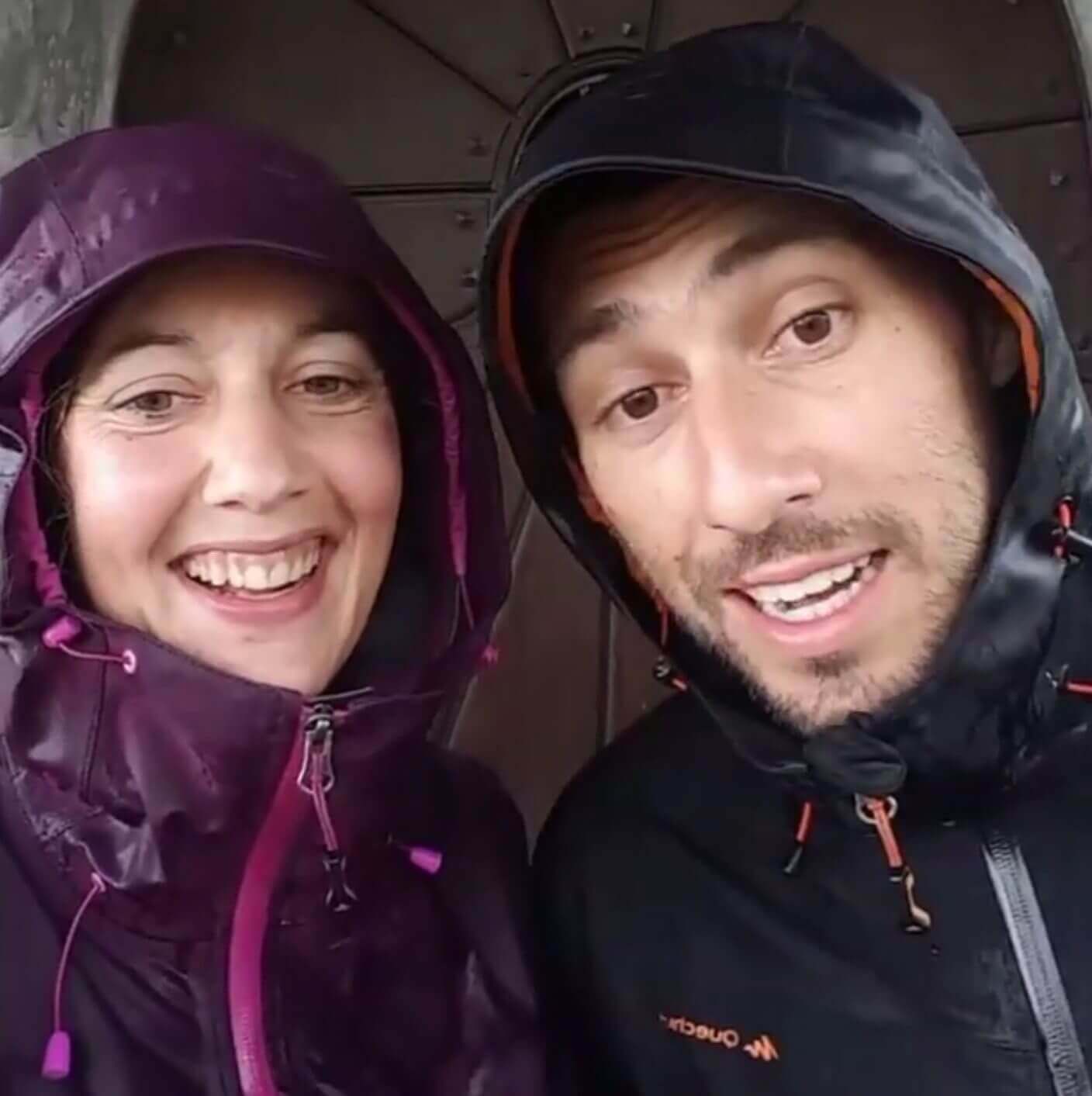 From the 3rd day, just as my thighs and I were starting to become friends again, another guest got involved in the game: the rain! 2 days of continuous rain…. Not the little misty one, I'm talking about the real shower that soaks you up to your underwear!
Looking back we are really happy that this weather counter-time fell on us at the beginning. Because at that time we were still fresh and we had no trouble keeping our spirits up. We hiked the kilometres under downpours of water and in the evening we would spend nights in dormitories in order to dry everything.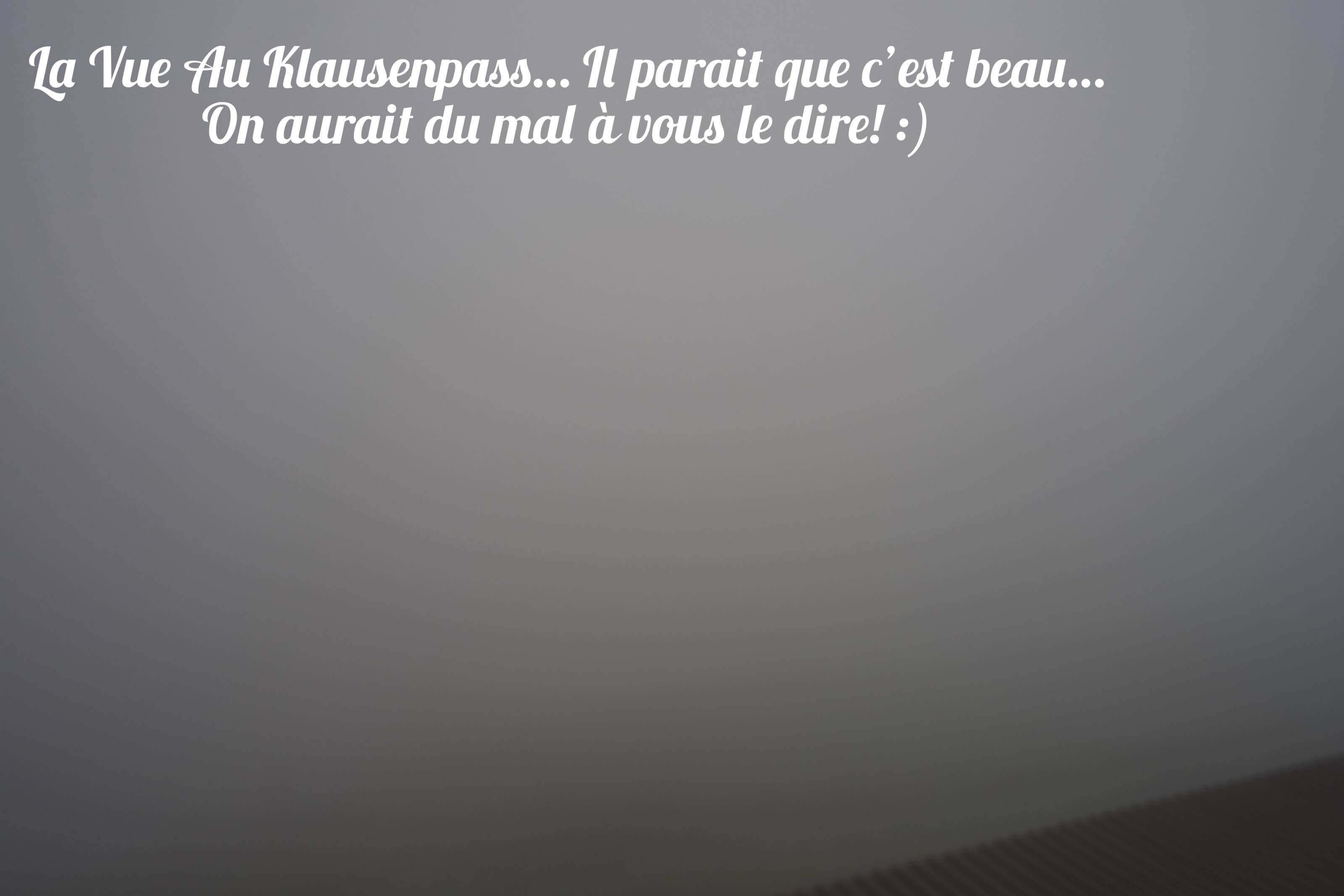 These nights in dormitories that were not really planned in the initial budget caused us a little concern about the rest of our expenses. But quite frankly for the morale it was really important for us to be able to leave in good conditions while being dry and rested. We'll talk about the budget again in a future article, but in the end we did pretty well because the weather was clearly on our side for the rest of the trip!
Read our article about our first week on the Via Alpina here.
When landscapes make you forget the pain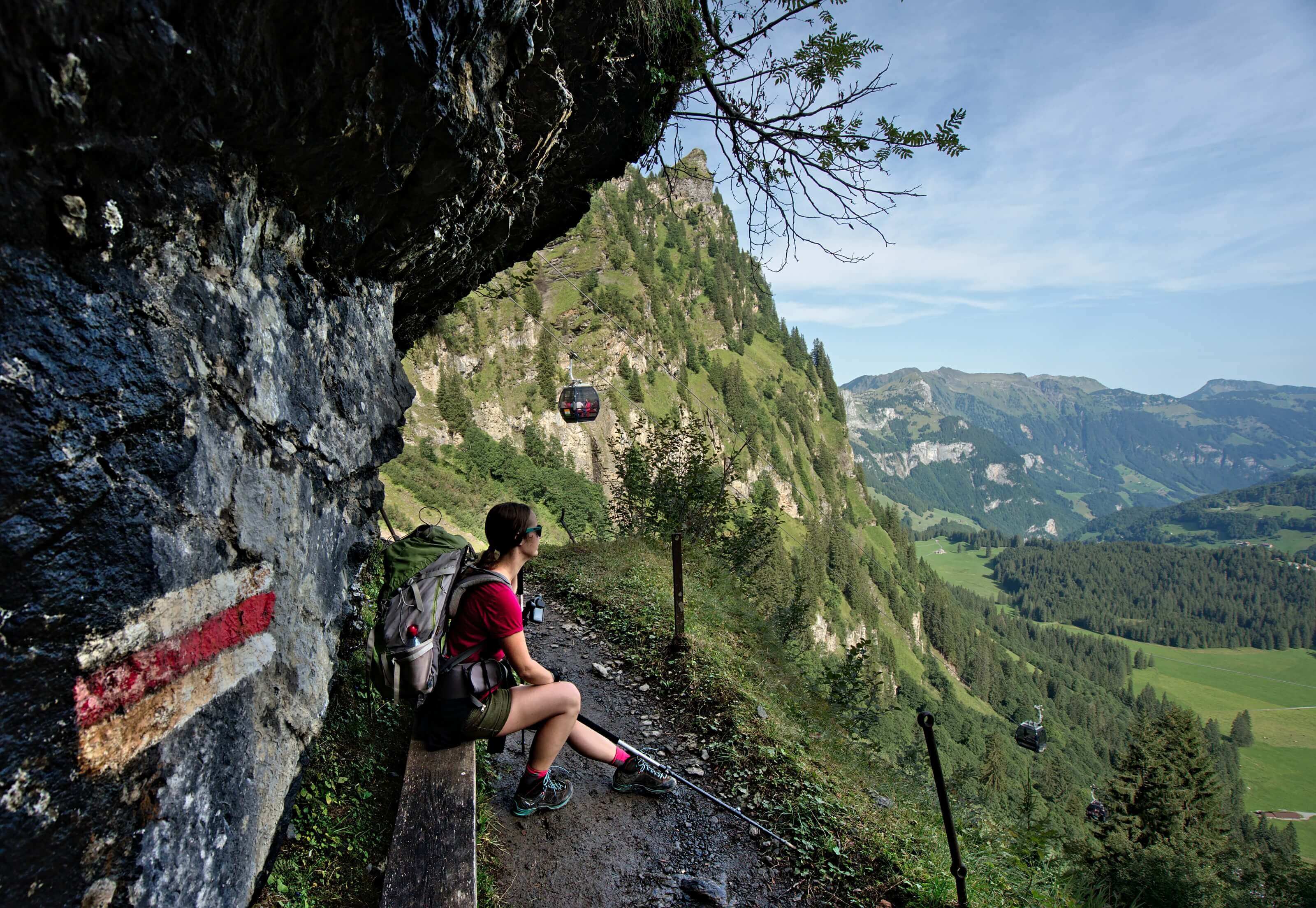 Benoit told me that the most difficult part would be the beginning…. Looking back, physically speaking, it was clearly in the middle that I felt most tired. Around kilometre 180 I really started to be in "fucking" pain. (Excuse the term, eh, but that's how it was) 😉
But at this point of the hike, the weather was perfect and it was under a radiant sun that we made a series of passes. Sunshine means beautiful landscapes but also warmth!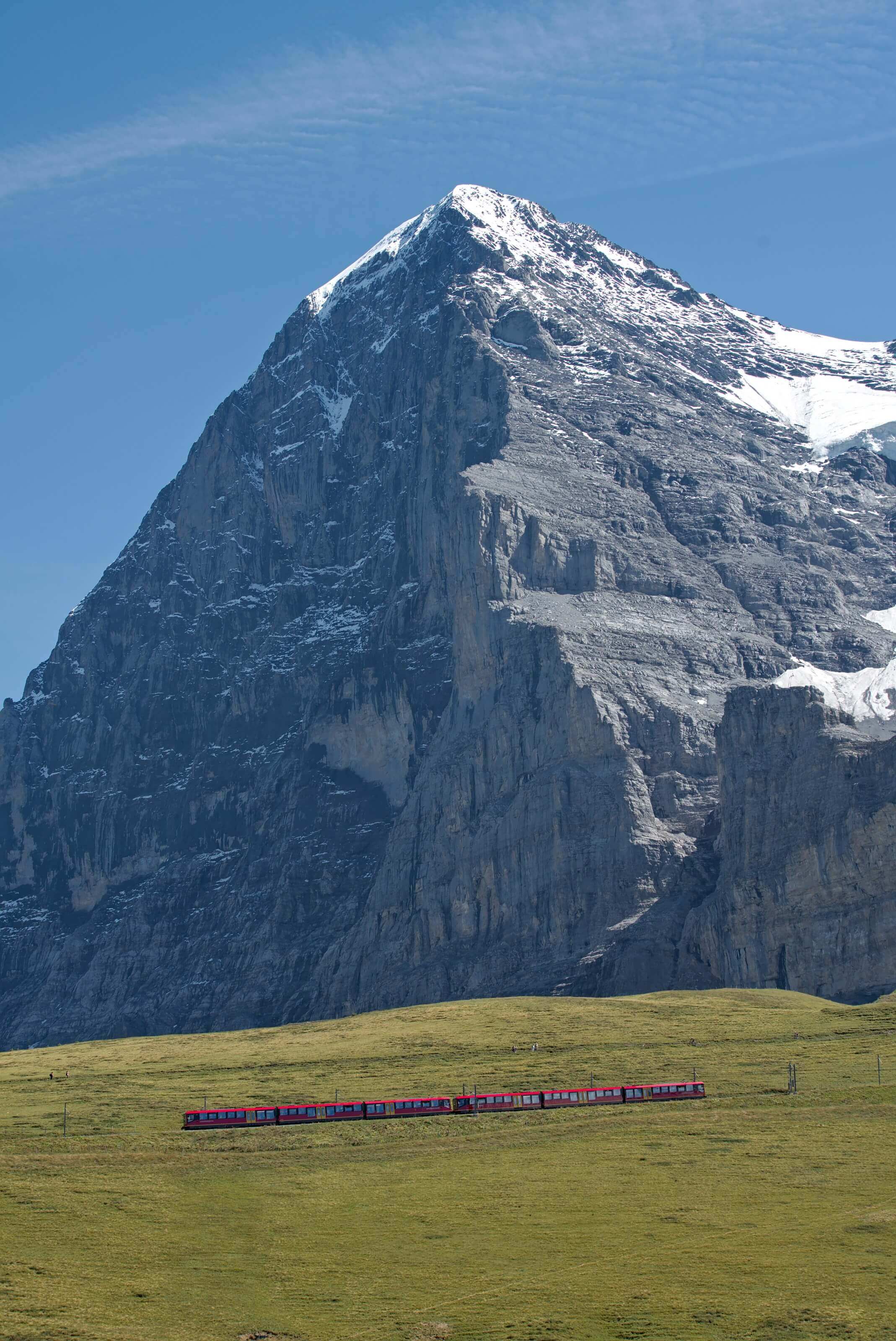 I couldn't tell you how many litres we sweated, but at the sight of our heads on the souvenir photos I would simply say "waaaay too much".
Paradoxically, it was precisely during those days when I had the impression that I would never reach the pass of the day that I also started to think that this Via Alpina I was going to end it! Yes I am full of contradiction I know, but while physically it was suffering, I was also more and more amazed by what was around me.
Hiking in such places with all these emblematic peaks above us was simply so magical that for me it was getting more out of question to give up and that I don't see more of it.
Here you can find our article on the 4 beautiful stages between Engelberg and Lauterbrunnen.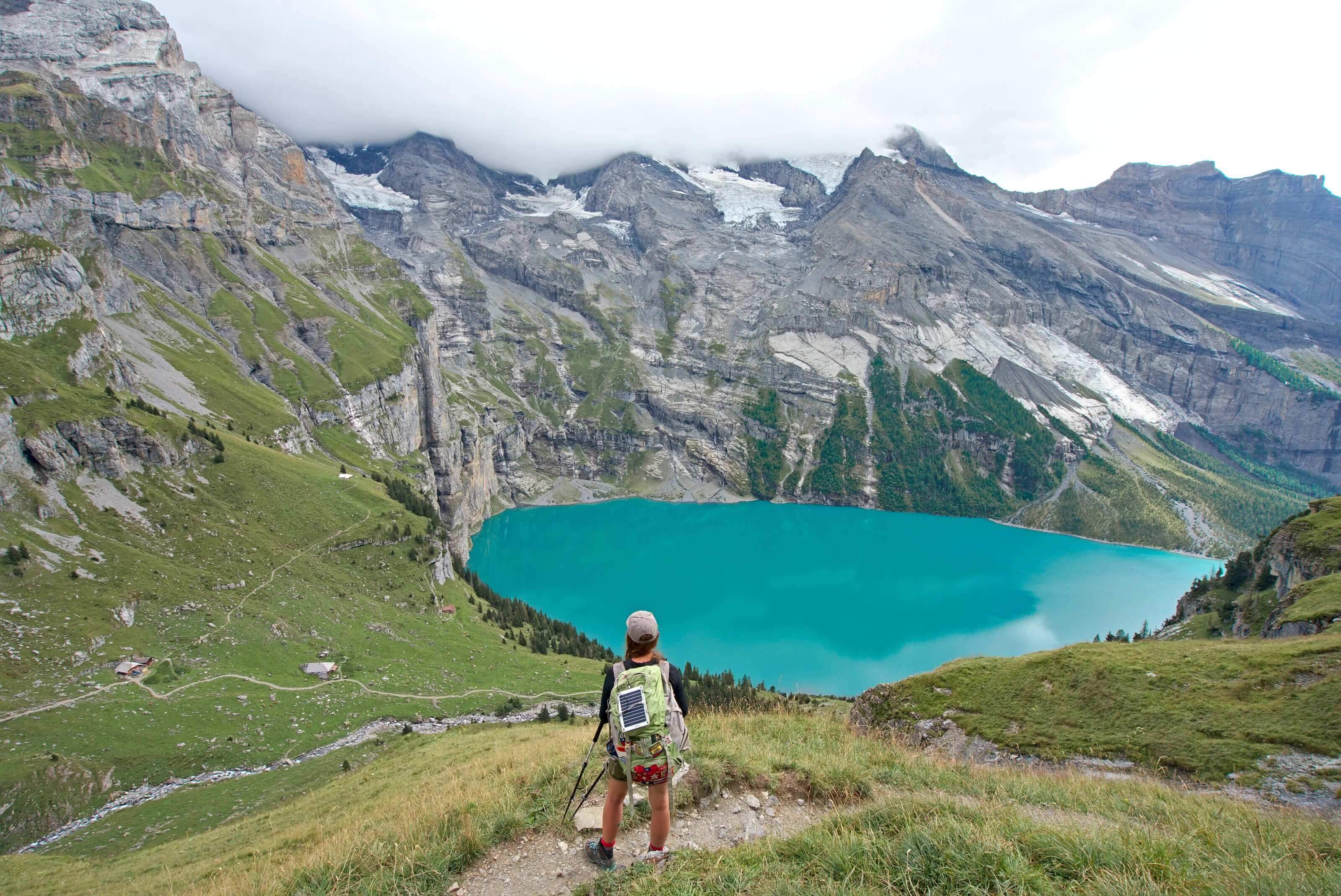 The joy of sharing the good times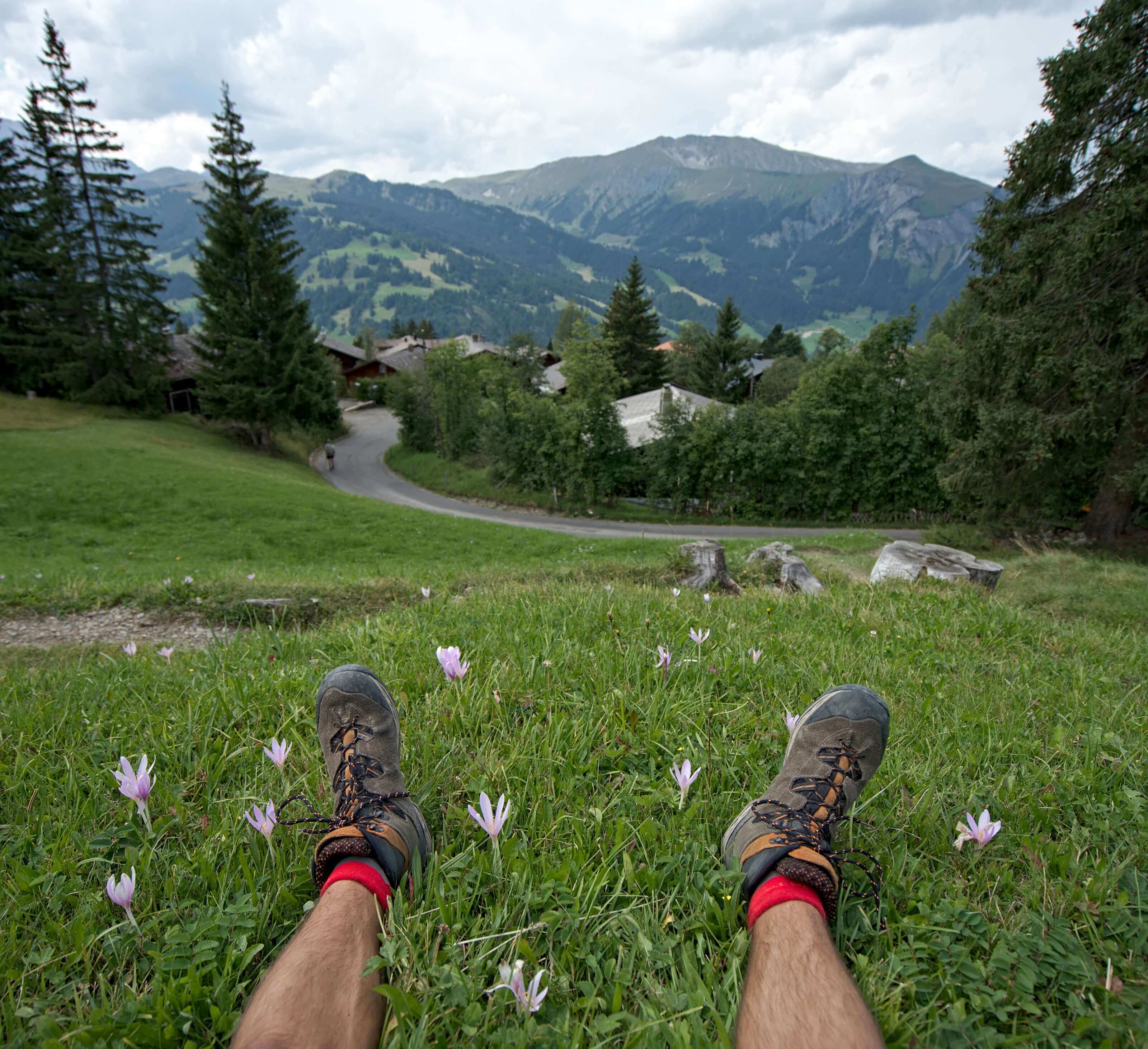 In the village of Lenk, in the Bernese Oberland, we took our last short day break at the campsite. Objective? Get our legs back for the final strech home. For the last 4 days bringing us from Lenk to Gstaad, from Gstaad to Etivaz, from Etivaz to Lake Hongrin and finally to Rocher de Naye we were joined by Johann and Adeline, a couple from the French-speaking part of Switzerland whom we had the pleasure have met in Chiang Mai. 🙂
Sharing this end of adventure with other travellers was simply amazing!
The best of the best? For our stage from Gstaad to Etivaz we were also joined by Letizia and Raphael as well as by Mehdi, a long-time friend.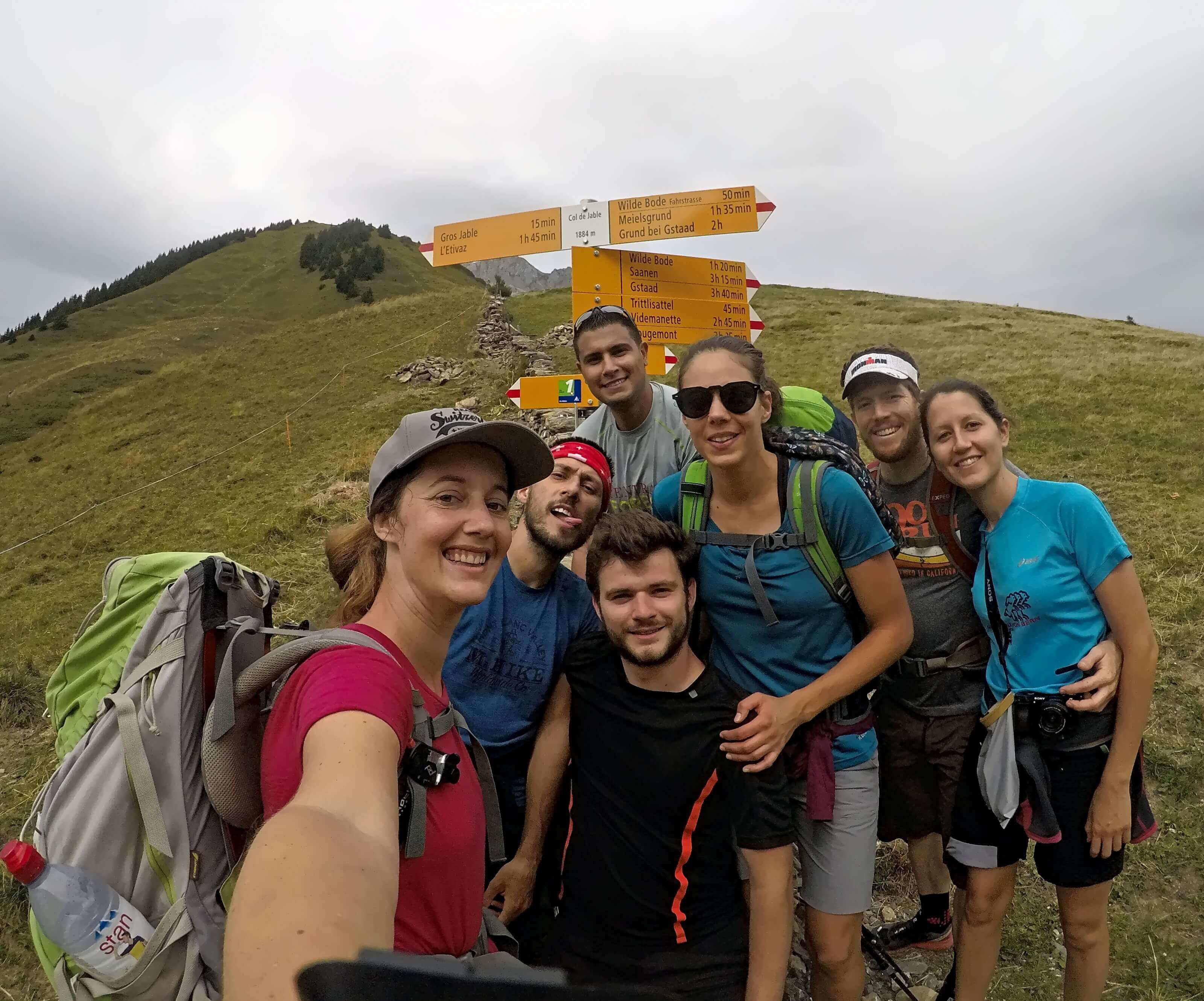 Walking in a group gives a whole new dynamic to your days; you have to adjust the rhythms (understand that everyone has been forced to walk at my turtle's pace) 🙂 but it is also a great time to share experiences and laugh! In short, I take advantage of these few lines to say a big thank you to our fellow travellers who joined us during this trip, it was just too awesoe to walk with you!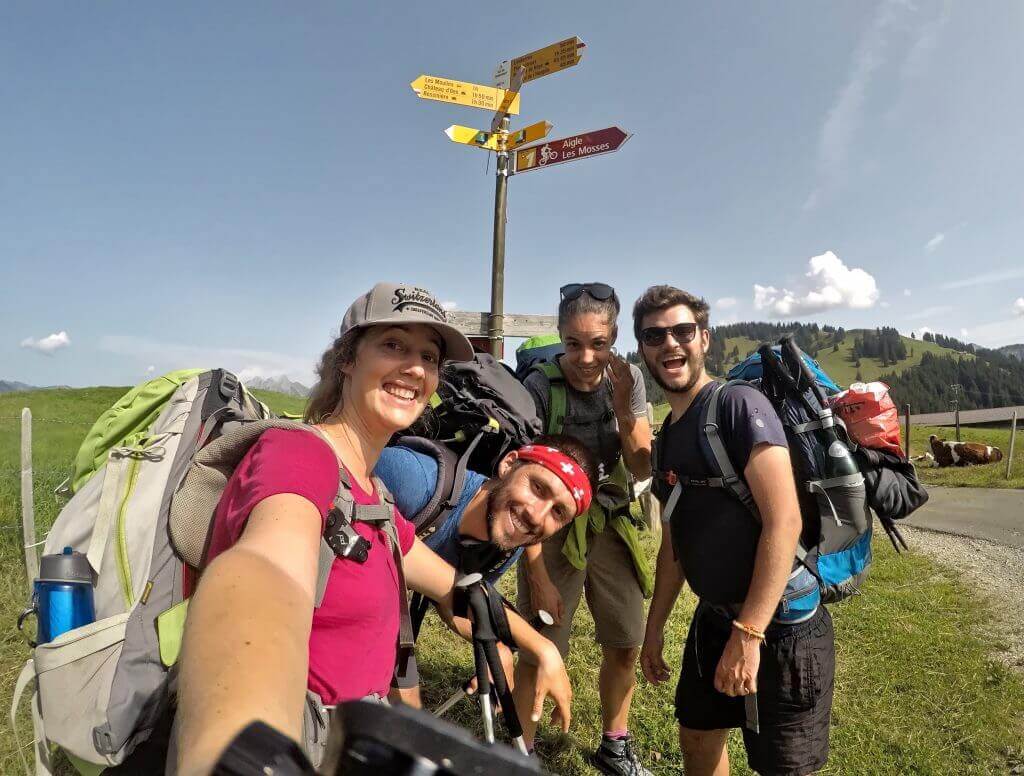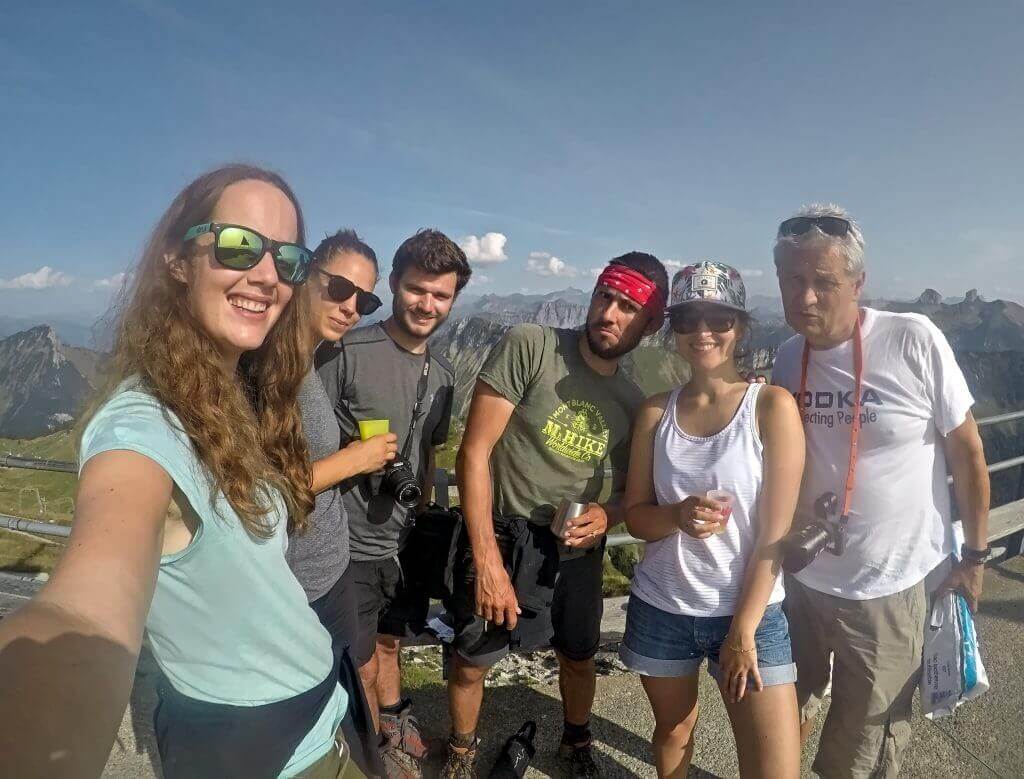 The last day of our via alpina….
On the last day of the Via Alpina we woke up in our tent on the shores of Lake Hongrin. The day before we had pushed a little bit and had taken the lead on the official stage, so we could enjoy a little more time in this dream bivouac spot. The initial plan was to sleep in for a couple hours… Well, let's be honest, sleep in in the bivouac, means waking up at 8:00am in the morning…. After, the sun heats the tent so much that it feels like a sauna. 🙂
Our bivouac spot at Lake Hongrin….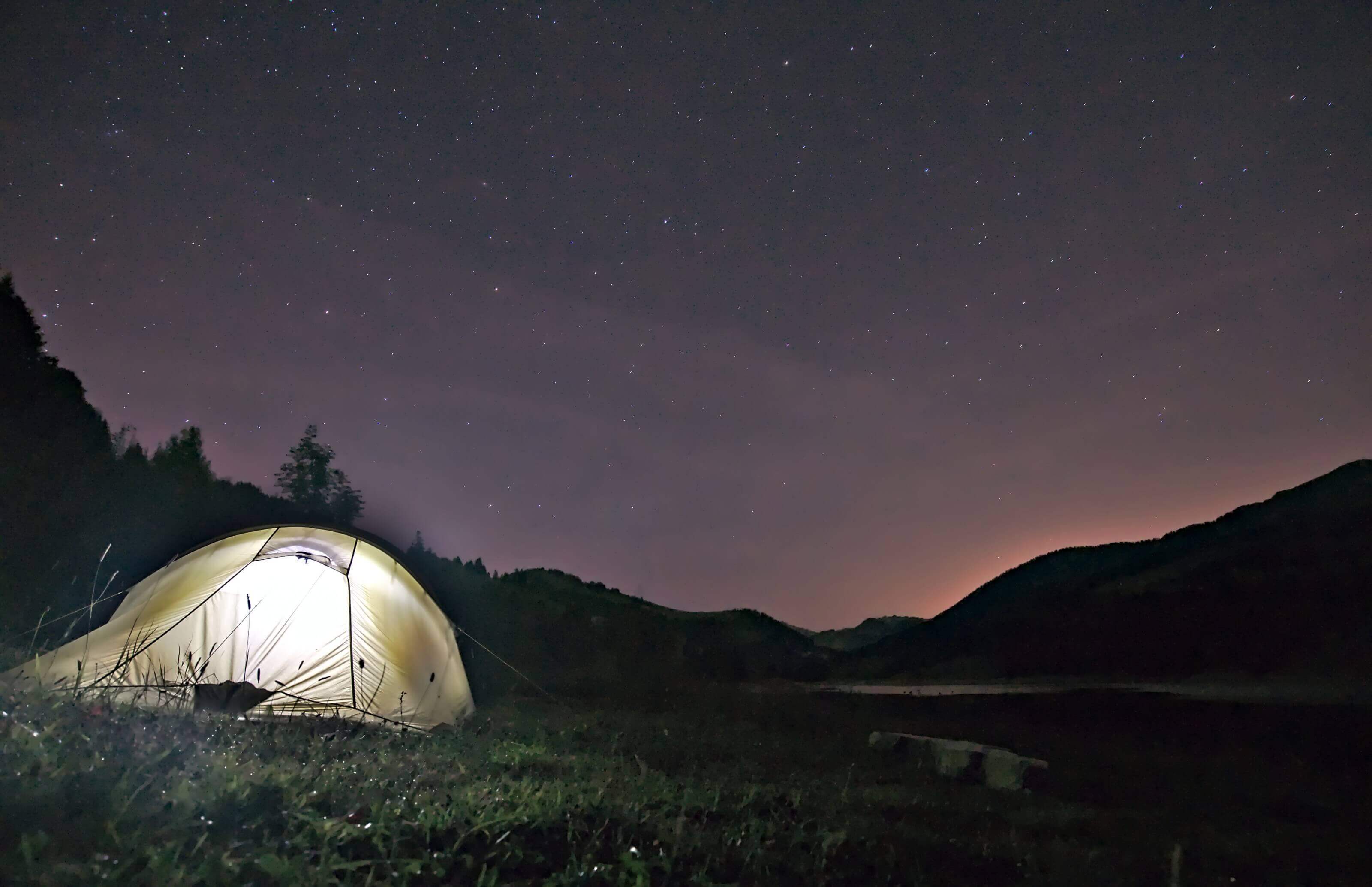 Arrival at Rocher de Naye, end of the Via Alpina
Well, I'll tell you one thing, fortunately the day before we decided to walk a bit more and thus shorten our last stage by 3 hours, because this last day will probably have been one of the toughest for me. Who knows if it was to know that the end was near, but my legs were no longer carrying me. My energy level was roughly the same as that of a narcoleptic turtle and my bag suddenly seemed to weigh a ton again!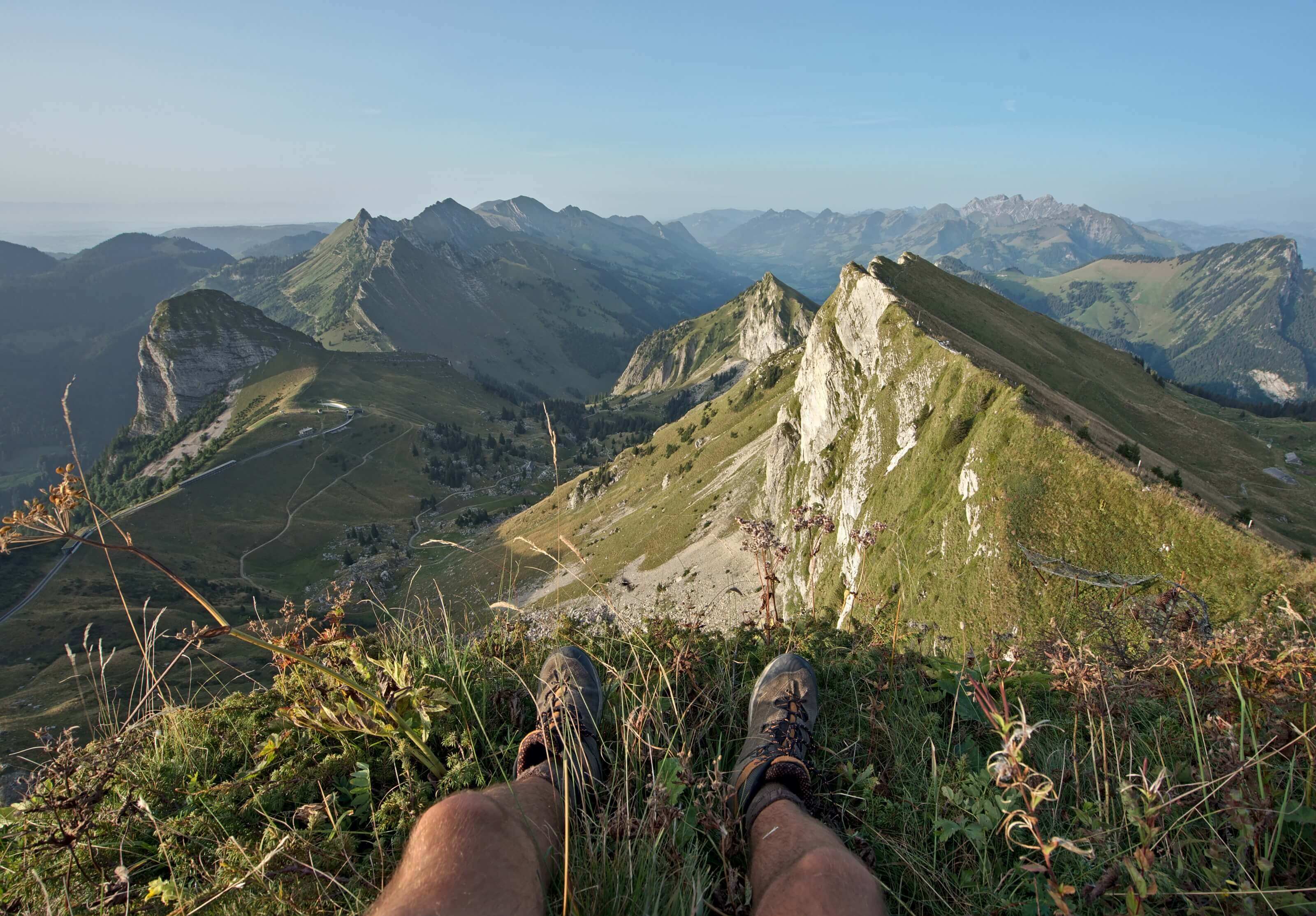 After About 2 hours of walking, we reached the Col de Chaude. It wasn't the finish yet, but it was the first time we saw Lake Geneva. At that time we were still walking with Adeline and Johan but we were also at the same level as a trio of Korean hikers who also did the Via Alpina.
It was also the last day for them. Benoit and I kept rehearsing ":
Wouahhh, look, it's the lake, it's Geneva lake, wouahhh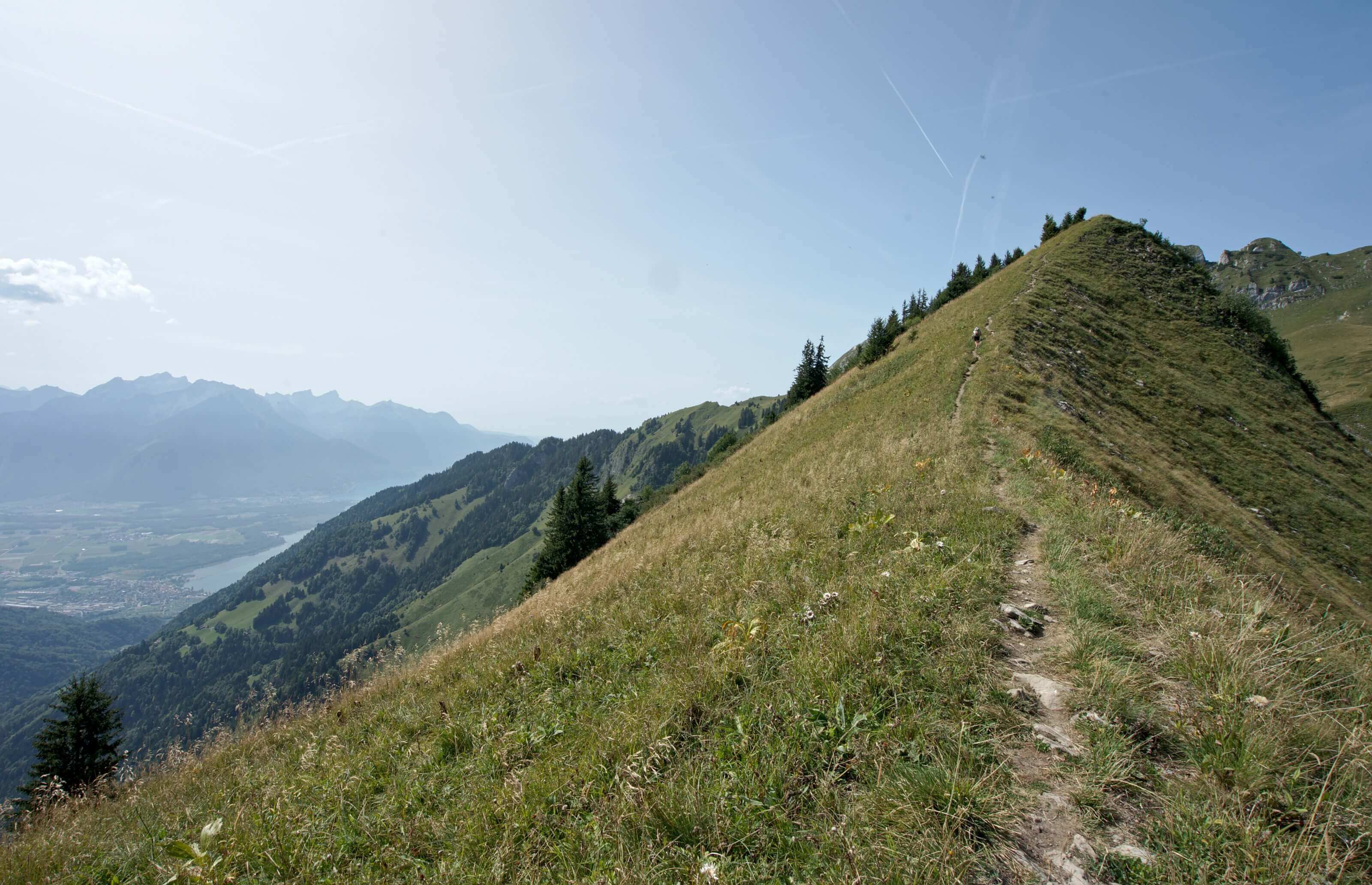 Haha these guys didn't share our enthusiasm. At the same time for them it was probably just another lake, certainly the last of the trip, but just a lake. For us it was home. It is on the edge of this lake that we grew up, from the beginning this view was the one we were aiming for! The last hour of the walk was only a formality, this time it was there, we had done it: we crossed Switzerland on foot!
The view from Naye Rock, end of Via Alpina:)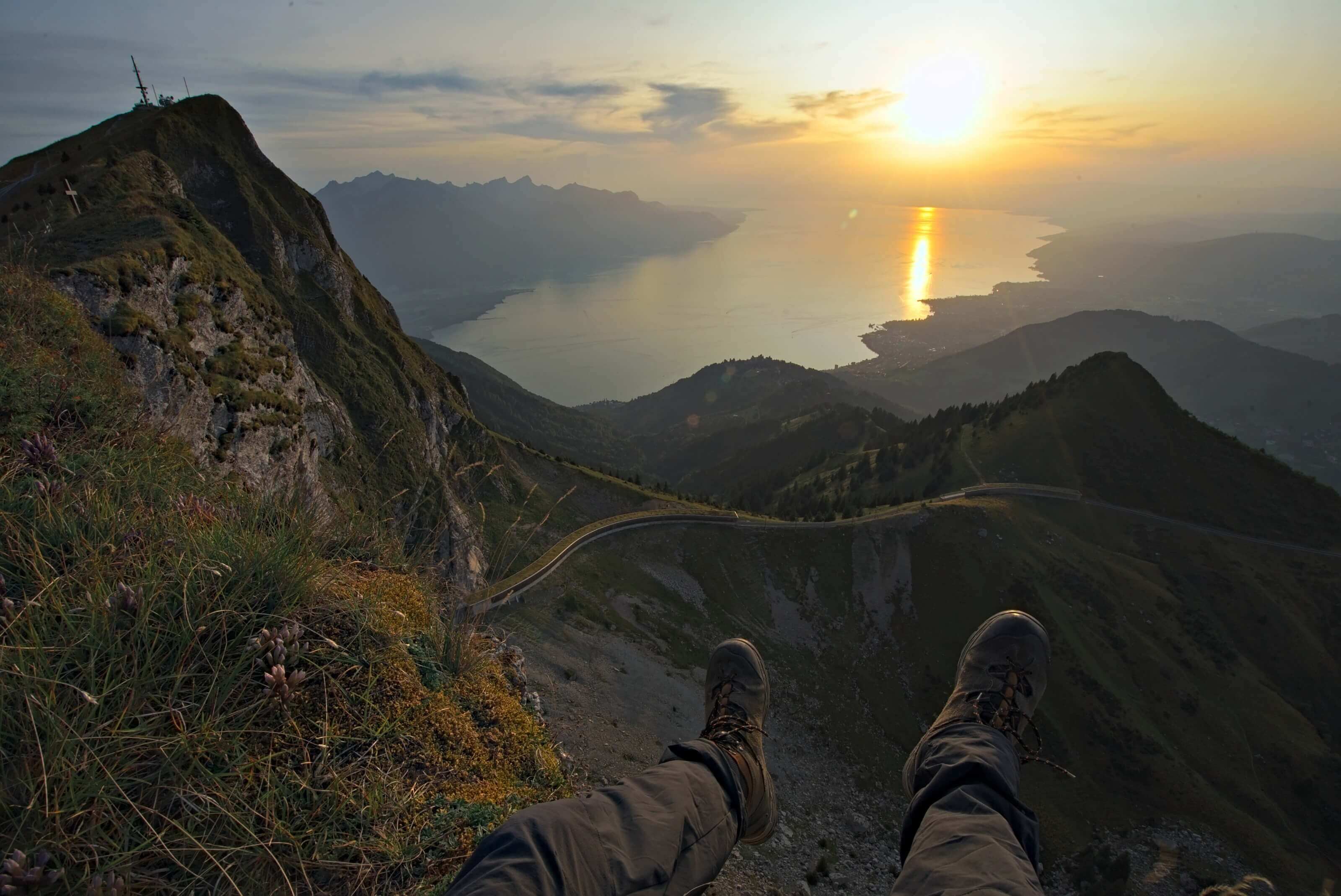 Hiking: a sport that takes almost as much mentalstrenght as physical condition
This Via Alpina is without a doubt the most intense physical effort I have put my little body through. To tell you the truth, I even managed to gain 1kg during the trip… But let's reassure ourselves, it's not an abuse of alpine cheese, it's only about building muscles. I was really starting from nothing and my body must not have understood what was happening to it. Benoit? Well he already had the muscles, so he lost 5kg …. Deep injustice, I swear! 🙂
Going beyond yourself physically: moods
During this Via Alpina I really surpassed myself, but I also realized how much the mind could play a major role when the physical part no longer wants to play along.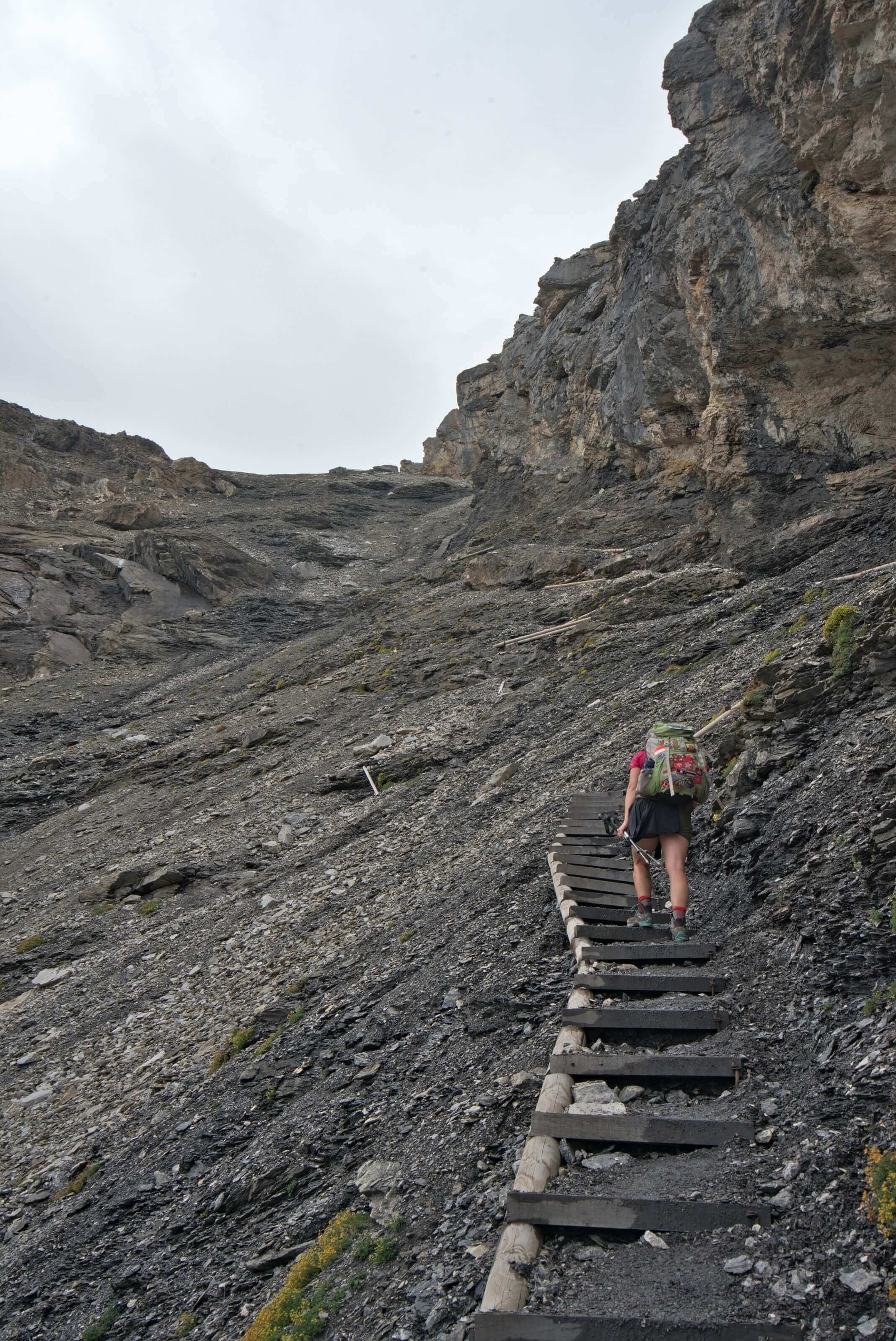 I think I will never forget that climb to the Hohtürlipass where my legs had decided to completely let go.
With my almost 15kg bag on my back I was in the middle of this rocky outcrop wondering how a helicopter could come to pick me up. I was physically speaking totally at the end.
At that moment, the mind starts to work on it's own. In my head nothing was happening at all, I couldn't think anymore, the only thing that was still going on was: "Right, Left, Right, Left, Left, etc… "I looked at my feet and in my head I repeated my steps, a little like if I wanted to make sur not to forget how to move forward.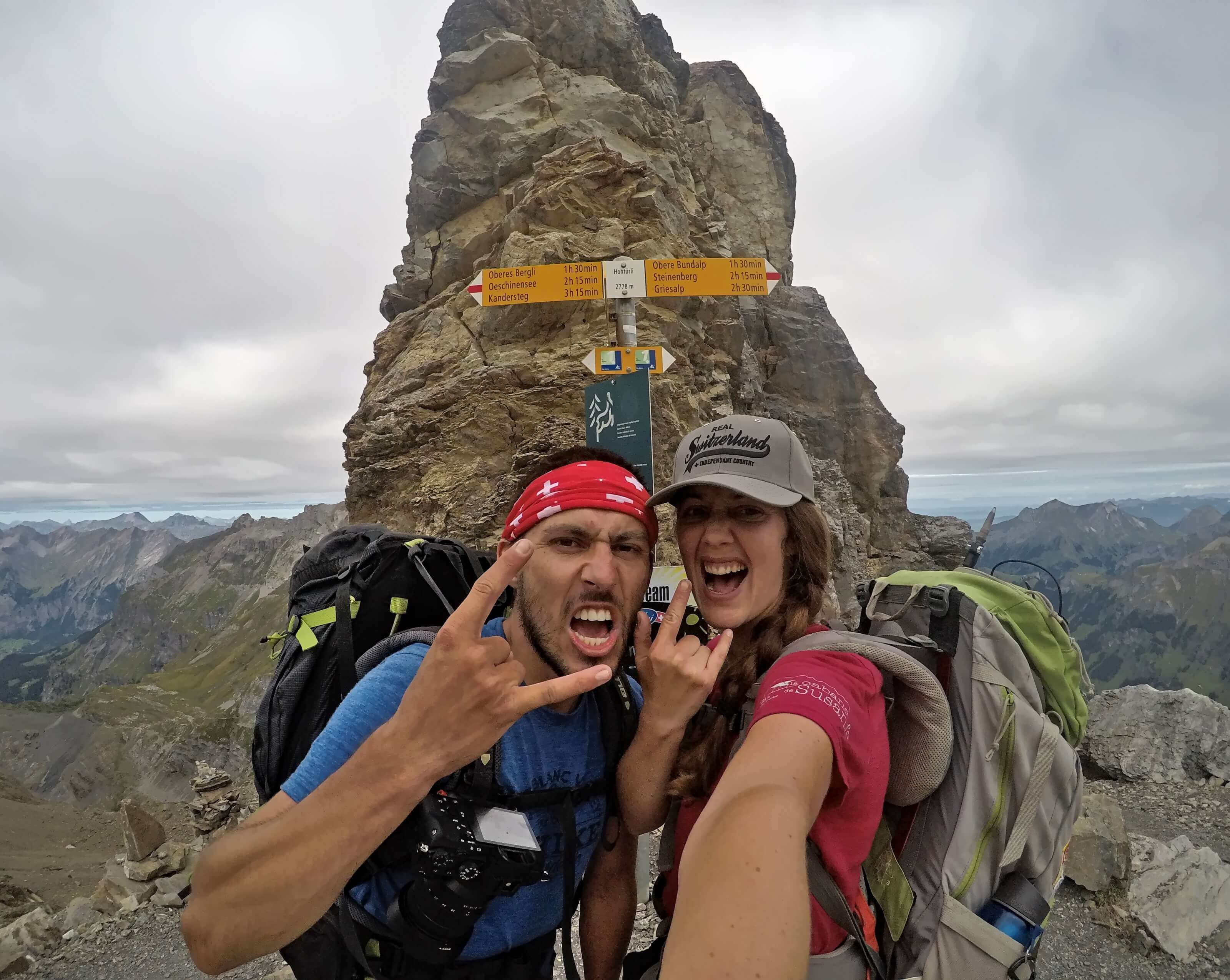 It is very strange, because of this climb I certainly still remember exactly the suffering in which I was, but it remains nevertheless an excellent memory. That moment when you start to see the sign for the pass, that feeling of "having done it". At the top you gather your strength, keep your concentration and then attack the descent. From one moment on, walking is no longer really controlled, it's almost an automatism, you move forward without thinking, a quite exhilarating moment.
Find here our article on the 2 highest passes of the Via Alpina
My assessment of Via Alpina Suisse: 100% positive!
You will have guessed it, for me this via Alpina it will not have been a piece of cake, but it is 100% happy that I am finishing this adventure. As a bonus I gained muscles in my legs that I didn't even know existed. They will have to be maintained now :).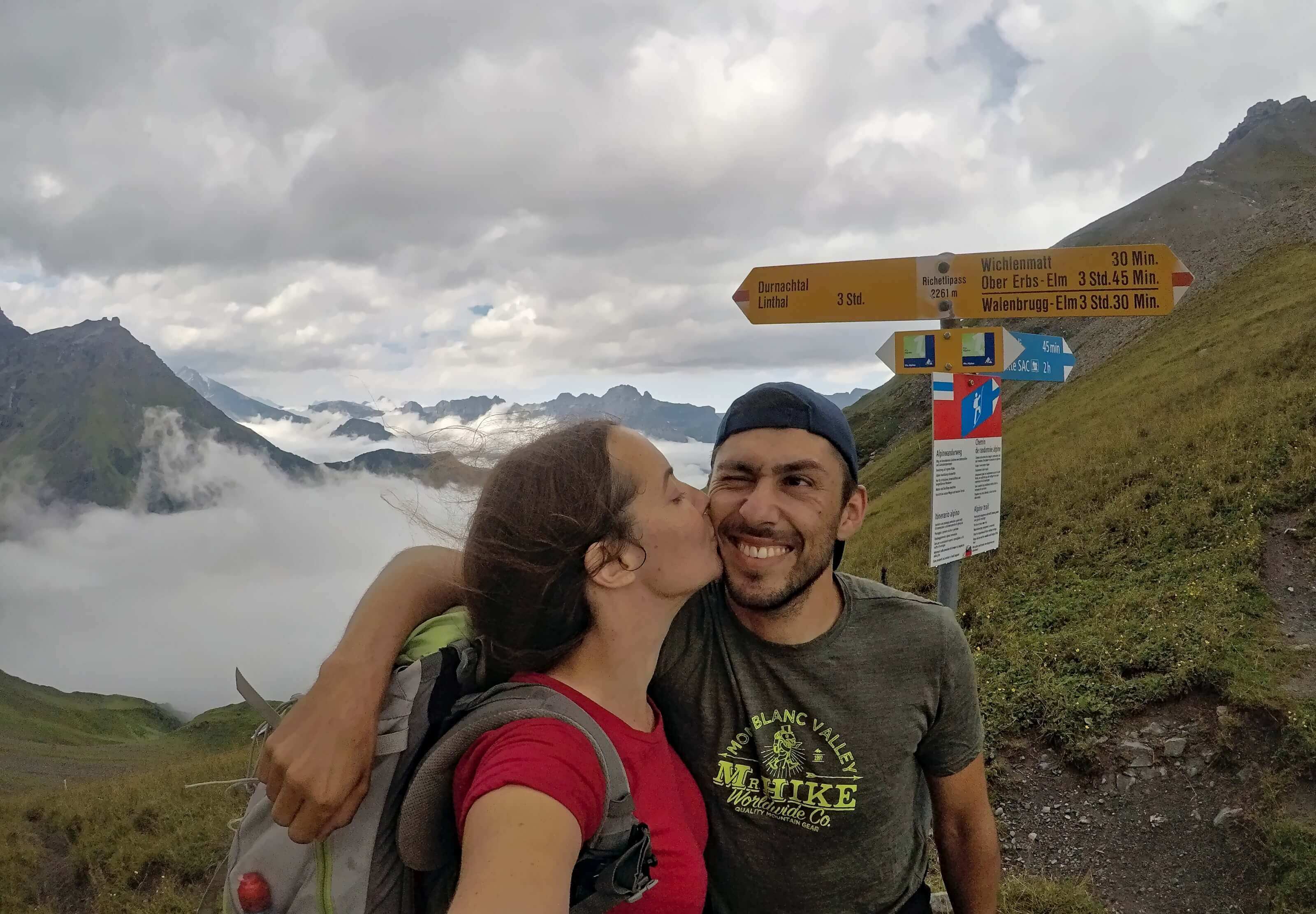 To tell you the truth, we had planned to spend much more time on this Swiss Via Alpina. Benoit, probably to spare me a little bit, had anticipated that we would cut all the stages of more than 15km in two. According to our estimates we had to be on the road for something like 32 days, with 28 days of walking.
In the end? We reached Lake Geneva after 23 days, including 19 days of walking! 🙂 Once started, the kilometers are easier than expected!
We'll see you soon for new articles because yes, we still have plenty of beautiful things to share with you! And of course we will also talk to you about budget and practical information, but for that we must first do a little bit of accounting…;) Take care.