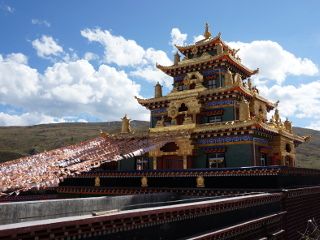 After visiting Chengdu and its surroundings as well as Mount Emei, we decided to go to Yunnan province. The trip was made by bus through the entire western part of Sichuan. This region, formerly known as Kham (a historical region that included the eastern part of present-day Tibet and western Sichuan), is predominantly inhabited by Tibetans. But when I talk about Tibetans it is for simplicity because this region is actually populated by more than a dozen different minorities.
But beyond its inhabitants, it is also for the breathtaking landscapes (in both senses of the word) that we have decided to go there.
Sichuan – a real feeling of Tibet
You can already find all the ingredients of Tibet: infinite high altitude plains (3000-4500m), gigantic mountains (several peaks at more than 7000m), monks, temples, nomads, thousands of yaks… in short, it is Tibet without the administrative problems that currently come with it…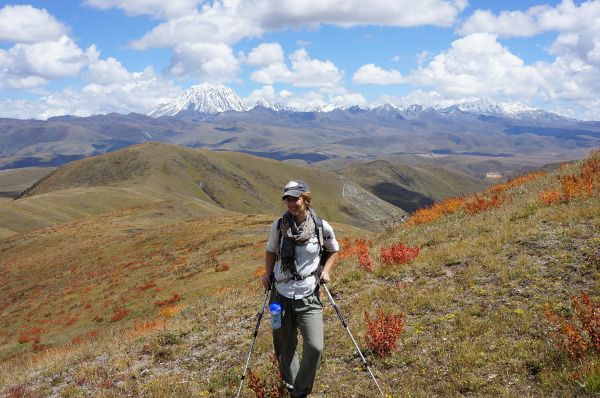 Visit Tibet? Not easy…. Sichuan is much better!
I must admit that before leaving, I really wanted to visit Tibet. But once we were on the way, after getting a little information, I quickly became disillusioned.
At the moment, visiting Tibet rhymes with very limited freedom. For example, you are forced to take a "guide" to supervise you. Not to mention the very high price (with the guide, the permit plus taxes, it gets difficult to make if for less than 1000€ per person and per week). So I was very happy to learn that it was possible to get a taste of Tibet without actually going there ;-). And as you will see, we were not disappointed.
Kangding: a necessary step
To get to this region from Chengdu or Leshan, there are not many options to get there… You're going to have to take the bus! Ahh no, I forgot…. There is Kangding Airport. This airport is located at an altitude of 4280 m, making it the 2nd highest in the world. It is connected daily to the one in Chengdu. But hey, it's still quite expensive (at least 1000 yuan).
Anyway, it is better to get used to taking the bus right away because the deeper you get into this region, the worse the roads are. Plus, it is always advisable to take it easy with altitude gain, thus bus is not so bad after all.
This first mandatory stop, located at 8-12 hours (it is really very variable) from Chengdu or Leshan, is the city of Kangding (2700m). This city has nothing special in itself to offer (it is even rather ugly) but it is an excellent base camp for some treks to do in the area. There is in particular Mount Gongga which culminates at 7590m not far… I let you imagine the monster ;-).
Find a hotel in Kangding, Sichuan
And as this city is a must, we strongly advise you to go to hostel Zihlam which is absolutely amazing. Its owner Kris, who speaks perfect English and knows the region inside out (he was a guide). However, we couldn't book it online, so it's best to call. He will certainly be able to help you find your itinerary in this beautiful region. Moreover, after a nice little day of hiking on the heights of the city, it is by following his wise advice that we will head a little further north, in the small village of Tagong.
Dorm beds start at 50 CNY
Otherwise to find accommodation in Kangding there is also the option to search on Hotelscombined, a hotel comparator who often gives the best rates.
Tagong: a charming little village in the middle of the Tibetan plateau
Tagong (3700m) is a small village of 8000 inhabitants. It is located in the middle of the Tibetan plateau and mountains. It was for us the ideal starting point for a small 3-day trek in these endless meadows, to meet the nomads, their culture and local Tibetan Buddhism (and yaks ;-))…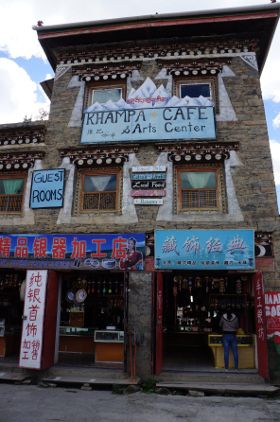 If you want to see these fantastic landscapes, eat at home, see how nomads live and learn more about them, there are no 36 solutions…. You need to meet Angela! Angela is an American married to a Tibetan from the region and she runs a kind of guesthouse, café, collaborative art center which absolutely brilliant… it's on the central square of the village.
In addition to offering great rooms at a very low price, local cuisine, local products… it also seeks to connect the few tourists who pass by there with the nomads who live nearby. (She speaks fluent English, Chinese and local Tibetan dialect). It's win-win….
Note: It seems that Angela has left Tagong! She built the Khampa Nomad EcoLodge about ten kilometers from Tagong. We haven't been there and so we can't tell you what it's like, but having seen her guesthouse in Tagong, it's easy to imagine that it's great. If any of you go there, feel free to comment below on how it was!
The website: Khampa Nomad Ecolodge
An extraordinary experience with nomads
Thanks to her, it was easy to organize a 3-day trek at the last minute with a local guide…
The advantage of the guide is that in addition to avoiding getting lost, he makes you go meet the nomads for meals and spent the night at their place. He also explains a little bit about their way of life and customs (even if communication was not necessarily easy)… and this for barely 90€ (nights and food included for 2 people and 3 days). But as a few pictures speak louder than words, I let you watch this short video of our hike around Tagong.

We enjoyed this 3-day trek in Sichuan very much for different reasons:
The Tibetan nomads are super welcoming and smiling.
Even if communication was not easy (they don't even speak Mandarin but a Tibetan dialect), we didn't need words to understand each other and their hospitality made our hearts warm. Even if they do not have much to offer, they do it with all their heart… And that's worth all the money in the world. Sichuan definitively stole our hearts…
The landscapes of the Tibetan plateau are breathtaking.
The images hardly reflect the immensity of this plateau which extends as far as the eye can see, with in the background these mountains which rise to more than 7000m. Even if the height makes each step a little more difficult (we still walk at 4000m), walking in such a setting is, how can I say… quite euphoric! I hope we've managed to give you a little impression of the beauty of the place.
Walking among free animals.
On these great plains, there is no need for a fence. Yaks, horses, pigs and so on are simply left free to graze wherever they want. There were probably thousands of yaks and hundreds of horses that we crossed during these 3 days… quite impressive!
Tibetan Buddhism is very present.
During this trek, we had the chance to see several Tibetan temples or monasteries. We were able to learn a little more about their way of praying or meditating, about the different Lamas (we tend to forget that it is not only the Dalai Lama…). And although they have to "mask" their beliefs a little bit (for example, they hide images of the different Lamas in farms so as not to have them confiscated), we feel very attached to their culture. It is not uncommon to see half a house dedicated to Tibetan Buddhism.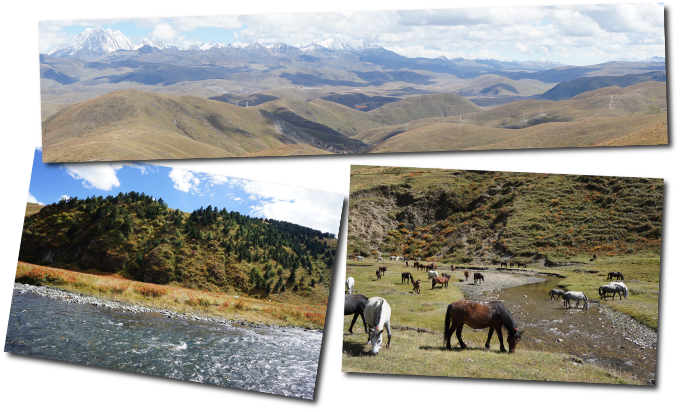 How the Yak defeated me!
I reassure you right away, I didn't get charged by a yak! 😉 It's just that in this rather remote region of China, yak is used in all kinds of ways.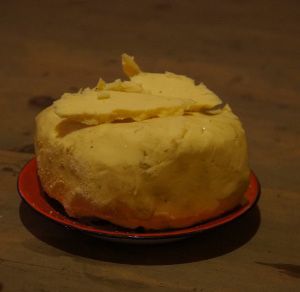 It's simple, we use it for everything! For its meat, its skin, its milk (it is made into butter, cheese, yogurt…) and even its excrement which is used as a fire starter and as insulation for the walls of houses… As you can imagine, the food is not very varied (unlike the rest of China where the food is great!) and we often get a piece of bread with one of the many by-products of the yak… (and sometimes a few potatoes)
Tibetan Gastronomy
Well, don't ask me if it was the "famous" yak butter tea (it's really gross), yogurt or meat that finished me off, but the fact is that the last night of our adventure, I was very sick. It should be noted that nomads do not generally kill yaks… They let them die naturally… so the meat tastes quite strong. So a little advice for sensitive stomachs, be careful with the food and eat moderately, it could help you (I ate likecrazy… 😉 ).
So here we are, we hope we made you want to visit the Tibetan part of Sichuan… on our side, it was a big crush and we are already almost certain to come back one day! It must be said that this region is immense and that the possibilities of hiking are endless…
What are you waiting for???? Getting your hiking shoes ready?)
NB: Please note that this article contains affiliate links to partner sites. If you buy a product on one of their sites you will not pay more but we will receive a small commission. This will help us to keep this site alive. Thank you! 🙂