This week we tried a new way of travelling for us…. I name the car rental to do a little roadtrip in Menorca. 🙂 In general, we are more interested in public transport and walking. But this time we didn't have much choice. Yes, November is definitely the low season in the Balearic Islands, and as a result all buses going to "tourist" destinations are suspended until the high season returns. To visit the island we HAD to rent a car.
In this article we propose 2 ideas for itineraries to do by car.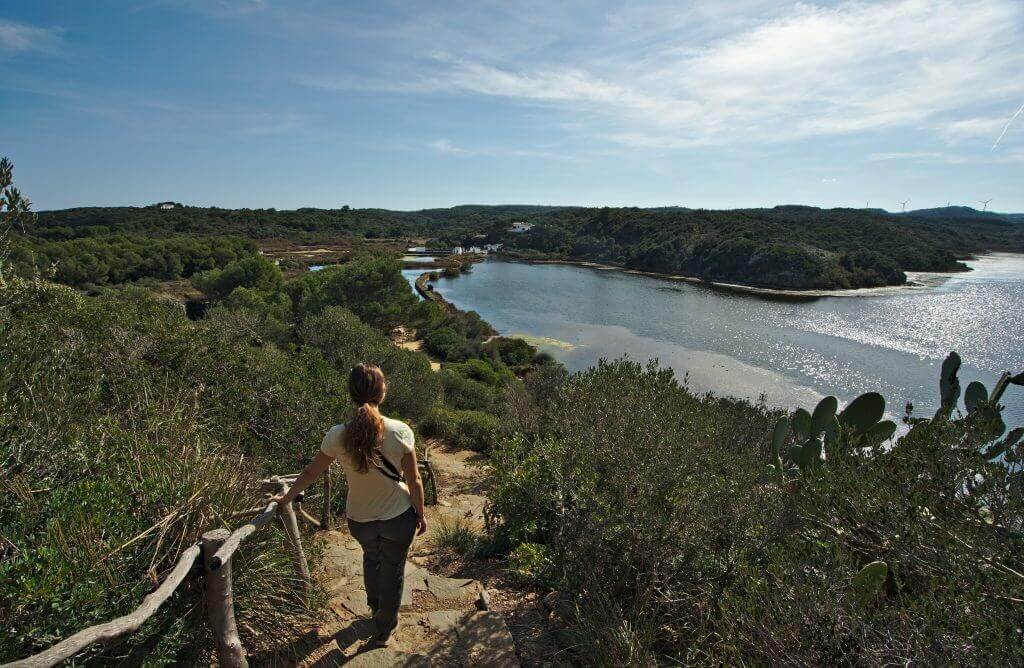 Roadtrip to Menorca: the north of the island
Since we took the car for 2 days we decided to split our visit of Menorca in two. We decided to opt for a day of visiting the north coast, then a day of visiting the south coast. At the end of the article you will find a map of Menorca with all the spots mentioned in the article.
Discovery of the Minorca Nature Reserve: S'Albufera Des Grau
First step of our Roadtrip and first good surprise. We didn't know much about Es Grau except that we had located on Google Maps that this small village is in the middle of the only natural reserve in Menorca.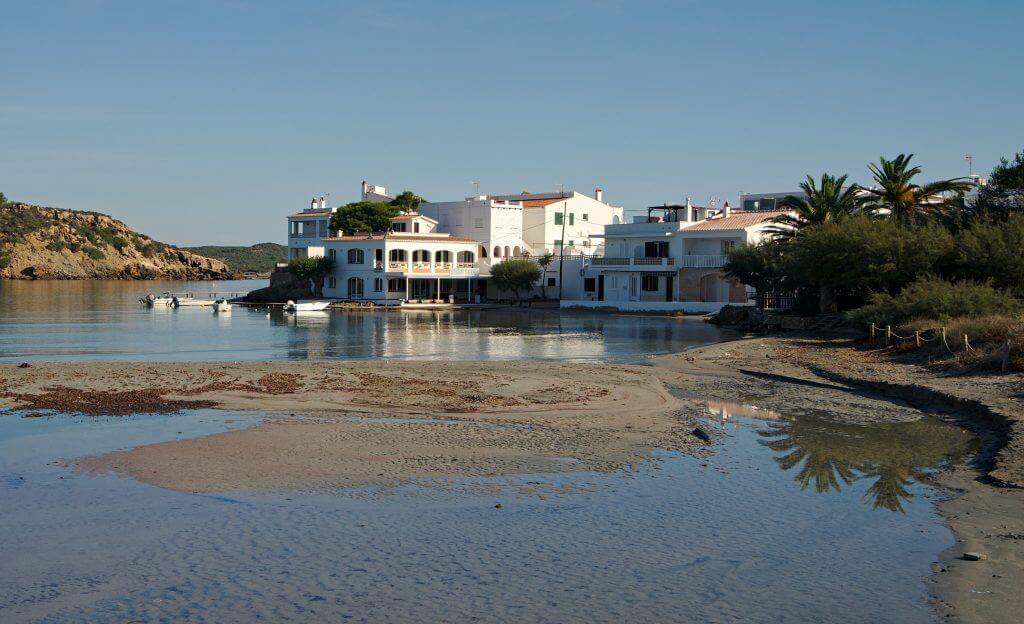 It didn't take much longer to decide and that's how, after picking up our car in the suburbs of Ciutadella, we came straight here. It is in fact one of the most important wetlands in the Balearic Islands and in winter there are more than 90 species of birds that come here "on migration". We'll have to admit right away that we are by far not specialists in birds, but even if you do not know how to distinguish 2 different species of ducks it is almost certain that this area will still seduce you. At least we loved it!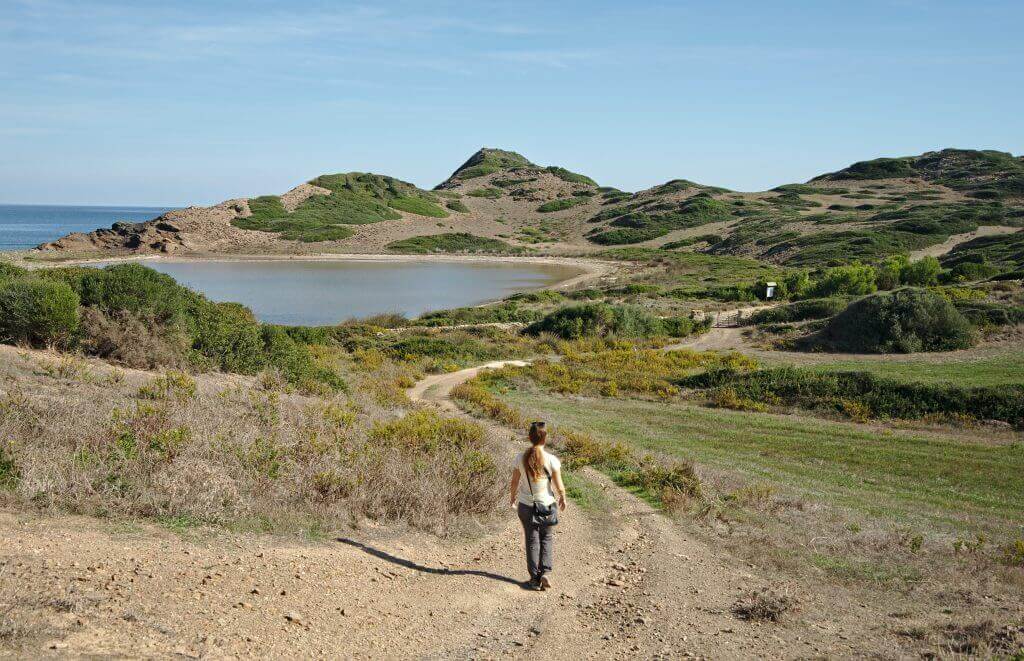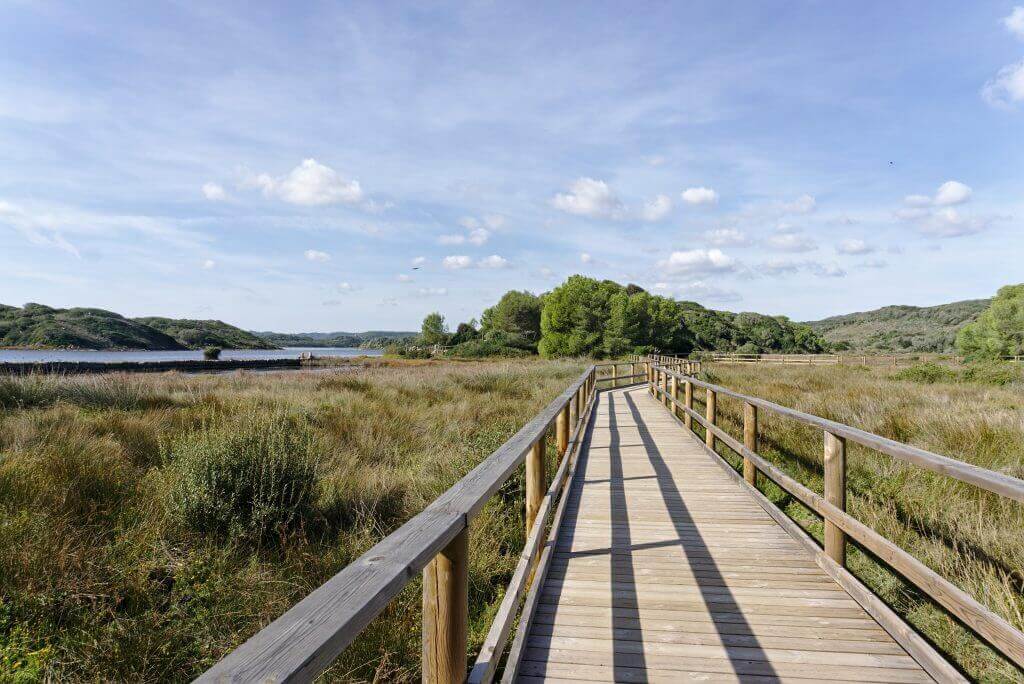 In all we stayed about 2-3 hours in the reserve. We left the car in Es Grau and went for a walk. First, we followed the coast to Tamarells beach; a beautiful walk in a wild and preserved nature!
Then we went for a walk on the side of the freshwater reserve just next door. A small trail leaves Es Grau and takes visitors through this marshy area on small footbridges. It's really pretty, and we can't tell you if there were really 90 species of birds, but what's certain is that there were many! 🙂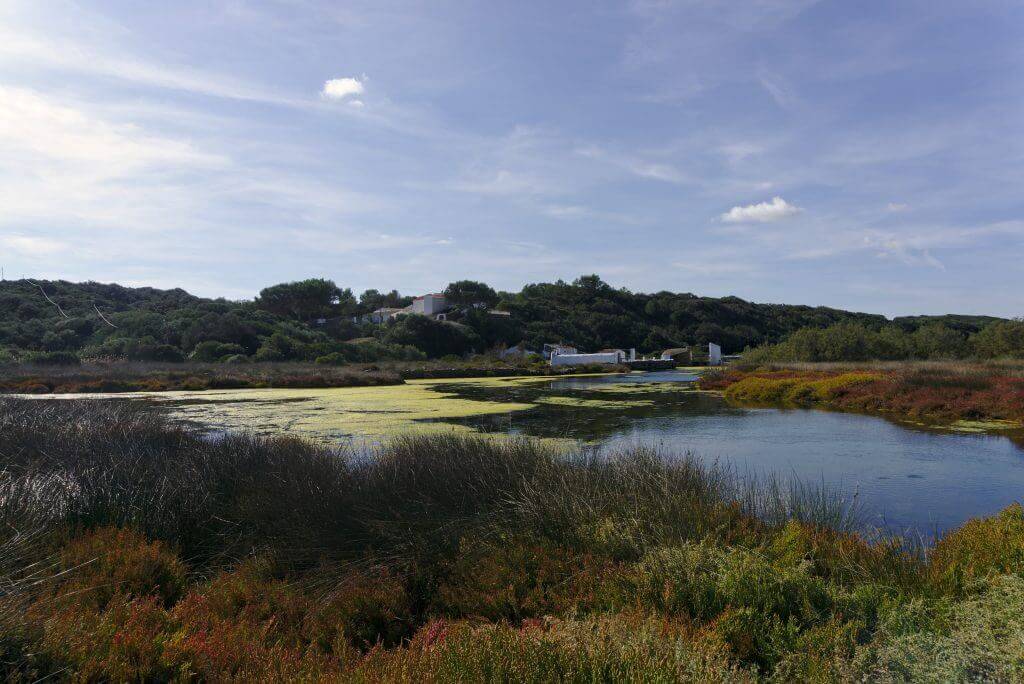 The Favaritx Lighthouse
This lighthouse is also located in the S'Albufera nature reserve. It is in theory possible to walk there from Es Grau following the famous Cami de Cavalls (the path that goes around the whole island), but for this hike you'll have to count 3 hours of walking to get there.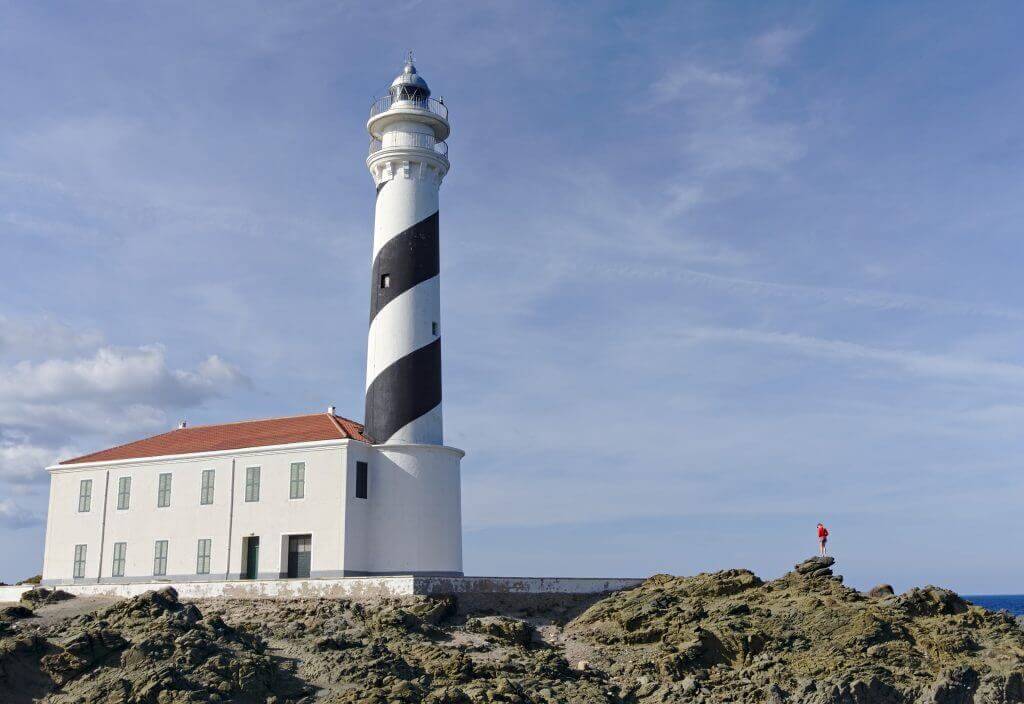 With the car it was therefore difficult for us to make the round trip and we decided to go by road. The road is paved to the end and don't worry, it's relatively well indicated! The only time that made us doubtful was when the road passed through a gate where it was written in large "Private Property". We admit we hesitated to pass… In the end, it is indeed the official route and don't worry, it's perfectly allowed to drive until the lighthouse.
The lighthouse itself cannot be visited (it is even forbidden to enter the site itself), but you can easily walk around it on the rocks.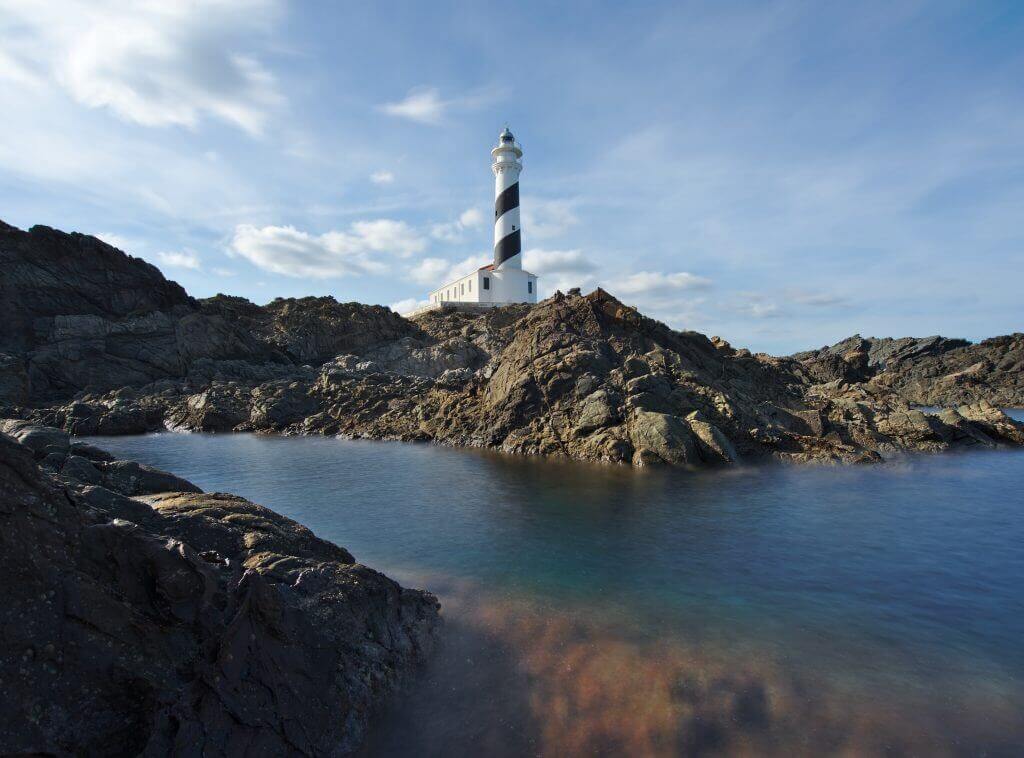 Cavalleria Lighthouse
It wasn't necessarily planned like that, but in the end this roadtrip day in the north of Menorca will have turned into a bit of a lighthouse day! 🙂 After the one in Favaritx we headed towards the one in Cavalleria.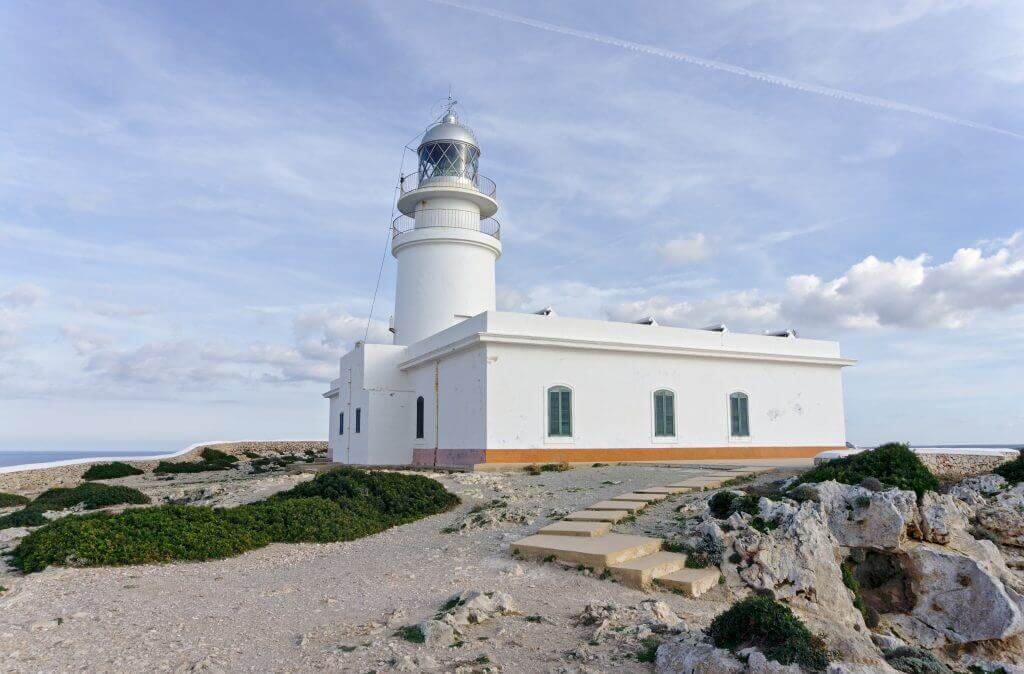 To tell you the truth, we found that this lighthouse was probably the least attractive of all… Not bad in itself, we agree, but if you're short on timing, maybe it's on this one that we'd tell you to skip it.
After that, even if the lighthouse didn't thrill us any more than we thought, the road to get there was really nice.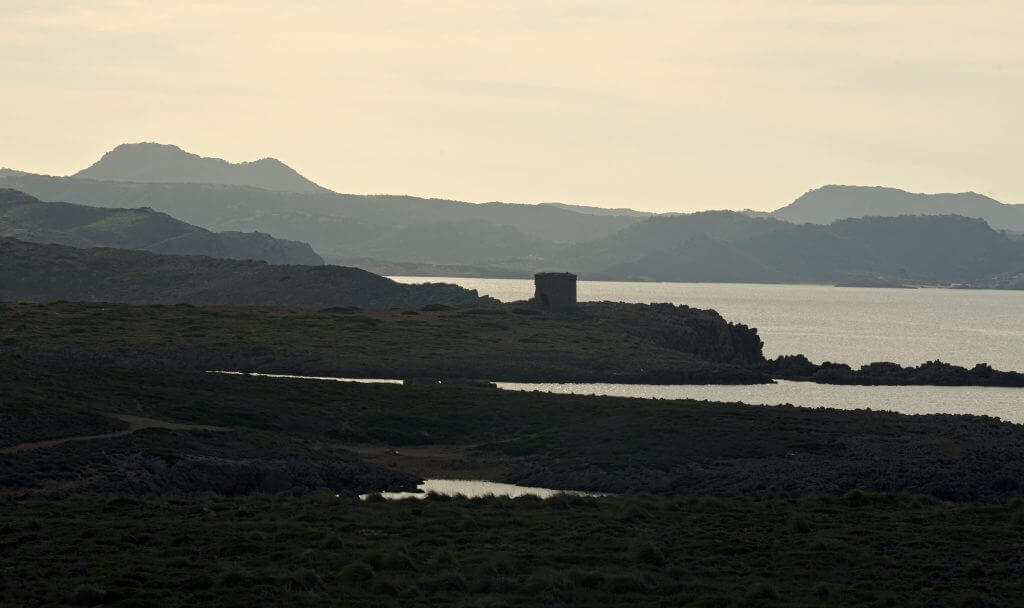 Cavalleria Beach
On the way to the lighthouse we spotted a small parking lot on the side of the road and a sign for a beach. The parking was huge but there were only 3 cars parked… so we were intrigued by this!
Well, this was a good decision! After a few minutes of strolling we arrived at a viewpoint overlooking a beautiful beach. On the beach? A group of people who were doing yoga and other than that absolutely no one. If you want our opinion, this beach is clearly a good place to come and enjoy the sun without too many people!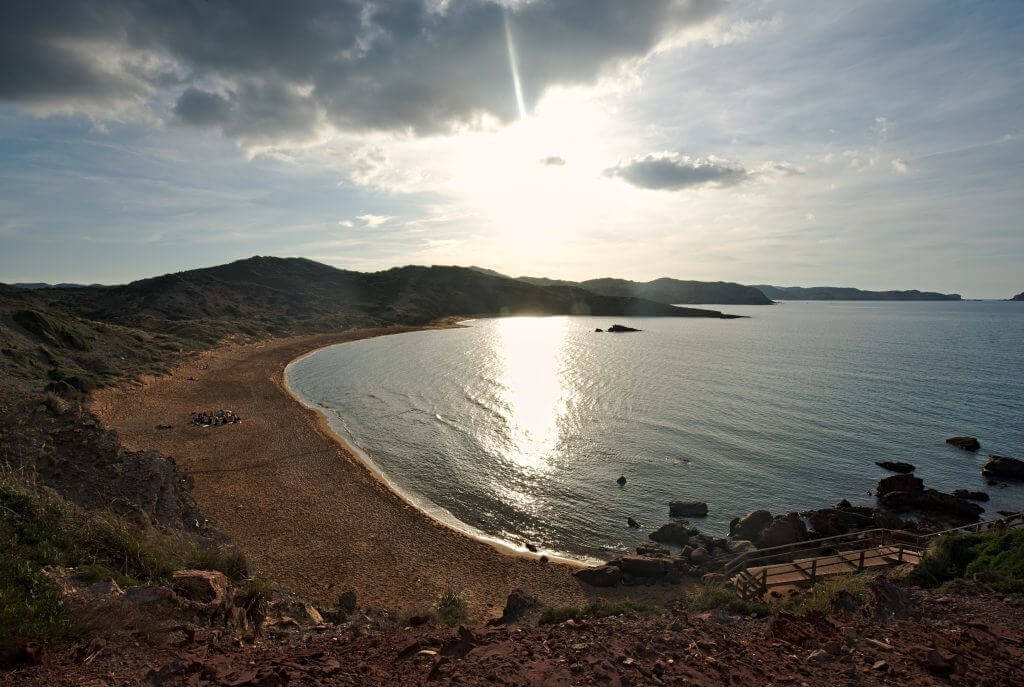 Arenal den Castell
This stop we did not do it during our roadtrip but on another occasion by going by bus… But we thought that if you weren't lighthouse fans then a good alternative to Cavalleria could be Arenal den Castell.
Arenal den Castell is not a charming village… it is a seaside resort like there are many others. On the other hand, we fell under the spell of the really magnificent beach and especially the much wilder coast.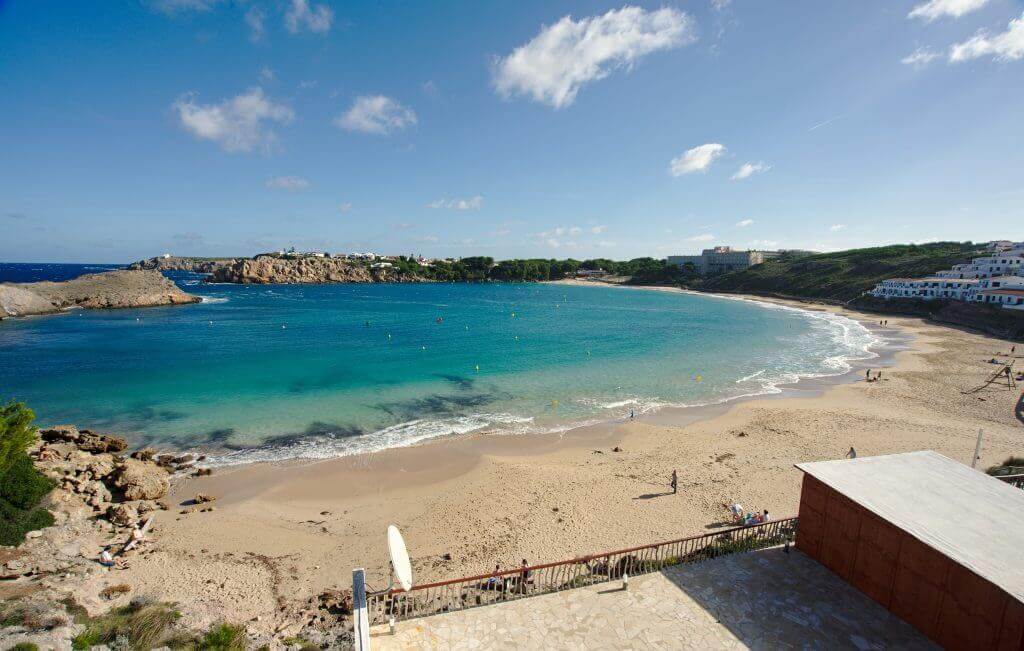 From Arneal den Castell we opted for a small walking loop and reached the small fishing port of Na Macaret. A lovely little port where time seems to have stood still.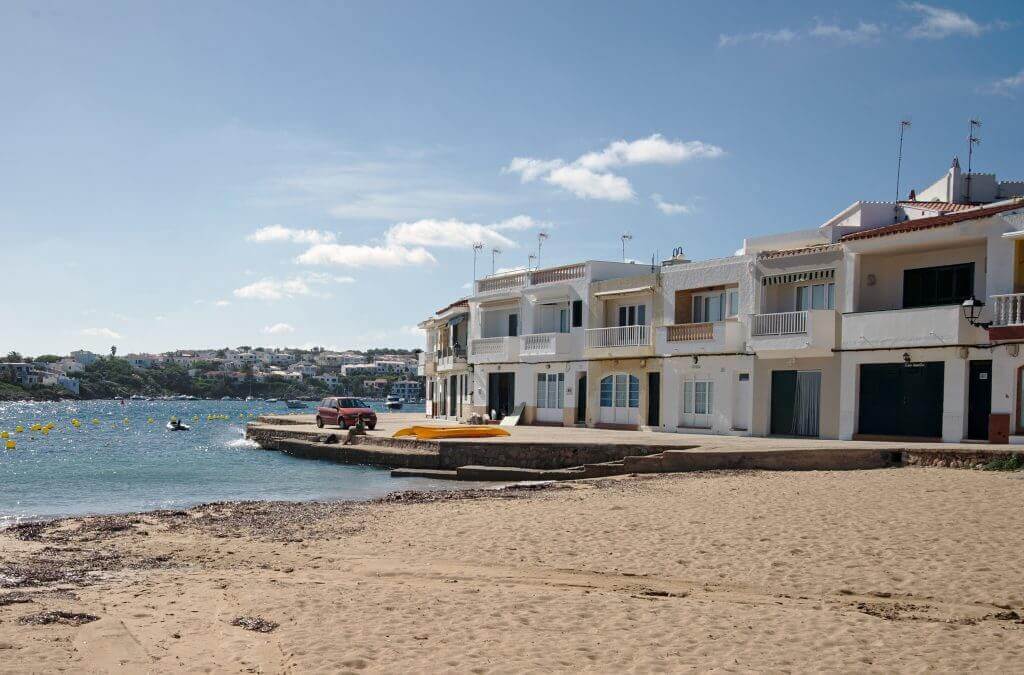 On the way back we walked along the coast and once again we thought we were in a kind of film remake that we could have called 50 shades of blue!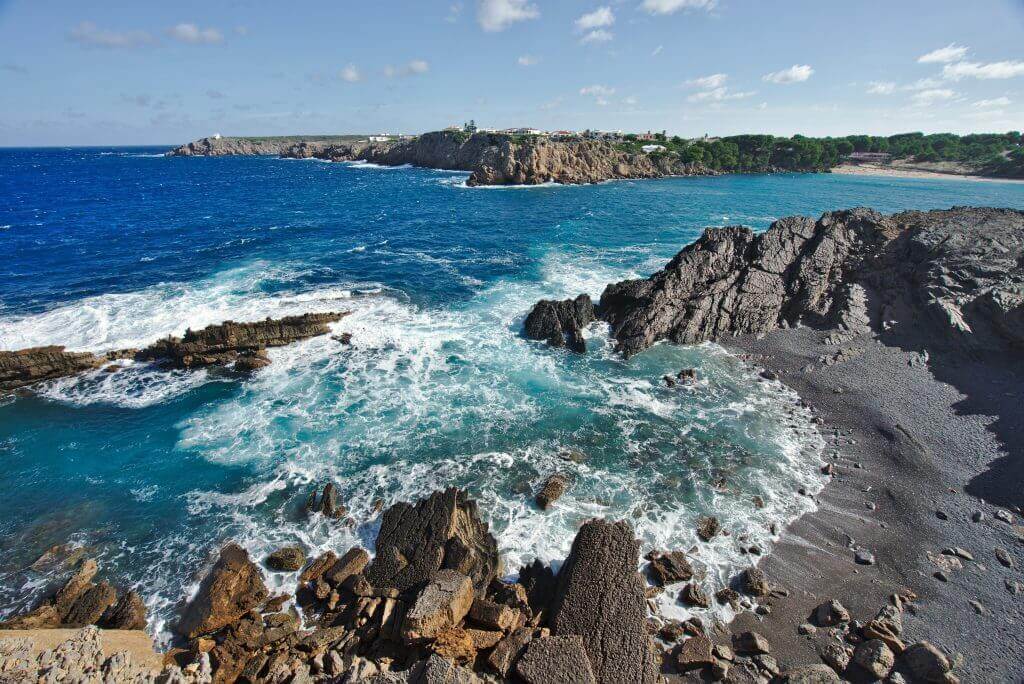 Cala Algaiarens and Cala Morell
We didn't come here during our roadtrip but came to the area to do a hike between Cala Algaiarens and Cala Morell. But it is impossible not to mention these 2 spots in this article! 😉
If you have a car it is really worth stopping at Cala Alagaiarens beach and climbing up to the viewpoint. We told you more about it in more detail in our article on this hike.
Cala Morell is also a pretty seaside resort that is as if embedded in the cliff. This makes it very photogenic and not to spoil anything, there is a small bar in the harbour with a simply perfect view of the bay and the village.
Sunset at the Punta Nati lighthouse
For this end of the roadtrip day we decided to go and see a place that we think is difficult to reach without a car… The Punta Nati lighthouse.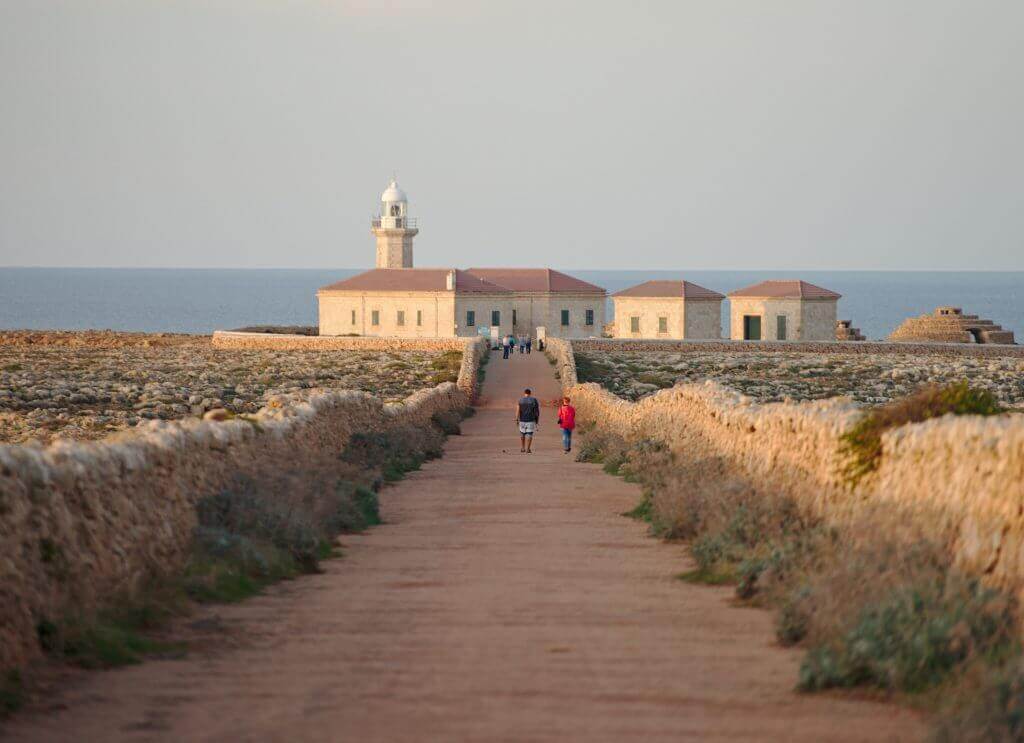 To get there, we return to Ciutadella and take a long road almost straight ahead, which crosses hectares and hectares of land where there is absolutely NOTHING! Soil, stones and a little grass as far as the eye can see! There is a car park at the end of the road and from the car park it takes about ten minutes on foot to reach the lighthouse… Take this into account when you come to the sunset… we let you guess who almost missed the sunset if we hadn't accelerated a little to get to the lighthouse… haha
Getting here at the end of the day is definitely the best! The orange lights sublimate the place and you can enjoy the sunset by climbing on old small fortresses that are erected behind the lighthouse.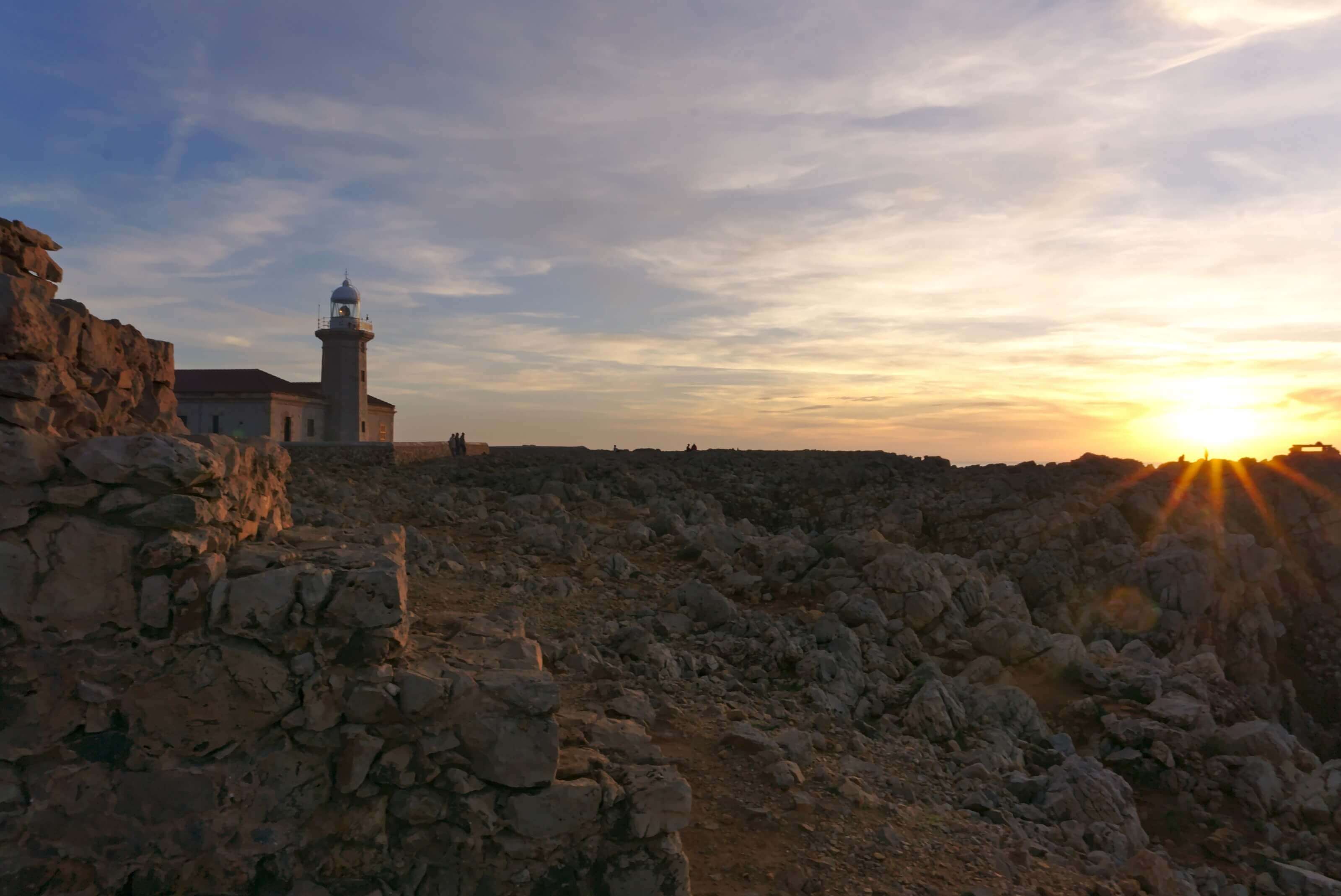 The lighthouse itself is not accessible (it is reserved for employees), but you can easily walk around it in the rocks.
Once the sun set we, waited until the lighthouse came on and we set off again towards Ciutadella.
If instead of seeing the north coast by car you prefer to go by sea, there are cruises that can be taken from Fornells Bay. At 29€ for a 3.5 hour ride it's a great way to see the surrounding area. Afterwards we won't hide from you that we didn't do it… 2 reasons for that: 1) boats do not circulate outside the tourist season 2) even if it had circulated I think Benoit would have gone alone… I have an awful seasickness and just the idea of getting back on a boat makes me sweat 😉
Itinerary in Menorca by car: the beaches and villages of the south of the island
Beginning of the day in Mao (Mahon)
We had already come to Mahon, which is the "capital" of Menorca, for a day. We will probably come back to this in a future article, but Mahon is definitely a pretty town that is clearly worth a visit.
We particularly liked its pedestrian city centre and the pretty marina with all its restaurants.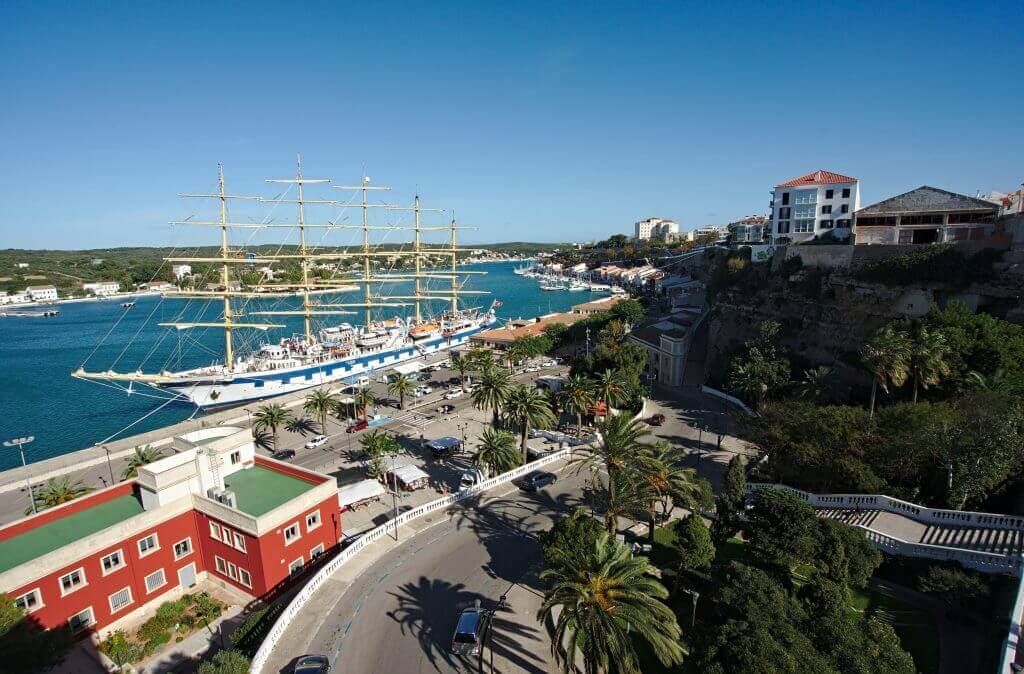 That morning, having already seen the city, we went directly across the bay to the fortress of La Mola. Built between 1850 and 1875, this fortress was initially there to protect the city of Mahon and was later used as a military prison. Our initial idea was to visit this fortress, also called Isabella II, but at 8€ the entrance per person we found it a little expensive… Thus, we turned back by making a few stops along the way to take a picture of Mahon from this side of the shore.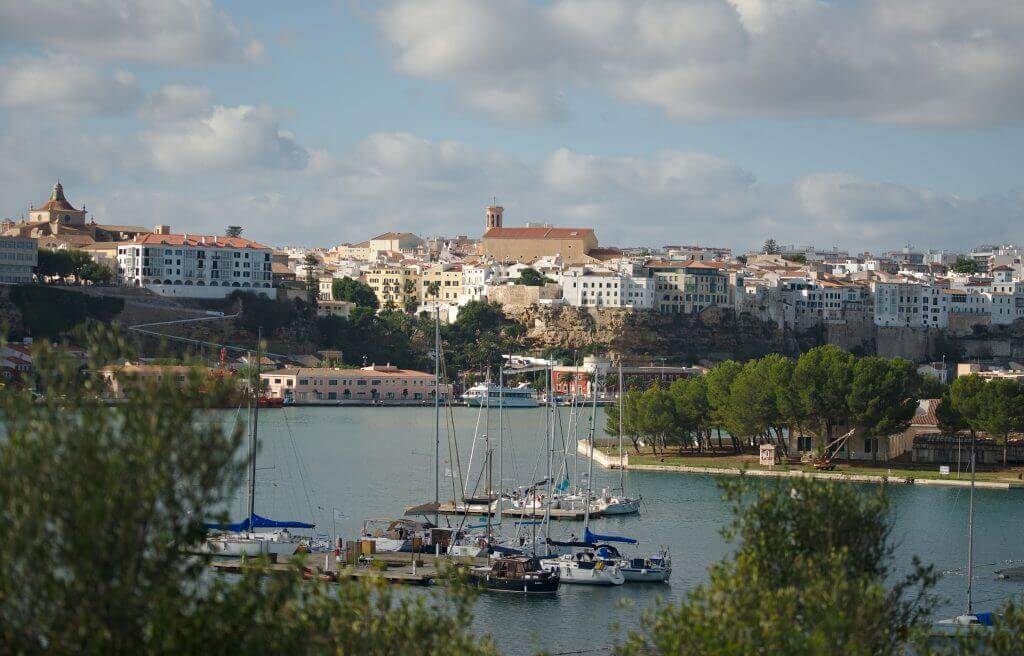 The white village of Binibequer
It was on Instagram that we spotted this small all-white village and we absolutely wanted to come and see it up close. To be honest, we almost missed the village! 🙂 In fact we arrived at the right place, parked the car in the parking lot and started walking.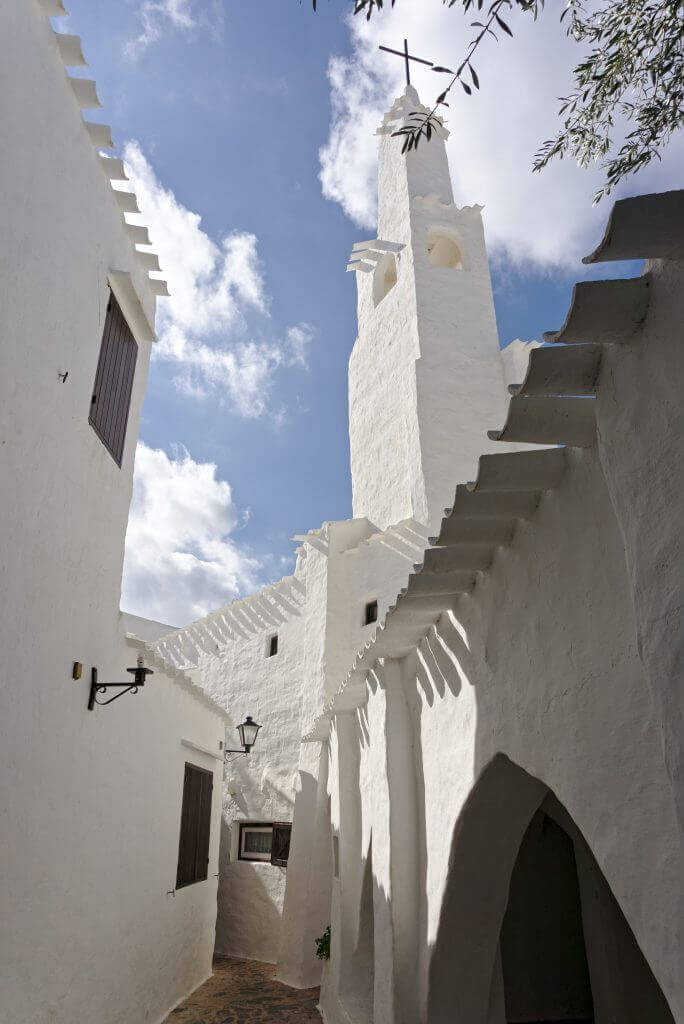 We reached the only restaurant open and continued on our way. Quickly we were on a large alley where the holiday villas followed one another….. Huh? But where is the village?????
We continued the walk and reached the beach. It was cute, deserted, but shoot, still no village in sight! We lookep it up on Google Maps and we saw that behind the little restaurant we had passed first there seemed to be a few blocks… Was that it????
Well… we retraced our steps and after a little coffee to get back on our feet, we started sneaking between the small houses. Yes, I use the word sneak, because it is totally possible to miss this village of Binibequer… (we did it!)
Once we found it, it was all happiness! First, we were the only people around. We literally had the village to ourselves! I mean, I call it a village, but in fact it's more like a tangle of about fifty white holiday homes with narrow alleys and small squares where olive trees grow.
It's very cute, photogenic as possible and deserted! But the many signs indicating "Silence Please" make us say that in summer there must be a lot more people here… The village is probably harder to miss if there are more tourists around though 😉
Cala en Porter: between the cliffs
Originally we came here because we wanted to see the famous Cova d'en Xoroi bar (which we already told you about in our article on sunset spots in Menorca). Little fail, because we found the bar but it was closed! 🙂
From the road you clearly couldn't see much, but it does seem that the bar is hanging in the cliff. And orientation level there is nothing to complain about, it must indeed be not too bad for the end of the day….
But we weren't going to rest on a defeat and so we went to see a little closer to what the village of Cala en Porter has to offer. For the time being, it was a pretty good surprise. We really liked this village perched in the rocks with its cliffs that go down to the sea and the small beach.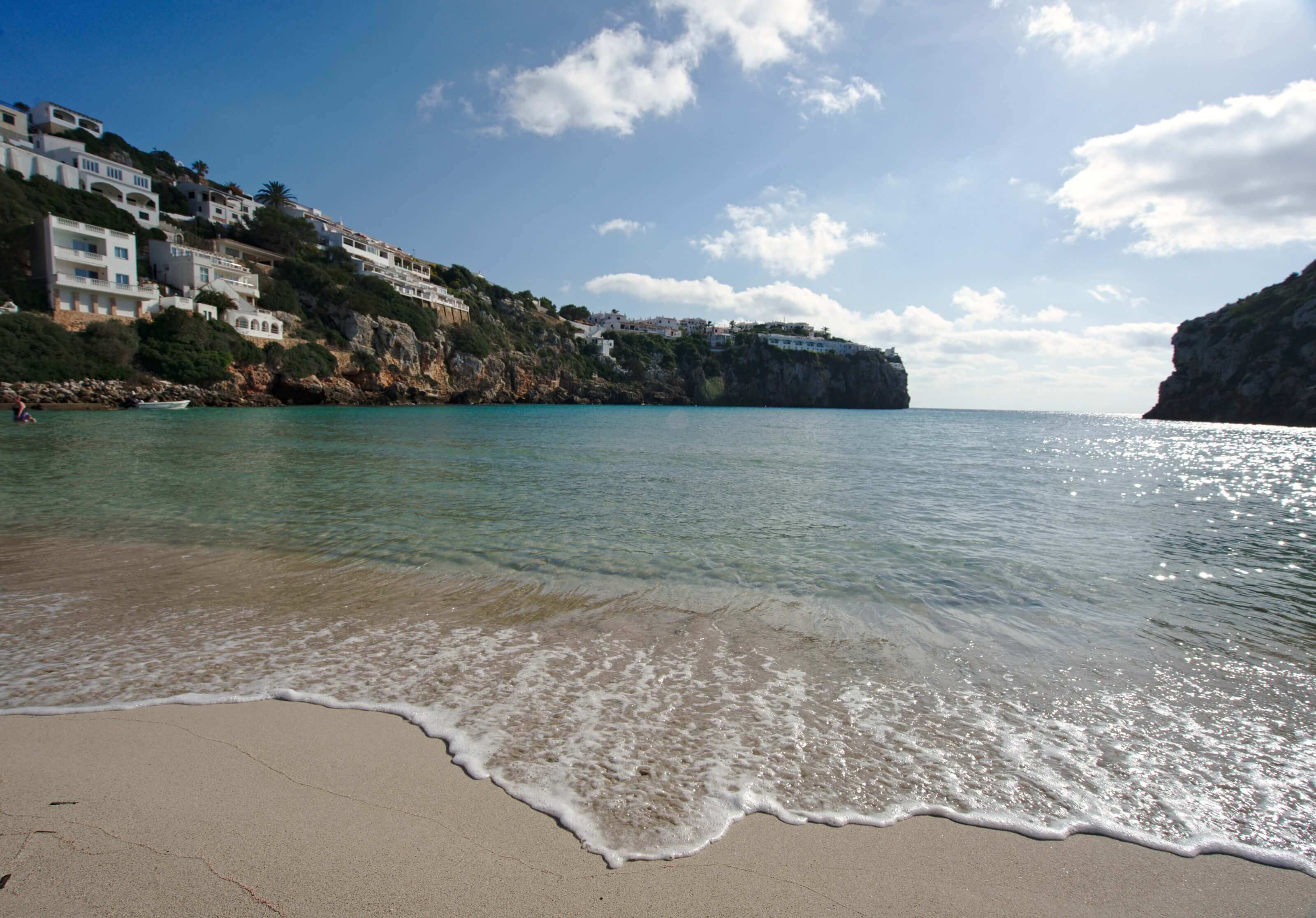 Then it's very difficult for us to tell you what it looks like here in the summer… We could see that there were many restaurants, holiday apartments, shops of all kinds. But at the beginning of November 80% of the shutters were closed, so we found the place very peaceful and pretty. Is it the same in summer? We doubt it…
Stroll along the beach of Sant Tomas
Sant Tomas is probably one of those places we would never have come to if we hadn't had the car… To tell you the truth, we had a meeting with the sunset at around 5pm (hmmm winter time hurts), and we still had an hour left when we left Cala en Porter.
In short, it was 100% random that we landed here (understand by that that we opened Maps Me and looked at what was on the way);)
For the time being, it was a pretty good surprise. The village itself is more of an "ordinary" tourist resort with its large, not very beautiful hotels and restaurants along the beach. But what we thought was nice was to go for a walk along the coast.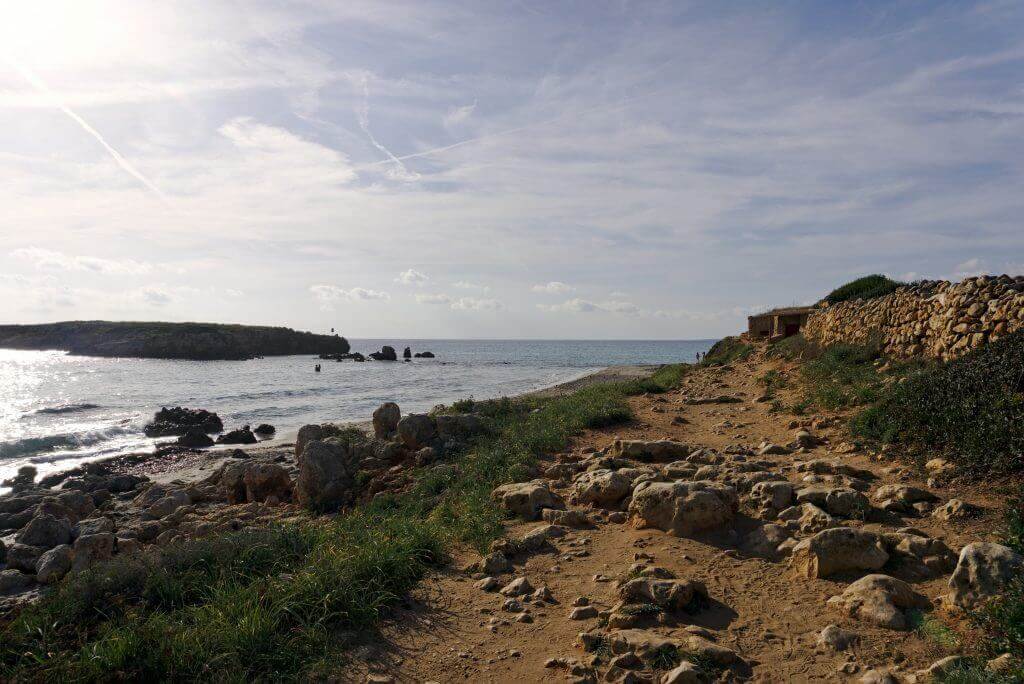 When we arrived at the car park we started walking west. If we had had more time we probably would have gone to Playa Escorxada, but we had an appointment with the sunset! 🙂
Rather than taking a long walk, we simply walked a little along the coast and settled on the beach to take a little turbo nap before heading back to the road. At the beginning of November we had the beach all to ourselves and that's just royal!
Cala Galdana, Cala Mitjana and Cala Turqueta by car
We couldn't possibly do an article for you on the south coast of the island without telling you about the most beautiful beaches! So these beaches we did not come by car during our roadtrip but came at the beginning of October by bus. We had opted for a hike from Cala Galdana to Son Xoriguer. If you like walking, we can only recommend this hike, which we told you about in more detail in this article.
If you are driving and you have to make choices, we recommend that you stop at Cala Galdana. Then, walk to Cala Mitjana, marking a small stop at the viewpoint overlooking the beach.
The second stop to recommend would probably be Cala Turqueta, the most famous beach in Menorca. If it is the most famous it is for a good reason believe us… the water is translucent, the sand white and fine! A parking lot is located just next to the beach.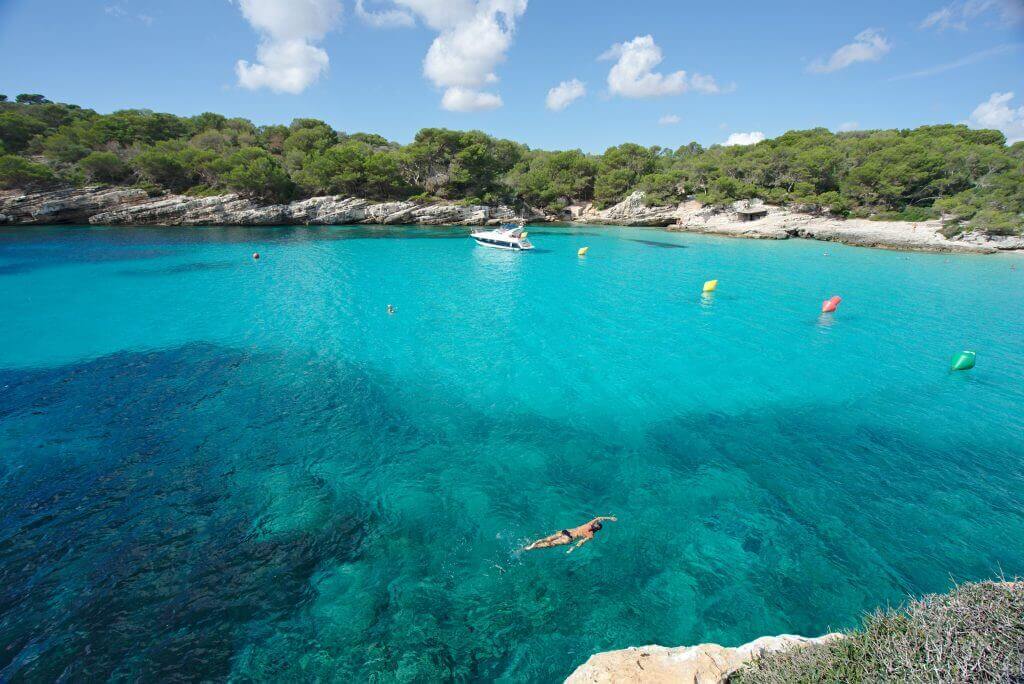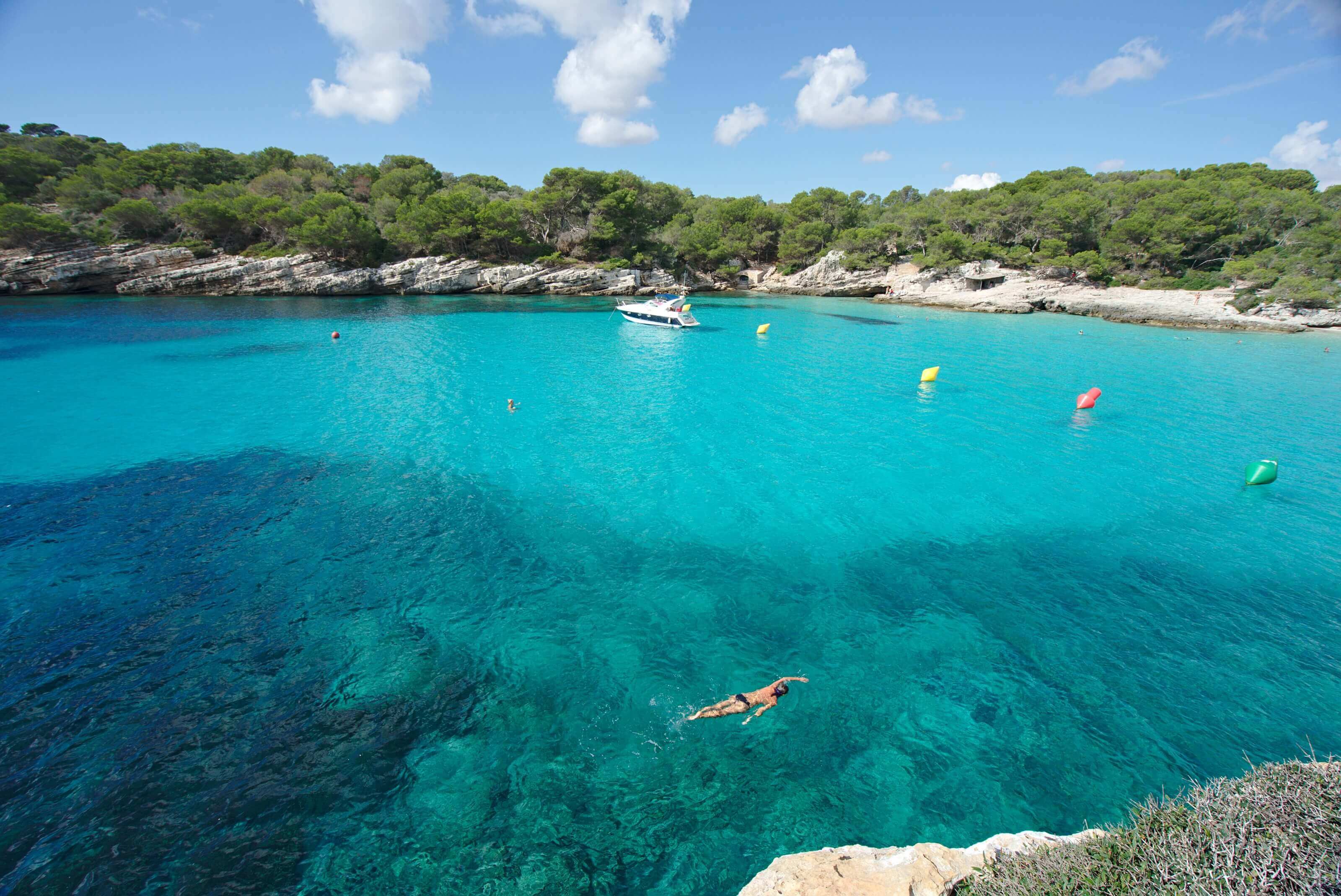 Sunset in Cala Blanca
For our second evening our plan was clear: we wanted to have a drink with our feet in the water while watching the sun go down… Well… in the end we did see the sun go down, but for the aperitif we had to settle for our bottle of water that we had in the bag.
Knowing that it was the low season, we thought that Cala Blanca would probably be one of the places (except Ciutadella) where there would still be open bars. So no…. Nothing open! 🙂 But that's okay, we put the car by the side of the road and we went to settle on the rocks. A beautiful end of the day as we like them.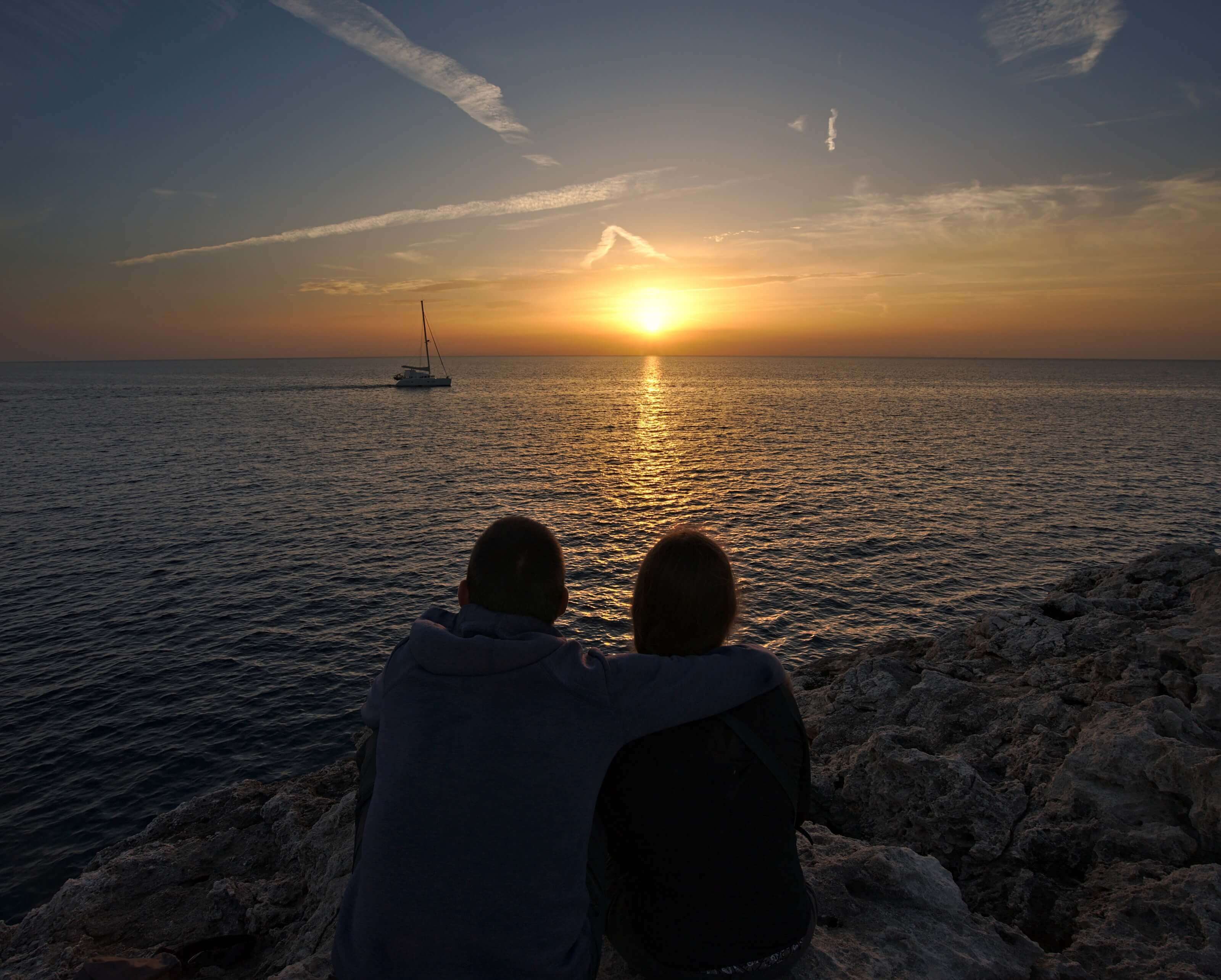 Menorca Map: Things to see and discover
On this map we have put you on the one hand all the points of interest that are mentioned in the article, but also all the other addresses and pretty spots that we visited during our 6 weeks here.
Car rental in Menorca: why, how, how much?
Rent a car in Menorca or take the bus?
Car rental is on the rise in Menorca and, quite frankly, we can understand why. In Menorca there are several bus lines (and several companies) which almost each have their own timetable (and website)…;)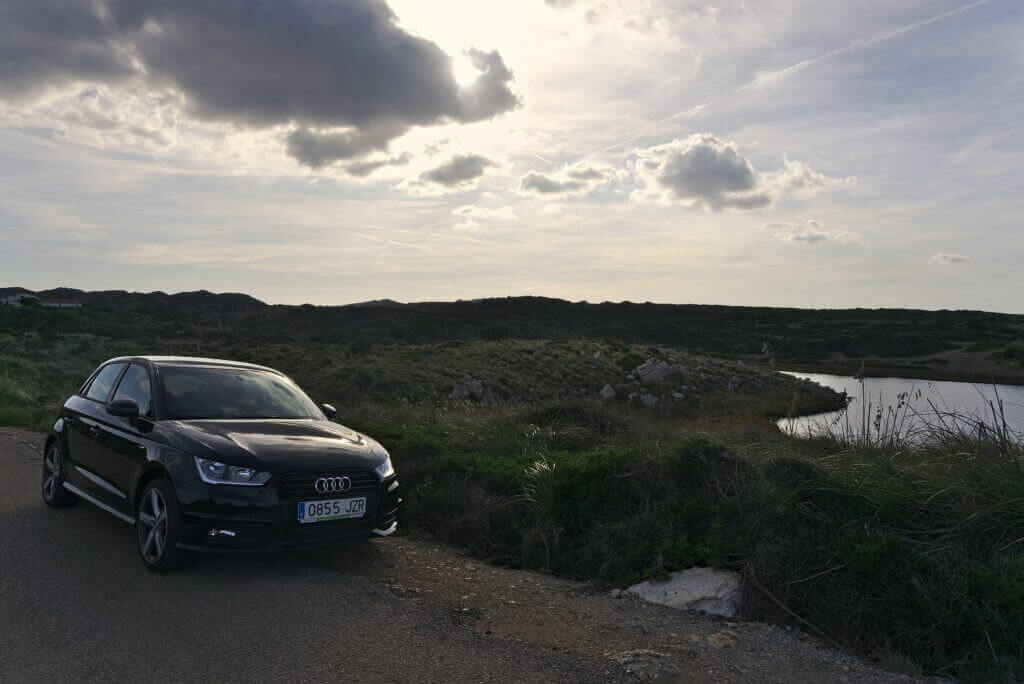 We will come back to public transport in our next article, which will be 100% practical for visiting Menorca, but be aware that even if it is not "trivial", the bus is still an excellent way to visit the island… In fact, it is especially ideal for hiking because you don't have to go back to your starting point.
But here we are, as much in October we still had access to a lot of buses, as much in November it's another story. The tourist season being over many lines were suspended until spring.
Where to rent a car in Menorca and how much does it cost?
As so often in these cases, I want to tell you that we can find everything! 🙂 There are rental companies with a presence in the vast majority of tourist cities. There the prices vary between 25€ and 45€ per day depending on the vehicle. It is also possible to take a car directly to the airport for the duration of the stay.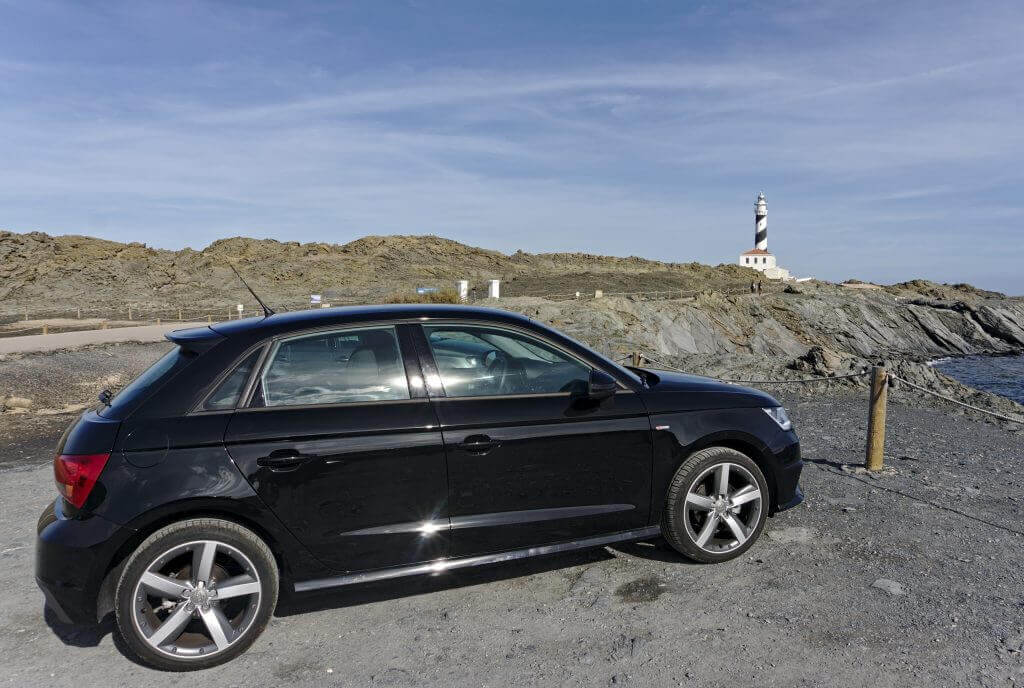 On our side we didn't need to have a car for the whole stay. So we started looking around Ciutadella to see what we could find. Here too there are agencies, full even. The prices are essentially the same between the agencies (always between 25€ and 45€ per day) and from what we have seen all the agencies really have cars in excellent condition.
By doing some research on the internet we still managed to find something better. In the end we rented our car from OK Car Rents. The price? We had booked a 208 peugeot or equivalent for 36 hours for a price of 27€.
Rent a car

To find a car (in Menorca or elsewhere) we advise you to use Rentalcars.com.
Rentalcars is not a rental agency but an agency comparator! What does that mean? This means that you have a good chance of finding the best prices online (that's how we found our car) Tip: Always try to vary the departure/return times a little. If an agency closes its doors at say 8pm and you want to return at 8.30pm then the latter does not even appear…. However, by talking to the agency it is often possible to make arrangements!
But then why are they cheaper? The first point is that they are placed outside the centre. From our apartment it took us 40 minutes on foot to get the car (and to get back home after returning it). On our side, walking is not a problem so we didn't hesitate too much, actually. The second point is that this price is the one for a car without "total" insurance. This means that a deposit of 600€ must be paid for any damage (the amount of the deposit is blocked on the credit card). If you want to have a coverage without a deposit you have to add 10€ per day of rental for a "body" coverage or 15€ per day for an "all risk" coverage.
What we thought about this car rental
We were delighted! When we arrived at the agency they no longer had the type of car we had booked and they had planned a nice Audi Sport for us… 🙂 Having the car allowed us to see a lot more in 2 days and above all we were totally flexible.
Financially, the rental came back to 27€ for 2 days. To this we added 29€ of fuel for the nearly 350km covered.
Rent a van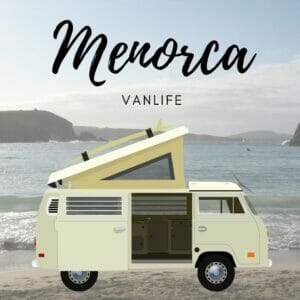 We didn't do it, but since we bought our van we can't help but think about the destinations we've visited and wonder if they would be good to visit in a van. Menorca is clearly one of those places where we think it must be really nice! 🙂 To find a van you can go and see on the website Yescapa. They offer vans for rent between private individuals (with all the insurances). Van are available from 50€ per day. See the vans on Menorca
Get here


Several airlines fly to Menorca, but overall the cheapest is usually Vueling
. We came with them through Barcelona and it was perfect. 🙂 Find a flight on Skyscanner
Looking for a place to stay? Take a look at the map below and use the filters (price, review) to find your perfect hotel or apartments. As usual, we recommend you to check Booking.com
This time I think you have enough to do if you come to Menorca and want to start a small roadtrip. As usual, if you have any good tips, questions or just want to say hello, don't hesitate to leave us a comment.
Hasta Luego 😉
NB: This article contains "affiliate" links. This means that if you make a purchase on one of the partner sites we will receive a small commission. This does not change the price you pay, but it will help us to keep this blog alive. And of course we are only talking about sites that we also used. 😉