After our first article about a wonderful hike in the south of Menorca we decided to tackle this time on the north coast. In this article we take you to Cala Morell and Val Algaiarens beach.
So we reassure you that we don't just do hikes in Menorca, eh! 🙂 We also spend a lot of time discovering the pretty little villages and tasting a lot of tapas and pomadas. But we will come back to our good addresses in a future article.
Val Algaiarens
We arrived by bus just before 10am. In the bus we were exactly 4…. The driver, the two of us and a Spanish lady who came to enjoy the beach. So certainly, mid-October is already the low season here in Menorca, but we didn't expect to have the beach almost all to ourselves!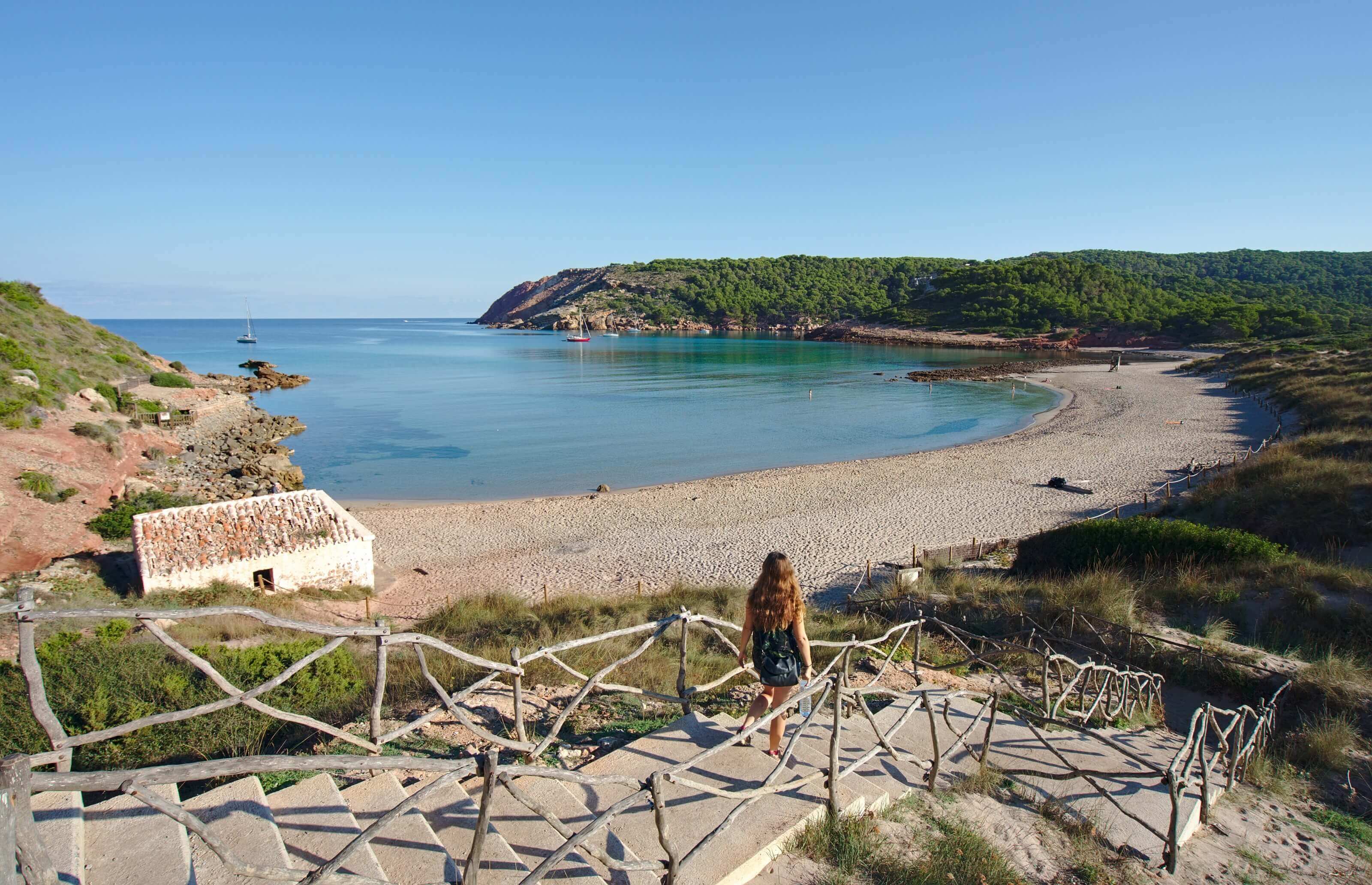 Before starting our actual hike we walked on the beach and went to the small beach of "Playa des Bots" which is a good hundred meters further west. (see map below for details).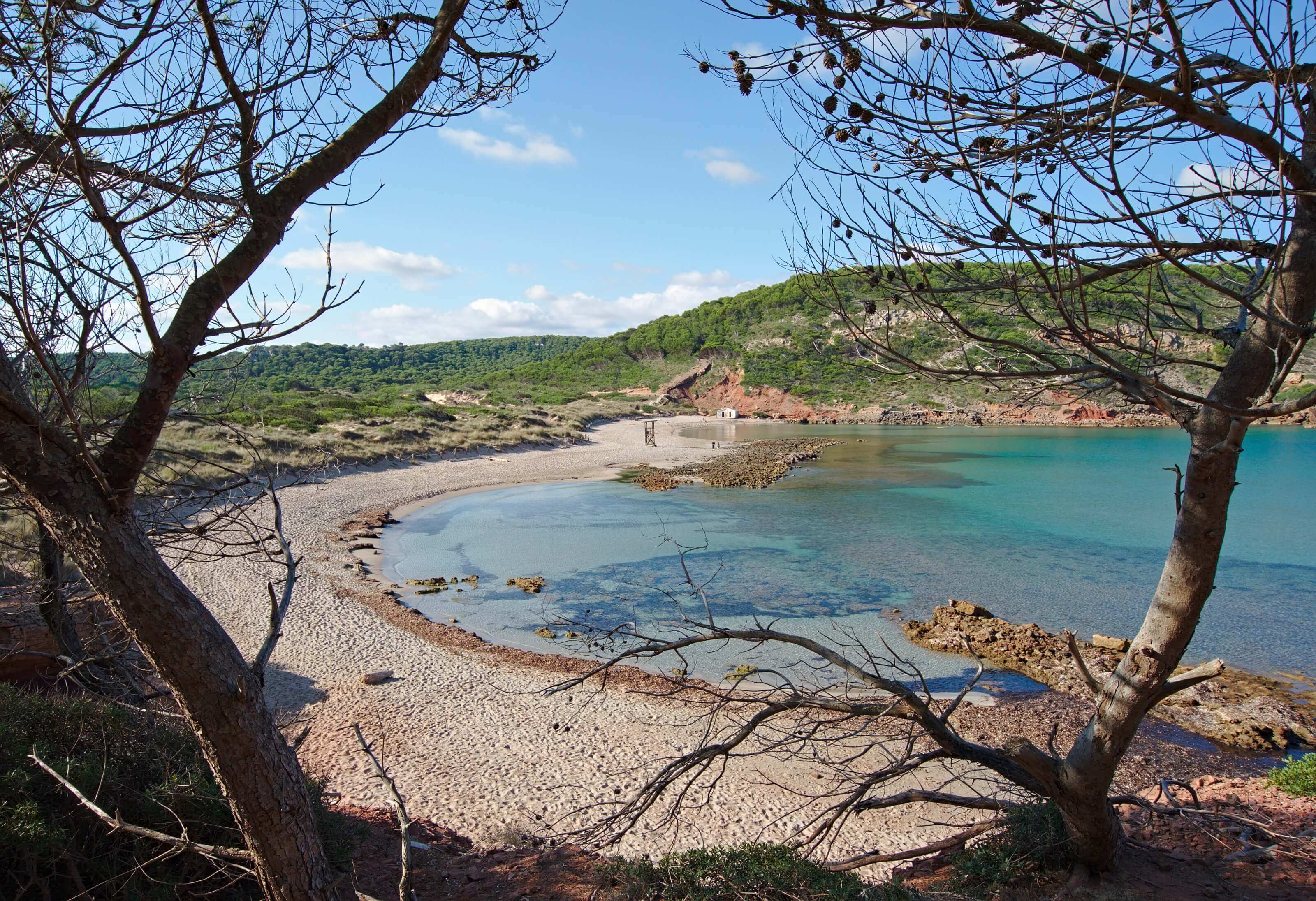 Back on the Val Algaiarens car park we spotted an old rusty sign pointing towards a small path that seemed not very busy (nor maintained). As you can imagine, the prospect of a viewpoint on the creek immediately motivated us and we started the small climb towards the viewpoint.
The path was indeed not great; nature was clearly taking back its rights on the path with branches in all directions and some beautiful cobwebs. In this case there are not 36 solutions…. I send Benoit in front, he takes all the spiderwebs, he grumbles, gesticulates and I well… I have the free passage! 🙂
The climb only takes 10 minutes and the least we can say is that we are well rewarded! The view is breathtaking and as often as not, the colours of the water are even more impressive when you take a little height!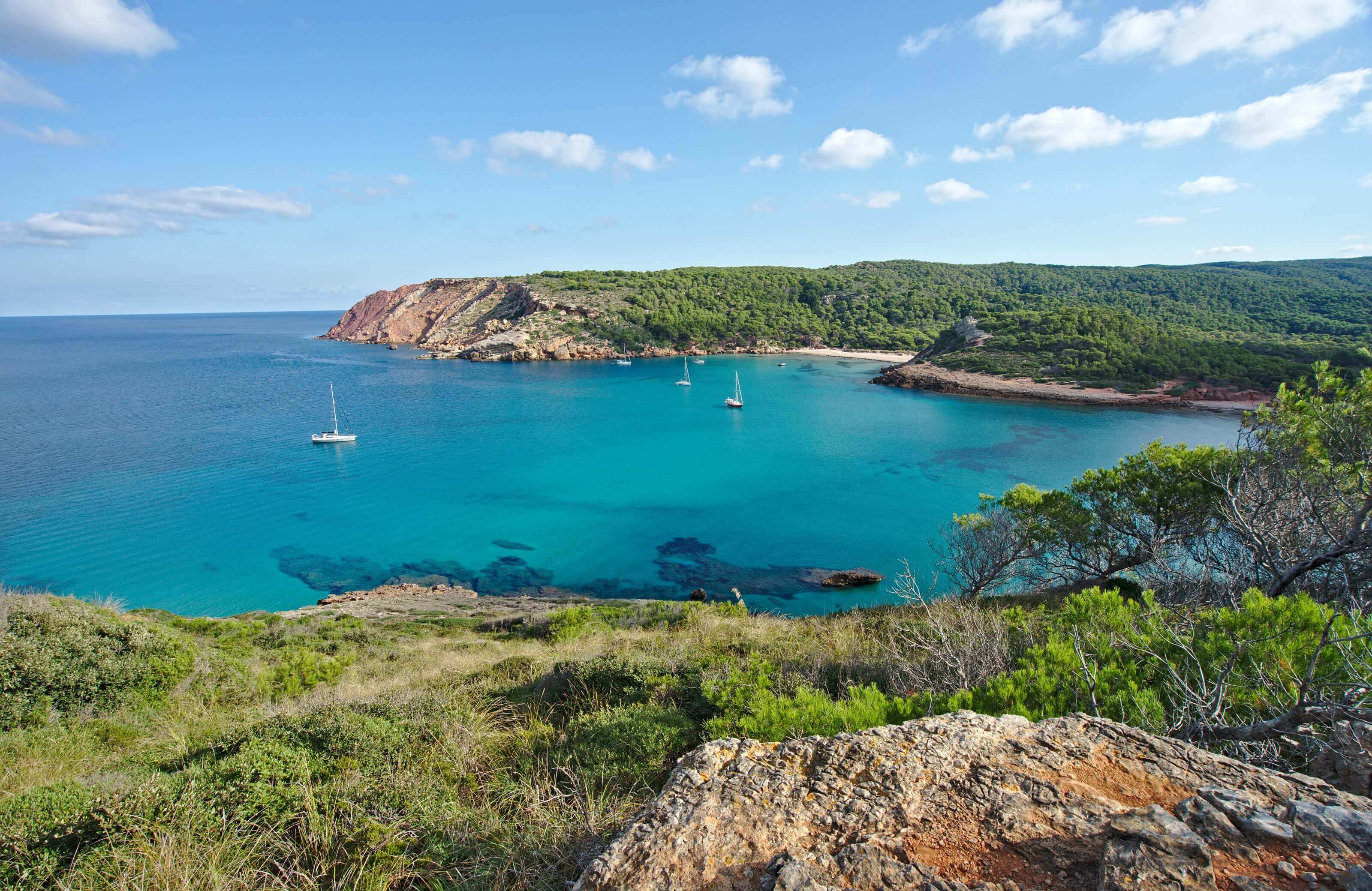 Hiking along the Cami de Cavalls to Cala Morell
Once we got back down from our viewpoint, we started our initially planned walk. (yes yes we tend to get lost a little when the landscapes are beautiful…).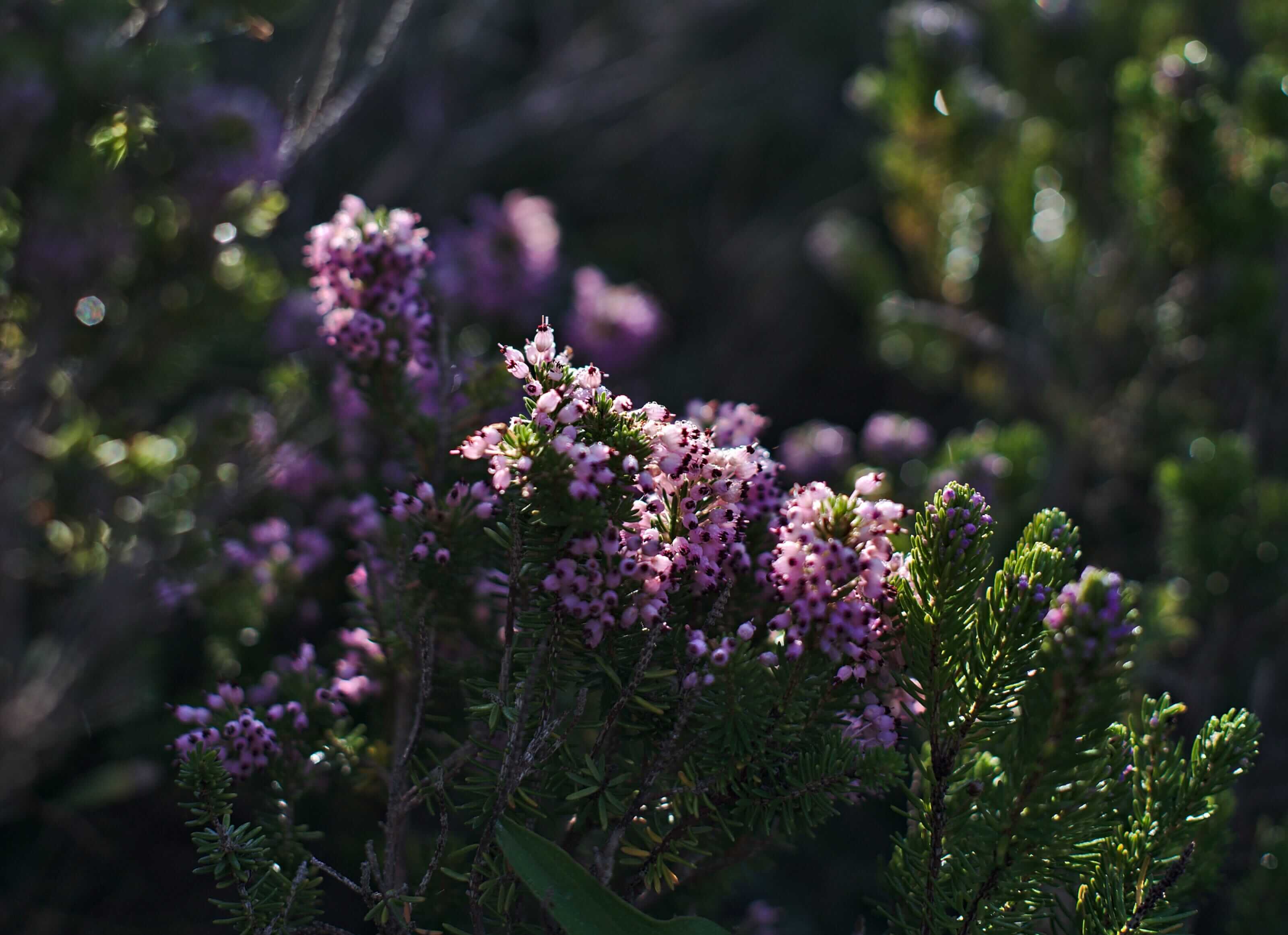 As during our last hike in the south of Menorca we followed here the famous Cami de Cavalls. Compared to the south, the coast here is quite different and the landscapes are much more flowery.
When we started to look for information about the GR223 that goes around the island we saw that on the 200km there was a positive elevation gain of 4000m. However, the highest point of the trail is at…. be careful…. 125m of altitude! 🙂 After this day we understood how such an elevation gain was even possible. In fact, on the north coast the path is rarely flat. The climbs are very short but we often alternate the moments when we are at the water's edge and the moments when we overlook the creeks by a few dozen meters.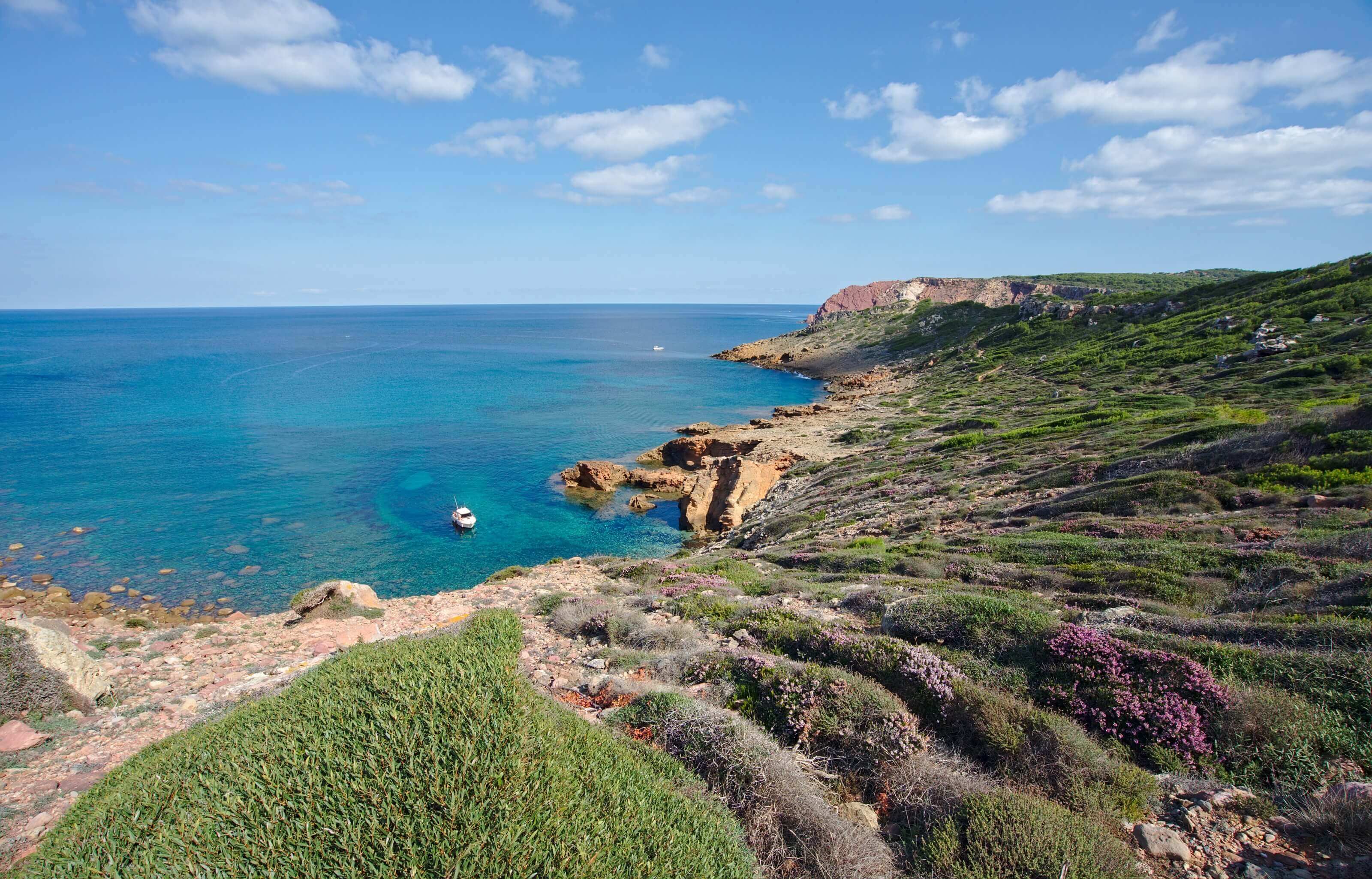 And from a weather perspective we can only recommend the month of October to come and hike in Menorca! It's already low season on the island. As a result, prices are quite low, the beaches are not crowded and the weather is always good. For swimming there is no need to worry either, the sea is still very very warm (something like 22°C).
On the section between Val Algaiarens and Cala Morell there are relatively few beaches but this does not detract from the charm of hiking.
Cala Morell, small ghost seaside resort out of season
At the end of the hike we left the coast and followed the Cami de Cavalls that goes in a straight line towards the first small houses of Cala Morell. I say that because that's the impression we had from afar; we could see houses all white perched on a cliff and we were already saying to each other:
"Ohhh nice, a cute little village is ahead"
Well… Once we got at the height of the first houses we quickly realized that this was actually not really a small cute village…. In fact it is more a collection of immense luxury villas which all had in common to be totally EMPTY! No one to be seen miles around. The small runoff from the overflow pools was the only noise we heard here. Well, let's not be too mean, eh, the luxury villas are clearly set in a dream spot!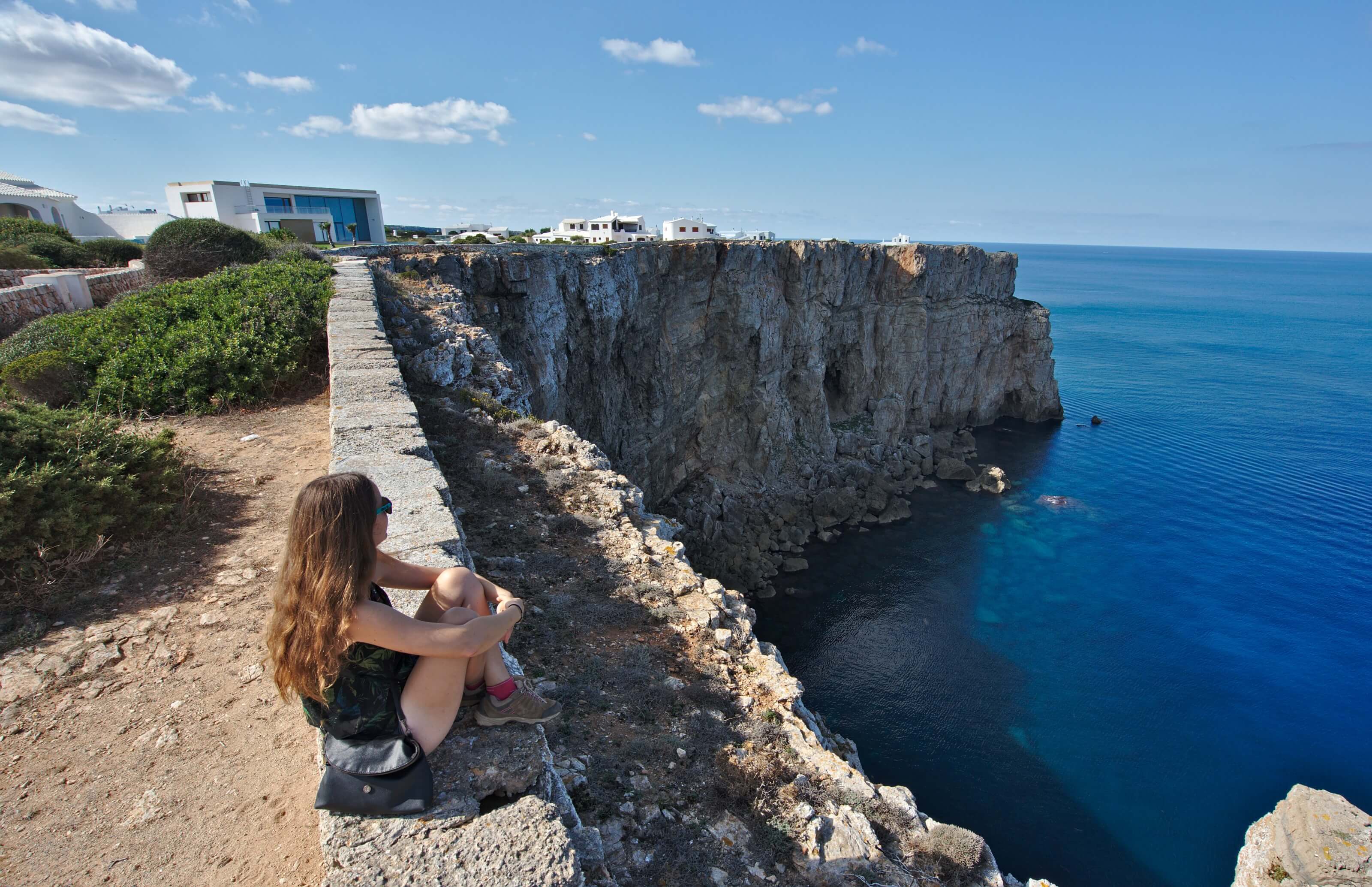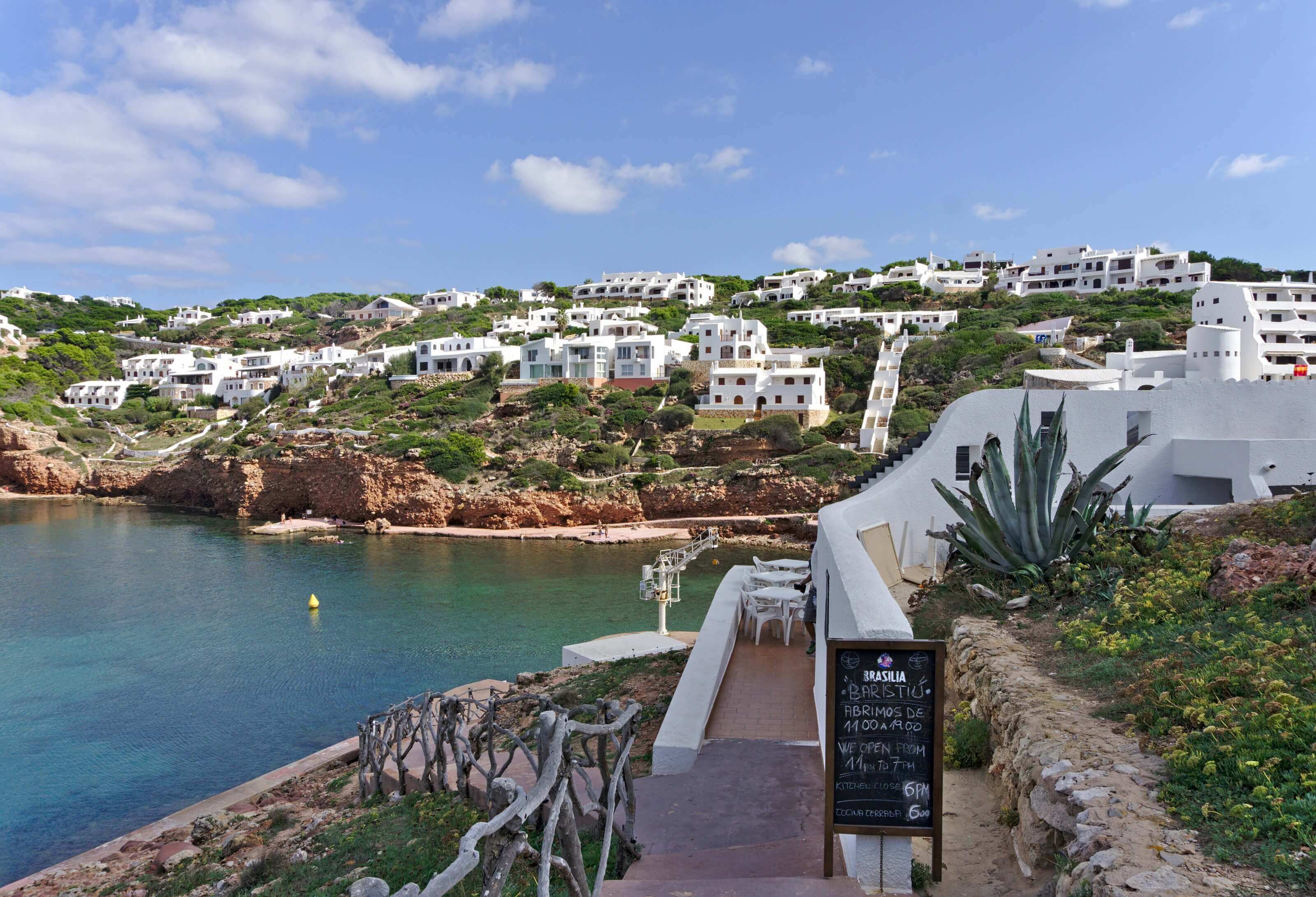 As we moved towards what we thought was the "centre" of the village we realized that Cala Morell was not actually a village but rather a holiday home area. If in the high season there must probably be a little animation here, in October it's dead…. The one and only open placewas the small restaurant overlooking the port. There were maybe 15 people sitting on this terrace and that's it…
Here people come by car to enjoy the beautiful view and enjoy some tapas.
In the end, after a small "after hike" beer we took a couple of pictures and left for our next stop.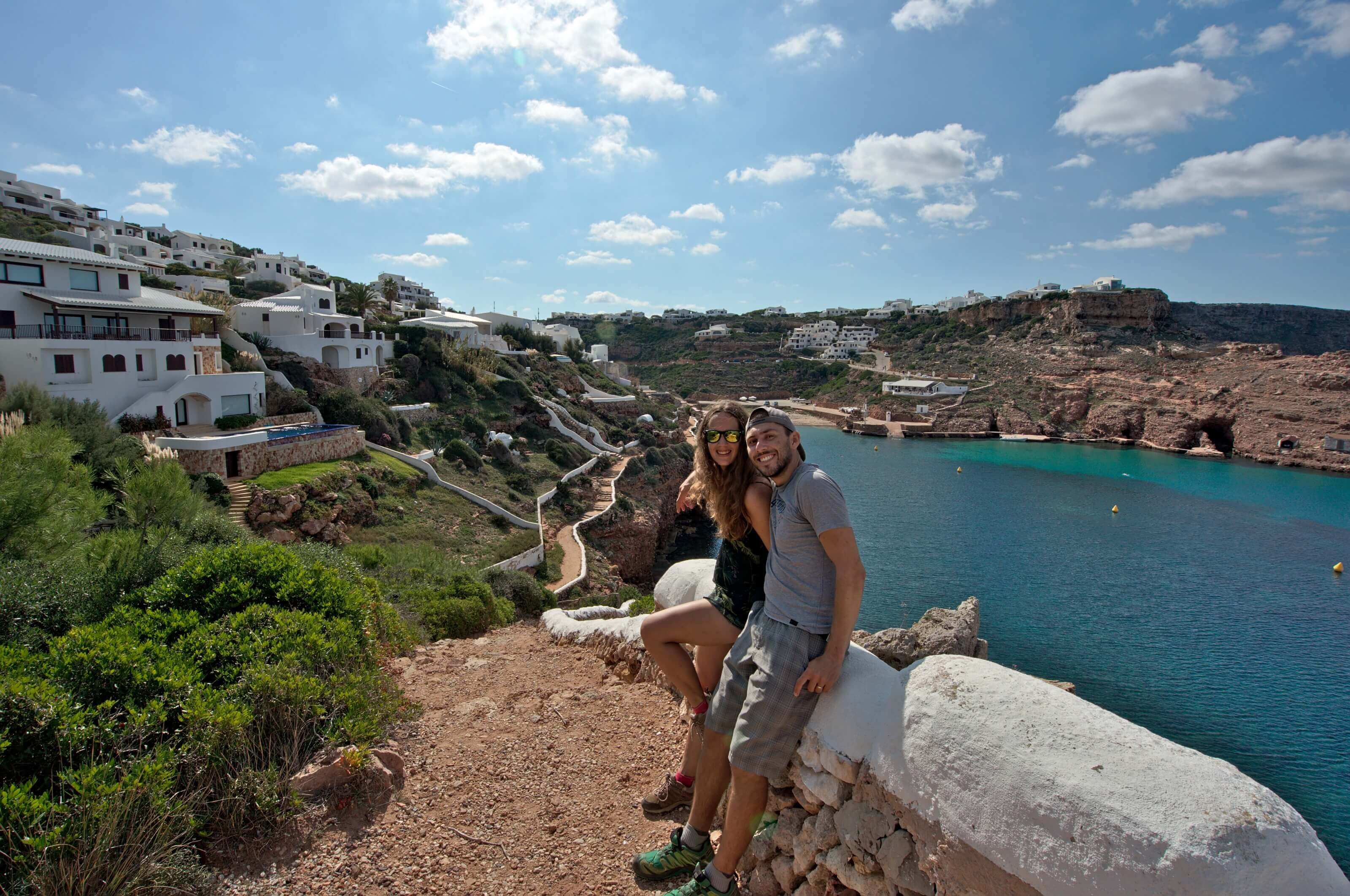 Visit of the Necropolis of Cala Morell
On the way to the bus stop we opted for a small detour by what seems to be the only official tourist attraction of Cala Morell (except the beautiful view and the pretty cove of course). I have named Cala Morell's Necropolis.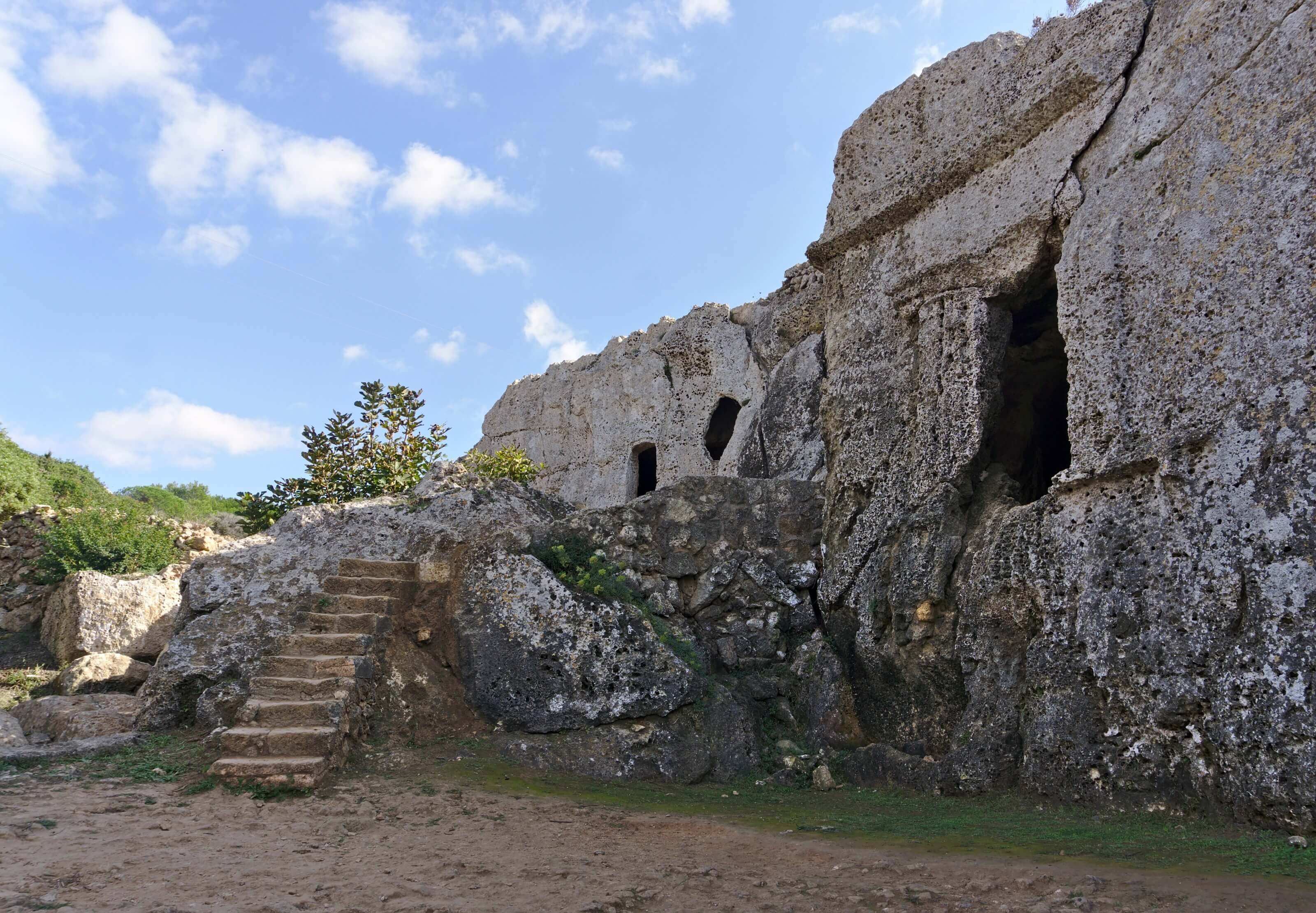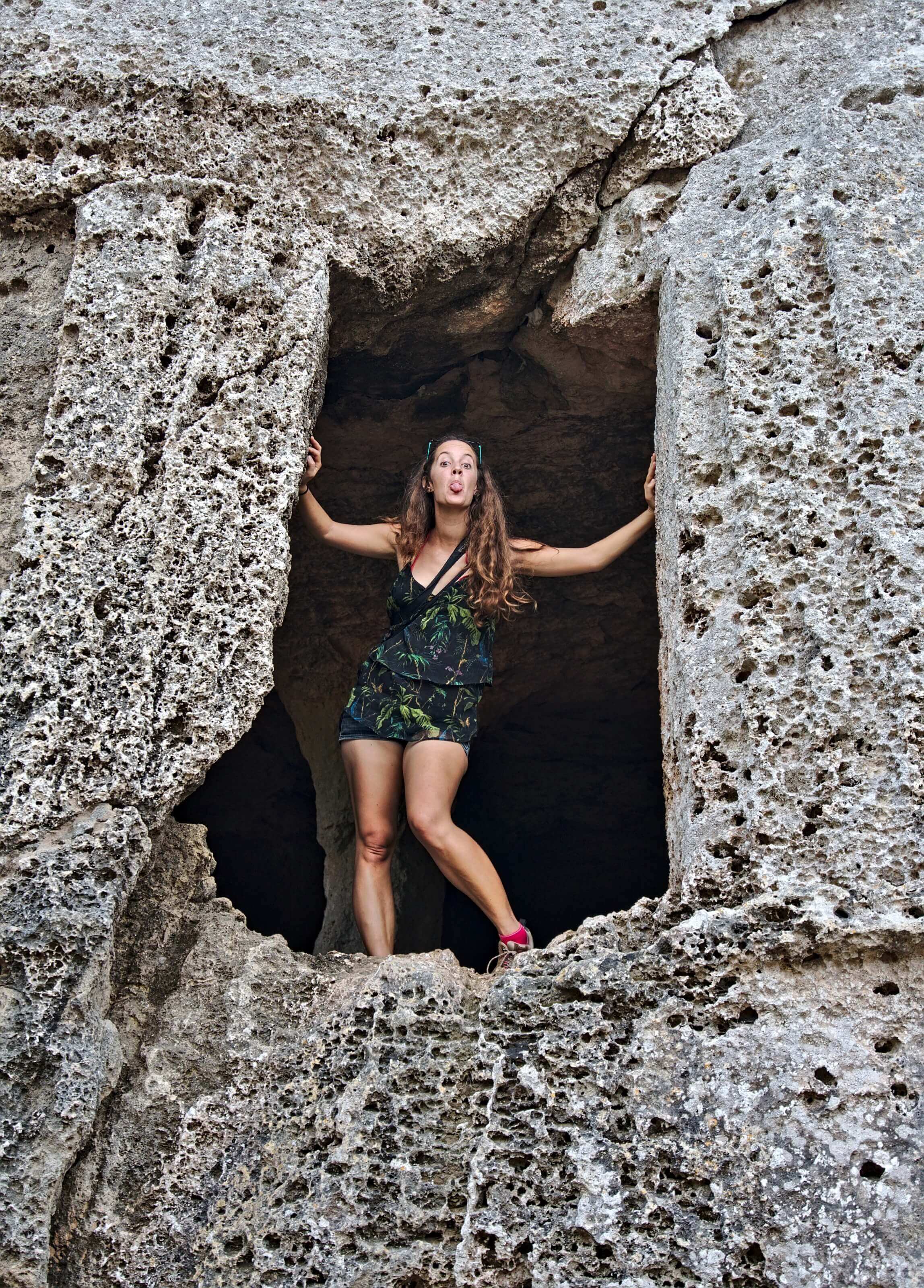 So we're going to tell you that the history and us is not exactly what one could call a love story… With Pre-history I guess it only gets worse! 🙂 For non-knowers like us, this necropolis is a kind of small "village" made up of caves. But it's still pretty crazy to think that these caves have been there since 1700 BC!
Access to the site is free and you can walk freely around and in the caves. We really enjoyed this place a lot! (and I'm not only saying this because we had lots of fun feeling like little adventurers in these caves). And for those who are interested in old stones (or those like us who know nothing about them but like to learn), there is a short route to follow with explanatory signs.
Allow 15 minutes for the visit.
Practical information on hiking in the Algaiarens Valley – Cala Morell
The hike between Val Alaiarens and Cala Morell is really easy and accessible to all. It follows the GR223 trail (Cami de Cavalls) and runs along the coast all along. Here are all the practical information you may need to do the hike.
Infos
Itinerary: Val Algaiarens – Cala Morell
Distance: about 12km (counting all the small detours)
Hiking time: About 3 hours
Get there by car: Both in Val Algaiarens and Cala Morell there are car parks available. But to do the hike we recommend you to take the bus because it will avoid you having to retrace your steps to get the car back.
Get there by bus: From Ciutadella there is the bus N°62 which makes a loop Ciutadella – Cala Morell – Val algaiarens – Ciutadella. Be careful, this bus does not run all year round and only 3-4 times a day!
See the timetables.
(For your information: we had taken the morning bus in Ciutadella and returned with the mid-afternoon bus.)

PriceCiutadella – Val Algaiarens: 3.05€
Price Cala Morell – Ciutadella: 1.95€

Note: You can do the hike the other way too. For our part, we opted for this direction because it allowed us to have a drink while waiting for the bus. The beach of Val Algaierens is called "virgin", so there is no shop or café on site.
Map of the Val Algaiarens – Cala Morell hike
Sunset in Menorca, where to go?
The great scientists that we are will quickly have understood that tfroma a sunset perspective it is not too bad on the west side of the island (who would have thought?! 😉 ). So in Ciutadella we are not too badly off already…. especially in the surroundings of the port, the atmosphere is simply magical at sunset!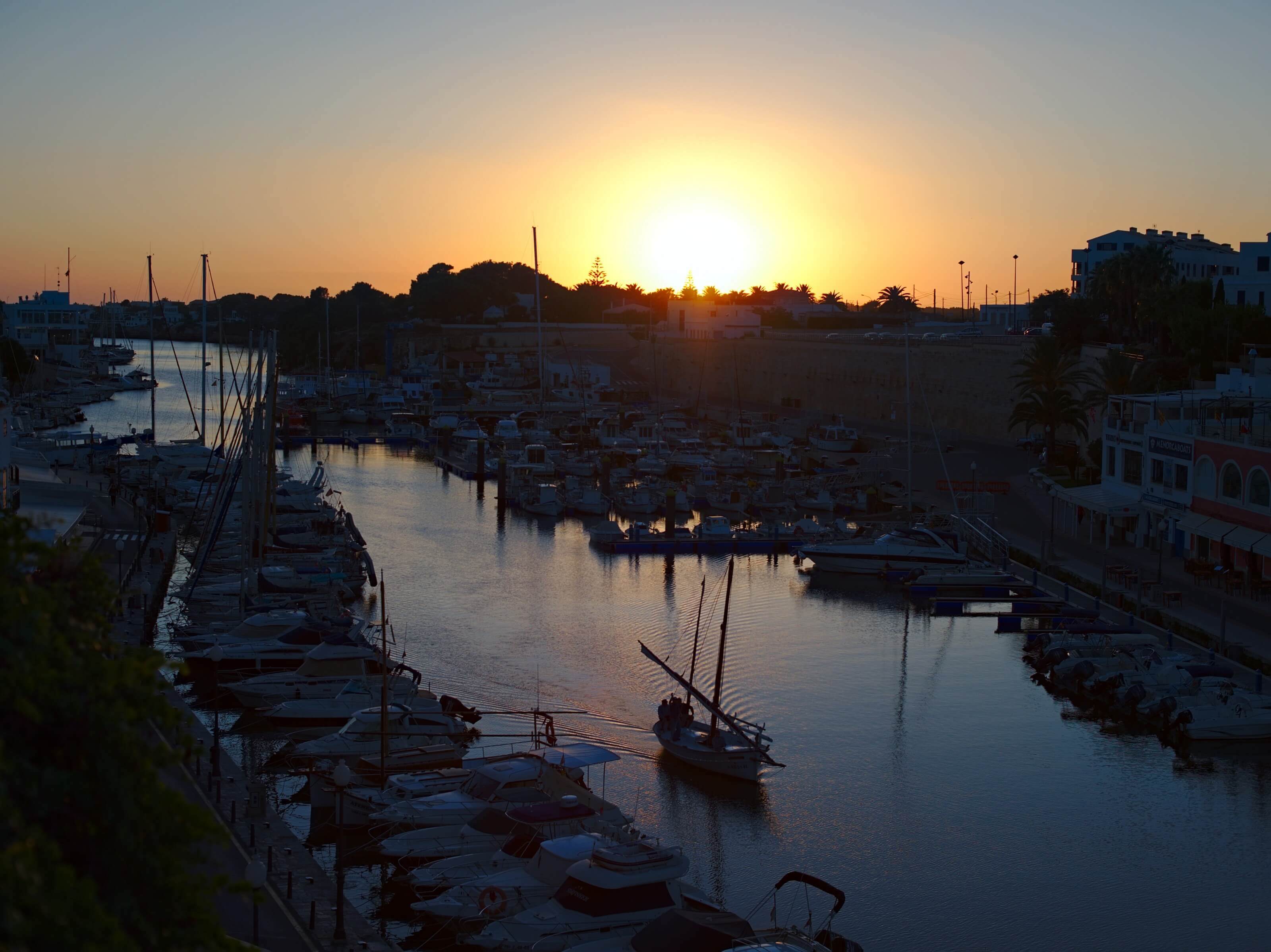 THE sunset spot we often hear about is on the south coast (but on a small overhang and therefore facing the sea anyway).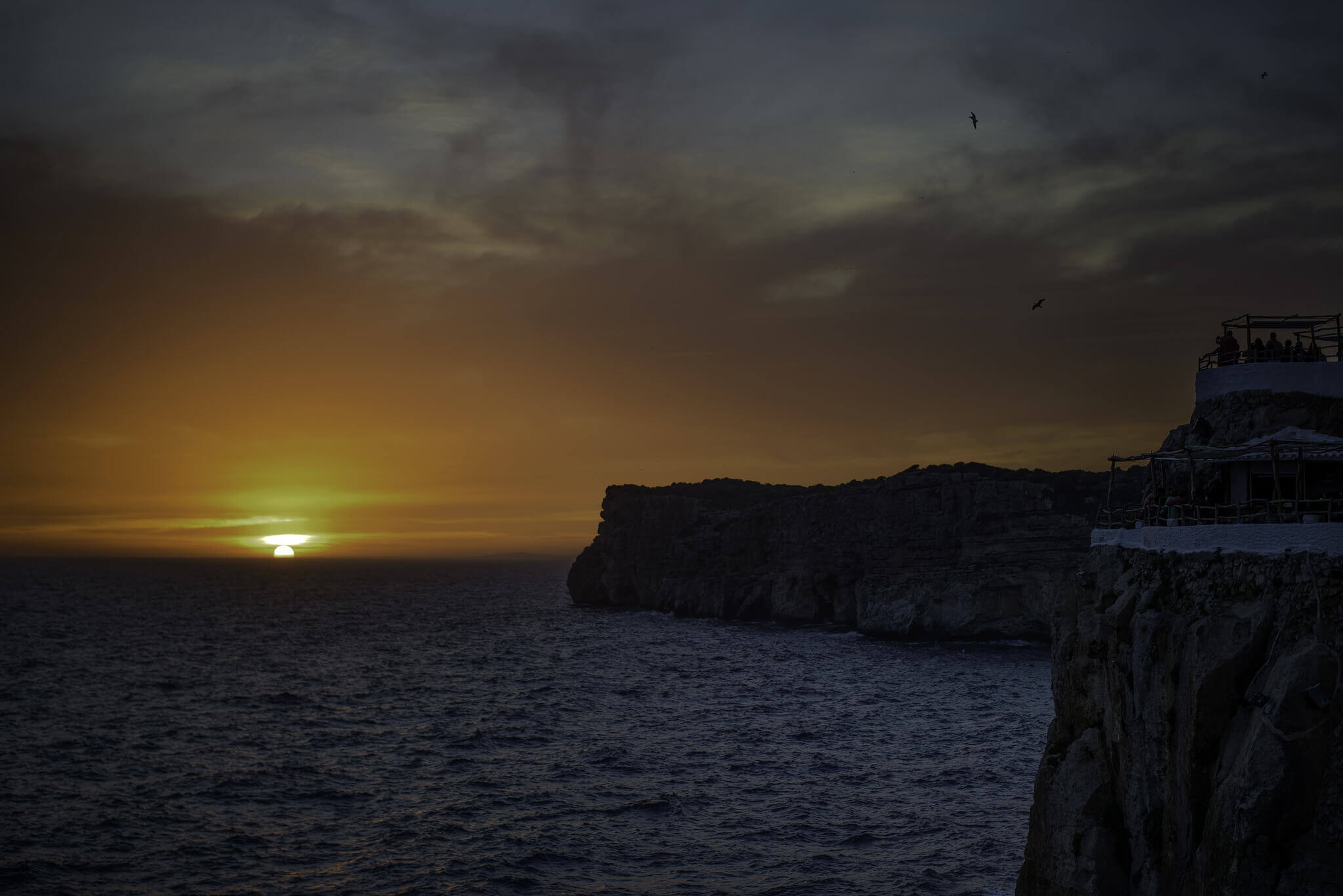 This is the Cova d'en Xoroi bar/club. We won't be able to tell you any more because we didn't go… It is a fancy bar that requires an entrance fee (between 9€ during the day and 13€ for sunset, the entrance includes a drink). From what we understand it is difficult to have a seat at the front of the terrace unless you come really early for sunset.
Not being big fans of glitter parties we have for the moment decided to opt out (we have 3 weeks left on the island, let's see if we end up making it there or not).
But don't worry, the sun doesn't just set in chic bars…. There are also many beautiful places where you don't have to pay an entrance fee! 🙂
Rent a van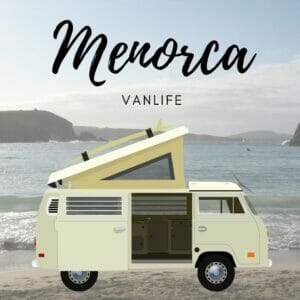 We didn't do it, but since we bought our van we can't help but think about the destinations we've visited and wonder if they would be good to visit in a van. Menorca is clearly one of those places where we think it must be really nice! 🙂 To find a van you can go and see on the website Yescapa. They offer vans for rent between private individuals (with all the insurances). Van are available from 50€ per day. See the vans on Menorca
Sa Posta de Sol:
A nice bar in Cala Blanes (you have a pin on the map below). The bar is really nice with lots of small esplanades overlooking the sea on which you can sit on wooden pallets with cushions. The price of the drinks is very reasonable for the view (count 2,5€ for a beer or a big glass of wine).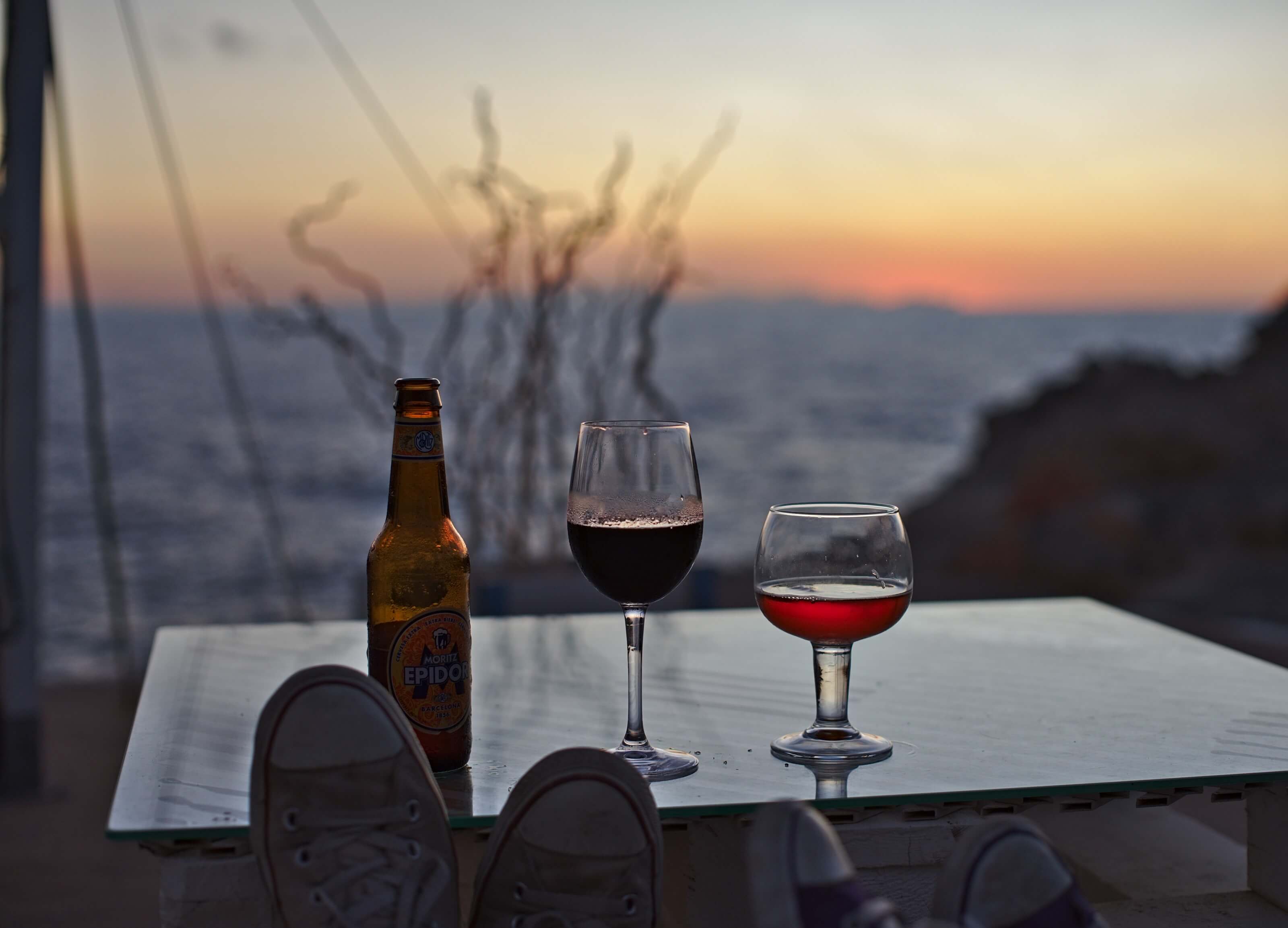 Infos
Get ther: From Ciutadella, bus No. 61 runs between Placa des Pins and Cala Blanes. Regular service every 30 to 60 minutes. See Timetables
Get off the bus when you get to a ugly roundabout with blue plastic dolphins on it…;)
Sunset at the Punta Nati lighthouse
Another spot that we loved very much for the sunset was the Punta Nati lighthouse. Located at the northwestern tip of the island, this lighthouse is simply magnificent! In the evening the sun sets behind the lighthouse and offers magnificent colours on the sea and rocks.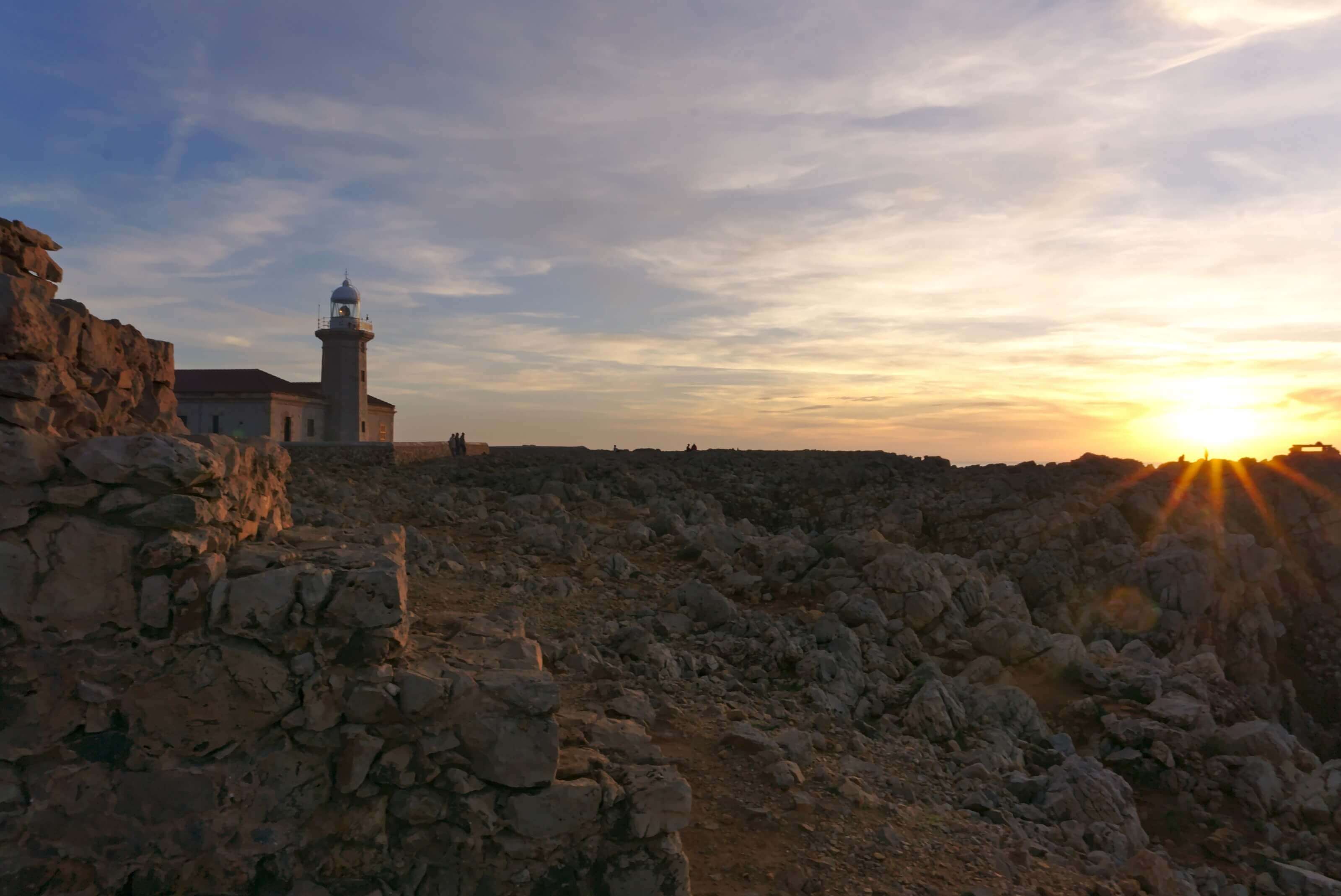 The only "problem" with this spot is that it is difficult to reach by public transport. Of course you can walk there, but the night return would be relatively long (even if in our opinion it should be easy to hitchhike back to Ciutadella…. there are often several people here and only one road leaves the area). In short if you have rented a car, this spot is highly recommended! 🙂
PS: no bar here… so if you want to have an aperitif at sunset think to come equipped;)
See our article to prepare a roadtrip in Menorca
Rent a Car
To rent a car (in Menorca or elsewhere) we advise you to use
Rentalcars.com.
Rentalcars is not a rental agency but an agency comparator! What does that mean? This means that you have a good chance of finding the best prices online (that's how we found our car) Tip: Always try to vary the departure/return times a little. If an agency closes its doors at say 8pm and you want to return at 8.30pm then the latter does not even appear…. However, by talking to the agency it is often possible to make arrangements!
Alernatively, you can also rent a scooter on Menorca (Motorbike). The island is not very large, and thus perfectly suitable to be explored on a motorbike.
Pont d'en Gil: The Menorca Arch
Here there is no bar, but a beautiful natural arch which is perfectly in line with the setting sun. On the other hand, we can only access it on foot, which is always pretty nice because this limits the crowds. Count 15 minutes from Cala Blanes or 1h30 from Ciutadella, more details on the itinerary below…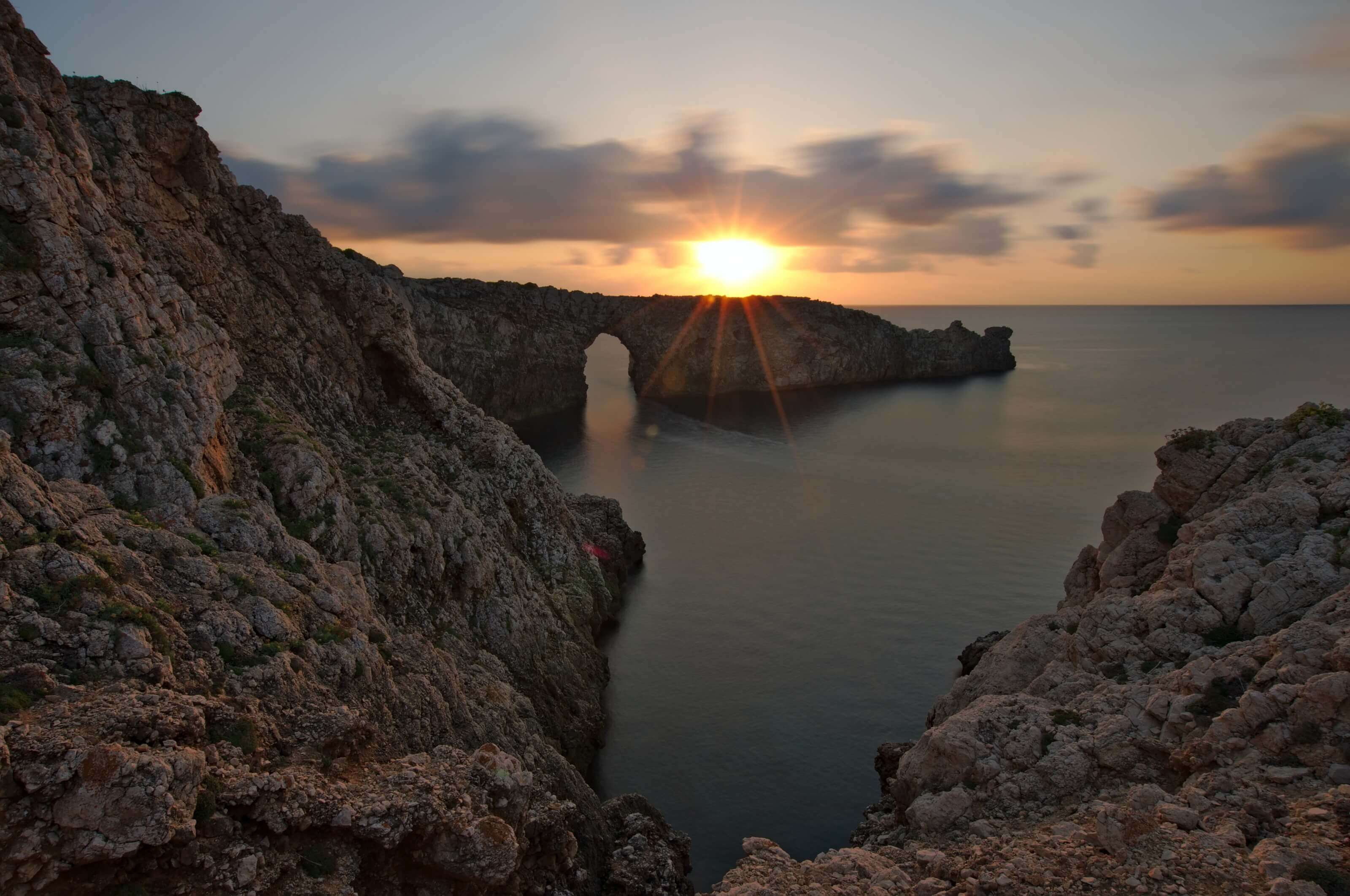 After that nothing prevents you from coming here equipped! 😉 That's what we did: 2 beers, chips and a small picnic. For shopping you will find lots of small supermarkets in Cala Blanes (just next to the ugly dolphin roundabout… yes yes this thing traumatizes me) 🙂
How to get to Pont d'en Gil from Ciutadella
To get to Pont d'en Gil the easiest way is to arrive from Cala Blanes. From the bus stop (always the one of the ugly dolphins) it takes 15 to 20 minutes to walk.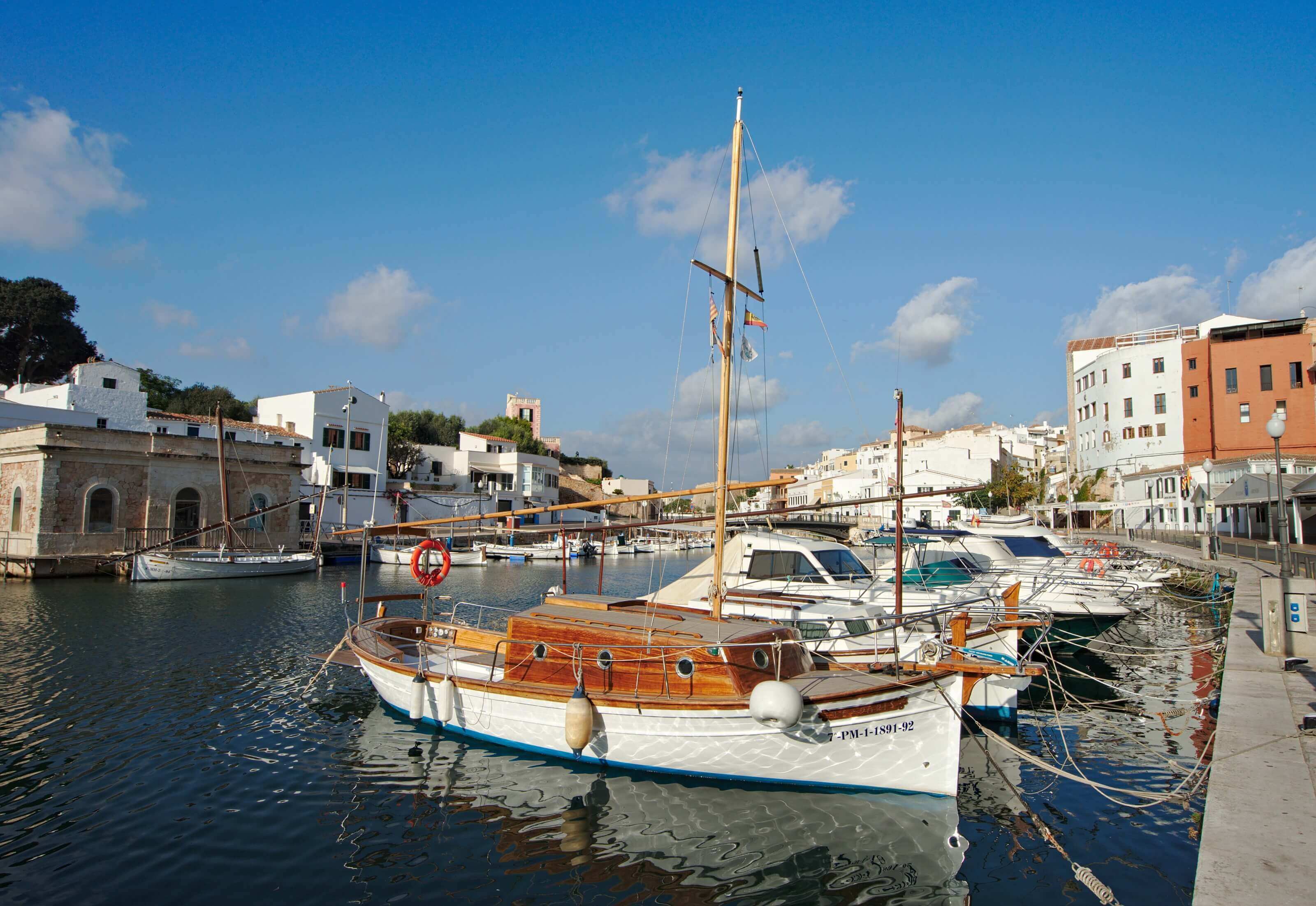 We can get here by bus from Ciutadella (bus N°61), but if you know us, you know that we have a slight penchant for walking. So to go and admire this sunset we set off in the late afternoon from Ciutadella.
In all it takes 1h30 to 2h walk, but believe us: you will not regret it. Once you have left the small port of Ciutadella, you can take small paths along the sea and pass through the turquoise water coves. There are clearly worse little hikes!
You will see it on the map below, there are times when in our route we go a little freestyle (understand by that that our GPS tracks do not follow the official paths). So we reassure you right away, we don't make you go through the bush… it's just that around the creeks there are dozens of small paths that zigzag towards the water. It is therefore simply recommended that you do not stay on the "large" path and always seek to go to the water.
Here is a small map with the itinerary (and especially the little detours in the coves not to be missed).
Small bonus of the awful roundabout in picture:)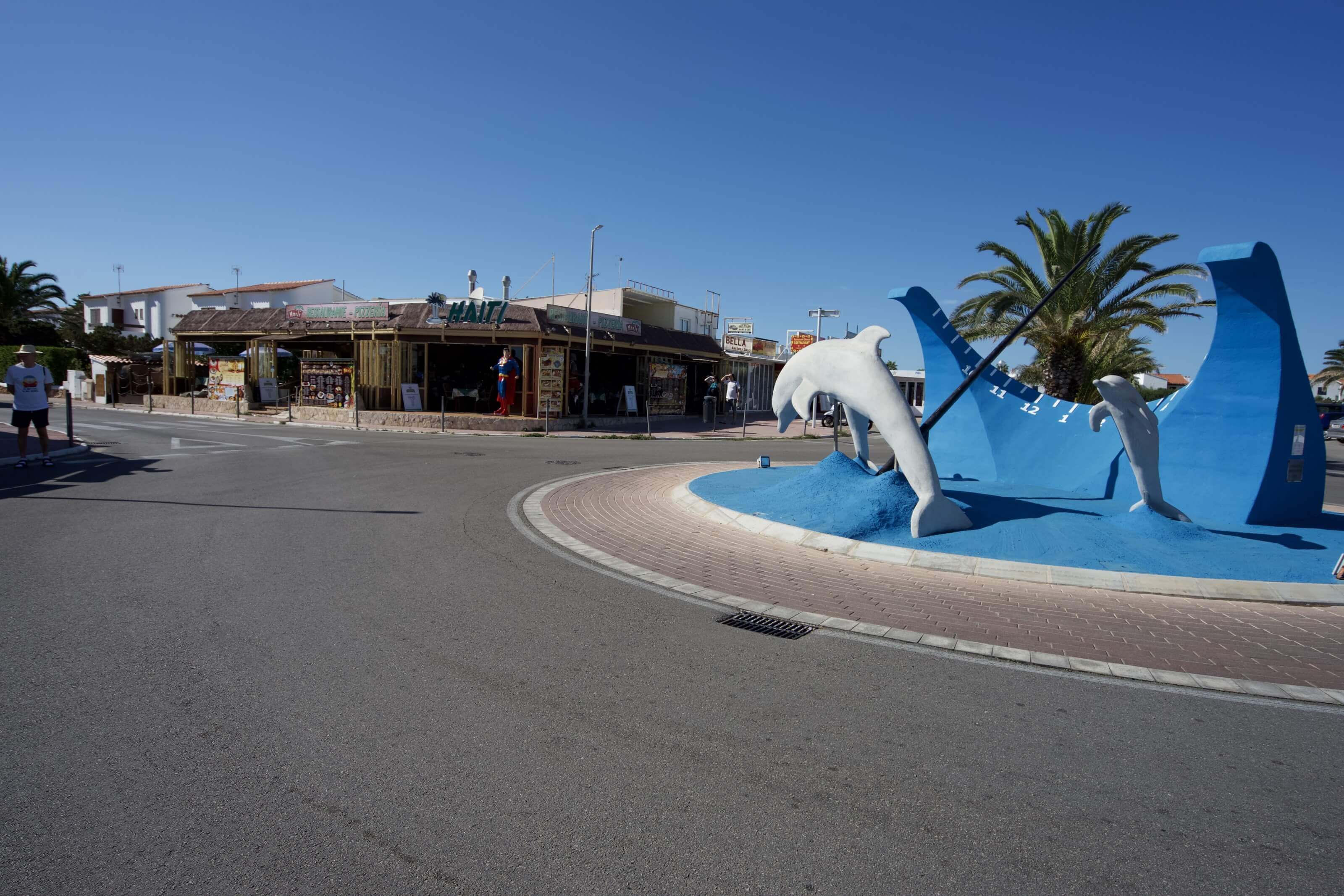 It's time to go to the "playa"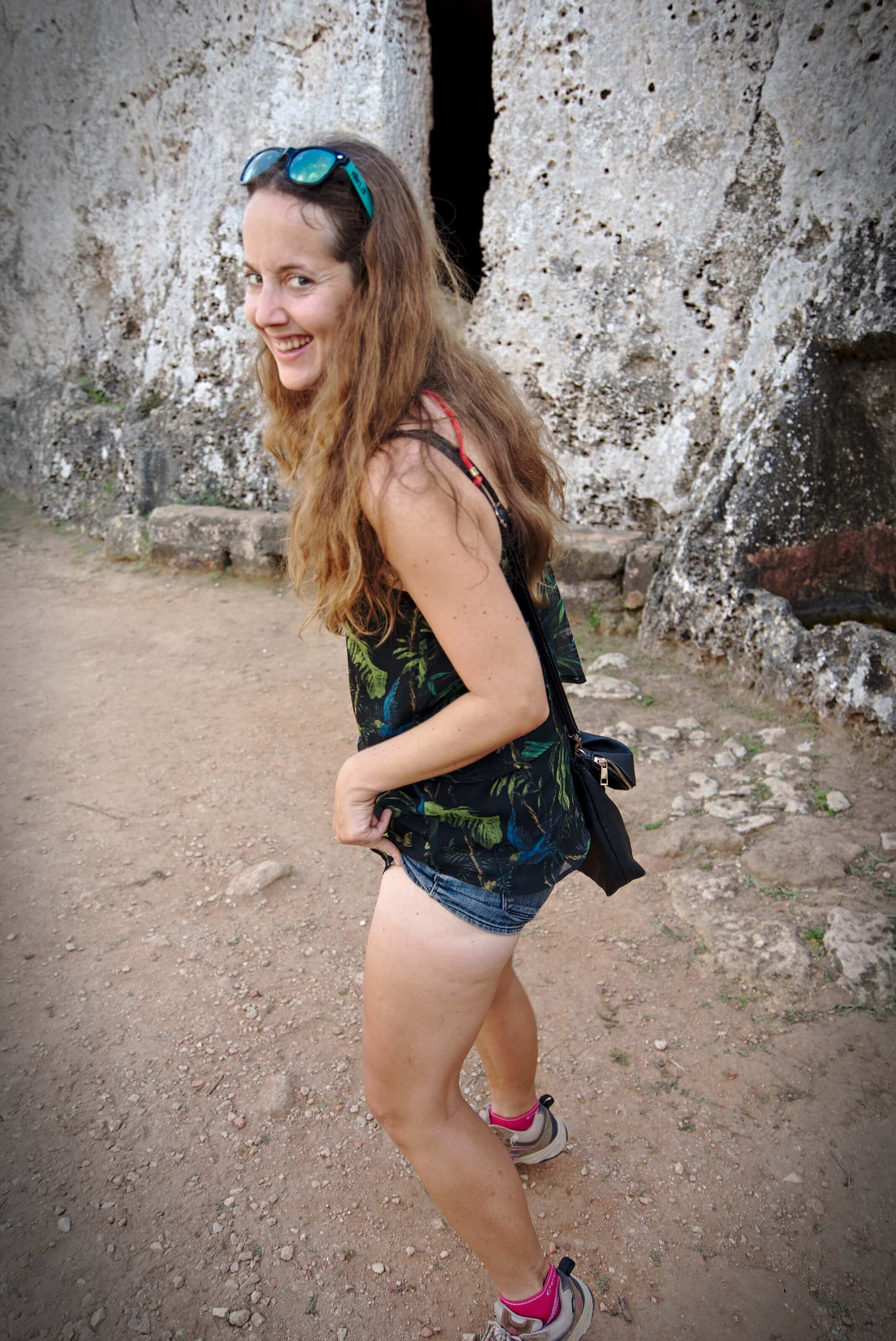 That's all for today! On our side we will continue visiting Minorca. Tomorrow we will explore a little more the eastern side of the island than we know very little about it yet.
Note to myself:
I think it's also about time we put hiking aside a little bit and get to the beach a little bit.
No because hiker tanning is fine for a while, but now it's starting to get a bit ridiculous! 🙂 (and I'm not talking about the sock marks which are even more ridiculous because there are still traces of our via alpina hike 😉
Speaking of Minorca, do you want to read an article on our budget and "Minorca for nomads"? I have been religiously keeping our accounts since our arrival, thus a small budget article could clearly be made.
Hasta pronto! We send you sunny kisses that smell like tapas (and red wine) 😉
NB: This article contains affiliate links. This means that if you make a purchase on one of the partner sites we will receive a small commission. This does not change the price you pay, but it will help us to keep this blog alive. And of course we are only talking about sites that we also used. 😉