It has been a good week since we arrived on the beautiful little island of Menorca in the Balearic Islands. We will tell you again in a future article about how our installation here and the apartment search went, but before sharing the "practical" information we wanted to start this series of articles on Menorca with a beautiful hike we did this week: The Cami de Cavalls between Cala Galdana and Cala'n Bosch in the south of the island. The perfect way to see the best beaches in Menorca!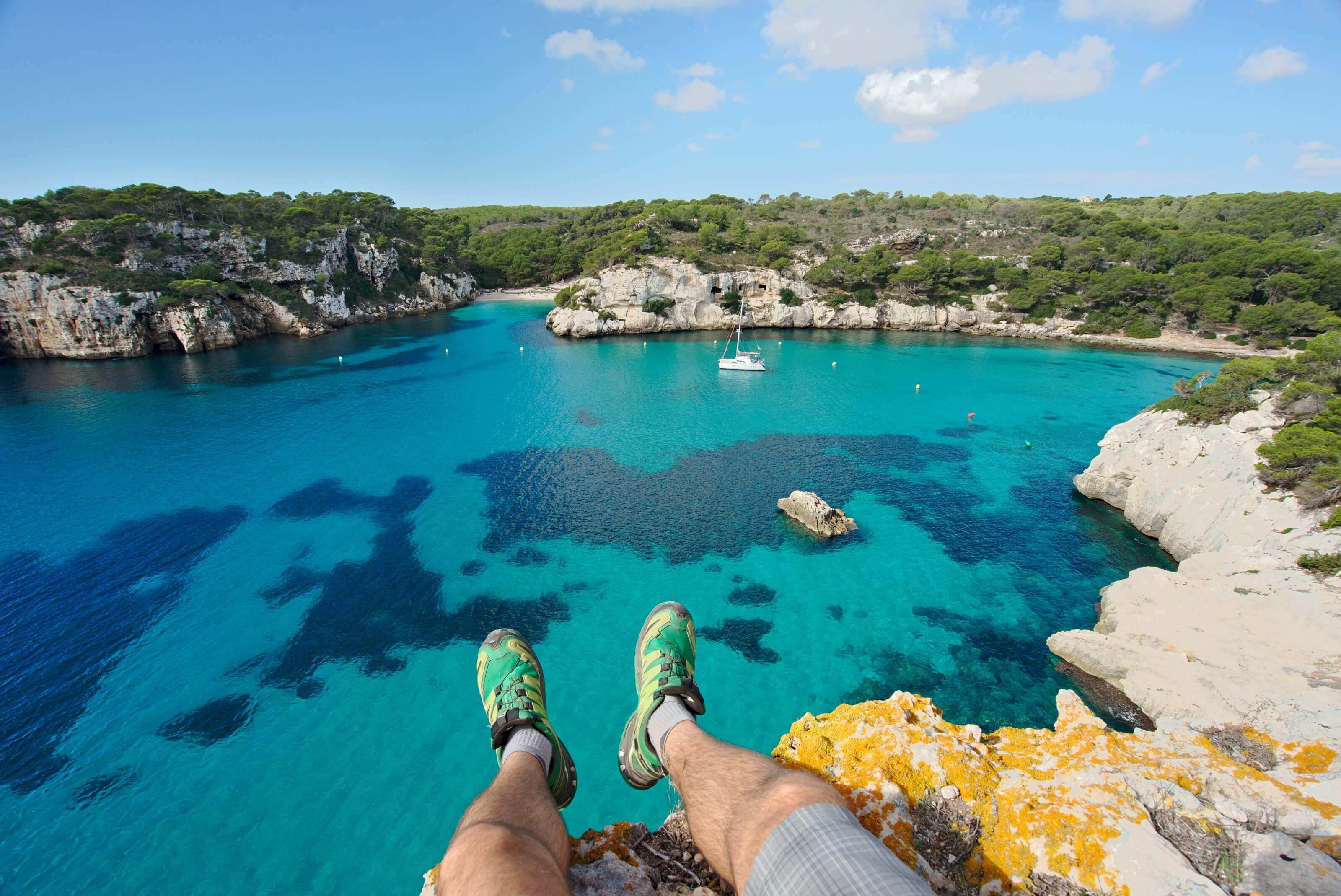 Hiking in Menorca: the GR 223 / Cami de Cavalls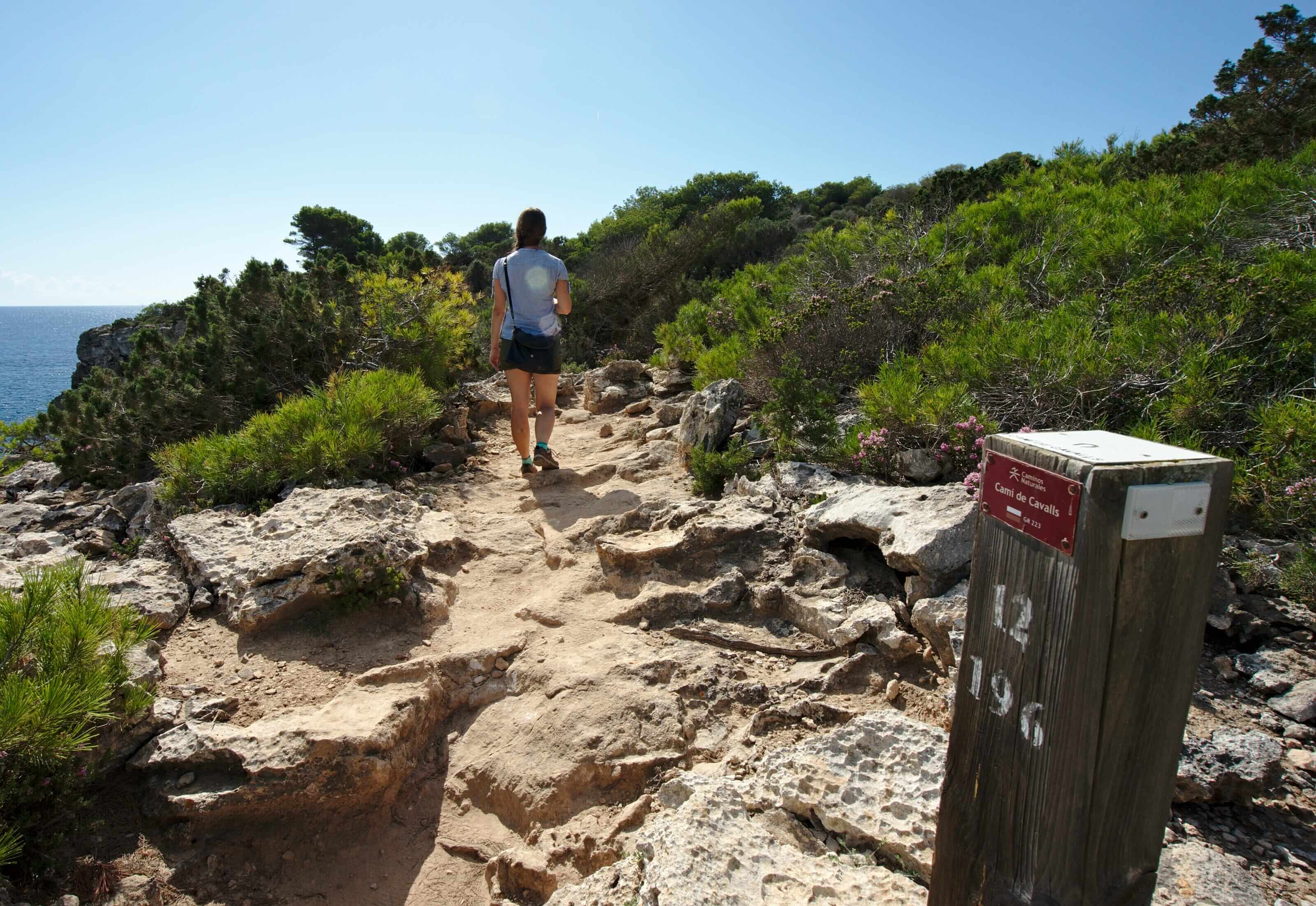 When we arrived in Menorca we immediately started to see if there were any nice hikes to do on the island. Our research quickly led us to the GR 223 or more commonly known as the Cavalls Cami. This trail of nearly 200km makes the complete tour of the island of Menorca along the coast!
The name Cami de Cavalls means "horse path" in Catalan (because yes, in Menorca we mainly speak Catalan). 😉 The name of this trail originates from the time when this trail was used by the soldiers on horseback who defended the island.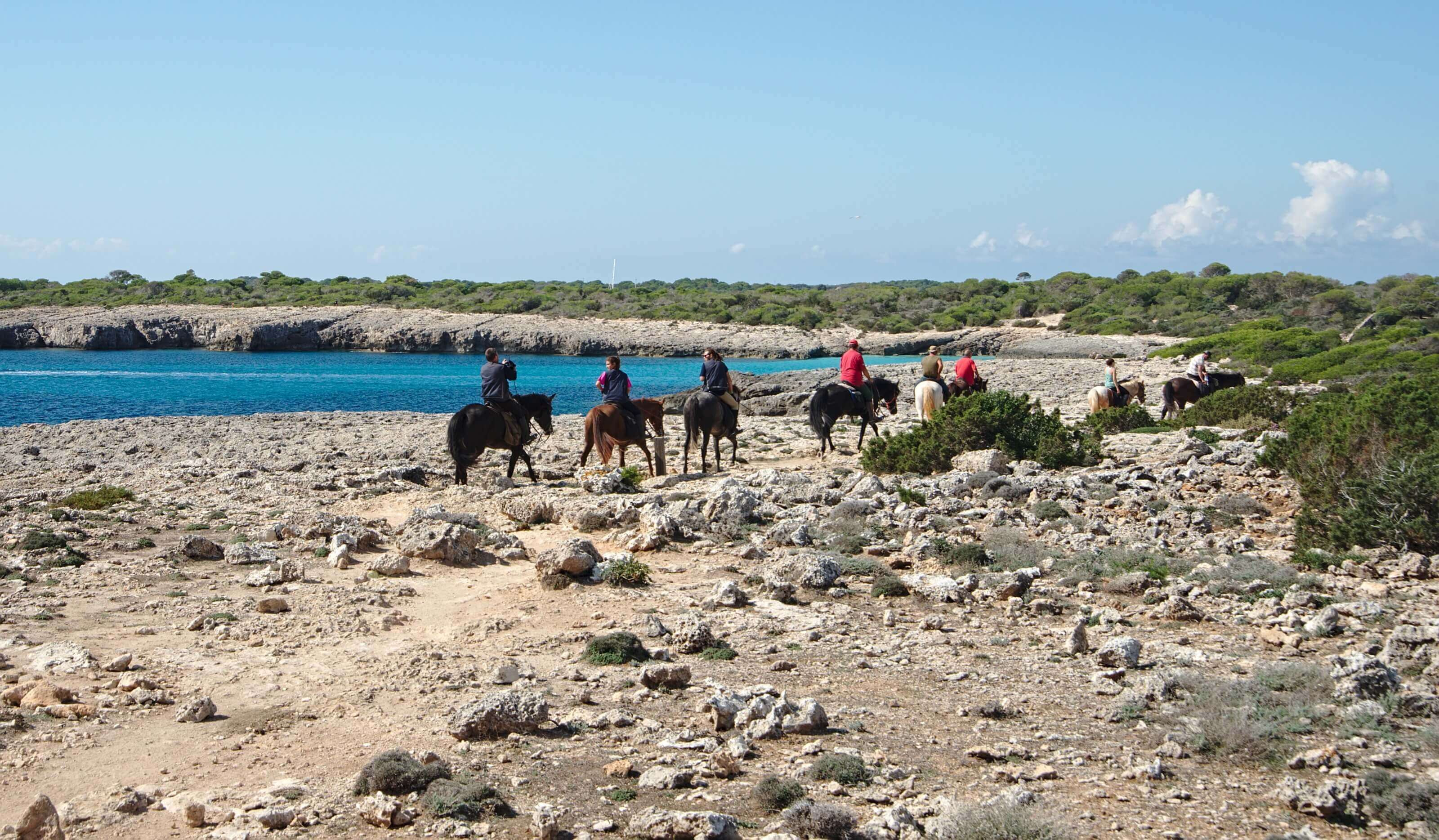 Later on, the trail was more or less abandoned and crossed many private properties, making it totally inaccessible. Fortunately, the Menorca government decided otherwise in 2000 and validated a restoration and beaconing project. Since 2011, the trail has been completed and is now fully accessible by foot, mountain bike or horse.
Infos
Cami de Cavalls
Total distance: 200km (about 124 miles)
Total elevation change: 4000m (13'000 feet) (the highest point being located at 125m, can easily imagine that the climbs are frequent but always very (very) short) 😉
Number of stages: 20 (each stage is between 5 and 14km long
Cami de Cavalls in Menorca: our selection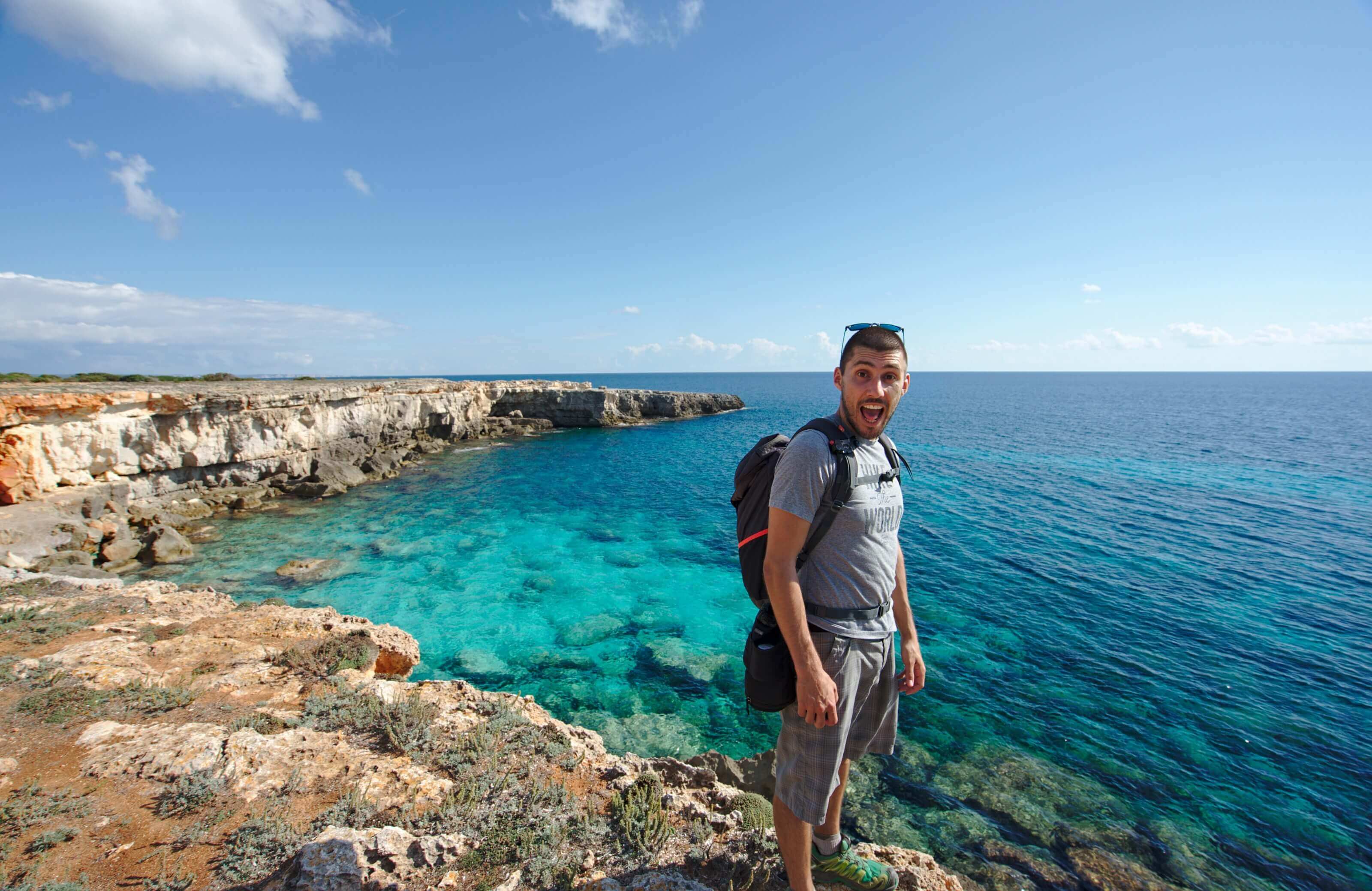 After crossing Switzerland on foot following the Via Alpina you will tell me that we would have been in good shape to go all around the island. (We admit that we've considerd it) 🙂 The thing is that we rented an apartment and of course we didn't bring our bivouac equipment….Thus, instead of doing the Cami the Cavals all at once, we decided to take advantage of our 5 weeks on the island to do a maximum of day trips and complete several stages.
For this first day we decided to head south and make 2 official stages at once. Steps 12 and 13 were chosen, starting in the small village of Cala Galdana and continuing to Cala'n Bosc.
Note: You will find a map of our hike with all the practical information at the end of the article.
Cala Mitjana – the small paradisiacal beach of Menorca
We arrived in Cala Galdana with the first morning bus. Well, we can rest assured, according to the Spanish schedule, it means leaving at 9:20 from Ciutadella. 😉
Our itinerary was to head west, but we had spotted a small cove east of Cala Galdana that we didn't want to miss. In short, we started our hike by going in the opposite direction and thus making a small scenic "detour".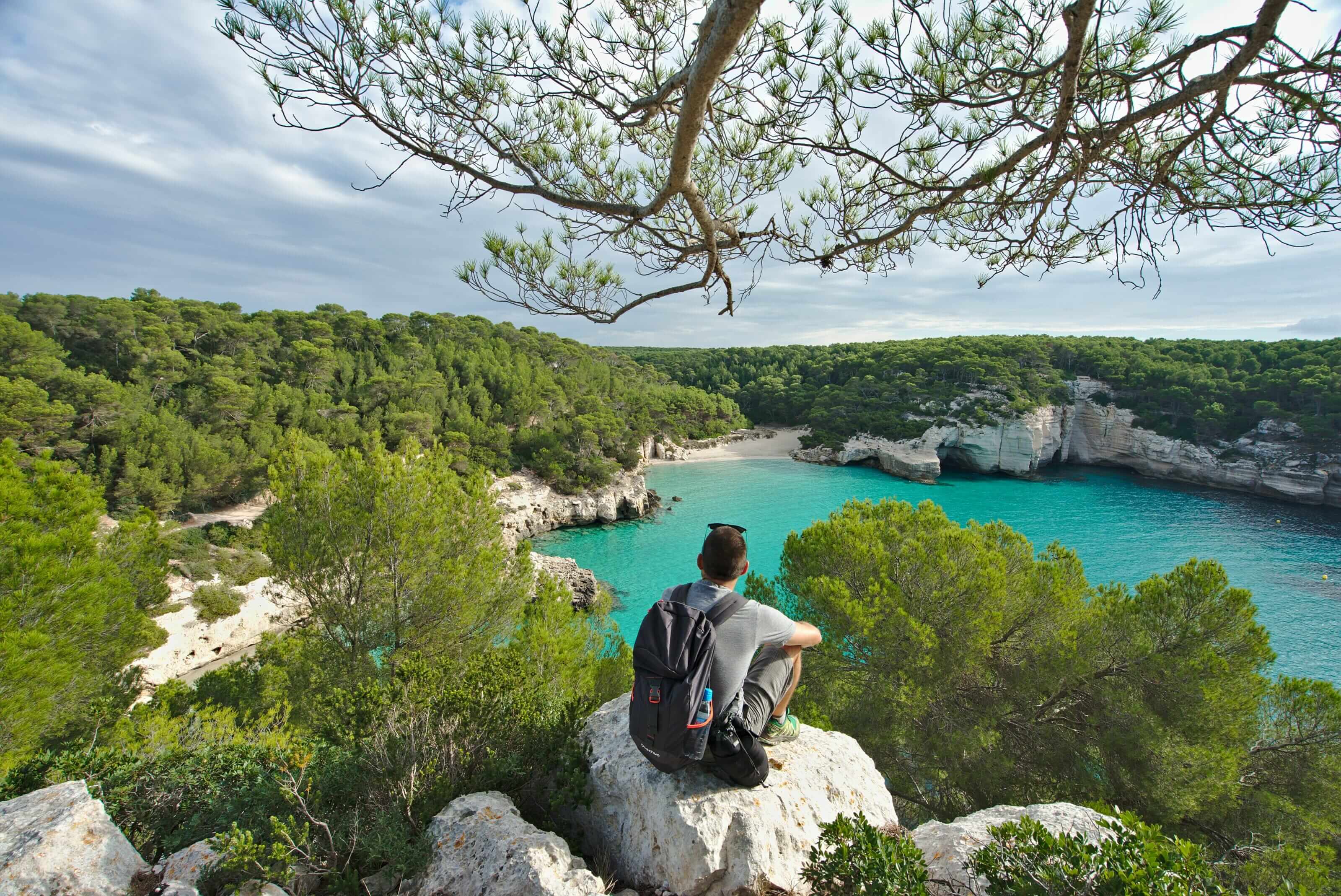 Cala Mitjana is less than a kilometre from Cala Galdana, so it is extremely easy to get there in no time.
After having walked along the beach of Cala Galdana we took the stairs that lead to the top of the cliff and thus joined the GR223. Just before arriving in Cala Mitjana we made an additional detour to admire the view from a viewpoint (it is indicated on the map later in the article).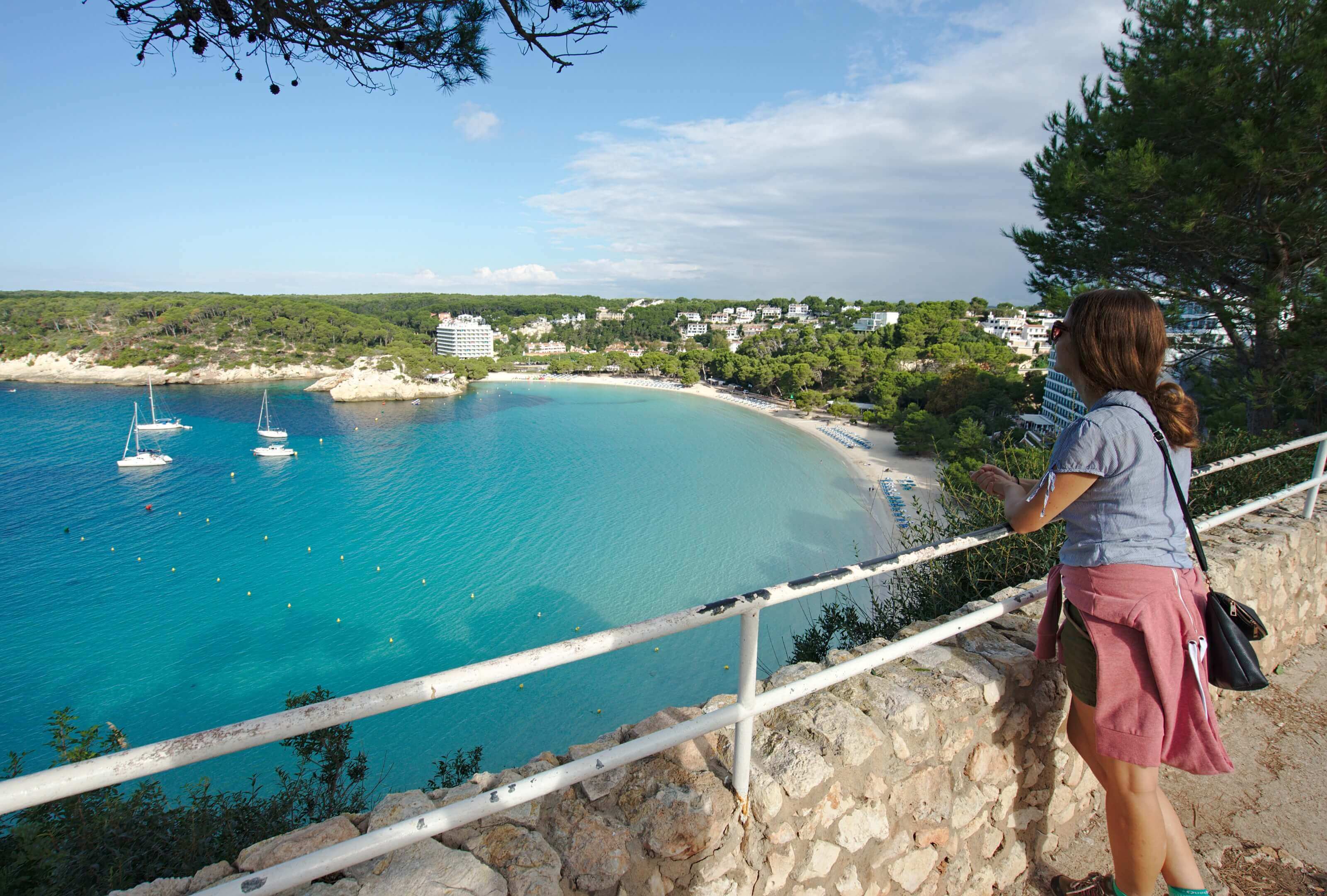 We then retraced our steps to return to Cala Galdana where we took advantage of the small terraces to have a coffee before heading back on our hike.
Cala Macarella – the magnificent beach of the Balearics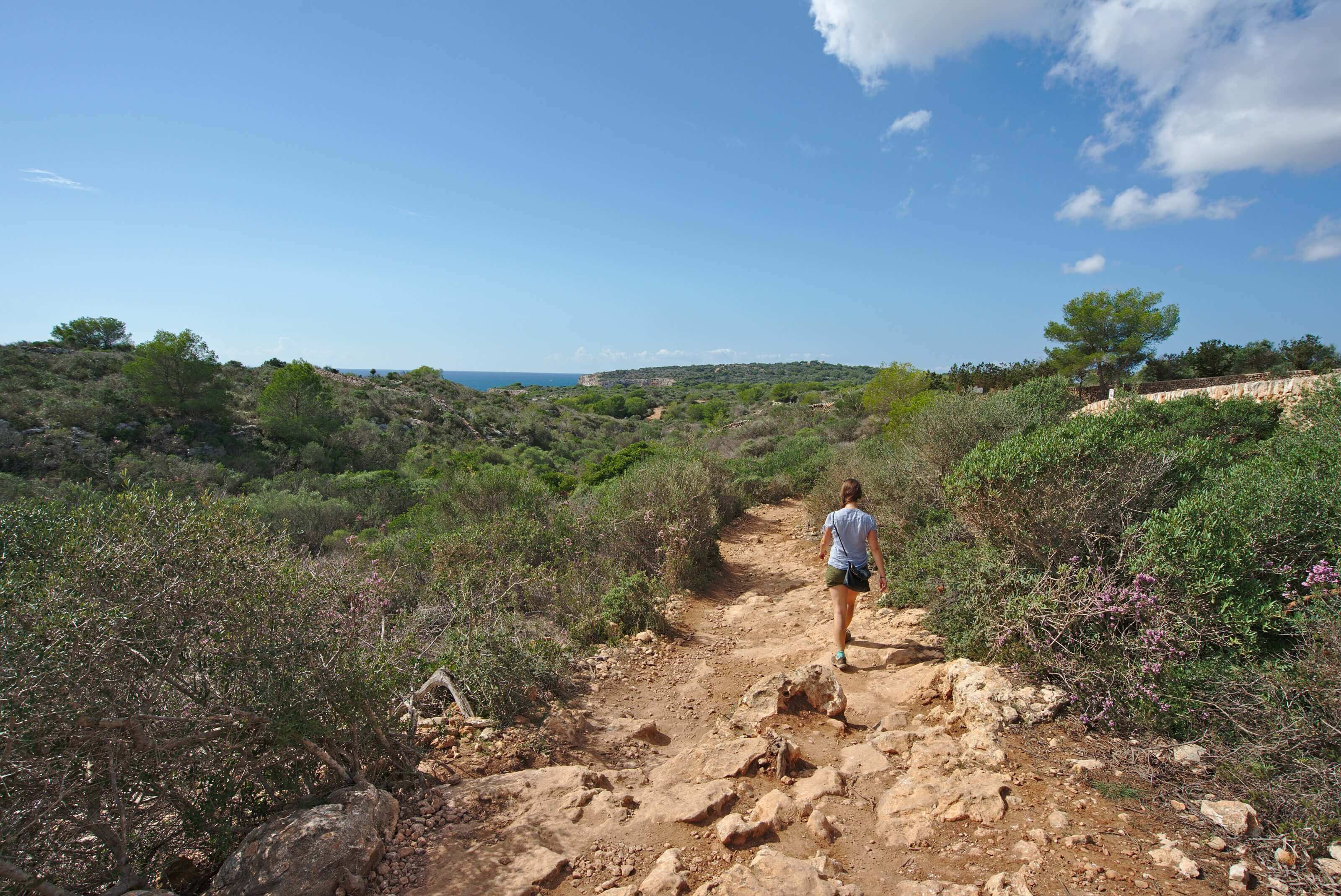 Leaving Cala Galdana, the path remains a little inland and on several occasions there are signs indicating points of view on the coast. In total there are 4 viewpoints between Cala Galdana and Cala Macarella. If you have the motivation (dont' worry it's always very close to the trail), it is really worth making the small detours to go see the view!
If you had to choose only 1 or 2 of them, we clearly recommend the 4th one, which offers a stunning view on Cala Macarella…
Judge for yourself: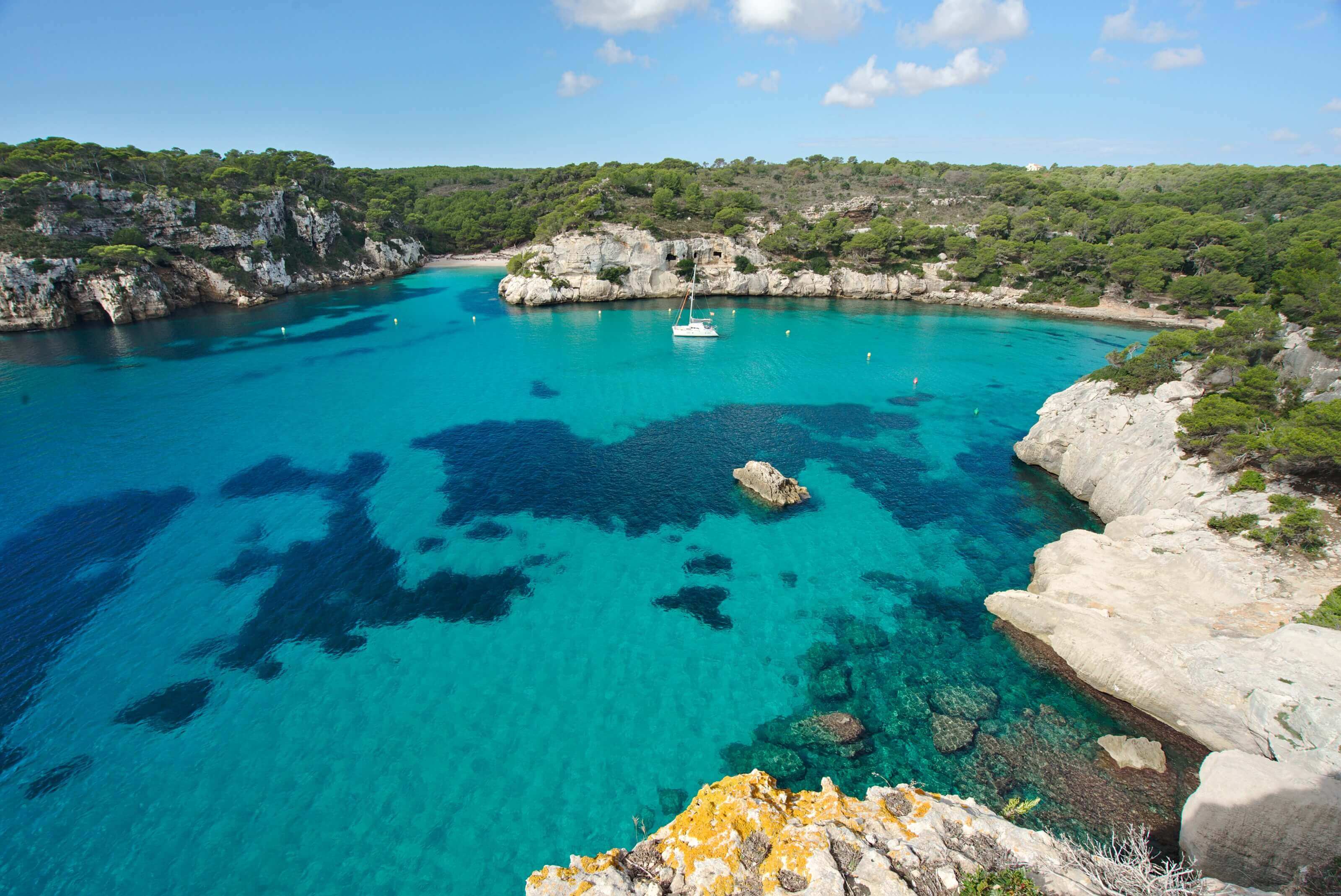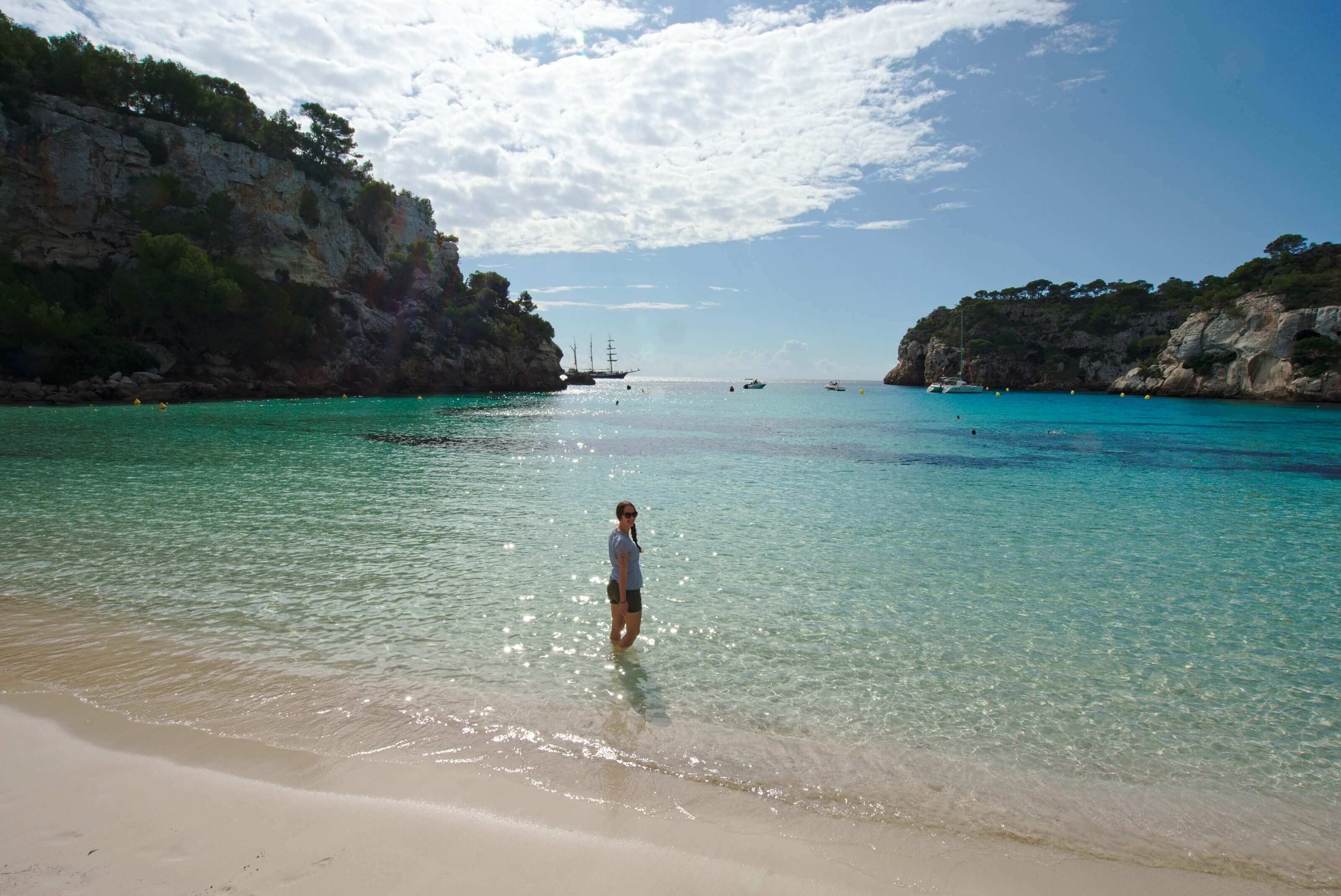 We had a big crush on Cala Macarella! This small beach is not directly accessible by car or bus, which means that you have to walk a little. And if there is indeed a basic rule in tourism, it is that as soon as a place requires only a little effort, then it is much less crowded!
So certainly we are not in high season, but Cala Macarella was almost deserted! We will most certainly come back here for an afternoon of swimming and sunbathing. 🙂
Cala Turqueta – Where to feel in Tahiti in the Mediterranean
It was hard to leave Cala Macarella because in case you'd be wondering, the water is still REAAALY nice and warm in October here. 😉 But well, we still had not far from 15km in front of us so we didn't hang around too much either.
Especially since the next step promised not to be naughty either…. The next objective was therefore Cala Turqueta, one of the most famous beaches in Menorca. We saw that a bus was getting to this beach and that there was a parking lot right next to it, so we were a little apprehensive about the crowds.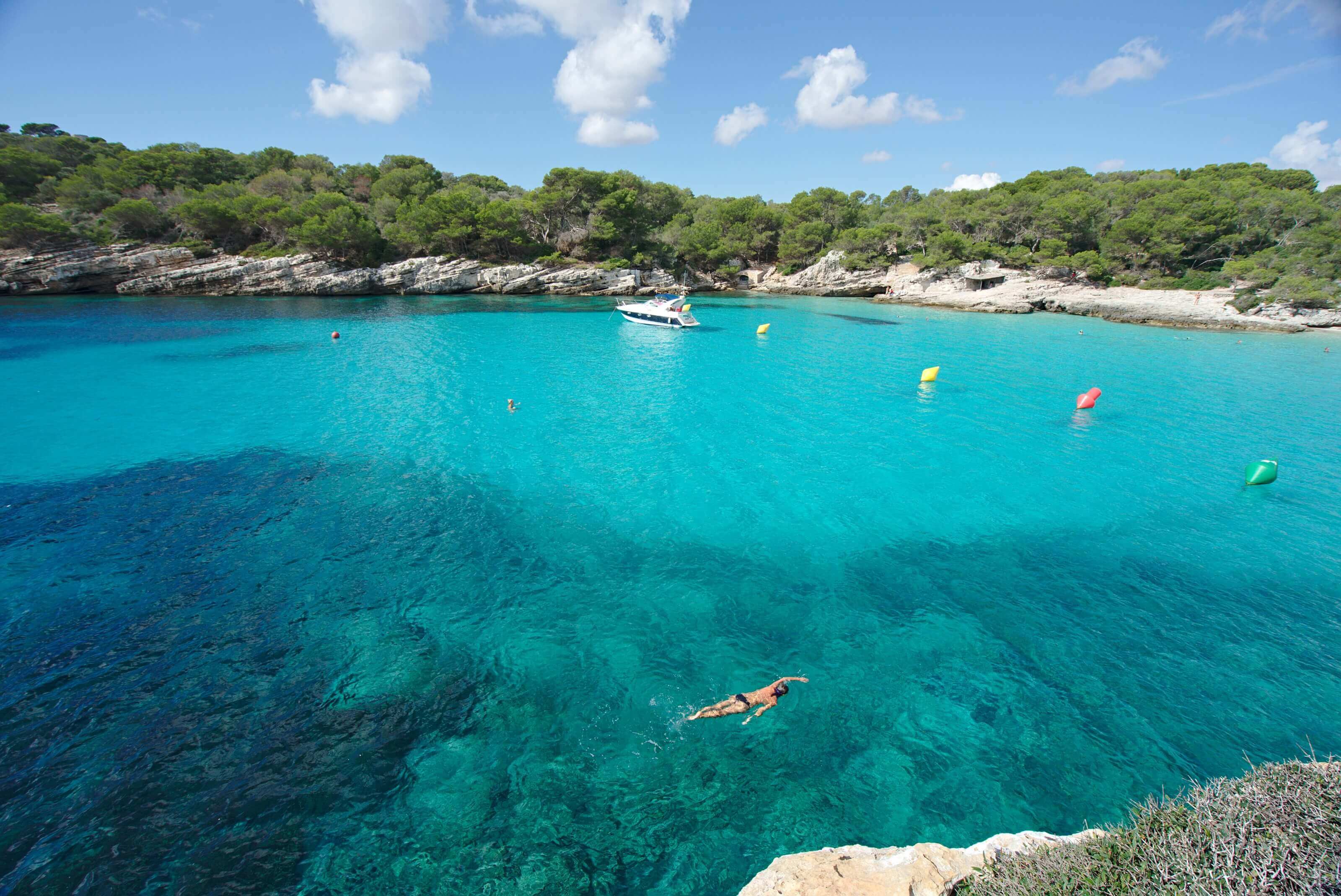 Just before arriving at the cove we settled down for a short picnic break before reaching the famous beach. From a "crowd" perspective it is indeed the beach where there were the most people (if we do not count the beaches that are in the seaside resorts themselves). But quite frankly, there wasn't a "huge" crowd either.
In October we are clearly at the end of the tourist season in Menorca and there's no need to say, it's just the best!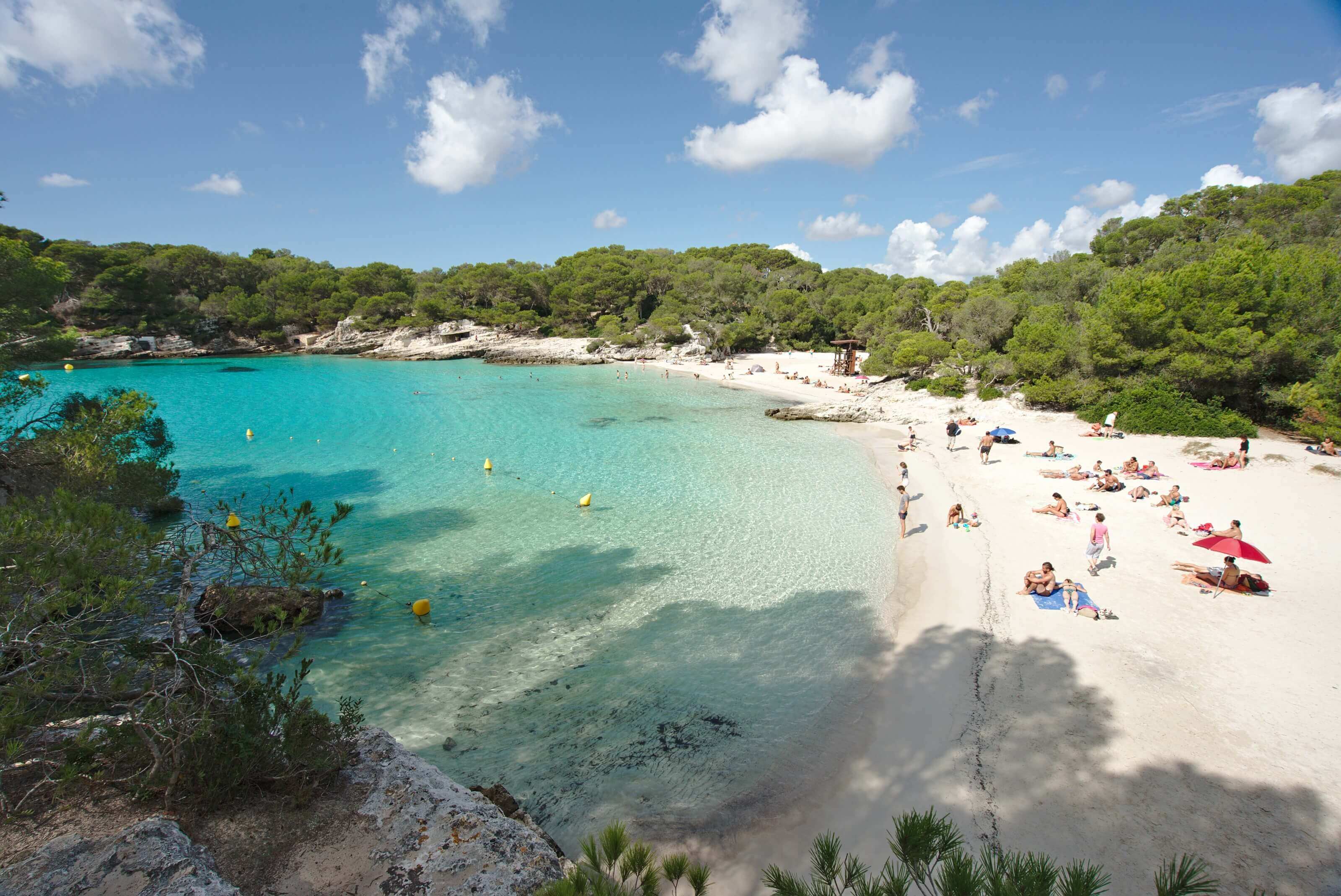 Fun fact: It seems that nudism is quite popular in Menorca! 🙂 Almost on all the beaches there were people who enjoyed the crystalline water wearing not se many clothes (Ok… all naked!). In short, we don't have any picture taken directly from the beach because during the 30 minutes we were there a group of gentlemen were discussing all possible world problems with their little bird roaming free by the water and we didn't want to play paparazzis (and with our wide angle lense, impossible to get them out of the frame) 😀
Cala es Taialer and Cala Son Saura – the most beautiful beaches in Menorca?
These 2 beaches are the last big beaches we crossed. They are relatively well known and popular because it is very easy to come by car or even by bus.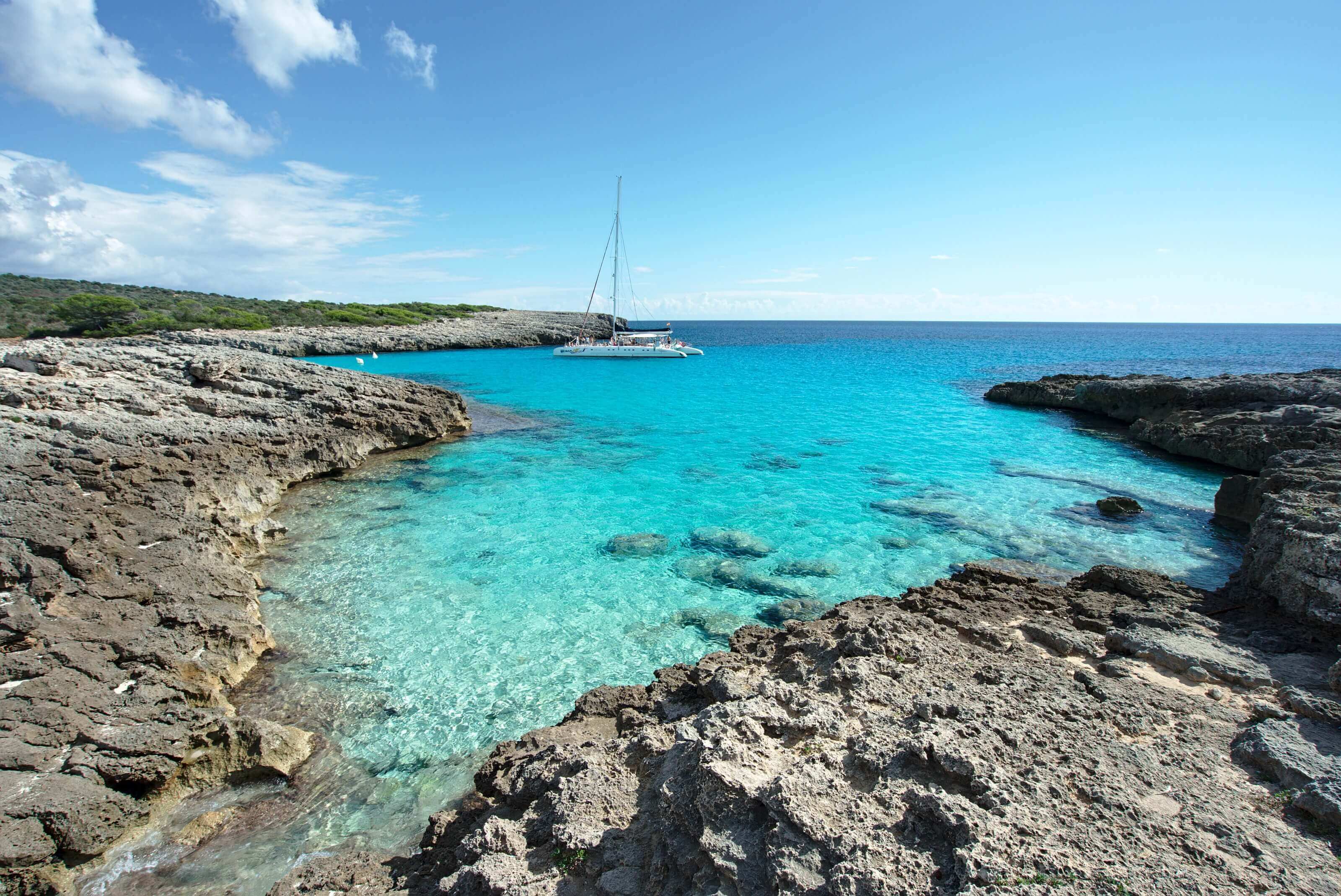 If we had to be a bit picky we would probably agree that these beaches were actually not the best ones… Of course, the water is still as beautiful and the sand as fine, but if we had to choose a beach where we could come and lay our towel, it's probably not the first ones we'd choose. These beaches, as beautiful as they aree, are also a spot where there are quite a few algae and it is therefore a little less pleasant to enter the water here.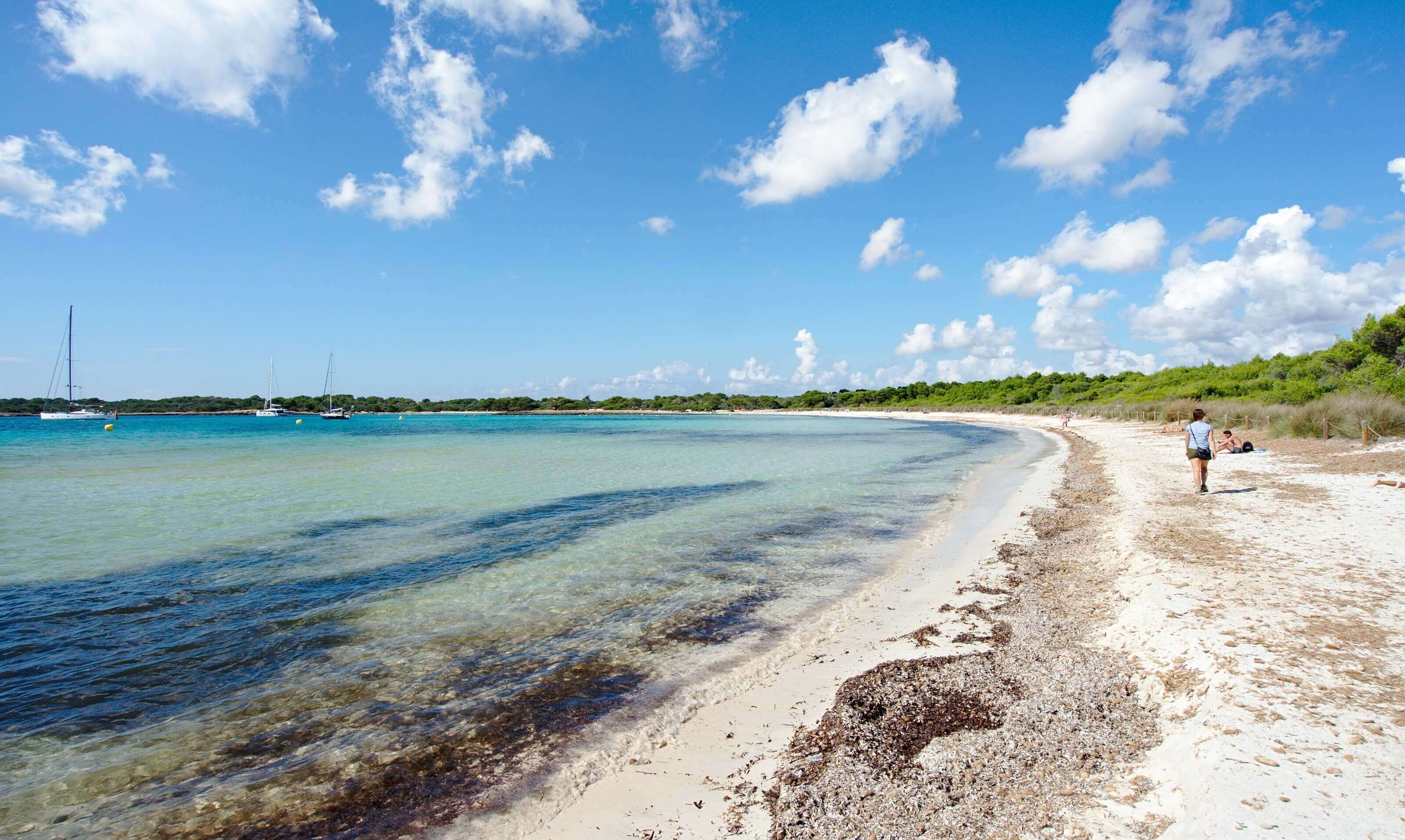 And when you talk about algae and waves, you also talk about lots of algae that dry on the beach and leave a slightly unpleasant smell… I mean… the beaches are nice, simply not the "nicest" if you ask us 😉
Rent a van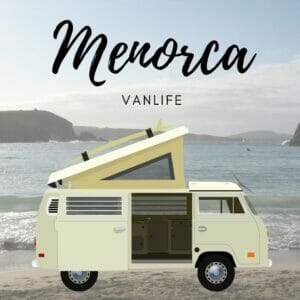 We didn't do it, but since we bought our van we can't help but think about the destinations we've visited and wonder if they would be good to visit in a van. Menorca is clearly one of those places where we think it must be really nice! 🙂 To find a van you can go and see on the website Yescapa. They offer vans for rent between private individuals (with all the insurances). Van are available from 50€ per day. See the vans on Menorca
Son Xoriguer and Cala'n Bosc
From Cala Son Saura we continued on the GR223 towards Son Xoriguer. This section is roughly 6km and runs along the coast all along. This part is quite rocky and there are no more beaches. On the other hand, the view of the water from the cliffs is simply breathtaking!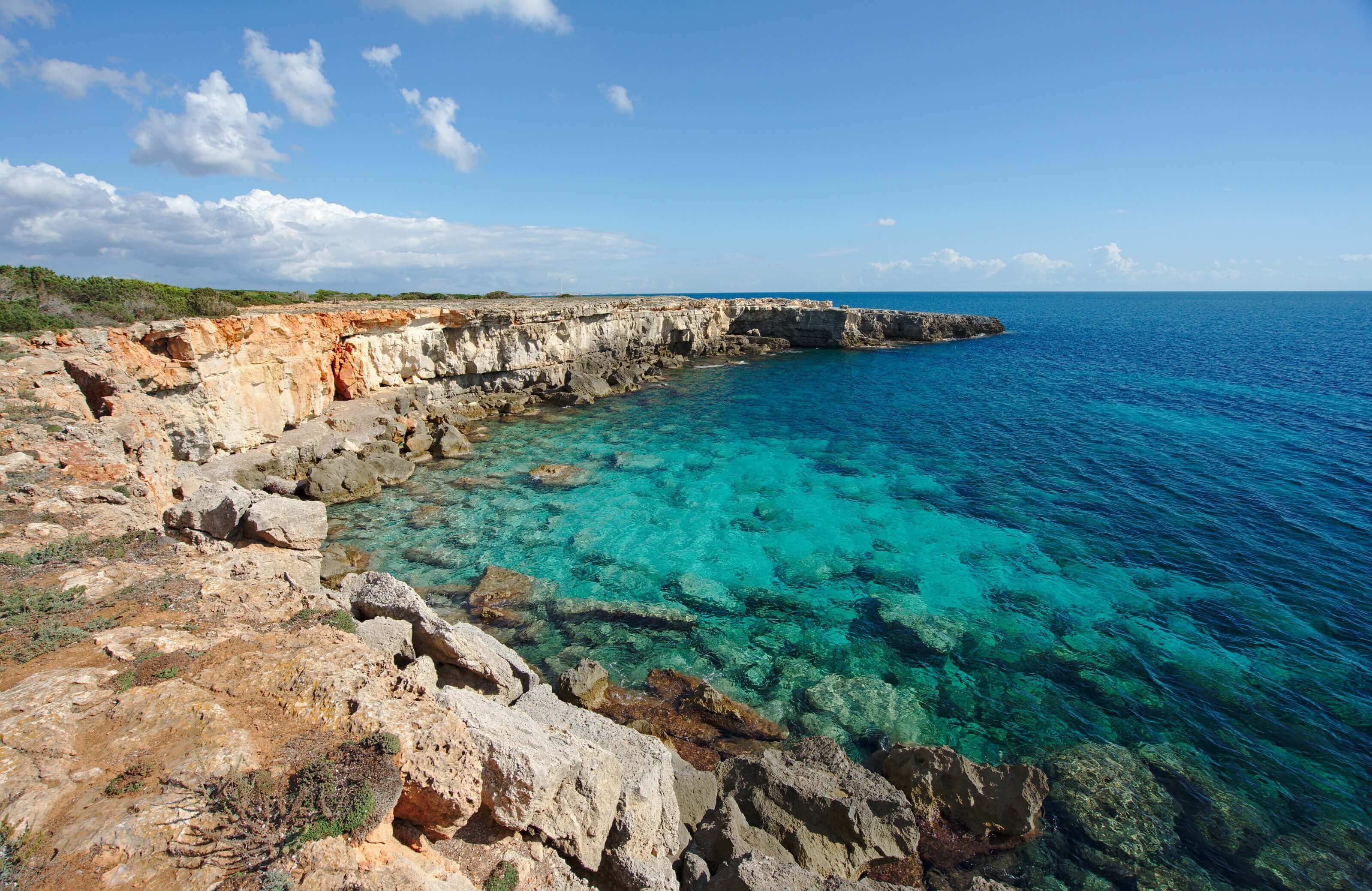 These last 6 kilometres were also where the point at which we started to be quite tired… Plus we were running out of water! Naively enough we thought we could find water or refreshments on the way and thus we left only with 1 liter per person (this is clearly a beginner's mistake). So we rest assured, we didn't die of thirst, but with the heat we would have largely supported a little more water.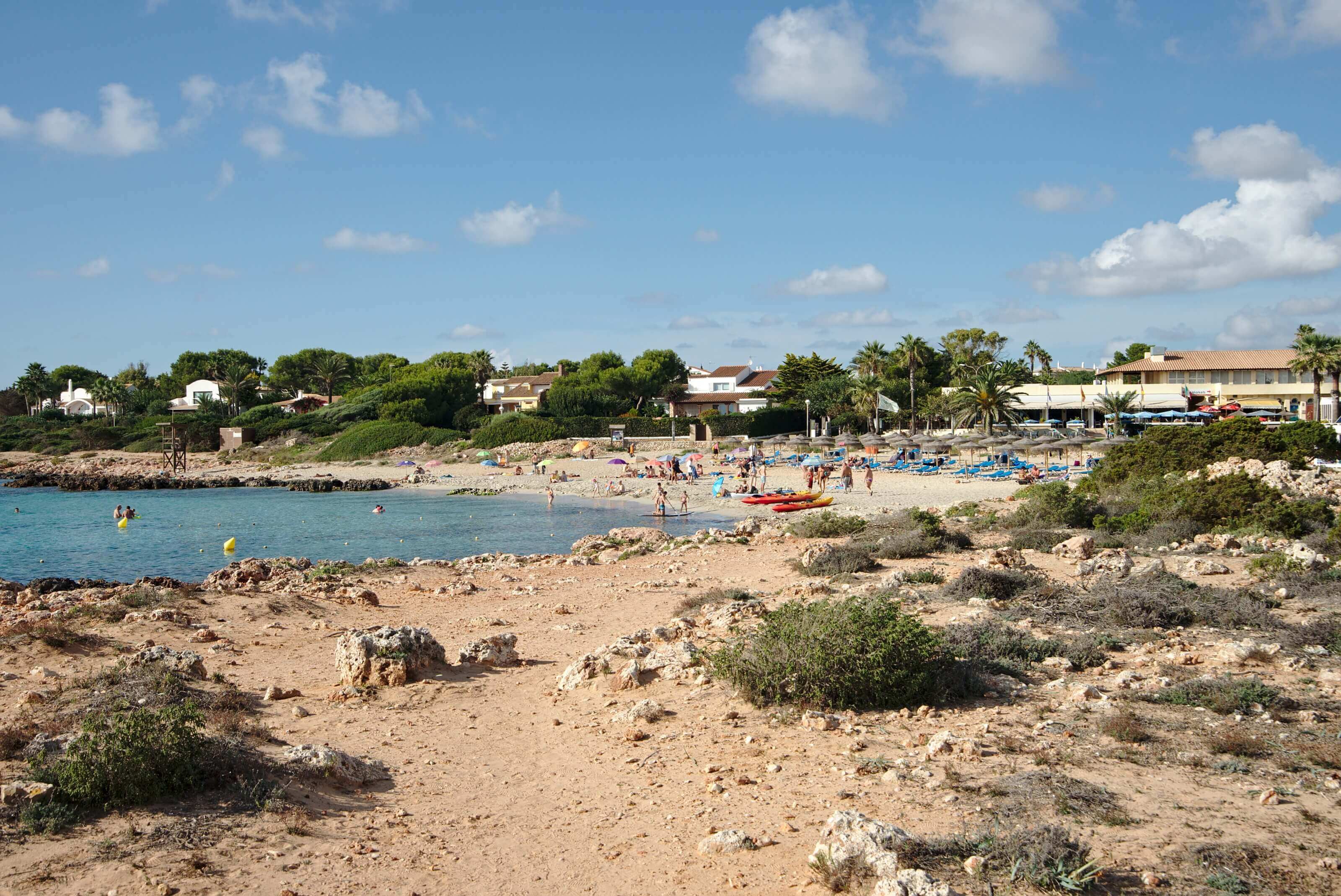 Fortunately for our level of hydration, Son Xoriguer is a very popular seaside resort and it is therefore without the slightest difficulty that we found a terrace where we had a well-deserved beer at the end of the hike. 🙂
Son Xoriguer and Cala'n Bosc are typical seaside resorts where resorts and hotels follow one another.
Not really ugly in itself, but from a beach perspective there is obviously no comparison with what we had just seen before…
So if you're in the area, don't hesitate to warm up your calves a little to explore the little dream beaches on the south coast!
Another nice idea if you are in the area would be to go discover the creeks by boat. As I am madly seasick I have to admit that this activity did not particularly appeal to me, but we have had excellent feedback on these tours from other travellers. 😉
This option is cheaper and includes a Paella but it is also bigger boats (with more people).
A smaller and "quiet" version and this also includes the use of stand-up paddle when.
Hiking itinerary in Menorca and practical information
In this section you will find all the useful information you need to go on this hike independently.
Map of the Cala Galdana – Cala'n Bosc hike
Find below all the itinerary we have done. You can zoom in to get more details and see the intermediate bus stops. You'll see it, there' are several trails along the coast. Basically we tried to always stay on the GR223 route (even if we made a few detours for viewpoints). In any case, the path is perfectly marked out and it is absolutely impossible to get lost. 🙂
Infos
Distance: Count about 22km (13,6 miles) with all the detours for the viewpoints
Duration: About 5 hours of walking / Difficult to estimate as the landscapes push to take regular breaks for swimming and photography… But the best thing is to count the day for this hike.
Starting point: Cala Galdana. Cala Galdana can be reached by taking bus No. 52 from Ciutadella (be careful only a few buses a day, See timetables here).
Finish: Son Xoriguer / Cala'n Bosc. From here there is the bus 65 which leaves for Ciutadella (at least 1 bus per hour, every 30 minutes at the end of the day). Price of the trip: 1,95€
Alternative: If you are tired or want to shorten the itinerary, note that there are also buses leaving from Cala Turqueta (bus N°68 / timetables) and Son Saura (bus N°66 / timetables). But be careful, these buses only run in high season (May to mid-October) and there are only 3 per day / line.

On the trails of the GR 223, the essential to take with you for a day hike
Let's face it, this hike, although relatively long, is technically very easy. Nevertheless, there are still some essential things to plan for:
Good shoes: No need to take your mountaineering shoes, but the relatively stony path is much more practicable with a good pair of sneakers or trail running shoes.
Take enough water! We had taken 2 litres (for 2 people) and to be honest this was not enough for the day. The heat is real and apart from the start and finish there is no possibility of refuelling on the way.
Your bathing suit and a towel… Well yes, consideringthe dream beaches crossed on the way it would be a shame to deprive yourself of it. 😉
Get to Menorca

Several airlines fly to Menorca, but overall the cheapest is usually Vueling
. We came with them through Barcelona and it was perfect. 🙂 Find a flight on Skyscanner
Rent a car
To find a car (in Menorca or elsewhere) we advise you to use Rentalcars.com.
Rentalcars is not a rental agency but an agency comparator! What does that mean? This means that you have a good chance of finding the best prices online (that's how we found our car) Tip: Always try to vary the departure/return times a little. If an agency closes its doors at say 8pm and you want to return at 8.30pm then the latter does not even appear…. However, by talking to the agency it is often possible to make arrangements!
Want to go on a road trip? Check out our blog post with itinerary ideas in Menorca
Are you looking for a hotel or an apartment in Menorca? Take a look at the map below. You can use the different filters to refine your results depending on your budget and desired location. Otherwise you can also try Booking.com where you'll find lots of hotels and apartments in Menorca.
NB: This article contains "affiliate" links. This means that if you make a purchase on one of the partner sites we will receive a small commission. This does not change the price you pay, but it will help us to keep this blog alive. And of course we are only talking about sites that we also used. 😉