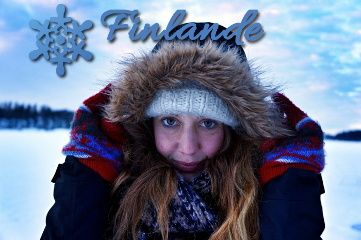 The south-eastern part of Finland is often called the region of a thousand lakes and believe me, it's not for nothing! There are indeed more than 100,000 lakes in this region for only 80,000 inhabitants. Try to find me another region of the world where there are more lakes than people 😉 ! So if you need peace and quiet, if you would like to spend your days fishing and walking in the forest while enjoying the comfort of a small lakefront house, this part of Finland is for you! Welcome to the beautiful area around Mikkeli.
Mikkeli: Silence and rest at the rendezvous
Imagine yourself in a place covered with lakes and forests, with almost no one for miles around…. Believe me, this kind of place has not existed in Switzerland or France for a long time. Finland is still the 8th largest country in Europe (338,000 km2) for only 5 million inhabitants…. Of tranquility, you will have as much as you want, I can promise you that. 😉 And for me, this region represents the very essence of Finnish identity: calm and close to nature… It is not for nothing that 70% of Finns own a small holiday home and go to recharge their batteries as often as possible. Mikkeli is probably the closest you can get to the definition of winter wonderland!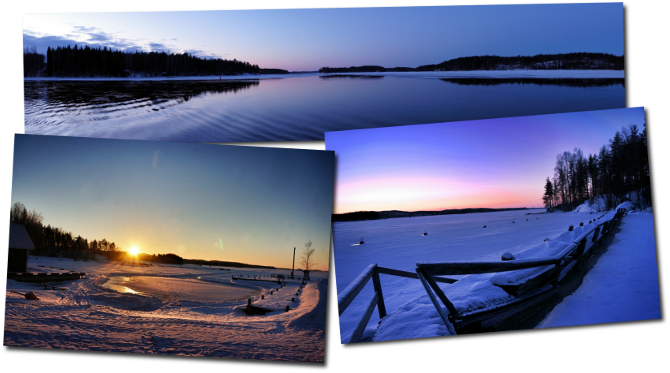 100% nature in winter and summer
All year round, you will have something to do in the lake region. In summer you can spend your days mountain biking, fishing, kayaking, hiking, swimming in one of the purest waters in the world… and so on. But as you know, we discovered this region in winter and believe me, there is no less to do. Here is a small sample of our outdoor activities during these few days spent around the city of Mikkeli, on the shores of Lake Saimaa (the largest lake in Finland)
Ice fishing in Mikkeli

For me (Benoit) who had never fished before, I was looking forward to this moment! Well yes, starting with fishing on Finland's largest completely frozen lake, there are worse things to do for a first time, right? So we had the chance to meet 2 Finnish fishermen who explained in a little more detail how to catch fish on an icy lake;).
The 1st technique: make 2 holes in the ice spaced about 20 meters apart and then fix a net between the holes (they use a small machine that pulls the net under the ice). Then just wait a week to remove the net and count the fish;).
2nd technique: For some fish, nets are not very effective and special traps should be used better. But in itself, nothing changes and you always have to dig a hole to fix the trap under the ice. When you put it that way, it may sound easy… But these 2 fishermen told us that it took them years to find the best places to set nets and traps…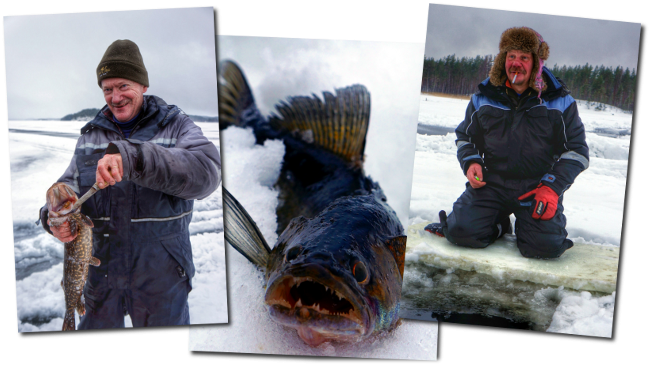 Video of ice fishing in Finland
They finally also showed us how to prepare the fish to extract the fillets either with a knife or by removing the skin of the fish like a sock… quite impressive!

Snowshoeing in Mikkeli :
In winter, it is obviously the only way to go for a walk in the forest;)… So in Finland, snowshoes are not exactly the ones I used to use in Switzerland! As Finland is a very flat country, they decided to make longer snowshoes, with more surface area. The original wooden models (see photo), they reach the height of the shoulders.
Honestly, it's not very easy to maneuver but after a period of adaptation, you get used to it. 😉 A snowshoeing trip in this region is the perfect opportunity to disconnect and enjoy nature at 100%. On this occasion, our guide of the day proposed a rather interesting exercise…. We had to leave our phones and cameras in a bag for part of the ride! Imagine a group of 8 ultra-connected bloggers with no connections or means of taking pictures during ½ hour….
Fabienne and I loved it, but it wasn't necessarily to everyone's taste. We will probably come back to this subject but we realized that compared to the average blogger present at this event, we are underconnected (and yet we thought otherwise;)) and it's not bad…
Nordic Walking :
So you can tell me that in winter it's not ideal for nordic walking with all the snow. But in winter, you will do nordic walking on the frozen lakes. In general, the inhabitants maintain a kind of cleared track on the lakes to pass with snowmobiles, skates, sleds… so there is no reason not to be able to walk too. 😉 And since 25% of the territory is covered with lakes in this region, you will have enough to do. 😉
The sled:
More relaxing than snowshoes or nordic walking, you can also settle comfortably in a sled and let yourself stroll through these landscapes. However, I warn you, it's better to cover yourself well… it's cold in the back of the sled!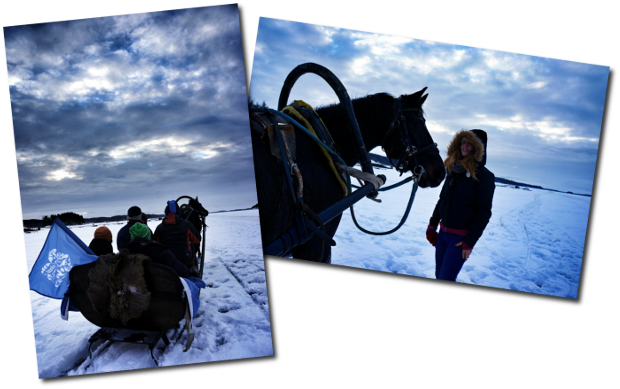 The kick sledge:
The Finns use these kinds of sleds on skates to move around the village carrying their groceries… We used them instead to laugh and take a little walk, but frankly it's very nice! We really advise you to try it!
Learn to forge with a real blacksmith:
Okay, it's an activity that happens in both winter and summer, but frankly we liked it so much that we wanted to tell you about it in this article. We had the chance to see a real Finnish blacksmith in action. He showed us how he forged a Finnish knife blade and he also let us forge our own amulets… Good with more or less success for some. He also does all the woodwork himself for the handles and leather cases. Frankly, some of these knives are works of art and it is really worth observing such a work (you are put in touch at the end of the article).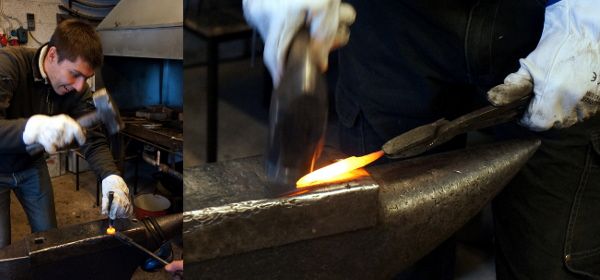 the pleasures of local and original cuisine
Another highlight of this region is its local and delicious cuisine. One point on which we all agreed among the bloggers was that we ate divinely well during our stay;). It must be said that they have everything they need to cook delicious dishes for us: wild berries, mushrooms, herbs, fish, honey and so on! And all the restaurants in which we have eaten without exception make it a point of honour to serve dishes cooked with local products! (we give you some addresses at the end of the article). Come on, blablaté enough, here are some pictures to whet your appetite.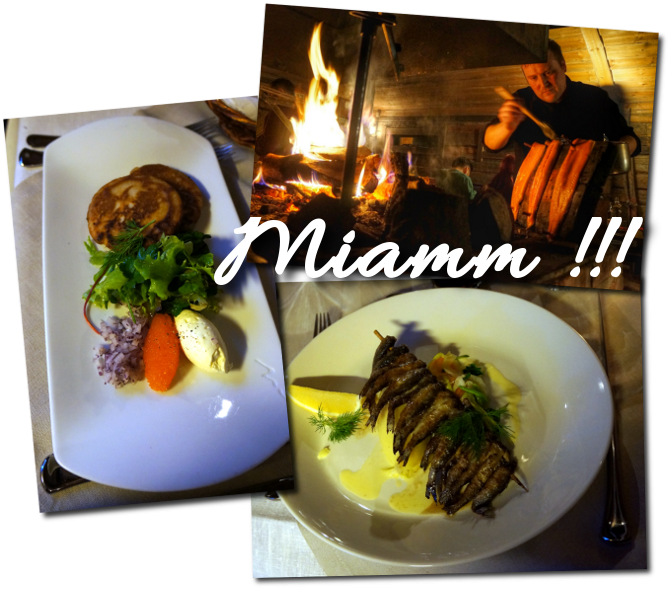 Relaxation and sauna of course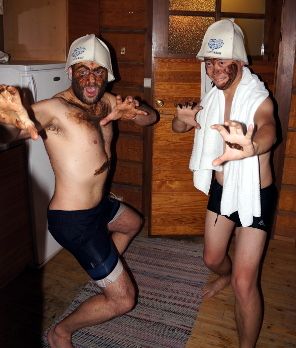 No trip to Finland would be truly complete without a traditional sauna… But it's a good thing, what could be better than a good smoke sauna in such a setting to be completely relaxed? And anyway, the sauna is so deeply rooted in Finnish culture that you will not escape it;).
The peaty variant was even tested on the skin to clean and purify it. Well, I don't know if it really works but it was pretty fun to find everyone with mud on their body;). It gave some mythical pictures!
Top services and infrastructure
The icing on the cake is that the infrastructure in Finland is absolutely top-notch (and believe me, a well insulated room in winter is more than necessary 😉 ). And as I said in our article on the Aland Islands, there is something for everyone!
Don't think that renting a small villa with a sauna by the lake (for 4-5 people) is unaffordable… by going for a googling, I found some at 200€-300€ a week for 4 people (I give you more info at the end of the article). And again, it is allowed to camp anywhere and free of charge in Finland. Frankly, camping in summer in this kind of setting, there are worse things to do;)
Infos
General info: For all information on activities, restaurants, finding accommodation etc… the website of visitmikkeli is a source of information. The English site is very well done,
Restaurants: We have an absolutely fabulous memory of the salmon cooked in front of the wood fire at Sahanlahti resort… Well, it's a little expensive (30-40€) but it's still one of the best tables in Finland. 2nd recommendation, the Vilee bistro in Mikkeli itself. The menu of the day is very affordable (17€ it seems to me) and the cuisine is first class!
Accomodation: If you are travelling as a family or a group of friends, I recommend you take a look on Vrbo. There are many really cute houses by a lake.
You'll find many accomodation options on the map below. Sinply use the filters and the zoom to refine your search:
Blacksmith: I promised to give you the contact of the blacksmith who is on the island of Niinisaari. You will find all the information on his website where you can admire pictures of his Finnish knives.
And because forging it digs into your stomach, we recommend a quick trip to Niinipuu, a delicious restaurant that lovingly prepares the best specialities in the region. (on the same island)
We hope you have inspired you to visit the lake region in Finland…. We look forward to seeing you soon for our first article on Georgia;)
NB: Please note that this article contains affiliate links to partner sites. If you buy a product on one of their sites you will not pay more but we will receive a small commission. This will help us to keep this site alive. Thank you! 🙂