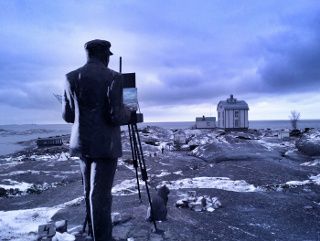 We will not hide it from you, after 36 hours of travel from Buenos Aires, we arrived in Helsinki, Finland rather tired and completely jet-lagged. Add to that the fact that we have lost 40 degrees Celsius and you can imagine our condition. ;). But no time to rest (and anyway it takes more than that to frighten us!), we had planned to take the same evening the ferry from the port of Helsinki to go to the Aland Islands, an archipelago rather unknown to the general public but which will have reserved us some very good surprises.
The Aland Islands: where are they????
So Aland is an archipelago of about 6500 islands located halfway between Helsinki and Stockholm with about 29000 inhabitants… and yet, we will admit that we had never heard of this group of islands (the shaaaaame!!!!!). There are a lot of possible activities in winter and summer…. You can camp, bike, kayak, do trekking, fish, discover small remote islands, enjoy nature, ride horses, eat incredible fish and much more;)… Let me tell you that in 2 days spent on Aland, we only had time to make ourselves want to come back longer 😉 (which is already planned…)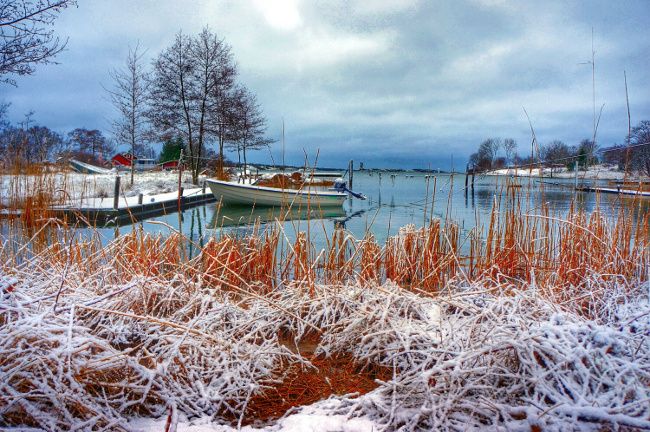 A night by ferry to Mariehamn
The cheapest way to get from Helsinki to the archipelago is by ferry (there is also the plane which can sometimes be cheaper but I talk about it below). For those who have been following us for a long time, you know that Fabienne only moderately enjoys leaving the mainland to got to sea. But well, Finnish ferries still inspire much more confidence than Indonesian boats…. So we were quite excited to spend the evening and night (short night since we arrived at 4:30 in the morning) on Gabriella, our boat of the day.
Gabriella is still a hell of a baby! There is room for 2500 passengers, several restaurants, bars, a dancefloor, a duty-free shop, a small casino… Imagine, the boat's cooks prepare more than 300 kg of salmon for passengers every day…. Impressive!
Meeting of French bloggers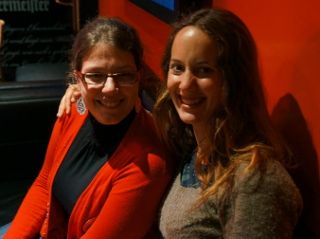 We even had the pleasure of meeting Lucie, from the blog voyages et vagabondages on the boat! She was on her way to Stockholm, but we were still able to share a little drink! Since we've been following each other on our respective blogs for so many years, it was really about time we met "in person". 😉
We had a short guided tour of the boat with Hanu, a very nice crew member. We even had permission to visit the ship's captain and visit his finest suite. A very nice moment.
We then climbed on the outer deck to admire Helsinki at night as we left the port. Then, after a good meal in the restaurant, we headed to the bar for a little karaoke among bloggers. But we will admit that we drank a beer out of courtesy and then went to bed because we could barely keep our eyes open. 😉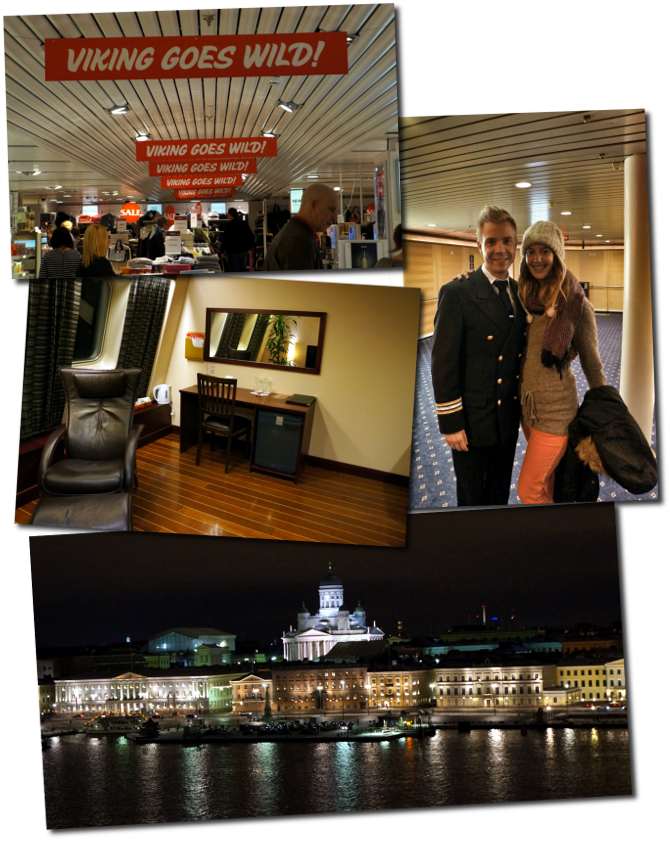 Our little house on Aland
As I told you, the ferry arrives in Aland at 4:30 in the morning… not ideal for recovery but we had to deal with it! A taxi was already waiting for us at the port to take us to our accommodation where we slept for a few more hours.
When we woke up, we were pleased to discover that a pretty layer of snow had come to embellish the landscape. This is not to displease us because it is exactly how we imagined Finland in the middle of winter.
We stay in a pretty little house with a sober and wooded design. In fact, we generally found that Finns like this kind of interior… and so do we. We would be tempted by some Finnish furniture, lamps or decorative elements for our future apartment.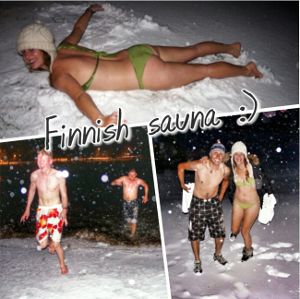 And the must of the must, like any traditional Finnish house, there is a traditional steam sauna. The sauna is an institution in Finland… Imagine for a second, there's about 3 million saunas for 5 million people… crazy, right??? So, from our first day in Santa Claus' country, we had the chance to test the real Finnish sauna, with a jump in the snow (they call it the "snow angel") and a swim in the icy water as a bonus. 😉 Excellent for the health it seems!
Visit the Aland archipelago
Unfortunately, we only had 2 days to discover the archipelago and believe me it's very little… We had time to discover some pretty places like this pretty fishing port or the cute alleys of the city of Mariehamn.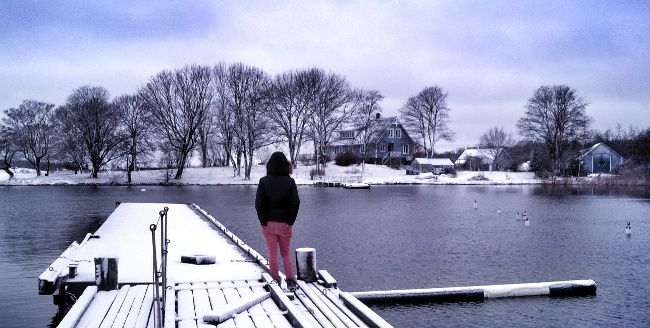 But the must for us will remain our little boat trip to the island of Kobba Klintar. We took a boat from the port of Korrvik, northwest of Mariehamn.
After a nice half hour by boat (in our opinion there is no better way to discover the archipelago… maybe kayaking in summer;) ), we arrived on a very small island where there is among other things a small café (only open in summer) and a superb statue of a painter with his cat… (by the artist Juha Pykäläinen)
Frankly, from the boat, I was sure there was really an artist painting there, lost alone on his island;). But enough talking, some images will be more telling.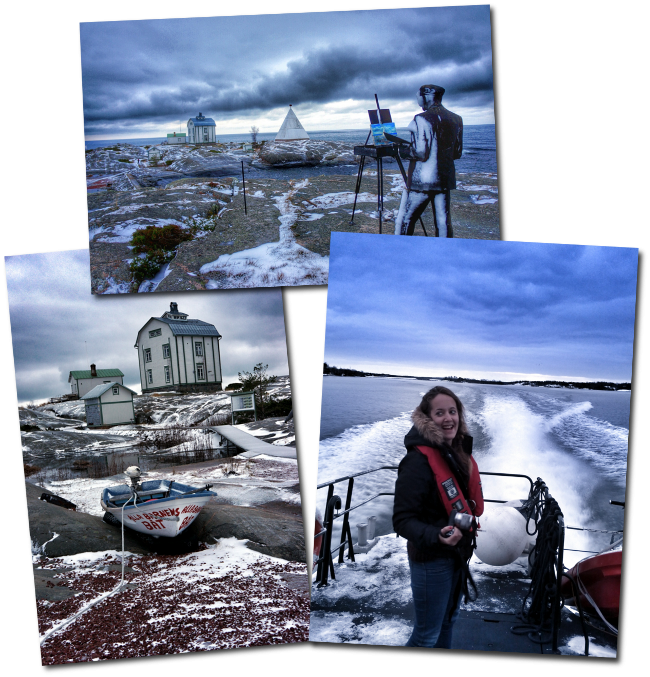 But as I said earlier, the Aland Islands are a small paradise for outdoor activities… We just had a little glimpse of everything there is to do in the area and we are already looking forward to coming back in the summer to camp-kayak-trek-fish-bike for a few days… on the different islands that are accessible.
Aland for foodies: where to eat?
On the food side, we had a huge crush on the restaurant Smakbyn and its chef Michael Björklund. Let's face it, Michael is a bit of a celebrity in Sweden and Finland where he was elected Chef of the Year. But he decided to return to his roots on the Aland Islands to open his restaurant… and much more. He makes his own liqueurs which he lets rest in his cellar to the background of Finnish music (it seems that it improves the taste 😉 ). He raises his own pigs, uses only local products (apples, honey, beers etc…), makes his own bread etc…
He also has ambitious and far-fetched projects! For example, he would like to sell hives equipped with webcams so that his customers can observe their evolution from anywhere in the world. He also wants to start a cooking academy, educate Finnish children so that they will once again have a culture of good products, open a theatre school…
In short, a very funny and interesting guy! In the plate, it gives a cuisine without frills, which favours good products and generous quantities (and the dish of the day is very affordable for this quality… 15€ if I remember correctly)… We're already fans!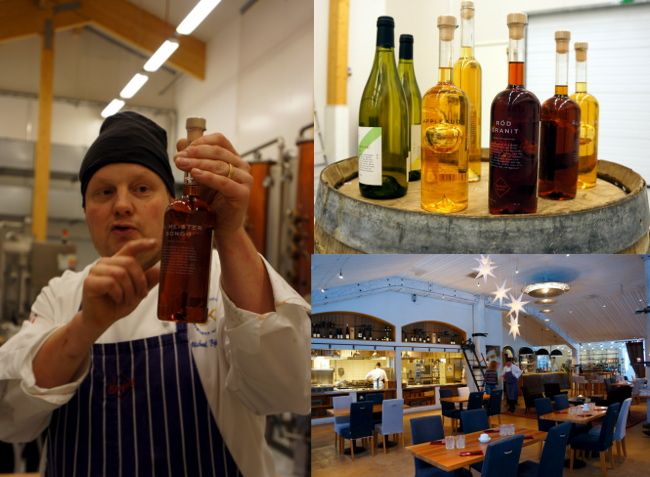 And let's not forget to hydrate – Craft beer on Aland
As for drinks, the Aland Islands also have a little gem: I named it Stallhagen microbrewery. In 2014, they produced 22 different beers (including quite a few limited editions) that they export mainly to Sweden and Finland. So we reassure you right away, we didn't taste all the beers but on those we had the chance to taste, we loved the blonde with honey from Aland… a real delight. We also recommend the restaurant of the brewery which will offer you some dishes that go perfectly with their best beers. In short, a must go!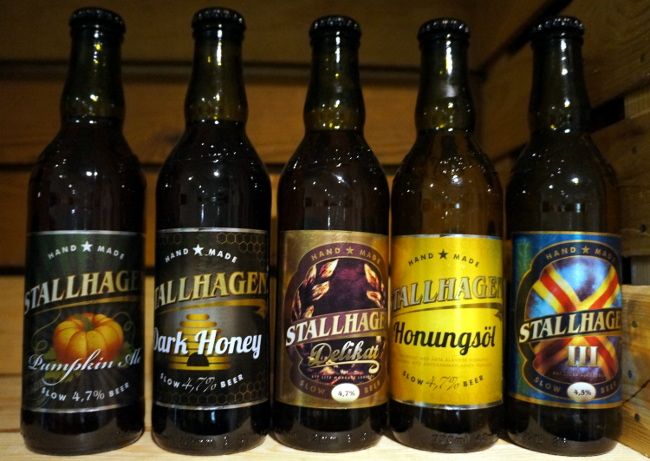 Cultural visits to do on Aland
Maritime Museum :
You can imagine that as an archipelago, Aland has a very glorious maritime past and this museum is here to teach you more about it. Frankly, after the Hong Kong History Museum, it is the best museum we have visited in 18 months. It is extremely well made, interactive and visual. If you visit the museum with your family, children will enjoy it just as much as adults. Not for nothing that this museum was nominated for the title of best museum in Europe… its 2 main pieces are a real pirate flag (there are only 2 in the whole world) and a huge 4-masted sailboat, anchored behind the museum… unfortunately we could not see the sailboat which is open to the public only in summer…
Photo museum on Aland:
A little crush for us… this museum is run by an adorable couple in their seventies, completely passionate about photography.
Mr Strömberg has worked as a professional photographer/video maker all his life and has never (listen carefully) sold a single one of his cameras. He has amassed an impressive collection of more than 13,000 pieces. As he says very well, "before electricity, there was photography"… he has copies of the very first cameras, the first films, old equipment to develop and edit films… But the best part of all this is still their passion and contagious good humour! If you visit them, believe us, you will not regret it. 😉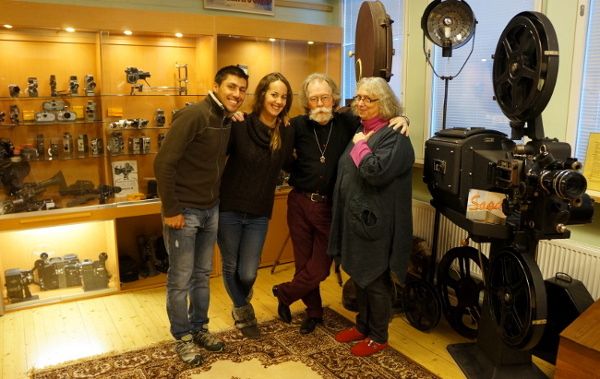 Summer projects in Aland
I may repeat myself once again, but the best time to visit the Aland Islands is in summer! If you are looking for peace and quiet and an ideal playground for outdoor activities, you have found your next holiday destination. And we're not going to lie to you, there's a good chance we'll come back next summer…. Promises to camp under the midnight sun, to cycle and kayak between the islands, to catch our fish and then grill it over the fire… have already convinced us;)
Infos
Getting to Aland : You can either take the ferry with Viking line or fly by plane with flybe. Sometimes the plane can be cheaper than the ferry (there are offers at 29€ sometimes while the ferry costs around 50€). We took the boat to go and flew back… a good compromise I think. ;). See prices on Skyscanner
Where to stay on Aland : Sometimes we get the impression that the Nordic countries are very expensive! But know that in Aland there are accommodations for all price ranges from 15€ per night. And I think the best part is that in Finland, it is possible to camp for free anywhere. Frankly in summer, we wouldn't hesitate for 2 seconds;) and we'd go camping. Find a hotel on Aland
Alternative: On Vrbo you'll find a lot of nice little cottages to rent.

See all available accomodations on the map below:
Getting around Aland : It is very easy to rent a bike in Mariehamn or in a hotel (about 40€ per week) and it is probably the best way to discover the islands in summer. Ferries connecting the islands to each other are free as long as you do not have motor vehicles.
Other information : if you need more information about accommodation, activities in Aland, restaurants…, visit the visitaland website which is super well done and full of useful information. You will find everything you need to organize your trip.
So much for our first discovery in Finland…. and what a discovery since we are already planning to come back this summer;).
We look forward to seeing you soon for more ice-cold moments in Helsinki and in the lake region around Mikkeli…. See our Mikkeli article

Note: Please note that this article contains affiliate links to some partner sites. By using our links you do not pay anything more, but we'll get a small commission. Thanks for your support.