Who has never dreamed of travelling to Lapland, discovering its winter landscapes, enjoying the silence, having the chance to observe the northern lights or see reindeer in the snow? In any case, we've been dreaming of going there for a long time. But Lapland is also a region that requires a little more organization (imagine, there are only 2 inhabitants per square km), and also a little more budget because the three countries Finland – Sweden – Norway are not particularly cheap. Thus, in our mind we knew we would come here "one day" but we would never have expected to see this day coming so soon…
But fate has decided otherwise! If you have been following us for quite some time, you may remember that we had already been to Finland at the very end of our round the world trip. Well this year we were again chosen to participate in the same program as 3 years ago ( NBEFinland: an event that brings together 40 bloggers from all over the world to participate in a major travel fair in Helsinki) and, as part of this fair, we were invited to spend 3 days in Finnish Lapland in the Ruka region. I might as well tell you that it was Christmas before the time… I let you imagine how excited we were when we heard the news.
Beautiful arrival at Ruka airport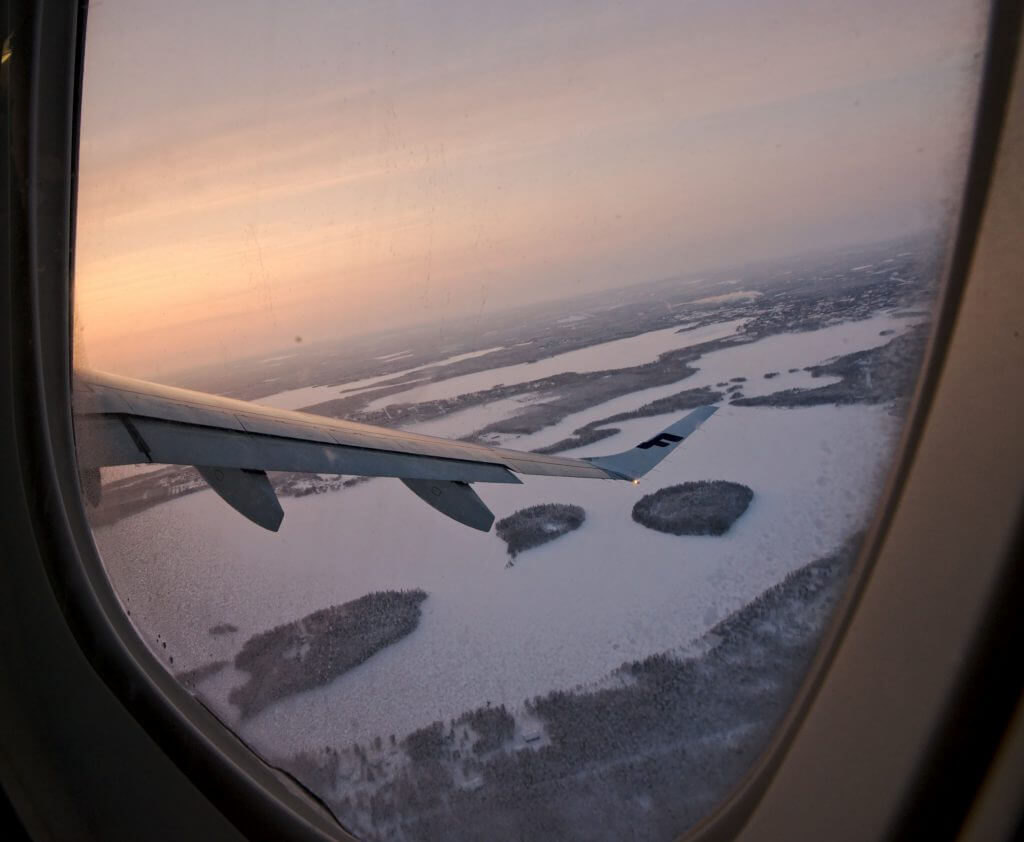 After 2-3 days of busy travel fair in Helsinki, we were waiting for only one thing: fly to Lapland. The journey is not very long and it takes only 1 hour to reach Ruka Kuusamo airport from Helsinki. And let me tell you that we are immediately put in the atmosphere… already through the window, we only see forest and frozen lakes covered with snow as far as the eye can see. The temperature also puts us directly in the bath…. -15 degrees… and I hear it's pretty mild for the season. 🙂
A quick remark: I laugh a little bit for the temperature but whether in Tallinn, Helsinki in Lapland or Riga, the locals explained to us that there has not been a real winter since 2013 (+10 degrees compared to normal winters) and that they were very concerned about global warming.
Infos
There are several ways to get to Ruka:
By plane : It is obviously the fastest way (only 1 hour from Helsinki) but not the most ecological. Finnair flies 2 to 4 times a day from Helsinki and Lufthansa has some direct flights from Frankfurt in winter. See the prices on Skyscanner
train + bus : It is possible to take the train to Rovaniemi and then the bus to Ruka (3 buses per week in winter)
By car : Many Finns come directly by car from Helsinki (800 kms)
You can find more information directly on The Ruka website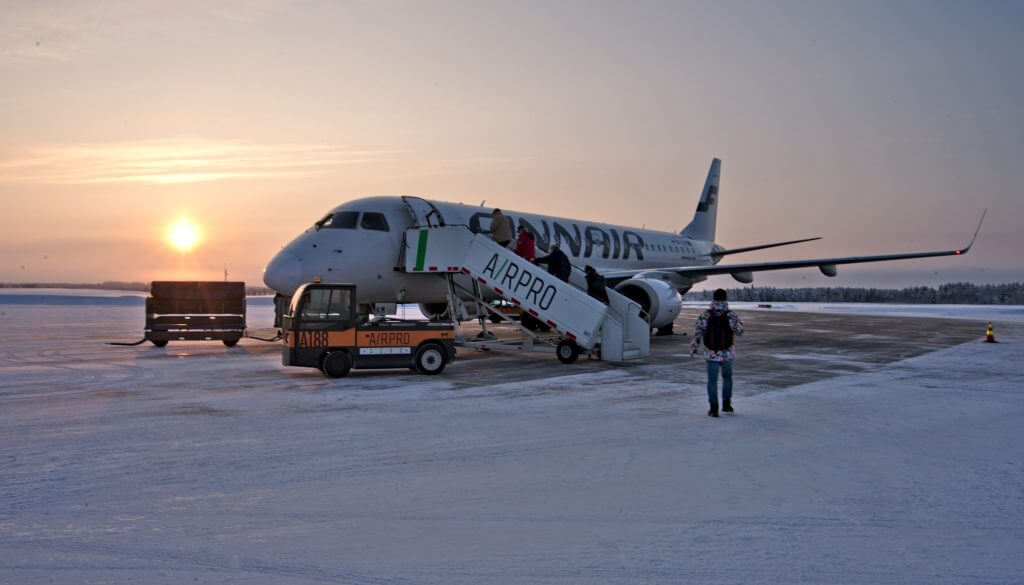 Our little house lost in Lapland
As soon as we leave the airport, we are already driving on the snow-covered roads of Lapland towards our accommodation for the night. Driving in Lapland is already an experience in itself…. The locals can easily drive between 80-100 km/h on snow! Of course they have special tires (studded) to hold on the road at these speeds but it's still impressive the first time.
After a half an hour's drive we arrive at Katja and Vira's house, 2 sisters who own some small houses lost in the Lapland forest 3 km from the Russian border. Katja and Vira welcome us warmly and explain their story to us while serving us a delicious meal (made with reindeer meat and hand-harvested forest herbs 😉 ). Being welcomed in this way and feeling the passion with which these two sisters talk about their farm and their life in Lapland made our hearts warm and put us in a good mood for the evening.
The next morning, we wake up early to discover a little bit of the surroundings on foot (we only have 3 days so we might as well enjoy it at 200%). As we had arrived the night before, we hadn't really been able to see the beauty of the surrounding nature. Katja and Vira's few small houses are all located on the edge of a lake in the forest. All trees are completely frozen and covered with snow… But what strikes us most is the complete SILENCE that reigns here… not a single noise! We are extremely grateful to be here but at the same time a little frustrated to have to leave this magical place in the morning… let's say that we would have had no problem staying here for 1-2 weeks to explore more of what this area has to offer!
Infos
If you want to come and discover Katja and Vira's little white paradise, take a look at their website or their Facebook page 🙂
For bookings and prices: see here
Skiing and ice climbing in Ruka Kuusamo
After this short escapade to the paradise of nature and tranquility, we take the road again towards the village of Ruka. Now we're completely changing the atmosphere. Even if Ruka remains a small village (nothing to do with the big resorts of the Alps), it is nevertheless a ski resort with all the most typical features… and we will not hide it from you, it has much less charm in our eyes than the little houses of the two sisters we just left.
Don't worry, it would take a little more to make the excitement of being in Lapland go away and we're getting ready for a nice afternoon of skiing.
I admit that I was wondering if I could have fun skiing in Lapland… I mean.. there is no real "mountain" and the maximum difference in altitude of the largest slopes is between 200 and 250m :). So I had some a-priori but I was positively surprised on several levels.
So certainly there are no large mountain ranges like in the Alps, but I must admit that when you ski in Lapland, you are also amazed. I let you judge for yourself… The landscapes are different but not less beautiful. 😉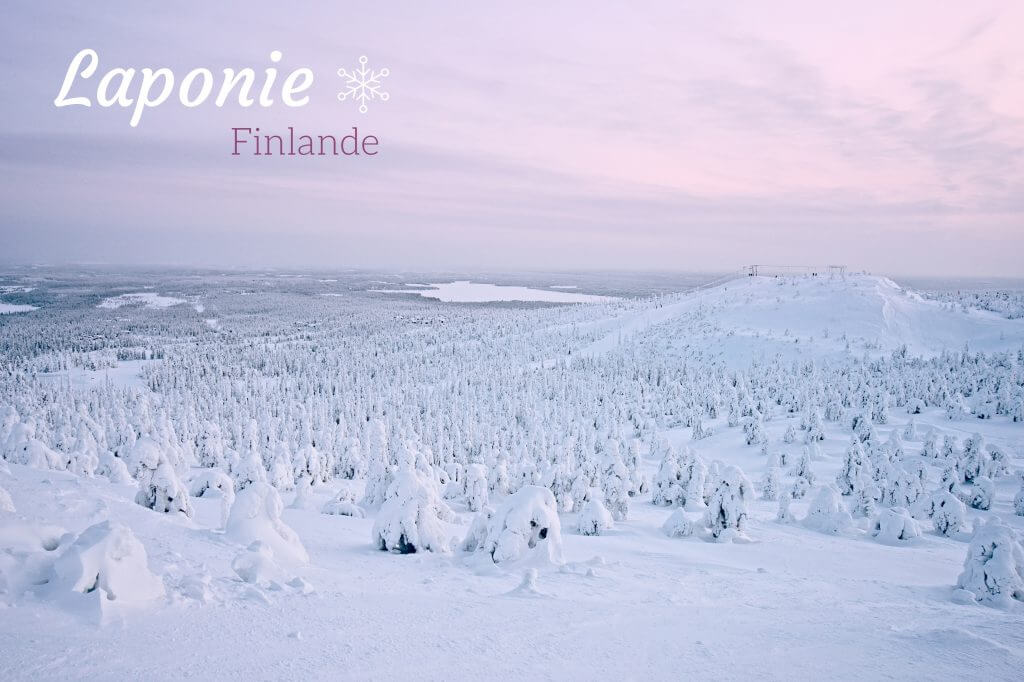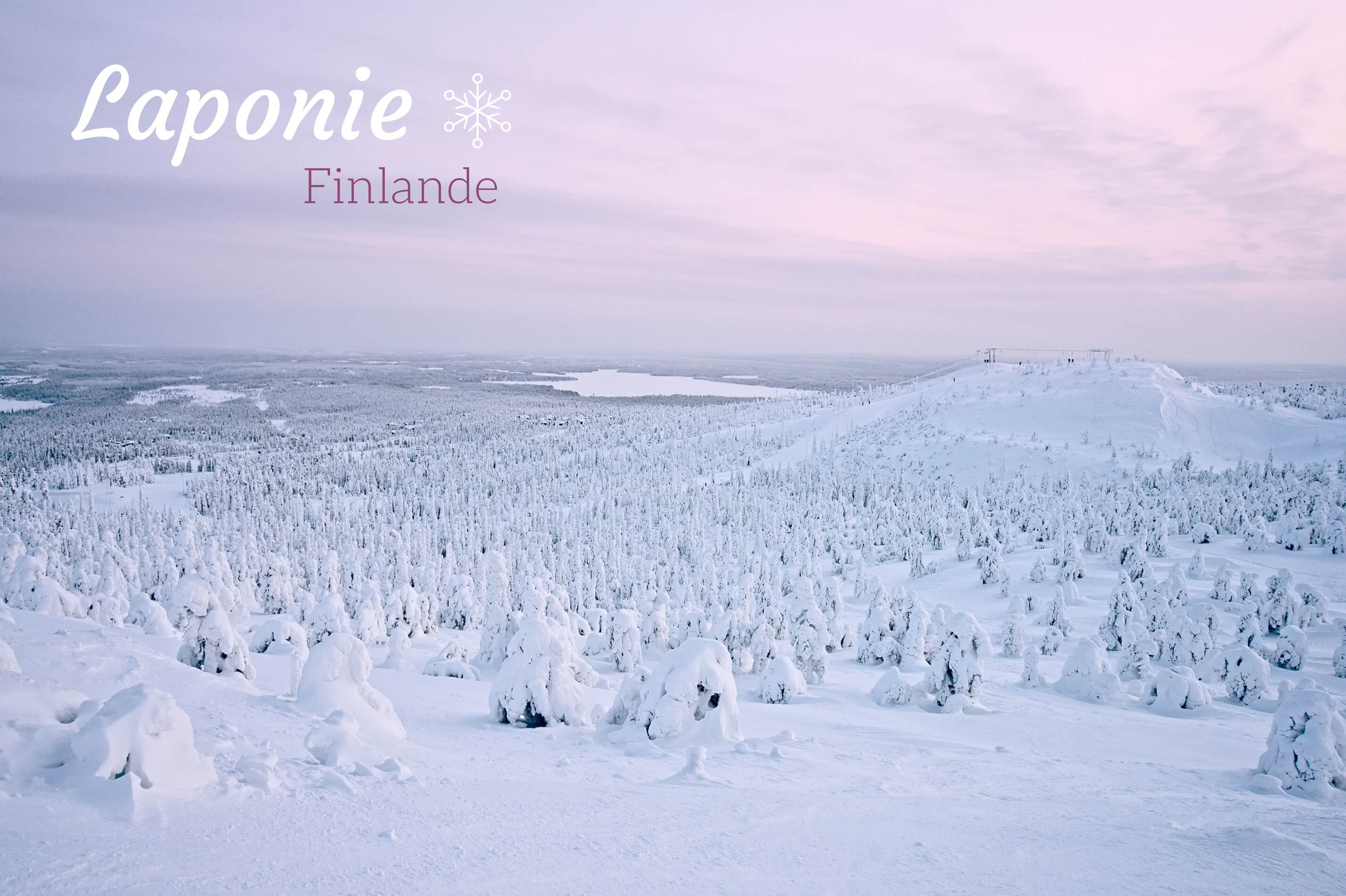 Even if it is clear that the slopes are on average shorter than what we are used to in Switzerland, I was rather surprised in a good way by the Ruka ski area on several points:
There is plenty to enjoy on the ski area with 35 super-prepared slopes. Only the most advanced skiers might get bored after a couple days.
There's a great snowpark and a huge half-pipe. This is probably why some of the best Finnish freestylers come from Ruka.
The infrastructures are great… the lifts are perfect, there are closed shelters with fires to warm up on the whole area (free of charge of course)… there is even a small park with 2-3 reindeer for children (and Fabienne too 😉 )
There are far fewer people on the slopes than in the Switzerland (Lapland is a little less accessible than the Alps 😉 ) and we can ski from 09:30 to 19:00 every day for 44€ a day which is quite correct.
And since we hadn't done enough sport yet, we ended the day with a short introduction to ice climbing. Fabienne, who had never done this before in her life (and who is afraid of heights) has outdone herself and is the only girl in the group to have reached the top of the wall (I am pretty proud of my wife on that one 😉 ).
the image on the left was taken by our friend Silvia from the blog heart my backpack
A typical Finnish day
After so much sport, nothing beats getting back in shape with a day that is a little quieter and more Finnish at the Pohjola family. We are welcomed by Tanja and Matti, the owners of a beautiful old typical Finnish lakefront house in the village of Vuotunki (one of the oldest villages in the region). Tanja is very talkative and explains that her husband's family has been passing on this property for 12 generations! Matti's first ancestors arrived in Lapland at the end of the 16th century and the farm has always remained in the family (despite the difficult years Finland experienced in the 19th century). The current main house is more than 100 years old and has been lovingly maintained by the Pohjola family.
After this very interesting historical context, Tanja invites us to bake Finnish breads (pulla) and pastries (kind of cinnamon and cardamom rolls) with her. The idea being to eat our bread with lunch and pastries at 4am after a snowshoe walk. With Fabienne we enjoyed joining this activity a lot (you know us, when it comes to eating or having a drink we're always up for it 😉 ) and we spend a great time cooking.
After tasting our Pullas with a little salad and reindeer meat, we decide with Fabienne to take advantage of the beautiful weather to explore the surroundings with snowshoes. To be honest, we were waiting for this because even if we liked cooking, the sun was calling us and we were tired of being inside 🙂 . And frankly, despite the temperature being around -20°C, what a joy to walk in such landscapes. Tanja and Matti's house is located on a small hill by a lake…. the setting is just idyllic. In addition the sun is super low and the colors are beautiful. I may repeat myself a little bit but we still can't believe we're snowshoeing in Lapland. 😉
Just as we were getting a little cold, Tanja called us to taste the pastries we had just baked around a good wood fire (in a small house by the lake). And the icing on the cake, we then head for the old farm stable, which has been transformed into a sauna. Ahhhhh the sauna!!!!!!!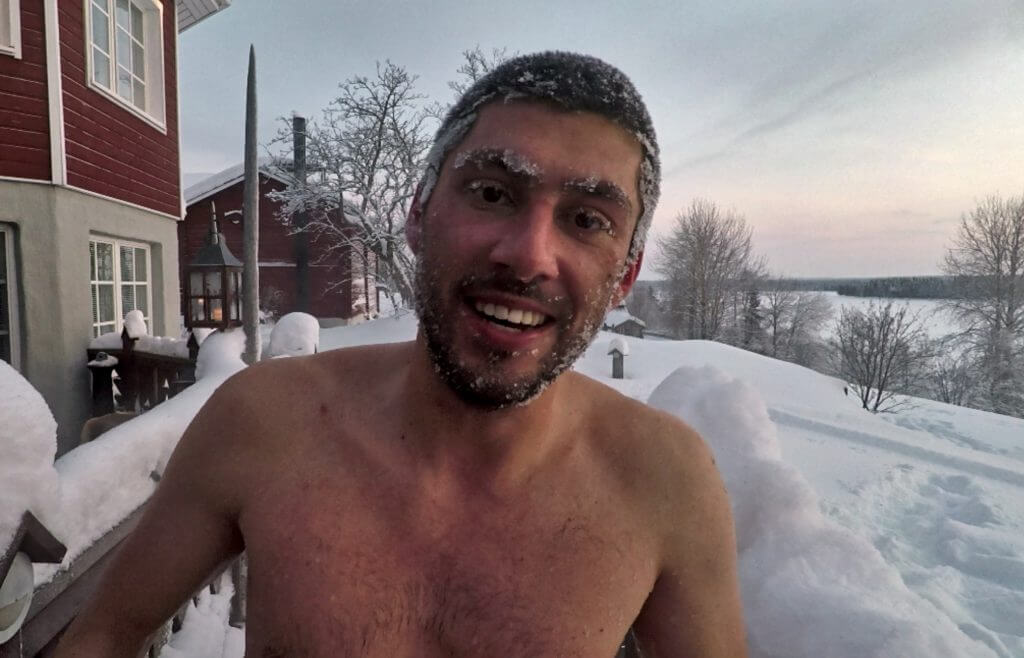 This very Finnish tradition that we discovered 3 years ago during our first visit to Finland. There's nothing like it to warm up after a snowshoe walk and undoubtedly the best way to end this typical Finnish day.
Tanja knows a lot about sauna practice in Finland and explains how you can use different kinds of branches or plants to "whip" yourself and treat yourself naturally against different aches. Depending on the plant you use, the effect will obviously be different. We also lend ourselves to the "snow angel" tradition (i. e. rolling in the snow after the sauna) in order to improve our blood circulation. It seems that it is necessary to do at least 2-3 "hot-cold" runs to feel the beneficial effects. 😉 #NowYouKnow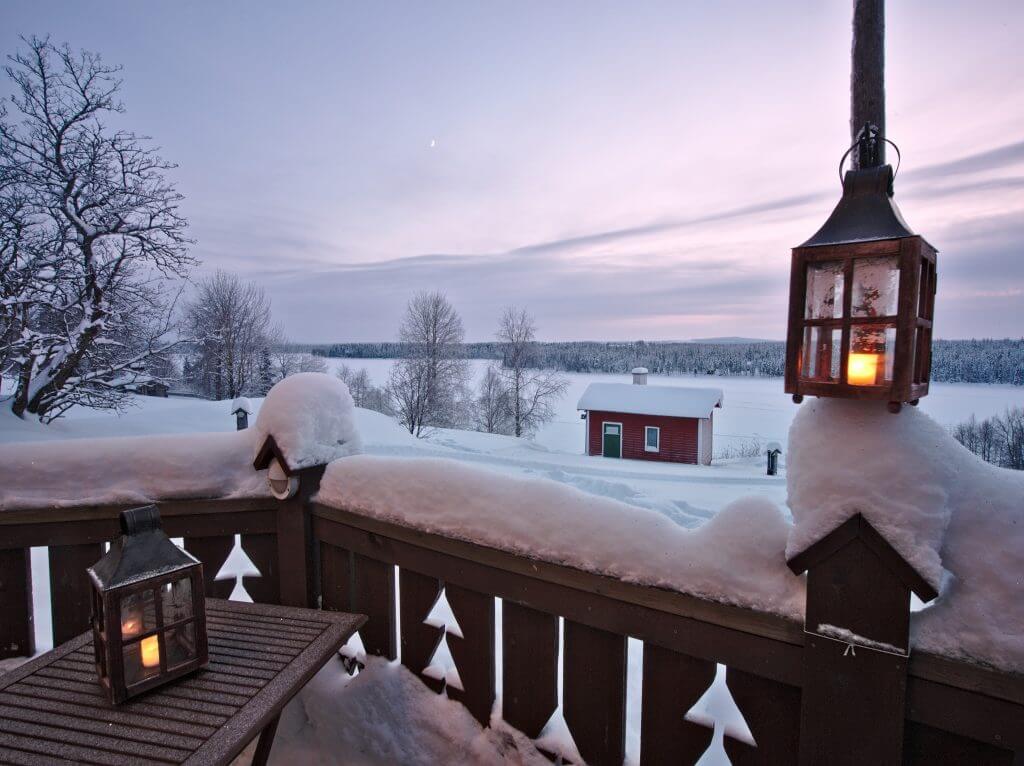 Infos
As you will have understood, we loved this typical Finnish day at Tanja and Matti's. And if you are passing through the region and you too want to discover this dream place lost in Finnish Lapland, go y to their website to find out more.
Visit a Reindeer farm in Lapland
We have one more morning left in Lapland before we fly back to Helsinki, so we might as well enjoy it. You probably know this, but Lapland is also the land of reindeers… and in Finnish Lapland alone, there are about 200,000 reindeers.
So we might as well tell you right away, there are no wild reindeer in Lapland anymore… all reindeer belong to herders and their numbers are controlled (more than 200,000 reindeer in Finnish Lapland would not be good for nature either). But even if the reindeer are no longer completely wild, they still remain in semi-liberty. Understand that they return to the farms in winter only when food is scarcer and they are released in complete freedom from April to about December.
So we go to Satu and her husband who own one of these reindeer farms. At Satu's, reindeer is above all a story of family and passion. Her father was a reindeer herder for 36 years before giving them all to her so that she could continue the family tradition.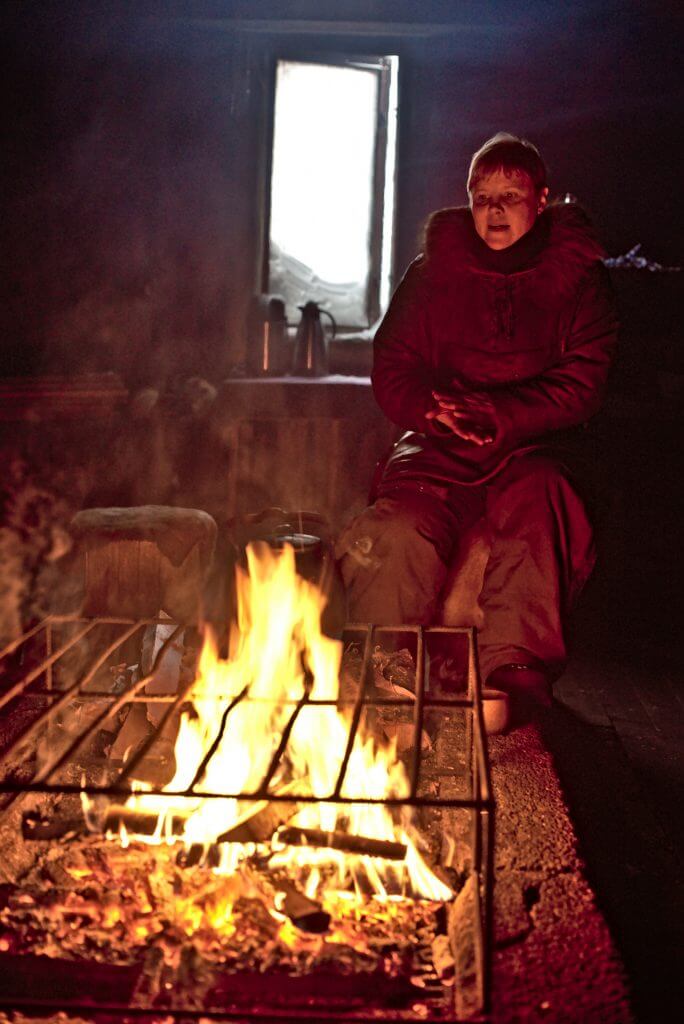 Around a wood fire and a good soup, Satu explains her life as a reindeer breeder… We can hear all the respect and passion she has for these animals in her words. Each year, herders have the right to kill a certain number of reindeer to maintain their number at 200,000. The meat, which is in high demand, will be sold in the region while the skins and wood are sold to individuals or tourists for decorative purposes.
As it is the middle of winter, all the reindeer are on the farm. Satu opens the reindeer enclosure for us and gives us lichen because the animals love it. How to explain… it's the "cute" moment of the morning:) . About 20 reindeer jump on us to get some lichen. It's really a great moment, especially since we've never touched or even seen reindeer so close! We're taking enjoying the moment at its fullest. Satu's husband has also harnessed a small sled to the largest male in the herd (who can pull more than 300kgs) and we have the possibility to do 100m on the sled to try.
Infos
If you also want to learn more about reindeer breeding in Finnish Lapland, feel free to contact Satu and her husband on their facebook page
Here you know everything about our first experience in Finnish Lapland:). After our visit to the reindeer farm, we took the plane back to Helsinki, which we will tell you more about in our next article.
On our end, we will remember above all the magical landscapes that we had the chance to admire, the absolute silence (this is also something that we can hardly appreciate anymore in our own country), the nature as well as the few beautiful encounters we have made. Lapland is really the kind of region that corresponds to us at 200% and this little first glimpse obviously calls for others.
Besides, we're going to tell you a little something… we're already planning to come back in summer to do a nice week-long hike in Swedish Lapland. We're already looking forward to it 😉
Update: Read about our trekking adventure in Swedish lapland here
Pin It
P.S. As mentioned at the beginning of this article, this trip was organized as part of the NBEFinland conference. You can imagine that if we had come by ourselves, we would have stayed much longer than 3 days;). Nevertheless, everything you can read in the article reflects our honest opinion of our experiences during this stay. This article also includes affiliate links. By using our links you do not pay anything extra, but we'll earn a small commission on sales made through our links. Thanks for your support.