A few weeks ago we arrived in Chile, and we thought we would stay there for at least 2-3 months.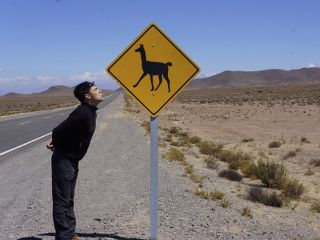 The idea was to go down to Patagonia, then to pass through Argentina to finish the trip…
But here we are, during our visit to San Pedro de Attacama we decided, a little on the spur of the moment we grant you, to radically change our plans and to discover the North of Argentina!
Bienvenidos Argentina!
Important Note
In this article many prices are indicated in pesos. I decided to leave the prices of the time but they are no longer ALL representative. At the time of our trip (October 2014) 1€ was exchanged for about 10 pesos… now in 2019? we are close to 1€ = 70 pesos… I added the prices in approximate € that it now costs. Normally by converting at the current rate this should be fairer.
Salta, buena Onda Argentina
We were warned, however…. All the people we met on the road told us all
"You'll see in Argentina there's what's called the Buena Onda!"
Well, the least we can say is that we were not disappointed! We immediately found a great little hostel in the centre of Salta. And it was with joy that we started our tasting tour of the local wines, tasted our first parillada and, of course, enjoyed our first ice cream with dulce de leche!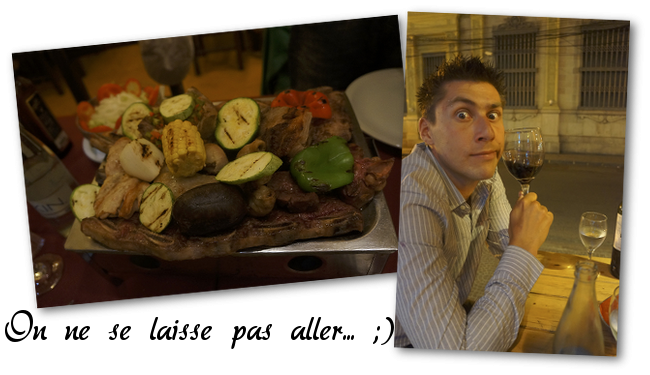 Argentina is all that and much more: Good food, golden people, quality hostels, good wine at reasonable prices and breathtaking landscapes! We don't hide it from you, Argentina we're literally falling in love with it!
Rent a car in Salta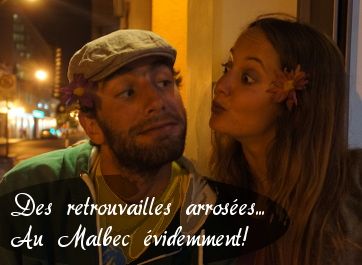 In order to fully enjoy the surroundings of Salta without the constraints of public transport (we can't stop where we want), or the more than obvious disadvantages of group tours, we decided to discover north of Argentina by renting a car!
First time on our trip we rented a car. But one thing is certain, we are not about to regret it! And besides, at that moment we were travelling with Baptiste, Fabienne's best friend and Benoit's cousin, so we were able to divide the bill into 3!
The car is the guarantee of being able to go where you want, when you want, stop as often as you want, in short freedom!
And financially it is cheaper than organized tours if there are 2 or more of us! See prices on Rentalcars
Infos
Hostel in Salta: Hostal Ferienhaus. Dormitory price: 90 pesos per person with a great breakfast included. Double room with shared bathroom: 240 pesos. The hostel is super clean, well located, good wifi and kitchen facilities available. See prices online
In Salta the majority of car rental agencies are located on Buenos Aires Street
We rented our car from Noa Rent, that's where we found the best price. (480 pesos (48€) per day for 7 days, including insurance). Get a quote on Rentalcars
For gasoline, count 14 pesos / liter.
Roadtrip day 1: From Salta to Cachi
It is early in the morning that we decide to take the road. Well yes to the menu a day full of beautiful landscapes and dream roads in perspective in the Calchaquiès valleys!
The road promised to be spectacular, it would take us to a pass at 3340m and then pass through a national reserve called the Enchanted Valley. Well, we kind of got unlucky on that one. We really looked for this enchanted valley, but in the fog we didn't quite find it… Too bad!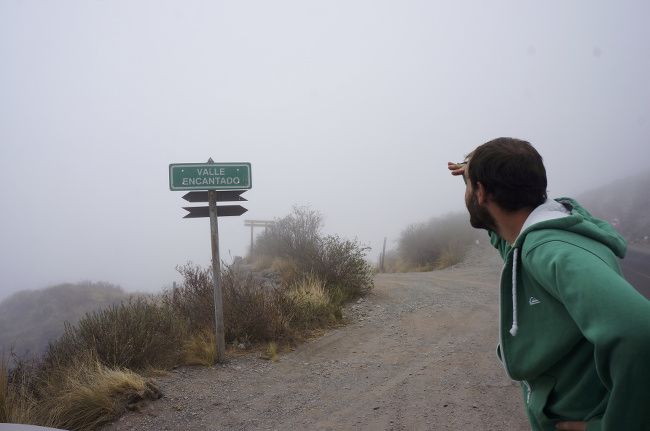 But the rest of the road turned out to be much better! Once past the pass, the fog and clouds were as if held back by the mountains! And we were able to enjoy a view to have a picnic and take some pictures of our adventure to Cachi!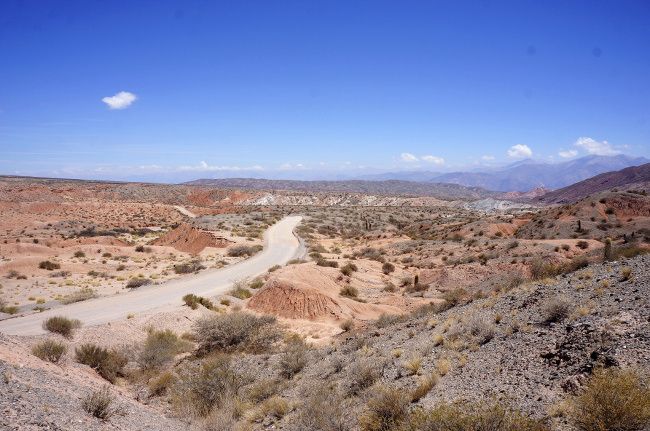 Because yes, I use the word adventure here, because the road is only partially paved. This part would probably be easy with a regular car or a 4×4, but with out little shitty car that looked more like a shoebox on wheels, it was quite a bumpy experience….
Do you want us to do the breakdown thing?
Oh yes, on the way we also came across a lady by the side of the road who was trying in vain to change her wheel. Neither one nor two, my two males have started to get at work, but what do you want; Benoit knows how to program websites and Baptiste is an engineer. In other words, we had to abandon this poor lady to her sad fate. But good for the defense of our two apprentice mechanics of the day, the lady didn't have the right tools to dismantle her wheel! And since we only had a Swiss Army knife with us, we were not really helpful.
But let's be reassured, other that this little incident, the road was absolutely stunning! And we arrived safe and sound in Cachi, where we took advantage of the end of the day to have a small glass (of wine of course) on the terrace!
Infos
Distance between Salta and Cachi: 159km, including about 40 km on a dirt track. Allow 6 hours of driving for the trip by taking a few photo breaks.
Hotel in Cachi: We stayed at the Nevado Hotel in Cachi, on the main street (before the square). 220 pesos per double room with private bathroom. Clean room, nice patio, wifi, no breakfast. See hotels in Cachi on Hotelscombined
Roadtrip day 2: From Cachi to Cafayate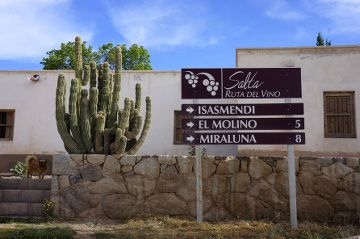 Our little loop south of Salta continued the next day towards Cafayate, on what is called the wine route!
From Cachi we set off on a dirt road towards the village of Molinos. On the way we crossed a sign indicating a lagoon, so we thought "Great a little detour to see a lagoon". (naive little ones that we are…)
Well in the end the "little detour" will have turned into a good 2h30 detour on a road in pitiful condition. But once we arrived at the Brealito lagoon we had already forgotten our little buttache! Especially since the winding road leading to the lagoon is certainly rotten, but offers really beautiful landscapes!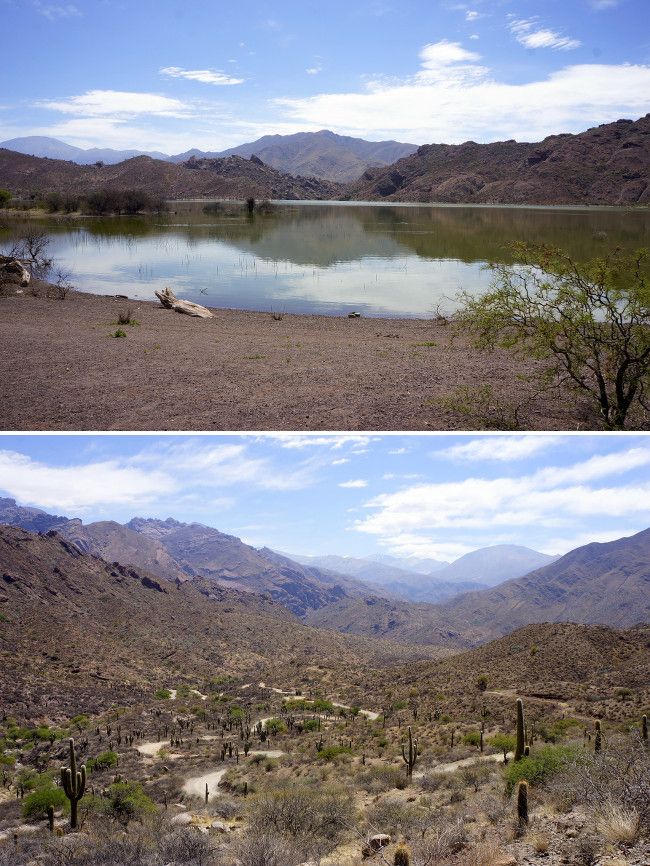 Quebrada de las Flechas
After a short lunch break in Molinos we continued our journey towards Cafayate. The condition of the track wasn't really improving, but the landscapes… pfiouu!!!! This was some serious stuff!!!
On the menu for the end of the day: passage through the heart of Quebrada de las Flechas, desert-like landscapes, cactus and mini-tornades that were forming in the sand!
In other words, at that time we were wondering what the guys who had decided to call this road "The Wine Route" were running on… because well… 8 hours of driving and still not a single vine on the horizon!

Then a river appeared in this desert spectacle, and before we really had time to realize it we were in a green plain, with vines as far as the eye could see!!! Youpiiiiie, let the tour of the bodegas and vineyards begin!
Infos
Distance between Cachi and Cafayate: about 161km (Add about 40km if you also want to go to the lagoon). Allow 6-7 hours of driving for the trip by taking a few photo breaks. The road is generally ok, but it's a track all along (except for the last 20 kilometers)
Hotel in Cafayate: We found a room at the "Portal de las viñas" hostel. Price of the double room, private bathroom: 200 pesos.
Welcoming place, clean room, wifi, no breakfast. See hotels in Cafayate on Hotelscombined
Roadtrip day 3: The surroundings of Cafayate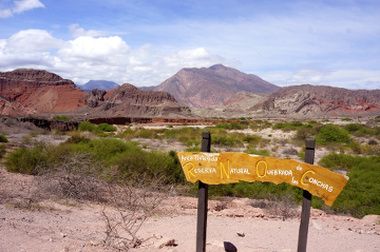 Take 2 travellers who have travelled 14 months without seeing a drop of wine worth mentioning, and put them in the heart of one of the best wine-growing regions in the world…. In other words, Cafayate is Bachus' paradise, and we couldn't just spend one night there!
So we decided to take the car in the morning (well, before the aperitif of course!) to visit the magnificent Quebrada de las Conchas!
Quebrada de las Conchas
If you come from Salta you can't miss it! Because the road that comes from the capital passes through the heart of th Quebrada!!!!! But honestly, it's a shame to only pass it by bus without being able to stop!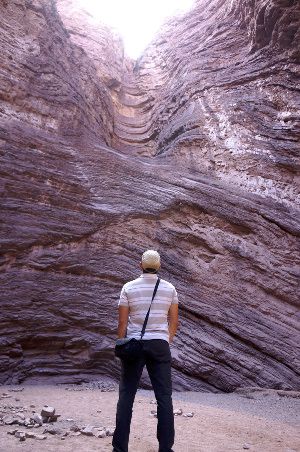 The day's program: We went to the garganta del Diablo located 47km from Cafayate. We then retraced our steps by stopping everywhere to take a few pictures!
NB: if we had to do it again, we would do it the other way around, because most of the organized tours arrive from Salta around 10am and follow the same route. So either start your tour earlier (around 8am) or do it the other way around!
If you are not motorized it is also possible to rent a bike in Cafayate. Then, take any bus that goes to Salta with your bike as a luggage and get off at the Garganta del Diablo. It will then be easy for you to return by bike to Cafayate (47km of good asphalt road).
But be careful, the sun is strong in the area, so bring enough water and make sure to cover your head!
Otherwise plan B is hitchhiking! Many tourists rent cars in the area, and you have a good chance of getting a lift to the next photo spot if you ask politely! 😉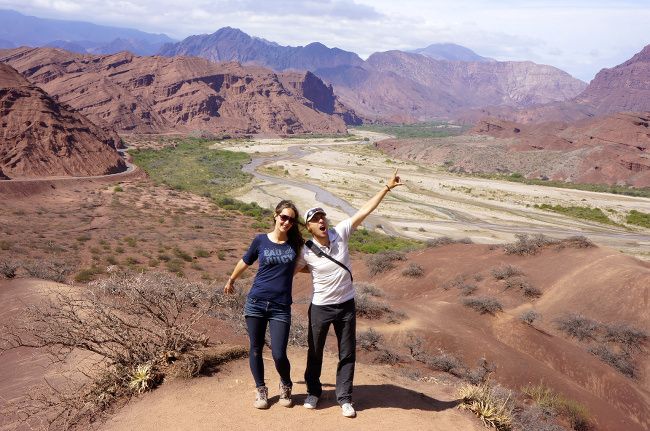 Cafayate: the Bodegas' tour
Once the car was safely parked in front of our hostel, we set off on foot this time to discover the Bodegas. Because yes, in this area, bodegas are real institutions! For non-Spanish speakers, Bodega simply means "wine producer".
So know that in Cafayate, most bodegas can be visited almost like museums, with a guided tour, an explanation of the wine making process, and of course…. wine tasting! A very nice end of the day which had the merit of making us know a little more about the local grape varieties (torrontes and tannat), and to refine our palates a little more with Argentine nectars!
See Wine tours in Cafayate from Salta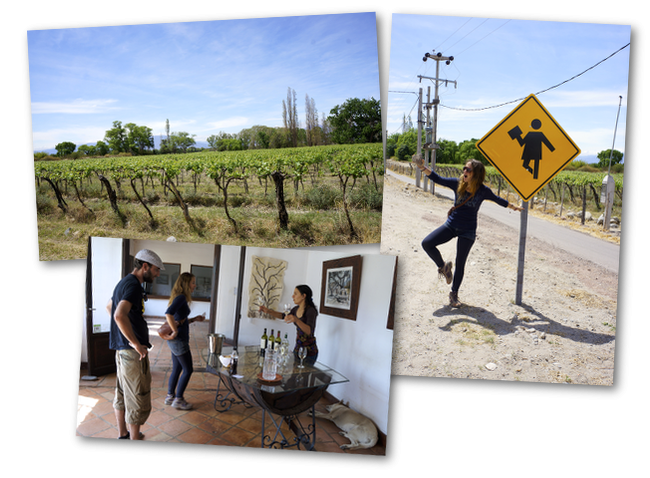 Then we don't know if it's Malbec's abuse, but we crossed some surprising signs…. Can you interpret? woman walking around with hammers? Be careful, the winegrower throws bricks? We didn't understand…… 😀
Here you know everything about this first part of our roadtrip that led us south of Salta! But it's not over yet!!!!!
In Cafayate we said goodbye to Baptist who was continuing his way to Buenos Aires… And what about us? Well we kept the car for 4 more days, and went to discover the region north of Salta! We'll see you soon in our next article to talk more about this beautiful area!
NB: Please note that this article contains affiliate links to partner sites. If you buy a product on one of their sites you will not pay more but we will receive a small commission. This will help us to keep this site alive. Thank you!🙂