For Benoit and me, the Andes were a bit like an old dream!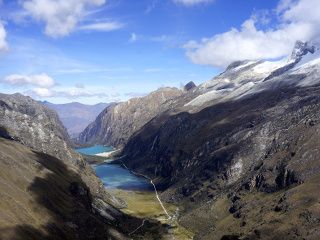 Come and get as close as possible to one of the most impressive mountain ranges in the world!
And that's good, the Andes are almost everywhere in South America! 😉
It was therefore without much trouble that he managed to convince me to come and visit Huaraz after our visit to northern Peru near Chiclayo and Trujillo. On the menu of this stay, a 4-day trek as well as a visit to different lagoons. We will tell you more about them in our next article! Now it's time for the Santa Cruz trek!
Santa-Cruz Trek: Go through an agency or play it alone?
In Huaraz there are many agencies that offer organized trekking tours, but it is also possible to do it yourself. But for this last option, they will try several times to put obstacles in your way.
Here is a short overview of the pros and cons for the 2 options.
The lawfulness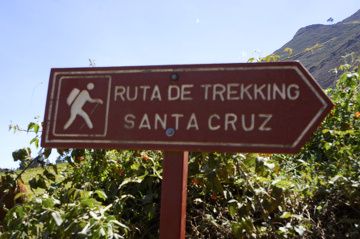 Hmmm…. First point not to be underestimated, officially it is forbidden to camp in the park without a guide!
So then what does that mean? In fact, it means that you can be refused the ticket to the park if you are not accompanied by an official guide.
We tried to buy our ticket in Huaraz, but the sale was categorically refused!
Afterwards, we met two French people who were able to buy the same ticket, in the same office, earlier in the day. In short, it depends on the guy at the counter and your smile! But officially it's NIET!
Afterwards it is possible to buy your ticket at the entrance of the park. Either on the Vaqueria side or towards Cachapampa. In our opinion, it is easier in Cachapampa, because the control is much more official on the Vaqueria side. There, they waited to see our guide's certificate before selling us our ticket.
Update 2019
At the time of writing this article (2014) we had absolutely no experience of autonomous trekking and it seemed totally relevant and safe to us to do so with an agency. We do not regret this choice because it was clearly the most "reassuring" and "easy" solution at the time. Now, in 2019, we would do this trek on our own without any hesitation. The itinerary is easy, the distances reasonable and our equipment is much more adapted than that of the agencies. In short, if you have no experience of hiking and want to do your first trek, then an agency is a good idea. But if you travel with your equipment and you are a little used to trekking, it is without hesitation that we would advise you to do it alone.
As for the question of legality, we have not returned recently, but we have had several feedbacks from travellers confirming that they had no problem buying their tiket in Vaqueria when they arrived with a collectivo.
The Freedom
So here it is undoubtedly the solo trek that wins! With an agency you will be in a group of 8 to 14 people. The rhythm is given by the guide and the breaks are fixed. But then, if like us you have the chance to fall into a nice group, then the evenings and walking days will go by super fast!
And the trek is certainly popular, but nothing to do with the treks that lead to Machu Pichu!
We met about ten people a day, and this in high season!
Transports to get to the Santa Cruz Trek

To reach the trekking departures there are colelctivos (shared cars). It's easy, and there's enough. However, you will need to count about 50-60 soles per trip, per person as well as some changes. With the agency, it's easy, they bring you from A to Z. They pick you up at your hotel, they take you to the start without having to change bus, and of course it's faster.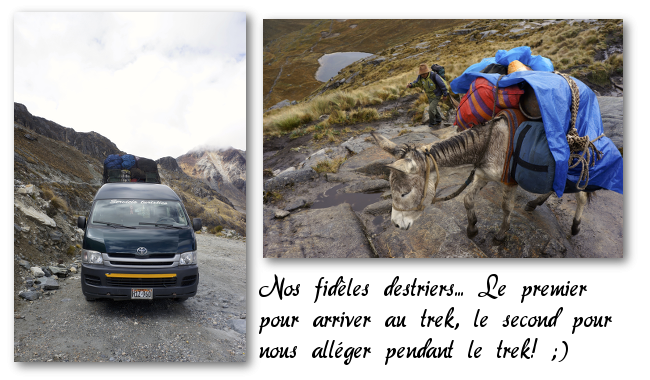 Trekking Gear

No miracle, if you go alone, you have to plan everything: Tent, floor mattresses, down, cooking equipment and food. If you don't have the equipment, everything can be rented in Huaraz. But if you have to do that, the trek will definitely cost you more than going through an agency. And of course, by taking an organized tour you have the mules who will take care of transporting everything for you…
The food on the trek

If you go solo you have no choice, you have to plan your food for the 4 days of trekking. And of course to carry it on your back! Generally, independent trekkers will eat mainly instant noodles, soups, bread and cereal bars.
With a tour, you don't carry anything and you eat like kings! Pancakes in the morning, sandwich, fruit and biscuits for lunch and soup in the evening as a starter, followed by a main course. During our trek we had breaded escalopes with potatoes and rice on the first evening, sautéed beef with vegetables on the second evening and tuna spaghetti on the third. In other words, it's the luxury version of camping food, and everything is carried by mules!
The Guide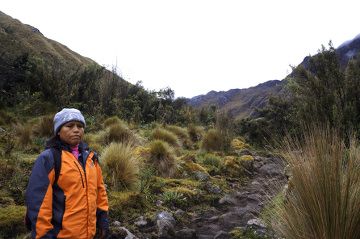 Let's be honest, the guide is not very useful…. The path is well marked, it is almost impossible to get lost. But it's still nice to have someone with you to learn about the different plants, or to name the impressive peaks around.
The price of the Santa Cruz trek

This is probably the argument that will have finished convincing us to take an organized tour. 80€ for 4 days and 3 nights, including all the equipment, transport and meals is almost unbeatable! We did our calculations, and by doing it ourselves we might have saved 20€ at most.
In short, in the end we went through an agency, but it is possible to do it by yourself.
For those who would like to do the Santa Cruz trek alone, here is the map of the hike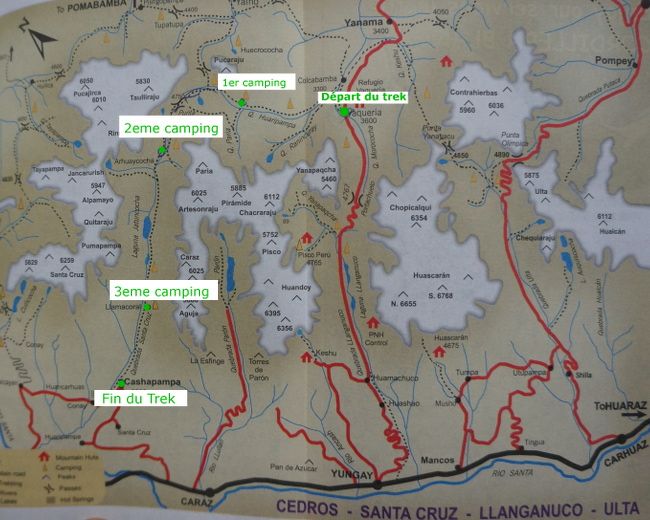 There are also topographic maps of the region sold for 80 soles in Huaraz. In our opinion, these topographic maps are essential if you want to venture out on your own off the marked trails.
For the Santa Cruz trek, this map is not necessary, there will be enough people on the way.
La casa de los guias gives you a small free booklet, in which there is a foldable map (the one above) which is more than enough
Day 1: Huaraz-Vaqueria-Paria
At 6am, the minibus picks us up in front of our hotel and we get to know our companions for the coming days. A joyful troupe composed of a Norwegian, an Australian, a Swiss German, a Slovak, a Russian and her Peruvian husband, a German father and daughter, a Brazilian couple, a Finnish couple as well as yous two little Swiss.
After 4 hours and a half of driving we arrive at Vaqueria, located at 3600m and start the trek. A very quiet first day, where we started by crossing small villages and climb quietly to 3850m, where our first camp of this trip was located.
Getting to the Camp – Santa Cruz
When we arrived, the muleteers, who walked ahead of us the whole time, had already set up all the tents and were waiting for us with a good hot tea and cookies. Pretty nice!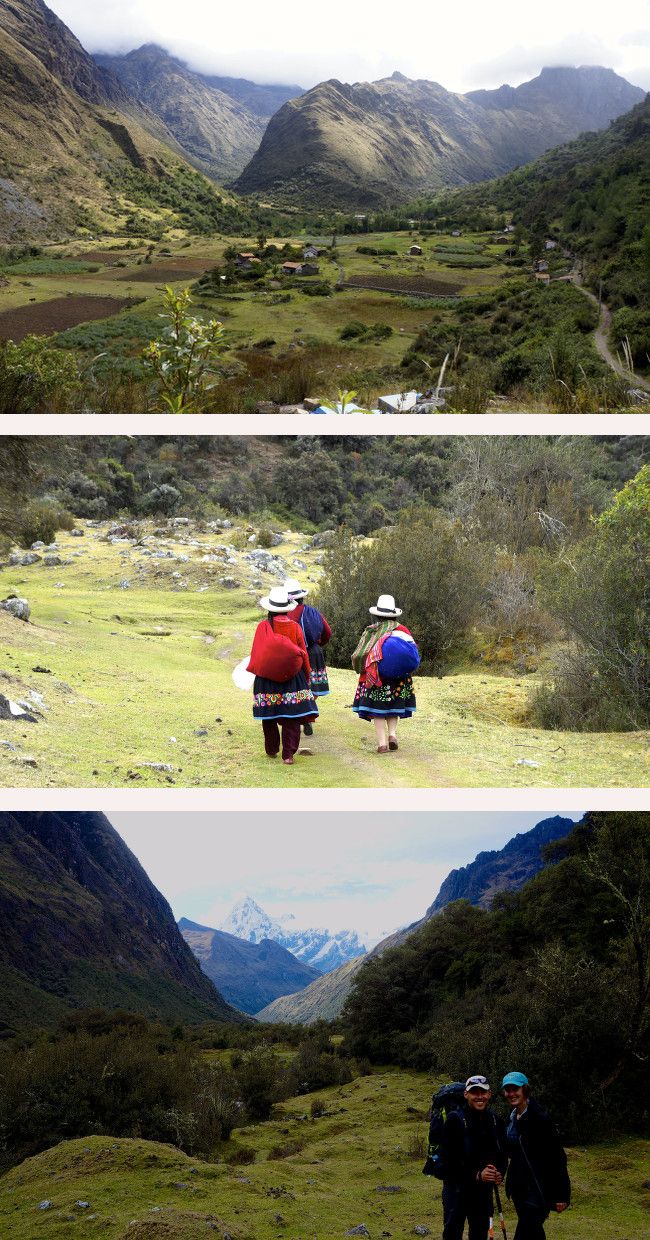 Where it was less classy was when we discovered the equipment… 5 tents for 14 people, which means that we had to tighten up a little! But the actual problem were the sleeping bags!!!

Let's forget the fact that they all smelled like mules, and that they probably never saw a laundry, 2 of the sleeping bags were small duvets with a comfort temperature of 17 degrees celcius! Knowing that at night, the temperature easily drops below 0 degrees celcius, I better tell you that this was simply ridiculous. And of course, when the sleeping bags were assigned, Benoit inherited the one that smelled the most, and I inherited one of these thermal wonders limited 17 degrees.
Fortunately, I had good clothes, and we lost the straw game when it came to the allocation of tents and slept all glued together in a small tent with our Norwegian friend!
Day 2: Paria- Punta Union Pass -Taullipampa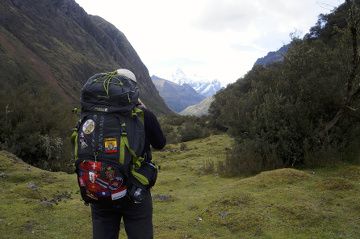 This day was the one that looked like it would be the most physical: 1000m of positive altitude difference, followed by 550m of negative altitude difference. When I woke up, I heared the rain falling on our tent. I might as well tell you right away, it didn't motivate me to get out of my sleeping bag…
But luckily the rain stopped when we started walking.
Honestly I expected a steep climb, but in the end, the slope was quite gentle, ot at least there is a good alternation between climbs and flat ends. It is therefore without too many worries that we arrived at 4300m of altitude around 10am.
Getting to the Punta Union Pass
That's when things started to get a bit messy. The rain came back, and as we climbed the rain gently but surely turned into snow. So it was in the mist and under the snow that we arrived at the Punta Union pass, located at 4750m just after noon. We did the descent on the other side pretty quickly. We were completely frozen, and not really in the mood to stop for a lunch break under the snow…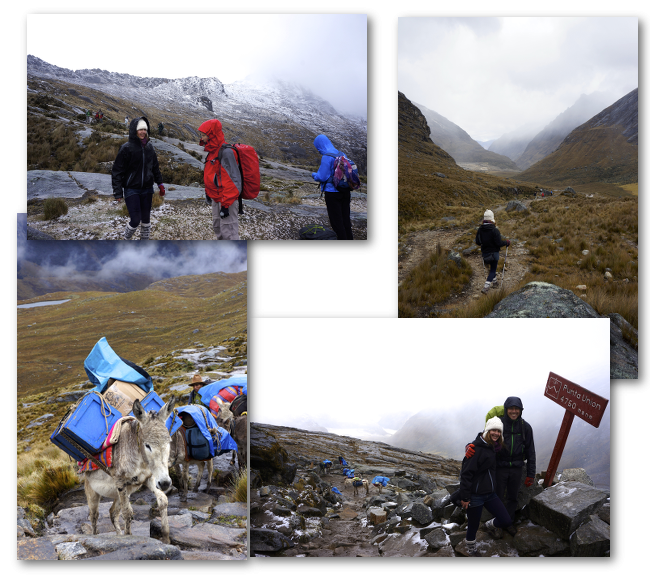 The positive point? With the cold the climb seemed much less difficult! We met other travellers who told us that they had sweated like crazy during the ascent, and suffered a lot from the sun. On this level, it's clear: we couldn't complain!
End of the day and night in tents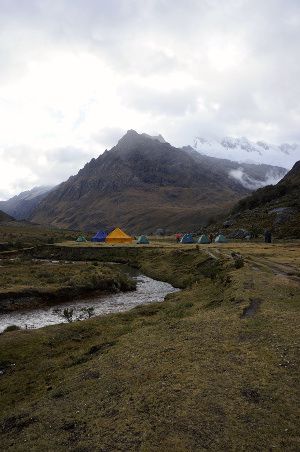 We arrived at the campsite at around 3pm. This time I was eager to go and choose my sleeping bag first for the night and thus avoid finding myself with the same one as the day before!
But here it is: sadly, the muleteers had not really protected the equipment during the hike (rain and snow on the menu as I said), thus, all the sleeping bags still smelled like mules, but as a bonus they were all very wet… Not ideal for sleeping at 4200m….
The night that followed was probably one of the coldest nights of my life!
My wet sleeping bag and the outside temperature falling below 0: I might tell you this was pretty chilly
I spent the whole night spooning with Ben but also with our new Norwegian friend we had just met. 😉

Day 3: Long but beautiful walk in the Andes
I woke up that morning being totally frozen! My feet and hands were almost unrecoverable, despite the good hot coffee and the good breakfast…. In other words, in these cases, there are not 36 solutions, you have to start walking again! And joy and happiness, the sun has even decided to invite itself to the party! Before leaving the campsite, we even had the opportunity to admire Paramount Mountain! Huh? Yes, yes, the one that appears at the beginning of the films…
Well, now you know it is in Huascaran National Park, and we camped at its foot….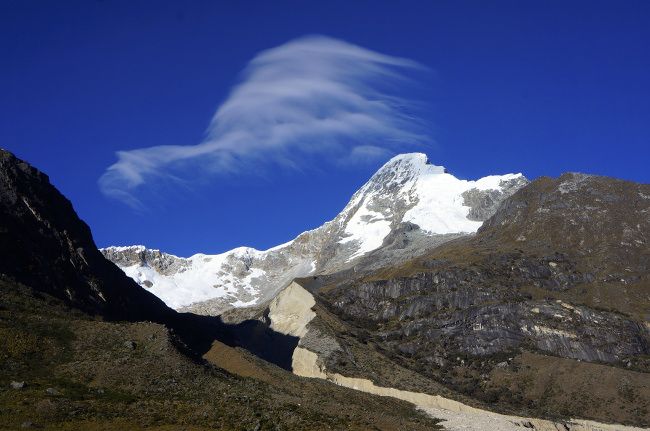 It was therefore under a resplendent sky that we were able to enjoy the incredible landscapes of this third day of walking! Just after the campsite, we made a small detour to admire the Alpamayo, one of the most impressive peaks of the white mountain range.
On the menu for this third day? 7 hours of quiet walking, without much change in altitude (our legs needed this little break), and the passage of 2 magnificent lagoons!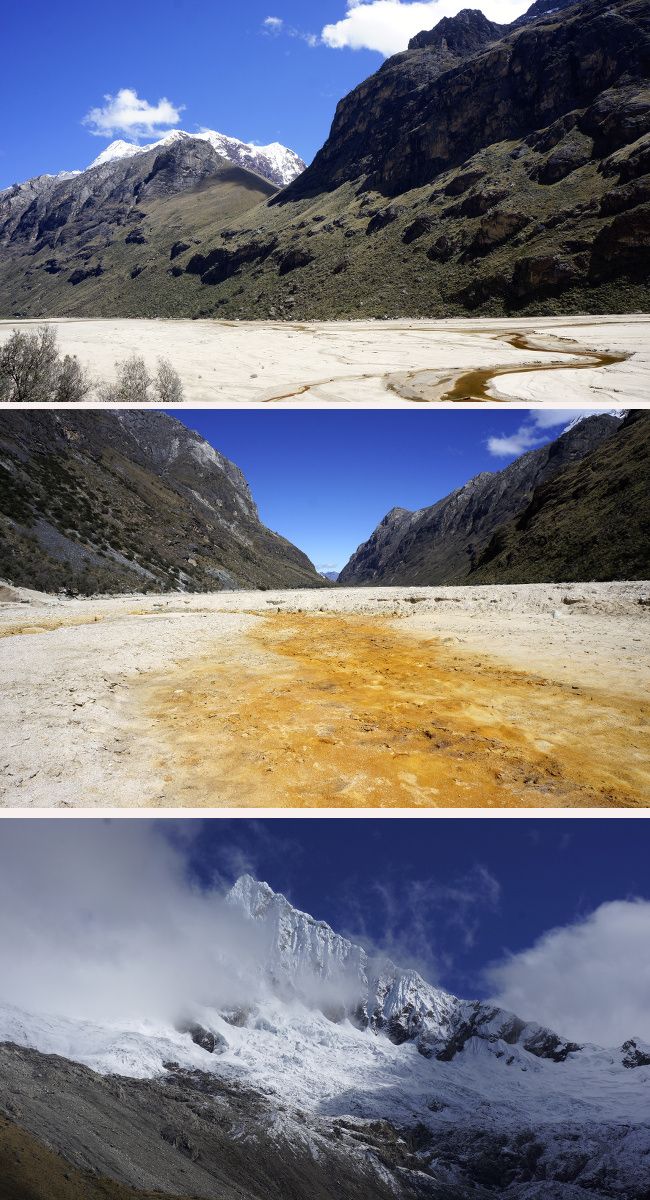 Day 4: End of the Santa Cruz trek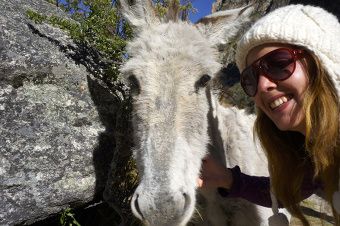 Last morning, we were spoiled! We got pancakes for breakfast! So I know it's very superficial, but believe me that after 3 days of hiking, no showers, cold nights, these pancakes were a bit like the Holy Grail for me!
Then I managed to shoot my portrait with one of our mules before she was loaded with all the equipment. In other words, the day started well! Yes I know, I'm a bit of a futile girl sometimes, give me a pancake and a donkey, and I'm thrilled!
The day's walk will only last 2h30 (still 1000m of negative altitude difference) but again under a blazing sun, and the good atmosphere of the group. We will reach Cachapampa on the 11am shots, and after we take one last picture of our group, we are back in our minibus towards Huaraz.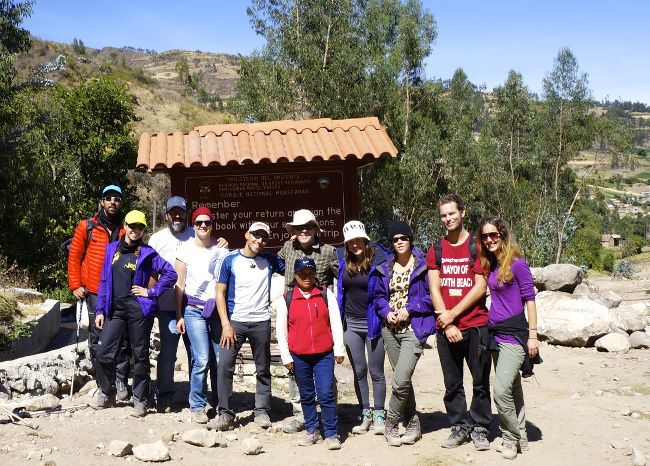 A vertiginous road, on a mountainside with a driver who thought he was in a Mario Kart game, nothing better to finish the trek with a little adrenaline! But in the end, we arrived safely at around 3pm! Well, revenge all the same, mister driver of Formula 1 still managed to collect a speeding ticket distributed by the Peruvian police…. Mouahahaha
Soroche: Beware of mountain sickness
We were warned that mountain sickness is probably the most dangerous enemy of this trek. For our part, no problem, because we had already spent a lot of time at altitude in Ecuador, notably in the Quilotoa lagoon or Cotopaxi, but this was not the case for everyone in our group… Far from it!
Altitude sickness is really something you shouldn't neglect! The least severe form usually results in simple headaches. They pass without problem if you go down and hydrate enough. In our group 3-4 people complained of headaches when they crossed the Punta Union pass, but it was still reasonable!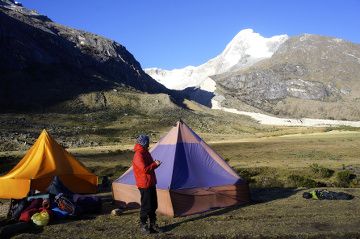 On the other hand, in our group we also had a Brazilian, who in our opinion really almost crossed the line.
At several times during the trek our guide even seemed to worry very seriously about his survival!
A brief overview of the adventures of our Brazilian "friend", or should I say: "Lessons to be learned!"
Day 1: When he got into the minibus, the Brazilian was equipped with all the latest equipment but already had a weird smile on his face; his girlfriend told us that he had had a fever during the night. But having paid for their trek, they insisted (against the guide's recommendations) on getting on the bus. First mistake!
When we got to the starting point of the trek, Mr. Brazilian played superhero and claimed that things were better. Everyone could see that this was not the case, but the man was stubborn!
First night horrible for them, he didn't sleep a minute because of the headache. The guide strongly recommended that he turns back because the second day involved crossing the highest pass of the trek. But once again, the gentleman was stubborn. There's no way to make him see reason!
Beginning of the hike. And barely an hour after the start, we had already lost sight of the couple; they were dragging on too long. The guide decided to stay with them while the rest of the group left with the cook as a guide.
For the Brazilian, this day was probably the worst of his life: Vomiting, dizziness, hallucinating headache! His girlfriend will then tell us that at the top of the pass, his companion couldn't even add 7+3 anymore because he was in such a mess! In these cases, there is a real urgency! Our guide came back to the camp on the run to pick up a spare oxygen cylinder and a horse. She then went back to pick up the two lovebirds on the way.
And that's how the Brazilian will have finished his trek: On the back of a mule with oxygen.
Don't underestimate the danger!
This kind of situation is very serious! For him everything turned out well, but he could really have been killed! When the body starts to show signs such as vomiting or major dizziness, it doesn't take much more to become a victim of a pulmonary or cerebral embolism!!!!
In other words, don't be stubborn! If you do not feel fit before leaving, DO NOT TAKE ANY RISK.
It is already important to know that mountain sickness affects about 50% of people over 4000m. Symptom reporting has nothing to do with your physical condition; it can affect anyone!
Action to be taken to prevent/heal mountain sickness:
First of all, the most important thing is to acclimatize! For example, for the Santa Cruz trek, stay a few days in Huaraz and make some excursions to see how you feel.
Hydrate yourself as much as you can!
There are drugs available in pharmacies to help prevent the onset of symptoms.
The Coca! In South America the Coca leaf is considered to have virtues to reduce altitude sickness. It is consumed as a herbal tea, coca mate, or you can chew the leaf directly.
If the symptoms become too strong, the only solution is to go back down to altitude! And this as soon as possible! Avoid sleeping at altitude as much as possible if you have symptoms that go beyond a simple headache!
Our tips for a successful Santa Cruz trek
Take warm clothes, even very hot! At 4700m it can seriously curdle, and the evenings/mornings are really cool!
It is not uncommon for the thermometer to display -10, so dress accordingly!
The agencies are good and the prices very (too?) competitive once on site. Don't bother to book any trek in advance. And remember to save a little something for tips!
The material provided by the agencies is random. We would advise you to have a small sleeping bag with you in addition to those provided to save a few degrees and avoid bad smells!
The food and snacks provided by the agencies during the trek were amply sufficient and frankly good. So don't overload yourself with snacks.
A few dried fruits are a good idea if you like to snack while walking, but nothing more.
Remember to take tablets to purify the water or even better: a lifestraw! There are springs everywhere.
Our Video from the Santa Cruz Trek
To continue to make your mouth water, here is our trek, this time in video. (And don't forget to subscribe to our youtube channel if you haven't already done so 😉 ) :
Useful info for the Santa Cruz Trek
There are many agencies that offer trekking in the centre of Huaraz. We went through the Andean Sky agency. We can't really tell you if we recommend or not. The guide and food were great, while the equipment (tent and sleeping bag) was really bad. But in any case, just know that paying more does not mean having better! In our group we had people who had paid more than twice as much as we had! And who, as you can imagine, had the same meals and service!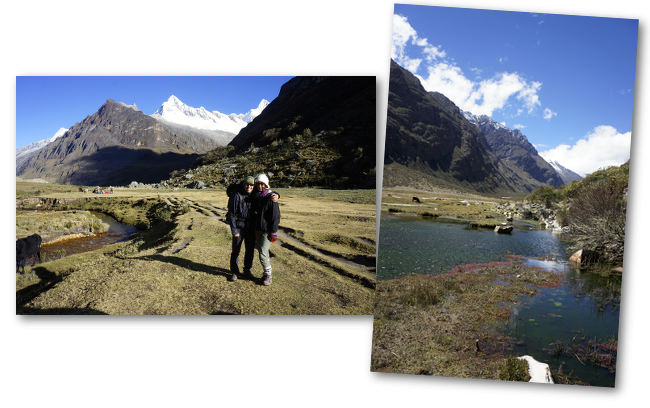 Price: between 280 and 340 soles (we had paid 300). This corresponds roughly to 80€ per person. Don't pay more, and keep the rest to tip guides, muleteers and cooks who do a great job and are paid a misery by the agencies! People paid up to 700 soles, and found themselves in our group with the same service!
Included in the trekking price:
Transport from and to Huaraz on the first and last day
Night equipment (tent, sleeping bag and floor mattress)
All meals (4 lunches, 3 dinners and 3 breakfasts as well as snacks)
Mules to transport equipment and your belongings for the night
A guide
Not included in the Price:
the entrance to Huascaran Park (65 soles per person to be paid at the entrance to the park on the first day)
Any drinks or snacks purchased en route
Tips for the guide and muleteers and cooks (not mandatory or not even expected, but given the work they do and what they earn it is actually something we feel is important)
Useful Info

Trek Difficulty: Average
It is not necessary to be an experienced hiker to do this trek, but a good general physical condition is still better. It is especially important to be well acclimatised to the altitude before leaving!
Distance: 54,4km in 4 days
Total elevation gain: 2460m
Total elevation loss: 3210m
Here you know everything about our second trek over several days in South America (it's not the last one…). By the time you read these lines we will be on our way for an 8-day solo trek towards Machu Pichu this time!)