If there is one question we have been asked often since we started hiking it is:
But what hiking gear do you use to hike for several days?
So there is obviously not a single answer to that question. It will depend on the destination, the climate, the duration of the trek and so on. But there is still a lot of the equipment that is still the same. So we thought that a little article to explain what we put in our backpacks for this Via Alpina should interest you. In addition, since we wrote this article on how to prepare an autonomous trekking during a round the world trip, our equipment has changed a little and we will explain why in the following lines.
Edit : This article was written before we left for the hike. After getting back we decided to give you our opinion in small boxes under each product
Edit 2: we got so many questions about bivouac and wild camping (gear, how to find a pitch, rules etc…) that we decided to write a detailes guide about this topic:
Read our guide about how to bivouac
Our camping equipment
A lightweight hiking tent
So since this time we are leaving for 3-54weeks and the ideal is to hike lightly (well, we try;)), we decided to change our tent because the one we had during our round the world trip has already lived well and it weighs more than 3 kg (for 70$ in Taiwan, it was actually no so bad;)). Here are our selection criteria for our ideal hiking tent: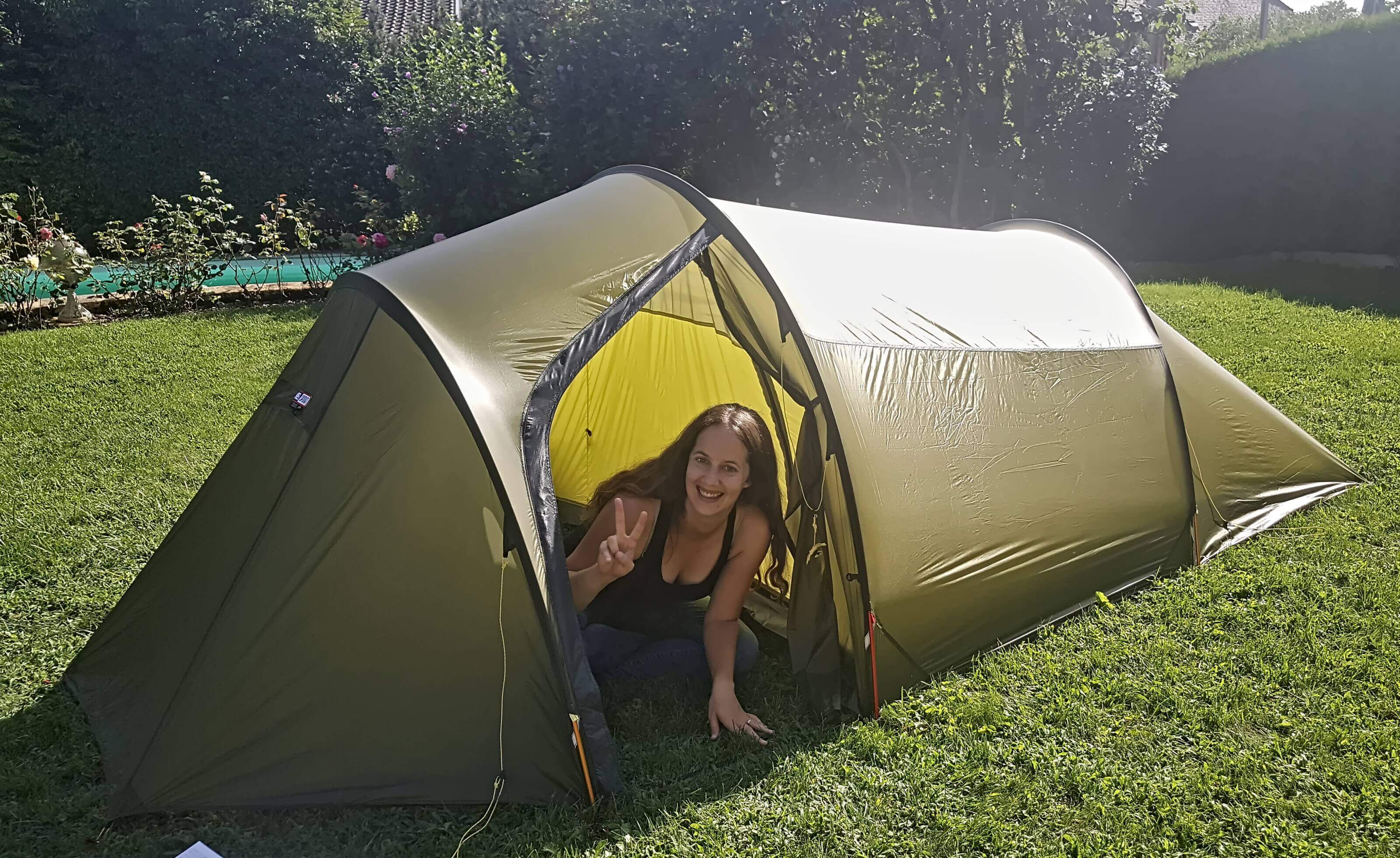 So we certainly broke the piggy bank, but we decided to buy the Fjellheimen Superlight 3 tent. This 3-person tent weighs around 2 kgs (we gain almost 2 kg compared to our old tent) and has a huge apse that will even allow us to cook in the dry in case of rain. The water column indicated for the roof is 3000mm and 4000mm for the ground (which is quite good compared to what we have seen elsewhere). With its volume, it is also super versatile and will allow us to undertake different types of trips in the future (cycling, different seasons etc…). We hope that the solidity will be good because we intend to use it for a long time to come! Hiking gear can be cheap, but if you want good quality, you sometimes have to pay a higher price.
Verdict after the Via Alpina:
We are very happy with this new purchase! We were a little afraid that the tent would be a little fragile because of its weight, but in the end we will have used it more than 15 times and it is still in perfect condition. Volume and weight level there is nothing to complain about, it is a life changer compared to before! Easy to assemble once you have taken the fold it can also be stored very quickly, and we can say that it has also been well tested ni all weather conditions (we'll have to admit that these tests were not made on purpose.). One evening we had a hell of a storm and nothing went through (good for us you'll tell me) 😉
The only downside is the condensation. It is difficult to avoid it, but the tent was very easily soaked in the morning (even without rain at night). Of course inside we were dry. The only thing is that we had to fold it wet in the morning and then take it out during lunch break to let it dry…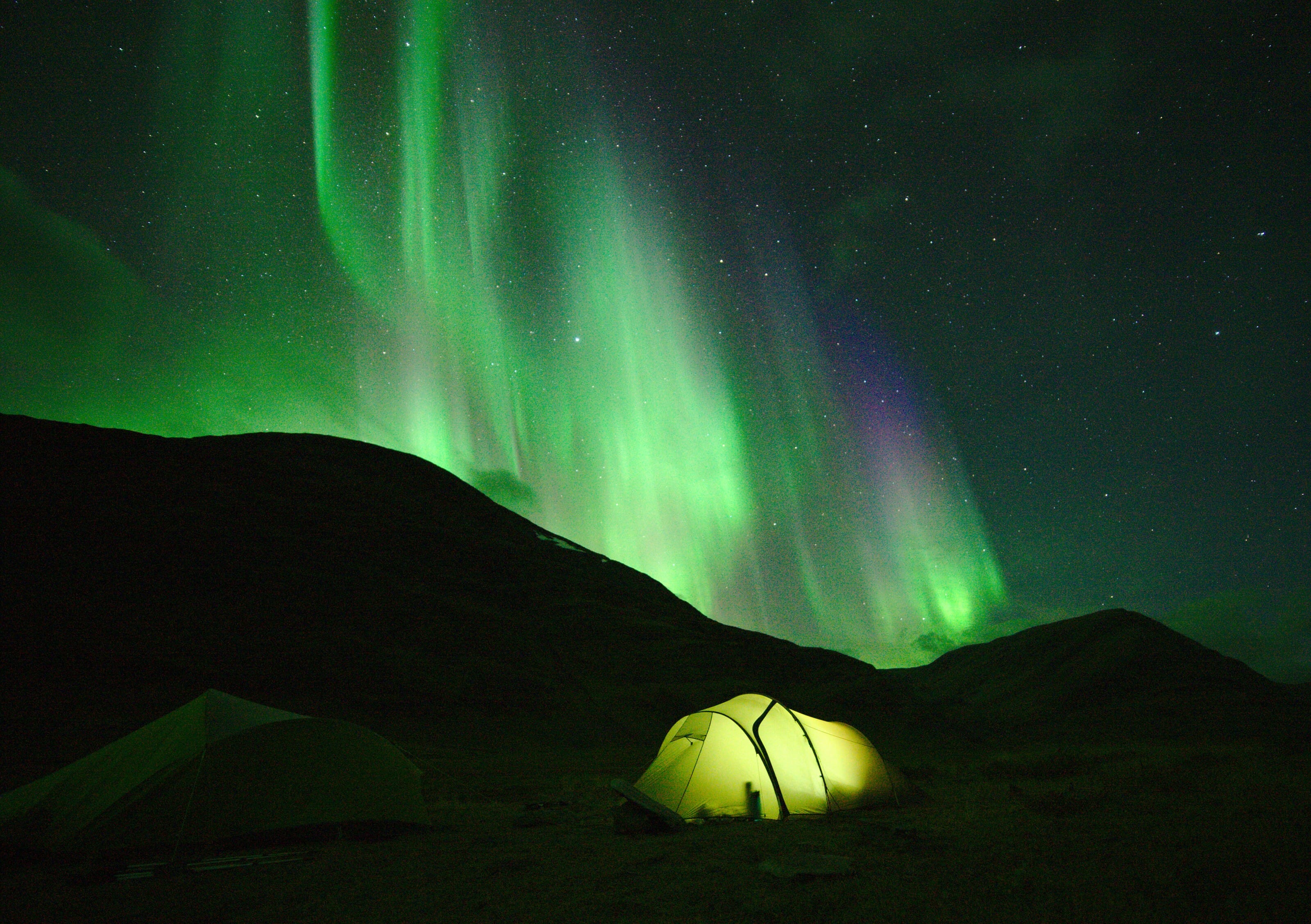 Lightweight sleeping bag
That too has been a big part of our backpacks until now! Our sleeping bags had a comfort temperature of -10°C (32°F), but they weighed almost 2kgs each! (but well, here too we can't have everything for 90$ each in South America:) ). As a result, it was the second place where we could save a lot of weight by breaking the piggy bank 🙁 . After some research, we chose the Swing 500 sleeping bags from the Valandré brand, which has an excellent reputation. We have already tested them several times…. They are very warm, very small when compressed and weigh only 900gr each. If you want to see an equivalent, this model could also do the job:)
After the Via Alpina:
Perftect! Nothing to complain about these sleeping bags! Compact, light and warm. We were never cold, Benoit even slept one night under the stars with it on an altitude of 2000m.
Air Matresses
To be sure to stay warm it is important to have a good air matress. You can have the warmest sleeping bag in the world, but if the Matress does not insulate you fro the cold ground you'll end up being cold! Thermarest is by far the leading brand and we simply love our sleeping pads!
Stove and cooking material
For the stove, no changes! We remain absolute fans of the MSR WhisperLite fuel stove.

Why don't we use a gas stove? Simply because it is difficult to find gas cylinders adapted to a type of burner everywhere and once empty, well, it often ends up in the garbage:(. The MSR stove works great with white gasoline, unleaded fuel and even diesel (even if it stinks a little and makes the stove dirty). They also work perfectly at high altitudes or at negative temperatures. You certainly have to learn to use it and it requires a little maintenance but it is worth it in our opinion!
For kitchen equipment, nothing special to declare. A pot, 2 forks, our swiss army knife and that's it!
Our ebook!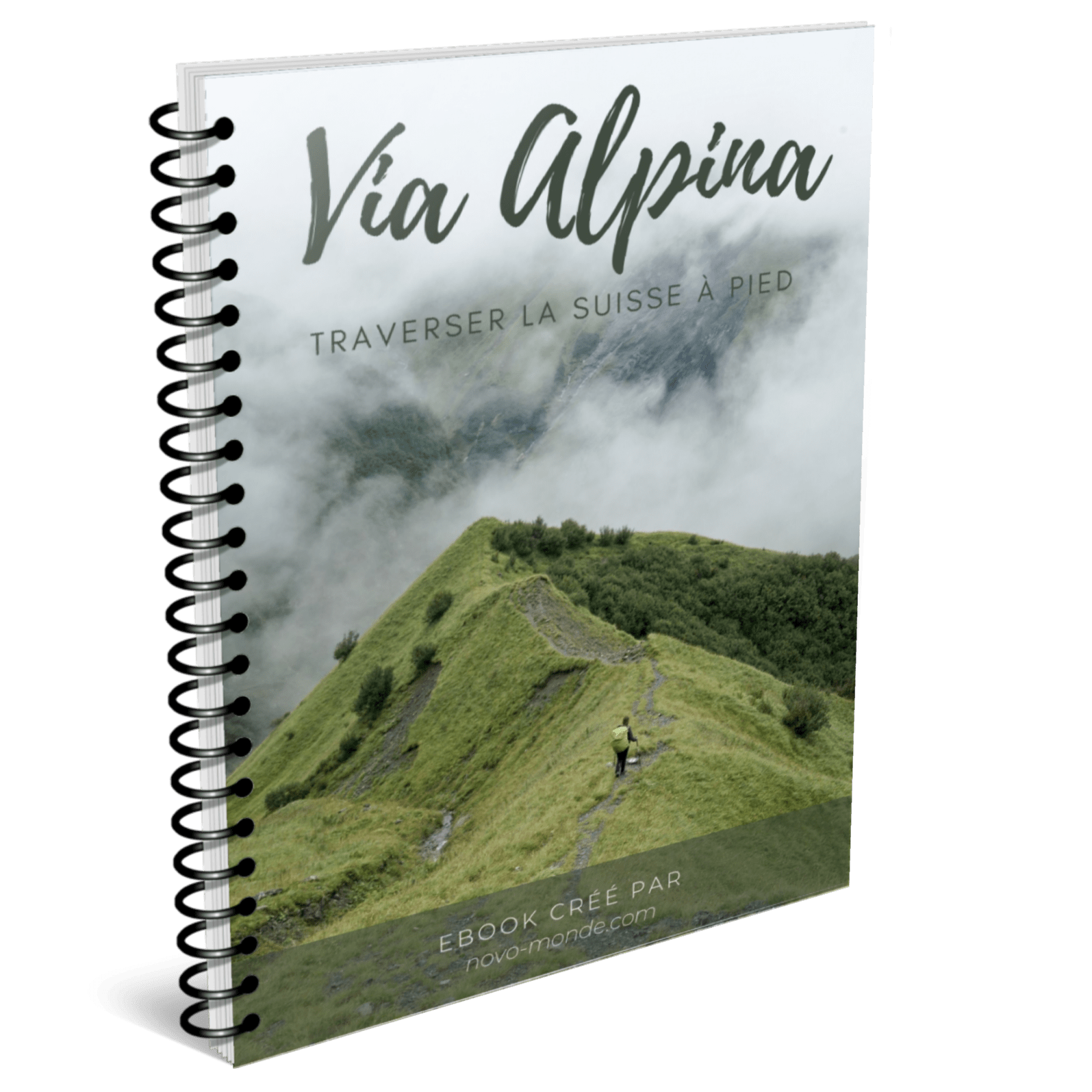 Are you preparing the Via Alpina for this summer? In the spring of 2020 we published an ebook that should please you. 🙂 More than 100 pages dedicated to this magnificent hike through the Alps. From the different stages of preparation, safety tips, the list of campsites to our detailed daily itinerary (with maps and GPX files to download): everything is there!
Find more information on the ebook here
If you prefer to have our ebook in epub format (for your e-readers), you can also buy it directly on Fnac/Kobo or Apple books (Then, if you want to get the GPX files of the Via Alpina, contact us by email at contact[at]novo-monde.com with your order confirmation).
Hiking gear
Our backpacks for hiking
As we explained in our article on our equipment for a round the world trip, we find the quality/price ratio of Quechua backpacks really top.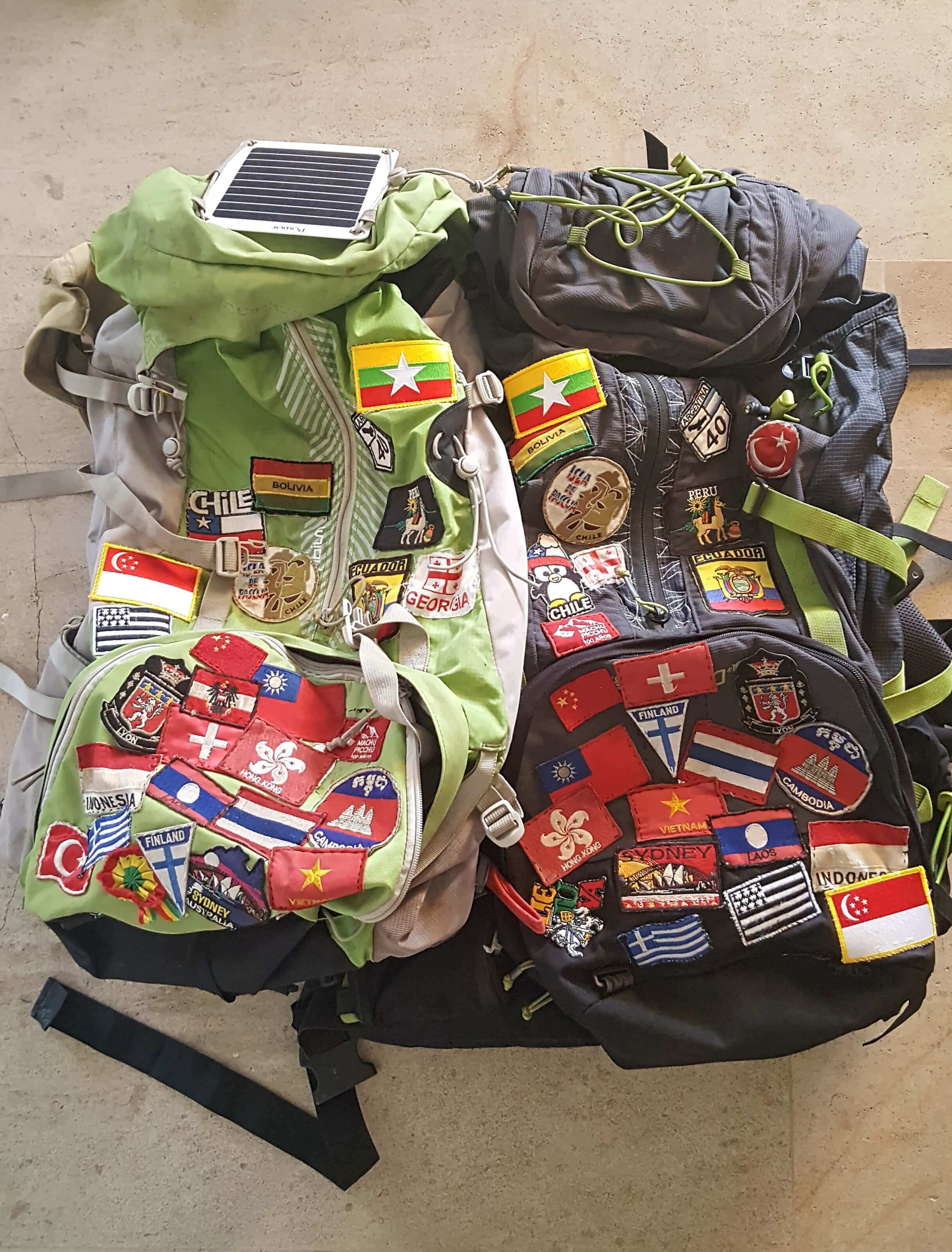 They meet most of the criteria of a good backpack (separate compartments, rigid back, wide and comfortable straps, quite large, super strong) and cost much less than brands like Deuter and Osprey. In addition, now that our bags are customized with the flags of all the countries we have visited, it is impossible to change them;). So when empty, they are certainly a little heavier than the backpacks of the brands mentioned above (or even much heavier than brands specialized in hiking), but we were not ready to put the price for the difference!
Hiking poles
As for the hiking sticks, we had several different models, always from Decathlon 🙂 . In the end, we prefer the 3-section multistranded sticks (which are quite compact when folded) with clip tightening. It's just that we've had a few problems with the rotating clamping models and we prefer the clips for that. Otherwise of course, it is always good to look at the weight of the poles but on our side, we are not ready to invest 100€ more to win 50gr.
Hiking boots
Hiking shoes were our 3rd expense item for this Via Alpina. Usually, we always go on a trip with trail running shoes because they are very versatile and can be used for jogging or hiking for 2-3 days. But to do 400Kms while passing through stone quarries with 15kgs on your back, we thought it would be better to have proper hiking boots. Again, we wanted to buy the most versatile shoes possible, with the idea of being able to reuse them later in other situations. So we avoided boots that were too heavy and rigid, such as mountaineering boots, and we aimed for comfortable and fairly light models.
In the end, Fabienne chose a pair of Salewa and Benoit chose a pair of Meindl.
After the Via Alpina:
Hmmmm mixed feelings here…. Benoit's shoes were perfect all along! No blisters, perfectly waterproof and very comfortable… Mine (Fabienne) I don't know what to tell you… I've never had hiking boots so comfortable. They just fit perfectly! No blisters despite the fact that they were still almost new. The problem? We walked for two days in the rain and in wet grass. While Benoit was dry I literally found myself with puddles in my shoes. My socks may have been wrung out! But under "normal" conditions, understand that on days when it rained reasonably, I stayed dry. In short, they are perfect in 90% of cases. If you go for a walk when it's really pouring, then I do not guarantee they will resist….
If you want to see the "result" fo to 5:44 in this video 🙂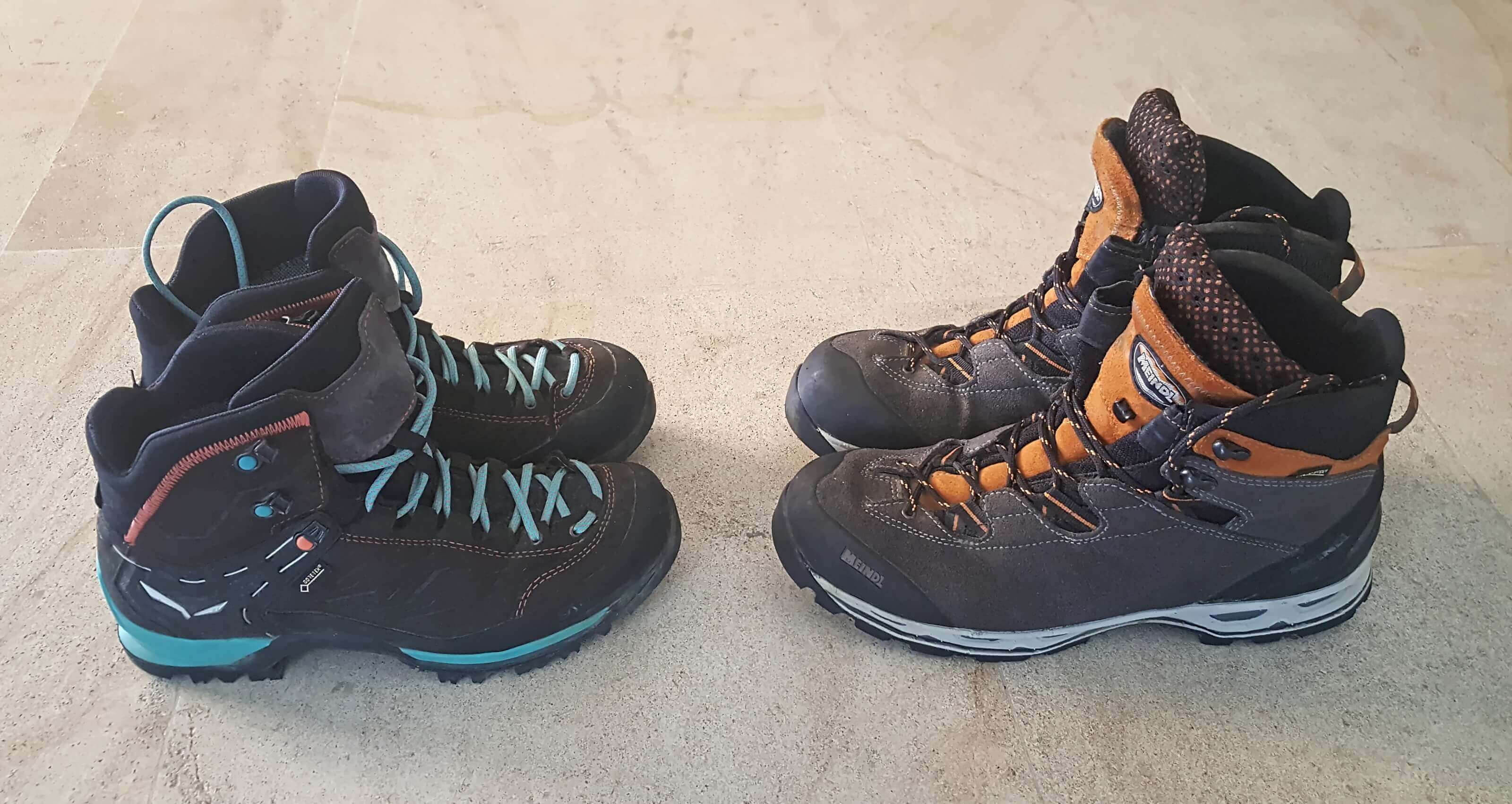 Hiking clothes
Again for the clothes, we remain faithful to decathlon and we will be dressed Quechua from head to toe;) . As a result, there is nothing new either. We always work in layers to be as versatile as possible. So here is the list of the clothes we each take with us: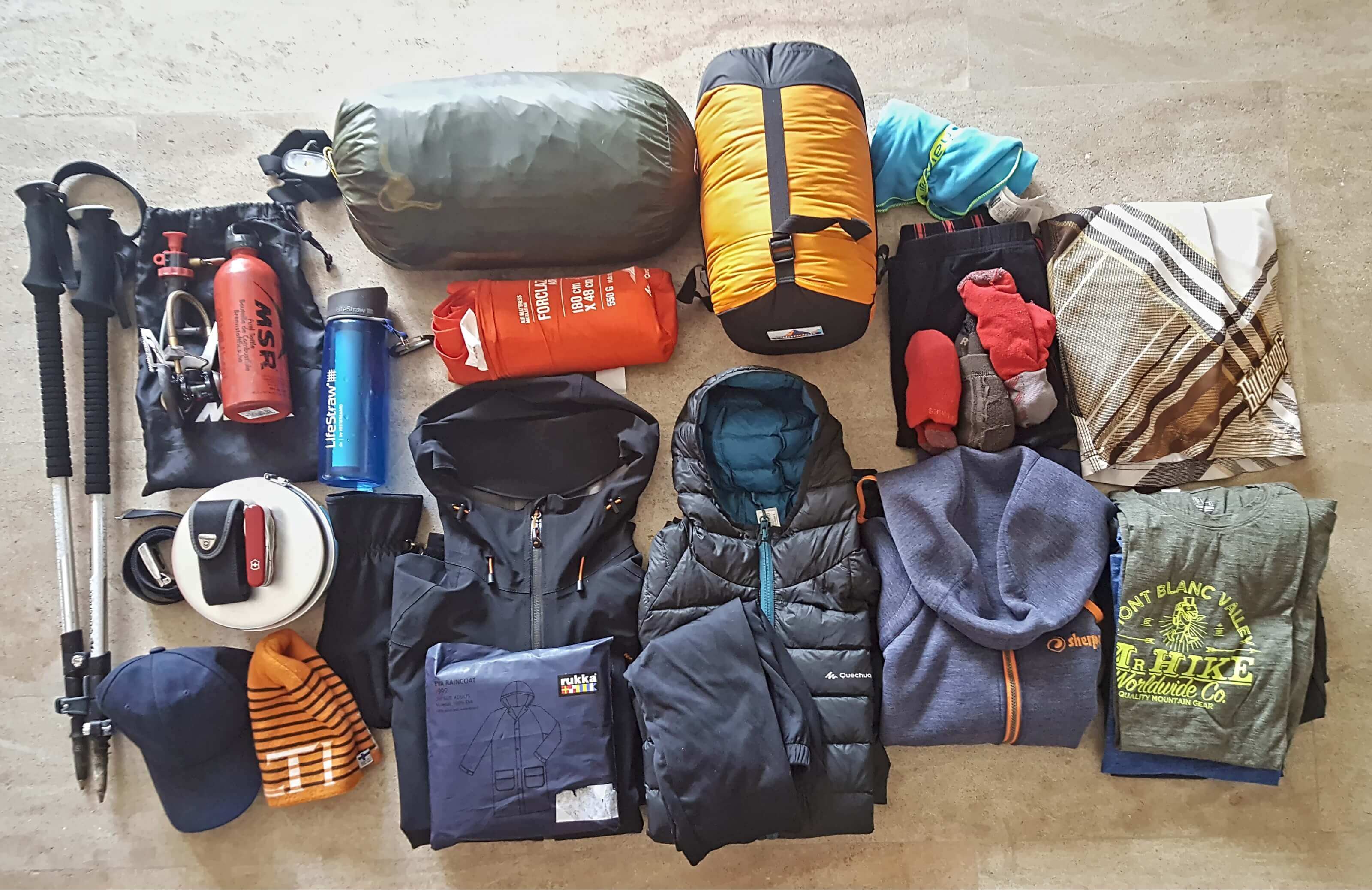 Miscellaneous equipment
Lifestraw bottle
The LifeStraw bottle is clearly the thing we should have invested in before going around the world! It would have prevented us from buying lots of water bottlesalong the way. These filter bottles are magical and allow you to drink collected water anywhere safely (1 filter is enough for 1000 litres of water). It is even more effective than the water purifying tablets we used to use. In addition, for each bottle purchased, lifestraw provides a child with drinking water for a whole year. It is practical, ecological, economical… in short it is an essential!
After the Via Alpina:
We are absolutely THRILLED to have bought these bottles just before our departure! They served us a lot and it was really nice to be able to leave in the morning with only 6.5dl of water and fill up as we went along. There were only 3 steps where we knew we wouldn't see much water or we left with more water. And of course we never got sick:)
A solar hiking charger
As you will see in the next section, we are not really the average hikers when it comes to the electronic equipment we take with us;)
. So, to recharge our whole mess, we have an external battery of 15'000 mAh (which also recharges a little bit with solar energy) and an ultra-light 4W (90 gr) solar panel. Ours is getting old and we'll most likely replace it soon with something like this. We tested them during the Tour des Dents Blanches and we were very satisfied with the solar panel… but the battery doesn't recharge very well in the sun.
Our electronic equipment
Don't be afraid as you read these lines;). We clearly do not have the electronic equipment of an average hiker and we are not looking for it. As you will see, we don't travel light on this side but we accept it ;)… attention, here we go..: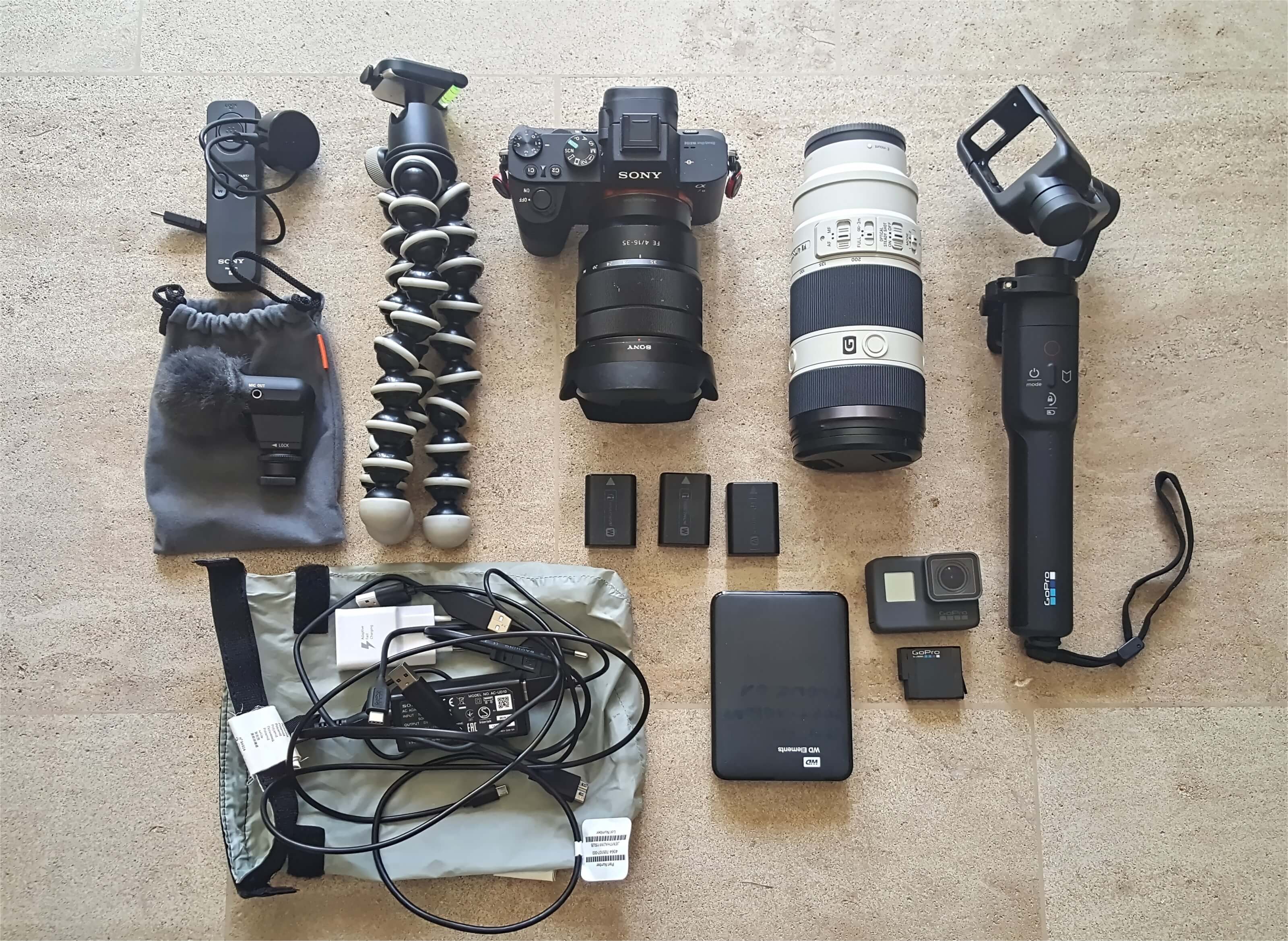 Our final video made with this material:

Hiking gear: how to transport you photography gear?
Before our via Alpina (by this we mean during our whole world tour as well as for the more than twenty treks done since our return), we used to wear our cameras around the neck and the gopro stuck in the top of the bag.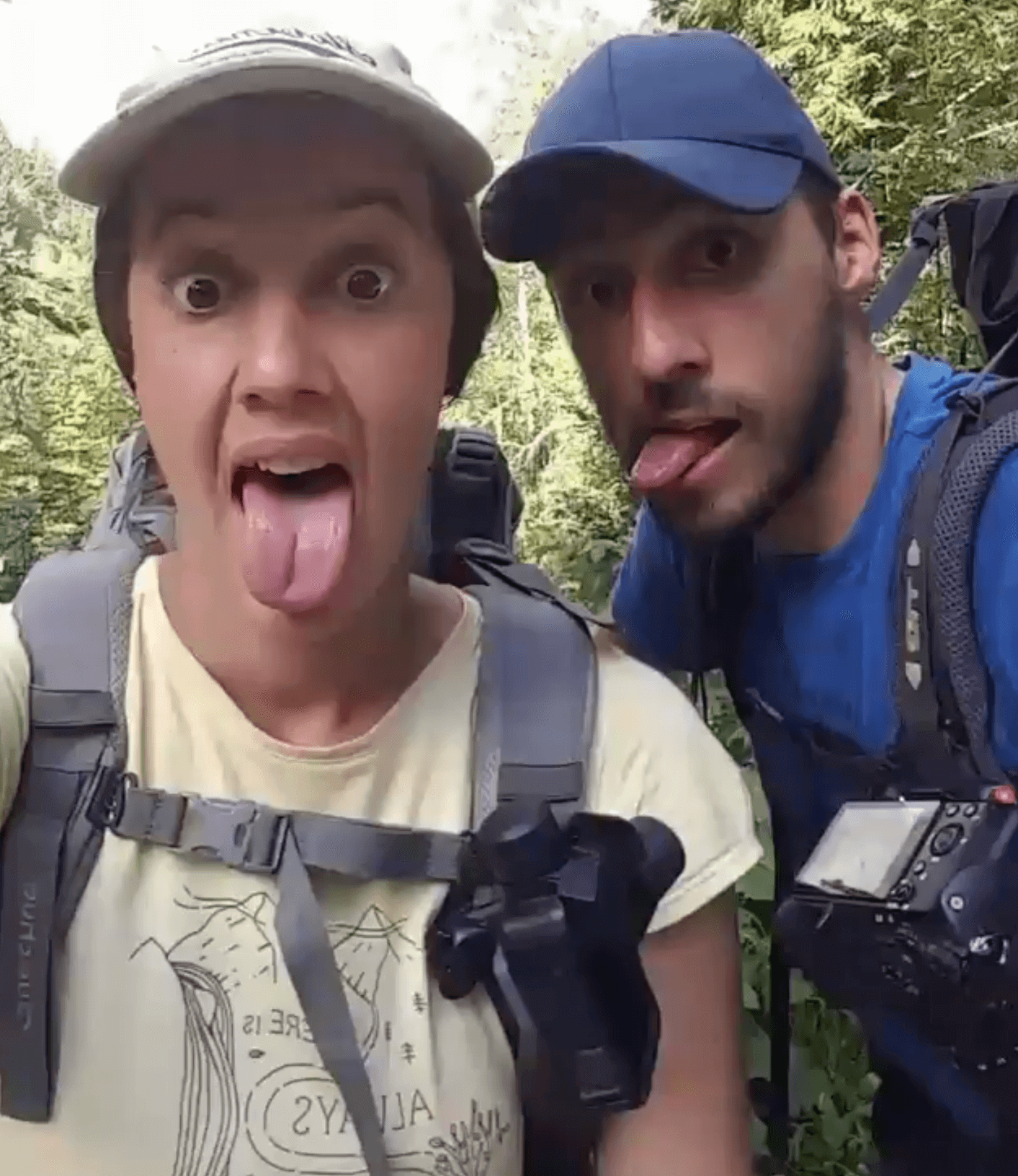 The problem with this "method" is the constant tossing of the device on the chest or stomach, and therefore of course also many risks of hitting the camera in narrow passages because the latter "is hanging" when bending over. In short… Benoit being a geek who likes to hang out on the net to find the latest gadgets, he came across the Peak design brand clips (at the same time he already had the strap that clips in 2 seconds, I suspect he wants us to buy all the brand's inventory) 🙂
So we bought two different clips:
After the Via Alpina: After 4 weeks of more than intensive use I must say that we are SUPER HAPPY! It's just great to have the camera or GoPro close at hand, firmly attached to the shoulder strap of the bag.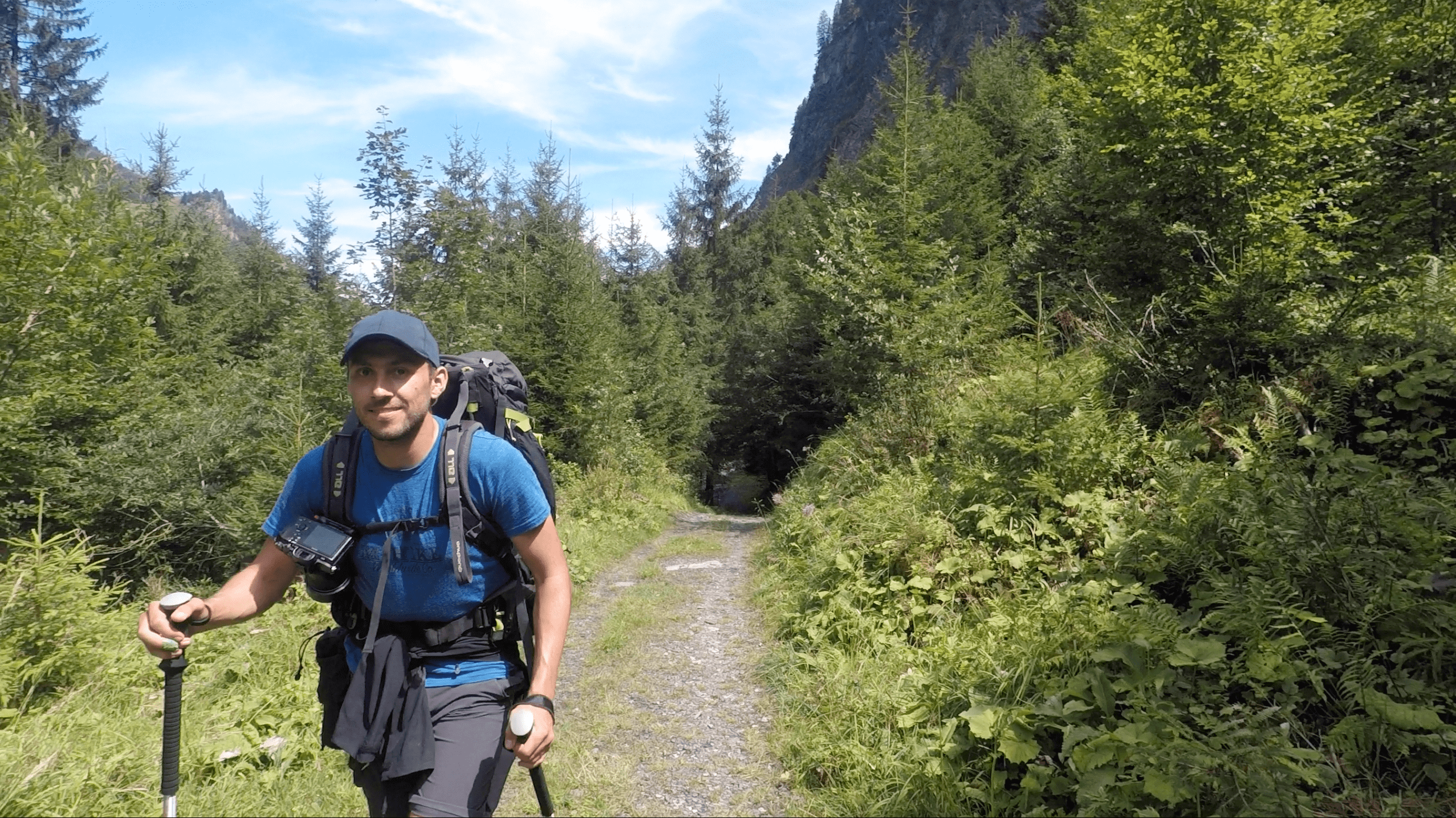 Water and food on the Via Alpina
Of course, in addition to that, there will be water and food in the backpacks. Fortunately, in Switzerland there are many rivers (we are a bit like Europe's water tower) and we will stop in villages at least every 2 days. As a result, we should not need to carry a lot of water and food in our backpacks. We will of course get supplies of cheese as soon as we can… at the same time, we should be able to buy it directly from the producer during this Via Alpina;)
Here you are guys, you know everything about the contents of our backpacks for this exciting hike. We'll see how we can bear all this on our shoulders for so long but we don't worry too much… it'll probably gonna hurt a little at the beginning of the adventure and then we'll get used to the weight of the bag;)… And at worst we're in Switzerland not in Peru, so if we realize that we're a little too heavy, we can always send 1 or 2 things home 😉 And what do you put in your backpack when you go hiking for several days?
P.S. This article contains several Amazon affiliate links . If you buy somethnig through our links. we will receive a small amazon commission that will help us maintain and grow the site. Of course, we only advertise for products we use and it will cost you nothing more 😉