When we are on the move and more precisely when we make longer trips and fly there is a habit we have developed that allows us to make some nice savings: We sleep in airports.
We already told you about it in our budget articles but sleeping at the airport is something that can be done really easily and believe me it is by no means something marginal, many people do it all over the globe! 🙂
Sleeping in an airport: why would you do that?
Sleeping at the airport is sometimes a choice and sometimes it is an obligation… When a flight is delayed or cancelled, you don't necessarily have a choice but to sit in a plastic seat while waiting for the next flight to be announced.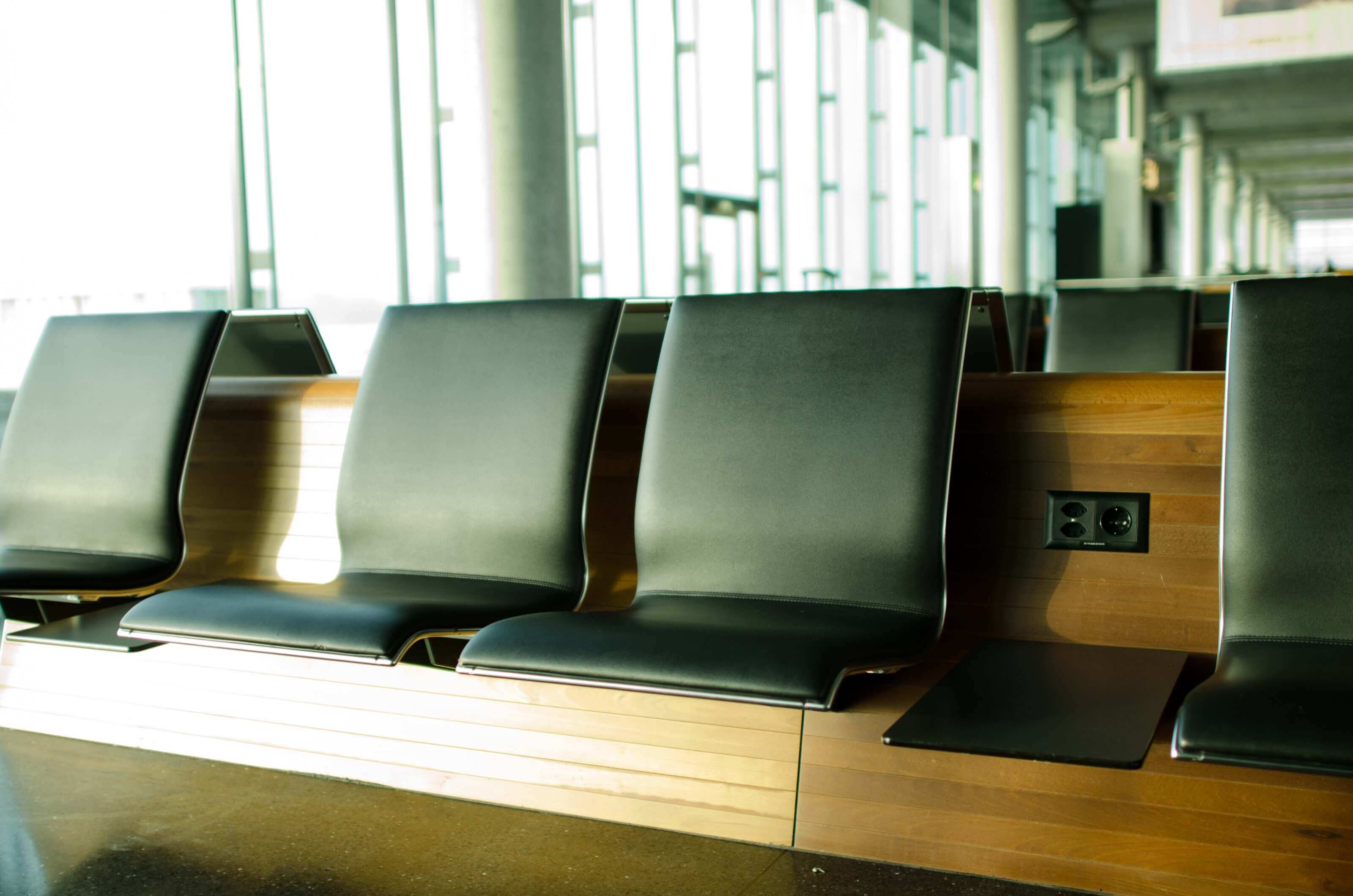 But if we start from the situation where the traveller chooses to sleep at the airport, here are the main reasons.
Save money on a hotel night
This is usually the main motivation…. 🙂 So no, an airport is not a hotel where you spend the night all week, but it is true that it is very practical to be able to save one night. On our side, we have already opted for this option in expensive cities like Helsinki when our flight took off early in the morning.
Be on site for a very early flight and avoid taxis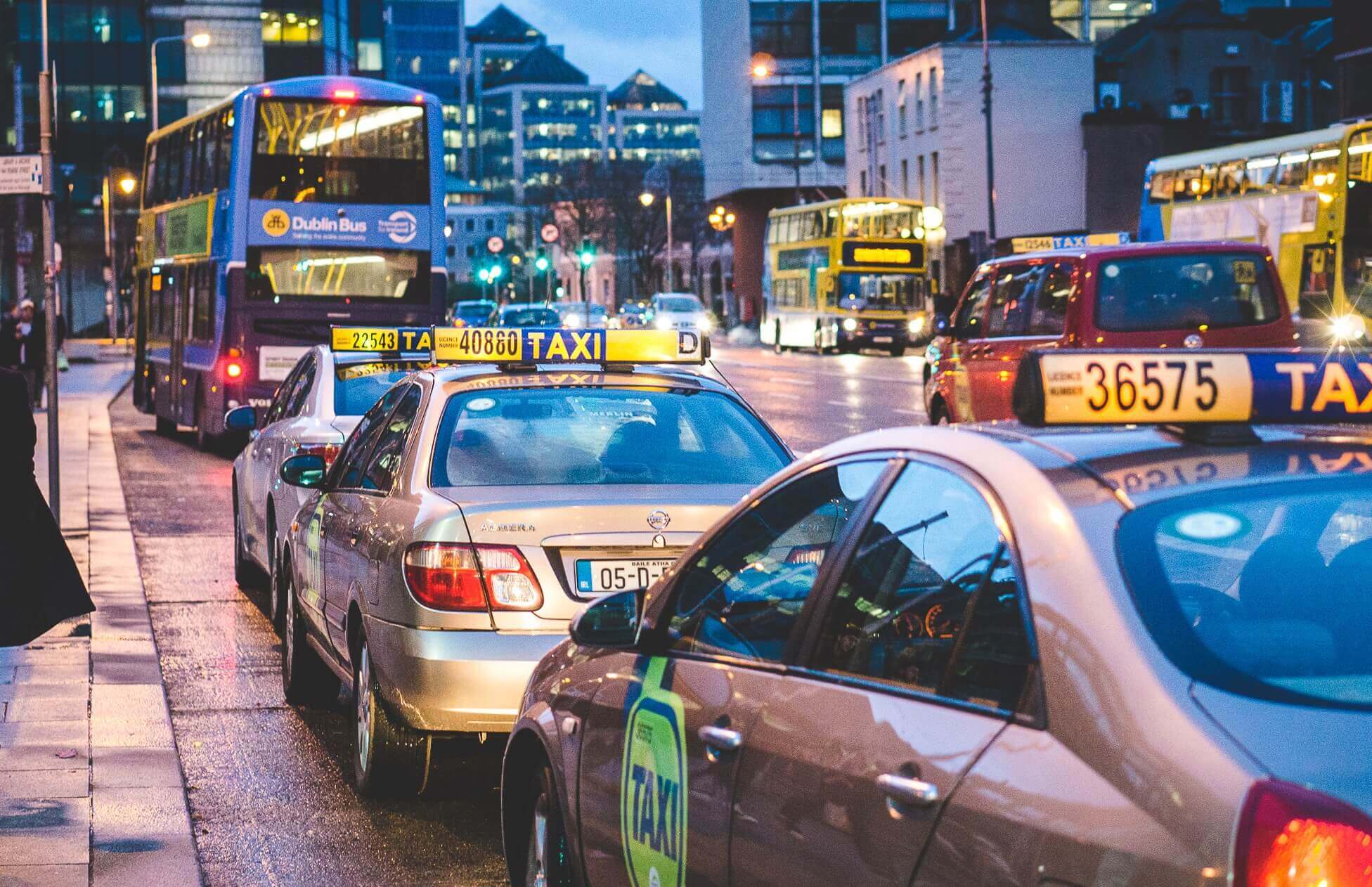 That was the reason we spent the night at Santiago Airport in Chile. The centre of Santiago is relatively far from the airport and public transport does not operate all night. Result: a bus ticket cost 1700 pesos while for the taxi it would have cost more than 20'000 pesos at night rate… In short, we decided to take the last public bus so as not to ruin ourselves with a taxi the next day.
An arrival in the middle of the night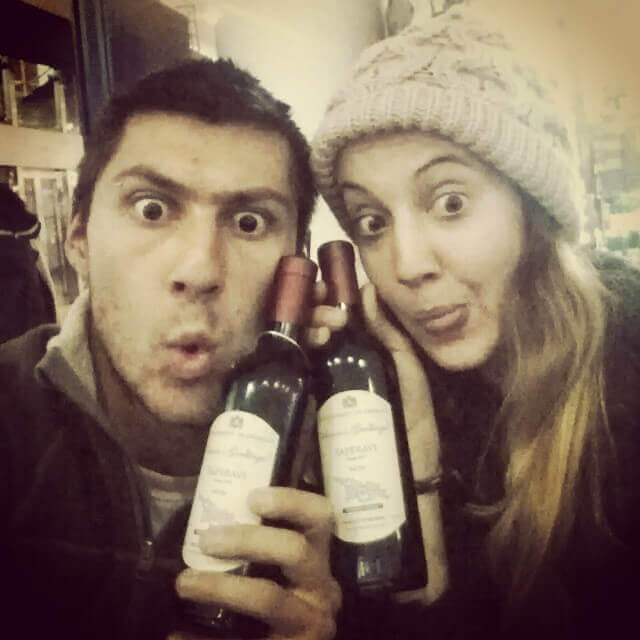 We have slept a few hours in an airport when our flight arrived in the middle of the night. In reality this is quite rare, as many airports limit night landings, but this can be the case (as for us in Tbilisi where we arrived at 3am).
When arriving at such an hour you have to be sure that your accommodation has a 24-hour reception (this was clearly not the case for us in Tbilisi). So we had no choice but to settle in the airport until the early morning in order to be able to take a bus and join our guesthouse at a reasonable time. The positive point? In Tbilisi the customs offered us 2 bottles of red wine as a welcome gift… hahaha
A slightly long connection on low-cost flights
When you look for cheap flights, you often find yourself with flights that have stopovers. For our part, when we travel long distances, these waiting hours do not bother us and we generally opt for these flights, even if it means sleeping in the corridors of Minsk airport for a flight between Tbilisi and Vilnius. 😉
A delayed or cancelled flight
It happened to us only twice. But we know a lot of travellers who have had problems at this level! In absolute terms, if your flight is severely delayed or if the flight is cancelled and you are placed on a flight the next day, then many airlines offer you a night in hotel (we had the right to do so in San Francisco and once in Zurich) but depending on the airlines this will not always be the case…
Flight delayed or cancelled in or from Europe?
One good thing to know is that if your flight is delayed by more than 3 hours or if you are informed of the cancellation of a flight less than 14 days before takeoff, there is a good chance that you will be entitled to compensation. Few companies will mention it to you, however…. (hum). If you have had a delayed or cancelled flight you can go through Airhelp to obtain your compensation. This company has specialized in collecting these indemnities with a team of lawyers who are familiar with the procedures to be followed. To find out if you are eligible, simply enter the flight number and date and you will know immediately if you can open a compensation file. We never had to test their service but my dad went through them recently and he got 250€ (for a flight worth less than 150€ but whose cancellation had put him in a S*. situation)
Request compensation from AirHelp
Note: You can claim compensation for all flights delayed for the last 3 years. So if your last delay or cancellation is recent, don't hesitate to see if they are eligible.
Where to sleep in airports?
Probably THE big question; for our part, each time it is the main issue to find a good little spot where we can lie down to close our eyes a little bit.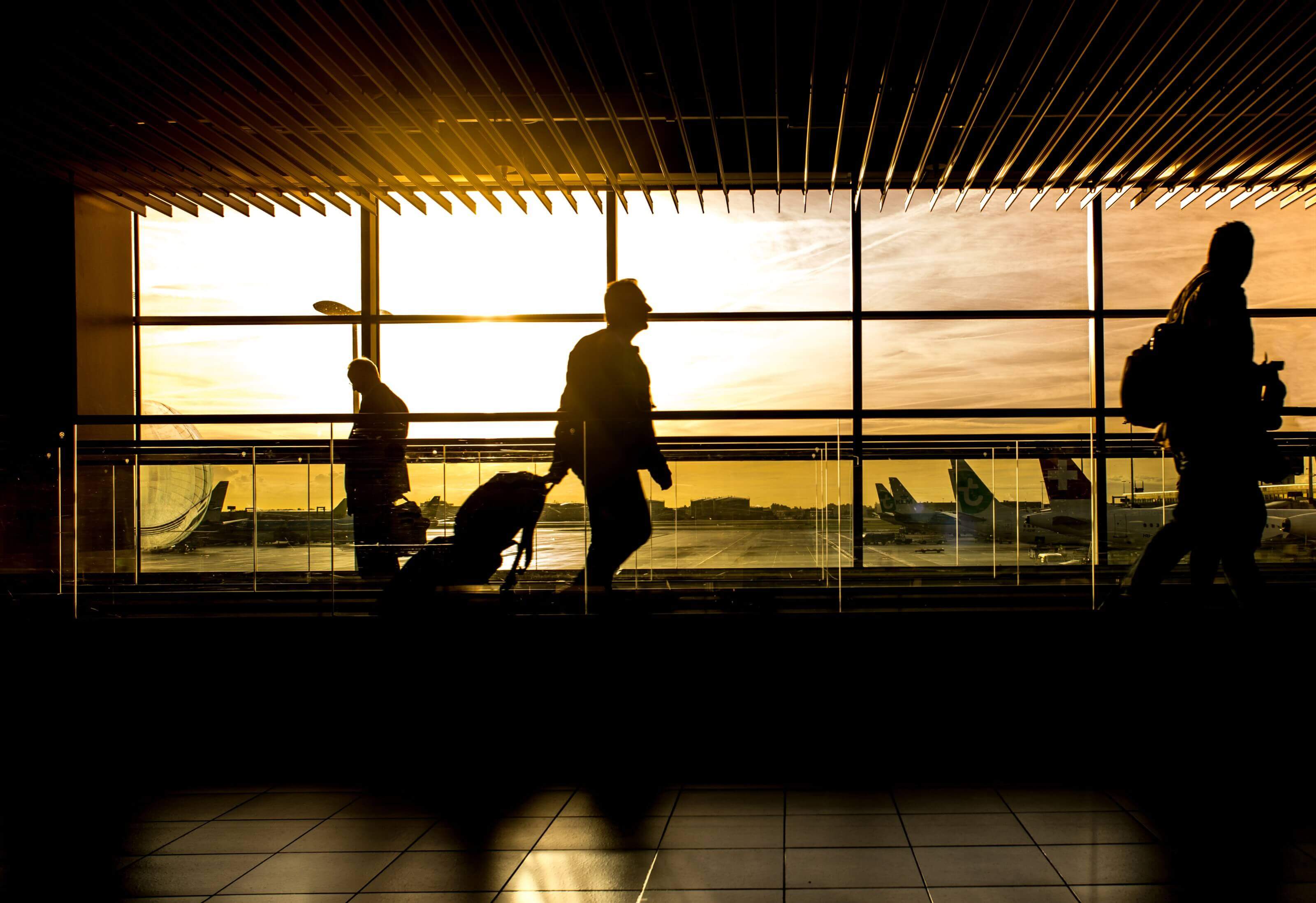 In airports, it is first necessary to differentiate between the 2 main areas:
Landside: Before customs control
This is usually where you land if you come early for your flight. Indeed, if you have a flight in the morning it is not always possible to check in your luggage the day before and pass the security check (even if it is always worth asking).
Tendentially, this side is a little less comfortable. The reason for this is that people usually arrive here to check their luggage immediately and pass through security, so the layout of this area is rarely conducive to a good night's sleep. Generally speaking, this area is also a little less "safe" in the sense that it is a public place where everyone can come and go as they please.
Tip: Try to get to the arrivals area! Often this area is much better arranged because flights are frequently delayed and relatives find themselves waiting long hours here. As a result, architects have generally provided a comfortable space for family and friends waiting for their loved one.
Airside: The international area just before boarding
This area is the transit area (where boarding gates and duty-free shops are usually located). This area is reserved for passengers with a ticket and is located after security checks, making it a more secure area.
Flight delays and transit passengers mean that these areas are often relatively well equipped in terms of chairs. The key here will be to find a quiet area and if possible with seats without armrests.
The other major advantage on this side is also that here you don't have to worry about your luggage because when you are here it means that the big bag is already checked in. If we have a choice, we generally prefer to sleep on that side.
Sleeping at the airport: the essentials to take with you
Let's be clear: Sleeping in an airport is only rarely comfortable… Nevertheless, there are a few things you can think of that make things much easier.
To have a good night's sleep, think about planning ahead:
Comfortable and WARM clothes! If there is one constant in airports, it is the air conditioning that runs at full speed! For travellers in transit who walk in the corridors the temperature at 18°C is the best way to feel good… But for sleepers who settle down, it quickly gives the impression of being in a fridge. So remember to bring socks, pants and a big sweater (Personally I have a big weakness for big hoodies; nice and cozy and you can pull the hood over your head to sleep easy).
A large scarf: Put in ball it makes a perfect pillow, in case of cold it makes a blanket or otherwise folded it can also make a small carpet if the ground is very cold or simply too hard.
An eye mask and earplugs. The top of the line for the perfect sleeper's look, these little glamorous accessories will surely be on your best allies to escape the hustle and bustle. (PS: even if it means looking like an idiot, you might as well do it all the way to the end 😉 Benoit usually makes passers-by laugh when he sleeps with his mask. If you want to find some funny ones, the best way is to look in the souvenir shops in Asia (this one comes from Thailand).
An alarm clock: Essential to make sure you don't miss your flight. Because yes, in general we find it difficult to sleep and it is often right when we are supposed to get up that we are finally in a deep sleep. Plan B is to stick Post-it notes on you and write down the time you want to be woken up and cross your fingers so that a good soul can do it, but personally I prefer the alarm clock option.
If you want to play it great luxury a small sleeping bag is obviously the ultimate! 🙂 We never did, but I was always very jealous of people that I saw taking them out, so I share… 🙂
A universal power strip / adapter: not an essential part of sleeping per se, but if you spend several hours in the airport you will probably want to charge your laptop. Plugs are often a rare commodity at airports (depending on which one), but they are usually taken quickly. A multi-plug is the little moment of glory when you can offer someone who uses a plug to share while making others happy in the process. 😉 Ah and of course if the airport is in a country that does not have the same plugs as at home you think well to have the adapter on you…
Your flight ticket and passport: Make sure you always have them with you. At some airports, security guards may ask you to show your ticket to prove that you have a flight to catch (to prevent squatters from sleeping here every night);)
Patience… We were already saying it above, but sometimes you have to walk around a bit to find the right spot. So feel free to explore the airport a little bit in search of the perfect place.
Sleepinginairports.net : The reference for preparing your night
If you speak English and sometimes sleep in airports then we can only recommend the site sleepinginairports.net.
We discovered this site 6-7 years ago and we go there every time when we plan to spend the night at the airport. Let's face it, the site is a bit old-fashioned at first, but the information on it is extremely valuable and above all very up-to-date. On the site there is a page that allows you to search for any airport in the world and then arrive on a page dedicated to it.
For each airport we have information such as:
airport schedules and whether overnight stays are permitted
The best spots to choose from
Advice on where to find the plugs and the best wifi
Information about showers, shops, services, etc.
Opinions from other travellers. Personally, it's always these that I find most relevant… people share the spots where they slept and their impressions (and sometimes even the wifi passwords);)
The safety rules to be respected when sleeping in an airport
Sleeping in airports is generally very safe. Indeed, airports are often among the best monitored and guarded places and with surveillance cameras in every corner.
Nevertheless, it is still advisable to take a few small precautions….
Try to position yourself in a quiet but not isolated place (yes yes it is full of contradiction but it is true). Especially for solo travellers, I will recommend staying close to other people who are planning to spend the night here.
Always keep your valuables with you and make sure you are in contact with all your bags. For our part we always travel with our big backpack as well as our small backpack that contains our computers / cameras / goPro etc…. We usually sleep with the small backpack against our stomach or under our head, making sure to have our arm or leg in the shoulder strap.
If possible, try to check in your big bag before dark, it will be one less bag to worry about. If you are in transit, try to tell the first flight that you do not want to pick up your bag at the stopover, this will ensure that you do not have to leave the international area.
Sleeping in airports: Is it always the best solution?
You can imagine, if I ask the question so it's probably the answer will be a no… At least for our part. In fact, sleeping at the airport is above all a practical and economical option, and even if we are not too afraid of long waits, we are still looking for alternatives.
In addition, it is important to note that some airports do not tolerate people sleeping in the corridors and some are simply closed at night…. So sometimes it's better to have a plan B, just in case…;)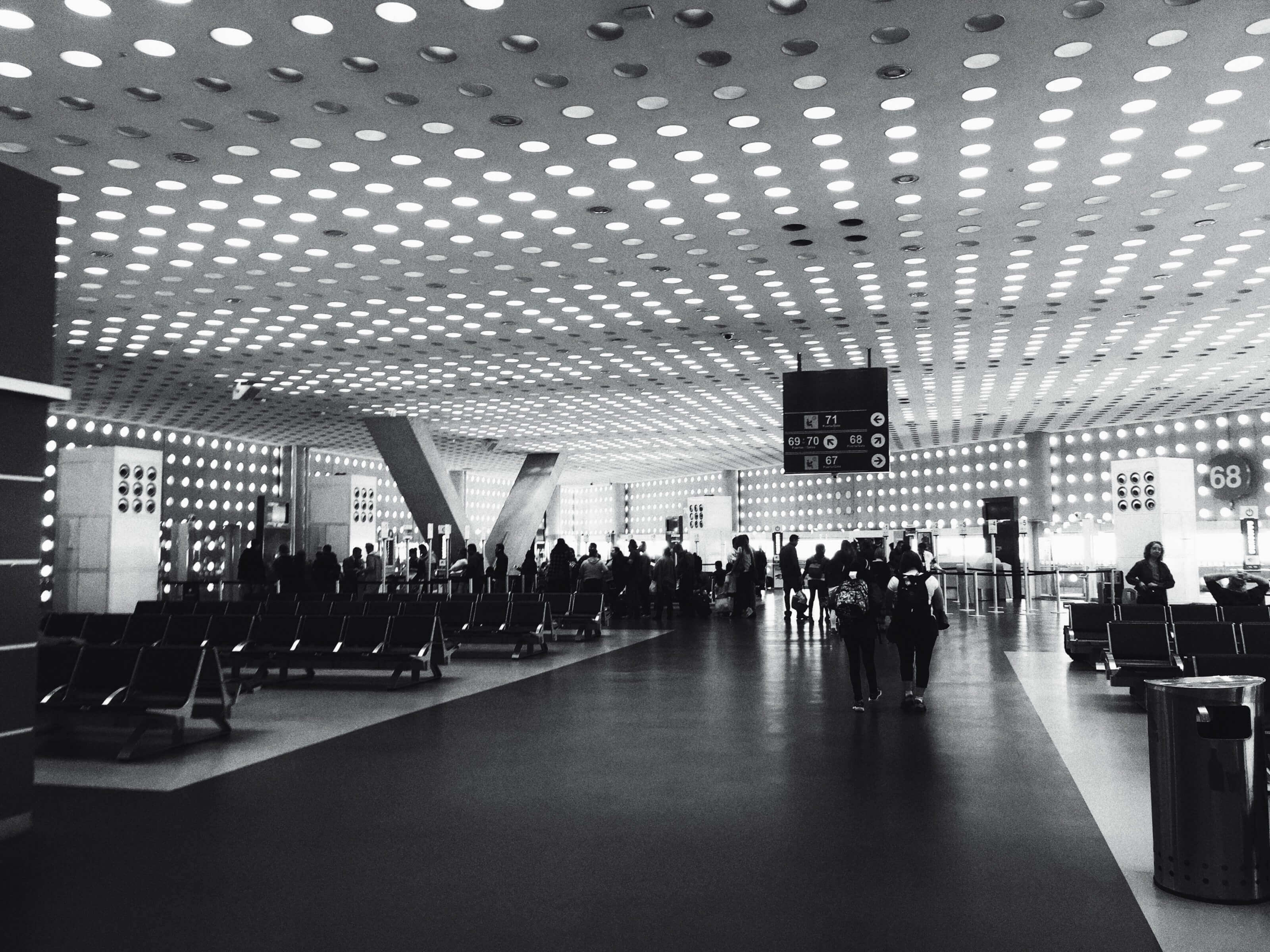 For example, last spring, when we were returning from Chiang Mai, we arrived in Bangkok and had to change airports. Our flight to Switzerland was scheduled the next day around 11am and we were back in the capital more than 24 hours before the flight. We knew well that being that early, we would not be allowed to sleep in the international zone (after customs) and the prospect of wandering for more than 24 hours in the departure hall did not delight us.
Before we decided we did a quick hotel search and found a hotel near the airport that offers double rooms for 12€ and a free shuttle service to the airport. (For those who are interested, the hotel was the Plai Garden).
Nothing luxurious, but there for the moment it was 12€ well invested. A cozy bed, a shower and a transport to the airport at 6€ per person very honestly that remains acceptable… 😉
Find a hotel next to your airport
The 10 best airports in the world for sleeping
This classification is not ours, but sleepinginairports.net's. (see their article). To make this classification they based themselves on the infrastructures, cleanliness but also the different options to spend the night (for example, the fact of finding seats without armrests allowing you to lie down comfortably). For the moment we slept in some of them, so we gave you our opinion. For the others we simply put you the direct link on the sleepinginairports page.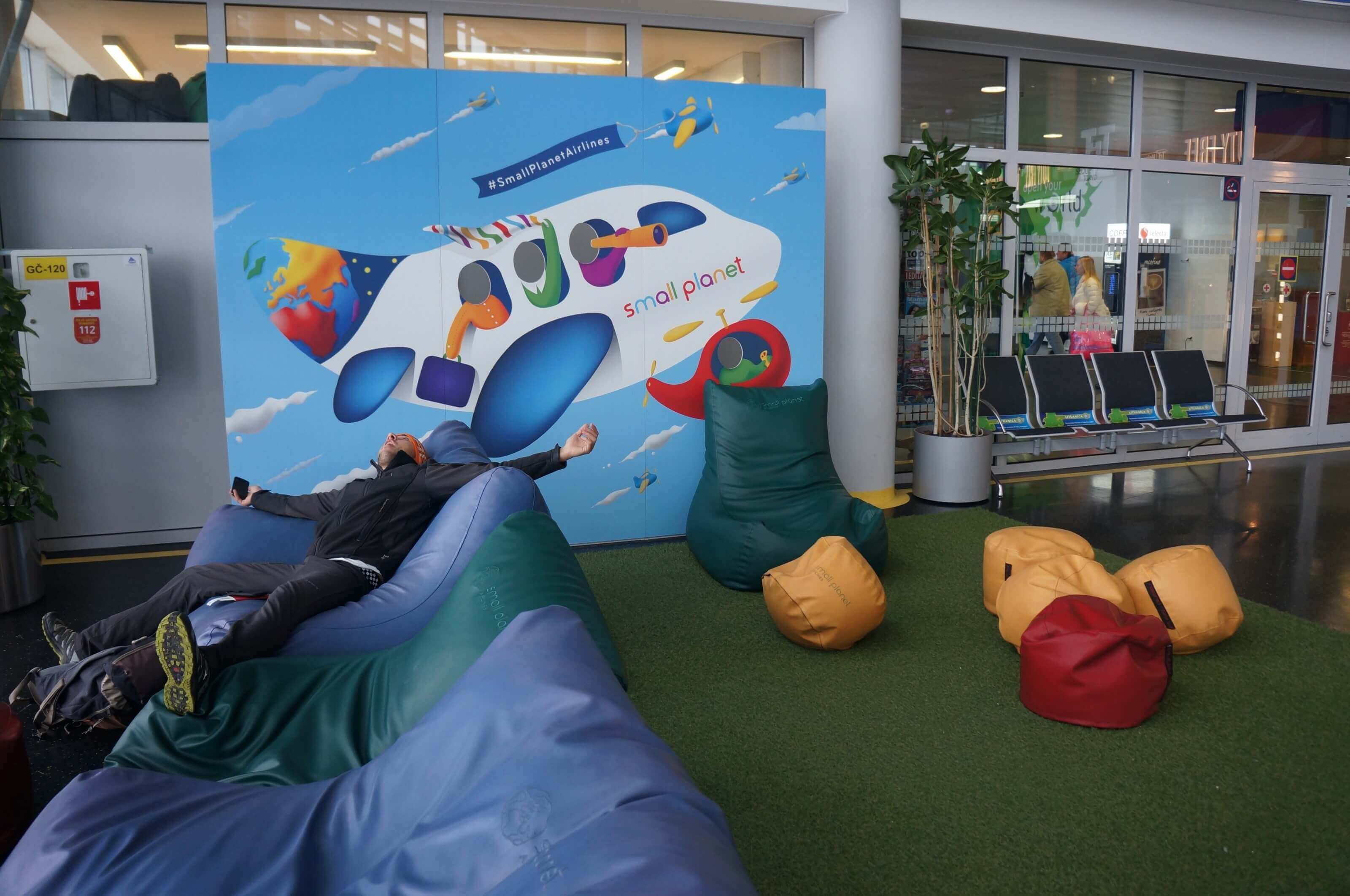 Time for the ranking….
10. Zurich International Airport – ZRH (Switzerland)
An airport that we know very well since we often pass through it… On the other hand, we admit that we never spent the night there (my grandmother lives next door) 😉 But it is clear that in terms of comfort, safety and cleanliness, this airport is clean! The relaxation areas are large and many rows of seats are without armrests! On the other hand, the downside is clearly the prices…. Coffee at 6€ (or even more) hurts! 😉
9. Tallinn Airport – TLL (Estonia)
8. Helsinki Airport – HEL (Finland)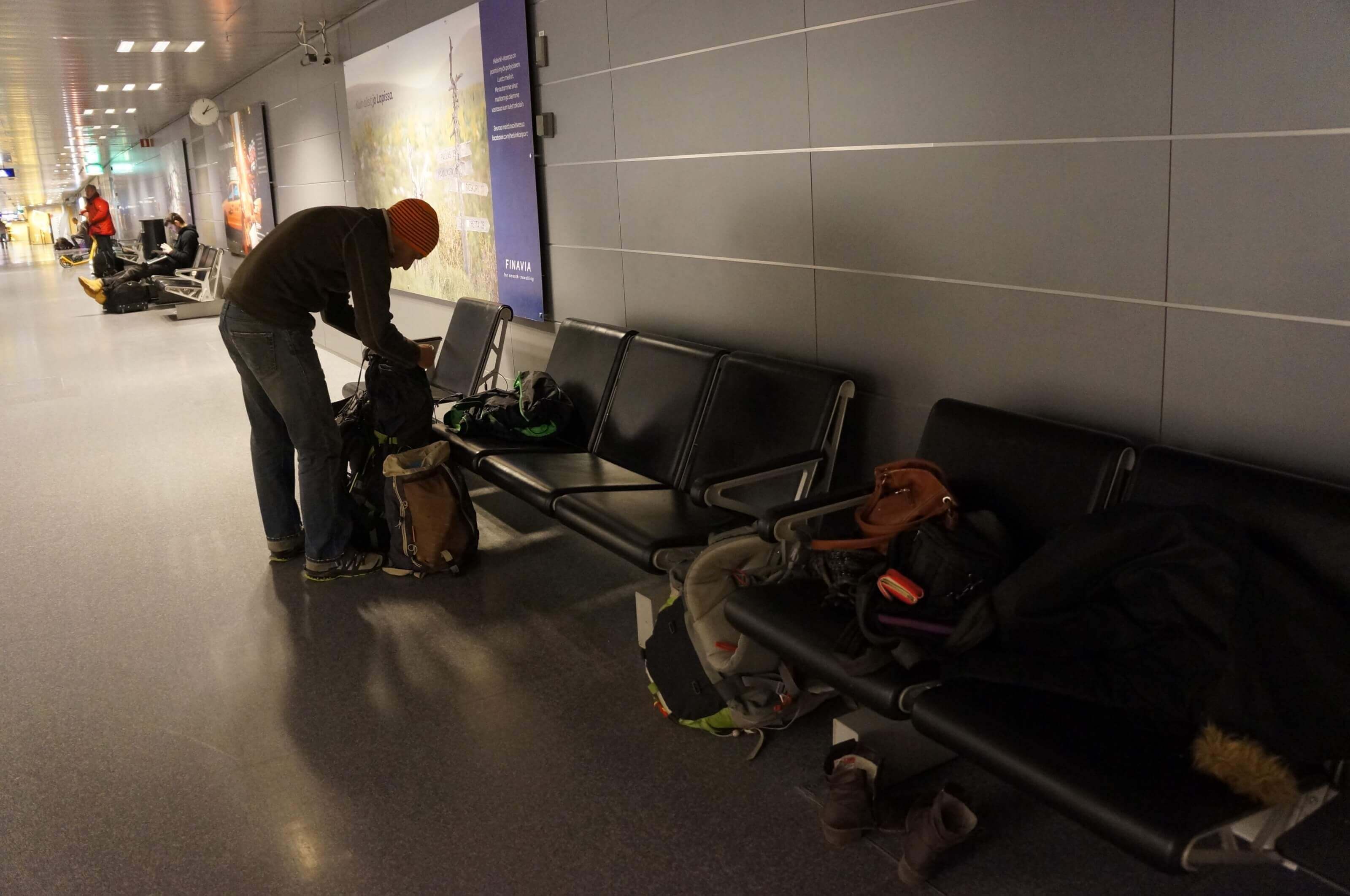 An excellent airport where we have also spent the night. For our part, we were not on the international side, but on the Finnish side. We found a great spot on benches in a corridor that connected the 2 main terminals. I think it's mainly Benoit who keeps a crazy memory of this airport… 🙂 Because yes the airport offers free wifi with a crazy speed! Benoit was totally hallucinating to have a 90Mb/s connection on a public wifi, so much so that he spent a large part of the night watching or streaming movies instead of sleeping:)
See Helsinki airport on sleepinginairports
7. Vancouver International Airport – YVR (Canada)
6. Osaka Kansai International Airport – KIX (Japan)
5. Munich International Airport – MUC (Germany)
4. Taipei Taoyuan Airport – TPE (Taiwan)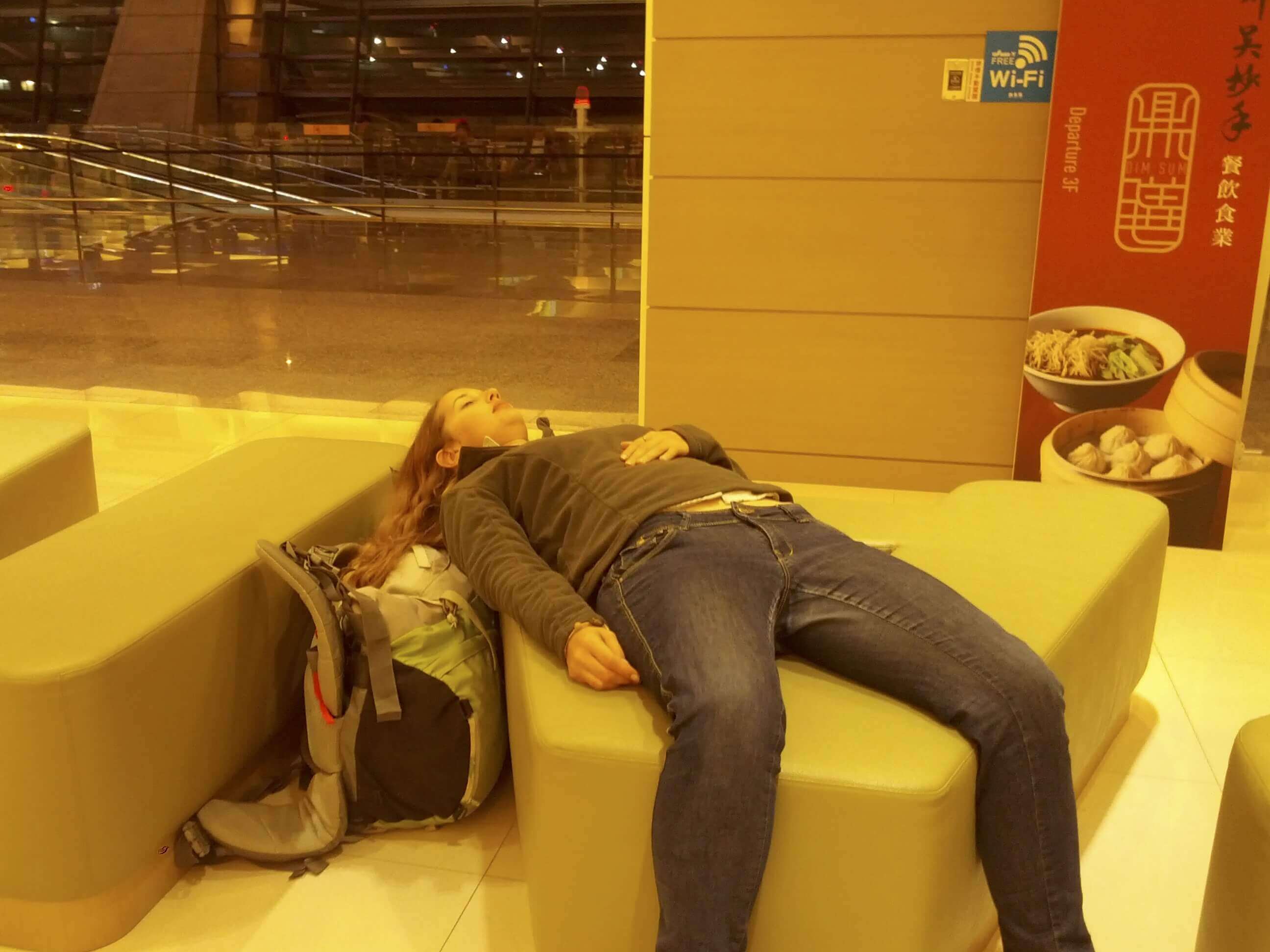 Here too we had decided to spend the night in order to avoid having to take a taxi early in the morning (our flight took off before the first public buses reached the airport). Quite frankly, it is quite understandable that this airport is in the top 10! Super secure, ultra clean and with many giant sofas where you can come and settle down.
On our side, we had opted for a series of sofas in the shape of letters that made up the word "Taiwan". While Benoit opted for a straight night like an I on the sofa of the letter I, I personally opted for a diagonal position on the letter A:) haha a night that we will remember…
3. Tokyo Haneda International Airport – HND (Japan)
2. Seoul Incheon Airport – ICN (South Korea)
1. Changi International Airport – SIN (Singapore)
The BEST airport to sleep at! He has held this title for several years and frankly, we couldn't tell you otherwise! We slept there one night during our world tour and it is by far the best night we have spent at the airport.
Imagine: There are lots of small spaces where you can find some kind of deckchairs. These spaces are surrounded by greenery, quiet with dimmed light. The deckchairs are all equipped with plugs, USB outputs and even an internet cable for a great connection. The pillow on the deckchairs is actually an alarm clock: you set the desired alarm time and the pillow starts to vibrate once the time comes. 🙂 Seriously, we were hallucinating so much that we were so calm! We slept much better here than in a lot of crappy guesthouses during our world tour. haha
The other airports where we slept (and our opinion)
In addition to the airports in Singapore, Taipei and Helsinki mentioned above, we also spent the night at a few other airports… You will see it, they are not all equal in comfort…. 🙂
Santiago, Chile
Oh, my God, we even slept there twice… The first time we were in transit and were therefore able to sleep on the "international" side. We hadn't found any free seats but we slept well on a piece of carpet in a quiet place.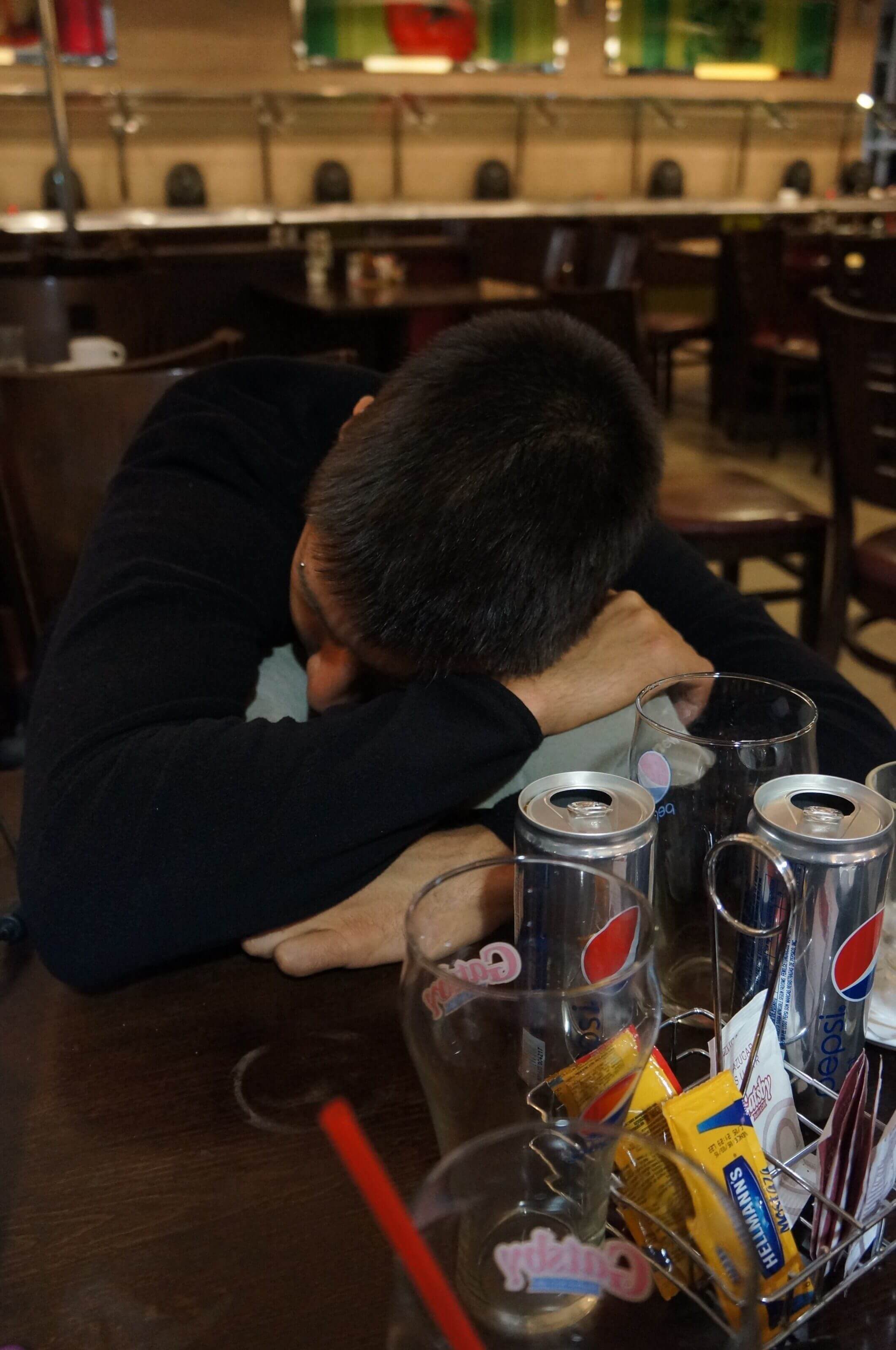 The second time, however…. We had an early morning flight and so came in the evening with the last public bus. When we arrived at the airport we couldn't get through security yet because our flight was only the next day. In the hall there were no seats to sit in and security guards who forbade us to sleep. In the end we will have spent the night in the small restaurant open 24/24…
On the other hand, there was no question of lying down, to stay there you had to consume.
So with Benoit we had set up a tournament where we took turns taking a 2-hour nap with our heads on the table while the other one stayed awake and ordered a soda or something from time to time. Needless to say, this was by no means the best night of our lives:)
Istanbul Ataturk
This one too we slept there several times…. And I believe that it is beginning to become one of the airports in Europe we know the best, as we have walked so many miles and miles in its corridors to find where to set up. 🙂 In the end, the best spot is probably the resting rooms that are located towards the WC in the departure hall (in the international area after customs, where the different paths cross to the boarding gates). The problem is that many people tend to sleep here and so the right places are quickly taken. For our part, we will often have ended up sleeping on the carpet in the break room.
Note: It is EXTREMELY cold at night in this airport, take layers! 🙂
Minsk, Belarus
We were here in transit on our flight from Tbilisi to Vilnius and how can we explain to you, that against all expectations, this airport was really nice to sleep at! We expected the worst by having read reviews on sleepinginairports.net but in the end we found comfortable seats without armrests. 🙂
For those who are willing to pay a few euros there are even cash cabins that can be rented by the hour. We can't tell you how it is because we didn't test it (there were too many soft sofas that were calling us) 😉
Tbilisi, Géorgia
Here it is a landing in the middle of the night that made us sleep there for a few hours. We arrived at around 3am and we had no choice but to sleep a few hours in the arrivals hall before being able to take a bus and join our hostel which opened its doors at the end of the morning.
For the moment, the hall was relatively comfortable and above all very quiet. Tbilisi airport is not really a crazy air hub, so apart from 2-3 flights on the program, the night will have been very quiet.
Athens, Greece
Ahhhh the rascal… this airport we'll remember it for a long time. We had found the perfect spot in the lobby (before the security checks), but the night guards were not really tolerant with the people who slept there. Every 30 minutes they would come to wake everyone up and explain that we could be there, but we were not allowed to sleep… 🙁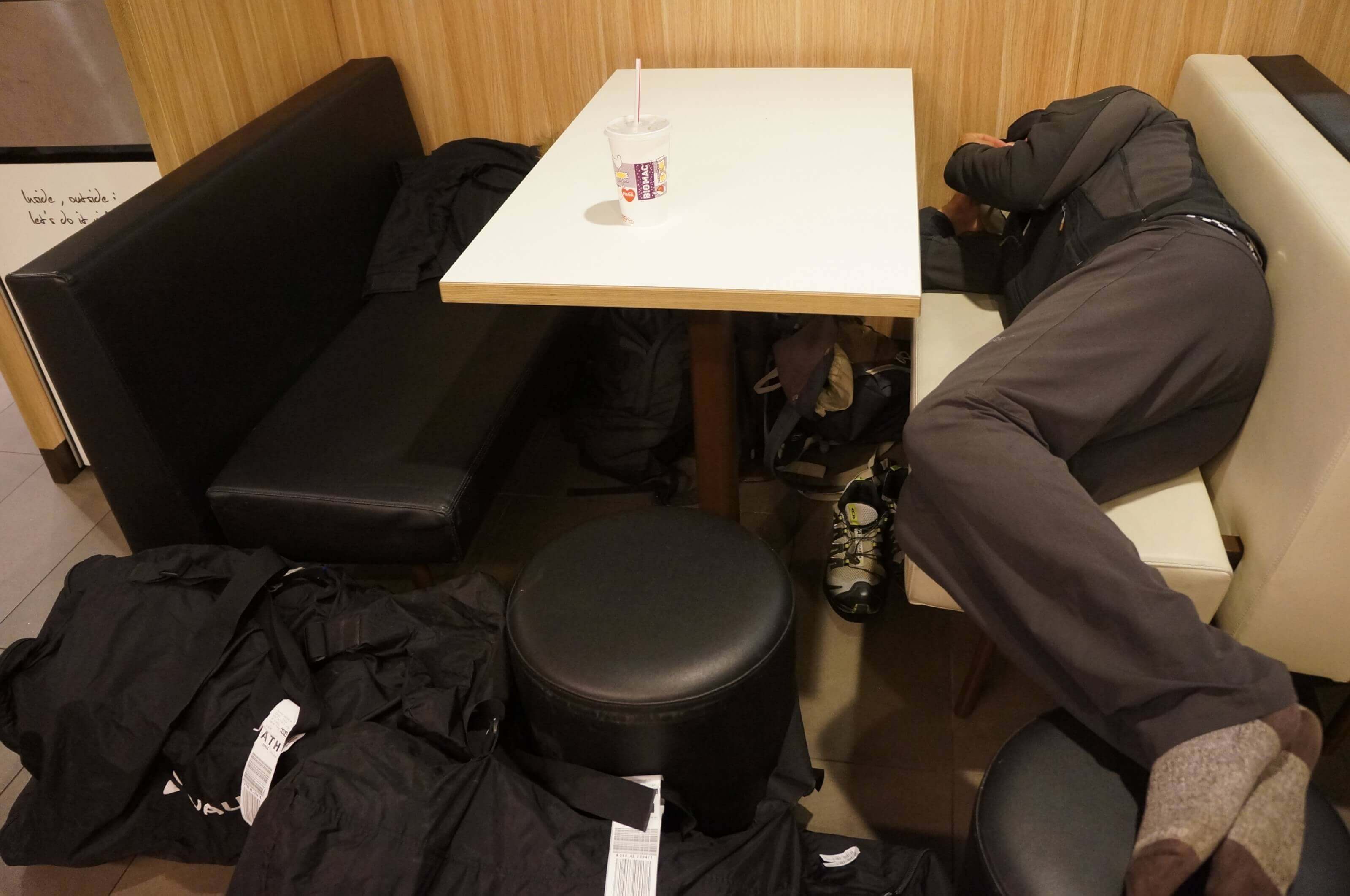 in the end we will have found refuge at the Mac Donald's on the first floor. Here, the employees were very nice and allowed us to lie on the benches to spend the night. The benches being too short (even for us little Swiss), they even proposed that we take footstools to add at the end of the bench to make a bed. The positive point? A safe night, a good coffee when you wake up and a lovely staff.
The less? The Mac Donalds Music that runs in a loop and makes you crazy after 1 hour…. 🙂
Barcelona
To come to Menorca we opted for the cheapest flight from Geneva. And when you say cheap flight, you often mean long stop overs… We Arrived at 10pm in Barcelona we had to wait until 7am the next day. We were in Terminal 1 (the most modern) and unfortunately it is difficult to sleep properly there. Many people sleep there and it is quite tolerated, but there is not really any space to settle down.
the next morning we looked pretty much like this…..
To choose from we had:
The seats close to the Gates… Unfortunately with armrests. By playing contortionist we vaguely managed to settle in, but we might as well explain to you that it's really not comfortable.
On the floor… A lot of people lie on the ground. We did it too. But the floor being tile and the air conditioning running at full speed it's just freezing!!!!! With a sleeping bag it would have been fine, but we clearly weren't equipped
Outside: In Terminal 1 there are several small patios in which you can go out (mainly smokers). But in these patios there are also large teak spaces where you can easily lie down. With the air conditioning running in the airport it was almost warmer here than inside. 😉
Basel Airport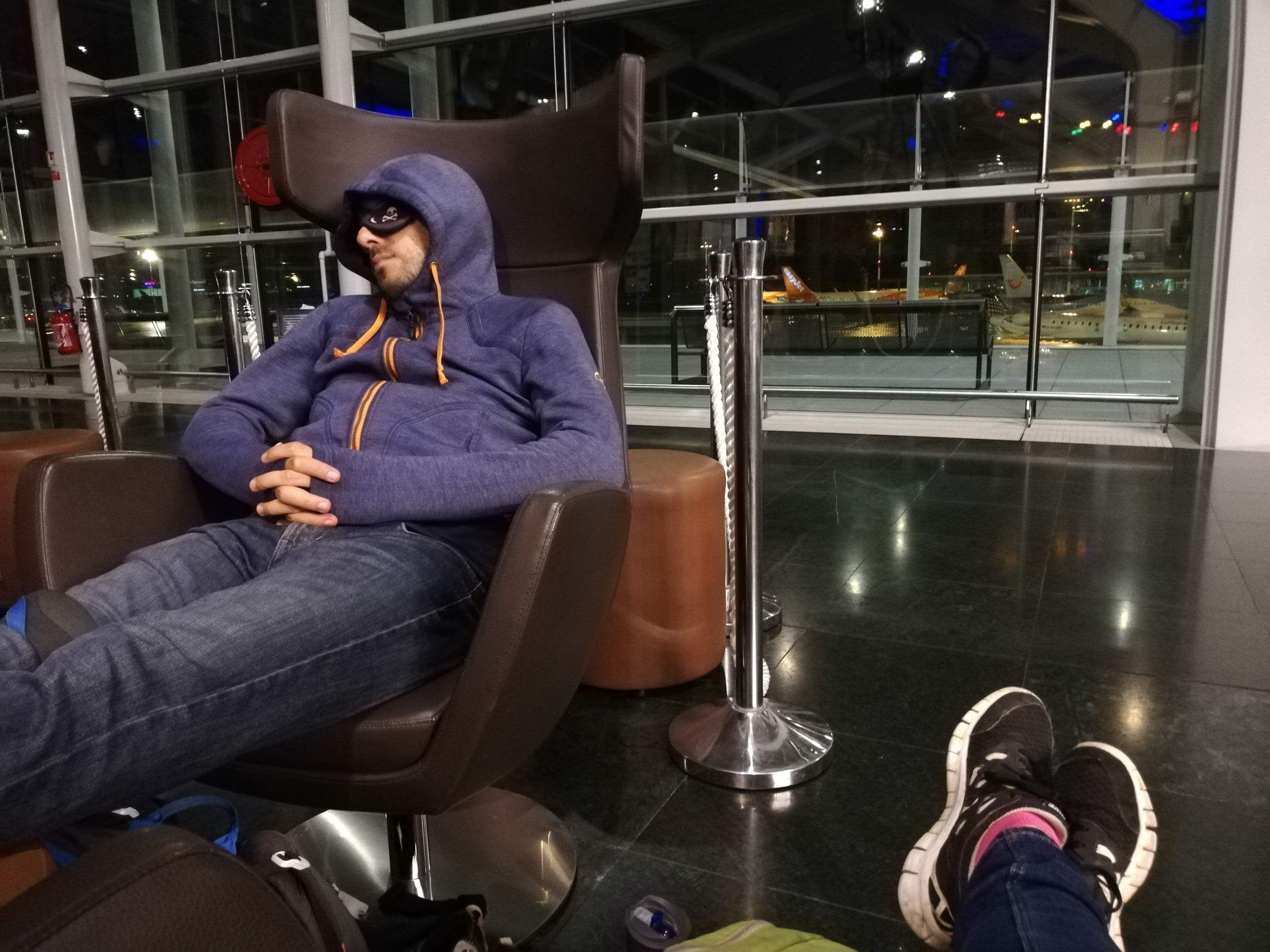 We slept there in the fall of 2019. Honestly? Not too bad 😉 Arrived with the last evening bus we went directly to the top floor (above the check-in) by taking the escalators. Up there you can find large and relatively comfortable chairs. We were not the only ones but it was very quiet. Afterwards, you just have to be careful, only one door to the outside remains open at night (to enter). It's the one on the ground floor. If you go out at night on level 1 you might get stuck outside and have to go around the ramp to get back down to the ground floor door (don't ask me how I know that… haha #loser).
In short, we hope that this short guide to sleeping in airports has been useful to you. 🙂 Feel free to share your tips in the comments, and if you are reading these lines because you are about to sleep in an airport, well…. we just have to wish you a good night!
NB: This article contains affiliate links. By using our links you will not pay more, but we will receive a small commission;)Thank you for your support
Pin It