During our recent short stay in Appenzell we first celebrated August 1st (our national Holiday) as it should be.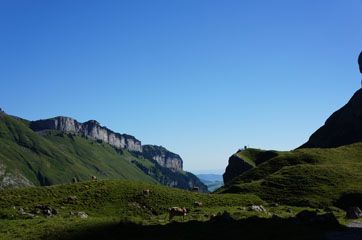 That is to say, by living a 100% Appenzell day. But, because too many Appenzell beers were not good for the our belly and also because we wanted to discover a little bit of the region, the next day we decided to start hiking the Säntis. Well I'll be honest, it was mainly Benoit's idea! I suspect he wanted to test my hiking fitness before our round the world trip.
The Säntis, not an easy hike?
My grandfather told me it was still rough. I felt in his eyes that he thought it was going to be too difficult for me. Well, at the same time, I don't really have a reputation for being a great hiker in my family. It is a side that I deliberately keep hidden. Or rather, it was only Benoit who was able to find the arguments to make me walk without me complaining.
Wasserauen – Meglisalp
It is 6:52 am when we arrive at the small car park located just next to the Wasserauen station. So I explain right away, that for me, who am a fan of sleeping in, and not really a hiking fan, it was a bit of a shock when Benoit told me that we had to get up so early! 😉 In the end, the choice was more than judicious. Since it was very hot that day, leaving early allowed us to arrive at our destination shortly after noon. And so avoid walking under a blazing sun all day long. But still, for a hiking apprentice it's a shock I tell you! 😉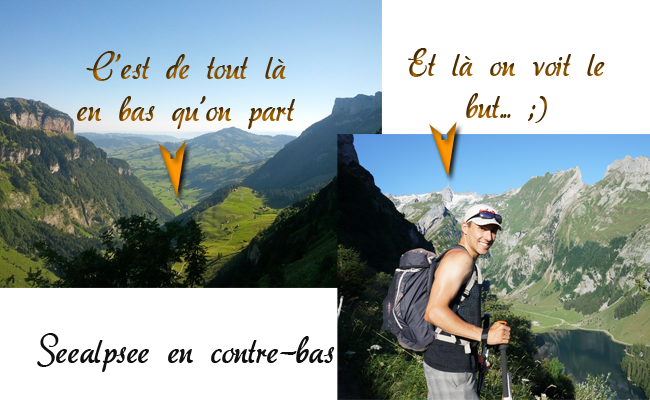 So it was at the time when I am usually still profoundly asleep that we set off for the first stage: The Meglisalp. The start is in Wasserauen which is at an altitude of 870m. Meglisalp is a small mountain pasture located at about 2 hours walk and is at 1517m. This first section is relatively easy to do. We start with a rather steep climb in the forest. Then it is a quiet walk that certainly climbs, but the path is well marked and the view is breathtaking. If you follow the same path as us, you will pass just above the Seealpsee. The view is magnificent, and even for me who am not a great lover of the void I had no problem looking down, that is to say!
Want to hike to the Seealpsee? Have a look at this blog post!
Finally it's getting flat!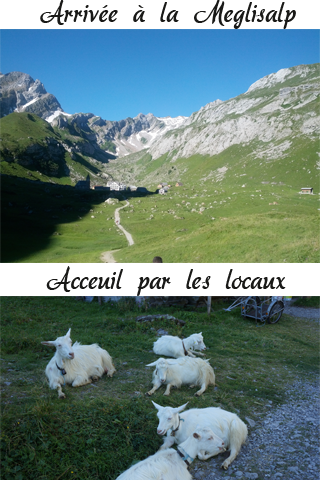 After the first rough climb we can already see our first objective of the day: the Meglisalp. It's barely 9:00 in the morning when we get here. We start to meet the first hikers who come down after spending the night of August 1st either at the Meglisalp or the Säntis. The welcome is very warm!
In addition to the small goats that enjoy life in the shade, we also met an old man who guards the animals and the mountain pastures during the summer. With his pipe in his mouth and a strong Appenzeller accent he started to recommend different routes to reach the summit.
But I explained to him that my grandfather had already charted a course for us to follow. He agreed briefly. When he learned that my grandfather was a pure Appenzellese and that he was living in Gais, he smiled. He quickly said that he would not dare to contradict him. Thus, we indeed had the best way! 😉
Meglisalp- Wagenlücke
Once at the Meglisalp you can already see the summit. And as a novice in this matter, I naively told myself:
"Well, it's okay, I don't know why my grandfather was worried about my physical condition… pfff I am going to be fiiiiine"
Well then I guarantee you that appearances are bloody deceptive!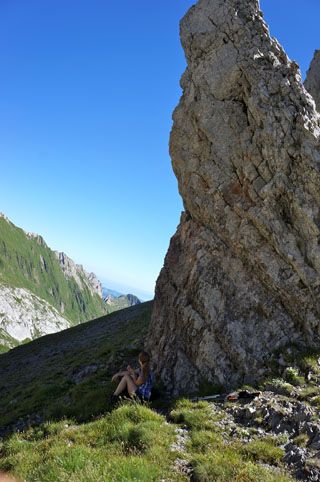 According to our little walking plan, the next step was the Wagenlücke. It is located at an altitude of 2075m, barely 500m above our heads.
500m sounds ridiculous when you say it like that, but I guarantee you that when it climbs steeply and the sun starts to hit your shoulders, it gets tougher and tougher. But well, my grandfather, just like Benoit doubted that I would make it to the top, so it was obvious that I would continue to climb as if nothing happened while keeping the smile! The smile I kept until the top, but on the other hand the small breaks to refuel became necessary! So after about 2 more hours of walking we had a little snack at the Wagenlücke. Well, I'll give you that, there's a worse place to eat your Appenzell gingerbread.
Wagenlücke – Säntis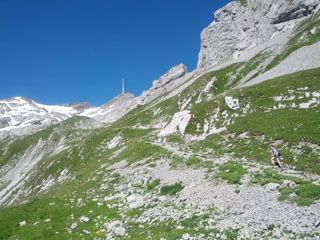 When you're at the Wagenlücke, you have the final goal in sight. And it's funny because there's a little sign that says: 1:30! That's when the low-rise hiker I am is thinking, "Huh? What? But it's "right there"….
Yeah well okay, I forgot to count the last 550 meters of altitude difference in my super-skilled calculation! 😉
From that moment on, the landscapes change. Or at least the small earthen paths give way to rock, stones and snow. It reminded me of our last trip to the Sanetsch pass, except that this time it climbs steeply! The thighs start to burn, and when you have to raise your foot to reach the "steps" 70cm above, it hurts… very much…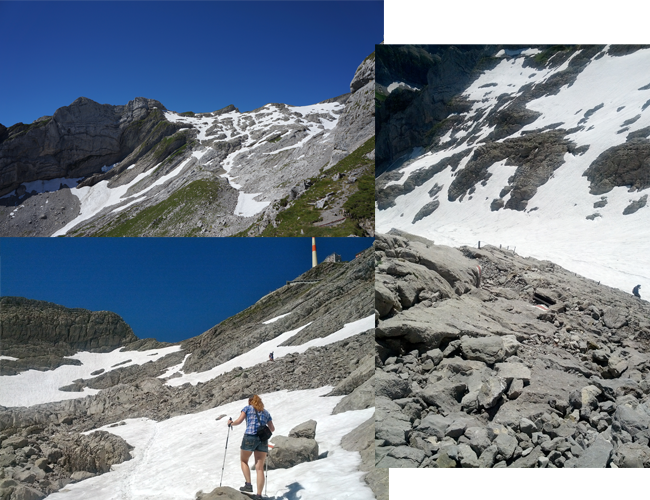 Benoit asked me if I was okay, the only thing I could find to answer him was: "Yes, I feel like Didier Cuche when he arrives at the bottom of the Lauberhorn on my thighs, but otherwise I feel fine!
But well, since I didn't want to lose face, and especially since the prospect of turning back seemed much more dangerous than finishing the effort in order to be able to enjoy a well-deserved drink at the top, I continued with a smile! Good, at the same time with such a panorama, hard not to enjoy every moment!
The arrival at the top of the Säntis
It was not quite 1pm when we set foot on the platform of the Säntis summit! It feels good to arrive, and the view is splendid! In Appenzell there is no other mountain so high, which means that from the Säntis you can really enjoy a 360° panorama! When the weather is clear, you can see Austria and Italian Tyrol, Germany and even Mont Blanc!
On the other hand, I must admit that my pleasure was a little spoiled by the flow of tourists who were on the Säntis! Yes yes you heard me, hundreds of Americans, Japanese, French and Swiss came up to admire the panorama armed with their reflex cameras and with their high heels or flip flops…
Because yes, there is a cable car coming to the top…. In short, I don't care, all this happy little world didn't manage to ruin my pleasure, I went up on foot guys, HA! I deserved it more than you to drink my 8€ beer (yes yes yes Swiss special tourist prices in the mountains)….
But come on, let's be honest: I was glad there was a cable car! Even if paying 32 CHF to go back down to the cabin really shocked me, I admit it, I'm not yet ready to go back in a day, my legs would probably never have recovered… So thank you little cable car for being there for me!
Hiking to the top of Säntis
duration : about 5h to 6h from Wasserauen to the summit. For the descent count 4h30
ascent : 1700m
descent : 0m (sorry…)
difficulty : Up to Wagenlücke the difficulty is average, but the last end is quite steep so you really need to have good shoes and a not too bad physical condition
How to get there:

By car: By car go to the Wasserauen car park. To return to the car you can take a post bus from the arrival of the cabins to Urnäsch, then a train back to Wasserauen
By public transports: By train directly to Wasserauen, the departure point for the hike is 2 steps from the station

price : Cabin to go down: 32 CHF/person for the descent only…. If you have a 1/2 price or a general abonment in Switzerland: 16 CHF for the descent. For a round trip in the cabin, they charge 43 CHF in normal fare and 22 CHF in half fare or with a general abo (GA).
Hiking Map:

Have you ever thought about going on a short holiday in Appenzell? If not, now is the time! 😉