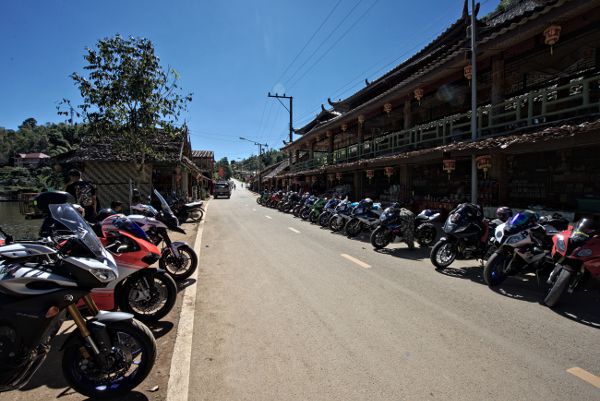 In the last article, we explained how best to prepare the Mae Hong Son Loop when leaving Chiang Mai. Today we will show you a slightly more visual article in which we will share our favorites on this little road trip in northern Thailand.
Before moving here, we knew there was a lot to do around Chiang Mai, and that we were probably going to enjoy the scenery. But we didn't expect to get such amazed during this 6 days road trip.
Are you ready? Come on, fix your helmets, and we'll take you for an 800 km ride on the mountain roads of northern Thailand!
Update 2022
We took this trip in November 2016, but the article was completely revised and updated in August 2022. If you see any price changes or have additional information that might be relevant, please feel free to leave us a comment!
Day 1: From Chiang Mai to Pai
This first day starts early to avoid the dense traffic of Chiang Mai as much as possible. But let's face it, the first 40 kilometers are not the most exciting.
We follow the huge Road 107 which is much more like a highway than a small bucolic mountain road. But after a short hour of driving (and some cold sweats with Thai driving habits), we turn off onto Road 1095. And that, my friends, is where the real fun begins!
The road becomes narrower (understand that there are no more 2-3 lanes and crazy traffic), the long straight lines give way to a winding road and the houses and shops are replaced by rice fields and strawberry plantations (and some buffaloes too)!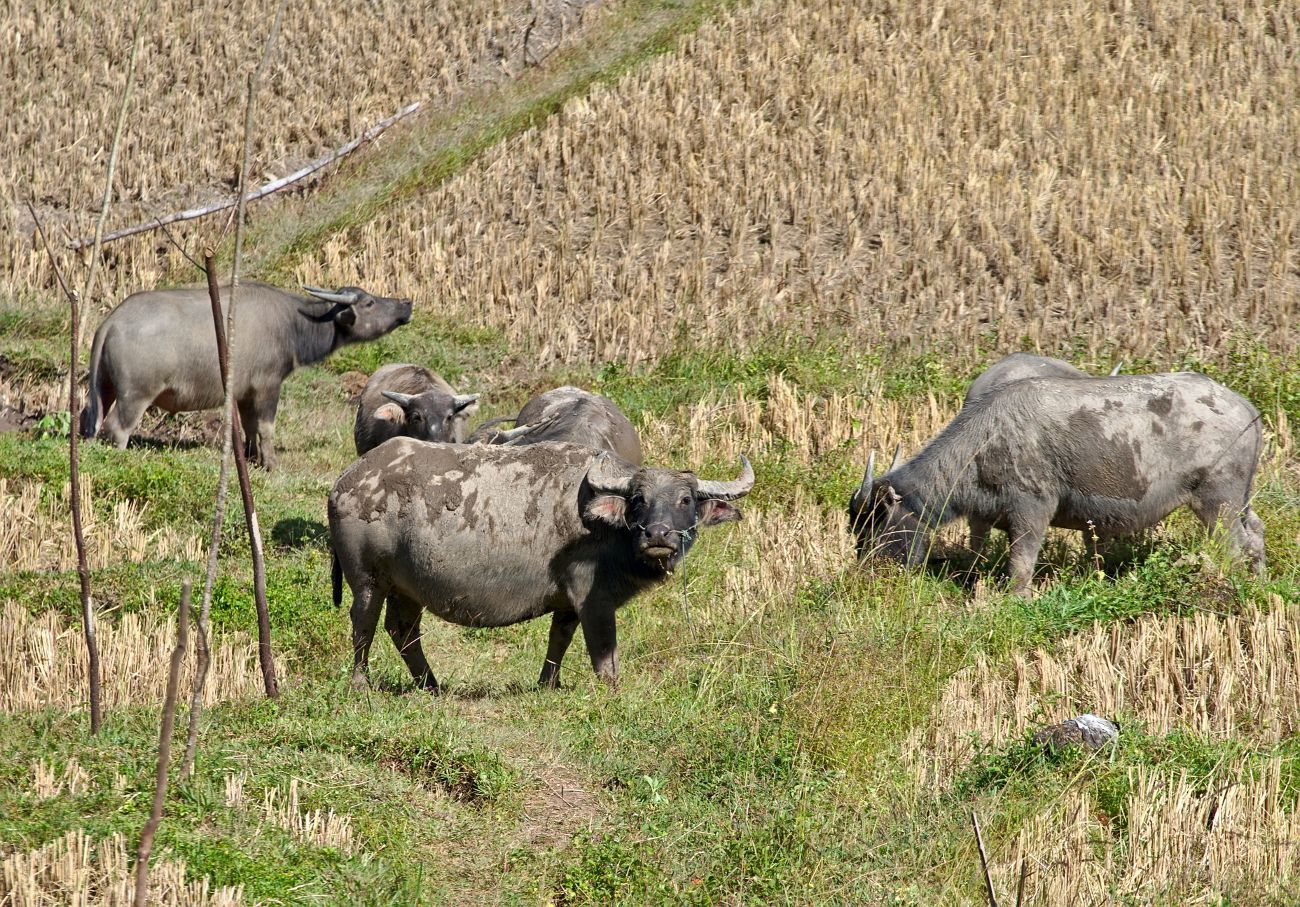 During this first day, we didn't make many stops on the way except to have a small coffee by a lake. Well, yes, we wanted to arrive in Pai early to have time to discover a little bit of the surroundings!
It was a little before noon when we arrived in Pai. We looked for a place to stay, went for a bite in the city center, and almost immediately got back on our scooter to explore the surroundings.
The must-sees in Pai
Pai is one of those places where you could easily stay stuck for several days. There's something in the air that makes it a good place to live! But if you decide to let go of the fruit shake and leave the hammock of your bungalow there are also a lot of fun things to discover. A brief overview!
The World War II Memorial Bridge
You will cross this bridge anyway if you come by road with its 762 turns, connecting Chiang Mai to Pai. So don't be misled by the name eh, but this bridge doesn't date from the Second World War. It is a monument erected in memory of an old bridge. I didn't find it transcendent, but let's say it's an opportunity to make a brief stop on the way!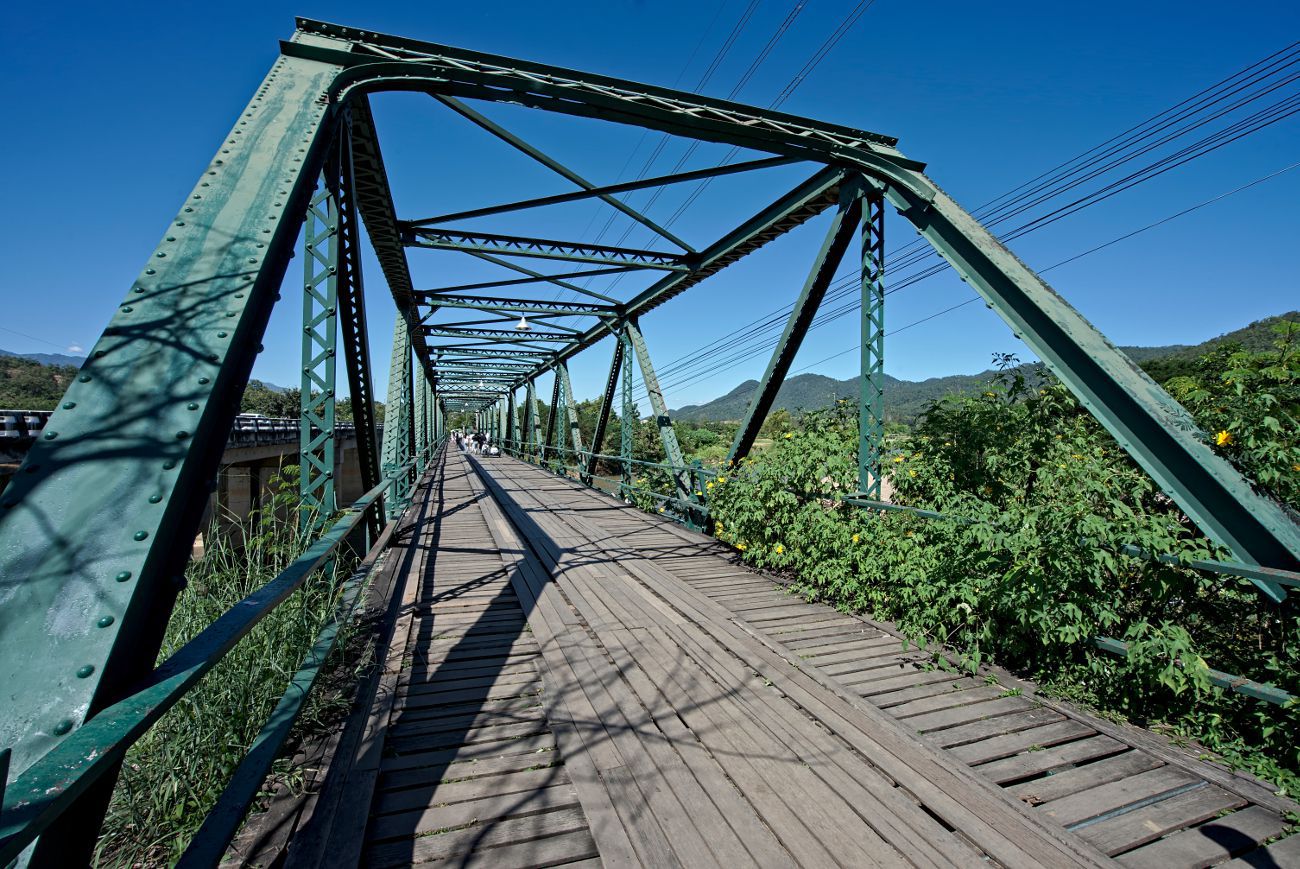 Pam Bok Waterfall
Located 4km from the 1095 road, it is a nice waterfall where you can come and swim. We found that there were a little too many people. But if your butt doesn't hurt too much yet, it's a nice little detour! The entrance fee is 200 bahts per person, but it was still free a few years ago…
The Chedi Phra That Mae Yen
We didn't go there, but it can be worth having a great view of Pai and the surroundings and seeing the big Buddha statue… after climbing 300 steps! The entrance is free.
The Pai Canyon
The Pai Canyon is the spot we had an appointment with at the end of the day! When we arrived, the first surprise was to notice that the access was free, which is rare enough in Asia to be noted!
So, don't expect the Grand Canyon eh, but the place has a lot of charm! Here you can walk freely on the different parts of the site. Sometimes the trail turns out to be a little dangerous, and we will admit that we didn't dare to cross at all places.
The place is pretty, but it is especially at sunset that it becomes sublime. When the low light comes to illuminate the red rock and the sun slowly disappears behind the mountains, a very special atmosphere emerges! By the way, we noticed that several travelers had come equipped with their tents. And once the sun set, they began to set up their campsite. We admit that we were almost a little jealous! 🙂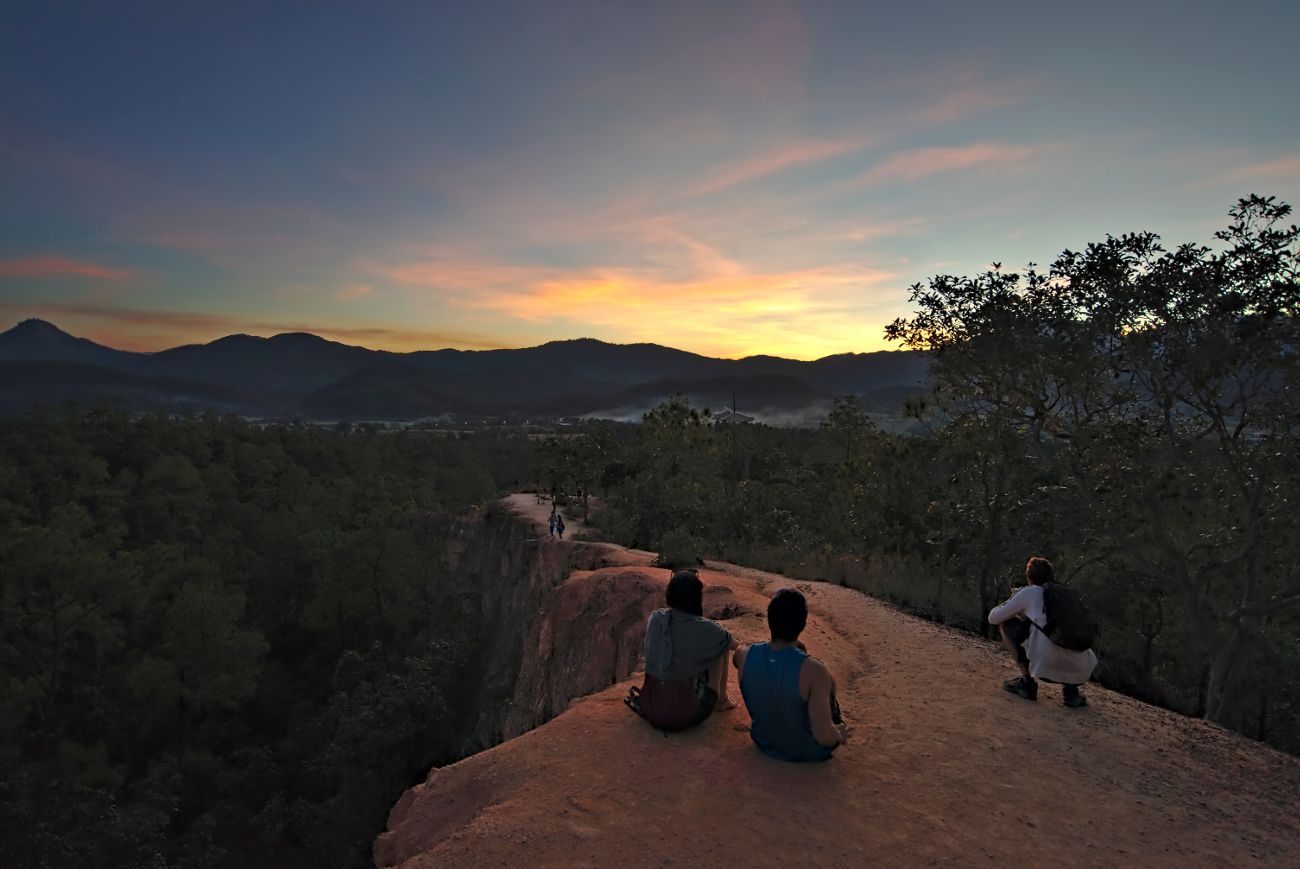 Day 2: From Pai to Soppong
On this second day, we decided to give our buts a little rest. Well, that's what we thought! Between Pai and Soppong, there are only 40 km. So after a good hour's drive, we had already arrived at our destination for the day. We took the first hotel we saw, put down our bags, and left for what was supposed to be "a little scooter ride".
Our first stop was the Tham Lot Caves! Located about ten kilometers from Road 1095, it's a short detour that's well worth it if you want our opinion.
Visit Tham Lot Caves
Before entering the caves, you must first pay the entrance fee of 450 bahts. This is a fixed price for a group of up to 3 people. It includes the entrance to the park, a guide who will accompany you for a good hour, and a tour on a small bamboo raft inside the cave. Frankly, at first, we found it quite expensive, but in the end, we don't regret a single second!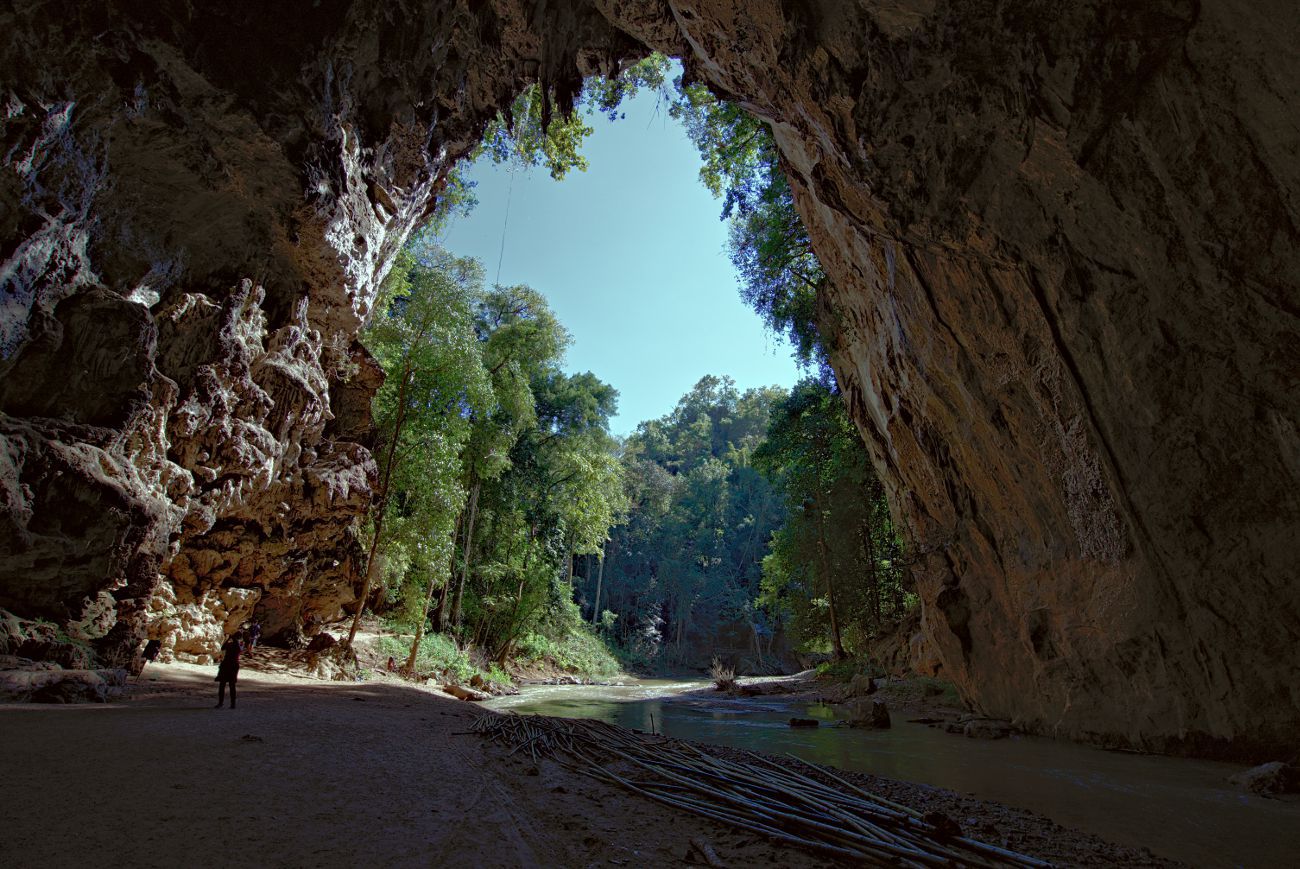 The visit begins on a small path that leads to the entrance of the cave. There, the guide lights his kerosene lamp, and we get inside. He shows us in the light of his lamp all kinds of animals taken from his imagination. The elephant rock, the shark rock, the butterfly stone… Yeah… The only one we were all unanimous on was a breast-shaped stalactite 😅!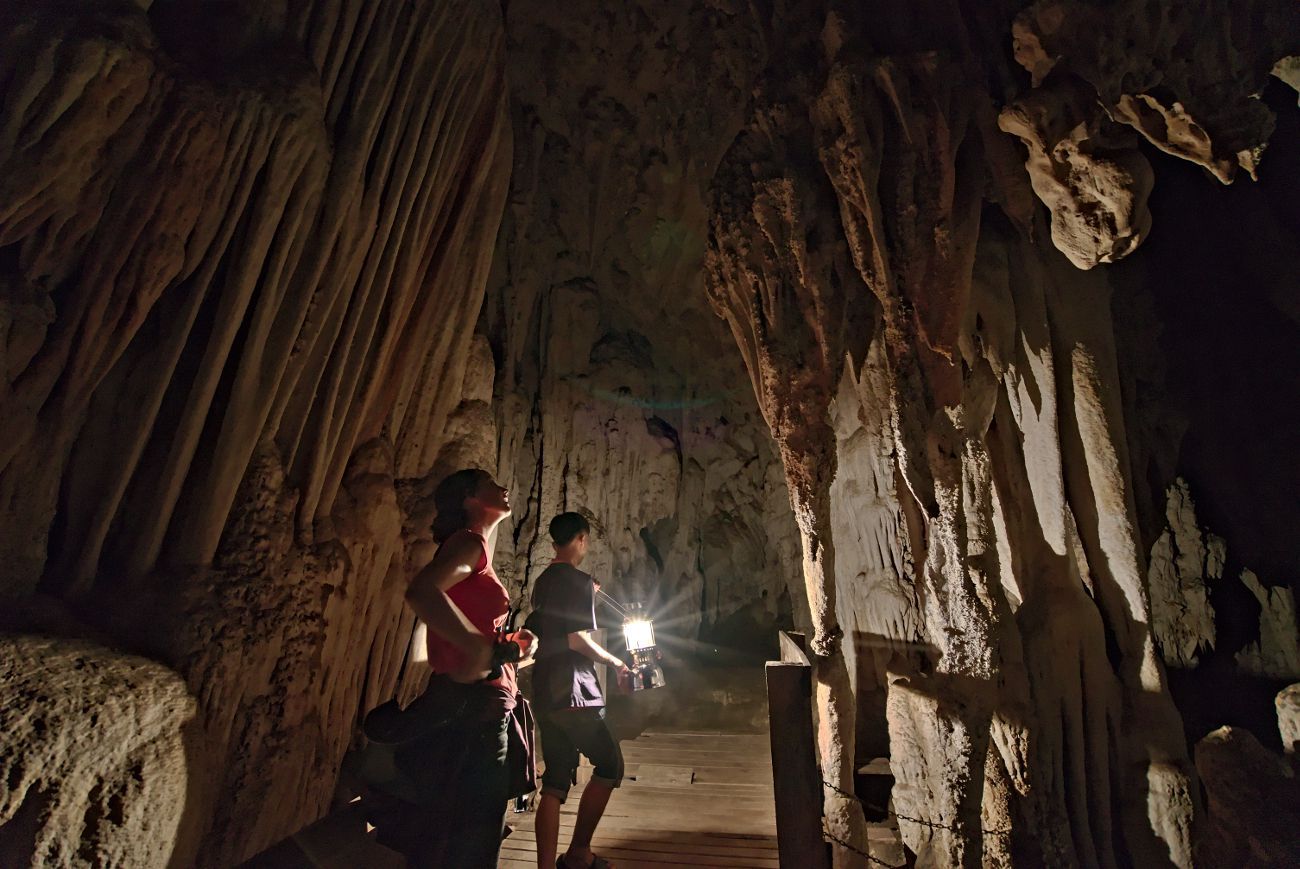 The cave visit is interrupted with small crossings of the underground lake on large bamboo rafts. Frankly, I was confident! But that was before we heard a thumping sound from a paddle that hit the water. Our guide turns around and provides light for a man standing on his small boat. He was lifting something that looked pretty massive in the water. At that moment, the guide exclaimed: "Look! Look! Water snake! Big snake!".
Yep… Well, it didn't take much more for me to finish the rest of the crossing by staring at my feet on this little raft, only 10 cm from the surface, and praying that there wouldn't be a huge snake coming out. #RealCoward
Alternative end of the visit
At the end of the visit, we have two options: either cross the cave again on the raft or walk around it by taking a small path.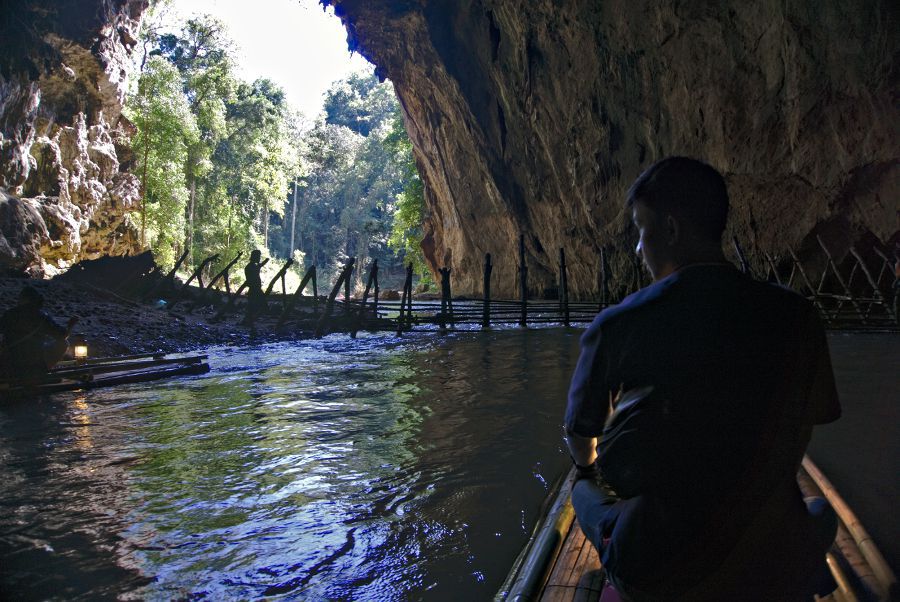 So, knowing that the guy who operates the raft has to pull the raft against the current to bring the boat back to the beginning, we decided to take the path. This brave man is already walking immerged to his waist in water where snakes have taken up residence. We weren't going to ask him to pull us in addition to this effort. And we immediately forget the option where I should have put a toe in the water, please!
I must admit that I particularly enjoyed this visit for its natural touch too! In Asia, they often tend to overkill the atmosphere by adding super kitsch-colored lights in caves. Here? A guy wearing flip-flops and his kerosene lamp showed us the way, and the small bamboo boats, simply pushed with the help of long poles and then dragged back up against the current.
We had read on the net that there could be crowdy at Tham Lot, but who knows, we were almost alone there. Over the whole visit, we may have met about ten people who were also on the road with their guide.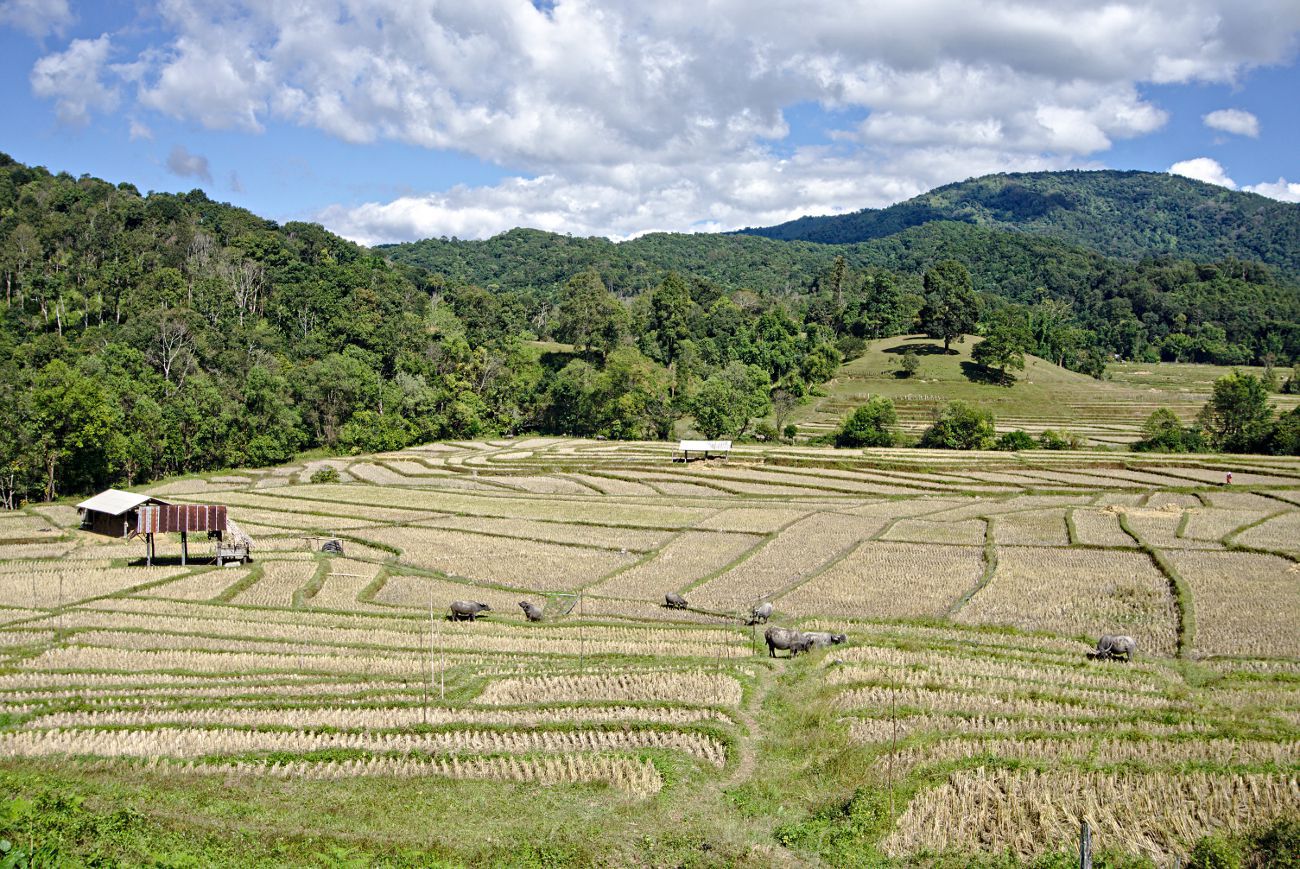 Sunsets in the Thai countryside
After Tham Lod's visit, we didn't have a precise plan. But on Google Maps, we saw that if we continued on a small road, we might be able to reach Road 1095 by an alternative route…
Hmm… How should we say… We arrived on a dirt track that was in poor condition. I had to get off the scooter because it was not manageable to ride in there with 2 people on it. While Benoit went checking out the road a little further, I got charged by a calf! I ran, I swore. Benoit came back because the condition of the track was deteriorating even more. Well, this little detour turned out to be a total disaster!
At sunset time, we had no plan as such. So we drove along Road 1095, and when we saw some nice little rice fields, we took a small road. Then, we did something we're pretty proud of: 2 sunsets in the same evening! It doesn't take much to be happy, does it 😉?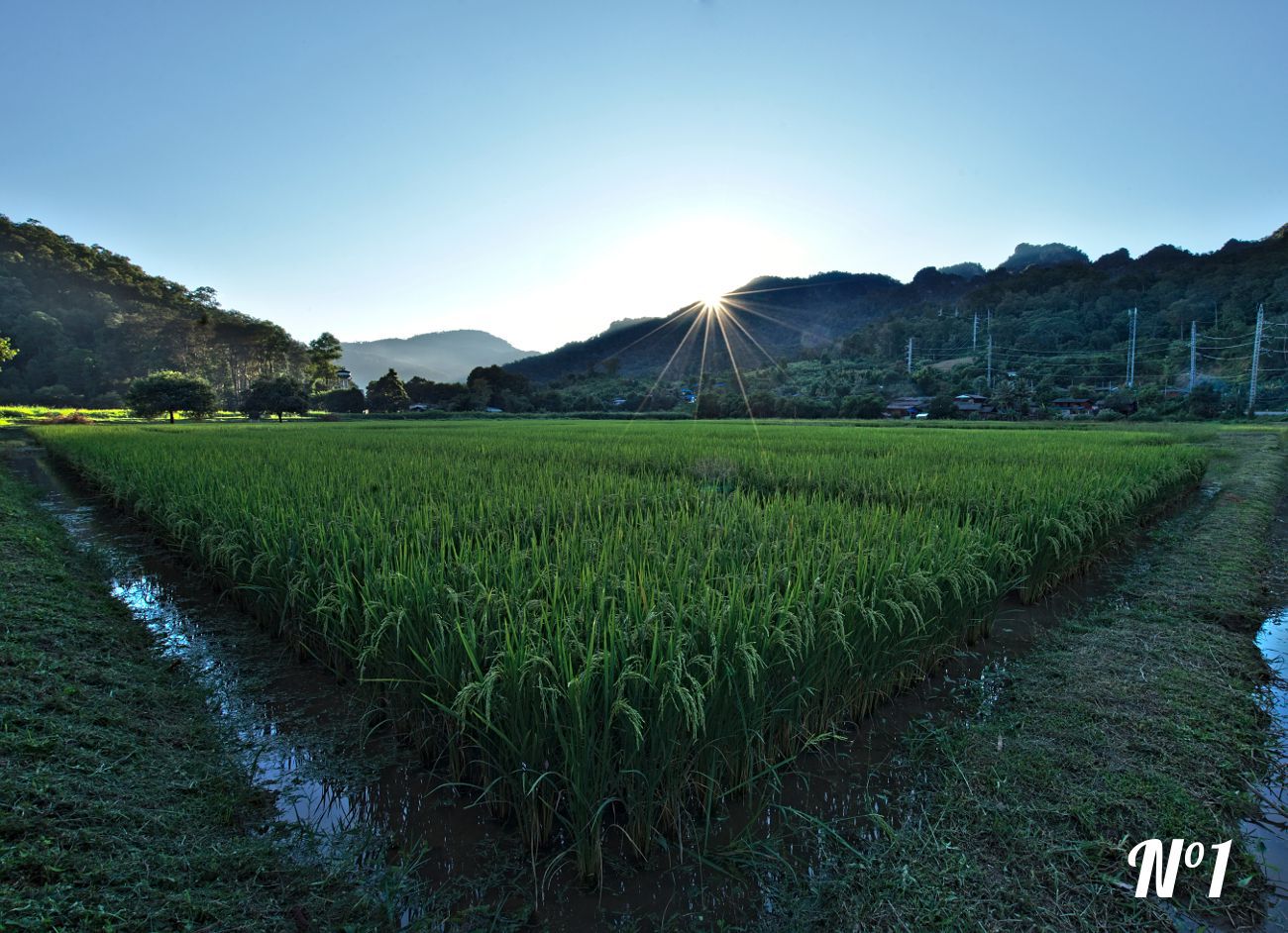 In fact, we watched the sun hide behind a mountain, then we got back on our scooter and drove a few more kilometers around this same mountain. And boom: a second sunset in one evening! Driving faster than light!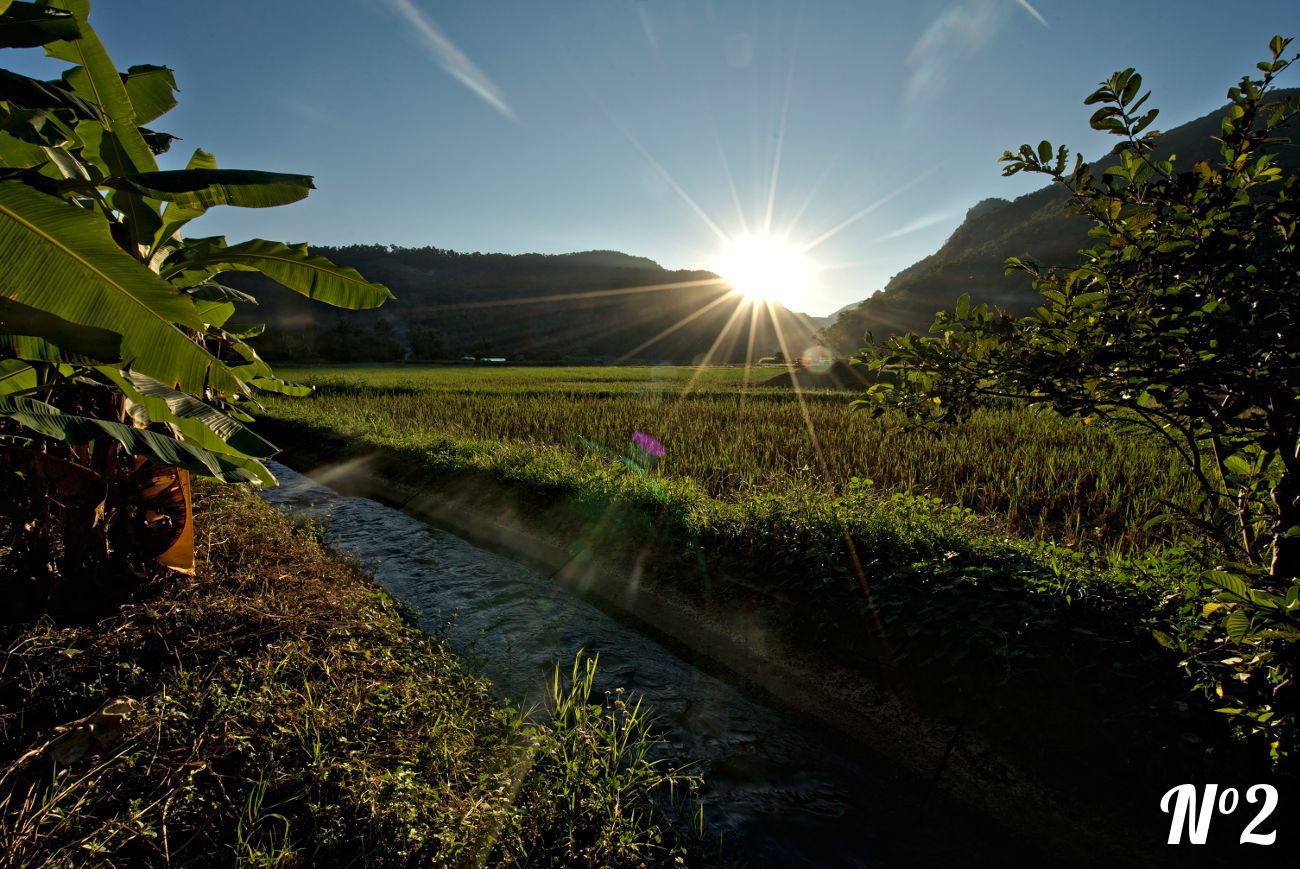 Day 3: From Soppong to Mae Hong Son
This third day will have been marked again by a "small" detour to leave the road to see a waterfall. Hmm… I should rather say to look for a waterfall. Because in the end, we will have done 5 or 6 kilometers, including on a lot of dirt tracks, but we actually never found it.
I got off the scooter again, Benoit dropped me in the middle of the jungle to go "100 m further just to have a look". Yep, well, he came back 20 minutes later without having found a waterfall but suggested we try to cross a river with our scooter. Nope! Thus… this is disaster n°2.
Fortunately for us, a little further on, there is the Pha Suea waterfall: a beautiful waterfall located by the roadside. Well, it is not free anymore (100 bahts per person), but we liked the corner so much that we will return the next day (we will get back to it later in this post). By the way, the ticket for this waterfall works as a package and offers the entrance to the Pang Oung reservoir and the Tham Pla Fish-hole cave. We did not go there, but they are located respectively on the road connected to the one leading to Ban Rak Thai village and on Road 1095, just before Mae Hong Son.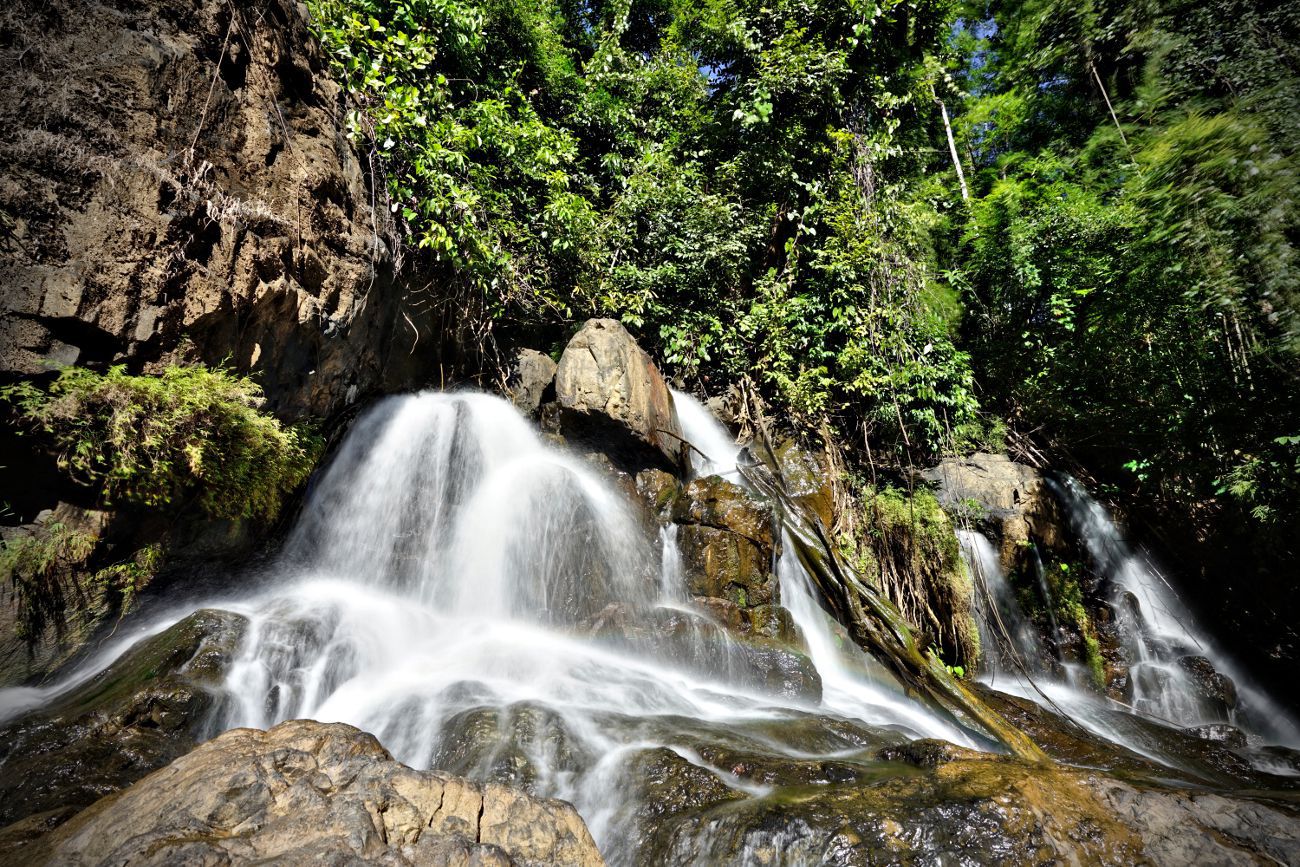 Su Tong Pae bamboo bridge
Before arriving in Mae Hong Son, we did one last stop at the famous Su Tong Pae bamboo bridge. Originally, this 500 m long Bamboo bridge, which spans rice fields, was built to connect the village to the temple on the other side of the fields. The bridge is still used by monks and locals, but it has also become a tourist attraction. We thought the visit was nice, especially since we were alone on the bridge!
We arrived at the end of the day in Mae Hong Son, with the buttocks in pieces. After putting down our bags in our small guesthouse, we walked up to Wat Phrathat Doi Kongmu. It is a temple that overlooks the village and has the particularity of having one of the best sunset spots in whole northern Thailand.
Sunset in Mae Hong Son
We could have gotten up there by scooter, by the way: there is the road leading to the temple. But after spending our days sitting, we needed to stretch our legs a little.
The temple of Phratat Doi Kongmu is really beautiful! But if you want our opinion, the most beautiful spot is still a few meters away. Behind the temple, there is a small hill on which there is an absolutely stunning view!
Take a look: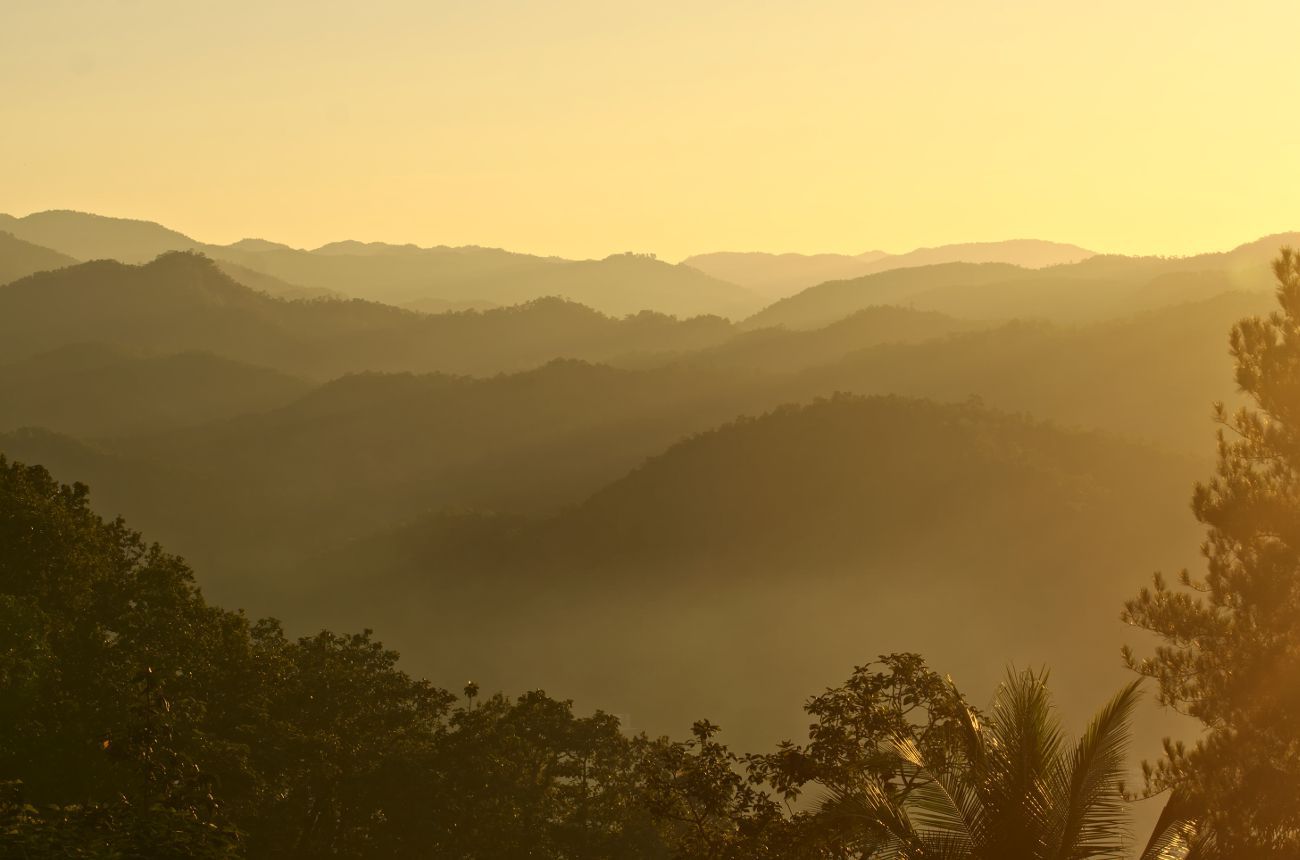 We spent the rest of the evening strolling along the docks by Mae Hong Son's small lake with Sofia and Thibault, two travelers we met at sunset.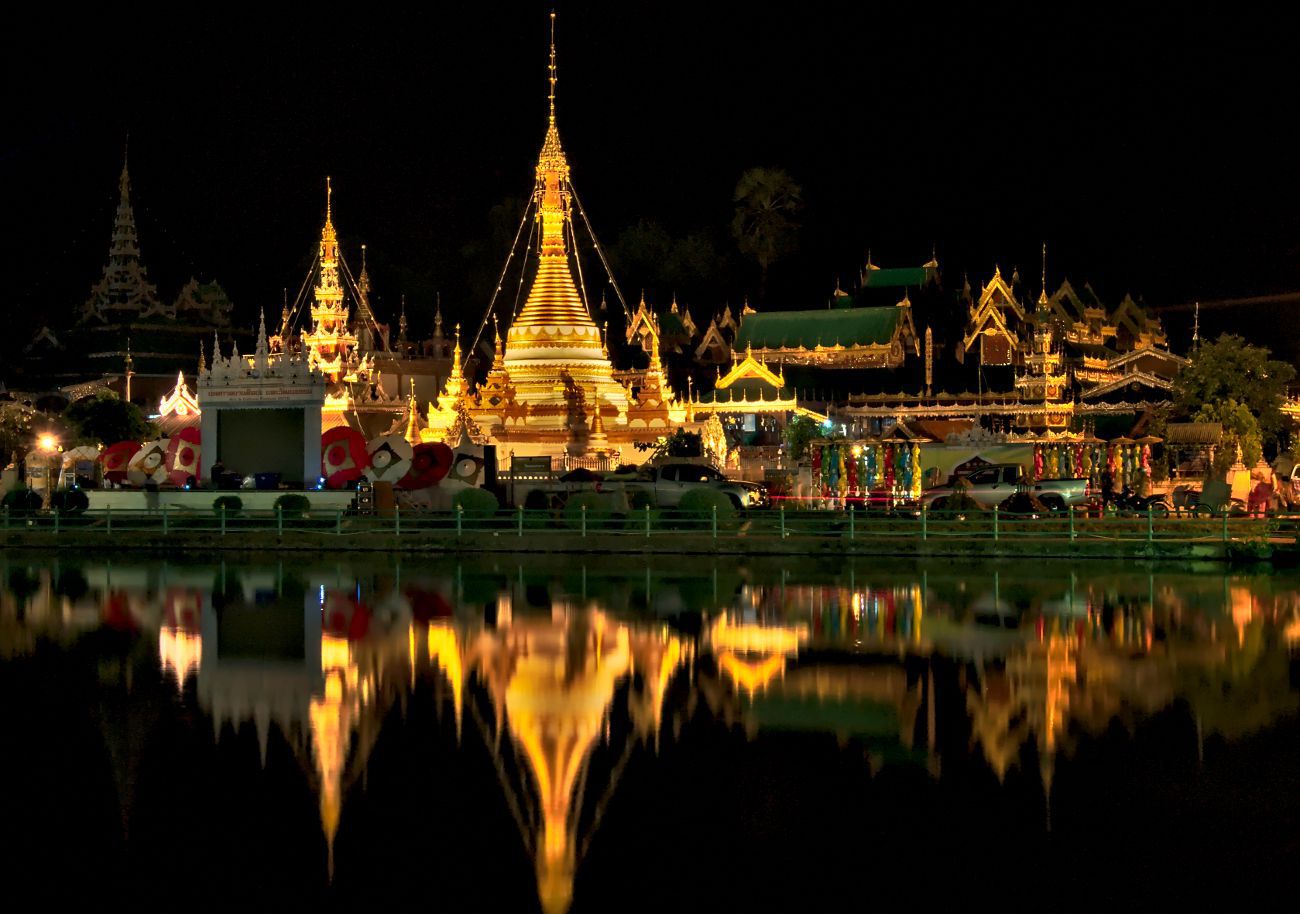 Day 4: Around Mae Hong Son
In Mae Hong Son, there are lots of things to do! So we decided to stay a little longer and booked a second night at our guesthouse before leaving on our scooter to explore the area a little bit!
For this second day, we went back where we came the previous day and went up to the Pha Suea waterfall and a little further. We had read online that it was worth going up to the village of Ban Rak Thai, a small Chinese village located less than a kilometer from the border with Burma.
So, to be honest, the road that even there is absolutely STUNNING: it is worth taking it. On the other hand, make sure to have a powerful enough scooter, because it's a serious climb!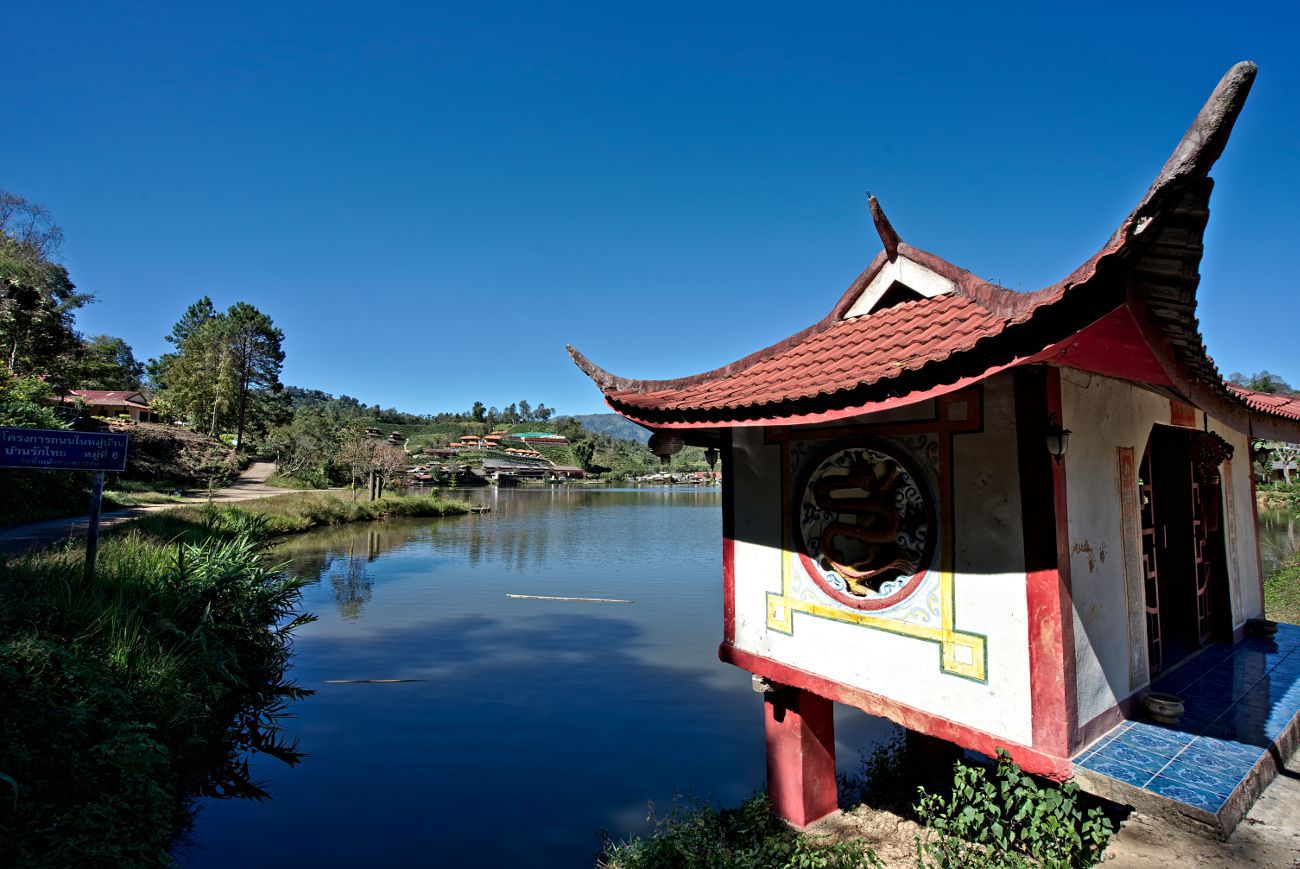 We didn't find the village itself incredible. The small lake is pretty, but the line of shops, the buses filled with Chinese tourists, and the omnipresent selfie sticks, ruined our experience a little.
In short, it's pretty, but it's just a little too kitsch for our taste…
The Pang Tong Palace
On the way back, we made a small detour to the Pang Tong Palace. Here we were expecting to see kind of a palace (oh that's okay, with the name don't tell me you wouldn't have been fooled!), it's not exactly this in the end!
It is a place sponsored by the royal family. The project is based on the desire to help local populations get out of opium cultivation and develop other skills. Therefore, the "palace" is a huge house on a hill overlooking a gigantic garden, that is very well maintained and welcomes a lot of animals (mostly in cages).
At the end of the day, we walked up again to Wat Phrathat Doi Kongmu to admire the sunset a second time before finishing the evening in Mae Hong Son where a festival dedicated to art and culture was held.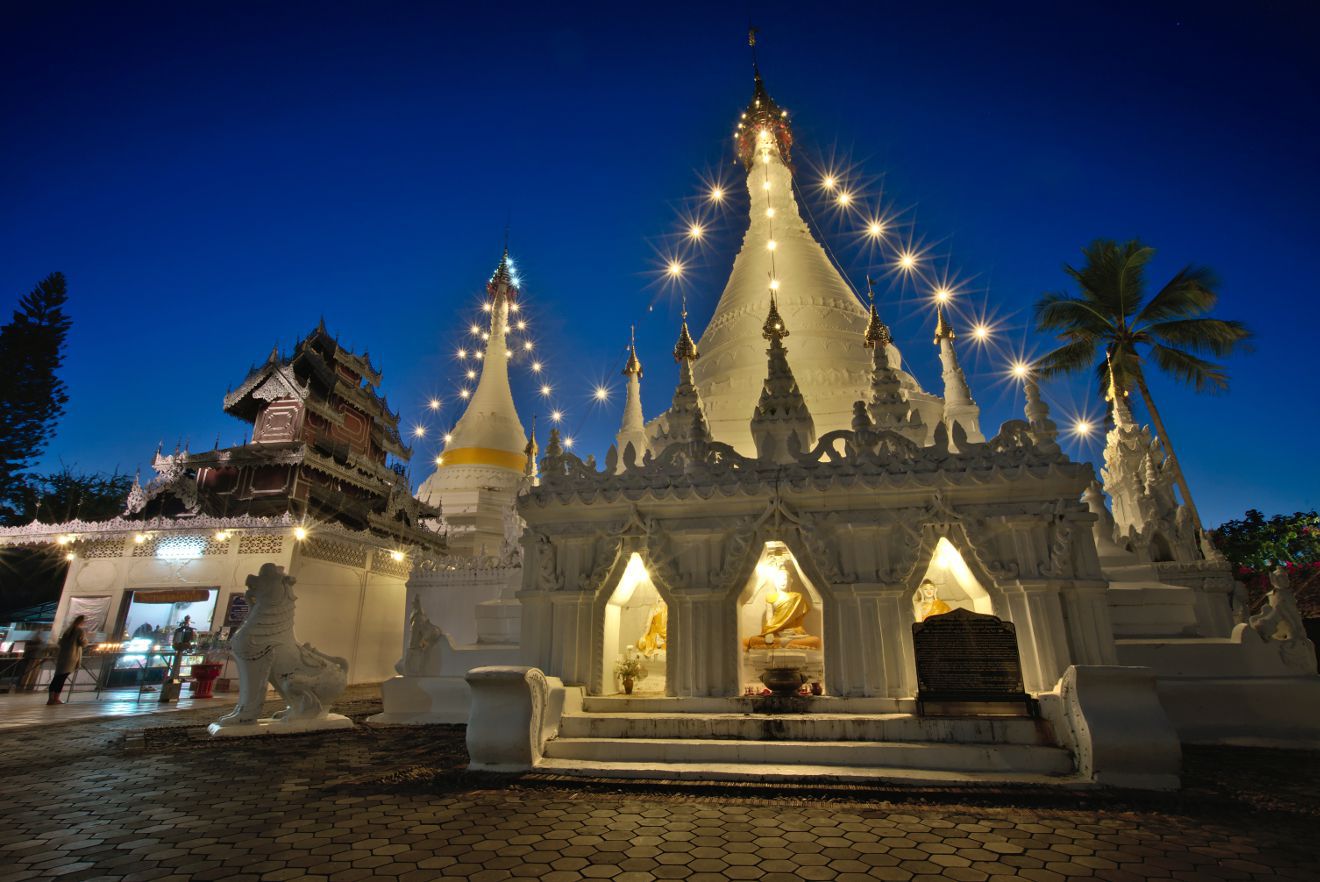 A little advice if you go up to admire the sunset: once the sun is down, don't go down to Mae Hong Son right away. Wait for a little for the light to fade and stay within the temple premises. The temple is really beautiful after dark!
Art and culture festival in Mae Hong Son
After getting back down, it was time for this famous festival. We didn't really understand because the infrastructures seemed pretty damn huge (stages, crazy lighting, sound, dance program, singing), but in the end, there were very few people! We arrived clearly late and still had a seat in the front row!
This would be a festival that takes place from time to time and not an annual festival like Loy Krathong.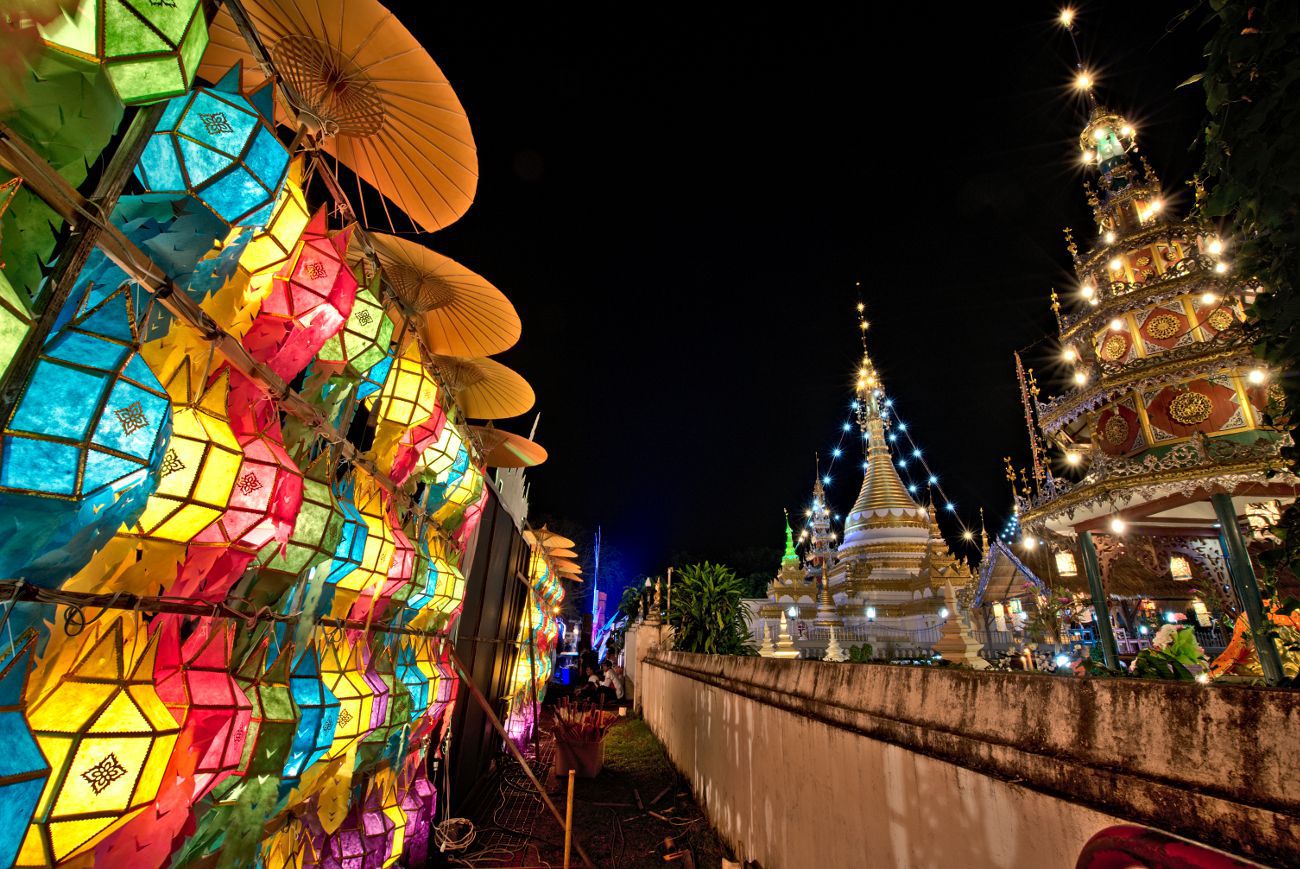 The Guan Yin Shrine-Mae Hong Son
This Chinese temple was under renovation when we were in Mae Hong Son. Now, it is open, ready to show you all its colors!
Day 5: From Mae Hong Son to Mae Chaem
We knew that this 5th day was going to be busy. We had a choice:
go directly to Mae Chaem by following the road strictly. 165 km, which is already quite a lot when sitting on a small scooter;
take a "detour" of 60 km to see the Mae Surin waterfall and the wild sunflower fields of Thung Bua Tong in Doi Mae U Kho.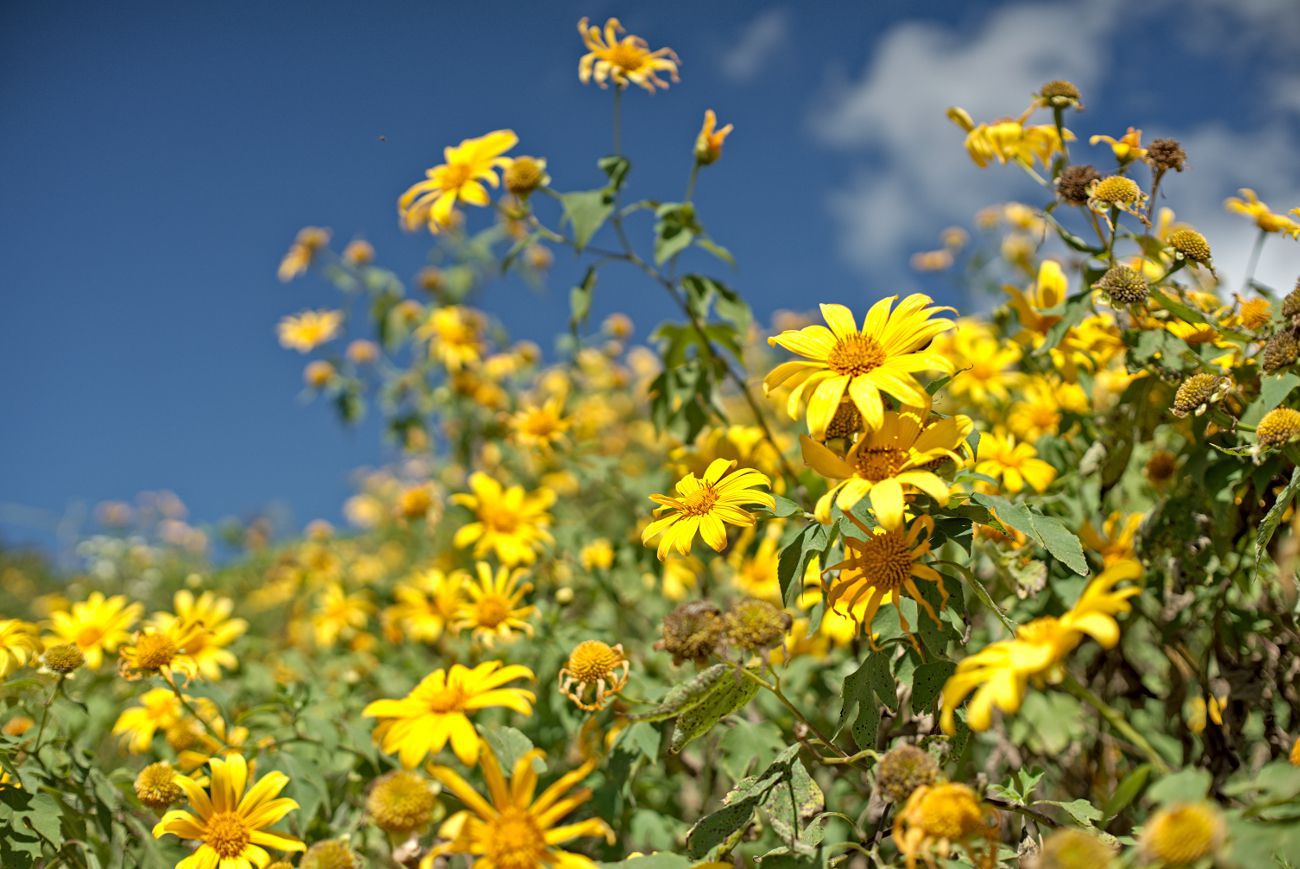 Let's face it, we hesitated! In the end, we thought it would be silly to be in the area and not enjoy it to the fullest, especially since the weather was perfect. It's not a little buttache that will stop us!
So frankly, we're really happy to do this detour! The road we took was probably one of the most spectacular in the entire Mae Hong Son loop! It climbs steep and turns a lot, but the further you get, the more amazing it becomes!
The Mae Surin Waterfall
When we arrived at the Mae Surin waterfall, we had to pay the entrance fee: 200 bahts per person.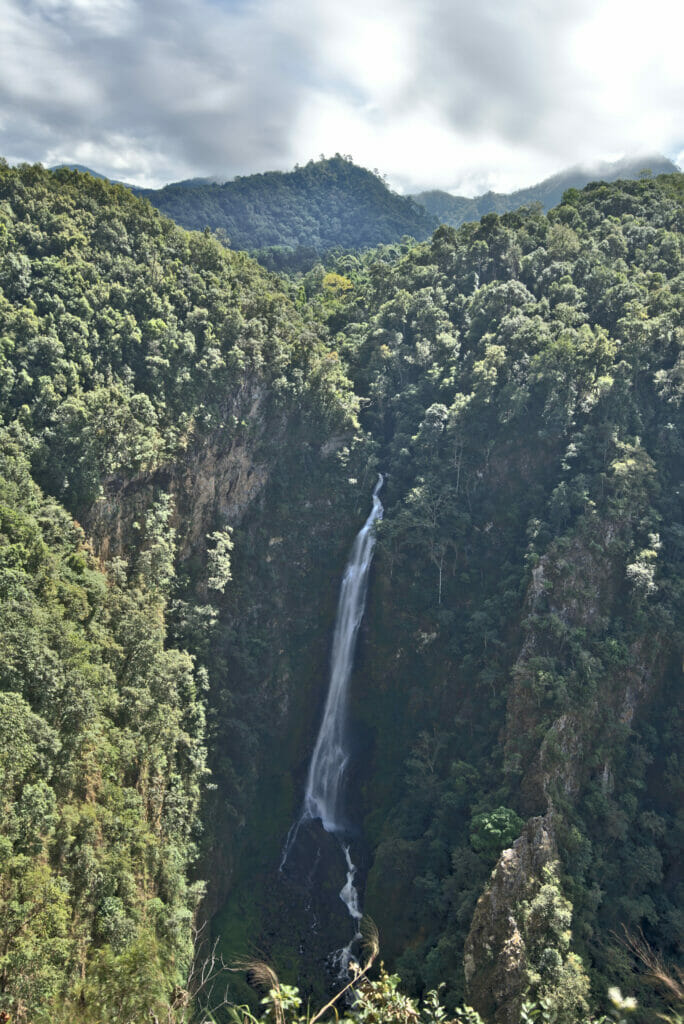 Hmm… So how can I say this? The waterfall is superb, but we were a little disappointed because the path that allowed us to go down to its foot was closed. So for 200 bahts, we only had access to an observation platform that was still relatively far away. We let you judge on the picture… this is as close as we could get to the waterfall!
In short, you will have understood that we do not regret coming here by taking this amazing road! But on the other hand, we're not sure we really recommend spending as much to see this waterfall from so far away.
Try to come here during the week! We were there on the weekend, and it is an ultra touristic spot for Thai people! We met only 3 Westerners all day long while several hundred Thai families came to spend the day admiring the sunflowers and the waterfall.
Day 6: from Mae Chaem to Chiang Mai
For our last day, we were, let's face it, a little tired of having our buttocks screwed on a scooter. We briefly hesitated to climb the Doi Inthanon, the highest mountain in Thailand. Finally, we will do it later as we spent 5 months in Chiang Mai!
Instead, we simply opted for an alternative route for the return trip. The normal route through Doi Inthanon follows Road 1009 to reach 108 fairly quickly, a big highway. So we preferred to opt for a slightly more scenic road.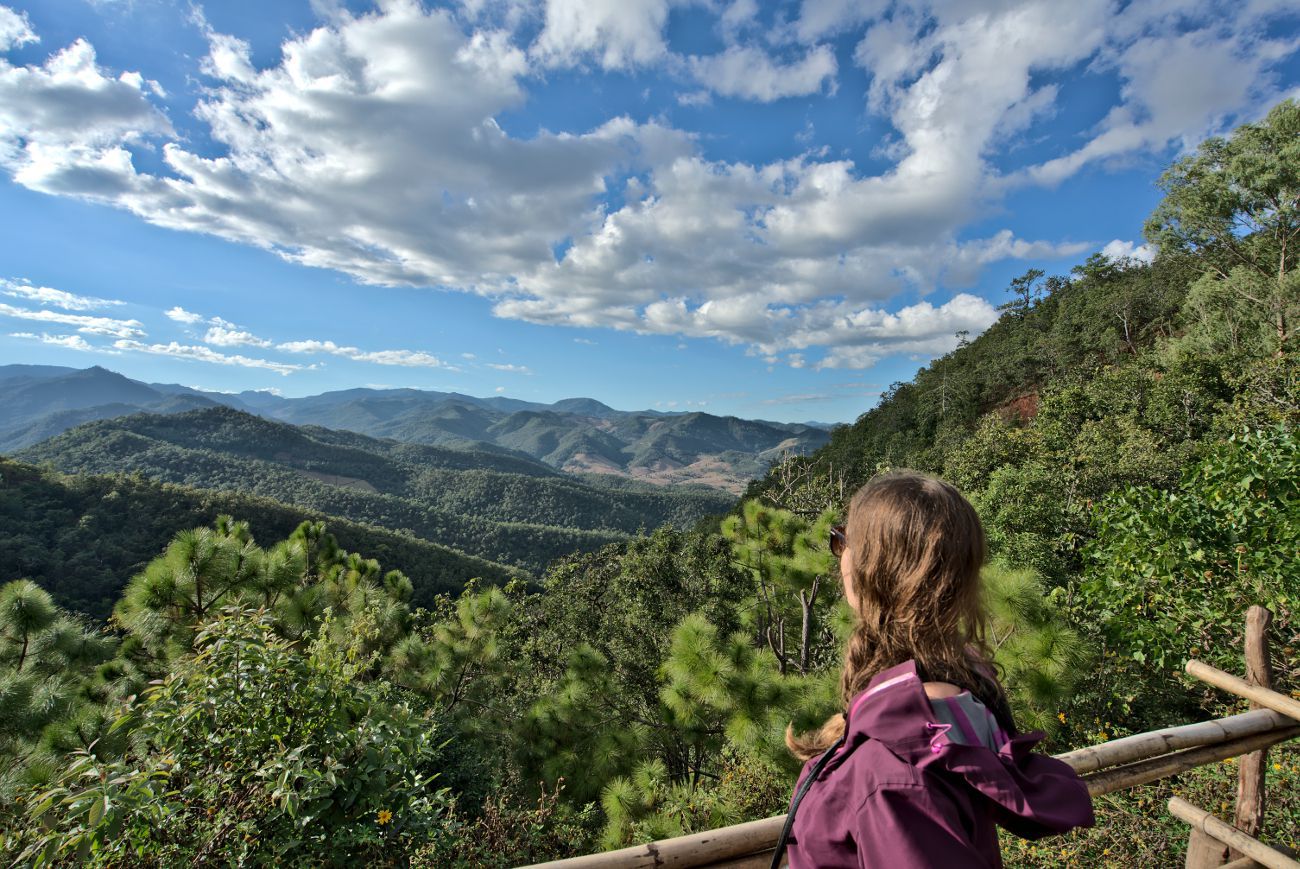 And this was a great decision! Instead of going up the mountain, we took Road 1284 and then Road 1013. This alternative is a small detour in kilometers, but it's much more scenic! We cross small villages while driving along winding mountain roads!
The detailed map of our Mae Hong Son loop
Instead of putting all the addresses, we made a great interactive map on which you will find all the locations, viewpoints, and attractions mentioned, as well as the accommodation where we slept. By clicking on the pins, you will see a picture and information about the prices.
Video of the Mae Hong Son loop
After the pictures, let's go to the video to give you a new overview of this great road trip!
That's it, the loop is closed 😉!
If you want to find all the practical information about the loop and our budget for these six days, go this way! If you have any questions or have tips on the area if you have done this loop, don't hesitate to leave a comment!