After the Rinjani volcano and the Gili islands, we head quietly towards Bali, Indonesia's main tourist attraction.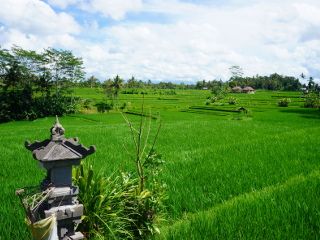 As we had been strongly advised against stopping in Kuta Bali (not to be confused with Kuta Lombok), we went directly to Ubud. Ubud is a small town north of Denpasar, known as the cultural capital of Bali with its highly refined crafts.
In Bali, everyone has a temple at home
The first thing that strikes you when you arrive in Bali is that the majority of people are no longer Muslim. I had immediately noticed that there were many temples from the bus window… In fact, in Bali more than 80% of the population is Hindu, making it a separate island in Indonesia. It is the island that represents the majority of Hinduists in Indonesia. You will see very few mosques in Bali….
On the other hand, you will notice that almost everyone has a temple in their home. In general, the richer the family, the larger and more sophisticated the temple. Sometimes the temple is larger than the living space ;-).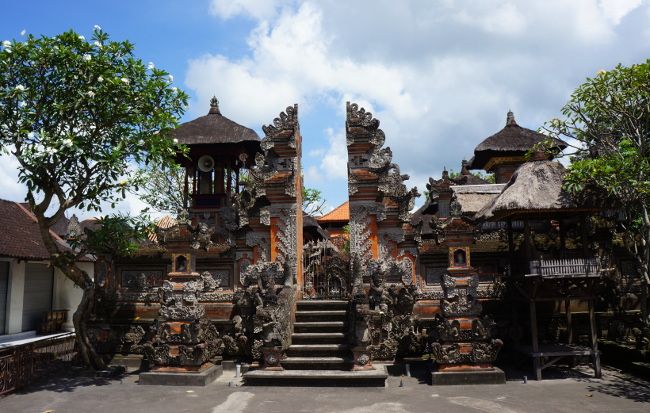 It is also very interesting to observe the rituals of offerings and prayers that begin early in the morning and take place several times a day. The Balinese (mainly women) spend a lot of time preparing the offerings (often rice, flowers or fruits arranged on banana leaves with incense sticks) and distributing them throughout the house. We can feel that this is very important for them…
Personally, I find that all these temples and ceremonies have a special charm in Bali. The atmosphere is different. People are often very smiling and friendly, houses are flowery, the air is filled with a sweet smell of incense and the temples are often beautiful. I had barely set foot in Bali, when I already had a good impression of it ;-).
Ubud: between mass tourism and crafts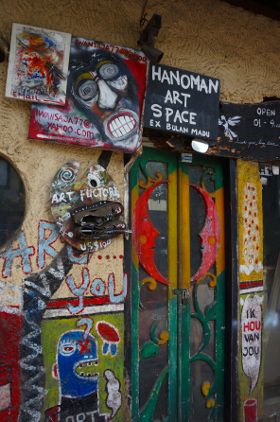 Well, I'll be honest with you, the first thing that struck me when I arrived in Ubud, before the cultural and craft side, was the frightening number of tourists who were walking the streets. It had been a long time since I had seen such a concentration of tourists in the same place (in fact, I think since Siem Reap in Cambodia… that is 4 months earlier;-)).
However, if we ignore the crowd a little bit, I must say that the alleys of Ubud are full of small shops, each one prettier and more original than the next. This is a long way from the interest-free trinkets found all over Southeast Asia! Here you will find sculptures on wood or stone, magnificent paintings, furniture, jewellery, original souvenirs and much more…
Even when you leave the town, you will still find many shops selling artworks and crafts. You can also easily observe their work. So if you were planning to go shopping in Indonesia, save your money for Ubud ;-)…. But as you can imagine, we didn't buy much on our end (our backpacks are already quite full ;-))
Things to do in Ubud
Monkey forest :
This kind of monkey-filled nature reserve is Ubud's main tourist attraction. Well, if you're agoraphobic or "monkeyphobic" (is this even a word???), don't waste your time there. However, we enjoyed our little getaway in the monkey forest.
The place is very well designed/maintained and the monkeys, although they are not really afraid of tourists, are not aggressive. However, avoid carrying food with you during your visit. Monkeys have a very strong sense of smell and will notice it immediately. They might jump on you for a banana. Otherwise, you will see that they don't want to have much to do with tourists and that they prefer to have fun/fight with other monkeys 😉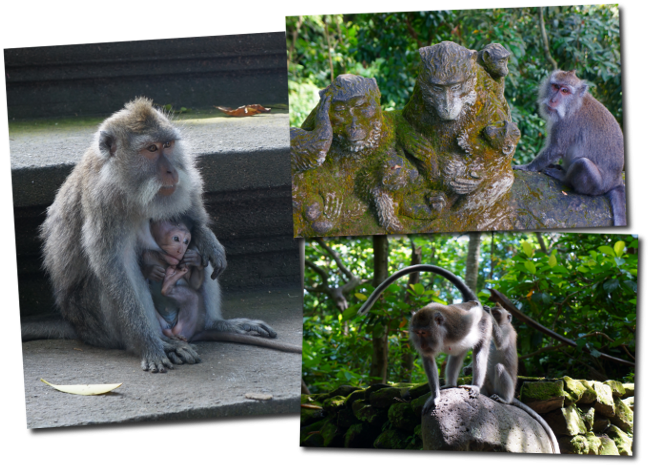 walks in the rice fields around Ubud:
Probably our best memory of Ubud! Our long walk in the rice fields that surround it. There's nothing like it to escape a little from the hustle and bustle of the city centre…. There are several paths that go into the rice fields…. After the Puri Lukisan Art Museum, take one of the alleys that turn right before the river and get lost in the rice fields.
Along the paths, there are always a few artists who sell their paintings. You will also pass by some restaurants or cafés often with a terrace in the rice fields. Moreover, we strongly advise you to stop at the Sari Organic restaurant, which offers excellent dishes and fruit juices..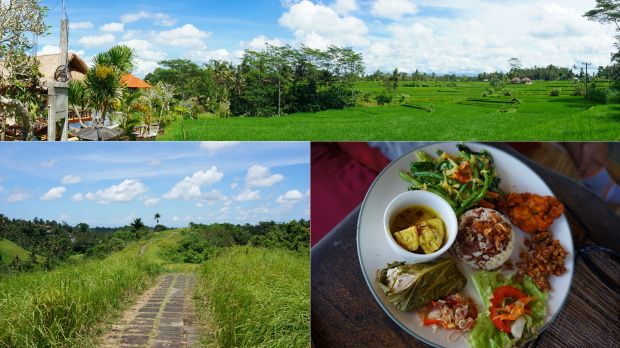 the Balinese Art Museum (Puri Lukisan Museum):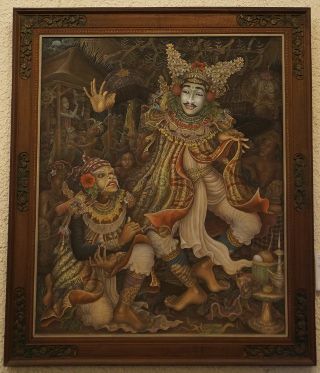 Ubud is the cultural and artistic centre of Bali. So if you want to know a little more about Balinese art (painting, sculpture), don't miss this museum which gathers very interesting works… small bonus, you will have a coffee with small sweets included in the entrance fee ;)… That's all it took to convince us!
Shopping in Ubud :
If, unlike us, you can afford to fill a suitcase with souvenirs, you may find your happiness in Ubud. As I said earlier, the shops in Ubud are very interesting and full of original objects. If I may give a word of advice, move a little away from the centre to do your shopping. You will find many craftsmen who are well established and you will also be able to observe their work.
the Balinese dance show:
Maybe because we were offered 20 times a day if we wanted to attend a Balinese dance performance, we didn't do it. Maybe this was a mistake because the Balinese dancers look beautiful. But you have to admit that being offered taxis, shows or other tickets for a show all day long is a little tiring, and thus this actually took away our desire to see a show!
Find more things to do in Ubud on Getyourguide
Where to stay in Ubud?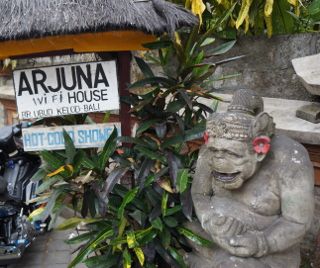 There is a whole district that offers cheap accommodation behind the tropical bar, to the right of Wenara Wana Street. For about 150'000 rupees per double room, you should find your happiness with private bathroom and breakfast (and wifi of course 😉 ).
For our part, we stayed at the Arjuna Guesthouse, which is located in this district.
There is also much more upscale in Ubud. If you want to splurge, you will have no problem finding a beautiful hotel.

Sif you wish to book a hotel in Ubud, we recommend that you visit the website of Hotelscombined. It is a search engine that allows you to compare several major booking sites such as Booking, Agoda, Expedia and many others. In short, the guarantee of the best price!
No official taxis in Ubud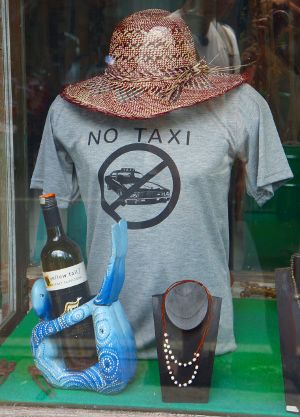 As I mentioned earlier, what is annoying about Ubud is that it is a tourist place…. As a result, there are countless tourists, including taxis. In general in Indonesia, there is a very reliable and cheap taxi company called "bluebird taxis". With them, no problem, you won't have any bad surprises. Even if you take a taxi for a long trip. Yet in Ubud, bluebird taxis are not available…. In fact, they are not allowed to enter the city so that other drivers can fill their pockets.
The same applies to public buses (the famous bémo). No one will give you any information about them! They are just as impossible to find! For example, the day we wanted to leave Bali for Java, we had to go to the Ubung bus station, located not far from Ubud. We had to take a taxi for about 150'000 rupees (for ½ hour). The rest of the trip to Java will have cost us 75'000 for 6 hours by bus and ½ hour by boat… ridiculous, right?
Infos

A good restaurant address in Ubud? : Sari Organic in the rice fields
Go to the monkey forest early in the morning to avoid the mass of tourists and watch the monkeys while they eat.
How to visit Bali? Rent a scooter to visit Ubud and its surroundings… it doesn't cost more than 40'000-50'000 rupees per day.
When to visit Bali? April and May are 2 excellent months to visit Indonesia (and Bali). It is the end of the rainy season and it is still the low tourist season.
To conclude, I would say that we still appreciated Ubud a lot. Although the place is very touristy (with the usual scams that go with it), it is relatively easy to get out of the centre to observe how Balinese people live on a daily basis (just rent a scooter in fact). In addition to that, the rice fields around the city are worth a look, there are plenty of quality restaurants or bars and the craftsmanship is interesting! It's worth a little stop, isn't it?
Note: This article contains affiliate links to partner sites. By using our links to make a booking you do not pay anything extra but we'll earn a small commission. Thanks for your support.