So today my friends, we're going to talk about a topic that's not glamorous AT ALL, but which is nevertheless a topic that comes up almost every time we talk to other vanlifers on the road (who knows why lol)… We're going talk about solid and liquid material, bad smell, litter, human waste, feces, urine… In short, as you may have guessed, we are going to talk about toilets while traveling in a van, an RV or a motorhome.
In the end, it's not so surprising that this topics comes up so often in conversations… After all, an average human (health 😉 ) produces about 300 gr of feces and between 1 – 1,5 liter of urine per day! It's certainly something that can be fairly annoying when you think about it 😉 and you can quickly lose your autonomy if you don't have a good solution to this "problem".
Even if we are not used to talk to you about the technical details of the everyday life in a van (we just told you about our van here and gave you a feedback after 1 year of vanlife here)… as it's THE subject that always comes up and there are a lot of misconceptions about it, we thought we would tell you about the toilet solution that suits us best after more than 2 years on the road (spoiler: it's the Trelino urine diverter composting toilet).
Why did we decide to buy a portable composting toilet for our van?
If we take things in chronological order, when we bought our van Dahu, there was a small chemical toilet inside that we left to its former owner (for the reasons that we will explain you just below). So when we left the first time to Galicia with the van, we had no toilet at all.
The good old shovel method 😉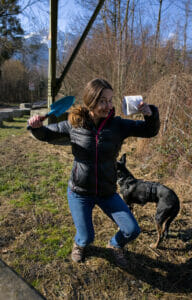 Well yes! Overall we did the same as when we are bivouacking, we did our business in nature when we were sleeping in wild spots… Nothing new for us, we had our small shovel to dig the hole when we take a dump (for more details on how to do it properly, here is a nice reading on this matter 😉 ), and to pee it is not very complicated (we simply avoided being near a stream)
And the rest of the time we simply took advantage of the public toilets, the coffee breaks or sleeping in campgrounds to use the infrastructures at our disposal.
Problem of self sufficiency in the less remote spots
Even if it is a method that works quite well, we still found ourselves a bit hindered in some situations. Typically every time we slept in less remote or even urban areas, where there were other vehicles next to us, houses in the surroundings etc… we could not really take out our little shovel to go and poop behind a tree 😉
In those cases we found ourselves looking for spots near public toilets (we used the app Park4night with the toilet filter ahah) or we simply went to campings to avoid being bothered… 😉 .
So the fact of not having a toilet had become a restriction which sometimes limited our self-sufficiency. When we came back from this first long trip with our van, we promised ourselves to find small portable dry toilets to solve this issue.
Chemical toilet VS dry toilet
Well we had already discussed about this matter with other travelers before buying a campervan and we preferred to avoid chemical toilets for the following reasons (but everyone has his own opinion!):
Chemical toilet means chemical products that you have to buy to dissolve the solid waste… So it's more expensive and not very ecological!
It is imperative to go to a service area to empty the black and grey water… In some countries, this is not a big constraint, but if you go to more remote areas, it is not necessarily easy to find service areas… so it's less self-sufficient.
If the tank is not emptied on a regular basis and/or if it is hot, several travelers told us that it could smell pretty badly.
So as far as we were concerned, whether it was for the environmental reasons or for the self-sufficiency, we did not want to hear about chemical toilets.
On the other hand, we believe that dry toilets have the following benefits:
No chemicals are required. All you need is sawdust, litter or wood shavings to absorb moisture and smells. It's cheaper and much more environmentally friendly.
Unlike what most people think, dry toilets don't necessarily smell bad.
They can be emptied much more easily than chemical toilets… but we will come back to this point in detail below.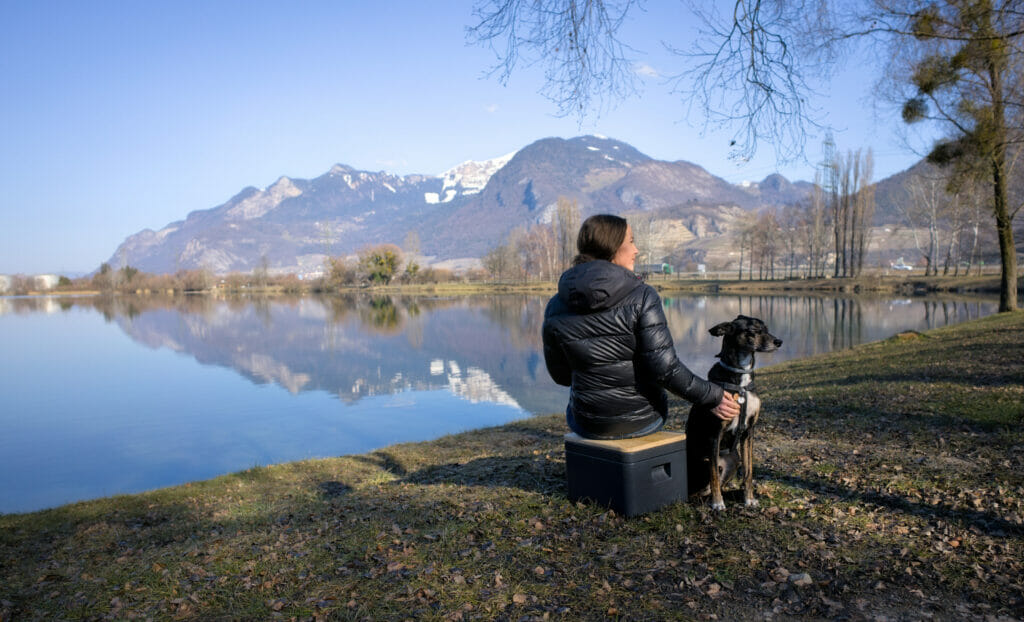 Why a urine-diverting composting toilet instead of a normal dry toilet?
That's a good question! Why separate urine from solids in a dry toilet?
In our opinion, there are two main reasons for this system:
Bad smells are mainly caused by the mixing of urine with faeces (yum yum). By separating the solids from the liquids, we avoid the first cause of unpleasant smells.
With a conventional system without a urine diverter, much more sawdust/litter is needed to absorb moisture and avoid nasty smells. With the urine separator, the liquids go into their container, the solids into another one and you only need a little bit of litter to cover the feces. This system is thus more efficient in this regard.
the components of a urine-diverting composting toilet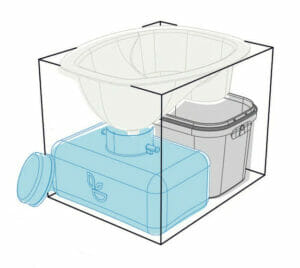 Now that you understand why it's a good idea to separate the pee from the poo, let's take a look at what a composting toilet with a urine diverter looks like (and you'll see that it's not "rocket science" 😉 )
The key part of the system is the urine diverter which is shown in white on the diagram. Thanks to this, when you sit on the throne, the solid materials will be collected in the back container and the pee is stored in the urine tank in the front.
Note: for those gentlemen who only pee while standing, with this system it is better to sit down 😉 . You'll see that you'll get used to it and it's more hygienic!
Why did we choose Trelino for our van's portable composting toilet?
So in 2021, a few weeks before we start a 2 months road trip in Brittany, we thought that it would be the right time to find a solution to this "issue" (yes, we always wait the last moment for this kind of thing). So, we started to look for a ready-made solution (as we were a bit late) of portable composting toilet with urine diverter which would fit to our van.
And that's how we came across the young German startup Trelino which was at that time maybe the only company (according to our research) which offered portable composting toilets with urine diverter especially thought for converted vehicles (in fact at that time I don't think there were other small models for camper vans).

Here are the reasons that convinced us to buy the Trelino Origin S (at the time, the EVO models did not yet exist):
Note about affiliate
If you buy a composting toilet or a DIY kit from the Trelino website through our links, we'll get a small commission and you won't pay a penny more (by using the promo code NOVOMONDE you'll even get a free accessories kit). In this way, you will support us in creating free and independent posts like this one.
Also note that we bought our Trelino toilets with our own money and Trelino never asked us to promote them. This review is the result of our own experience with our dry composting toilet after more than a year of use on the road.
compact and portable composting toilet for the van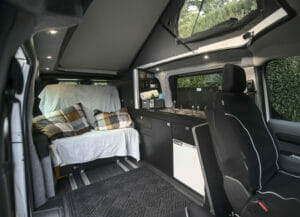 As you may know, we are the happy owners of a Toyota proace 4×4 van (nicknamed Dahu). Our Dahu is a bit bigger than a classic VW van (we have a long version)… But we still don't have the space to install deluxe toilets 😉
So we needed a compact and portable dry toilet solution that could be easily stored in a closet or in the back of the van. Thanks to its very small dimensions (28,5 – 34,5 – 40 cm), the Trelino Origin S (or now also the Trelino EVO S) seemed to be an excellent solution for our use with the van.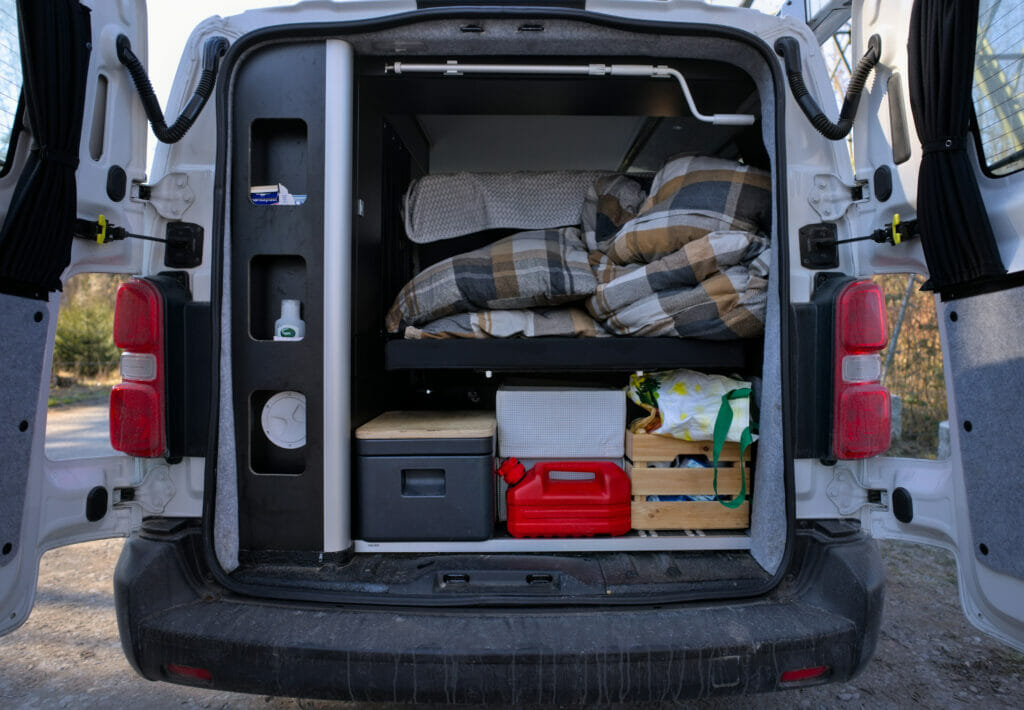 Airtight and odorless dry toilet
Dry toilets with urine diverter already prevent the formation of bad odors. But one point that caught our attention with the Trelino Origin toilet is that the wooden lid fits perfectly on the toilet seat. In addition, there are also 4 magnets to ensure that the wooden lid is always tightly closed, thus preventing any odors from escaping into the van 😉
"ready to use" and robust dry toilet
As I told you before, we were a little bit in a hurry before leaving for our road trip and we were looking for a ready-to-use composting toilet solution. We didn't have the motivation nor the time to build them ourselves!
And even if it's not "rocket science", it's not that trivial either. Indeed, the toilet tank must be made of strong materials (you have to be able to sit on it), moisture and cleaning products resistant… and the whole thing must be perfectly waterproof to avoid leaks while travelling.
In short, we were very happy to buy a "ready to use" Trelino. But you should know that if you want to save money and you are a DIY person, you can also buy DIY kits that will allow you to create your own custom urine-diverting dry toilet.
Trelino: a company with strong values
Finally, one last point that is important to us is that Trelino has great values. The entire Trelino toilet manufacturing process is rooted locally in Germany and they use quality, recyclable materials. Trelino is an environmentally responsible company and their dry toilets are built to last.
In short, even if their products are somewhat "expensive" (I put quotation marks because it's the price of proximity and quality), we recommend that you buy Trelino rather than a inferior product "made in China" if you can.
By the way, if you want to see what our Trelino looks like in video, we talked about it in this part of a video from our friends at Péripléties:
In practice, how do we use our composting toilets when traveling with the van?
Well… now that we have explained the why and the how of the Trelino composting toilet with urine diverter, we are going to move on to the more practical part… i.e. we are going to explain you how we use it on a daily basis when we travel with our van.
Well… it's honestly not that complicated but since it's a bit of a taboo topic, there aren't many details about it online. So at least you'll know everything 😉
Where do we put our Trelino composting toilet in the van?
So when we drive or when we don't need it, our Trelino is always neatly tucked away in the back of the van. This is the advantage of having a portable composting toilet, we can store it where it is most convenient when we are not using it.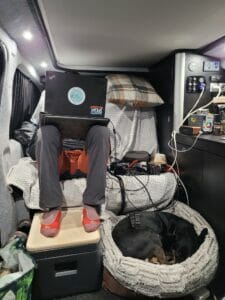 But when we feel we'll need it, we simply install our lovely little poop box 😉 right next to the dog's bed (how lucky he is our Winchy 😉 ). When the toilets are in the van, we generally use them as footrest… and when we can leave them outside, we sometimes use them also as stool.
Well… let's face it, in a small space like a van, forget about the concept of privacy to do your business 😉 (in vans or motorhomes, there is usually a separate space for the toilet… but not in vans). If you are a couple like us, your other half will usually get out of the vehicle to let you do your things in peace (in the morning, maybe she will still be sleeping in the roof tent lol)… But let's just say that there is a small psychological step to overcome for some 😉
But now that we've passed this phase, we really couldn't do without our little portable dry toilets for the autonomy it brings us!
What do we use as litter / sawdust to cover the feces?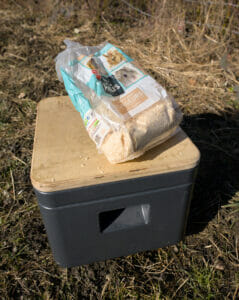 Then when we bought our Trelino, we had received a small bag of odor blocking litter that we used at the very beginning. Even if we were very satisfied with it, once on the road it is a little complicated to get such a product delivered and it remains anyway rather expensive for some litter. So, we use in general litter that we find in the pet stores or sawdust.
Honestly, we don't need much litter. Since the solids are separated from the liquids, we just need to cover the stool and that's it. You don't need to use that much because there is very little moisture to absorb.
In reality… you have to admit there are still some bad smells!
But noooo!!!! We promise you that thanks to the urine separation system it doesn't stink! I know there are a lot of skeptics out there (I've read some skeptical comments online) but trying them is adopting them 🙂 .
We had some doubts with the urine tank because we didn't see how it couldn't smell bad after a while. But as it can easily be emptied in the nature or in a toilet, you just have to empty it regularly and that's it.
Plus, I think the Trelino's airtight wooden lid also helps limit odors once it's closed.
How many days of autonomy do we have before we need to empty the composting toilet?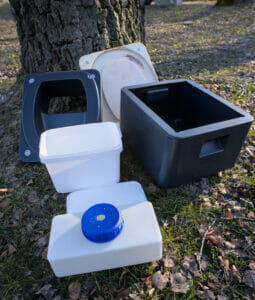 The autonomy will obviously depend on the size of the composting toilet model you choose. But in our case, with a Trelino Origin S, we generally have 2-3 days of autonomy before having to empty the toilet cassette.
I know, on the Trelino website it says 1-2 days of autonomy for the small models. But honestly we never use our Trelino toilets for all our needs. Sometimes we go in the nature, sometimes we use public toilets or coffee… it is especially the evening and the morning when we sleep in spots which are not very isolated that we use it in fact.
What do we do with the solid waste (poop)?
So in theory the Trelino composting toilet are called "composting" for a reason. This means that if you use composting bags, recycled fiber and chemical-free toilet paper (otherwise it's best to dispose of the toilet paper separately), litter/sawdust, you can simply put the solid waste bag in the compost or bury it in the ground.
But in real life, when we travel with our van, we don't have any compost available and it is not always possible to bury the bag. In these cases, we simply put the whole in a hermetic garbage bag that we close well and we throw it in a waste container.
As far as we are concerned, we don't find it disgusting because we do exactly the same thing with dog poop or baby diapers.
Do we use regular bags or compostable bags?
We had also received with our Trelino a roll of compostable bags especially designed for dry toilets (i.e. they are a little thicker and more resistant than classic compostable bags… to avoid that they break 😉 ). But once on the road, it is not necessarily easy to find some and we often found ourselves using classic garbage bags that we then threw in a garbage container.
So I would say that it is better to have enough compostable bags ahead of time (same thing for the toilet paper if you want to compost it) if you want to compost / bury your solid waste. But in real life it's not always possible to do that and you're going to have to throw it in a trash sometimes anyway.
And what do we do with the urine (pee)?
Well, for liquids it's a lot easier! When you're in the middle of nowhere, you simply empty the urine tank outside (being careful not to be close to a stream and also to places where people regularly pass by). If you're in more urban areas, you'd better empty the urine tank in public toilets or service areas.
As far as we are concerned, we empty the liquids every time we have the chance. It saves us from a potential "overflow" and also from the formation of bad smells (even if we say it again, we have never had bad smells with our Trelino).
How do you go about cleaning the composting toilets?
For the cleaning of the dry toilets it is not very complicated either! Once you have emptied the urine, you fill the tank with water, close it and shake it well to rinse it properly. For everything else, we just use a disinfecting product to clean the surfaces that could be dirty.
Note: a useful accessory that prevents a bit of urine from coming out of the tank into the Trelino cassette (either during use or while traveling) is the membrane cap for the urine canister. It's very simple but it will save you from having to clean the inside of the Trelino all the time.
Our verdict about Trelino's portable composting toilets with urine diverter
As you can see, we are fans of our Trelino composting toilet! Thanks to its small size, it is super well adapted to travel with a van. Moreover, it is a quality product, robust, with good finishes which did not disappoint us after more than one year of use.
Même si on comprend qu'il puisse y avoir des sceptiques sur le concept de toilette sèche à séparation d'urine (on avait aussi des doutes sur les odeurs et il y a un petit cap psychologique à passer 😉 ), maintenant on pense sincèrement que c'est la meilleure option pour les véhicules aménagés. C'est facile à vider, à nettoyer, on n'est pas dépendant des aires de service et en plus c'est une solution plutôt écologique. en action 😉
In short… there is no turning back for us because of the autonomy that this system gives us!
The different types of Trelino composting toilets
At Trelino, there are 3 models of composting toilets with urine diverter:
The Trelino EVO (3 different sizes S, M or L): This is the new range of Trelino that didn't exist yet when we bought ours. As this range is entirely made of plastic, they are the lightest and cheapest Trelino.
An interesting note, the Trelino EVO S has a 1.5L larger liquid tank than the Trelino Origin S (3.5L VS 5L) for an almost identical size. Since it is the urine canister that needs to be emptied most often, this is an interesting design improvement on this Trelino.
The Trelino Origin (3 different sizes S, M or L): This is the original Trelino, sturdy with a magnetic airtight wooden cover. It was designed to be multi-functional (stool, footrest) and to fit easily into any vehicle.
The Trelino Timber (2 different sizes M or L): This is the classy version of the Trelino. With its wooden design and beautiful finish, it is especially suited for people who are willing to pay more for the design of the object.
If you have a rather small vehicle like we do and you don't have a bathroom with a fixed toilet, you will probably choose a model of size S or M. These small models have really been thought as portable composting toilets that can be easily stored anywhere (even if nothing stops you from having a place to fix them).
On the other hand, if you have an RV or a motor home, you will certainly choose an M or L model depending on the space you have available. In such vehicles, which usually have fixed toilets, there is a chance that you will choose to install your Trelino in the "bathroom" 😉 (maybe instead of your chemical toilet).
To compare the different features of all Trelino composting toilets, simply click on the button below:
Trelino Origin S VS Trelino EVO S
As we told you, when we bought our Trelino Origin S, the EVO line did not yet exist. If we had to buy a new composting toilet today, we would probably choose the Trelino EVO S for its larger urine tank capacity and its more affordable price. The Trelino Origin S fits nicely in vans with its nice wooden lid but we value the practical side more… and it's 100€ less!
What we think of the Trelino composting Toilets price
As you probably noticed on the Trelino website, prices range from 299€ (Trelino EVO S) to 699€ (Trelino Origin L and Timber L) which is not exactly cheap for poop boxes 😉 .
So is it worth the price for us?
We think so! As we explained earlier, Trelino's composting toilets are built to last. They are well thought out, convenient, with a neat design… and above all, they are made from A to Z in Germany with quality materials and according to high social standards. In our opinion, all of this comes at a price that is not out of line at Trelino.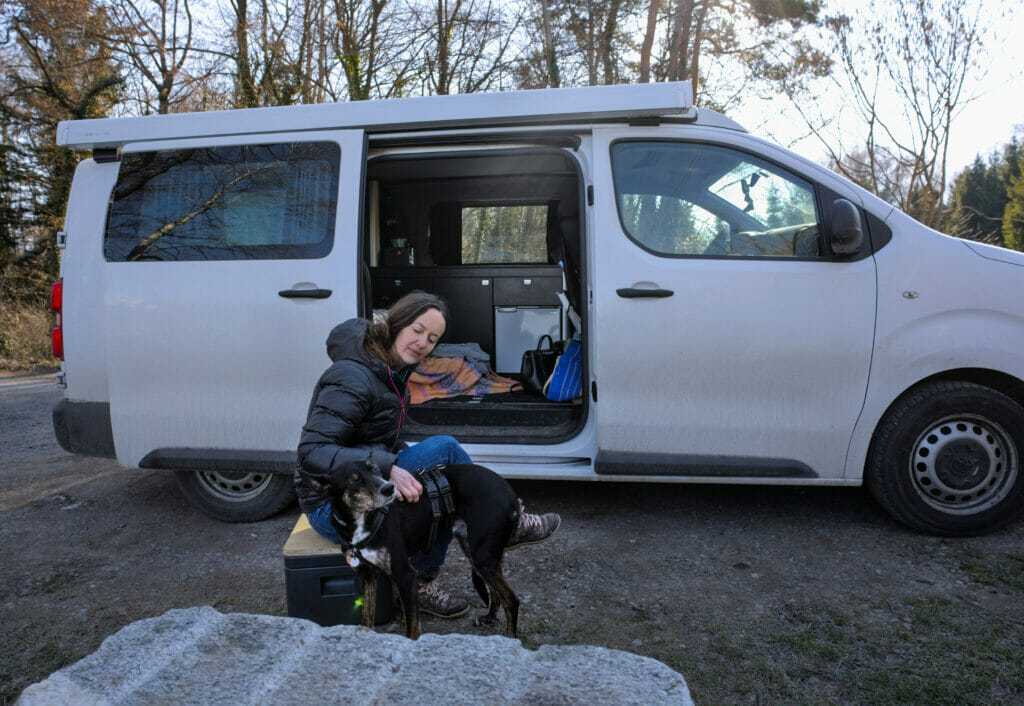 By the way, if you're more of a do-it-yourselfer (and less in a hurry) than we are, Trelino also offers you the option of building your own custom separating toilet, buying only the parts you need.
Inexpensive kits to make your own composting toilets with urine diverters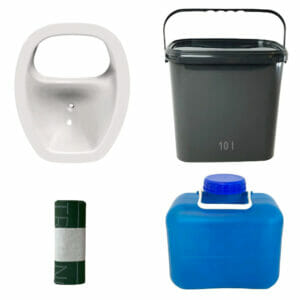 Yes, if for example you are converting your van yourself and you want to make your own custom composting toilet with urine diverter… no problem! Trelino offers various urine separators for sale individually or DIY construction kits with the appropriate tanks.
If you want some inspiration about that, you can read Charlie and Dales's experience about how they built a DIY composting toilet in their campervan.
Or you can also watch this video where Laura and Louis show you how they built their solution into their campervan.
Is Trelino the only player in this market?
So no Trelino is not the only player in the market. At the time we bought our portable toilets, the Nature's Head composting toilet was very popular in the US. Basically the operation is the same except that Nature's Head added a mixer for the solids (to improve the composting process) and a built-in fan to evacuate the bad odors (also available with Trelino… but not always necessary in our opinion). But it's not exactly the same budget.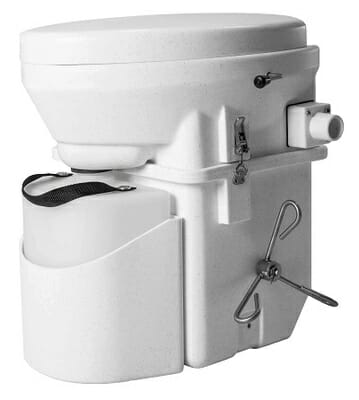 Similar to Nature's head, there are also the OGO toilets that work on the same principle. One problem with these solutions is that they recommend to use their special coconut-based litter (which works better apparently)… But then, if you really have to use their coconut stuff, it's not very practical when you travel a long time because it's impossible to find it on the road.
Finally, more in the same range as Trelino (so without the mixer and the fan), there is also the Trobolo brand which offers portable toilets with urine diverter designed for vans and CC in the same price range. On the other hand, we think that in terms of look, Trelino is a step above (but that's personal!).
I think that now you know everything about the infamous toilet in a van topic. On our side, we are 200% convinced by the system of dry toilets with urine diverter. After the small psychological barrier, it is the solution that offers us the most freedom and flexibility.
Moreover, we have the impression that mentalities are changing a little bit about composting toilets. Most of our friends who travel in converted vehicles have already changed or are thinking of changing to dry toilets… we just have to convince the manufacturers to offer this kind of toilet as standard on their vehicles!
What about you, do you prefer chemical or dry toilets?
Note: if you like the content and the work we do on this blog, don't hesitate to click on our links to buy your own composting toilets (especially since with the code NOVOMONDE, you'll get a small kit of free accessories). This is how we can continue to create free and independent posts on Novo-monde.
Pin it on Pinterest