It's already time to reflect on our first year with our van Dahu! Because yes, time flies and it's already been 1 year since we bought our Toyota Proace 4×4 van that we showed you in this blog post.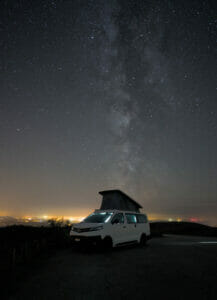 So as we told you already, we never had the ambition to live in our van all year round. For us, the van allows us to be free in our movements, to have always a home and an office wherever we are… to be more flexible in a word. But we don't see ourselves living 100% in 3 square meters, and even less since we have our dog Winchy 😉 .
And yet, after doing a quick count, we were surprised by the time we actually spent in the van this year. Since we have Dahu, we have lived between 3 and 4 months out of 12 in the van. We did several road-trips of 4-5 days when we were in Galicia this winter, we spent 3 weeks to come back to Switzerland, 1 week in the Graubunden region this summer, 2 whole months in Brittany or 10 weeks in Andalusia.
So we thought that we were starting to have enough hindsight to share with you our first impressions about this famous VanLife that is so popular on social media. In this post, we are going to share with you what we like, what we didn't like about this type of travel… but also our impressions about our van, did we make the right choices when we bought it, what we would change etc…
So let's start right away!
Traveling with a van, the ultimate luxury and freedom when you're used to backpacking
The first thing I wanted to mention is that until we had a van, we mainly travelled with our backpack, we were hiking with our tent, we travelled by bus, train etc… What I want to say here is that we were and still are rather minimalist travelers. So for us, to have a van is like really a luxury!
Honestly, now when we travel with the van we don't even ask ourselves the question of the things we are going to take with us because we have more than enough space to put our whole life in it. We have a fridge, a stove, a heater, a good electrical system… What else do you want?
I also remember being sometimes a little frustrated, in some parts of the world, not being able to visit places because of the lack of any means of transportation (in South American countries like Chile, Argentina for example). The van for that brings us an infinite freedom which allows us to move literally everywhere.
But anyway, if I mentioned this point first, it's just to make you understand that for us, having a van is already a huge step towards more comfort, autonomy and freedom while traveling. We don't need everything to be perfect in the van, as we are already amazed by the comfort and the possibilities it gives us.
To give you an example, one of the first things that we removed from the van is the big blocks which are used to have the van flat when we stop. Well, after sleeping so many nights in a tent while trekking, we don't really care if the van is slightly leaning sideways or backwards… and it's clearly not going to stop us from sleeping 😉
What we liked about Van Life so far
The freedom and flexibility to go anywhere
One of the things that struck me when we travelled in Asia was that there were buses/train/tuktuks that could take us literally everywhere. As not everyone can afford to have a car, public transport is really well developed there. Well, in Europe it's not exactly the same story and it's much more complicated to travel in countries like France or Spain without having your own means of transportation. I remember very well our hike in the Verdon gorges where we quickly found ourselves hitchhiking because of the lack of bus 😉
With the van, we free ourselves completely from these logistic constraints. We have the freedom to go where we want, to sleep where we want (respecting the rules of course). It's a great feeling to have this freedom and we can't get enough of it.
Having all your stuff always with you
While backpacking, we became pros of compromises. Only one pair of shoes for everything (long live the trail shoes), neutral and multipurpose clothes, everything that is not absolutely necessary for us has no place in our backpacks. And frankly it's a way of traveling that we still really love because it taught us all the advantages of minimalism.
With the van we can go beyond what is really necessary and take our "fun" stuff too. I love photography, I can now take all my equipment on a trip. Fabienne is not unhappy to have another pair of shoes than her trail running one. We can also have our sports stuff, 4 season clothes, some books, some bottles of wine (you start to know us 😉 )… In short, we are getting a little more comfortable! But honestly, it is quite nice to have all our life always with us.

Autonomy
That's what we already like when we hike for several days or even several weeks with our backpack and our tent: the autonomy. Of course it is not exactly comparable because when we go hiking like that, we reach places in the middle of nature where we are generally alone. We cook on our little stove, we sleep in our tent and we don't work too much (even if we often hike with our computers ahah)
In our van we have a fridge, 2 cooking stoves, a comfortable bed, an electrical install which allows us to be autonomous in energy. So we gain an "everyday" autonomy which allows us to travel and work effortlessly. And that is quite incredible!
Travelling with our dog Winchy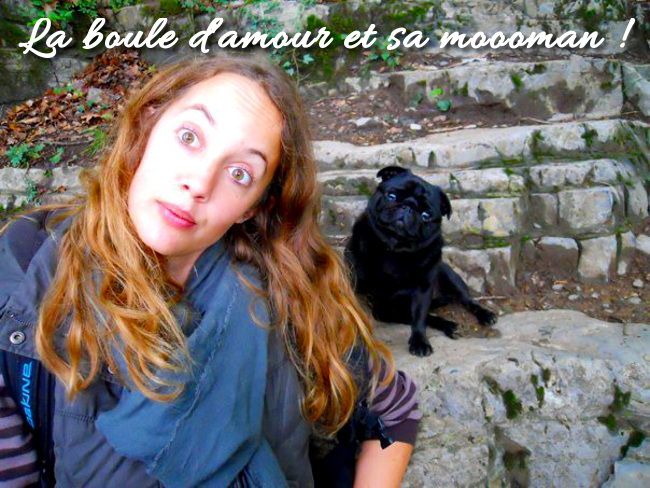 As you may know, Fabienne already had a dog that unfortunately died during our round the world trip when we were in Laos. Since then, she missed having a four-legged companion to share our adventures with.
But let's face it, backpacking with a dog is practically impossible. Many means of transportation are forbidden for dogs, not much better with Hostels, and try to add the "dog friendly" filter on AirBnb to see by how much it divides the offer of available accommodation…
Anyway, I had promised Fabienne that the day we would have a van, we could have a dog again. Ehhh well we didn't wait long because 2 months after finding our van Dahu, we adopted Winchy in Galicia. And we don't regret our decision for one second and it has been nothing but happiness since.
What we didn't like about Van Life so far
Meeting new people
I don't know if the Covid has left some marks but we found that it was not easy to make spontaneous connections while traveling in a van. After all, it's quite logical as everyone has their own van, that automatically creates a barrier which is not necessarily easy to overcome. Besides we also have to admit that we are quite Swiss for that and that we don't always dare to go towards the others because we don't want to "disturb" them in their van.
We were also frankly surprised to see the number of people who spend their evenings in front of the TV in their camping car… We do not want to blame anybody because we also spend nights on the computers to work. But we simply didn't expect that and we honestly made more spontaneous encounters when we were traveling with our backpacks.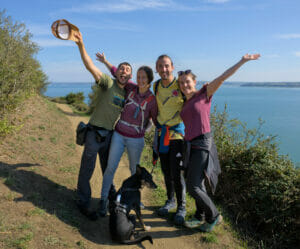 Regarding the people we met, a positive aspect of social media like facebook or instagram is that they allowed us to connect and meet easily with other travelers. We met for example former backpackers who followed us on Instagram in Brittany, we also met other bloggers that we followed for a long time. And each time, we had a lot of fun with those people and we really missed those moments during Covid.
The van's logistics
Let's face it, in a 3 square meter van you always have to keep everything tidy otherwise it quickly becomes a complete mess! Same thing when we drive, we can't leave anything lying around to avoid that everything flies at the first turn. So there is a certain routine to adopt when you travel in a van and everything must always be in its place ( it is a habit to take but it is not the most fun aspect of vanlife). Honestly we are far from the nice pictures you could find on instagram with the flowers and nice little decoration elements everywhere, all that… but you already knew that, right?
Looking for spots every day
Well, I speak for Fabienne because it's usually her who does that. Even if there is a fun side at the beginning when looking for spots, we quickly realize that it also takes a lot of time to search. Just like everybody else it means searching on Park4Night (even if we try not to use this app all the time), reading recent reviews, checking on Google street-view etc…
It also means sometimes landing in places that are not great or already full of people (this is another side of Park4Night, especially in high season), having to look for an alternative… sometimes it's by parking the van and going for a hike that we finally find the best spots.
But what I mean by that is that in the end it takes a lot of time (30 min – 1 hour of research each time we move) and that we clearly don't always find amazing spots.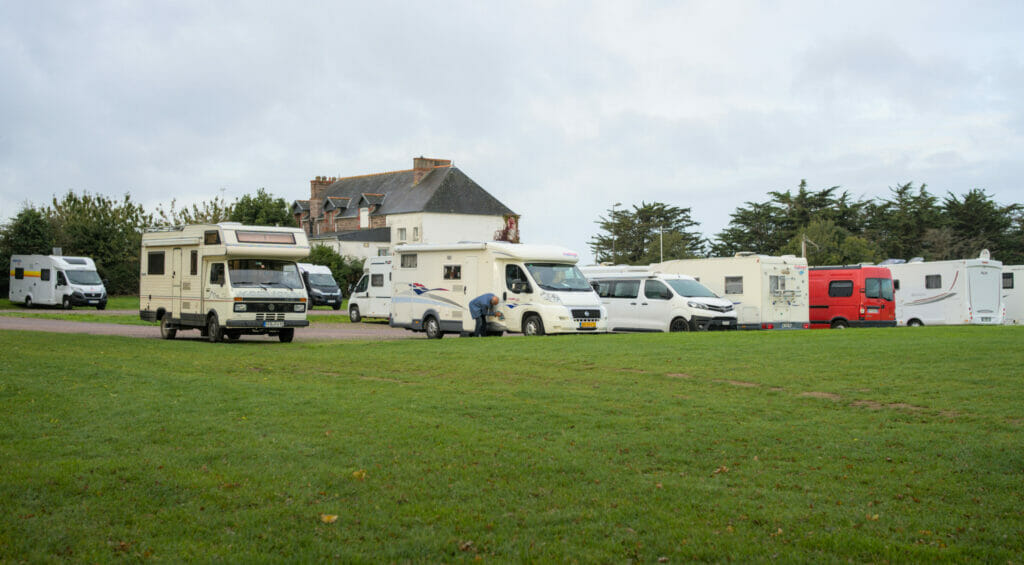 Freedom does not equal to lack of respect
Speaking of overnight spots, we'd also like to say that just because you have a van doesn't mean you can sleep everywhere. The rise of this way of traveling creates undeniable problems, especially in tourist destinations and during high season. For example, a region like the Graubunden in Switzerland has been taken over by tourists 2 summers ago, facing problems of waste / dejections in nature, noise pollution, traffic jams on access roads that take uncontrollable proportions in high season. And it is probably the same problem in many touristic places.
There are not many solutions to these problems, Regions affected by these problems need to arrange places to accommodate vans / CCs with garbage containers, toilets etc… For example, in Graubünden, the region reacted by banning overnight parking in many places and by creating a large number of facilities to accommodate travelers. But the problem is that there are also a lot of Vanlifers who do not want to follow the rules! For them, van life means sleeping for free anywhere and they refuse to park or to pay a small fee for staying in a designated area.
We have also noticed a lot of incivilities like: sleeping in forbidden spots, in natural parks, being on a public parking with the roof tent opened all day, transforming a public parking into a camping by taking out tables / chairs / clotheslines…, turning on the engine during 1 hour in the morning to heat the inside of the van and so on… So even if taken individually these things are not much, the accumulation of these behaviors makes that there are more and more restrictions unfortunately.
Personally, I think we have to accept that more and more people adopt this way of traveling and that there are sometimes rules to respect in the most visited regions. And for those who don't want to comply with them, there are fortunately still a lot of less visited places where it is very easy to find a wild spot to be alone in the middle of nature.
Review of our Toyota ProAce L3H1 4×4 van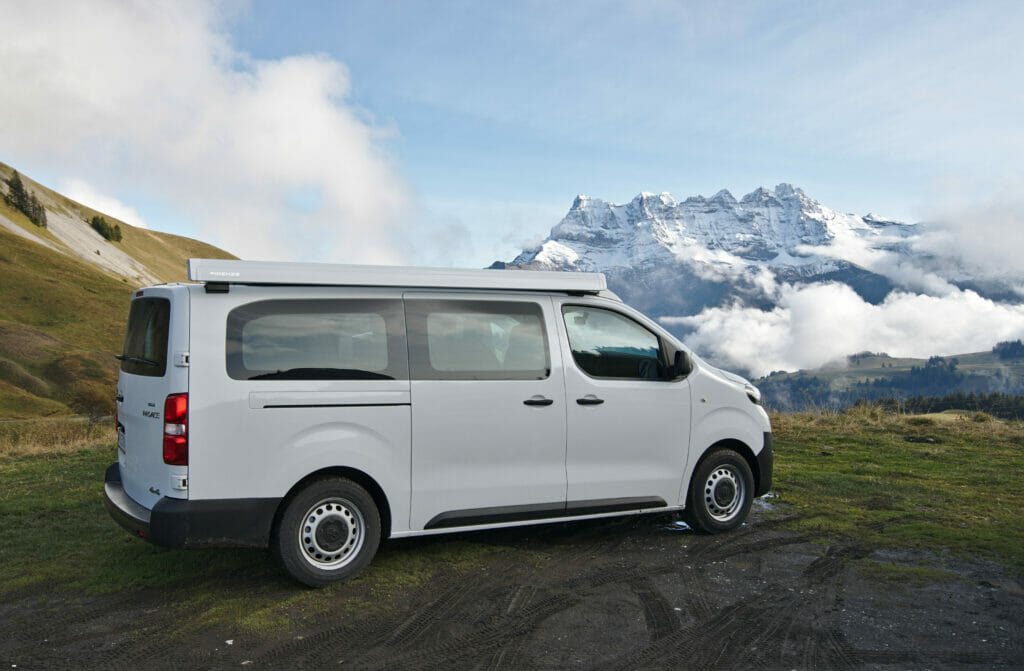 So after this first update about VanLife, let's move on to the review of our van. Before having Dahu, we had absolutely no experience with converted vehicles. So even if we had done a lot of research before buying our Toyota ProAce, we were not sure to have made the right choices at all.
It is true that we could have (should have?) rented a van to have a more concrete experience. But well, we had this opportunity which ticked almost all the boxes and we decided to go for it. Of course, if you are in this situation, with websites like Yescapa for exemple, it's quite easy to rent an RV to a private owner. So you have a way to try one or two vehicles at a reasonable price to get a concrete idea.
Motorhome or Campervan rental
If you are interested in renting an RV, we have recently created a guide that will help you choose between renting from a private owner or from a professional agency (with all the most popular rental sites and platforms).
Let's go for the review of our van's specificities:
The length L3
We wanted an L3 van (meaning that it is longer than a classic VW California) and our Toyota ProAce is 5m30 long. We are extremely happy with this choice for several reasons:
Until now we never had any problem to park because of these 40 cms extra (we were a little afraid about that at the beginning). We can go absolutely everywhere: whether it is the underground parking lots in town, in villages… As of now, we have never been bothered by the length of the vehicle.
This extra space inside allows us to have an additional large closet, which turned into a beer cellar during our trip in Brittany 😉
When the rear seats are pushed back as far as possible, we have a nice living space where we can easily put the bed of the dog while still being able to move around.
But especially when we have to sleep in the van and not in the roof tent (if the weather is very bad, very windy or very cold), when the bed is made, we still have enough space to put the dog on the ground. We also have enough space to open the fridge and use the stove even in this configuration.
Frankly, we are so glad we bought a L3 van otherwise that would have been really difficult with the dog!
the height H1
This is perhaps the point on which we hesitated and debated the most. An H1 van with a roof tent to be able to go everywhere and pass the height bars? Or a H2 van which allows to always stand inside and to have a fixed bed (and thus not make and unmake the bed all the time).
So we're not sure we have a definitive answer to that question. It is true that there are often height restriction bars on the seaside. But in general there is always a way to find a spot without those not very far. Frankly, since we have a van, we rarely thought that it would be a problem to have a higher van. It just costs more money on the highways 😉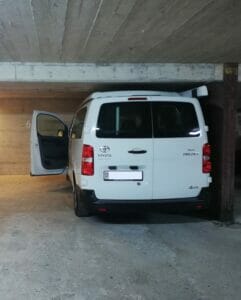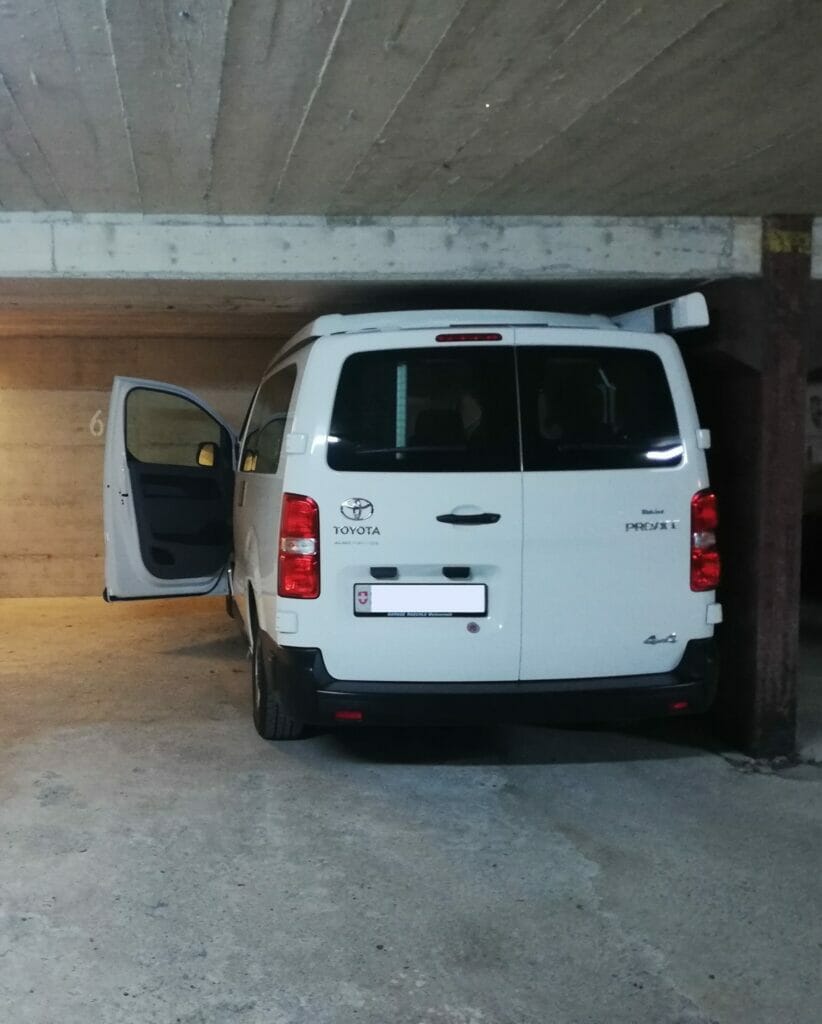 For our particular case, what made the balance sway in favor of the H1, is that the height of our garage is 2.1m. As we live in a small village in the mountains and it's important to be able to park our van inside when we don't use it (especially in winter when there's snow outside), we chose a lower van, with a roof tent.
In hindsight I would say that for people who intend to live in their van for part of the year, a higher vehicle seems to be a better choice. It's nicer to be able to stand up, have a little more space and have a fixed bed. Especially if you plan to travel in winter, when it's cold, and you can't open the roof tent very often to keep the warmth in the van.
But for our current use, the height of the van doesn't bother us too much. We still don't intend to live in our van and we prefer to rent apartments from time to time or to stop in a coliving to have more space and better working facilities. It's a balance that suits us very well for the moment. But if we were to change our mind, I imagine that we would go for something like a Mercedes Sprinter 4×4 van, which is kind of the Holy Grail of adventure vans.
The engine and driving wheels
Before buying Dahu, we had discussed with several vanlifers who told us that if they had to do it again, they would have taken a 4×4 vehicle. They said that with a 3 tons 2 wheel drive vehicle, we could quickly be stuck on wet ground or on some tracks. As we live in the mountains and we like hiking we thought that it would probably be a good idea to choose a 4×4.
Well, no regret on this side. The 4×4 has already taken us out of several tricky situations on the snow or in the mud (including one time when we would have clearly stayed stuck there). It also makes us feel confident when we drive on some tricky tracks, with steep slopes for example. As soon as we start the 4×4, it's impressive the grip we have and we are not really afraid to stay stuck somewhere anymore!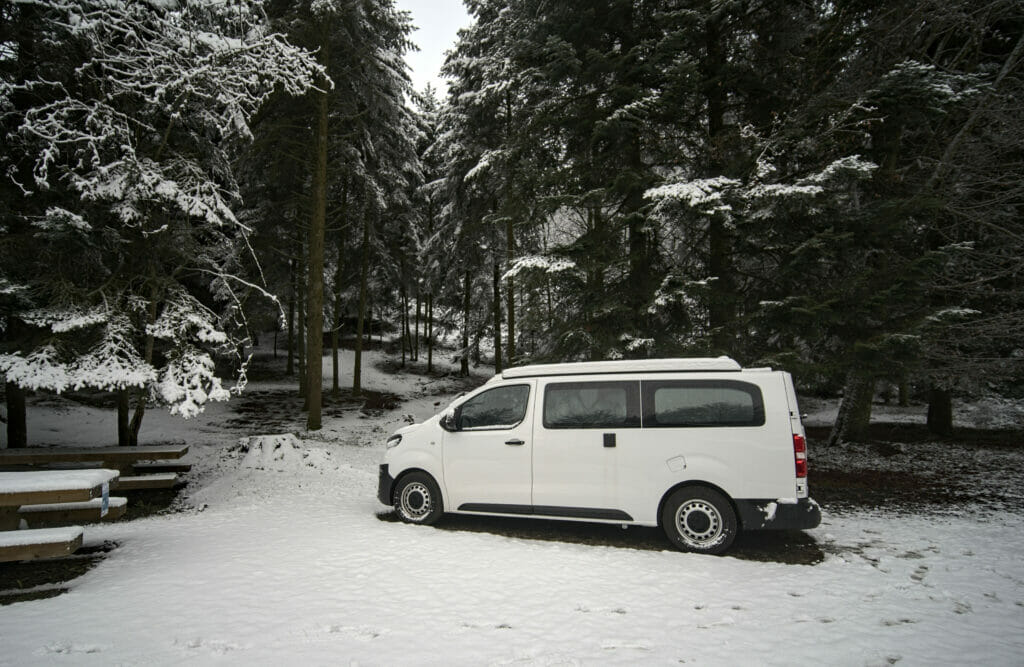 We also like the fact that we can choose between 2WD and 4×4 modes. It is important to know that on the Toyota ProAce, the 4×4 is installed by the French company Dangel which allows us to activate the 4×4 with a button only when it is necessary. As a result, 99% of the time we are in 2WD mode and the van consumes less fuel (7-8 liters / 100 kms) while when we switch on the 4×4, it consumes a little more.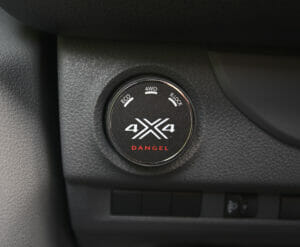 About the engine, the 150hp (370 N.m. torque) gives us enough power to climb the mountain roads where we live without any trouble.
n the end it's mostly a question of budget… it's obviously more comfortable to have a powerful engine and a 4×4 vehicle, but it's unfortunately not cheap. To give you an idea, the same Toyota ProAce L3H1 4×4 utility vehicle without any equipment still costs sth. around 35'000 euros new. It's a big investment that is worth weighing the pros and cons.
The pop up roof
We were asked several questions about the pop up roof, its model, if we use it often, if it is well insulated etc…
So we have a Reimo Easy Fit roof tent for long van. Obviously on an H1 van we don't see any disadvantage to have a pop up roof because when it's closed it adds very little height and when it's open you gain a lot of space and you can stand up in the van.
Concretely we sleep most of the nights in the roof tent. We slept there with temperatures going down to 0 degrees (with a good blanket), rainy nights and even with a lot of wind (50-60 km/h). Of course, if it's cold outside, it's also cold in the roof tent, but with a good blanket it's fine. As far as waterproofing is concerned, nothing to report so far. As the upper part is made of hard material (it's the roof of the van lol), you really need to have a lot of wind for the rain to get on the side of the tent and go through.
In the end, we don't sleep in the roof tent if::
it's really cold outside (like less than 0 degrees)
A lot of rain is forecasted for the night and we don't have time to let the tent dry the next morning. The problem if we do not let the fabric dry is that when we fold the roof, the fabric folds on the mattress which would become humid if it is still wet.
strong gusts of wind are forecasted. When there is a lot of wind it's noisy in the tent and we sleep better inside the van.
Another detail to keep in mind for the winter is that when the pop up roof is open, there is more heat loss inside the van. So in October in Brittany we either opened the roof tent just before going to bed only. Or we opened the roof but we put up the bed base only to cook (which allows us to separate the roof tent from the van and to avoid losing too much heat).
The electrical install
As we explained it to you here, we don't have exactly a "classic" use in term of electricity because we work while traveling. We have to be able to plug our 2 computers, to recharge our phones, cameras… in addition to the lights and the fridge which also work with electricity.
As soon as we bought the van, we broke a little more the piggy bank to install an additional solar panel (we have therefore a 80W and a 175W panel), an inverter charger of 800W to have 230V and especially a Victron lithium battery of 160 Ah to have a good autonomy.
We are also very satisfied with this setup! Thanks to the Victron equipment and the great mobile application that comes with it, we can know quite precisely the battery level, the charge that the solar brings us and the consumption of our connected devices, all that directly on our phone (or on the monitor in the van).
As for autonomy, we found ourselves short of energy only once! It was in Brittany and we had worked a lot during 3 days and we almost did not move (thus we had almost not recharges the battery by driving) and there had been no sun. This experience taught us that we can work about 3 days without sun before falling short of energy 😉 .
Otherwise, I think we'll optimize our autonomy a bit the day we'll buy newer computers (if it happens one day). The thing is that our old computers can only be charged with classic 230V plugs and that we have to switch on the inverter charger as soon as we work (and it also consumes energy to supply us with power). As recent computers are now charging via USB, we will have less need to switch on the inverter charger which will improve our autonomy.
In short, we are very satisfied with our electrical setup, which gives us peace of mind about our work.
The kitchen (gas and water)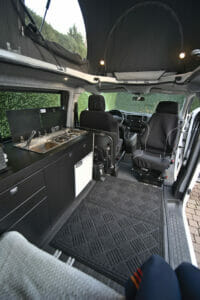 On this side nothing very special to report. We have 2 very simple gas burners. We have only one classic CampingGaz bottle (the R907) which is still not empty even after more than 3-4 months spent in the van. Well, we don't cook dishes during hours in the van but we use it nevertheless every day. We are thus rather positively surprised by the autonomy that we have with only one bottle of gas which is not so big (compared to those you can find in the CC) and it is largely enough for us.
As for water, we have a fresh water tank of approximately 30L inside the van and we don't have a used water tank (i.e. that the water of the sink goes out directly outside). Even if we use biodegradable washing product, we are often in situations where you can't really let run waste water on the ground (for example on a parking lot, in town…). So in these cases, we use a plastic tank to collect the dirty water that we empty it later in an suitable place.
We have to admit that this water setup is a bit minimalistic and that we will certainly add a used water tank under the van in the future. It would be more practical and we wouldn't have to install and remove our plastic tank all the time. Otherwise, for the moment, we haven't felt the need to have a bigger clean water tank.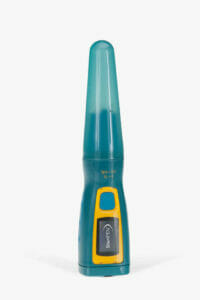 One last point about water. It is necessary to know that in general we do not drink too much directly from our clean water tank which could be contaminated by a bacteria (especially in summer when it is hot). So we have several bottles of water that we fill at every occasion. And when we have no other choice, we fill our bottles with the water of the tank but we use a SteriPEN Ultra UV to kill the bacteria and to ensure us that it will be clean for consumption.
The rear sleeper seat
If we had done a custom build for our van, this is probably the only thing we would have done differently. The 2 homologated seats in the back are cool to take hitchhikers or if we had kids… but for us, in everyday life, we don't really need them. I think that instead we would have installed a comb bed that would also allow us to have a bench and a table in the back of the van to work.
But let's face it, we're fine with it for the moment and it doesn't stop us from traveling and working comfortably. It is simply an adjustment that we plan to make one day, while keeping the possibility of putting back the homologated seats if needed (they are fixed on rails).
Regarding the softness, we have to say that when the bench is converted into a bed, it lacks a little bit of comfort 😉 . So for the moment we sleep a little less well in the van than in the roof tent. We are probably going to buy a small folding mattress that we shall put on the unfolded bench to make it more comfortable.
Condensation – insulation
For the insulation of the van, we are not 200% sure of the materials used. But we think that we have a layer of spray cork covered by a layer of a material like felt. Frankly we find that the van is rather well insulated thermally and we slept in it with outside temperatures which went down to -8 degrees in Switzerland (by heating a little bit the evening before going to bed and in the morning but by cutting it completely at night). If there are any van insulation pros out there, feel free to tell us what you think in comments.
On the other hand we noticed that when it started to be cold and that we do not sleep in the roof tent (thus with the closed roof), we can have quite a lot of humidity which condenses on the windows. We also noticed that when we leave the ventilation of our Eberspächer switched on (our Diesel heater which has a ventilation function) it's a bit better. But we were wondering if the Vanlife pros among you might have some advice for us… We read for example that there are humidity absorbers but we don't really know what they are worth. And we would not like that because of the humidity the felt starts to rot or something like that.
Heating system
We have an Eberspächer diesel heating system (like a Webasto) that works very well. Frankly we used it very little until now but when we needed it, it heated the van very quickly. If we decide to do again a roadtrip in the northern countries, it will be certainly very useful 😉 . But we have to confess that having the habit sleeping outside in a tent, the "freshness" does not bother us and we prefer in general to put our down jacket and good socks rather than to heat.
Toilet – shower
And to finish, a small thing on the toilets and the shower. Initially in the van there was a small chemical toilet which we immediately removed (for the smell and ecological reasons) and we did not have a shower either.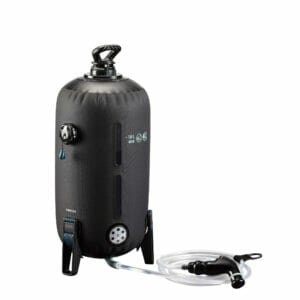 For the shower, we bought for the moment a solar pressure shower of 10l at Decathlon. Well… we did not use it yet 😉 (we have always been in campings or parking areas equipped with showers). We shall see if we bought it for nothing when we will be in Andalusia this winter and that most of the campsites will be closed for the low season.
For the toilets, we decided to do without until now but I think that we will quickly add a dry composting toilet in the van. The thing is that even if we prefer spots in the middle of the nature, we sometimes found ourselves in suburban areas where we can hardly do our needs except in public toilets. So we sometimes used the "toilets" filter in park4night or looked for spots not too far from public toilets…
Obviously if we have a van it is not to limit ourselves looking for spots close to public toilets so we would like to free ourselves from this constraint by having a small portable composting toilet just in case. It would be clearly thought as a backup but it would definitely improve our autonomy. By the way, if you have a small dry toilet model with urine separator to recommend, we'd love to hear about it 😉
Update about portable composting toilet in 2023
We solved our toilet issue by buying a small portable composting toilet with urine diverter from the German brand Trelino. Even if we had small aprioris about smells and that there is a small psychological step to overcome, we are REALLY satisfied with this solution which gives us much more freedom. After more than one year of use, we prepared you a complete review of our experience with the composting toilets when we travel with our van.
Here are our first impressions about Van Life one year after we bought our Dahu. The least we can say is that this way of traveling suits us rather well and we have no regret to have invested part of our savings in this van. We hope to meet more people during our next trips, but it's also up to us to be a little more proactive 😉 .
Besides we are hardly back from Brittany that we are already preparing to go back to the south, towards Andalusia and Algarve to spend the winter under the sun (besides if you have any advice for us, go for it). Then we will spend March and April in our little paradise of Galicia: Anceu Coliving.
We hope you enjoyed this article and if you have any other questions, feel free to leave a comment below!
Pin it on Pinterest
Note: This article contains affiliate links. If you click on a link to buy a product we recommend, we will get a small commission and you will not pay anything more. This is a way to support us if you appreciate having this kind of free and independent blog posts (we are not supported by any brand and we pay for our gear like everyone else).