If you follow us on Instagram or Facebook you may have already seen the news, but this fall we have decided to buy a camper van! A brand new way of traveling for us but one that we are convinced will suit us very well.
In the coming months we plan to go on the road with our new companion and we will probably talk to you about it from time to time (Edit: we have already left for several Road Trips in Europe with him). But before that we thought that we were going to present you "the beast" (nicknamed Dahu, a Toyota proace 4×4 van) in good and due form.
Vanlife review after 1 year
1 year after we bought our van Dahu and after having traveled about 3-4 months full time with it, we share with you our impressions about VanLife and the choices we made for our Toyota Proace 4×4.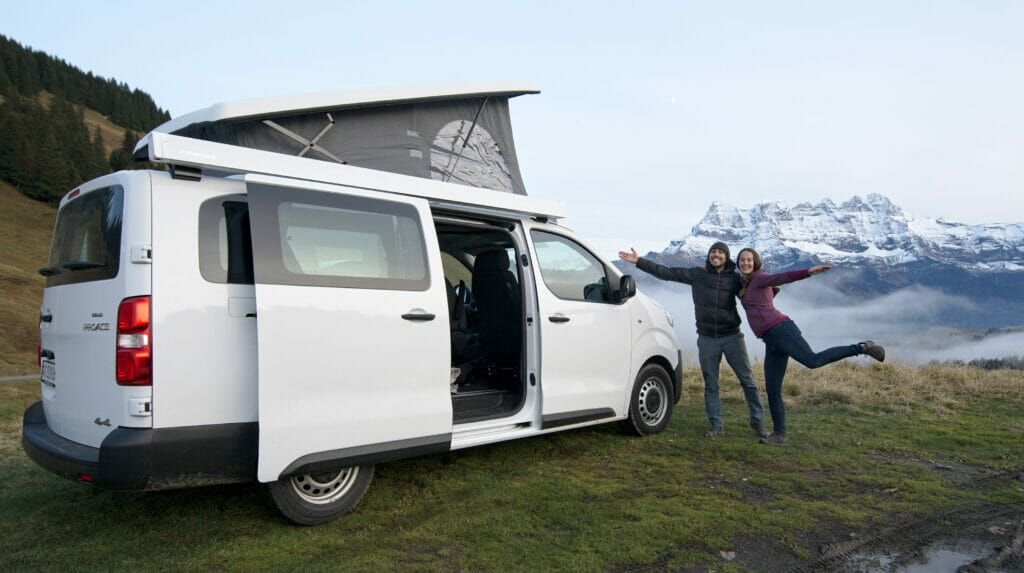 Our motivations to buy a van
Our idea to buy a van is not new… In fact, it must have been 2-3 years that we had been thinking about it without ever being able to take the plunge. It took a confinement (and a few evenings with a bottle of wine on our balcony) to finally make up our mind.
In fact, for us the van is really an ideal solution to combine our desire to travel, to hike with nomadic work; a new form of autonomy with a mini house on wheels. Our idea with the purchase of this van is clearly not to make it a "full time" lifestyle nor to transform our travel blog into a vanlife one. 😉 In fact, you will see it in the choice of our vehicle, but for us it was clearly more in the idea of having an efficient means of transportation to take us to the start of all our hikes… with the bonus of having the possibility to work and sleep in it. We also wanted to be able to be autonomous several days in a row "without charging" if we fall in love with a place and want to stay there.
The choice of the van: our criteria
Ohhhh…. I can't explain the number of evenings we spent discussing this subject (but to be fair we had plenty of free time during the confinement 😉 ).
From the beginning we had some points that we were "sure" about and others that were more open to discussion.
The key points that were important to us:
The 4×4: Adept of mountain and hiking it immediately seemed obvious to us to buy a vehicle that could allow us to quench our thirst for outdoor. Talking with several van owners who share our passion for the mountains it is often this point that came back "if we had to do it again we would take a 4×4".
A long version or "L3" if you prefer. The vast majority of "compact" converted vans are less than 5m long. This dimension is very convenient for parking but for us it was super important to be able to work comfortably in the van and therefore have more space.

A recent vehicle that doesn't burn 12L/100km and with sufficient horse power. Vintage vans are adorable with their retro look but after discussing this with other owners we also knew that they can be capricious with breakdowns and quickly turn into a financial drain. We knew right away that we would prefer a vehicle that was less "cute" but that wouldn't break down every month. And above all, not negligible detail, we live in the mountains, thus, it was important we find a van that could bring us home a a higher speed than 30km/h. 😉
To have a set-up that allows us to "really" work from it. At this level, it quickly became obvious to us that it was necessary to have rotating front seats and above all enough space to put a "real" table. We know well that we will spend many days and evenings working from our van and it seems impossible to do so with the computer on our knees or on a foldable mini table.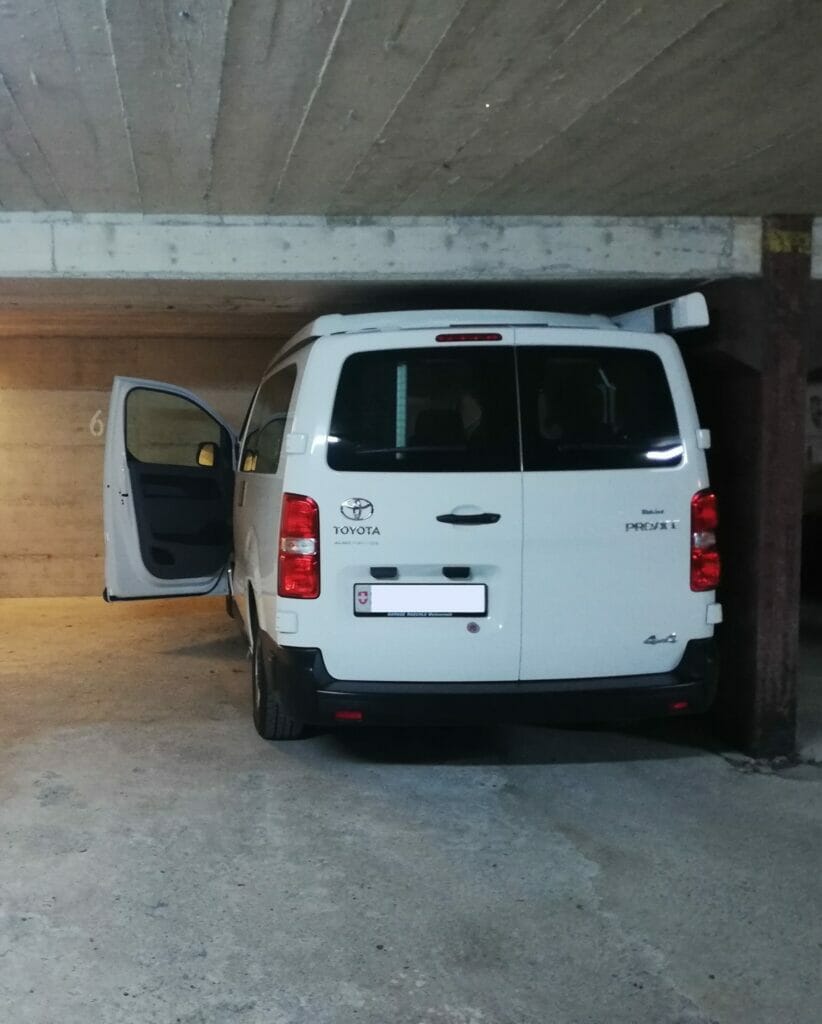 The point that made us hesitate a lot: H1 or H2, understand the height of the vehicle! We were hesitating between a low version (less than 2m) that allows you to park anywhere, is more discreet and completed by a pop-up roof or a high version that offers more comfort on a daily basis because you can stand up all the time and offers more space for starage. In the end, it was the height of our garage that decided for us… In the village where we live parking spaces are rare and in winter it is almost impossible to leave your car outside permanently (we live in a ski resort, parking is regulated in the high season and it is not good to leave a car permanently stuck in the snow).
Besides, it looks like our van w as "made for our garage". Once parked, we must have something like 10cm left. 😉
Converting a van yourself or buy it already converted?
Ahhh the big question! For our part, we knew from the start that we were not going to convert a vehicle 100% ourselves. We are barely able to hang a painting on a wall, so even though of course everything can be learned, we were not ready to spend 6 months converting our van.
Originally, our idea was to buy an "empty" van, then have a pop-up roof and toating car seats installed by an approved manufacturer, and then go through a van converter for the main work and take care of the finishing touches. This plan seemed perfect to us and we contacted several converters whose style we liked. (this stage goes back to July)
We quickly realized that this idea was going to be something to forget. Out of the ten or so converters we contacted, only a handful responded. They all had the same answer: they are overwhelmed! None of them had any availability to take a new vehicle before spring 2021 (or even summer for some). In short, this option, although very appealing at first, immediately turned out to be a no-go.
Nevertheless, if this option sounds interesting for your needs, here are some links for van converters we liked in Switzerland and France: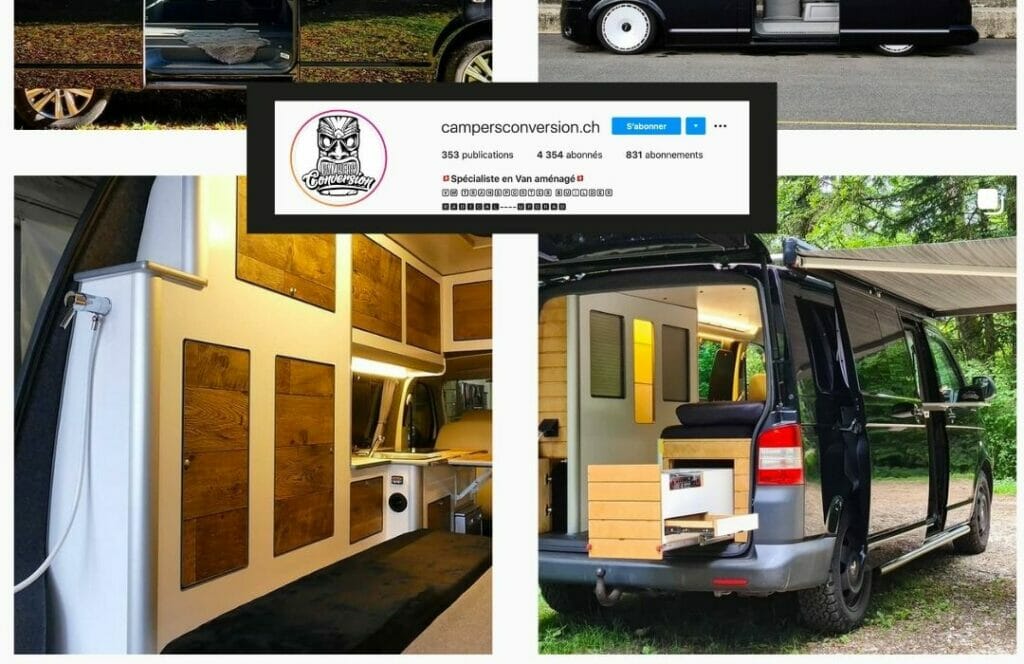 Camper conversion (Saint-Croix, Switzerland) : Yoann has been super nice and he does really nice things and he is installing pop-up roofs and seats! The big plus was that it is located in Switzerland, for us it would have been very practical. Unfortunately, he didn't have time for at least 6 months.
Campervans Montblanc: We must admit we were totally fan of their wooden layout and they also put up the roof tents. Unfortunately, after many attempts to contact them by mail, phone, instagram to get an estimate we never got an answer. It's hard to tell you more abotu them since we never managed to contact them.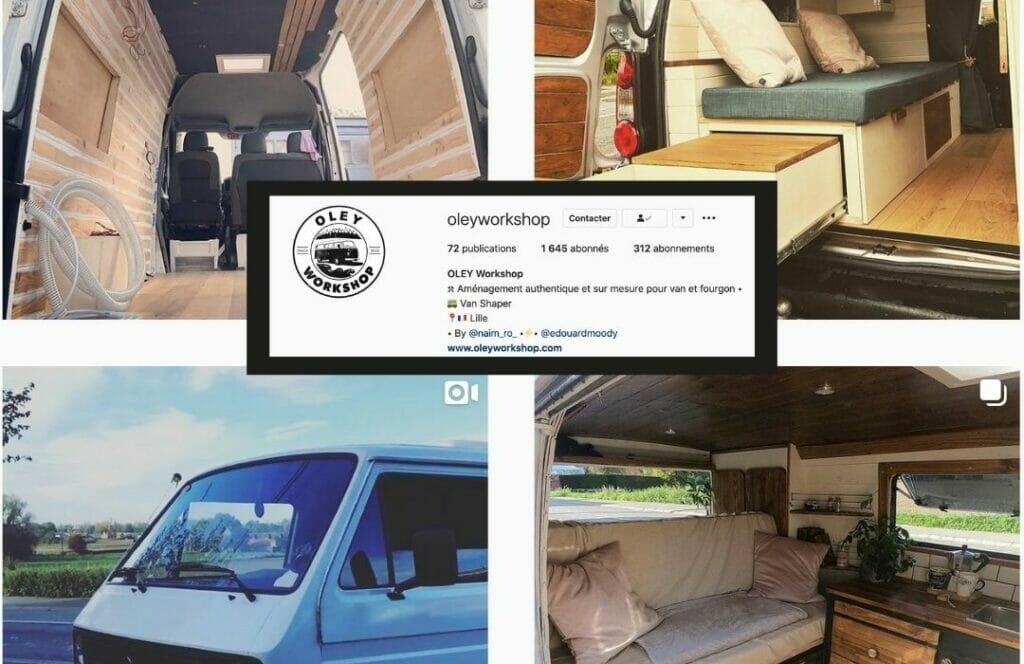 Oley Workshop: Founded by Eddy and Romain, this van conversion company based in Lille makes great creations! Unfortunately they don't install roof tents or rotating car seats and especially they were booked until spring too. But the conversations we had with them were very nice and they seem like really nice people to work with!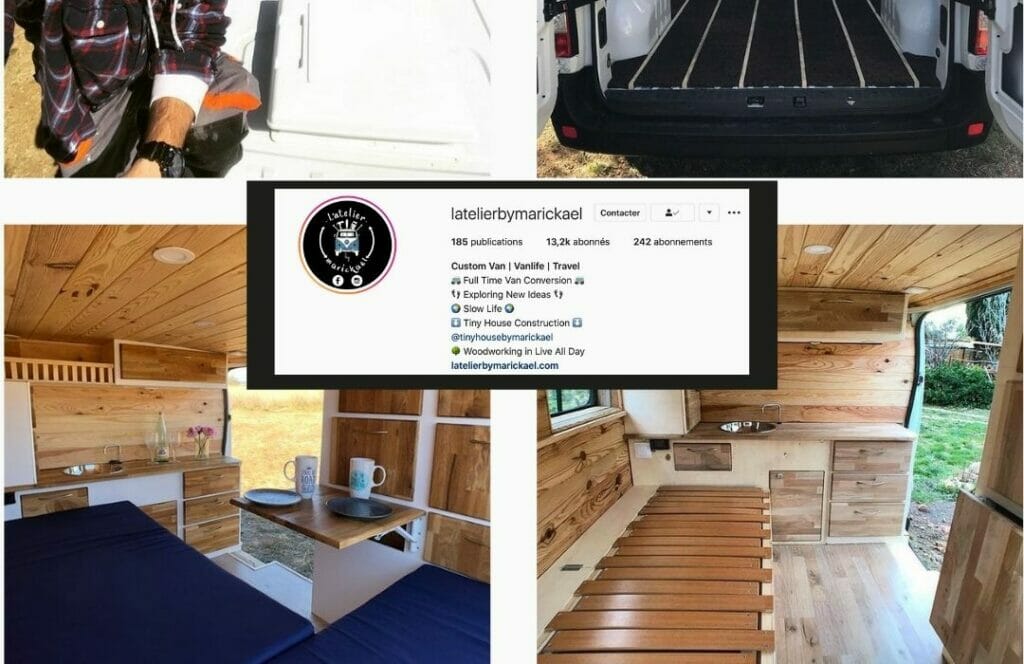 L'atelier by Marickael: This couple based in the Eastern Pyrenees makes 100% custom-made and really beautiful creations. Unfortunately, they also had a very busy agenda. We were ready to give it a go with them in spring but after several messages that remained unanswered on their end we ended up giving up.
We still tried to contact a few others, but clearly those 4 were the ones we liked the most…
All this to say that after trying to find someone for almost 2 months, we decided at the end of September that we were going to stop looking for converters and that we were going to go for on an already converted van.
The only problem is that when considering only converted vehicles , the long versions are a VERY rare commodity (we can't really explain this is the case actually)!
Toyota Proace: why did we choose this car?
We told you above, for us the criteria of our van were not what we could call "aesthetic" but above all practical. We wanted a long, 4×4 and recent vehicle. In short, we had put alerts on on most websites for Toyota Proace 4×4, Mercedes Vito 4×4 and VW transport L3 4×4. We already had a preference for the Toyotas which have engines known to be very resistant and which consume less than the VW and Mercedes (7-8L/100kms when the 4×4 is not engaged).
Quickly, we came across the ad for a garage in German Switzerland with our little Dahu in the picture: 5m30 long, 4×4, pop-ip tent, rotating seats, only 5000km old. Everything was perfect, except for price which clearly cooled us down at the beginning (we'll come back to it later).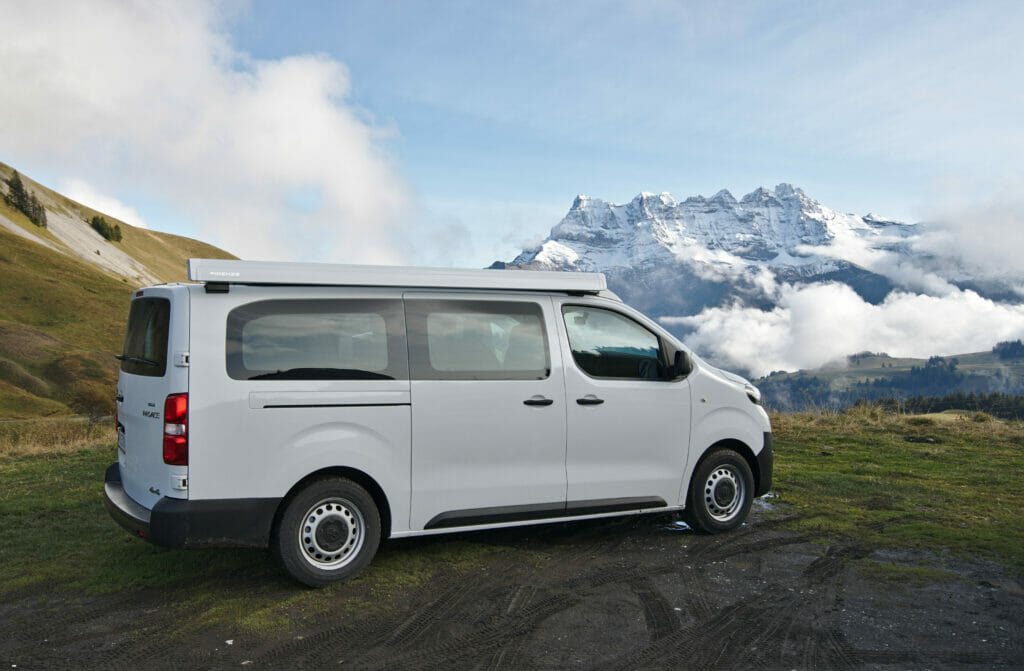 The particularity of Dahu is that it has not been a camper van all its life. Originally, the dealer had bought it as a pure van. He later explained to us that he had been selling "short" Proace 4x4s for years (mainly to construction companies and craftsmen in the mountains). In 2019, he made a bet to take an extra ten "long" vehicles. The problem is that he ended up not beeing able to sell them (apparently in the mountains craftsmen prefer the compact version). In short, not being able to sell them he had the idea to send them to Germany and have them converted by Almo.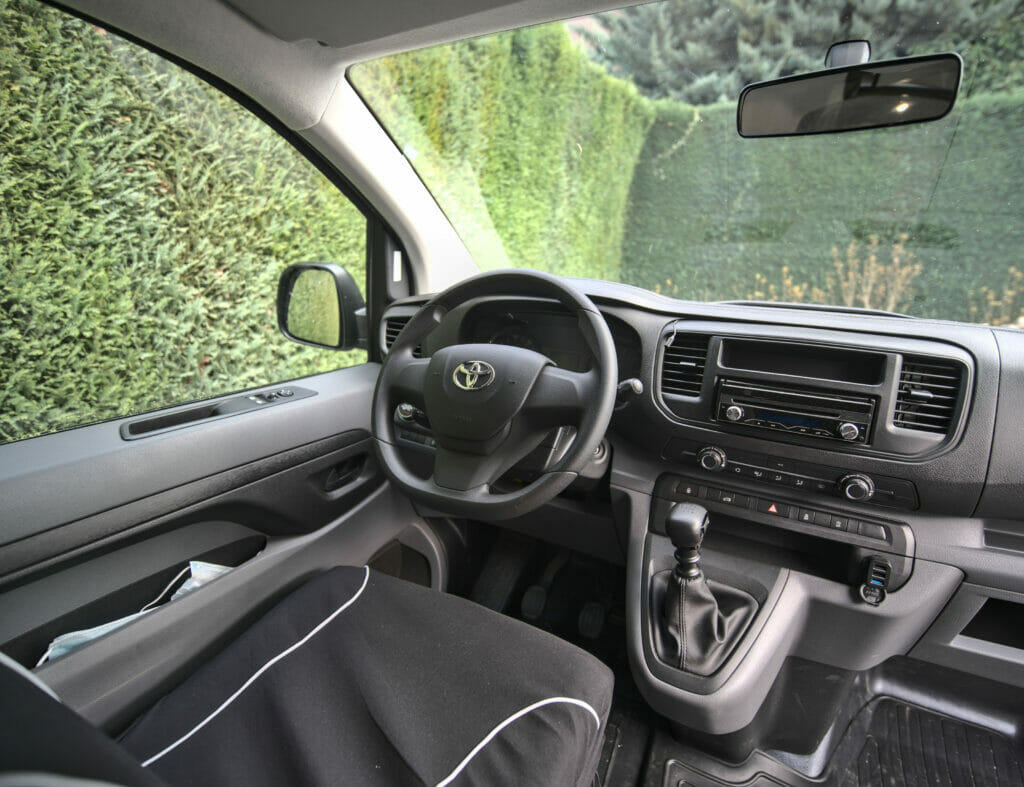 The disadvantage? The basic vehicle is a pure van, so the driver's compartment is more "basic" and small comfort options such as the mirror in the sun visor are not present or in general small "aesthetic" finishes a little more rudimentary and we don't have a rear camera. In other words, it makes no difference to us! (for the rear view camera one of us goes out and beeps 😉 )
The advantage? Since the vehicle is built and sold as a pure van by Toyota, it comes with a 5-year manufacturer's warranty (instead of 3 years for regular cars). Of course, since its transformation it has been homologated as a residential vehicle, but that still leaves us with the van warranty.
The second point, which is by no means negligible, is the budget. If we compare the price of a Firenze toyota fitted out "as standard" and the one we bought there is almost 20'000 CHF difference!!! Certainly we have a few options less, it has a few kilometers on the meter, but it is far from being negligible!
Converted van budget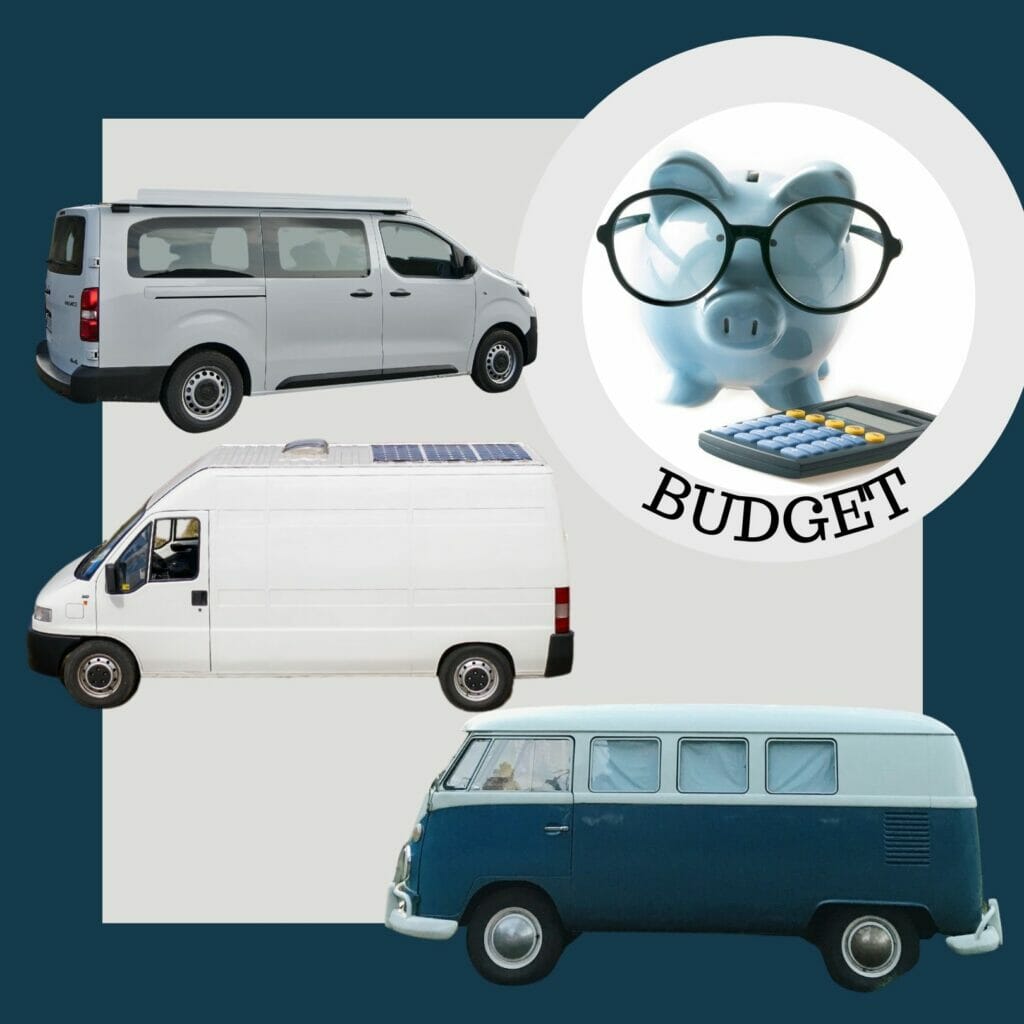 Ouhhh there, THE question that probably doesn't have an answer!
For converted vans it's a bit like a world tour: it all depends!
Some people go around the world for a year with 2000€ in their pockets, while others plan to spend up to several tens of thousands of euros. For the van it's the same! It will go from 8000€ for an old model with already a lot of kilometers on the meter and a home-made conversion, to more than 80'000€ for a new VW T6 4×4 (excluding solar installation). It's a Pretty big price range…
The budget will depend on many factors: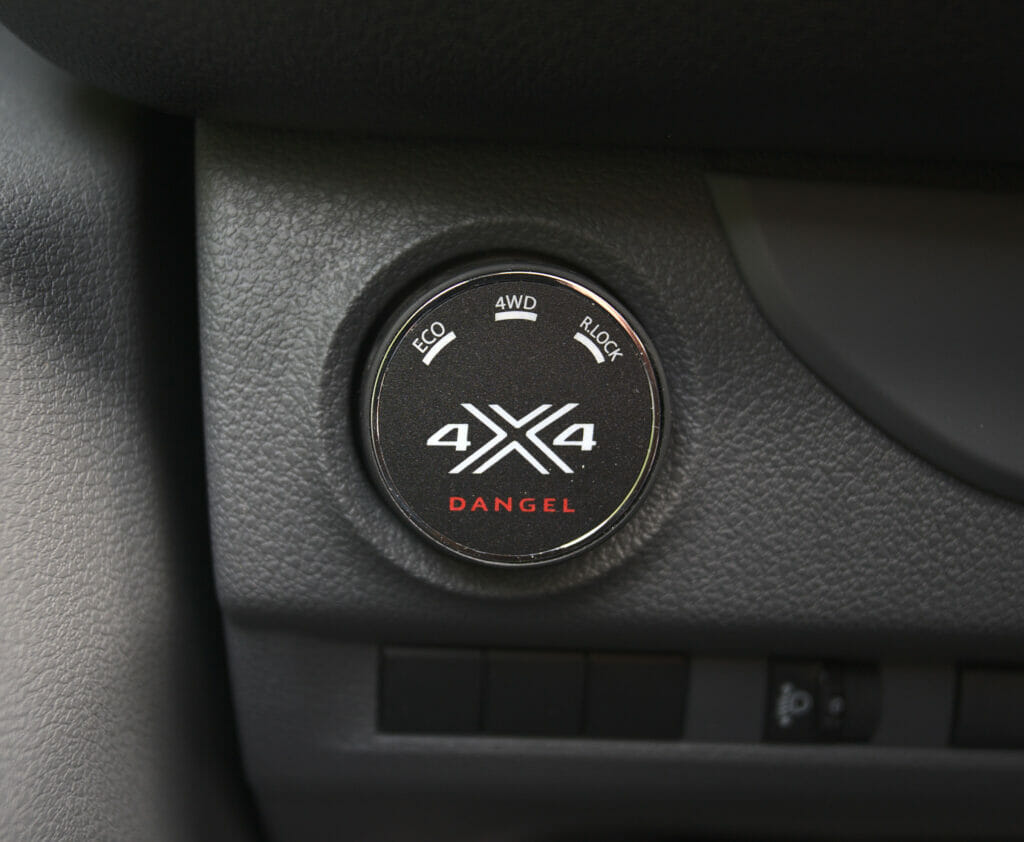 The vehicle: its brand, 4×4 or not, its number of kilometers, its age, its motorization… In short, it goes from 2000€ to 50'000€.
The conversion: homemade, made by a converter, factory made by the brand… Here too, it ranges from a few hundred euros to several tens of thousands.
The country of purchase (in Switzerland converted vans tend to be more expensive than in other European countries. Importing a vehicle can be an option, but it is important to be well informed about the import tax and also about the homologation standards and to make sure that the vehicle will pass the CH expertise)
For our dahu we were fortunate to have a very comfortable budget at our disposal and after having turned the question in all directions we finally opted for an almost new vehicle (5000km on the meter) and fully equipped.
In the end Dahu came back to a little less than 58'000€ (total budget including all equipment and accessories, 2 sets of wheels (winter and summer), basic solar installation, awning) budget to which we added another 5000€ in electrical installation and some small accessories (we come back to this below in the article).
We are well aware that this budget is enormous. But we had this money at our disposal… and while it may sound "crazy" to put so much money into a van, we know full well that we would not regret this investment. For us, this van will probably be our "home" for several months of the year and we will most certainly rent it out when we don't use it to amortize the costs a bit.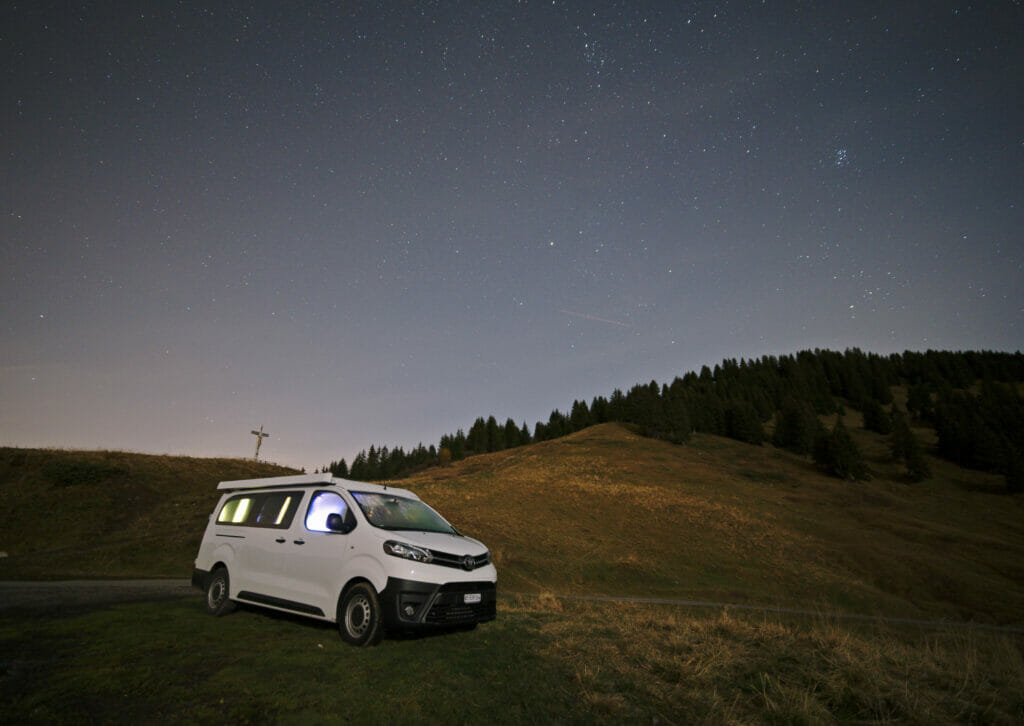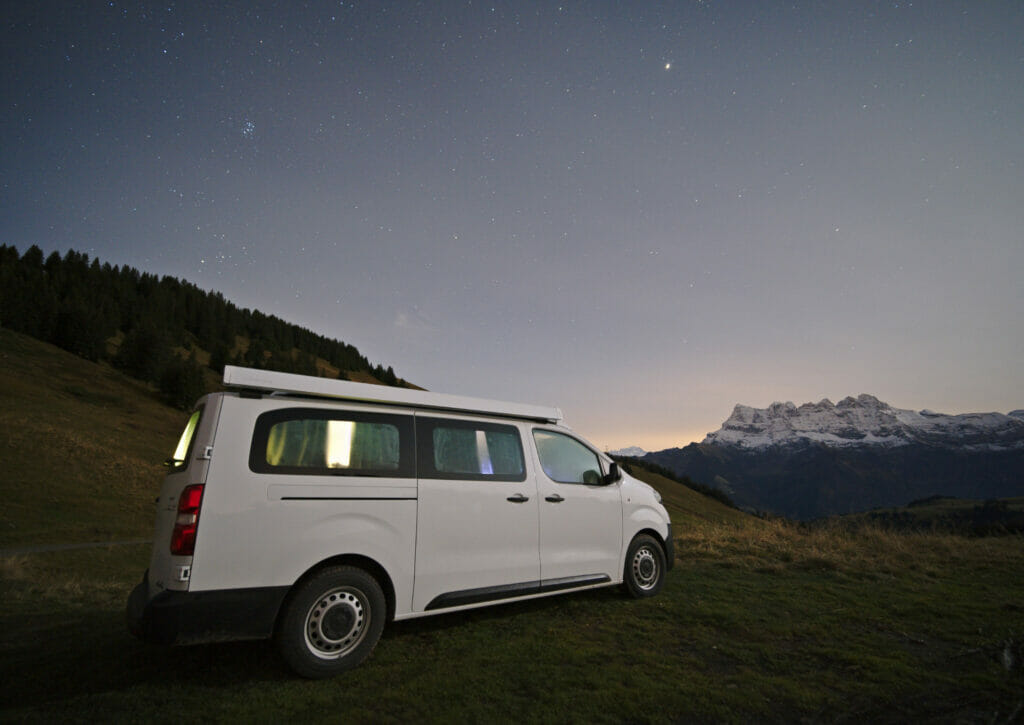 Presenting Dahu – our Toyota Proace L3 4×4
Well after all these explanations, we propose you a small "van-tour" in order for you to meet officially our new travel companion.
Exterior, Motorization and pop-up roof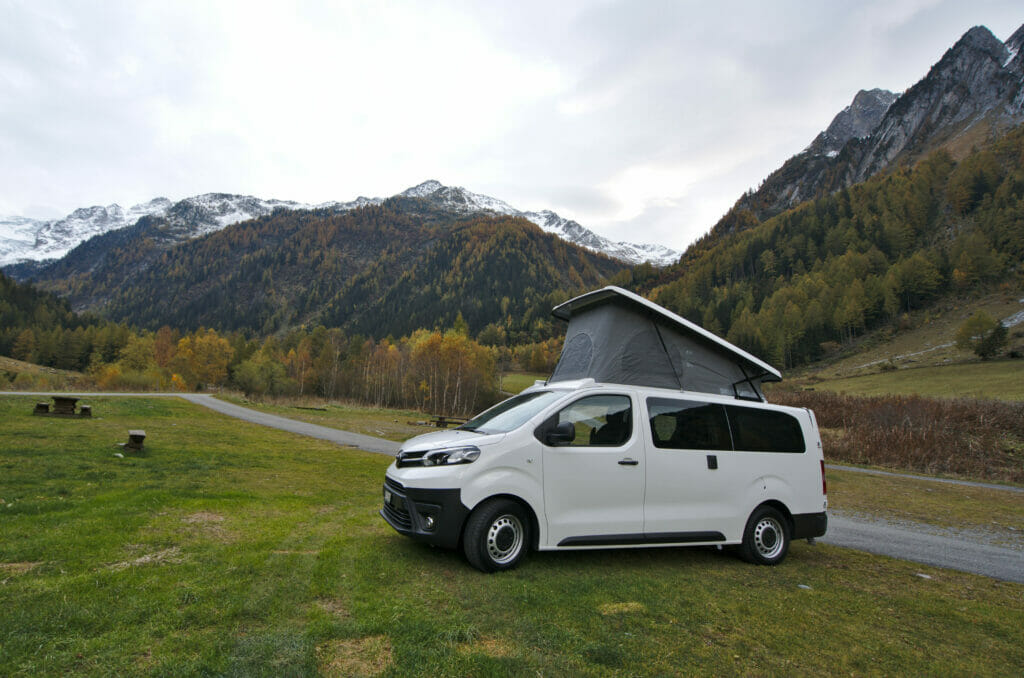 As we told you above, our Dahu is a van of height H1 (less than 2m) and length L3 (5.3m). In fact, Dahu has gained a few centimeters with the roof and the awning on the side so it's more like 2m03 at the moment. In terms of color it is white (even if we quickly saw during our mountain outings that it turns brown with the earth and dust). Afterwards, if we disregard the roof awning fixed on the side, it remains a relatively "discreet" vehicle and it is clearly in this spirit that we do not plan to change its color or to put stickers everywhere.
In terms of weight it is what we call a "big baby" with almost 3 tons on the scale. But normally, with the 150 HP and the 4×4 we should be able to take it to a lot of nice spots. We have already tested some tracks in our small mountains in the Valais and the least we can say is that Dahu seems to be pretty ready for some adventures! 😉
Interior and campervan confort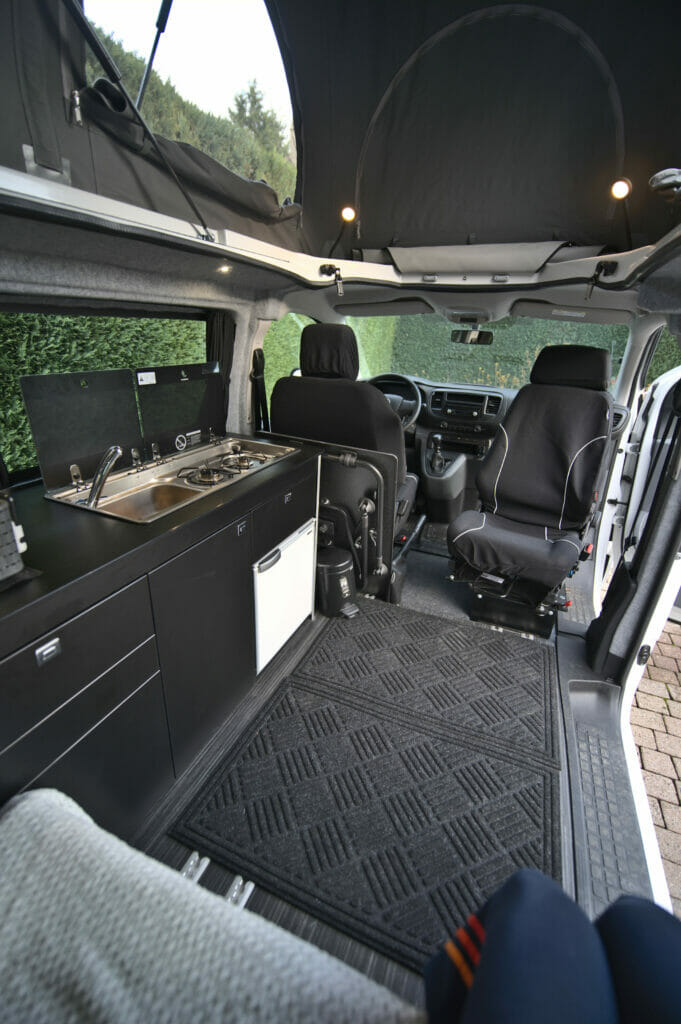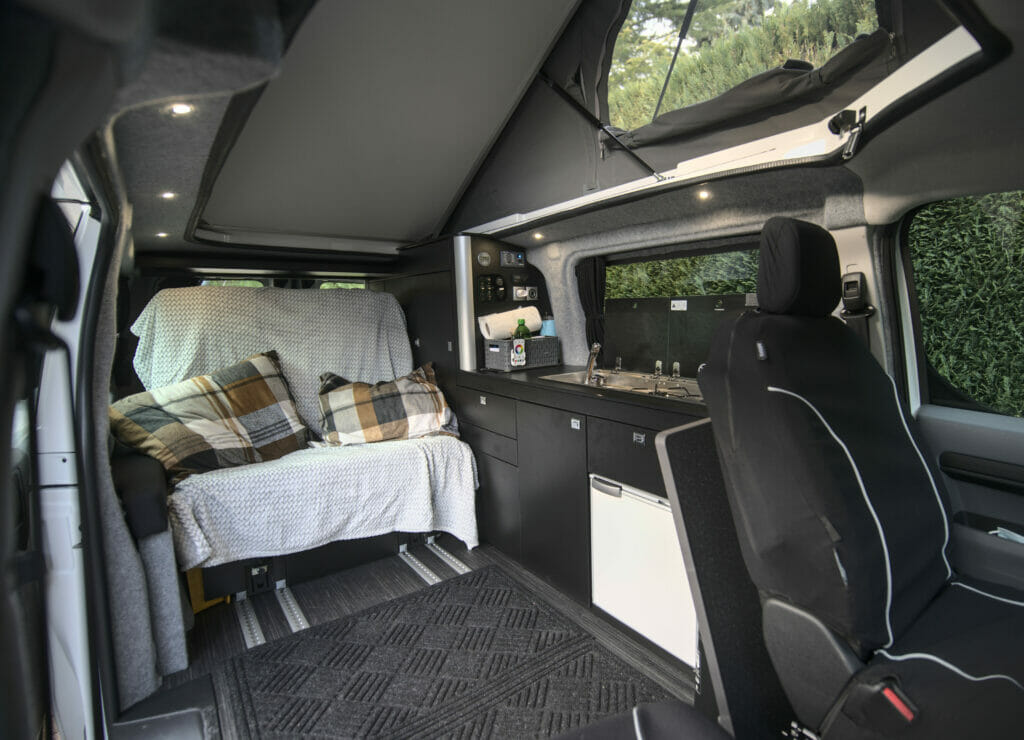 If we go inside, we have what is called a "classic" layout of compact vans:
4 registered seats (2 in the front that can turn around and a 2-seater bench seat on a rail that can move along the entire length of the vehicle)
4 sleeping places (2 in the roof and 2 below)
several closets and drawers for storage
A sink with a 35L water tank
2 cooking hobs connected to a gas cylinder.
A 28L mini compression fridge
A heater that runs on Diesel. Clearly we are not afraid of the cold and we don't plan to use it much, but for having already slept in the mountains at less than 0°C we admit that it is convenient to be able to turn it on for 20 minutes and warm up a little "the house" ;).
We do not have a fixed shower or WC. We bought a small solar shower at Decathlon for "just in case" and for the moment for the toilets we manage as in bivouac (implied in the nature by respecting it, the coffees, restaurants, gaz stations). For the moment no regret, even if we do not exclude the addition of a small dry toilet in the long run.
For the table we had one but it was very unstable with a single leg. We replaced it with a 4-legged folding table that is more stable and can be stored behind the driver's seat when driving.
For the "garden" side we will surely buy 2 folding chairs once in Spain, but strangely enough for the moment we haven't really felt the need to go ahead with the purchase yet. #VanlifeInSwitzerlandNovember 🙂 #brrrr
Otherwise when we got the van there were 2 levelling wedges that came with it. We will see if we use them… I think that we got so used to sleeping in our tent and not lying flat that we are clearly less sensitive than the average people "to the slopes" haha
Update about portable composting toilet in 2023
We solved our toilet issue by buying a small portable composting toilet with urine diverter from the German brand Trelino. Even if we had small aprioris about smells and that there is a small psychological step to overcome, we are REALLY satisfied with this solution which gives us much more freedom. After more than one year of use, we prepared you a complete review of our experience with the composting toilets when we travel with our van.
This layout is really very close to what we would have chosen if we had gone through a converter. The only difference is the back seats. On the principle we would have preferred a bench in the length with a large fixed table which lowers to transform the whole into a double bed. Of course, the seats could not have been homologated for road use, but let's say that's what we would probably would have done to gain in living and storage space. Anyway, for the moment, the 4-seat homologated system suits us well and we think that it might be a plus for the rental… To be continued, but maybe one day we'll just do this layout differently.
Our current "sleeping areas" in the van: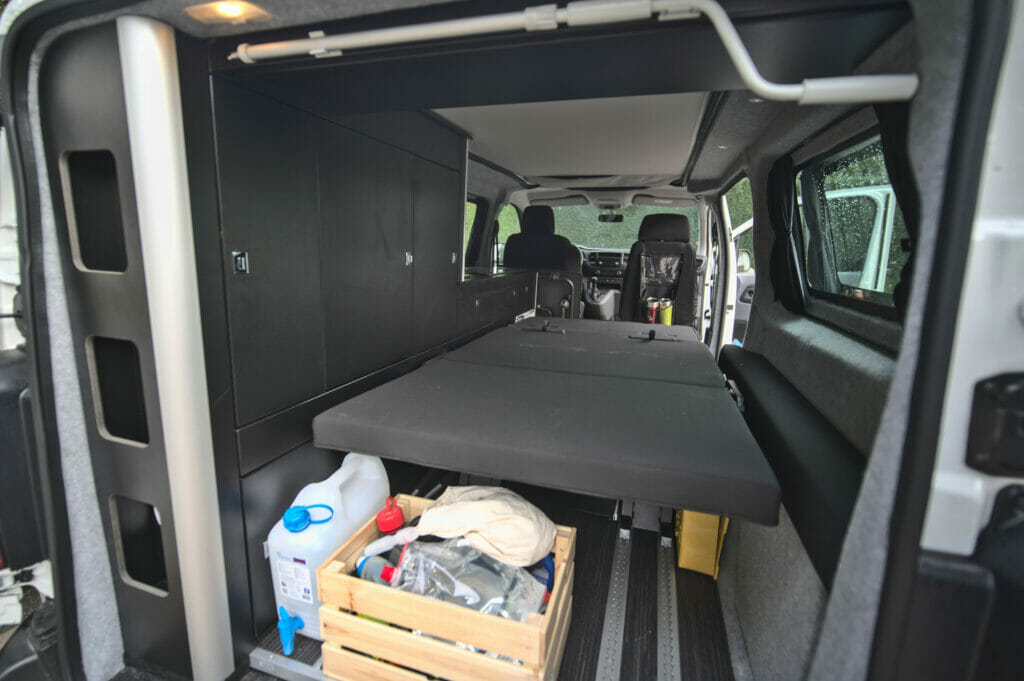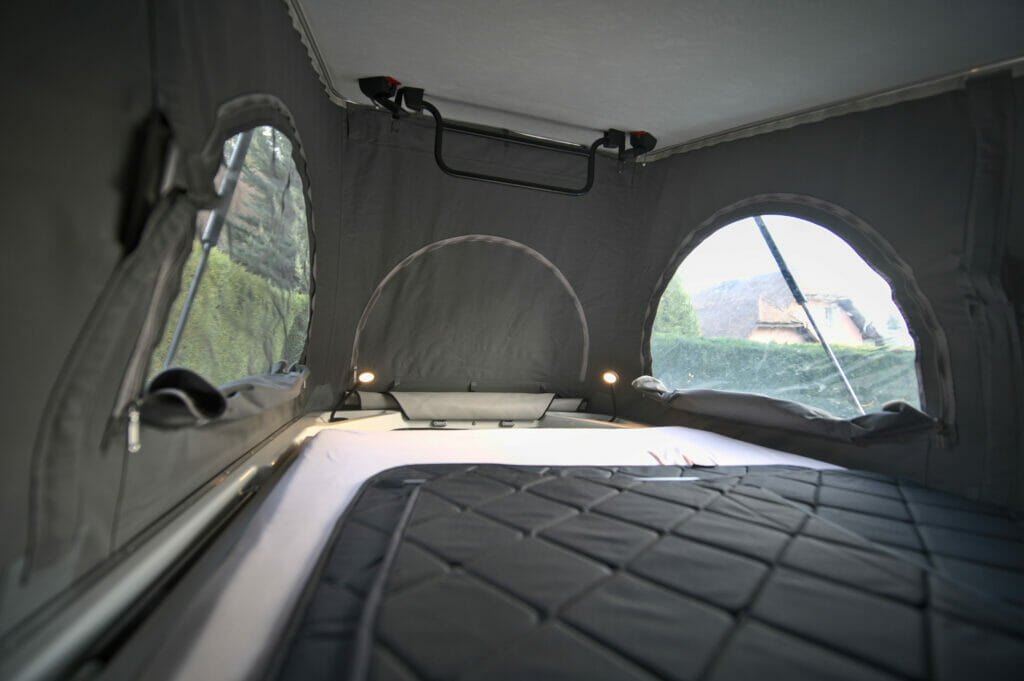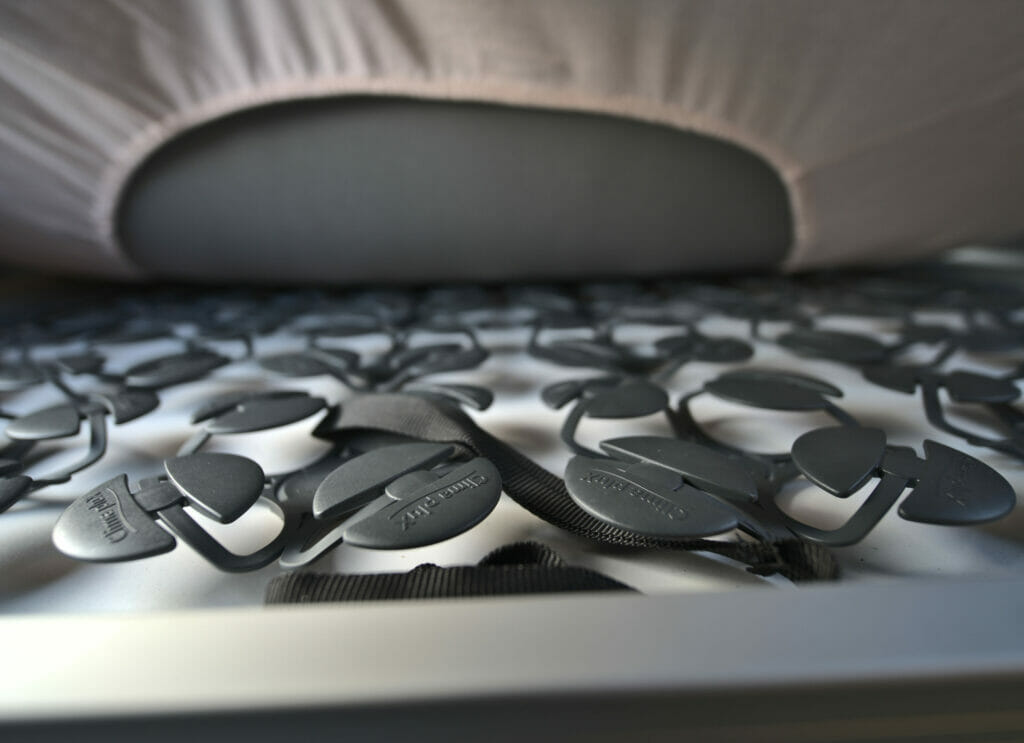 Our electrical installation in the converted van to work and travel
So we thought that a little more special point was needed. Clearly, we don't have a "classic" use for electricity by working on the roads "full time". Basically, Dahu came with a 75Ah GEL auxiliary battery and an 80W solar panel. This installation is great if you want to charge your phone, power the fridge and the lights, but clearly we knew that this would not be enough.
After a lot of hesitation to simply add a nomad battery and a portable solar panel to complete the basic equipment, we finally opted for a complete change of our electrical system. Clearly, this represents an additional budget (about 5000€, counting the assembly by professionals… remember, we barely know how to hang a painting on a wall, we weren't going to start drilling holes in the car). But after thinking about it, for us electricity and internet are our main working tools and therefore have a high priority.
In short, our little Dahu now has a real little on-board power plant:
255 Watt of solar panel (we added a 175W panel to the one we already had) and a new charge regulator.
A Lithium battery of 160 Ah (this is equivalent to 320 Ah in GEL because lithium supports total discharge). This was the main budget! The battery alone costs about 1800€… #ouch but normally this should last us about 10 years.
An inverter-charger of 800W which allows us to have 230V permanently in the van and not just 12V (with a plug).
Separator-coupler that allows us to charge the auxiliary battery while driving.
Lots of fuses, circuit breakers, cables added to the offer we accepted which are largely not understood but whose usefulness is in no way doubted 😉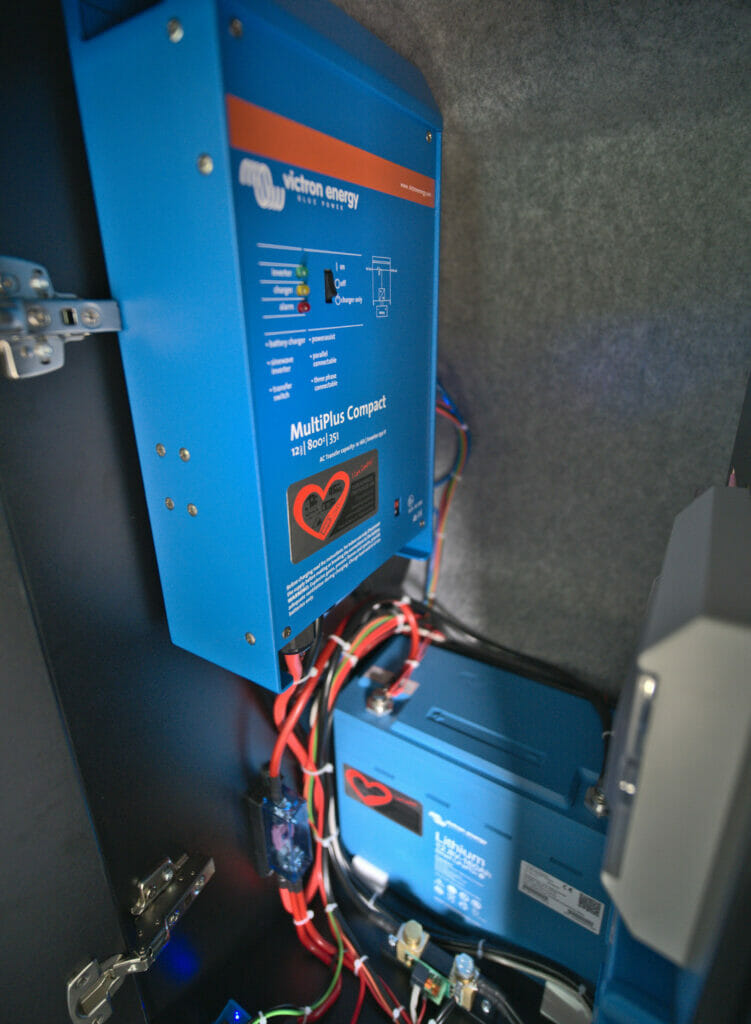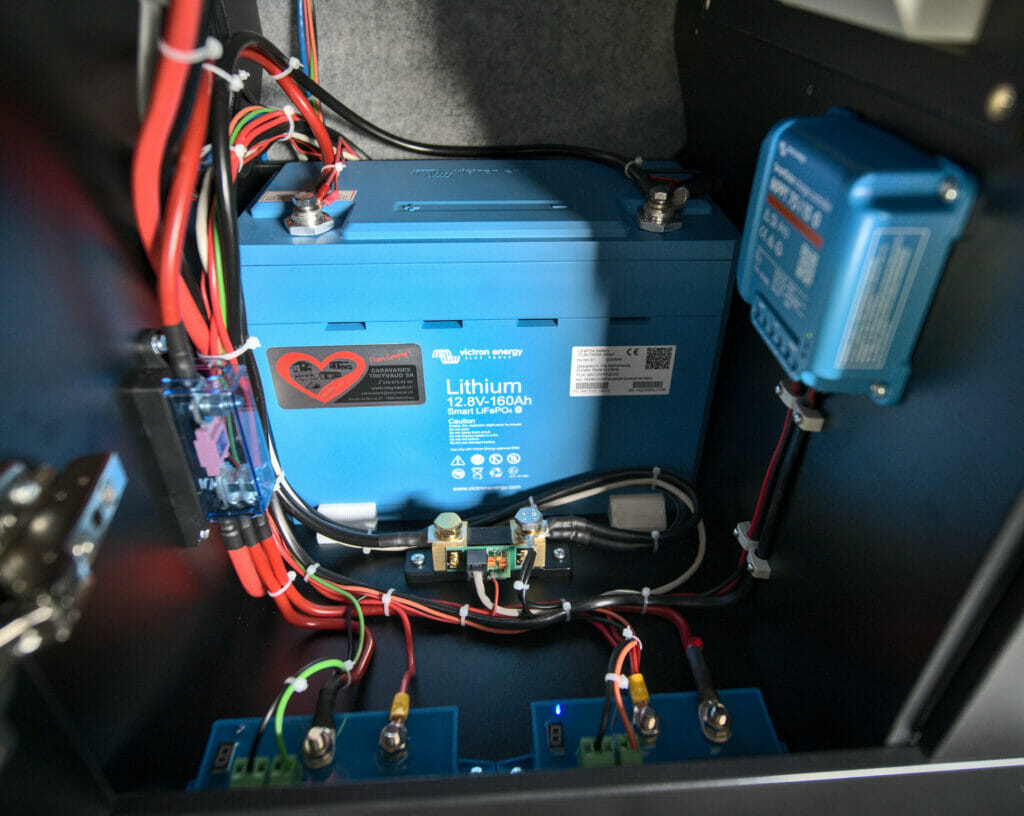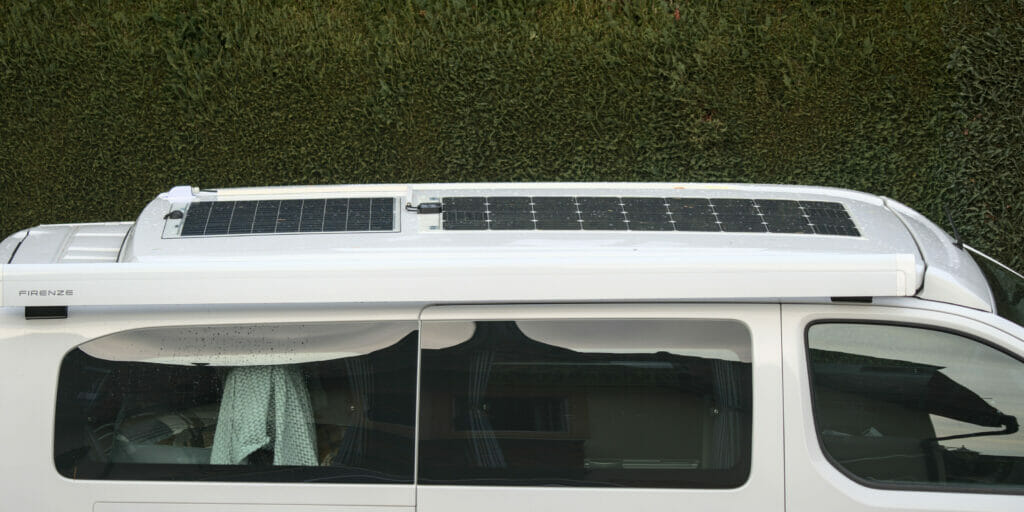 Moreover if Swiss people read us and are looking for an installer, we warmly recommend the team of the Treyvaud garage in Avenche. They had been recommended to us by a friend and we left very happy. The team is super nice, they are very reactive and they really did an amazing job on our van !
We will surely be able to tell you more about our real autonomy on the roads next spring, but it should largely cover our needs if we drive a little and the sun deigns to show its nose from time to time!
That's it for presentations! We will probably use it again for a few days in Switzerland but we keep our fingers (and even our toes) crossed to be able to take it for a long road trip of 5-6 months between Spain and Portugal this winter and next spring!
Pin it