During the months of September and October 2021, we spent nearly 8 weeks of roadtrip in Brittany with our van Dahu (that we presented here). This roadtrip in Brittany was motivated by our latest book project "Randos bière en Bretagne". If you have been following us for some time, you may have seen our first book called "Randos bière en France", and you should know that a new 100% Breizh edition is in the works for spring 2022… But we'll certainly talk to you about it here when it will become a reality! For the moment, we thought it was time to share with you our feelings after this 60 days roadtrip and especially to make a small assessment / Budget of this trip in Brittany.
Blog posts about Brittany
In this article you won't find so much advice on what to do and what to see in Brittany (well yes, at the end of the article we do give you some suggestions for itineraries). But if you want to go into more detail for one or another region, then you'll find on the blog a collection of 8 articles, all dedicated to this beautiful region and the places we preferred. In order to visualize all this on one page, we have created a category called Brittany, which can be seen here.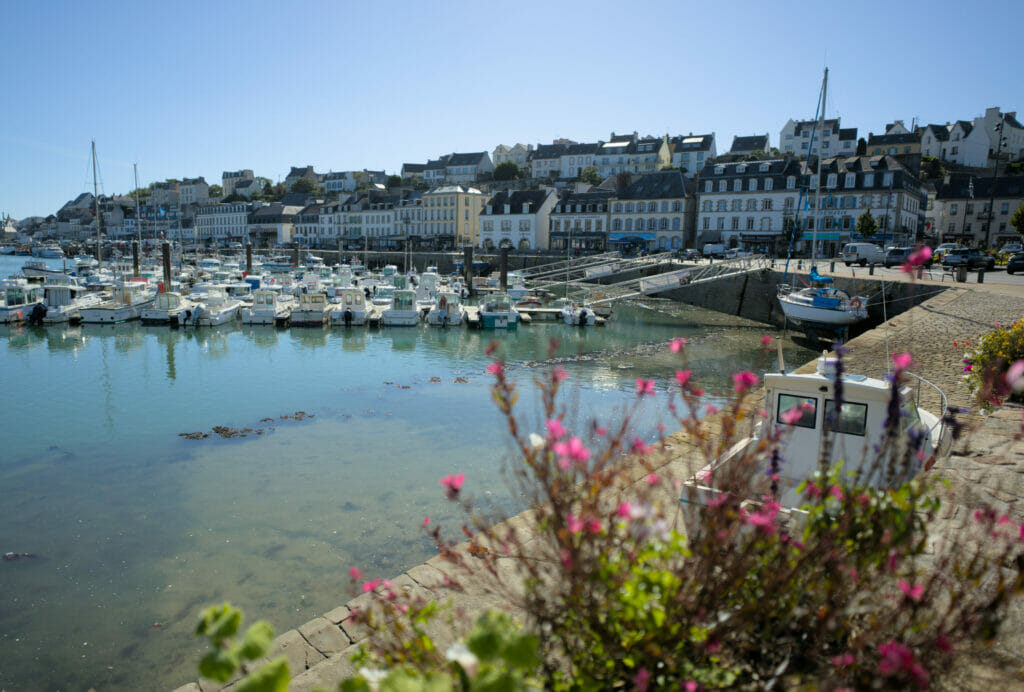 Is Brittany an ideal destination for a van road trip?
When we started planning our book project, there was no doubt about leaving with our Dahu van! During our last 2 trips to Brittany we had also done roadtrips, but we were in a car. At that time we had our tent in the trunk and we alternated between campsites, bivouacs during hikes as well as renting gites and B&Bs. In short, in this article we'll focus more on the vanlife in Brittany. During our researches, we have read everything and its opposite:
Brittany with a van is paradise… bivouacs everywhere with breathtaking views of deserted beaches every night
or
oh my god it's the horror, there are parking bans everywhere and the police are super strict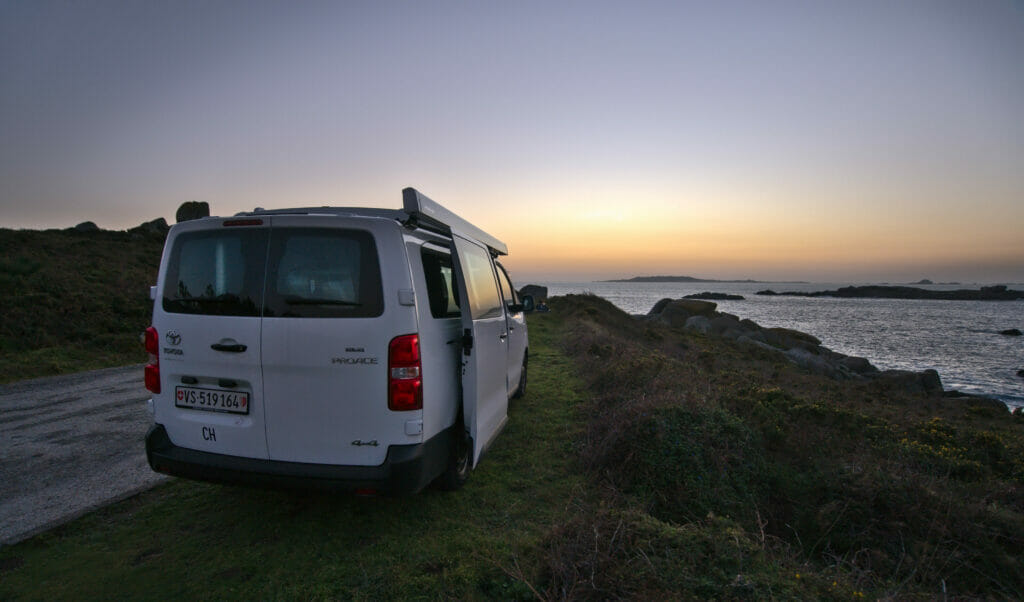 Leaving "out of season" we were relatively confident about the crowd, but on the other hand the weather, the opening of the campsites, the ease of parking remained big questions.
Our Book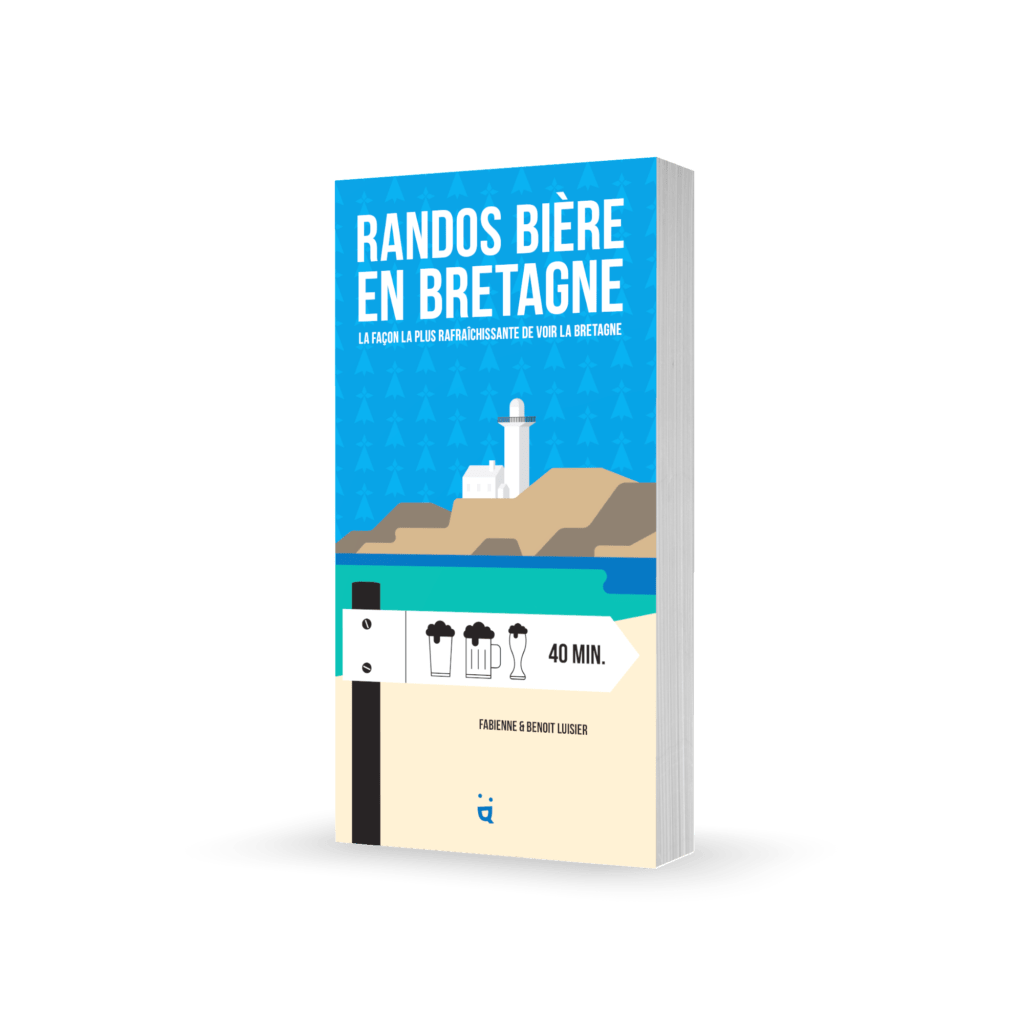 One of the reasons we've come back to Brittany so many times is also our love for beautiful hikes and craft beer.
In 2022, we published a new book called "Randos Bière en Bretagne", a hiking guide that offers 40 itineraries through Brittany and with the particularity of always ending with a local, craft beer.
Thanks to this guide you will be able to discover the rich diversity of Brittany's landscapes but also of its brewing scene.
The book is not translated into English (only available in French), but if you speak a little French, it may give you some ideas!
You can find the book in most bookshops in Brittany as well as on the following websites
Summary of our van adventure in Brittany
Brittany and us is a love story in full writing… Having come for the first time in 2018, we have not stopped coming back again and again. Without surprise, we draw a 200% positive assessment of this 2 months roadtrip! The landscapes, the Breton welcome, the good food and even the weather: a real no-fail!
If we come back to the van itself, we loved this way of travelling! Having all your little life with you permanently and the possibility to move almost without limit has simply thrilled us. We will talk about the sleeping spots later in the article, but if I had to make a little assessment I would say that it's a little bit halfway of what we had heard. Some parts of Brittany are really ideal for findingsmall wild spots, while elsewhere it is better to aim at campsites and areas to avoid trouble.
And as far as weather is concerned, we are still under the impression that we might have been lied to all these years 😉 In 2018, 2019 and 2021, we did not have many "bad days". Of course, it was not 100% sunny like in Andalusia, but I think we have seen the sun 59 days out of 63 (meaning that in 2 months we have had only 4 days where it rained non-stop). The other days there was certainly sometimes a little drizzle here and there, but if you pay attention to the weather forecast you can easily plan hikes and outdoor activities in Brittany almost every day! And on this point the van is really great too, because during the "wetter" episodes you can take refuge in the warmth and dryness at any time for a little coffee or a work session.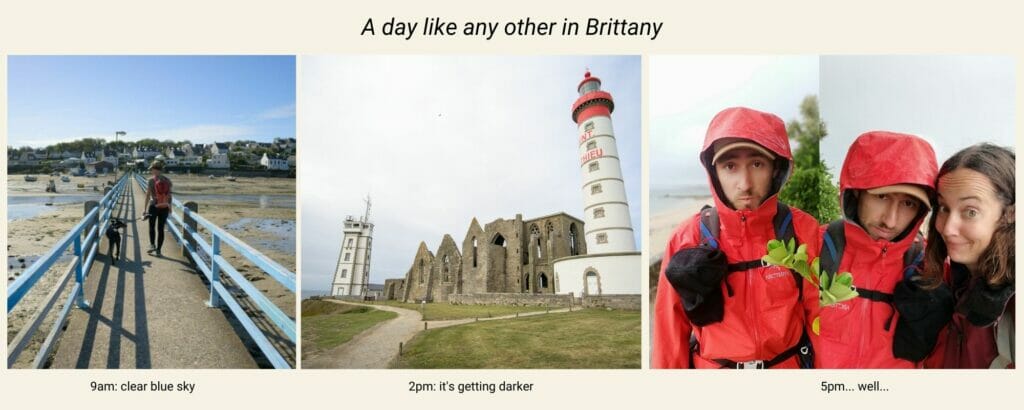 Working while travelling – a little review
This roadtrip was our first experience of vanlife in 100% work mode. During these 2 months we explored a lot, but we also had the mission to realize between 40 and 45 hiking itineraries ending in microbreweries and above all, to write the book as we went along. Because of the coco, our plans to leave in the spring got canceled, and we found ourselves in the situation where we had 2 months to create the itineraries, walk all the trails (and often with extra miles), write all the routes, select and edit the photos. Our deadline for the manuscript was November 1st and we finished our roadtrip… on October 27th… 🙂
In short, we were busy! Our days were punctuated like clockwork. Trips, hikes, preparation of the next itineraries, writing, photo editing, tasting and noting the beers for the book and sleep. Fortunately, the weather was on our side!
In the van we have now a good electrical installation, on the other hand, since Winchy joined the adventure we don't really have any space to have a table anymore… In short, we usually work with one of us installed on the passenger seat (turned over) and the other one on the back seat, computers on our knees (and a breadboard as a mouse pad when Benoit has to edit pictures). By good weather, we can also go outside, but in October we will not hide you that it is rare. 😉
Clearly, our set-up is great for traveling and blogging at the same time, but for working full time in it it's becoming complicated! When travelling with a van, we often dream of wild spots in the middle of nature… Well, while working, we quickly made up our mind! The isolated spots are beautiful, the nature is pure and the birds are singing (cliché? yes probably). The problem? The more you get lost, the more you also increase the likelihood to see the 4G disappear! How many times did we arrive on "perfect" spots and left immediately because it was impossible to use our phones as hotspot for our computers…
The second point, not negligible, is that while wild camping we always have a little "shiver" about the fact that's it's not 100% legal for us to be here… We try to be discreet and we hope not to be dislodged. Well I can guarantee you that in work mode, this little "shiver" is not essential! In short, during this road-trip we spent nearly 50% of our nights in campings or on paying areas. Less glamorous, but a hell of a lot more efficient (and with better network coverage)!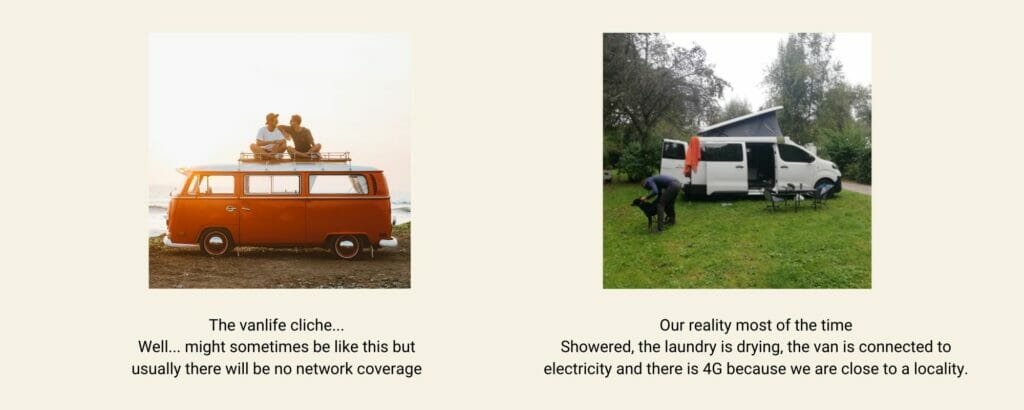 So be careful, we are not complaining at all! Far from it, we are totally in love with our little Dahu and the life on board! It's just that it's a part that we don't show as much (our daily life behind the screens and the logistic issues). It's just to make you realize the implications that "working on the road" can have in terms of organization and that no… vanlife is not always equal to having a drink at the sunset in a dream spot 😉
Budget of our road trip in Brittany
As usual during our reviews, we thought we would share here our travel budget in Brittany. The prices can obviously vary according to your expectations in terms of comfort, restaurants and leisure activities but also according to the season, but let's say that these figures should give you a small idea.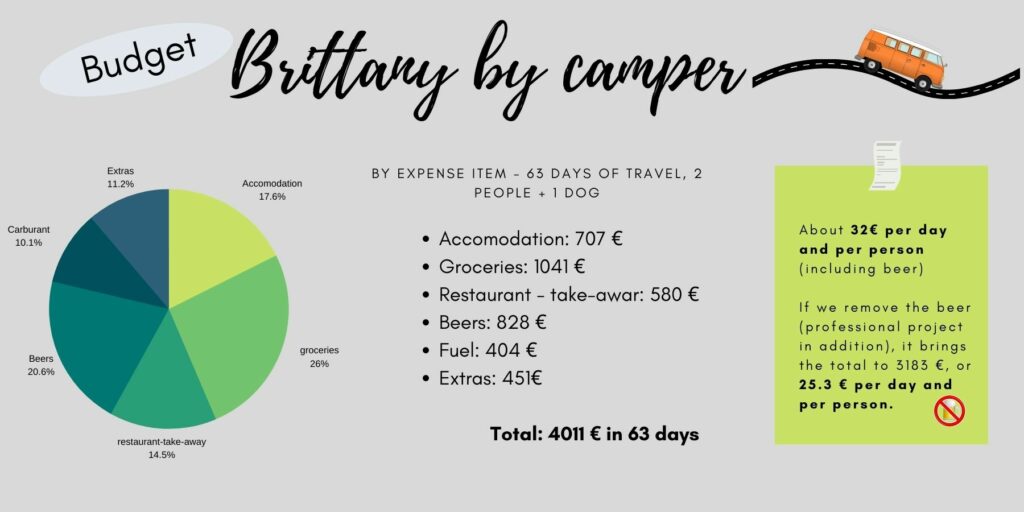 Some notes on our budget:
During this trip we have certainly been careful with our expenses, but we have clearly not tried to do "the cheapest" either. When we had to work, we did not hesitate to go to settle down in a camp-site and to make some restaurants (about ten over the 2 months).
This budget includes the costs "on the spot" and not the tolls and fuel to arrive and leave Brittany. As we have our own van, it does not include any car rental fees (we will talk about this below, but count 100€ per day more)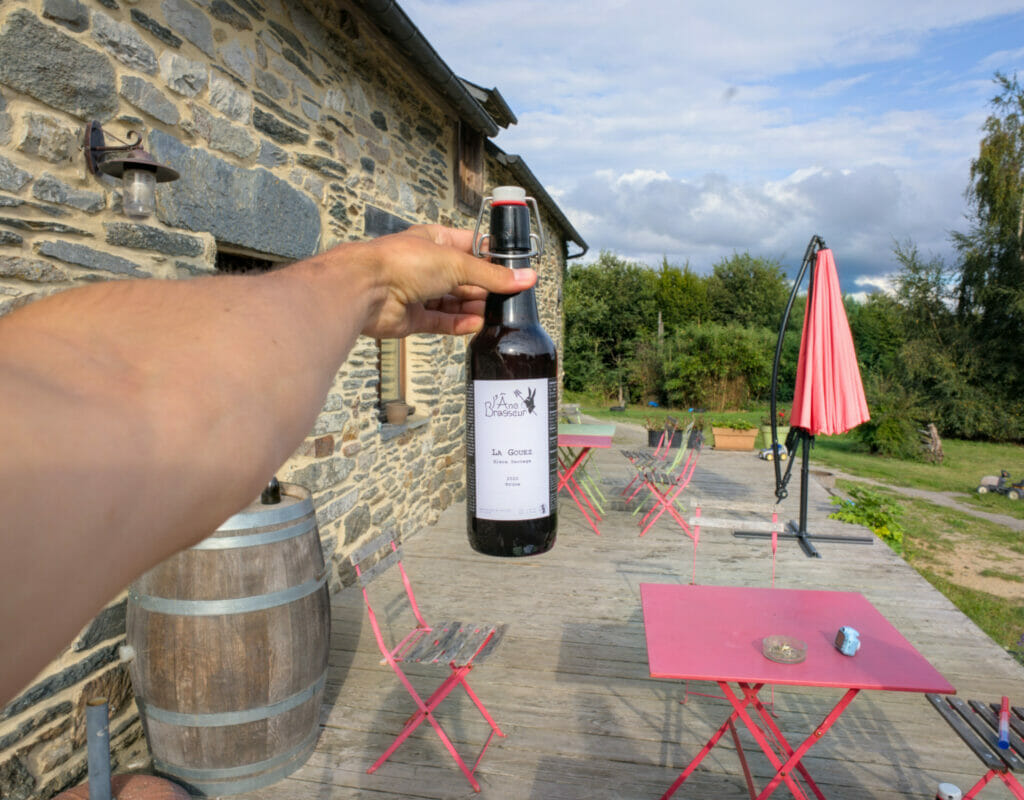 The beer part is obviously to be taken out of the average. We bought all the beers we tasted for the guide book (and that makes a lot) and in the total budget there are also nearly 70 beers "in addition" that we brought to friends, brought back home.
The accommodation part is probably a bit "underestimated". We were very lucky to be hosted several times by friends (10 nights out of 63). On our whole stay we spent 18 nights "in the wild" or on free areas, 4 nights in a gîte, 10 with friends and the rest on paying areas or in campsites. Our cheapest campsite was a municipal one at 5,5€ a night, while the most expensive was the campsite of the castle of Lanniron in Quimper at 31€ a night (and it was the price out of season… but the setting is really superb!)
Thanks to our friends
The grocery budget includes all our food expenses but also the purchase of health, hygiene and cleaning products, shopping (food, treats, etc.) for Winchy (our dog) as well as gifts brought to friends and some souvenirs to bring back to Switzerland to our goddaughters. The two of us had a budget of about 350€ per month for food. We don't buy meat but on the other hand we are careful to buy as much as possible local and seasonal food and we prefer small shops. The problem of the van is that with our mini-fridge we are rather limited and we often found ourselves to make small grocery shopping every 2-3 days and since we lack space we favor the mini-formats of products (therefore more expensive).
Our travel pace was quite fast and we didn't have much time for restaurants. We hiked during the day and we generally took advantage of the evenings to work. The restaurant category includes restaurants (between 30€ and 40€ for 2 when we went), but also all the meals bought on the go such as sandwiches, quiches, etc (that was much more frequent!).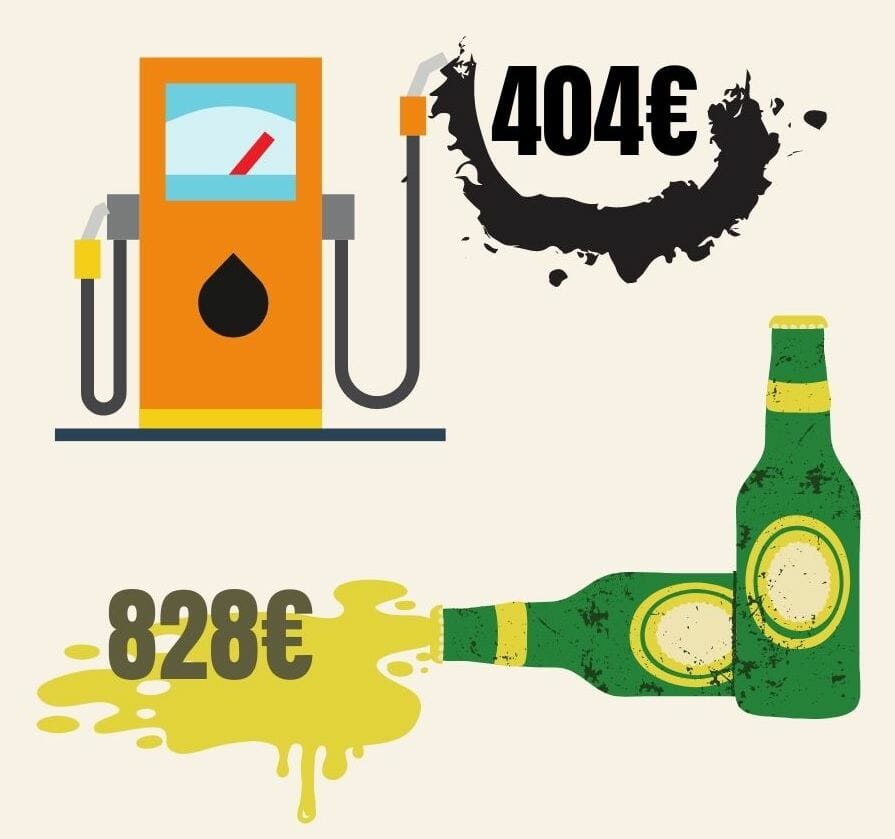 The fuel part is not really compressible… Our Dahu is thirsty too 😉 (after we note that he was twice less greedy than us if we compare the beer budget and the fuel budget).
The Extras item includes a lot of things like parking, boat trips to islands, paid visits but also the unexpected purchase of a 75€ power cable for our van bought in emergency because we had lamentably forgotten ours and the solar didn't manage to keep us going with all our electronic gear permanently plugged in (and well, September-October are not the best months to depend 100% on solar, let's face it). It also includes the purchase of a new leash for Winchy because we had the brilliant idea of tying him up in the garden of a brewery to visit the brewing room (5 minutes I specify). Mister not being a fan of "abandonment" he decided to eat his leash to come and join us at the foot of the tanks 😉
Practical roadtrip: all the info
Before going to the itinerary part, we thought we would compile some practical information to discover Brittany during a roadtrip. If you have other questions or if you feel that something is missing, don't hesitate to leave us a little comment.
Where to sleep with your van in Brittany?
Oh my, the big question that arises almost every day when traveling in a van. Spot in the wilderness, camping, CC area, parking? In fact, the answer to this question is not so trivial (it would be too easy otherwise, right?) 😉 Officially, the general rule in Brittany is the same as in the rest of France, i.e. wild camping is forbidden, but parking is allowed wherever any car is allowed. And this applies to motorhomes, vans and compact vans as well. After that you have to pay attention to the definition: parking = no sign of camping! No chocks, no steps, no raised roof and of course no table or chairs outside!
Afterwards, in reality, there are some limitations but also a certain tolerance. Many municipalities put signs "Camping-car forbidden" at certain places. These signs are debated, because officially the parking can not be refused, but well… Are the vans concerned by these signs? There too, no clear answer… in short, there is a certain artistic vagueness around the question! In fact, globally, parking is well tolerated, but in high season it may be stricter for the good and simple reason that there are a lot of people everywhere and that unfortunately, more people often rhyme with more incivilities. We have found that in France the communes have reacted well overall, with many free or moderately priced areas (in Switzerland it is not the same, let's face it!)
Sometimes it looks like the one on the left, but often it's also the one on the right 😉
To know where we will spend the night, we use a lot the Park4Night application, Google Streetview but also our common sense.
But to come back to Brittany in a more specific way, here are the points around which we articulated our thoughts to know where to sleep:
Is it a very touristy spot? The more touristic a place is, the more likely it is to have night parking bans, height bars and less tolerance towards wild camping. For our part, we generally try to go to the most touristic spots during the day and to aim for quieter spots for the night. It is much easier to find a nice spot in the center of Brittany or inland than on the pink granite coast 😉
In which season do we travel? In a van, the season has its importance… In high season, the spots are often crowded and you have to arrive early to "secure a place", and the controls are much more frequent. This summer, during our trip in the Grisons, we only did official spots (campings, areas) but after in the middle of October in Brittany we will say that it is cooler 😉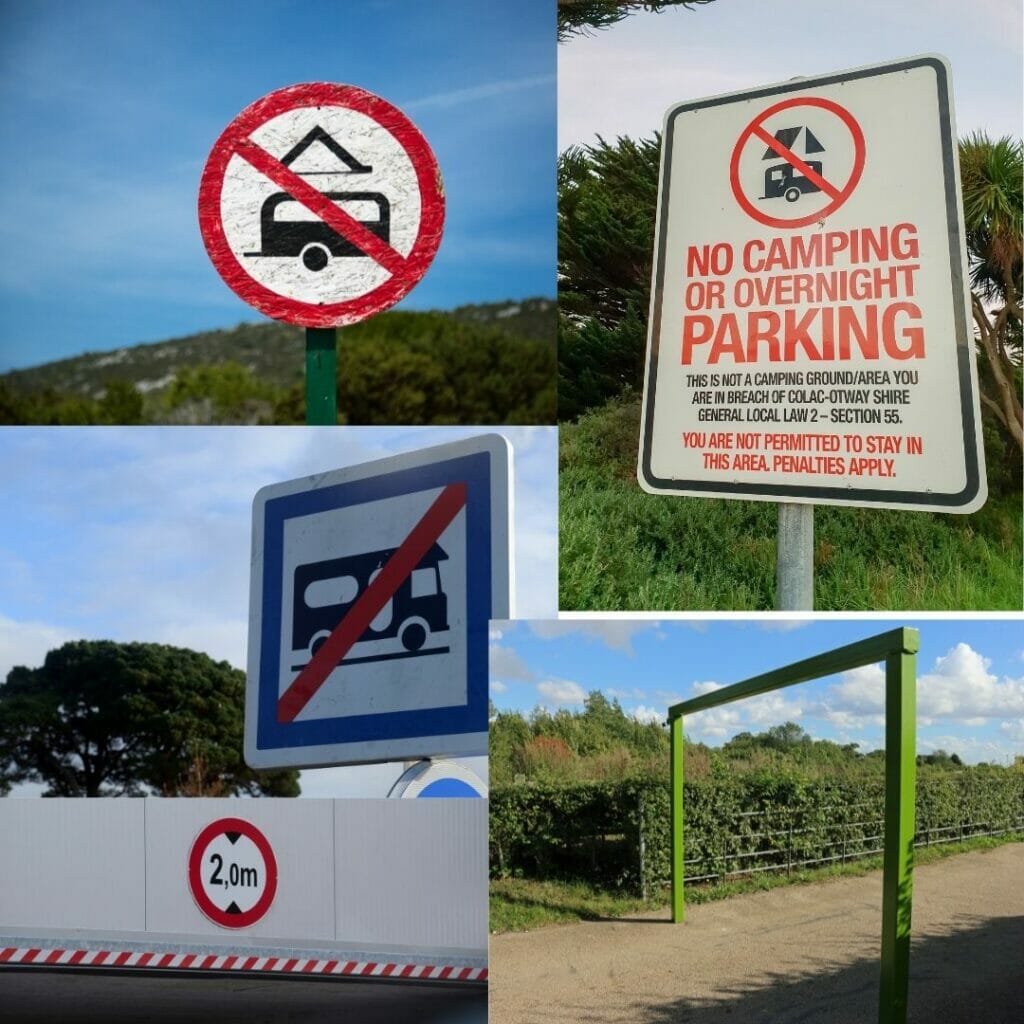 Are there any territorial bans? In some places like the Crozon peninsula, wild camping is strictly forbidden and controls are frequent. Personally, we have opted for (paying) camping areas
What will the weather be like (rain but also wind)? Sleeping at the foot of a lighthouse or along the coast sounds kind of nice we don't hide it from you… But let's face it, if the wind blows at 80km/h it quickly becomes less fun. Checking the weather forecast helped us to choose an area where to settle.
Do we need electricity or a shower or to do a laundry? Ok, this is a very basic question, but for us it was clearly a question that justified stopping in campsites quite regularly (especially for the shower and the laundry) 😉
When will we arrive and leave? This last point is more personal, but for our part if we have to work and we know that we are going to stay somewhere "for a long time" we prefer to opt for a camping or a paid camper area. Question of peace of mind and practicality (we can for example raise our roof permanently and stand). When we are in "wild" mode, we usually arrive at the end of the day and leave the next morning around 8am-9am. If we are in a place where we have the impression that to raise the roof is not going to disturb anyone then we do it, but most of the time we'll open it only when going to bed and we'll close it again as soon as we wake up.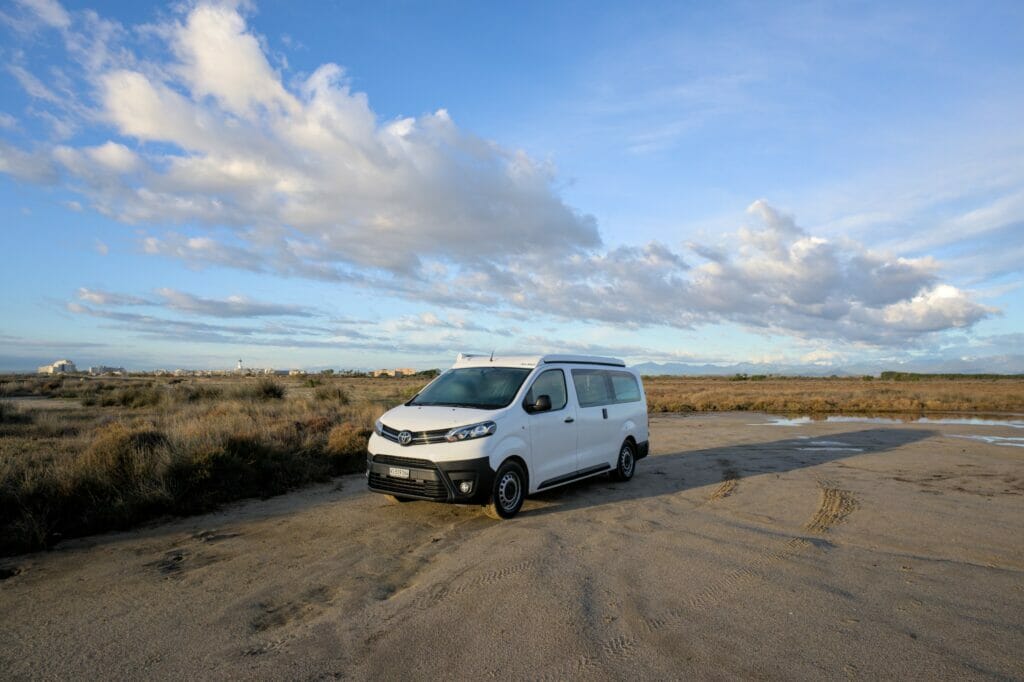 In short, all this to say that sleeping in a van or CC in Brittany is largely feasible, but it's better to be a little out of season and not to aim at the most touristic spots. Vanlife is cool, it's fun and all that, but there are some rules to respect and sometimes… well, we end up sleeping on not very glam areas but it's also part of the trip 😉
Daytime parking with a van
When we bought Dahu, one of the criteria was the height… Living in a mountain resort, it was essential for us to be able to put the van in our garage (strict parking regulations in high season in our town). In short, 2m10 of height was our maximum 😉 At that time, many people told us that anyway it would be much more practical in everyday life because a lot of parking lots are limited in height. We are going to be honest, during the first year we never felt such limit (neither in Galicia nor in Switzerland). But it's true, that in Brittany we regularly saw height limitations (especially along the coast and especially in the southern part of Brittany). Afterwards, we will say it, there are always alternatives for those who don't mind walking a bit…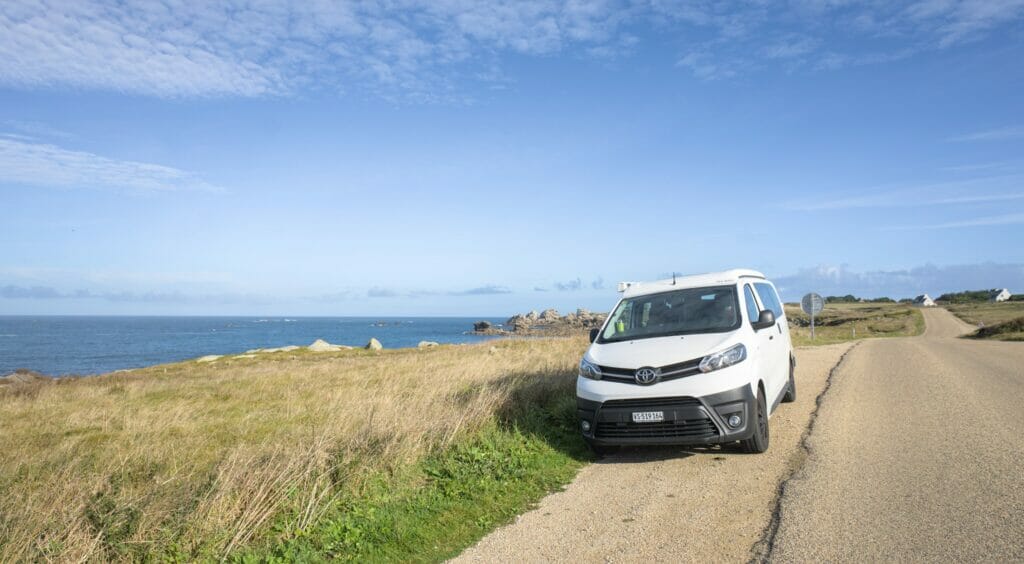 In France, we are always surprised by how easy it is to park! In Switzerland we are used to blue zones (limited to 1 hour) or paid parking when we are in a village or a city. In Brittany, there are some very touristic places or the hyper-centers of the cities which are a little bit restrictive (short parking times or paying parking lots), but globally we were surprised by the number of times we found free places.
With the van it is often easier to aim for parking lots which are slightly out of the center and for that we generally use Maps.Me (the zones of parking lots are well indicated). Honestly, we never had any problem with this point and we felt very comfortable to leave our car in Brittany.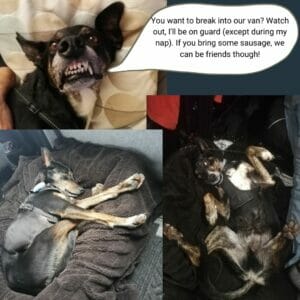 Afterwards, we may do an article on the subject once, but we are very disciplined about our valuables. In the van we leave only the everyday objects. We systematically take our laptops, phones, wallets and passports each time we leave the vehicle all 3 of us (yes yes when Winchy stays in the van and we are only away for 20 minutes to do some grocery shopping, we sometimes make an exception because we think he might be somehow dissuade a thief).
In which season to come to Brittany for a road trip?
Ahh the big question! Difficult for us to compare all the seasons… In all, we have traveled almost 4 months in Brittany (in the cumulation of our 3 stays in roadtrip mode). Each time we came "out of season", meaning in spring or autumn. At each of our visits we had an exceptional weather (this autumn 2021 will have been the record… 59 sunny days out of 63!!!)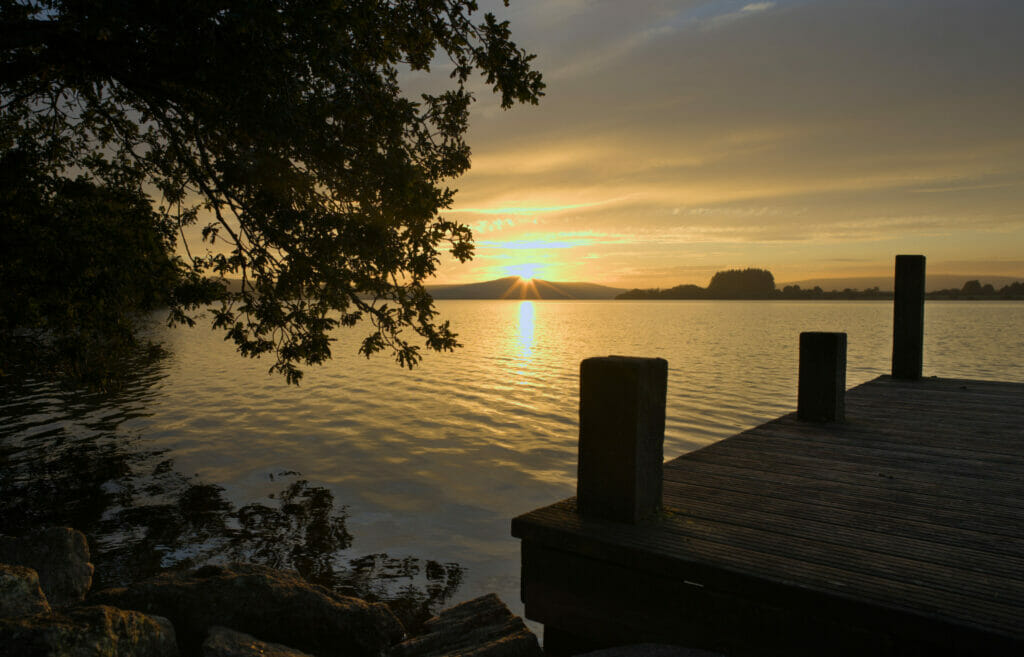 In our humble opinion, April, May, and September are ideal! June and the end of August are great even if it can be a bit more crowded…
We have never tested the July-August holiday season, but from the feedback we have had it is clearly the most "complicated" period. Campsites are full, prices are at their maximum and parking lots near tourist spots are crowded. It is also during this period that there will be the least tolerance for wild camping for the simple reason that there are too many people everywhere.
For the months of October to March we will say that if you are well equipped and especially relatively autonomous (in electricity, shower, WC, etc) it is largely feasible. We spent the whole month of October in Brittany and it was great! On the other hand you have to know that many campsites will have already closed their doors, the beach showers are often cut, the toilets at the tourist spots can be closed, etc.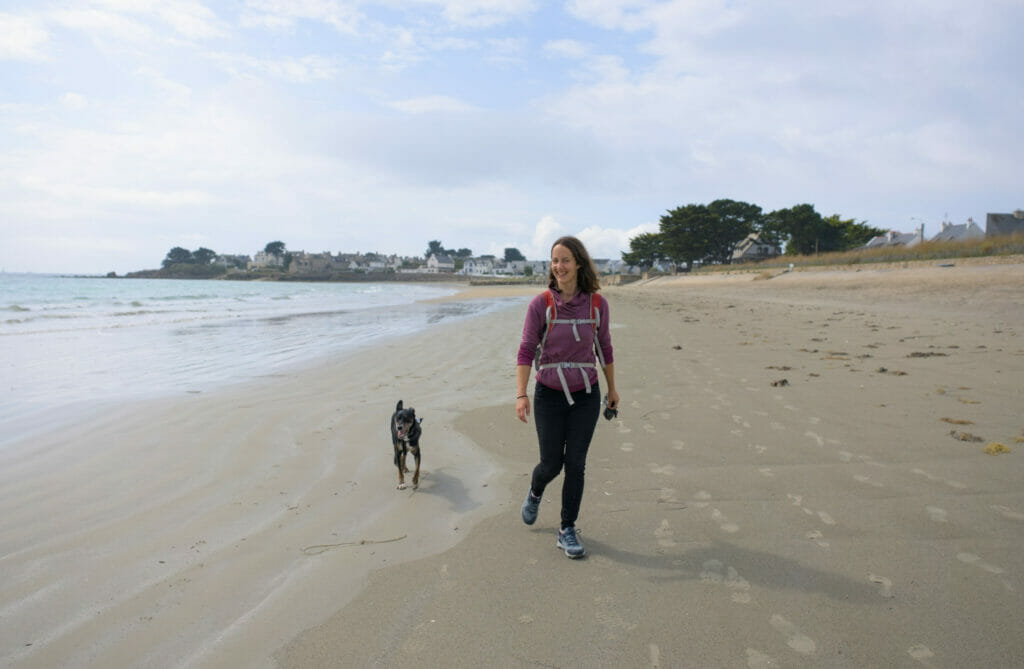 Rent a van: the platforms
If you don't have a van but you want to travel around Brittany with a converted vehicle, you can rent one without any problem. As far as budget is concerned, you will have to count from 70€ per day (depending on the season, the vehicle and the platform). The most famous platforms in France are Yescapa (rental between individuals) or BlackSheep Van (professional renter). But we won't dwell too much on the subject here because recently, Benoit wrote a very complete guide which compares the different platforms. If you want to rent a van, don't hesitate to have a look at it:
Road trip in Brittany: 5 suggested itineraries for 1 week
Many of you have asked us for advice on how to prepare an itinerary in Brittany. I admit that it is always difficult to suggest an itinerary to someone as everyone's tastes are so different… Personally, we would rather recommend you to limit your trip to "one area" in particular and to explore it, rather than trying to see everything in only a few days. Afterwards, if your trip lasts several weeks, in this case it is easy to combine the itineraries 😉
In short, we do not say that it is not possible to see St-Malo, the pink granite coast, Crozon, Quiberon, the Gulf of Morbihan, the lake of Guerlédan and Rennes in only one stay (the distances remain relatively short) but below we rather propose you more "localized" itineraries which would allow you to base yourselves at 1-2 places and then to move around.
Of course, all these itineraries are given as an indication, we strongly advise you to mix, adapt and pick according to your desires to create an itinerary that suits you. And if on the way to one or the other destination, you want to make a small scenic stop in a charming town or village, we let you discover our article which lists 23 villages we liked in Brittany (with a map to help you to find your way).

Note: for this article we started with the idea of a trip in a van. Of course, all these roadtrips can also be done by car with either a combination of camping or renting lodgings, hotel, B&B, etc… If you are looking for a place to rent, we advise you to have a look on hotelscombined (there are hotels but also rentals) or by looking on the map below (use the zoom and move the map to refine your search):
The natural beauties and cities of Côtes d'Armor

Popular destination, the Côtes d'Armor offers a crazy variety of landscapes! The most famous spots are generally the pink granite coast, the Cap Fréhel or Dinan, but believe us, if you spend a week there, you will have plenty to occupy your days! For D6, we recommend you to drive from Tréguier to the chasm of Plougescant and Castel Meur!
Our blog articles: Dinan, Cape Fréhel to the Bay of Saint-Brieuc and a second article dedicated to the pink granite coast.
Where to stay? There are many campsites and accommodations (hotels, gites) in the region. If you don't want to "move your house" all week, we advise you to aim for the bay of Saint-Brieuc, so you will be "in the middle" and both Dinan and the pink granite coast will be less than an hour away.
Towns and villages of Ille-et-Vilaine and high tides

Ille-et-Vilaine is in a way the department that marks the entrance to Brittany when you arrive from the east (at least for us who arrive from Switzerland). Very often, this region is "rushed" by travelers to reach the more distant coasts… But actually, we really recommend you to spend some time there! The city of Fougères for example was a real favorite for us! It may be known in France, but we had never heard of it before and… phew… it's so beautiful! So we suggest you to start with a bit of history and culture inland before ending with the magnificent bay of Mont Saint-Michel and the famous corsair city, Saint-Malo!
To find our advice for the coast we invite you to read our article dedicated to the part between Cherrueix (the Breton limit before Normandy) 😉 and Saint-Malo.
Central Brittany: 7 days in the heart of myths and legends

By far the least touristic place in Brittany, it is nevertheless one of our favorites! Go figure, but there must be something magical in the Breton forests if you want my humble opinion! This itinerary is a bit like the "classics" of the center and therefore the most visited, but believe us compared to the coasts you will have here a feeling of being (almost) alone in the world! For van travelers, it's also in the center that you can most easily find a place to park for the night (less population density, wide open spaces, in short the van's paradise!).
To plan your stay, we suggest you take a look at our article dedicated to the center of Brittany.
Oh and if you have the opportunity, don't hesitate to look on the net if there would not be one or the other fest-noz which would be organized somewhere on your road! There are the most famous ones, but in reality they are held almost every weekend. To find the dates, have a look at the website tamm-kreiz.bzh. We have the pleasure of attending a fest noz with friends in 2019 and it will definitely remain one of our strongest memories of Brittany!
The gems of Finistère – The contrast between the north and south coast

Ah là là, the Finistère… It was difficult for us to make a choice for a one week itinerary. Actually, we would even advise you to focus on the North Finistère or the South Finistère. The first one is a bit less touristic (so easier to travel by van) while the second one is more famous for its beaches, it's up to you 😉 But if you want to do both, then the above itinerary would be our personal "best-of".
To have more details on the different areas of Finistère find our articles on the South Finistère, the one on the Crozon peninsula and finally the one on the North Finistère.
For this road trip we advise you to move in terms of accommodation. The places may look close on a map, but as the coast is quite spread, you will quickly find yourself driving for miles. For the first 4 days, you could for example base yourself in Quimper and then go up towards Crozon and the North Finistère. In Quimper we had been to the campsite of Lanniron, by far the most expensive of our road trip but we keep an excellent memory of it for its really unique setting. Off season the night was 31€ for 2 persons, a van and a dog (electricity included).
Islands and peninsulas – Visit Morbihan on the sea side

If you read us from time to time, you will have probably already noticed that cities are not necessarily our big favorite. However, we are going to admit that we liked Vannes a lot for the day during this roadtrip in Brittany! The city center is really beautiful and we can easily leave from the harbor to go and admire the Gulf of Morbihan by taking a shuttle. In short, a stop which is worth the detour according to us!
There are many islands in Brittany, but Belle-île-en-Mer and Groix are definitely among our favorites! And even if it is of course possible to spend several days there (it must be very nice by the way) it is also easily possible to go there and back in a day. For Belle-île we left from Quiberon, while for Groix we embarked from Port-Louis.
Piece of advice
For the islands, it is possible to go there with your vehicle (car or van). However, the price of the crossings is quite expensive, so if like us you decide to spend only one day or one night there, we advise you to leave your car on the mainland and to use public transportation. In Belle-île as well as in Groix, a bus network is in place and allows you to move easily (or else it is also possible to rent a bike 😉
That's it, this time I think that's all for this Breton review! If you still have questions or if you have suggestions for our future visits (because it is obvious that we will come back there), do not hesitate to leave us a small comment.
Note: This article contains so-called affiliated links. All our stays in Brittany have been realized and financed privately. However, if you go through our links to make a reservation, you obviously pay nothing more but we will receive a small commission. This will help us to continue free and independent articles like this one
Epingler cet article