If you ended up on this page it's because you might need a travel insurance for your next adventure and you want to know more about the True Traveller insurance company. Well you're at the right place!

If you have made some research online to look for the best (or maybe the cheapest 😉 ) backpacker insurance for your next trip, I'm sure you read about WorldNomads or SafetyWing as they are the most widely recommended on travel blogs! But in our opinion, in most situation, these travel insurances do not offer the best value for money for backpackers or long term travellers.
If you are from the UK or Europe, one of the best travel / backpacker insurance out there is definitely TrueTraveller (if you're not from UK / EU, check out Heymondo or ACS which offer coverages Worldwide). They offer a solid range of travel coverages that you can easily customize for your needs.
So in the following lines we will review the different travel insurance options they offer and give you our opinion on the guarantees / coverage limits they have.
Who are True Traveller insurance?
The story of TrueTraveller is quite an interesting one as they were not a travel insurance company at the beginning (in 2010) but a travel company specialising in adventure holidays. Since they had specific travel insurance needs for their clients, they created their own custom insurance scheme covering "more adventurous" holidays.
But eventually, the demand for their travel insurance products started exceed the demand for holiday and since 2014 they only do travel insurances! That's the reason why they claim on their website they are "a travel insurance designed by travellers".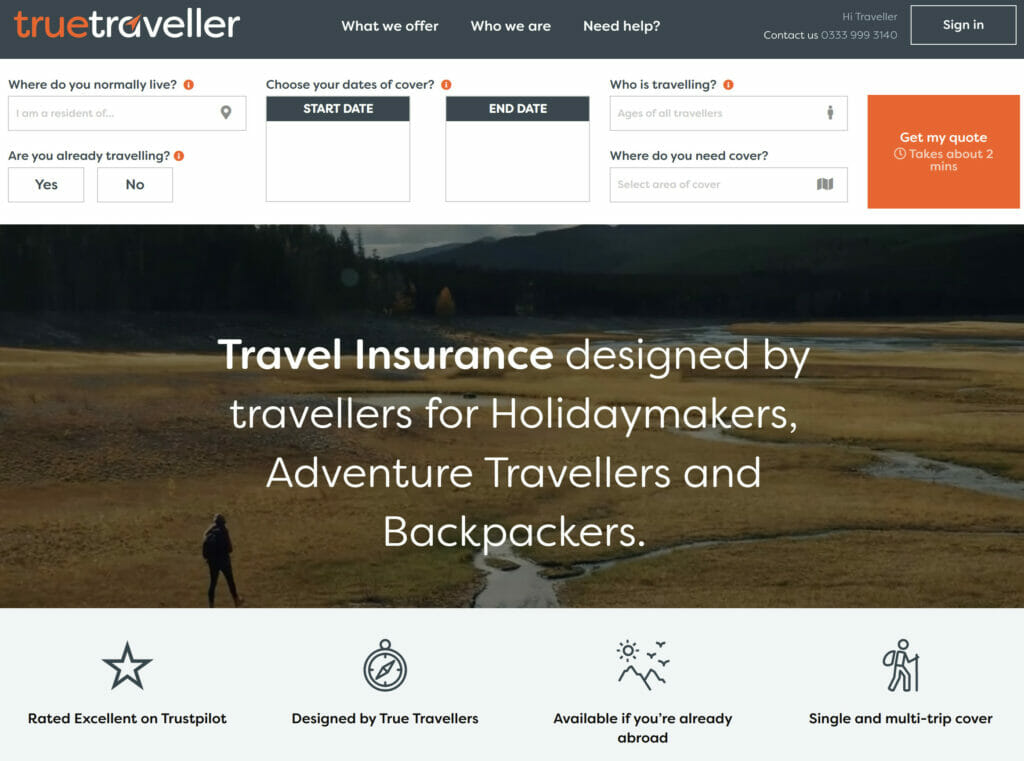 If you are wondering if they are a serious travel insurance company, their travel policy is backed by AXA Group which is one of the biggest insurance company in the world. So if anything happens during your trips, you can be sure you're in good hands.
But now, let's move on to the different travel coverages they offer and check which one would be the best for you. For backpackers and long-term travellers, TrueTraveller offer 3 different coverages:
Each one of these coverages can also be customized to your needs!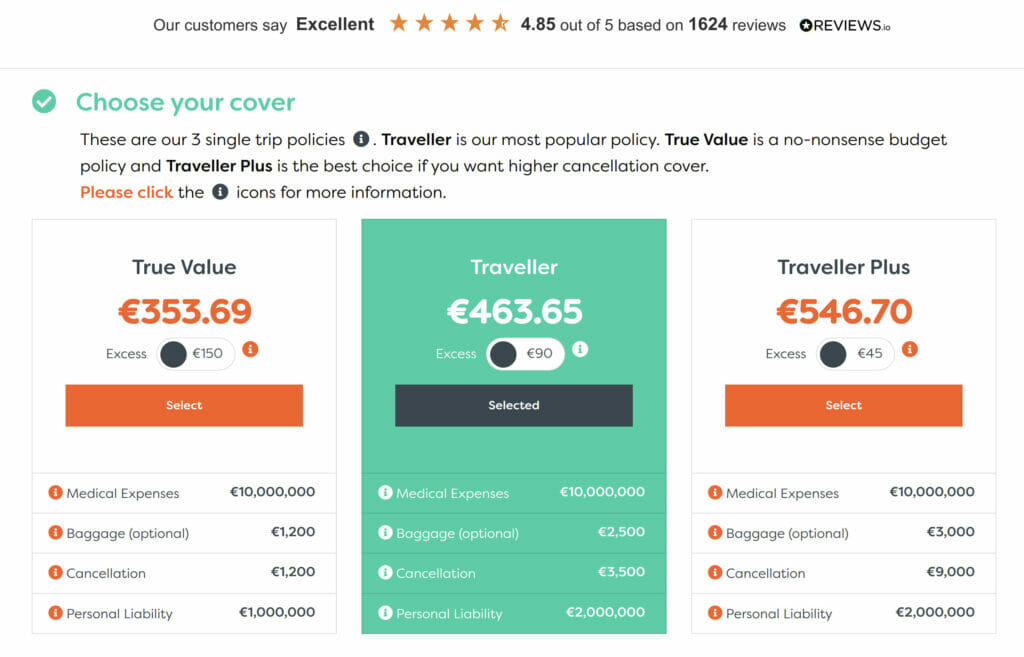 TrueTraveller True Value: the cheapest backpacker insurance on the market?
True Value is the cheapest backpacker travel insurance offered by True Traveller and was designed for backpackers under 40. It offers a very good coverage for the most important points that every backpacker travel insurance should provide:
Medical expenses up to 10'000'000€ which is already really good compared to most of the other insurances.
Repatriation (100% of actual costs up to 10'000'000€)
Personal liability (1'000'000€ for bodily injury and 1'000'000€ as well for material damage)
TrueTraveller options
One thing that is really cool with TrueTraveller is that the most important points are included in the base coverage but if you need some additional options, you can add them separately. True Traveller is the only insurance company offering such a level of flexibility to customize your coverage. This shows that they have a real understanding of the backpackers or long term travellers needs.
Here are the options they provide (most of these options are available for their 3 coverage levels with different expenses limits):
Activities: By default, you already have a lot of activities included (like scuba diving up to 18m, surfing, kite surfing…). But if you're gonna do more "adventurous" activities, they have 3 other levels of coverages for activities going from water rafting, trekking at high altitude, rock climbing, via ferrata, parachuting, mountaineering… Just be aware that taking one of the option can increase the price substantially.
Winter sports: If you plan to some ski or snowboard on your trip, Truetraveller also have 2 options for that.
Baggage & Personal Effects: I personally think it's great they don't include baggage by default. You really need a travel insurance for the most important things that can put you in financial troubles (repatriation, medical expenses, personal liability)… Of course it's annoying if your camera gets stolen but you can always buy a new one. So think twice before taking this option.
Valuable items: They also have an option for more expensive items like cameras, laptops, mobile phone… But my previous remark remains for this point.
Already Travelling: If you are already travelling, you can still subscribe to their coverage for a small additional fee.
Excess removal: You can pay a little extra to remove the Excess (or deductible) you have to pay by default for each claim.
… and a few other options
TrueTraveller Traveller: the backpacker insurance with the best value for your money?
It's definitely the most popular insurance coverage from True Traveller. First, it takes all the good things from the True Value coverage but with higher expenses limits for the important things:
Medical expenses up to 10'000'000€ which is more than enough in our opinion.
Repatriation (100% of actual costs up to 10'000'000€)
Personal liability (2'000'000€ for bodily injury and 2'000'000€ as well for material damage)
They also added some interesting options like the "Search & Rescue" which is in our opinion an important option if you plan to do some trekking for exemple.
But the most important, this coverage covers travellers up to 65 years old wich makes it in our opinion the best travel insurance for older backpackers and long term travellers (> 50 years old)
TrueTraveller Traveller Plus: the travel insurance with very high coverage limits
Nothing complicated here, they take everything from the Traveller coverage but with higher expenses limits:
Medical expenses up to 10'000'000€ which potentially covers you for anything that can happen.
Repatriation (100% of actual costs up to 10'000'000€)
Personal liability (2'000'000€ for bodily injury and 2'000'000€ as well for material damage)
Unless you think you really need higher medical expenses limits, we don't think you need such a level of coverage.
Our review of the TrueTraveller backpacker insurances
If you are under 40, we honestly think that the True Value coverage is the best value backpacker insurance you can get for a long-term trip. Even if it their cheapest coverage, their expenses limits are already better than most of the other travel insurances on the market (you can compare for yourself here). Starting at 29€/months, it's really hard to beat!
If you would prefer to have higher expenses limits or you are older than 40, the Traveller coverage is the travel insurance you need. In our opinion, it's not necessary to upgrade to the Traveler Plus coverage.
Alternative to TrueTraveller insurance for non UK / EU residents
The title of this page says it all, Truetraveller is unfortunately available only for UK / EU residents. So if you're not from one of these countries, you still have several options available.
Most of the travel blogs will recommend you to buy a WorldNomads (too expensive in our opinion) or a SafetyWing (really weak personal liability) coverage. But in our opinion, you can find better travel insurances than these ones.
One of the best value for money you can get worldwide is definitely ACS travel insurance. Their Globe Partner coverage is one of the cheapest on the market and offers a very decent coverage starting at 36€/months.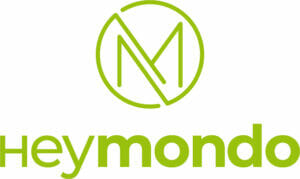 If you want higher medical expenses limit (ACS offers 300'000€ which is ok but not incredible), you can also have a look at Heymondo (-5%) which covers you up to 2'500'000€ for medical expenses and repatriation starting around 40€ per months. But the easiest way is still to compare these coverages using our interactive table below:
That's it for our truetraveller insurance review. As you will have understand by now, we think truetraveller offers some of the best backpacker and long term travelers insurance on the market. If you live in the UK / EU, their True Value coverage offers really good value for your money. If we would go backpacking right now, it's definitely the travel insurance we would chose (as of 2023).
P.S. If you buy an insurance through one of our links, you will pay the same (or even get a small discount) but we will get a small commission. This has in no way influenced what we wrote above but will help us keep creating free and independent content on this blog.