Here we're going to talk about the travel insurance that is considered the most popular among French-speaking backpackers and long term travelers: Chapka Insurance. If you plan to go on a long journey or a round the world trip, chances are you have already heard about Chapka's Cap Adventure coverage (Even if their marketing has focused mainly on french speaking countries until recently).
So on this page we are going to review together the different coverages offered by Chapka insurance (with a focus on the Cap Adventure) and we are going to give you our opinion about the level of the guarantees they offer.
Does Chapka Insurance deserve the praise they get on the internet?
This is what we will see together in the following lines:
Chapka Insurance: Who are they?
Chapka Insurance, as well as TrueTraveller, AVI International, SafetyWing and ACS Insurance is an insurance broker (who also offer international coverage) specialized in travel insurance. They are based in Paris and the company already exists since 2002! Since 2019 they have joined the Aon Group, an International company and one of the world's leading insurance brokers.
Chapka has from the beginning stood out from its competitors by offering customized coverages for each type of trip. They are also among the first to have gone 100% digital by offering an easy subscription on their website and a very well designed platform for their customers (containing contracts, important information, to make online claims etc. …)

Of course, you have the possibility to contact them directly by phone 7/7/24 in case of problems, but for backpackers / travelers, the 100% online aspect is now the norm! In fact, it is still one of the only insurances to offer remote consultation, a convenient service that allows you to have direct access to the advice of a doctor in your mother tongue anywhere in the world!
Chapka Cap Adventure : the long term travel insurance for backpackers
CAP Adventure is Chapka's coverage specially designed for backpackers and long term travelers. To subscribe, you must plan to travel for more than 3 months, up to 24 months and for a 100% touristic purpose (meaning that you don't plan to work along the way… they have other coverages for people going on a WHV). In other words, the travel insurance for backpackers and long term travellers at its best!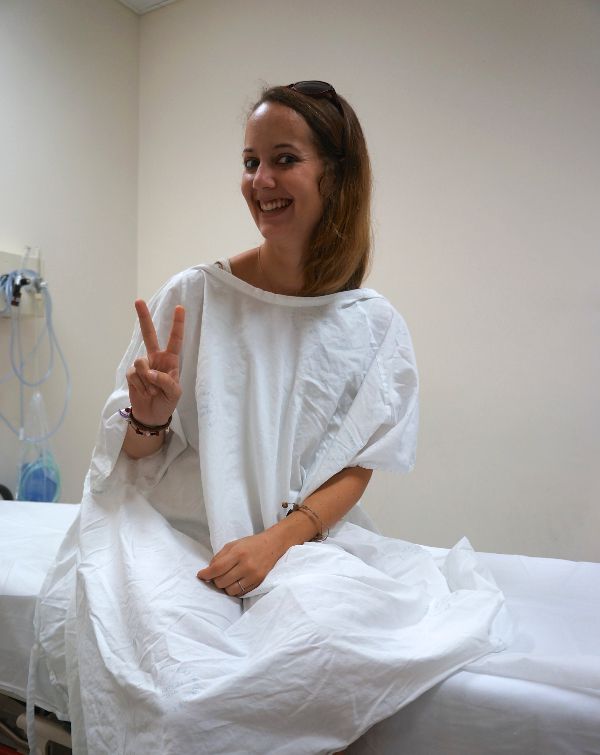 In our opinion, the big plus of Chapka's Cap Adventure coverage is the excellent overall level of guarantees. It covers you for all the most important points and much more:
Medical expenses up to 200'000€ (1'000'000€ USA / Canada)
Repatriation (100% of actual costs)
Personal liability (4'500'000€ for bodily injury and 450'000€ for material damage)
Medical expenses in your home country in case of repatriation (up to 15'000€)
Teleconsultation
Luggage and valuables (max 2'000€ and max 1'000€ per object)
early return in case of hospitalization or death of a family member
refund of unused months in case of early return
…
In short, a very comprehensive and versatile coverage, perfect to cover your adventures around the world!
Prices start at 52€ per month (or 39€ per month if you travel only in Europe). Prices depend on the length of the trip (cheaper the longer the trip) but also on the countries you plan to visit (basically if you don't go to the USA or Canada you will pay less…) 🙂
Good to know: Chapka also offers great rates for couples (-5%) as well as families (-15%).
See details about the CAP Adventure coverage
If you want to compare the price and guarantees offered by Chapka's Cap Adventure coverage with other similar insurance plans for long term and/or round the world trips, we recommend you to take a look at our interactive travel insurance comparison table. You will be able to see at a glance what distinguishes Chapka from other insurance plans and make an informed choice.
Other travel insurance coverages offered by Chapka
Chapka insurance does not only offer insurance for round the world and long term trips. They have a wide range of coverages from simple travel insurance for people going on short vacations, to multi-trip insurance for 1 year, as well as a variety of offers for people going on WHV or expatriation.
Here is an overview of some of the insurance products offered by Chapka that we find particularly useful:
Cap assistance 24/7
This is a bit like CAP Adventure but for shorter stays of less than 3 months! In brief it's the insurance for travelers who would leave for a shorter period to go backpacking in South East Asia for example (or other regions eh… or just on vacation for a few weeks) 😉 .
Cap Assistance 24/7 prices begin at 22€ for a one-week stay in Europe and go up to 222€ for a 3-month stay worldwide (prices vary depending on the length of the contract but also on the region visited).
In terms of coverage, Cap Assistance 24/24 offers very extensive coverage: Luggage, repatriation, medical expenses, teleconsultation, personal liability, early return, etc…
Cap Multi Travel
This coverage is very useful for people who travel several times a year. Just like the 24/7 Assistance, it covers everything related to repatriation, medical expenses, luggage, personal liability, and even coverage for plane or luggage delays. Little extra: There are special rates for couples or families. Condition ? None of the stays can exceed the 90 days maximum duration.
So do your math with the Cap Assistance 24/7, but if you have several trips planned in the same year, the Cap Multi Travel is certainly the cheapest option.
Cap Working Holiday
The insurance for people going on a WHV (work holiday visa) for example in Australia or Canada. Cap Working Holiday offers a really extensive coverage that includes all risks (medical expenses, repatriation, liability, luggage, etc…) during your working hours but also during your travels in the country of your WHV as well as 90 days worldwide and 30 days in your home country (if you come back for the holidays for example).
To subscribe to this insurance, you must hold an official work holiday visa issued by your destination country.
By the way, for those who are still hesitating to go on a WHV, you can watch the excellent movie made by our friends from Coflocs for Chapka about this way of travelling that combines vacations and work (it's in french but you can turn on the subtitles):
They offer also other coverages, but these are the ones that seem the most relevant for this page… To check out all their offers, just go to their website.
Chapka insurance makes you travel before you go
Insurance is an important topic, but it's not really the funniest part of the preparations… But Chapka also has the ability to create great content on their different platforms to make you travel before while you're preparing your trip.
The backpacker generation movie
If you are still not sure if you want to go on a round-the-world trip, the backpacker generation movie made by our friends the Coflocs and supported by Chapka should finish to convince you. This 50 minutes documentary is simply wonderful and reminded us all those beautiful emotions we felt during our journey around the world. In short, a must-see movie (plus it's free 😉 )

The Vanlife generation movie
Since then, the Coflocs have done it again and made a new documentary for Chapka insurance about Van Life. Honestly, it's a great piece of content and we think it's amazing that an insurance company like Chapka supports this kind of stuff!
Our final Chapka travel insurance review
Positive

Negative


Chapka Cap adventure offers a very extensive coverage for solo backpackers and couples. They cover all the important points of a long term trip (and more) with excellent coverage limits
Their website is modern, well thought out and very nice to use.
A lot of very interesting content is created around their blog like the WHV generation and backpacker generation movies, lots of blog posts…

Cap Adventure does not necessarily offer the best quality/price ratio on the market. We personally prefer TrueTraveller or Heymondo's (-5%) offers
The prices they offer for families and seniors are quite high compared to the competition
NB: This page contains some affiliate links. These are links that allow us to earn a small commission if you buy a product or service from our site. It will not cost you more but it allows us to keep this site alive and to offer you as much free information as possible 🙂 Thank you!